The first time we drove in the US Southwest was actually on our honeymoon. Maybe not the most classic romantic destination for us Swedes, but what an adventure! We loved hiking in the desert heat among the red rocks of Utah, watching the sunset over the Grand Canyon in Arizona, and glittering with the showgirls in Las Vegas. We actually loved it so much that we've been back and done roughly the same setup several times. So here comes spring ultimate road trip with start and end in Las Vegas - 8 national parks and 200 miles through the most beautiful nature in the USA! A road trip can't get any better than this!
Do you want to read generally about driving in the USA? Check out my page 10 tips for the perfect road trip in the USA.
Daily plans
This trip can be done in two weeks, but then you have to count on quite a lot of driving every day. Recommended is at least 18 days, with longer stops at some of the Grand Canyon, Bryce, Arches or Zion national parks.
Days 1-3: Las Vegas, Nevada
Day 1-3: No car needed
Las Vegas – love it or hate it. It's big, bloated, artificial, glittery, sunky and really, really wonderful. For about 3 days. Then the constant bleep bleep from the slot machines starts to get to your head. Preferably book a casino-free hotel, so you have a refuge from the craziness. I can still long for Vegas sometimes, even though I've been here 4 times and I know how crazy I get after a day of enervating blip-blopping.
accommodation: Four Seasons Las Vegas (guaranteed casino-free and "affordable" luxury hotel)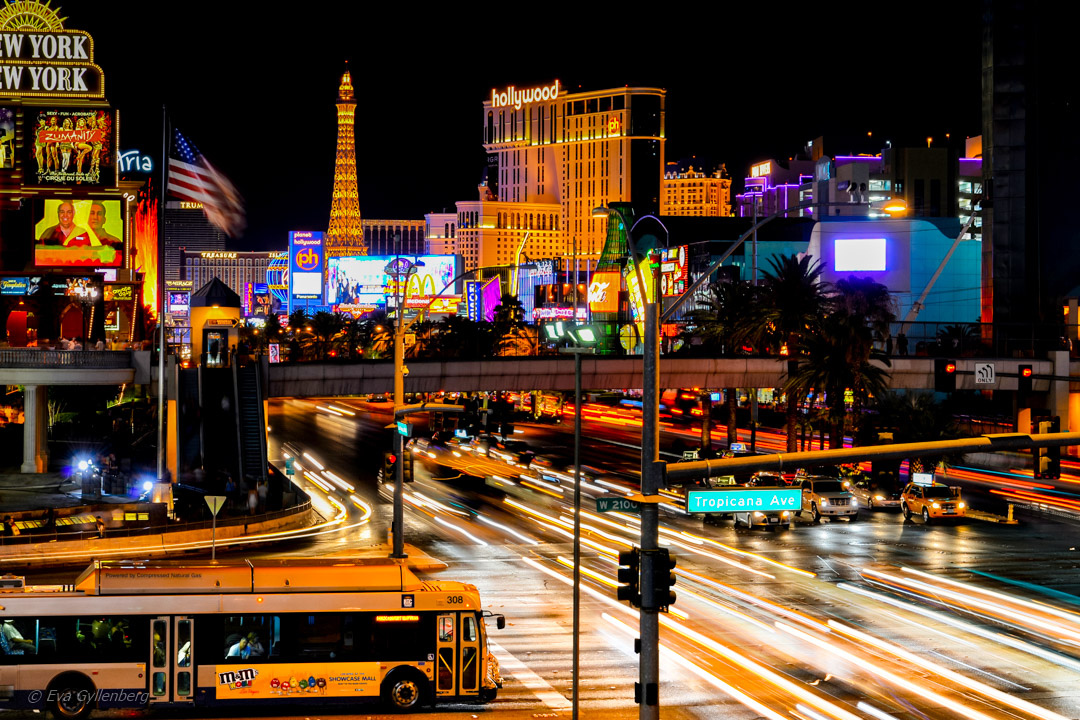 Day 4: Route 66 towards Williams, Arizona
37 miles from Las Vegas
Now the luxury life in Vegas is over. Time to try the roads and the slightly simpler motels outside the big cities.
Have a quiet but hearty breakfast at the hotel before picking up the rental car and heading out on the roads. Today you pass it impressively Hoover Dam (be prepared for security checks) before you reach kingman, where you turn off a major highway and instead turn onto Route 66 and goes on one of America's most classic roads until Williams. Stop at one of the many hamburger trails along Route 66 and settle into the red faux leather chairs by the lace curtains and have a delicious lunch with way too much bacon. Life is good!
accommodation: Holiday Inn Express or The Quinta Inn in Williams.
Day 5: Grand Canyon NP, Arizona
9 miles one way from Williams
Don't even think about that Grand Canyon would be a tourist trap! There is a reason why millions of tourists from all over the world come here every year. The Grand Canyon is unimaginably large and unimaginably impressive. Hike, raft, ride and enjoy the sunset and admire from above the large birds of prey that circle the gorge. The Grand Canyon is truly one of the wonders of the world. The South Rim is approximately 1 hour's drive from Williams, so there will be an early breakfast at the motel before departure.
accommodation: For those of you who are out in good time and can imagine paying a little more, book accommodation in Grand Canyon Village. For budget, book in Showing or Williams (see day 4). You have to drive a bit every day, but it works. We have never had a choice but to stay in Williams, it has always been fully booked in Grand Canyon Village when we have been here. But it feels perfectly fine to drive 1 hour to the national park, often it can be much longer than that from the nearest city to a national park.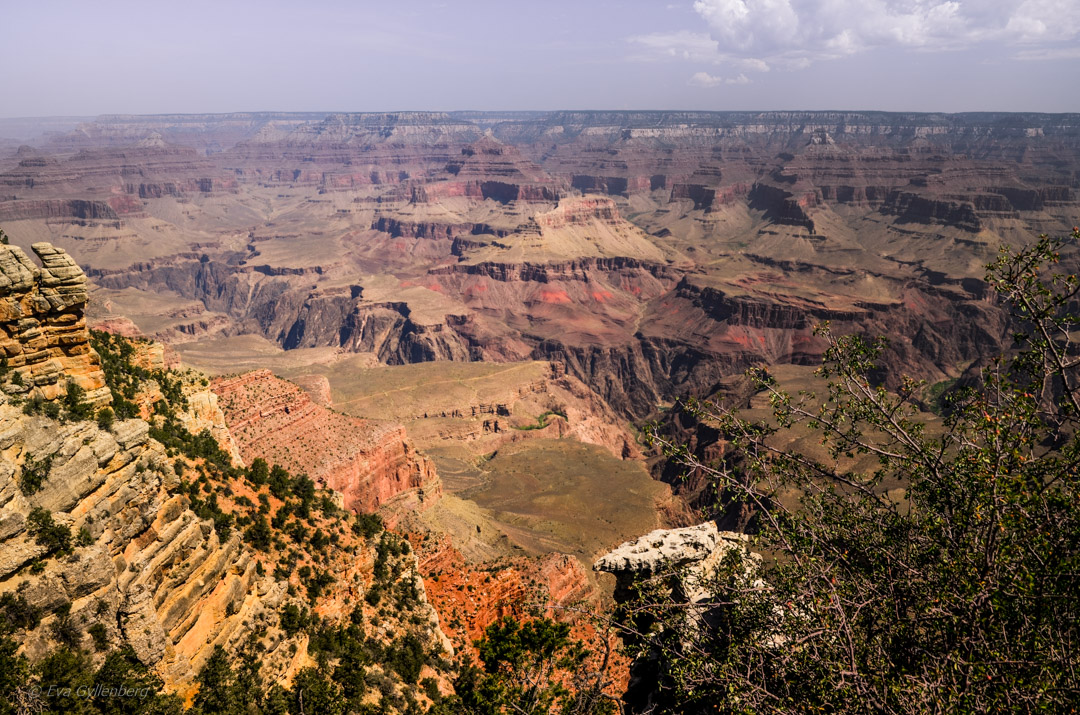 Day 6: Grand Canyon NP, Arizona
9 miles one way from Williams (if that's where you live) + 9 miles to Tuba City
Today the adventure continues in the Grand Canyon. Stay until sunset and enjoy the spectacle of the vast landscape before hitting the roads again for the night's accommodation. It's a long day's drive tomorrow to Moab, so to avoid sitting all day in the car, drive an hour to Tuba City already today.
Read more at my Grand Canyon site.
accommodation: There are not many accommodations on the way to Monument Valley, so you have to take what you find even if it is not affordable. We lived on Quality Inn Navajo Nation, a motel inside the Navajo Nation. Note that in the Navajo Nation alcohol is prohibited.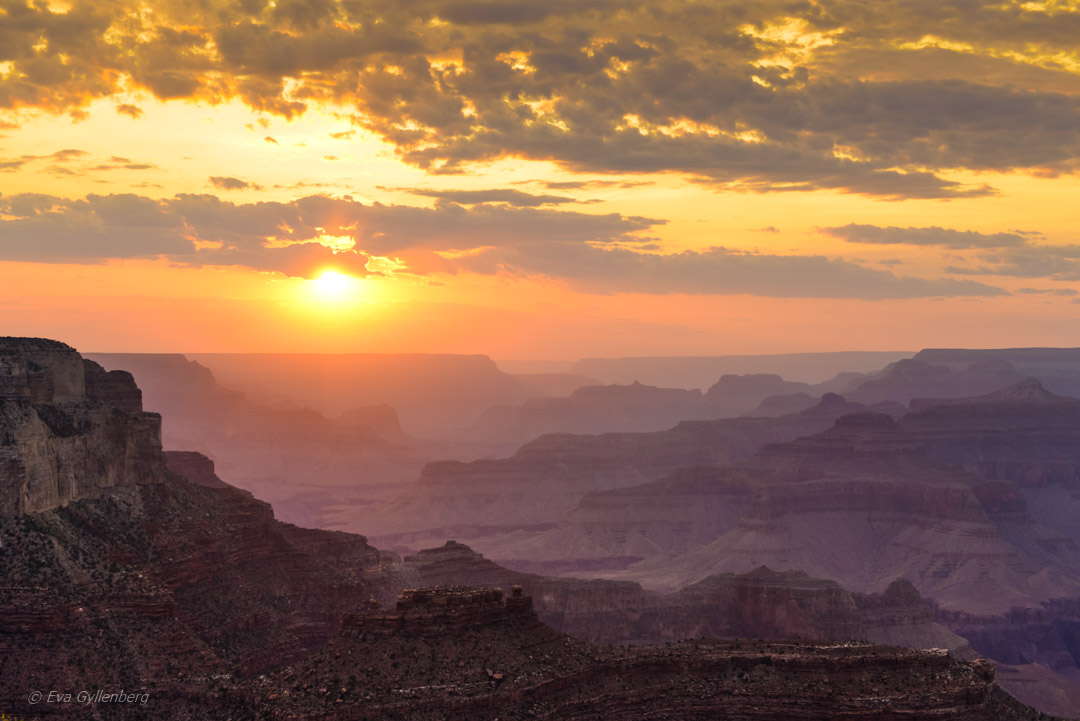 Day 7: Monument Valley, Arizona
40 miles from Tuba City to Moab + detour
Today is the longest drive of the trip, a real full day with several exciting stops along the way.
The first stop is at Navajo National Monument, where in a ravine there are remains of a Pueblo village from the 13th century. The village is not as impressive and large as Mesa Verde in Colorado, but it is definitely worth a stop. Take a short hike to look out over the village and don't miss the dinosaur footprints.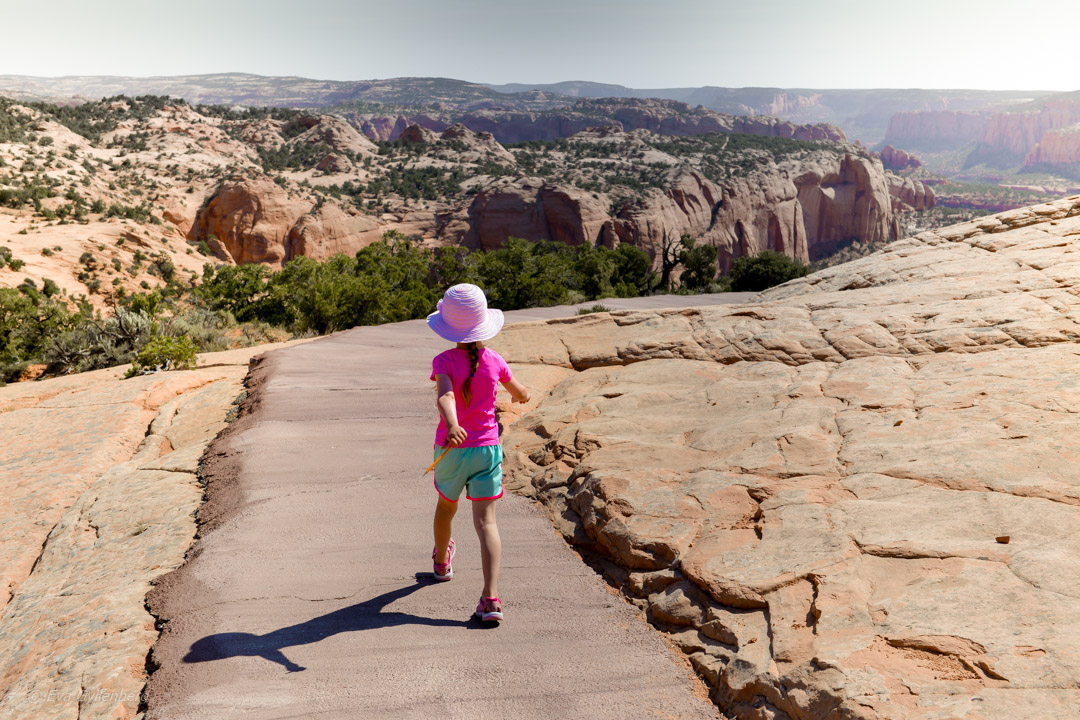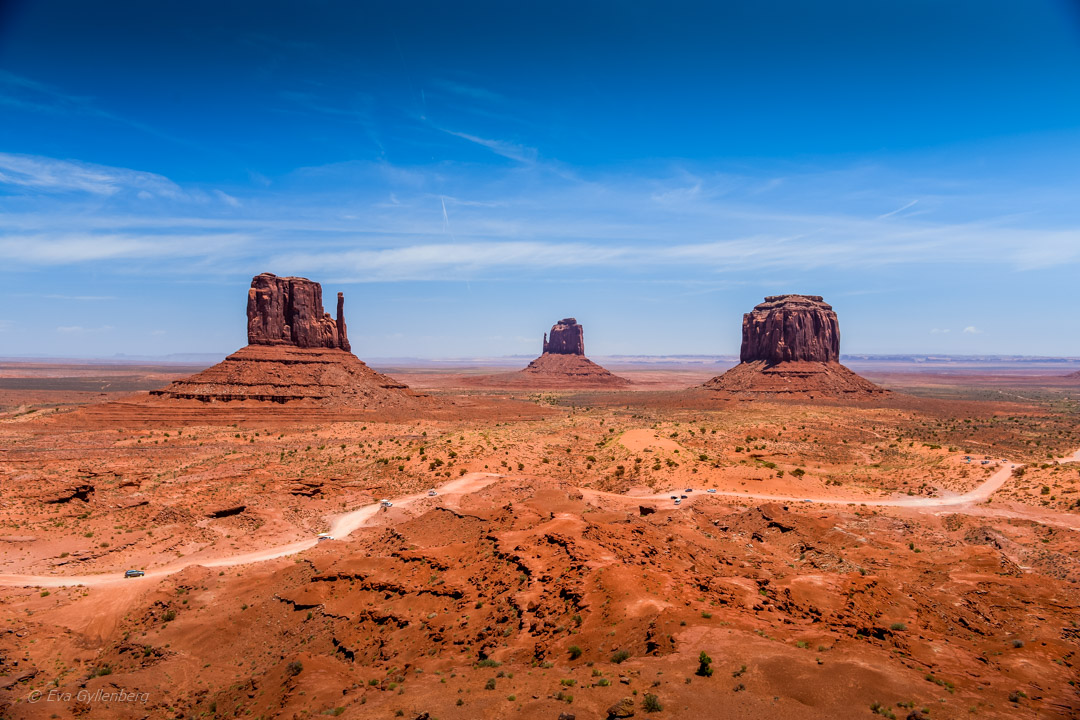 Drive on across the great expanses, where the roads are as long and straight and endless as only roads can be in the USA. The closer you get to Monument Valley, the bigger the well-known red sandstone cliffs (so-called bullion tables and mounds) who stand alone in the midst of desolation. Monument Valley is the eternal backdrop of cowboy movies and a pure pleasure to drive through. You will find the most famous view in Navajo Tribal Visitor Center, where you (if you have a good 4-wheel drive car) can drive straight out among all the mesas on a really twisted road.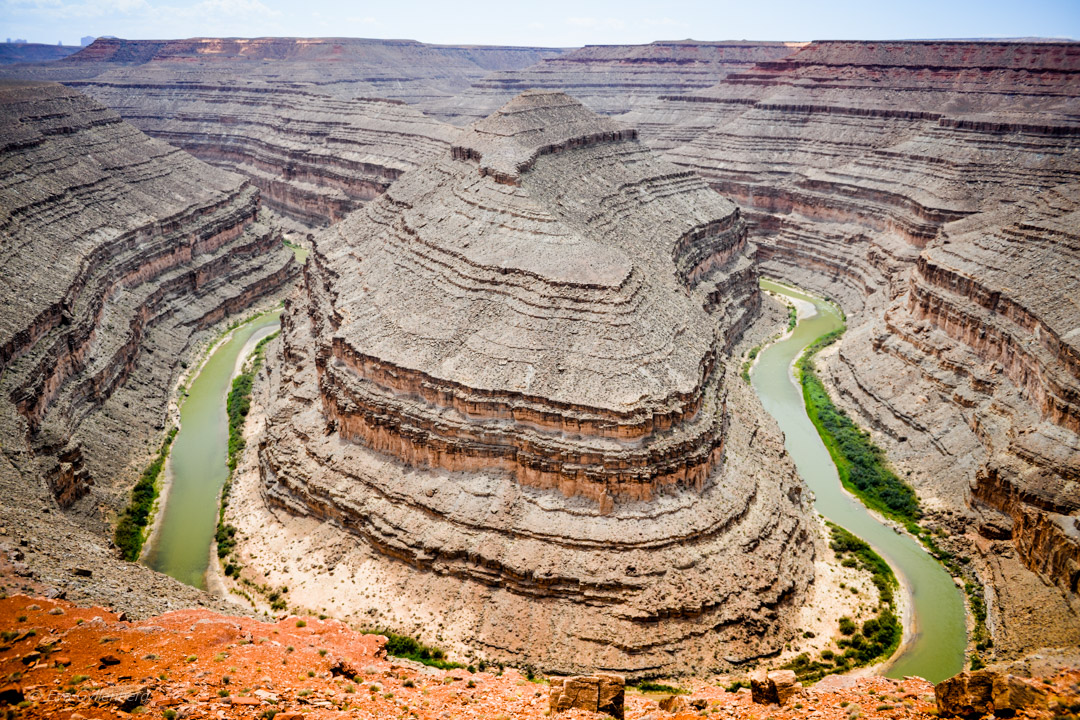 The last stop before we drive on towards Moab, is Goosenecks State Park, where over millions of years the San Juan River has burrowed its way through the earth, forming a deep river channel that can be seen if you carefully approach the edge.
accommodation: In Moab there is plenty of accommodation and plenty of restaurants and bars. Live in a chain, for example La Quinta Inn Moab or try staying "glamping" at the tent hotel Under canvas.
Day 8-9: Arches NP, Utah
8 miles round trip from Moab
Arches National Park is a category of superstar national parks all its own. Here you'll find over 2000 stone arches that seem to defy gravity, along with balancing rocks and beautiful red cliffs. To both have time to drive through the entire park and to hike up to the iconic one Delicate Arch, you need to split the visit into two days.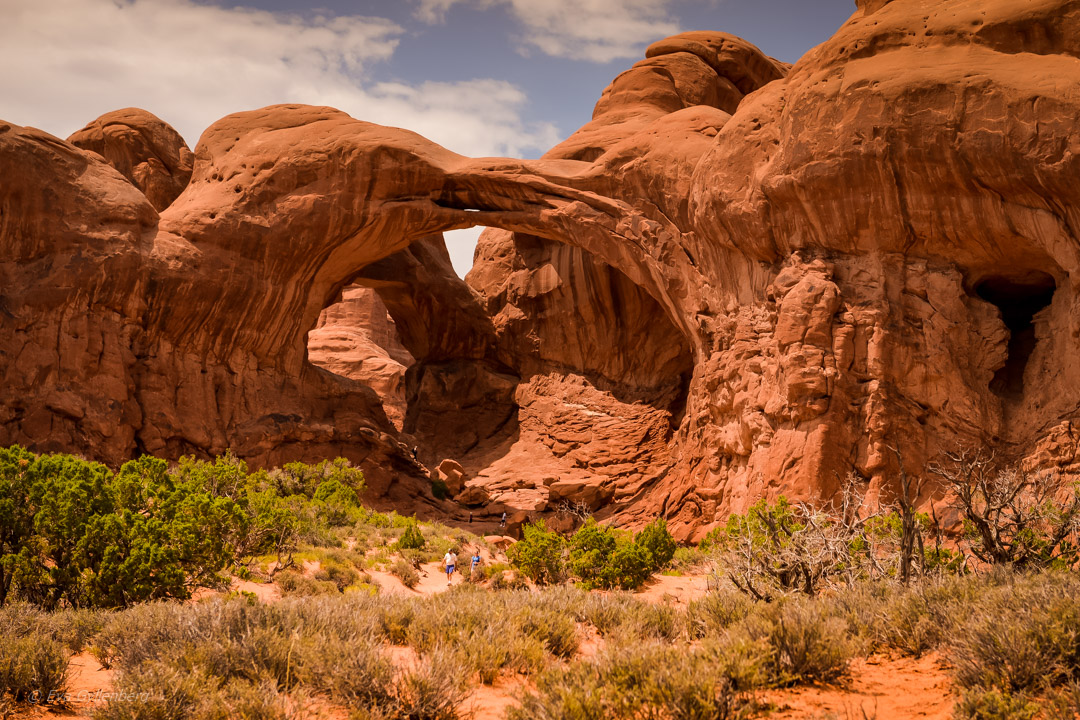 Other places you should visit are the rock formations at Fiery Furnace, Landscape Arch, Double Arch and Sand Dune Arch. Also hike along Park Avenue Trail, the hiking trail where the cliffs almost look like high-rise buildings in New York.
accommodation: In Moab, same as day 6.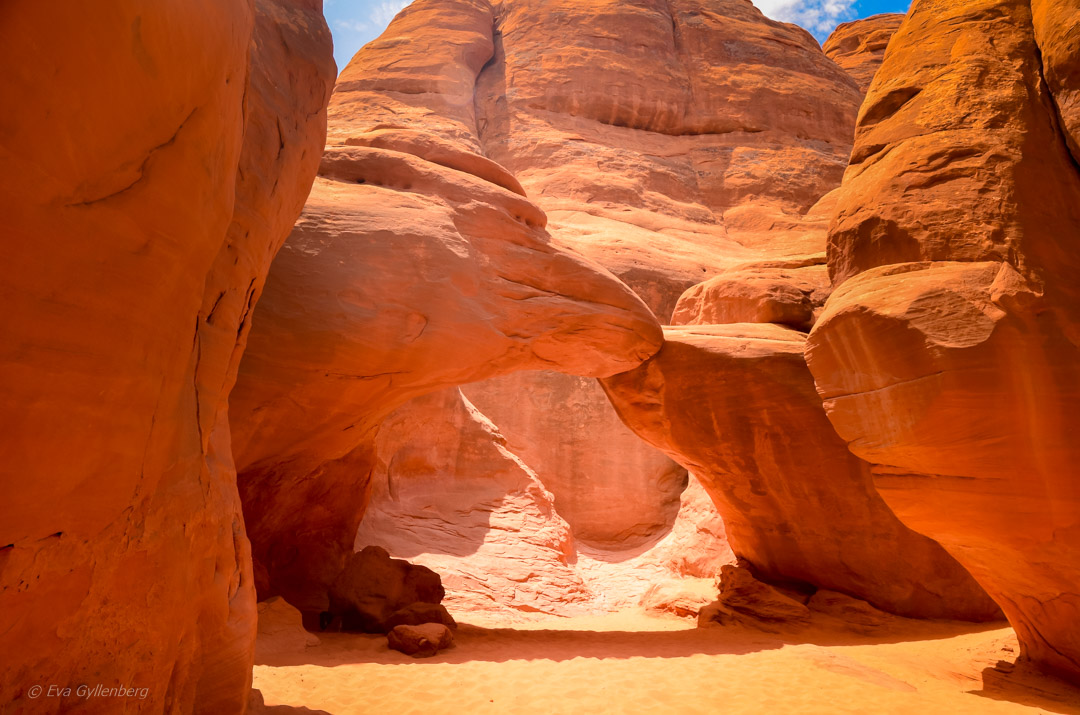 Day 10: Canyonlands NP, Utah
15 miles round trip from Moab
Canyonlands National Park is the Grand Canyon's slightly forgotten sister, which despite its size hardly gets any visitors. Perhaps it is because the distances are great and there is not as much service here as in many other national parks. But the scenery is magnificent! Canyons as awesome as the Grand Canyon, stone arches as big as Arches and with plenty of hiking trails at Island In the Sky. Don't miss going here!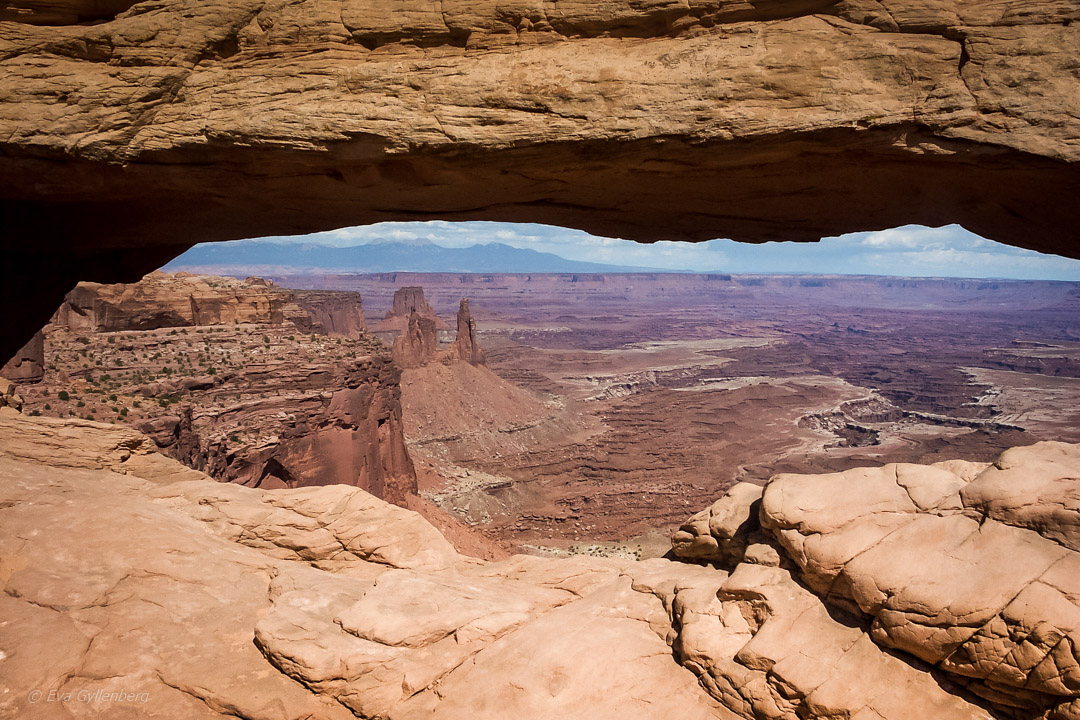 Day 11: Towards Torrey, Utah
25 miles from Moab
Today is mostly a stretch of transport and a chance to rest your legs, so take the opportunity to knock off all the necessary shopping or that mountain bike ride you had in mind in Moab, before heading to Torray in the afternoon.
accommodation: Capitol Reef Resort outside Torrey is well situated for tomorrow's national park adventure.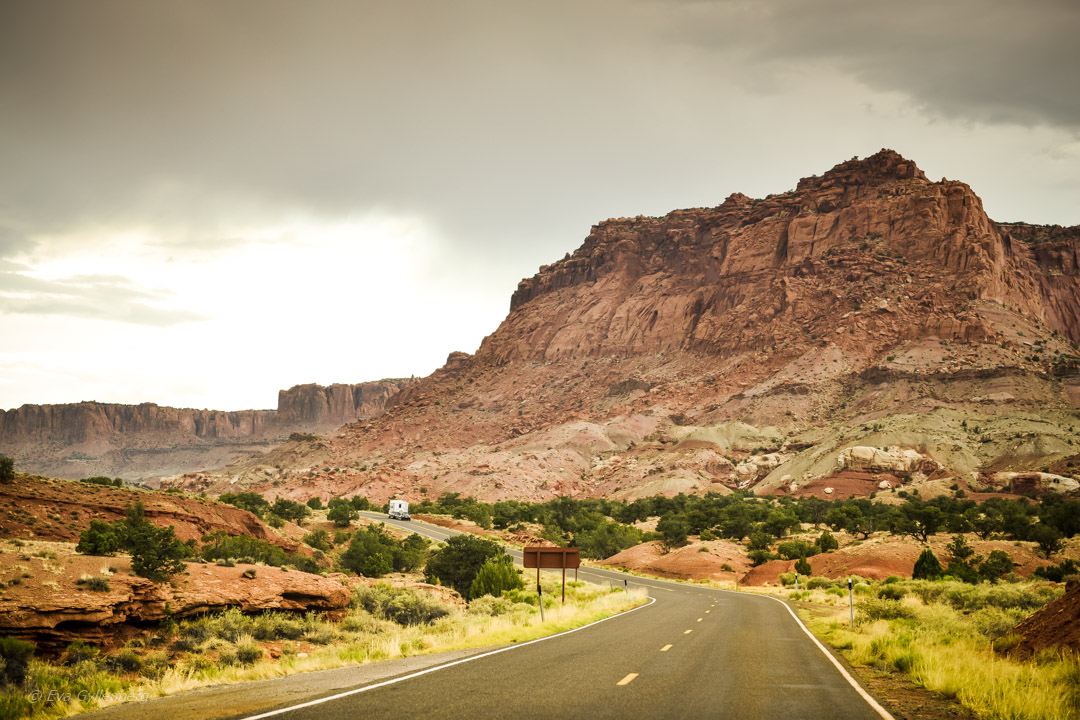 Day 12: Capitol Reef NP, Utah
17 miles from Torrey to Bryce + about 5 miles in the national park
Capitol Reef National Park was a bubble on our national park map, so we really had no expectations when we went here. Perhaps that was precisely why the park left such an impression on us, because here we had some of our best hikes ever. It was quite a heavy hiking day when we were there, the temperature was around 40 degrees and the air was still on the hiking trail. So we only walked a few relatively short trails, there Capitol Gorge became our favorite, with steep red cliffs and hiking in an old river vein.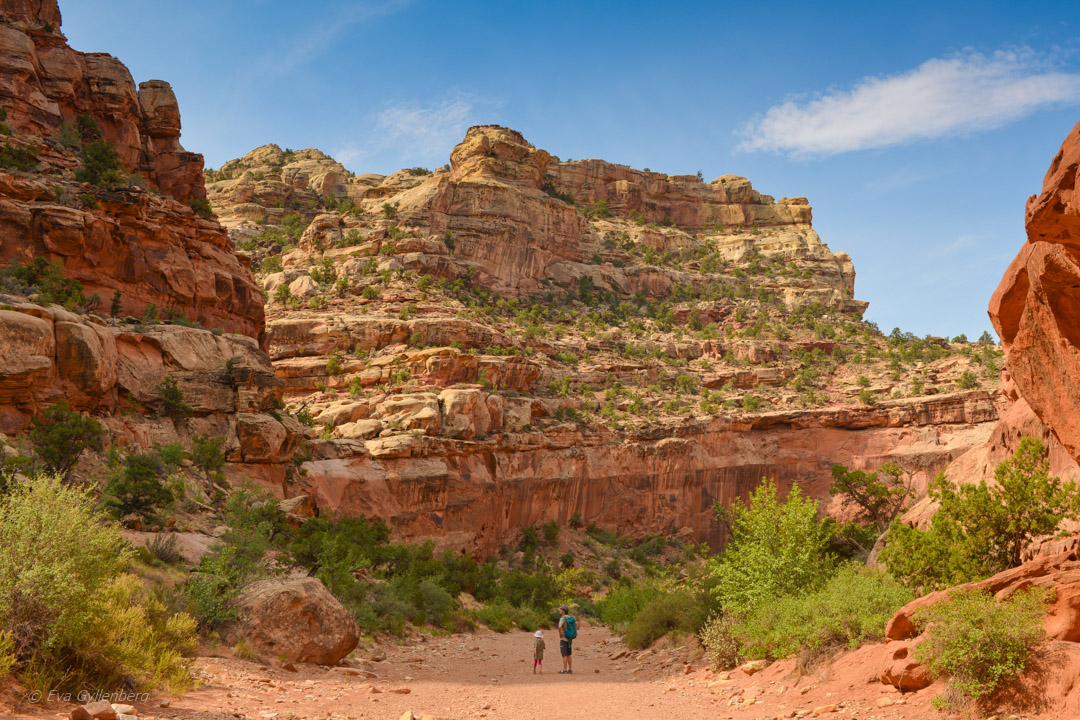 Before you leave the park and head for the night's accommodation in Bryce, stop for a pie and coffee in the historic Fruit. Here grow over 3000 old fruit trees from the time when Mormon pioneers lived here. It's free to pick from the trees and enjoy sun-warmed apricots and cherries directly, so take the opportunity to smacking away!
accommodation: In Bryce, you want to live centrally, so check in at well-maintained Bryce Canyon Grand.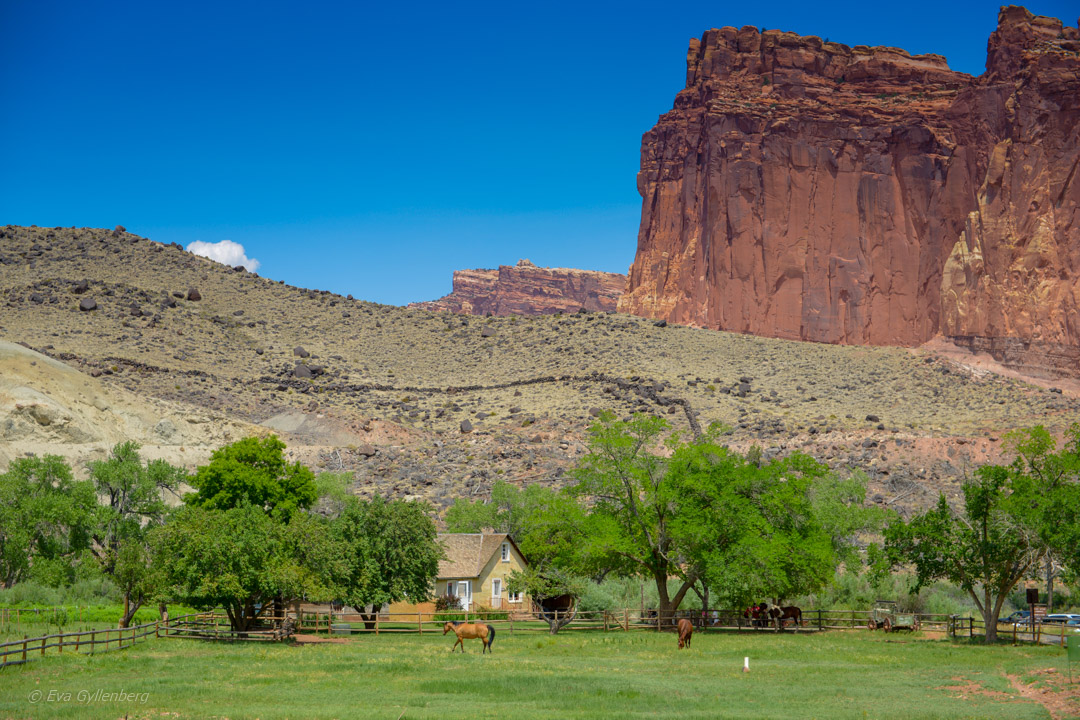 Day 13-14 Bryce NP, Utah
15 miles round trip in the national park
Bryce oh Bryce – our favorite of all the national parks! Bryce Canyon National Park is one of the most unique things in nature I have ever seen. Narrow, high sandstone cliffs in various shades of red and white (so-called Hoodoos) are gathered here in large numbers. Best of all are the hiking trails down in Bryce Amphitheatre, Navajo Trail + Queens Garden's Trail, starting in Sunrise and end in Sunset. It is considered tough, with large differences in height. Add in the fact that Bryce Canyon is at an altitude of 2500 meters, and the hike becomes even tougher.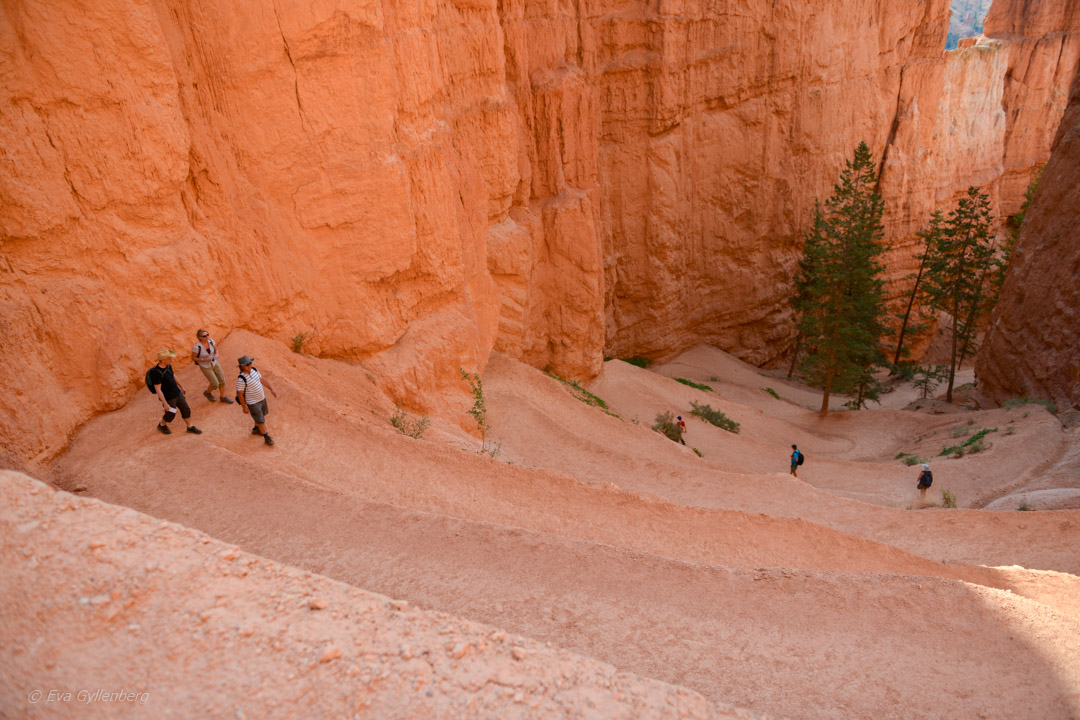 You get the best view of the amphitheater from Inspiration Point, it is only then that you really understand how big and numerous all the Hoodoos really are.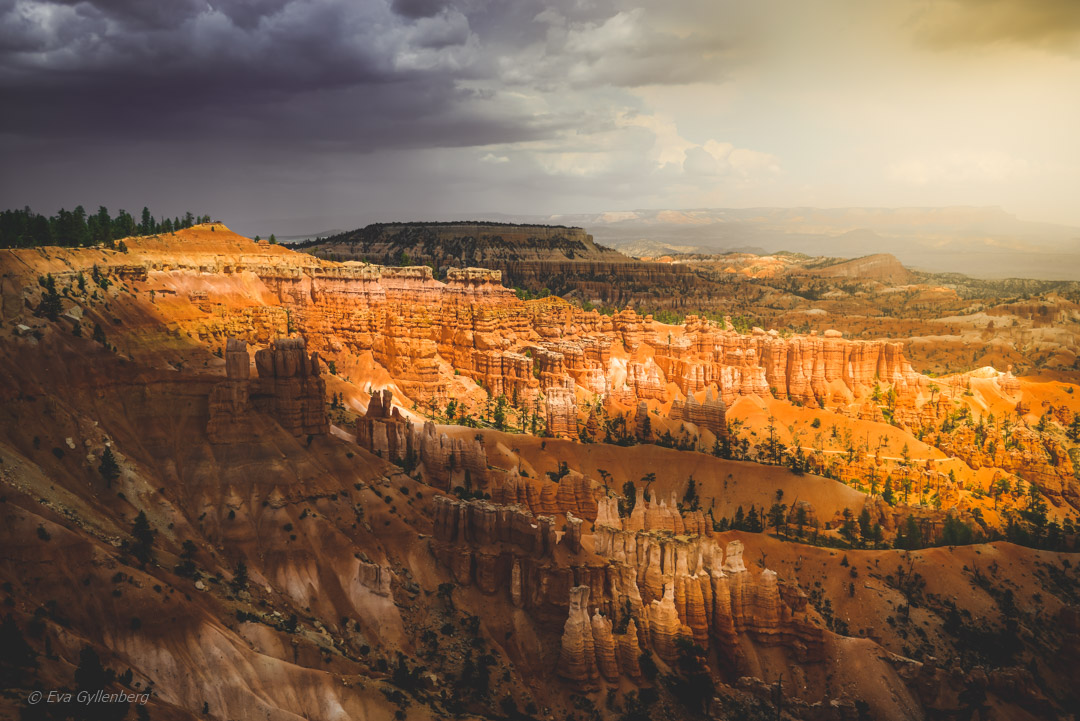 Spend two days here in the park exploring more hiking trails and learning more about all the fossils found here. In the evening, take the opportunity to visit the Bryce rodeo and be horrified at how all the cowboys turn yellow and blue when they are thrown off their horses and bulls.
accommodation: Same as previous day in Bryce.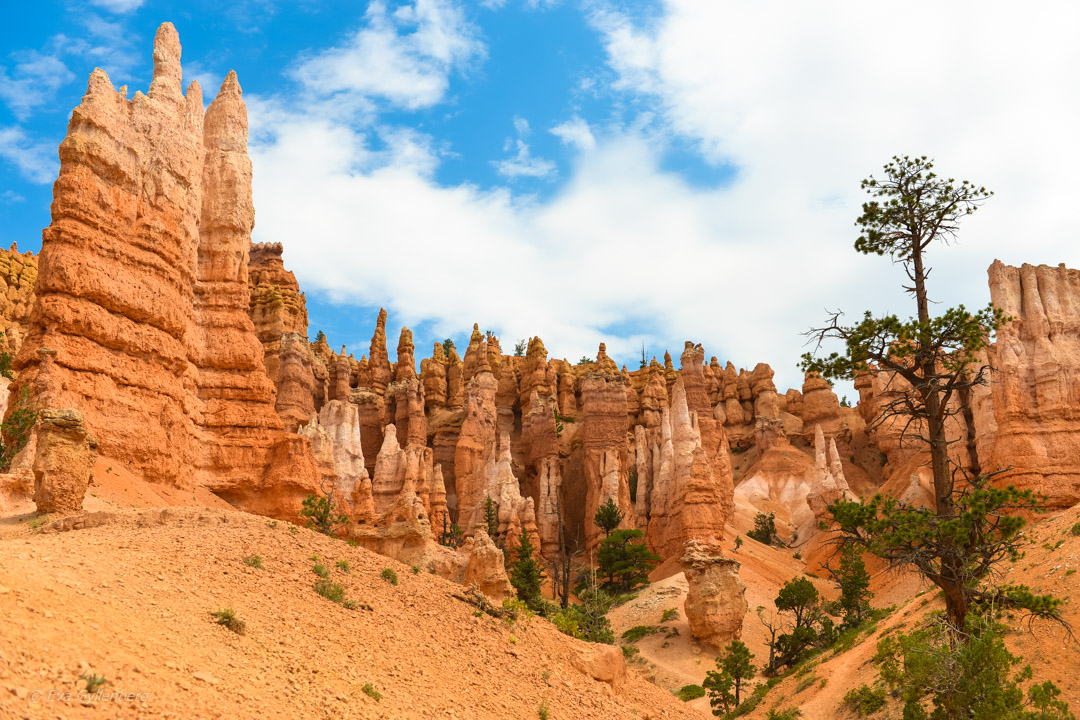 ---
Day 15: Cedar Breaks National Monument, Utah
15 miles from Bryce to Springdale (via Cedar Breaks)
Leave Bryce in the morning and head towards Springdale via Cedar breaks national monument. At 3000 meters lies a small subalpine version of Bryce, which is relatively unknown. During the summer months, spring flowers bloom in large quantities, which has led to the park organizing a "wildflower festival" every year. Here you can quite alone walk the edge of the gorge and watch the sandstone's color changes in the relatively cool air. Great after the heat that Utah otherwise offers during the summer months!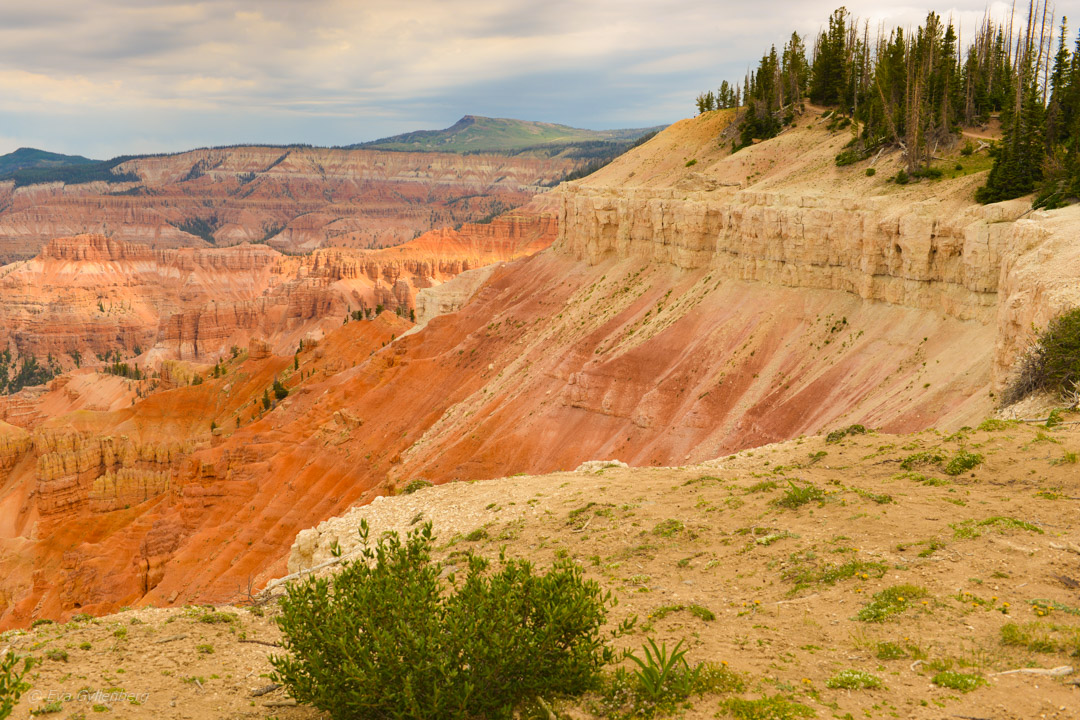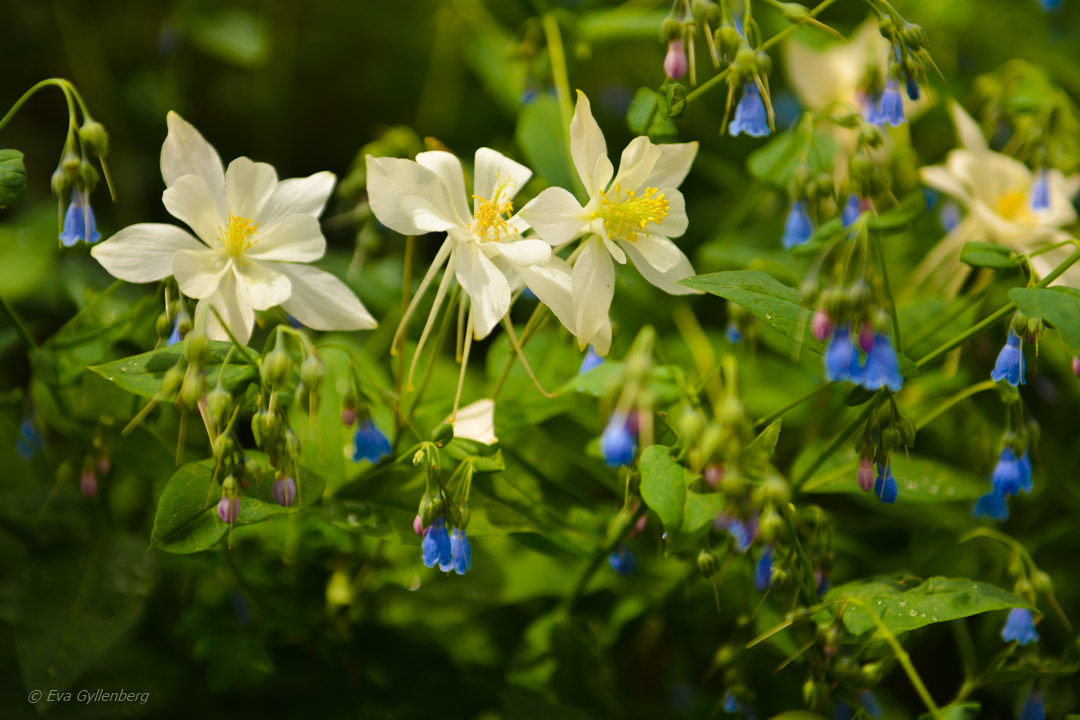 Accommodation: Canyon Lodge in Springdale
---
Day 16: Zion National Park, Utah
Shorter drive to shuttle bus
Zion National Park is one of America's most popular national parks, yet we haven't quite managed to find its charm. Maybe it's because during large parts of the year you can't take the car into the park (due to the large number of visitors), so you have to take the shuttle bus instead. The amount of people takes away a bit of the beauty of the area for me, but the park is still worth a visit. There are several circumscribed hiking trails here, of which "the Subway" is a tough one that requires rappelling, swimming and (preferably) a guide.
Something that Zion offered us in abundance, however, was encounters with animals. Mostly we saw bighorn sheep, but also some deer, so look out for the cliff edges!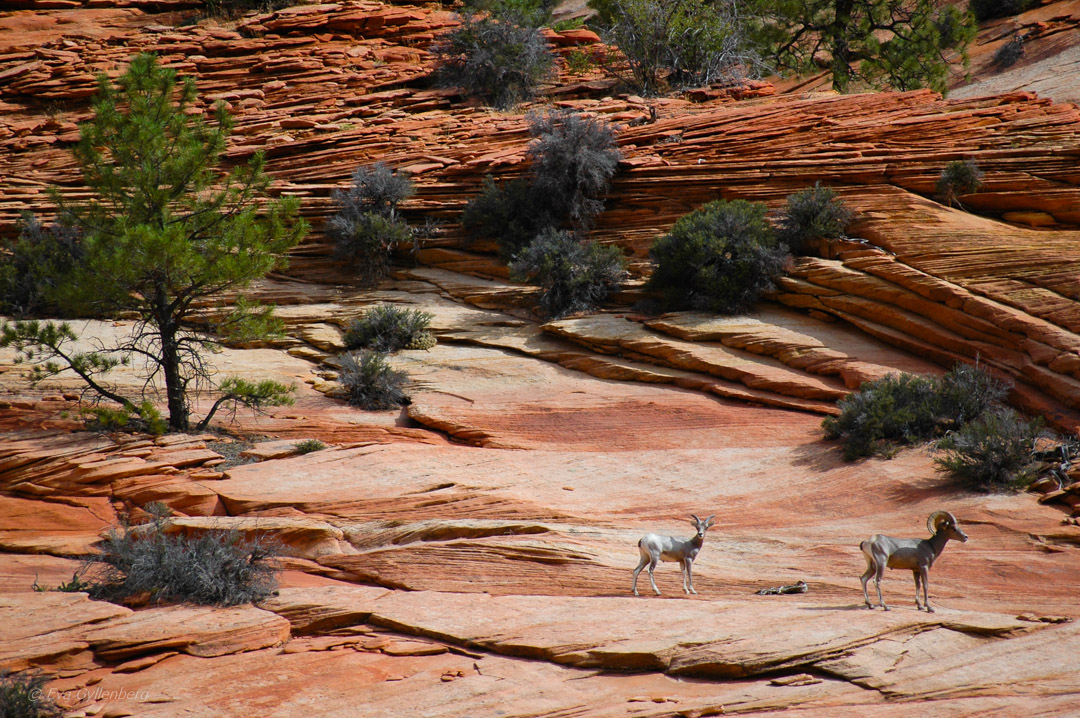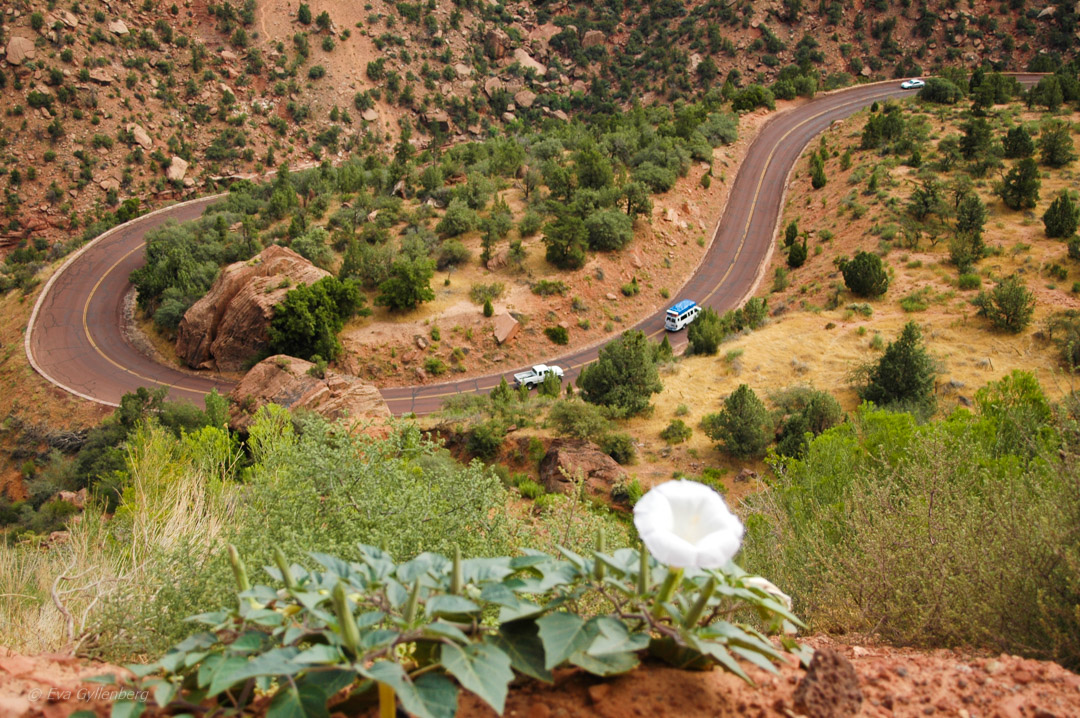 accommodation: Same as the previous day in Springdale.
---
Day 17: Back to Las Vegas
25 mile drive to Las Vegas in the afternoon
Pay a final visit to Zion National Park in the morning and go as suggested Riverside Walk and Lower Emerald Pools, before dusting off your hiking boots and heading back to the Las Vegas sequin shoes. Two weeks of national park tour is coming to an end, but what experiences you have had! Unless this is it the ultimate road trip in the USA, so say!
accommodation: Hang out by the pool on Four Seasons Las Vegas as many days as the budget allows before flying home.
Do you want to read more about the United States?
The vastness, the food, the nature and the music – the great country in the west is really big!…
September 6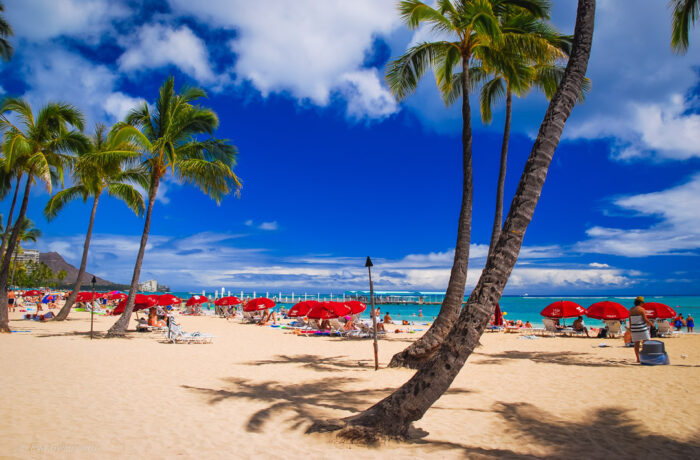 Oahu in Hawaii can be compared to the Swedes' charter favorite Majorca. But there are still some…
January 3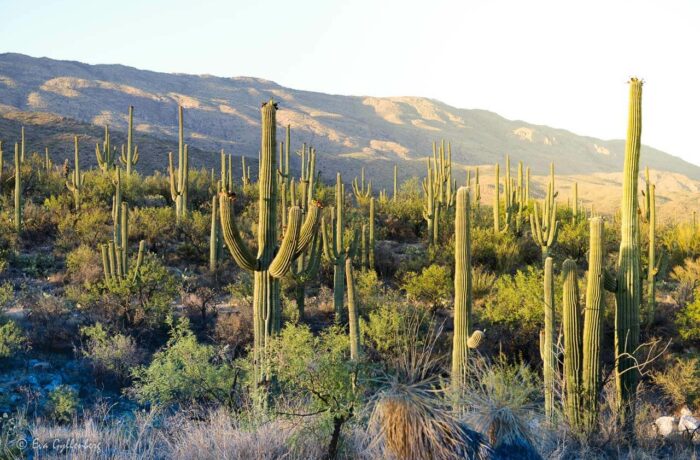 Outside of Tucson, Arizona is Saguaro National Park, the perfect place to see…
2 October 2021