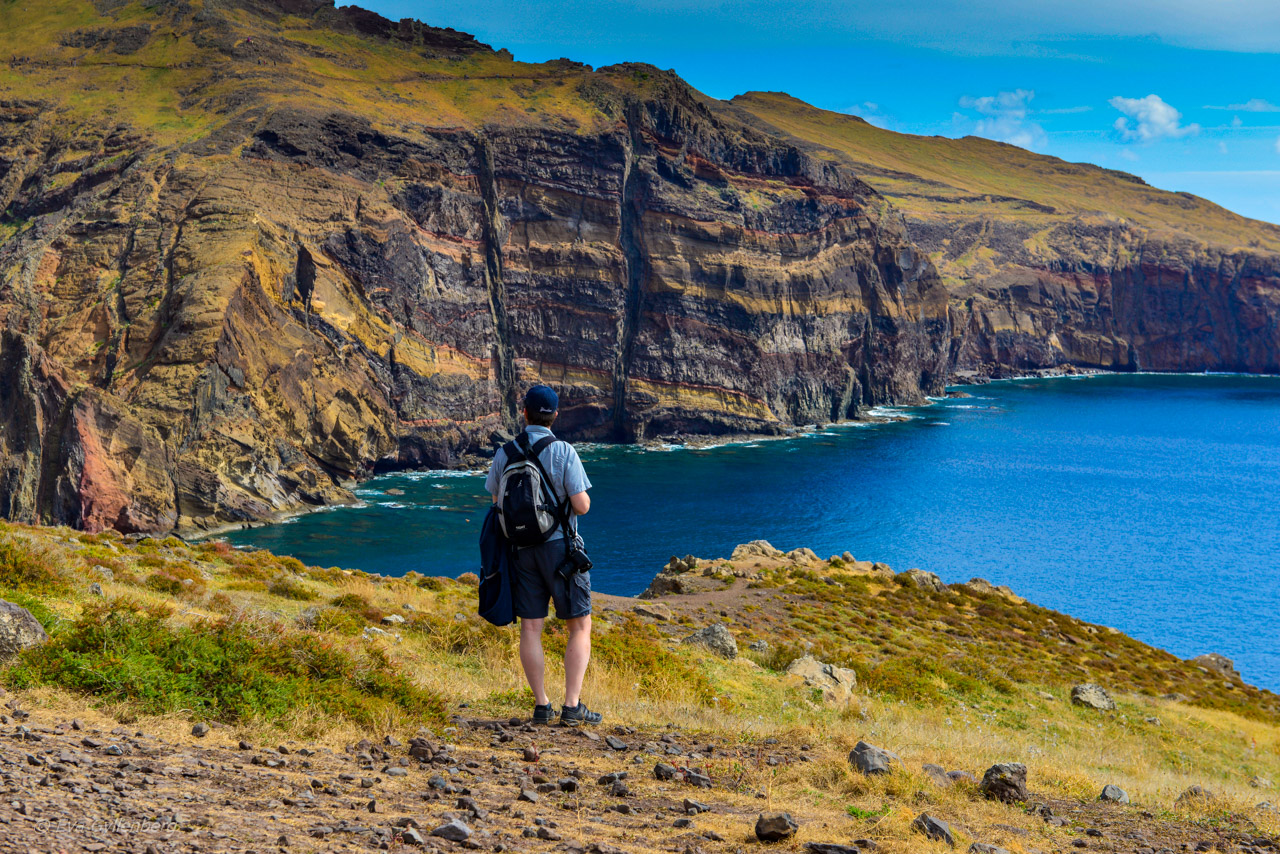 I have to admit that I didn't really look up where Madeira was on the map until the flight was booked and I realized that the flight time was a full 5,5 hours. I probably honestly thought the island was closer to Europe and further from Morocco. A little more like the Azores. But Madeira is 100 miles from Europe and only 50 miles from the coast of Africa. Not at all far from the Canary Islands. It is simply not so strange that the volcanic island of Madeira is called "the island of eternal summer" or "the garden of the Atlantic". It is never too hot, too dry or too cold here. Just really, really wonderfully warm, green and nice.
Through a "buy/swap/sell/give away" group in my neighborhood I had received three books about Madeira for free (thanks again dear neighbor if you see this!), so I had read quite a bit before I landed on the island . The very best book was "Hike in Madeira" by Anita and Birger Lovland, with detailed descriptions and maps for 50(!) hiking trails on the island. The book is from 2006 and doesn't seem quite easy to get hold of anymore, but not much happens with levadas and hiking trails in 10 years. The levadas in the book that we chose to go were pretty much unchanged, what had changed was usually where to park.
This trip we had rented a large house high up among the banana plantations in Calheta, with a lovely view of the sea and a large heated pool. This trip there were therefore not many restaurant visits. It was nicest to sit on the terrace and eat a home-cooked dinner at sunset after a long day of hiking.
So what did we think of Madeira? What are our quick and short reflections like this the day after we get back home?
The weather
Don't trust any weather app when looking at temperatures and weather in Madeira! My weather apps on my phone said clouds and 16 degrees for basically the whole week, but in reality we had between 18-22 degrees and sun every day on the south side of the island. Madeira has 6 climate zones and the large differences in altitude mean that there can be several degrees of difference in the same village. The north side is always a little colder and windier and over the mountains there are almost always clouds, ten degrees cooler and it often rains. We didn't have a drop of rain in Calheta all week, but we could see rain clouds on the horizon one day.
Go around Madeira / Rent a car
It is not easy to find in Madeira. The entire island is made up of a network of car tunnels, which makes it difficult for the GPS to keep up with the turns. In addition, lots of roads and villages are missing on Google Maps, for example we had a little difficulty finding our house - as the road was not on the map. It is also not entirely easy to navigate to coordinates, as a coordinate on a mountain may happen to be on top of a road tunnel.
Another rule that almost always holds true is that it takes 30 minutes to go anywhere along the south coast. If you are going to the north coast, it will take an hour. For us living in Calheta (southwest), it took 30 minutes to the airport on the east side of the island, 30 minutes into Funchal (which was half way to the airport) and 30 minutes to the village of Camara de Lobos (which was half way to Funchal) . How does this go together? Well, as soon as you leave the highway you end up on small, winding and steep roads that take a lot of time.
When parking, look for the color of the road markings. If they are white, the parking is free. If they are blue, it costs money. If they are yellow, you may only stop here briefly for relief. We learned about the blue boxes the hard way - by getting parking tickets on the first day. We then had to go to DataRed's headquarters in Ribeira Brava and pay our fine of 4,40 euros in cash. A very absurd experience. If there are no blue, yellow or white squares, you can stand anywhere. It is very popular to park in the middle of roundabouts or where the road is at its narrowest...
Don't rent a big car - you won't fit in any parking garage. It might be good to keep in mind that there are a lot of very steep hills in Madeira, so a manually-geared car might be preferable to an automatic.
Prices
Just like in mainland Portugal, prices are very affordable. The only thing that I thought I saw was more expensive in Madeira, was dairy products. I couldn't get hold of fresh cream at all. The restaurant prices felt about 30% lower than a comparable restaurant in Sweden.
We didn't come across any restaurant or shop that didn't accept cards for payment. However, the parking machines usually only take coins, so make sure you always have a few euros with you in coins. We usually bought coffee and other small things with cash.
Some examples of prices:
Steak in bulk over the counter = SEK 130/kg
1 liter of orange juice = SEK 10
Most expensive parking garage we came across = 17 SEK/hour
Small coffee with milk (garoto) = SEK 6
Carrots = SEK 5/kg
Average price of a bottle of Portuguese wine in a shop = SEK 25-50
Dinner at a first-class restaurant in Funchal = main course SEK 120-170, starter/dessert SEK 70-90
Activities
You don't mainly go to Madeira to sunbathe and swim. Of course there are hotel facilities here on the island, but they are surprisingly few. You go to Madeira mainly because you love hiking/cycling in beautiful nature with dramatic views and lush greenery.
The most unique thing about Madeira is the opportunity to walk along the old irrigation canals - levadas. In order to bring down the rainwater from the mountains to the plantations on the coast, in the 18th century an ingenious canal system of hundreds of miles was built over, under and through the mountains. These levadas are today popular hiking trails that are both well marked and reasonably safe. If you are going to hike along the levadas, however, you should not be afraid of heights. You hike on the edge of the levadan, which varies between 30 cm and 1 meter in width, often with substantial drops on the side of the trail. Sometimes the path is secured with a simpler railing, but sometimes the path is completely unprotected. We only hiked levadas of difficulty level 2 or 3 (out of 5), but we actually had to turn around on one of the "easy" levadas as the trail was not secured over a 15-20 meter high drop. However, we loved the levada hikes and all three kids thought it was both super exciting and fun. I will write about all our hikes in separate posts later.
PS: If you go here to swim - make sure the hotel has a heated pool.
Clothes
I had way too warm clothes, mostly because I looked at the pessimistic weather apps on my phone and thought I needed to bring at least a fleece sweater and gloves. I hiked mostly in hiking shorts/trousers, a t-shirt and a windbreaker. A goretex jacket is always good to have with you, especially if you are hiking in the mountains where the weather changes quickly. In the morning and evening, before the sun rose, it was nice to wear a Houdini on the terrace.
Bring good hiking shoes, the hiking trails here are not nearly as well-organized and polished as, for example, in the United States. Here it is both uneven and rocky. A shoe with a thin sole on these trails is not comfortable for either the feet or the ankles. We saw one person walking around in Converse, but I wouldn't recommend that…
Restaurants
We didn't eat at that many restaurants this trip, but the restaurants we ate at we booked via the "theFork" app. Via the Fork, you can quickly and easily book most of Madeira's restaurants, including the Michelin-recommended restaurants, which made it easy to book yourself and see when there were times available. If you want to eat "early" (ie before 19:30), there are often tables available.
The bottom line!
What did we think was best about Madeira?
Eve: The climate, the greenery and the incredibly dramatic views. I could live here!
Different: The scenery, the weather and the driving on the winding mountain roads.
Little E: The house we rented, that it was warm and nice and lots of bananas.
What did we like less well?
Eva: That we didn't manage to see any whales at the whale watching! The Levada tunnels – they were a bit too narrow and dark for me.
Other: The crowded parking garages and the smell of salt-dried cod (bacalhao) in the grocery stores
Little E: The scary steep roads!
Want to read more of my travel tips? do not forget to like Rucksack on Facebook!
Have you been here? What did you think of the destination?
Been there - didn't like it!
0
Not keen at all to go here!
0
Eva Gyllenberg
Travel blogger, gastronaut, photographer and family adventurer with over 55 countries in his luggage. Eva loves trips that include beautiful nature, hiking boots and well-cooked food. On the travel blog Rucksack she takes you to all corners of the world with the help of her inspiring pictures and texts.