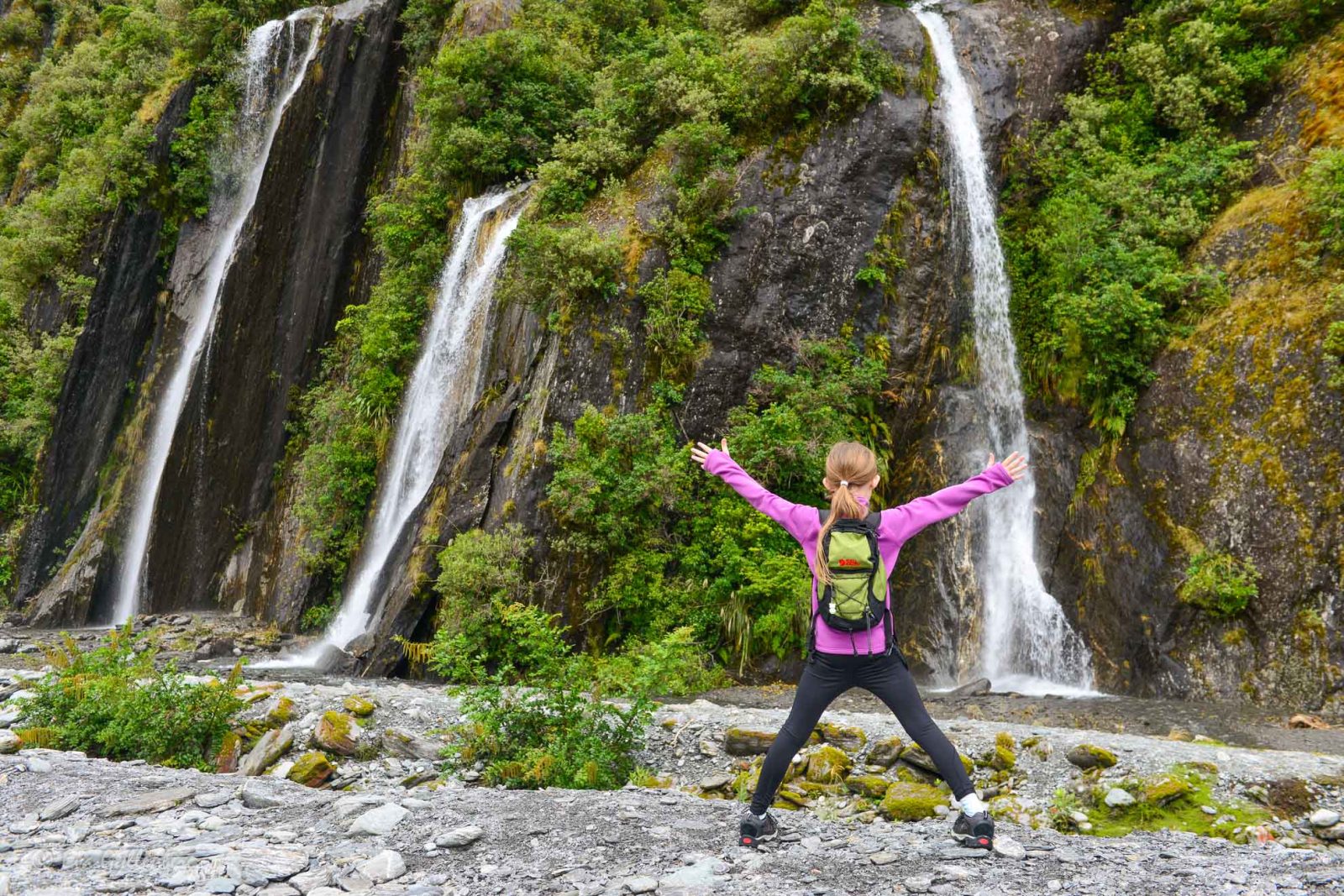 Travelers' Map is loading ...
If you see this after your page is loaded completely, leafletJS files are missing.
Franz Josef
Woke up at Scenic hotel in Franz Josef and had continental breakfast at the hotel. Unusually affordable breakfast, so we couldn't bear to go out into the village and look for another place. As we were up quite early, it was almost just us and a busload of British pensioners who were to be bussed around the North and South Island for a month. The bus tourists were quite quick to clear the buffet, so we had to eat a little faster than usual. Maybe lucky, we are very slow on our breakfasts usually…
We had read that it would be possible to get nice reflections on lake Mapourika if we were there early in the morning, so we thought we would take the opportunity to go there before all the tourists wake up.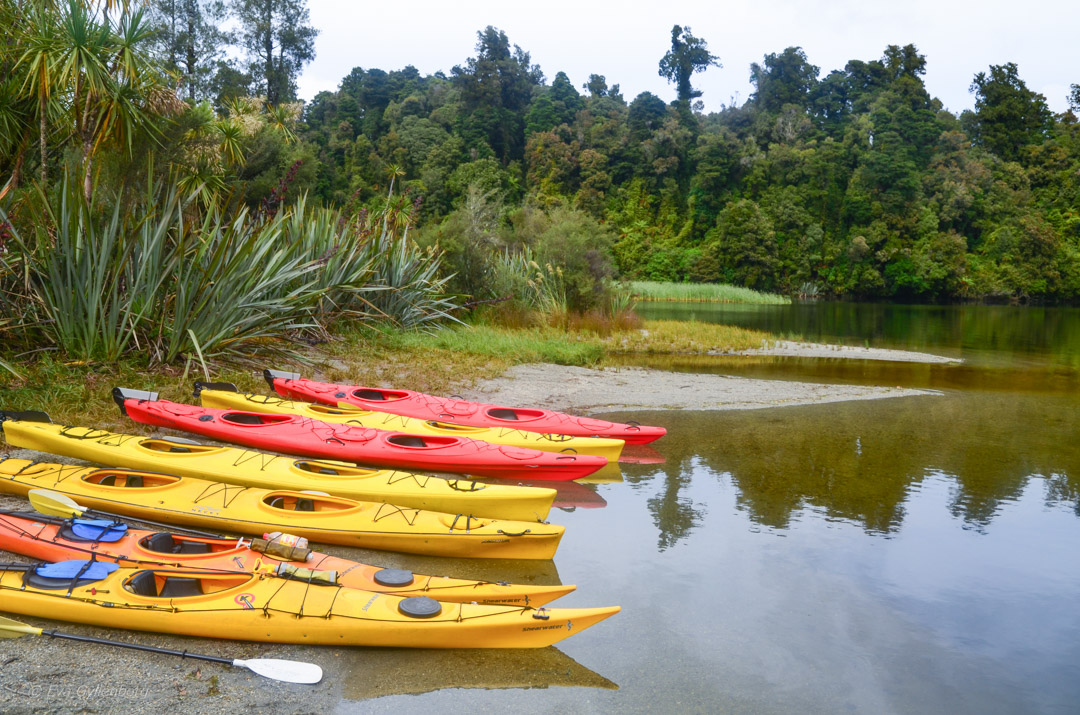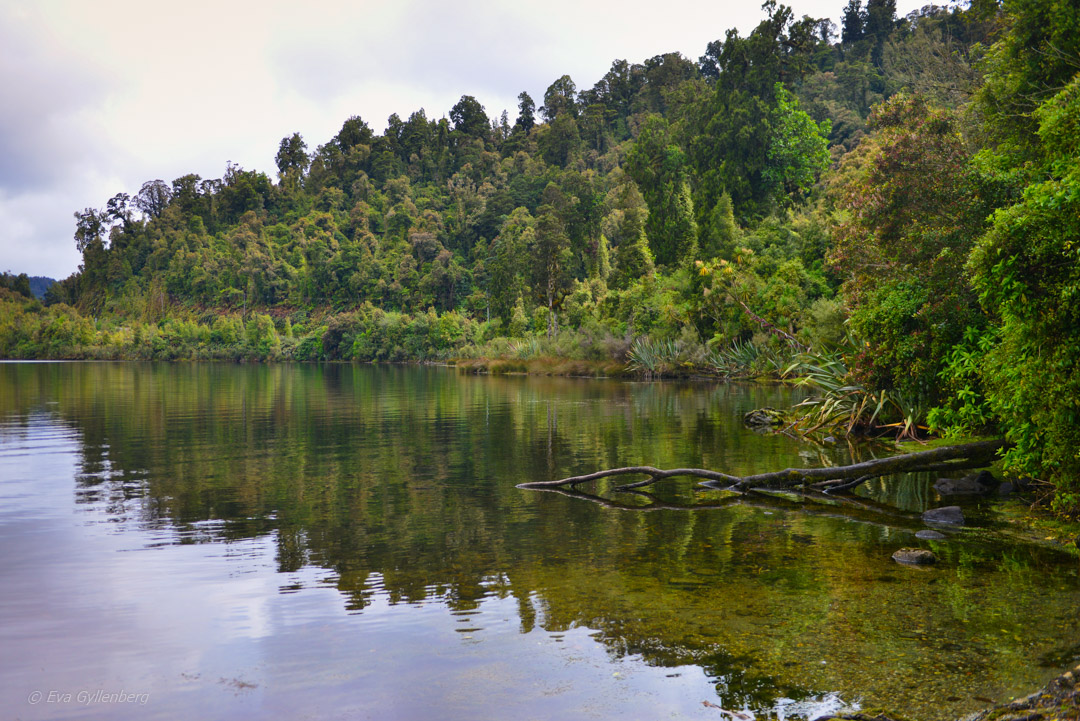 Unfortunately, we weren't the only ones who wanted to enjoy the lake, a whole busload of kayakers had unfortunately gotten ahead of us. They waved their arms and practiced paddle movements, so they basically took up the entire beach. Also, it was not a perfect day for mirror images, the weather was very cloudy, with super low fluffy clouds. So far we haven't actually seen the tall snow-capped mountains nor Mount Cook, they are hiding somewhere in the rain-heavy clouds. (It rains more than 200 days a year here, that's probably why it's so cool rain forest everywhere here on the west coast). However, the clouds make the landscape feel very unique and the camera lens smiles with happiness when the clouds roll in over the green hills. We had been dying to take a helicopter ride up to the glacier, but the helicopter guide we spoke to yesterday said that they had put all the helicopters on hold waiting for the fog to lift. Bummer…
Now went to the Franz Josef Glacier, where we started our 1,5h (5km) hike up to the glacier.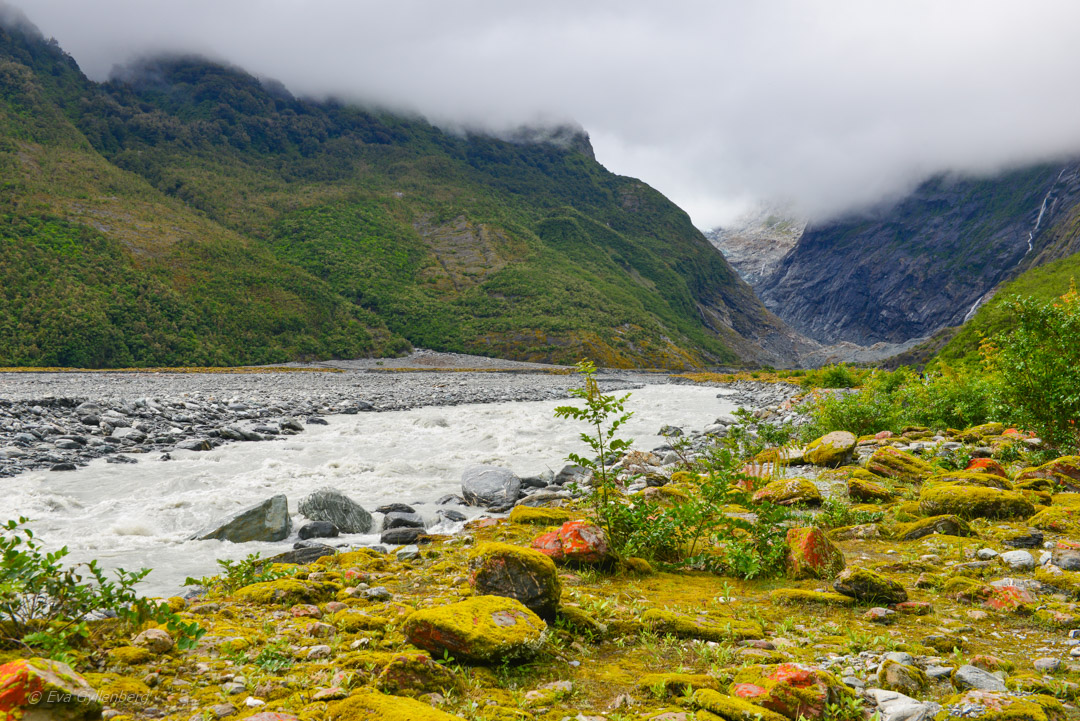 The path first went through a forest before coming out onto a large rock field, where the melted glacier water flowed in a wild river. Everywhere after the green hills, small waterfalls flow and the path is rerouted in several places because meltwater with great strength has torn the road.
After a while of walking on the stone field, the path began to incline uphill. Relatively demanding path with a lot of rocks, where during some parts you had to jump on rocks over streams and other parts had steep ditches towards the meltwater river. Had to stop 200 meters from the glacier, as it is too dangerous to get closer.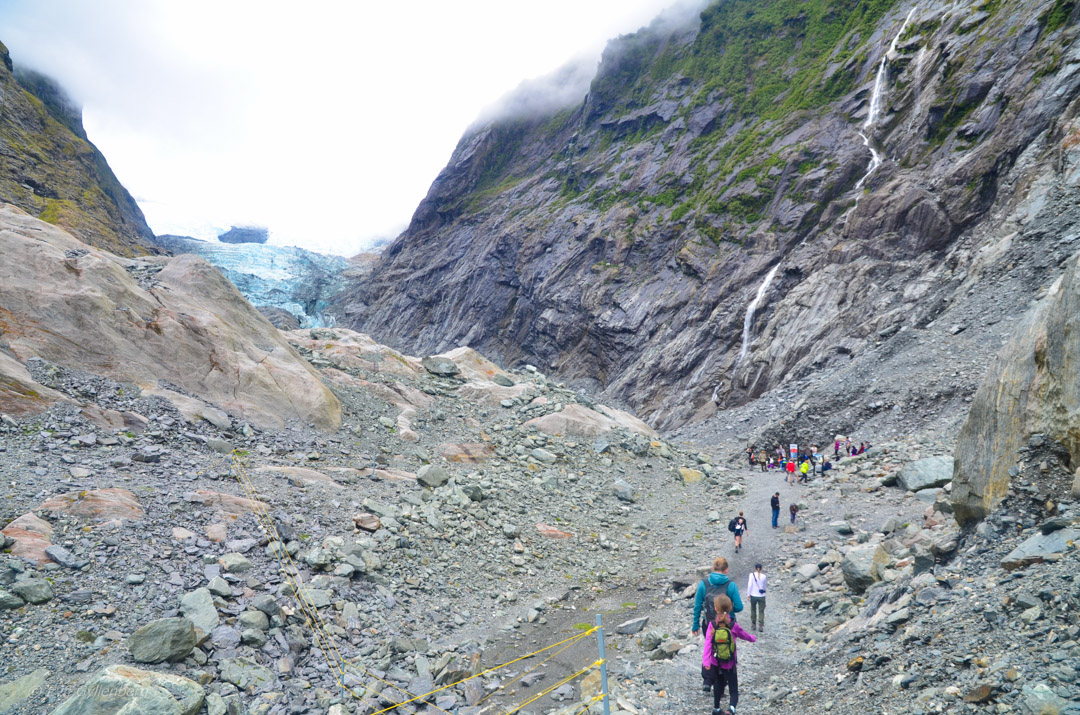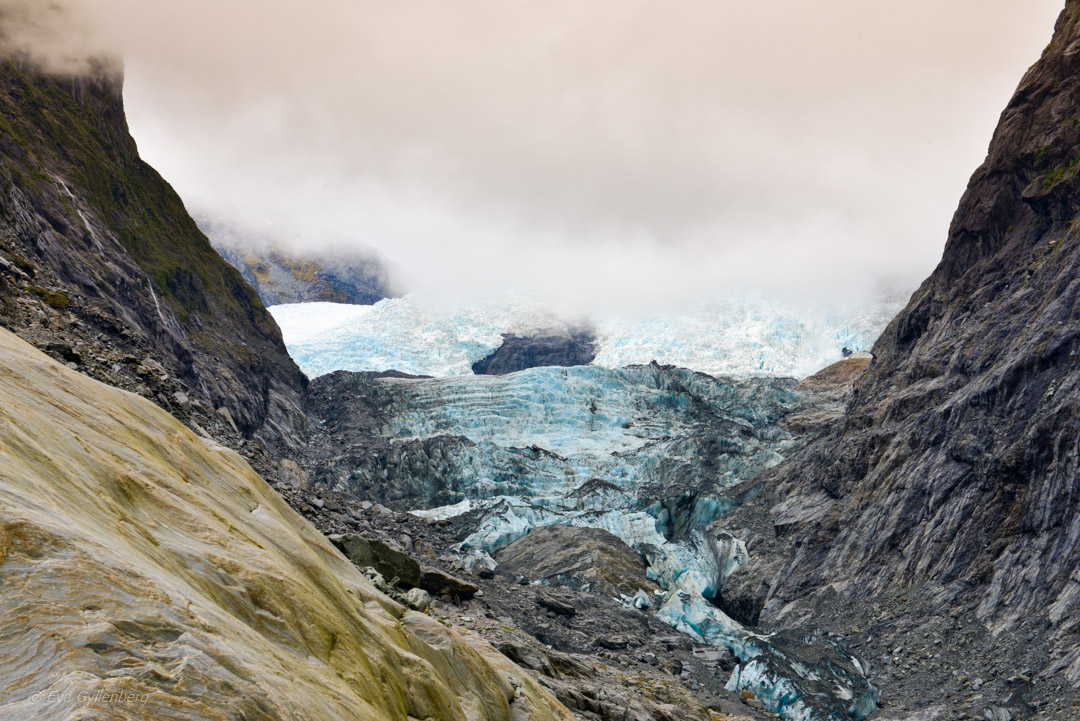 Because the glaciers are melting so fast this summer, the ice is full of dangerous cracks and cavities. Sat for a while and looked at the nature and hoped that the clouds over the peaks would disperse, but despite the blue sky down in the village, the mountains held the clouds in an iron grip. They did not want to disperse! So it was just a matter of giving up and walking back down to the car.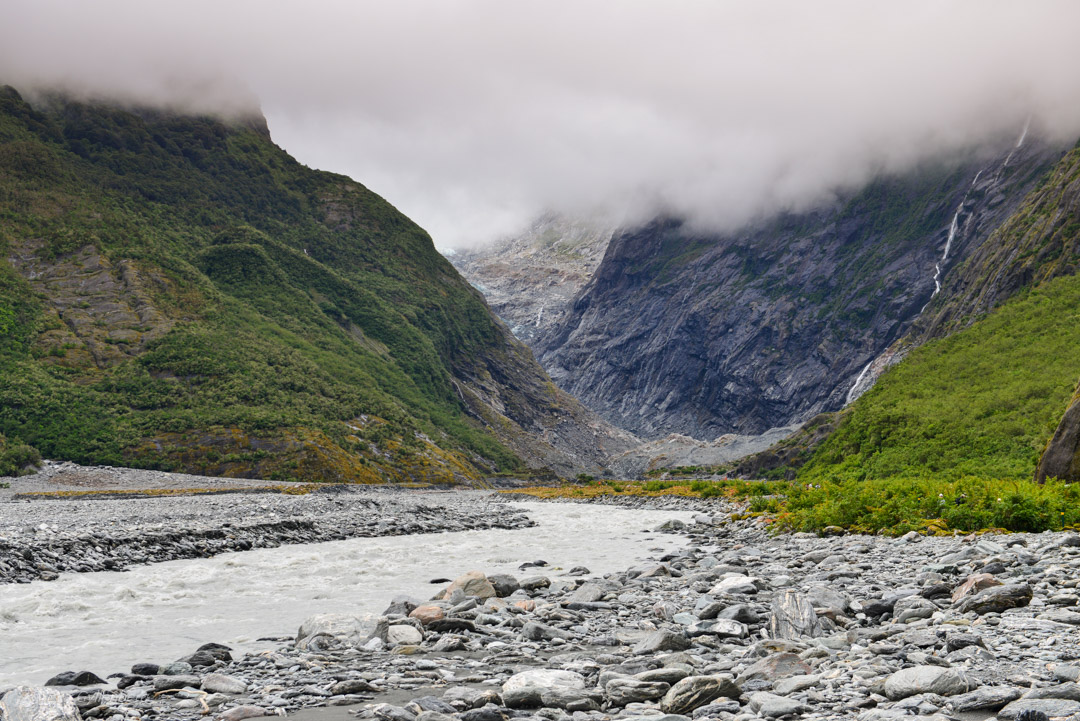 Lunch time and no lunch box, so we drove the short distance to the center and had lunch at the Landing. Me and Elly shared a giant pasta Carbonara and Anders had a seafood chowder. Checked with the helicopter guide again, who had no positive news for the fog. So what a girl to do apart from a little comfort shopping? Little E decided after very careful market research to buy a key ring with New Zealand symbols (which she has been dying to get since she first saw it).
Went past the room and filled our water bottles (It's really nice to be able to drink the tap water here in New Zealand! We're usually not used to it when we're out hiking!) before we took the car to lake Mathson and took a 4,8 km walk around the lake.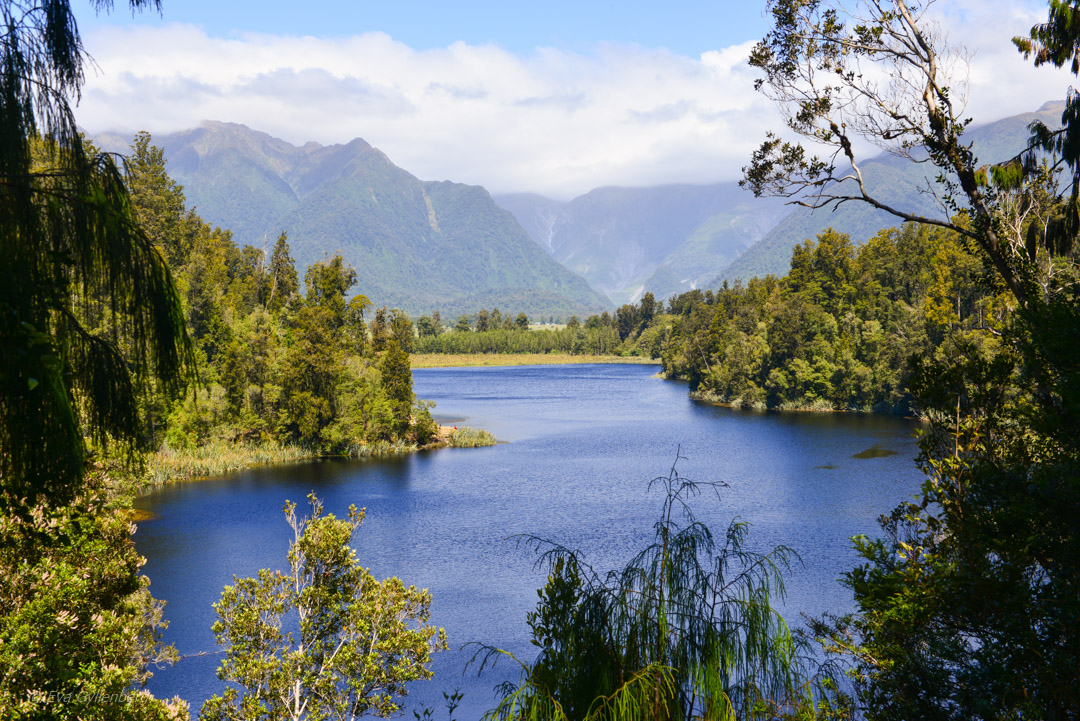 The lake is famous for its tea-colored water, big eels (really BIG) and beautiful mountain reflections, but the clouds stubbornly continued to hide the peaks. Was a nice hike regardless! Saw a special giant New Zealand pigeon which was very beautiful and can grow up to 50cm tall! However, the eels were conspicuous by their absence, they certainly don't like sunlight.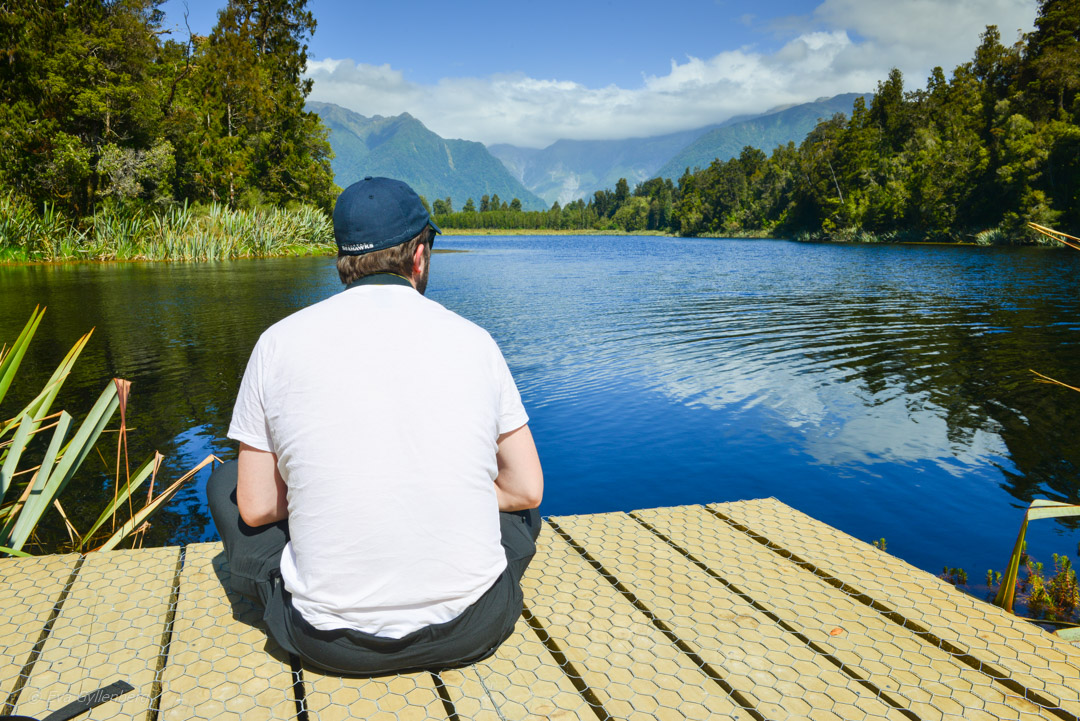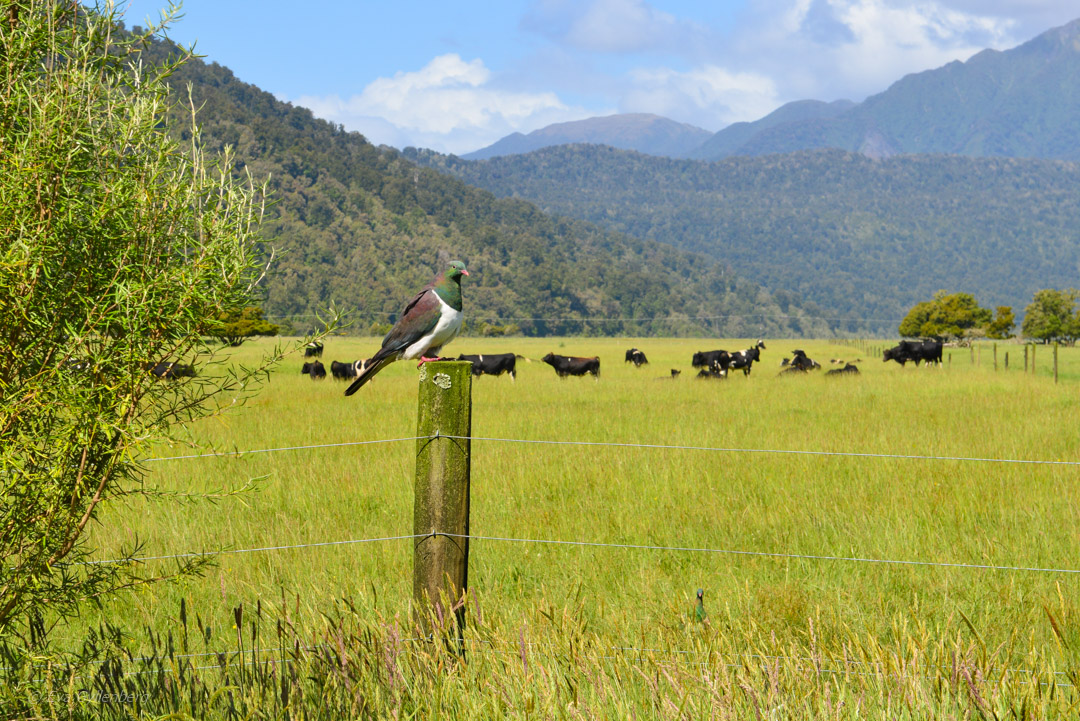 Now the clouds had actually let up quite a bit, so we went back to the Franz Josef glacier and did a short 1,5 km hike to Peter's pool where we finally got to see some snow-capped peaks. Back in the village after a really long day of hiking, we ate at King Tiger again, Elly's children's menu with chicken korma went home just as well today as yesterday.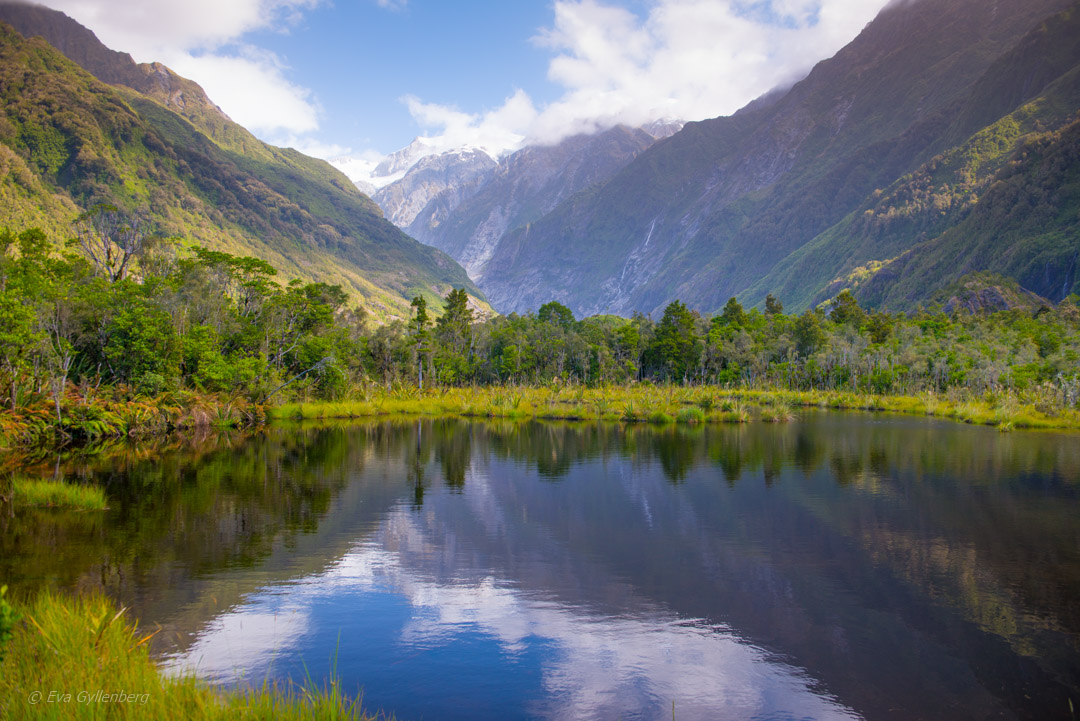 Tomorrow will be a long driving day, actually the longest of this trip, so it's time to sleep now. The pedometer clocked in at 25000 steps today, the feet are quite tired : )
Have you been here? What did you think of the destination?
Been there - didn't like it!
0
Not keen at all to go here!
0
Eva Gyllenberg
Travel blogger, gastronaut, photographer and family adventurer with over 55 countries in his luggage. Eva loves trips that include beautiful nature, hiking boots and well-cooked food. On the travel blog Rucksack she takes you to all corners of the world with the help of her inspiring pictures and texts.