Last summer we made our first longer trip with our little pug Lilibet. We drove down to Normandy through Denmark, Germany, the Netherlands and Belgium and stayed in both hotels and airbnb along the way. An incredibly cozy trip that was only made better by the fact that Lilibet could come along. But what does it really take for you to be able to travel to France with your dog? How dog friendly is France? Can you bring your dog to restaurants? Hotel? Business? And what do you have to do to be able to travel back to Sweden?
NB: Rules are subject to change! Before you head abroad with your dog, make sure you are fully read of official authority pages regarding current laws and regulations for France. Otherwise you risk your dog in the worst case to be euthanized.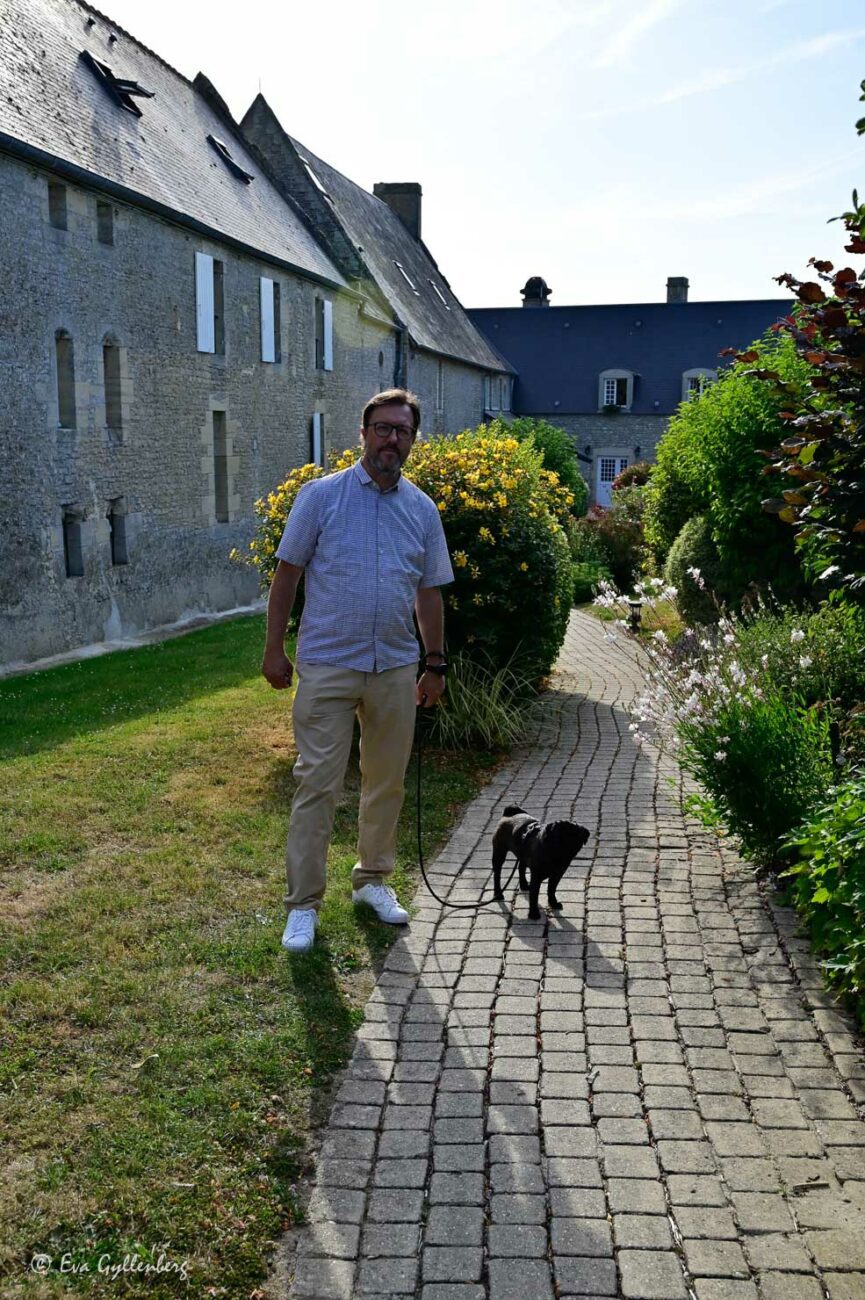 How dog friendly is France?
France is a very dog-friendly country and we were surprised at how easy it was to take Lilibet everywhere. When you ask if you can bring your dog with you, you usually get a surprised "of course" in response. The general rule seems to be that if there is not a "no dogs allowed" sign at the door, then the dog is allowed to come along. Remember that dogs often have to be kept on a leash and make sure to always pick up after your dog.
Restaurants
Lilibet was more than happy to accompany us indoors to all the restaurants we took her to in Normandy. She even got to accompany her to a Michelin-starred restaurant with carpeting. Generally speaking, it seems that small and well-behaved dogs are always allowed to accompany you to outdoor dining and, in principle, always indoors. It is not unusual to bring the dog to a restaurant in France, there were often dogs under neighboring tables. But the rule is (as always) – ask before you bring the dog inside.
Hotels and Airbnb
There are plenty of dog-friendly accommodations in France. We stayed both in a regular hotel, a mansion and on airbnb. Some accommodations have the rule that they only accept "small dogs" and you have to pay an extra cleaning fee. One of the accommodations had a rule that dogs were not allowed in the beds, but otherwise there were no restrictions.
Business
In France, you cannot bring your dog into grocery stores or stores that produce food. However, it does not seem to be a problem to take the dog into clothing stores or the like. The times we split up and waited outside with the dog, the business owners often came out and got us inside.
Beaches
Public beaches with lifeguards are prohibited for dogs, but the rules are local and not general. It is always clearly stated at each beach what applies to dogs. However, there are plenty of wild beaches where dogs are allowed.
National parks
Unfortunately, it is a little more difficult to discover nature in France with a dog, as dogs are prohibited in all but one of the national parks. However, you can often take your dog to regional parks if they are on a leash, but check carefully beforehand to avoid fines.
Summer temperatures in France
One thing that must be taken into account is that it can get very hot in France in the summers. We unfortunately managed to book our trip to Normandy during a historic heat wave, which made the tarmac scorching hot in the middle of the day. So hot that it was impossible to be out walking with Lilibet in the middle of the day without her paws burning. A small dog can be carried, but a large dog can be a challenge.
For hot days, it can be good to have a cooling vest or a cooling mat for the dog, alternatively to wet the fur so the dog can stay cool more easily. Always bring water for the dog when you are out on an excursion and make sure there is shade for the dog when you are going to eat lunch, for example.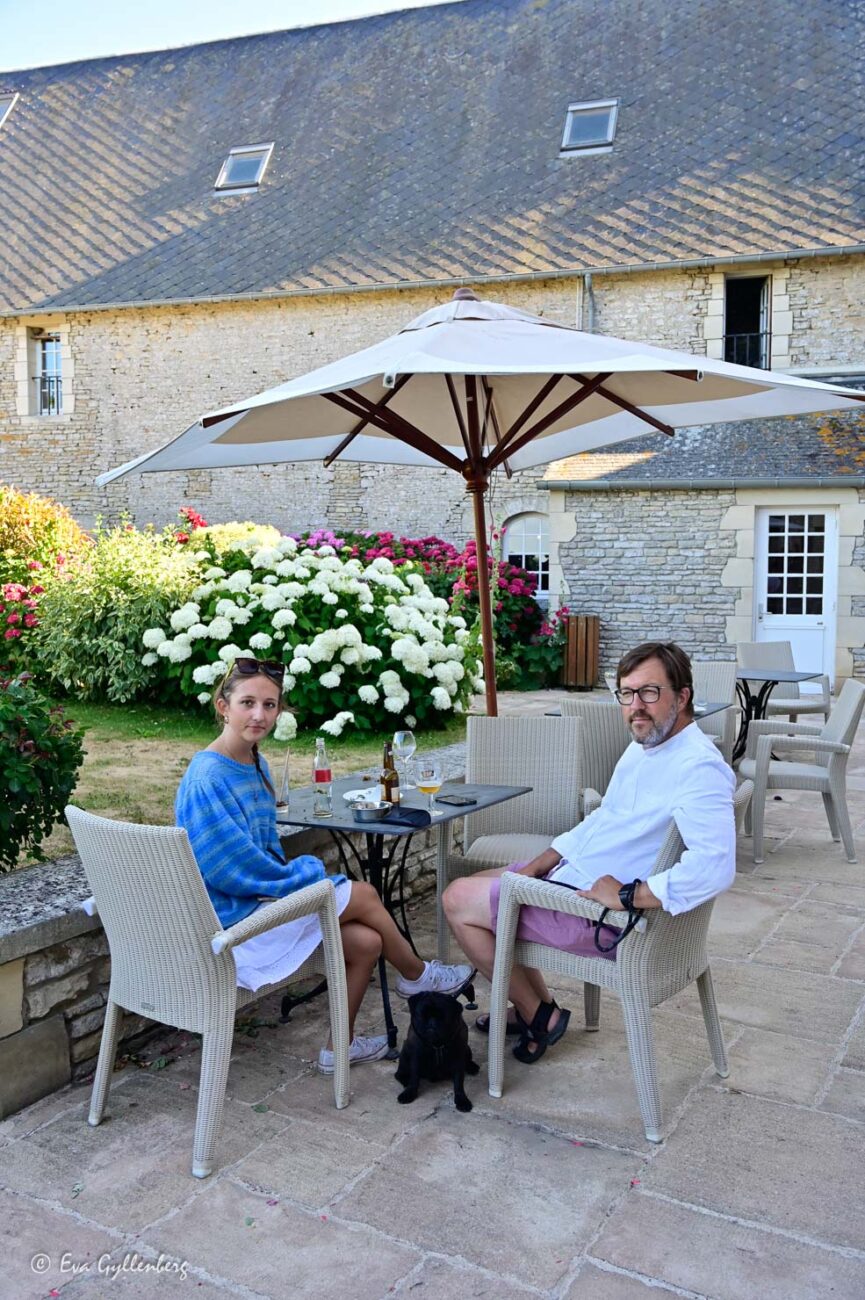 Basic rules for a private trip with a dog to France
Within the EU, almost the same rules apply between all member states, but there are some exceptions - including for France.
ID chip
The dog must be ID marked with a microchip. In Sweden, the ID chip must be of ISO standard 11784 or 11785, which is the same standard used in France. Take care and check that the chip is readable the next time you visit a veterinarian.
EU passport
The dog must have one own EU passport. The passport is printed by veterinarians in Sweden and usually in connection with rabies vaccination. The passport is valid as long as the rabies vaccine is valid. In addition, the passport contains a list of vaccination certificates, which makes it easy to keep track of whether all vaccines are up-to-date.
Rabies vaccination
When you travel within the EU is rabies vaccination mandatory for all dogs. A rabies vaccination needs to be planned well in advance of a trip. Some vaccines are valid for one year, others for three years. In France, a dog is considered to be fully vaccinated 21 days after the vaccination, before that the dog cannot travel. The rabies vaccination needs to be maintained and renewed at least every three years (depending on the vaccine). Check with your vet what applies to the vaccination and make sure that the vaccination and its end date are written clearly in the passport.
other requirements
The dog must travel together its owner, otherwise a written certificate from the registered owner is required.
Banned dog breeds!
In France, certain dog breeds have been classified as dangerous and banned. This applies to, among other things, Rottweiler, Tosa, American Staffordshire terrier, Mastiff and Pitbulls. If you want to travel to France with one of these dog breeds, special certificates from authorities and veterinarians are required! Read more about this at French Agricultural Agency.
Special requirements for entering Sweden
When you travel back to Sweden, you report the dog to the Customs, so this applies even if it is a Swedish dog that is registered in Sweden. The easiest way is to do it in advance on the web - then you can choose "green" at customs. You register your dog on the page Travel with a dog or cat. Keep in mind that you need to bring all documentation and meet all EU requirements even if you pre-register.
If you have not registered the dog in advance, you need to go to customs and register the dog.
Do you want to read more?
Here you will find public information about traveling with a dog.
Information about traveling with a dog within the EU – europa.eu
French customs information on traveling with a dog – douane.gouv.fr
Brochure from the French Agricultural Agency – agriculture.gouv.fr
The bottom line
France is a wonderful country to travel to with a dog and your four-legged friend will feel really spoiled. However, keep in mind that it can get very hot during the summer and check carefully with your vet and on the authorities' websites that you and your dog meet all the requirements to enter France.
Nice trip!
Have you been here? What did you think of the destination?
Been there - didn't like it!
0
Not keen at all to go here!
0
Eva Gyllenberg
Travel blogger, gastronaut, photographer and family adventurer with over 55 countries in his luggage. Eva loves trips that include beautiful nature, hiking boots and well-cooked food. On the travel blog Rucksack she takes you to all corners of the world with the help of her inspiring pictures and texts.