We barely have time to leave Porto and its charming metropolitan life behind us, until we drive out into an agricultural landscape. Villages with small churches crown the hills and the thick fog that Porto offered is as if blown away. The temperature rises outside the car the further into the country we drive.
Douro Valley officially begins 7 miles east of Porto, i Barqueiros. Here the slopes down to the Douro River are at their most spectacular and almost 1/5 of the arable land is used for wine growing. We are trying to find a way N-222, Portugal's most famous "scenic road". The N-222 takes you right into the heart of the Douro Valley, with incredible views of the wine terraces and with so many hairpin turns that you end up sitting and holding on to the passenger handle.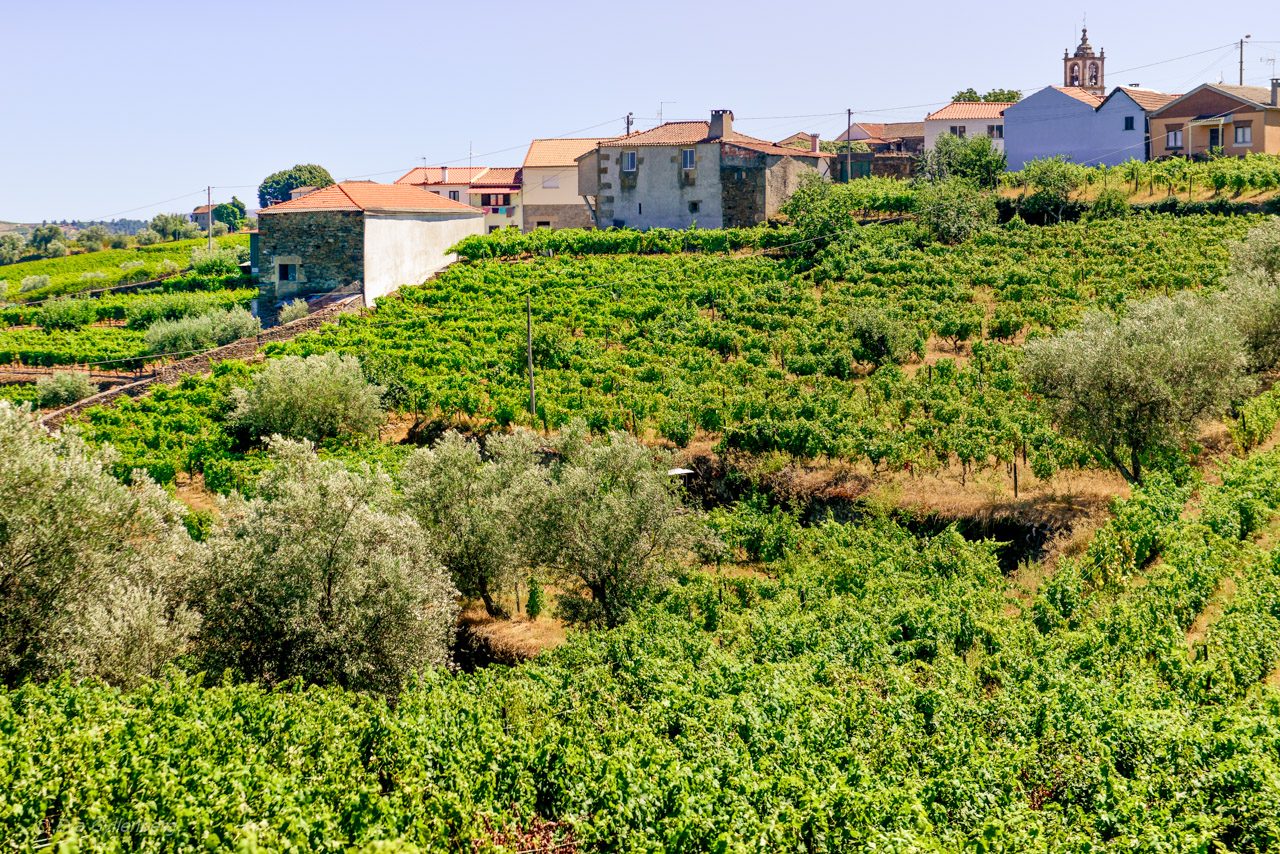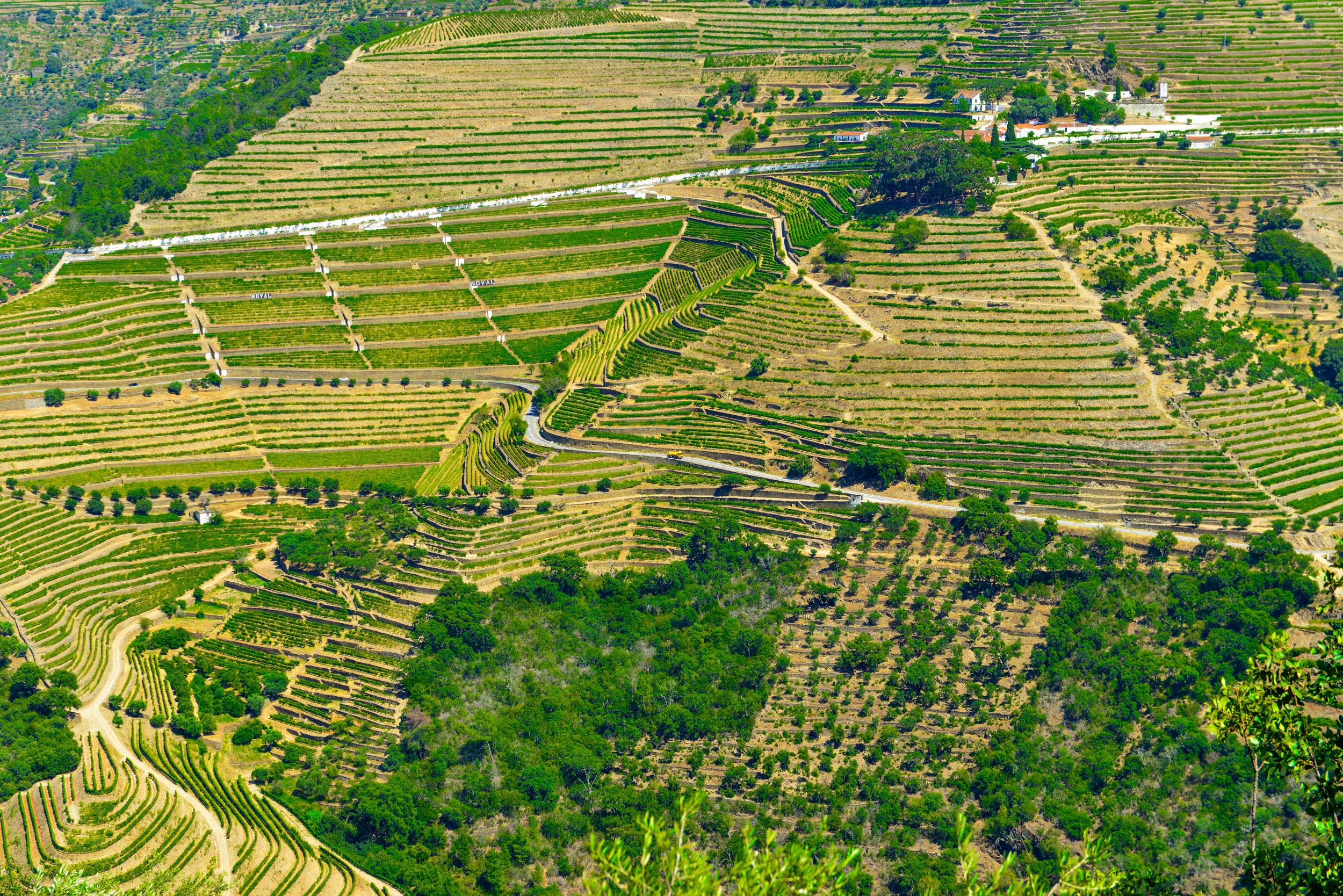 Port wine on quintas
Everywhere we pass wineries that welcome visitors with port wine tastings and guided tours. The famous large vineyards are the most popular, but we have decided to visit a smaller farm, so we leave the Douro River and turn north at Pinhão, on N-323 against Sabrosa. Pinhãothe river is one of the tributaries of the Douro that flows into the Douro, with equally beautiful wine terraces and villages. Most famous port wine producers have quintas (vineyards) in this area.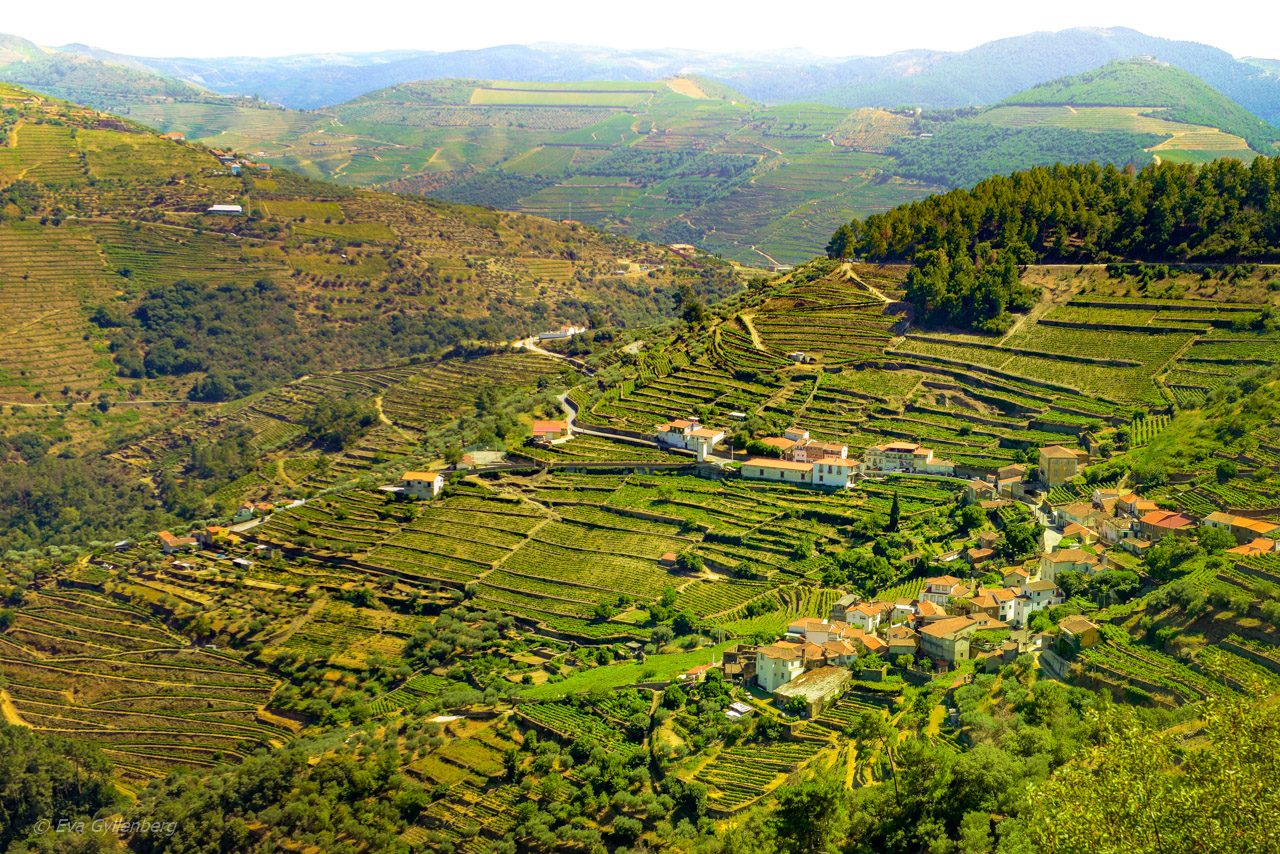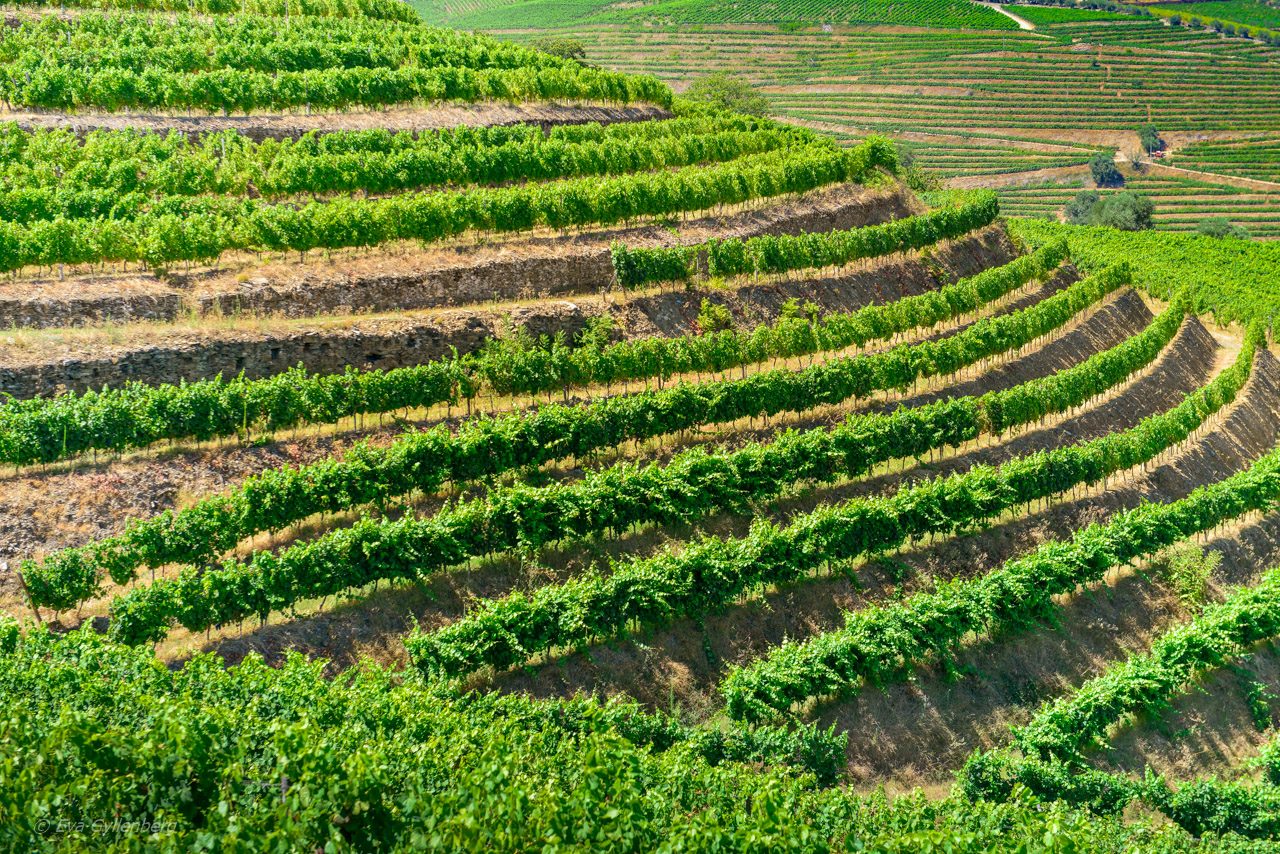 On a whim, we stop at the vineyard Quinta do Portal. It's not a place we've heard of, but the parking lot isn't overcrowded with cars and it appears to be open.
Quinta do Portal is a winery that not only produces port wine, but they have quite a large repertoire of both white and red wines. 100 hectares of vineyards on different slopes and different heights above sea level provide different conditions for the grapes and for the wines. We see a picture of snow-covered vineyards. If the summers here are known for being hot and dry, the winters can be really bitter. In the shop, all the different port wines of the winery are displayed on shelves and for a few euros we can taste the different vintages and varieties. We really have no idea where to start. Ruby? Tawny? We ask for the help of one of the enthusiastic wine experts at the till. What should we buy if we want a port wine with a good shelf life and which we could really enjoy at home in Sweden during stormy autumn weekends? "Easy choice", thinks the female expert. "You are going to buy a bottle of Tawny".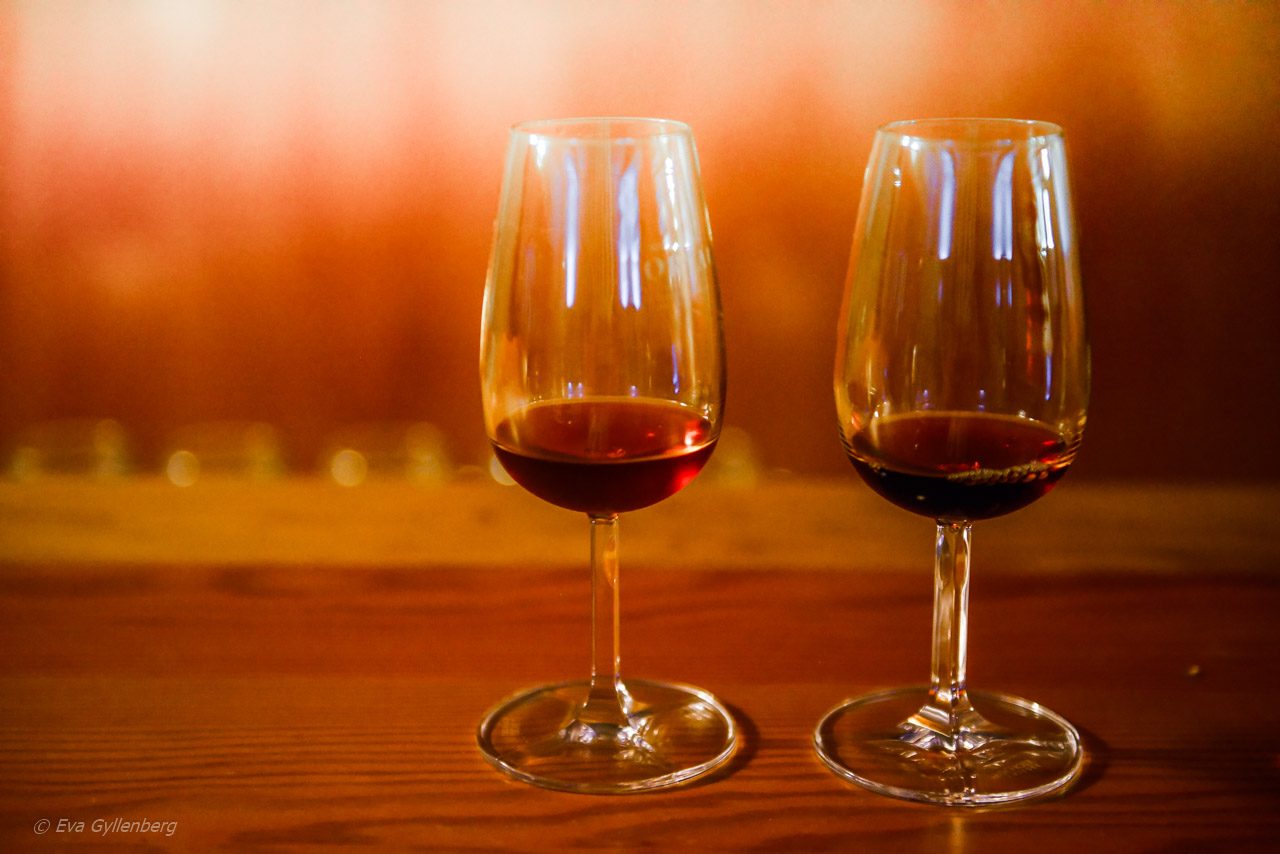 Port wine's different varieties
The woman begins to tell us and it is only now that we really understand the difference between the different varieties of port wine. And it is only now that we understand the allure of port wine. Port wine is not just a dusty old bottle that my grandmother gave me every Christmas, port wine is an important part of Portugal's history.
Ruby port is the simplest type of port and can usually be obtained at home at Systembolaget. A Ruby is a blend of younger vintages that have been aged in barrels for a few years. This is not a storable wine and should be drunk within a week or so after opening.
Vintage gate created from only the best vintages. The wines are stored for a few years in barrels and then bottled. These bottles can then, unopened, continue to develop and be stored for a lifetime in bottle - and only get better.
Tawny port is a mix of different vintages and is usually available in 10-, 20-, 30- and 40-year varieties.
The older a Tawny gets, the lighter and browner the color of the wine becomes. A Tawny is stored in wooden barrels and since the wine evaporates a little each year, the barrel is refilled annually with wine of roughly the same vintage. A 40-year-old Tawny does not mean that all the wine has been stored for exactly 40 years, but that the average age is 40 years. A Tawny can be kept fresh in the refrigerator for several months after opening. Or as our wine expert put it – "I've never had to throw away a Tawny". I don't really know if that meant she always had time to finish the bottle in a month or so, or if it can be stored for a really long time. What I can easily figure out after this lesson, however, is that grandma's old cheap port that was kept in a room temperature cabinet in the "nice room" had probably seen its best days already weeks after the first Christmas it was opened.
We decide to try their 20 year old, 30 year old and 40 year old Tawny. Or rather, I was the one who got to try and be the one to decide what we should buy. The man drives a car, so he only gets to smell.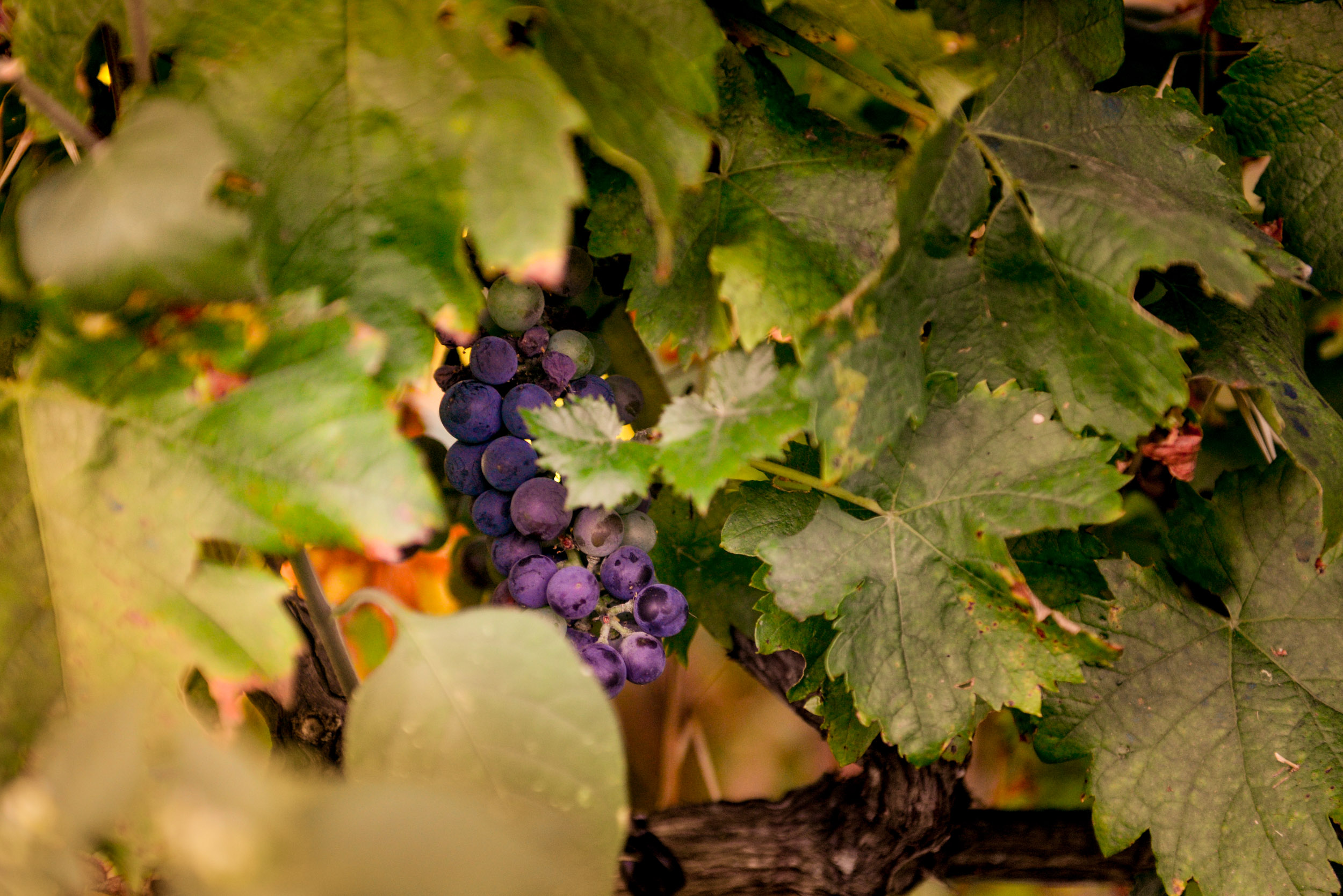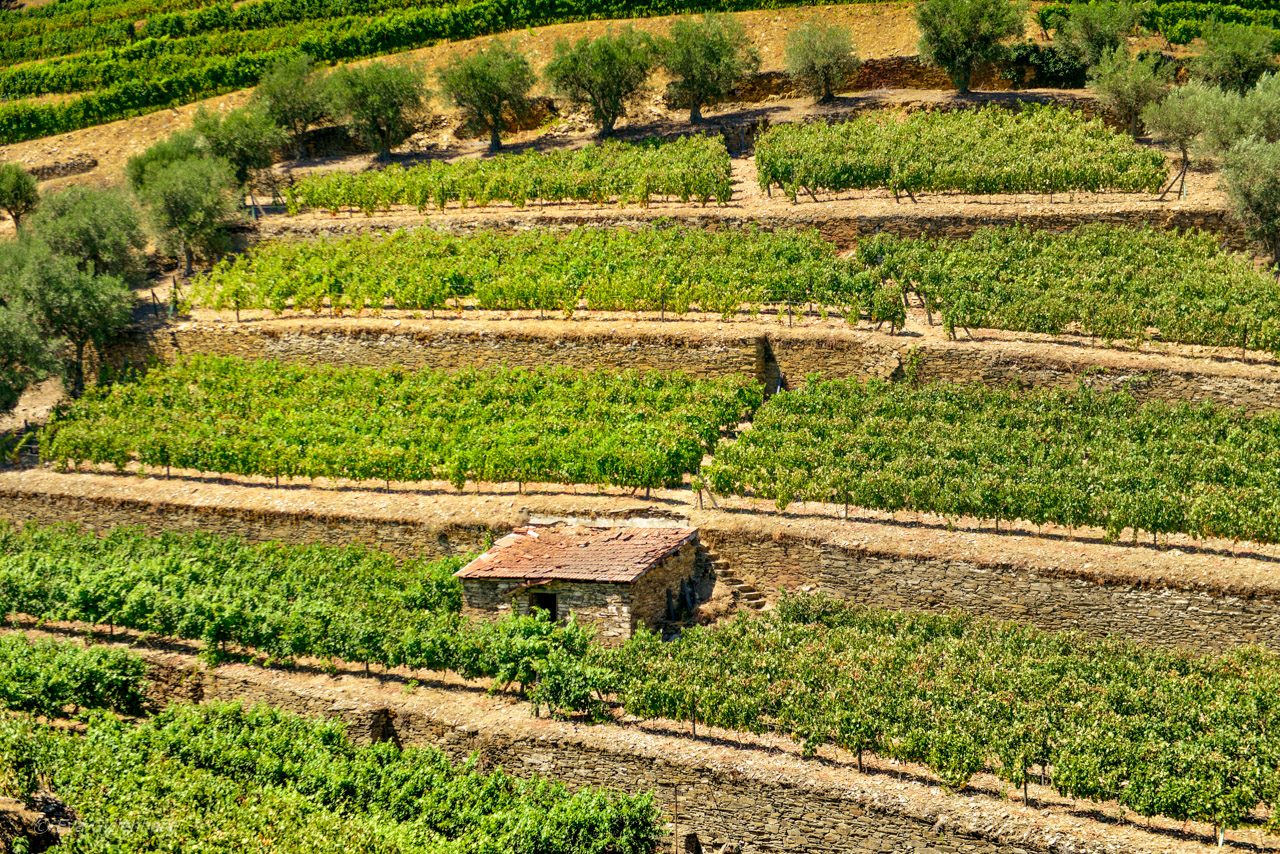 I get three glasses poured in front of me. The color difference goes from dark burgundy to almost amber. Flavors and aromas of hazelnut, rose, burnt almond and orange may sound sweet, but this is far from a gooey liqueur. Rather, they are sophisticated wines with a certain sweetness.
It is not difficult to taste which of the three port wines is the 40-year-old. The taste is the roundest, least heavy on alcohol and the wine has an incredibly beautiful brown-yellow color. We ask about the price. About a thousand in Swedish kronor. A bit too steep for us. What would the 30-year-old cost? About 500 kronor, which sounds better. We'll take one of those.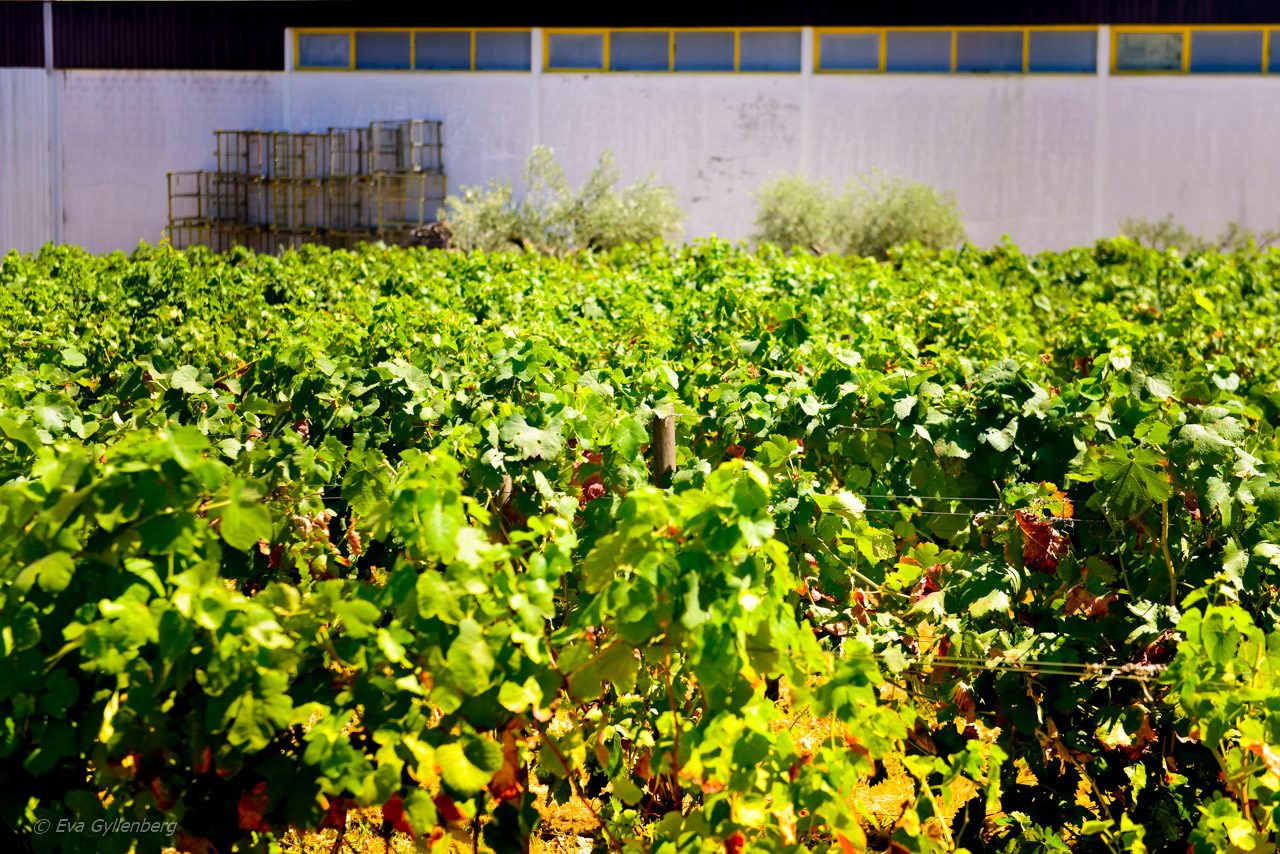 The winery also sells freshly pressed olive oil, but even though I'm incredibly tempted to buy a can with me, the weight of the luggage puts our limitation. We were already pushing it on our way down to Portugal, so I don't dare to take any chances. I just have to hope that there is a good selection of beverages and oils at the airport.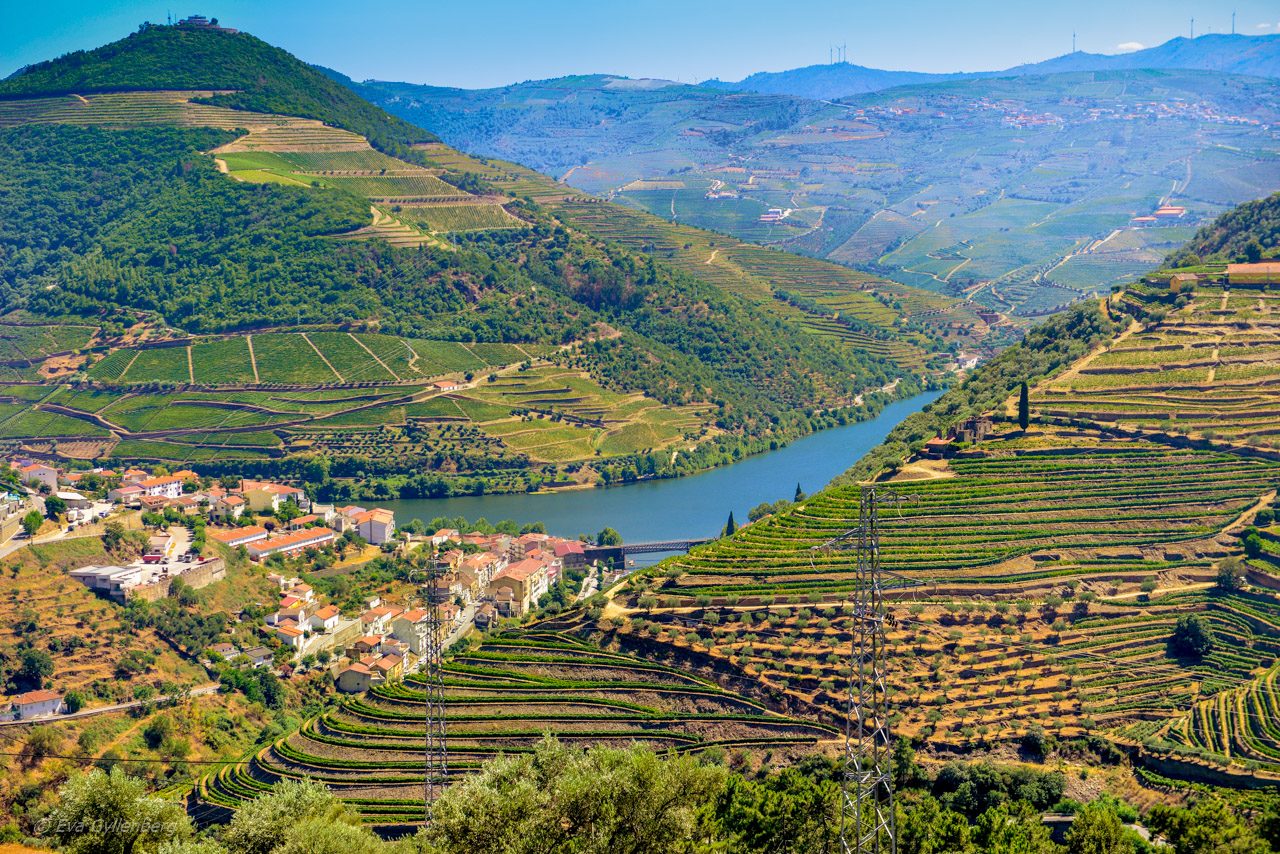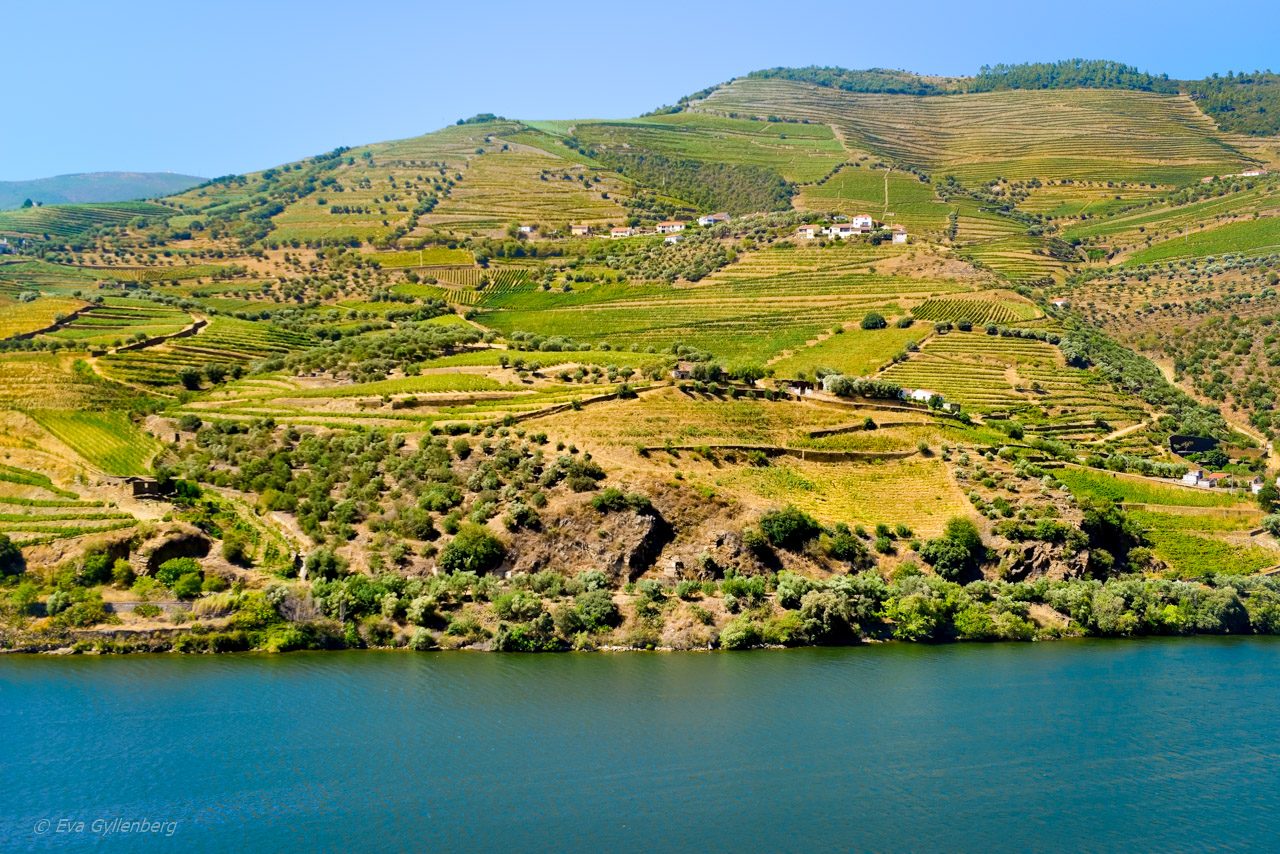 Afternoon haze over the vineyards
We continue north towards Cheires before slowly turning in a clockwise circle back towards the Douro River on N-322. The landscape is so impressive that we stop as often as the road allows. Unfortunately, it is not as often as we would have liked. The roads are narrow and often surrounded by stone walls and steep slopes. I can't help but think of Bali as I stand here taking in the views. As the afternoon haze rolls in over the green hills, it almost looks like the rice paddies outside Ubud.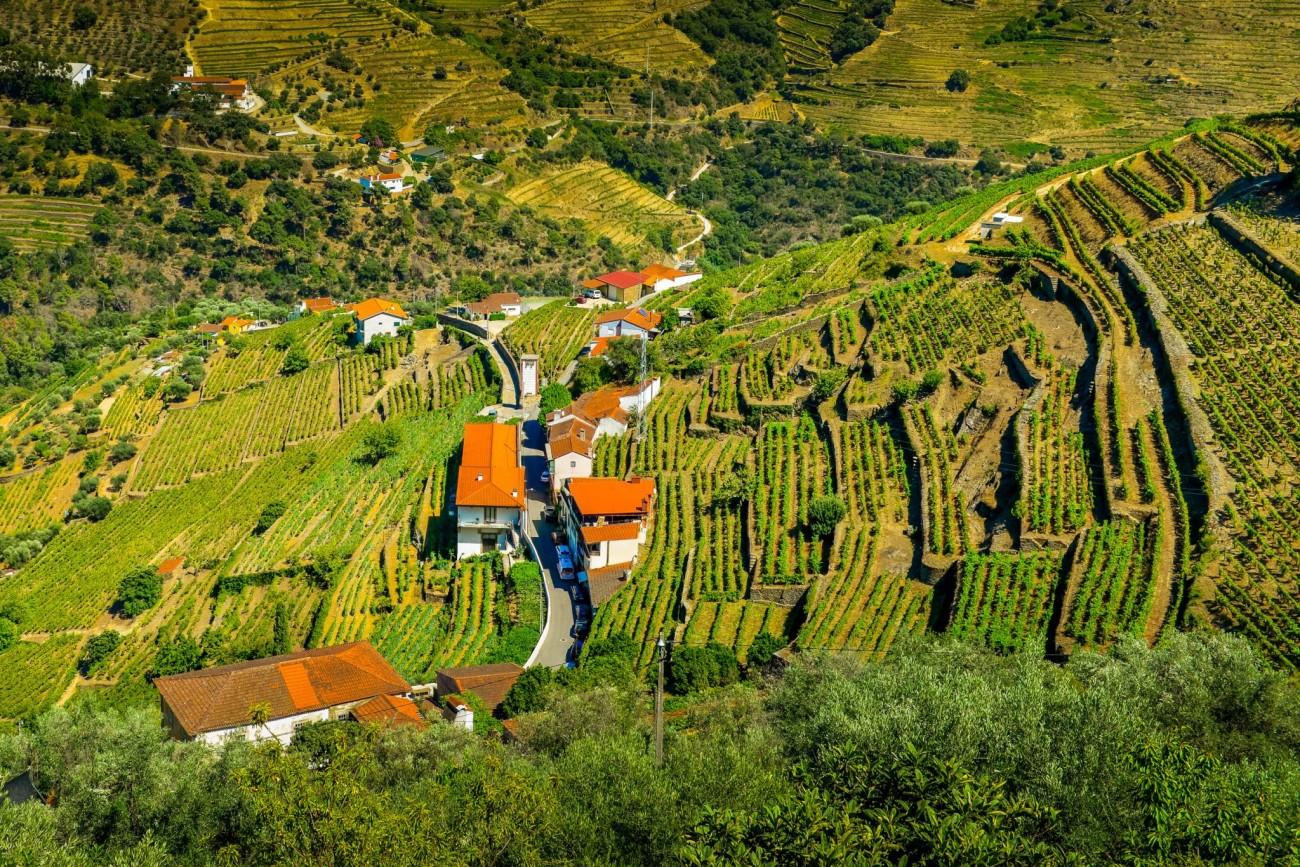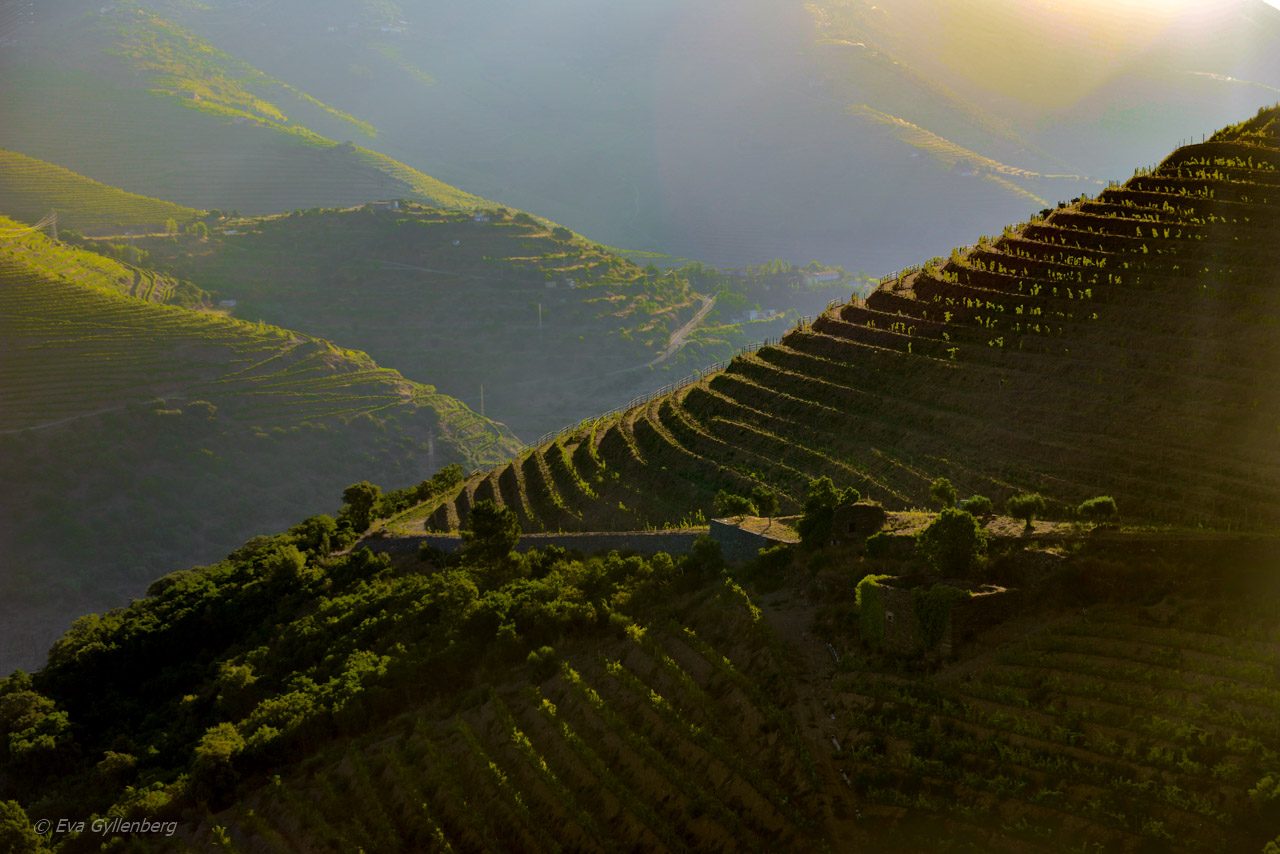 The boats that pass by on the Douro River these days no longer carry barrels of port, but tourists. It seems popular to go on a river cruise to the Douro from Porto. Maybe it's a good option if you want a chance to try wine without having to think about driving?
We start driving towards the night's accommodation, the vineyard Quinta de Casaldrohna. The GPS really has no idea how we get there. The route proposed to us is a path behind a locked gate. But it doesn't matter so much that we have to drive a few miles detour. Here among the lush green wine terraces, I want to stay as long as I can.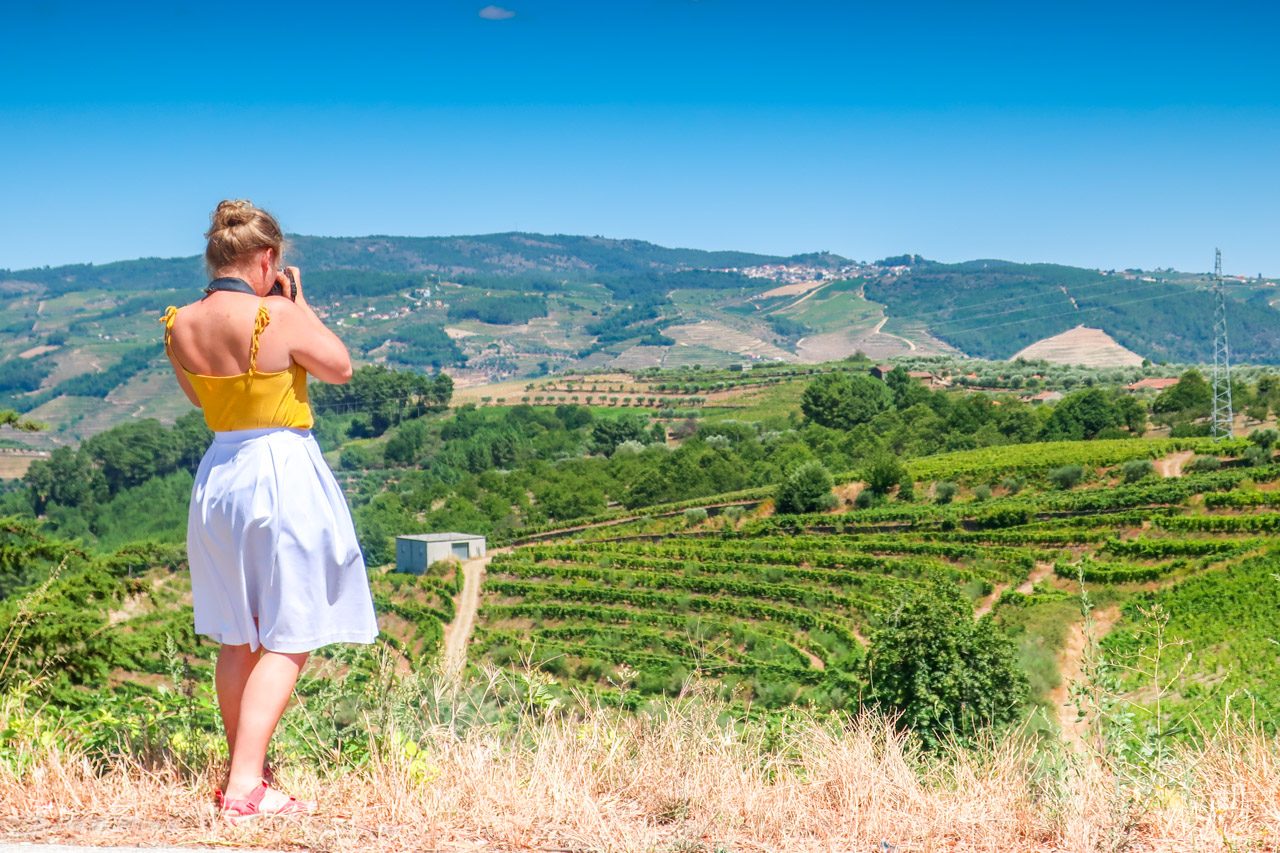 How do I get to the Douro Valley?
The Douro Valley is an area that stretches 8 miles along the Douro River, starting 7 miles east of Porto. Here there are plenty of wineries that offer accommodation and many farms have world-class restaurants. It is easy to spend a whole week here and stay at different farms and enjoy the sun and the good food. If I had known how much I would love the Douro, I would definitely have spent more than two days here!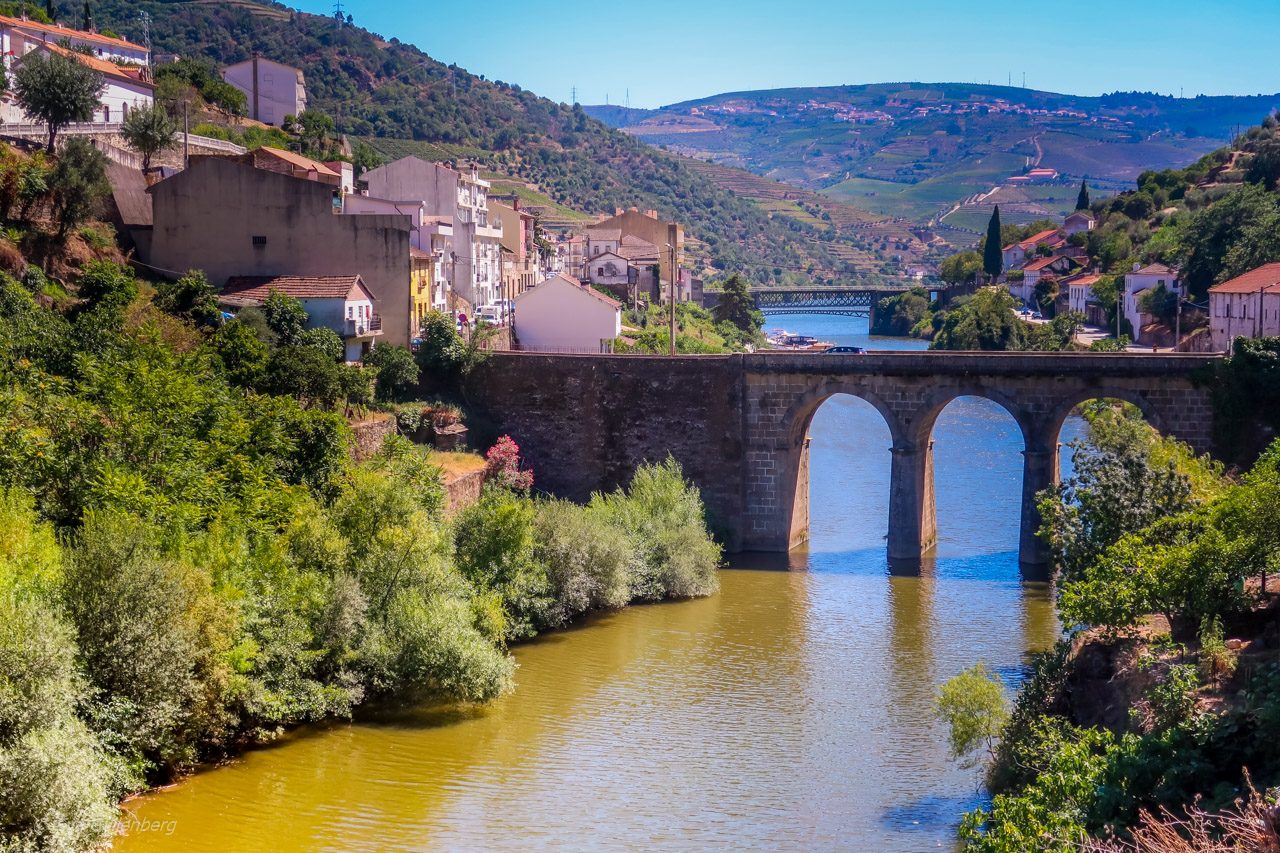 Do you want to read more about Douro and port wine?
Want to read more of my travel tips? do not forget to like Rucksack on Facebook!
Have you been here? What did you think of the destination?
Been there - didn't like it!
0
Not keen at all to go here!
0
Eva Gyllenberg
Travel blogger, gastronaut, photographer and family adventurer with over 55 countries in his luggage. Eva loves trips that include beautiful nature, hiking boots and well-cooked food. On the travel blog Rucksack she takes you to all corners of the world with the help of her inspiring pictures and texts.