Normandy is one of France's most important gastronomic regions. Here in the fertile landscape, the small well-known food-producing towns are close together and it is pure pleasure to go around to the farm shops to buy food for the evening's dinner. In Normandy, life revolves around food and drink and most of the delicacies in turn revolve around it milk, seafood and apples. Three ingredients that you can do a lot of good with. But which typical local delicacies should you try to eat when you are in Normandy? Here are my best tips!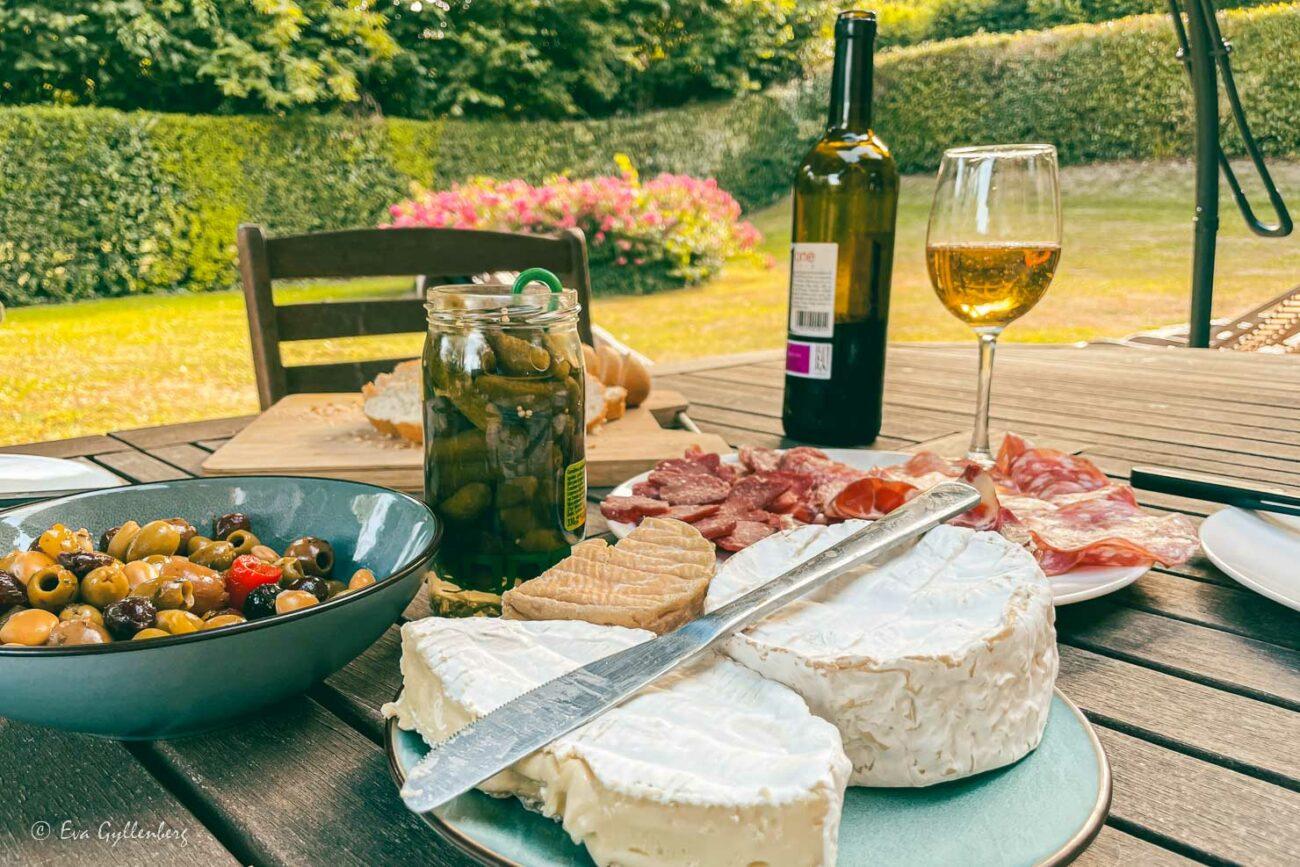 Milk
Normandy's fertile landscape offers large quantities of the greenest grass. Here, under the apple trees, brown and white Norman cows graze with their beautiful brown "glasses". A sight that is so common that in the end you hardly react to it as you drive around the landscape. The milk is mainly used for the area's famous cheeses, but there is also another milk-based delicacy - Creme d'Isigny.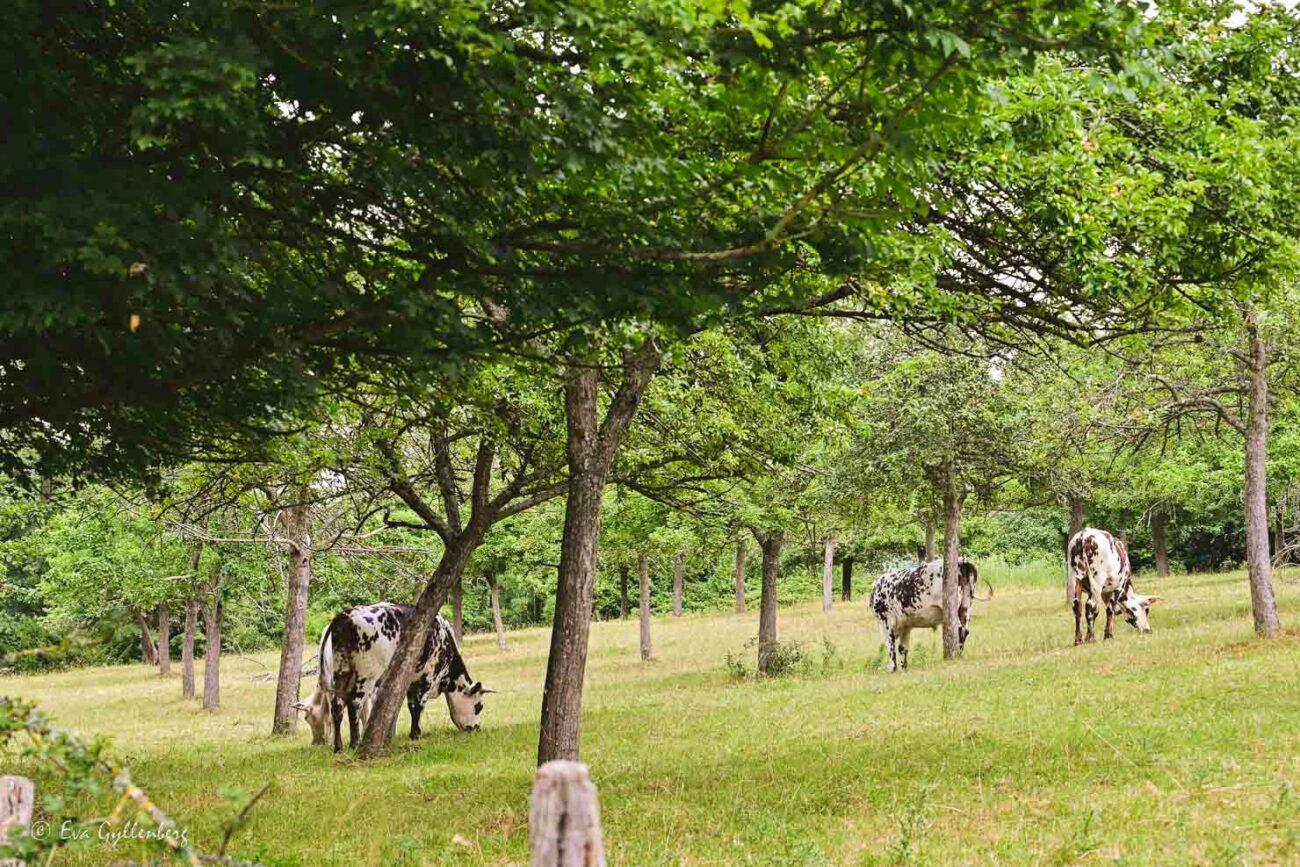 Creme d'Isigny
In the commune of Isigny-sur-Mer, the Norman cows go outside and graze 7 months a year. The area is filled with watercourses and nature is a little extra lush. In addition, the grass here is rich in carotene, which gives the milk a beautiful cream color. The milk is skimmed and pasteurized and what remains is an unusually fatty slightly sour cream – Crème D'Isigny. A "crème fraiche" - which in Swedish means "fresh cream". As set up for language confusion, no doubt.
Creme d'Isigny is the only PDO (Protected Domination of Origin) cream in France. The cream contains 40% fat and has no additives and is used both in cooking and in desserts. It is incredibly creamy and a little less sour than a Swedish crème fraiche and tastes much more cream. The beautiful color also makes it a little extra good. Crème d'Isigny is simply the queen of French cream and is bought in glass jars at the store.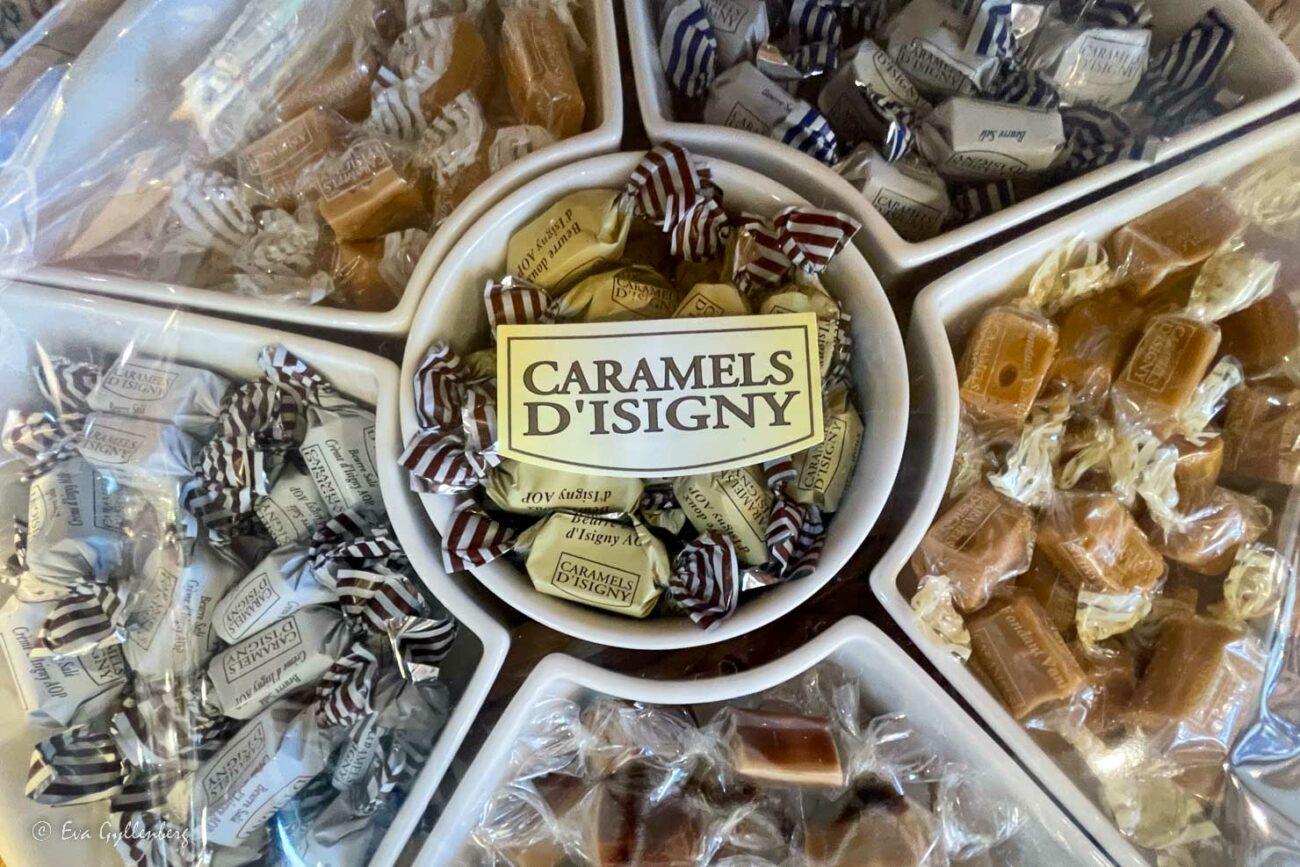 An 80% butter (beurre d'Isigny) is made from crème d'Isigny and the famous classic caramels from Normandy are then made from that butter - Caramels d'Isigny. The colors are made in a variety of flavors, but the classic flavor is "salted butter". Incredibly tasty and with a very round and good taste of crème d'Isigny.
If you visit the factory shop in Isigny-sur-mer, don't miss trying their ice cream. There is usually a long queue for the ice cream door - but oh oh oh oh how it was worth it! So fat, so buttery and so good! Might be the best soft serve ice cream I've ever eaten!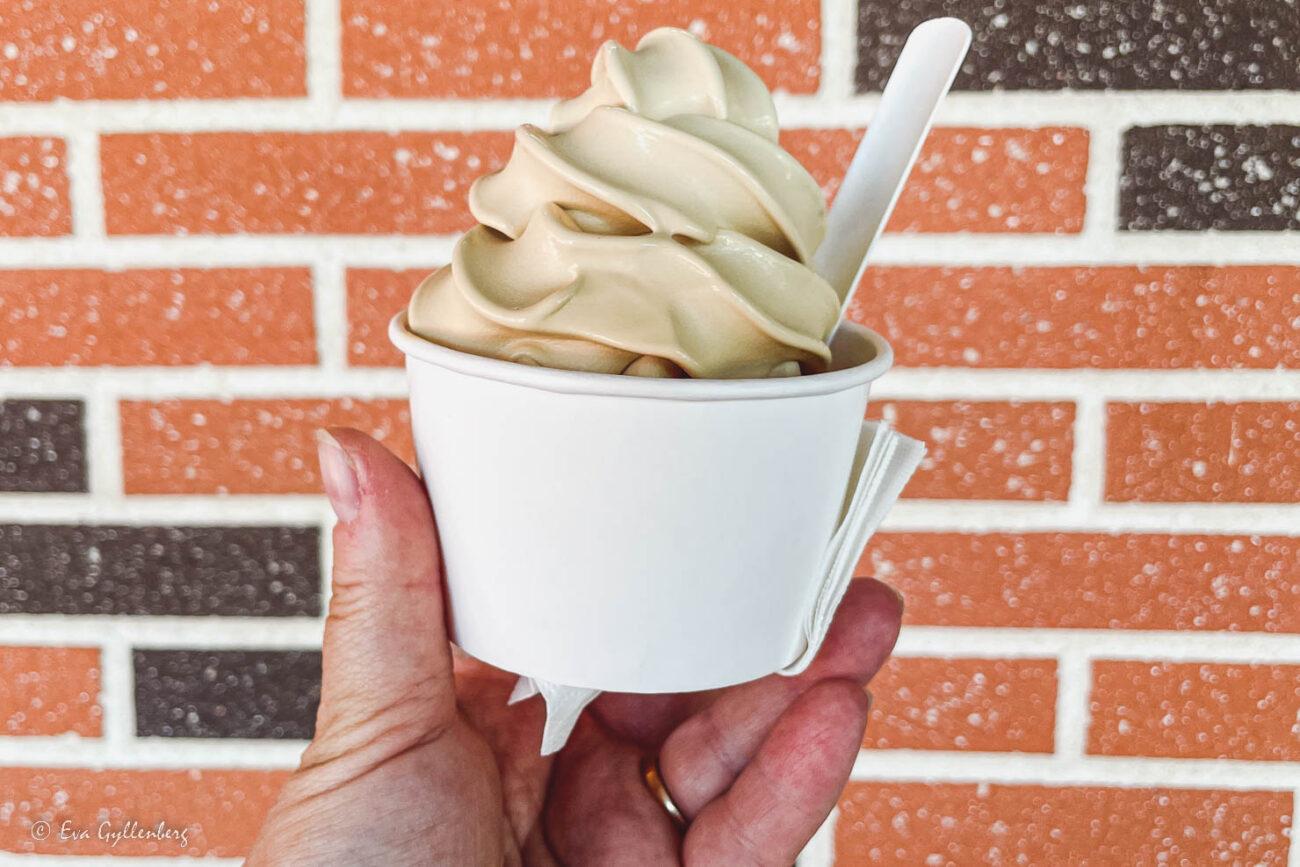 Camembert, Livrot, Neufchâtel and Pont d'Evaque
Normandy is perhaps best known for its cheeses. Most famous is without a doubt Camembert - the classic white mold cheese that was always on the cheese tray when I was little.
In Sweden, unaged cheap Camembert is often sold, which rather tastes and looks like brie. Aim instead for a "Camembert de Normandie" and you know you're getting a completely different experience! Camembert comes from the small commune of Camembert with 187 inhabitants (2017) and is made from unpasteurized milk. In Normandy, you rarely buy a Camembert that is not aged and is wonderfully sticky, musty, earthy and nutty. We stopped at the farm "5 frères" (five brothers) and bought incredibly good Camembert for €4 each. For those who are keen to try a locally produced cheese, it is possible to order a box from 4 Frères crowd farming.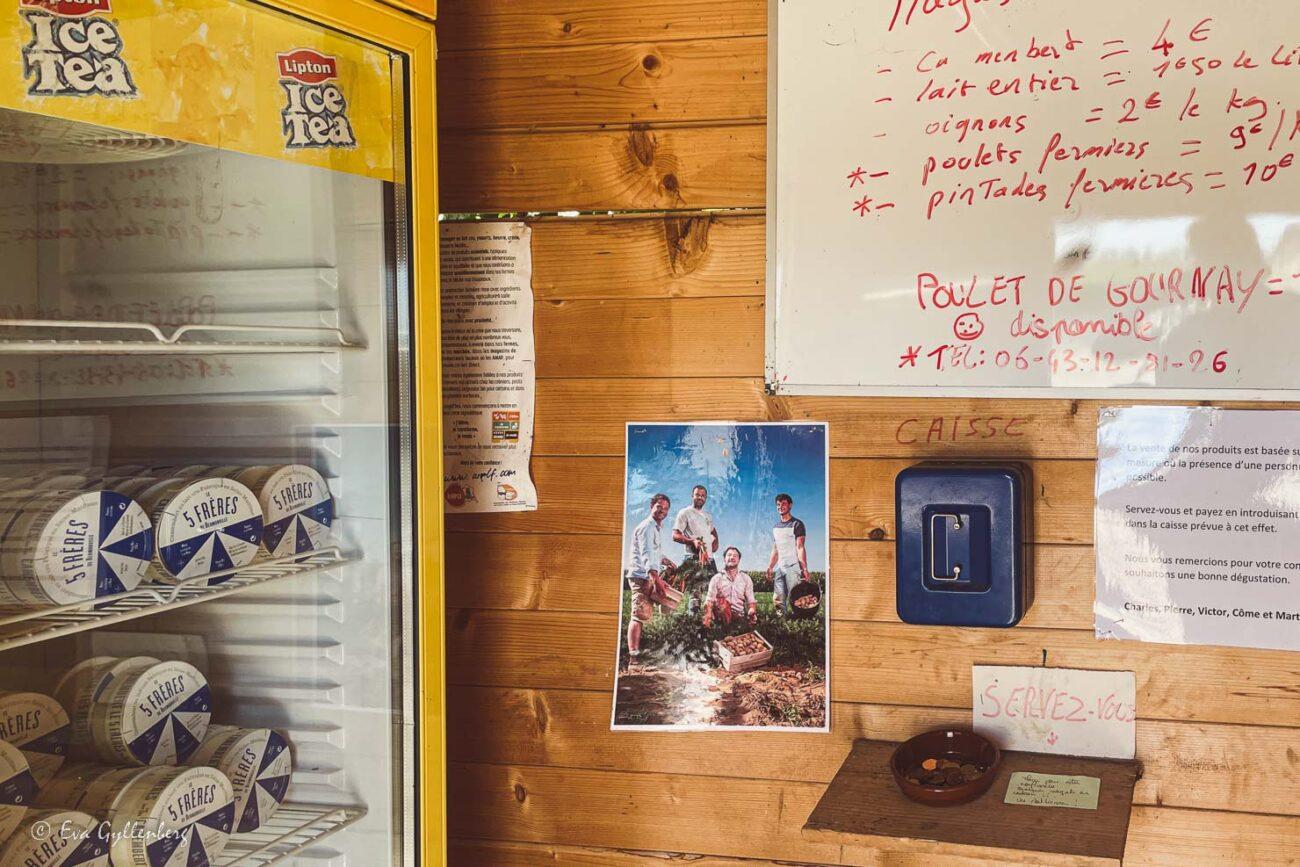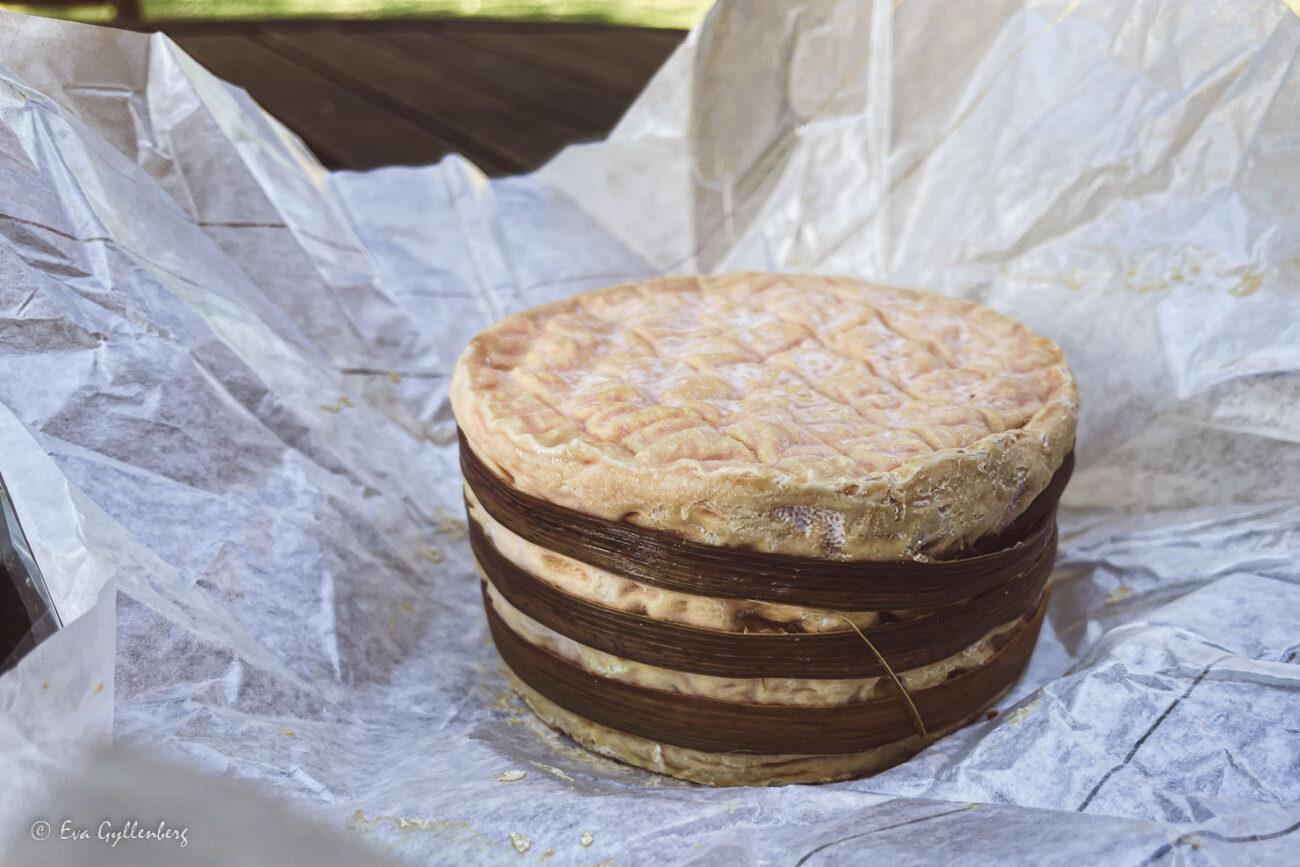 Livarot is another of the area's famous cheeses. You can recognize the reddish putty cheese by the fact that it should be tied with some type of reed string to hold it together during storage. This is a cheese that is a bit more challenging than Camembert and is often included in lists of the smelliest cheeses. But a good cheese should smell a bit, right?
Pont-L'éveque is one of the most appreciated French cheeses and the square cheese has a very rich and nutty taste. The cheese goes particularly well on the cheese tray together with a well-aged Camembert and some figs.
Neufchatel is a white mold cheese that is quite similar to a Camembert, except that it is heart-shaped. When it is well stored it has a rather strong smell of mushroom(?) and taste which can be a bit challenging. I prefer a well-aged Camembert to a Neufchatel any day of the week – although the shape of the Neufchatel speaks to me. But the cheese is incredibly popular, not least on Valentine's Day.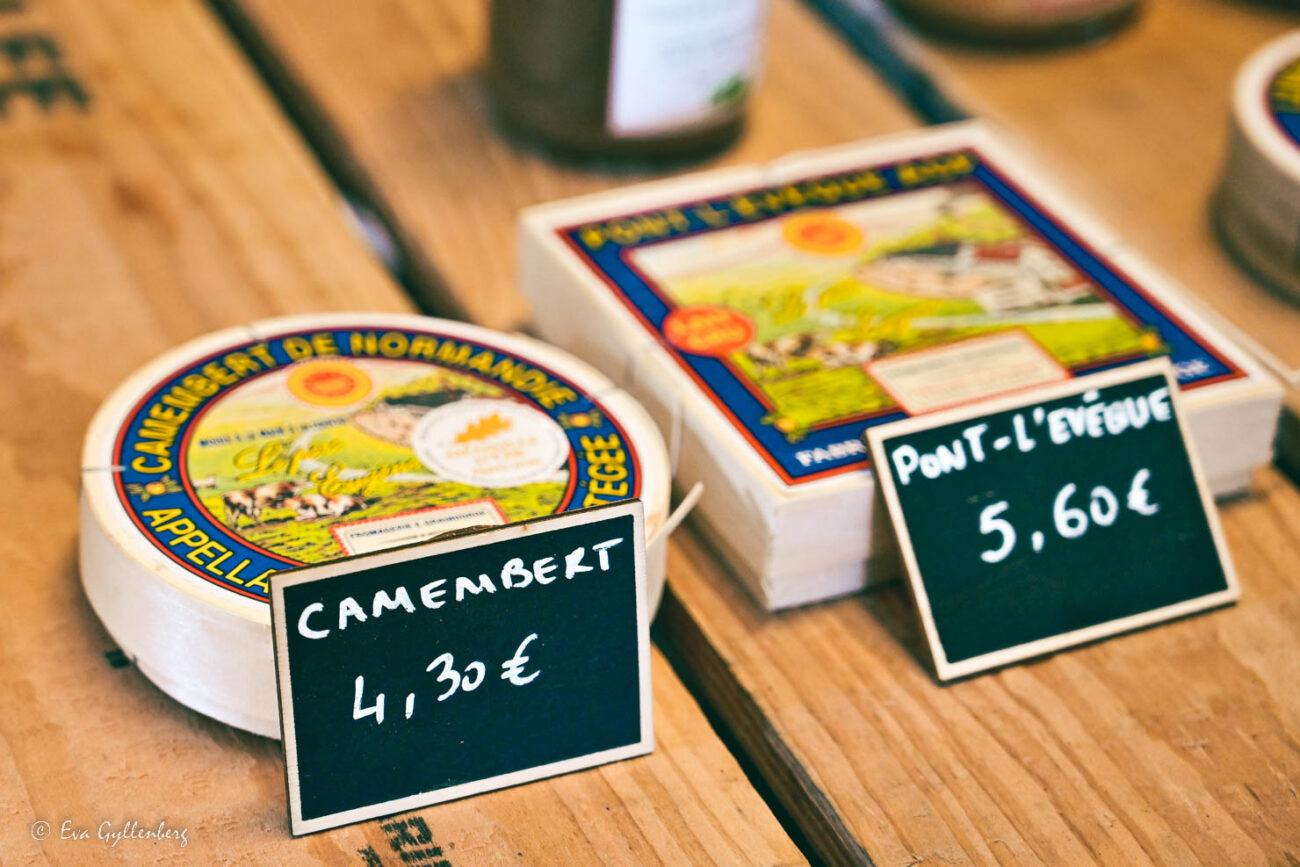 Seafood
Oyster
Normandy's steep limestone cliffs and long beaches create the perfect conditions for oyster farming. In recent decades, Normandy has even become one of France's leading regions.
In Normandy, 30% of the oysters are grown in the Baie des Veys, a unique ecosystem where 4 rivers meet large tidal currents. A perfect area for oysters, which feed by filtering water through their gills. There are many different types of oysters, but the ones grown here are the main ones Signy and Utah Beach. A whopping 10.000 tonnes of oysters are produced here per year. We visited Baie des Veys during high tide so unfortunately we didn't see the farms, but we did see all the oyster producers. Some of them offer guided tours out to the plantations - which would have been incredibly exciting. Did you know that it takes three years for an oyster to grow big enough to sell?
Oysters are classified 1 to 5 according to their size. The higher the number, the smaller the oyster. The most popular size is no3, which is usually the size you find most often on restaurant menus.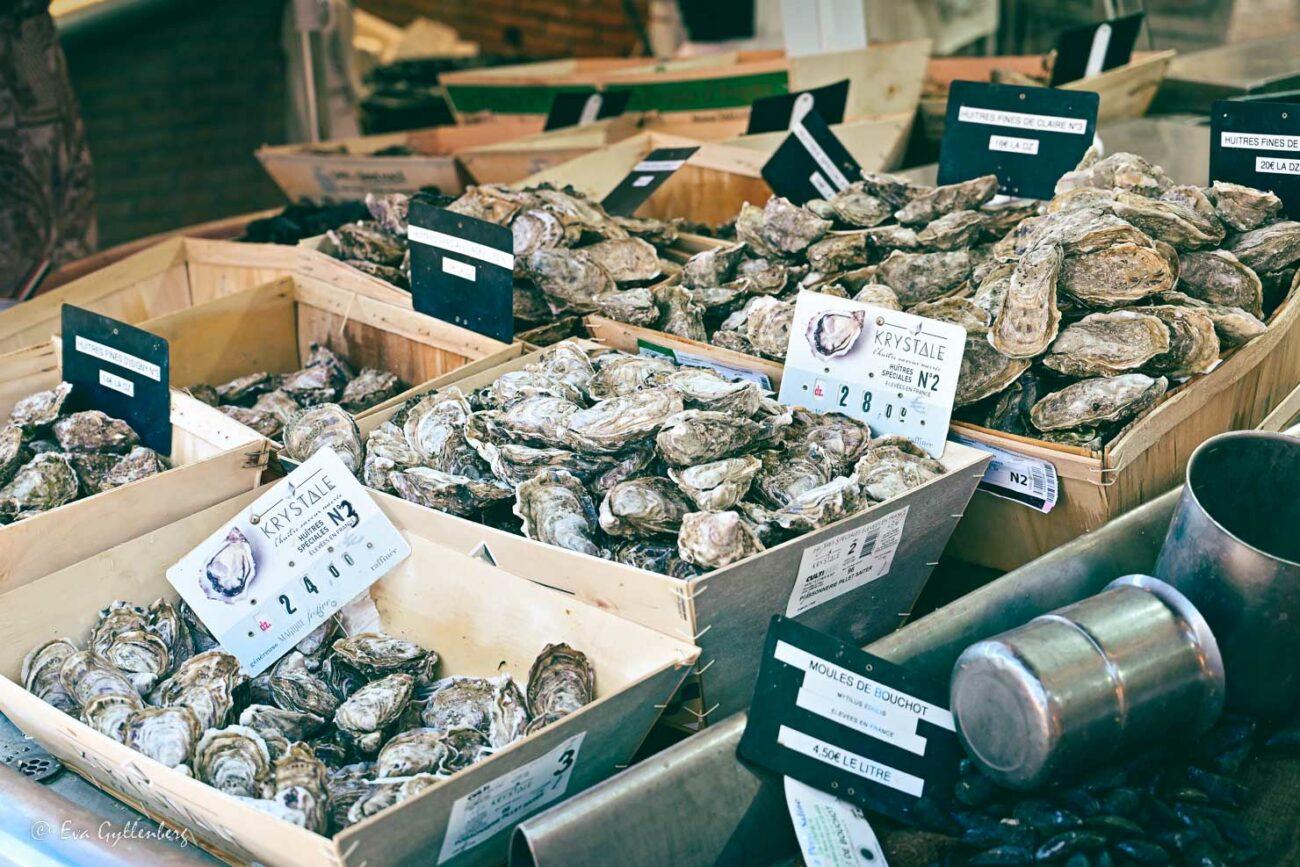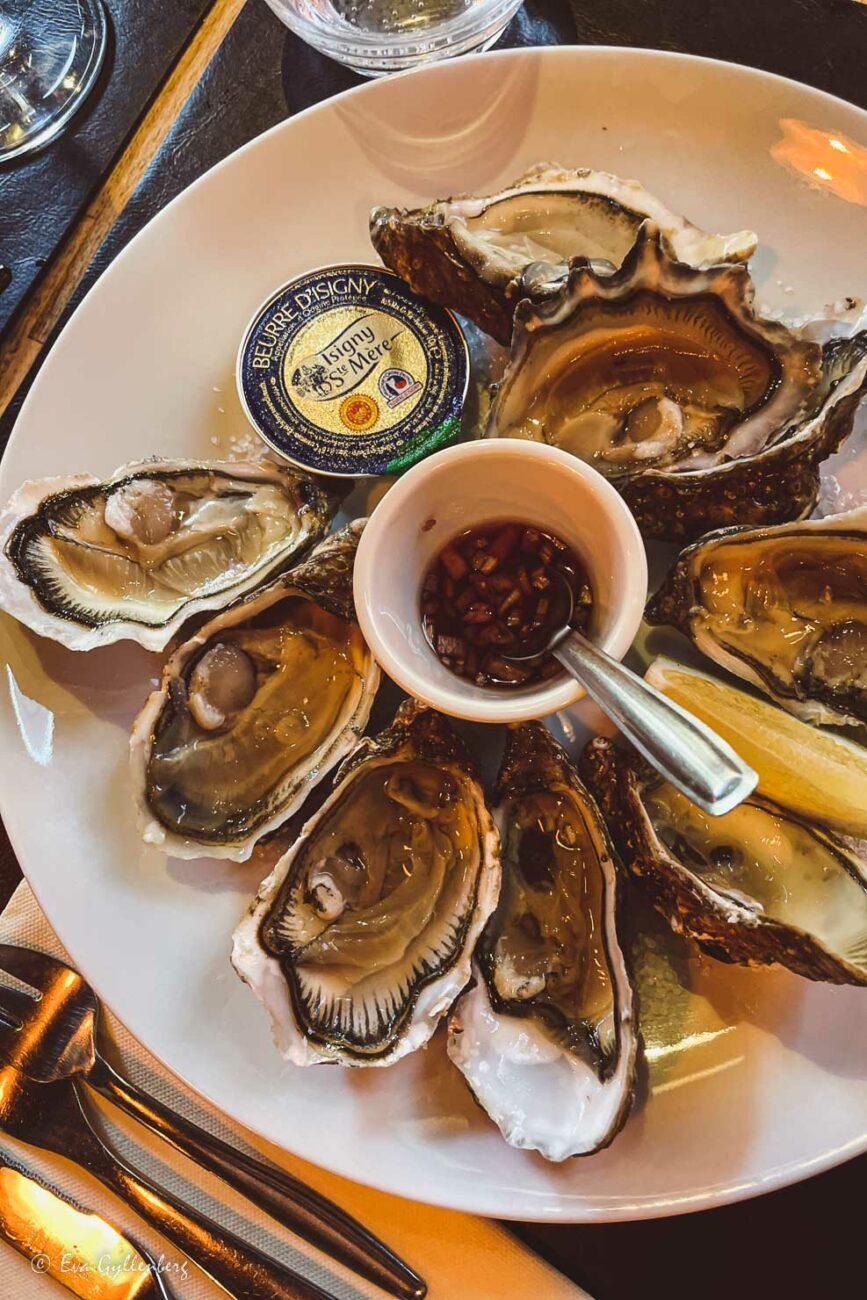 St. Jacques shells
Another shellfish that can be good to memorize is St. Jacques shells – scallops. Normandy is France's leading scallop fishing region and fishing is carried out by 300 specially equipped boats. In total, close to 15.000 tonnes of scallops are fished in Normandy - more than half of France's catch.
The scallops are eaten cooked in various forms and even want to have their own festival! In Port-en-Bessin and Dieppe, a scallop festival is held every autumn, attracting gourmands from all over France. Should you choose one thing to try? Maybe one Coquilles Saint-Jacques sauce au beurre blanc? A scallop with a classic French butter sauce can never go wrong!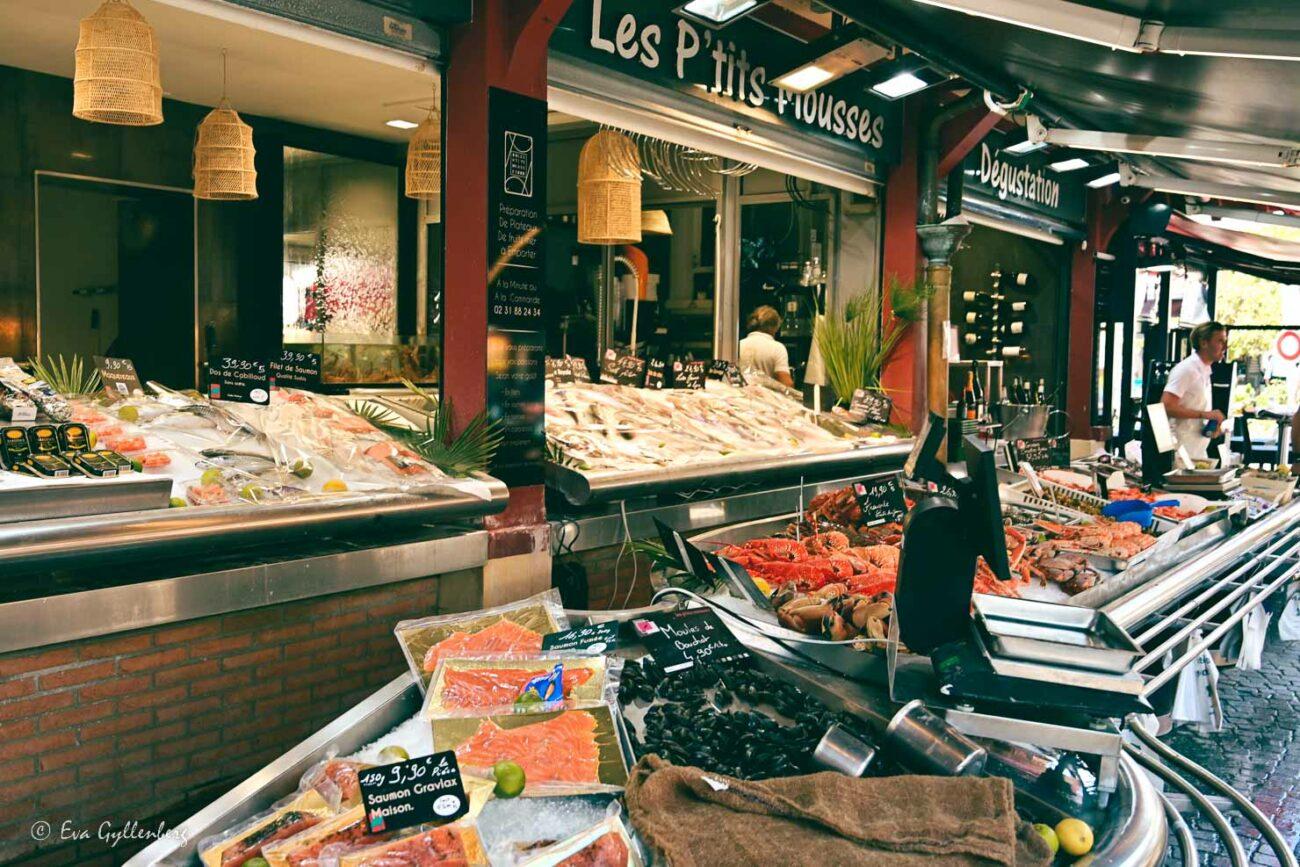 Mussels
Last on the list of the delights of the sea, but not least. Blue mussels. Normandy has long been the region that produced the most mussels in France, but its future is under threat. In recent years, an invasive spider crab has destroyed almost 30% of the harvest and the rising sea temperatures are becoming a problem. However, this is not yet noticeable in the restaurants in the port of Honfleur, where all restaurants have at least 10 different kinds of dishes with mussels on their menus.
If you're going to choose a variation for dinner, it should be one Norman-style mussels, where the mussels are cooked in a cream sauce with parsley, shallots, butter and cider. As lovely as it sounds!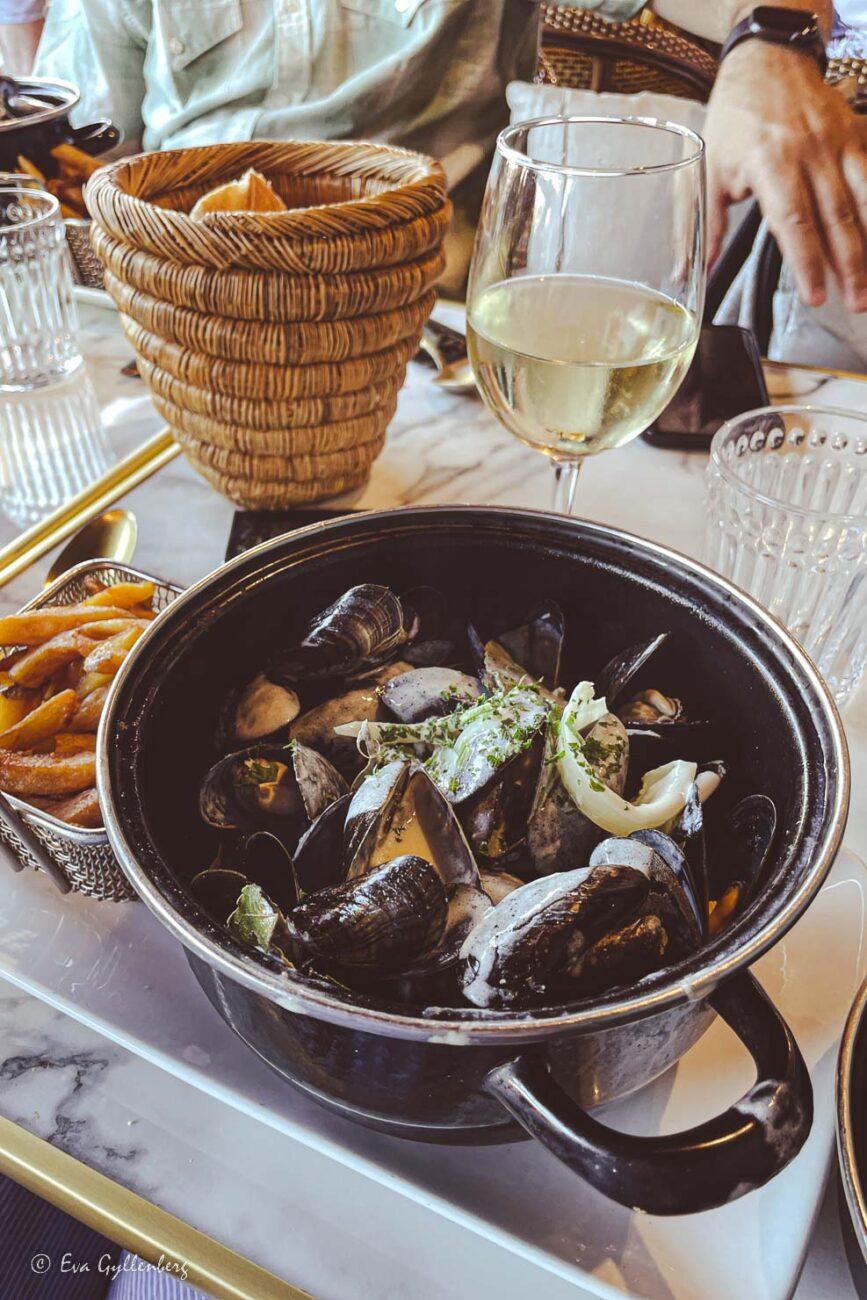 Apples
Normandy is not a large wine region, but here instead it is apple orchards that meet you along the roads. The apples in Normandy are mainly used in beverage production, but there are also numerous recipes based on apples. A classic is La tarte Normande – a lightly caramelized apple cake with almonds. But what drinks are produced from apples in Normandy?
Cider
Throughout the autumn, from September to November, apples are harvested in Normandy. The apples are washed and then pressed into apple must, which is placed in oak barrels to ferment before the finished cider is bottled. A typical apple cider from Normandy has a low alcohol content (2%-5%) and is crisp and dry (broken). Cider is used in many of the classic dishes in Normandy, but is also traditionally served with crêpes.
In Calvados you can go on a road trip along the Cider Road – Route du Cidre. Through cute little half-timbered villages and apple orchards, you pass by around 20 cider producers where you can shop directly from the farms and meet the producers. Incredibly nice!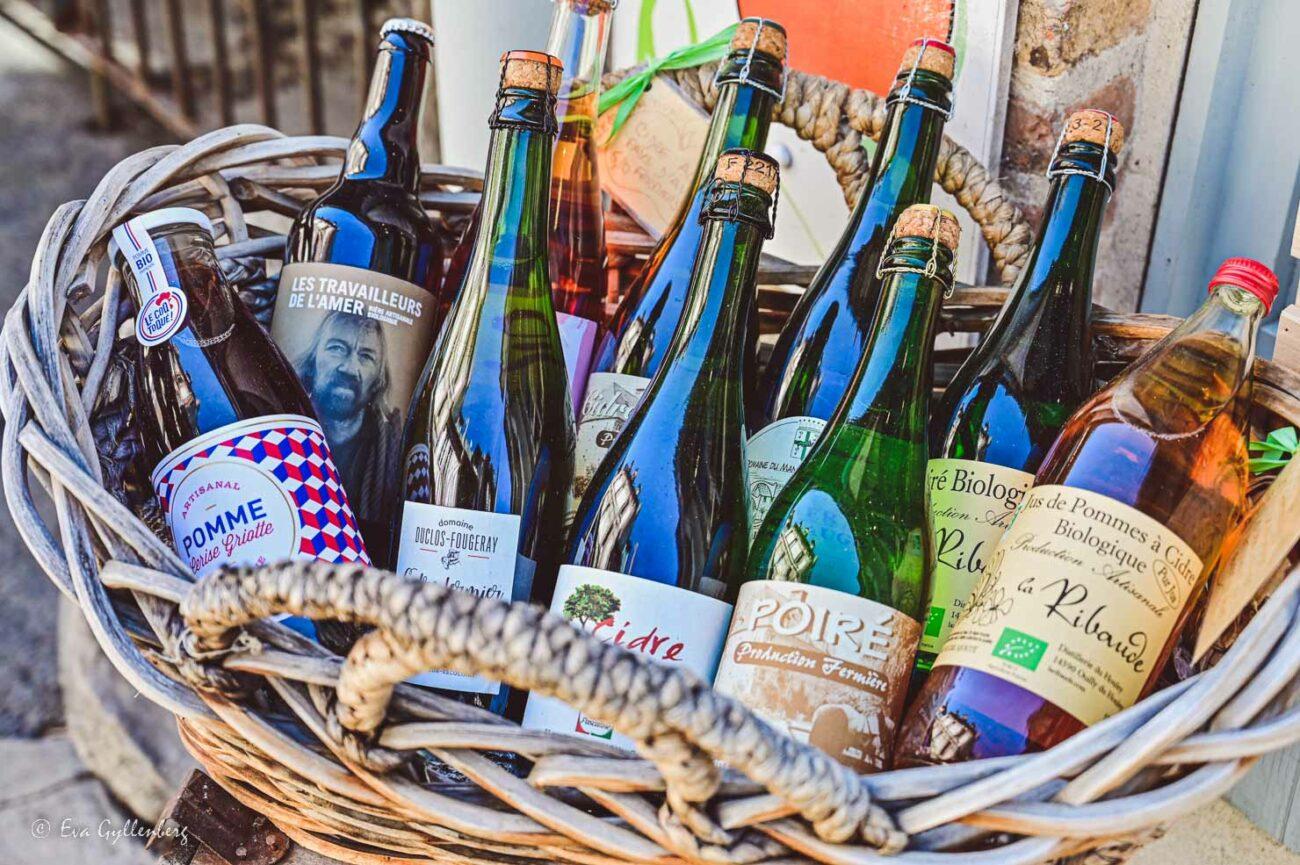 Calvados
Large quantities of cider are produced in Normandy and cider is the main ingredient in the region's famous apple brandy - Calvados. Calvados is made from aged distilled cider and has been produced in the region of the same name for over 500 years. Just like with wine, the soil, apple variety and aging barrel affect the taste of the final product and the different producers fight to make the most exclusive calvados with the roundest taste.
There are some terms that are good to be aware of when it comes to Calvados. "VS" means that the calvados is aged for at least two years (mainly used in cooking), "VSOP" is aged for at least four years and "XO" is aged for at least six years. There are over 300 Calvados producers and some of them have guided tours with interactive films and exhibits.
One thing that is very common in Normandy is that you are served one Trou Normand ("Normandiskt høl") as a snack in restaurants to increase the appetite. What does the hole consist of? An apple sorbet soaked in Calvados. Be a little vigilant if you are traveling with teenagers – it happens that this snack is presented by sheer speed even to the teenagers…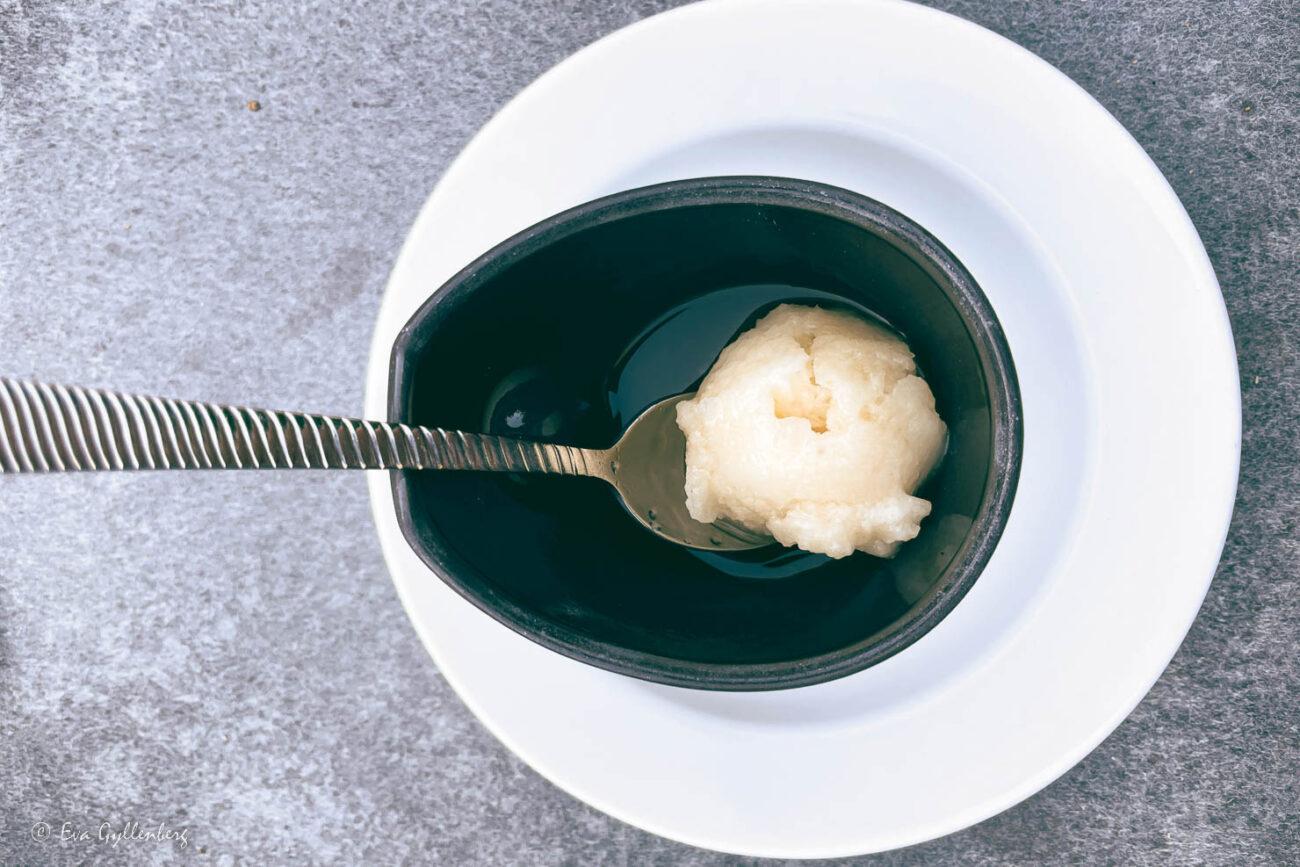 Knob
Last on the gastronomic list you will find Pommeau. Pommeau is not as famous a drink as calvados, but pommeau is actually made from calvados mixed with apple must. The mixture is then aged in oak barrels for 18 months. In France, pommeau is a common aperitif, but the drink is also often served with cheese and fruit.
Have you been here? What did you think of the destination?
Been there - didn't like it!
0
Not keen at all to go here!
0
Eva Gyllenberg
Travel blogger, gastronaut, photographer and family adventurer with over 55 countries in his luggage. Eva loves trips that include beautiful nature, hiking boots and well-cooked food. On the travel blog Rucksack she takes you to all corners of the world with the help of her inspiring pictures and texts.