Yasuragi is a Japanese spa hotel located on a beautiful hill Värmdö, with miles-long views of Stockholm's inner archipelago. The spa facility usually has a 16-year-old age limit, but during the summer (July 1 to August 12, 2018) this beautiful facility opens its doors to families, on the popular Yasuragi Kids. Doesn't that sound lovely? We liked that, so we booked their evening package with family spa and went there!
Yasuragi has been an oasis for stressed souls for over 20 years, but in the fall of 2017 the facility underwent a major facelift and in early 2018 the facility opened with, among other things, a completely redesigned spa section. So it was with great expectations that we jumped into the car and headed for our spa day.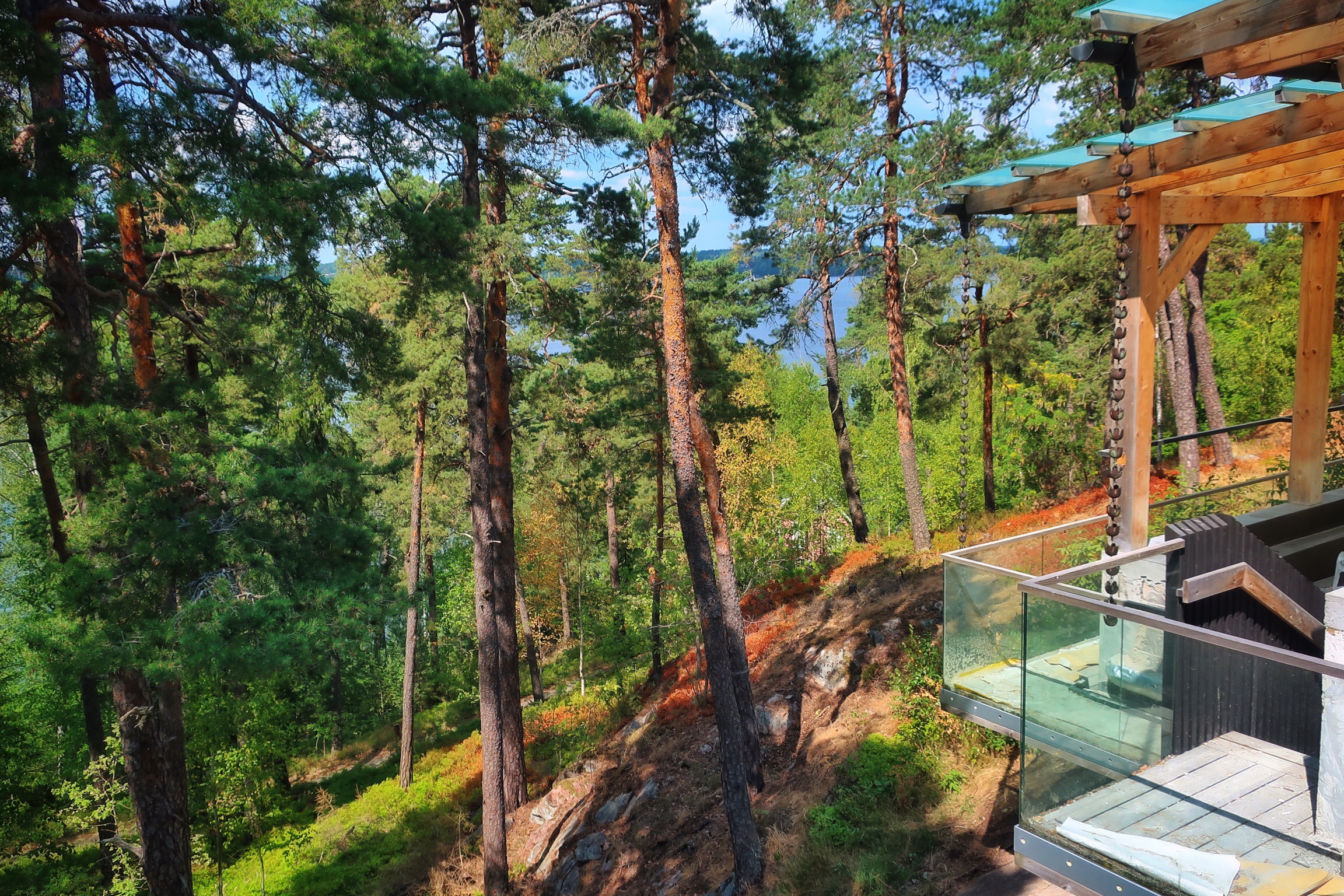 What are Yasuragi kids?
Yasuragi kids has 3 different packages to choose from. Day package (08:00-16:00), evening package (13:00-23:00) and Overnight stay kids. As we are both working at the moment (and don't really feel like we have time for an overnight stay) and are very tired in the morning, the choice fell on the evening package.
The evening package includes:
Entrance to the Japanese bath
Japanese-inspired dinner buffet
Tea and fruit buffet available throughout the afternoon
Be your Yukata (dark blue Japanese dressing gown) to both use on site and take home.
Swimwear to use on site and take home for everyone over 13 (adult sizes only, so children need to bring their own swimwear)
Loan of towels and beach slippers (but no slippers in children's sizes, you need to bring them yourself)
Activities – something throughout the afternoon for anyone who wants, everything from family yoga to martial arts and secondary school. We tested the sushi school (surcharge of 150 kronor) and the kendo training.
How was our day?
We started with a lazy morning at home and only had a light lunch before going to Yasuragi kids. It only took us 15 minutes to drive from home to the hotel, but even though it's close, coming here feels like being out in the quiet of the countryside.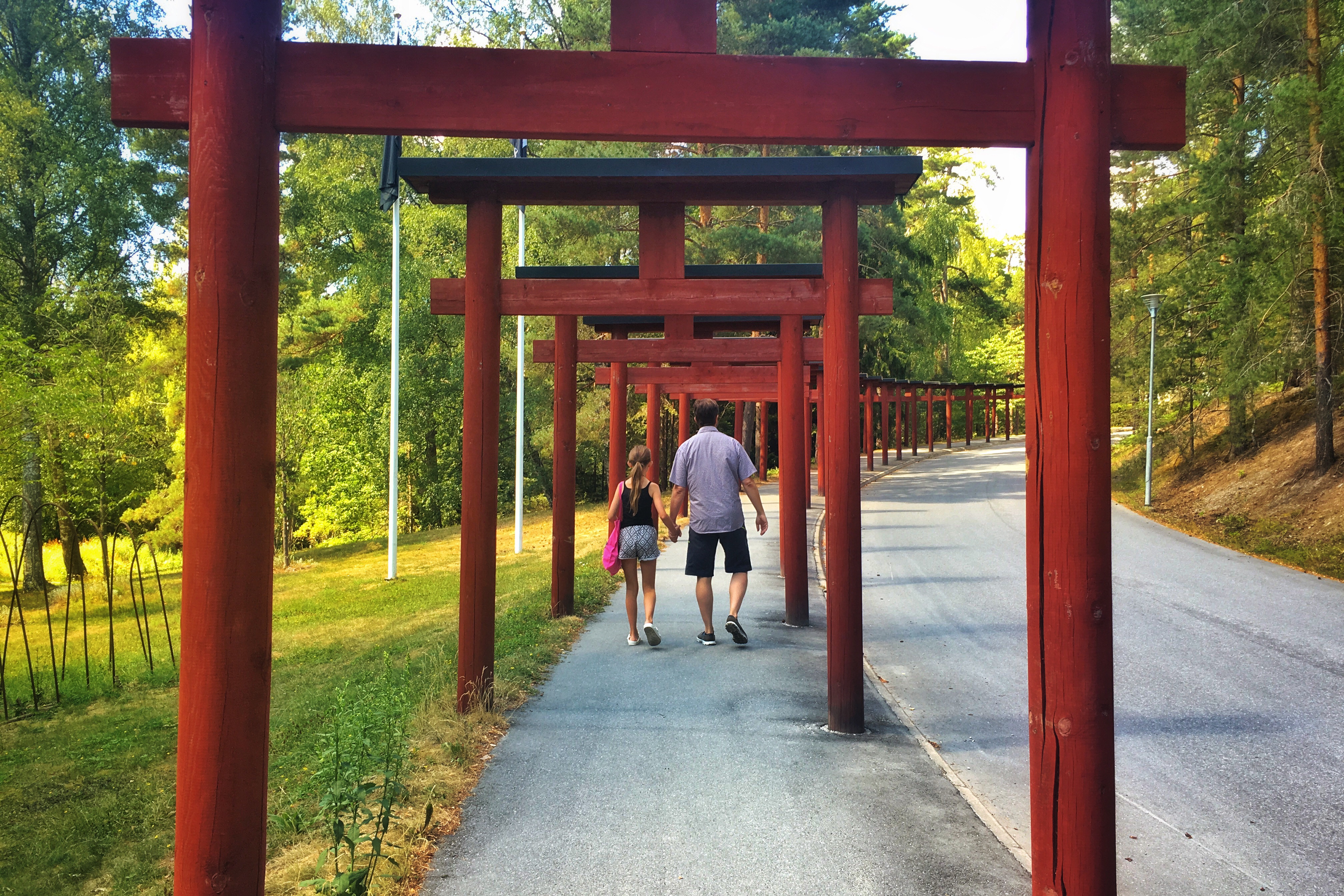 Large parking lot with a footpath up to the hotel through Japanese torii (red wooden portals). We were there a few minutes before 13pm and it only took a few minutes to walk to the hotel.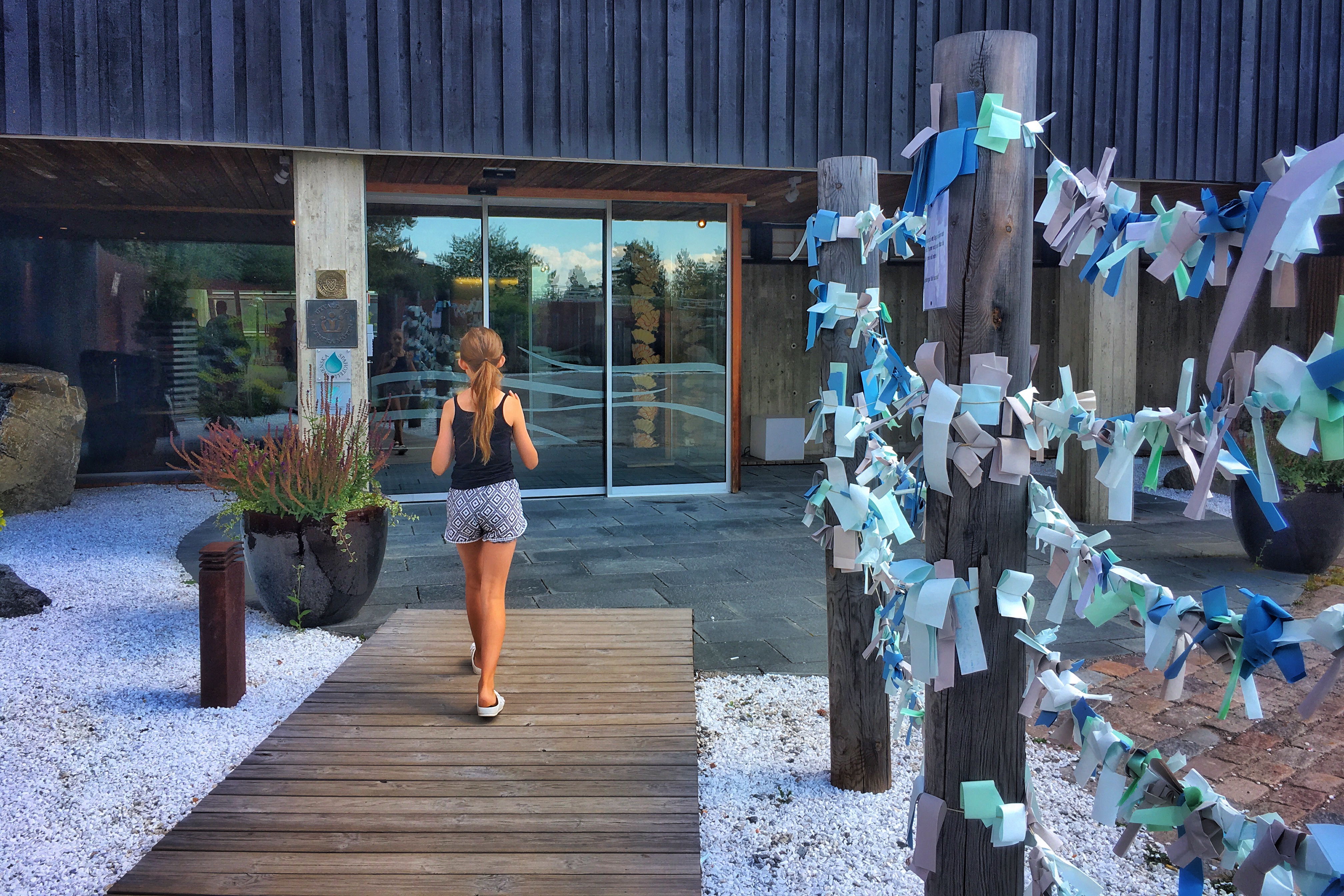 Once there, we checked into the spa department and received a card for the wardrobes, several towels, each had their own yukata, empty water bottles, slippers and bathing suit/swimming pants. The yukata was available in several children's sizes, but the smallest size of the swimwear was small, so luckily we brought the daughter's own swimwear.
We had pre-booked the daughter's sushi school at 14 pm and a karate lesson at 16 pm. Dinner was booked for 19:15 pm. The rest of the time we had planned to just take it easy and relax. One thing worth mentioning is that the entire facility has a cell phone ban, so unless you absolutely need your cell phone right after you exit the hotel, I recommend you simply leave it at home.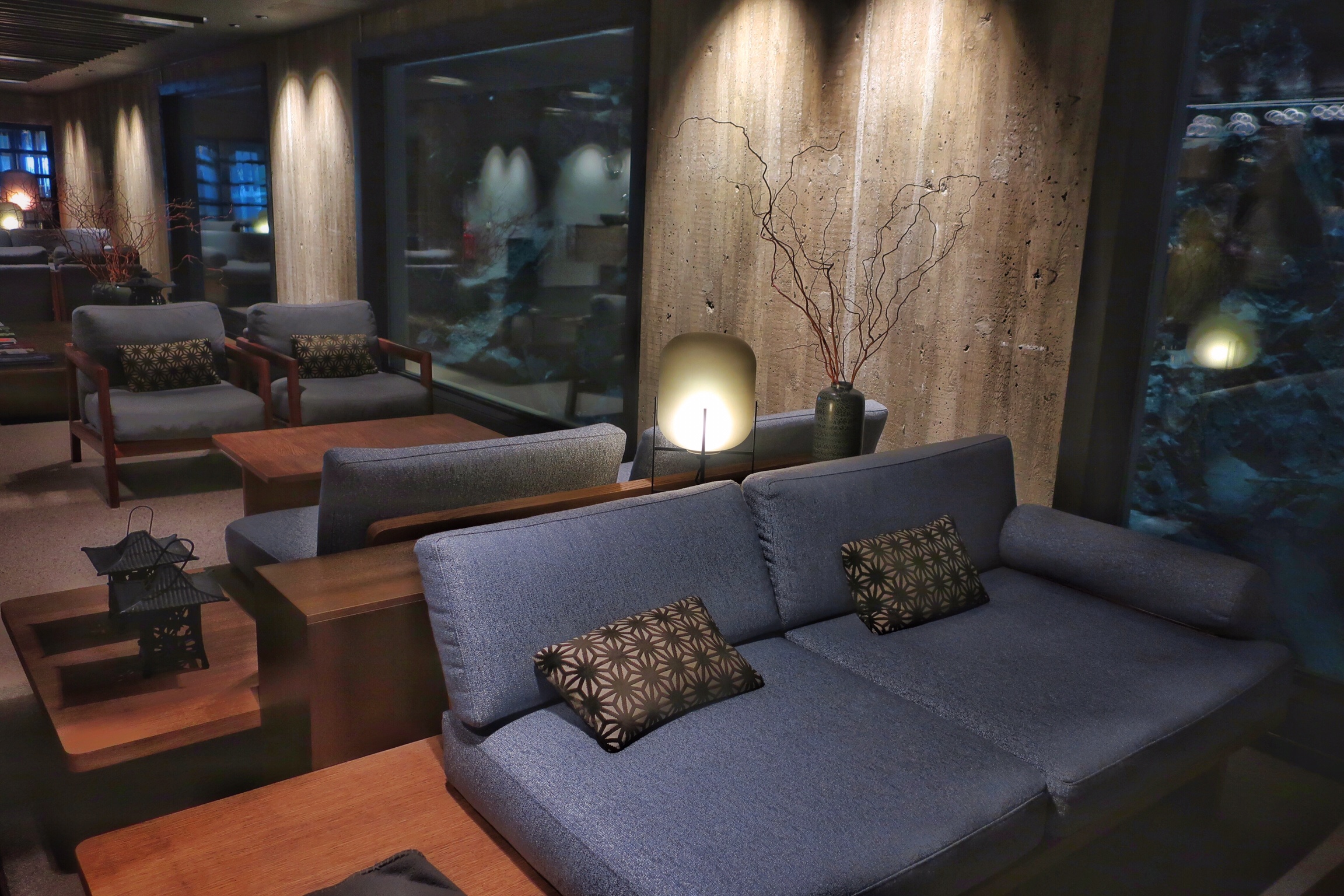 It was really noticeable that the entire spa area was completely renovated, everything was incredibly stylish and nothing looked worn or broken. Raw concrete, plain furniture and dark wood. Incredibly soothing. We changed and put our things in the locker and went to the showers to wash up.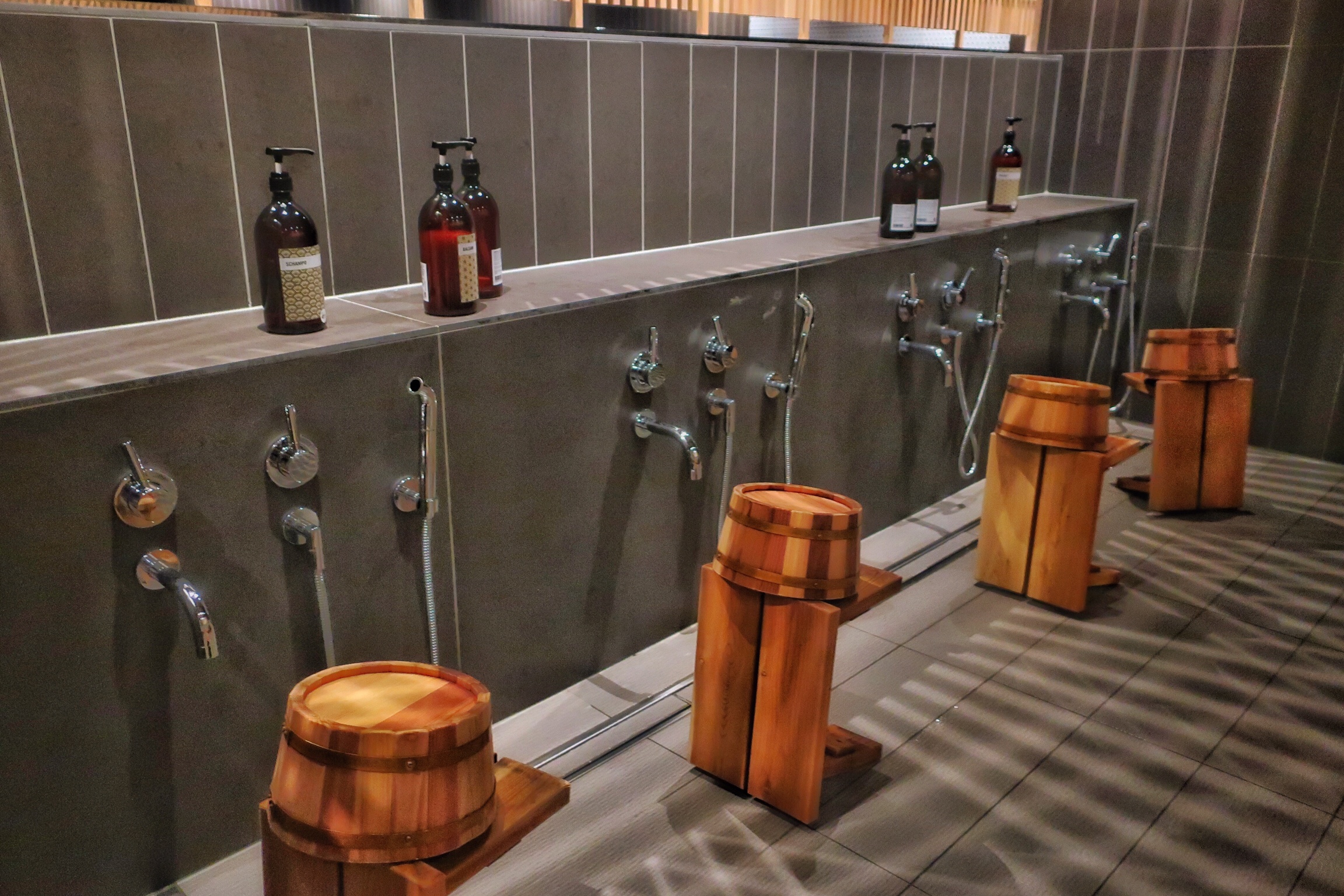 In Japanese bathhouses, cleanliness is extremely important and it is mandatory that everyone washes thoroughly before entering the hot baths. When you wash in a Japanese bath, you sit on a small wooden stool, soap your body and then rinse it off with warm water that you pour over your whole body from a wooden bucket. For those who want to Swedishize the ritual, there are also a few regular showers. But how fun is it?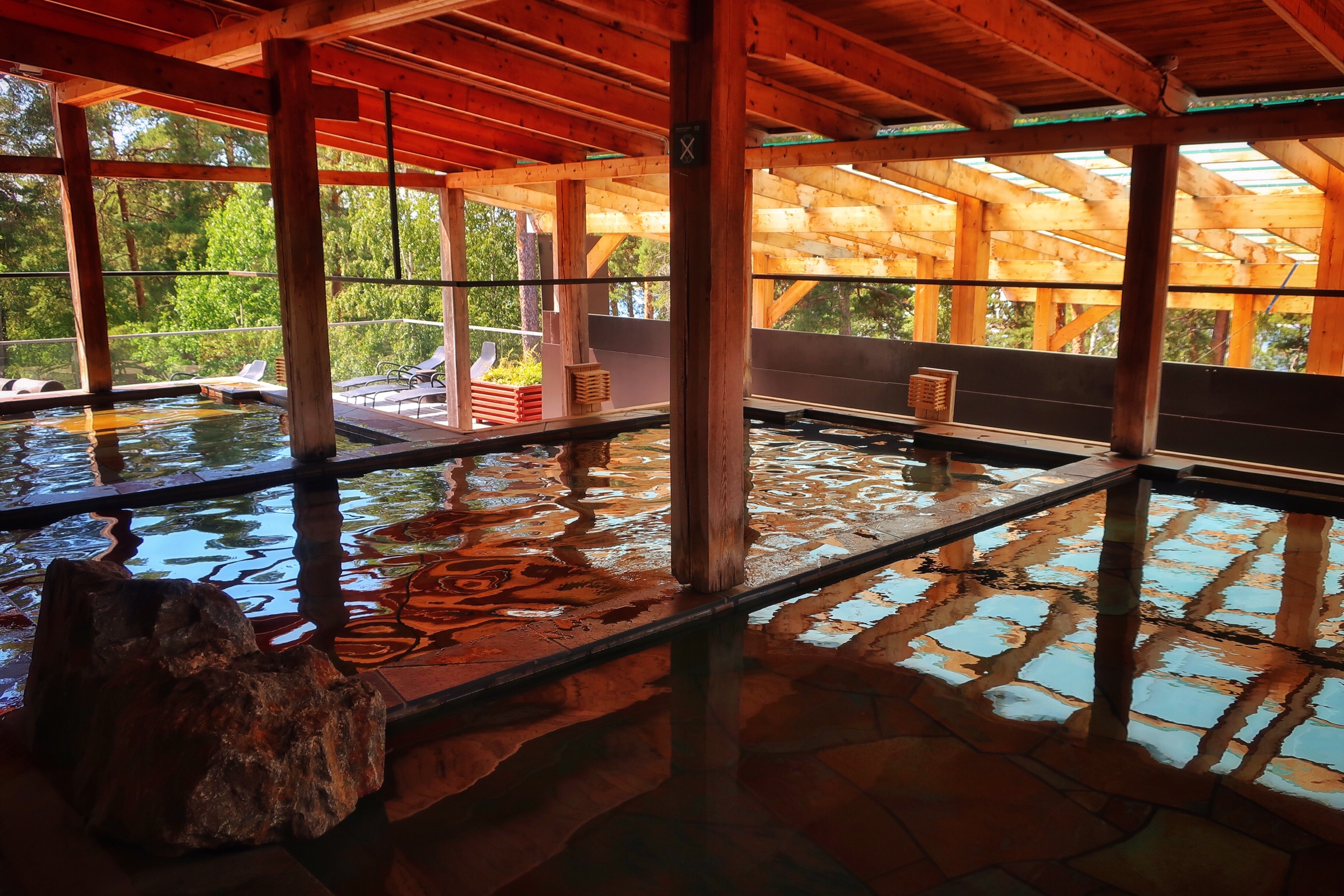 Finished washing and ready, we then went out to the pools. As it was 30 degrees and sunny outside, we thought it was a good idea to start outside in one of the 3 "hot springs" (actually five, but two were under renovation). It might not have been the smartest decision during the hottest period of the day. The hot springs are really hot and there was no fan in the heat. So we felt quite quickly dehydrated and were allowed to get up and drink water. A very clever thing was the water bottles that were handed out upon check-in, they could be filled with cold water (still or carbonated) in several places. Really needed this day.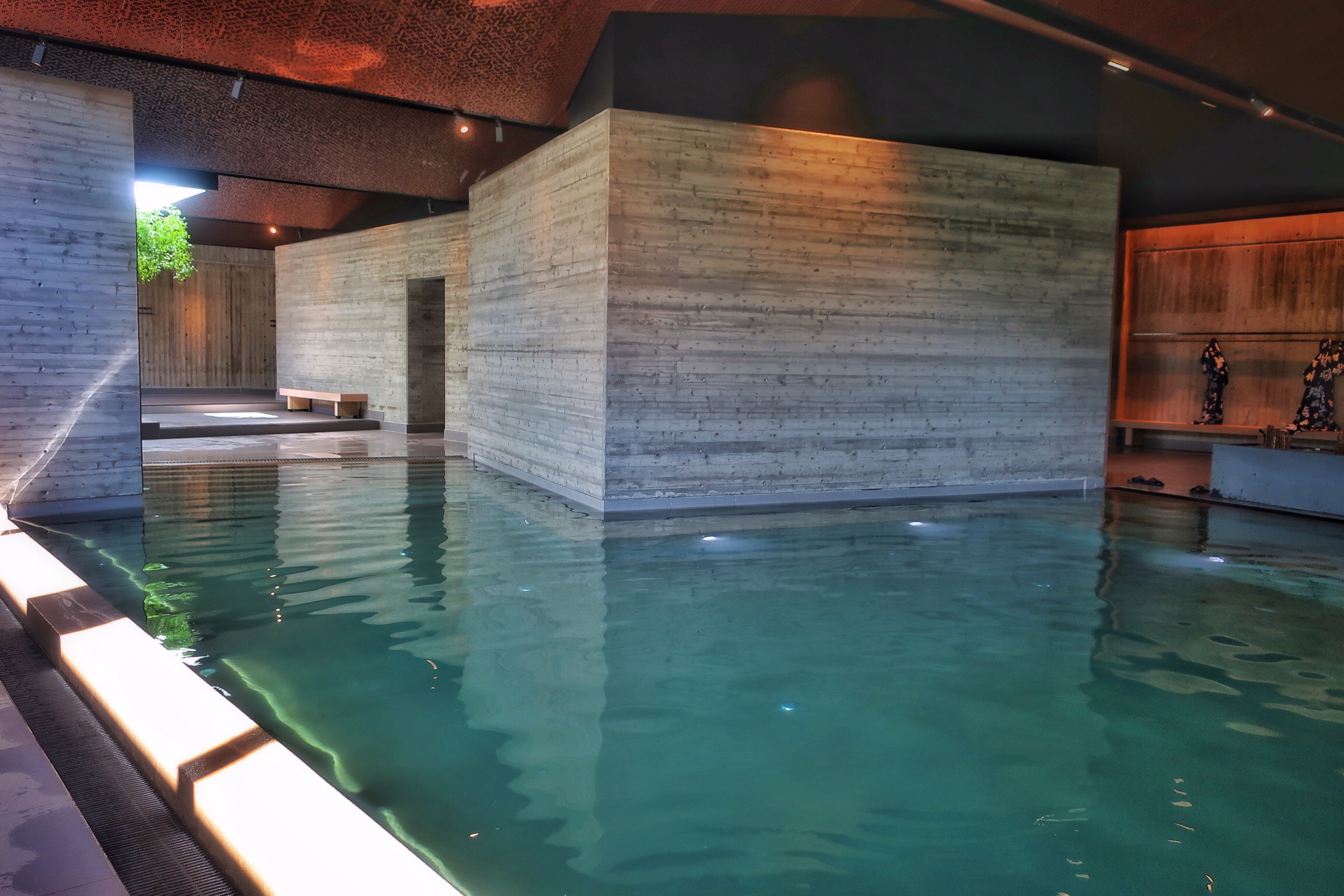 After the involuntary heat shock, we entered the large pool. Indoors, it was a perfect temperature and it was very nice to both be in the water or to lie in one of the lounge chairs and take it easy.
There was not only an indoor pool, but also a large dry sauna overlooking the forest, a salt sauna (where you scrub your skin with salt), a cold bath and a hot tub. The cold bath at 12 degrees is really not for me. For me, it's a cold bath if the temperature is below 25 degrees...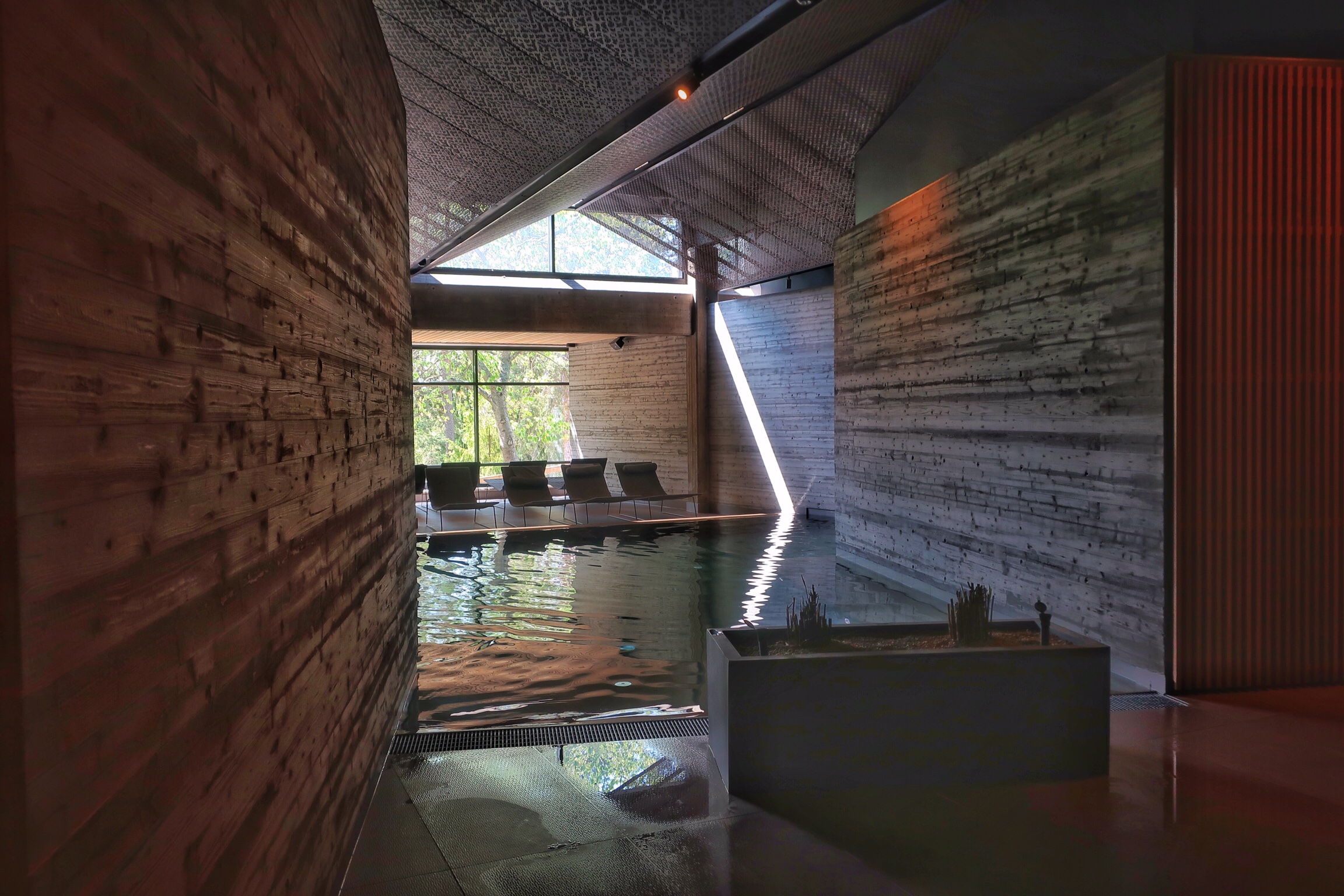 It was getting close to sushi school, so we went to the sake bar, which during the summer serves as a class room for children. But were we the only ones there? Had we misunderstood something? The door opened and we were welcomed in by two sushi chefs. It turned out that we were the only ones who signed up for this session, so the daughter simply got a private lesson in how to make sushi. Usually there are loads of kids on these yasurai kids courses, so we must have just been a bit lucky!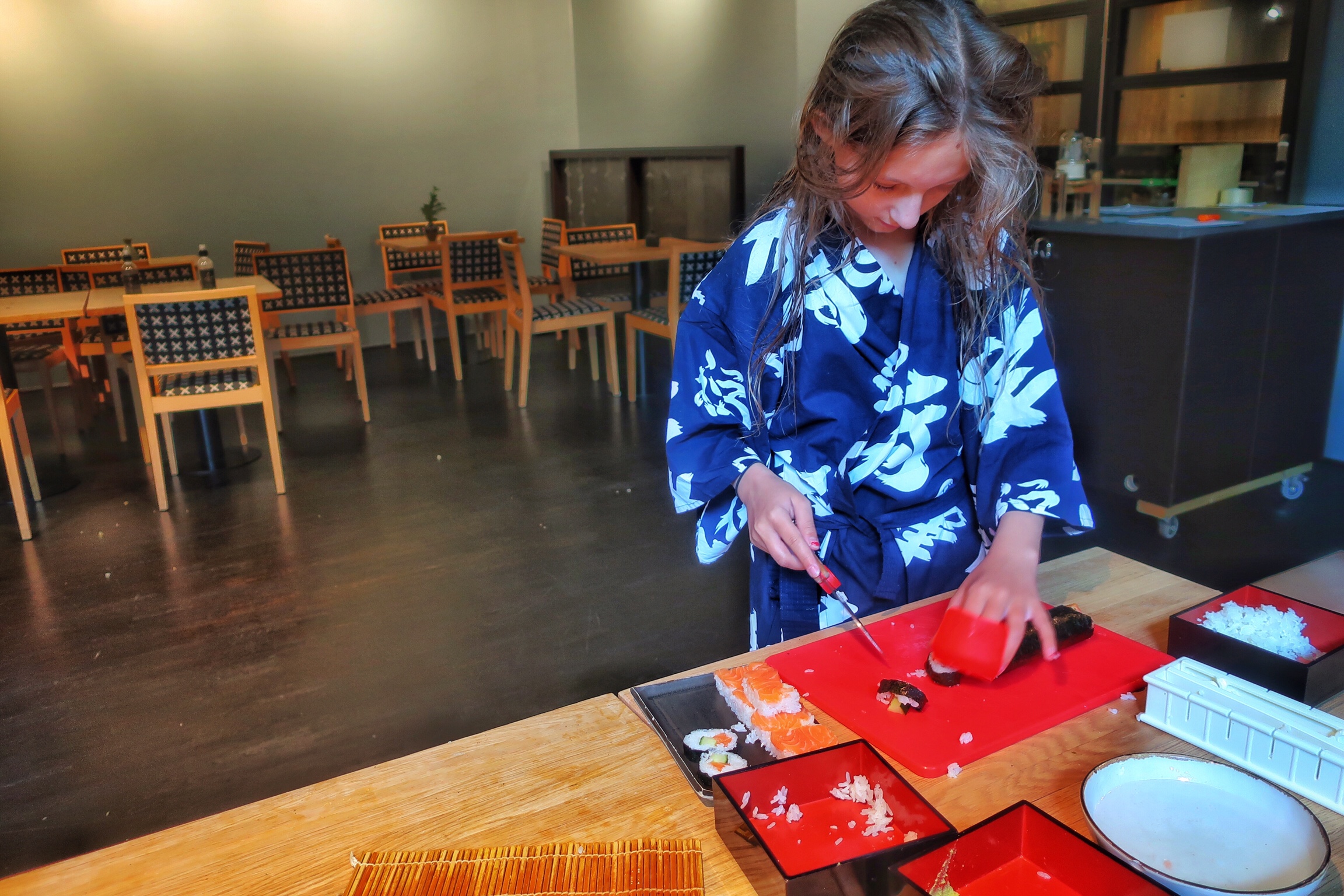 The sushi school was a real hit and the daughter got to make two different kinds of sushi: fantastic salmon rolls with avocado and cucumber and oshizushi - "pressed sushi". When making oshizushi, you have a mold with a lid, where you press rice and salmon together and then cut them into pieces. It will simply be rectangular sushi, which the children can make themselves. Just as good, but much simpler!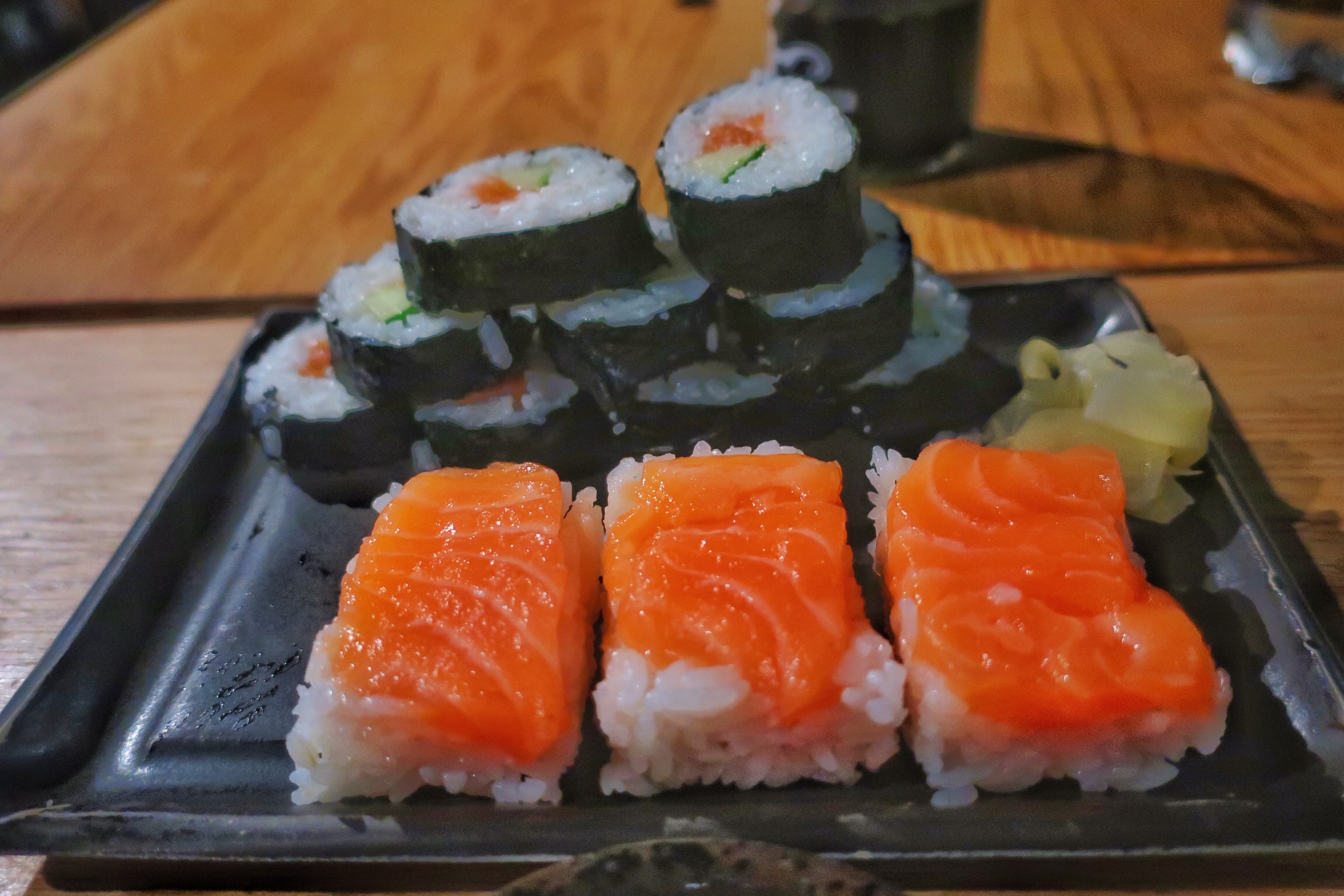 After all the rolls and pieces of sushi were cut up, we got to eat the sushi. It was a satisfied daughter who invited her parents to lunch and proud parents who ate with devotion.
Before the sushi school, it was quiet in the pools, those who bathed did it quietly and calmly. As expected at a Japanese spa. But after we finished the sushi, new families had arrived in the pool, who had a little misunderstood why you go to a Japanese spa. It dived from the edge, jeered, tossed and hoped. Surprisingly, no one in the staff told them, I suffered with the adult guests without children who paid to go to the spa and instead ended up at Eriksdalsbadet. Perhaps it would have been good if all families had received information on the rules of conduct at a Japanese spa upon check-in?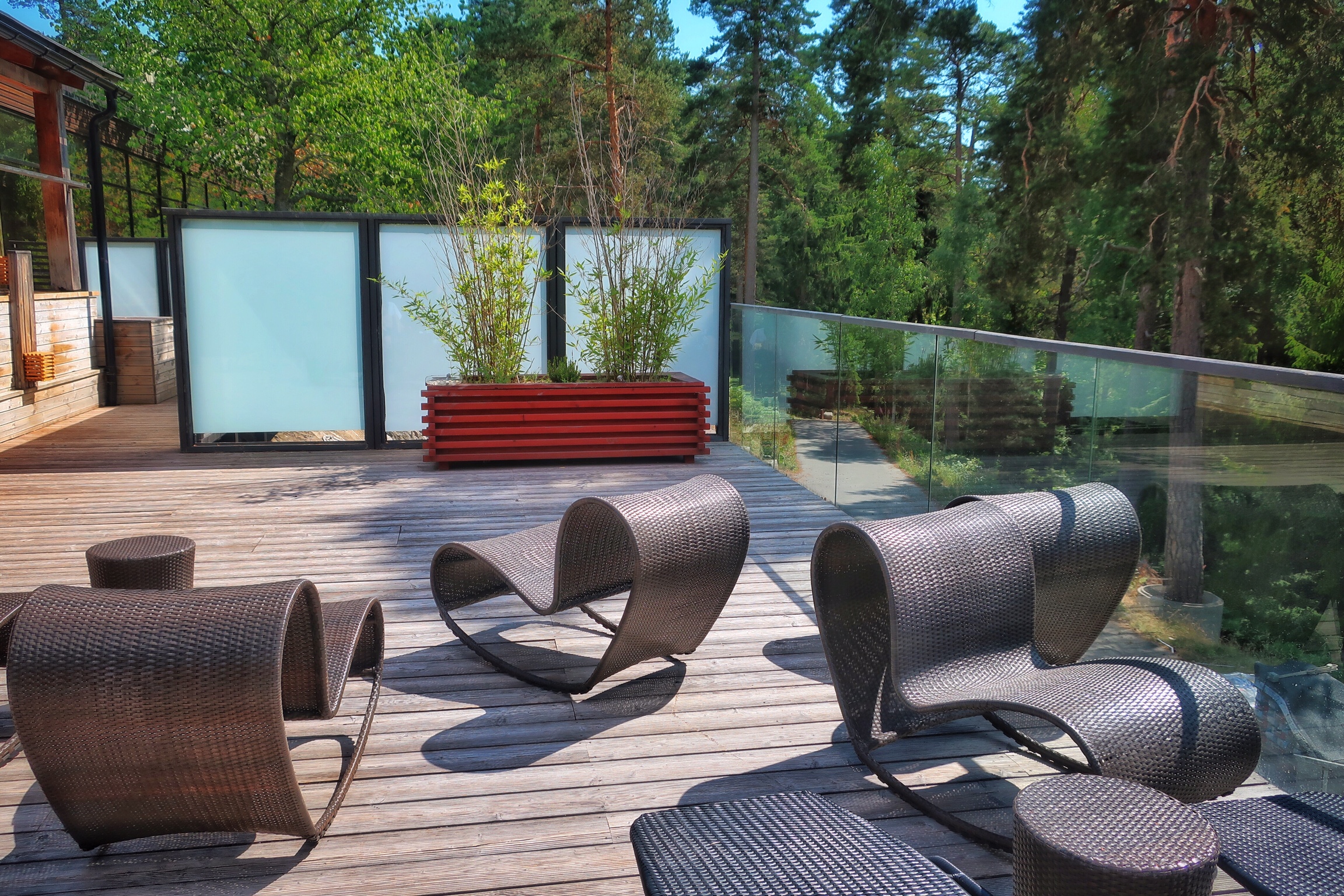 We took it easy, dried a bit in the sun and drank tea on the terrace. There were several types of hot and cold green tea to choose from and large platters of fruit (both whole and cut up). It was incredibly nice to sit in damp clothes in the heat outside and be cooled by the wind.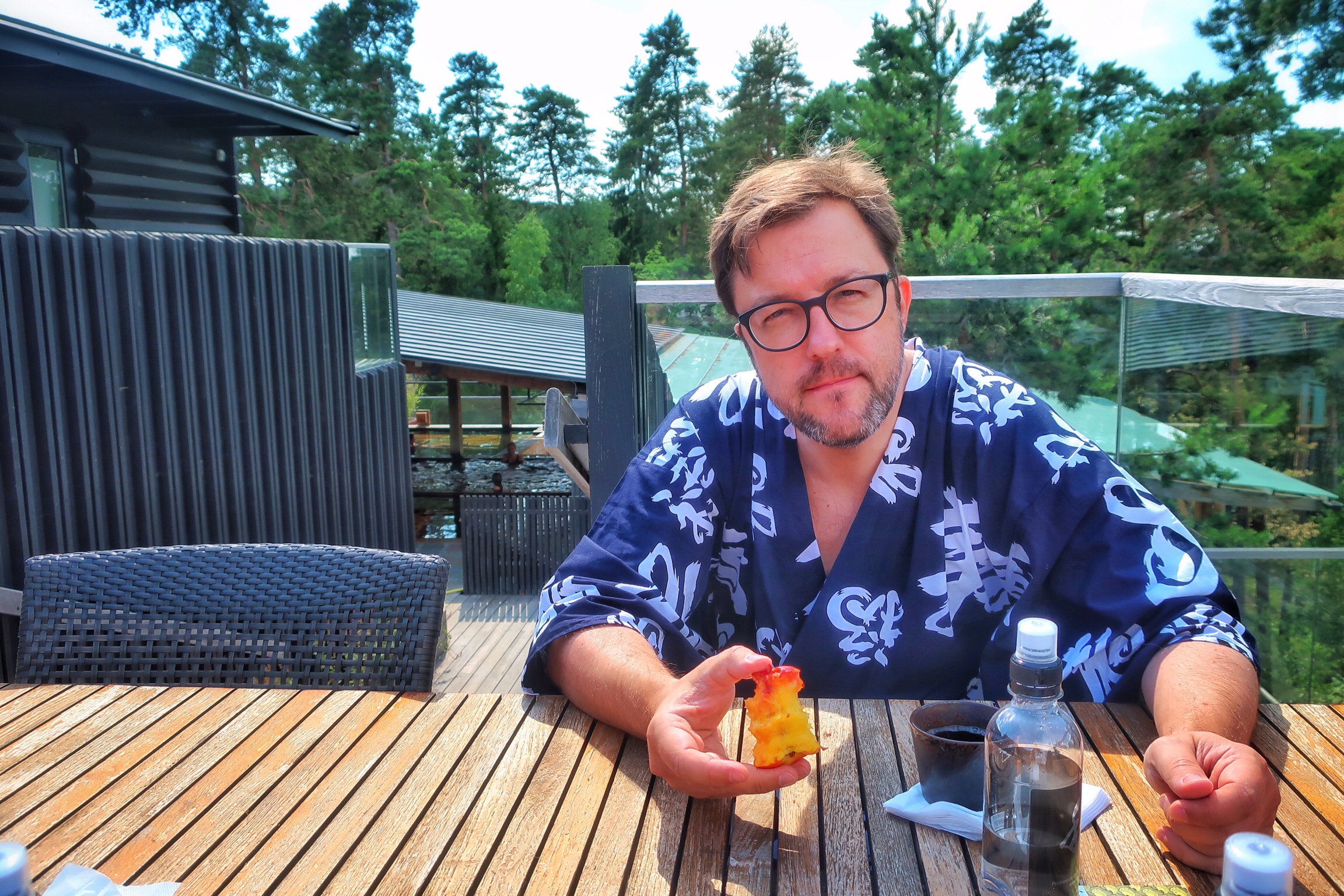 Time for the martial arts session. This week it would be karate, which the daughter was looking forward to. We sat outside the training room and waited. And waited. But no one came. Another mother told the reception and then it turned out that the karate club had canceled without telling her. A bit snotty. But the reception quickly found out and called in one of the employees who used to run the kendo sessions, so we got to practice kendo instead. Nicely handled by Yasuragi! So we shouted and slashed with our bamboo swords. Nice to have tried it, but it will probably take a while before you feel comfortable yelling to scare the opponent.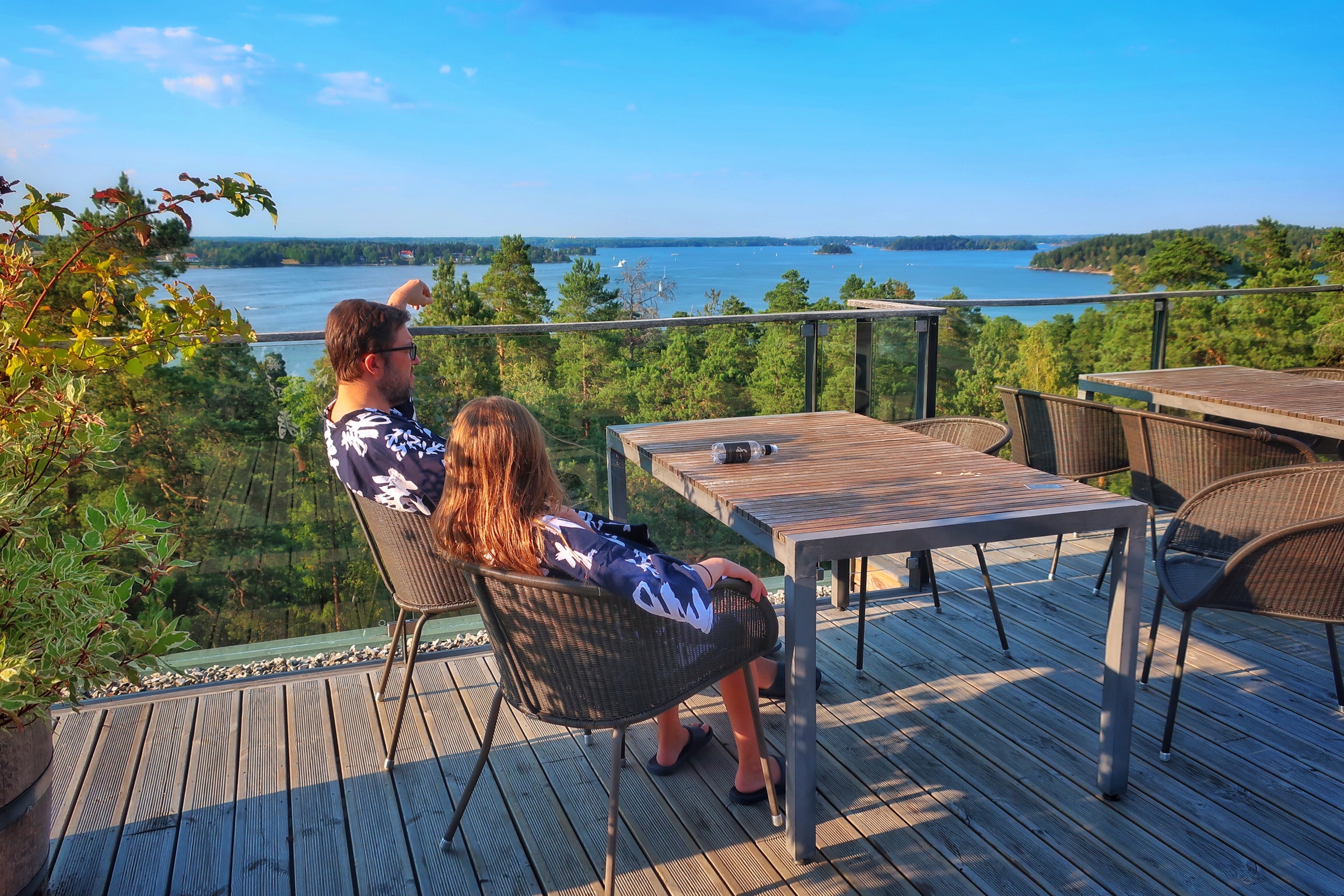 We swam further and rested in the "floating chairs" (swings like at sea), but started to feel a little wrinkled. It was possible to switch to a dinner session half an hour earlier, so we did. You eat dinner in your yukata, so you don't have to dress up at all. No make-up and wearing a bathing suit, I don't often eat au naturel at a restaurant in Stockholm...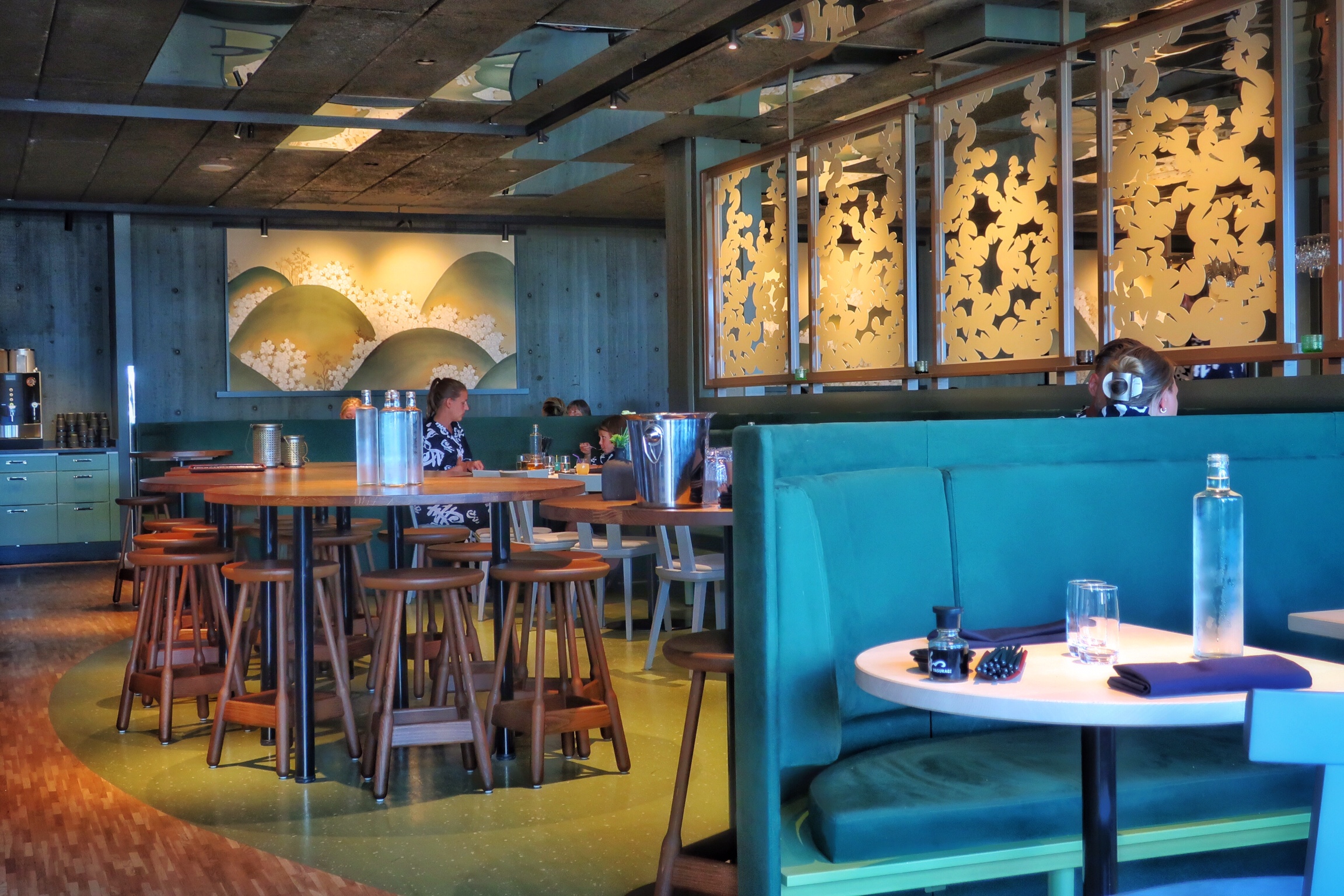 The dining room was also decorated decoratively, in the same raw concrete and dark wood. Uniform and neat, plus points for that! We got a round table by the window and then it was just a matter of getting started and picking the buffet. The packages you book include buffet, dessert and coffee, but not drinks. So if you want something other than water with your meal, don't forget to bring your credit card with you to dinner.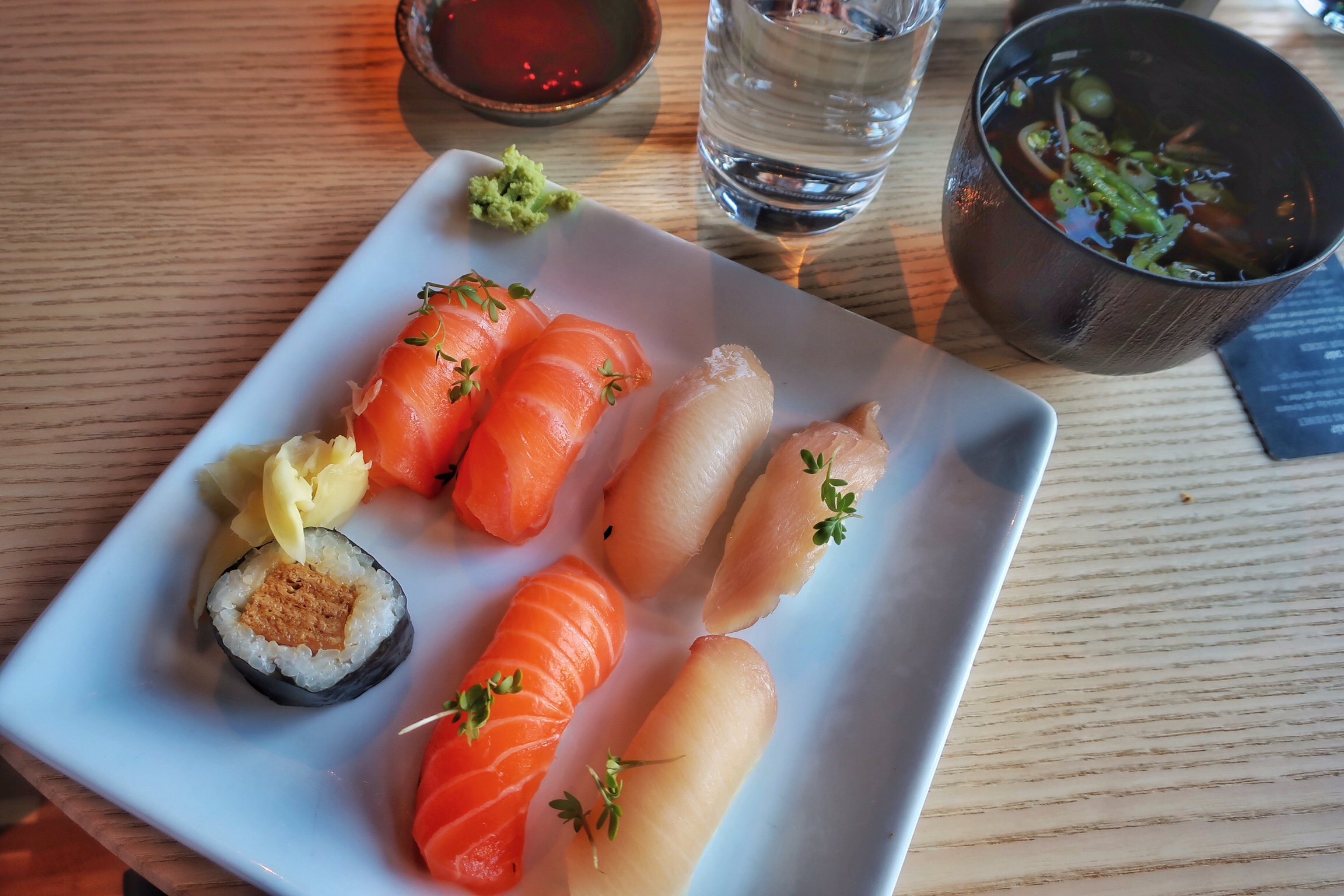 The buffet was quite ok. On one side there was sushi, a cold noodle soup and two salmon dishes. In the middle was a large vegetable buffet with fantastic vegetables. On the other side were fried tofu, gyoza, duck, "bibimbap chicken", sesame-baked salmon and pickled vegetables. If you might have noticed my lack of enthusiasm in the sentence above, it's because I was a bit of a beggarviken at dinner. Not that it wasn't good - because it was - but it was probably rather that I expected a little more style and finesse in the food. Considering that during the rest of the year Yasuragi has such amazing restaurants, this dinner felt more like a standard lunch buffet. But if you're not expecting a gastronomic experience, there's something for everyone at the buffet.
We could have swam more after dinner, but we were quite tired and full, so at eight o'clock we packed up and headed home. A long, glorious day had come to an end.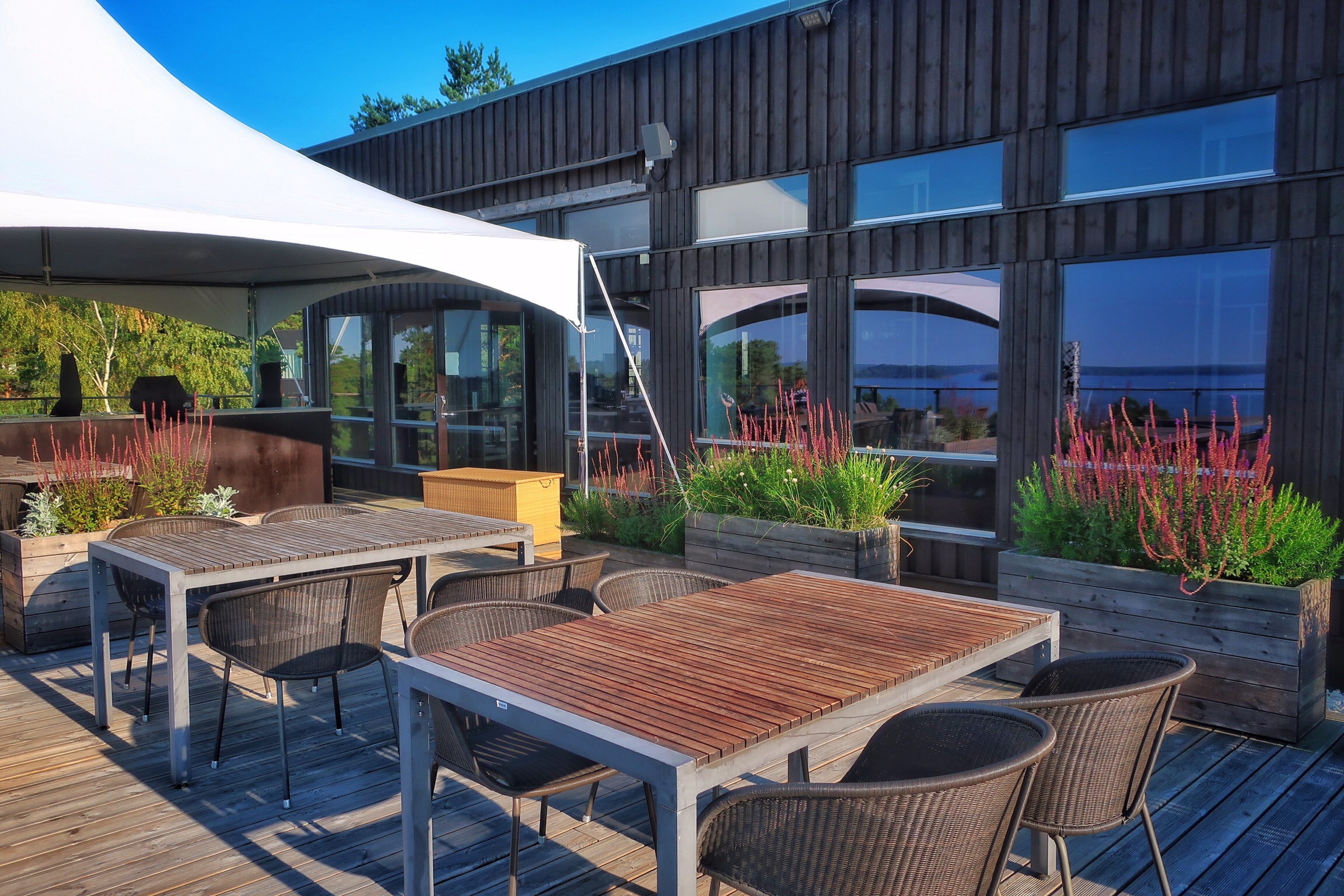 Summary of Yasuragi Kids
So, if I'm going to try to sum up the day at Yasuragi!
Good!
Yasuragi is a fantastic spa facility with wonderful environments and with well-thought-out design down to the smallest detail. Clean, fresh and very relaxing! The sushi school got a big thumbs up from the daughter!
The whole family just loves Yasuragi Kids and it's great that families get the chance to come here and unwind together during the summer!
Room for improvement!
What could be a little better, is if the staff would dare to tell rowdy families who break the rules (taking a bet and diving from the edge of the pool in a shallow pool is never a good idea...) and if as an option there was the possibility to choose, for example, teppanyaki - the restaurant for the evening package.
(Then I just have to add that I am not a fan of swimsuits without any "support" or padding whatsoever. These swimsuits are unfortunately not flattering on anyone…)
Want to read more? Check out Yasuragi's website or my side about excursions around Stockholm.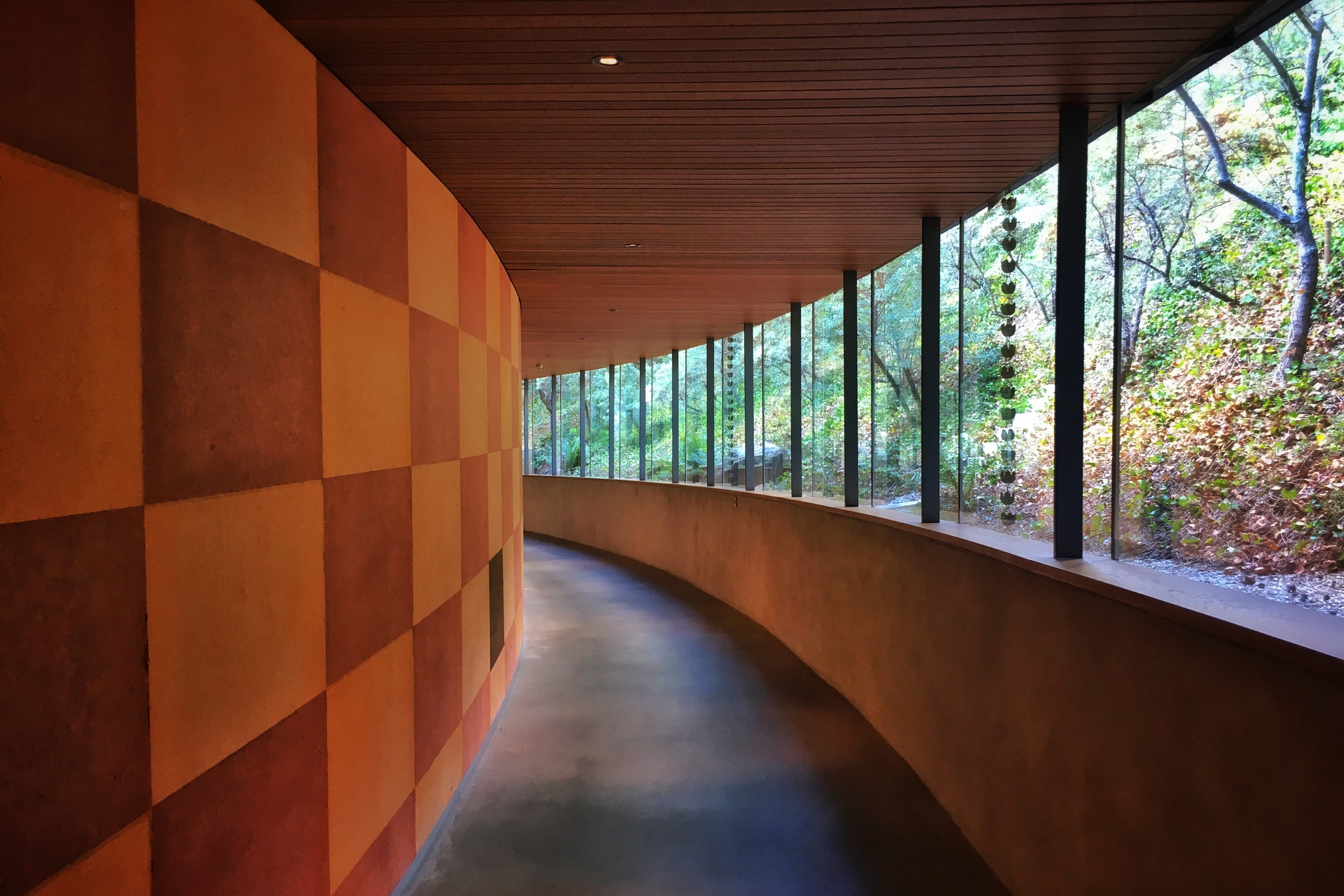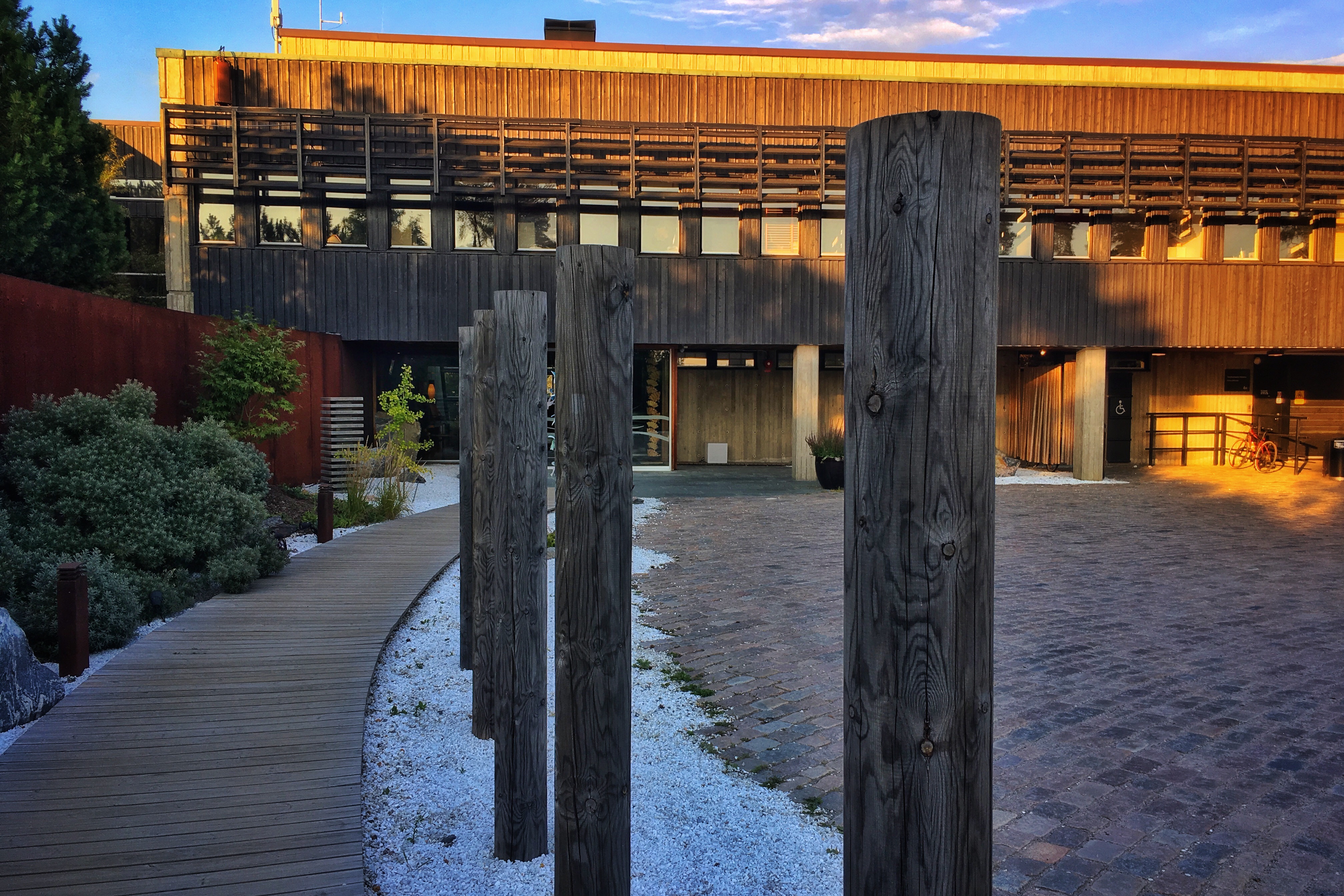 Do you want to see more from Stockholm?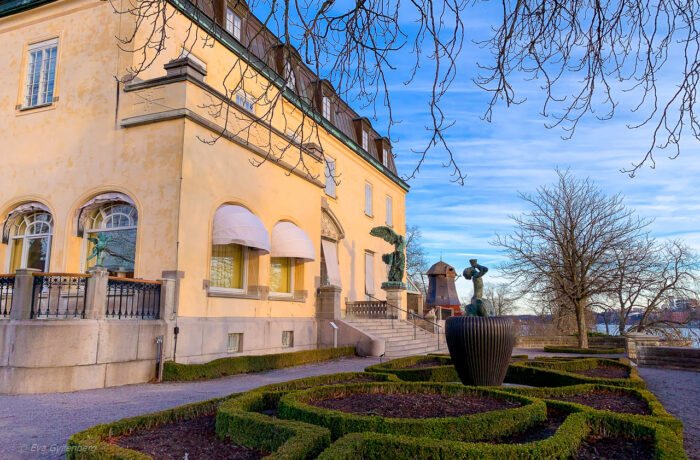 A Saturday walk at Waldemarsudde, an unexpected hug and some lost French tourists.
January 12
Around Stockholm there are plenty of cozy Christmas markets that make the Christmas feeling increase by a few…
November 23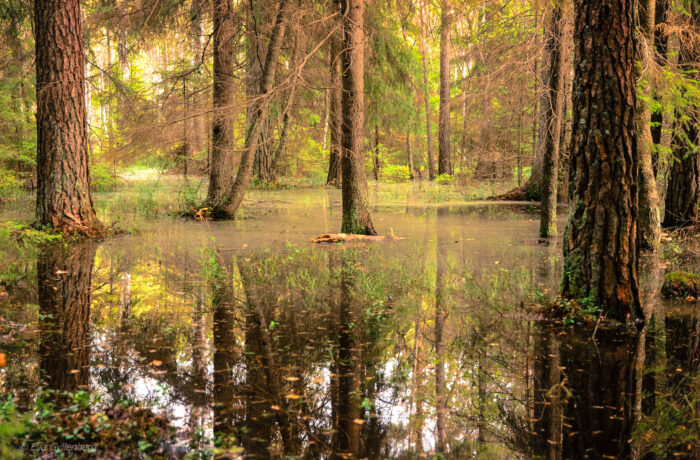 Tyresta National Park is easily accessible Swedish primeval forest just south of Stockholm. We go here at least…
31 October 2017