Driving to Skåne from Stockholm after work on an autumn evening is both quite far, dark and tiring. Especially when traveling with a small puppy. When we went to Österlen last week, we therefore booked into a hotel in Jönköping to start the holiday a little more quietly and pleasantly. I've only stayed once before in Jönköping and it was one of my worst hotel experiences ever (a shabby hotel by a bathhouse, where we could even hear the bathers singing in the shower...), but John Bauer Hotel proved considerably nicer – for both family and dog!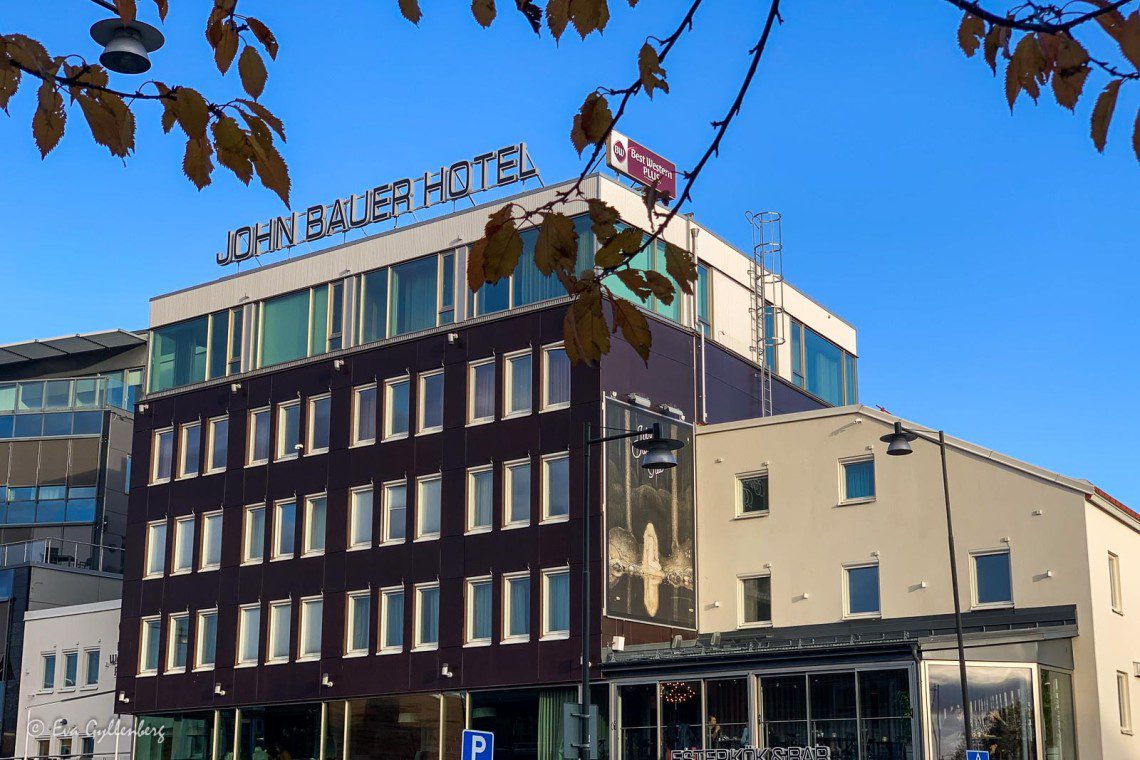 Location and building
The Best Western Plus John Bauer Hotel is centrally located in Jönköping, right next to Lake Munk and the city's shopping district. There are plenty of restaurants and bars within walking distance and it's easy to just turn off the E4 and park your car in the hotel's garage (just make sure you book in advance!).
The hotel has 105 rooms that feel newly renovated and fresh with a cozy lobby and restaurant/bar. In several places in the lobby and at the reception there was hand sanitizer.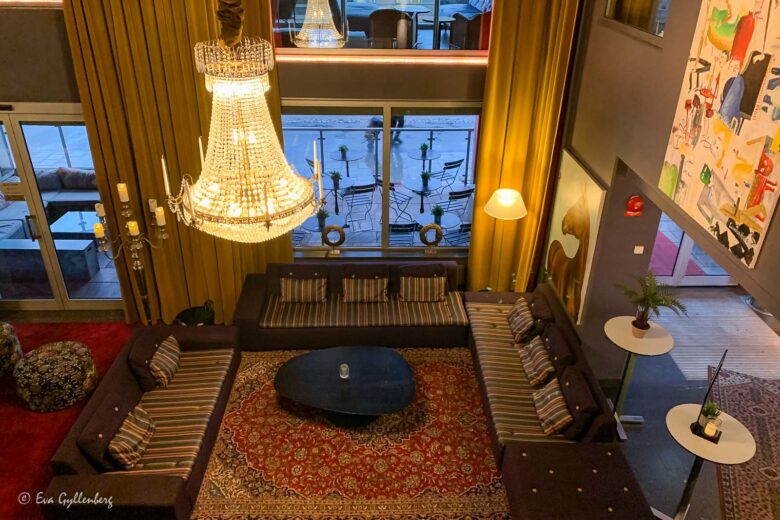 Rum
We had booked a combined family/dog room with a desk, a double bed, a single bed and (it would appear) a dog bed. We were given a room on the first floor (same floor as the bar), at the end of a long corridor with paintings by John Bauer on the walls.
John Bauer calls itself a "personal boutique hotel", which I can partially understand. The decor was modern and thoughtful (although the daughter didn't like the Missoni-inspired textiles at all) and the stained glass windows by John Bauer blended well with the rooms. However, in my eyes, the hotel is a bit too big and impersonal to call itself a boutique hotel. A little more "city hotel" than "boutique hotel". A boutique hotel to me is a place that is a destination in itself - John Bauer is not. Although it is a nice hotel!
The room was small, but felt very clean and nice with fresh textiles and wooden floors. The beds were unexpectedly comfortable and the daughter was happy to get a real bed instead of a squeaky extra bed. A plus for the chocolate on the pillow. A minus because there was a combined shampoo/conditioner/body soap in the shower.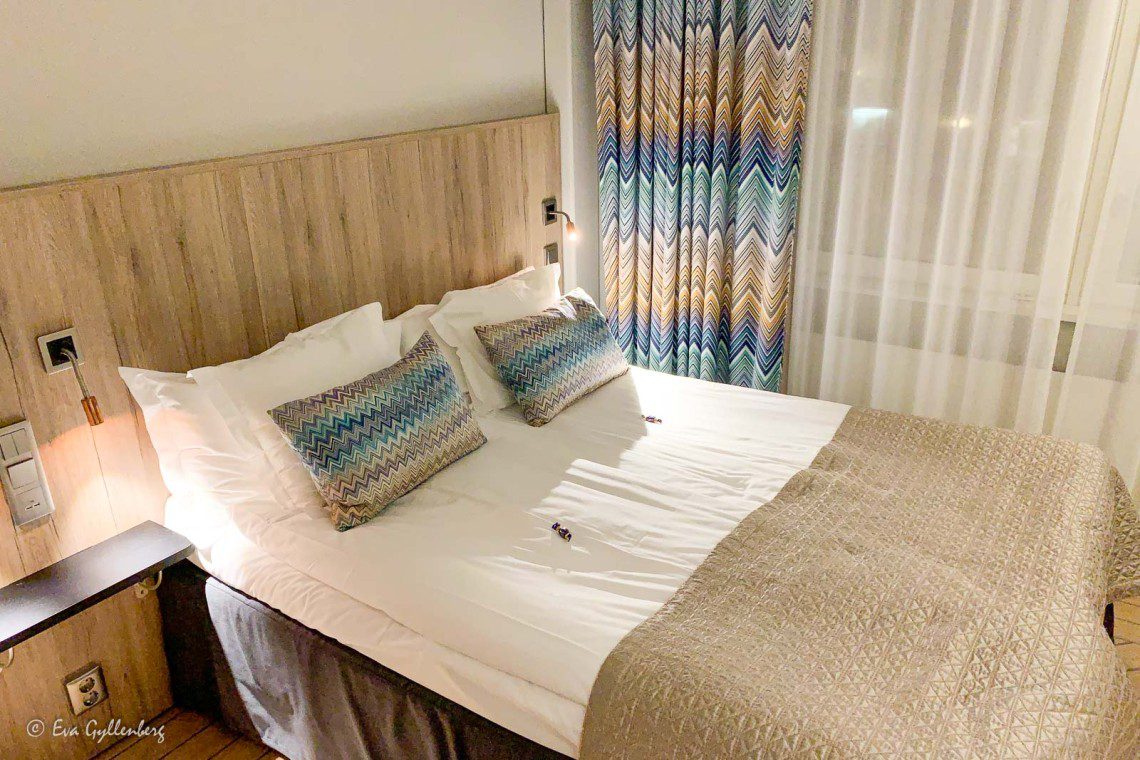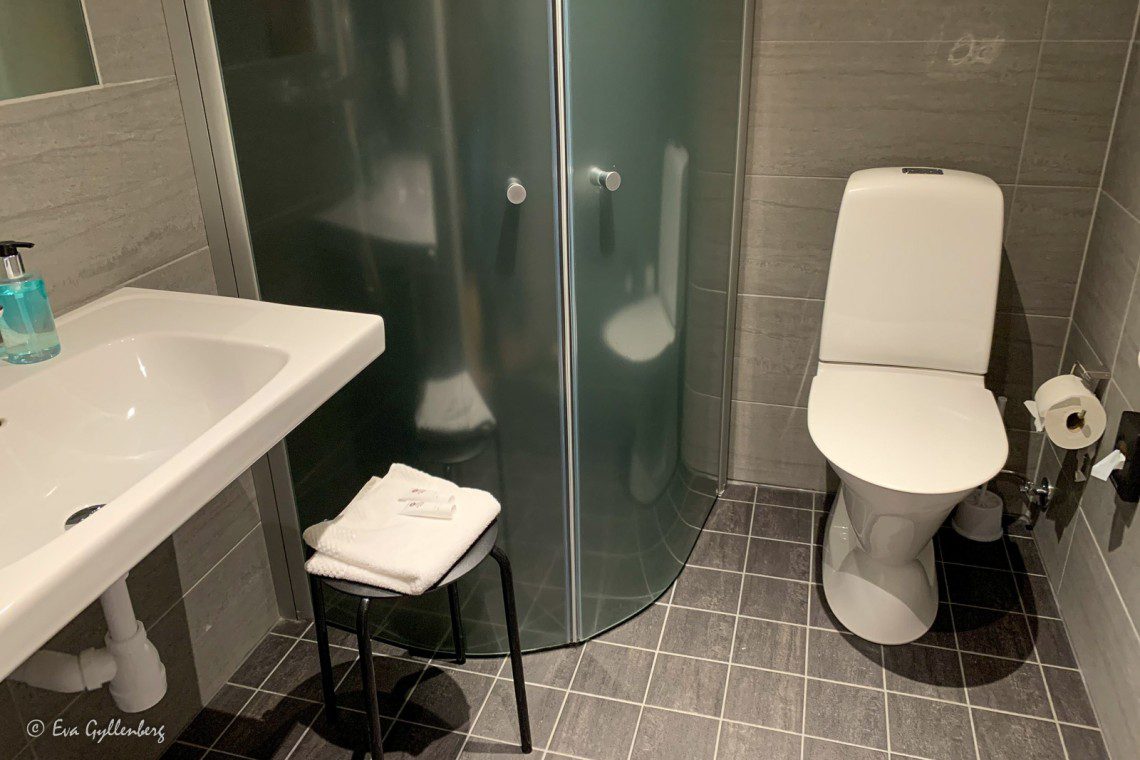 Being a dog at John Bauer
To be a dog at the John Bauer Hotel is to be pampered to the max! Lilibet was clearly a VID – Very Important Dog. As a VID, you get a bag of dog treats in the room (you only need something else when master and mother get chocolate on the pillow!), a nice little dog bed and two food bowls in the toilet. However, the food bowls were so big that Lilibet accidentally bathed her paws in them, but she thought it was incredibly nice.
For dogs who do not want to be alone in the room, there is the option of eating breakfast together with the dog on the restaurant's upper floor. It is only in the breakfast dining room itself that dogs are not allowed, so it was just a matter of getting breakfast at the buffet and sitting outside with the dog. Very Nice!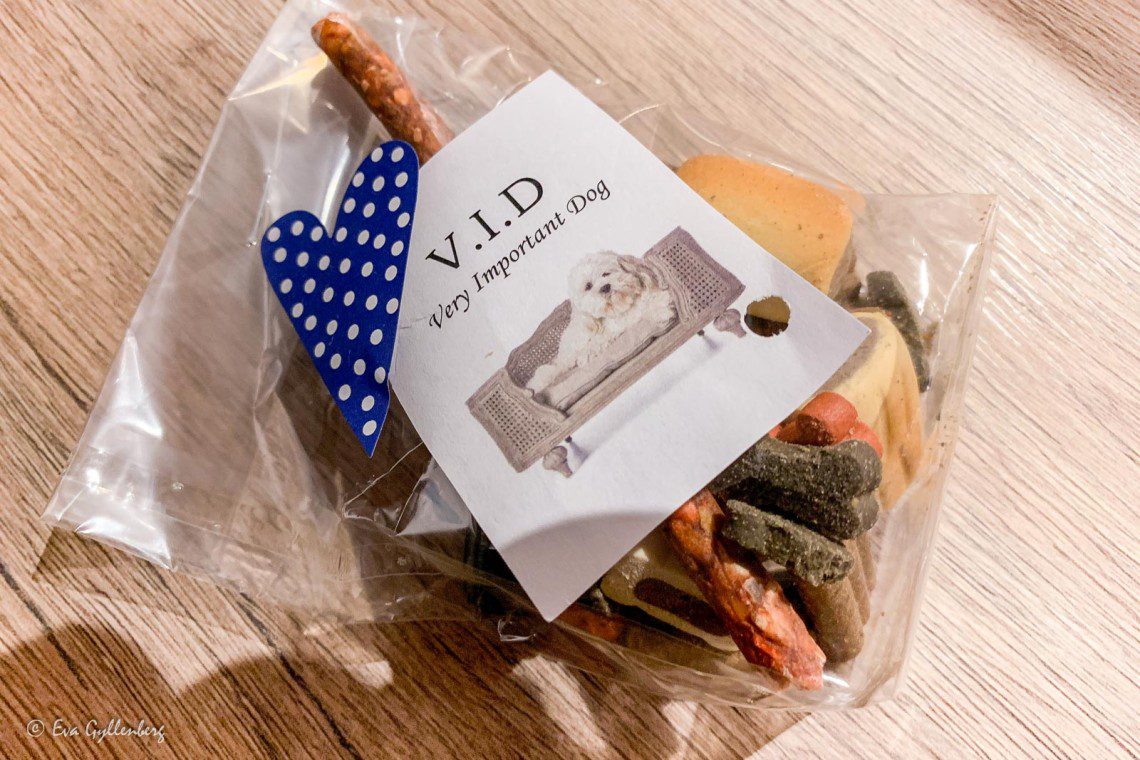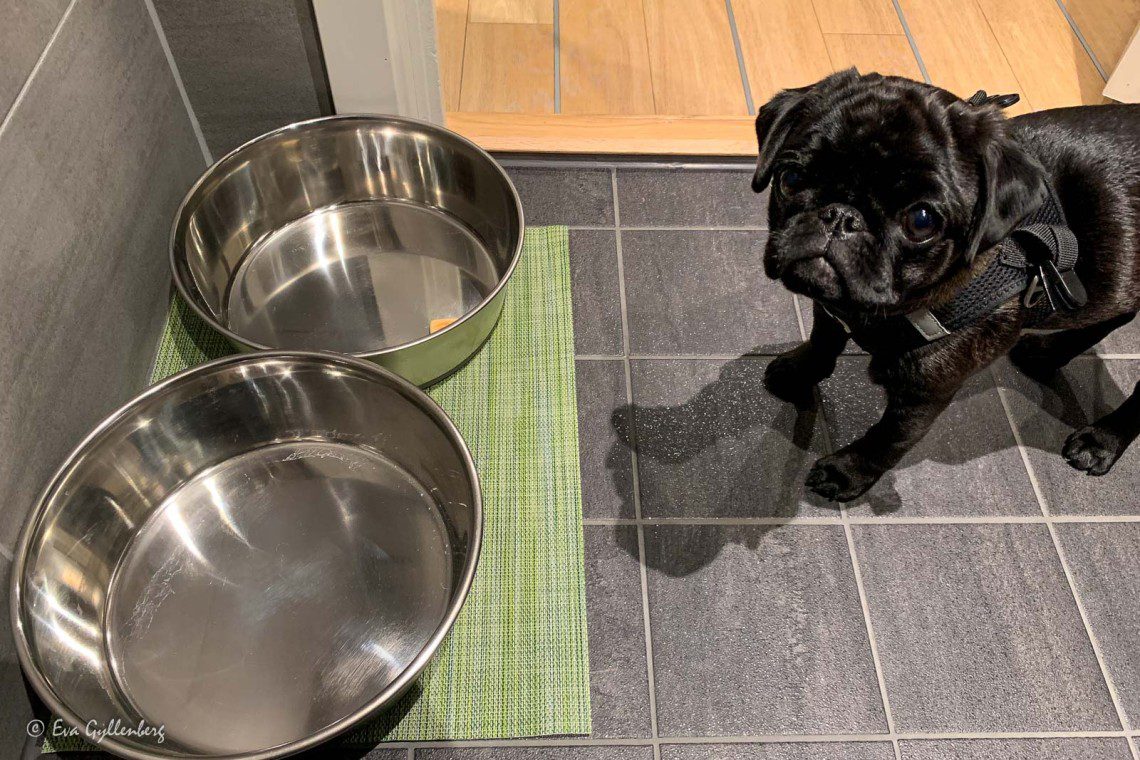 Breakfast
The hotel has a well-sorted breakfast that follows all corona guidelines. The guests are divided into different seats, there is hand sanitizer and well-marked squares on the floor to keep distance. The cheese was sliced ​​and the butter was in portion packs, all to reduce infection.
There was everything you could possibly need at the buffet, including waffles. Well stocked, fresh and tasty! Special plus was that many things on the buffet were locally produced! Other things worth mentioning are the good smoothie and the scrambled eggs which tasted as good as my own.
(Unfortunately, I don't have any pictures of the breakfast, I was too hungry and forgot to take pictures 🙂 )
So, what was the overall family rating?
Very good! A cozy place to stay for a night on a transit between Skåne and Stockholm! We will definitely be staying here more times on our way south.
Want to read more of my travel tips? do not forget to like Rucksack on Facebook!
Do you want to read about more lovely Swedish hotels?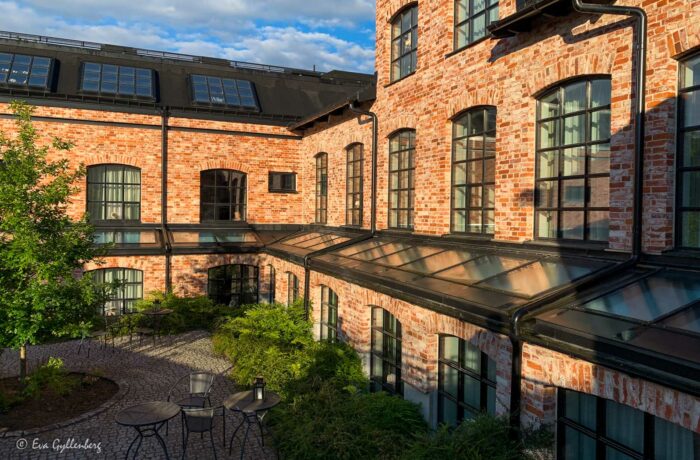 The More Hotel is a stylish and fresh apartment hotel in central Lund, close to…
July 29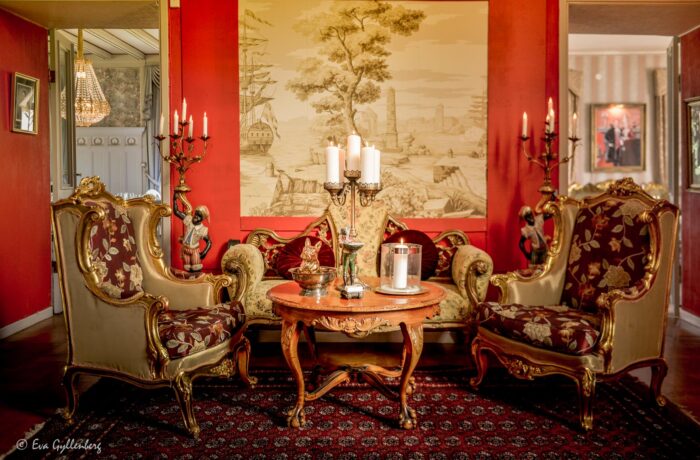 Wedevåg's manor totally knocked us out with its beautiful rooms, fantastic food and sweet breakfast.…
August 23