It is green. Newly hatched small bright green rice stalks stretch towards the sky along with arching yellow rice plants. Here in Bali, rice is not just a plant, but a vital staple food. We have wandered around among Jatiluwihs impressive rice terraces and irrigation canals, which are not only beautiful - but also a cultural world heritage.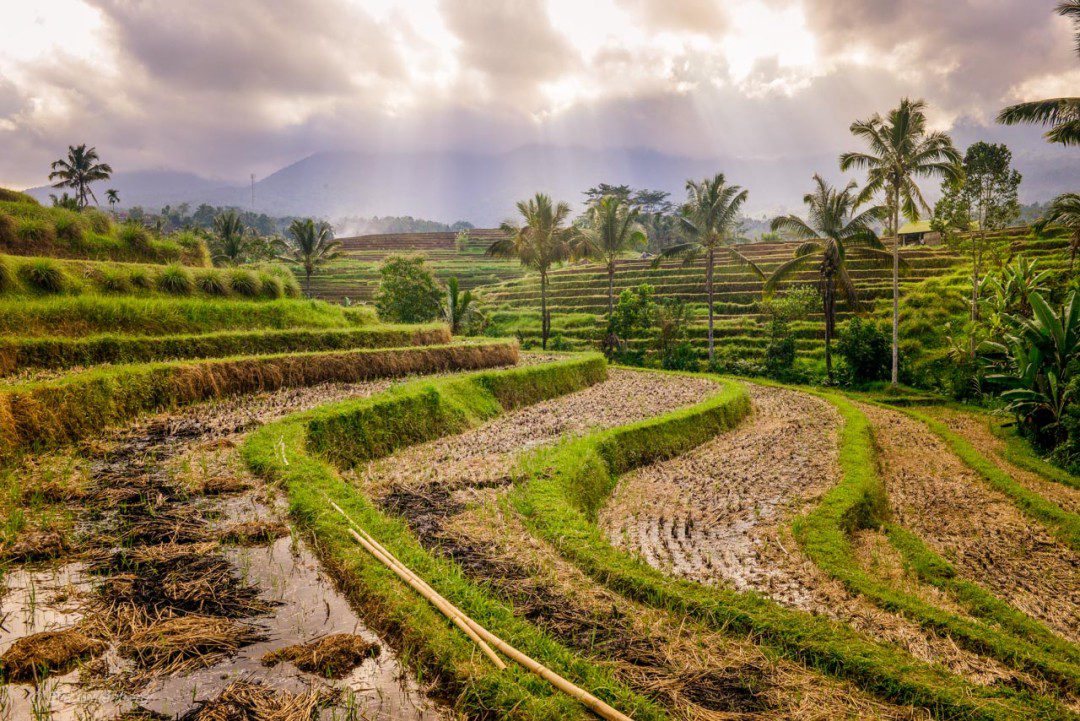 Harvest times
There is full activity in the rice fields. The mature rice plants are harvested by hand in one field, while another rice field is plowed just a few hundred meters away. It is winter in Bali and time to harvest the rice. But let's start from the beginning. How is rice actually grown?
The village of Jatiluwih is located 5 kilometers north of Denpasar, in the highlands at the foot of the extinct volcano Mount Batukaru. Here at 1000 meters above sea level, the climate is perfect for growing rice. I would have liked to write that the air is fresh and clean up here, but that is not the case today. The fire smoke is thick over the rice fields as the remains of the old rice plants go up in smoke. The ground is being prepared for a new sowing. An excellent opportunity to wander around among the terraces.
At Jatiluwih there are several hiking trails that take you right out among the rice fields, in the middle of water buffalo and water channels. There is a small entrance fee, but it is worth it. The hiking trails mean you don't have to trudge through mud and we were almost alone on the trails during our visit. Most of the people we met were friendly rice farmers.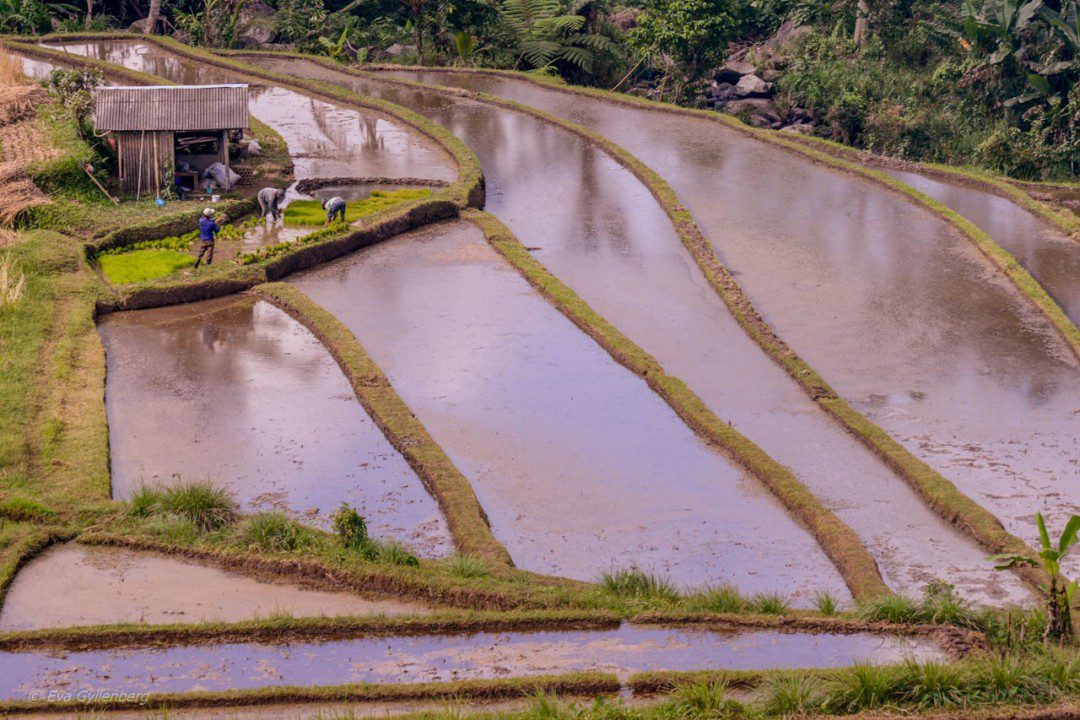 Rice, life and family
In Bali, basically every family has its own rice field, which is looked after by the whole family. On an island where rice is often eaten for breakfast, lunch and dinner, a lot of rice is consumed. Up to 0,5 kg per person per day. Even though a large part of the rice we eat here at home in Sweden is more industrially grown, here you get an understanding of how much work is behind every single grain of rice. Because every little grain of rice needs to be harvested and taken care of. Not individually, but almost.
Today, 20% of Bali's surface is covered by rice plantations. In parts, the landscape looks like a patchwork of green fields and water-filled basins. In Bali, not only ordinary white rice is grown, but also black rice, red rice, traditional Balinese rice (padi Bali) and sticky rice. The common white rice can be harvested three times a year, while the other varieties take 6-7 months per harvest and are therefore more expensive to buy. Our guide talks warmly about "bali rice", the traditional rice that has been cultivated for thousands of years in Bali. Slow growing, nutritious and tasty. But with Indonesia's growing population, more fast-growing rice varieties were introduced in the 70s, which have increasingly taken over the fields. The traditional rice varieties are being replaced by more commercial varieties.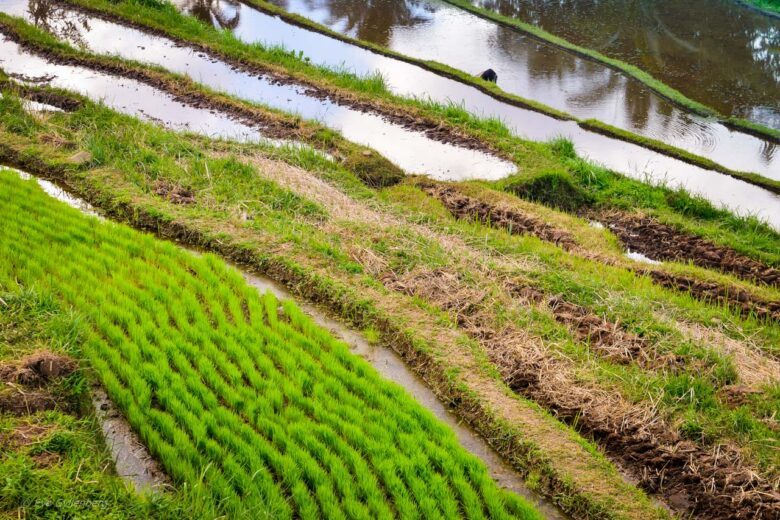 Rice begins its plant life in a well-watered field. Here, the farmer sows rice grains tightly and then allows the grains to germinate in the heat. In two weeks, the rice grows almost 10 centimeters and looks like a thick lawn. It's time to give the plants more room to grow.
Perhaps one of you is wondering if you really have to grow rice in so much water? The answer is actually no. Although rice needs a lot of water, it does not need to grow in water. However, the water serves two purposes: temperature regulation and natural weed control. The climate in Bali is quite pleasant all year round, but the water protects the fragile plants from the heat of the hottest days. Rice also has no problem growing in water, but very few weeds like water. So a win-win for the farmers. But not for the environment - read more about this below.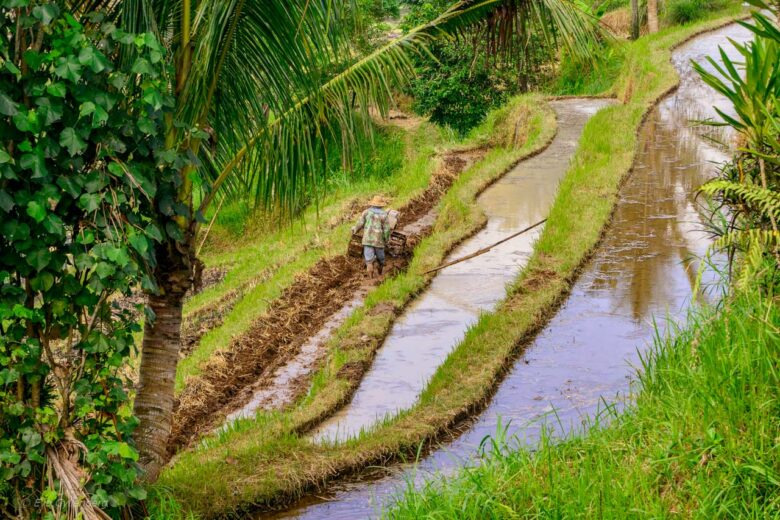 The new water buffaloes
A rice plant is a wild grass that quickly grows luxuriantly. The plant can also grow up to one meter high, so the rice needs to be replanted to have room to grow. The land where the rice is to be planted is worked to clear the remains of the old rice plants and to uproot any weeds. In the old days this job was done with water buffalo and a field could take up to a day to prepare for harvest. Today it is done with "Japanese water buffaloes" - fast and powerful machines - which do the same job as the water buffaloes, but in 30 minutes.
Heavy work is now underway to replant the rice plants. By hand, the plants are placed in the water-filled fields at intervals of approximately 10 centimeters. Those who plant work systematically and very crookedly. A few plants are planted in a straight row, then one steps back a few steps and repeats the procedure until the entire field is planted.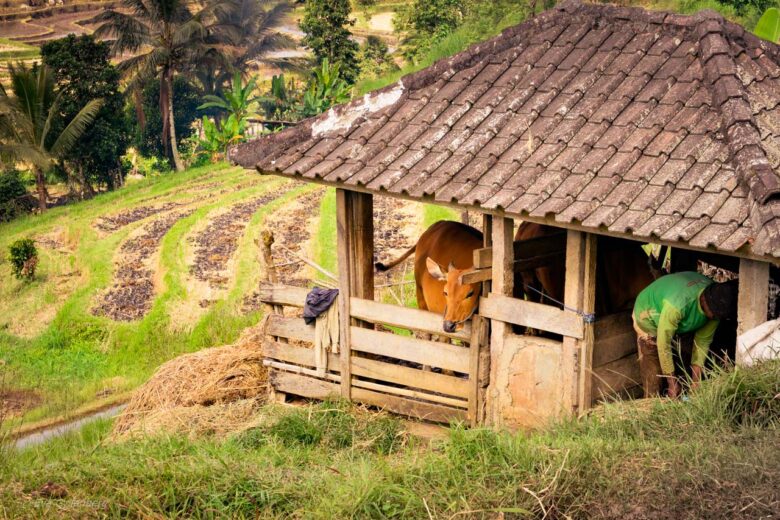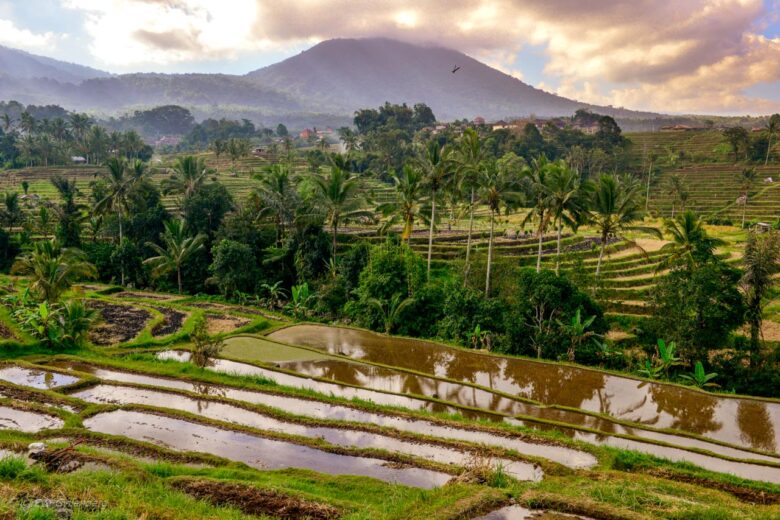 Now the rice is allowed to grow substantially for a few months, depending on the type of rice that is grown. However, one thing is common regardless of the type of rice. When the rice plant is green, the rice is unripe. However, when it changes color to yellow, the rice is ripe. If you were to try to harvest an unripe grain of rice from a green plant, it crumbles like flour. When the rice turns yellow and matures, the rice grains are harder and heavier and the entire rice plant bends under the weight of the grains. The entire crop then looks almost like a field of sun-ripened oats. The rice cultivation is now drained of water and the soil is allowed to dry out. It's time for harvest.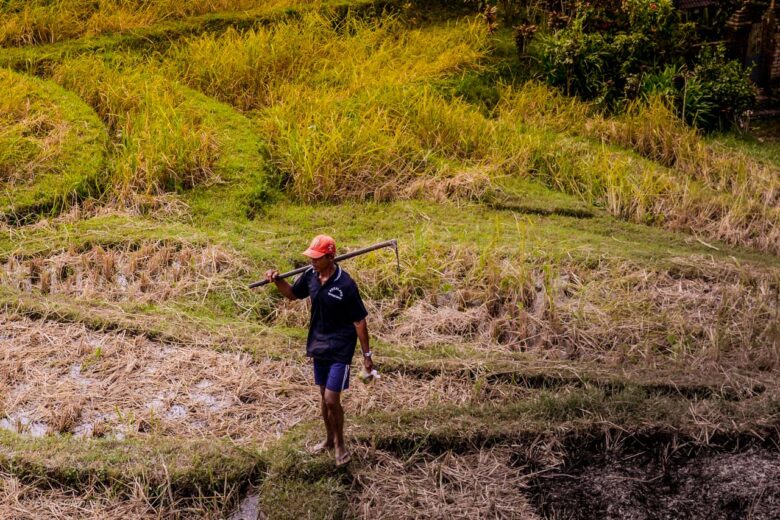 The most common way to harvest the rice on smaller farms is by hand. A crescent-shaped harvesting knife is often used, where the ripe rice stalks are collected into the bundles. Everywhere in Jatiluwih we see women harvesting the rice hour after hour in the scorching sun. All with substantial hats or parasols on their heads.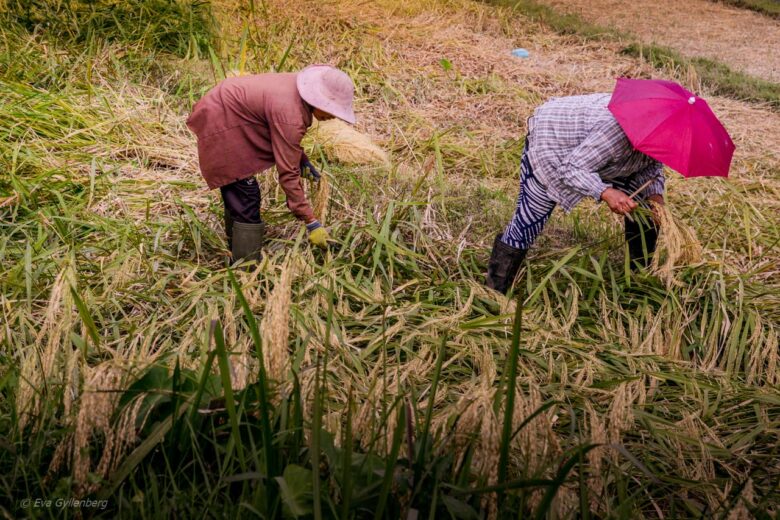 Time to thresh the rice
Now that the rice is harvested, the rice grains can finally be separated from the stalk. Most often these days it's done in a threshing machine that quickly and violently shakes out the grains, but if you're lucky, you might get to see how the grains are shaken or knocked out of the stalks by hand. In Jatiluwih we met several women with freshly harvested rice stalks in sacks on their heads. It simply seems most common to bring the harvest to someone who threshes for you in Jatiluwih. In a machine, a kilo of rice takes only a minute to shake, as opposed to several hours if you do it by hand.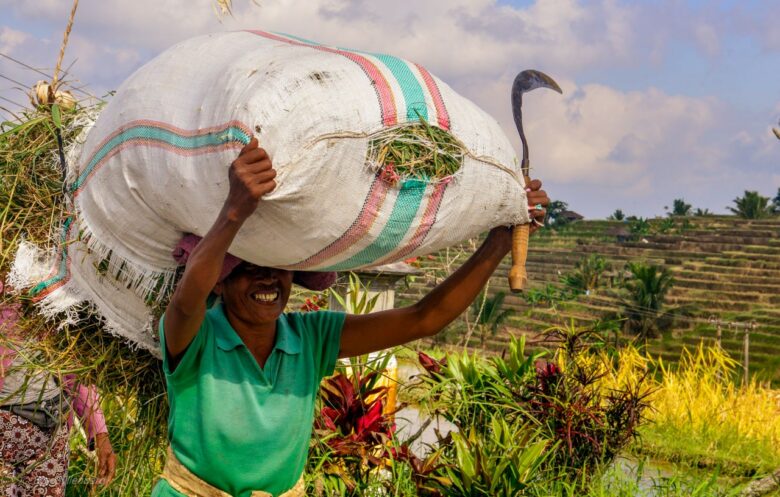 The rice that is threshed out, however, retains its husk. In order to eat the rice, the husk also needs to be removed. We didn't see anyone dehusking the rice in Jatiluwih. Maybe you let the rice be stored in sacks with the husk still on and shake off the husk only when it is to be cooked?
A walk during harvest time among the rice fields makes you realize the work that takes place from sowing until the rice is served steaming freshly cooked on your plate. From now on I will be better about scraping my plate when I eat rice. Every little grain of rice deserves to be eaten after everything that little grain has been through.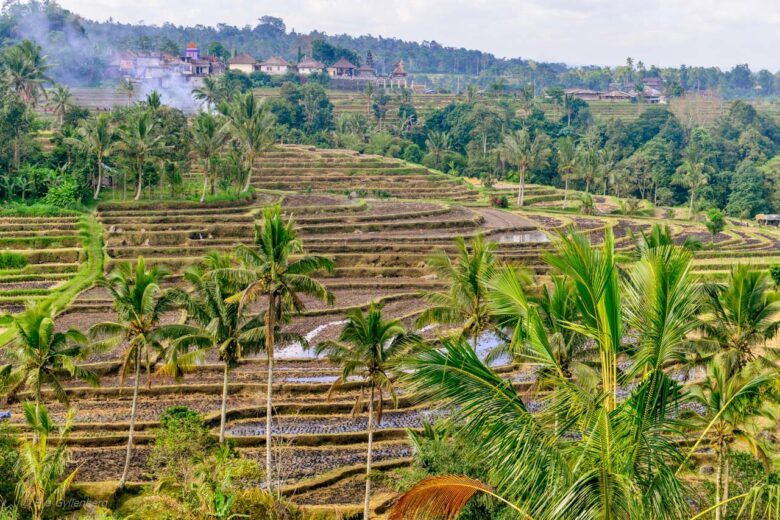 The Subak irrigation system
But what makes Bali so unique with its rice plantations? Rice is grown all over Asia, isn't it? Jatiluwih's secret is called for subak, and that is what made the area a World Heritage Site.
Subak is a unique irrigation system with canals where farmers, nature and religion live in harmony. Today there are a few hundred subak systems around Bali, where the farmers themselves in a local association control the water from the mountains so that all fields get a fair amount of water for their rice. Each paddy field has its own small temple, but overall all subaks are Bali's network of beautiful water temples and its priests. Jatiluwih is considered the birthplace of subak, with roots dating back more than 1000 years.
We wander around among the rice fields for over an hour, but don't have time to go around all the hiking trails. Friendly smiles meet us everywhere along the path. While I would have loved to see the paddy fields full and lush in the rainy season, coming here during harvest is almost a little more exciting. It's a bit muddy and dirty, but there are so many more people and joy.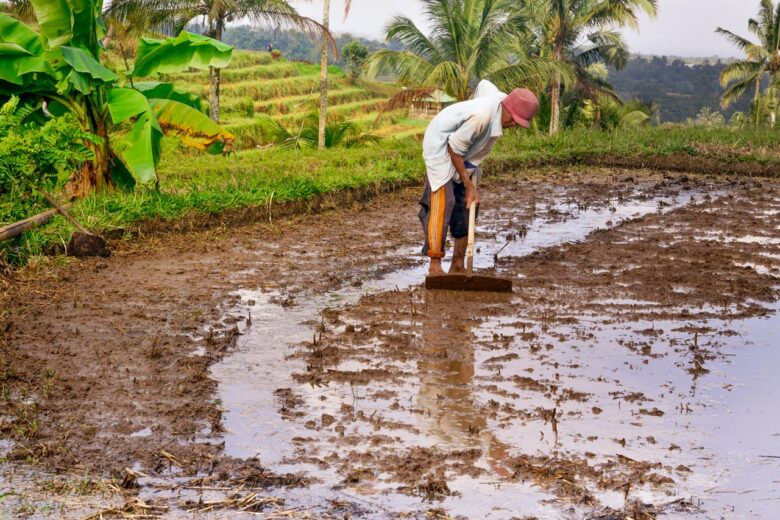 How do I get to Jatiluwih?
Jatiluwih is located northwest of Ubud, in the middle of Bali. It is 5 miles from Denpasar, Kuta or Sanur, but it takes at least 1,5 hours to drive here. We hired a driver for a whole day who drove us to the places on the island that we want to visit. A flexible way if you don't want to drive yourself and prefer to avoid the big organized day trips.
How is the environment affected by rice growing in water?
The traditional way of growing rice in water releases large amounts of methane gas as the plant parts rot in the oxygen-poor water. One kilogram of dry rice (including transport) emits approximately 2 kilograms of greenhouse gases, 20 times more than, for example, 1 kg of potatoes.
Read more about the environmental impact of different foods on the City of Stockholm's website here.
Do you want to read more about Bali or its beautiful rice fields?
On my Bali page I am currently filling up to the brim with attractions, hotels and tips
My blogging colleague Daniela at Discovering the Planet has great photos from two other rice terrace areas in Bali that are also worth visiting – Tegalalang and Sebali.
On UNESCO site you can read more details about Jatiluwih and subak.
Want to read more of my travel tips? do not forget to like Rucksack on Facebook!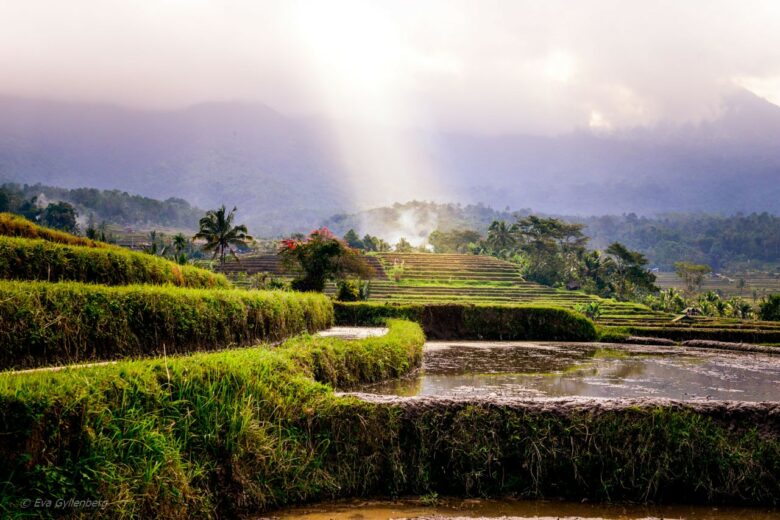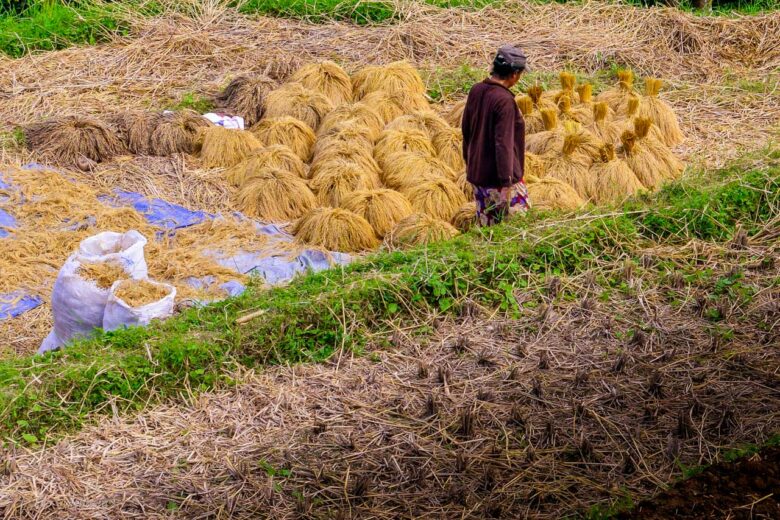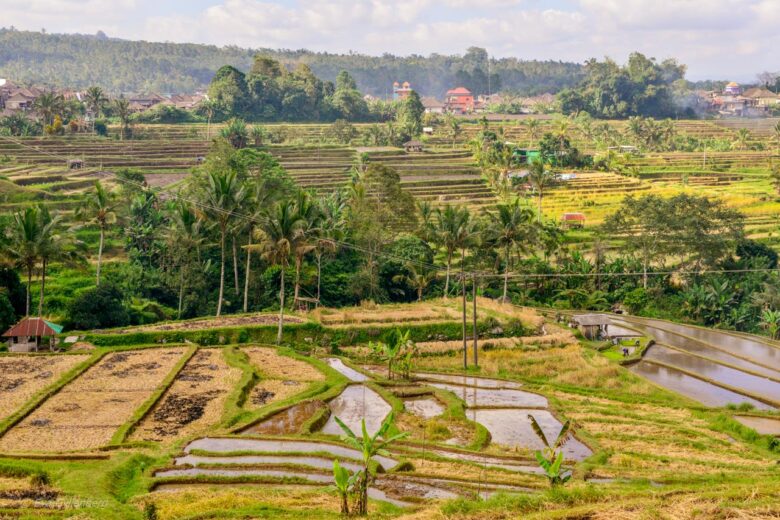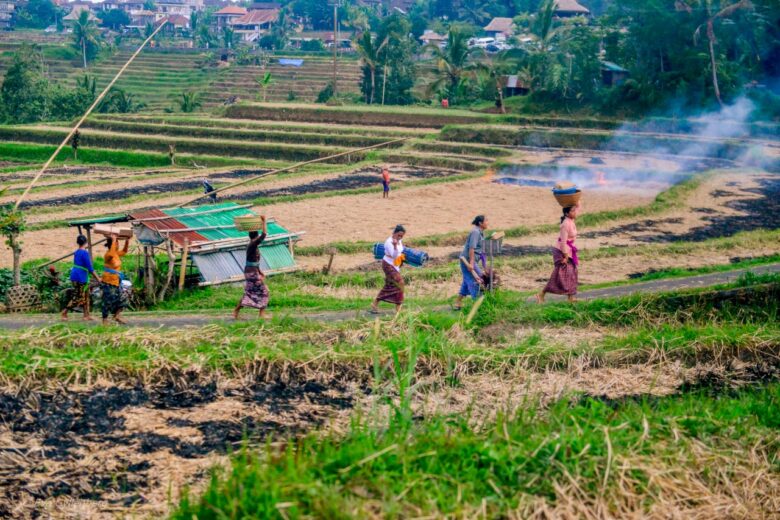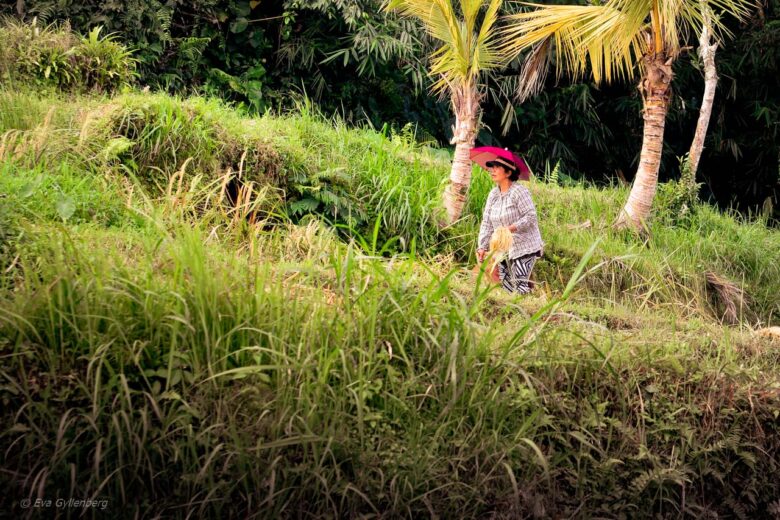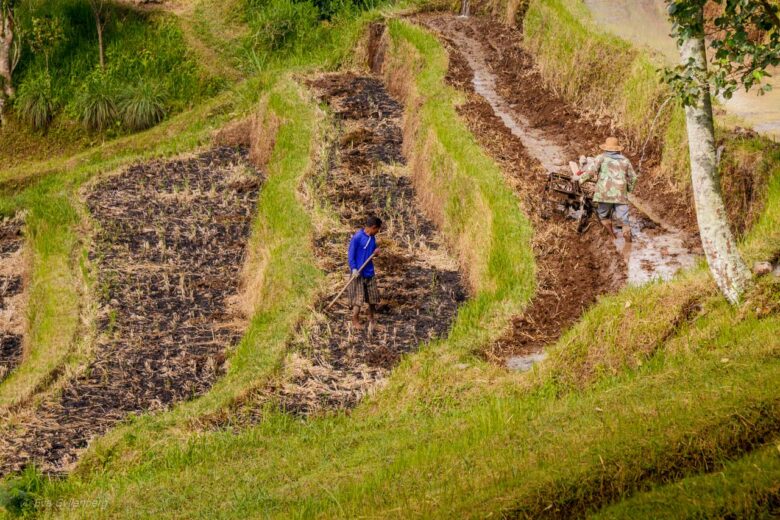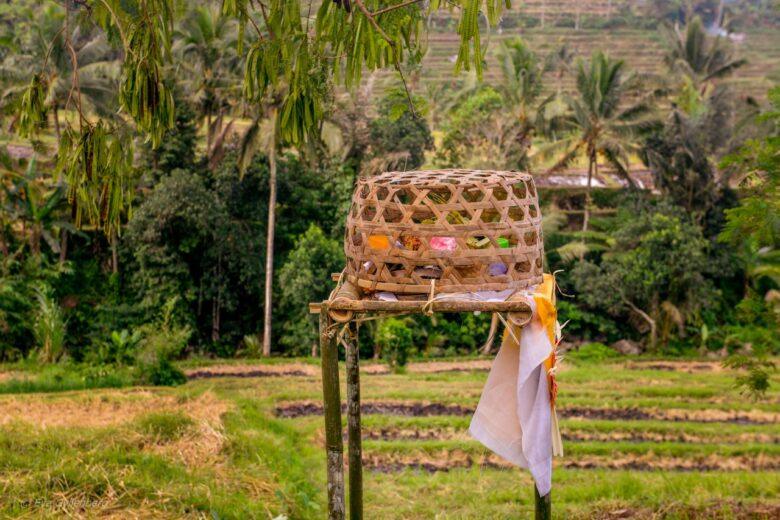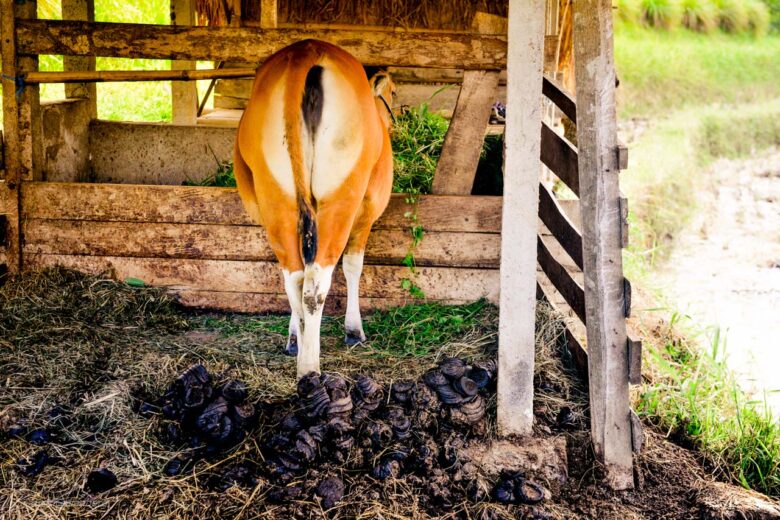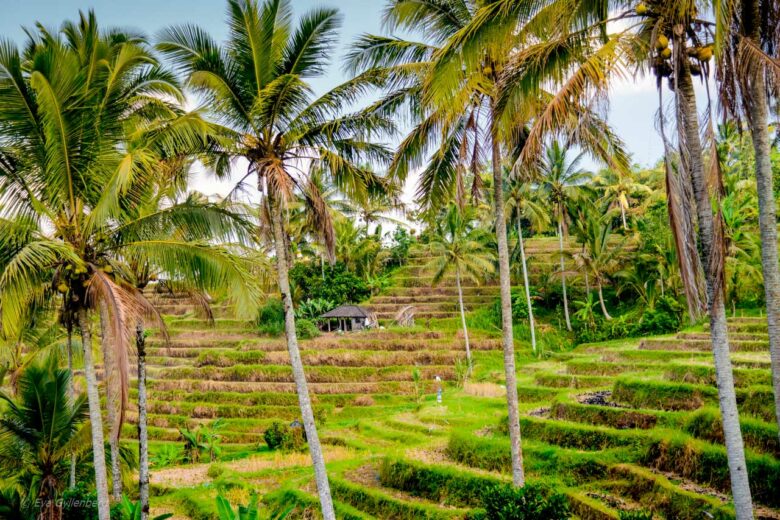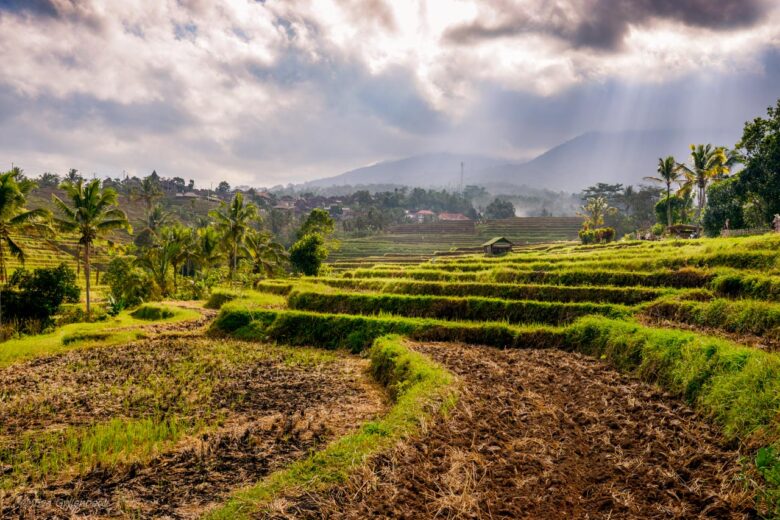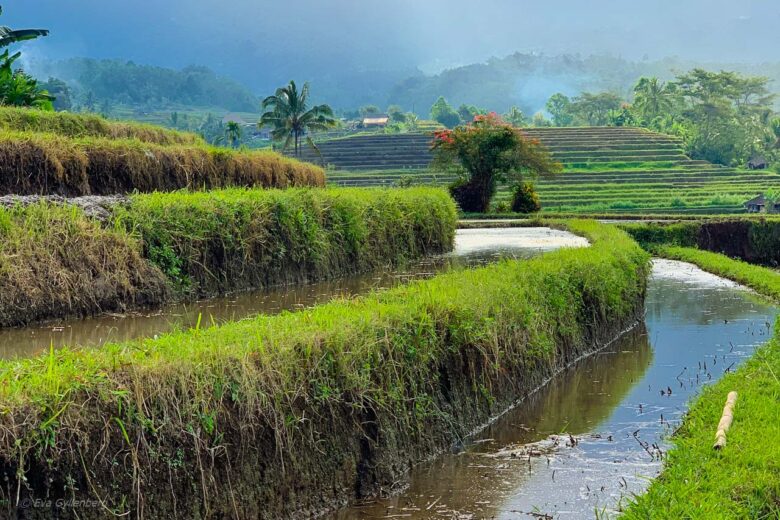 Do you want to read more about Bali?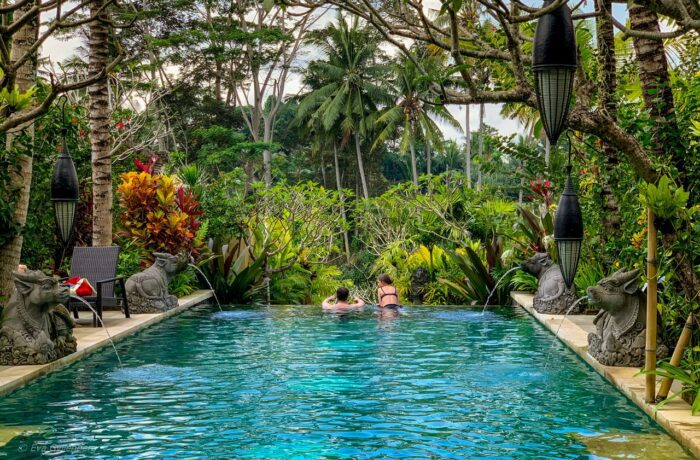 Are you looking for a lovely boutique hotel in Bali, with beautiful surroundings and where you…
September 21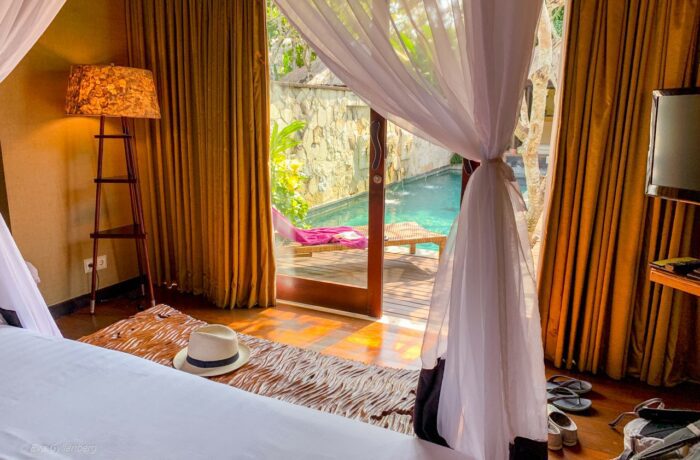 The best hotel breakfast I EVER had was found at the beautiful Amarterra Villas in Bali…
6 October 2019
For our first nights in Bali, we needed practical accommodation in a good location. The choice…
August 26