We hardly have time to leave Paris behind us before Normandy gives us a real kiss through the car window. A blanket of lavender blue bell hyacinths covers the greenery of the forest in the warm rays of the sun. Individually, the small hyacinths are quite inconspicuous, but in thousands in a beech forest in Normandy they form a swaying sea. Perhaps that is a good description of Normandy in general. Here there are not so many flashy sights that vie for visitors' attention, but here there are many small impressions that leave the biggest memories.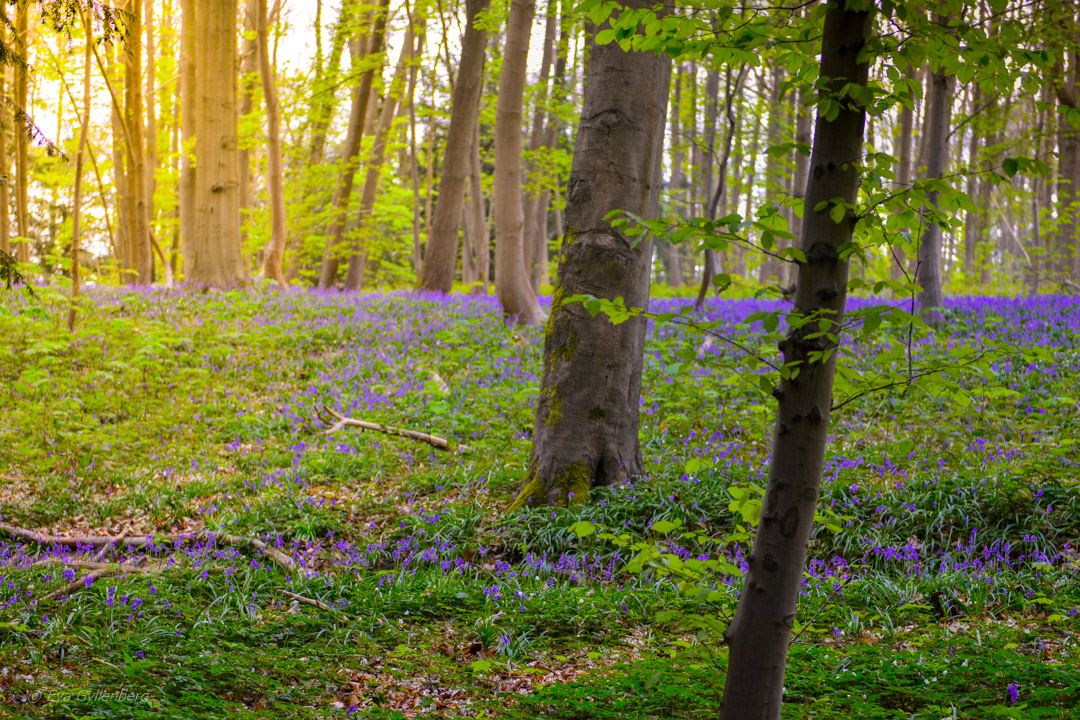 We are heading towards Giverny, 8 miles northwest of Paris. Here on the banks of the Seine, the world-famous impressionist spent Claude Monet large parts of his life. Even if you're not the least bit interested in art, it's hard not to recognize a painting of Monet's Water Lilies. The motifs from Monet's paintings came mainly from his own garden, which he built up over 50 years at his small house. Today, both his pastel-colored house and the large tranquil garden with the Japanese bridge are open to visitors who want to step into Monet's enchanting world.
We set our GPS to avoid highways and turn into the canola fields. Normandy has no large wine regions to boast of, but instead has a long tradition of agriculture and cider making. In fact, today more than 60% of France's cider is made here in Normandy.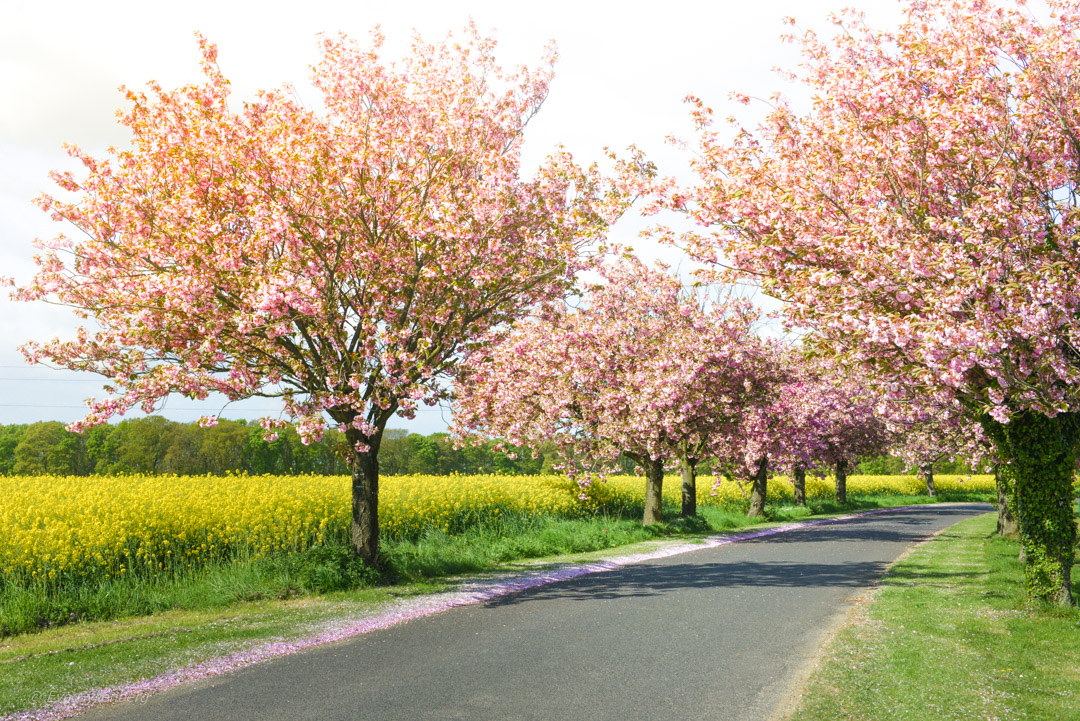 The roads are lined with rows of gnarled apple trees in full bloom, it's an explosion of spring feelings and blooming summer dreams passing by in the balmy air. Even further west towards the coast there is even a "cider road", with over 20 cider and calvados producers. We won't make it there today, but it doesn't feel impossible to also be able to find a local cider maker here in the corners.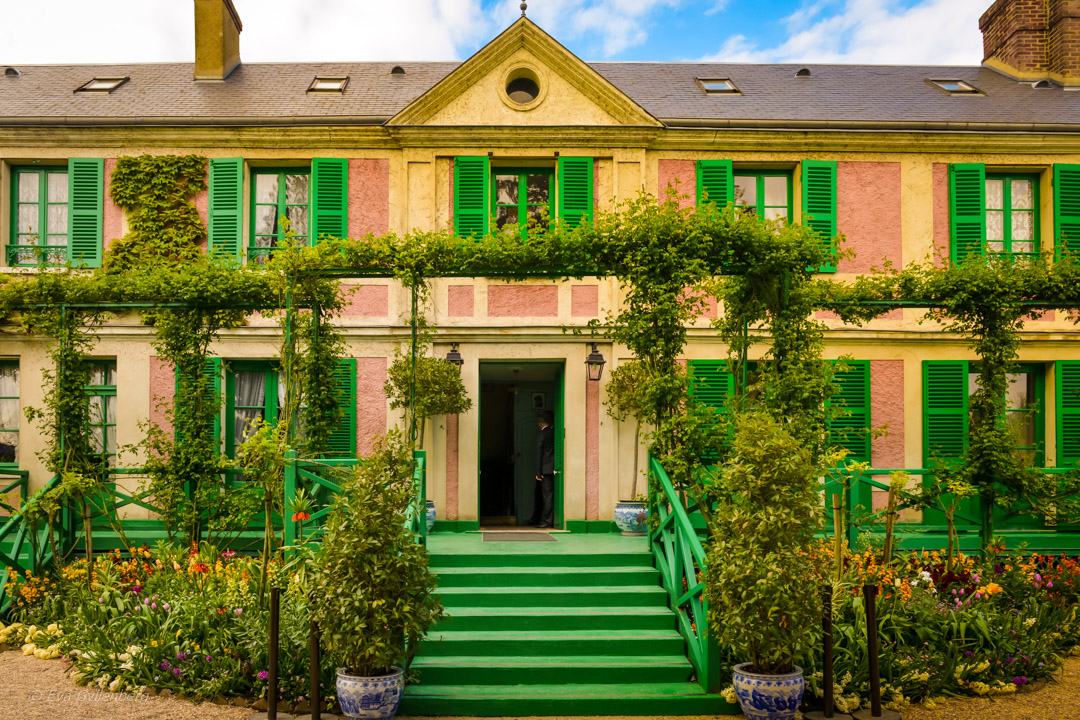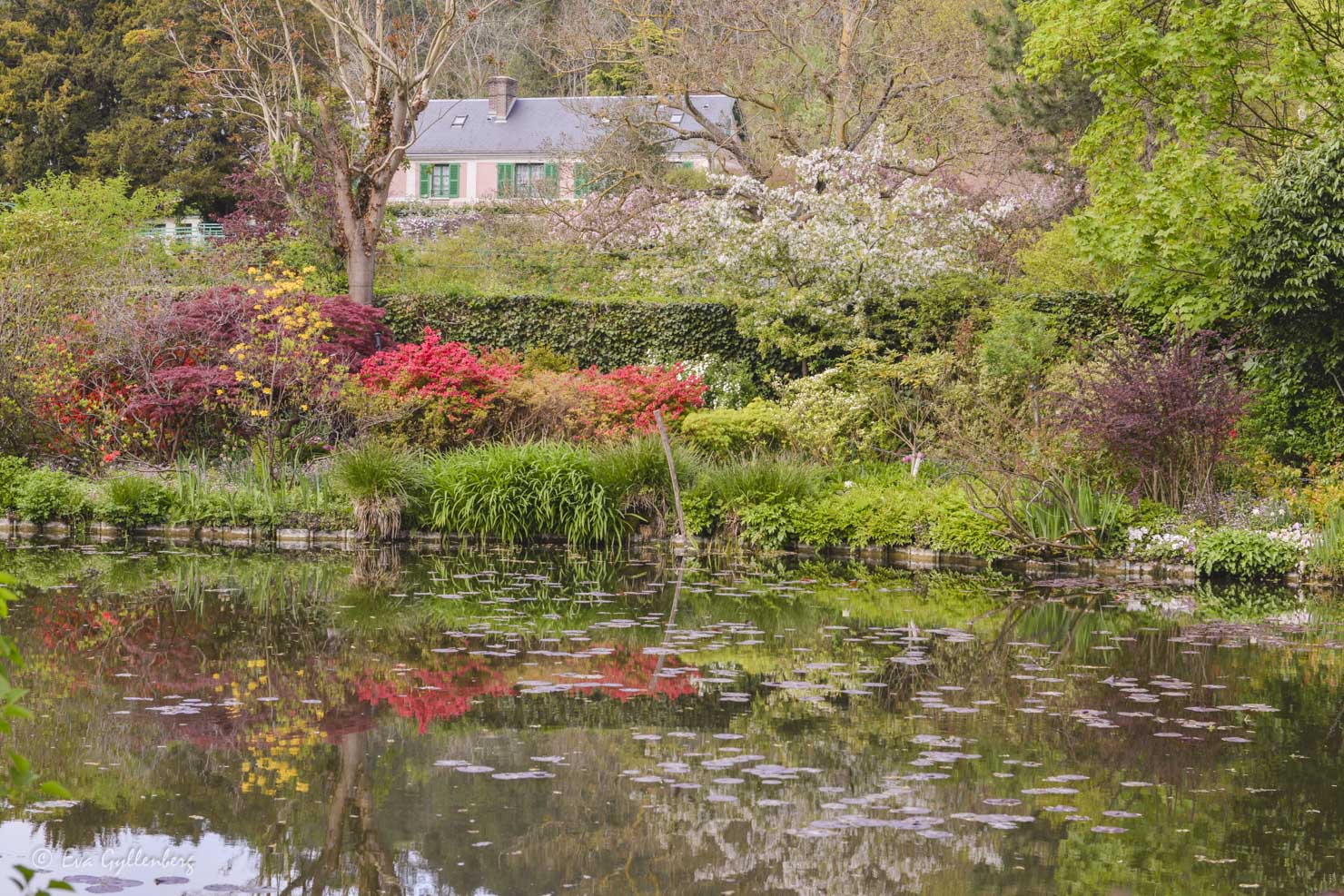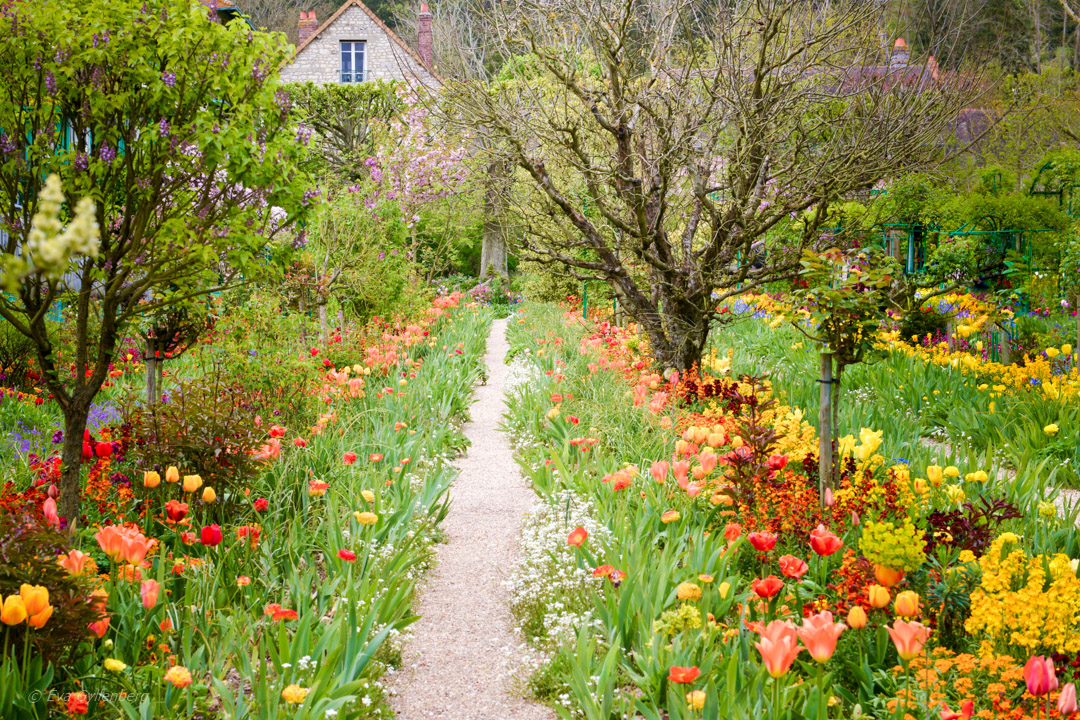 Monet's garden and house are open between the end of March and the end of October, each month offers different floral splendor and different motifs from Monet's paintings. In the month of April, the garden offers blooming bulbs, while the water lilies of the summer months are the biggest draw during May and June.
After a short queue to enter the park, we pass Monet's pink house towards a sea of ​​tulips. The garden in front of the house is a seemingly endless sea of ​​flowers, divided only by small narrow paths. All along the paths, people are squatting and photographing the flowers with their cameras. Here in Monet's garden, we all become digital artists.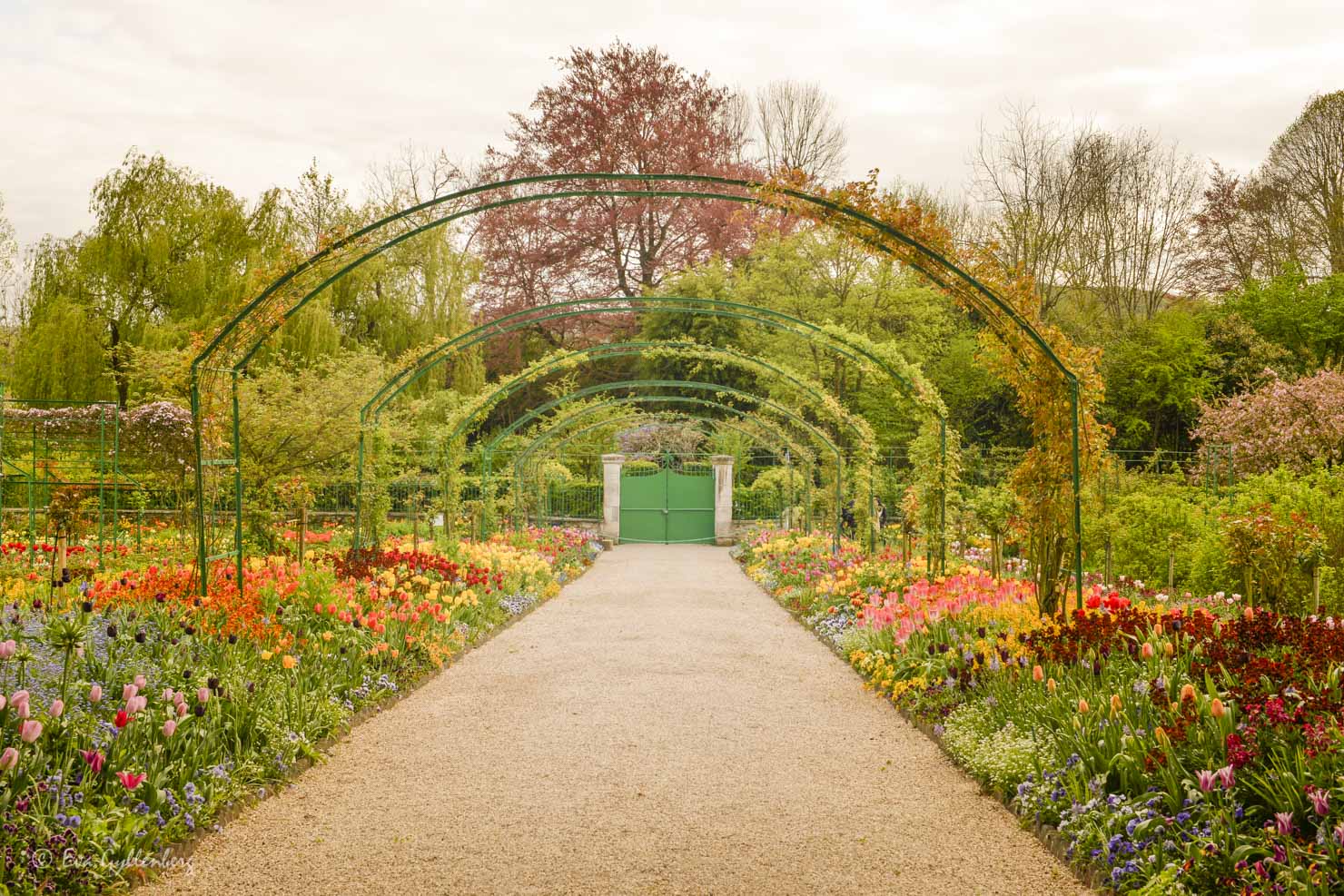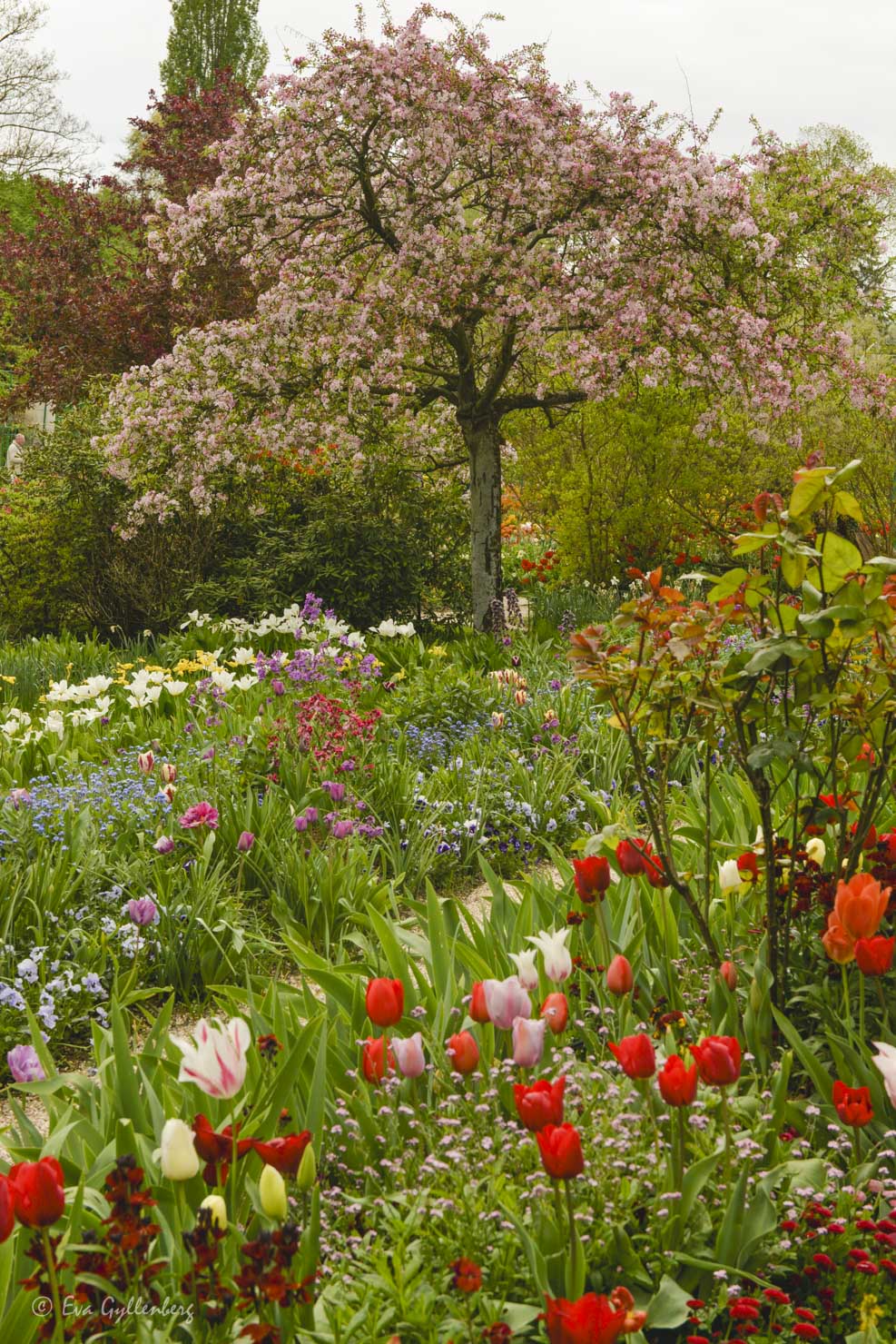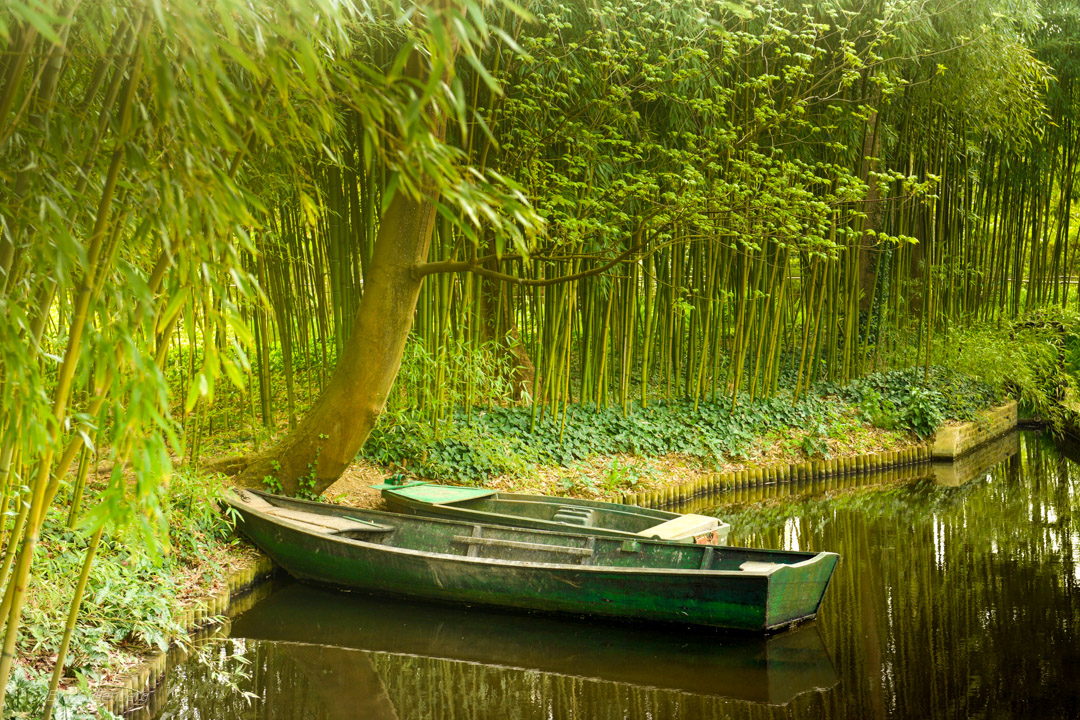 A small underground passage takes you from the garden on one side of the road to the other. Small inconspicuous paths take you between willows and dense bamboo through passages of flamboyant rhododendrons. There are a lot of people, but it's really not stressful. In Monet's garden, you'll get evil looks if you don't stop and absorb every single painting.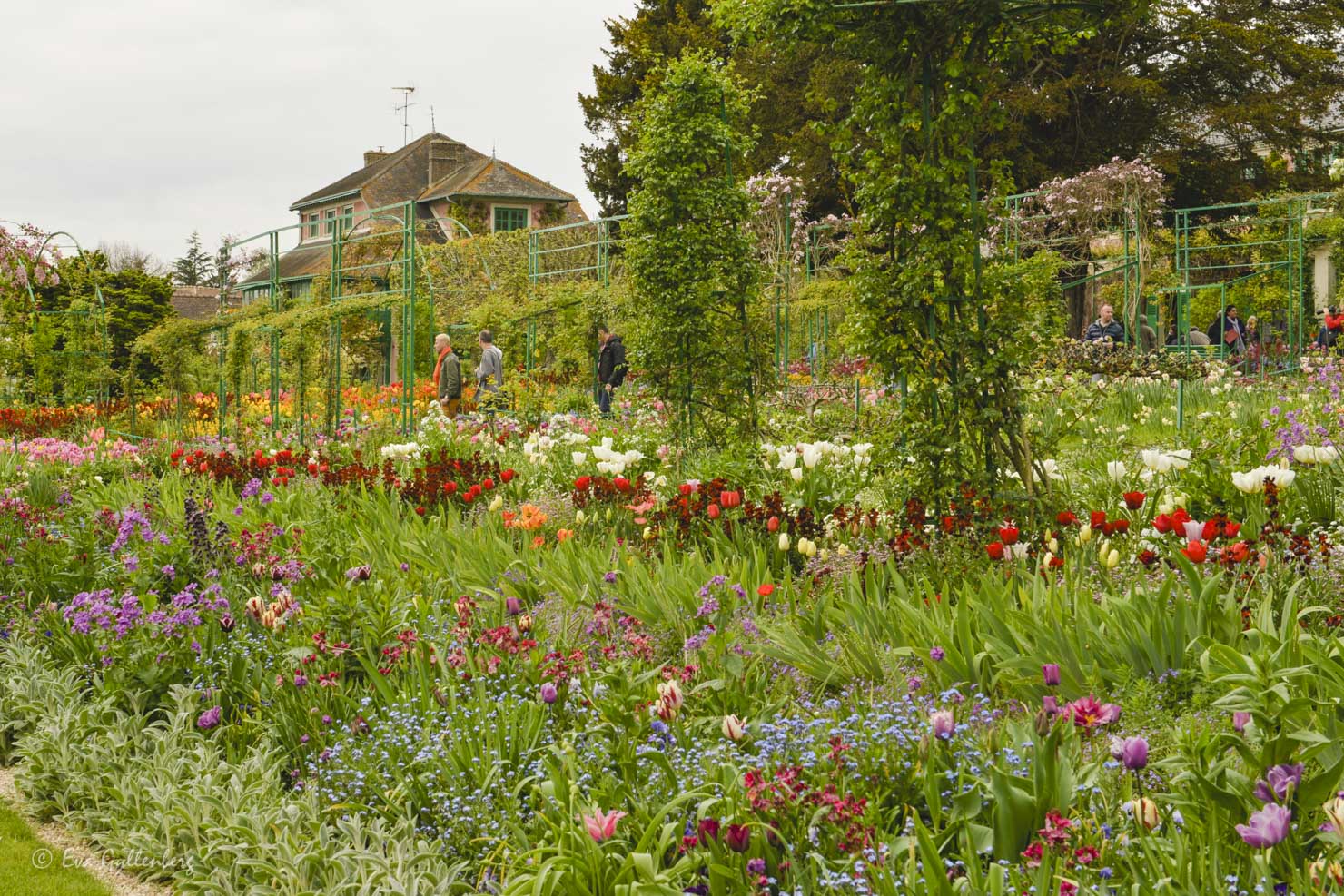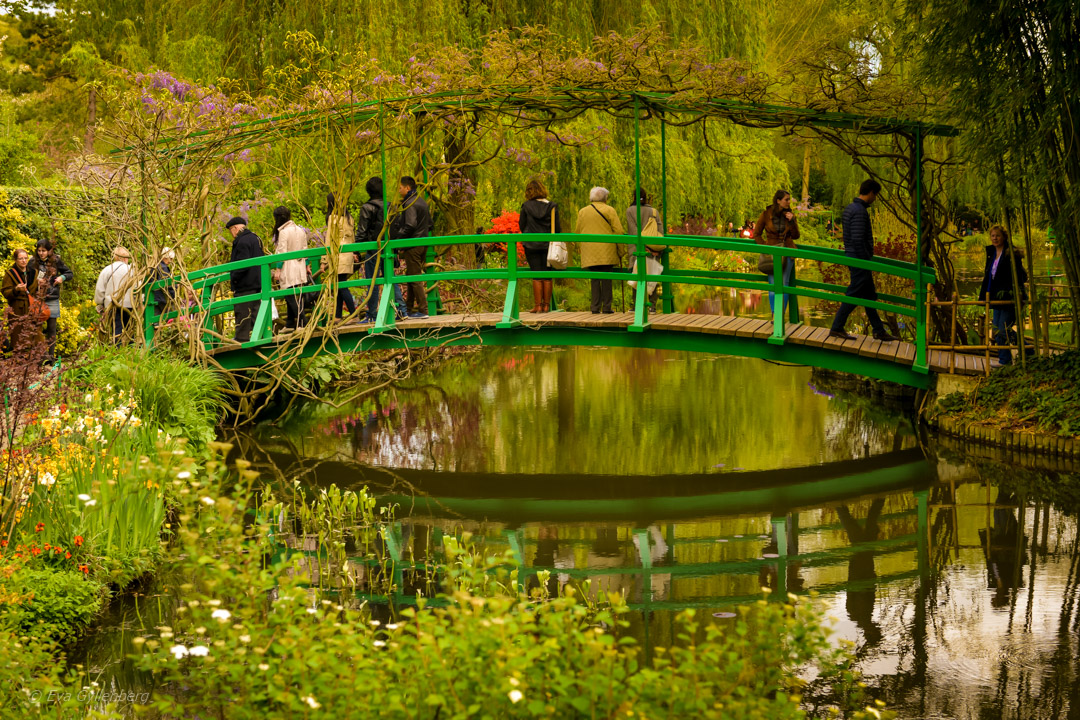 On the other side of the dense bamboo forest, the familiar green Japanese bridge meets you. Covered in a blanket of wisteria in the spring, this is the park's most popular spot to both photograph and be photographed.
I don't recall seeing people on the bridge in a single one of Monet's paintings. If Monet had wanted people on the bridge, it would probably have been a woman in a white long-sleeved dress, holding a thin white parasol against the sun. She would walk a little slowly across the bridge, with the sun behind her and wisteria leaves in her hair. It's almost comical to see how Goretex and jeans have taken over Monet's classic painting. I find myself annoyed at not being able to enjoy the bridge the way Monet did. Why must all tourists always stand in the middle of all beautiful places, is it no longer possible to just admire what is beautiful from a distance?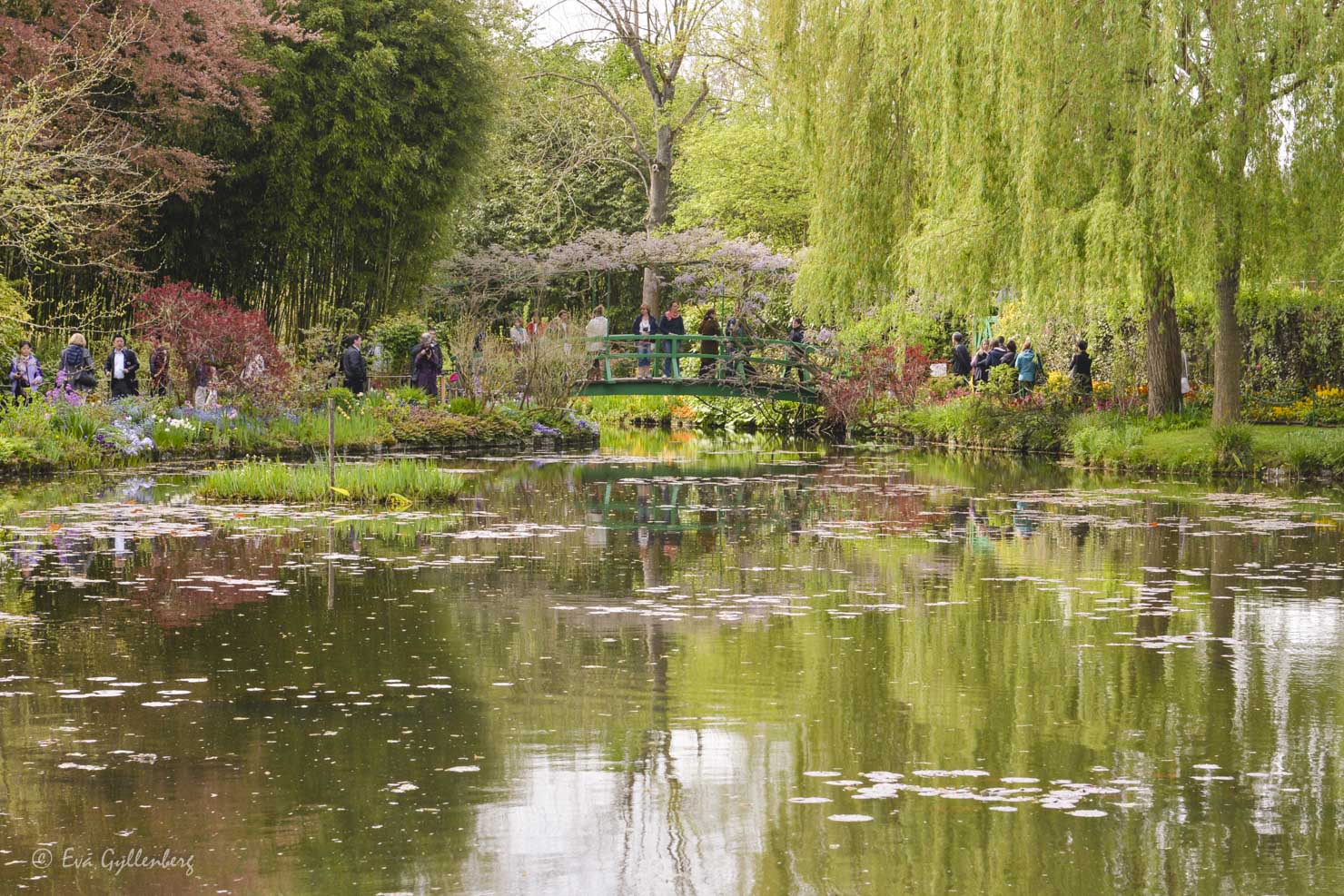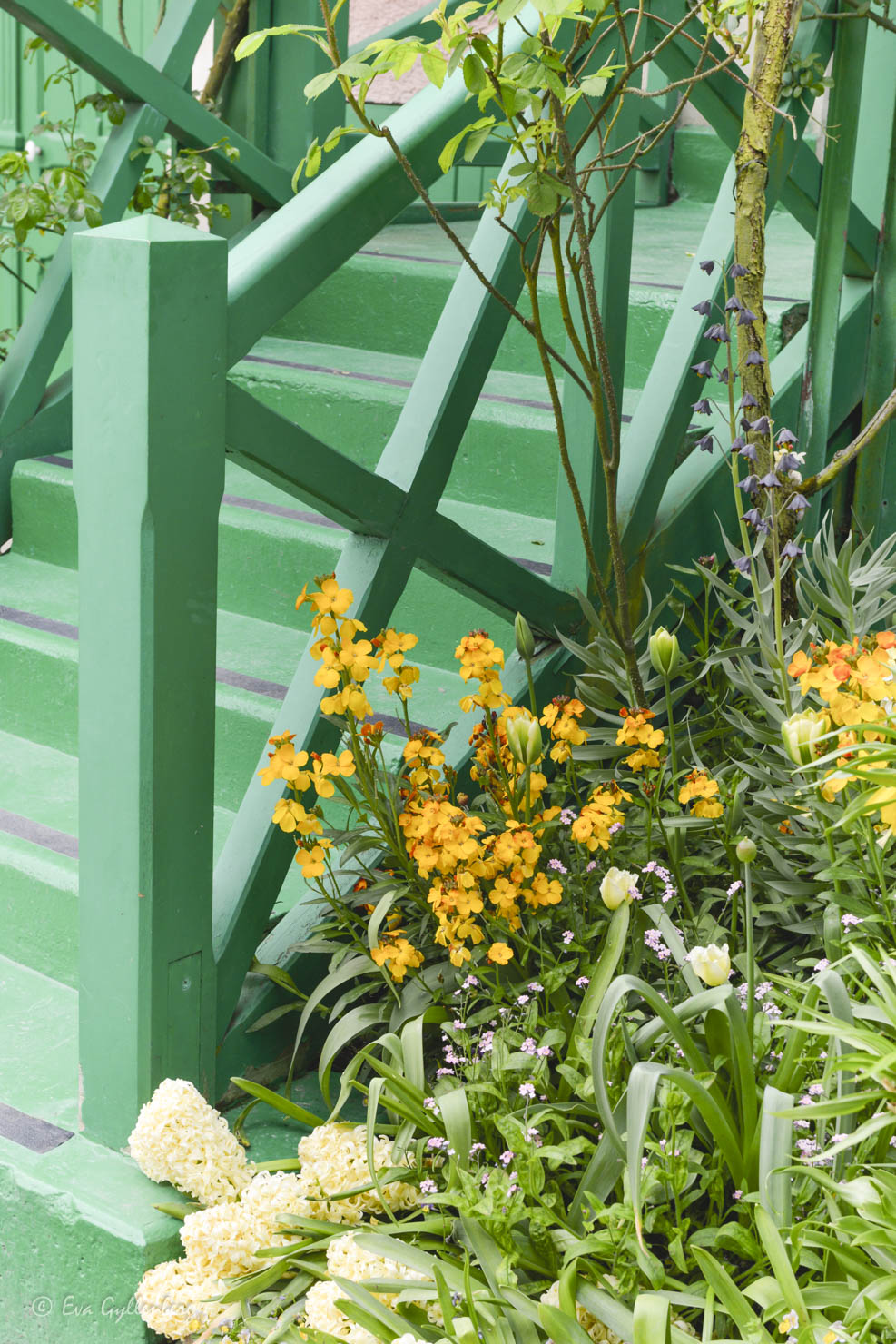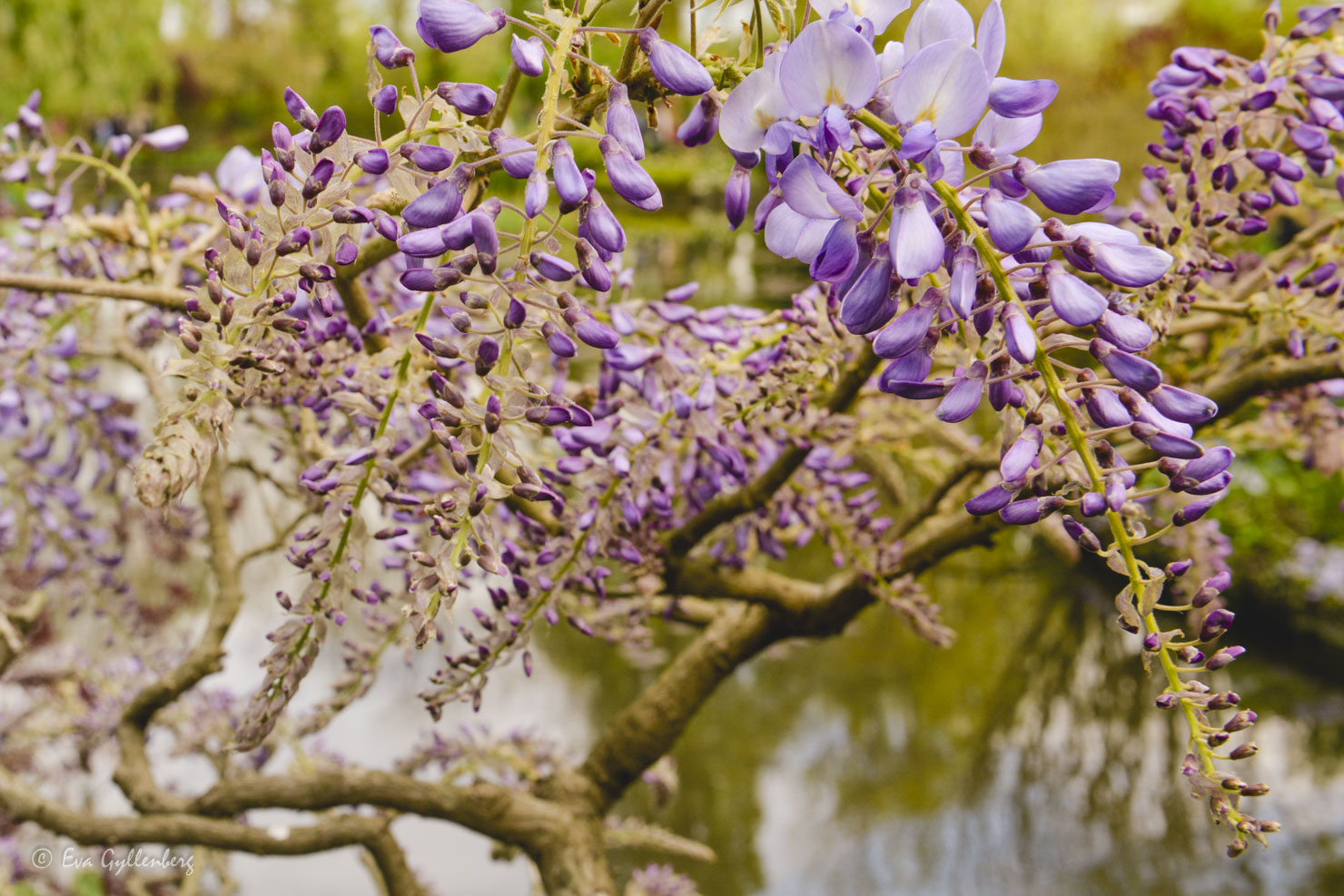 The water lilies shyly show their young buds under the surface of the water and we have to content ourselves with seeing Monet's water lily leaves, and not the famous water lilies. But what does it do when the wisteria rattles in the wind and the apple trees bloom over the intense splendor of the tulips? Monet's garden is an experience, not just a garden.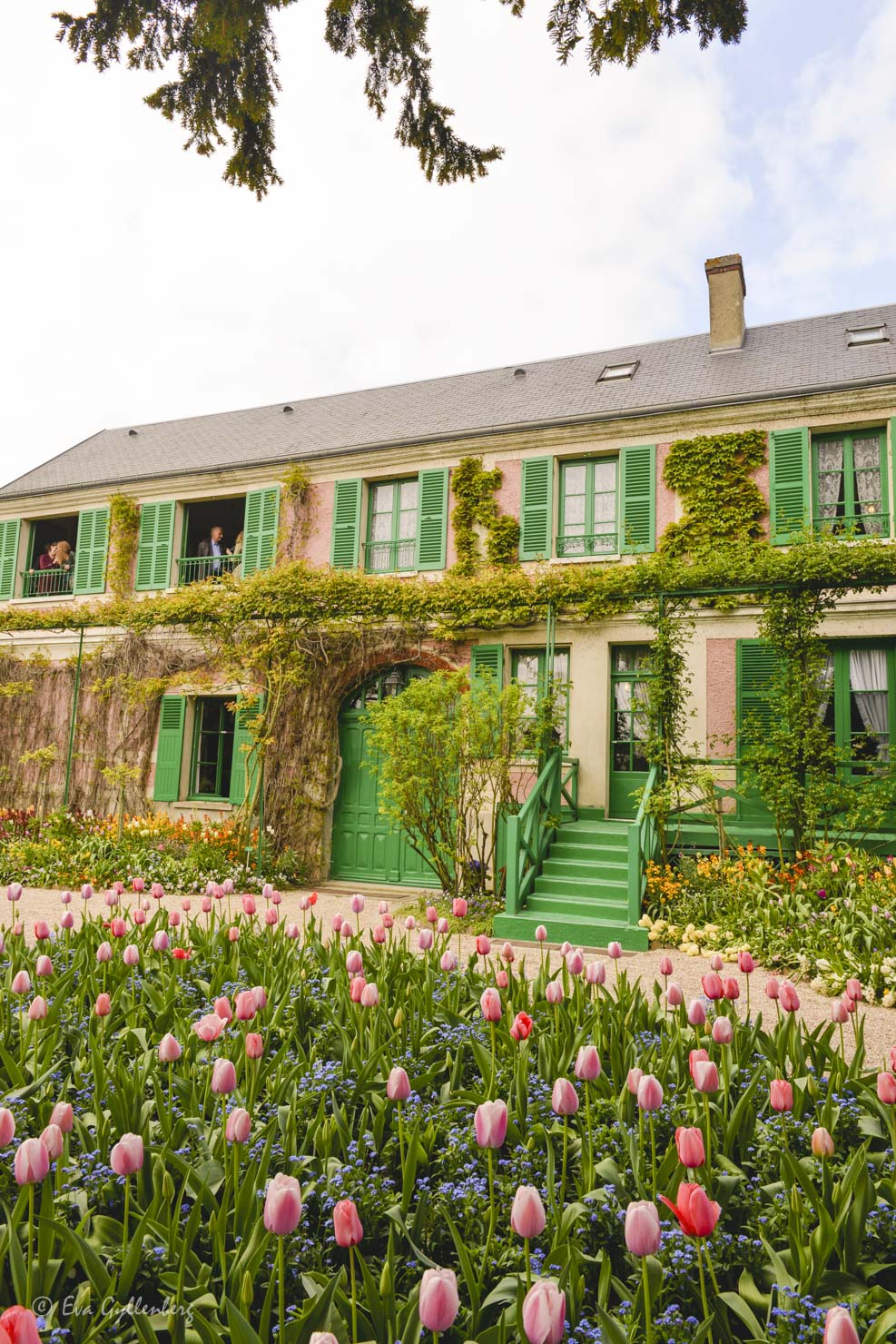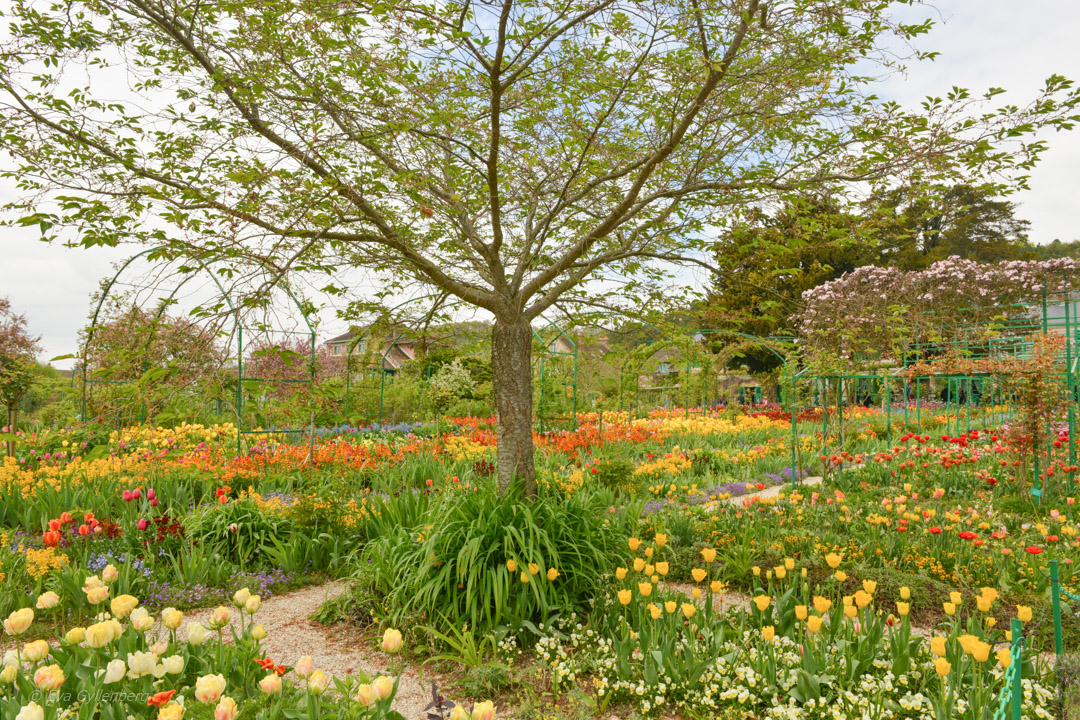 We continue our journey into Normandy and find a small village with a crêperie. We sit outside, by the sunny wall of the pink half-timbered house, and each order a galette filled with locally produced cheese, mustard, ham and onion. And a small glass of cider, of course. The pancake and camembert melt in your mouth and even though I really shouldn't, I actually have room for a dessert too. A chocolate-filled and Calvados flambéed crêpe with apples, almond shavings and cream slides onto the table. Maybe not completely according to the diet circle, but very useful for the soul.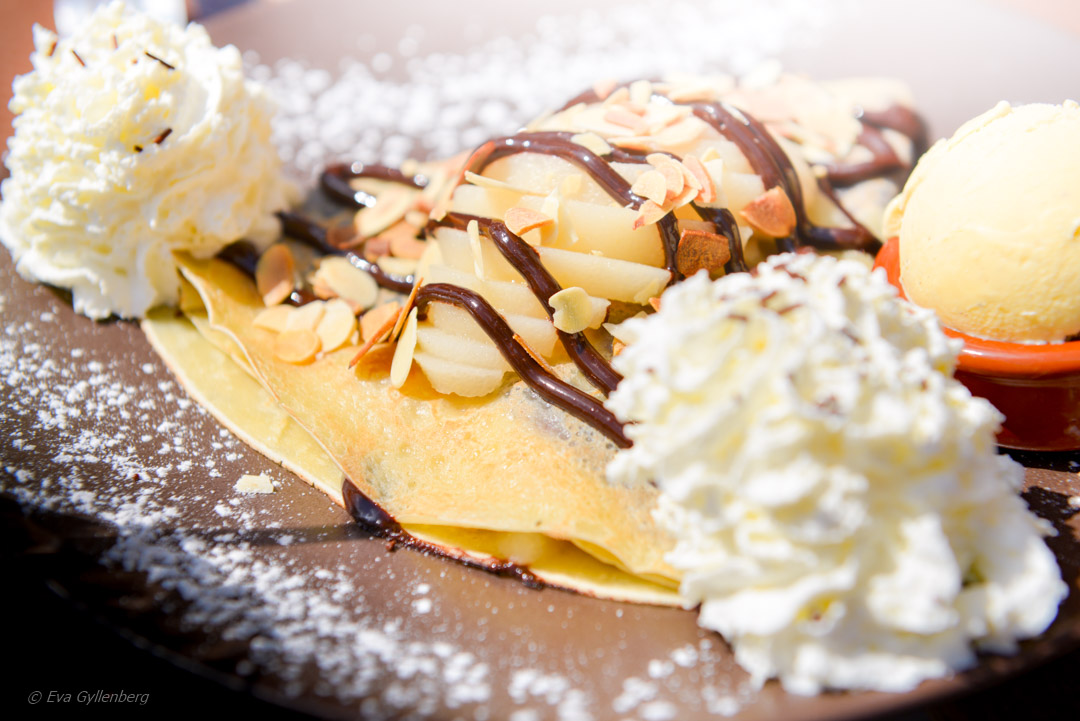 Have you been here? What did you think of the destination?
Been there - didn't like it!
0
Not keen at all to go here!
0
Eva Gyllenberg
Travel blogger, gastronaut, photographer and family adventurer with over 55 countries in his luggage. Eva loves trips that include beautiful nature, hiking boots and well-cooked food. On the travel blog Rucksack she takes you to all corners of the world with the help of her inspiring pictures and texts.