During the middle of the 19th century, the streets and squares of Paris flourished. Cafés spread over the city's sidewalks, the Impressionists depicted the fine life through colorful paintings and the great boulevards of Paris got the appearance of today. It was a time of faith in the future, joy, curiosity and great economic development.
Around the same time, development began for the small fishing village Trouville-sur-Mer on the coast of Normandy. The town's dazzlingly beautiful coastline combined with the pleasant climate attracted artists from far and wide and the paintings of the beautiful landscapes spread in Paris salons. France's first real resort had been created.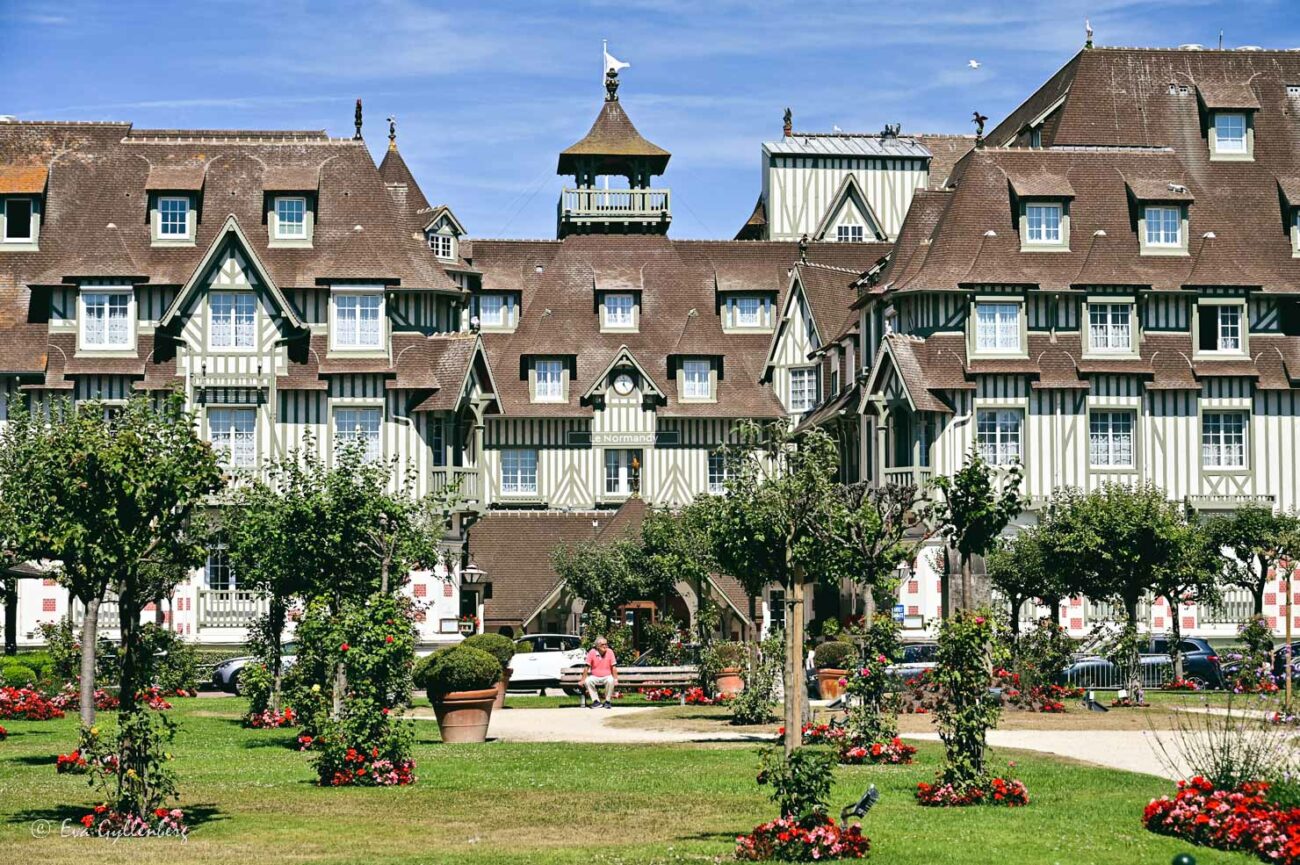 A few years later, on the other side of the river La Touques, Duke De Morney began to buy land and dig up the marshy area around the sea. The sister city Deauville began to take shape, attracting Paris' wealthy elite to build large holiday villas and palaces. Here by the wide sandy beaches of the Atlantic, they could relax with fresh sea air and stroll in the beautiful nature.
The big breakthrough for the holiday resorts came in 1863, when the new train line between Paris and Deauville was inaugurated. Suddenly it was possible to travel to the beautiful beaches and the sea in just a few hours. Everyone wanted to go to Trouville-sur-Mer and Deauville and the two resorts have since attracted not only French tourists, but also many international celebrities.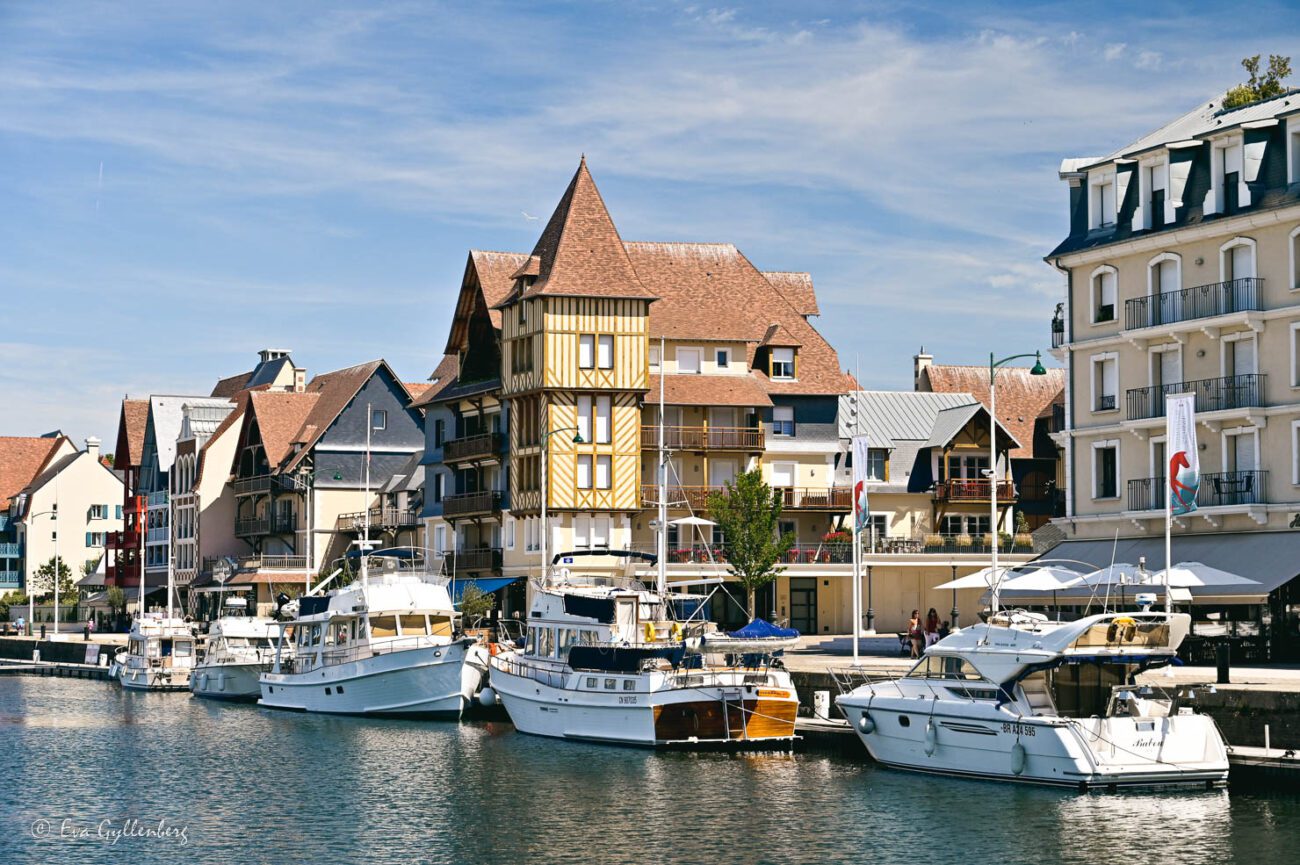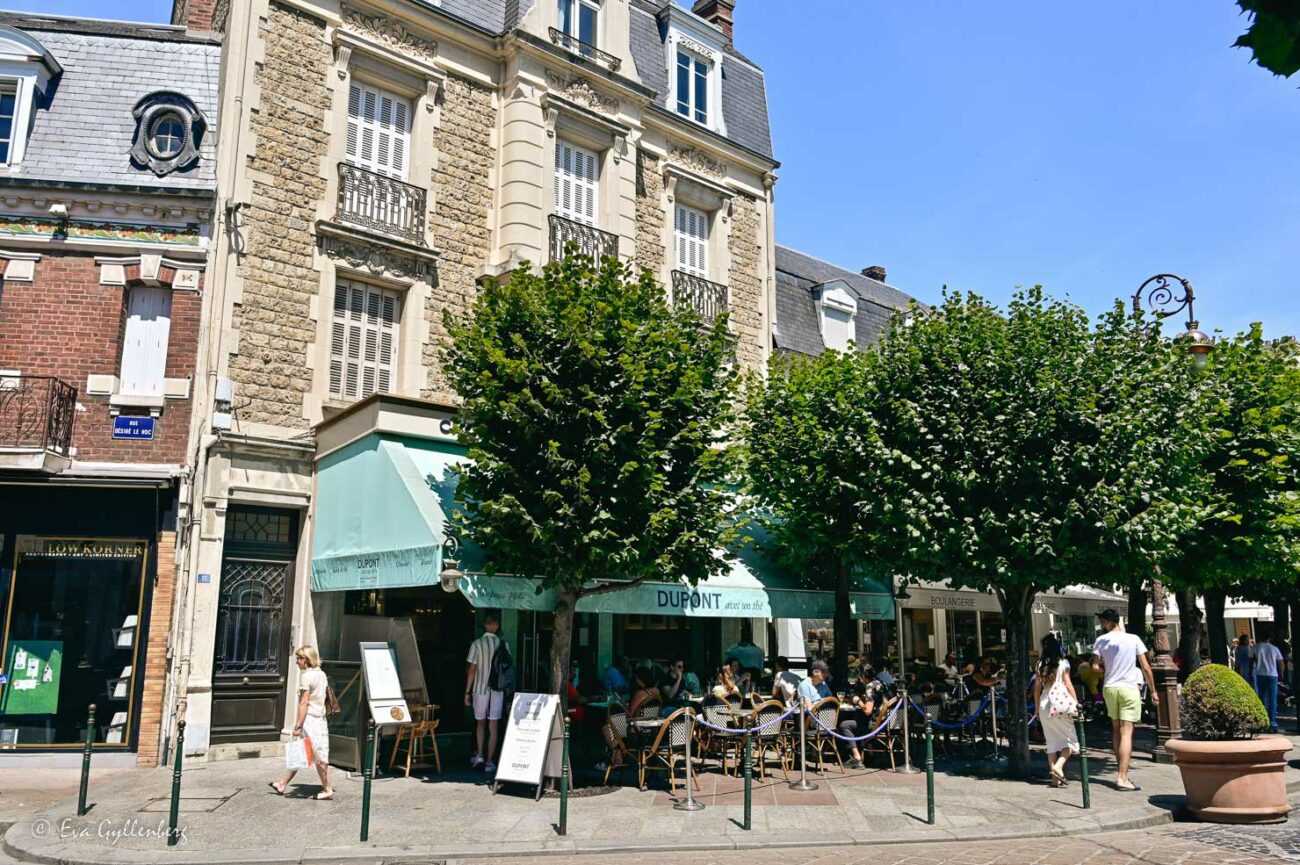 Two cities grown together
Although Deauville and Trouville-Sur-Mer are joined by a bridge over the river, the towns have slightly different styles and feel. Deauville offers the glamorous life, with expensive luxury shops on every corner, a well-known promenade and an international film festival. Trouville is a bit more traditional, artistic, bohemian and authentic and has a wilder beach than Deauville. The alleys feel smaller and the restaurants more like finer neighborhood pubs. Two cities within walking distance of each other, but two different destinations. Either you spend your holiday in Deauville or in Trouville-sur-Mer.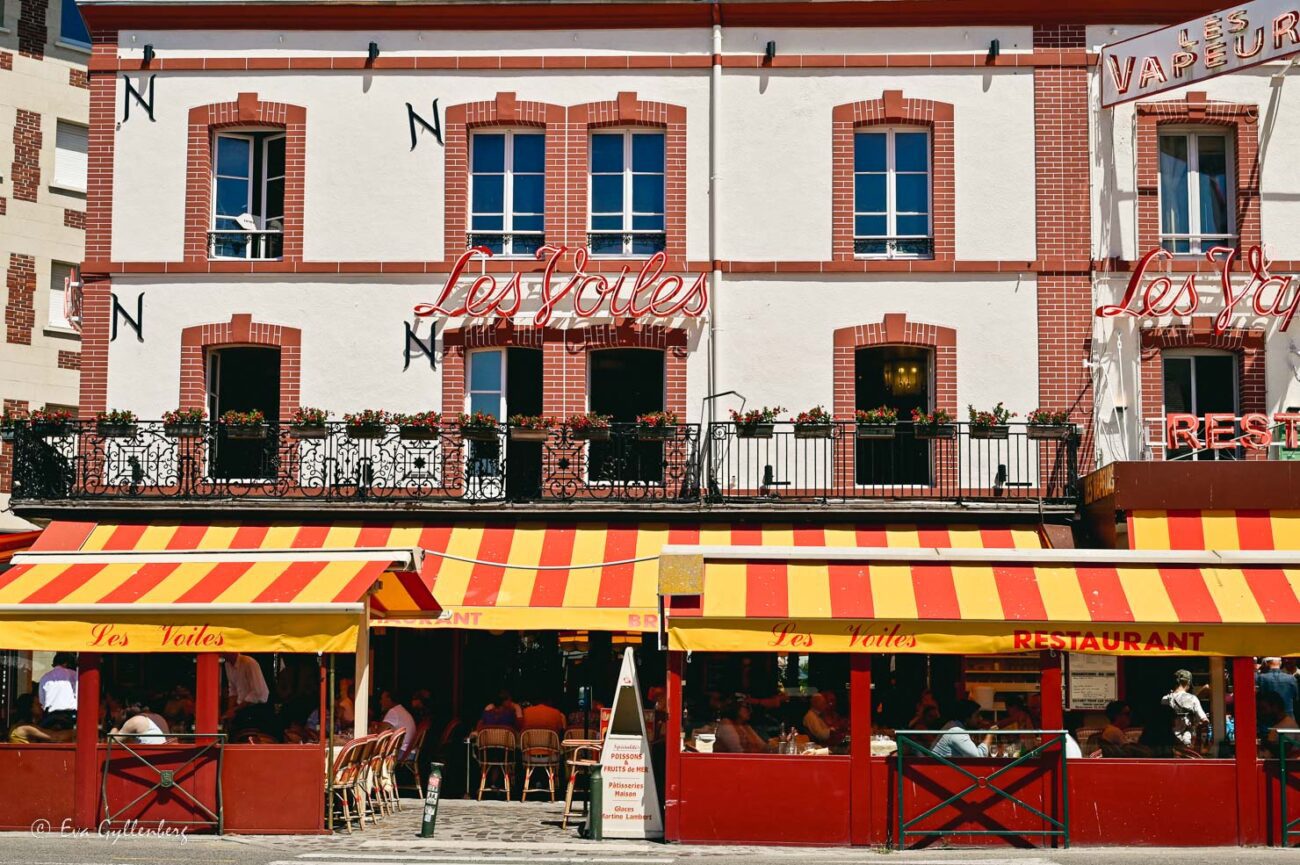 Trouville
We start our early morning in Trouville with a walk along the river quay. It is market day on Sundays and visitors crowd between the stalls. The fishmongers run back and forth to their refrigerated vans to fill the stalls with ice-cold seafood, and everything from carpets to belts will find new owners. We stop a little extra at a large section of second-hand clothes. Here, designer clothes lie on tables in large piles for between five and ten euros per garment. Half the ladies of Trouville are here looking for bargains. You'll be lucky if you find anything, but if you do, it's worth a shot even if you can't try.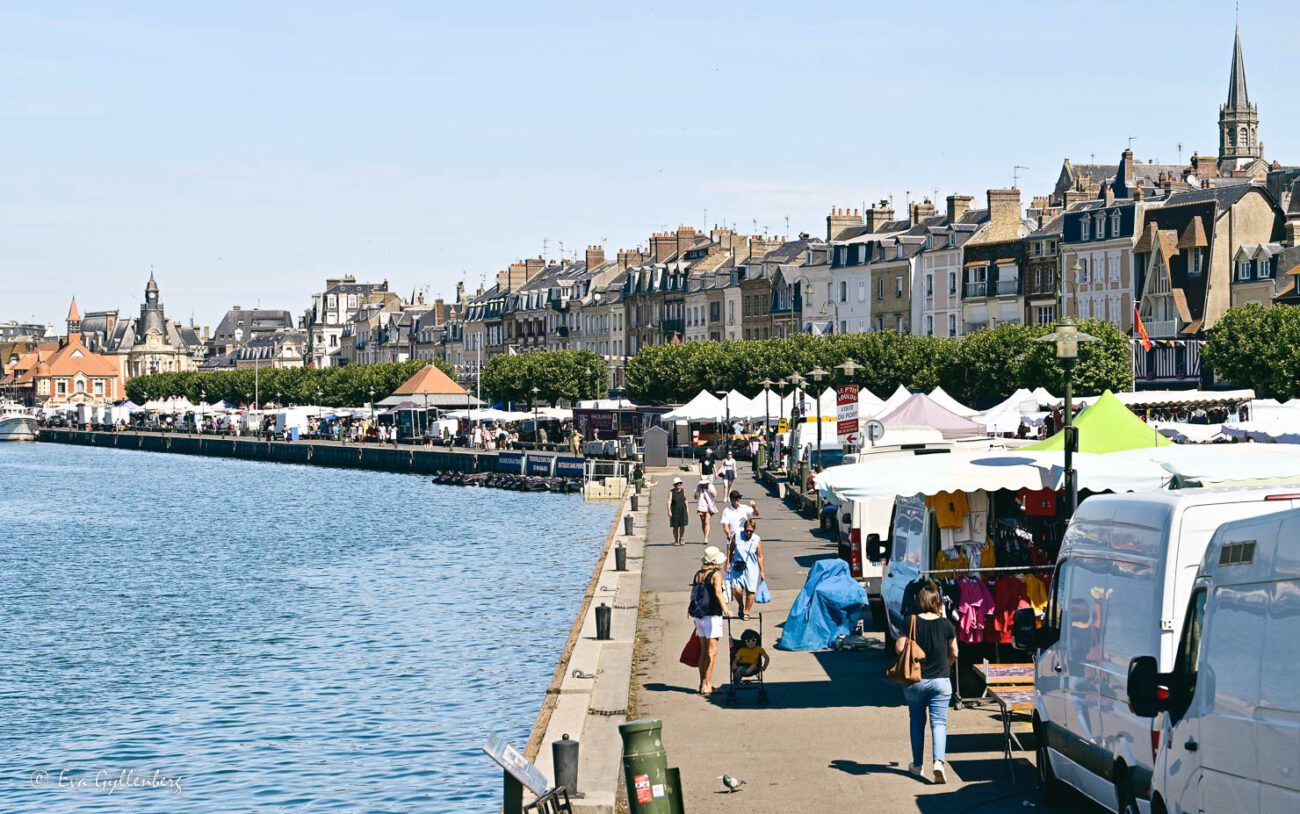 The stately summer houses from the end of the 19th century line the clean beach of Trouville. Many of the houses are built like classic half-timbered houses, but with more color and pinnacles and towers than the half-timbered houses you meet in Germany or Scania. All these houses because 150 years ago it became fashionable to swim in the sea. I can't help but wonder where you went swimming before that?
The fish market in Trouville started selling the fruits of the sea as early as the mid-1800s, but took on its current appearance in 1937. Here you will find everything the sea can offer, pin-fresh and at really good prices. Blue mussels for 4,50 euros per litre. Oysters for 24 euros a dozen. If you don't want to buy something to take home, you can always sit down and have a glass of wine and order a simple seafood plate.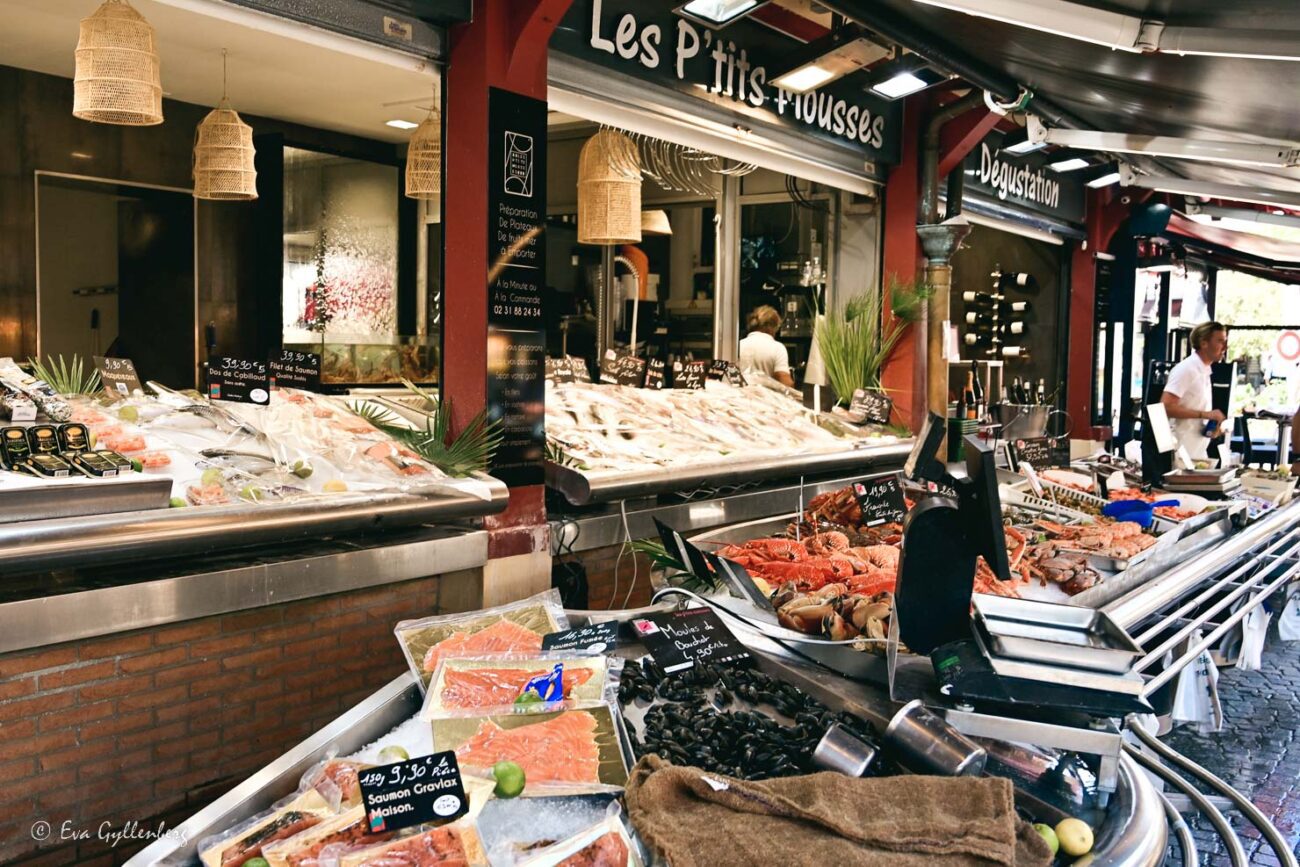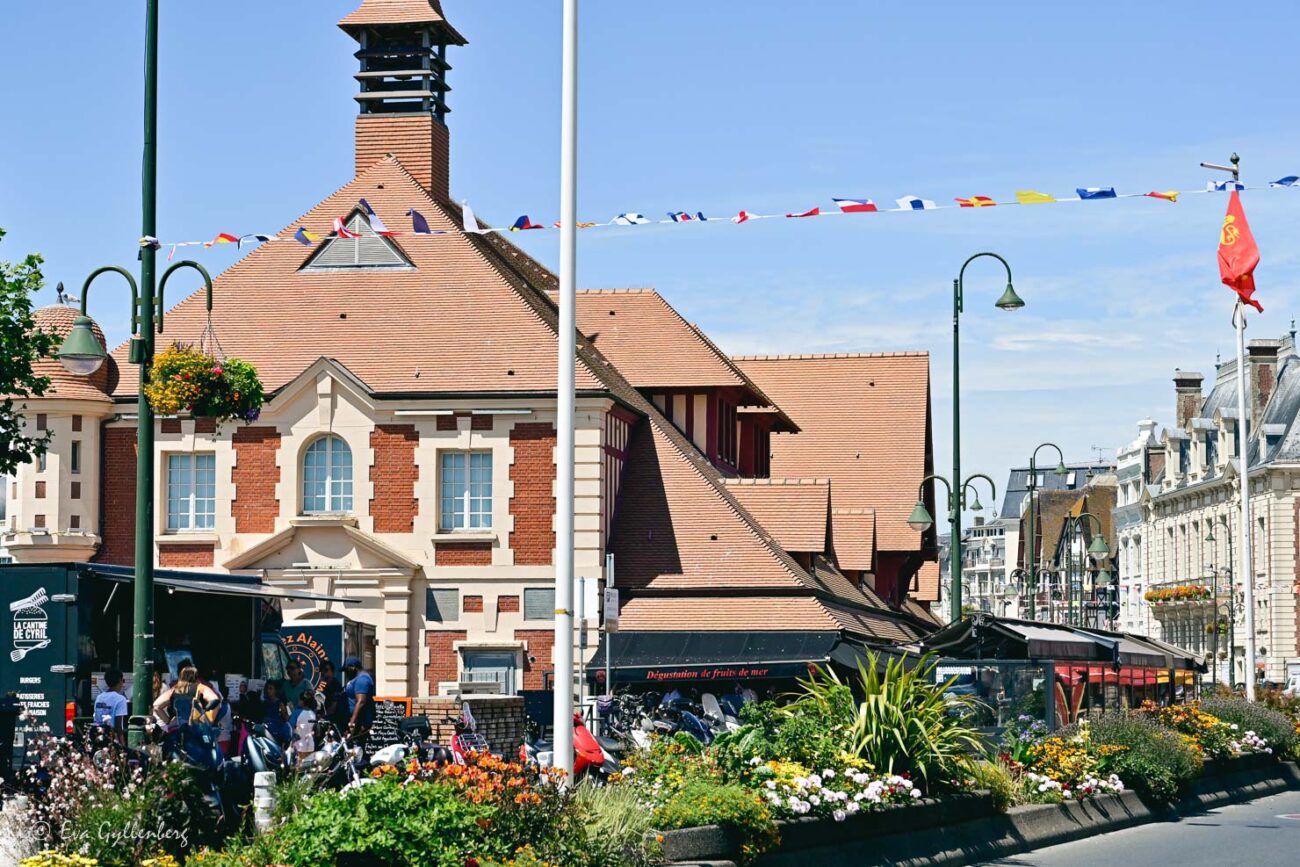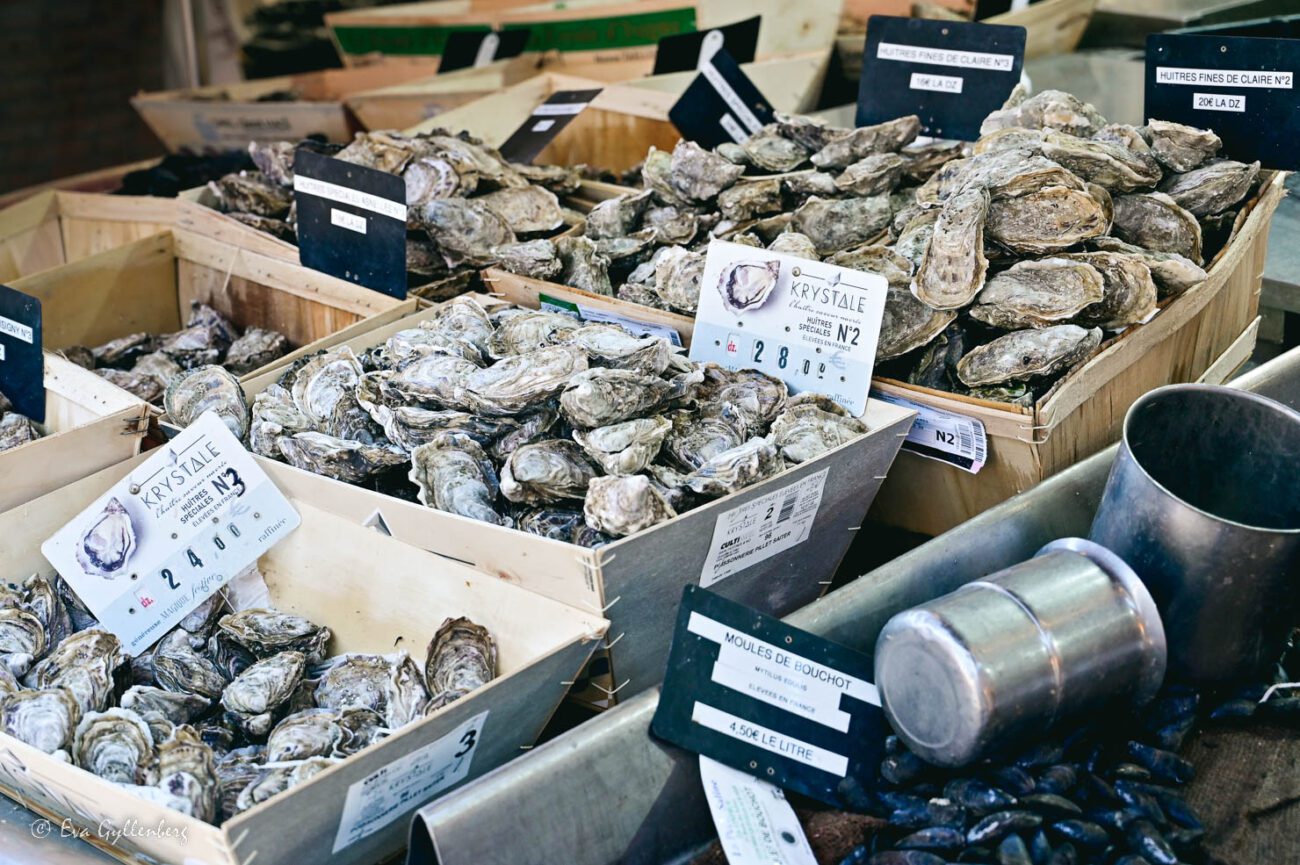 We pass by the city's casino and head into the pedestrian streets of the small alleys. It is packed with restaurants and delicacies, and there are few available tables on the outdoor terraces. Mussels seem to be the most common lunch dish if you glance over the tables, closely followed by tuna tartare.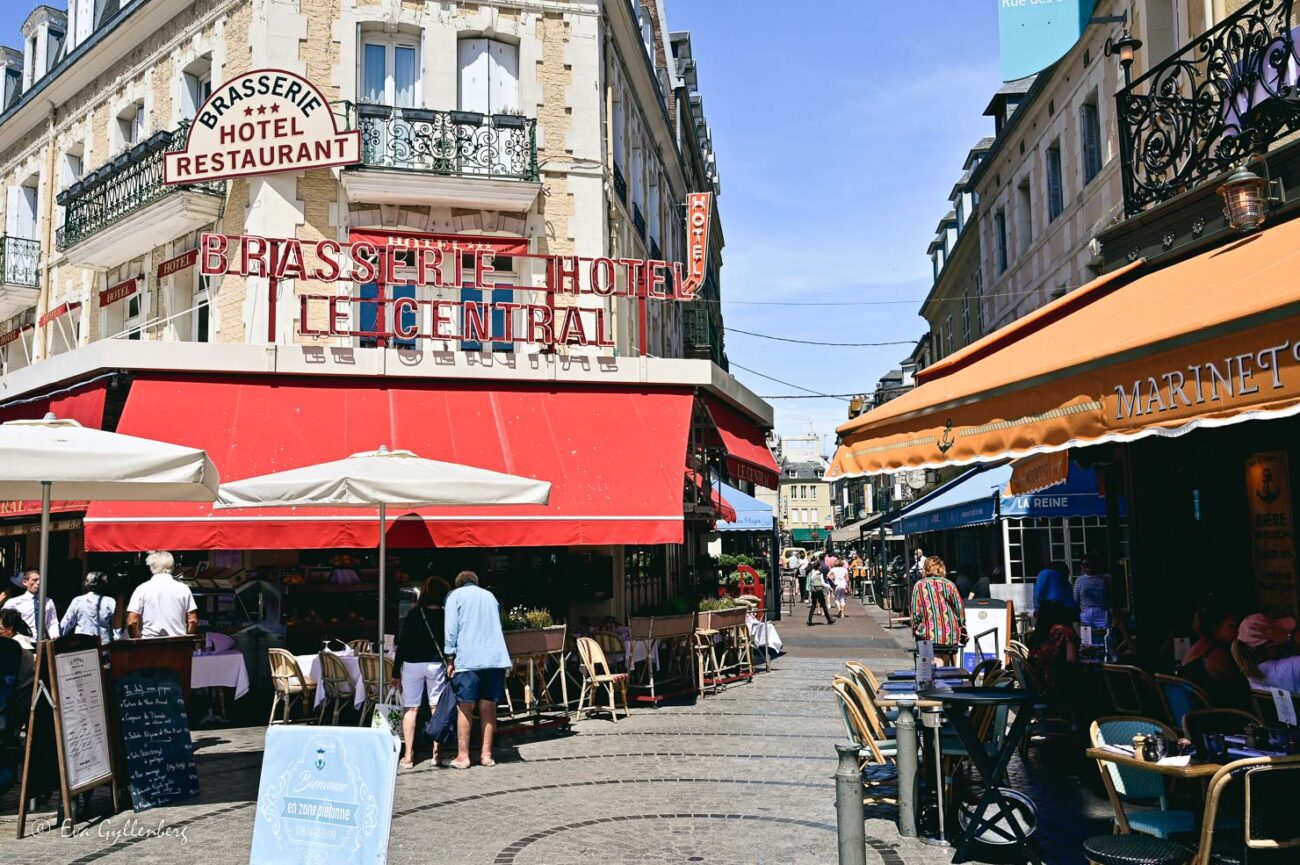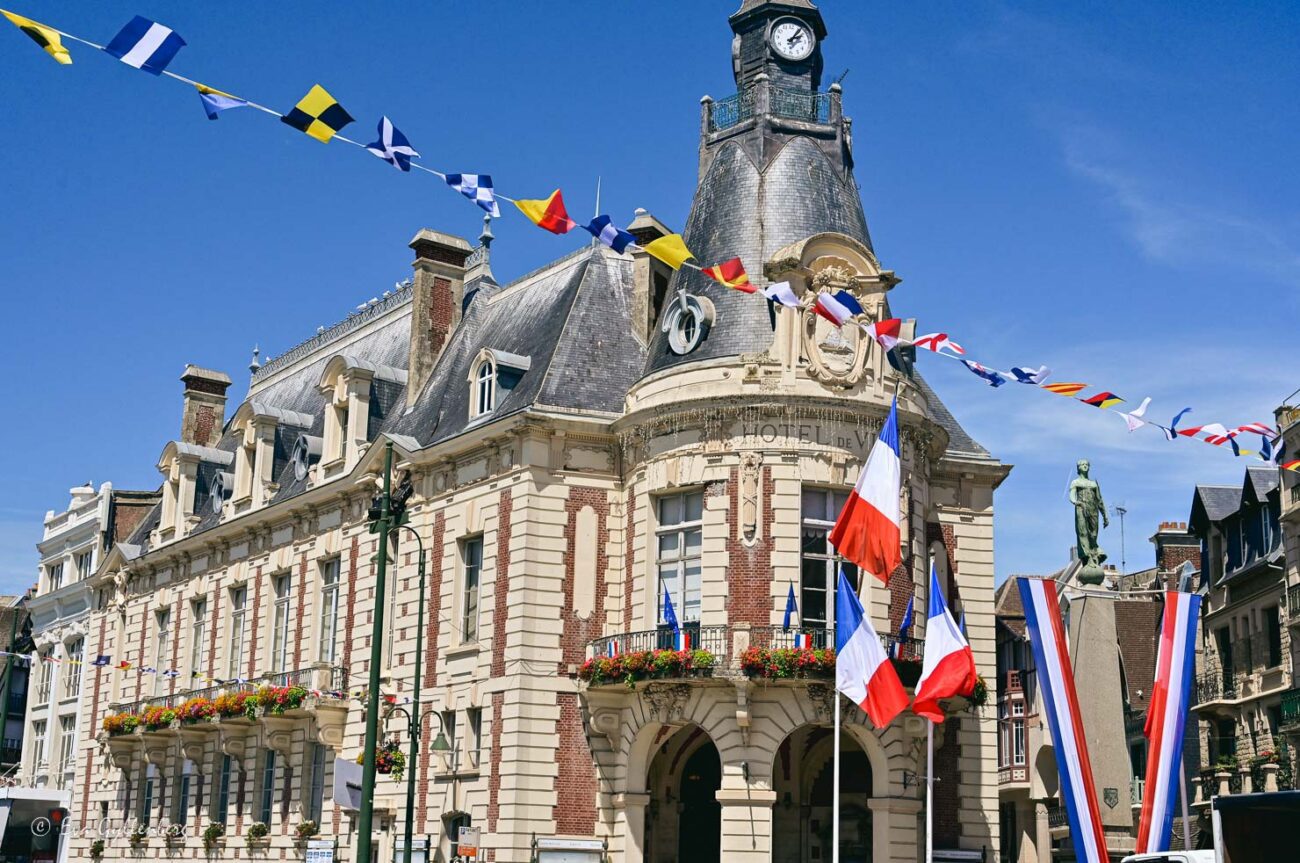 Rue des Bainsis car-free during the day and tables and chairs overflow the street's pavements, creating one large restaurant. Small shops with local delicacies are interspersed among the cafe tables and offer everything from luxurious fudge to well-aged Calvados. It is definitely a tourist street, but a very nice one with very few frills.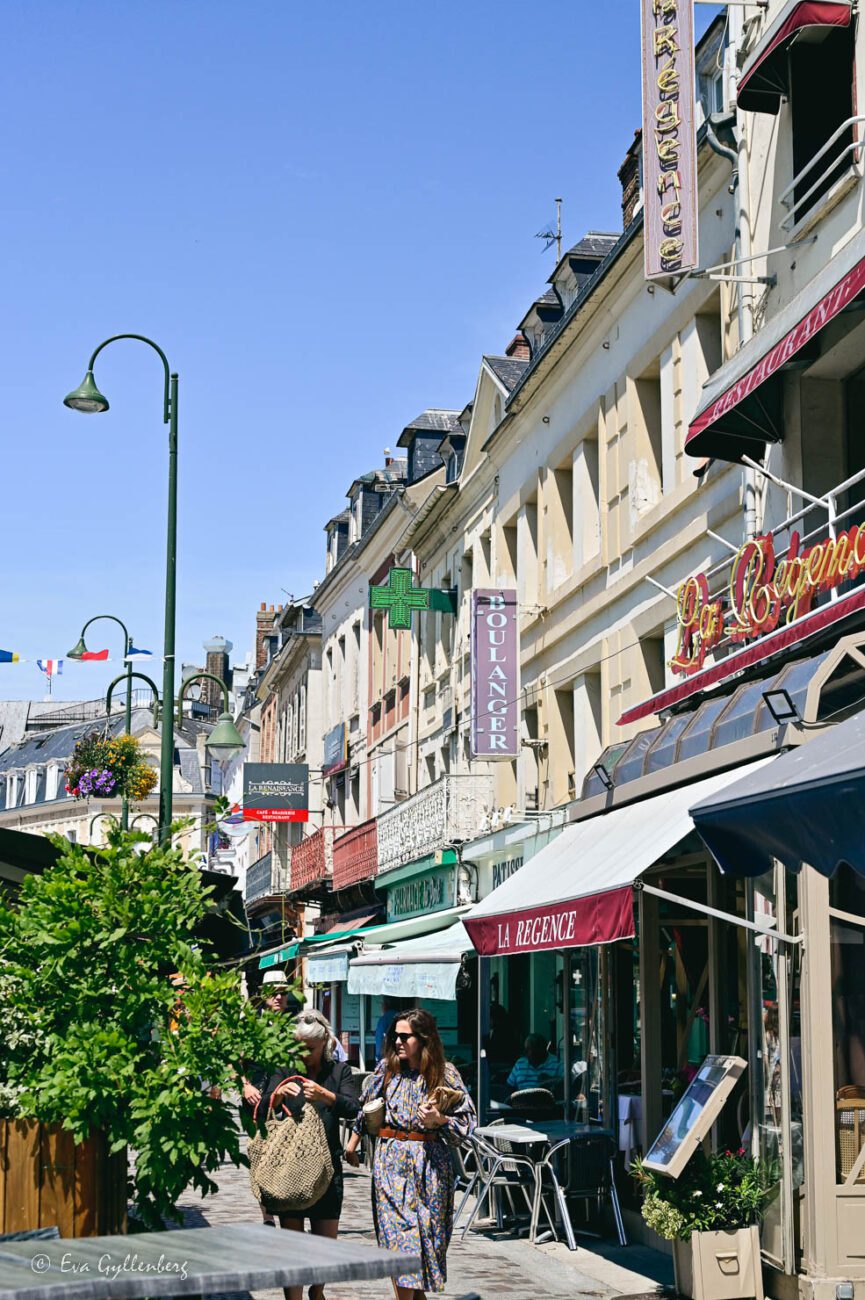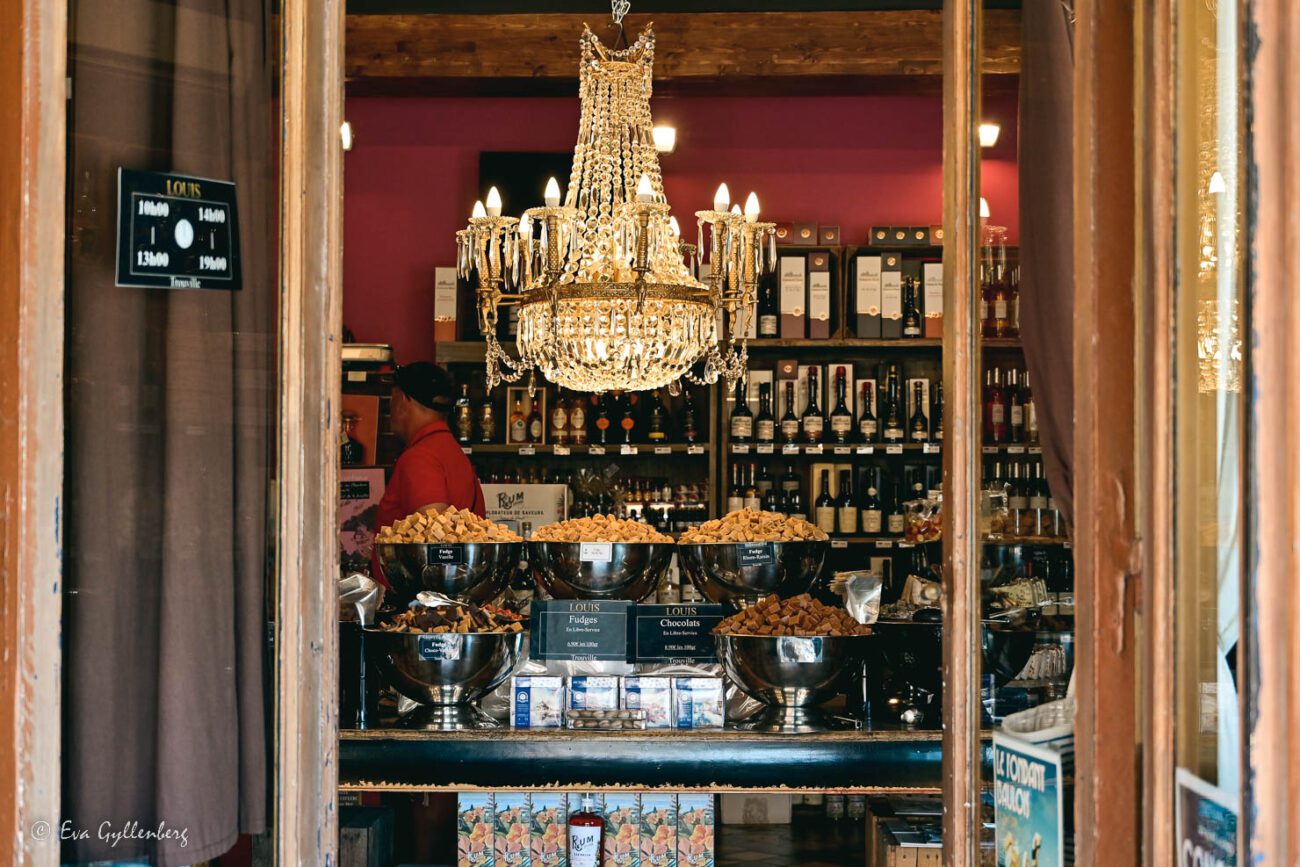 Deauville
On the other side of the bridge we walk into Deauville and another world. Suddenly we are strolling around in a world of Chanel, Hermès and second-hand shops with Birkin bags. Deauville's fashion history began back in 1913 when Gabrielle Chanel opened a small, modest fashion store here. The store was filled with navy striped sweaters and comfortable cotton knitwear. A Parisian chic style that became Coco Chanel's signature style throughout her life.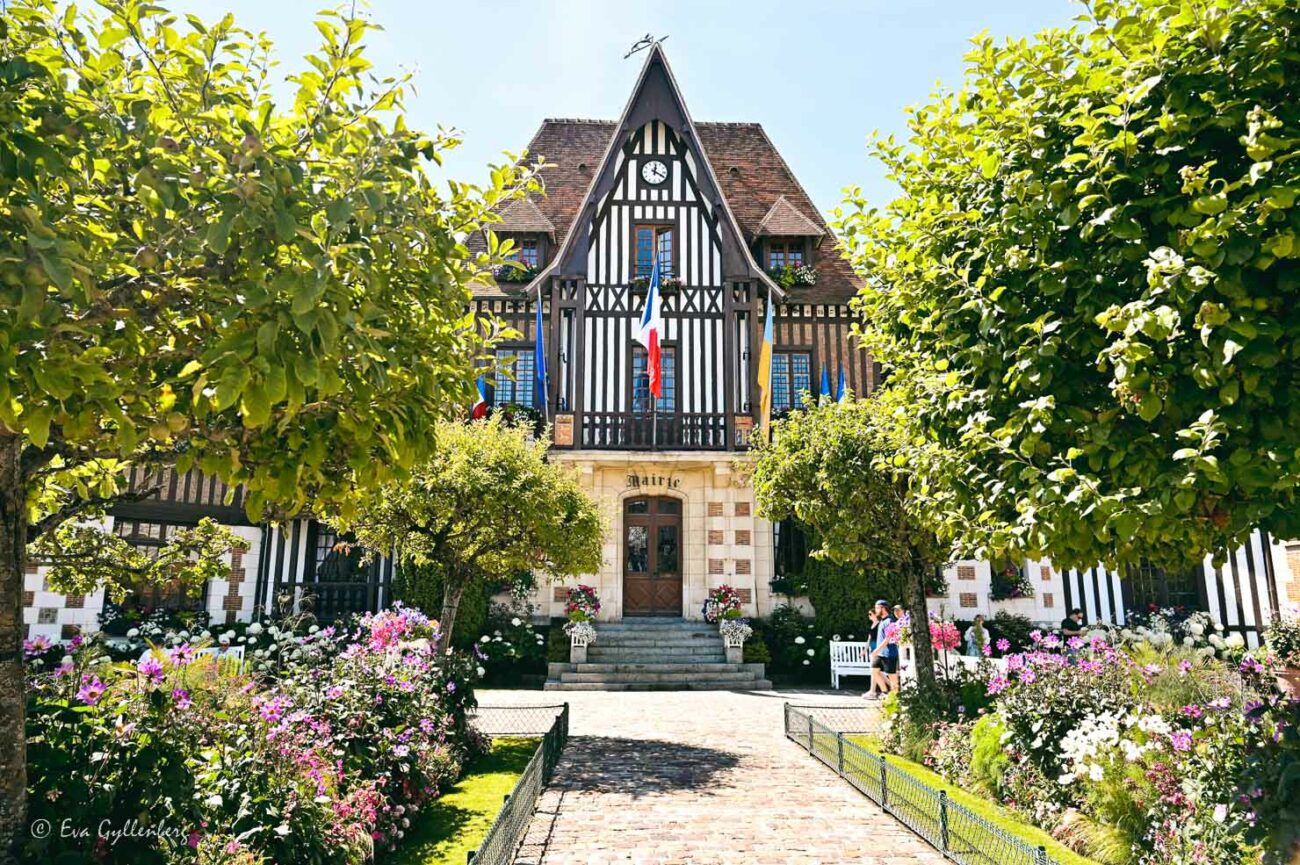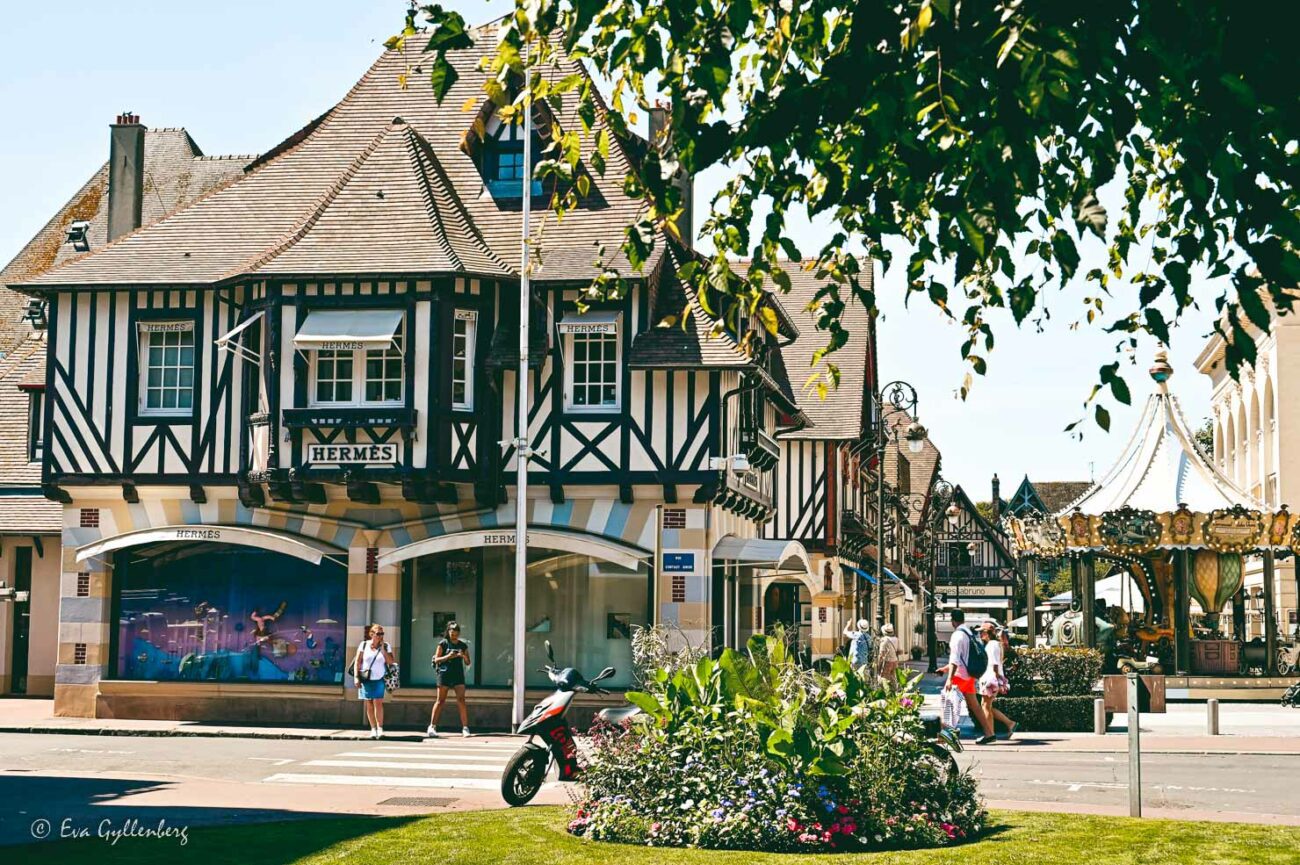 We make our way down to the well-known beach of Deauville. Light, fine-grained and incredibly clean, it lies before our feet. The sun is baking over our heads, but the Atlantic winds keep us cool. The advantage of the slightly chilly Atlantic is that it never gets that hot here, but it's also the disadvantage for a hot tub like me.
The beach is so wide that from a distance it looks like it is empty. We walk towards the shore to feel the water. We pass row after row of empty colorful parasols and sunbeds. Finally we reach the water's edge and there we find all the people. Because the beach is not empty, it is just incredibly wide and long. It is far from crowded, even though it is a beautiful day in July. The beach has room for everyone who wants.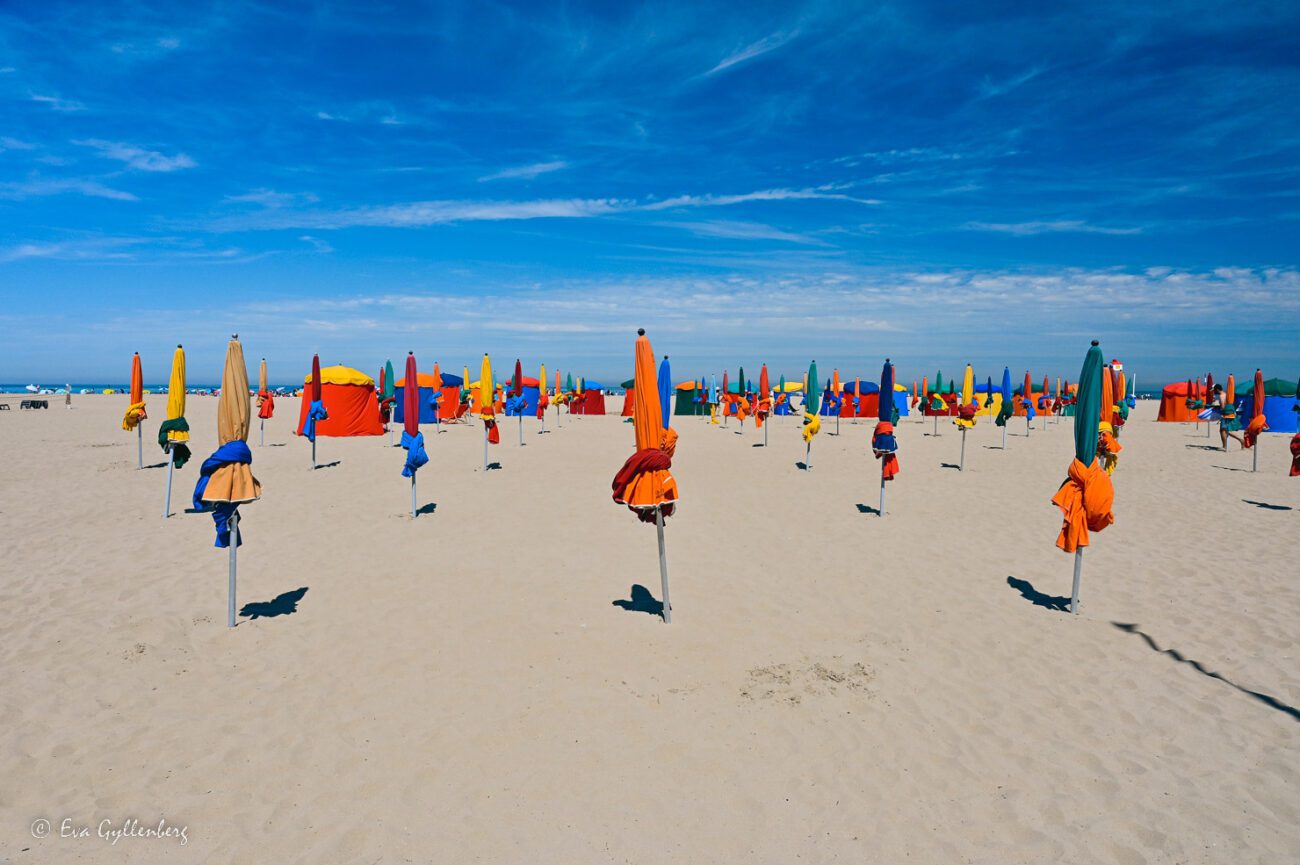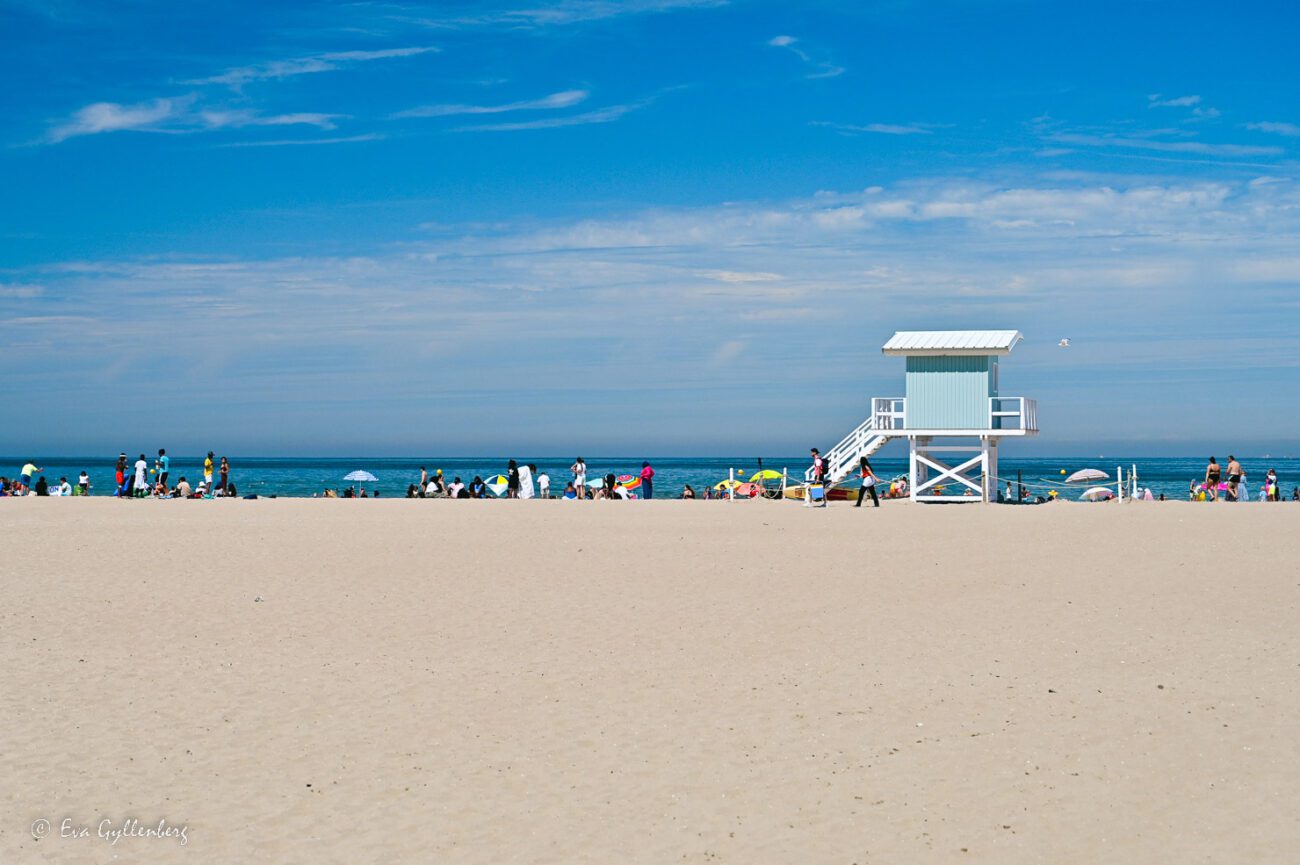 Among all the people and sand dunes are large wooden symbols on tall poles. I guess these work the same way as when in a large parking lot you have letters to help you find your way back to your car. "I'm at the green train" makes it easier to find where on the beach you are than "I'm on the beach".
Coco Chanel is not the only famous person to have spent time in Deauville. Every year in September, an international American film festival is held here. It is the second largest film festival in France (after Cannes) and actors and celebrities from all over the world come here.
Along the long and wide boardwalk with wooden decks are rows of cabanas, all named after an actor or director who has visited the film festival since 1975. There are many cabanas and it is popular to look for your favorite celebrity and take a selfie there. Sean Connery, Orlando Bloom, Oliver Stone, Clint Eastwood, Sarah Jessica Parker - they've all been here.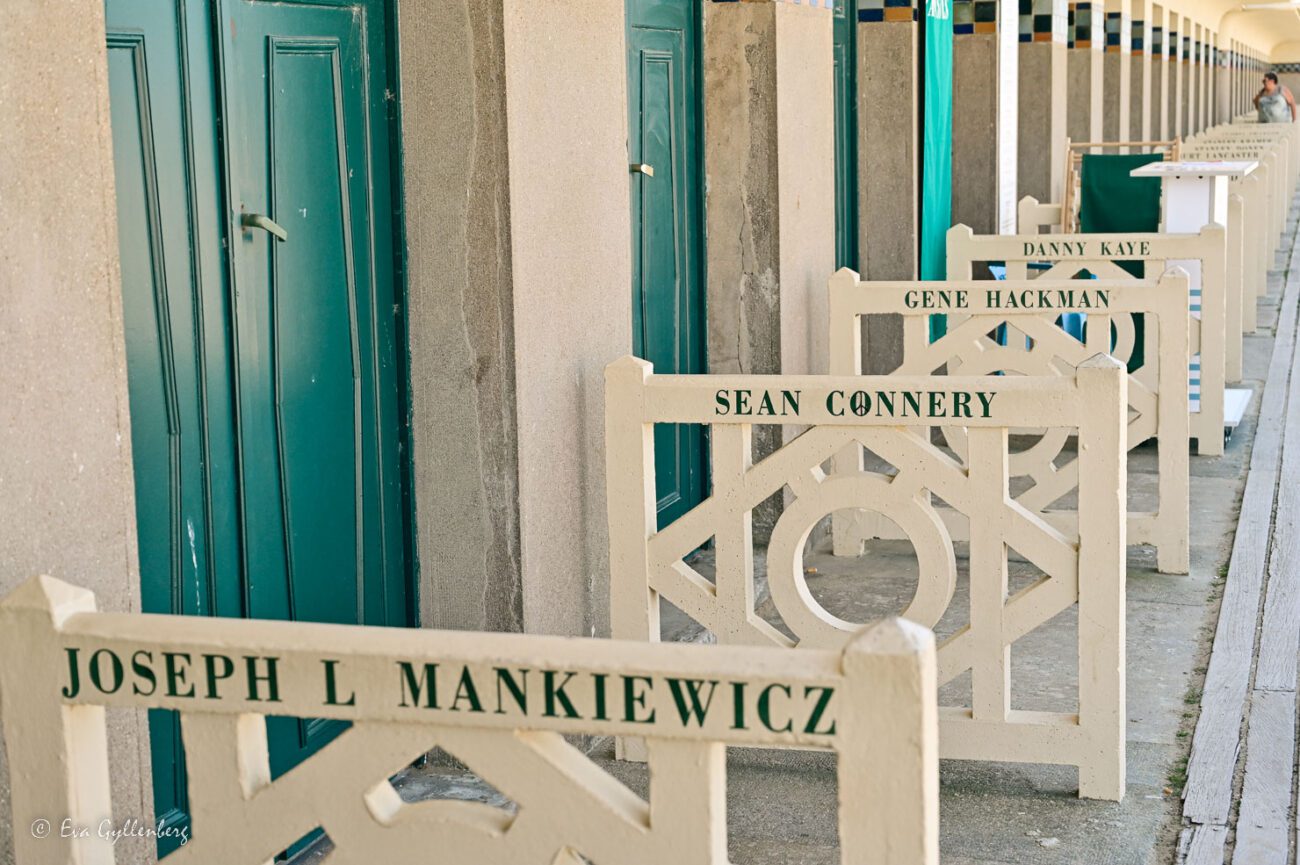 However, Deauville is not just film festivals and fashion designers. There are also popular horse races, golf tournaments, sailing regattas and jazz festivals here. The whole summer is one big event and for many Deauville is not only a place to rest, but also a place to be seen,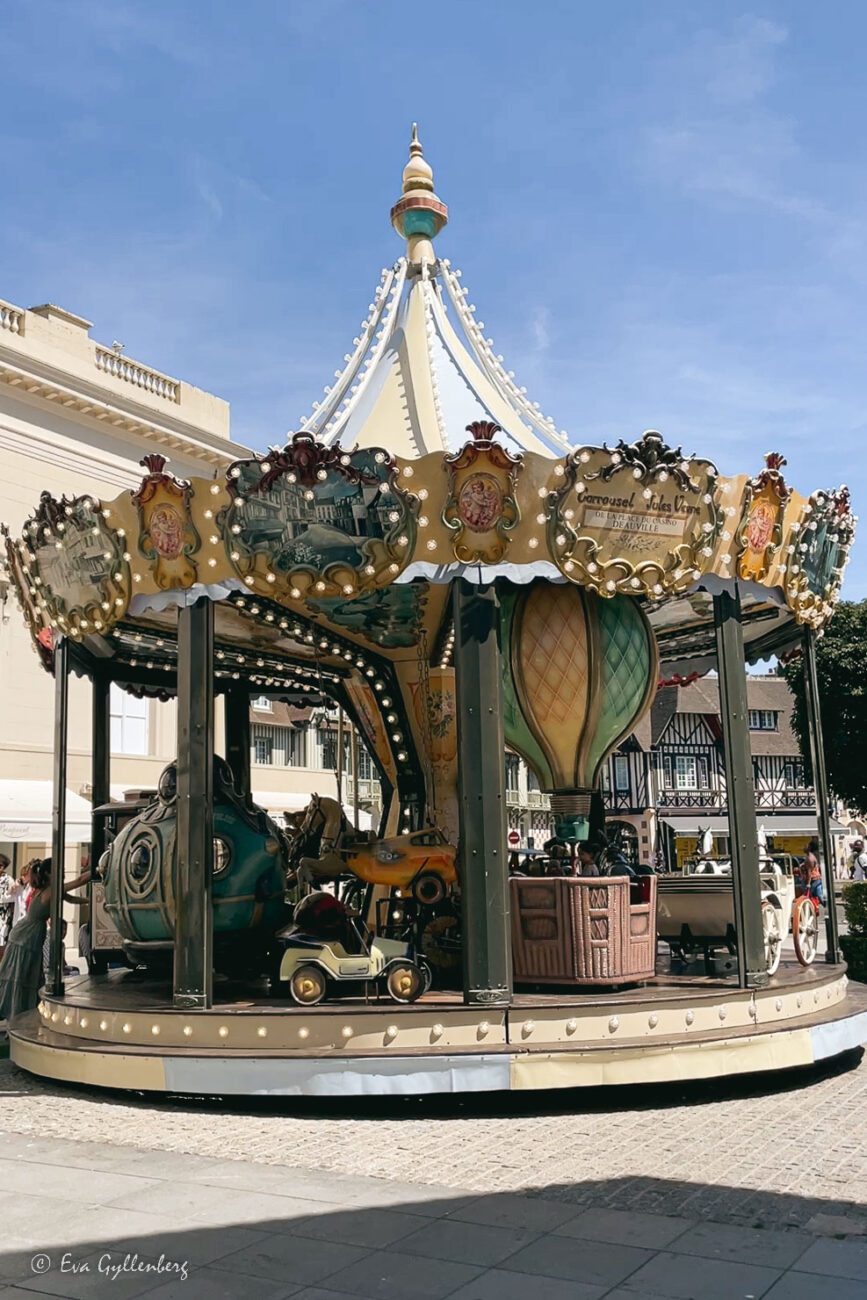 We have no need to be seen and are quite content to settle down in a cafe and have an ice cream in the shade and watch the people passing by. Whether you're longing to sunbathe on some of France's most beautiful beaches or you just want to sit back and relax in beautiful surroundings and eat a plate of oysters, Trouville and Deauville are two fantastic holiday resorts. Easy to travel to and still relatively unknown to most Swedes.
For me it will be one Au revoir to Trouville and Deauville. Until I see you again. Normandy is easy to love, but impossible to say goodbye to.
Where are Trouville-sur-Mer and Deauville?
Trouville and Deauville are located in Normandy on the "flowering coast" - La Côte Fleurie – on each side of the river La Touques. It takes just over 2 hours to drive or take the train here from Paris, making the area a popular weekend destination for Parisians.
Read more at Normandy Tourism about Trouville-sur-Mer and Deauville or read more about France in my travel guide about France.
Travelers' Map is loading ...
If you see this after your page is loaded completely, leafletJS files are missing.
Have you been here? What did you think of the destination?
Been there - didn't like it!
0
Not keen at all to go here!
1
Eva Gyllenberg
Travel blogger, gastronaut, photographer and family adventurer with over 55 countries in his luggage. Eva loves trips that include beautiful nature, hiking boots and well-cooked food. On the travel blog Rucksack she takes you to all corners of the world with the help of her inspiring pictures and texts.