Some of America's national parks have passed us by rather unnoticed. We have returned to other national parks several times. I really have a hard time putting my finger on what made us return to Yosemite. But Yosemite has something special. A bit like a mix of wild Norrland and dramatic Austria, with granite cliffs, forests, waterfalls and rivers. In my eyes, anyway, Yosemite (pronounced Jo-SEM-i-tee) one of America's most beautiful national parks and anyone planning a road trip in California should be forced to hike at least one day here in the national park to get a feel for the real California. I'm sorry all LA lovers, but plastic Los Angeles is NOT California. (It feels good to finally be able to say this!)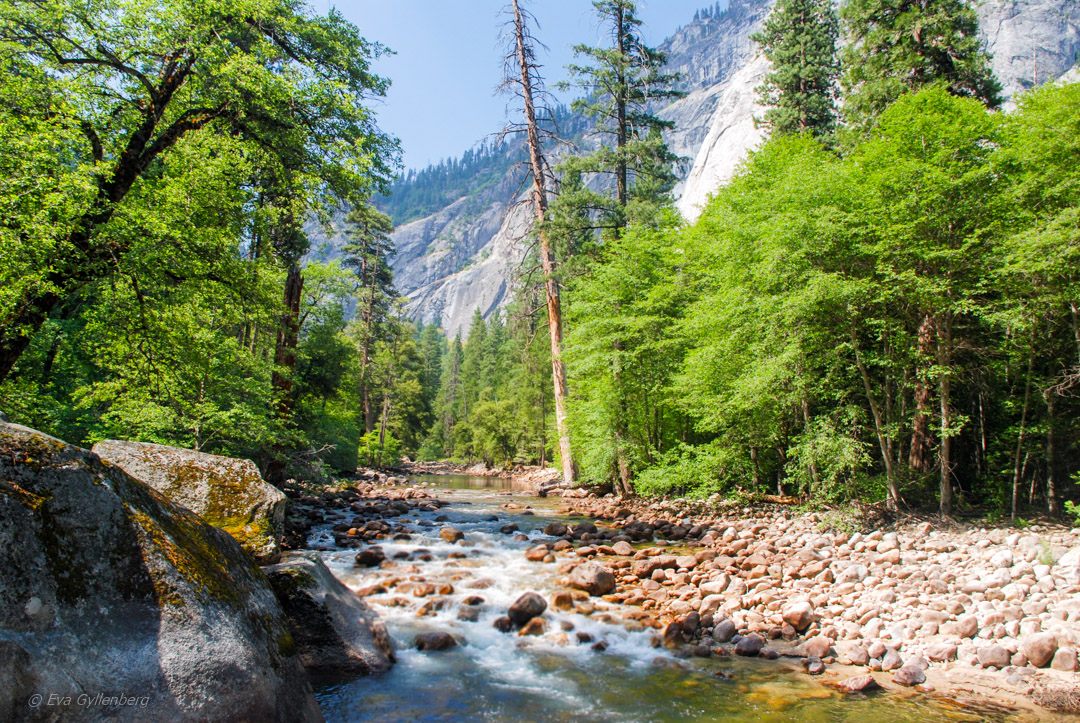 Yosemite was founded back in 1890 and has since attracted millions of visitors to its steep granite cliffs and bear-filled forests. Downtown Yosemite is Yosemite Village, where all the necessary services are available for visitors. Hotels, camping, shops and eateries make the village a good starting point for day trips. I can promise you that while the fast food you can buy down here in the valley doesn't look like much to the world, it tastes divine after a day of hiking with shaky legs!
Around Yosemite Village there is a bus that takes you around to the main hiking trails and attractions, which is necessary during the summer when parking is scarce. So park the car and hop on the bus instead.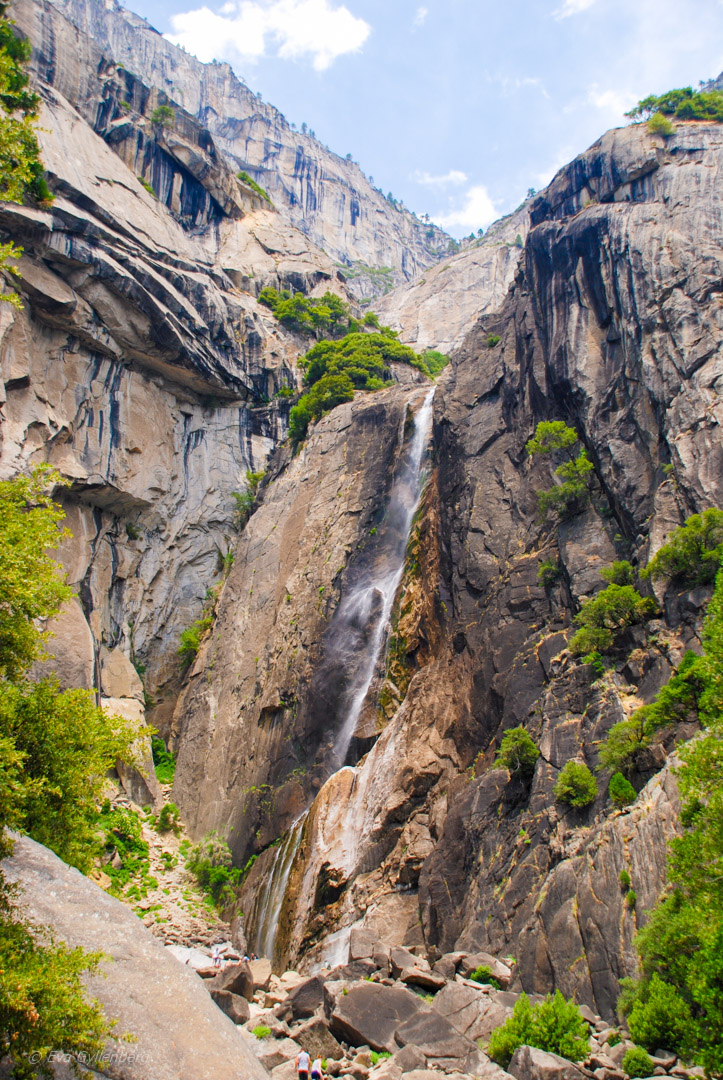 To hike to the 740 meter high waterfall Yosemite Falls (USA's tallest waterfall) is one of the park's most popular attractions. From early spring to early summer, snowmelt is at its greatest and the waterfall spreads water droplets that create rainbows over half the valley. During late summer and autumn, the falls are almost dry. One of the most popular hikes is the tough hike to the top of Yosemite Falls. A mile round trip takes the vast majority of people 6-8(!) hours. If you, like us, completely misjudged how steep it is and how long it takes to hike 1 mile uphill (and also thought "how hard can it be?"), you can always hike up to Upper Yosemite Falls and turn around here, which "only" takes 2-3 hours round trip. The view from Upper Yosemite Falls over the valley and the power of a roaring waterfall is well worth every drop of sweat.
Another nice hiking trail is Vernal Fall Footbridge. Only 3 kilometers round trip, but with a steep climb, this is a popular trail. Most people turn around at the Vernal Fall Footbridge, where you get a great view of the falls and valley, but you can continue on a full day hike to the top of the falls if you want.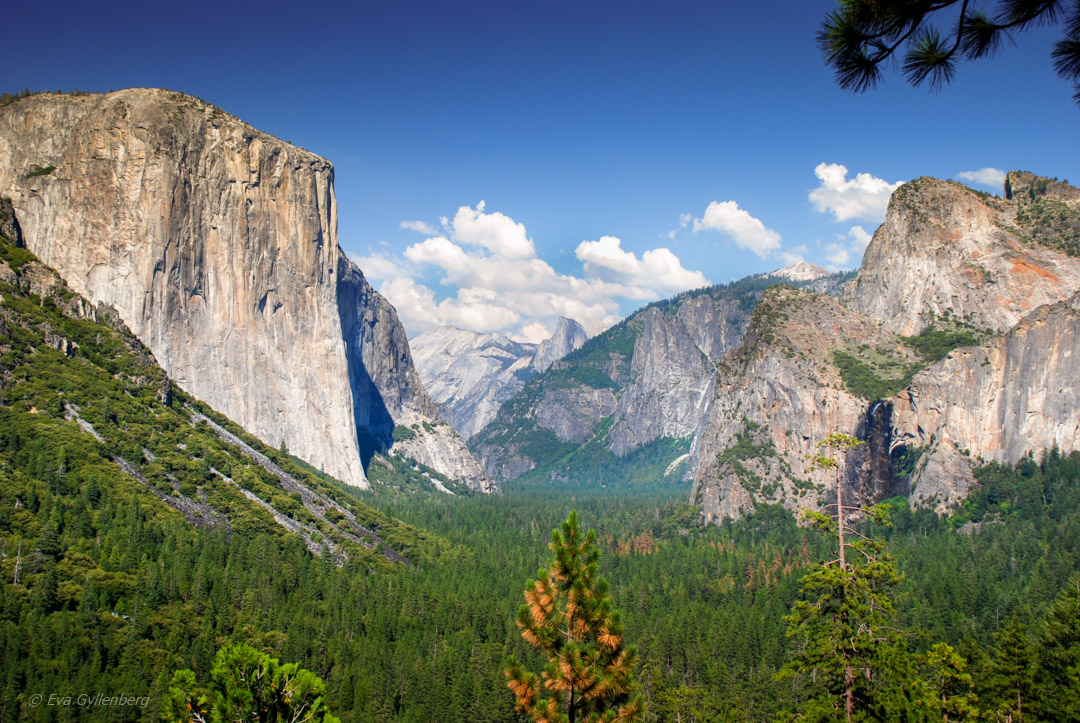 For strollers and smaller children, I recommend hiking the easy trails Lower Yosemite Falls, (1 km on paved path with fantastic views of the lowest of the three falls) or Bridalveil Fall Trail (1 km paved path) which takes you to an almost 200 meter high waterfall. It is so wonderful to have national parks where the whole family can see the best of nature together! I will add, however, that you don't have to hike on easy trails just because you're traveling with children! We have hiked on many "medium" trails with a three-wheeled stroller (Mountain Buggy), it can be a little rocky in certain parts, but it is perfectly ok if you are willing to sometimes lift the stroller over the occasional log and rock.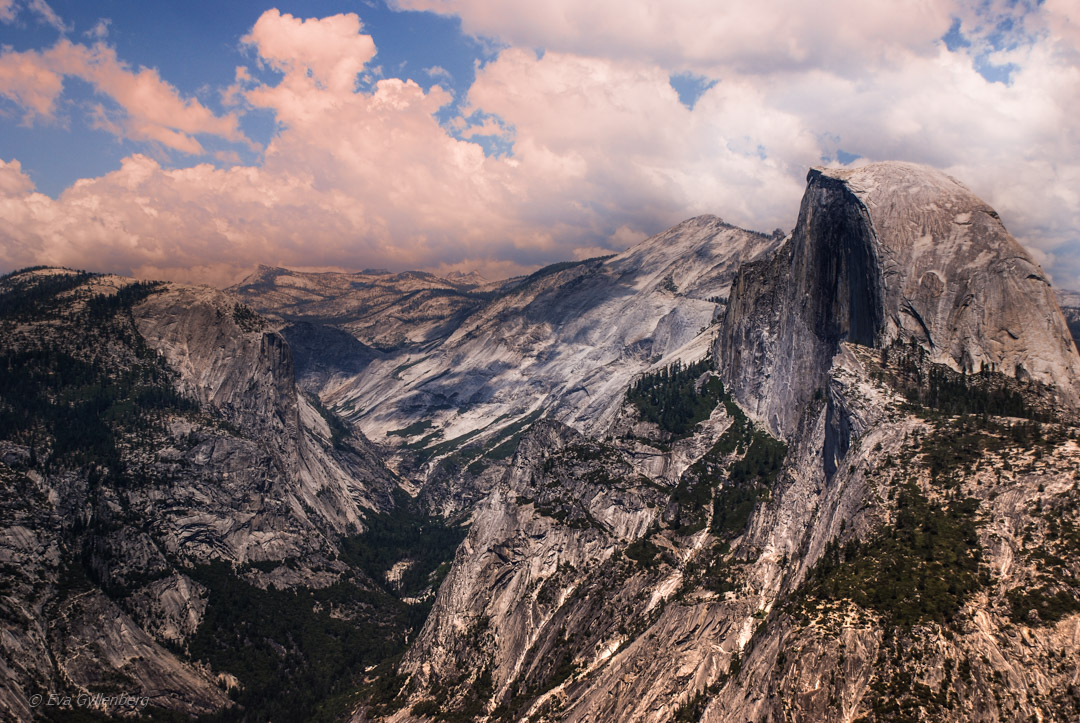 To get the best panorama of Yosemite Valley, neither hiking equipment nor climbing ropes are required. From early summer to late autumn is the way to go Glacier point open to car traffic and takes you to a view that beats most in Yosemite. Here from above, you see the climbers struggling on Half Dome and Yosemite Valley's gushing waterfalls. Another famous postcard view worth stopping for is found along Wawona Road (Route 41). tunnel view is reached via a rather anonymous passage in the Wawona Tunnel, but is one of the park's most famous places with a view of both El Capitan and several waterfalls. (Image at top of page)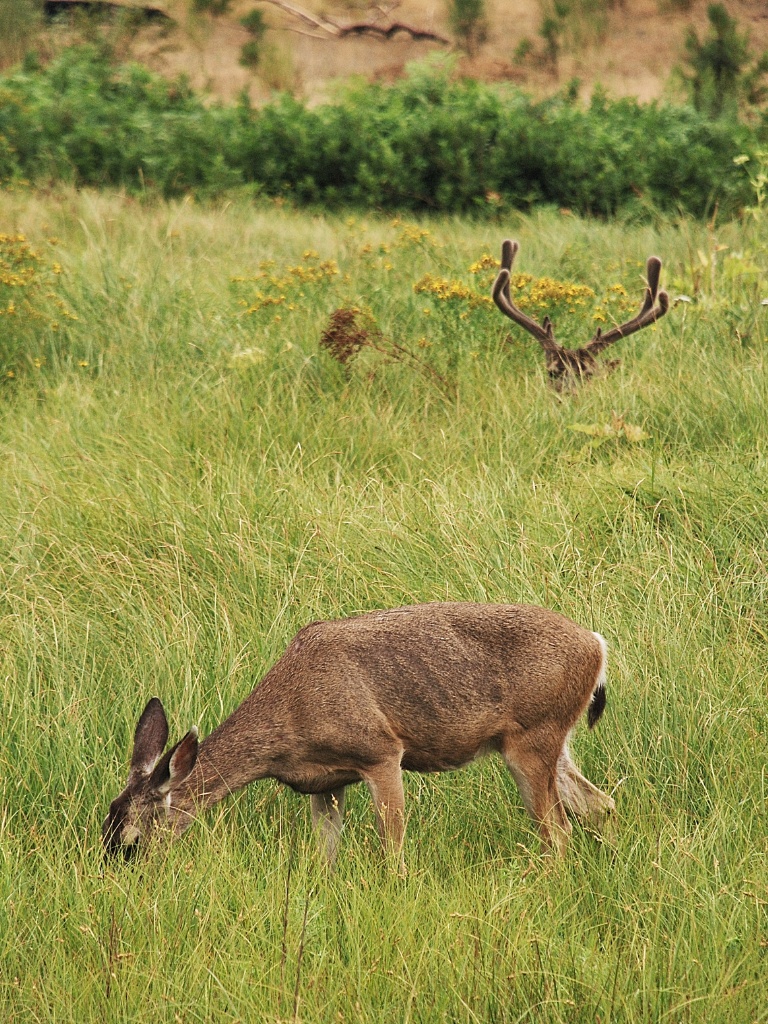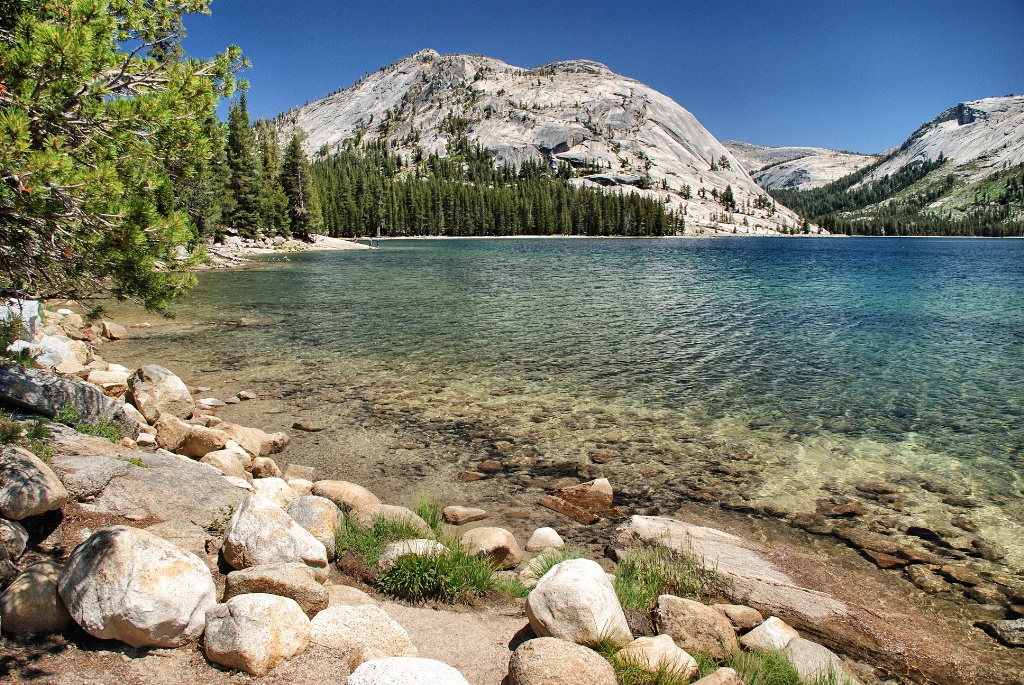 There are five roads into Yosemite, but by far the most beautiful road is Tioga Road via Tioga Pass. The road is only 6 miles long, but it takes almost 2 hours to drive over the pass without stopping. Take the opportunity to check the brakes before you head here, because up here at an altitude of 3000 meters there is not much service. The road begins to be plowed in April, but it takes almost two months (!) before all the snow has been removed and the road can open to traffic in June. The first time we were going to Yosemite in early June, we didn't have a thought about snow depth and closed roads. After all, it was summer and we were in California - why would we think about snow? So we happily drove from Las Vegas to Tioga Pass, only to discover that the road had not yet opened for the season. How we solved the steak? By taking a long detour over Sonora Pass, which took 6 hours instead of the planned 2 hours. Not recommended, although Sonora Pass is also a really beautiful road. Don't make our mistake, but check if Tioga Pass is open before you go. This year the road even opened unusually late, in fact not until the end of June.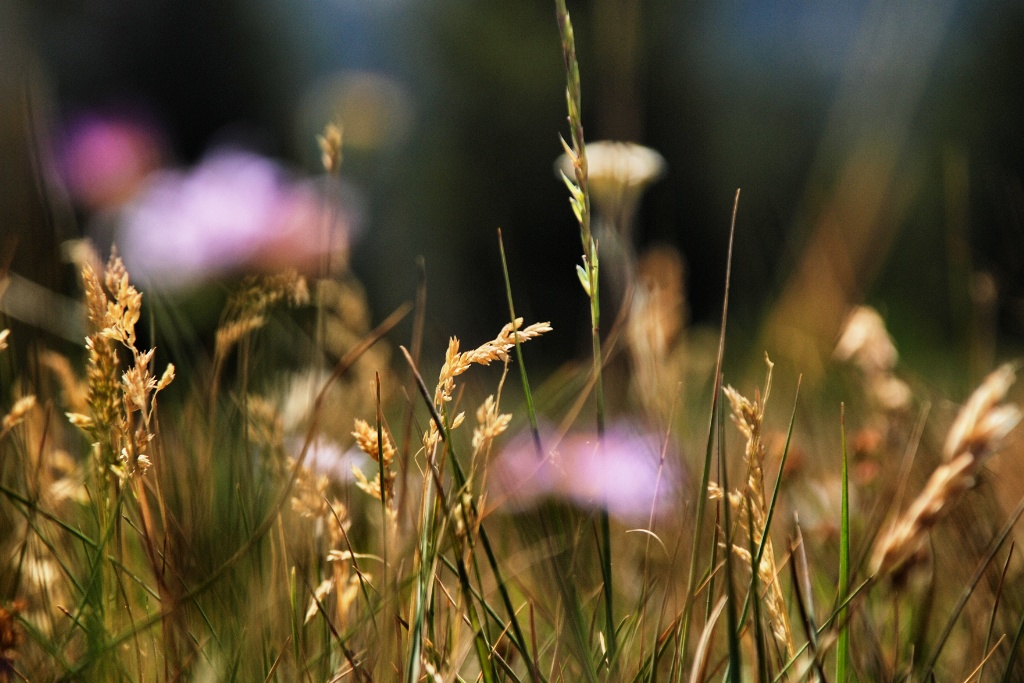 Along Tioga Road you will find Tulumne Meadows, a colorful sea of ​​alpine meadows surrounded by mountain peaks, icy lakes and fresh mountain air. Up here, you don't have to walk far until you are completely alone with nature. The vast majority of visitors never get further than Yosemite Valley and those who hike up here feel like a millionth of the visitors. Bring plenty of goodies and stop at one of the quiet lakes and set up a picnic at one of the fine dining spots. Breathe in. Exhale. Enjoy the peace.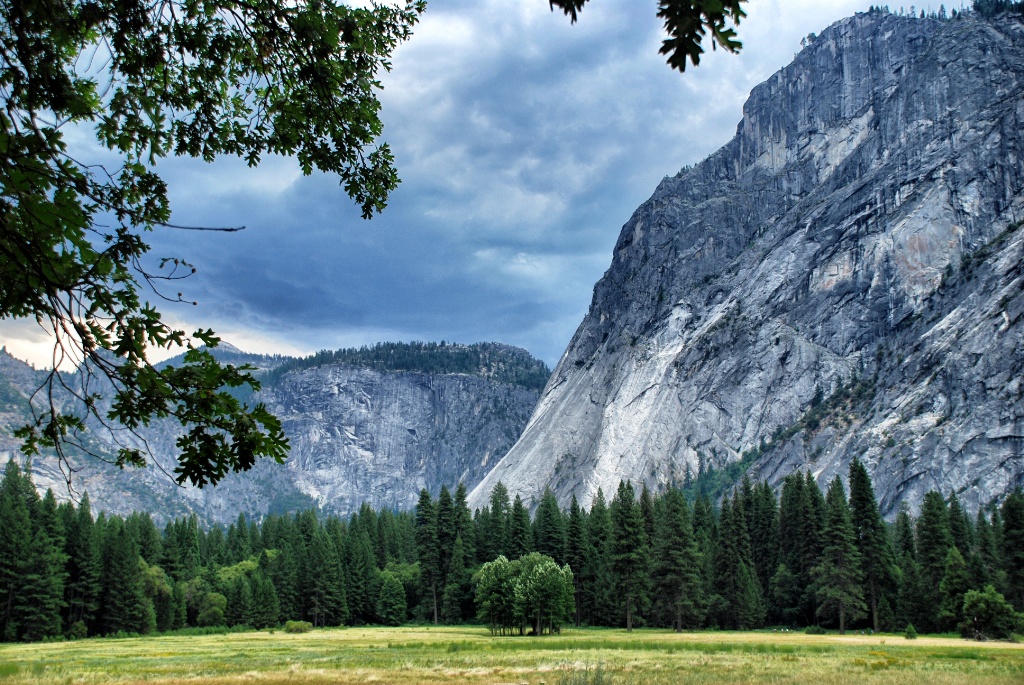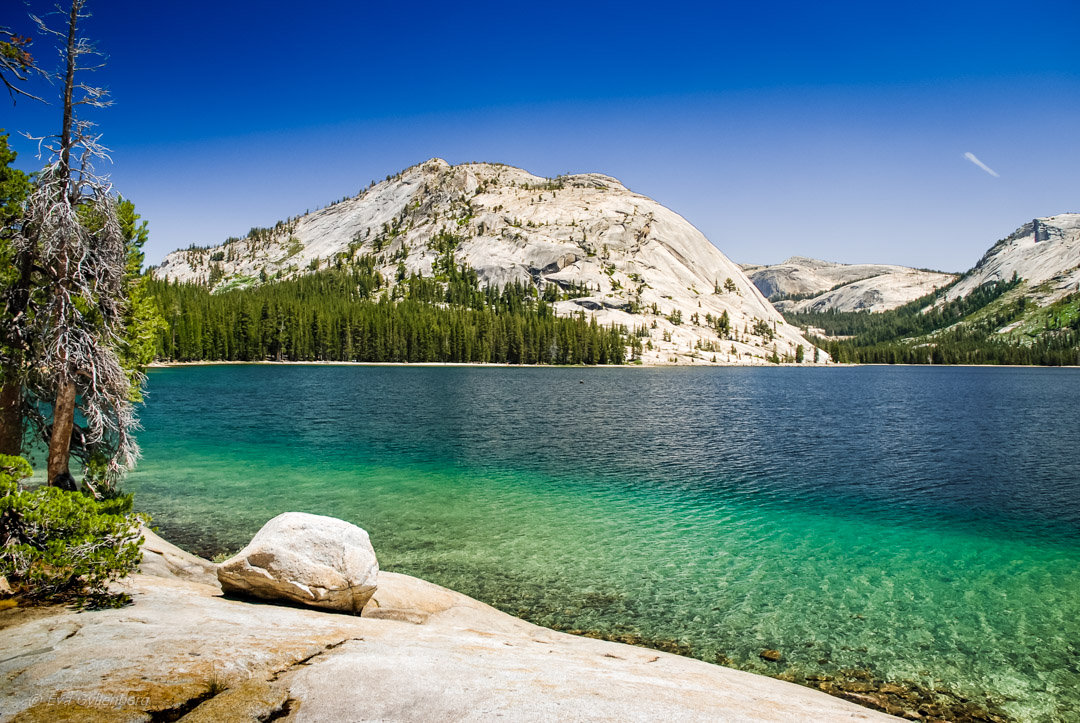 How many days do I need to not miss anything?
It can be difficult to plan how many days you need to spend in Yosemite in order not to feel like you missed something. If you're looking to see the park's most beautiful spots, do a decent amount of hiking, and don't want to do long overnight hikes or climb Half Dome, then I'd say you need three days.
Day 1: Yosemite Valley (with all attractions and hiking mentioned above)
Day 2: Glacier Point Road (time for hikes and stops for views)
Day 3: Tioga Pass and Toulumne Meadows (with time for walks in the meadows and a long lunch in the sun)
When is the best time to go to Yosemite?
Every season has its allure in Yosemite, although we prefer early summer.
Spring: The waterfalls are well stocked, but not all roads are open. Just in time for tourists.
summer: The waterfalls dry up, all the roads are plowed. Tioga Pass and Glacier Point are open. Lots of tourists and traffic jams.
Fall: Beautiful colors, the roads are open until late autumn. Just in time for tourists.
Winter: Snow and closed roads. Snow chains are required. The waterfalls are frozen into ice. Few tourists.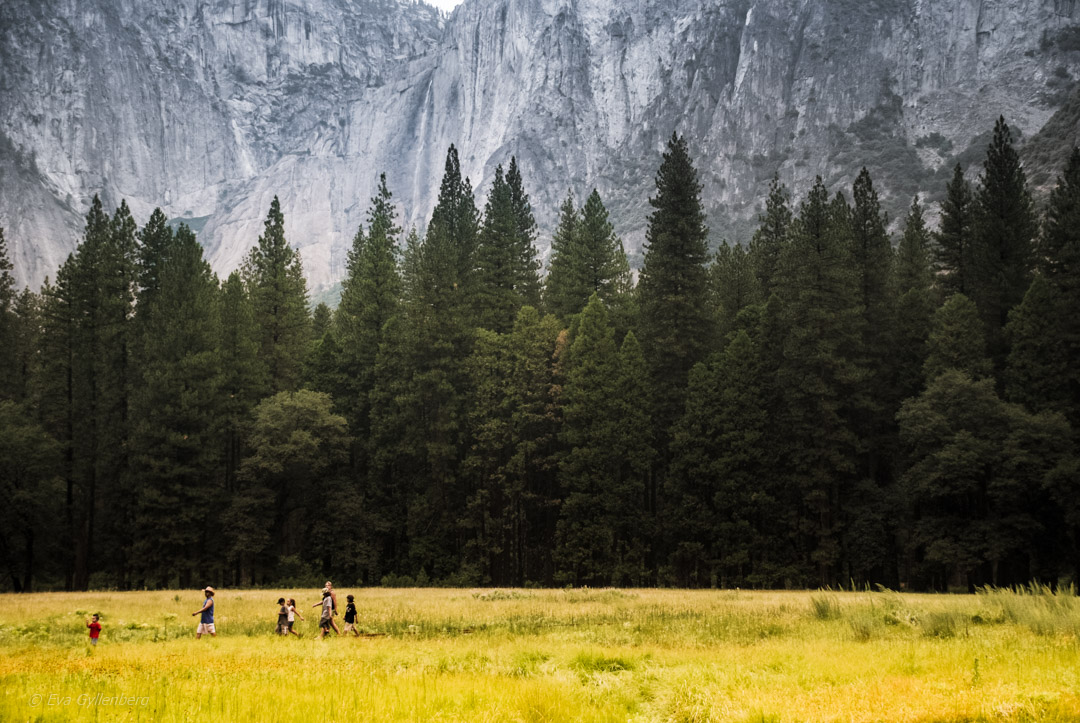 How do I find accommodation?
If you want to stay at the fine and luxurious lodge The Majestic Yosemite Hotel in Yosemite Valley, it is recommended that you book a year in advance for the summer months. Does that sound crazy? It is! There are also 12 campsites inside the park, but even these are fully booked well in advance. If all the accommodation in the park is full, there are motels and lodges basically all the way from Yosemite Valley to Mariposa/Oakhurst, so if you're out at the last second, you can always check into a cheap motel in Mariposa - it's only a hour from Yosemite Valley.
Is there anything fun for kids?
Yes of course! The vast majority of American national parks give children an opportunity to become a "junior park ranger", by solving tasks and answering questions about things they learn about animals and nature in the park. Pick up the starter kit at the national park centre. As a reward when they have completed the tasks, they get a gold-colored badge with the park's name to attach to the shirt. Very popular for all small collectors!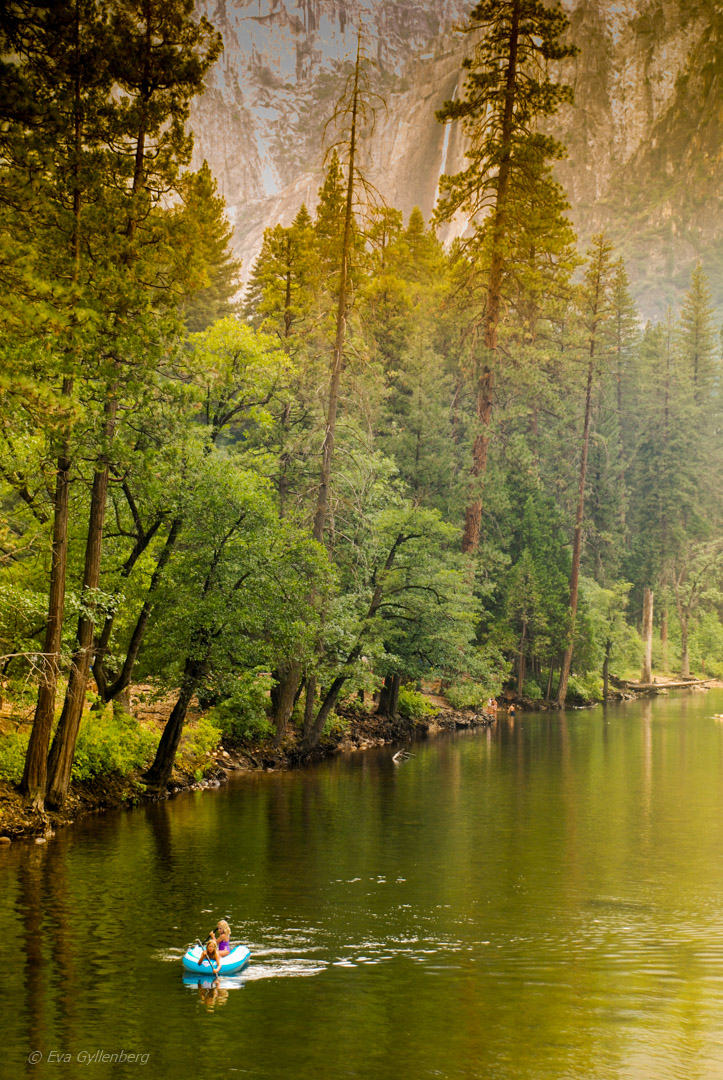 Want to see more from Yosemite?
I have a photo gallery if you want to see more pictures – Photo album from Yosemite National Park
You can find more useful information for planning your trip at:
Have you been here? What did you think of the destination?
Been there - didn't like it!
0
Not keen at all to go here!
0
Eva Gyllenberg
Travel blogger, gastronaut, photographer and family adventurer with over 55 countries in his luggage. Eva loves trips that include beautiful nature, hiking boots and well-cooked food. On the travel blog Rucksack she takes you to all corners of the world with the help of her inspiring pictures and texts.