Every September there is a weekend booked in our family calendar almost a year in advance. The weekend when we at Aptitrundan fill up our food supply with locally produced treats for the winter. Honey, apple must, organic meat, vegetables, jams, corn - every year offers something new. This year offered some new treats, but also unfortunately some difficult insights.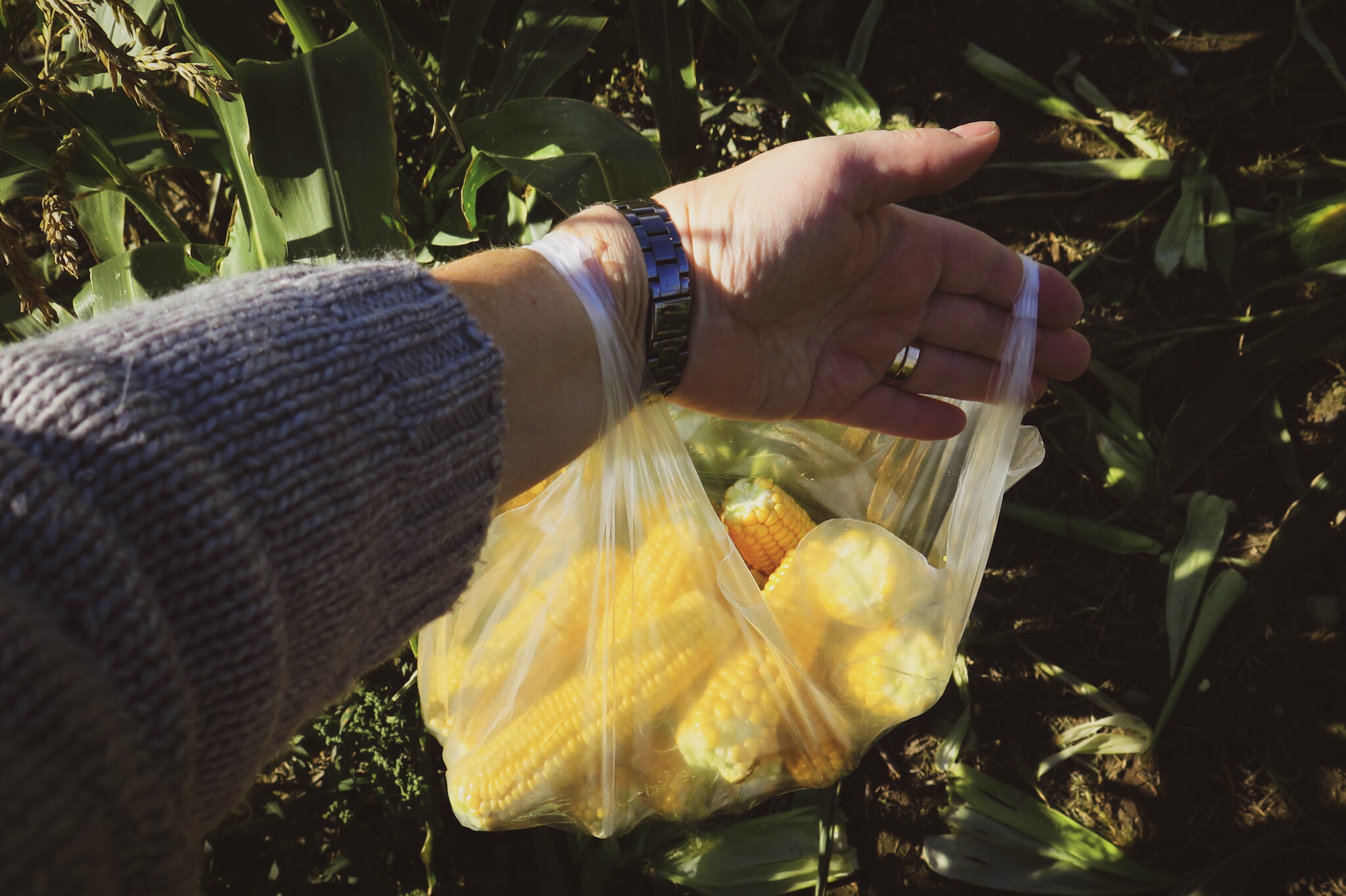 Our first stop was this year at Klippinge farm, just north of Stallarholmen, for corn picking. Usually the corn is so tall it felt like getting lost in a maze, but this year's corn plants were not nearly as magnificent. The summer's heat and drought have both caused the corn to ripen earlier than usual and grow less. It's usually no problem to find ripe corn cobs, but this year I had to squeeze and feel a little more than usual before I found a golden yellow cob.
Klippinge gård has a lovely outdoor terrace where you can taste their corn & coconut soup and corn/onion/chili wok. You can also buy freshly grilled corn with spiced butter and home-baked coffee bread. A stop here in the sun gnawing on a butter-dripping corn on the cob is one of the highlights of the Appetite Round!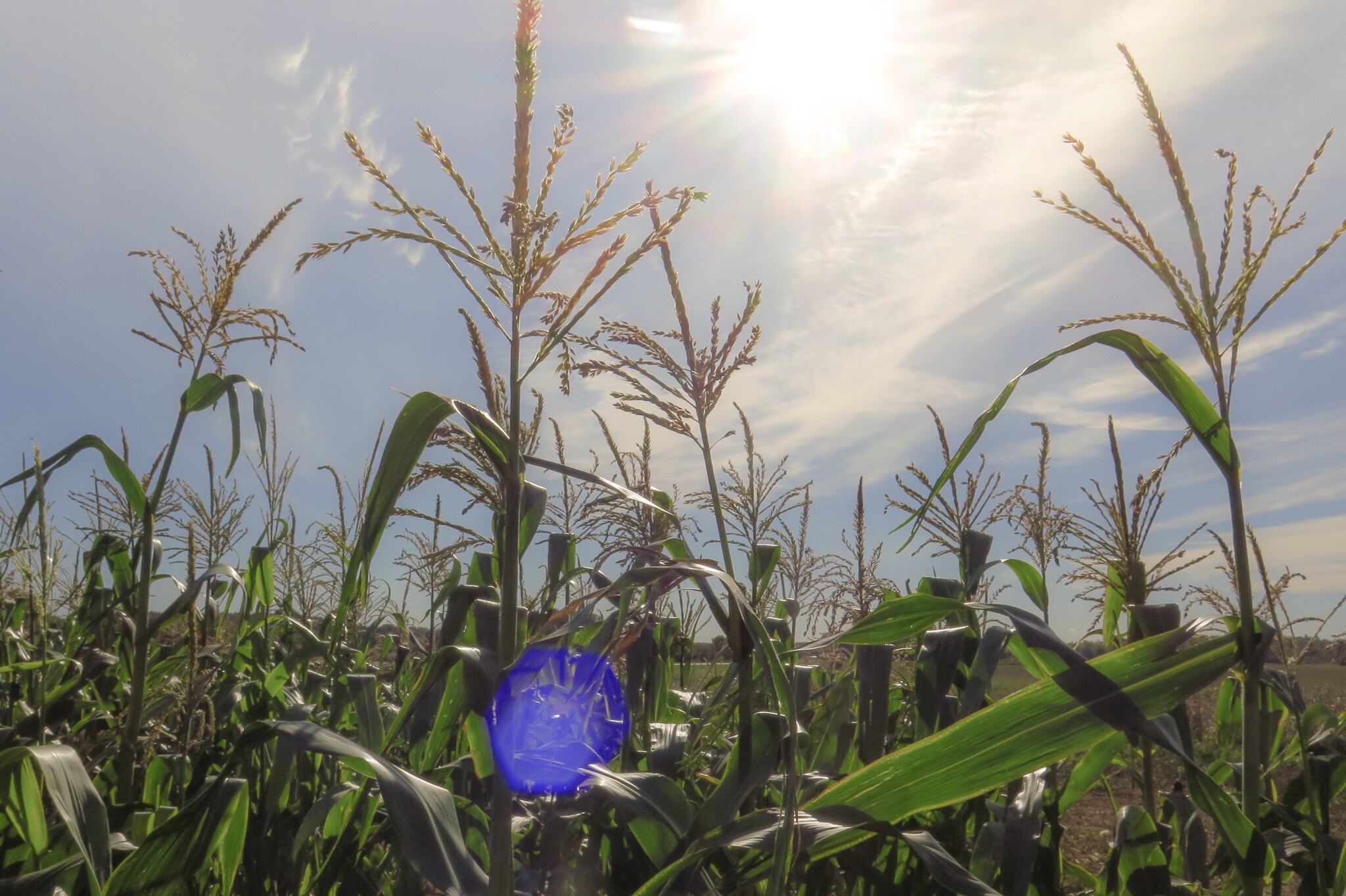 After Klippinge gård, the next stop was Stallarholmen, to buy Printz good bread and meat from the meat shop Millert and Dahlén. This year there were two great wood oven baked sourdough breads from Printz and a coffee in the sun with an apple bun with almond flakes and a cardamom bun. Best buns! Nothing less than wild boar prosciutto was procured from Millert and Dahlén. Tasty, chewy, salty and absolutely wonderful.
A few years ago it was easy to go around the Aptitrundan without planning, but there are more than us who have started to love this lovely day with locally produced quality food. This year the Appetite Round was more popular than ever! The parking lot at Stallarholmen was chaotic with all the Sunday motorists and there were many who wanted to have a cup of coffee. Really great fun for all the producers, they really deserve all the attention they can get, but sad for us visitors who arrive to empty baskets and stalls.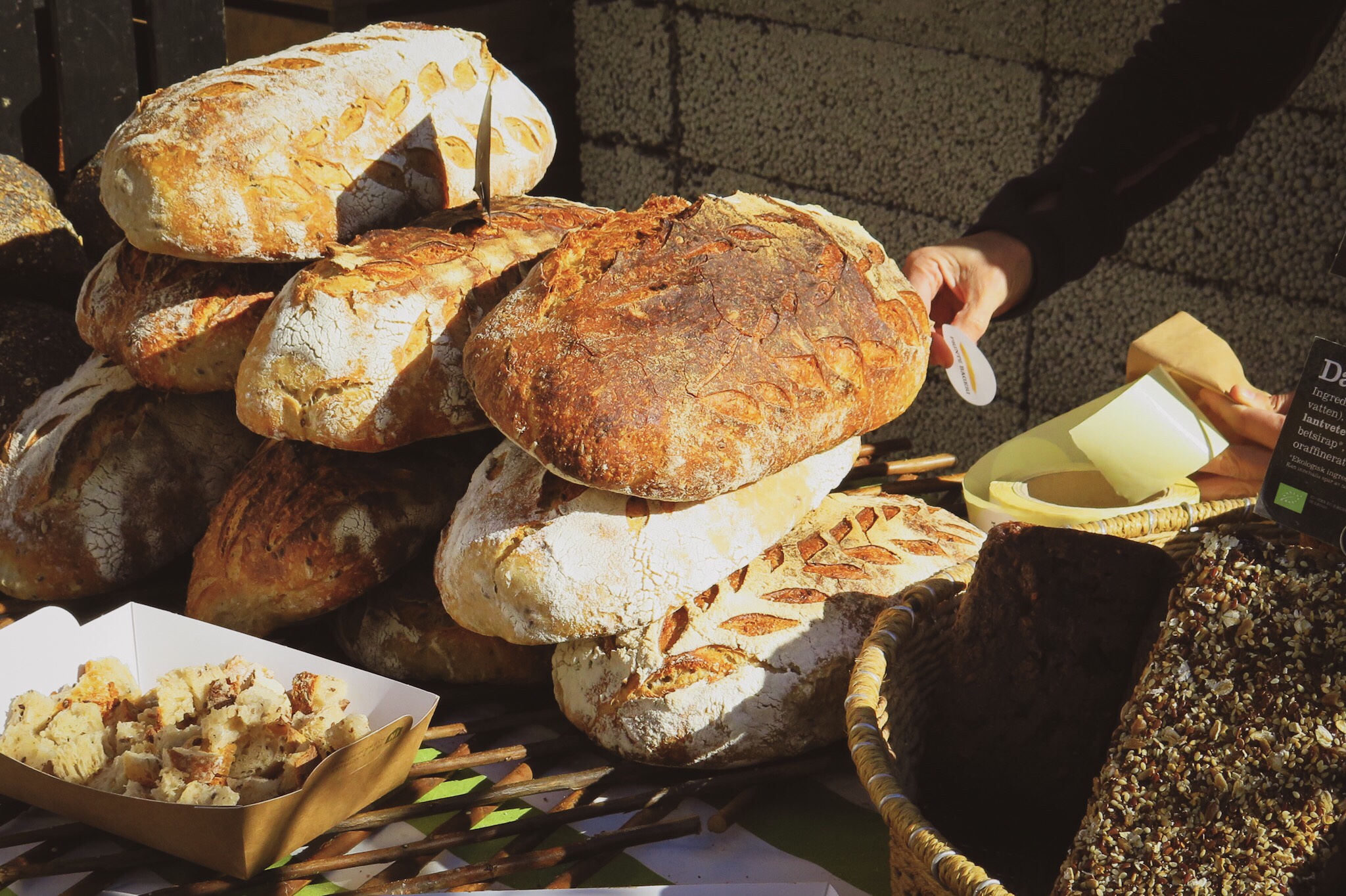 There are many lovely farms around Malmköping, among other things Stavtorp's farm with its lovely applesauce and honey. This year, however, the farm was not open during the Aptitround, so we had to go to their small delicatessen in Malmköping instead. Perhaps one of the smallest grocery stores I've been to, but very well stocked with both the farm's own products and from several of our favorite producers. We came out of here with both must, honey, cheese (from Jürss dairy) and rhubarb candies.
Little Malmköping has probably never seen this much traffic. By the way, we almost caused news in the local newspaper with a wrong parking, but luckily we didn't get any reprimand other than a smile.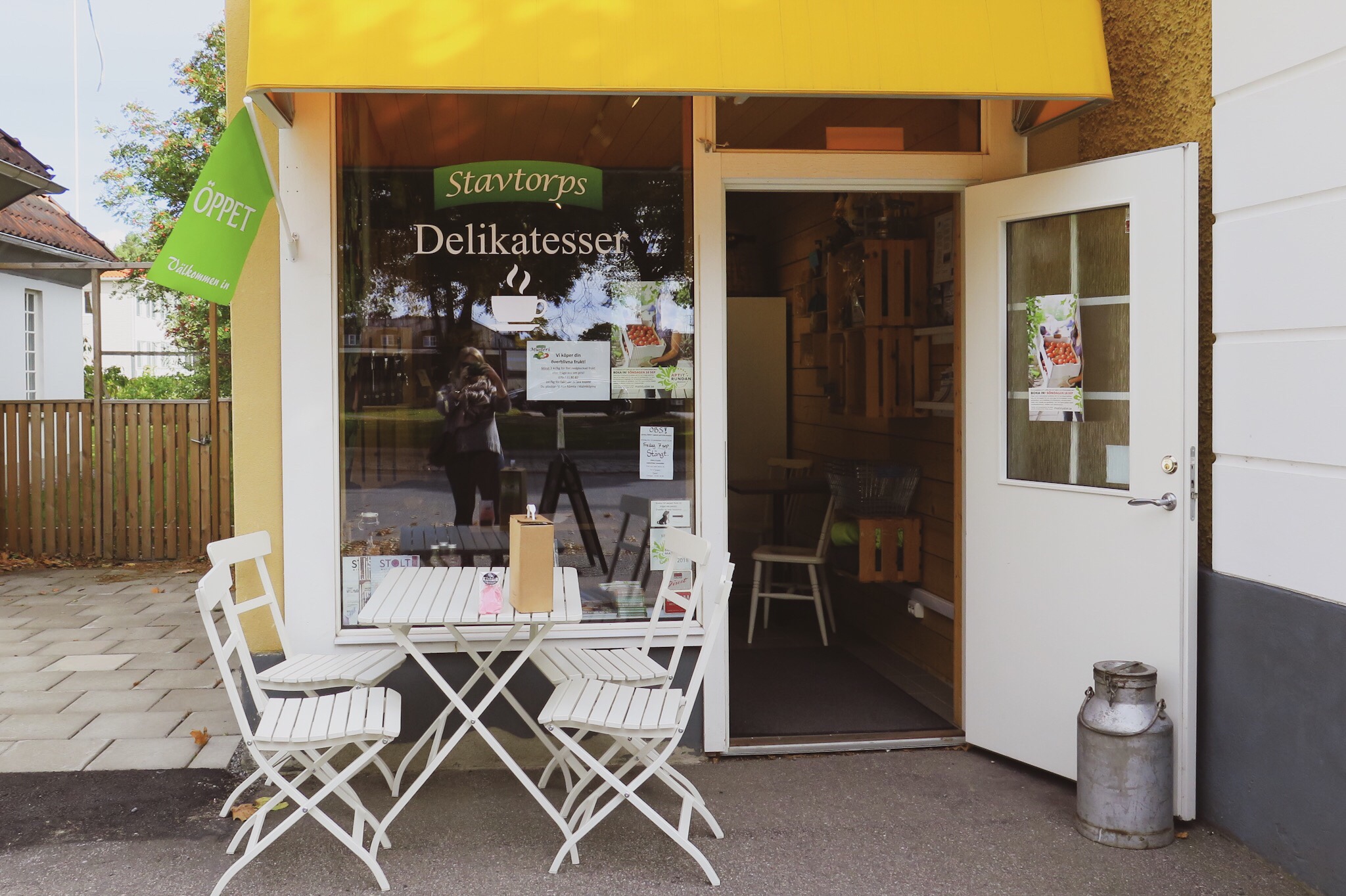 A quick stop at Grinda farm ice cream with a scoop of carrot/ginger/coconut ice cream and a scoop of honey ice cream and two large packages of Grinda's beef, we then went up to Malmköping's gourmet greens for our annual lesson in odd vegetables and new flavors. Already from a distance I saw the empty baskets. Basically everything was already over. No cucumber, no tomatoes and no jungle cucumber! I managed to get a lovely little crooked yellow zucchini, but the only thing left were the jars of snails.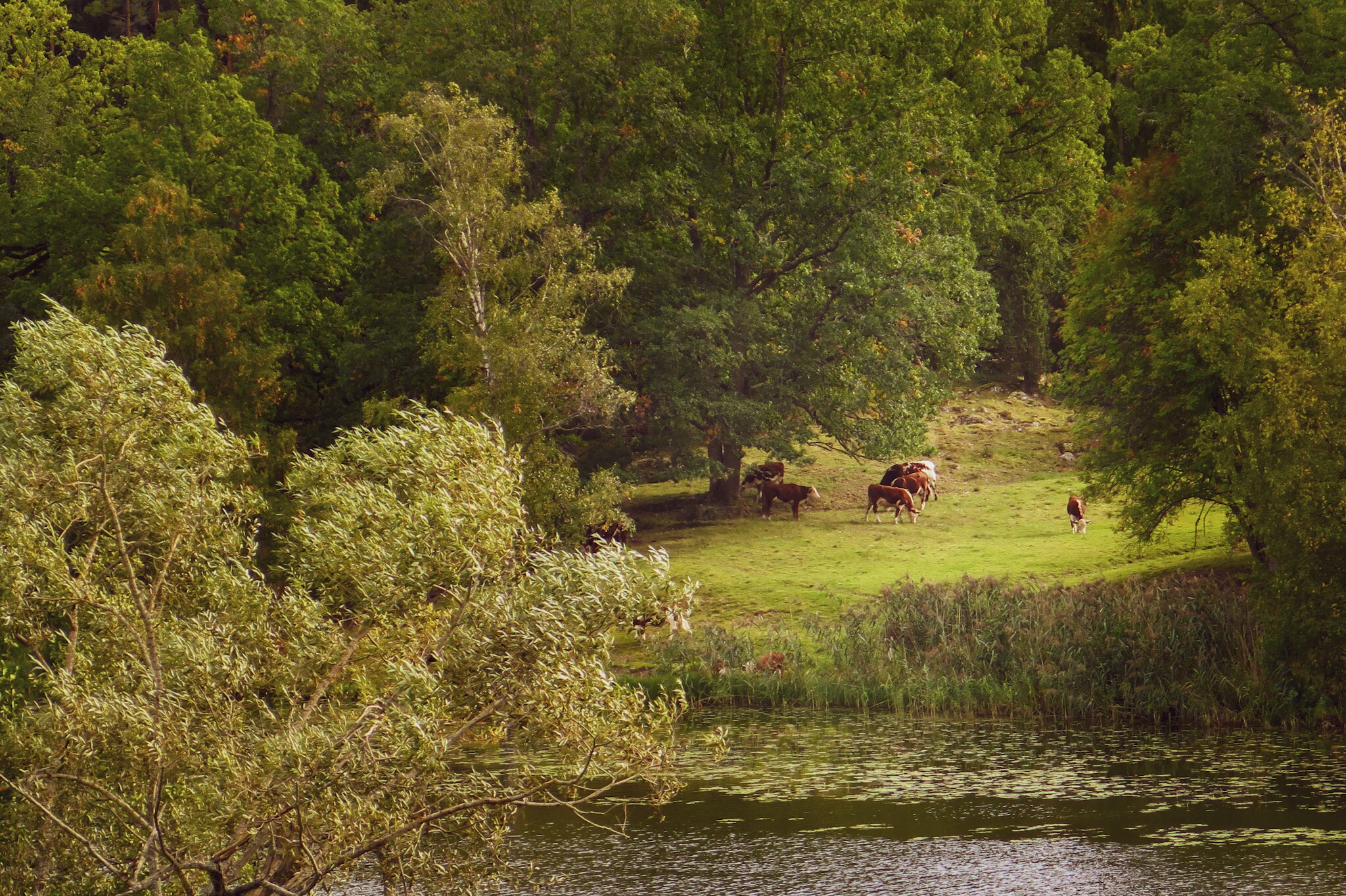 Despite all the nibbling during the day, the stomach started rumbling now. Landsberg's had started the big smoke and the even bigger grill in honor of the day and served magical hamburgers and pork belly / brisket on bread with side dishes. Everything tasted sooooo good and the cows and bulls below us were catching up in the green pasture. This really is a little idyll. Even the manure well nearby felt picturesque as it reminded itself in the downwind.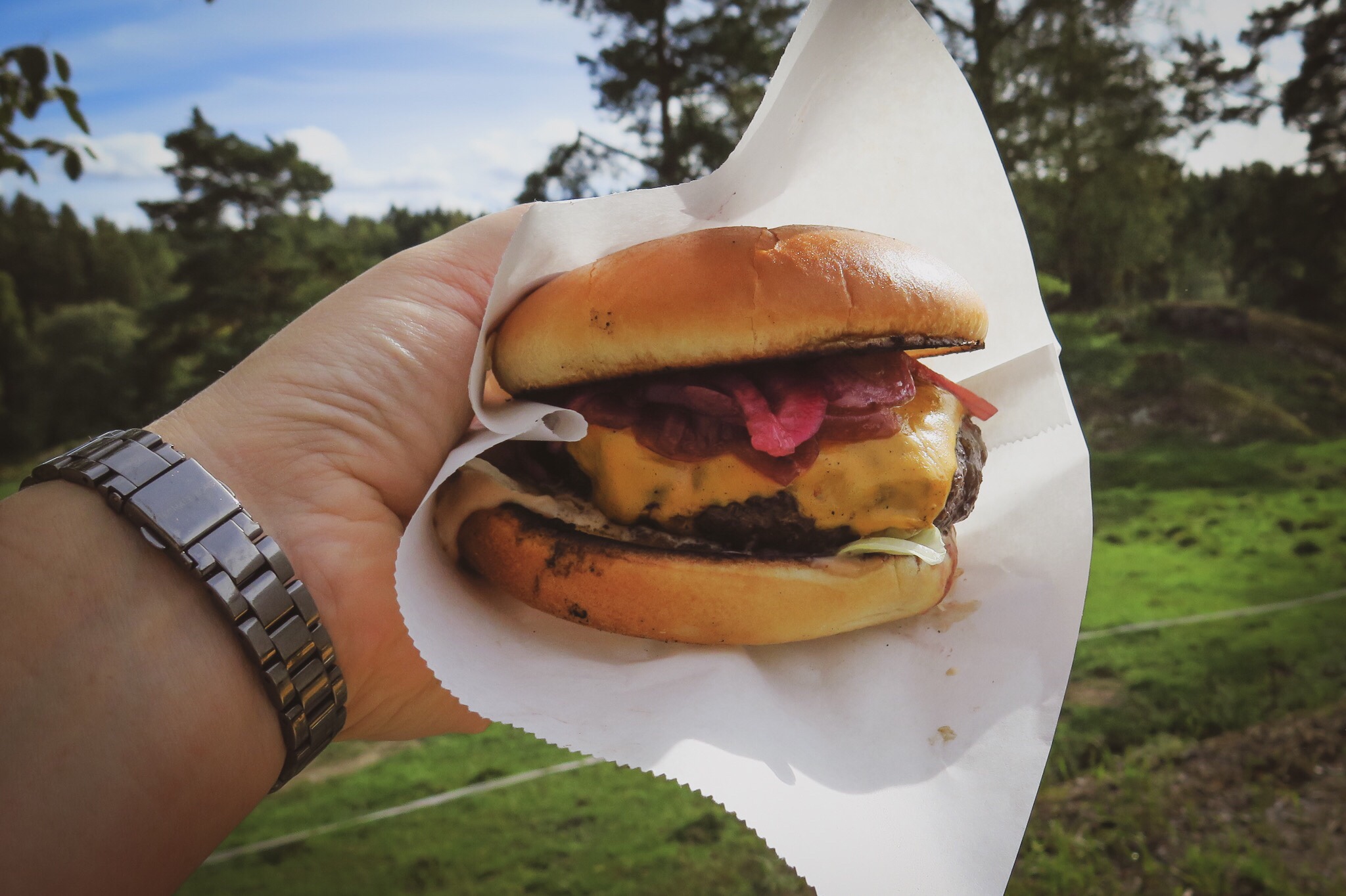 A full stomach later we realized it was already 15:10 pm. Maybe not so much on a normal day, but during the Aptitrun all places close at 16 p.m. We said goodbye to the adorable little Scanian pigs who were buffing around in the hay in search of apples and headed to the last place of the day – Vrena green.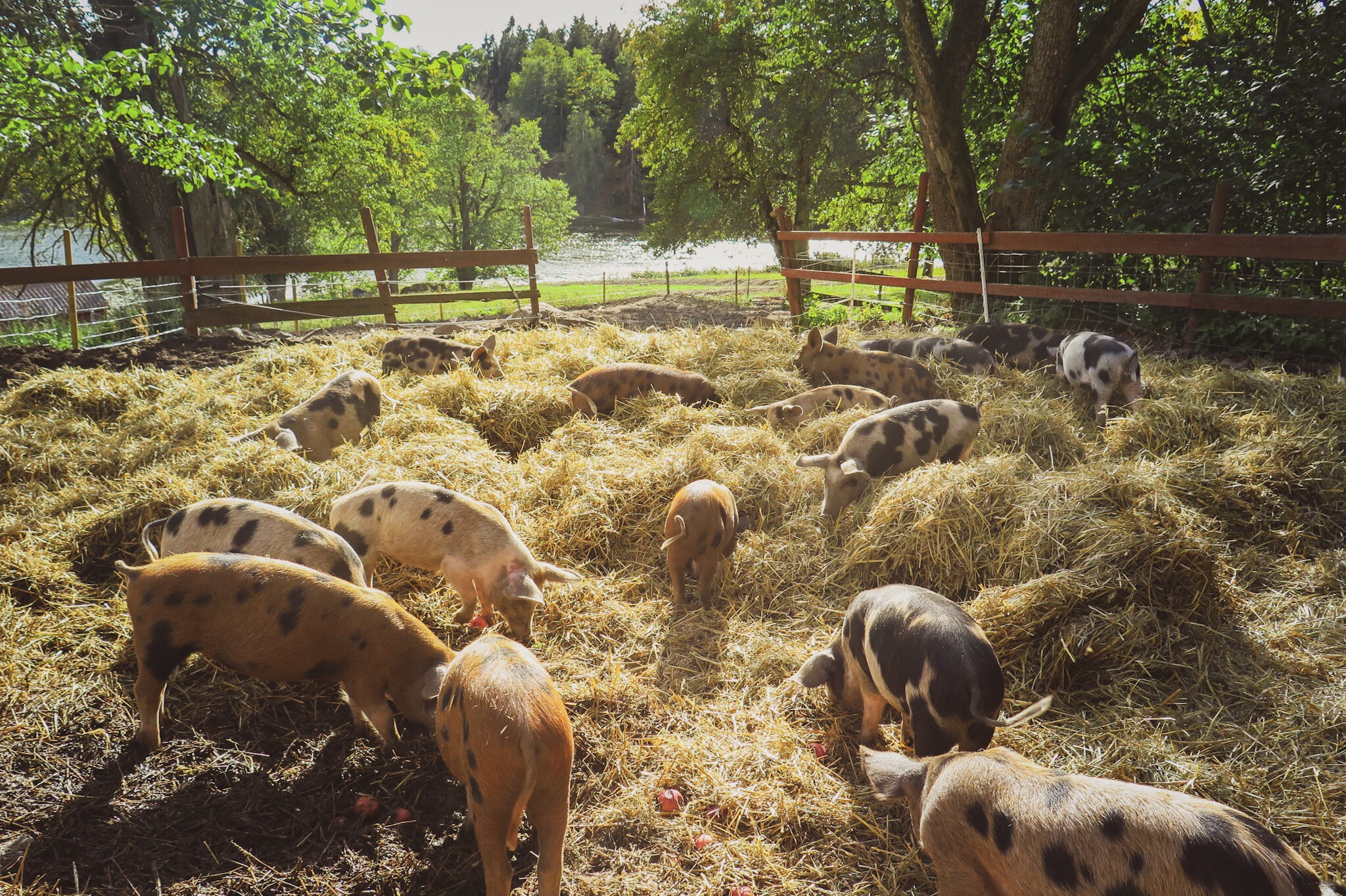 Vrena green has not only plants, but also vegetables. But today, when we arrived, most of it was over. The eggs were gone, the potatoes were almost gone and we picked the last mushrooms. I did, however, get hold of cucumbers and a large and lovely Greek red basil, which will enhance everyday food for a long time to come.
It is when we talk to some of the local producers that we really realize how tough the summer has been for our local producers. Those who have not had the luxury of having a lake nearby and who have been allowed to water their crops by hand in order for the plants to survive. Or the producers who have had to use so much municipal water this summer that the small margin they previously had to survive has been completely eaten up. It's no wonder that vegetables ran out earlier than usual today at Aptitrundan and it's no wonder that there was still meat left to buy. The summer has been fantastic in several aspects, but in the vast majority of aspects a disaster. Even though I didn't get everything I wanted today, I bought everything I could get my hands on. If there are Swedish products in your store - buy them! Our farmers need our support. Not just during the appetizer round, not just this year, but every day. But perhaps especially after such a "fantastic" summer as this year.