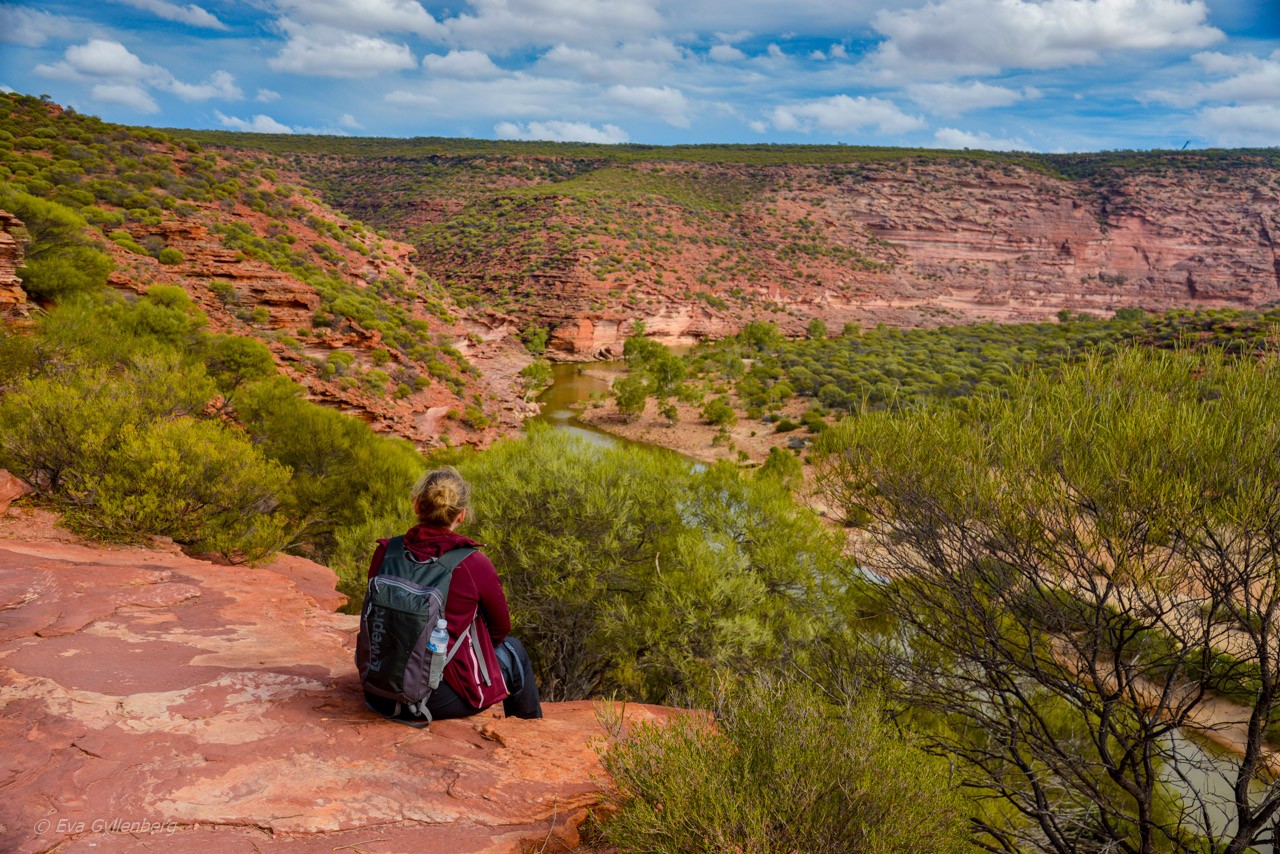 Many of you have wondered where the name of my travel blog comes from. Rucksack means backpack in English and German. Once upon a time when I started blogging Rucksack, then we were backpackers. Classic backpackers who lugged our large and unwieldy backpacks around the world. Over the years we have become a little more comfortable and prefer to travel with suitcases, but backpacks remain in our lives and the name of the blog is just as relevant today. In fact, there is not a single day trip or hiking tour that we do without a backpack on our back.
Of course, our backpacks are a little smaller and much more compact these days, but I have strict requirements for my daypacks as well. They still have to be spacious, practical, smart and comfortable to wear. I have a whole pile of backpacks at home, but there are two backpacks that I use most often on my travels. Simply my best-in-test. One for city breaks and one for day hikes with a camera.
The photo backpack - best for photo walks
Carrying a camera and lens requires its own backpack. My camera weighs 2 kg with all-round lenses and I usually also have a Gorillapod tripod, an extra portrait lens, several filters and a small lighting cube with me. As you understand, this takes place.
Over the years, I've tested many different backpacks, but the one I've finally stuck with is one lowepro camera backpack. This backpack has probably accompanied me for 4 years now. Lightly shabby and well tuned - I've loved this bag from day one. But what is really so good about this backpack?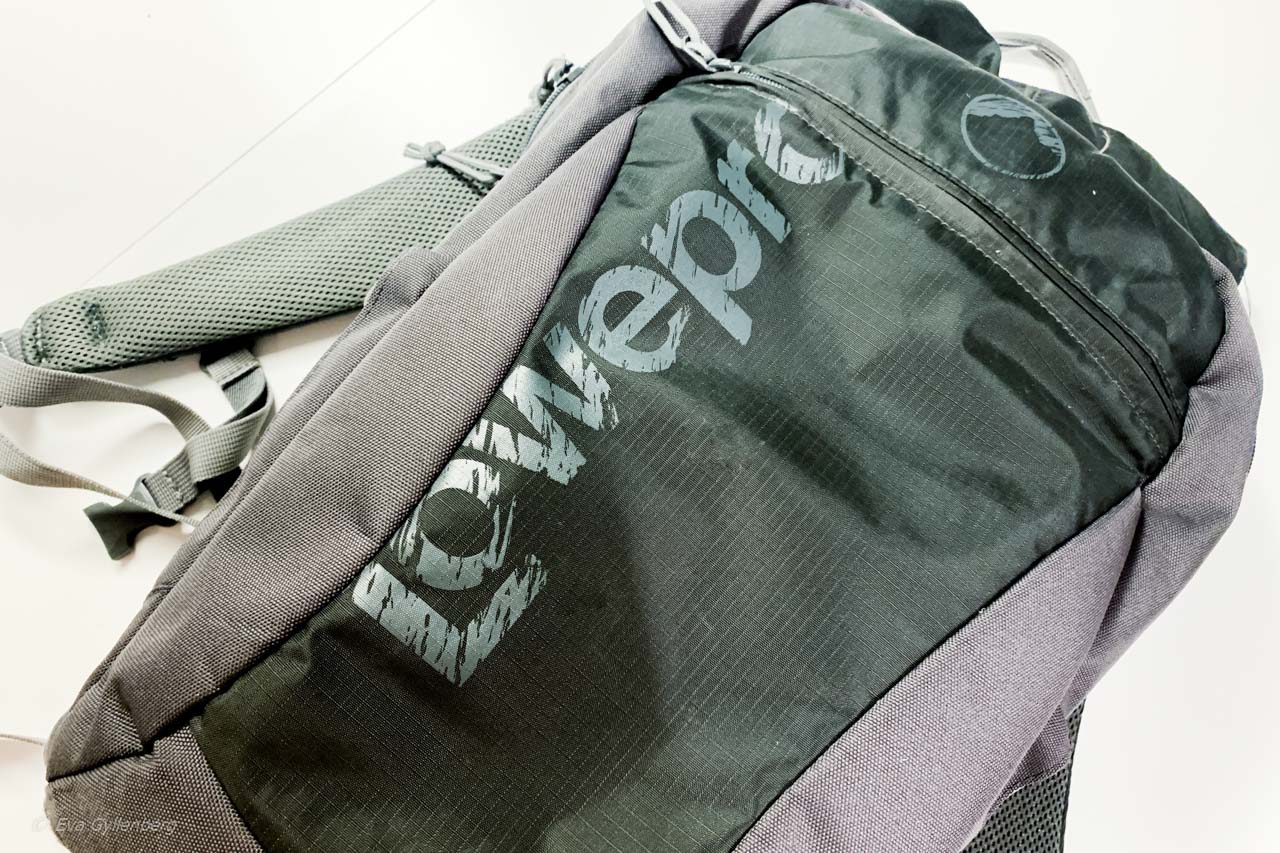 The secret of the backpack is its camera compartment. In the lower back of the backpack is a compartment that opens with a zipper. In this compartment there is then an absolutely perfect camera compartment. The compartment is not accessible unless you take off the backpack, which is a plus from a theft point of view, but a minus if you want to get your camera out quickly.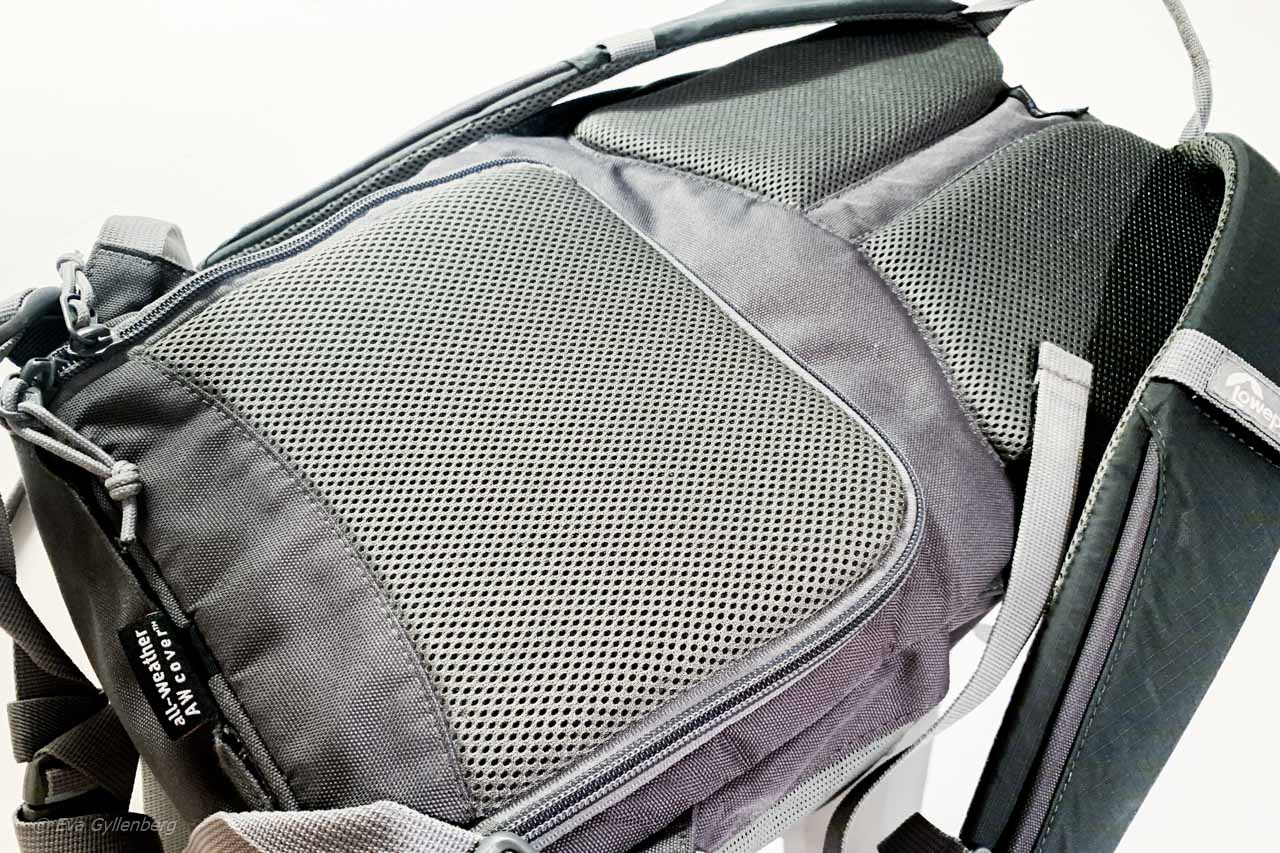 The camera compartment holds a large system camera with attached lens, an extra lens, charger and filter. The interior of the compartment can be changed and can be easily moved around with velcro. The entire camera compartment is also removable and can be taken out and become its own small bag with a handle. Very clever! Since I can also remove the partition between the camera compartment and the upper compartment of the backpack, the backpack can be converted into a "normal" backpack with a single large compartment if I wanted to.
The camera compartment is usually enough for all the equipment I can bring with me, but I can have a little trouble fitting my camera with my large lens mounted. But since it's a soft camera compartment, it's always possible to twist and turn a little until it fits.
The backpack has two open outer compartments for e.g. water bottles and/or tripods and a large closed upper compartment for all the other stuff you want to take with you out hiking. It's not a big compartment, but when I use the backpack as hand luggage, I usually have room for headphones, cords, pen, Letto, sunglasses, bikini, make-up and lenses. The iPad has its own padded compartment at the end of the backpack. There is also an inner compartment with a zip for e.g. wallet and keys and open compartments with rubber band closures for e.g. filters or SD cards.
Summary
+
+ Incredibly lightweight and a really smart camera compartment that protects your camera.
+ Really good quality - although I seem to have lost one of the straps that you fasten across the chest? Don't ask me when.
+ Lightweight, weighs almost nothing.
+ Rain cover is included and is hidden in a small pocket under the back.
+ It stands stable when you place it on the floor.
+ Possible to influence the interior to suit your equipment.
MINUS
— Sometimes I can feel that the backpack is on the verge of being too small. Especially when I'm also trying to fit a lunch bag in the bag, then I'd rather take my husband's Lowepro, which is a few liters bigger. However, it is black and not nearly as flexible.
— There is no possibility to lock the compartments on the backpack, which means that it can feel a little unsafe in large gatherings of people. Then I wear it on my stomach.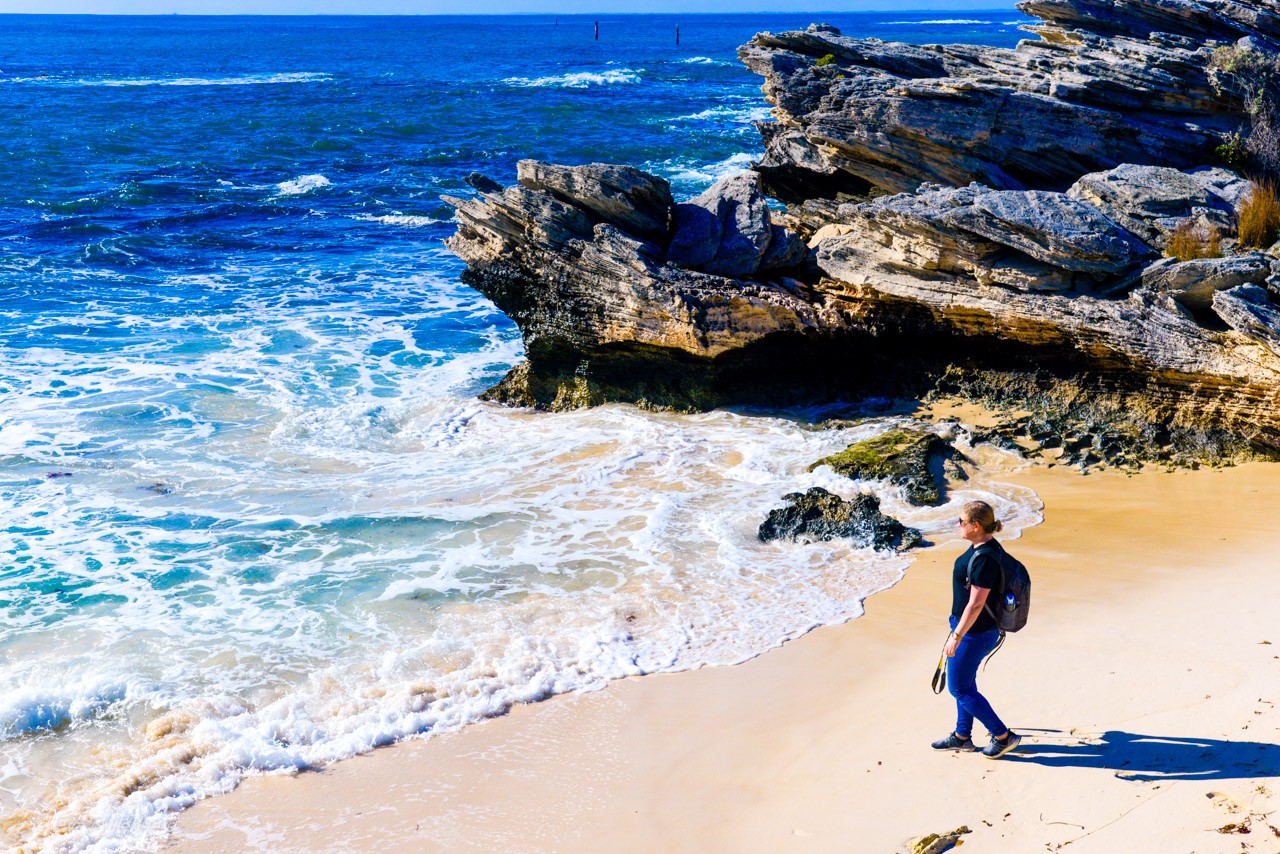 The city backpack – with extra safety features
When we drive around Europe and visit big cities, we often need to carry all our valuables with us all day. Passport, money and camera are not things I want to get rid of when I travel. When we went to Italy this spring, I realized that I would need a backpack of the slightly tougher kind. Florence, Pisa, Cinque Terre and Venice are paradises for pickpockets and everywhere they are warned of their dexterity. So I bought a new backpack – one Packsafe anti-theft backpack.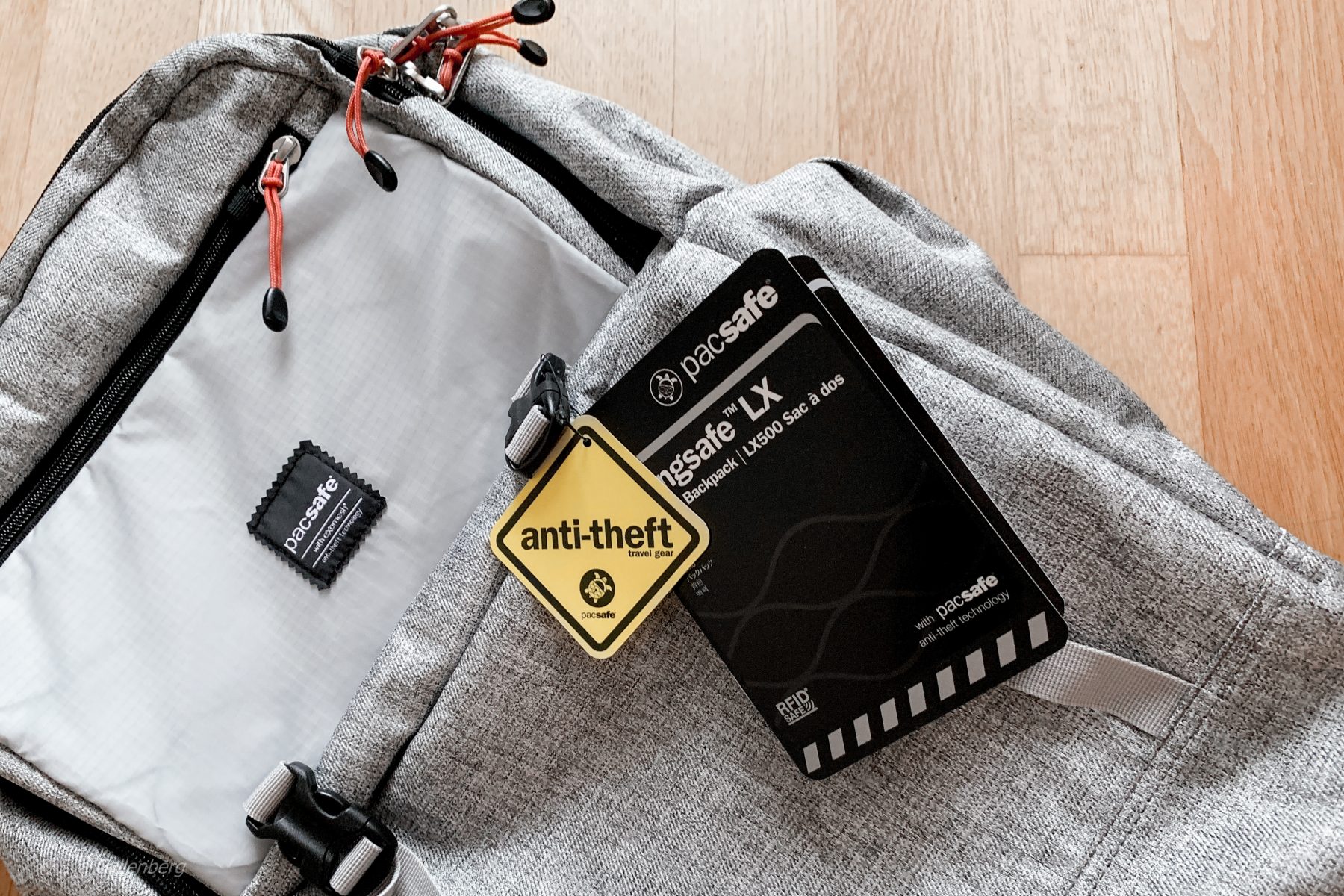 There are actually 5 things that make the backpack extra safe:
Carrysafe straps: All straps on the backpack have metal wires in them, so it is not possible to cut the carrying straps and pull the backpack with you.
All zippers are attached to hidden hooks or retracted under a latch, so some fiddling is required to pull the zippers up. Nothing you can do without being noticed
EXomesh fabric: The fabric of the backpack has a steel mesh woven into it, which means that you can't just cut the backpack open with a knife.
RFIDsafe: The inner compartment of the backpack is made of RFID-blocking material, so your passport and credit cards cannot be read.
PopNLock: One side of one of the backpack's carrying straps can be detached with a lock. This allows you to fasten your backpack to tables and chairs, so that it is not possible to steal the bag from you when you are sitting in, for example, a restaurant. A feature I use a lot!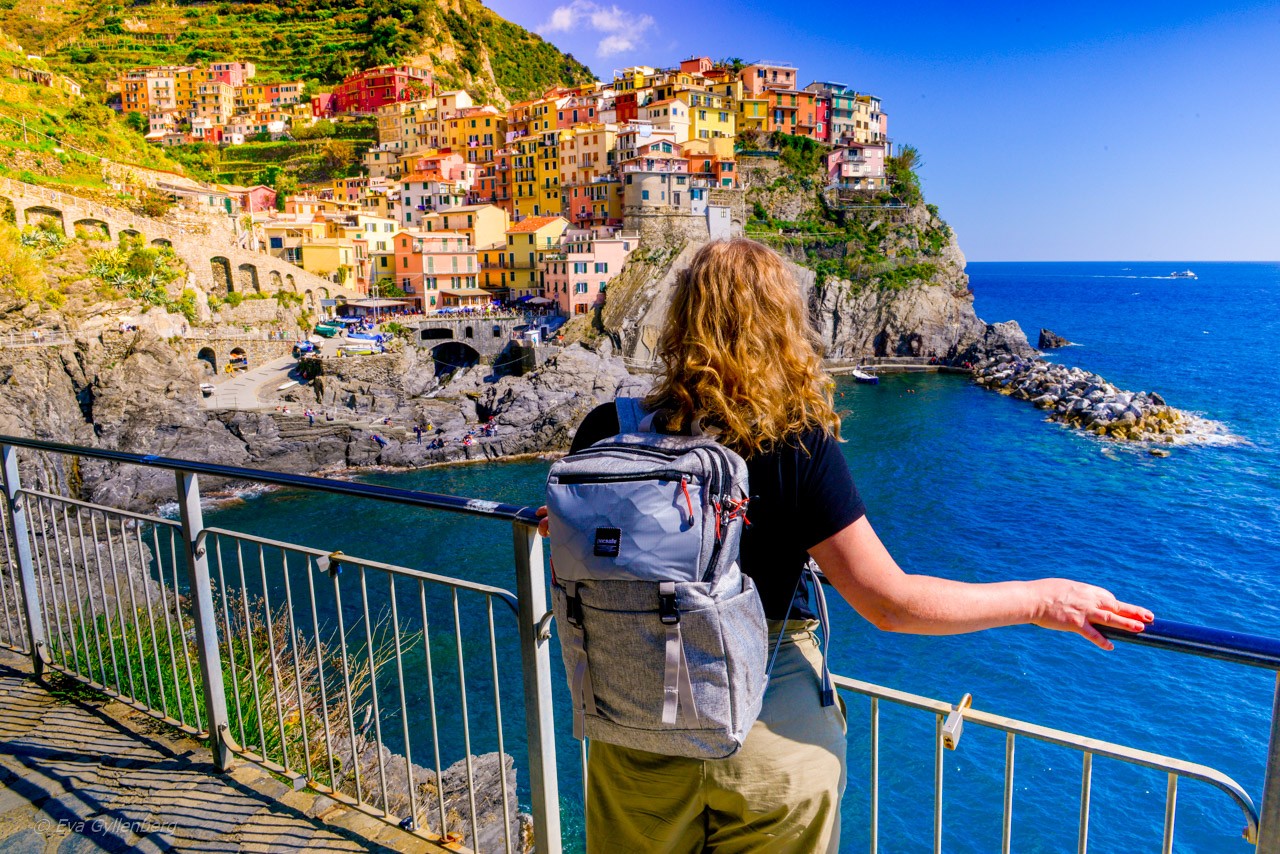 Pacsafe has many models of safe backpacks, I fell for a model that I thought felt more "city chic" - both in color choice and design. The backpack fits the camera in the bottom of the backpack, but it lacks all the practical padded compartments that my Lowepro has. However, I usually don't bring as much camera equipment with me when I go to cities, so it has been good to fit everything so far.
On the outside, the rucksack has compartments for water bottles and also a practical compartment without a zip for maps, extra sweater, wet wipes and anything else you're not afraid of.
Read more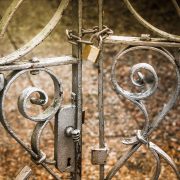 The only thing I really miss on this backpack is a waist/chest belt. However, it is very rare that I manage to pack the backpack so heavy that I really need it, but it would have felt good to be able to choose to use it if I wanted to.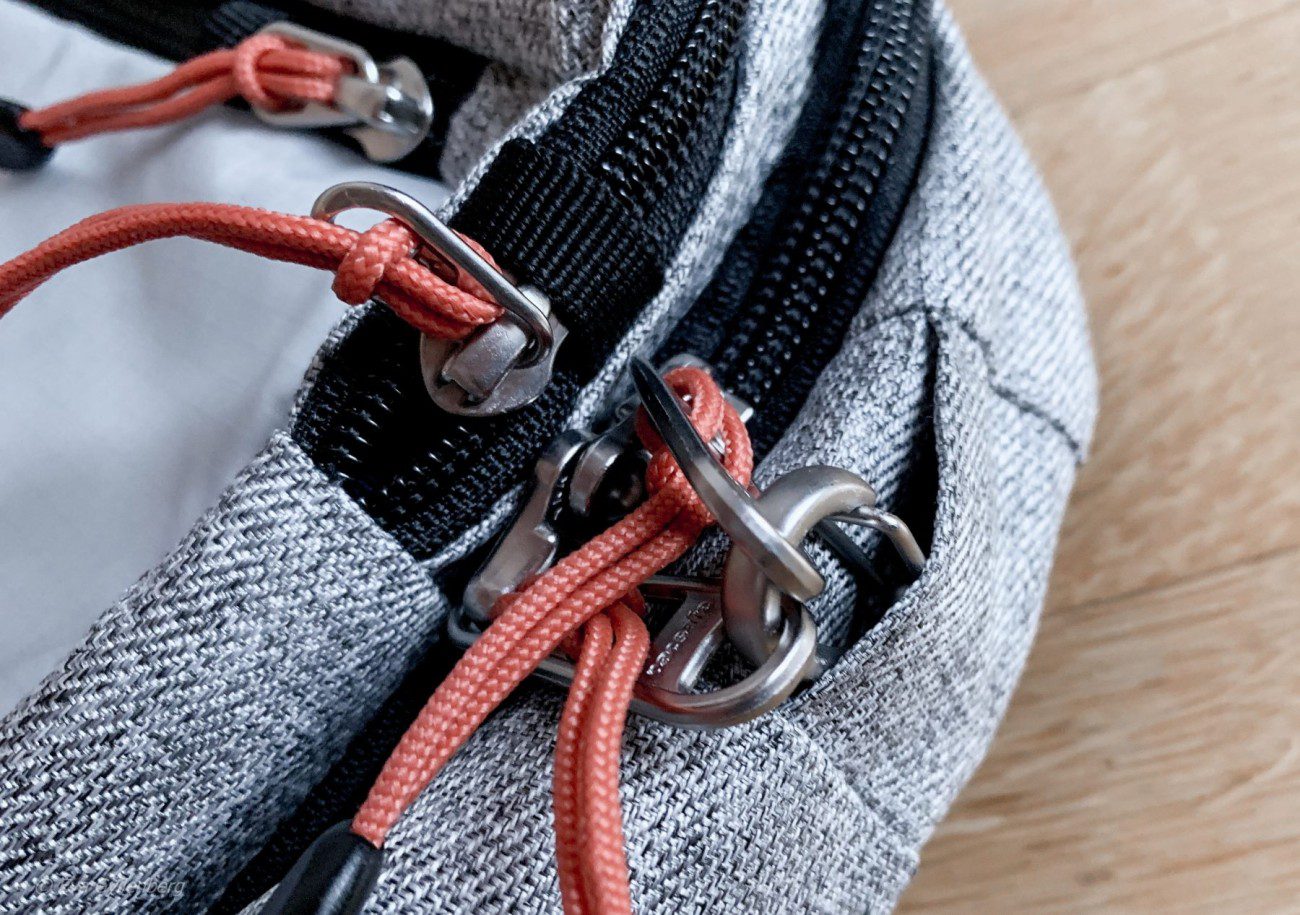 Summary
+
+.So many smart features! I actually use all the features when I travel! I lock the zippers, fasten the purse strap around the table leg when we eat dinner and have my wallet and passport in the RFID compartment
+ A stylish backpack for once! I can wear this backpack without embarrassment even on a big city holiday.
+ Just the right size - always has room for "everything".
+ Stylish and flexible!


MINUS
— When there is no camera compartment, the camera always ends up at the bottom of the bag. Not so convenient if you want to get the camera out without tearing up all the other stuff in the bag. Not to mention all the other little things…
— Missing waist/chest belt
---
These were my favorites! What kind of backpack do you use when you travel/hike/photograph? Feel free to give tips!
(And in case anyone is wondering, this post is NOT SPONSORED. These backpacks are recommended by me after many hours of walking, many hours of googling, many many miles around the world, and many hours of feeling/squeezing in stores.)
Want to read more of my travel tips? do not forget to like Rucksack on Facebook!
Have you been here? What did you think of the destination?
Been there - didn't like it!
0
Not keen at all to go here!
0
Eva Gyllenberg
Travel blogger, gastronaut, photographer and family adventurer with over 55 countries in his luggage. Eva loves trips that include beautiful nature, hiking boots and well-cooked food. On the travel blog Rucksack she takes you to all corners of the world with the help of her inspiring pictures and texts.