The cooking course was done in connection with a press trip together with Visit the Czech Republic, but all thoughts and opinions are (as usual) my own.
What kind of dishes do you think of when I say Czech Republic? It would probably have been easier to come up with typical dishes if I had asked about Italy or Spain, but which dishes actually count as Czech? With the help of the two Czech chefs Thomas Kalina and Lukas Vegricht have I, Maria, Daniela, Mahulena and Mika were taken on a journey through the history of Czech cuisine and also got to cook some of the Czech national dishes!
History of Czech cuisine
To understand Czech cuisine, we need to start by looking at where we are on the world map. The Czech Republic is located in the middle of Central Europe, with borders with German Bavaria, Poland and Austria. It's a long way from the olive groves of the Mediterranean and the warm breezes of the sea, but here there are large forests and fertile lands. An area with seasonal cultivation and cold winters, but a rich area with a lot of trade. People have eaten and drunk well here for centuries. When the present Czech Republic became part of Austria-Hungary in 1867, the current Czech cuisine began to take shape. Architecture, culture, fashion and food were inspired by trendsetters France, Italy and Germany. Thanks to the trade routes, it was not at all unusual that luxurious foodstuffs from all over Europe were served, including seafood and fish. But both the food culture and access to raw materials would change radically after the Second World War.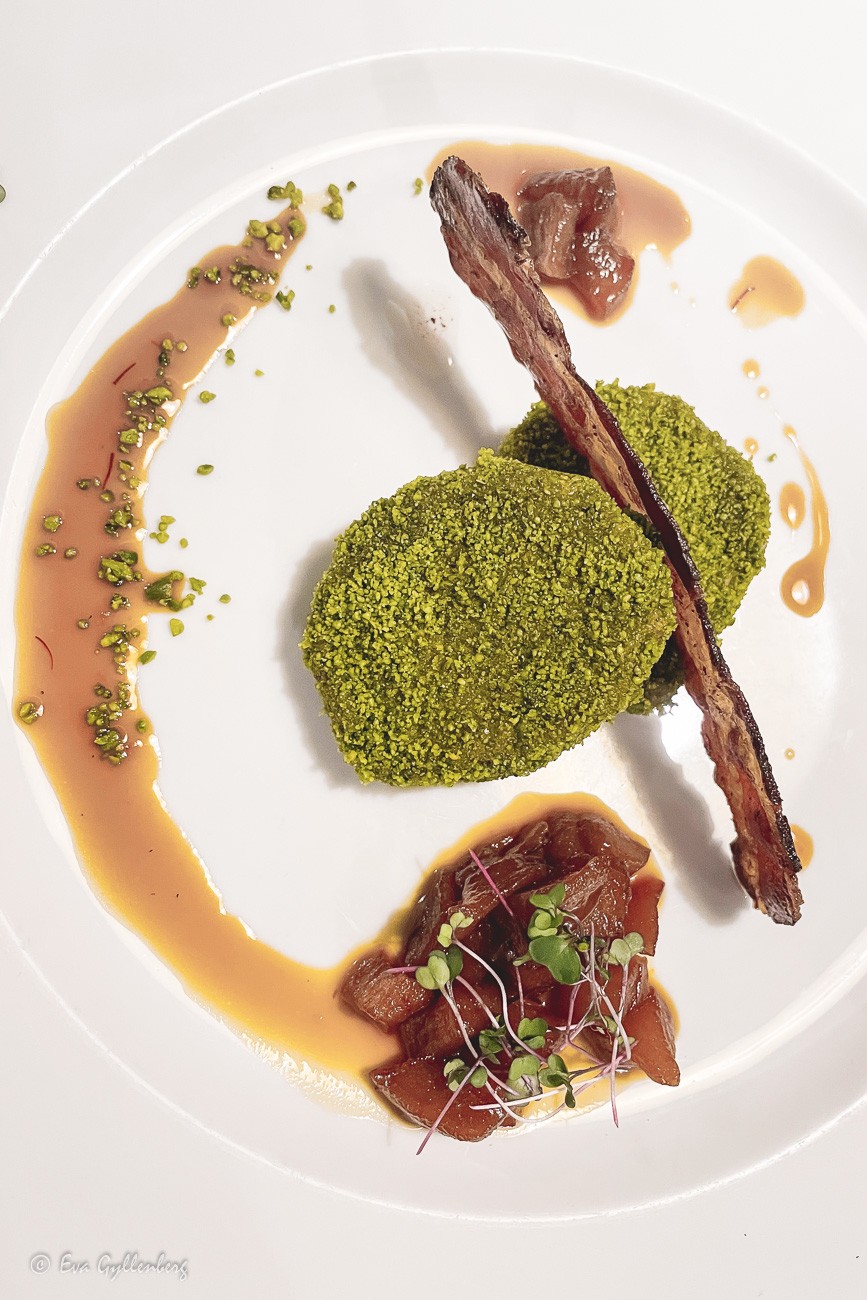 Czechoslovakia went through forty years of communism and rationing, a national cookbook where you were not allowed to cook food that deviated from the national recipes and an attitude that food is not a pleasure but a nourishment. When the wall fell completely in 1989, the foreign food influences poured into the country. There was no stopping the longing for everything new, to the point that traditional cuisine was almost forgotten. Today, the Czech Republic has found its way back to its gastronomic roots, but has taken inspiration from the best of the world's cuisine and created what is today the modern Czech cuisine. A kitchen with classic dishes that have been spruced up with modern techniques and high-quality ingredients.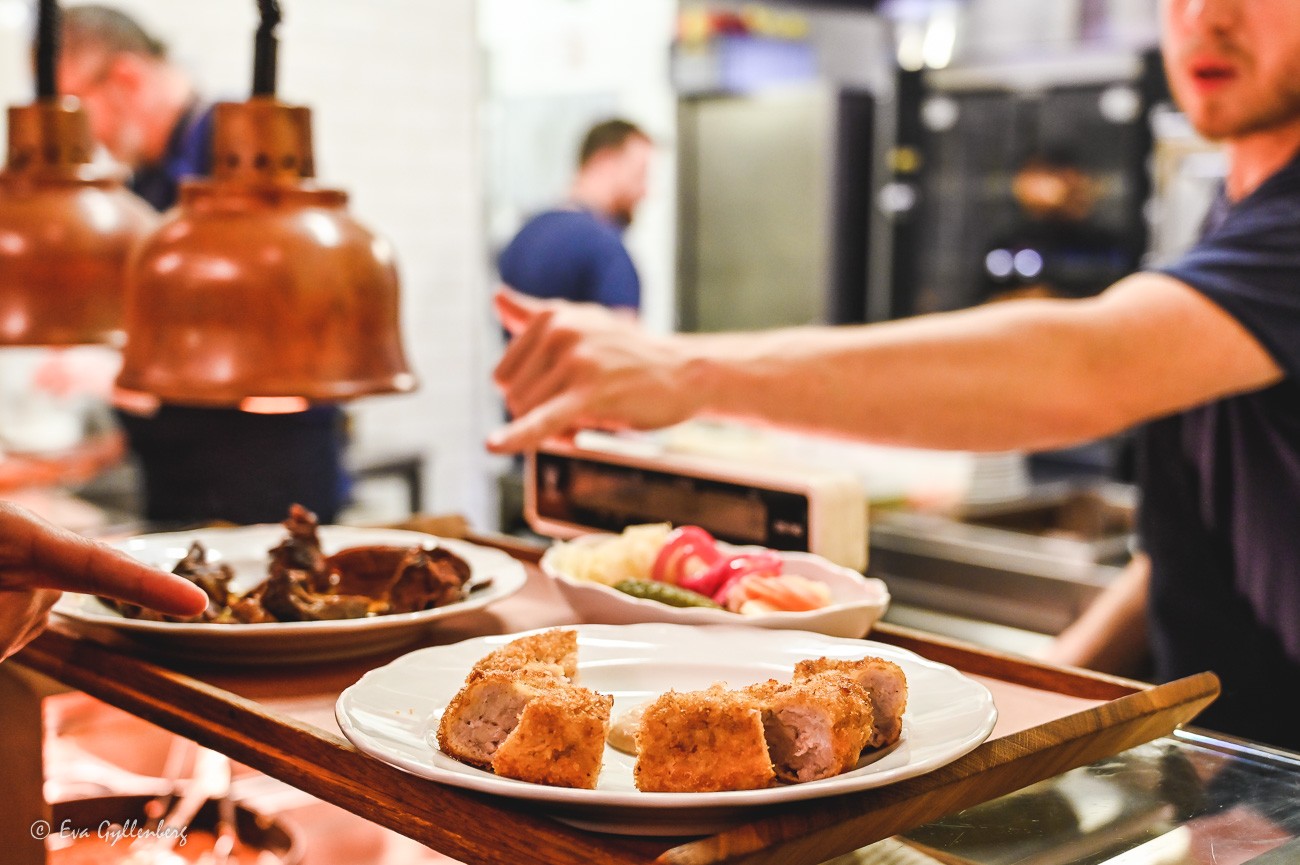 Svickova, knedliky and goulash
When the cooks Thomas Kalina and Lukas Vegricht starts melting lard and roasting meat, then it's just a matter of throwing on the apron and trying to keep up with the swings. During my last evening in Prague, I get the chance to learn to cook classic Czech dishes from two real professionals. A three-course dinner is on the agenda - Goulash for starter, let down with dumpling to main course and Zemlovka (bread pie with apples) for dessert. With the recipes in hand and with lots of guidance, we get started!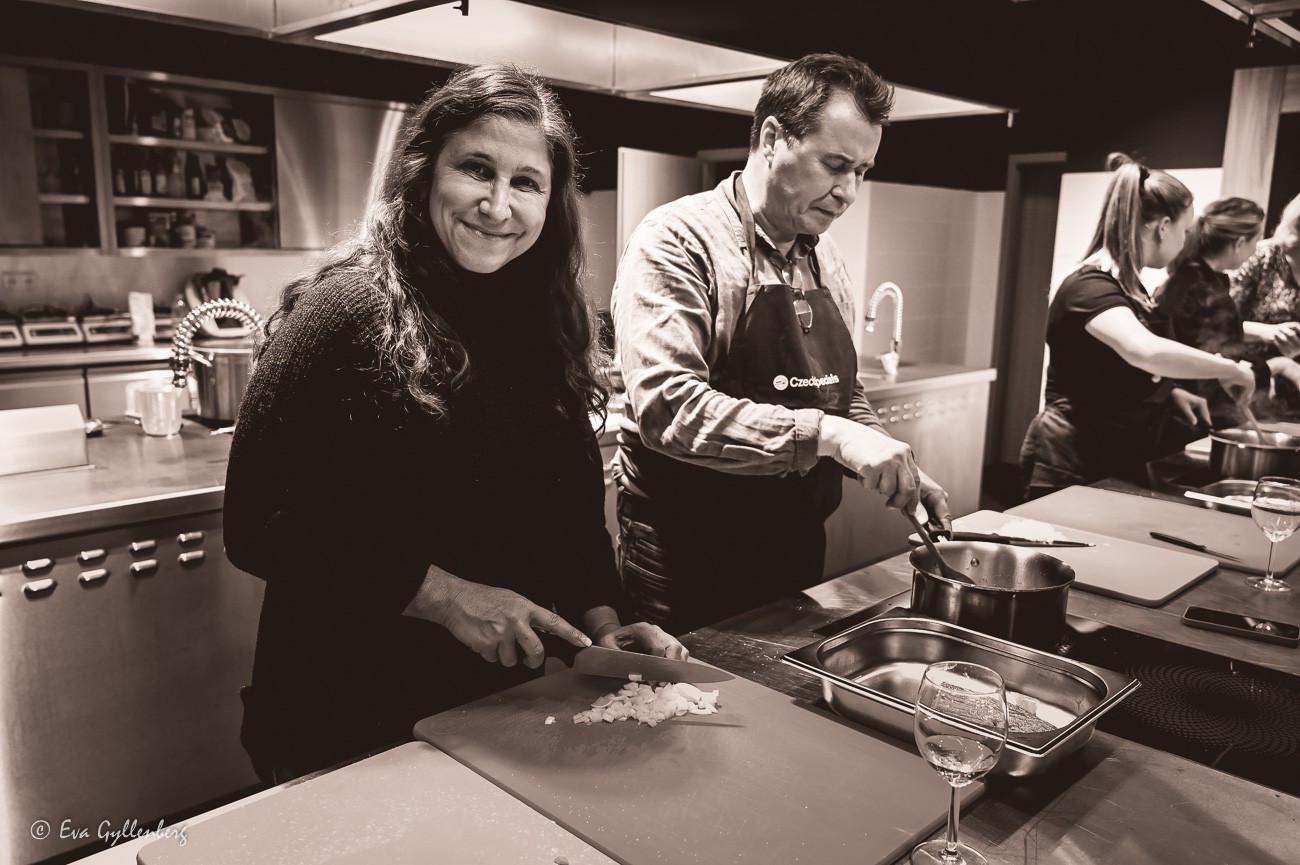 Goulash may be primarily associated with Hungary, but it is just as much a Czech dish. If the Hungarian goulash is thin and spicy, the Czech version is thicker in texture and with milder flavors such as marjoram and cumin. Lukas melts a hectoliter of lard in a pan and lets onions and finely chopped garlic bathe in the hot fat. Ister gives more flavor, more richness and sets the foundation for the soup, explains Lukas. When the onion has finished sweating, he pours in the meat and lets it fry with it. He spices moderately, dusts over flour and pours water for the soup to boil. There is no need for broth with good meat, claims Lukas. And he turned out to be right. The result is both full-bodied, flavorful and very good. Ister, then. I could never have believed that. But I definitely learned something new there.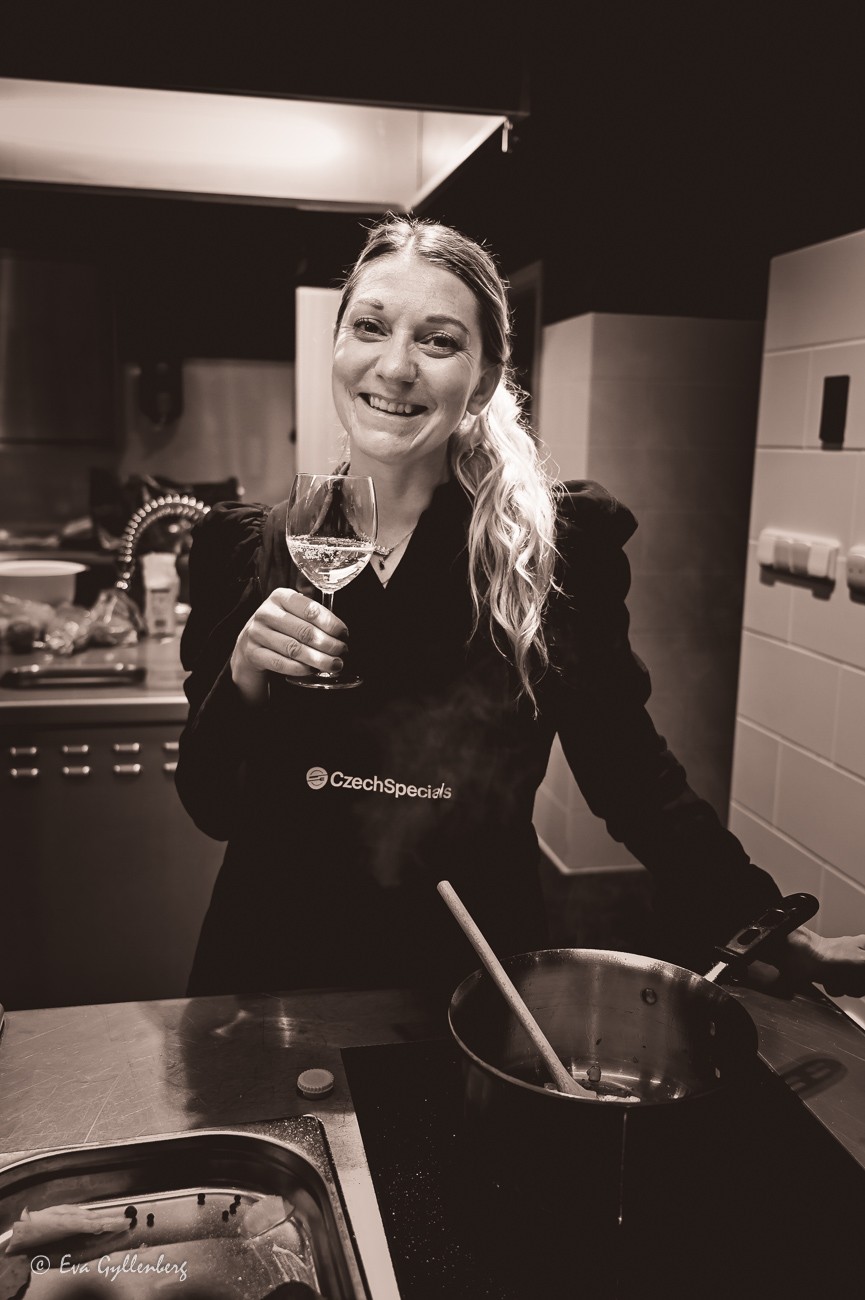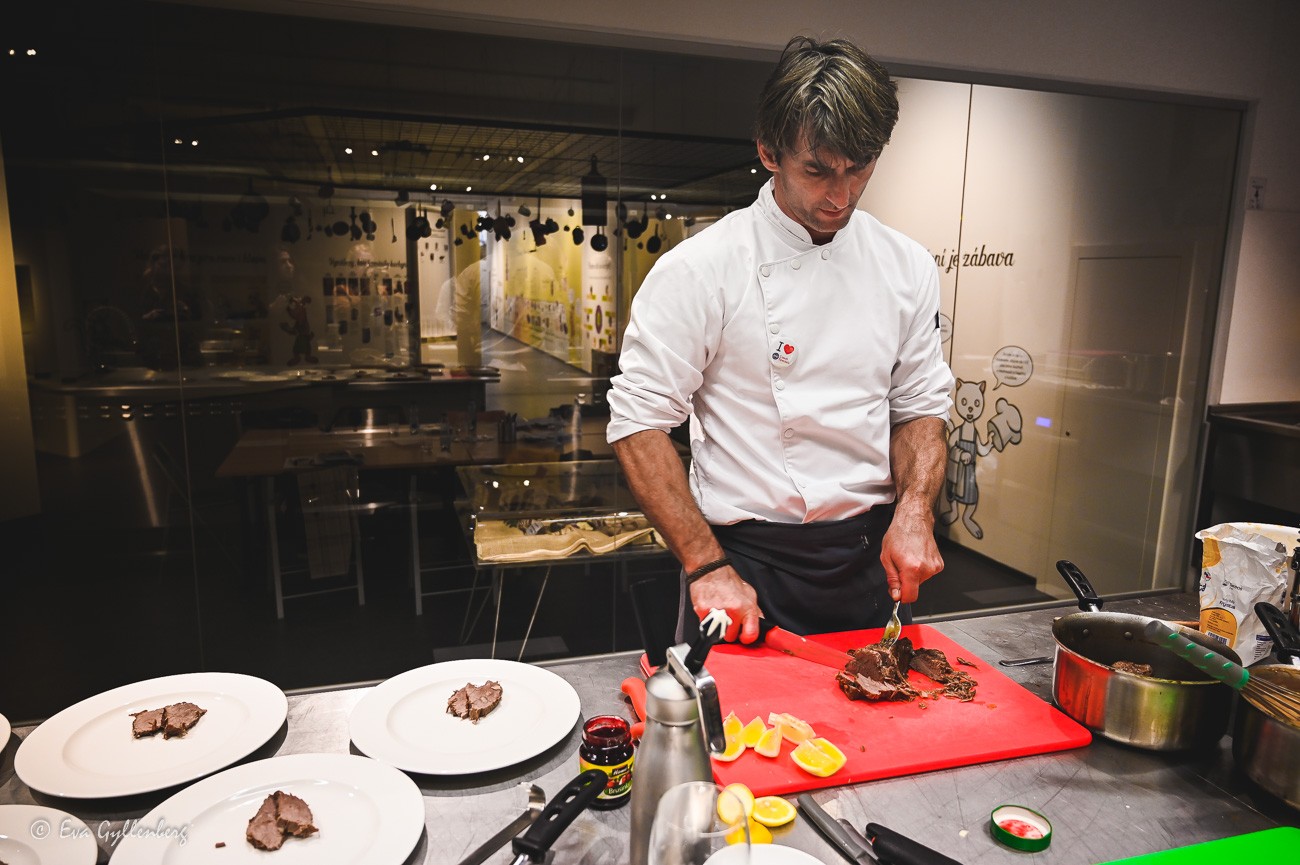 The degree of difficulty goes up a notch with the main course. Svickova is perhaps the Czech Republic's flagship dish. Simply described, it is steak with a sour cream sauce with vegetables. Preferably served with knedliky (dumpling).
Root vegetables chopped into small pieces are browned in lard in a large saucepan. We brown the vegetables thoroughly. When the vegetables have browned, we add the meat in a large piece, prepared with large sticks of lard that have been forcefully pushed into the meat. We continue to fry until the vegetables are really brown and the meat has a nice color. I've never been involved in frying vegetables this hard, but I understand later why this is an important step. We pour water on the meat, put on a lid and let it cook together with the vegetables until the meat is tender. We don't need broth here either. Water is enough when you have good meat fried in lard.
When the meat is tender, we lift it out of the pan. The vegetables pass through a fine sieve and are mixed with cream. The well-browned surface of the vegetables colors the sauce beautifully dark brown. Quite simply a real brown sauce.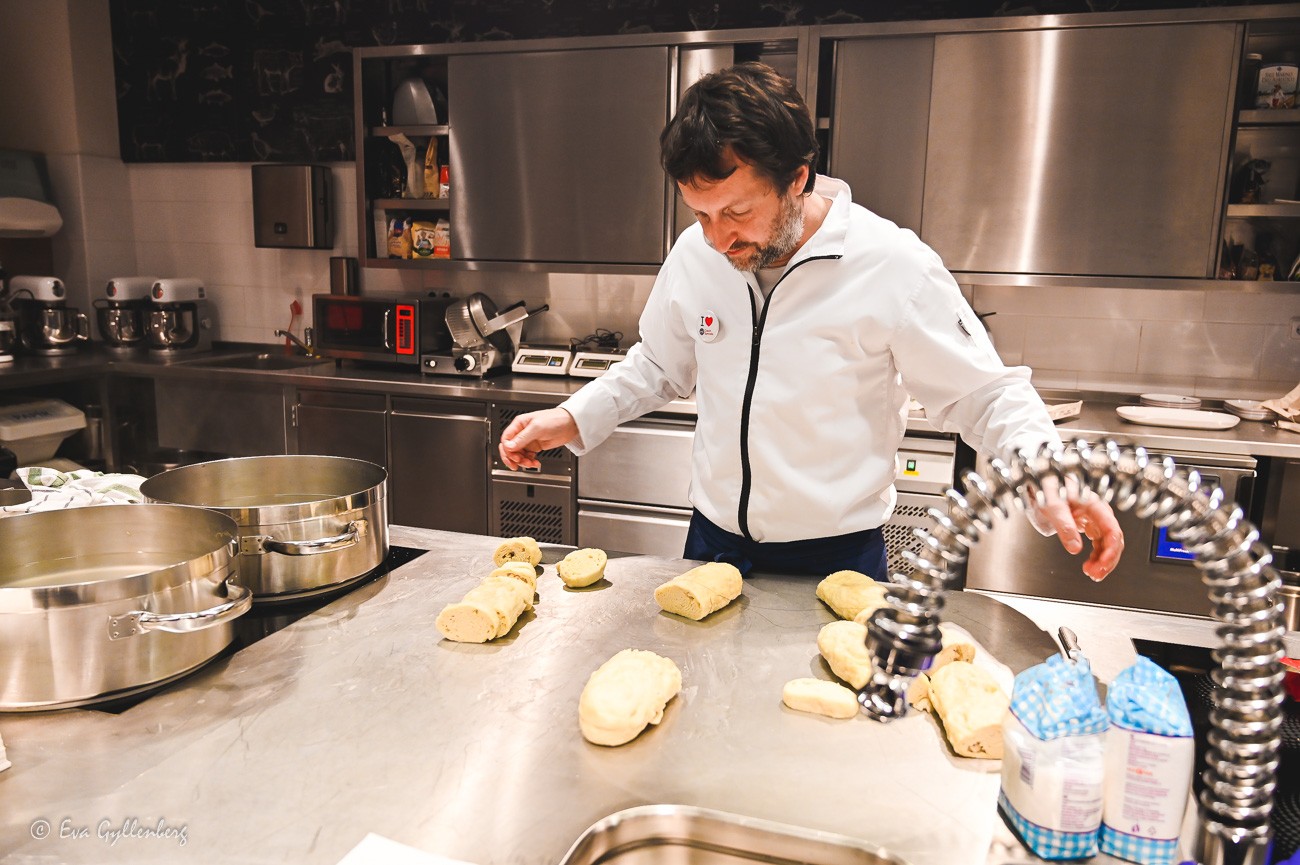 Knedliky turns out to be the most advanced part of the cooking class. There are so many moments that Lukas does them himself. We just watch. The dough is mixed, kneaded, formed into cylinders, leavened and cooked. The result is a fluffy "bread" that is then cut into slices with the help of a wire. Very good as an alternative to boiled potatoes, as knedliky soaks up the sauce like a sponge. Had it not been so time-consuming, this could actually have become a permanent feature of the menu here at home. Meatballs and knedliky can probably be a highlight.
If you didn't think we ate enough food yet, Tomas is making dessert. Zemlovka, a bread cake with grated apples topped with day-old slices of bread and eggs and milk. Like a poor knight with cinnamon and sugar, or a slightly more fun apple pie. Very good and a good summary of Czech food history. Even old and dry bread can become something tasty together with common staples that you have at home. Because Czech dishes do not contain complicated ingredients, but mainly a love of good ingredients. And lots of time.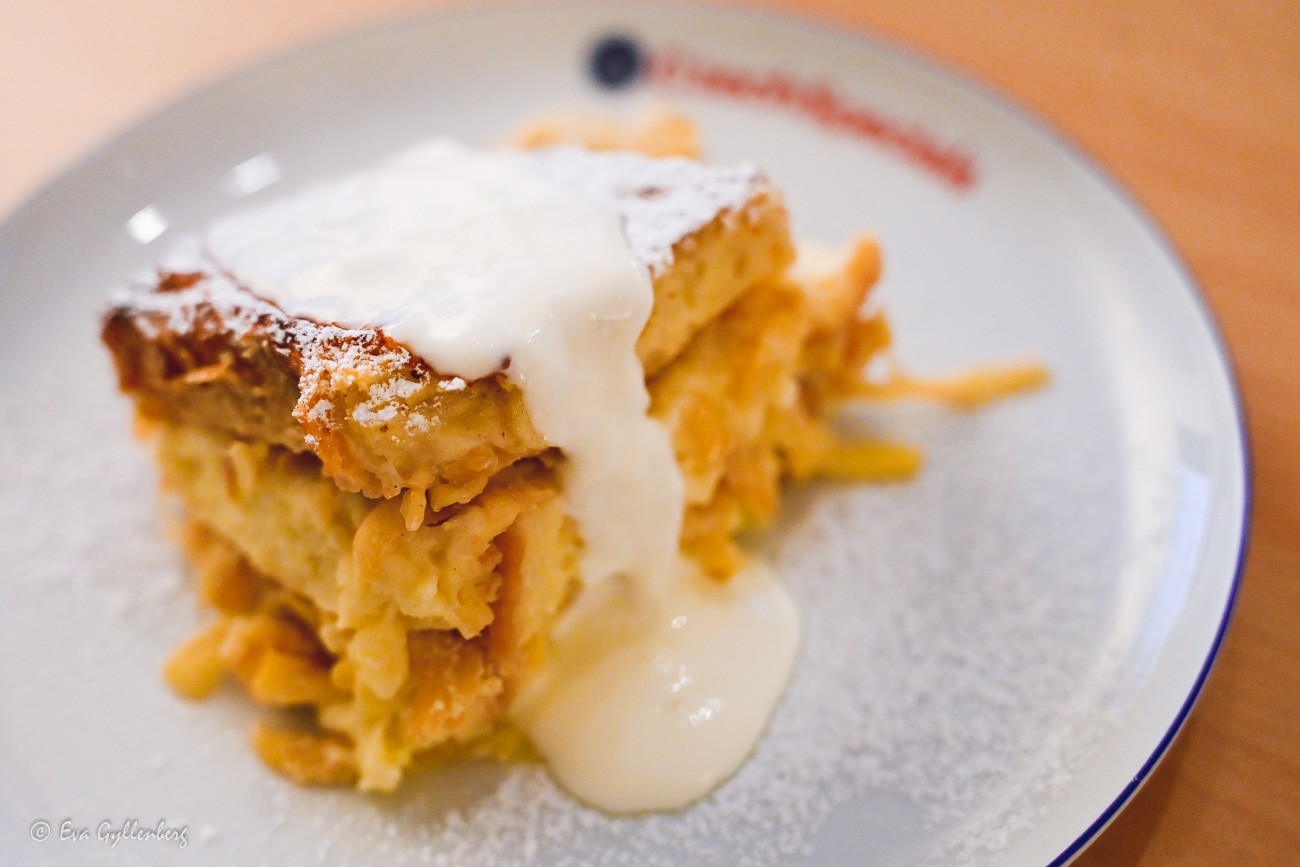 Other Czech dishes
The dishes we prepared above are some of the Czech parade dishes, but if you get the chance to try more dishes, here is a list of tips. The Czech Republic is the country in the world where people drink the most beer per inhabitant, and all the traditional dishes go well with a glass of beer.
Some common flavors in all these dishes are marjoram, cumin, dill, mushrooms, paprika and cream. You can find these in various hearty soups, meat with sauce and game dishes (mainly deer and rabbit). The dishes are usually eaten with bread or dumplings, but in the modern kitchen you can also be served fries.
Fish is not particularly common on the menu, but at Christmas you traditionally eat carp.
Do you want to find the recipes for the below? I like Cook like Czechs recipes, which are both easy to follow and have nice pictures.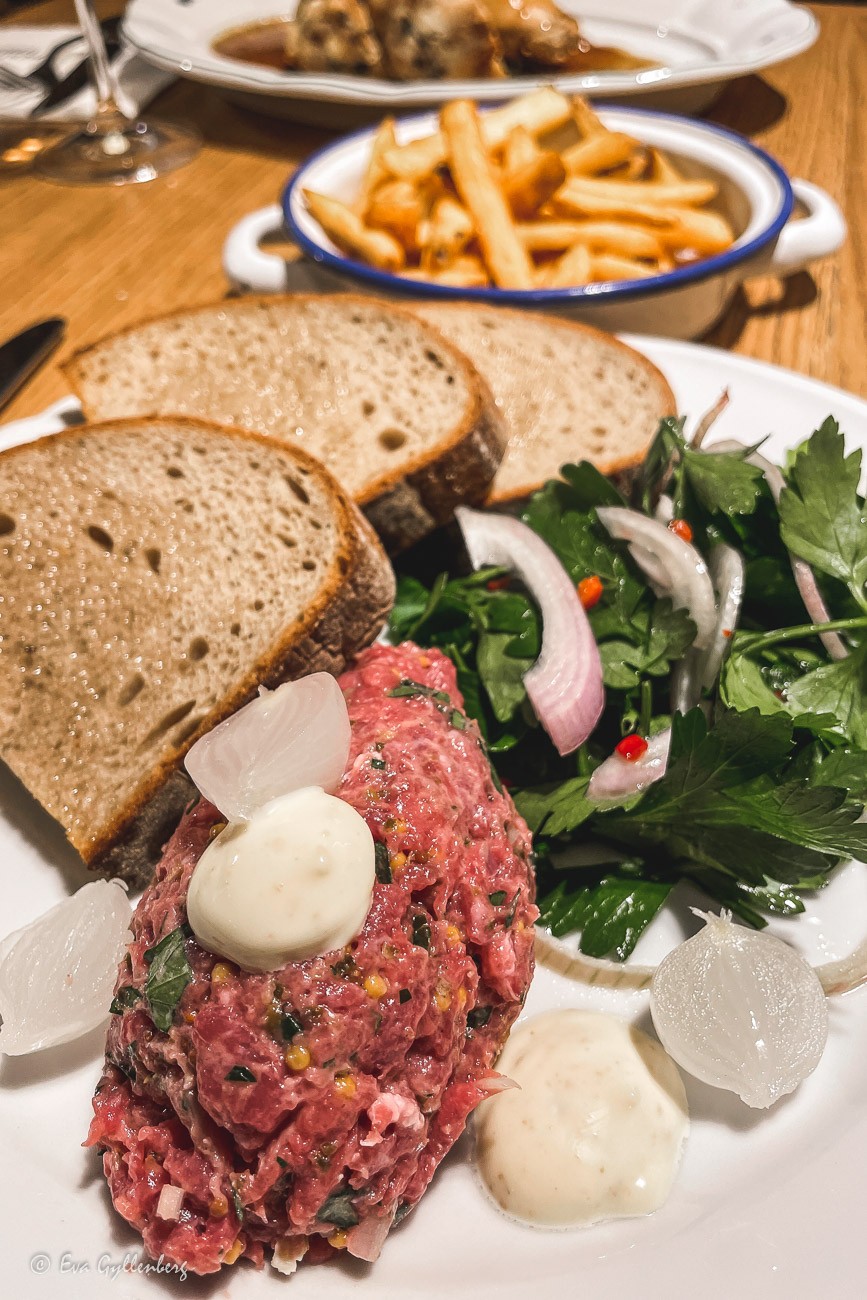 Soups
Koprová = White creamy dill soup
Cool = Mushroom soup with potatoes
Gluttons = Goulash soup with meat, potatoes
Larger dishes
Let down = Steak with cream sauce with root vegetables
Rizek = Schnitzel. Breaded meat. Often served with a fresh potato salad.
Dumplings (Knödel) = Boiled, leavened pieces of bread. Served with both soups and meat.
Fried cheese = Fried cheese. Often served with tartar sauce
Tatarák = Raw beef. Not a classic Czech dish, but very popular!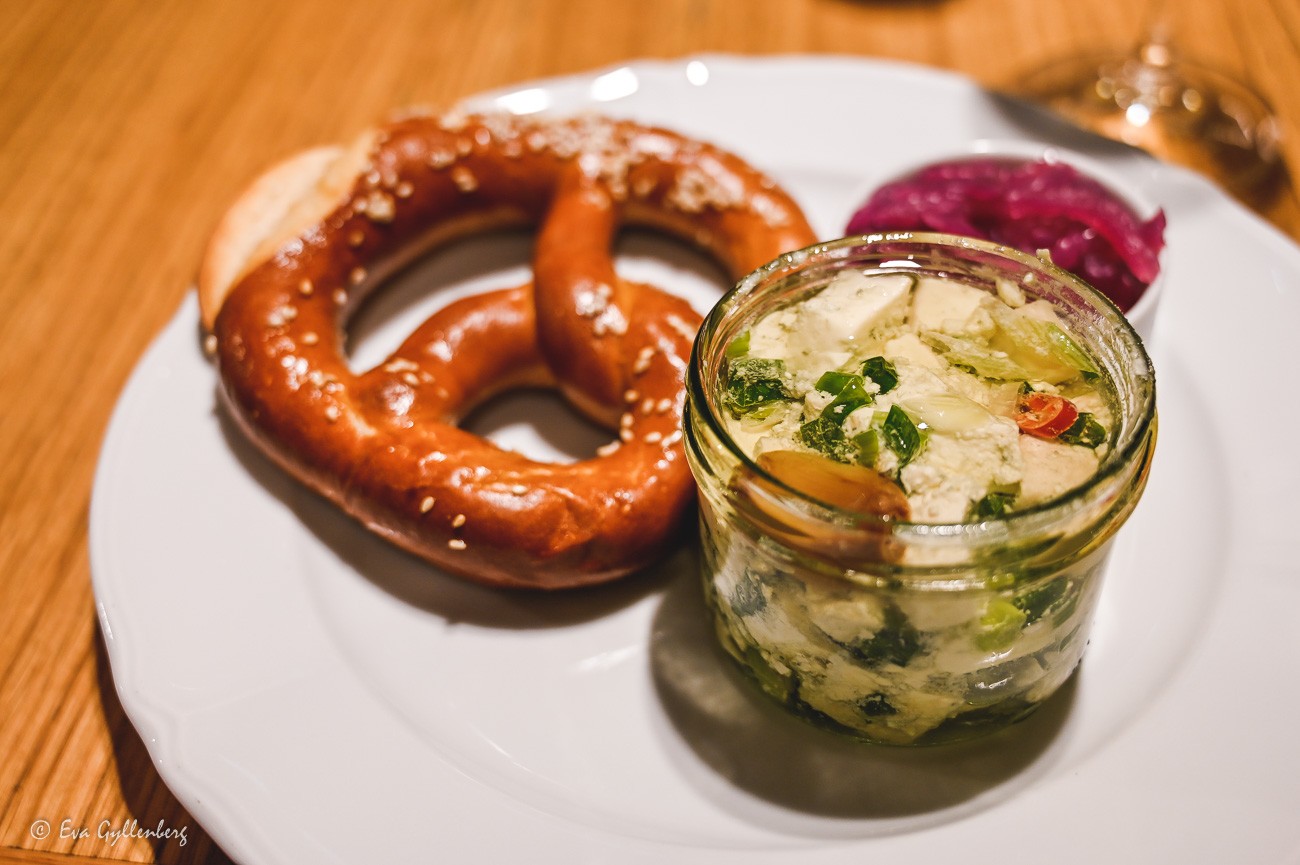 Smaller dishes
Nakládaný ermelín = Pickled cheese. Typical pub food served with bread
Prague ham = Thinly sliced ​​smoked ham. Often served with horseradish.
Parky = Sausage. Often served with mustard.
Sweets
Žemlovka = Bread pie with fruit
Medovník = Honeycomb in many layers
Jablečný závin – Apple strudel
Do you want to read more about the food culture of the Czech Republic? Check in with my blogging colleague Daniela at Discovering the Planet to read more!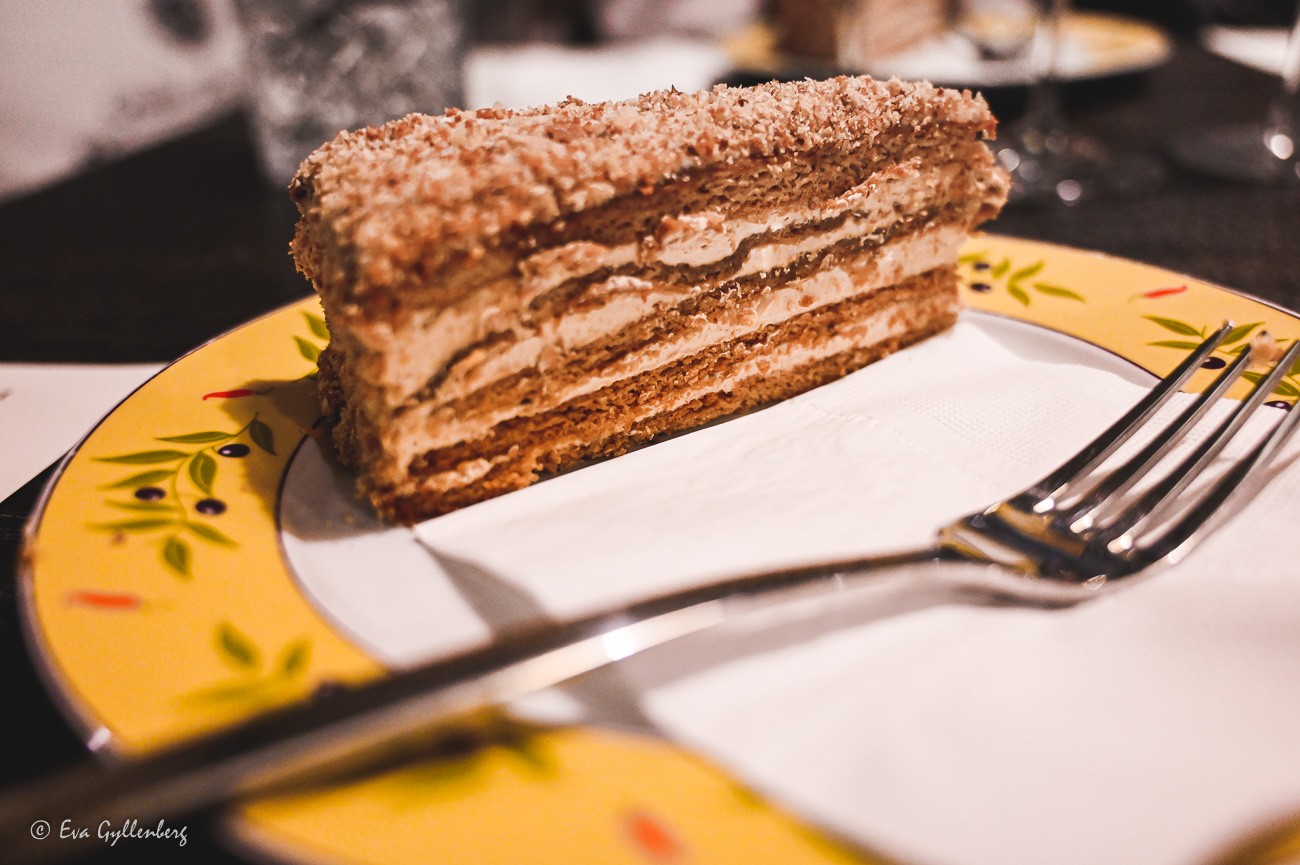 What are your favorite dishes in Czech cuisine? Have you tried any of the above dishes?
Have you been here? What did you think of the destination?
Been there - didn't like it!
0
Not keen at all to go here!
0
Eva Gyllenberg
Travel blogger, gastronaut, photographer and family adventurer with over 55 countries in his luggage. Eva loves trips that include beautiful nature, hiking boots and well-cooked food. On the travel blog Rucksack she takes you to all corners of the world with the help of her inspiring pictures and texts.