New Zealand's South Island offers a perfect holiday with the world's most beautiful nature and lots of attractions gathered on a single small island. Here on the South Island you will find glaciers, fjords, vineyards, paradise beaches, waterfalls and snow-capped mountains. Sometimes you even pass both palm trees and glaciers in the same day. Could there be a better place for a vacation? Doubtful I say!
Of New Zealand's 13 national parks, 10 are located on the South Island, so a road trip here offers a cavalcade of sights and beauty for all nature lovers. If you are also ready for some animal experiences, the sea around the South Island offers close contact with both big and small friends. Here are my best tips on attractions from our road trip around the South Island - both on land and at sea.
1.Fiordland National Park
New Zealand's largest national park is also one of the world's most rain-soaked places. Here in Fiordland National Park down in southernmost New Zealand, you are far from all the cities and close to the mighty nature. In fact, you'll find one of the New Seven Wonders of the Modern World here – the waterfall-lined fjord Milford Sound. Here you can hike on some of the world's most famous hiking trails and or take a boat trip out into the mighty fjord and look for dolphins and seals. And if you're wondering: Ja, several of the Lord of the Rings filming locations are located here in the national park. An attraction you shouldn't miss!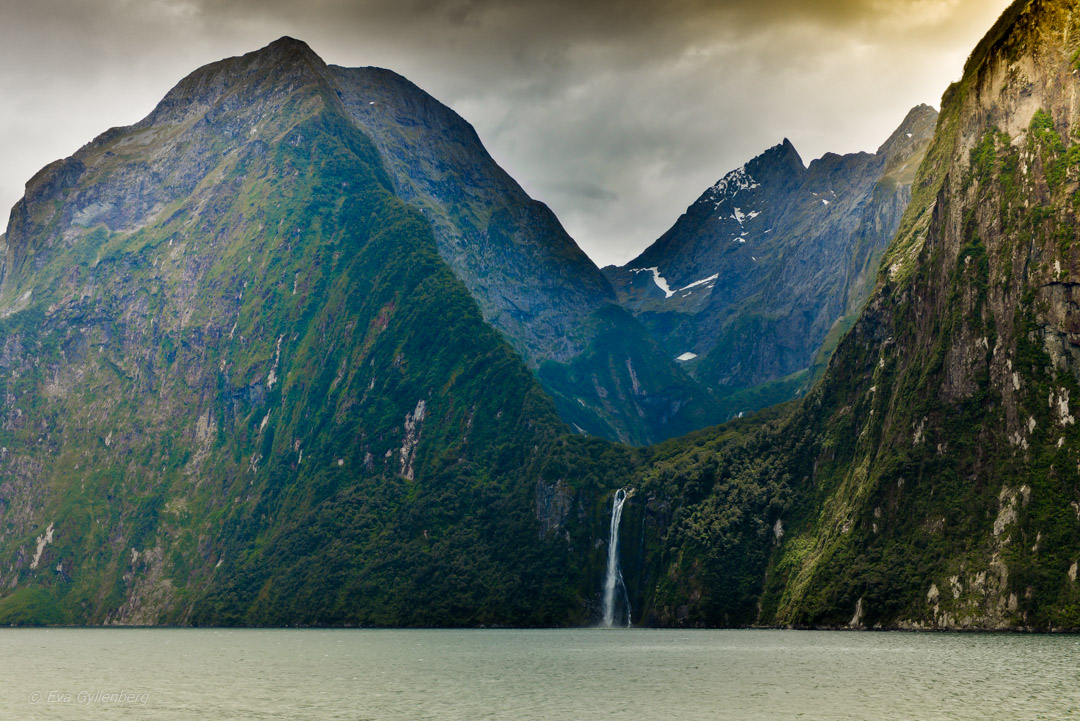 Read more about Milford sound on my site Milford Sound – The fjord where it always rains and in The road to Milford Sound - New Zealand's most beautiful road?
2. Mount Aspiring National Park
The national park we least expected turned out to be one of the most delicious. Mount Aspiring is named after one of New Zealand's highest mountains (which is not entirely unexpectedly located in this park) and filled to the brim with hiking trails, snow-capped mountains, glaciers, crystal clear waters and waterfalls. One of the most memorable hikes is to Blue Polish, which takes you over swinging suspension bridges to the bluest water you've ever seen. A little more inaccessible than many other parks here on the South Island, but well worth the effort.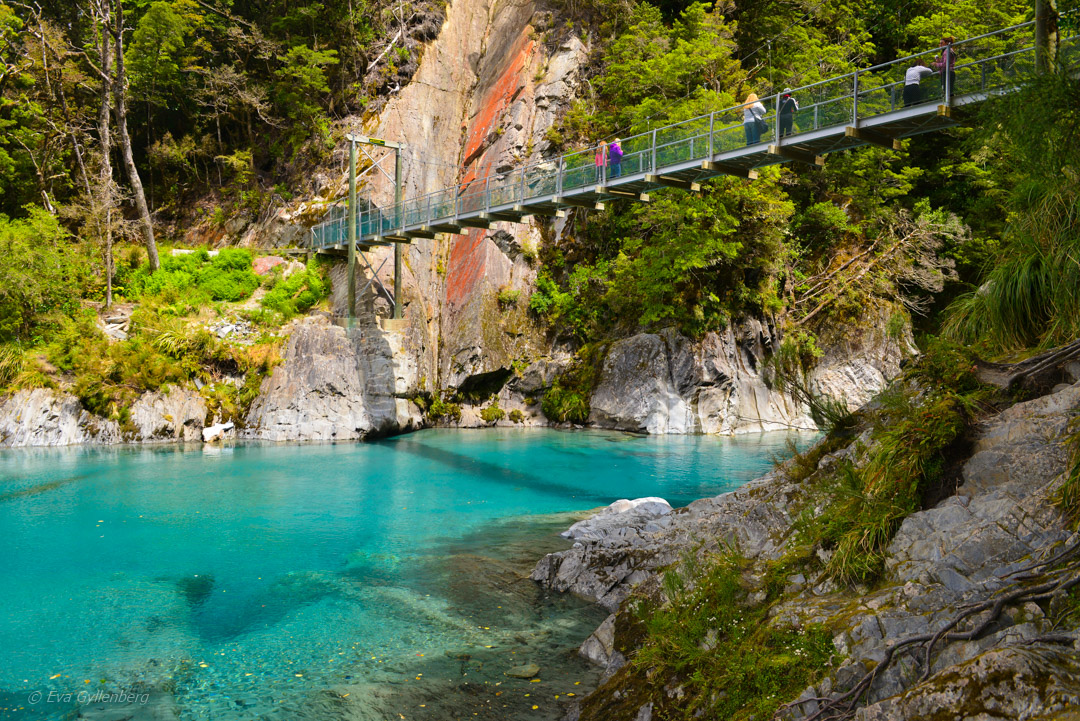 Read more about Mount Aspiring in my post Mount Aspiring – Among the waterfalls in the misty mountainsn
3. Abel Tasman National Park
One of our absolute attractions on the South Island is Abel Tasman National Park. In the far north of the South Island, you'll find one of New Zealand's sunniest places, with beaches that rank as paradise beaches in any travel brochure. Hike along the hilly coastal path and look out over turquoise waters and rich marine life. Kayaking and swimming. Here you will find perfect picnic spots everywhere you look. If you don't want to walk the whole distance (takes two days), you can book a pick-up on the boat that goes back and forth daily along the coast of the national park. Very handy if you have a car that you need to get back to before dusk.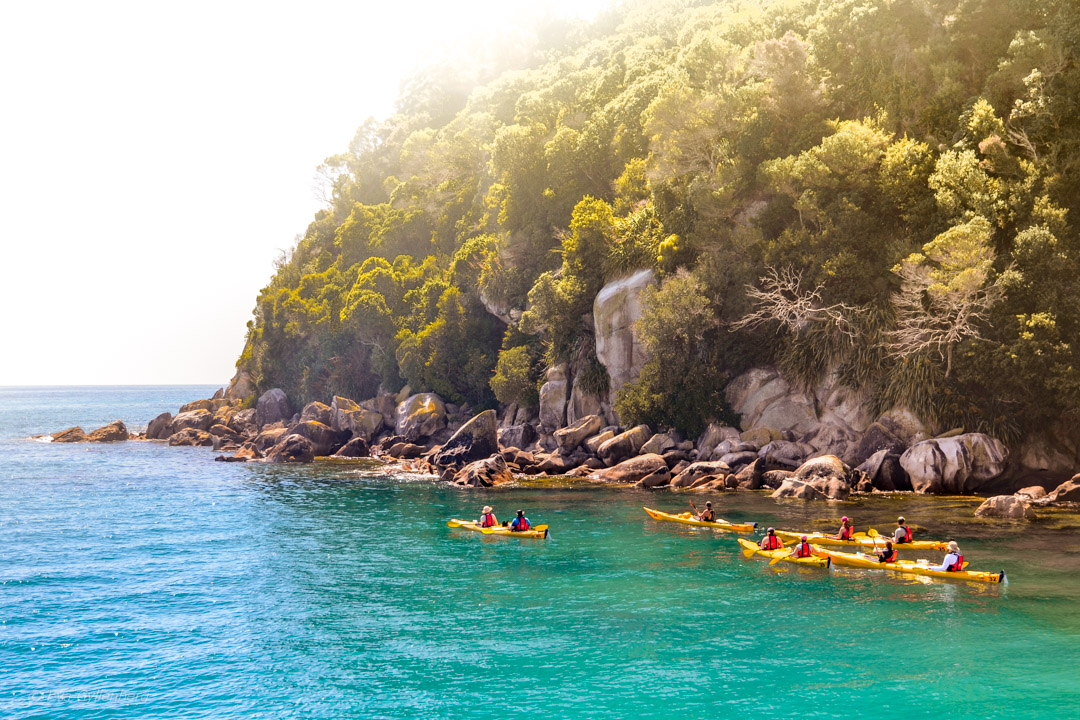 4. Whale watching in Kaikoura
As you've probably figured out by now, I love whales. If you can see whales, chances are I'll book whale watching boat tickets before I book plane tickets, to make sure I don't miss the chance to meet the friendly giants of the sea. Here in the sea at kaikoura a continental shelf runs very close to the coast, bringing with it nutrient-rich water, which in turn attracts multitudes of whales, dolphins, seabirds and killer whales. Many sperm whales and a large school of dolphins live here all year round. Blue whales, humpback whales and killer whales come to visit at regular intervals. Whale watching here in Kaikoura is a real highlight of a New Zealand holiday!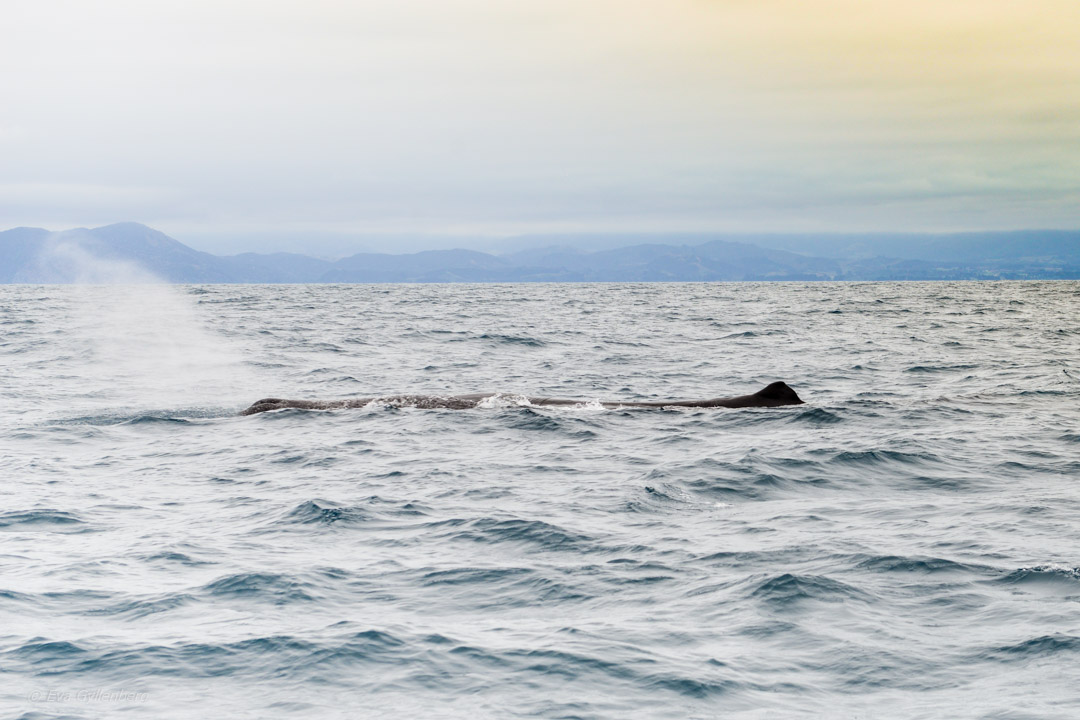 5. Penguins in Oamaru
One of the cutest animals in New Zealand are the world's smallest penguins – the little blue penguins. IN oamaru you can visit their abode at dusk and watch them come swimming from the sea to run with quick little steps into their little house to sleep. So lovely and definitely worth missing dinner for! You rarely get this close to wild penguins. But watch out, they also run across the roads at dusk, so drive carefully! We had to cross the road for a little friend who slowly (and unmoved) tumbled across the road in front of our car.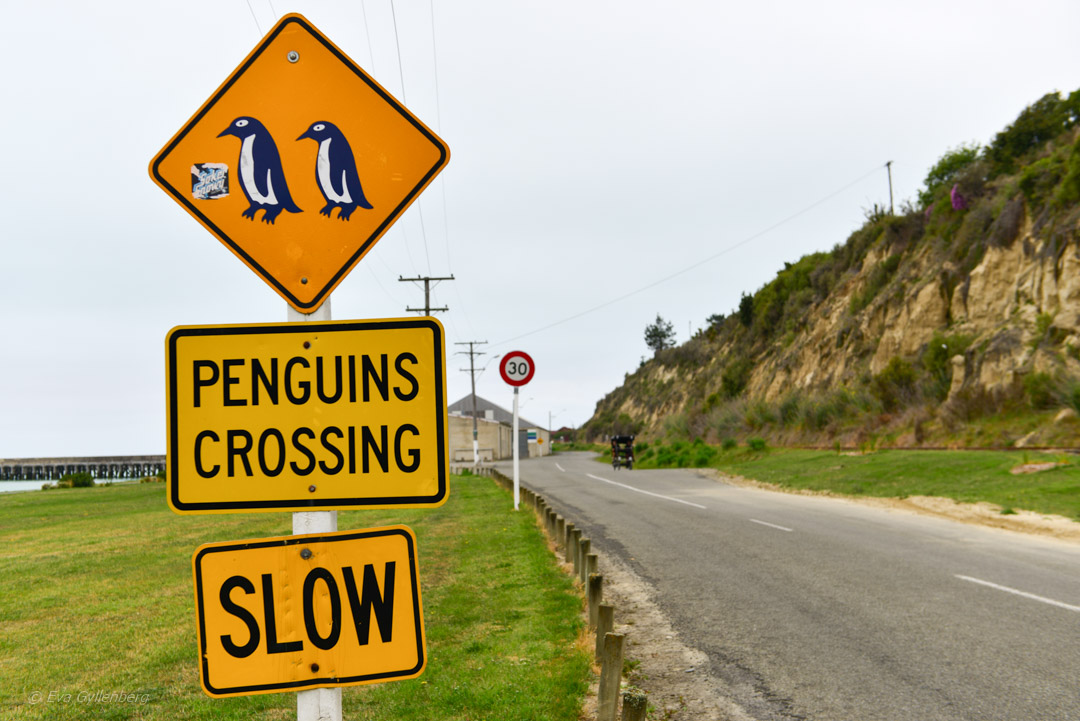 6. Mount Cook
The snow-covered mountain massif at Mount cook and turquoise lakes with lupines are probably the most common postcard image of New Zealand. Here at Lake Tekapo and Lake Pukaki offers the high peaks their most beautiful side. Hike at the foot of the mountain or why not stay overnight and gaze at the amazing starry sky – this is one of the areas in the world least disturbed by light pollution from cities.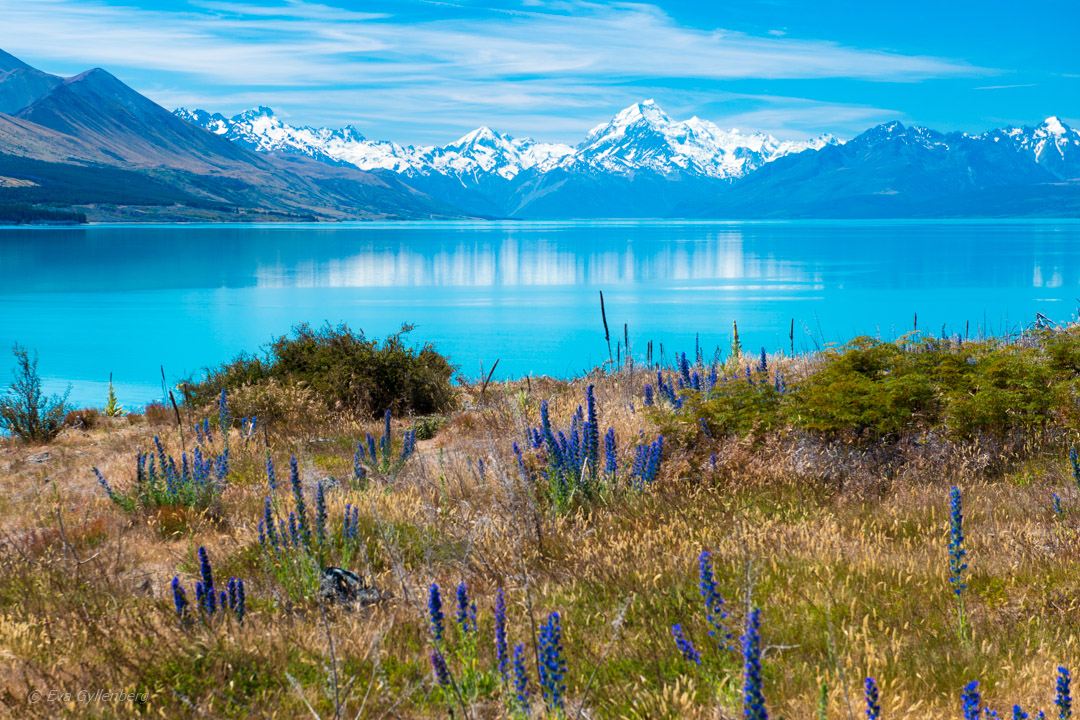 7. Punakaiki Pancake Rocks
Nowhere else in the world are there rocks similar Punakaiki Pancake Rocks and scientists still disagree about how these rocks were actually created. But here on the South Island's west coast there is a whole pile of these exciting pancake rocks with associated fountains (blowing holes).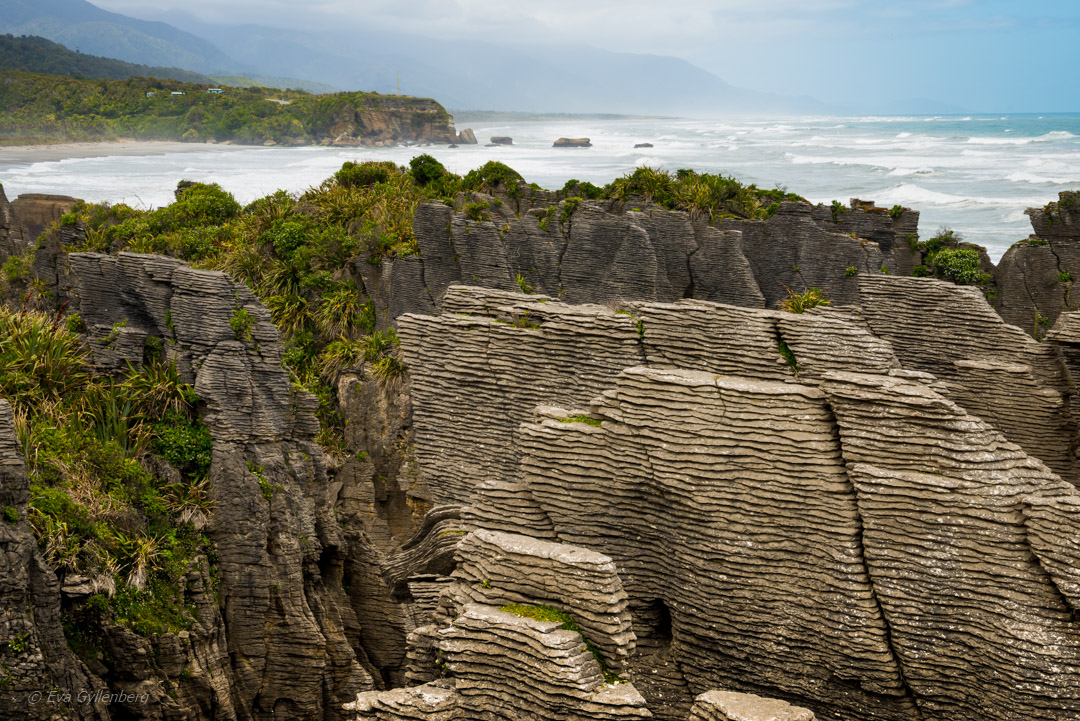 8. Fox and Franz Josef Glacier
I Westland Tai Poutini National Park you will find two of New Zealand's most accessible glaciers, Fox glacier and Franz Josef Glacier. The glaciers are unfortunately shrinking every year, but it is still possible to hike almost all the way to the glacier. The hikes pass by dried riverbeds, bubbling waterfalls and verdant forests. Both glaciers are worth visiting and if you're lucky with the weather, you might even be able to book a helicopter tour that will take you to one of the glaciers' summits.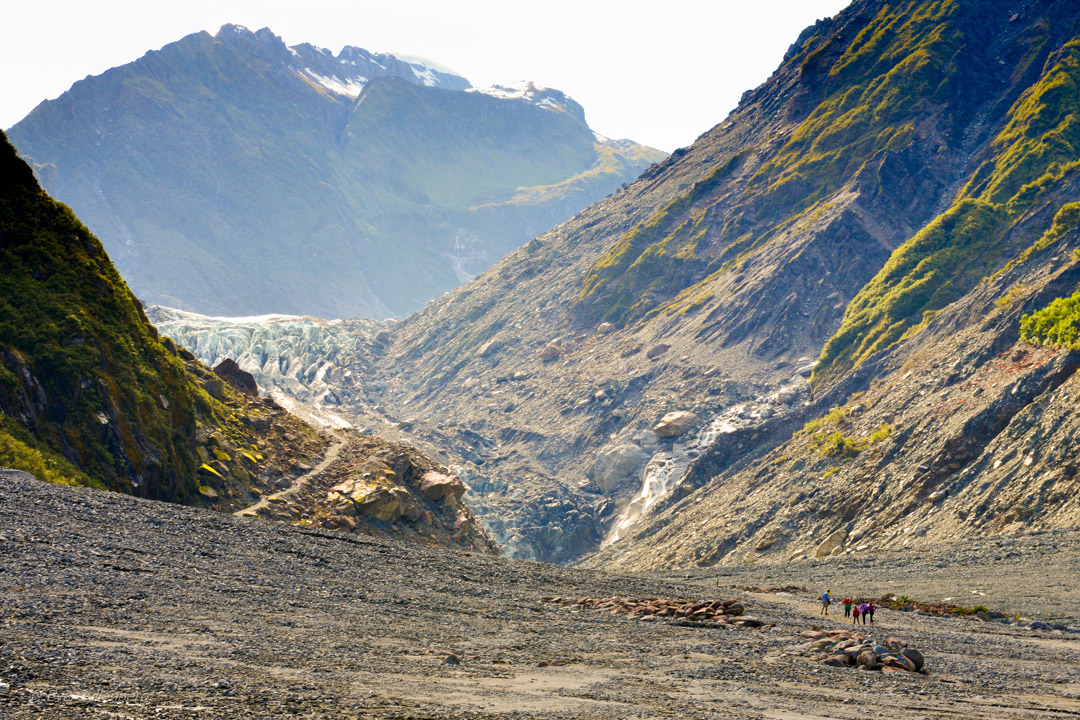 9. Moeraki Boulders
Just outside Oamaru are the mysterious "dinosaur eggs" Moeraki Boulders. A collection of large round stones buried on a windswept sandy beach may not sound very exciting, but the stones are both larger and rounder than any I have seen before. Well worth a visit, but check the tides before going here. If it is high tide, many of the stones are hidden under the waves.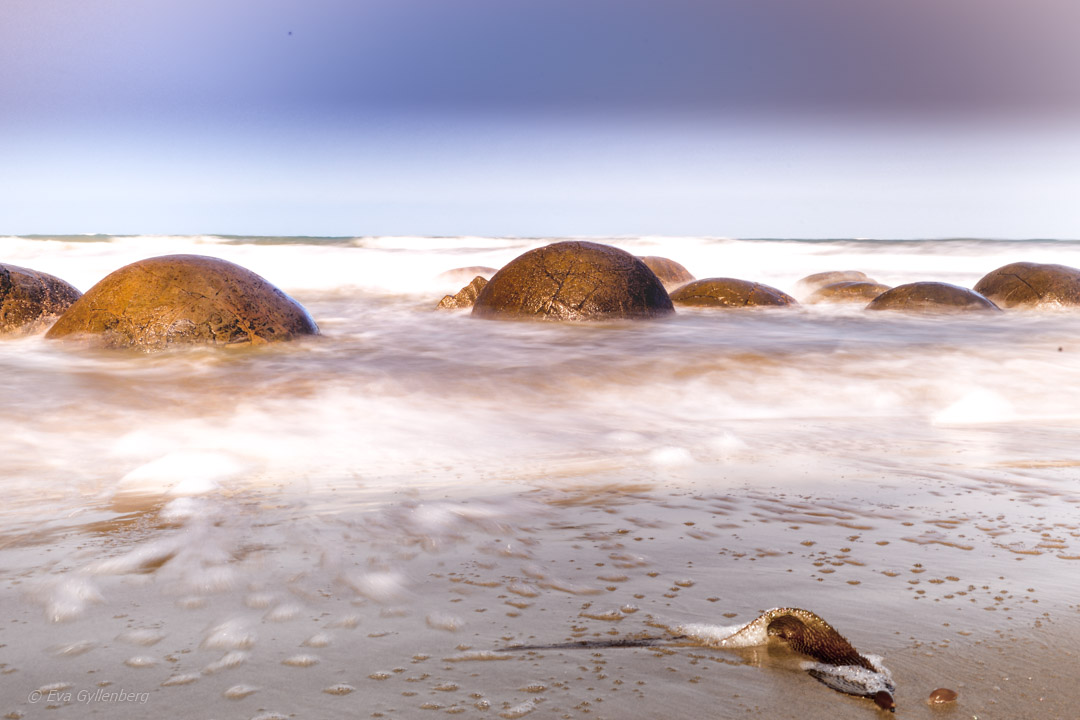 10. Marlborough Sound
Vineyards, salty sea bays and sunshine offer the area Marlborough Sound on. For those who like hiking, this is the location of one of New Zealand's most famous hiking trails - Queen Charlotte Track. Seven miles long and with endless views of blue sea, coastal forest and sea coves, it is a walking trail for those who enjoy life. If you don't want to walk the whole way, you can book a pick-up by one of the boats that go back and forth along the hiking trail, so you can easily enjoy your hike without having to think about where you parked your car.
Have you been here? What did you think of the destination?
Been there - didn't like it!
0
Not keen at all to go here!
1
Eva Gyllenberg
Travel blogger, gastronaut, photographer and family adventurer with over 55 countries in his luggage. Eva loves trips that include beautiful nature, hiking boots and well-cooked food. On the travel blog Rucksack she takes you to all corners of the world with the help of her inspiring pictures and texts.