After much searching for the perfect holiday home in Österlen for a week in July, we finally gave up. The houses that were still available for rent this particular summer were definitely not great. Too clunky, too expensive or just completely wrong for us. When I almost gave up on our Skåne dreams, I found the apartment hotel by chance The More Hotel in Lund, within walking distance to the center and with good parking facilities. So we booked 8 nights in Lund. And you know what? After staying at (almost) every hotel in Malmö, I can easily say that this could become our new regular hotel for visiting relatives in Skåne!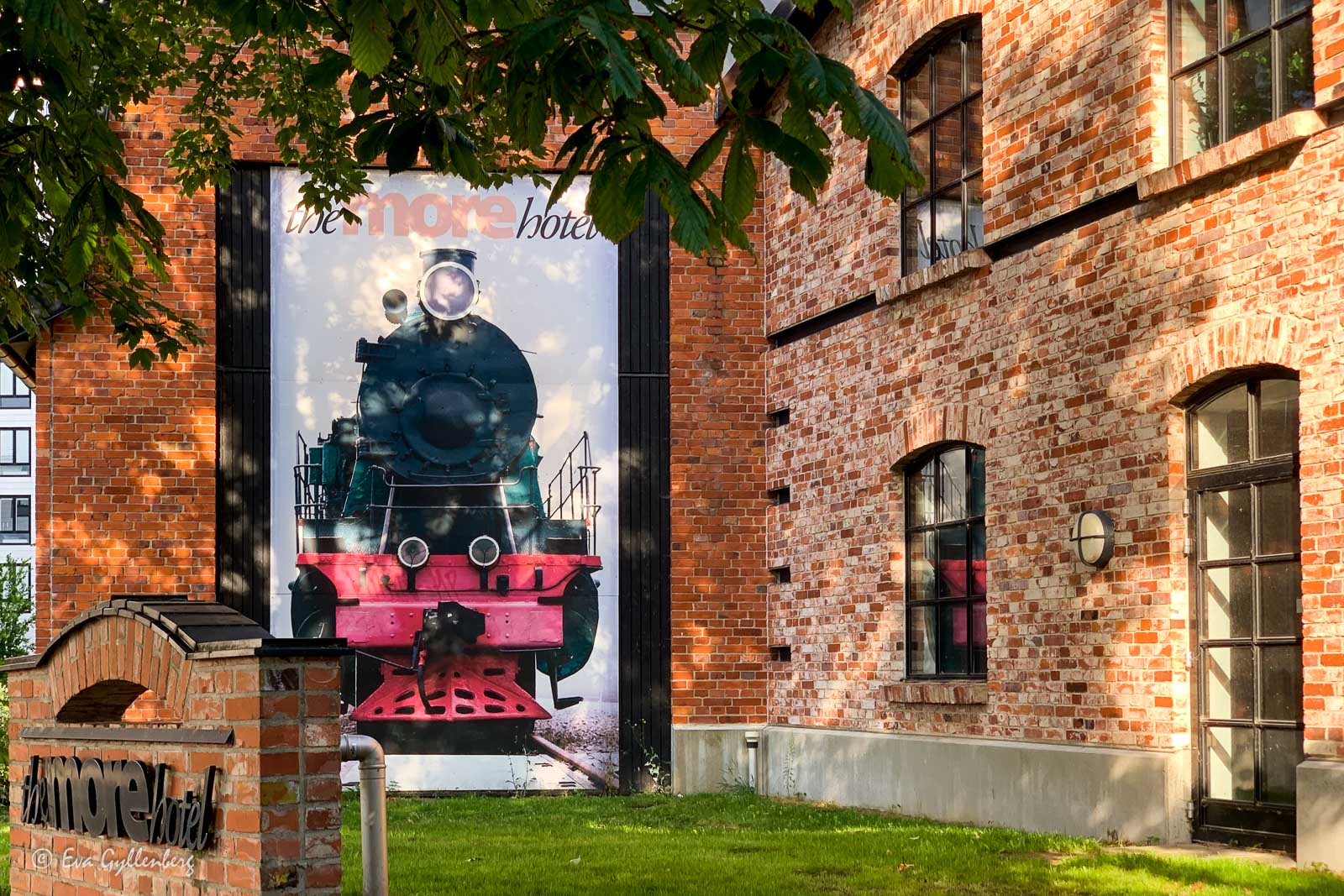 Location and premises
The More Hotel is located in the center of Lund, a 10-15 minute walk to Stortorget. The hotel is located in the old locomotive stables from 1906, where SJ used to park its locomotives for the trains between Lund and Revinge. However, rail traffic on the route ceased and the building subsequently stood abandoned and fell into disrepair for many years before it was bought up and completely renovated to the modern condition that the hotel is today. However, much of the old train history still remains in the walls. The heavy old locomotive doors are today beautiful black slatted windows in the restaurant. The ceiling is held up by old iron beams and dark wooden beams that are guaranteed to have heard many train whistles echoing between the brick walls over the years. Throughout, the hotel has been renovated with fine material choices, in everything from the fine wooden framed doors to the beautiful wrought iron windows.
My first thought when I entered the hotel was that it must be relatively newly opened, as nothing felt worn, dirty, worn or chafed. Judge my surprise when the hotel opened already in 2012! A gold star for the property manager and cleaning!
Now maybe friend of order is wondering how we could book an apartment in Lund when our plan was actually a holiday week in Österlen? In my eyes, Skåne has no distances and it is basically just a little over 1 hour's drive from Lund to the whole of Österlen. In addition, we also got proximity to both Kullahalvön and the restaurant selection in Lund. A really good combo!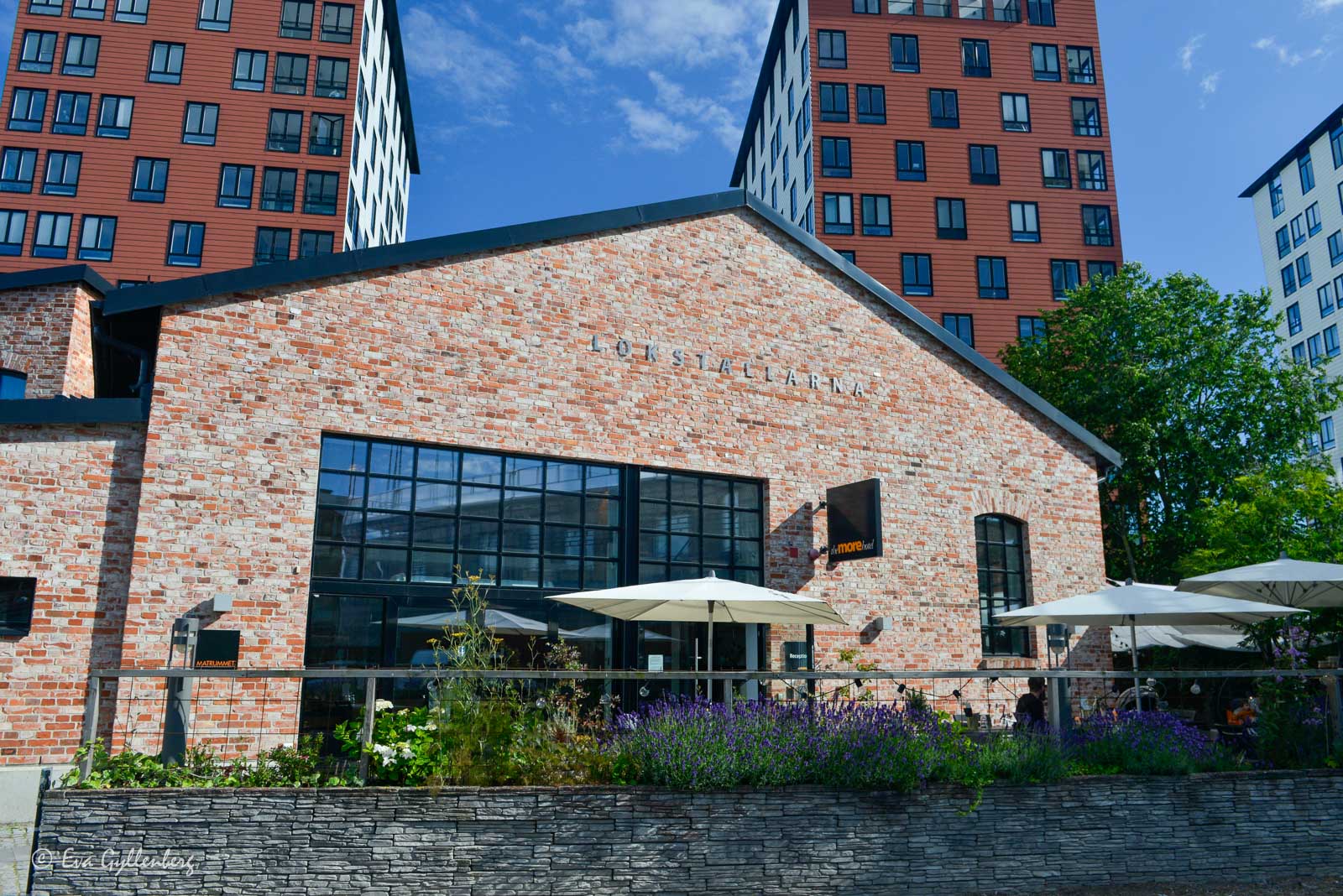 The rooms
The hotel has 33 apartments - all with a kitchenette, living room/bedroom and bathroom. We stayed in a Studio Superior at the top with a living area with a sofa bed (made out in the pictures) and a kitchen area with a dining table and chairs. The room was suitable for up to 4 people.
The kitchen had a microwave, coffee maker, stove, fridge and dishwasher and was relatively well equipped with glasses, plates, cutlery and pans. The kitchen was always well stocked with washing up liquid and dishwasher tablets, but there were also dish towels and wettex. The table had three chairs and there was enough room for a cozy breakfast. The only thing I lacked in the kitchen was a freezer compartment in the fridge, as we usually carry coolers for our cooler bag where we keep all the goodies we buy in the farm shops during our day trips.
The living room had a TV that could be rotated between the living room and the bedroom. Practical both for watching the morning news in the kitchen and for relaxing TV watching in bed. Both the blackout curtains and opening/closing of the skylight were motorized via a button, very practical. The sofa bed was big enough for two people. In the hall there was a wardrobe and a cleaning cupboard with some cleaning equipment.
The beds were really comfortable and there were both plenty of electrical sockets by the bed and good bedside lamps.
The bathroom was fully tiled and had a shower with a glass wall. We never had any problems with either hot water or water pressure. There was a hair dryer, but there were no toiletries other than soap.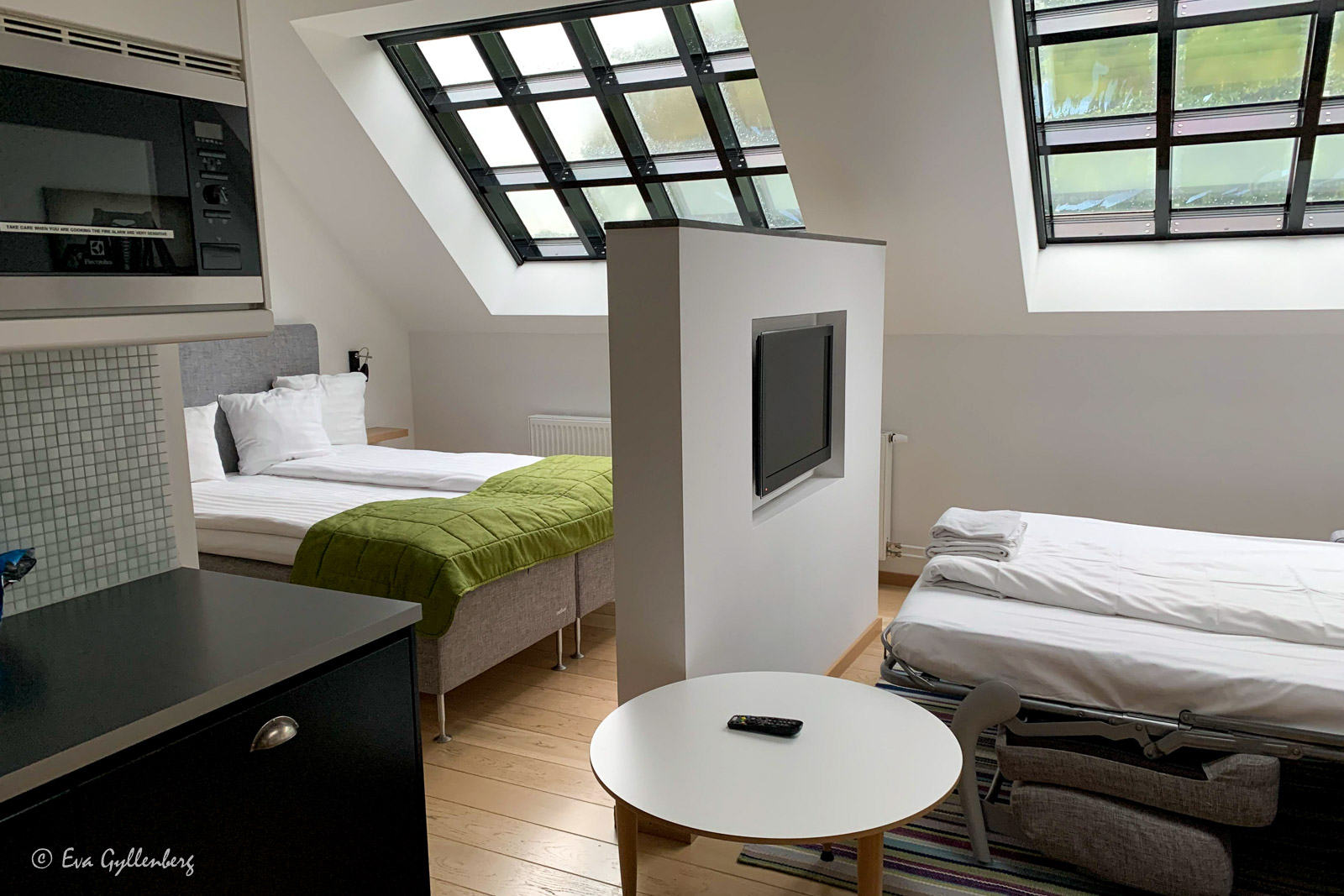 Breakfast
Every morning between 7-9 breakfast packages are available to pick up in the restaurant. The package contained a freshly baked roll, butter, cheese, marmalade, nutella, juice, yogurt, apple, coffee and a piece of chocolate. A very small package. I don't know if the hotel always runs a breakfast package, or if it's something special in corona times? Regardless, it was quite cozy to sit in pajamas in the apartment and eat the small breakfast bag and avoid crowding at a breakfast buffet. However, I missed eggs, but with a fridge and hotplate you can always fix it yourself.
Restaurant
On the ground floor of the hotel is the White Guide-recommended restaurant The dining room. During the summer, a simpler summer menu is served with steaming fresh wood-oven baked flatbread pizza with fantastic toppings. I ate a pizza with mixed mushrooms from Hällestad (from Skåne of course!), goat's cheese, spinach and garlic. Absolutely delicious taste and perfectly baked! If the weather permits, there is a lovely outdoor terrace with nice music and a Mediterranean feel, but the indoor restaurant is at least as nice.
During the rest of the year an a la carte is served with high ambitions, I hope we can come back this autumn and try the larger regular menu!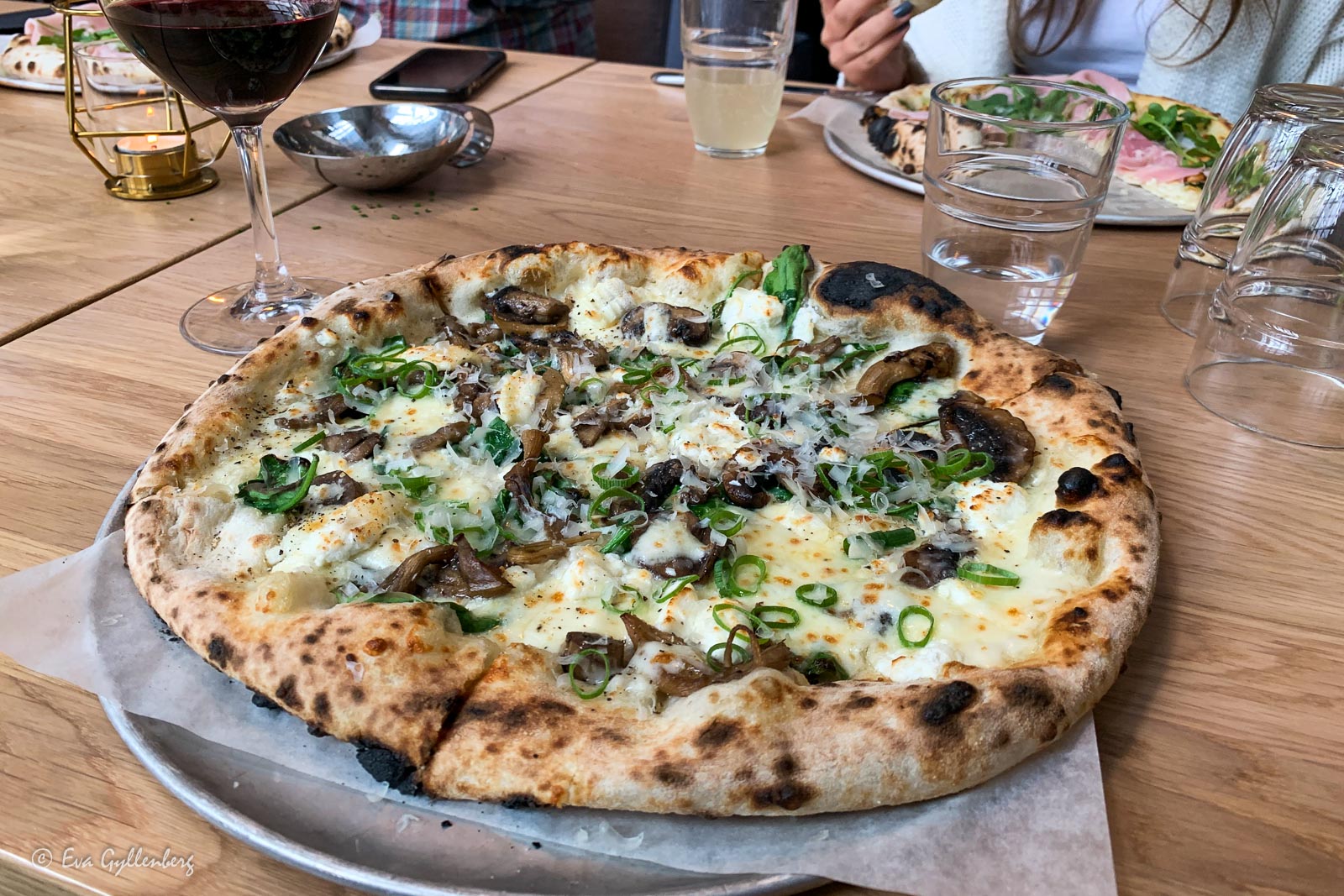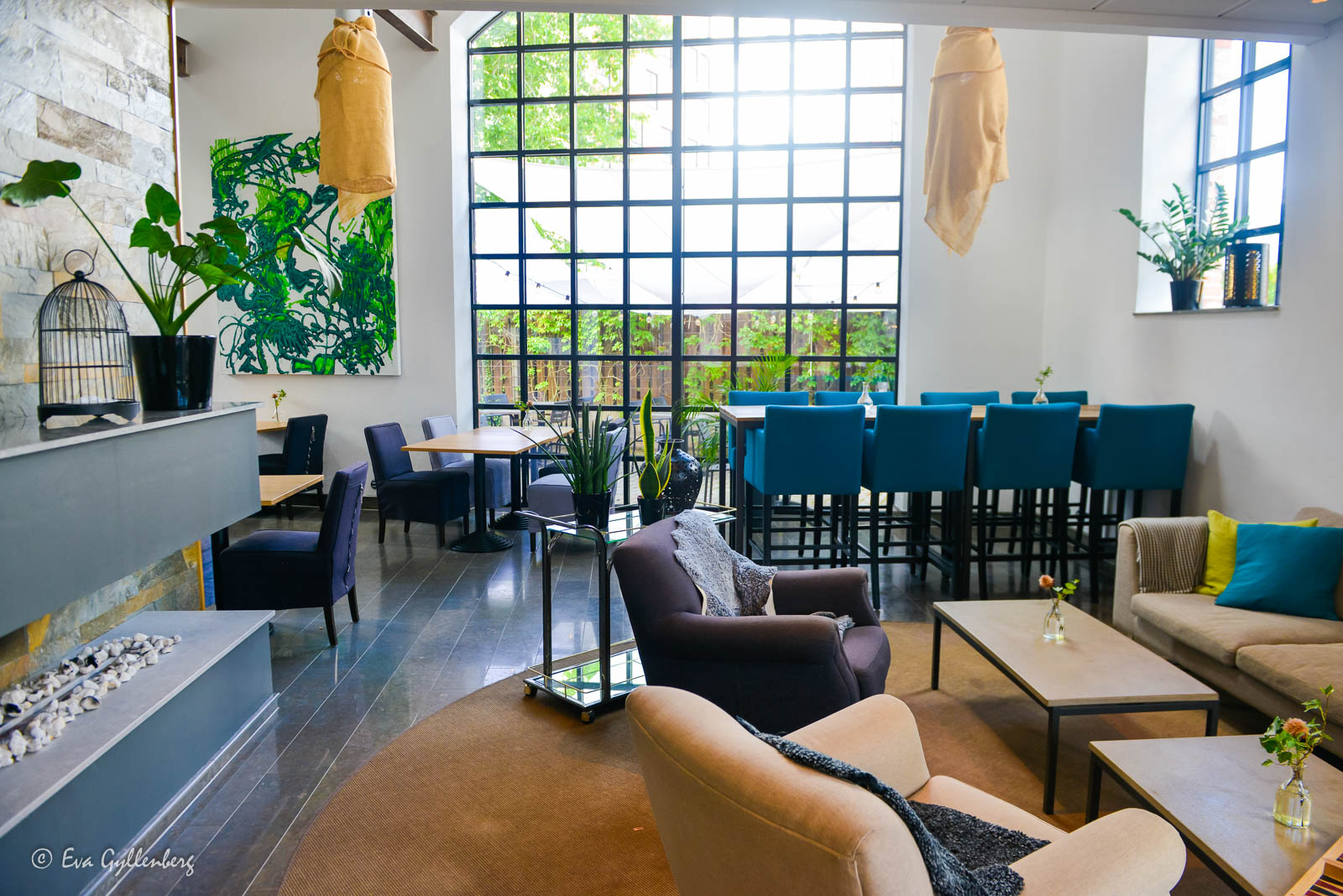 Other service
The hotel has cleaning once a week for longer stays and we got cleaning after about half of our stay. Perfect timing.
The hotel has bicycles for rent, parking, a gym, a sauna and a guest laundry. Pets are welcome for a fee.
The hotel does not have a 24-hour reception, but you can check in whenever you want through the smart little code boxes at the reception. In the code box you will find your key to the room, information about the hotel and parking ticket (if you have pre-booked!). Information about how everything works and the door code was sent out in an email in good time by the hotel.
So what was the overall family rating?
Affordable apartments with perfect size and equipment for a family like us. Fresh, clean and with friendly staff. We would love to come back here!
The More Hotel
Kastanjegatan 18
223 59 Lund
Map (opens in Google Maps)
Want to read more of my travel tips? do not forget to like Rucksack on Facebook!
Do you want to see more from Scania?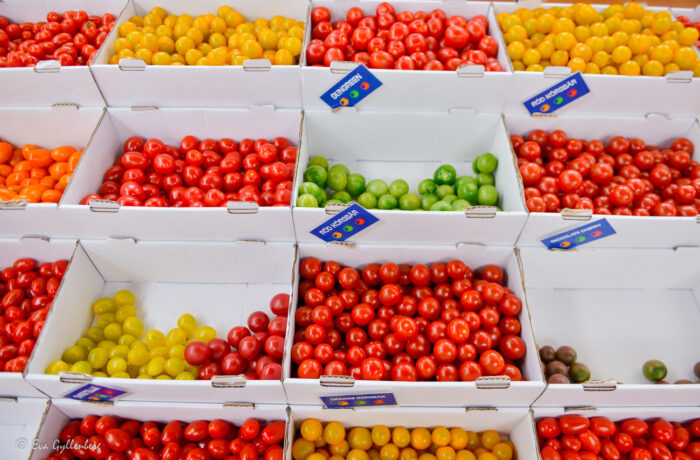 In Kullabygden in northwestern Scania, there are plenty of farm shops that sell locally grown vegetables, fruit...
8th of May 2022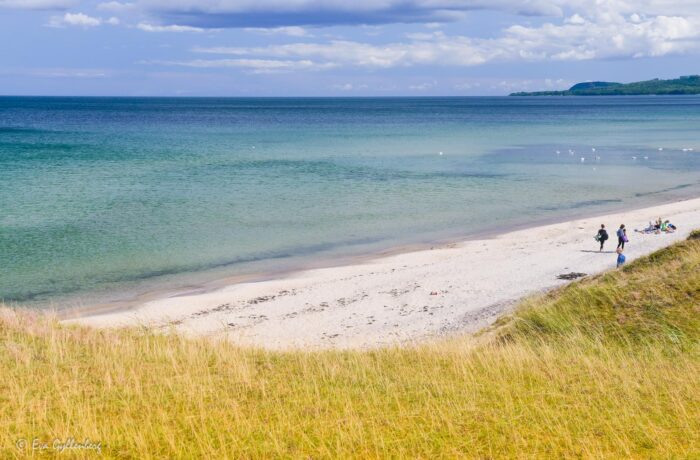 Can you get to know a place just by a song's lyrics? After wandering over the…
September 22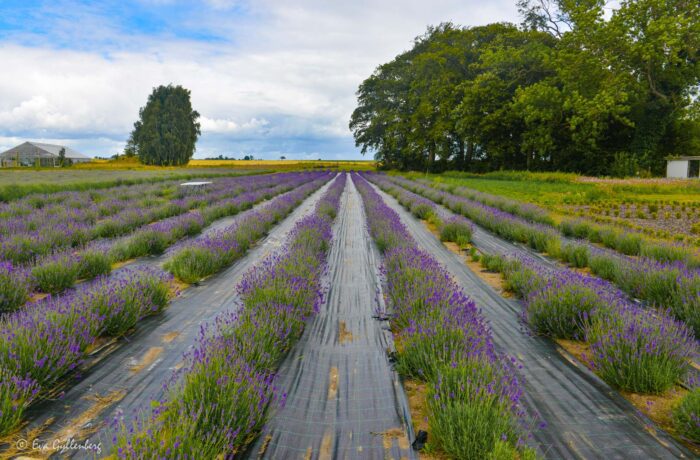 One thing I love about Österlen is the many farm shops. Everything from chocolate pralines to…
November 8