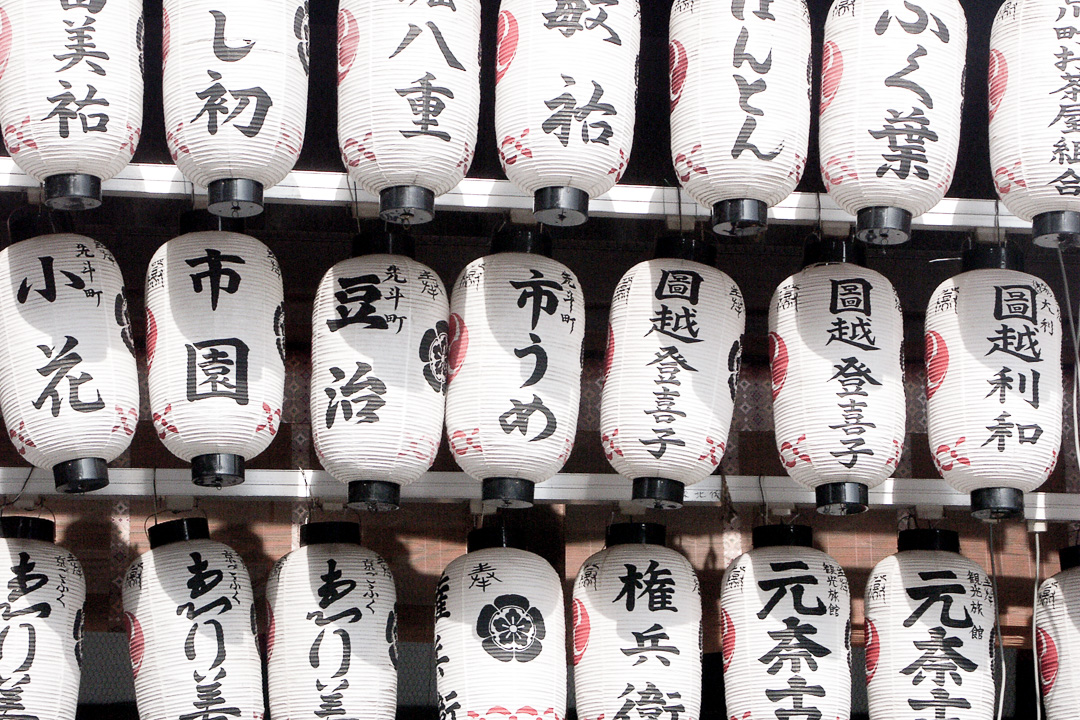 Traveling by train in Japan can be a breeze some days and endlessly difficult other days. No matter how much you read about traditions and social rules, you feel like a real tourist every time you happen to order chicken skin on a skewer for dinner. But no matter how confused you sometimes feel and how lost you are, you always come across friendly people who help you out. Like the postcard seller who couldn't explain in English where the mailbox was, but left her shop and ran with us to the nearest mailbox, or the university students who humbly and giggling asked if they could guide us for free in Nara to practice English, or the ryokan owner who drove us in his private car to the next night's accommodation - just because it was raining. The list of amazing people we met during our trip can be made long. We have probably never felt as welcome in any country as we did in Japan, and at the same time we have never felt so anonymous.
As a tourist, you stand out in stature, yet are invisible – no salesmen ever jump on you, no one ever casts a lustful glance at your camera equipment. It is hard to think of a safer country to travel by train in as a tourist. Crime is low, and despite the fact that Japan is often shaken by earthquakes, it is very rare that the tremors are so great that there is material damage. It is also not particularly expensive to travel in Japan. Sure, it's more expensive than Thailand, but not more expensive than Greece. In Japan there is everything from cheap conveyor belt sushi to expensive meat from Kobe where the cows are massaged and raised on beer. You can stay cheaply in a capsule hotel or expensively in a ryokan with its own butler. Japan can be experienced regardless of budget, although it may take some planning to find budget options. So what are you waiting for? Here comes my travel guide to the best way to travel around Japan!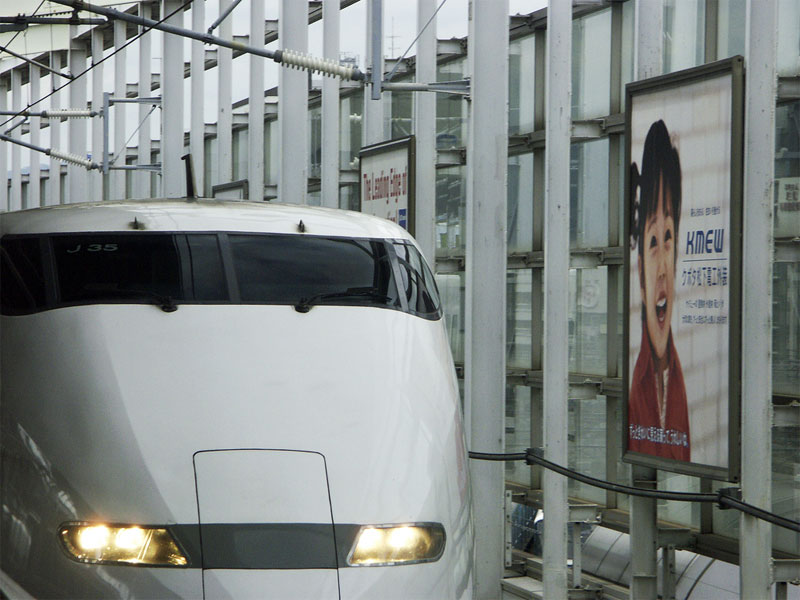 Travel around Japan
Our train adventure started in Tokyo and we then took the train routes Kyoto->Nara->Takayama->Nikko->Tokyo. The trains in Japan - so-called Bullet trains - are fast, reliable and comfortable, and a much nicer alternative to flying. Traveling between Tokyo and Kyoto takes just 3 hours and you pass through lively countryside and get a beautiful view of Mount Fuji.
If you have planned to travel around Japan, it pays to buy one Japan Rail Pass before arrival (cannot be bought in Japan!). With the Japan Rail Pass you travel all over Japan on all JR trains except the very fastest shinkansen trains. We bought our passport via The Japan specialist, the most economical pass is the 21-day pass. You can activate your card in Japan (at Narita airport for example, if you are going to take the JR air train to Tokyo) and then make seat reservations at the stations. If you want to travel more spontaneously, there are always carriages on the trains that are reserved for travelers without a reservation. There are cheaper passes that are area-related - eg East pass, Kansai area pass, Sanyo area pass, Kyushu area pass and Hokkaido pass, so it can pay to plan your route in advance. Avoid traveling during Japanese holidays or major holidays, as popular routes can be fully booked months in advance.
Local transport in the cities is mainly the subway, commuter train and bus. The commuter trains are often operated by JR (allowing you to use your rail pass). Metro tickets are bought in advance from machines which are usually available in English. You can buy different types of day passes on the subway or any of the commuter train lines, but it's rare to only ride one of the train companies for a day, so we always bought single tickets. Buying one-way tickets in a machine is not difficult, but it can be a little tricky the first time you try. Above the ticket machines is a map of the subway/commuter train. Find the station you want to go to, next to the station the cost of an adult ticket is shown. Choose how many tickets to buy using the buttons with "gubbers" on them. Then choose which line to travel with (only if several subway lines/commuter trains depart from your stop). Then click on the screen on the box with the number of yen that a one-way ticket costs for one person. Enter the money and you get the tickets in hand. Relatively easy and cheap! However, it should be pointed out that there is a great lack of lifts and escalators in Japan, which can make it difficult to ride the subway with a pram or wheelchair. If you take the bus, make sure you have coins with you, as the bus journey is often paid for in a "funnel" next to the driver at the exit. Boarding is done in the rear of the bus.
It can be quite difficult to find addresses in Tokyo, as street addresses and numbering do not work as we are used to. Only a few streets have names and the city is instead divided into administrative areas (to be compared to municipalities) and quarters. The houses in the blocks are numbered according to the order in which they were built(!). We looked for a hotel for a long time after a well-detailed map, but since only every tenth street had a name it was difficult to know where we were and it was impossible to determine distances. It was then easiest to start from a subway/train station nearby and then search in the right direction in the area around it.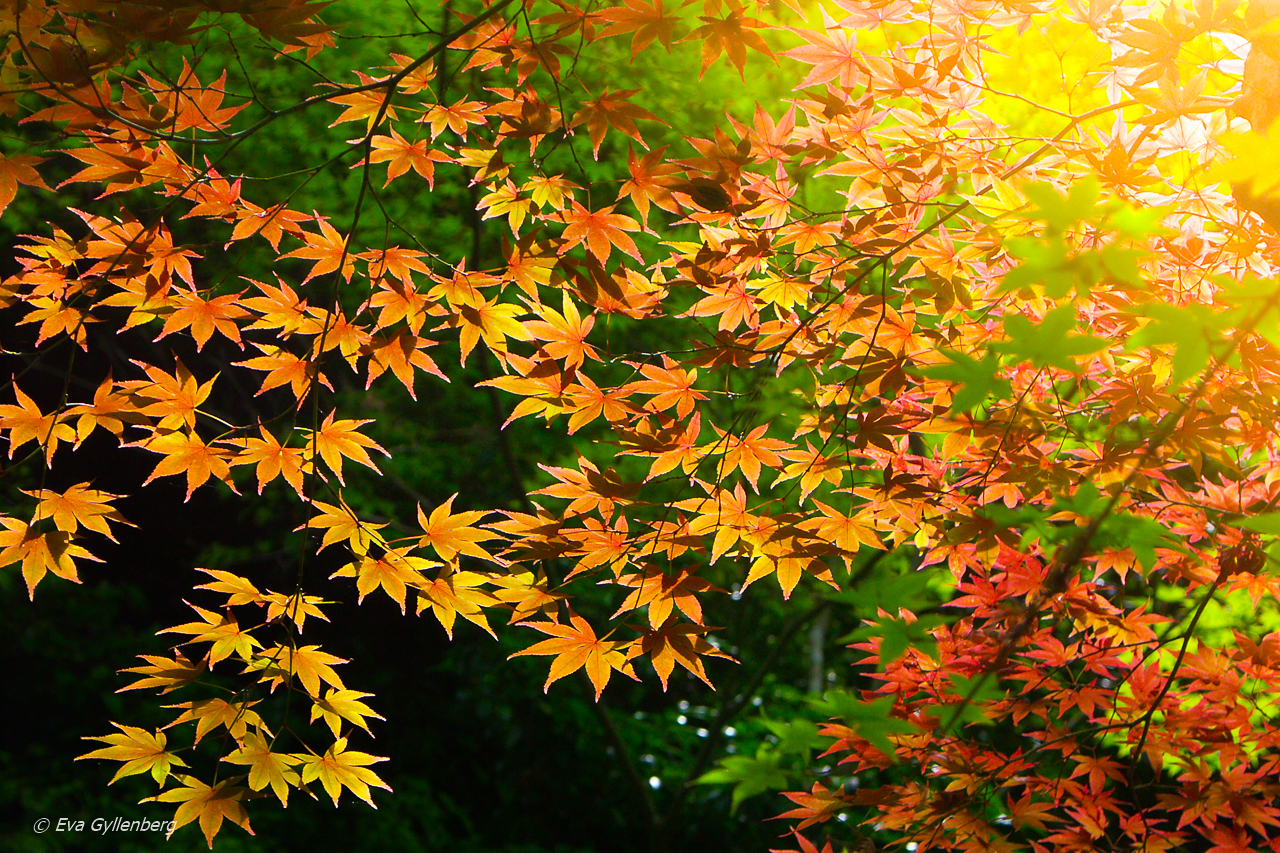 Season
Japan has four distinct seasons with varying weather, but if you want pleasant temperatures and plenty of sun, spring is a good time to visit Japan.
Summers in southern and central Japan are rainy, hot and humid. It doesn't rain every day, but if you're staying a few days in Tokyo, you'll definitely need an umbrella. If you are looking for clear and fresh weather in Japan during the summer months, you must head to Hokkaido.
Autumn has more pleasant temperatures and clear days, but in early autumn Japan is sometimes hit by typhoons (hurricanes), which bring torrential rain and strong winds.
Winter can be cold and there are plenty of ski resorts in Japan (eg the Olympic city of Nagano), but it rarely snows in Tokyo. At the end of December/beginning of January, the New Year falls and it can be difficult to get hold of train and plane tickets.
Spring with the cherry and plum blossoms is the period that most people travel to Japan. The temperatures are pleasant and the weather relatively stable.
Try to avoid traveling around Japan during 'Golden Week' (end of April/beginning of May), when many shops close up to 10 days and trains/flights/hotels are fully booked months in advance. However, Tokyo can be quite quiet during this period, when most people travel back to their hometowns. Other times when accommodation in Tokyo can be difficult are mid-February (students travel to Tokyo to write entrance exams for prestigious universities) and mid-July to late August (Japanese holiday season).
Japan has many festivals that occur in different cities on different dates. A tip is to check out what's going on in Japan during your holiday month, a good website with information about the different months' festivities is JapanVisitor.com.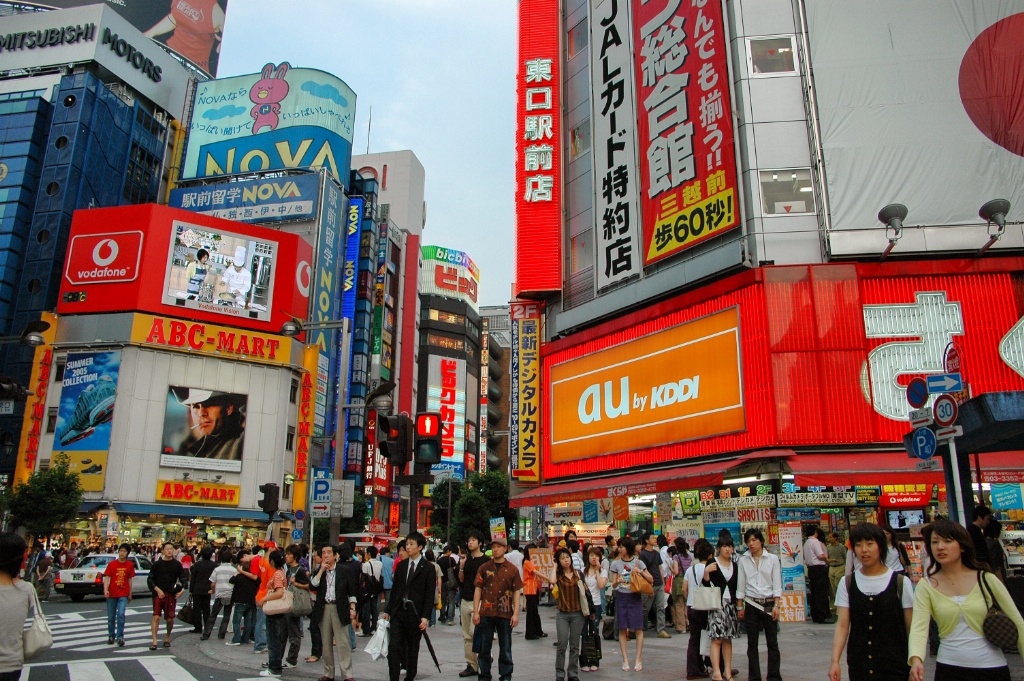 Places to visit on your train trip
Tokyo
Tokyo is one of the world's largest cities, known for the Imperial Palace, sumo wrestling and crazy tech gadgets. During a trip to Japan, Tokyo is a must on the list of places to visit. Not so much for sights, but rather to experience the people and breathe in the atmosphere of the big city - at the early fish market, by the trendy young people of Shibuya or from the 40th floor of your hotel.
Kyoto
Kyoto is one of the most well-preserved cities in Japan, despite earthquakes, fires and wars. Here you will find peaceful stone gardens, swaying bamboo forests and more than a thousand Buddhist and Shinto temples. You might even be lucky enough to run into a Maiko – an aspiring geisha – before she quickly disappears into an alley. Because in Kyoto, the old Japanese culture still lives in the midst of the bustle of the modern city.
Do you want to read more about Kyoto? Check out my Kyoto Guide.
Takayama
Takayama is one of Japan's best-preserved traditional towns. With beautiful old buildings in the old town and surrounded by high mountains and fresh air, Takayama is a wonderful break from the big city stress of Japan.
Nara
In the middle of lush hills lies the former capital city of Nara. The area is considered the historical cradle of Japan and here you will find many historically interesting sights in a compact area, with the Todai-ji temple as the main attraction. This is also the hometown of sake, so don't miss a visit to a sake brewery with sake tasting of varieties you can't even dream of. How about champagne sake?
Nikko
Within day-trip distance from Tokyo, the city of Nikko lies amidst wild waterways, hot springs and mountains. People go to Nikko to hike in the national park or to visit the Shinto and Buddhist Toshogu temple.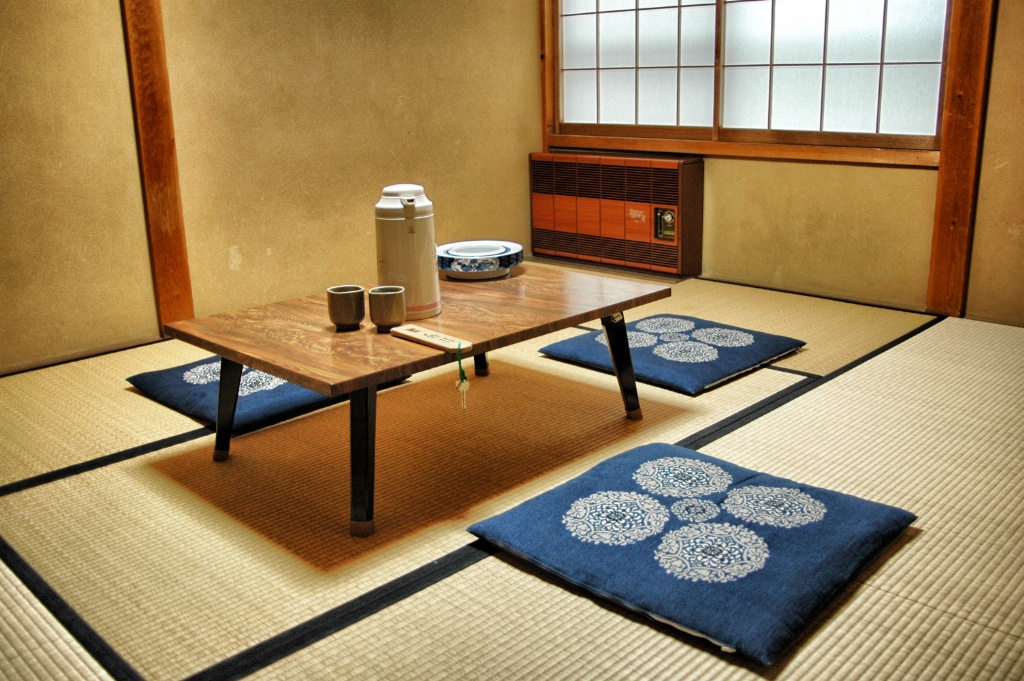 Accommodation
It can be relatively difficult to find accommodation yourself in Japan unless you use large booking sites such as Expedia and hotels.com. Western-style hotels can be found and booked on most internet travel agencies, but if you want to find the gems, it can be difficult. Most hotel sites are in Japanese only.
In Japan, there is accommodation for all budgets – but even the cheapest rooms are relatively expensive compared to other Asian countries. Cheapest you live in capsule hotel or hostels for about 300 kronor per person and night. The capsule hotels are simply described as bed capsules of approximately 2 x 1,5 meters that are stacked on top of each other in a room. The capsules usually contain a television, radio and lamp. Unfortunately, the capsule hotels usually accept only men, but there are occasional capsule hotels that also accept women.
Japanese Inns – ryokan and minshuku – is a must try before leaving Japan. Sleep on tatami mats, enjoy Japanese baths in communal bathing areas and eat amazing food, the difference between ryokan and minshuku is in the level of service. At a ryokan, you have your own room hostess who serves you a 15-course dinner in your room, while at a minshuku you often get to eat an equally fantastic dinner - but in a communal dining room without your own hostess. The price difference can be large and not all inns have English-speaking staff, which can be a problem as staying in Japanese inns requires you to be familiar with a lot of common sense and etiquette. The price for this experience is 1000-2000 kronor per person and night at the ryokan and around half the price if you stay at a minshuku instead. Take the opportunity to stay at the ryokan outside the biggest cities, and you will get a cheaper experience.
International hotels of Western standard are plentiful in Tokyo and Kyoto and prices are as in most other big cities - 500 kronor and upwards per person per night. However, don't forget to check that you get a non-smoking room!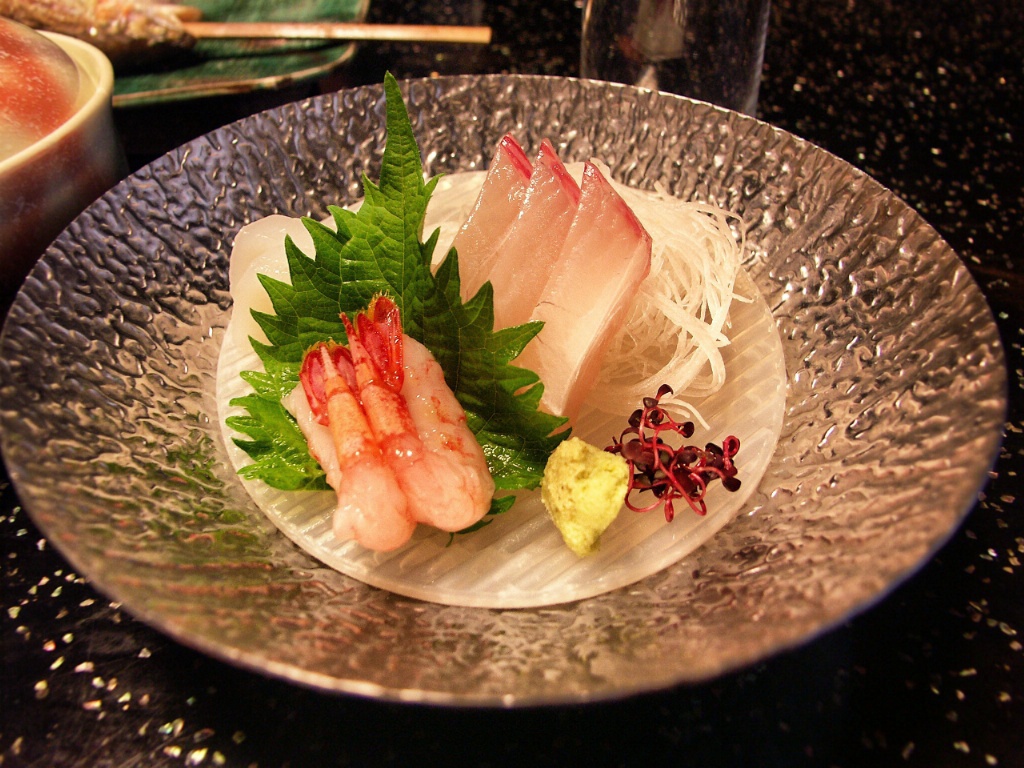 Eat out
Japan's temples, crazy neon signs and fast trains are not the only reasons to travel to Japan. For us, the food was one of the biggest highlights of the trip and we were really looking forward to the dinners and the new flavors and textures that you would get to taste. Of course, we could go on unexpected meals with ice-cold noodle soup, sloppy chicken skin on a grill stick or home-cooked food on the grill - but everything was fantastically good! The bento boxes on the trains became like a little Christmas Eve with all the surprises that appeared when you lifted the lid. Western food chains such as McDonalds are everywhere in the big cities, but the menu is always slightly changed to fit in Japan - for example, we came across a teriyaki burger at the aforementioned restaurant.
Sushi - Sushi is the dish that most people associate with Japan. The word roughly means "rice with vinegar" and thus has nothing to do with raw fish. There are different types of sushi, the most popular are Nigiri (oblong rice balls with for example a raw fish, shrimp, avocado), Gunkan (seaweed roll with rice and fish eggs/sea cucumber), Norimaki (seaweed rolls with filling), Temaki (seaweed cones with rice, fish/ seafood and vegetables – must be eaten quickly, otherwise it will be chewy) and Inari (sushi rice placed in a bag of deep-fried tofu). In Japan, you don't eat as much wasabi as we do here at home, and you only dip certain types of sushi in soy (and in these cases, the fish is dipped, not the rice). With sushi, you drink green tea, which is usually included in the price. The cheapest way to eat sushi is at a conveyor belt restaurant (for about SEK 9/plate with two pieces).
Bento - As a train traveler, you love bento! Bento is a single-portion box with take-away food that consists of a lot of different small dishes with meat, fish and rice. The box is aesthetically laid out and can contain cold or hot food. At the train stations there are loads of boxes to choose from, and it doesn't matter if you don't know Japanese - just point to the box with plastic food on the sign that looks the tastiest. The bento boxes are then eaten on the train with a good appetite - practical, pleasant and fantastically tasty every time.
Sashimi- Sashimi is thinly sliced ​​raw fish or shellfish. Here you don't have rice, but dip directly in soy.
Soba/Udon/Ramen- Noodles served cold or hot, often with soup and topping. Popular dish is Yakosoba – fried noodles with vegetables and ginger.
Nabe dishes- Cooked in a hot pot that is usually on the table. Shabu-Shabu is a kind of Japanese fondue in broth where you dip meat, mushrooms and vegetables. Sukiyaki is another variant, where you dip meat and vegetables in the right egg before eating it.
Okonomiyaki- Often prepared by the diner himself on a griddle on the table and is a kind of omelette/pizza with filling/garnish. The waitress serves the batter and then you take the two spatulas and flip the pancake once it has set. Good, but not recommended for a quick lunch…
Gyoza– Fried dumplings with filling
Gyudon- Beef cooked with onion, mirin, sake and soy served on a bed of rice. Much tastier than it sounds - popular food served at several fast food chains.
Yakitori– Grilled chicken on skewers. Pass up! In Japan, all parts of the chicken are sold as yakitori - even the liver and skin...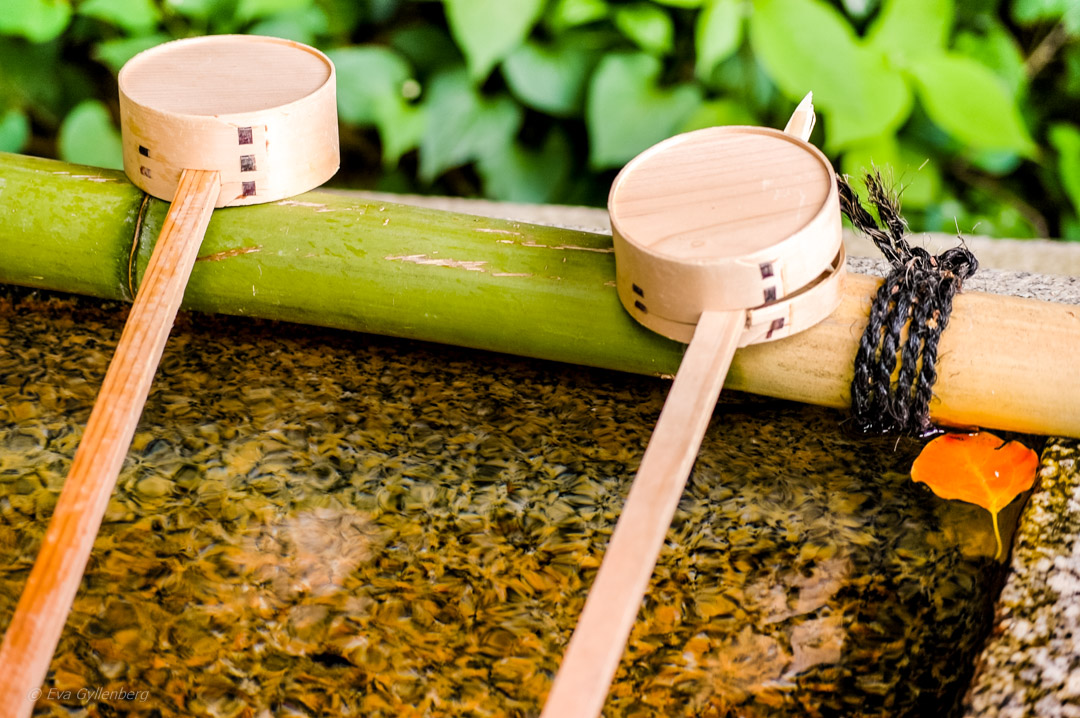 Common sense and etiquette
No travel destination is as associated with tradition, culture and rules of etiquette as Japan. Most of the rules are very self-explanatory and a little humility and respect will go a long way. Here, however, we list some good rules to keep in mind - both for common sense and etiquette.
Never walk with shoes on a floor with tatami mats. Take off your shoes/slippers at the door, go in socks or barefoot.
Change into the toilet slippers when you enter the toilet. And by all means don't forget to change back into the other slippers before going out...
At temples and shrines, there is a water fountain with buckets at the entrance. These are to purify you before entering the area. Take a scoop and clean your hands. You will see some Japanese people also rinse their mouths, if you want to do that too - remember to spit outside the fountain.
Japanese baths are as much about cleanliness as relaxation. If you are going to take a Japanese bath at, for example, a ryokan, there are certain rules to follow. Before you bathe, you clean yourself. The showers are mounted low because you have to sit on a stool. Fill a water bowl/bucket with water and pour over yourself. When you have soaped and rinsed off every bit of shampoo, you jump into the bath. Everyone bathes in the same bathwater, so it's important that you're clean before you jump in.
There are two types of toilets – Japanese and Western. Japanese toilets are holes in the floor that you crouch over. Western toilets are of the same model as here at home, but often have more functionality than the ones we are used to at home. The toilets can play music or water sounds so others don't hear what you're doing on the toilet, they can spray water to clean you, they can have a heated seat or automatic air drying(!).
You don't pick your nose in public and you definitely don't pick your nose at the dinner table.
Do not pour soy on cooked rice. If you want to dip in soy, you get a small dipping plate.
Sushi is eaten with fingers or chopsticks. Dip the fish rather than the rice in soy and don't add extra wasabi if you don't want to clash with the chef.
Never put your chopsticks in the rice. You only do that at funerals. Also, don't point with your sticks.
Safety
Japan is a comparatively safe country. Never that we felt like anyone was casting lustful glances at our camera equipment, and never that we ever encountered anything but unbelievably friendly and helpful people. One threat that is imminent in Japan, however, is earthquakes. About 20% of the world's earthquakes with a magnitude greater than 6 on the Richter scale occur in Japan, so it's not a bad idea to be aware of your hotel's evacuation plans. If an earthquake occurs, take shelter under a stable table, bed or doorpost to avoid falling materials. Do not take the elevator, do not run in panic, but stay indoors (if you are indoors) and wait out the earthquake.
Media
Traveling around Japan can sometimes feel a bit isolated, as there is very rarely CNN or other foreign news available in the hotels. However, there is a very good English-language newspaper – Japan Today - where you can get information about what is happening in the country.
Something you must not miss when you are in Japan, is watching TV. Japanese people love crazy game shows like "answer the question correctly or we'll launch your mother-in-law into the air with a catapult" or "answer the question correctly or your teammates will get electrocuted in the ass". You don't need to understand a word of Japanese to get hooked on these weirdly funny shows. It feels a little strange to see the correct costumed men you meet on the subway, suddenly water skiing while sitting on a toilet seat or riding tandem bikes wearing pink panther suits - but it's oh so entertaining!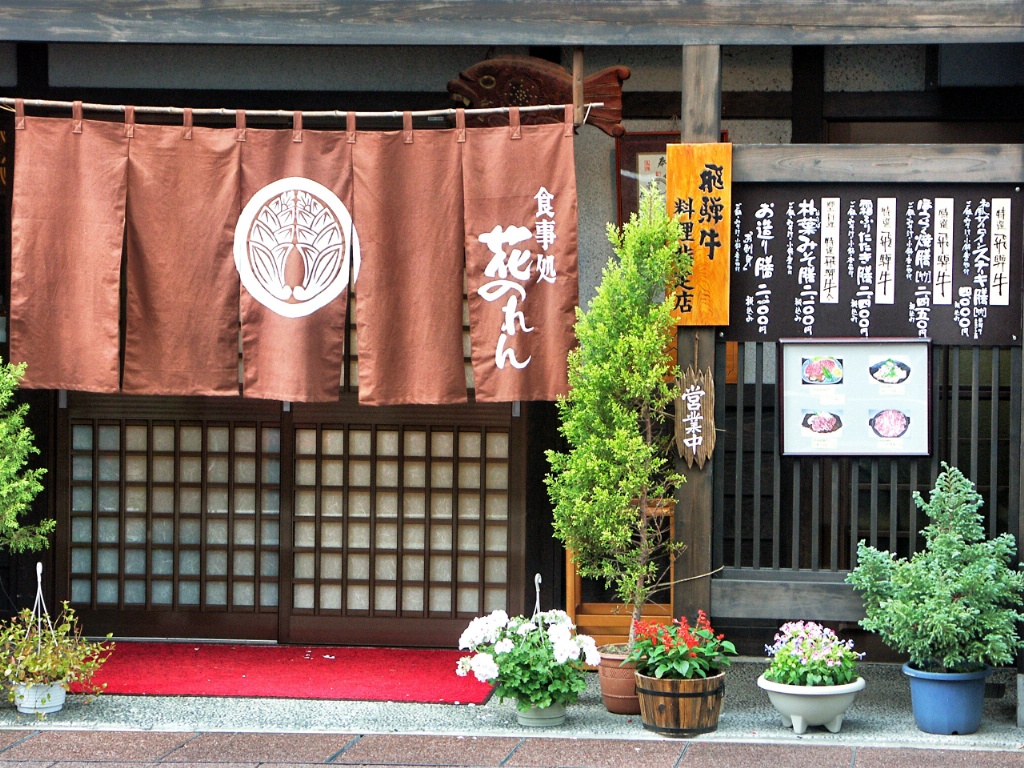 Currency and costs
You often hear that Japan is expensive and horror stories about what people have paid for a glass of juice in Tokyo are spread widely. Let's bust that myth once and for all - Tokyo is no more expensive than any other big city! Of course, you can't compare Tokyo with Bangkok, but to make a meaningful comparison you have to look at the whole - quality, cleanliness and order.
In Tokyo there is accommodation from a few hundred Swedish kroner, good and well-cooked food does not have to cost more than about 15 kronor and public transport is significantly cheaper and more punctual than in Sweden. But the best thing about Tokyo is that the most enjoyable entertainment – ​​watching the crowds, neon, skyscrapers and electronics – is completely free!
Tipping is basically non-existent in Japan and no one expects it. Bargaining is not common.
Have you been here? What did you think of the destination?
Been there - didn't like it!
0
Not keen at all to go here!
0
Eva Gyllenberg
Travel blogger, gastronaut, photographer and family adventurer with over 55 countries in his luggage. Eva loves trips that include beautiful nature, hiking boots and well-cooked food. On the travel blog Rucksack she takes you to all corners of the world with the help of her inspiring pictures and texts.