Slovenia was perhaps not the first destination the family wished to go to during a dark October week. The daughter would probably have preferred a little warmth and the husband would probably have preferred to see a big city. But after much discussion, the choice landed on a road trip in Slovenia with lots of nature, culture and history.
So what did we think of Slovenia? What are our quick and short reflections like this the day after we come home to Sweden again?
The weather
Not because I'm bitter, but if we had gone a week earlier, we would have had 20 degrees and sun for the whole week of October. But the charm of autumn holidays is that you never really know when winter will please come? In any case, our week started with two days of 20 degrees and sun in Bled, coffee at outdoor cafes, a potpourri of autumn colors and hiking in a t-shirt. Then a low pressure began to move in across Europe and the temperature dropped 10 degrees from one day to the next. On the fourth day it rained and there were low clouds all day, so we had to re-plan our hikes and visit castles and caves instead. In Piran on the Mediterranean, we had 15 degrees and fairly windy weather, and then came to Ljubljana and were met by minus temperatures at night. Then we finished with 18 degrees in Vienna. It just wasn't easy to pack for this trip. Especially as we had skimped and only paid for one checked luggage for three people. However, we managed to get a fairly good pack, although I may have used some items of clothing more days than I planned.
Where did we go in Slovenia?
We had a rental car for the entire trip and drove a total of almost 130 miles in Slovenia (+60 miles more in Austria) on everything from well-maintained highways to small, unmarked, one-lane forest roads. A pretty good achievement in a country that is twice as big as Skåne! We started our trip in Vienna and then drove to Bled/Bohinj. After a few days it took off over the mountain pass Vrsic to Soca Valley and Bovec. Then we drove to the Mediterranean and cozy Piran via the wine district Goriska Brda and the castle and grotto outside Postojna. After a few lovely days at the coast and a visit to the salt fields in Secovlje so we went to The Skokjan Caves and Ljubljana. Then we drove through all of eastern Slovenia up to Austria and Graz and stayed there for a day before going home. A little nature, a little culture and a little big city simply. Just the way we like it 🙂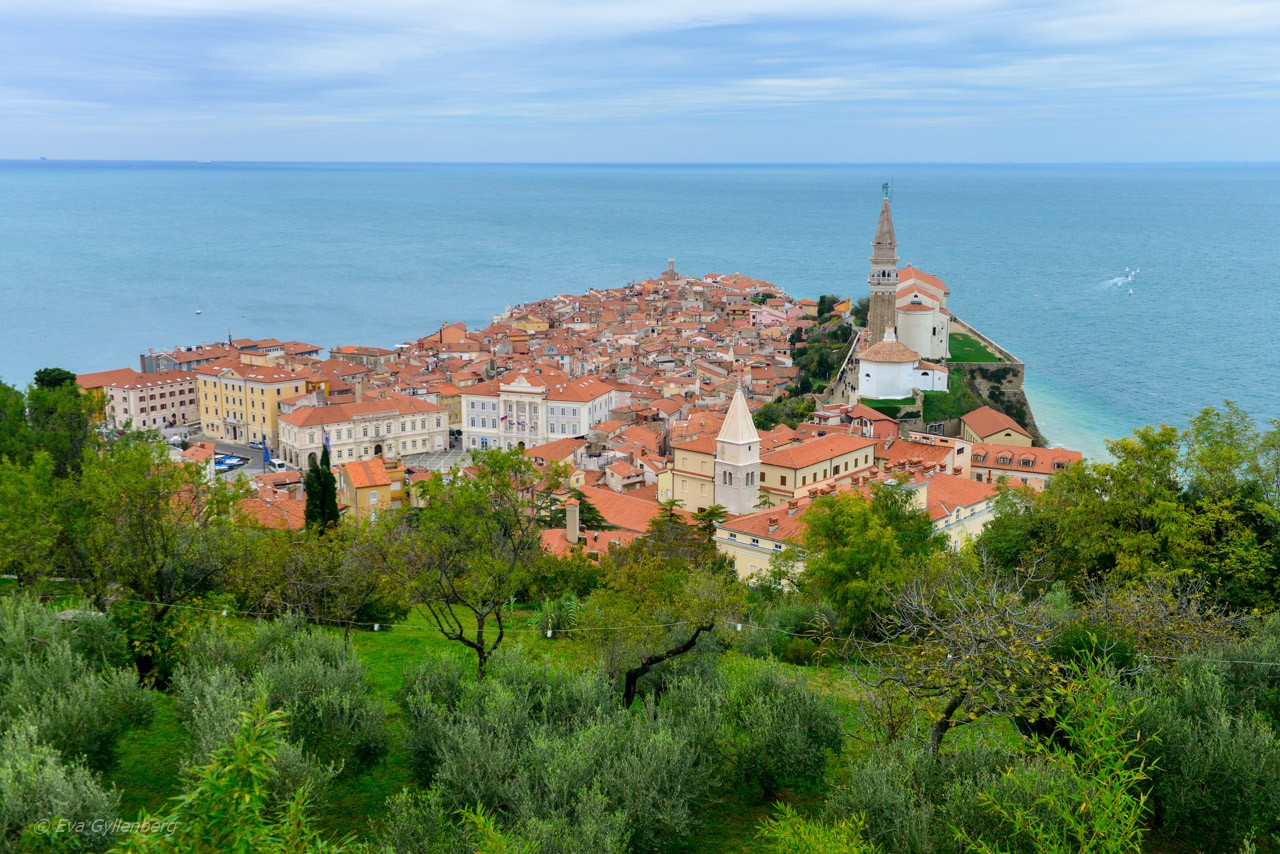 Prices and payment
Despite the fact that the euro is far too high for it to feel completely good in the wallet, Slovenia is still a cheap destination for Swedes. It is not difficult to eat a main course at a restaurant with a glass of wine for under 10 euros. However, it is good to remember that there are still a lot of places that do not accept cards, so cash is always good to have with you. We never got a chance to tip.
Some examples of prices:
Hotel = SEK 700-1200 per night (for three people in large apartments)
Petrol = 1,1 euros
Small yogurt in a grocery store = 0,19 euros
1 liter of juice in a grocery store = 0,8 euros
A glass of wine in a restaurant = 1,10-3,50 euros
What should we have thought of? Lessons learned!
In Slovenia, all shops are closed when it is holiday. I really do mean all the shops – including the big grocery store chain Mercator. Renting a large apartment with a kitchen in Ljubljana for two nights felt like a great idea back home in Sweden, but it is not as appealing when it turns out that there is nowhere to buy food at all... We had simply managed to squeeze in our only two days in Ljubljana on two holidays. So a hot tip is to read which public holidays occur when you are in Slovenia and plan your food shopping in advance. Luckily, most of the restaurants in town were open, so there were plenty of places to eat. We didn't starve, quite the opposite.
What were the biggest surprises?
We had honestly read too little history before coming here, otherwise we probably would have understood that Slovenia is culturally and architecturally more like Austria/Italy, but linguistically more like Croatia. By the way, did you know that the coastal towns in Slovenia belonged to Italy right up until 1954? A person born in Piran 80 years ago has thus lived in three countries in his lifetime – First in Italy, then in Yugoslavia and now in Slovenia.
By the way, the language was a bit of a challenge. I'm usually incredibly easy with languages, but the words didn't stick in my memory at all. Probably because there are so many consonants next to each other, so the words didn't feel right on the tongue. Some words only had consonants, a phenomenon I can't recall seeing before.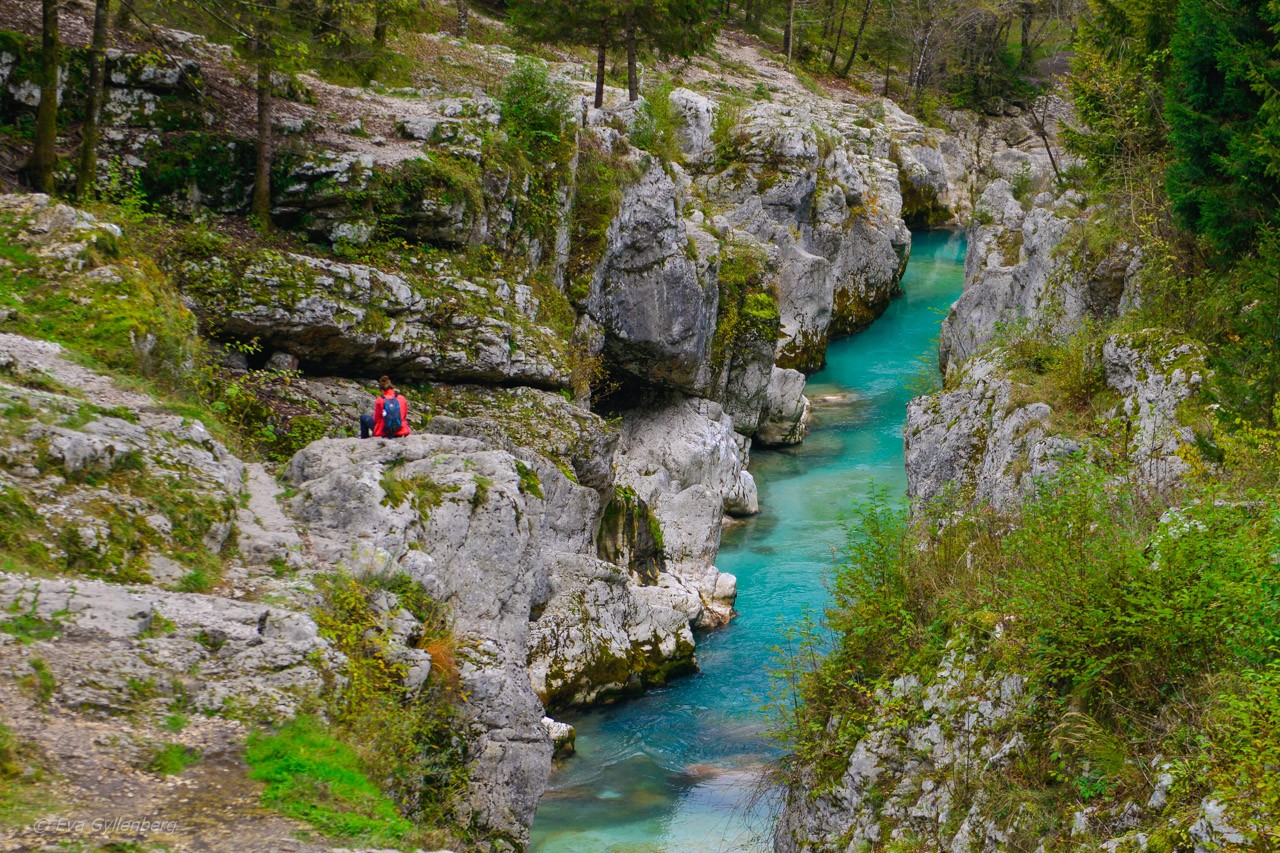 The bottom line of the trip!
What was the overall family rating?
Best!
A: The variety of nature and that there were just enough tourists.
Little E: That was cheap! Then there was the train mine (read: Postonja) and the slide in Graz (read: The world's tallest/longest indoor slide) great.
I: The nature and autumn colors in the Triglav National Park and the two caves (Postonja and Skokjan). The whole experience in Bled - weather, nature, food - everything! Few tourists is always a plus in my eyes - we basically had no queues ever and no problems finding parking spaces.
Worst!
A: Slovenian food can be a bit stodgy…
Little E: The castles were boring! Couldn't shop in Ljubljana! (read: was closed on public holidays)
I: That we couldn't hike to all the planned places in Triglav because of the rain!
If you went back, what would you do in Slovenia?
A: Spend more time in the mountains, specifically in the ski resorts.
Little E: I want to go skiing!
I: Spend more time in the mountains and in eastern Slovenia, we didn't have time to explore for example Maribor.
Best accommodation!
Commonly: Our two-story apartment in Piran with roof terrace (MusicHouse Apartments) and the two-room apartment in an old count's palace in Ljubljana (Barbo Palace). Our accommodation in Graz (although in Austria) – Augarten Art Hotel - was outstanding though! Highly recommended if you like boutique/design hotels! Reviews with pictures to come 🙂
Worst accommodation!
Commonly: Bled Apartments, where we got a small dark apartment in the semi-basement. Not much fun at all, even though we had windows after all. The hotel also didn't respond to the emails I sent before arrival, so I was a bit worried if we would have any room at all when we arrived. The accommodation wasn't bad, but it definitely wasn't memorable.
Biggest surprise
A: The totality of "nice" that the whole trip offered - food, accommodation, nature - tutti banutti! (read: "the whole club")
Little E: Piran resembled a small Venice. I love Venice!
I: How can such a small country have so much magnificent nature and beautiful cities in such a small area? Most things were unexpectedly cheap, especially food in the grocery stores felt like half the price compared to here at home.
Any "but ooooh" stories from the trip?
Unexpectedly few! We were offered a very good blueberry liqueur car at a restaurant in Ljubljana and told ourselves we would buy a bottle from the airport to have for Christmas. Just one problem. We had forgotten that we were not flying from Slovenia, but from Vienna. There is no Slovenian blueberry liqueur there.
By the way, when we were going home, our checked bag had inexplicably gained weight. From 21 kg to 25 kg, so we had to stand and repack the bag at check-in. Pretty inexperienced if you ask me 🙂
Well, were there any souvenirs bought?
Yes! A mug from Postonja, an even more mug from Ljubljana, a small porcelain elf to hang on the Christmas tree from Ljubljana and an incredibly beautiful handmade glass figure for the Christmas tree in the shape of the clock tower in Graz.
(Then there was also the purchase of an advent calendar with Harry Potter with pop figures, but that probably counts more as a life necessity, rather than a souvenir?)
Want to read more of my travel tips? do not forget to like Rucksack on Facebook!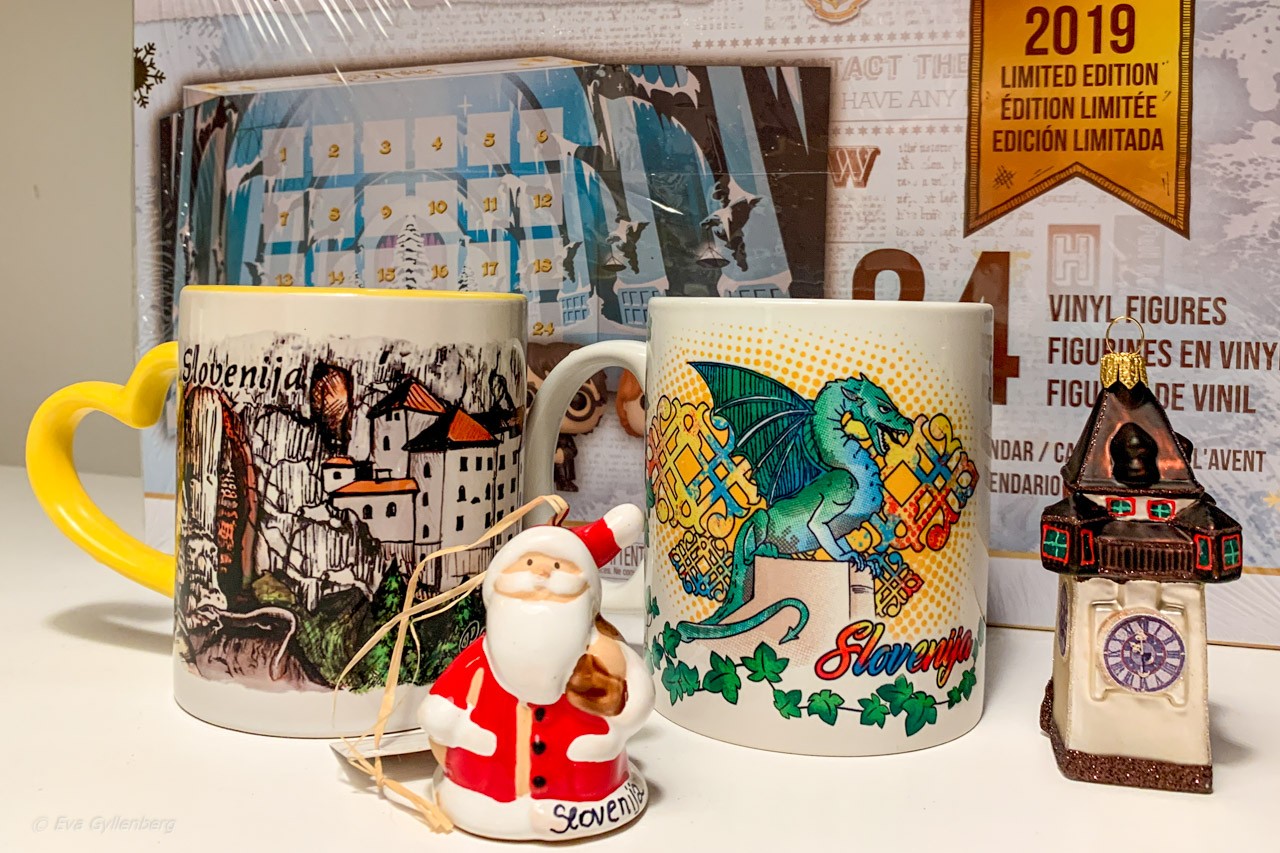 Do you want to read more from my trip to Slovenia?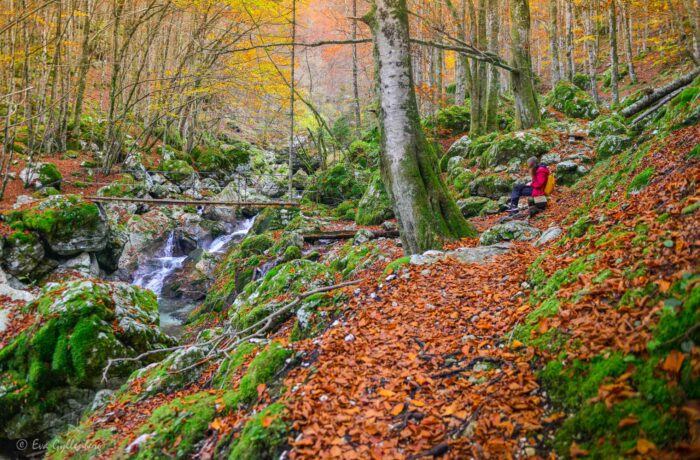 The ravine at Šunik was undoubtedly the most delicious hike of the year. Among moss, waterfalls and autumn leaves...
January 22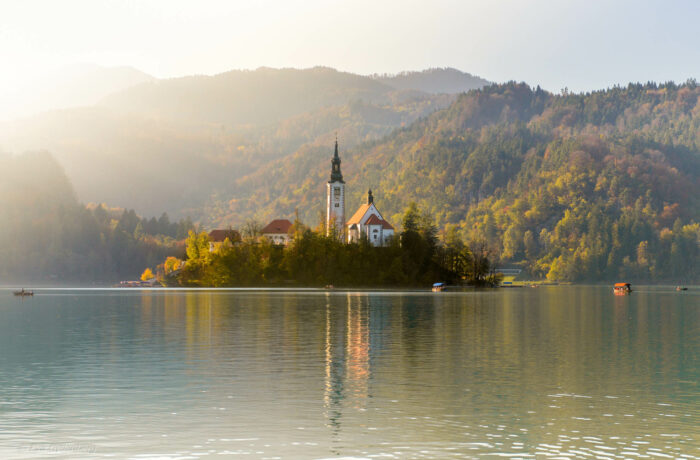 The jewel-colored lake with the small church in the Slovenian Alps. Lake Bled is photographed,…
December 11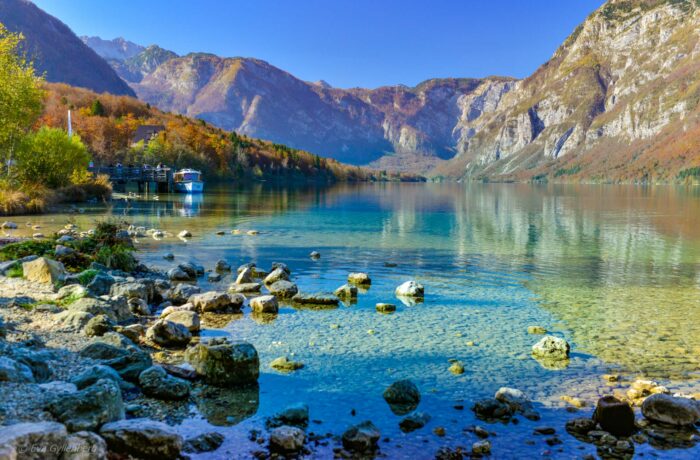 When Lake Bohinj met me with its mirror-like surface and rust-red mountains, then I understood. The…
November 14