Family friendly, easy to travel to and affordable. We didn't think we had such tough criteria for a skiing holiday during the sports holiday this year? Last year we were in Vemdalen, which is actually not attractive to go back to this year. 90% of the time in Vemdalen we spent queuing in lift queues/waffle cabins with elbows in the highest grip, the remaining 10% of the time that could actually be classified as skiing took place on short, icy and overcrowded slopes and it was unreasonably cold and snowy all week. We actually saw the sun one whole time during the week in Vemdalen, I photographed probably 75% of the week's ski pictures during those 5 minutes. Nor was the skiing experience made better by the fact that one day we got stuck in the chair lift in Björnrike for 45 minutes in a snowstorm and with completely frozen trails without feeling then had to get down from kullen. Well, we can probably actually say that this year we were mentally ready for the Swedish mountains on the sports holiday.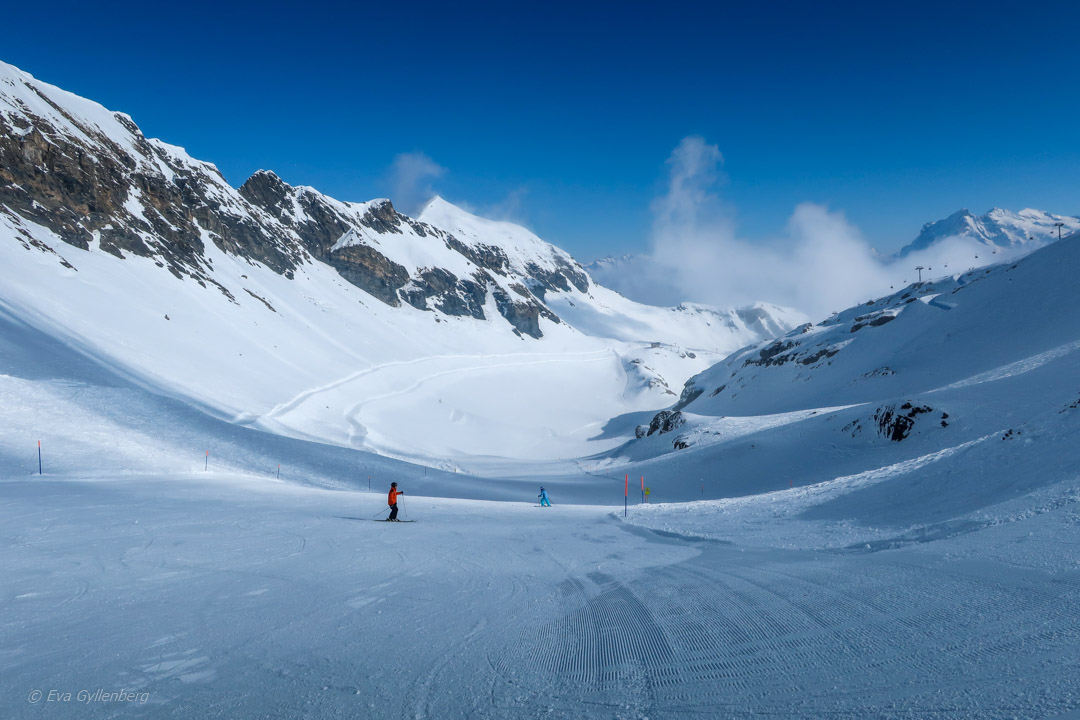 The search for the perfect ski resort in the Alps therefore already began last summer. Although there is no week 9 sports holiday anywhere else in Europe, there is a tight sector when it comes to the sports holiday. Air tickets to the major hubs – Munich, Zurich and Milan. After a bit of searching we found tickets to Zurich, but with all these amazing ski areas in Switzerland, where to go? You can quickly see that the big and most famous ski resorts of Zermatt, Verbier and Davos are not budget destinations for a family, so we started looking for lesser known ski resorts. We had hiked the Jungfrau a year earlier in the fall, which was without a doubt one of the most beautiful areas I have ever been in. Deep valleys lined with waterfalls, high mountains and beautiful little villages without big resorts. Quite simply, a real Swiss idyll. After a bit of Googling we understood that Jungfrau, which is the collective name for the three large ski areas at the resorts Murren, wengen and grindelwald, well enough would be enough for what we were looking for for a week of skiing. Lots of red and blue pistes divided into three large ski areas with reliable cable cars, cable cars and chairlifts with Swiss quality. The total price of lift tickets for the family was also almost comparable to Åre/Trysil's prices (since the children cost half the price in Switzerland - which they don't in Trysil, for example).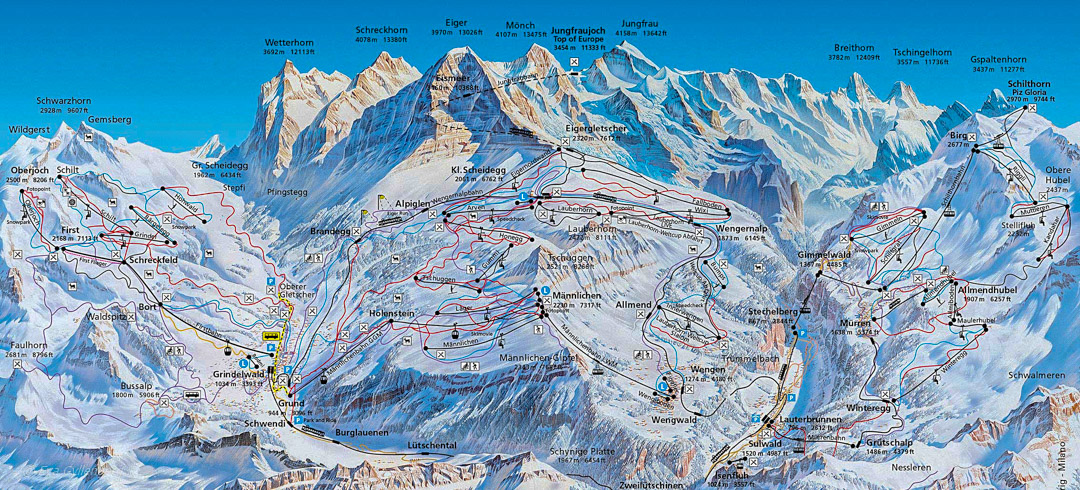 The vast majority of the slopes are located high up in the mountain massif - at 1000-3000 meters - so it takes a while to transport yourself to the slopes. It's not really ski-in/ski-out at so many of the hotels here in Jungfrau, it's rather the distance to the cable car/train that's interesting. When we landed in Zurich, had planned to have a rental car and wanted to try all three ski areas in the Jungfrau, we felt it was perfectly fine to drive to the slopes every day. If you live in one of the three resorts above, it is not at all that easy to get to any of the other ski areas, so we reasoned that the easiest thing was to find an accommodation that was a little way from the slopes, but where it was not would take more than 30-45 minutes to drive to the slopes - regardless of which one we wanted to go to. The place Interlaken located as a hub for all these three ski resorts and a bit outside Interlaken, in the small ski resort of Beatenberg, we found the hotel Dorint Blüemlisalp which looked both fresh and was surprisingly affordable. Neither of us had skied in the Jungfrau before, so we had no preferences on where to stay for the easiest access to the slopes. The only thing we knew was that we had previously stayed at a Dorint hotel in Garmisch-Partenkirchen and therefore knew the chain's "sports profile", so we jumped at the chance and booked the hotel. The advantage of living some distance from the three ski resorts was that we could watch in the morning the webcams from the various mountain tops/cabin stations and see where it looked to be the best weather and then take the car there in a little over half an hour (depending on road conditions).
Jungfrau is about 1,5 hours from Zurich, which was pretty good if I don't count the queues around the airport. Nice, fast roads the whole way, except for the last bit down to Interlaken, which went straight through the mountains with many tunnels and even more tight curves.
Mürren/Schilthorn
The highest skiing in the Jungfrau takes place above the cozy little car-free idyll Murren, which you reach via cable car and mountain train. In a large cable car that takes close to 100 people, you are lifted up to an altitude of between 2500-3000 meters, to birth or Schilthorn. The Schilthorn is not only the highest lift station in the area, it also has a revolving restaurant and a James Bond exhibition. If you have seen On Her Majesty's Secret Service you've probably seen some crazy skiing down the black piste Inferno that starts here. However, we are not completely sold on black slopes yet in our family, but we found a favorite blue slope in Birg that was absolutely perfect for both the youngest member of the family and for me (who is practicing hard to refine my carving). Very wide, well pisted and without queues. The advantage of skiing at such high altitudes is that we could look out over the cloud banks below us in the valley, but very few clouds passed at our height. Up here on the plateau it was blue sky. At Birg there are 3 chairlifts that feed people between the slopes up here on the plateau, but if you get tired of the high altitude, you can always go down to Mürren again. Here there are several lifts and also a charming cable car.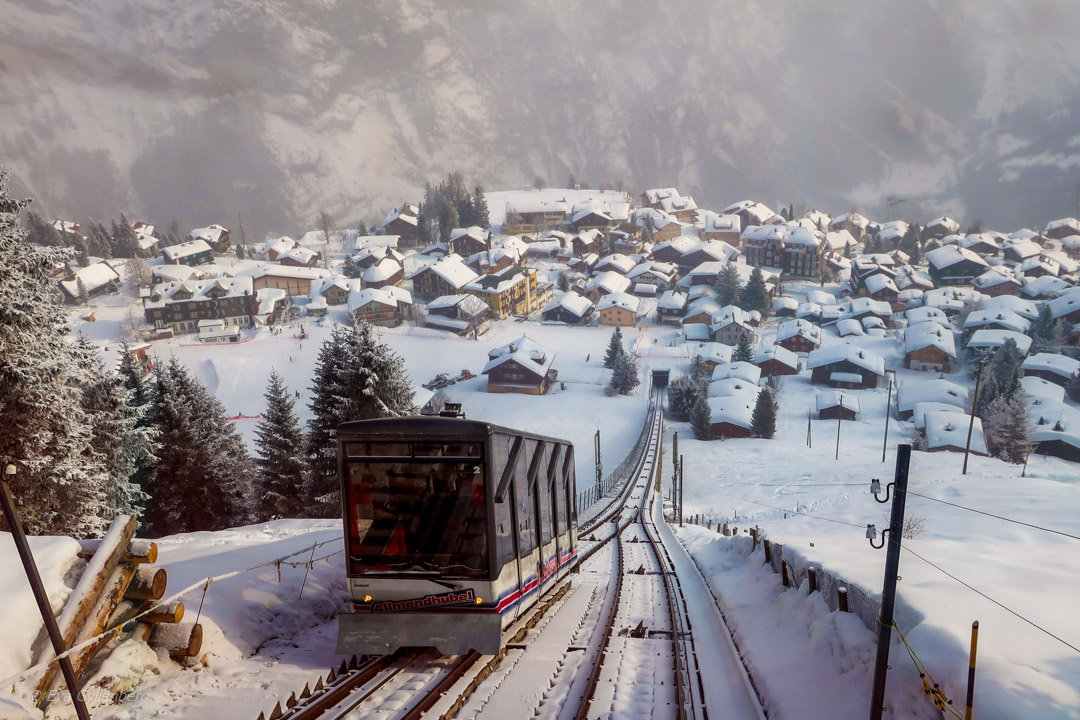 Well, was it family friendly in Birg/Mürren?
Yes! The area at Birg has chairlifts to suit everyone and the blue/red slopes are well groomed and very wide, however many of the most famous slopes in the area are black. For us, it didn't matter to ride the same slope over and over again, it was a luxury to be almost all by ourselves on a well-prepared, long, wide slope.
The area just above the Mürren attracts many families, but as it was snowing when we were there, we didn't go in this area ourselves, but only stopped to eat an apple pie in a hut by the Allmendhubel.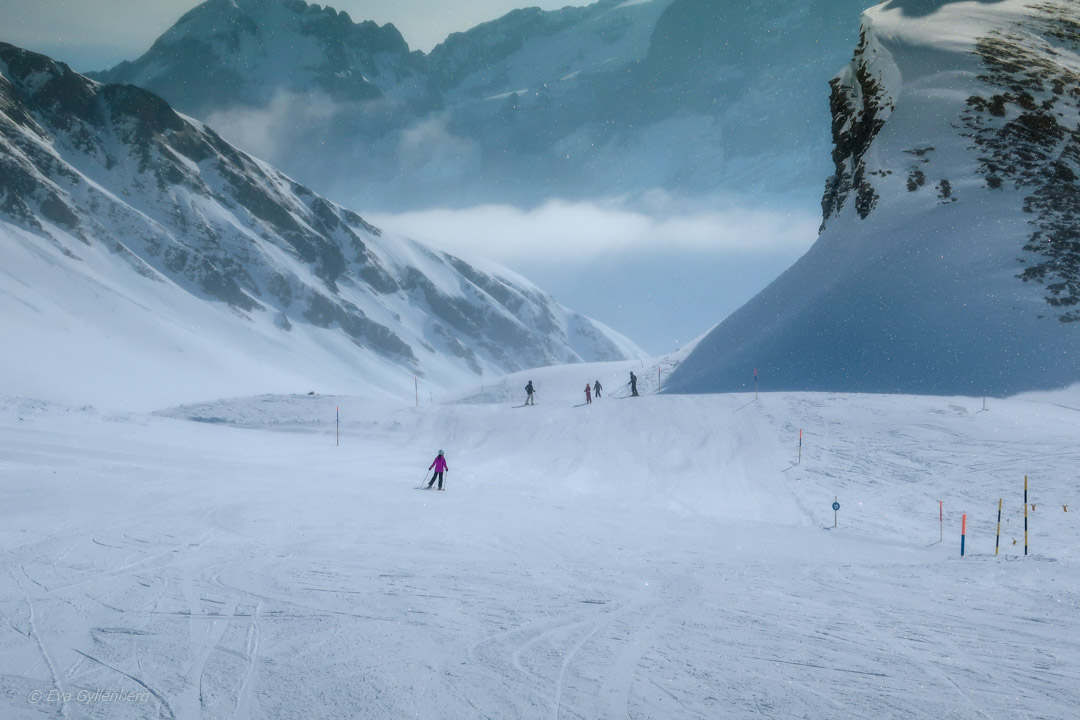 Grindelwald-First
Above Grindelwald, the largest ski resort in the Jungfrau, is a large ski area of ​​between 2000-2500 meters which is generally known as First. The Firstbahn cable car starts from the center of the village and takes you up to the system of chairlifts that transport you from the terminus First to either Oberjoch or Schilt. We stuck to a very family-friendly 2 kilometer long blue slope that went from the top of Schilt to the Bergelägg lift. There weren't many people here either. We mostly had the slope to ourselves and lift queues didn't exist – you just glided up to the chair lift and settled down. I probably have to name this area more my best skiing ever, both slopes, views and the lack of queues made me completely happy. I could go here every day for the entire sports holiday without getting tired, if only I can alternate with an apfel strudel at regular intervals to rest my legs 🙂
Another popular hill in our traveling party was the rippling giant slalom course with timing, which guaranteed to raise the family heart rate a little extra. Unleash your competitive instinct and crown the family giant slalom champion - if you dare!
A bonus hill in First: There was still enough snow to ride all the way from First down to the parking lot in Grindelwald, which was a really long ride of about a mile.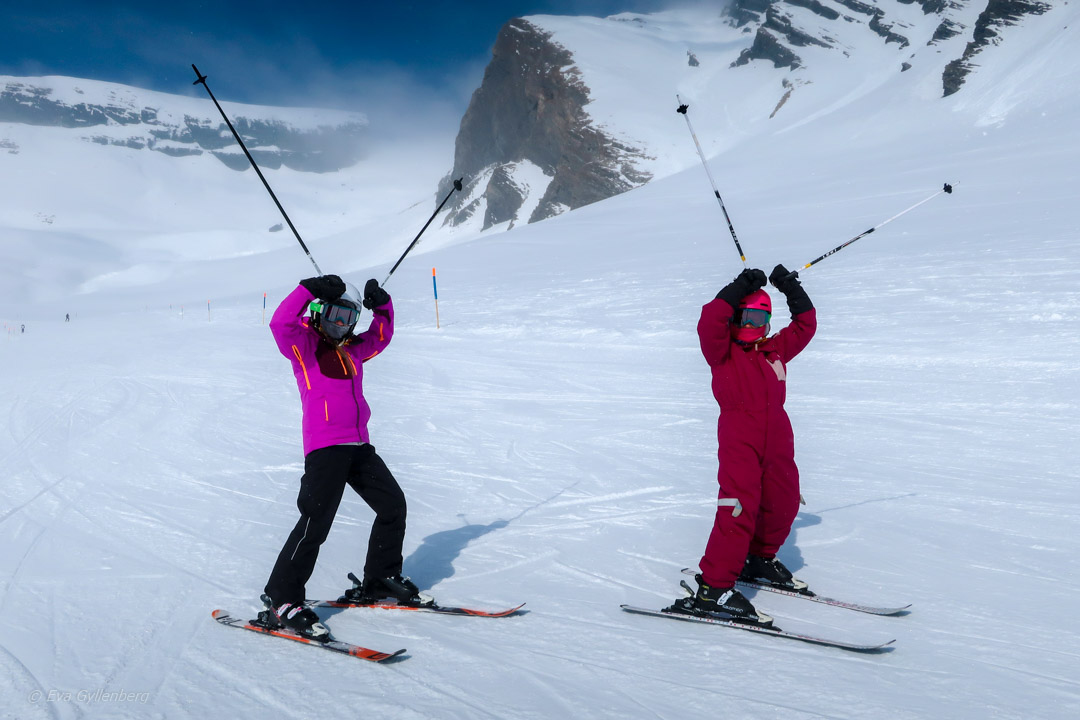 Well, was it family friendly in First?
Yes! The kids were overjoyed by the lovely blue ride at First and the slightly more advanced riders in the traveling party had plenty of red and black slopes to vary the ride with. What should be added is that the red slopes here in First were also suitable for family skiing, as they were significantly wider than the slopes we are used to from Sweden.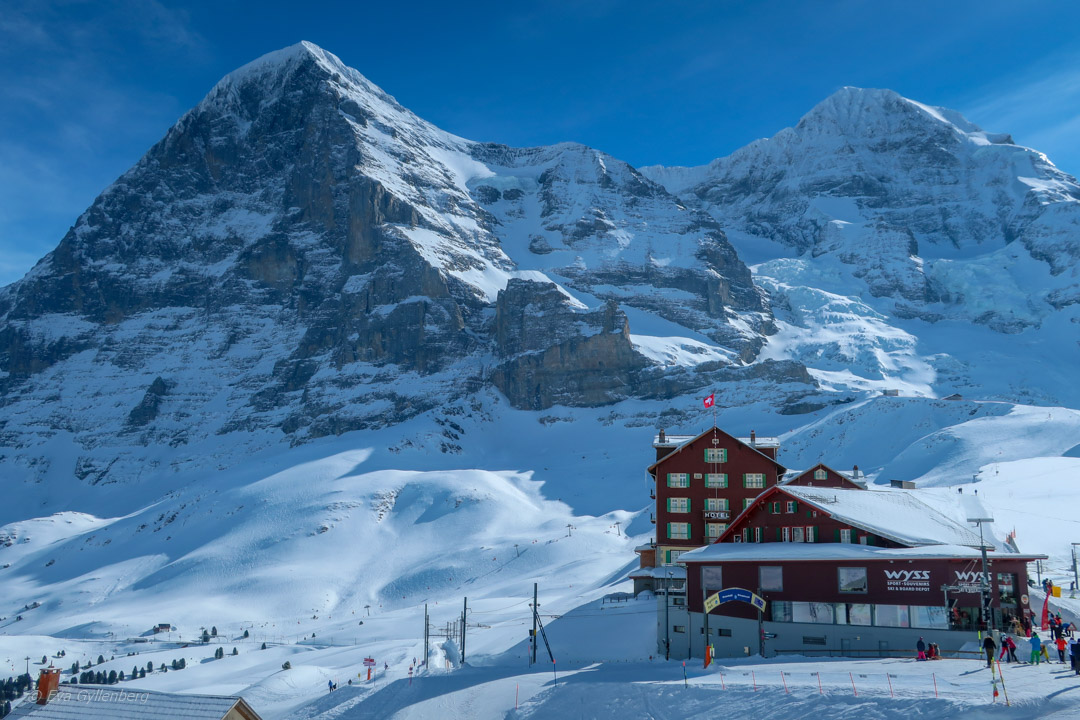 Kleine Scheidegg / Männlichen
The last ski area in the Jungfrau is located on a ridge with shared access from both valleys of the Jungfrau. From one side at Grind (just before Grindelwald) you can take the cable car or the mountain train up to either Male or to Little Scheidegg. From the other side at Lauterbrunnen/Wengen you can take another large cable car up to Männlichen or take the mountain train to Kleine Schedegg. Both systems are connected, so you can ski from Männlichen via a system of lifts to Kleine Scheidegg and vice versa.
Little Scheidegg has the most dramatic scenery of the three ski areas, with the 4000m high Eiger mountain casting its stark shadow over the slopes. The skiing at Kleine Scheidegg, however, we didn't think was quite as good as the other areas. There were a couple of good red slopes, but we found that there was quite a lot of stacking and portage between the slopes and not quite as good flow between the lifts as in the other areas. However, the service at Kleine Scheidegg is a bit sharper than the other systems, as here there are several hotels and shops lying directly on the slope. From Kleine Scheidegg you can change trains and continue even higher up to jungfraujoch, Europe's highest located train station at 3000 meters above sea level. We were a bit keen to go up there and look at the view, but the trip from Kleine Scheidegg to Jungfraujoch is not included in the lift ticket, so we were honestly a bit stingy.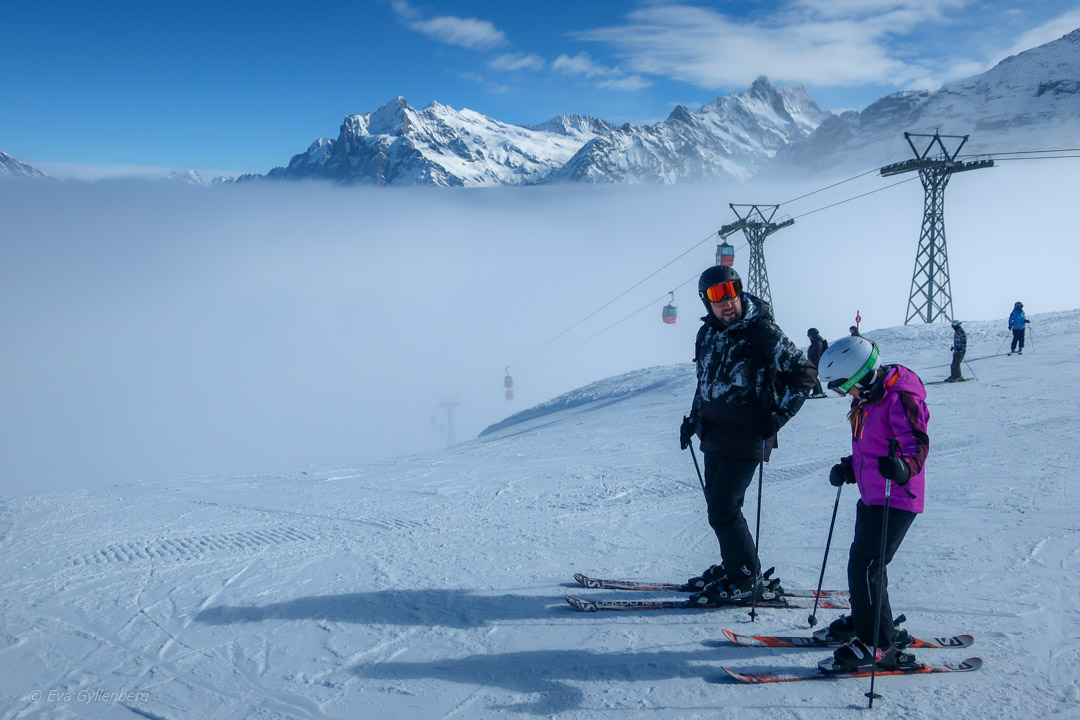 We also went by Male, but we didn't really have the weather with us this day. Up at the top, the sun shone over the surrounding mountain peaks, but a little further down the slopes the clouds rolled in and made visibility completely non-existent. At times I wondered if I was even on the piste, as I could not see the piste pegs or any of the family. Almost a little scary! I was surprised they didn't close the piste in such conditions, there can't be anyone who appreciates skiing in fil milk? Luckily there was a good restaurant at the top that served piping hot Daily soup.
Well, was it family friendly in Kleine Scheidegg/Männlichen?
Well, it was definitely not "family friendly", but it was very steep in Kleine Scheidegg and the thick fog in Männlichen did not make this our favorite area. However, we would have given both Männlichen and Kleine Scheidegg another chance if we had time. It really felt like Männlichen had the potential to be a really good area and it is certainly possible to get flow in Kleine Scheidegg, but it is important to find the right lift rhythm. In addition, the cable car from Grind to Männlichen is one of Europe's longest, which alone makes it worth going here!
Summary
The Jungfrau offers skiing for all ages and there is also a wide range of off-piste activities for those looking for adventure and variety. Zipflyers, advanced tobogganing (on special slopes in the lift system - in fact, the world's longest toboggan run is here!), winter hiking, tobogganing and adventure courses are interspersed along the mountain slopes with cozy restaurants. For the really young skiers, there are several beginner areas, even if you might not really have the energy to go all the way to the Alps to just stand for a week on a children's slope. For us, who have a daughter who skied slalom for a few years, the area's large selection of well-piste blue and red slopes was perfect. Add to that smooth Swiss gondolas and trains that run like clockwork, not a single queue in the lifts and almost empty slopes. This is simply a super nice and quiet ski area, which has not yet been really discovered by us Swedes. But with newly published articles in both magazines Res and in the newspaper "Åka skidor", we might see a few more Swedes here on the slopes next year.
Note: However, I don't see this as an area for super advanced skiers looking for an exuberant nightlife, Jungfrau is definitely not a party place.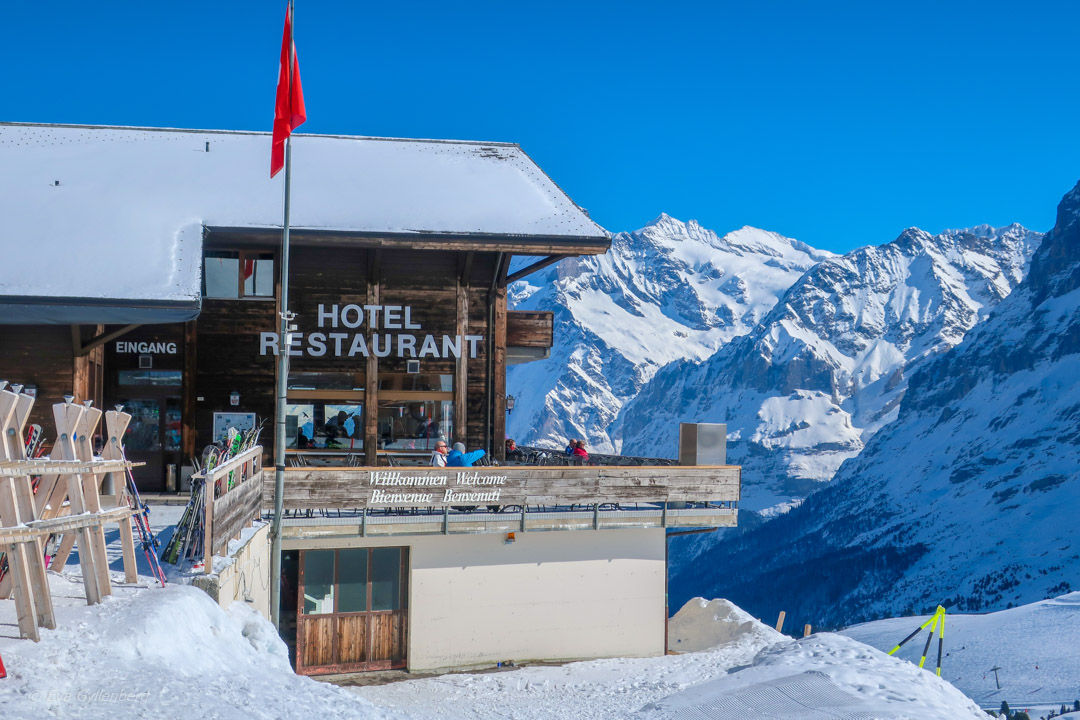 Do you want to read more from Switzerland?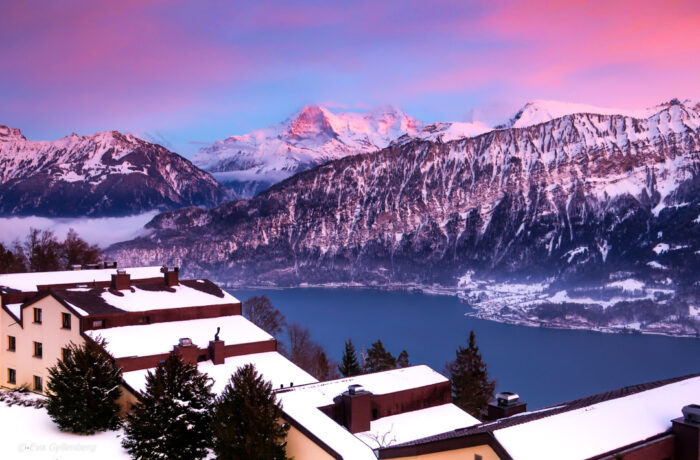 Sports holiday week with skiing in Jungfrau and accommodation at Dorint Blüemlisalp in Beatenberg. Affordable (never thought…
March 18, 2018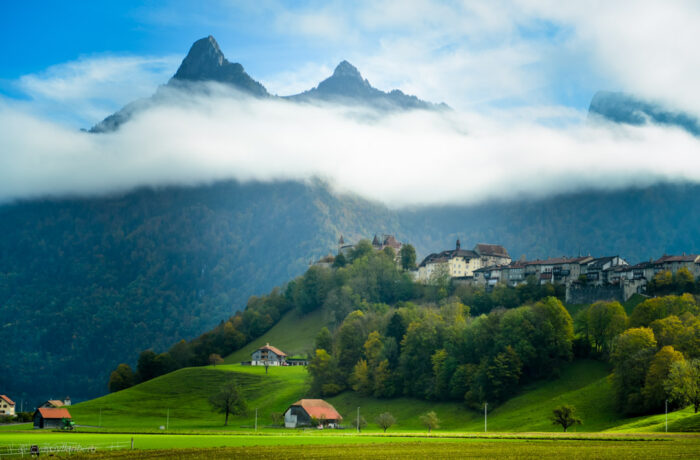 What does a cheese lover do on a road trip in Switzerland? Seeking out the source of the cheese, of course! The…
February 15