One of the places that took us by storm during our road trip in Italy, was Sestri Levante. Midway between perfect Portofino and well-visited Cinque Terre, between luxury and mass tourism. An oasis of real Italy in a region filled with Americans. Sestri Levante is Cinque Terre's beautiful little 6th town, at least as interesting and lovely.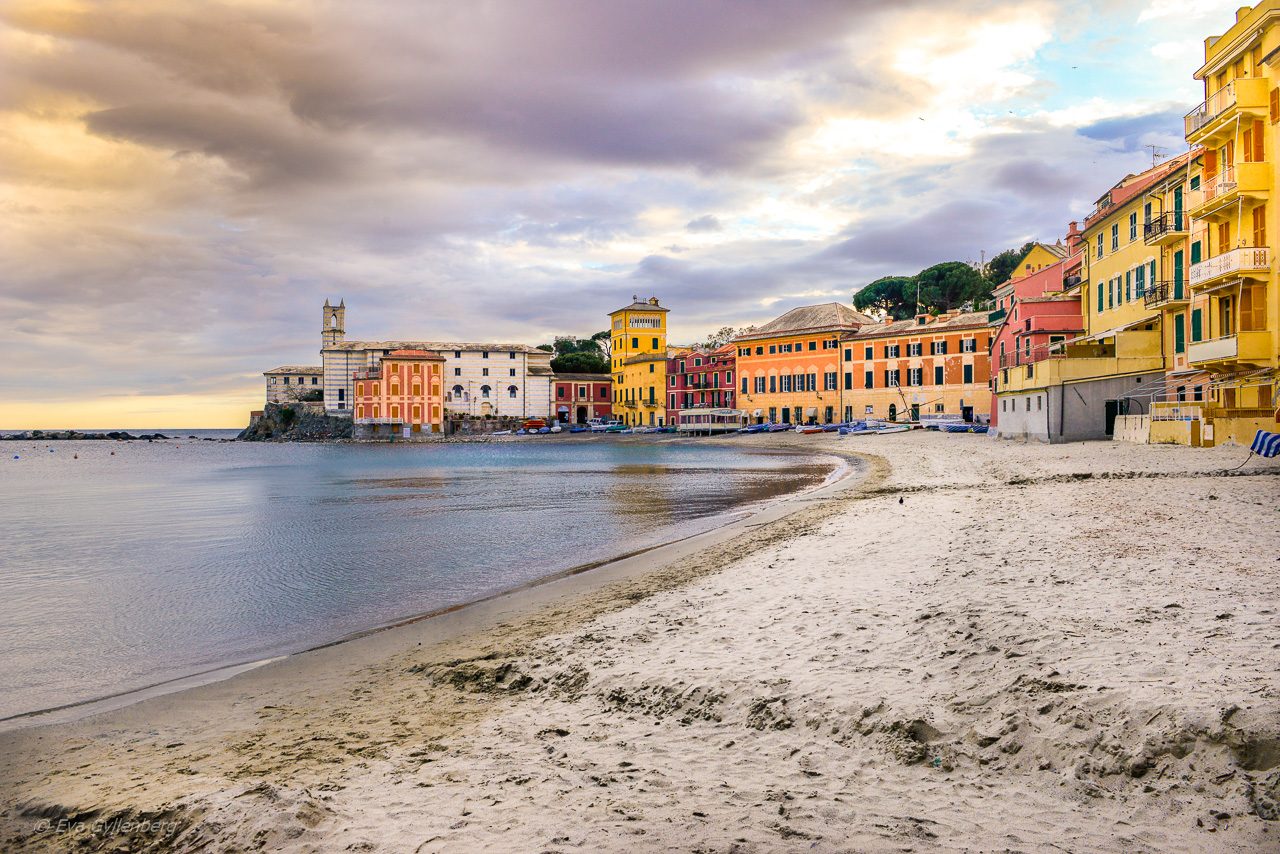 The old town of Sestri Levante is situated on a peninsula, with two fine sea bays on either side. Out on the peninsula stands an old castle and on each side of the peninsula there are nice beaches. However, the weather on this day in April does not allow swimming, but we go down to the beach Bay of Silence in all cases. During the summer it is packed with people, on this windy day we meet only one dog owner. The beach is unexpectedly fine grained and surrounded by the cutest little houses in yellow and pink. A bit like a flatter Cinque Terre. Minus all the people.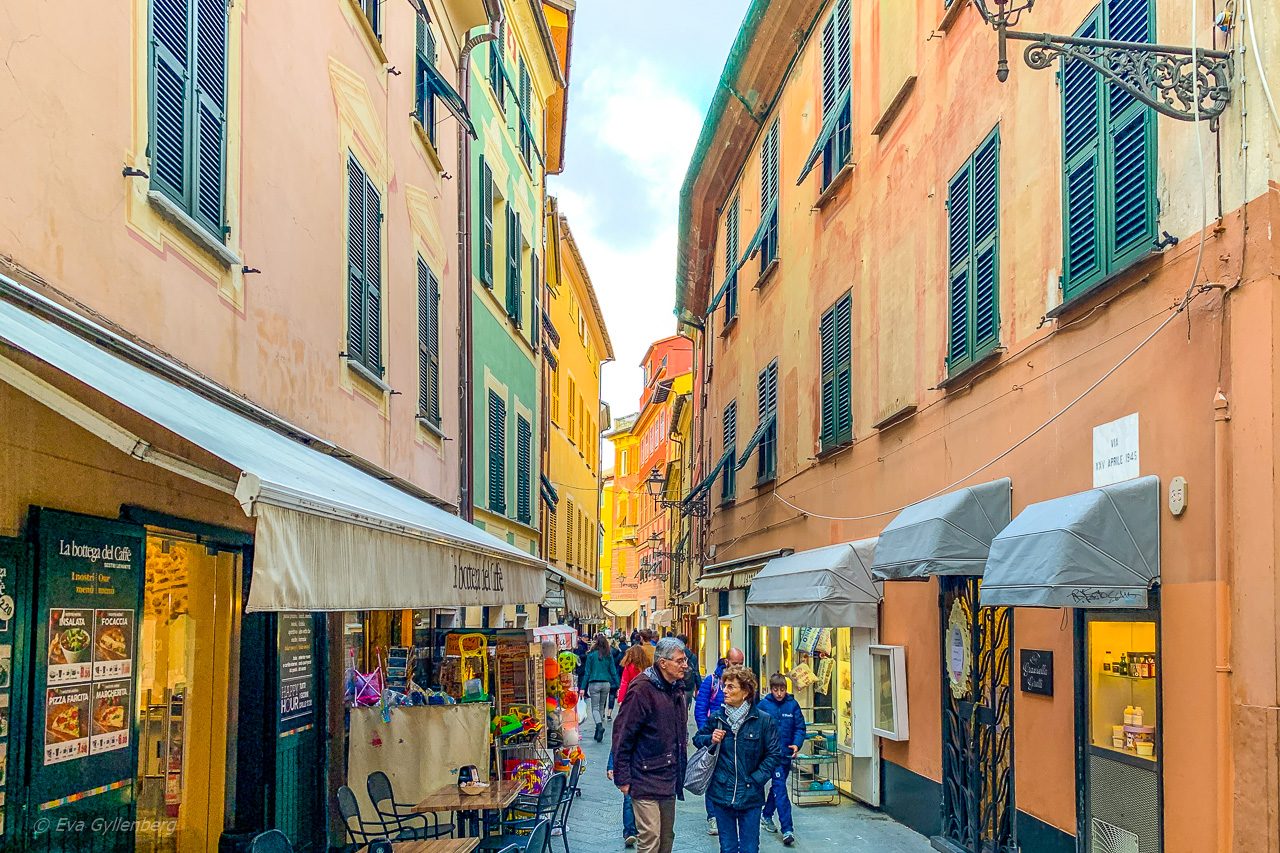 We explore the old town along the Via XXV Aprile pedestrian street. Art galleries, bars, restaurants and small clothing stores. I don't see a single souvenir shop, but all the more delicatessens and gelato sellers. Everything keeps a low profile. More cozy than luxurious. Not a single brand store in sight.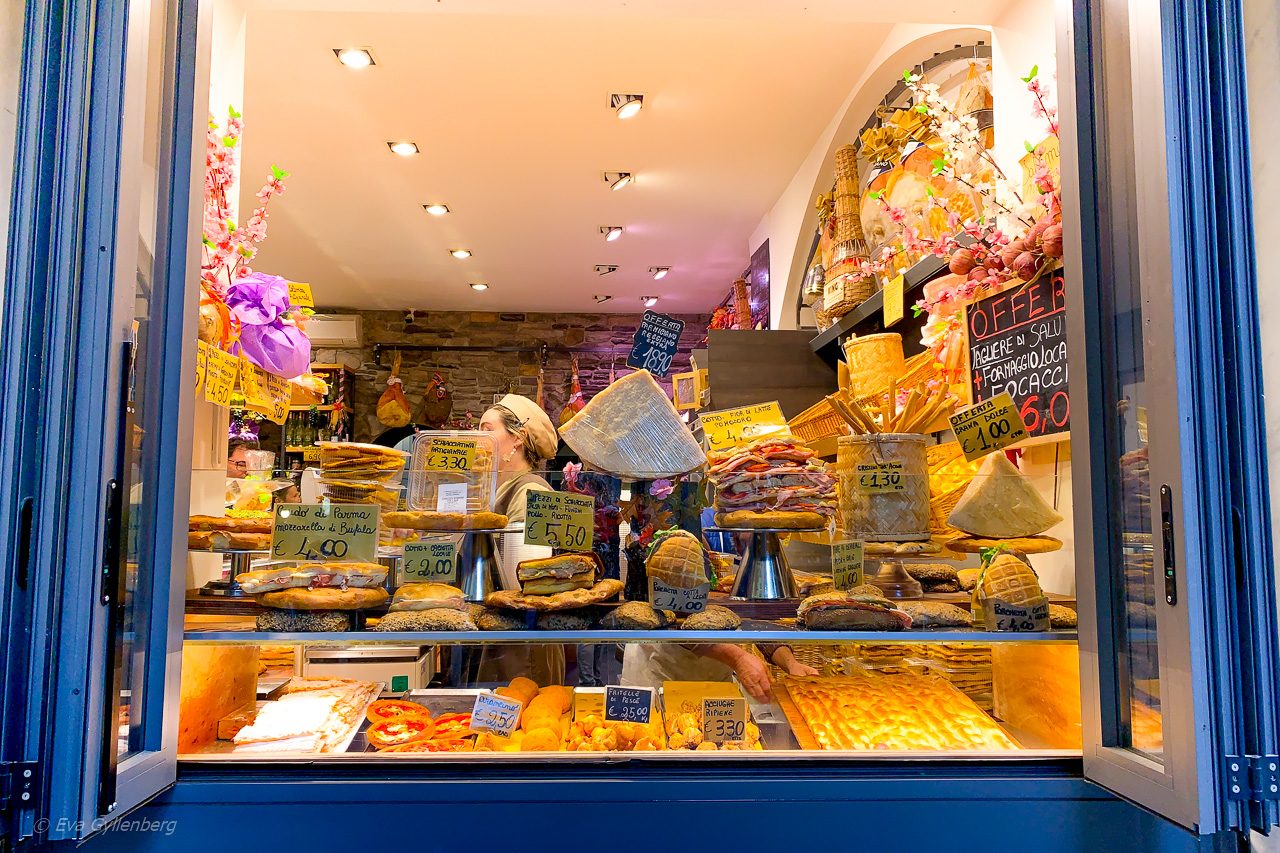 The sandwiches in the shop window with buffalo mozzarella and Parma ham and look incredibly tempting, but we already have plans for dinner. The sights are set on an osteria nearby. An unbookable little place, so we plan to hang on to the lock. No restaurant here seems to open before 19:30, so we have time to stroll around a bit more and soak up the city's wonderful atmosphere.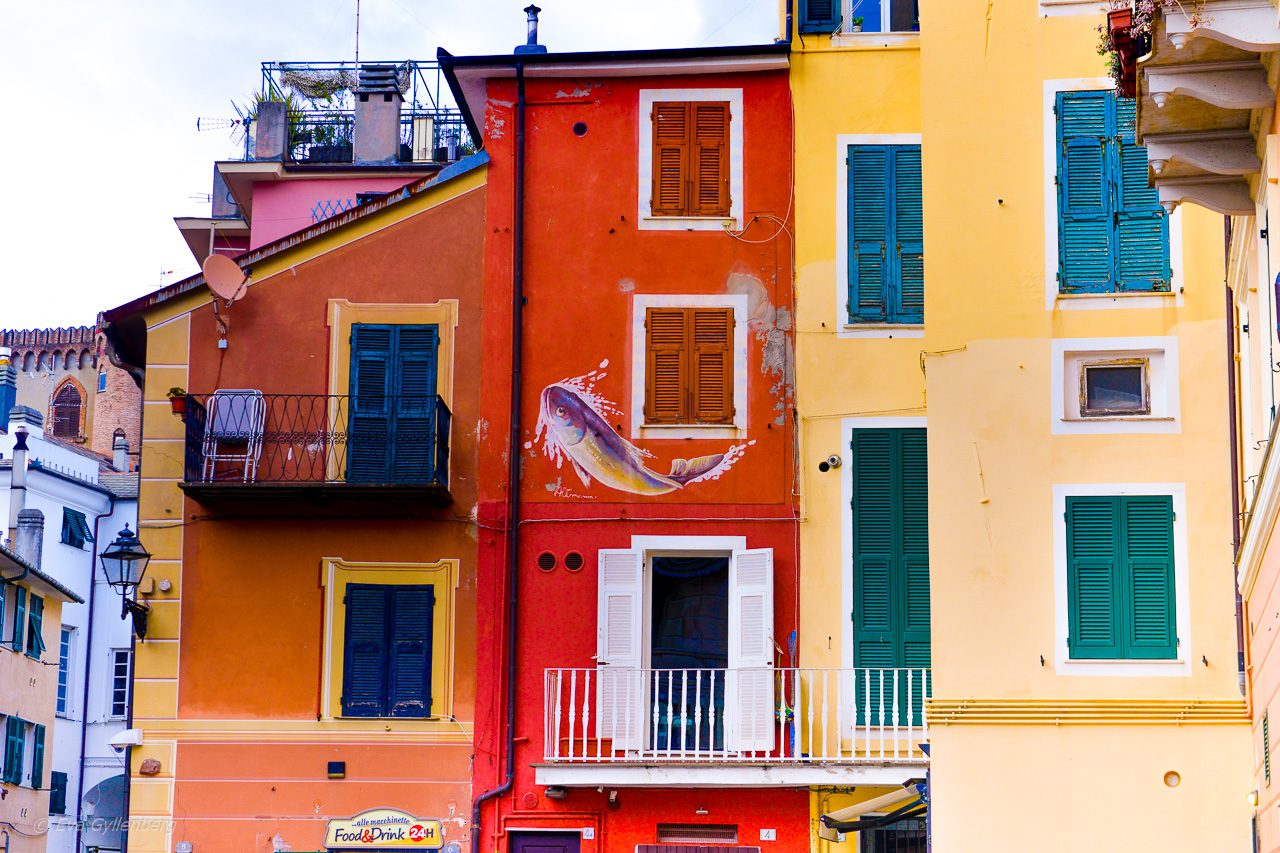 We pass a narrow red house with a fish painted on the wall. It almost looks like a cod, but after learning all about cod during last year travel to Portugal, I am very doubtful why one would paint a cod on a wall in Italy. However, the fact remains that there are many seafood restaurants in Sestri Levante. Maybe actually more fish restaurants than pizzerias.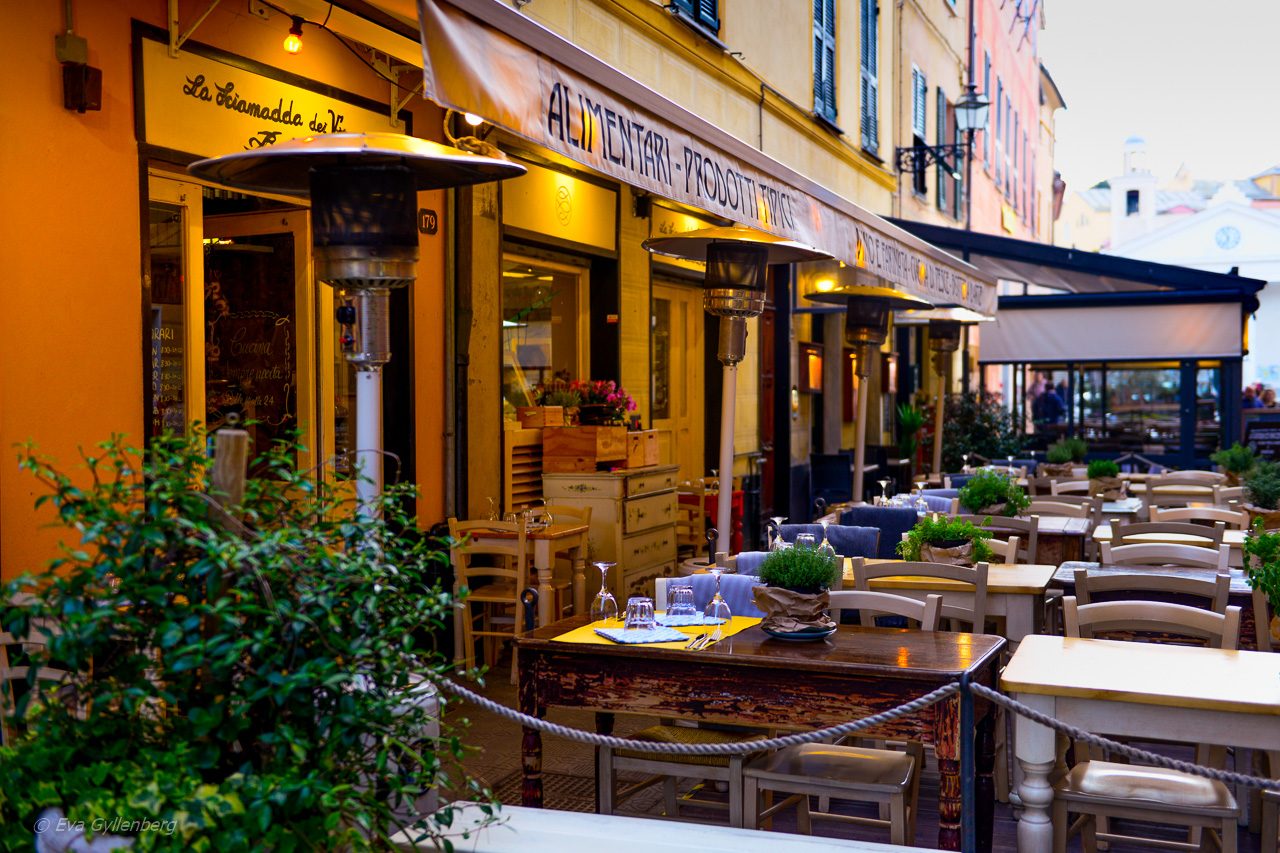 Easter is one of Italy's biggest holidays and the candy shops along the pedestrian street have their shop windows filled with giant chocolate eggs - uova di Pasqua al cioccolato. Some of the eggs are aimed at children, with surprises and toys hidden under the chocolate shell. Sort of like a Kinderegg, but much bigger. Pink eggs for girls. Blue for boys. In Italy toys still seem to be very much 'blue' or 'pink'.
We walk towards the osteria and meet several families and couples carrying chocolate eggs, neatly wrapped in cellophane and shiny paper. Maybe you also give away chocolate eggs as gifts to family and friends? Some eggs are so well made that they look like little works of art. The Gottepig in me would love to receive such an egg as an Easter present.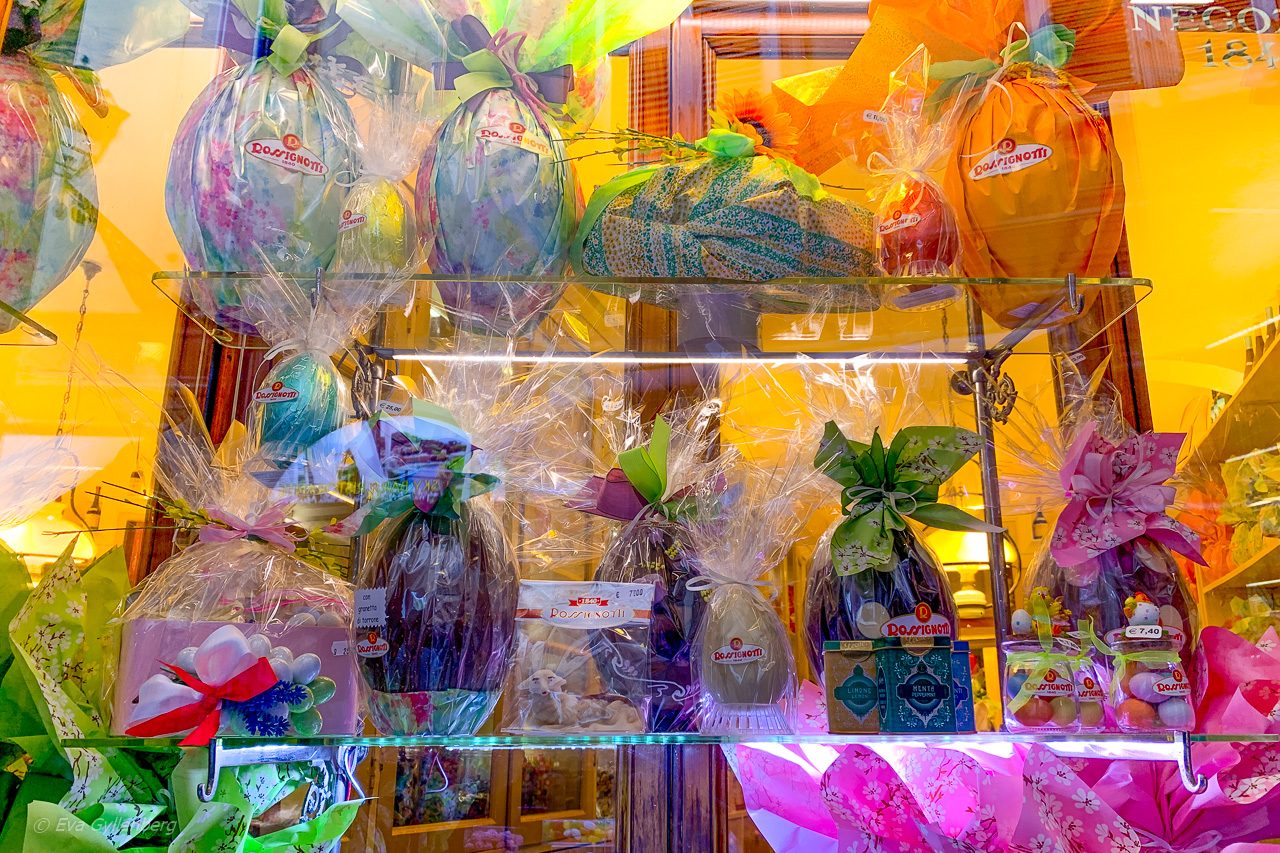 We will arrive at l'Osteria Mattana a little too early. Typically Swedish to be out in good time. However, we are not alone, but an older Italian couple with their grandson is also standing there. The man speaks to us in Italian, but we don't understand anything and answers back in English. The man looks in and sees staff inside. He feels the handle. It's open, even though the place hasn't opened yet. He goes in and talks to a man in the crockery. There is laughter and waving and then the man comes out again. He says something to us again in Italian. We smile back again. Then they leave. What did he actually say?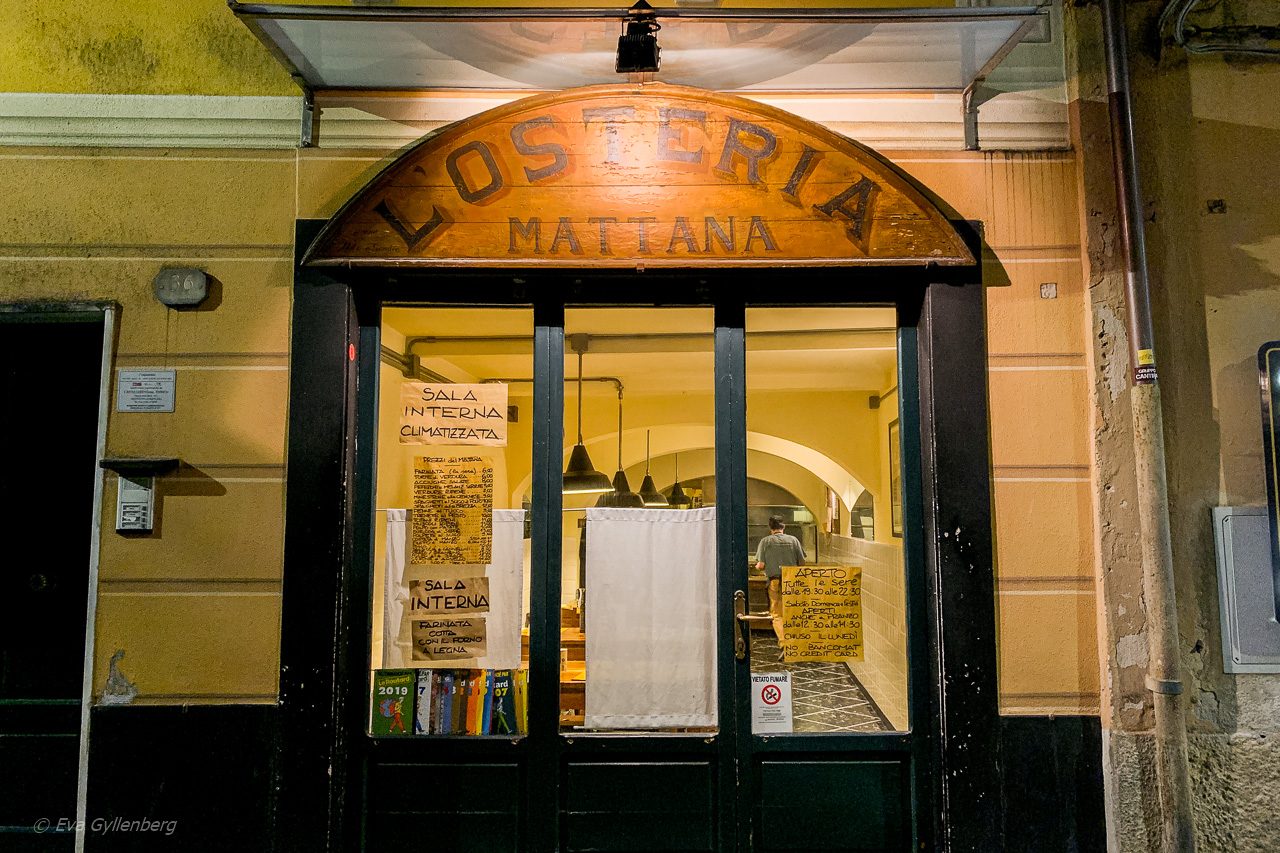 We'll stay a while longer. It's not 19:30 yet, so we read all the handwritten notes in the window. "No credit card" we understand, but the menu is a challenge. Google translate is certainly not that good on Italian dishes. "Spaghetti alla Brezza" comes back untranslated. So also "Penne al tucco". However, Google instead suggests that I write "Penne al trucko". That means makeup pencils. Doesn't feel quite right.
It's getting close to 19:30 p.m. A man with a motorcycle helmet under his arm passes us with determined steps and walks straight into the restaurant and sits down at a table. Does it seem to be open now?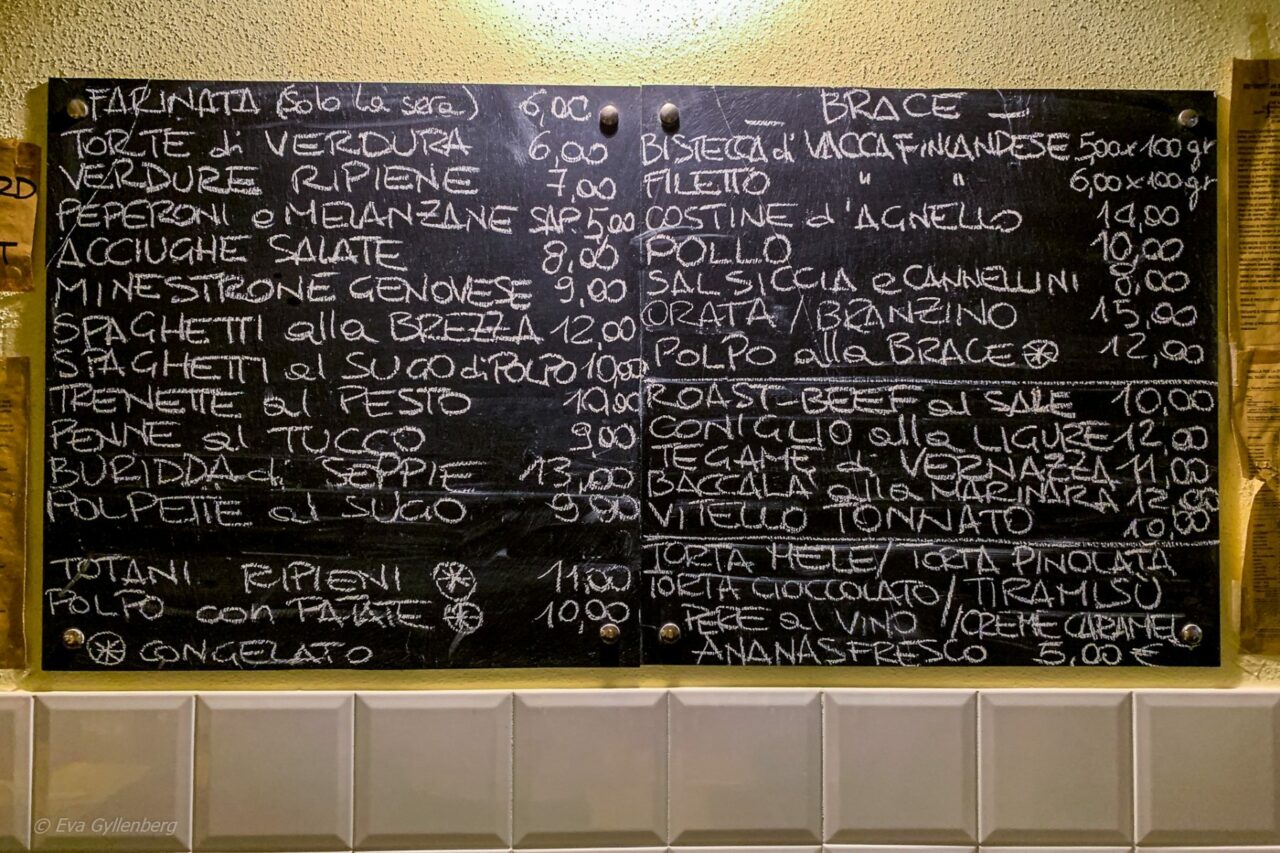 Osterias are simpler restaurants with home cooking, usually with different menus every day. Osteria Mattana has today's menu on a blackboard just inside the door. We continue to struggle with the translations. Octopus means squid. It certainly does too Cuttlefish. We hunker down. The waiter comes up to us and sees our struggle with the menu. He points to a small A4 sheet on the side of the blackboard. Ah! A translation into English. Even if half of the dishes don't match the blackboard, it helps us a lot. One Spaghetti alla Brezza. as Trenette with pesto and one Spaghetti al sugo di Polpo is immediately ordered.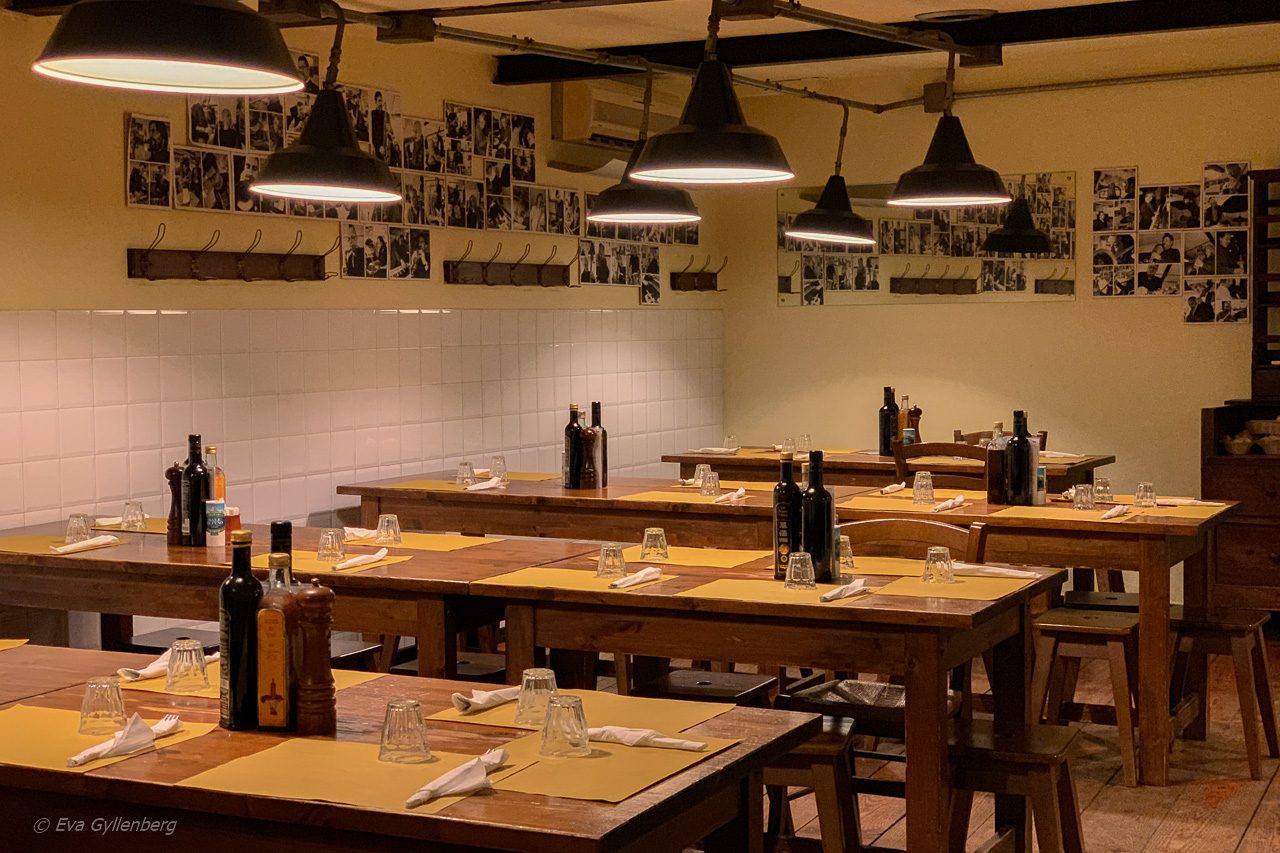 The restaurant's tables are starting to fill up. Next to us sits a lonely Italian eating minestrone soup and tiramisu. An elderly Italian couple sits at the table next to us. They also eat minestrone soup. Maybe I should have ordered minestrone soup? I don't have time to regret it though, until our food arrives in a cloud of garlic.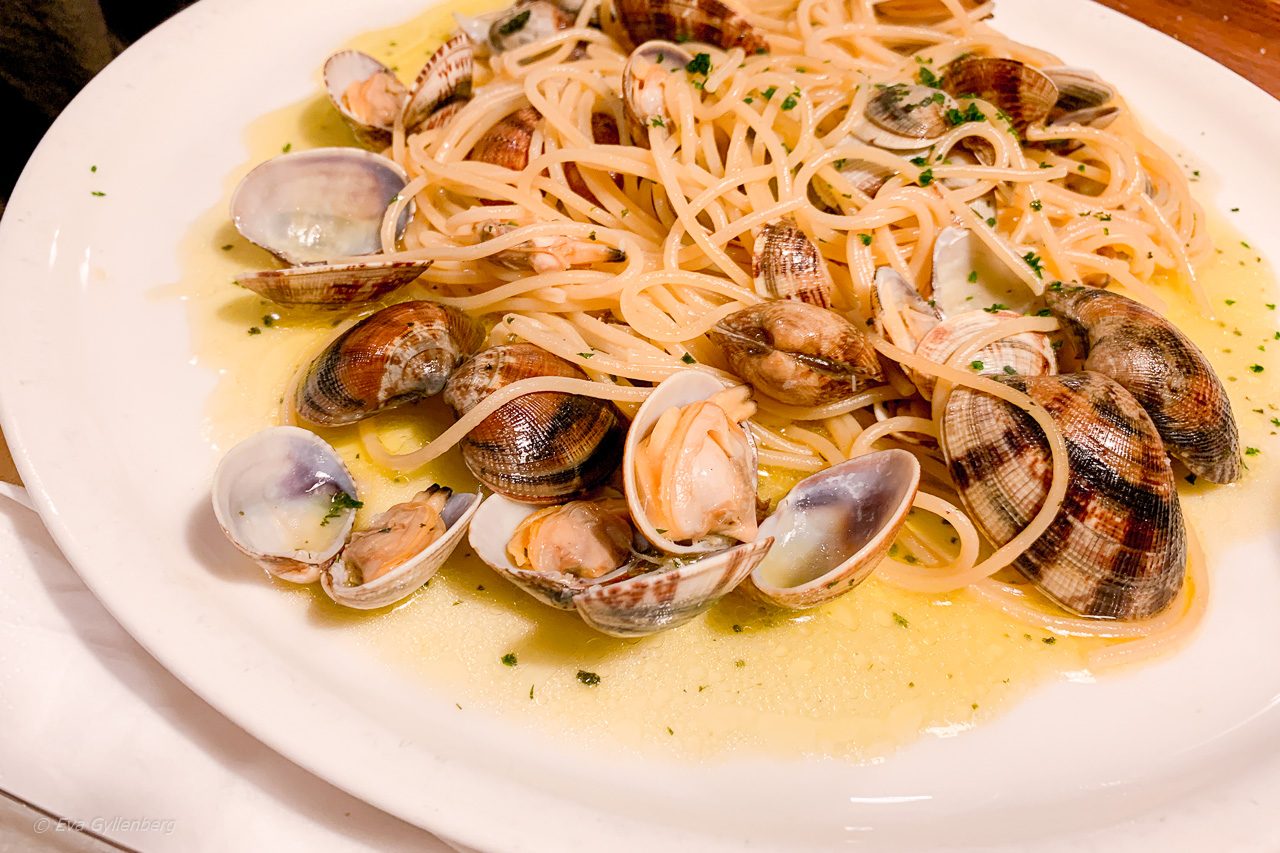 Daughter's Spaghetti alla Brezza is a deliciously fragrant pasta with mussels, surrounded by a deliciously fragrant white wine sauce with parsley. I would probably call this a "Spaghetti Vongole", but there is probably some difference between these dishes that I don't understand.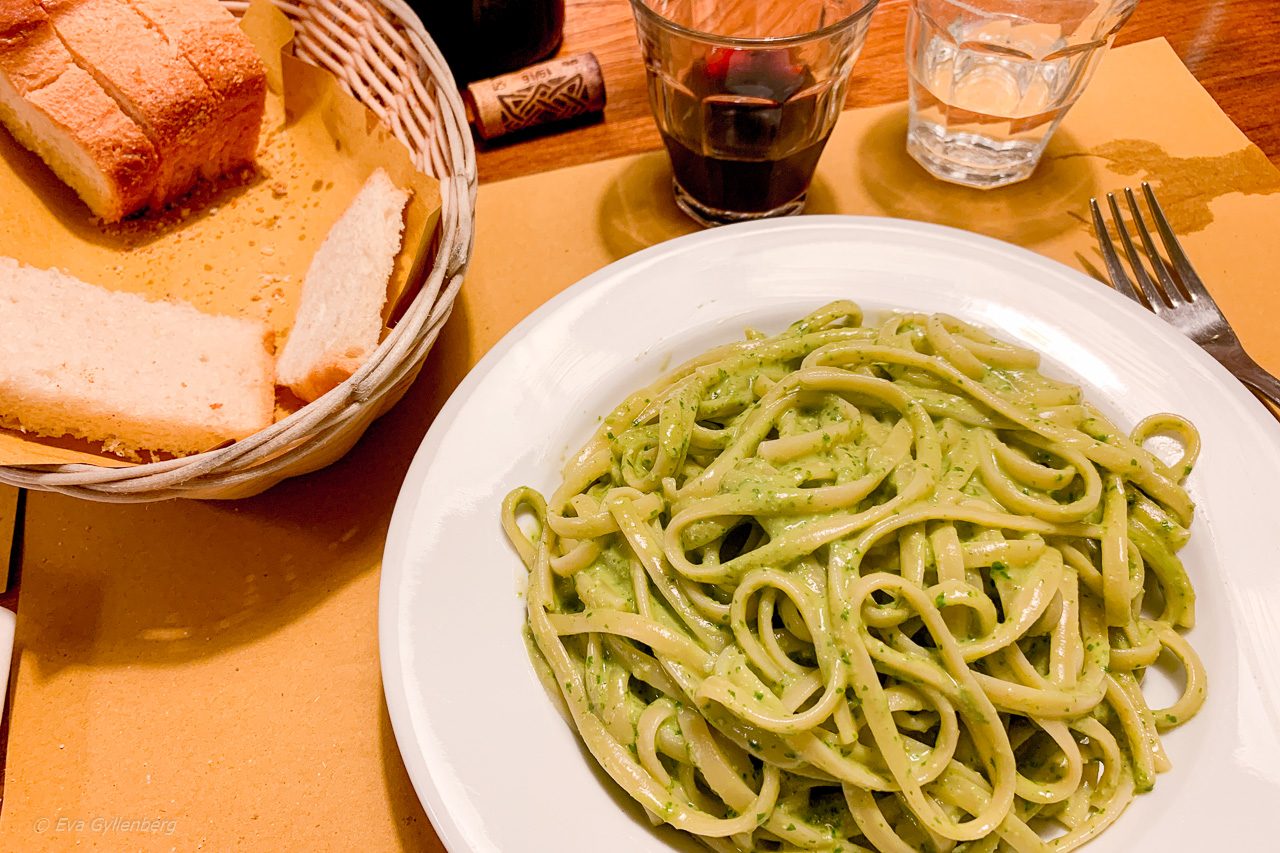 As we are close to Genoa, I am completely focused on one thing tonight – Trenette al pesto. Pesto Genovese is one of the most Italian things I know and there seem to be as many recipes for pesto as there are families in Italy. No pesto is the same. What they have in common is that the pesto contains freshly harvested basil, olive oil, garlic, pine nuts and parmesan. Proportions, cooking and the amount of love then seem to control the end result. I have to say this pesto had a lot of love in it. It might actually be the best pesto I've ever eaten.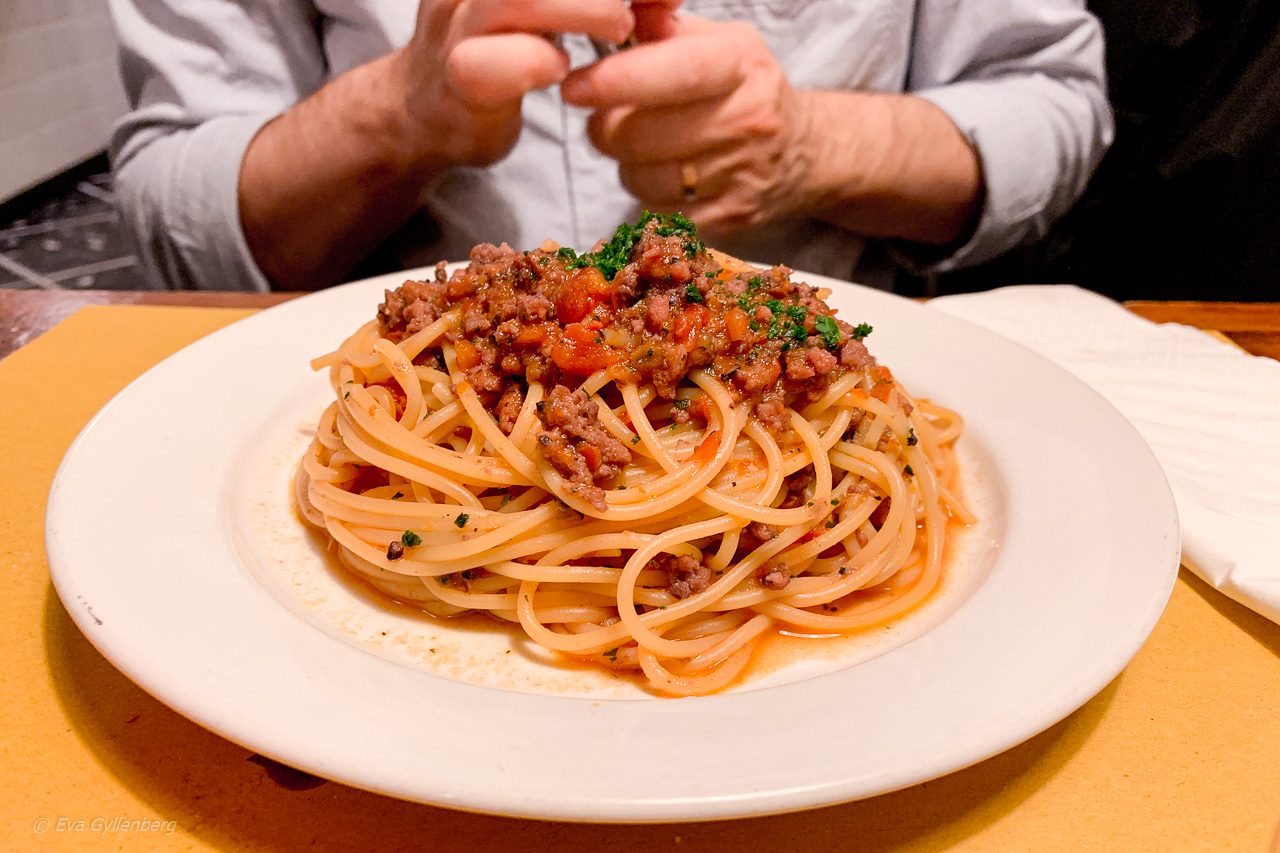 The man ordered a real wild card from the menu – Spaghetti al sugo di Polpo – Spaghetti with squid sauce. I probably thought it would be a pasta sauce with squid rings, but what came in was more like a pasta with minced meat sauce. Very tasty, very musty and not at all with any weird squid taste. A real surprise!
We walk back to our hotel Vis à Vis on kullen. Filled with pasta and happiness. Sestri Levante became so much more than a stop on the way to Cinque Terre. Here I want to return.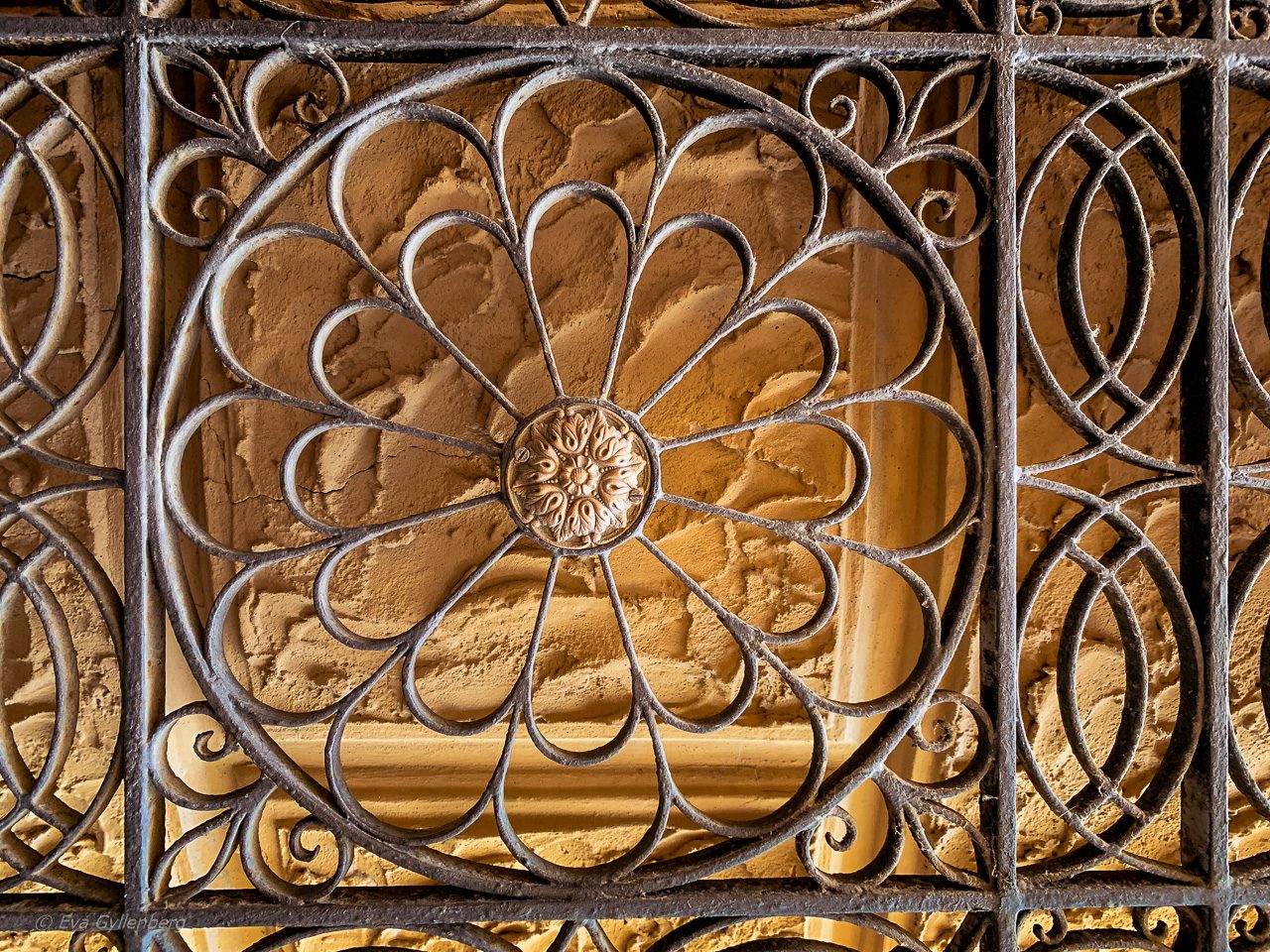 How do I get to Sestri Levante?
Sestri Levante is located 45 kilometers east of Genoa and 57 kilometers west of La Spezia, in perfect day's distance to both Cinque Terre and Portofino.
Do you want to visit Cinque Terre? The northernmost village of Monterosso is only 20 minutes away by train. Santa Margherita (gateway to Portofino) is 25 minutes away by train.
Do you want to read more about Italy? All my Italy posts from the trip appear on my Italy page!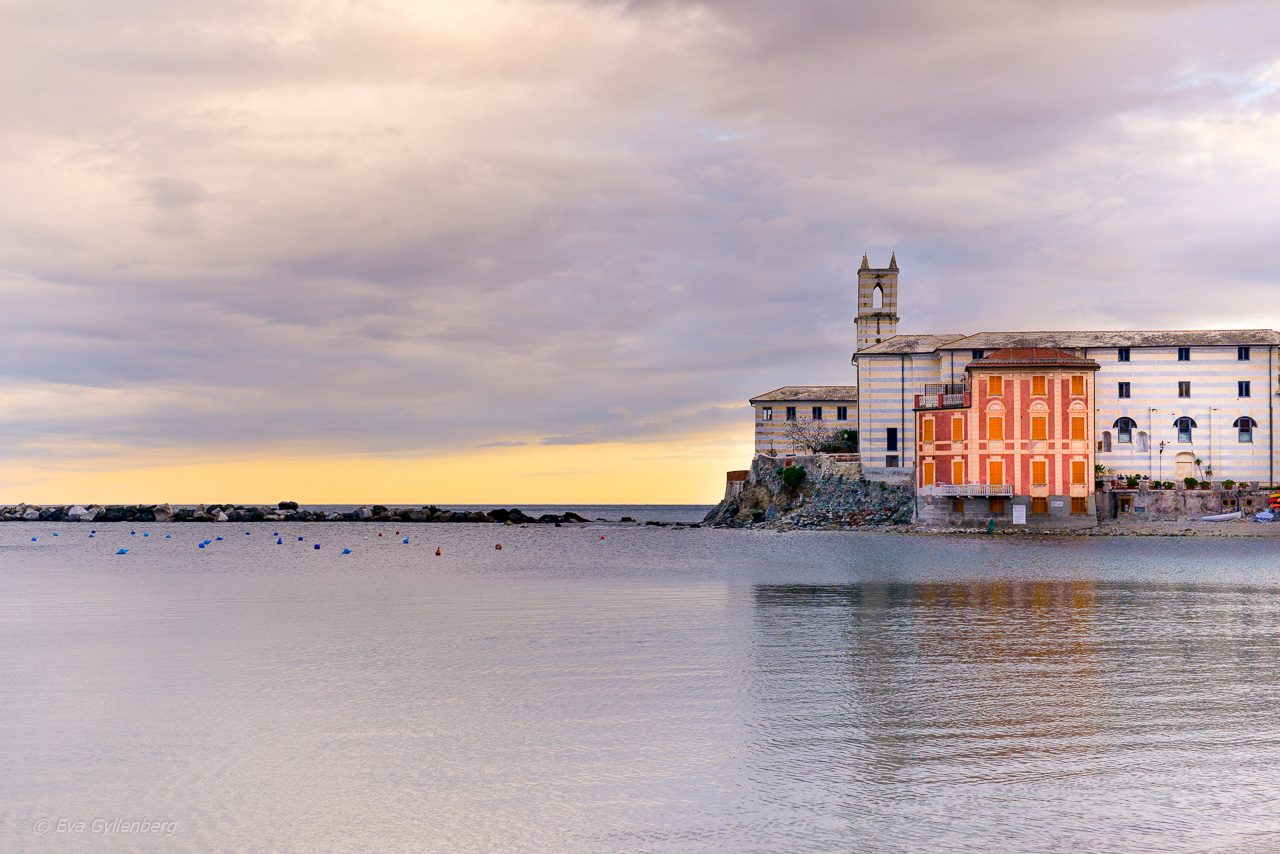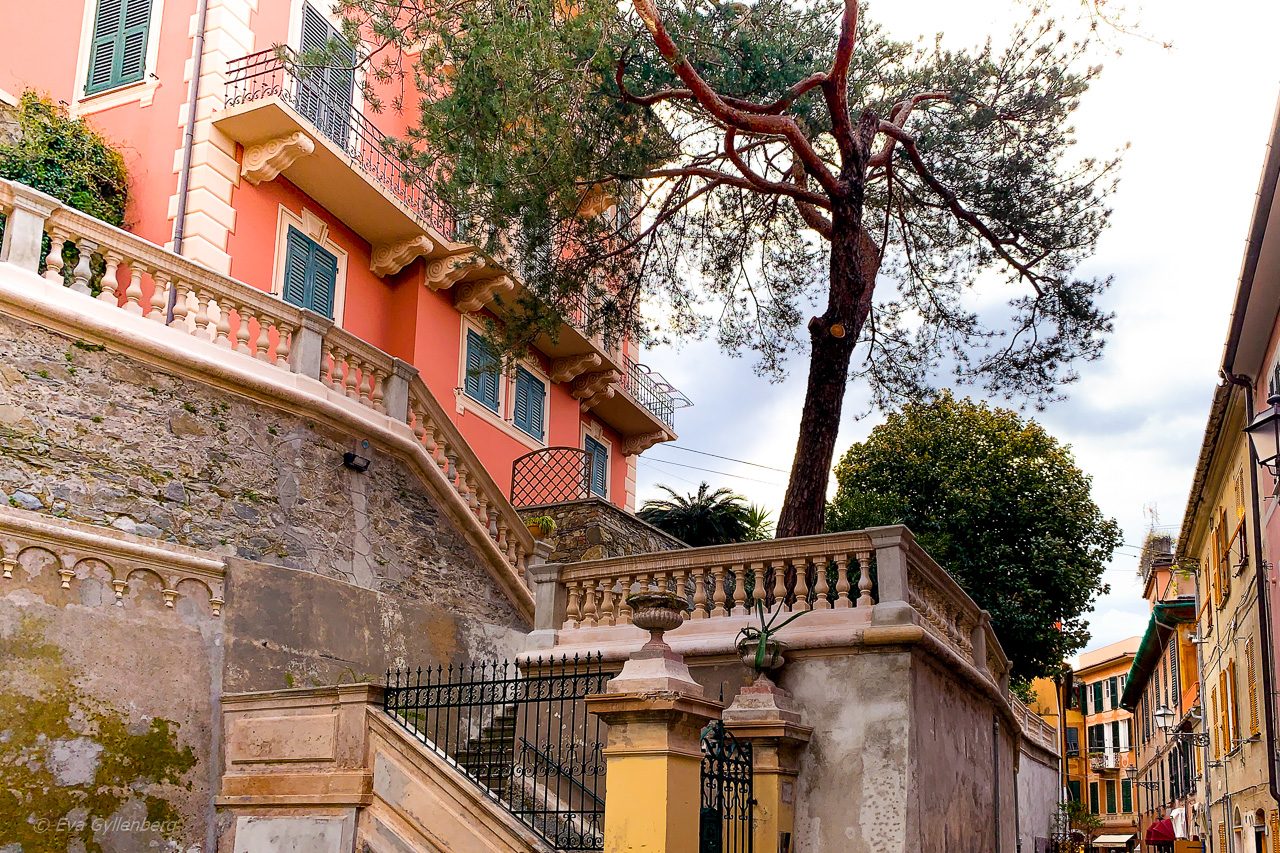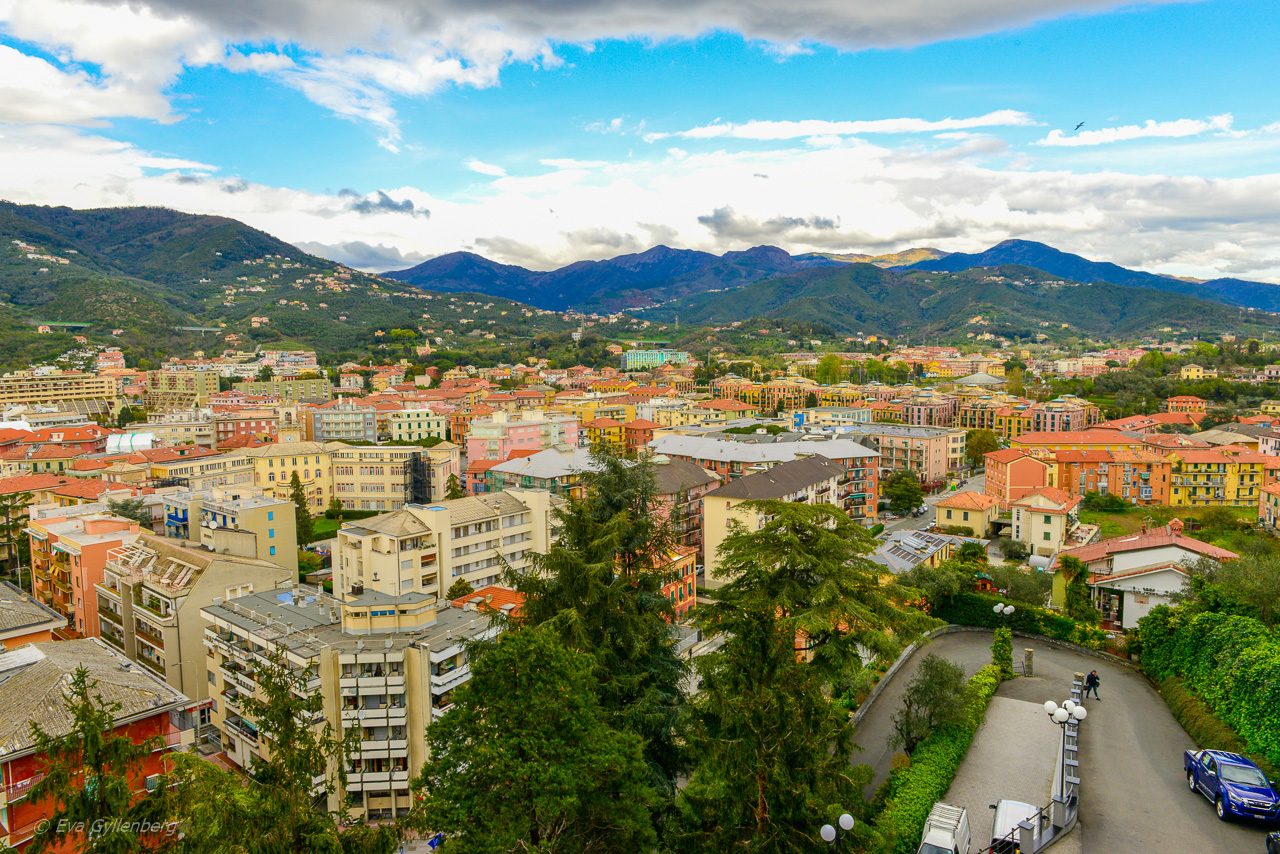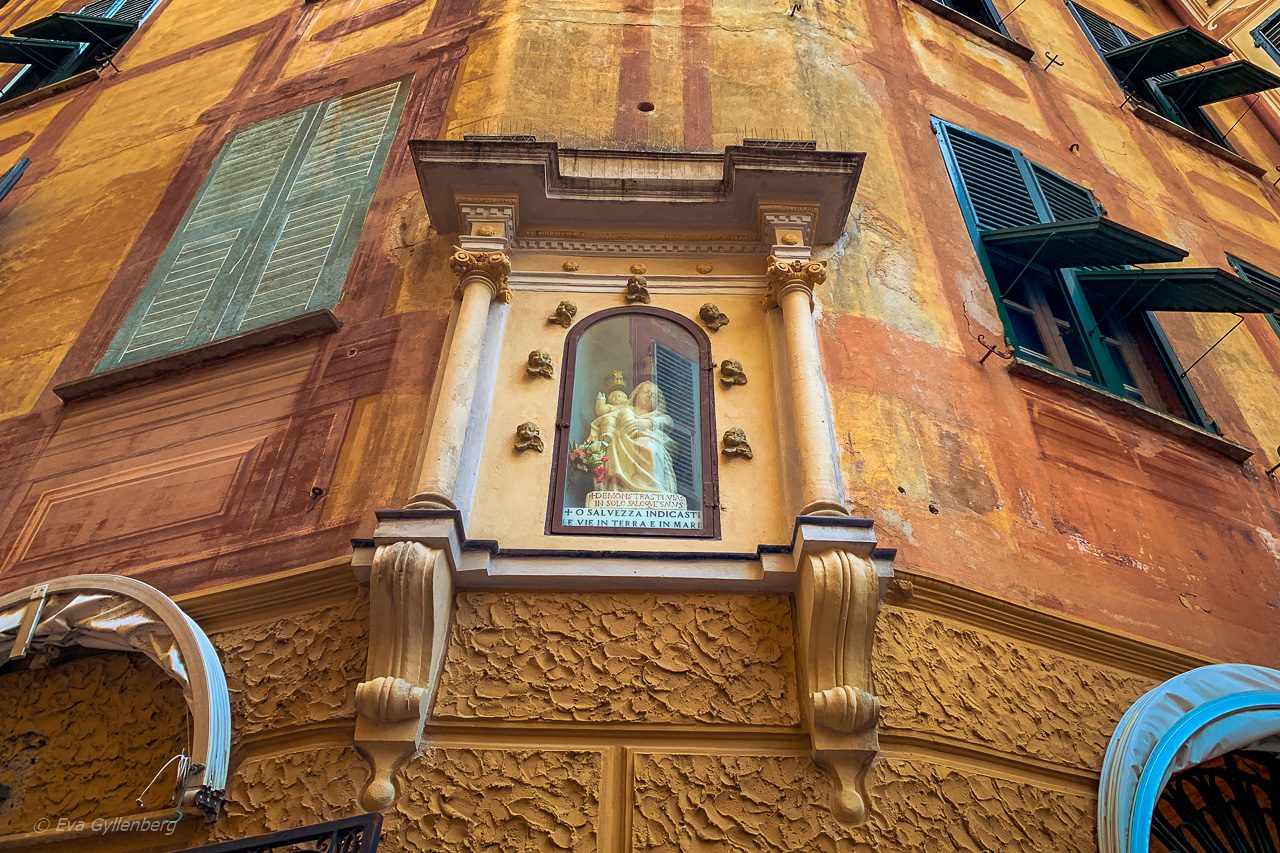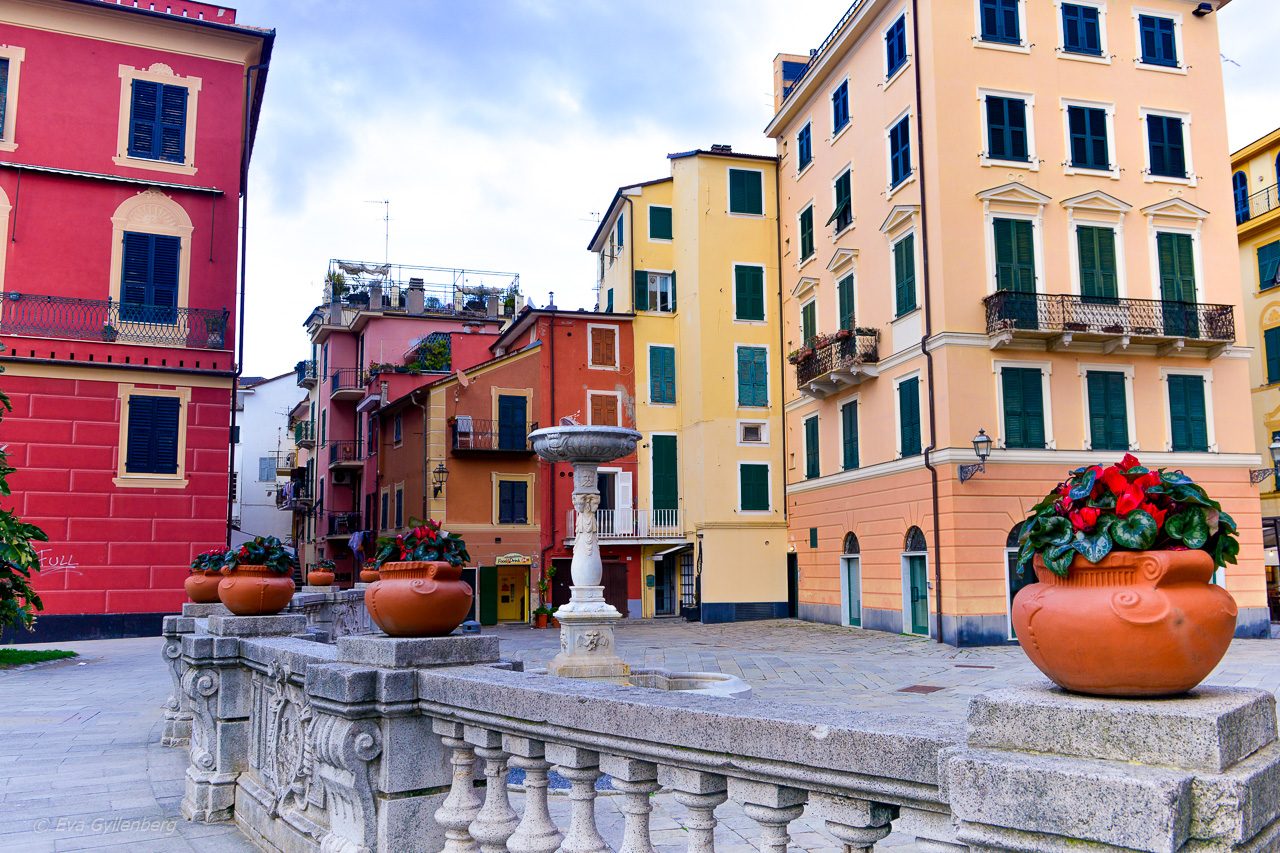 Want to read more of my travel tips? do not forget to like Rucksack on Facebook!
Have you been here? What did you think of the destination?
Been there - didn't like it!
0
Not keen at all to go here!
0
Eva Gyllenberg
Travel blogger, gastronaut, photographer and family adventurer with over 55 countries in his luggage. Eva loves trips that include beautiful nature, hiking boots and well-cooked food. On the travel blog Rucksack she takes you to all corners of the world with the help of her inspiring pictures and texts.