The trip to Jordan was made on a press trip together with Jordan Tourism Board and Royal Jordanian Airlines, but all thoughts and opinions are, as usual, my own.
It may sound complicated and far to travel to Jordan, but it is closer than you think. In addition, Royal Jordanian Airlines began flying direct from Arlanda to Amman from 29 May 2023 - so Jordan is easier and faster than ever to travel to.
I have flown with Royal Jordanian Airlines between Copenhagen and Amman and can only state that it was smooth, fast and comfortable!
About Royal Jordanian Airlines
Royal Jordanian was founded back in 1963 and is Jordan's national airline. The airline is part of the OneWorld alliance and flies to 45 destinations worldwide. The airline's base is in Amman and the airline has an excellent safety record. The fleet mainly consists of A319, A320 and A321 on short-haul and Boeing 787 (on long-haul to, for example, the USA).
Check-in
Royal Jordanian has an app, so checking in seemed both easy and smooth. However, I had a special booking with SAS from Arlanda to Copenhagen, so I had to check in manually at the airport.
An economy ticket from Europe includes a checked bag of 23 kg, a carry-on bag of a maximum of 7 kg and a small extra carry-on bag, which includes, for example, a laptop.
NOTE: Don't forget that before the trip you should have filled in entry information and received a QR code.
Boarding
Boarding in Copenhagen started relatively late, but it went smoothly for everyone to get on board. There was no problem with carry-on space, even though the plane was full to the last seat.
Even though we took off later than the scheduled departure time, we landed ahead of schedule. The flight Copenhagen to Amman took only 4 hours.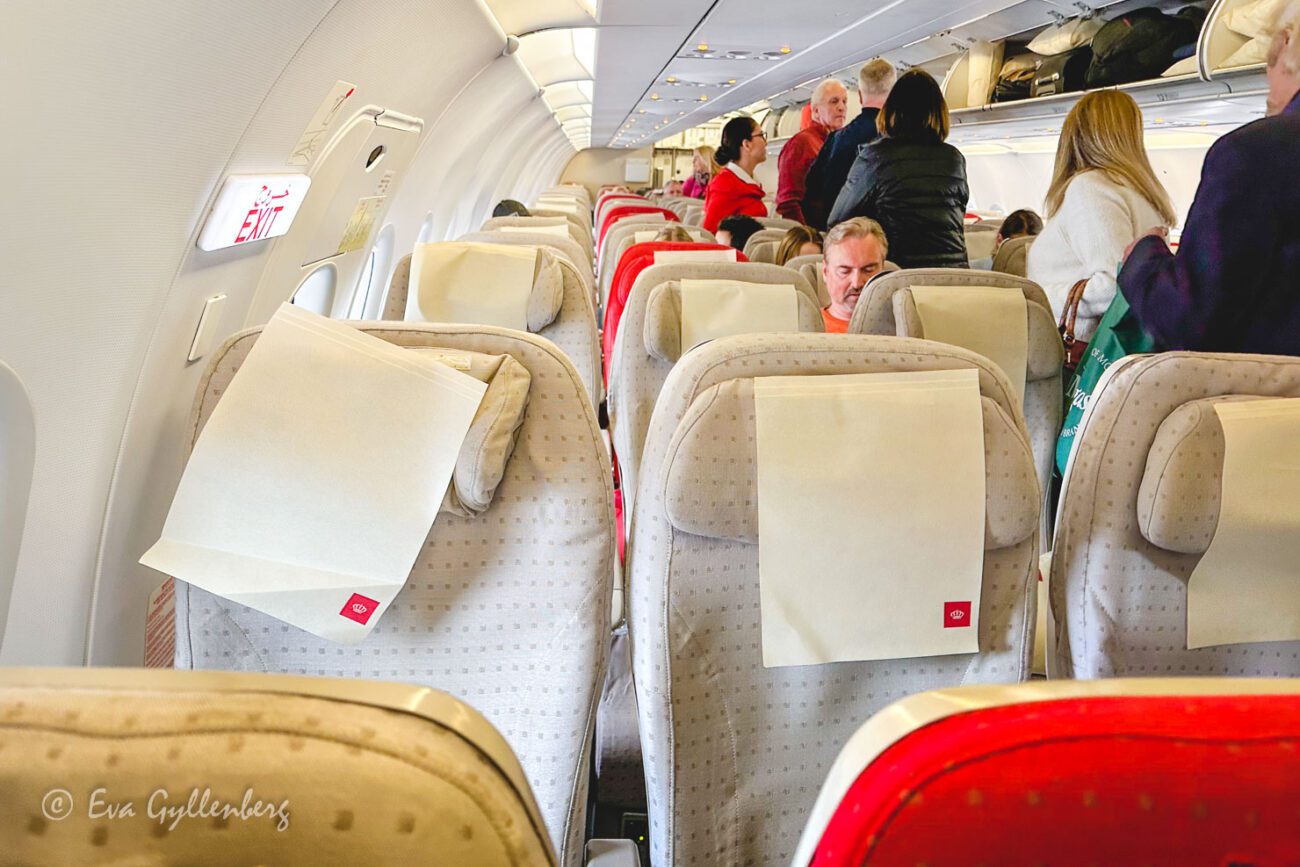 Legroom and seats
On the way down to Jordan I sat by the window in a regular economy seat and on the way home I sat by the aisle in the first row in economy. Usually there is no difference between these seats, but the aisle seat I had on the way home was significantly narrower than usual due to the tray being stored in the armrest. Although I prefer to sit in the aisle, the place with the tray in the armrest was a little too narrow for comfort.
The space for the knees was not a problem, I had at least 10 centimeters to the seat in front in the standard seat by the window.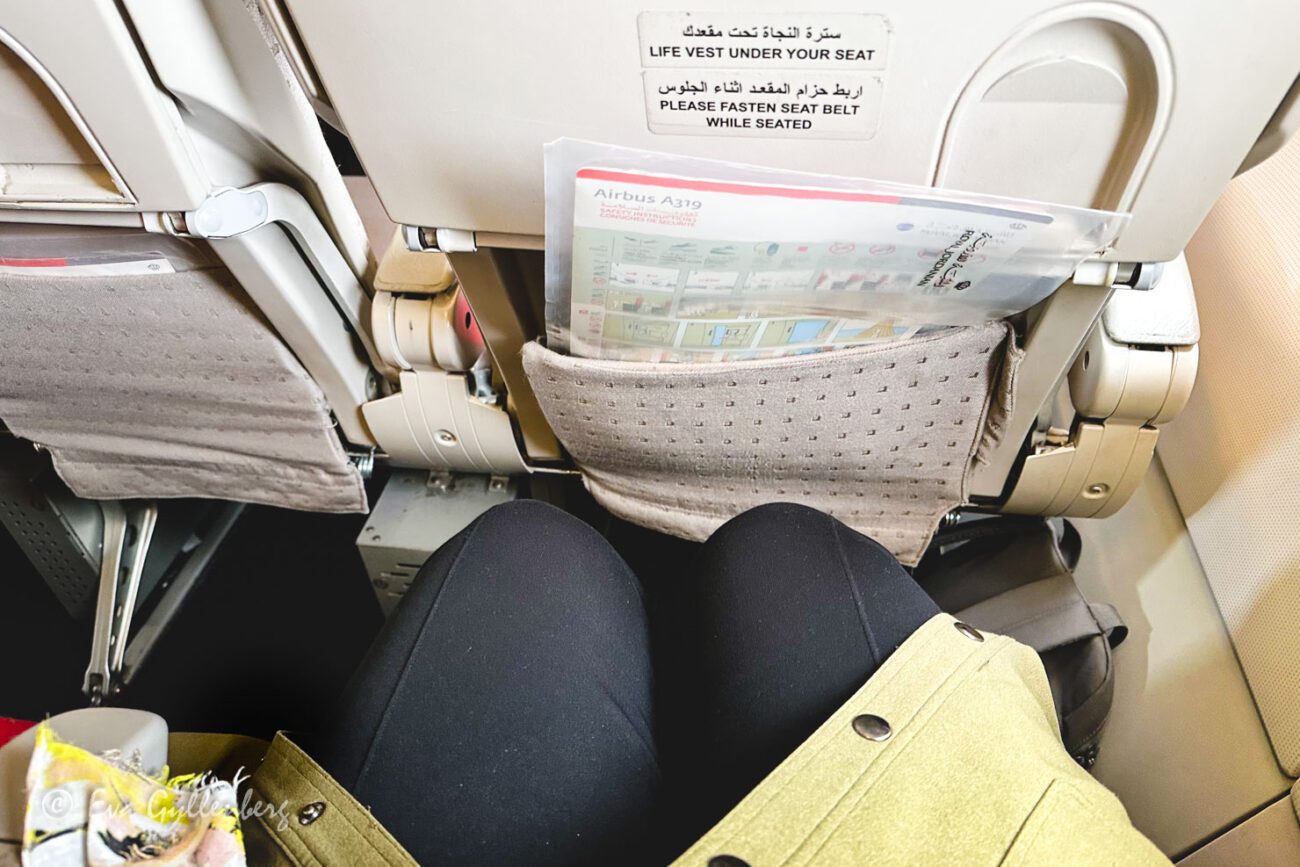 Service on board
The staff at Royal Jordanian were friendly and helpful on both my flights. I sat next to a baby on the way back to Copenhagen and the staff really went out of their way to make the family's flight as comfortable as possible. Big plus for service minded staff!
Food
Royal Jordanian serves free food and drink on board. The drinks include alcoholic drinks, even during Ramadan. Both routes were served "chicken or beef", so if you want vegetarian, you need to pre-order.
On the way down, chicken burrito with beans and sandwich was served and for dessert, Tiramiso was served. On the way home, liba bread with meat filling, salad and sandwich and a cake with pistachios were served for dessert. It is a bit unclear if coffee was served, as I fell asleep after the meal both ways...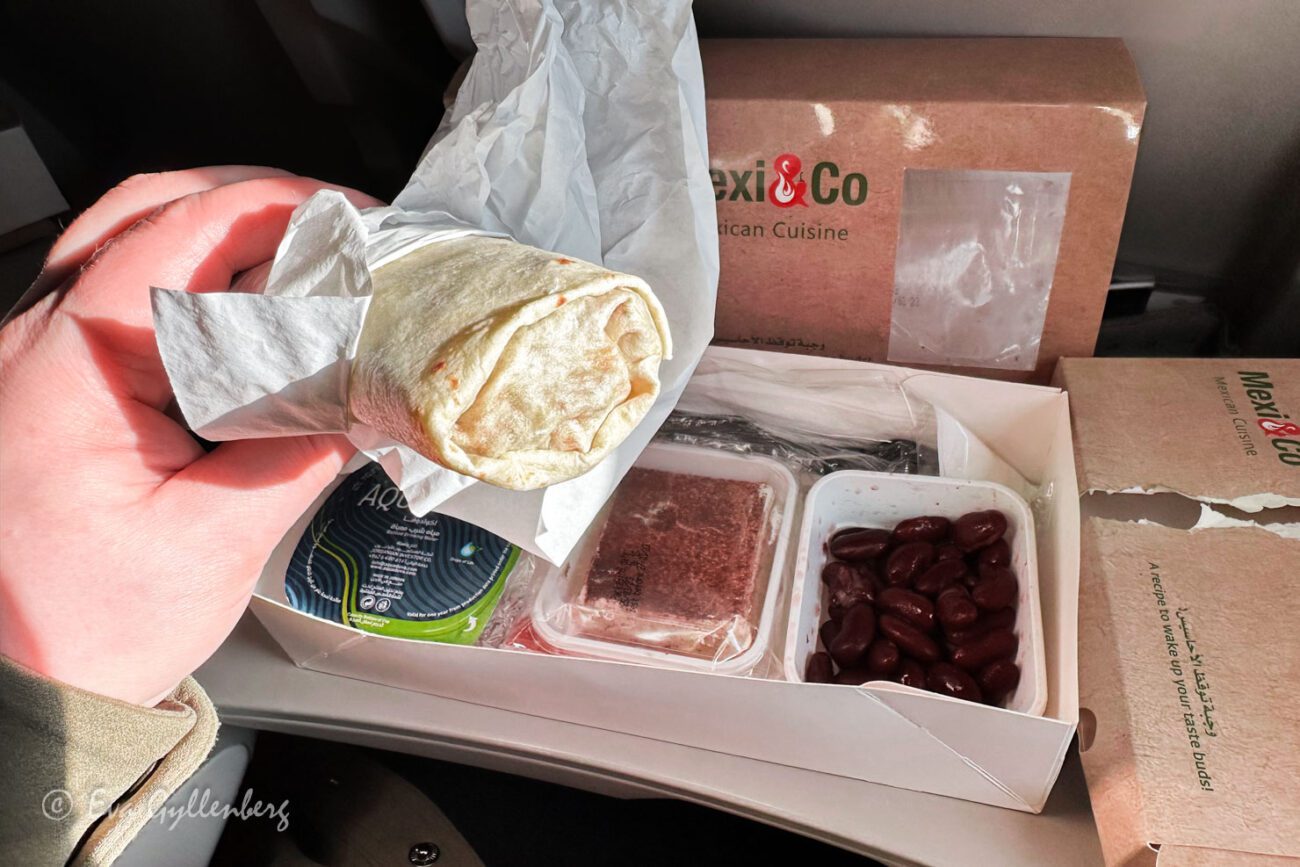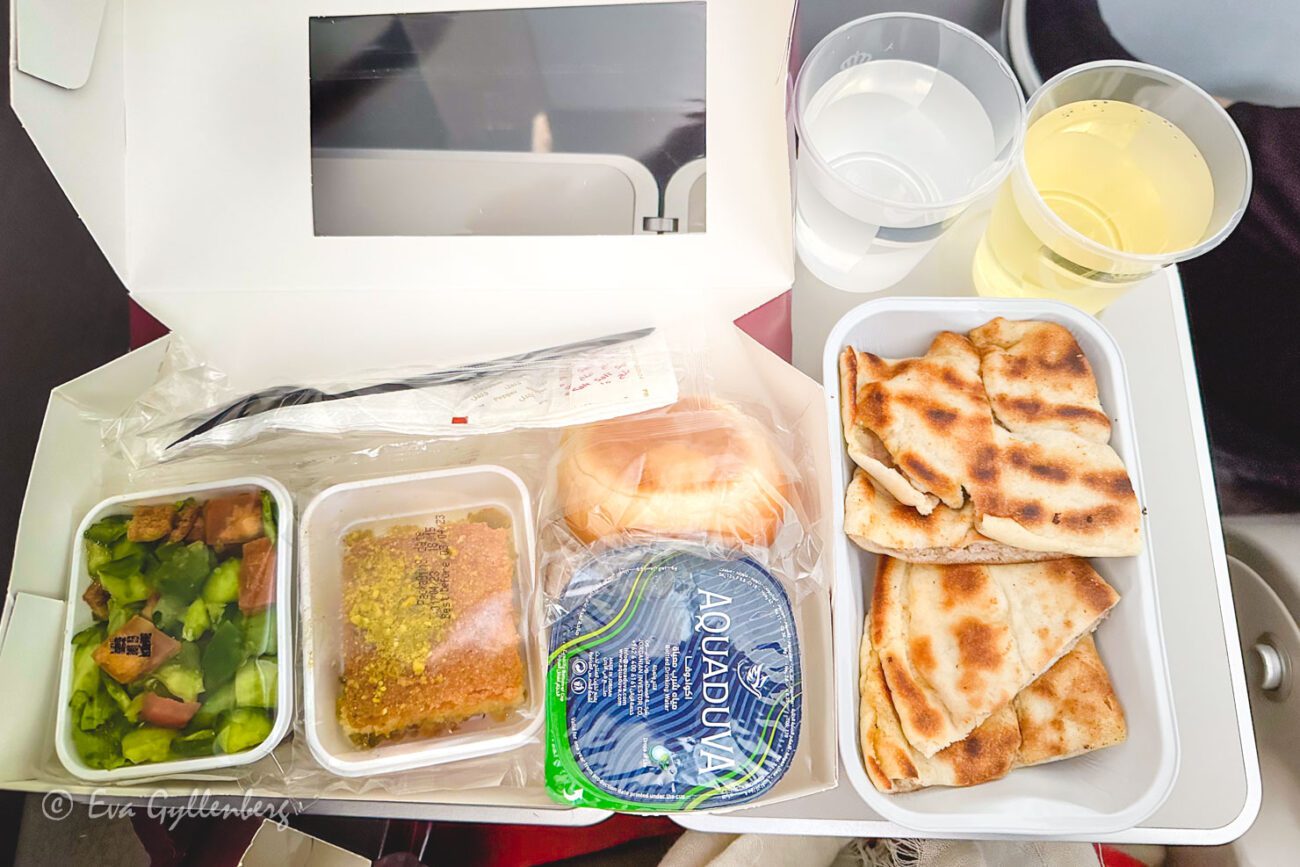 Entertainment
Entertainment is probably the only area that could be improved a bit. On the website, Royal Jordanian writes about its entertainment system, but neither of the two planes we flew had screens or entertainment systems. However, in-ear headphones were given out and also a very practical mobile phone stand/key ring, which I guess was a service so you could watch downloaded material on your mobile more easily. My guess is that the flight from Copenhagen to Amman counts as short haul and therefore does not have entertainment systems, which is not a problem if you know about it in advance. So make sure to download series offline on your phone/pad before you go simply!
Royal Jordanian has a really good magazine on board. I usually don't read these, but since I had forgotten to download movies offline, I had plenty of time to read the magazine this trip. No evil that does not bring something good with it, simply 🙂
Time table and punctuality
It may seem like a relatively long flight to Amman, but from Copenhagen to Amman the flight took only 3 hours and 55 minutes. Although the flight did not depart on time, it landed on time - or even ahead of schedule. From Arlanda, the flight will take approximately 5 hours.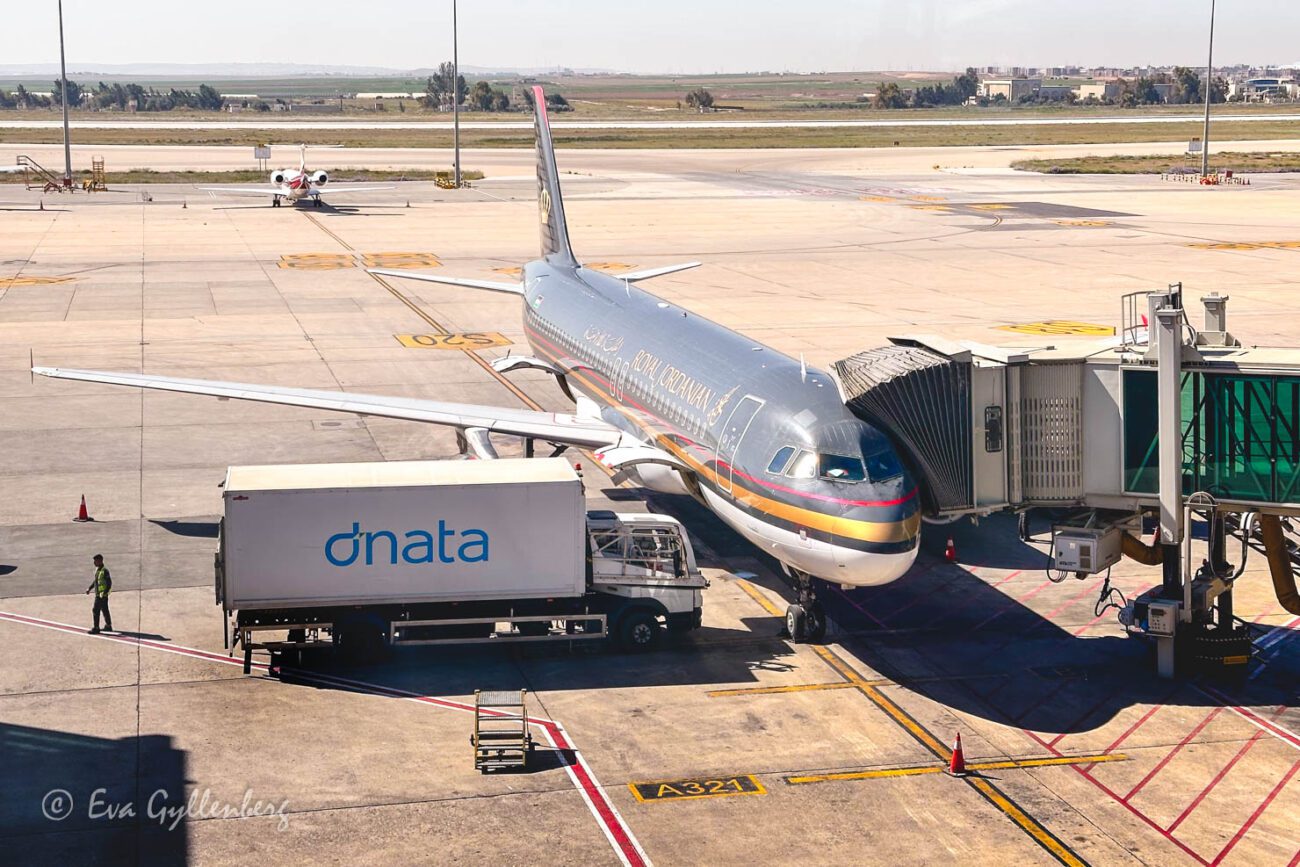 The bottom line
Smooth journey with a nice airline with full service on board! It's nice not having to think about whether you added the right additions to the booking, everything you need is included in the ticket. Flying Royal Jordanian is like a cross between flying SAS and flying Emirates.
Should I fly Royal Jordanian again? Yes! Now that, from 29 May 2023, it is also possible to fly direct flights in just over 5 hours from Stockholm, it is even more attractive to go back to Jordan!
Do you want to read more about Jordan?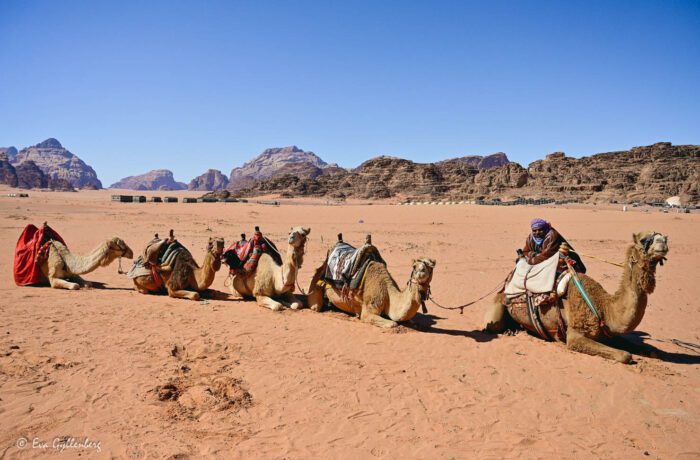 From Petra's magnificent rock architecture to the excruciatingly salty waters of the Dead Sea. Jordan offers a…
June 18th, 2023
Wadi Rum's red dunes offer desert adventures in a unique space landscape. Stay in a glamping gloo…
18th April 2023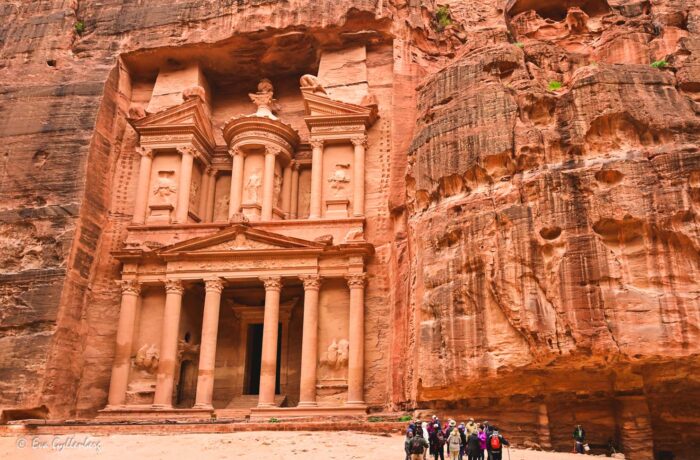 In Jordan's desert landscape hides the ancient trading city of Petra. The great city's well-preserved tombs…
September 17