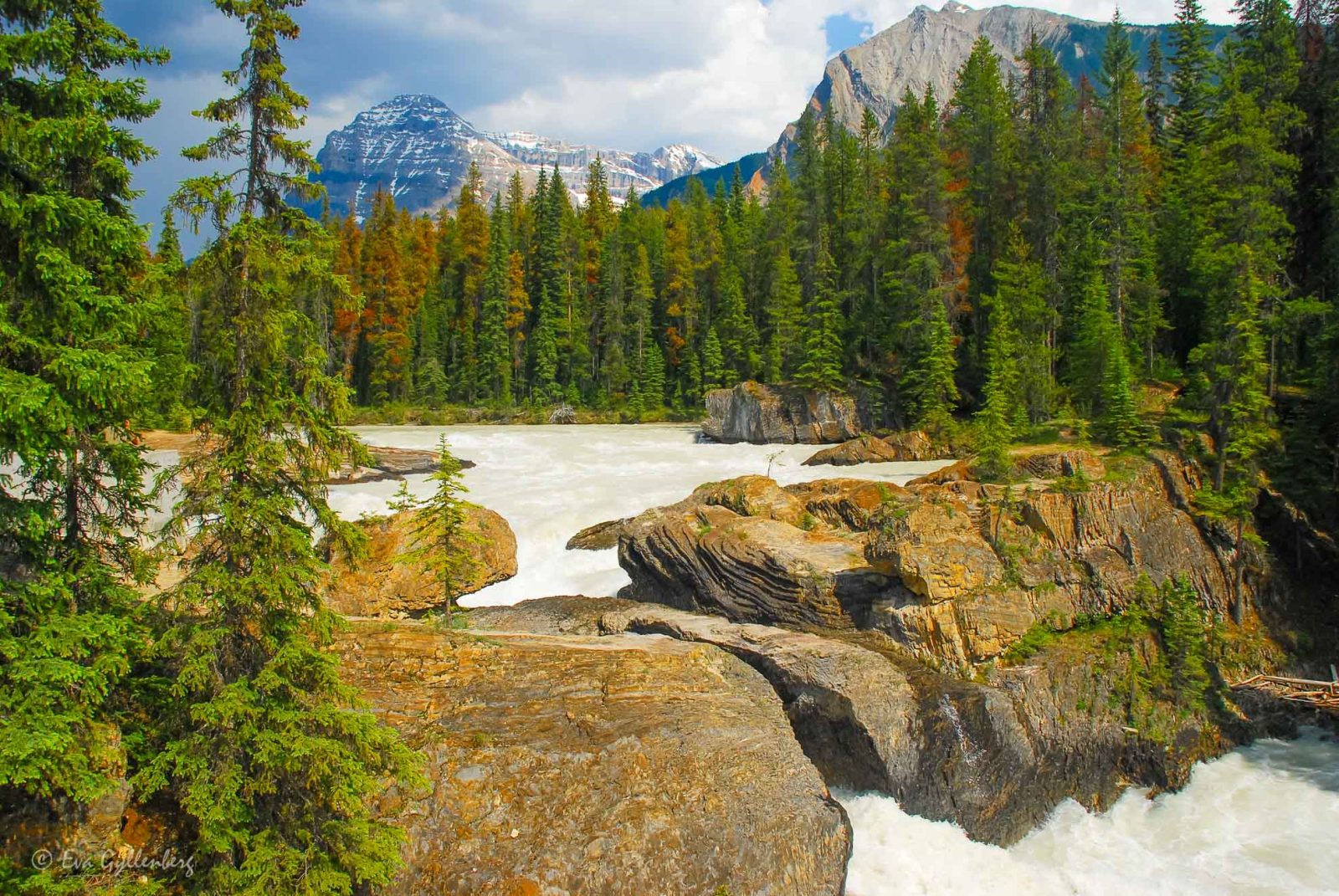 Now we continue our road trip in British Columbia. Here comes the final part – part 3. Back to Vancouver, via national parks and wineries.
Do you want to read another part of the trip? You can find the other posts here: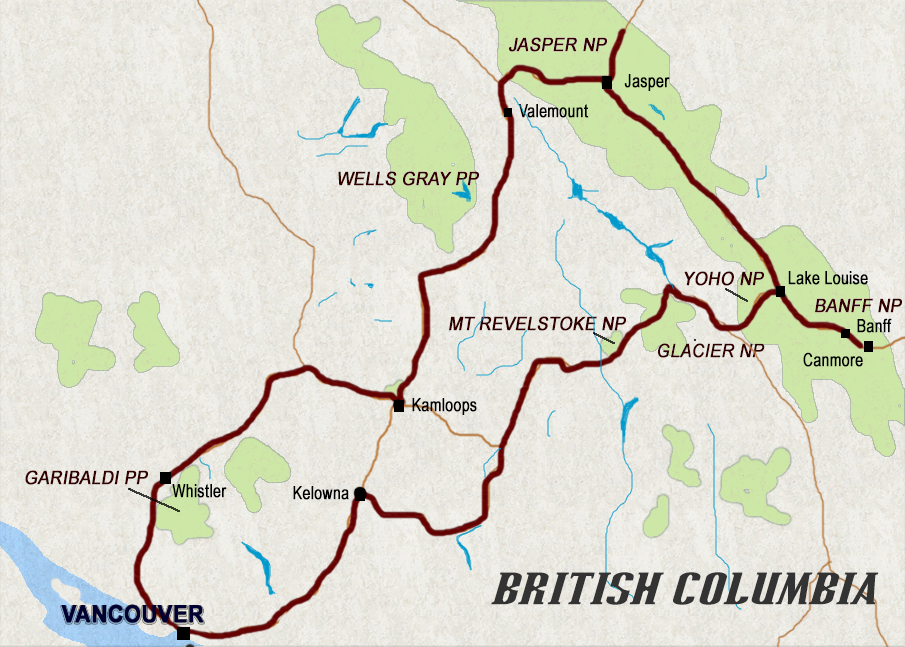 ---
Day 16: Yoho National Park
(Banff -> Golden : 14 miles)
Yoho may be one of the smallest national parks here in the Rockies, but despite its small area, it has everything you'd expect from this area – snow-capped mountains, waterfalls, campsites and hiking trails. Yoho means "inge respect" in Cree, which you understand the meaning of when you are here.
You have now left lovely Banff behind you and also left the state of Alberta - because actually both national parks Banff and Jasper are largely located in Alberta, not in British Columbia. Wave goodbye to Lake Louise, drive over Kicking Horse Pass and turn toward Emerald Lake and Takkakaw falls. With a drop height of 240 meters, this is the highest waterfall of the trip. The falls' water comes from the Daly Glacier, which keeps the water volume high during the snowmelt in the spring and summer months.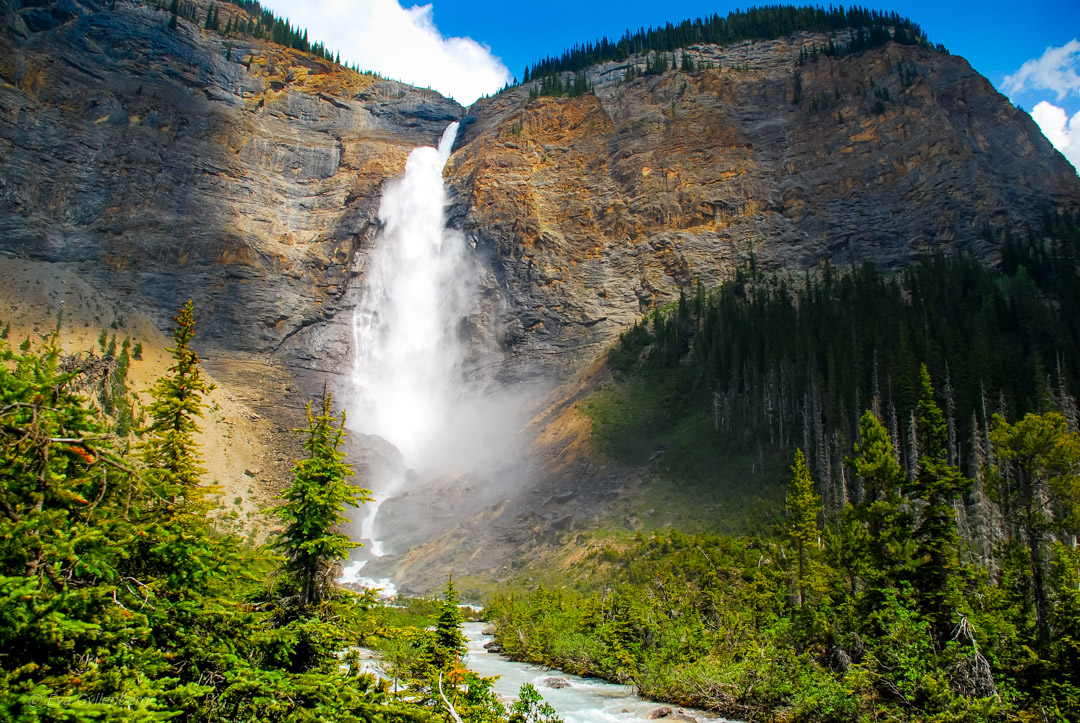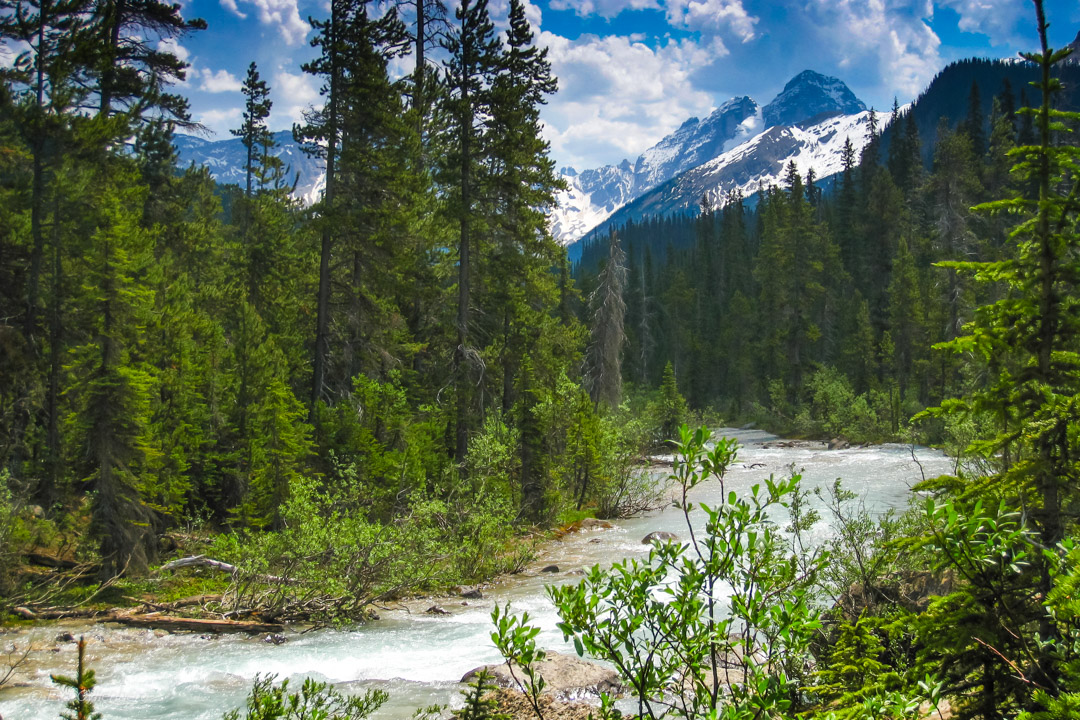 Emerald lake is, as the name suggests, a green shimmering lake, which, despite its proximity to Banff, does not even get a fraction of the number of tourists. Sure, the mountains are a bit more dramatic at Moraine Lake, but it's at least as beautiful here. Look for eagles, hike out Yoho River, rent a canoe or kayak at Emerald Lake Lodge.
The next stop is natural bridge, the result of the wild currents in Kicking Horse River, which through many long years has cut through the mountain. Here there is the possibility to go on slightly longer hiking trails, for example towards Hamilton Falls, along the Kicking Horse River or back to Emerald Lake. The long one also begins here Amiskwi Trail for those looking for 5-6 days of peace and quiet and wilderness life.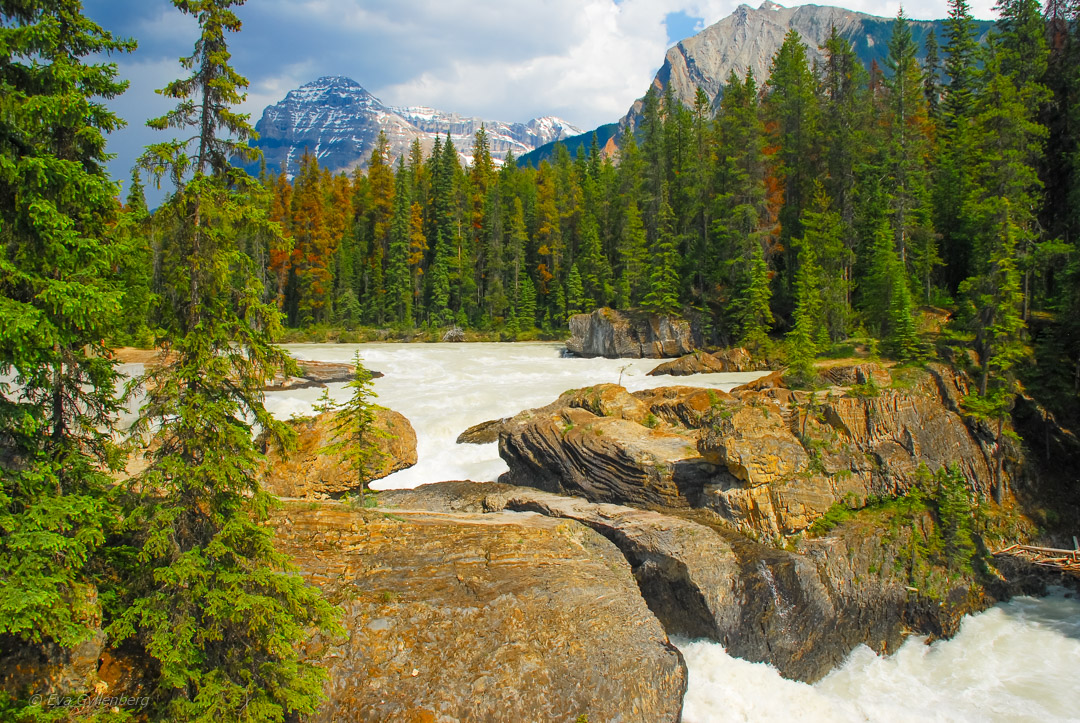 Just before you leave Yoho, there is the possibility of another short and relatively flat hike Wapta Falls (5 km round trip). Unlike Takkakaw Falls, Wapta Falls is a wide, but not particularly high, waterfall.
Continue towards Golden along Hwy 1, where the overnight accommodation is.
Day 17: Glacier National Park & ​​Revelstoke National Park
(Golden -> Revelstoke : 6 miles)
Glacier National Park is British Columbia's first national park and protects the highest peaks of the Columbia Mountains. In winter, up to 10 meters of snow falls here (!), so perhaps it's no wonder that this is a favorite among powder-loving skiers from around the world. In the summer you will find both hikers and mountain climbers here and a unique rainforest of cedar trees.
As soon as you enter Glacier National Park, you pass several nice, shorter hikes. Loop Brook Trail (1,6 km), Rock Garden Trail (500 m), and Hemlock Grove Trail (400 m). The Hemlock Grove Trail is a stroller-safe board walk through the fern-covered temperate rainforest. Look out for chipmunks, we saw several here!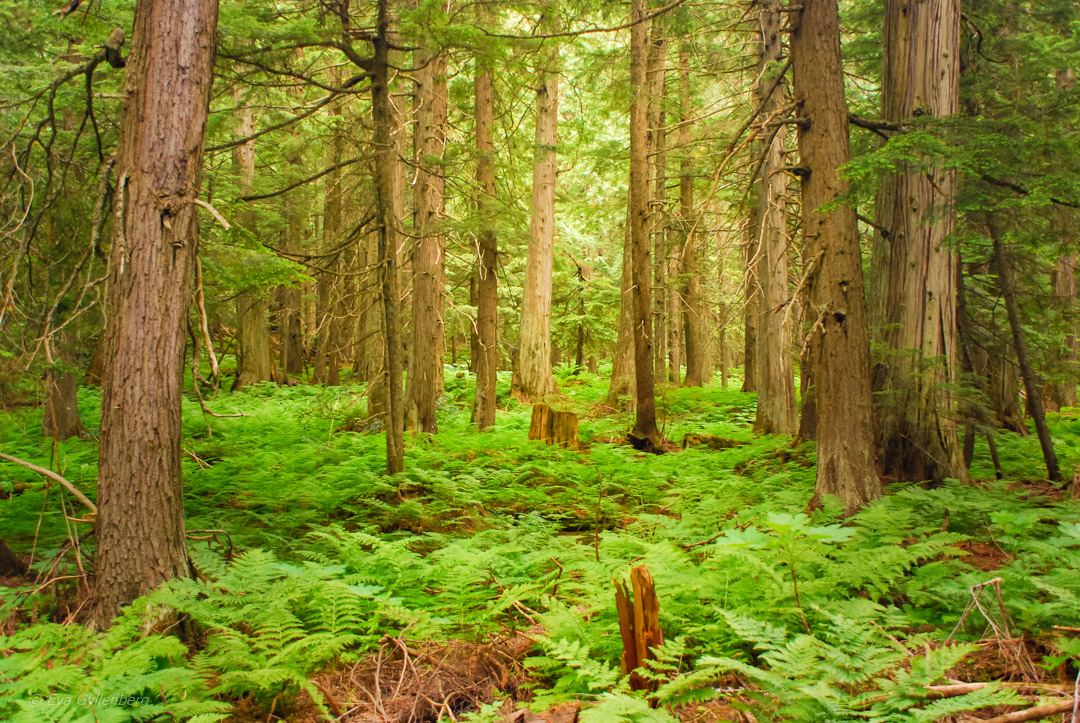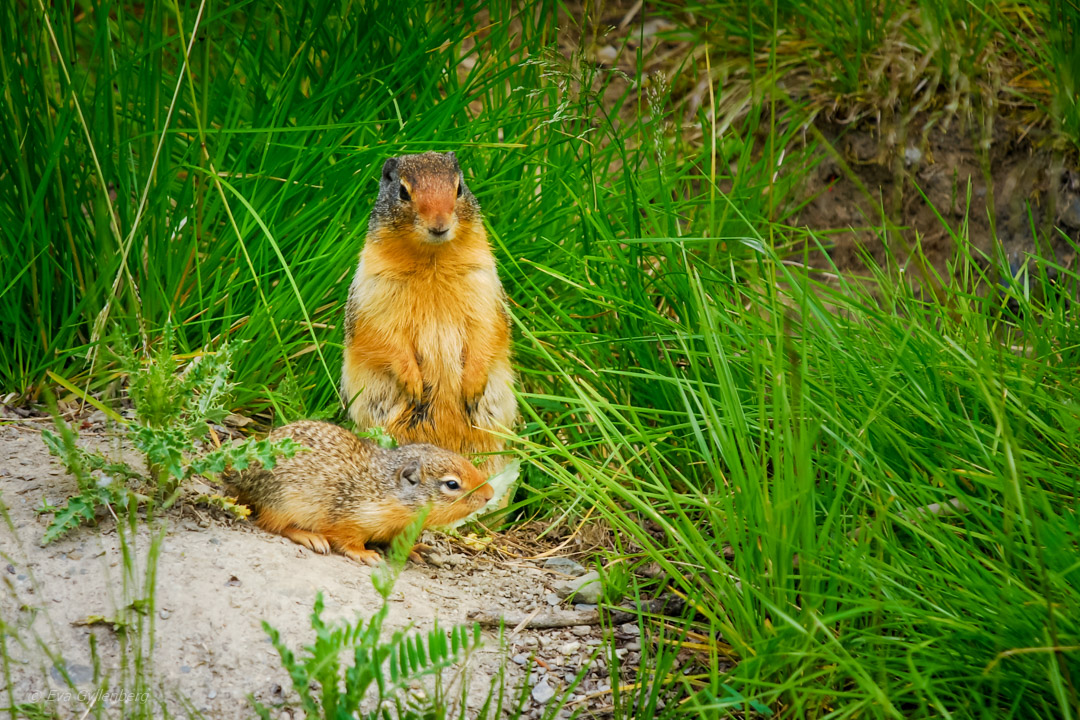 Drive on towards Revelstoke and pass the short stretch through Mount Revelstoke National Park. Here you will find Giant Cedars Trail, which is very similar to the Hemlock Grove Trail in Glacier.
Well arrived in Revelstoke so you don't really check into the motel yet, but head out on the 2,5 mile long one Meadows in the Sky Parkway in Mount Revelstoke. The road is steep and curvy, but takes you up through the mountain's beautiful meadows and fine viewpoints. Once at the top, you will find many nice hiking trails and nice little lakes. However, the season is very short up here and the snow often remains well into July. When we were here at the beginning of July, we were unfortunately met by unplowed roads about halfway up the mountain, which meant that we had to turn around and skip the hike at the top. Sad, but not entirely unexpected. Better luck next time 🙂
I realize that we forgot to talk about an animal that we encountered in several places along the way. An incredibly annoying animal, who seems to love our whole family. Blackflies. Blackflies are a kind of large gnat, which sucks the blood of any mammal it can find - including humans. The flies do not spread diseases, but bite hard (roughly like a horse's brake) and can cause large, itchy boils. It happens during the summer months that cattle die from blackflies - both because of blood loss and because a flock of flies covers the anus on the animals. The saving grace is that there is mosquito repellent that also works against blackflies, so make sure you have it with you during the entire trip. However, it should be added that the number of blackflies here in British Columbia is not even close to the number we encountered in Quebec. But that's another story.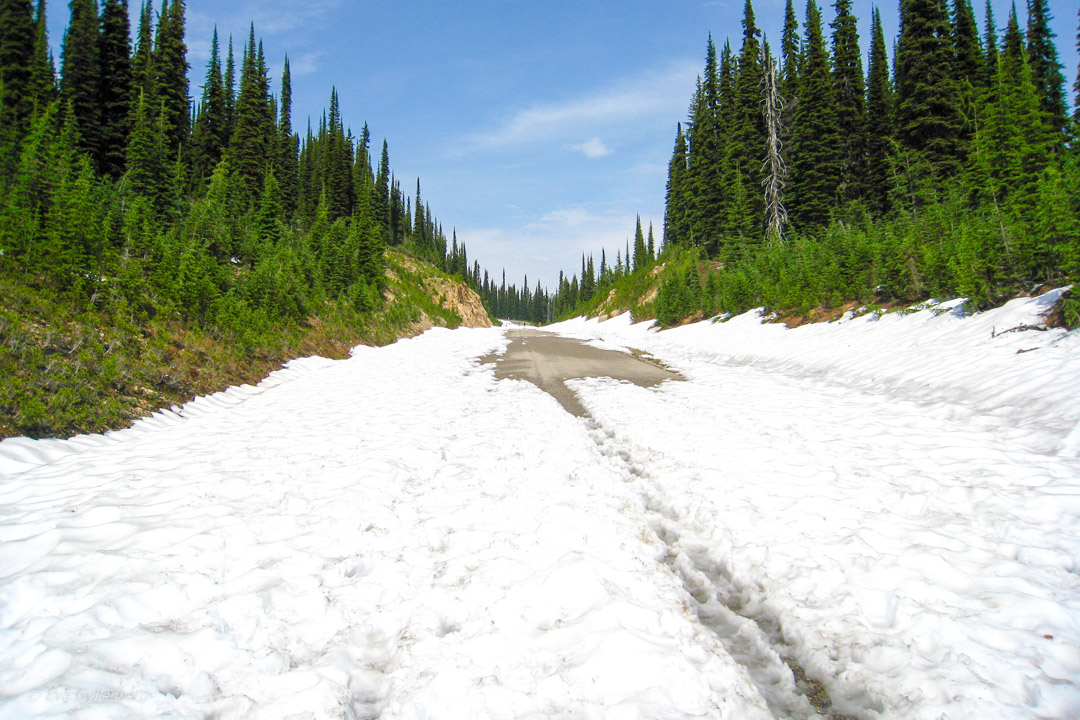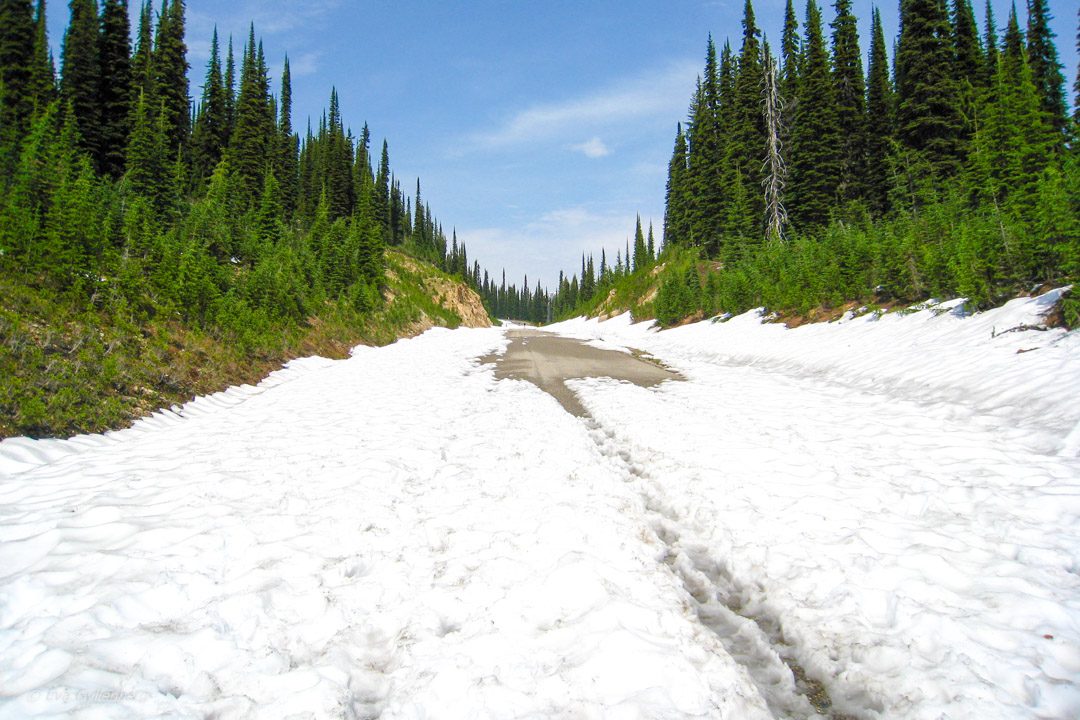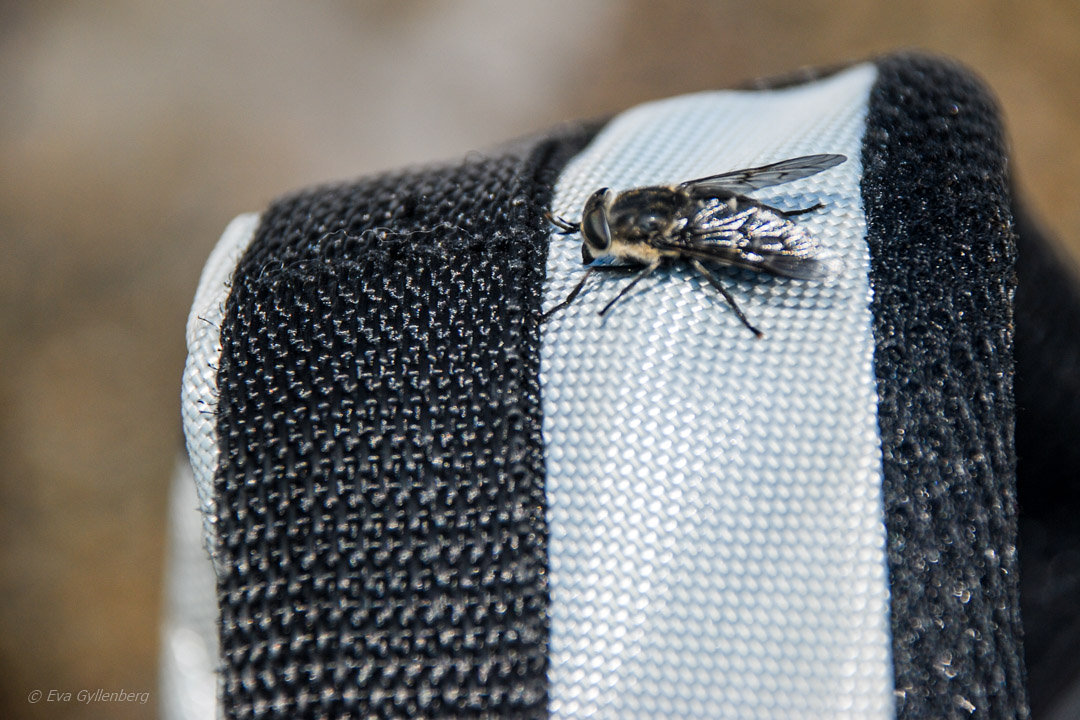 Day 18-20: Against Kelowna
(Revelstoke -> Kelowna : 20 miles)
Did you know that there are wine regions in Canada? We didn't know that. In any case, now is the time to leave the mountains and head for warmer latitudes. The road goes towards Kelowna and since it's quite a long drive we don't plan too many stops along the way. To break off all nature experiences with a bit of history, you stop at Three Valley Gap Ghost Town, where you will learn about the gold rush in the 19th century and visit one of the old ghost towns that remained after all the gold diggers left the village.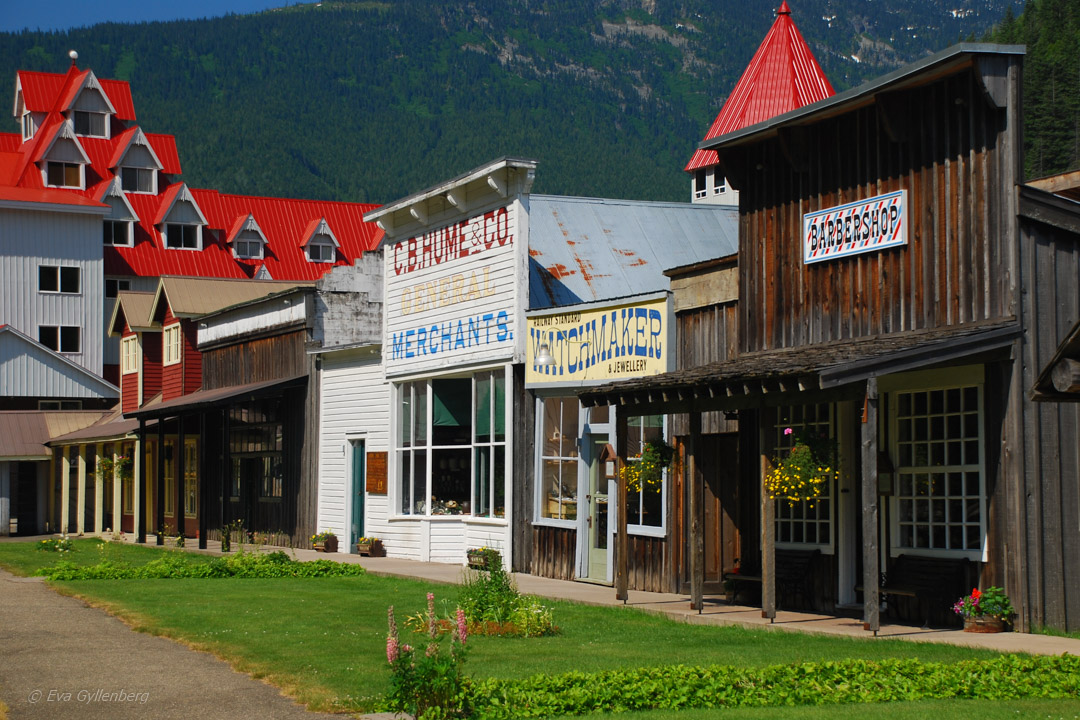 Kelowna is in Okanagan Valley vid Lake Okanagan, with hot summers and mild winters. This makes for a perfect location for heat-seeking Canadians, who flock here every summer for the beaches, golf, wine and culture. Plan to stay here for a few days and rest up before the journey home. Already on the way to Kelowna you notice the difference – the thermometer starts to rise in the car. 30 degrees. 35 degrees. The temperature was 37 degrees when we checked into the hotel. It was just a matter of taking out the shorts and sitting on the balcony at sunset.
Read more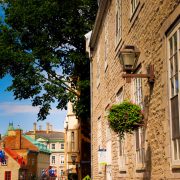 In the Kelowna area, large amounts of fruit and vegetables are grown and there are over 30 wineries. Among other things, we visited the organic vineyard Summerhill Winery, which has a large selection of everything from Riesling to Syrah. Many of the wineries have restaurants overlooking the vines and organized wine tastings, take the opportunity to taste Canadian wine – it is not so easy to find these small-scale batches at Systembolaget.
In Kelowna there is also the option of staying on a horse ranch, going ziplining, bungy jumping or windsurfing - almost like a simple Mediterranean holiday.
We like to go around to the local farms and buy freshly picked cherries, walk in lavender fields, buy locally produced cheese and eat in cozy restaurants. Among other things, we found the most delicious and creamiest ice cream on a goat farm - entirely made from goat's milk. But of course we also have time to hang out on the beach in the sunshine.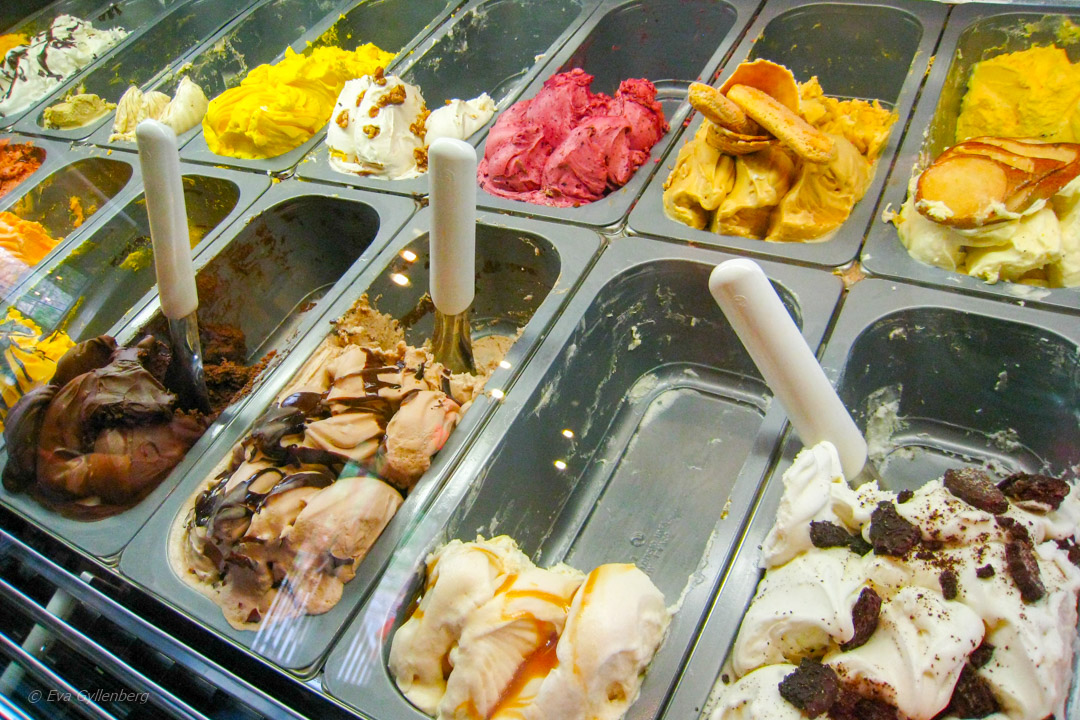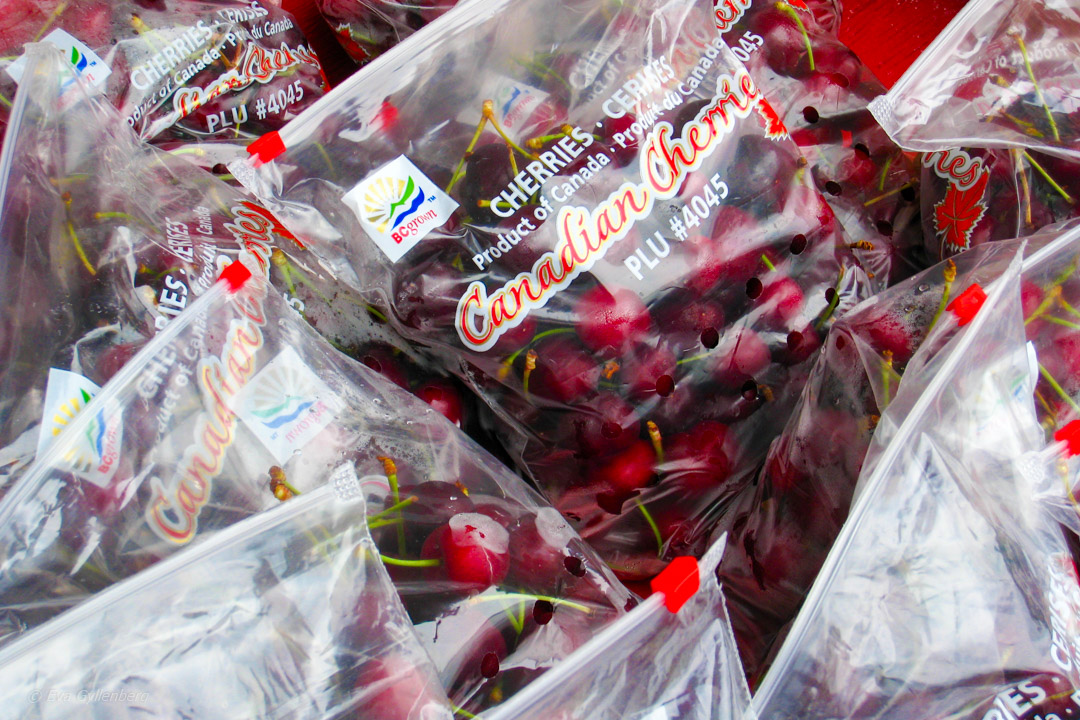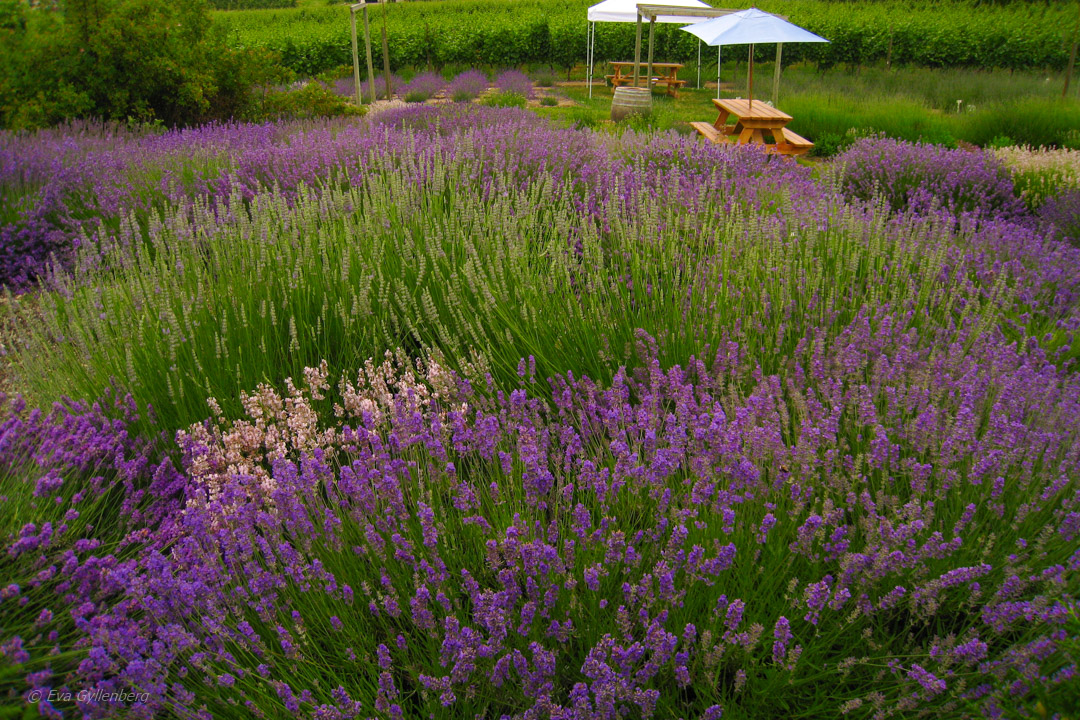 Day 21: Towards Vancouver
(Kelowna -> Vancouver : 40 miles)
Are you starting to get done with British Columbia now? Unfortunately, I don't think so, this is a place that adds flavor. There is always some hiking trail that you didn't have time to do this time, but it's nice to feel that you can easily go back.
Time to drive to Vancouver again. Better roads than earlier in the trip, but 40 miles takes 4 hours. Either stay another night in Vancouver, or drive directly to the airport.
British Columbia's tourism organization has a slogan – "British Columbia. Super. Natural". And it couldn't be more right. Get on the plane. Close your eyes and fall asleep content to the memory of the waterfalls of the Rocky Mountains, the color explosion of the lavender fields and the dazzling beauty of the pale blue lakes.
---
Do you want to read about the other sections of our road trip?
Part 1: Vancouver -> Valemount
Have you been here? What did you think of the destination?
Been there - didn't like it!
0
Not keen at all to go here!
0
Eva Gyllenberg
Travel blogger, gastronaut, photographer and family adventurer with over 55 countries in his luggage. Eva loves trips that include beautiful nature, hiking boots and well-cooked food. On the travel blog Rucksack she takes you to all corners of the world with the help of her inspiring pictures and texts.