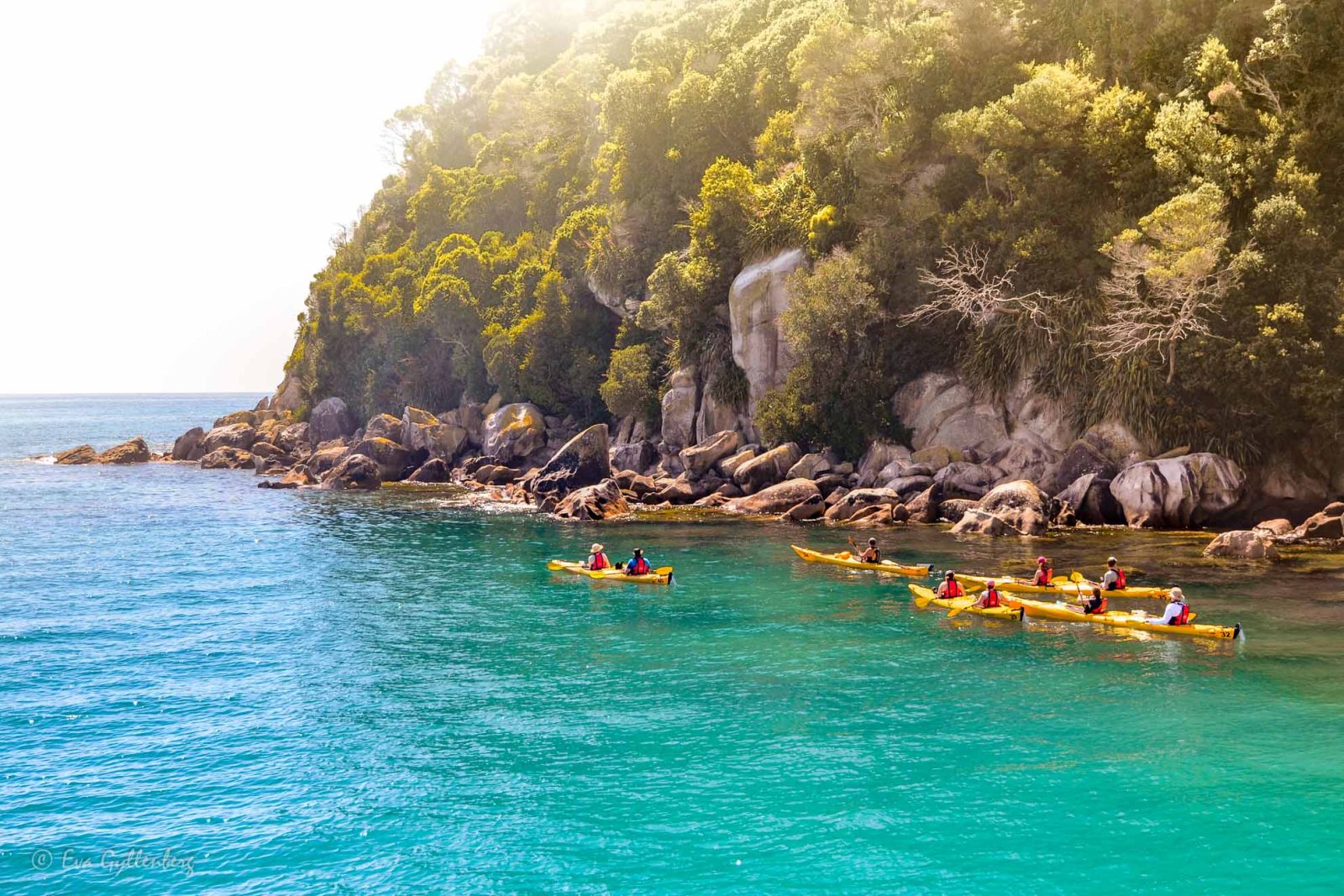 Motueka -> Abel Tasman NP -> Nelson
Christmas Eve! After a night at Nautilus Lodge in Motueka with a very nice host couple, we fixed a simple breakfast in the room with rolls, yogurt and instant coffee before we went to the Abel Tasman National Park. Abel Tasman National Park is New Zealand's smallest national park, but here you will find vast coastal areas with golden beaches, cliffs, forested mountains and wetlands. Despite the fact that the area has been subjected to both forestry and granite mining over the years, you can barely see a trace of it today.
Yesterday we booked a boat trip on the web with Wilson Abel Tasman tours, when we realized that it was the only way if we wanted to see as much as possible of the famous "Coast track" and preferably not walk the same distance back and forth. With the car it felt like an impossibility, so we booked a two-stop package where the boat drops us off at a beach in the northern part of the national park (Tonga Quarry) and picks us up 3 hours later on a beach further south (Medland bay). We bought lunch to be safe in case we couldn't find anything to eat on the boat.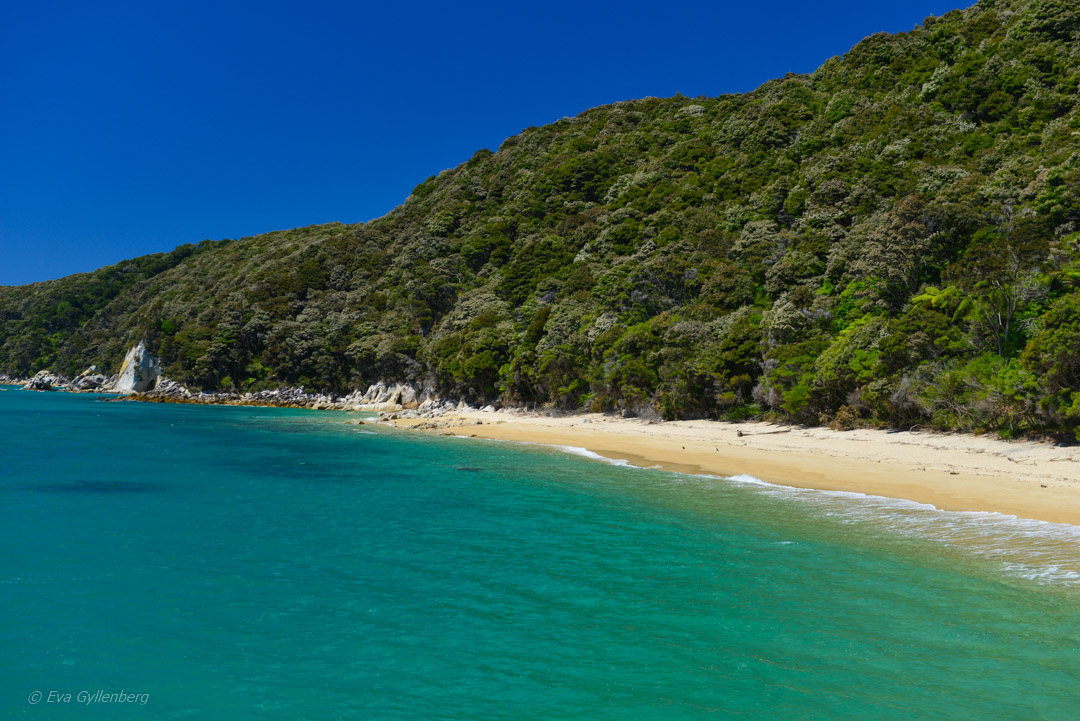 The boat trip departed from Kaiteriteri, which was a short drive from Motueka. After some unstructured queuing to collect our tickets, we were on board our catamaran in the sunshine quite quickly. We left land and drove north for almost 2 hours, along the entire national park. The boat stopped at a lot of beaches and dropped hikers and campers off and on. We enjoyed watching the clear blue sea, the wild beaches and all the birds. We also drove carefully past a large seal colony, where there were so many seals that it was difficult to tell what were stones and what were seals.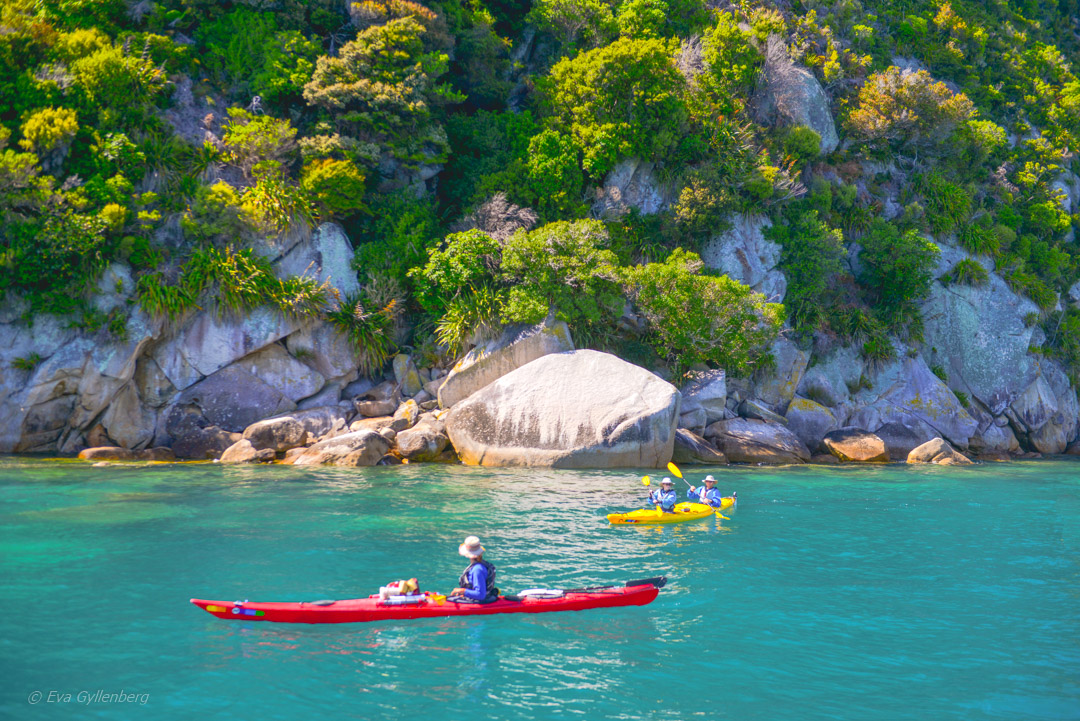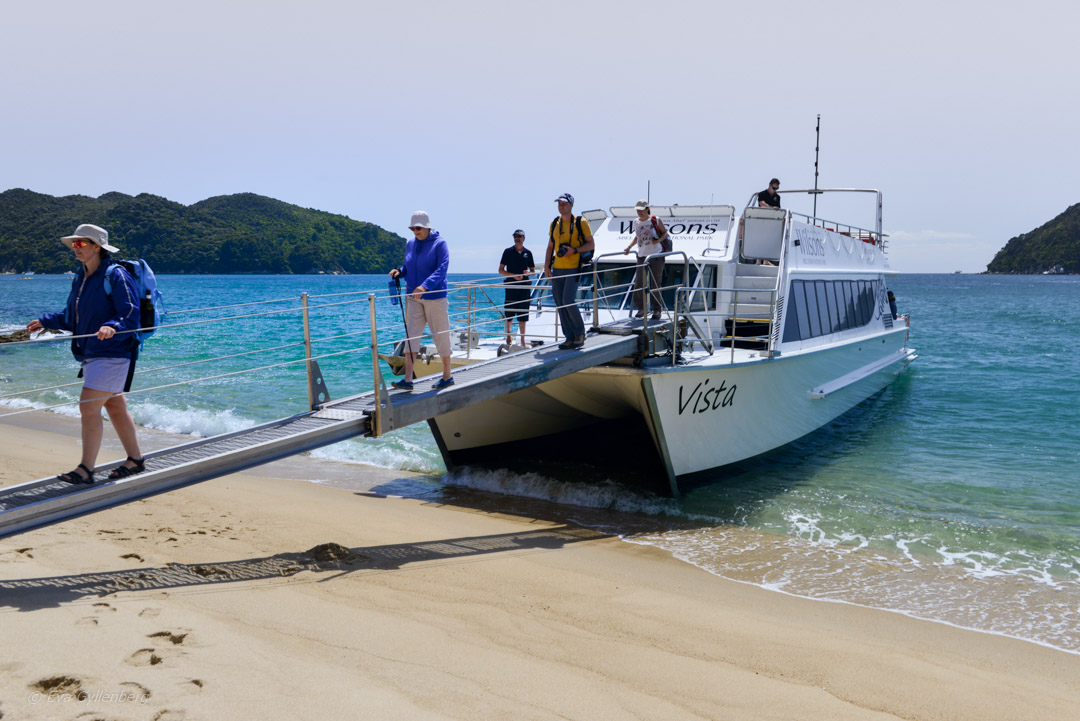 As a simpler lunch was served on board, we took the opportunity to have an extra small lunch (like true hobbits) before it was time for our stop. Moroccan bean soup for Eva, creamy pumpkin soup for Anders and an egg/bacon pie for Elly.
At Tonga Quarry we balanced off the gangway and ended up on a completely deserted beach, but swaying fern palms and clear blue water. This is where our hike began. Through the jungle with steep slopes, via dazzlingly beautiful beaches and suspension bridges until we reached Medland bay where the boat picked us up. There were a few of us who got off at this beach, but we pushed on so that we were completely alone on the path. Fantastic views of the jungle with lovely blue sea in the background made the walk absolutely wonderful. Cooked up our second lunch sitting on a beach together with curious seagulls. What a beautiful Christmas Eve!!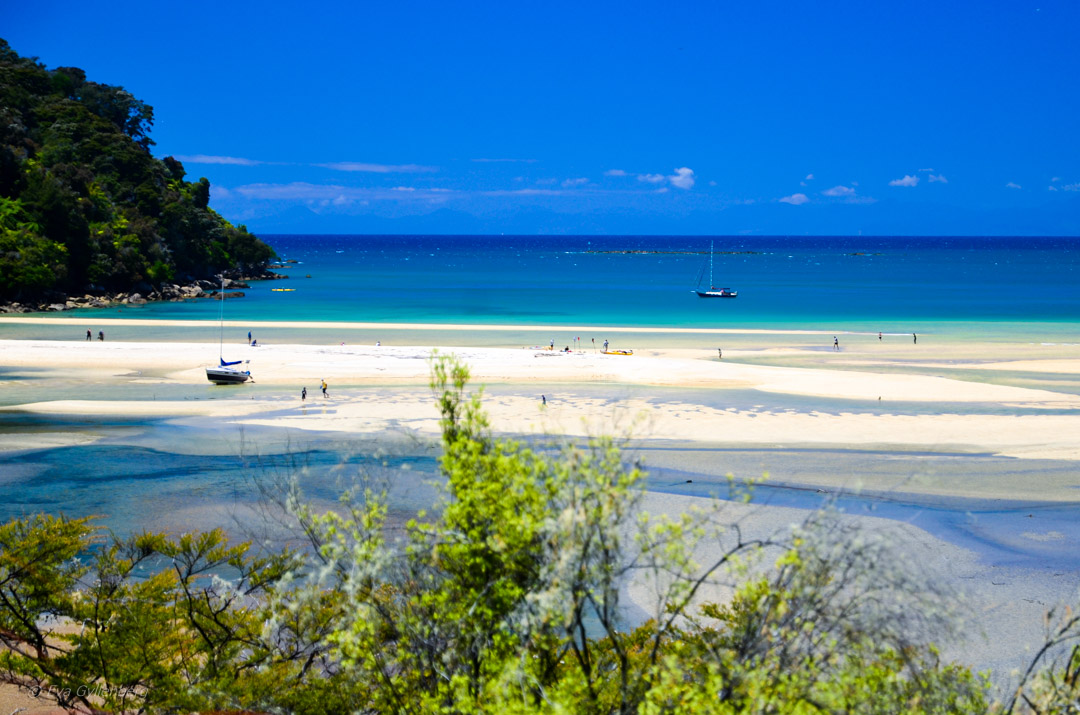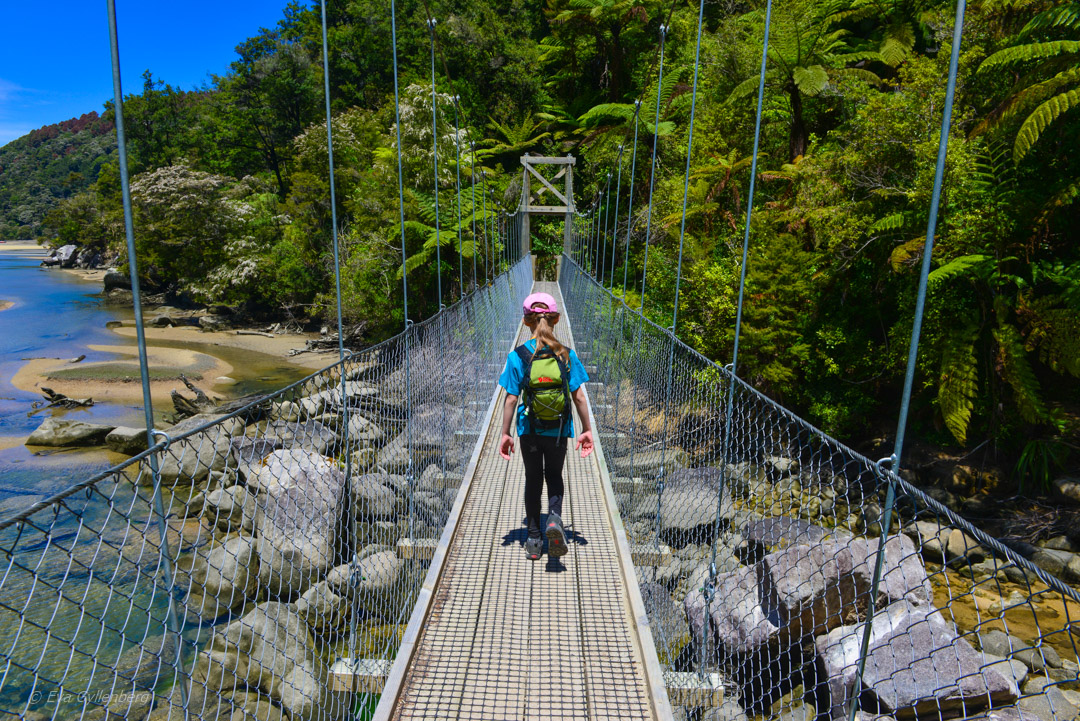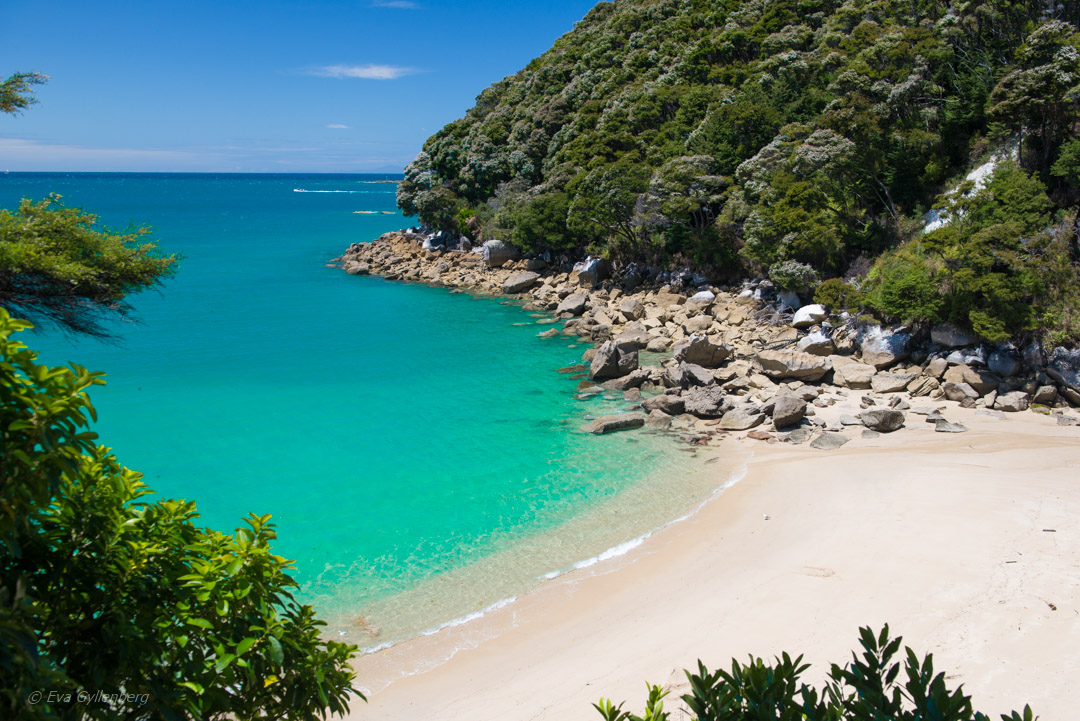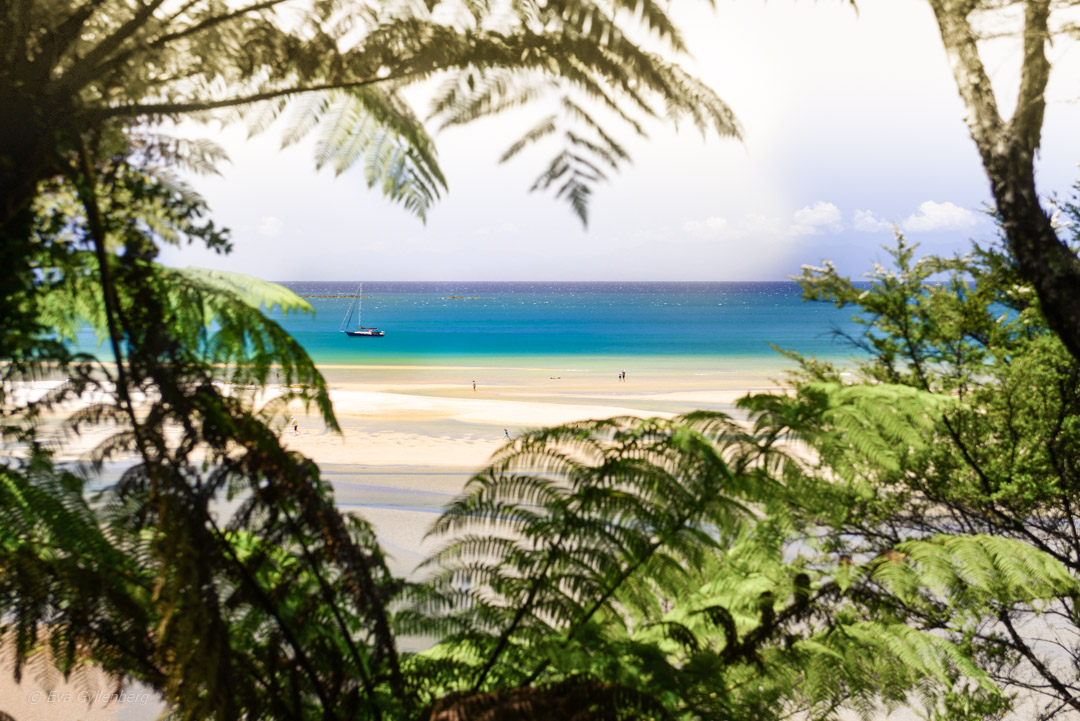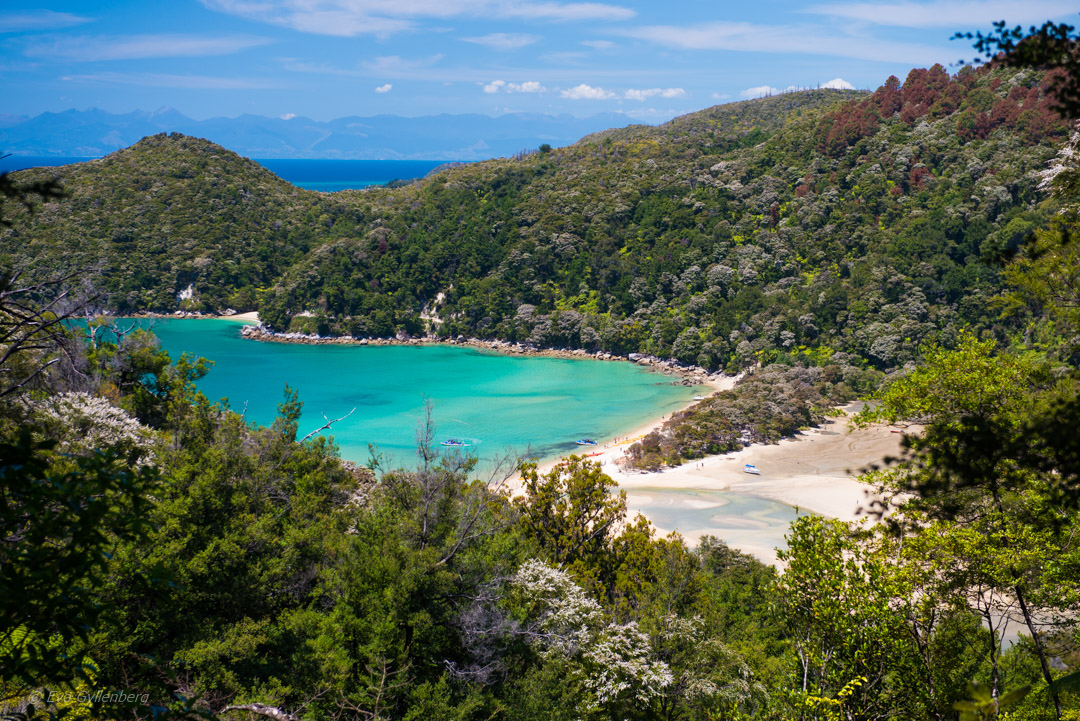 The boat came and picked us up at the terminus - punctual and comfortable. It felt like we had picked the best part of the stretch on our walk and Elly was more than happy with the walk when we got back on the boat.
From Astronaut we only had one more short drive Nelson, so we stopped in Motueka and bought us food and refueled the car, as we had been warned that all shops are closed on Christmas Day (when New Zealanders celebrate their Christmas).
Checked in at Trailways Hotelli Nelson which was in the middle of town. We were lucky and got the last table outdoors at the hotel restaurant, it is certainly popular to go out to eat with the family the day before Christmas Day! The river next to us was completely sunken and dried up (we thought) but as we sat eating in the sunshine the tide came back and completely filled up the dry river bed.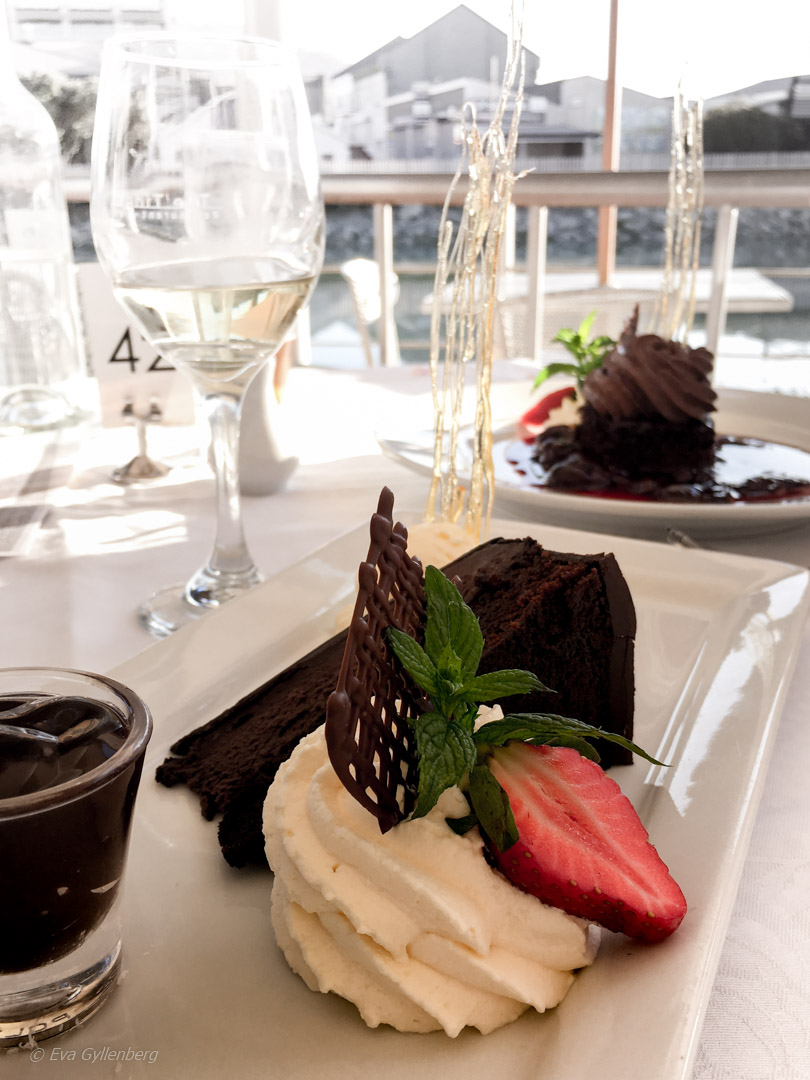 We adults partied with an affordable seafood platter and large chocolate desserts, while Elly ate a good breaded chicken. Abel Tasman is definitely one of the top experiences in New Zealand (so far) 🙂 !
Have you been here? What did you think of the destination?
Been there - didn't like it!
0
Not keen at all to go here!
0
Eva Gyllenberg
Travel blogger, gastronaut, photographer and family adventurer with over 55 countries in his luggage. Eva loves trips that include beautiful nature, hiking boots and well-cooked food. On the travel blog Rucksack she takes you to all corners of the world with the help of her inspiring pictures and texts.