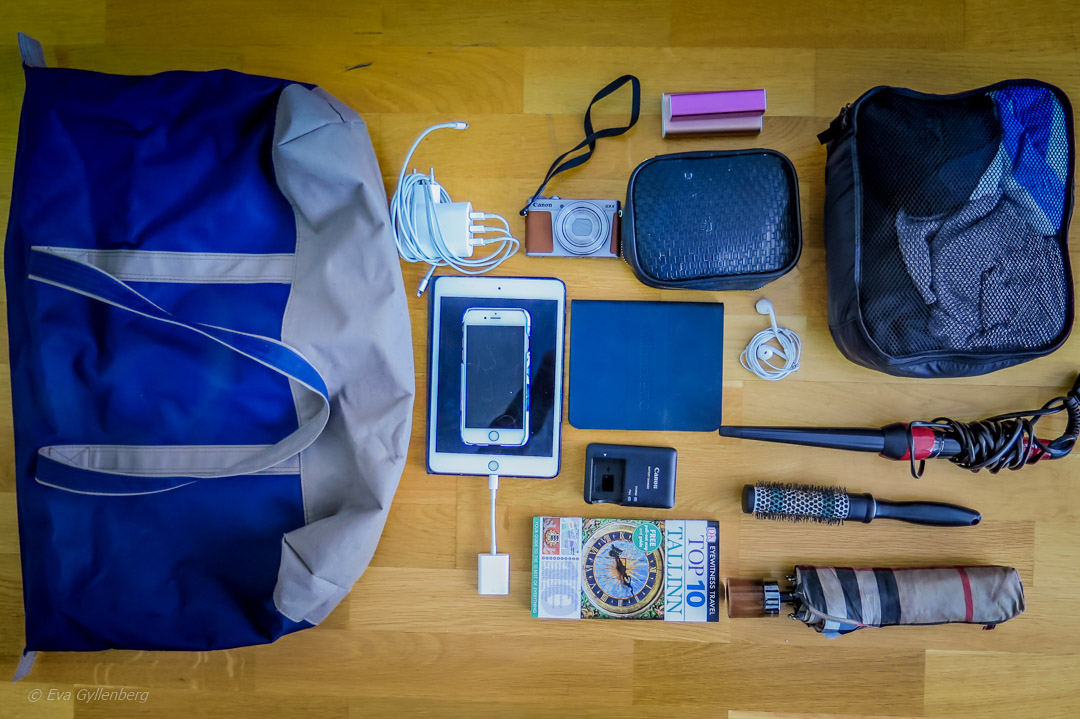 I have previously written about how to pack, what to pack and how to travel on a weekend trip with only carry-on luggage. After my disastrous packing fadäs this summer, I thought this weekend trip would be up to the proof! Would I manage to keep my own packing advice this time? I can pack, I'm not afraid!
destination: Tallinn by plane
Length of trip: Friday evening to Sunday evening (2 nights)
Weather: Rain, debris and autumn wind
Activities: Sightseeing and restaurants
accommodation: Four-star hotel in the center of Tallinn
Bag
I packed in my soft Samsonite bag as usual. It turned out that this was an unusually smart move this trip, as we were flying on a smaller SAS plane that didn't have room for regular cabin bags in the hat rack. Anyone with normal-sized cabin bags had to leave them at the stairs up to the flight.
I also had a small handbag (cross body) which contained a wallet and small knick-knacks.
Grade: MVG! My advice worked perfectly this trip!
Clothes
Did I manage to pack so that everything matched?
Outerwear: I traveled in a really good wind- and waterproof black parka in Arket which is both stylish and practical, with a long burgundy woolen cardigan which warmed layers under the jacket. I also had a couple with me leather gloves, but I didn't need to use them. On my feet I had a pair of Chelsea boots boots with a solid rubber sole, which can handle both a nice dinner and a puddle.
On the plane: I flew in one black jeans with a high waist and a black v-neck finely knitted sweater.
Changes: En silver top with frills (for fancy dinners), an extra pair of black ones suit pants and a thinner long-sleeved fin black shirt.
Underwear: Underwear and socks for all days and one pajamas
All the clothes I wasn't wearing were packed into one packing cube in size S from Muji. These packing cubes are really really good!
Grade: VG! Everything matched, but I could have actually ignored the suit pants - I didn't use them. But if I hadn't brought an extra pair of pants, I would probably have spilled...
Hair accessories and makeup
Now you're all wondering – did I bring the curling iron with me or was it a fetal position on the hotel floor yet again?
The curling iron came with it! woop woop! Hairbands and hairbrush were also unpacked and I had put down a good one balsam and shampoo from l'Occitane in 75ml packages. I had packed salt water spray into a 50 ml pump bottle from Muji. The toiletry bag with mascara, skin cream, blush, deodorant (100 ml), headache tablets and two couples linser was also stopped.
The hairdryer was left at home. There was actually a good hairdryer in the hotel. However, there was no conditioner, so good that I packed it! The man carried the electric toothbrushes, so I didn't have to pack them down this time 🙂
Grade: MVG! Finally! All hair accessories included!
Technical
Camera stuff: The big camera was left at home this time (it was going to rain all weekend, so I couldn't bring it along) and I brought a small compact camera instead. Camera charger, iPad SD card adapter, multi-USB charger and Apple cords was with! Even a couple small headphones slim down.
Other technology: iPad mini , e-book reader Bed and iPhone. Don't travel anywhere without these three. I also had two smaller ones with me power banks (which are approved on the flight).
Grade: MVG! Everything came and nothing was missing!
Diverse
Some leftovers euro banknotes from previous trips and a small guidebook to read on the plane (and which has a wrapped city map that you can take out in the rain). At the last second I also packed an umbrella, but I never used it. The wind- and rain-proof jacket was enough.
Grade: MVG! Can't think of anything else?
So, what grade did I get on my pack?
I have to say that packing for a weekend trip according to my list worked really well! I replaced the straightener with a curling iron and skipped the adapter (as it is not needed in Estonia) and there was plenty of room for shopping left in the bag! In fact, there was so much room left that I could fit 1,5kg of candy, a new belt, Christmas tree ornaments and a new coffee mug.
Not so bad right?
Have you been here? What did you think of the destination?
Been there - didn't like it!
0
Not keen at all to go here!
0
Eva Gyllenberg
Travel blogger, gastronaut, photographer and family adventurer with over 55 countries in his luggage. Eva loves trips that include beautiful nature, hiking boots and well-cooked food. On the travel blog Rucksack she takes you to all corners of the world with the help of her inspiring pictures and texts.