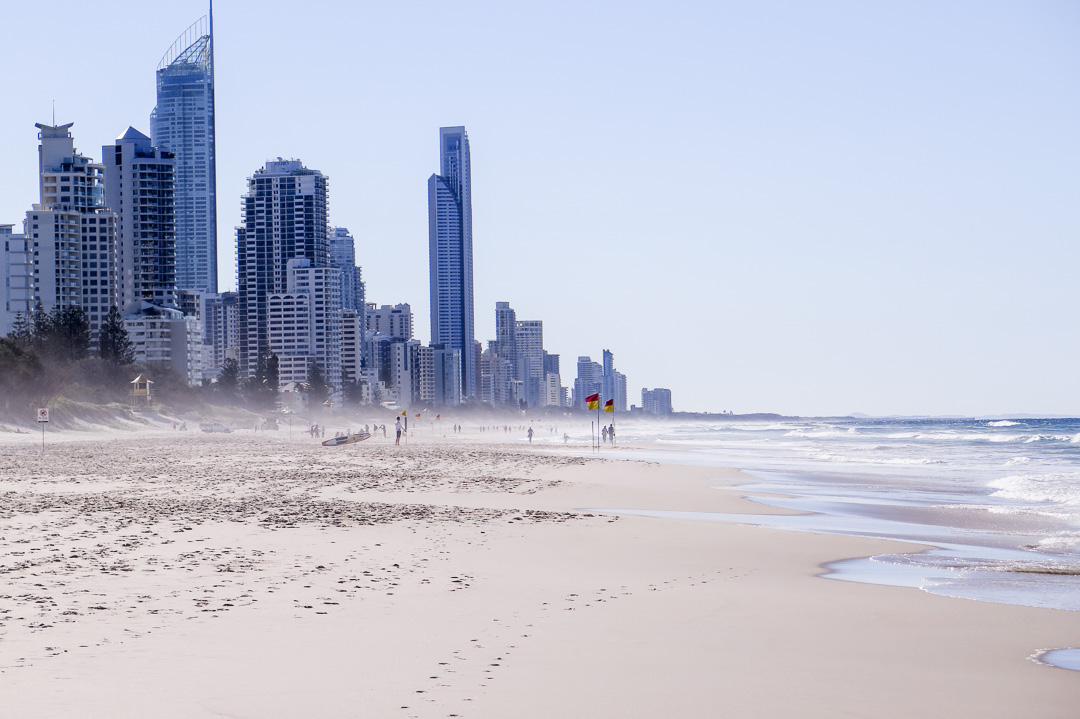 START: Cairns
FINAL: Brisbane
STRETCH: About 200 miles
LENGTH OF JOURNEY: 3 weeks
After spending 2 weeks in Cairns without a rental car in 2012, we decided to go back to Queensland and experience the state as it should be experienced: by car. We had quite a solid list of places we wanted to visit, with nature and animals at the top of the list. How cool would it be to see some of the unique animals that can only be found in Australia? Wild platypuses, koalas, wallabies, cockatoos and dingos, in Queensland you can meet them all. But where would we go to find all these animals? The search for the perfect road trip took several hours of planning, Googling and reading travel magazines and travel guides. Finally we agreed on this route, which includes snorkelling on the Great Barrier Reef, sunbathing on paradise islands, encounters with animals in national parks, boat tours around the Whitsunday islands, close contact with dingoes on Fraser Island and even more close contact with jumping humpback whales off Moreton Island.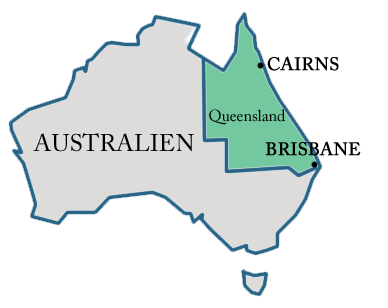 When is the best time to do this road trip? Anytime of the year! The different seasons have their charm and all seasons have lots of experiences and attractions for the whole family. We drove the route in June, during the Australian winter, but we have been to Queensland several times since then during all the Swedish summer months.
Traveling to northern Australia in summer or winter?
Winter in Queensland means that the temperature in the northern parts is between 20-28 degrees during the day and in the southern parts between 12-18 degrees. The nights can be quite chilly, so a windproof jacket and a hoodie are nice to have. However, these temperatures do not prevent Aussies from wearing flip flops and t-shirts and sitting outside in the evenings for dinner. A big advantage of traveling here in winter is that the weather is sunny, dry and reliable. Also, the risk of deadly jellyfish and saltwater crocodiles along the beaches is minimal, so the beaches are full of people. Nor will you see a single mosquito in winter. The disadvantage of traveling during the winter is that it is the most popular time to go here, so if you have requirements for accommodation, you should book in advance. In addition, for some bathtubs (like us) it can feel a little cold in the sea (around 23-25 ​​degrees). The advantage for the animal enthusiast is that you can meet migrating humpback whales off the entire coast of Queensland.
Summer in northern Australia means 30+ temperatures, high humidity and lots of rain. So much rain, in fact, that parts of the coastal road are closed at regular intervals due to meter-high water levels. A four-wheel drive car is highly recommended if you want to enter the national parks. The sea temperature is bathtub warm, but the beaches are not crowded due to the occasional visit of dangerous jellyfish and saltwater crocodiles. If you want to snorkel on the reef, it is recommended that you rent a "stinger suit", a tight body sock that protects you from the dangerous poison. Advantages of the summer for those interested in animals, is that you can see the sea turtles laying eggs on the beaches around Mon Repos.
Itinerary
Cairns
Fitzroy Island
Atherton Highlands
Townsville
Airlie Beach - Whitsunday Islands
Mackey
Rockhampton – Fraser Island
Hervey bay
Twin Waters
Surfers Paradise
Brisbane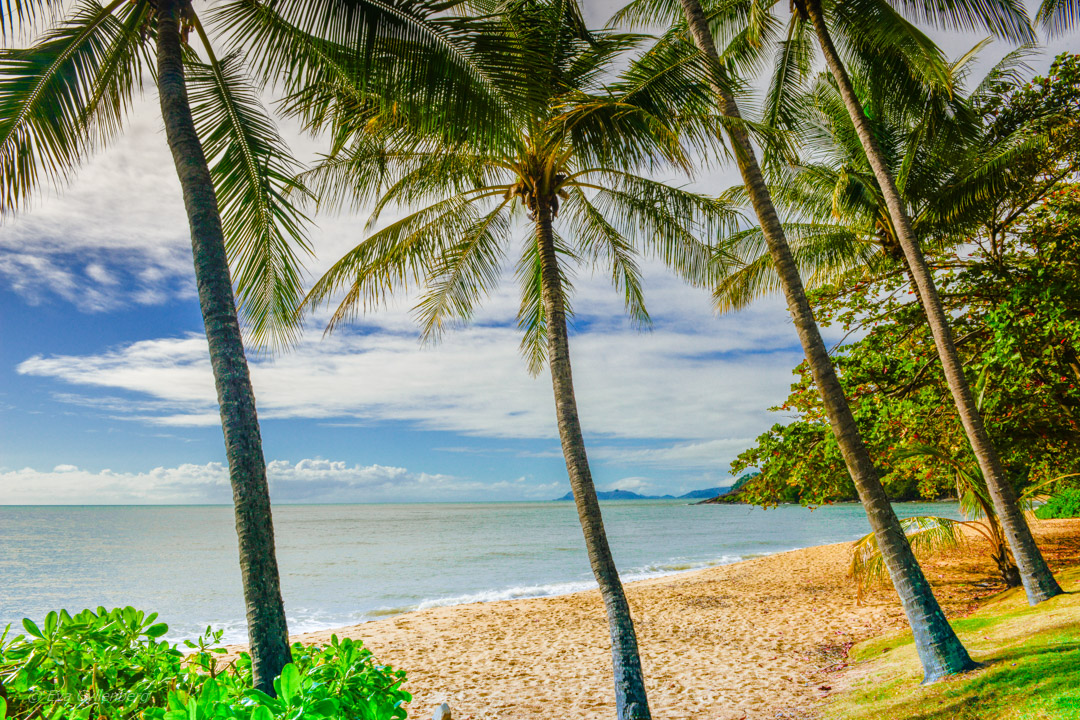 Daily plans for the road trip
To read more about what we wrote about the various destinations in this road trip, click on the links and you will get further! (Or look into my Queensland side)
Day 1: Arrival to Cairns. With a fairly high probability, you have arrived in Cairns via two stopovers and with more than a day's travel in your body. So today you suggest doing nothing. Eat well at one of Cairns' restaurants and pine away until it's time to sleep local time, and you'll be in phase more easily. If you still have some energy to spare, Cairns is the last real city you'll be in before you get to Brisbane, so take the opportunity to buy memory cards for your camera and a good bikini. We didn't pick up the rental car at the airport when we landed, but we picked up the rental car inside Cairns city center instead just before we left the city.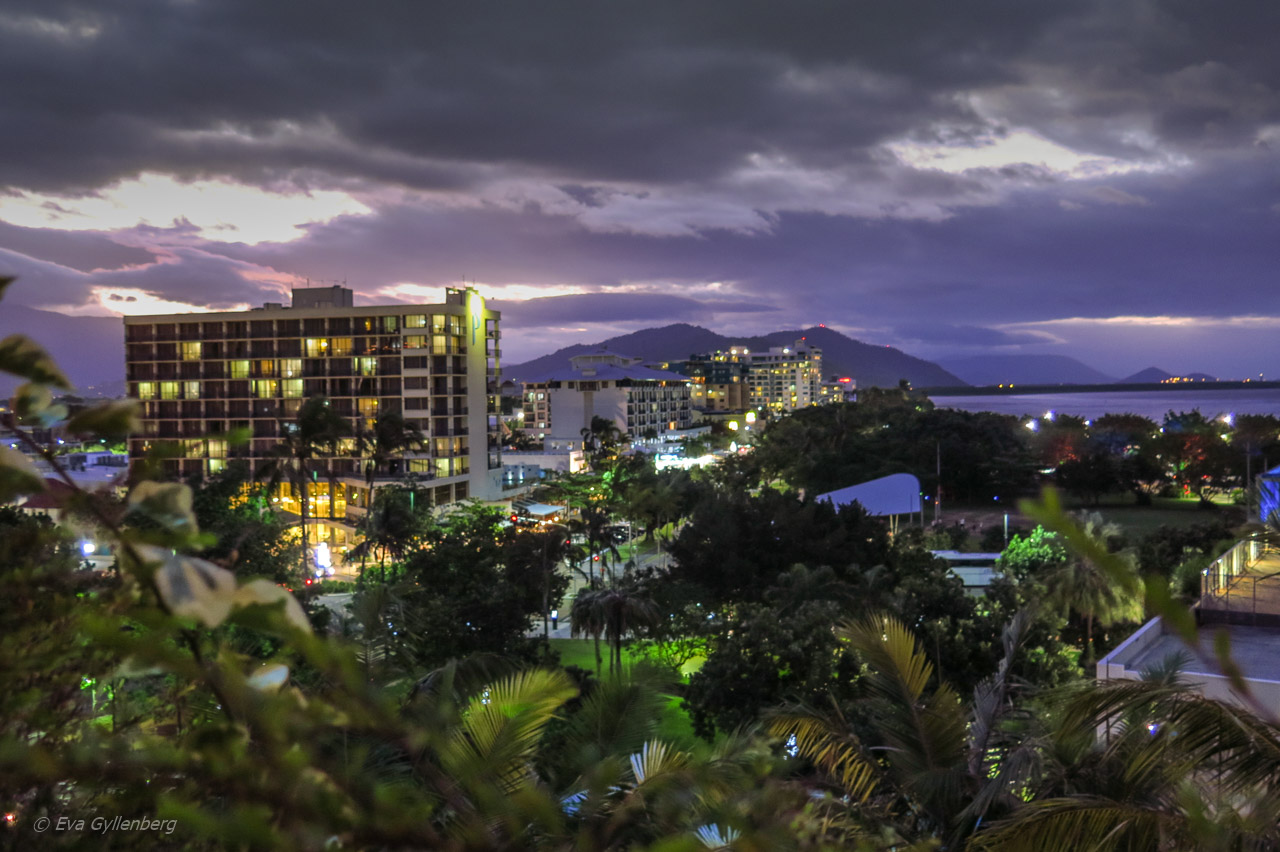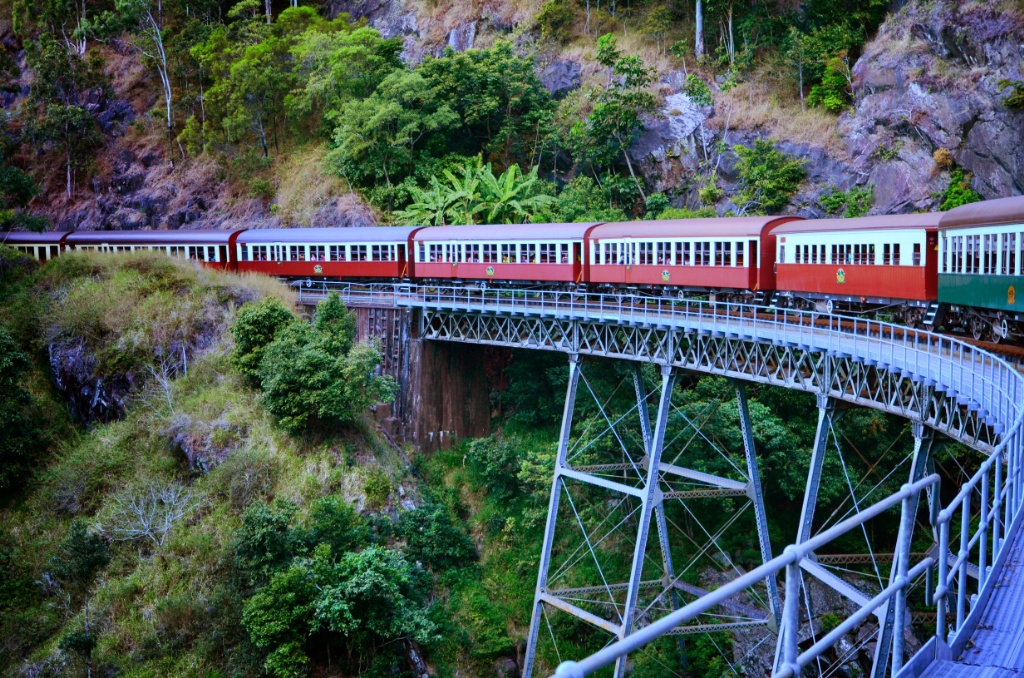 Day 2-4: I Cairns is it easy to stay 1 day or 10. If you have the opportunity, make at least one excursion to:
World Heritage Daintree rainforest where you get to experience an ancient rainforest with desolately beautiful beaches
Cabin track Skyrail to Kuranda over the rainforest and train down through the jungle on the scenic Kuranda scenic railway. Visit too Tjapukai aboriginal cultural centre and learn a lot about Australia's rich culture.
Hartley's Crocodile Adventures to learn all about saltwater crocodiles and chew crocodile meat in every possible way. The crocodile burger is recommended!
If you are staying for more than one night, it can be nice to stay in one of the nice little beaches north of Cairns. Palm cove, Trinity Beach and Port Douglas are three places with nice beaches and the majority of good restaurants and hotels.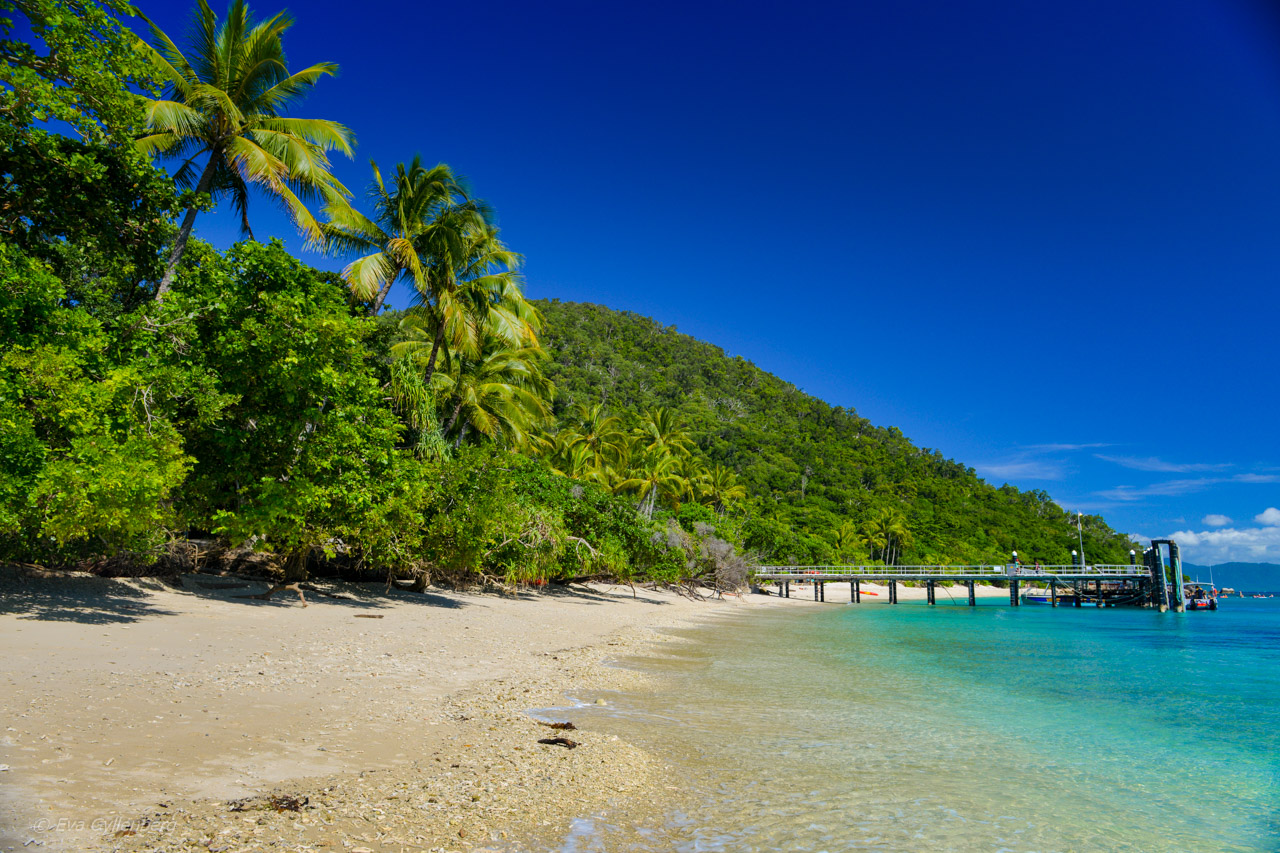 Day 5: The Great Barrier Reef is easily accessible right outside Cairns and today you go out and live on one of the beautiful islands on the reef. Fitzroy Island is only 45 minutes from Carins by fast catamaran and on the island you will find only one resort. But what more could you want? White beaches, exciting snorkeling, luxurious accommodation and good food. Take a snorkel or diving excursion and enjoy the magical coral world that lies beneath the surface. An alternative to Fitzroy Island is Green island, which is, however, much more well-visited.
Day 6: Time to leave paradise and go back to the mainland and to Cairns. Take the last ferry of the day back to Cairns and stay in town overnight.
Day 7: (10 miles) Ready for left-hand traffic? Because now is the time! Pick up the car at the rental car company and set off on the big adventure. The road today goes towards Atherton Highlands which is located on a plateau just south-west of Cairns. Here you will find giant fig trees (fig trees) with fairytale names such as Cathedral fig tree and Curtain fig tree, delicious Crater Lakes with spitting fish, waterfalls and tea plantations. Before heading up to your accommodation for the night in your own unique house on Rose Gums Wilderness Retreat so you take the opportunity to buy a substantial piece of meat for the evening's barbecue and take an afternoon coffee with you Nerada tea plantation and drink tea that comes directly from freshly dried leaves in the factory. Once installed at Rose Gums, you sit on the balcony and enjoy all the sounds of the rainforest, a glass of local wine and your own grilled piece of meat. Around Rose Gums there are plenty of platypuses and parrots, take the help of the cozy host couple - they will be happy to help you!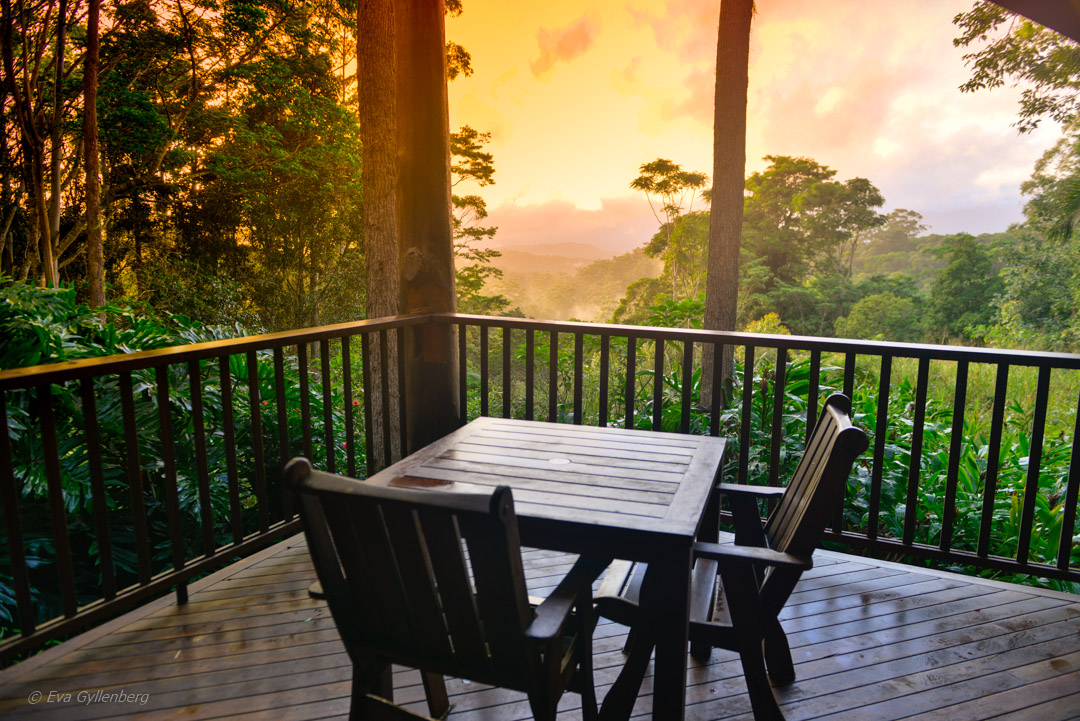 Day 8: (35 miles) Your breakfast is served in the fridge - local eggs and thick bacon, organic yogurt from the dairy nearby, local tea, freshly squeezed juice and cereal. Sit on the balcony and watch the sun rise over the rainforest and marvel at all the sounds and animals waking up. Today we will stop at the waterfall Millaa Millaa, a coffee break at the local yogurt maker Mungalli Creek Dairy (good coffee, good ice cream and good lunch!) and hiking among the treetops in the national park Mamu Tropical Skywalk before you are back at the coast and the sugar cane plantations. Watch out for "cane trains" - small trains that transport sugar cane. Accommodation preferably in Townsville.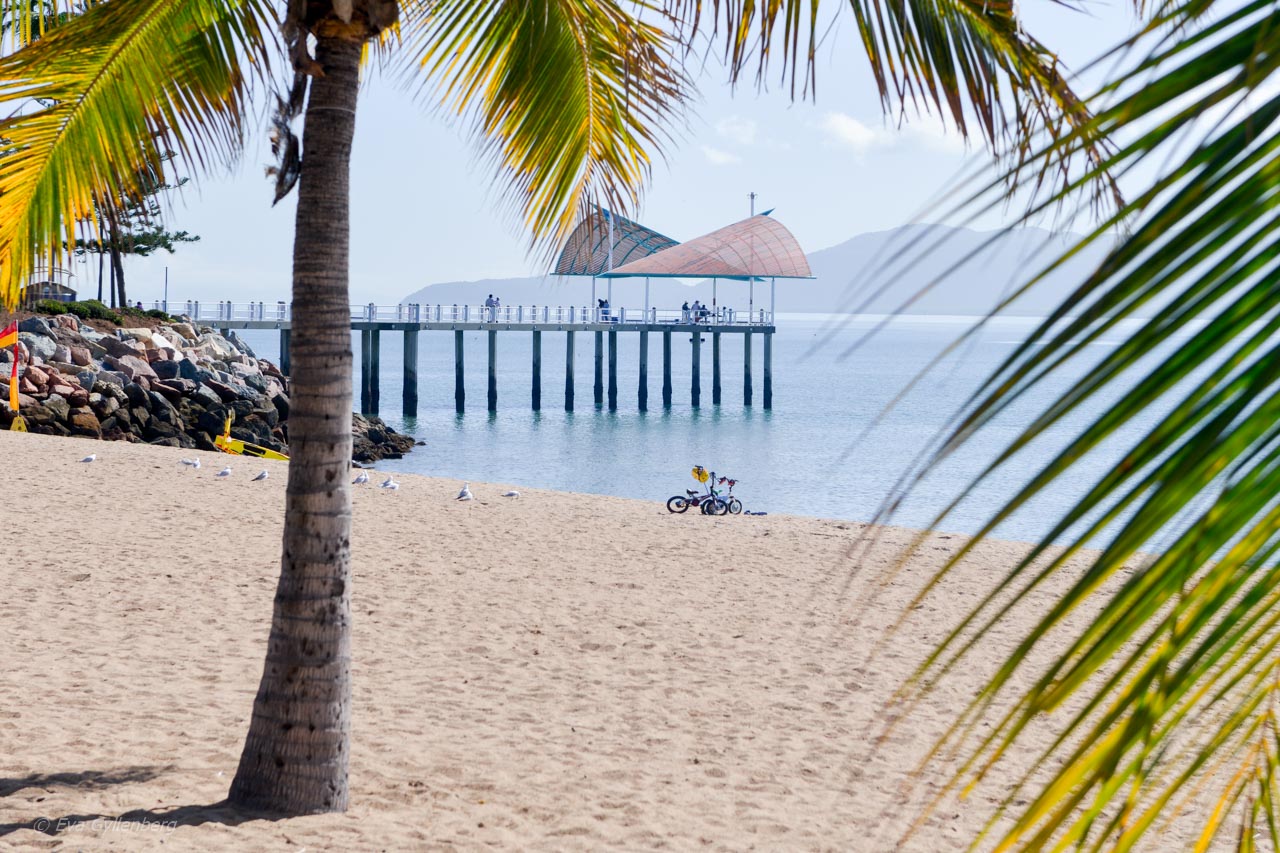 Day 9: (27 miles) Another long day's driving, this day more Airlie beach. On the way there are a number of national parks, there Bowling Green Bay National Park is a most readily available. Here we met both wallabies at very close range, snakes, wild turkeys and salamanders. There are plenty of picnic tables, so feel free to bring lunch and eat in the park.
Day 10: Today you have booked another boat excursion Whitsunday Islands and the dazzling white beaches of Whitehaven beach. There are many different options, try to go with the tour that gives you the opportunity to really experience Whitehaven beach. Hamilton Island and Daydream Island are nice stops for lunch if you don't want to be out on Whitehaven all day. A popular activity is sailing around the islands, these are usually multi-day trips where you live on the boat.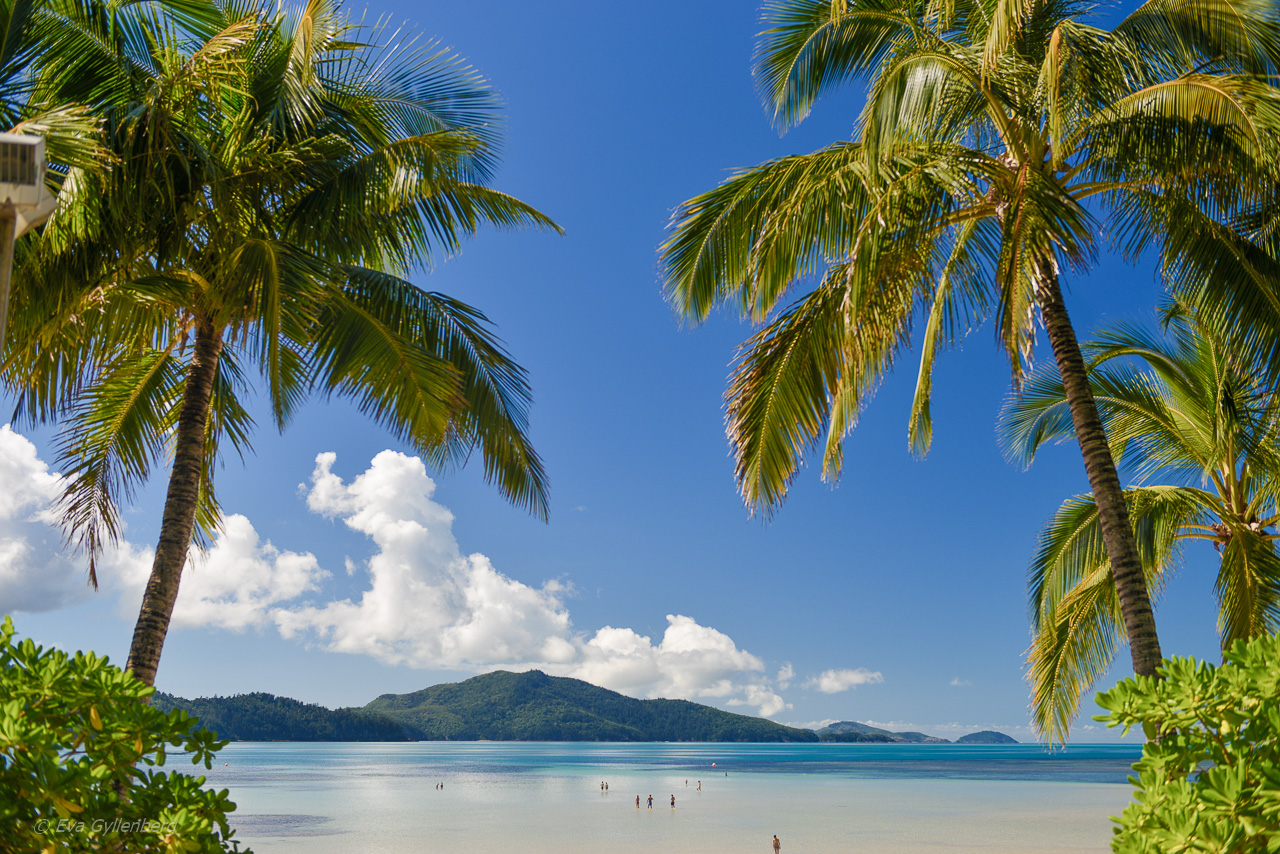 Day 11: (15 miles) Today the drive is not so long if you drive directly towards Mackay, but I recommend some detours. On the beach in Cape Hillsborough in the morning you get close contact with lots of wallabies and i Gospel at Broken River you may be lucky enough to see platypus swimming around and feeding at dawn and dusk. We saw at least ten platypuses when we were in Eungella, a real highlight that not even many Australians have experienced.
Day 12: (33 miles) Against Rockhampton and Capricorn Caves. Visit beautiful caves and watch thousands of bats leave the cave at sunset to eat their fill.
Day 13: (39 miles) The longest leg of the journey, towards Hervey bay. On the way to Hervey Bay lies My rest, where during the summer months it is possible to take guided tours to Mon Repos beach, which is a very popular beach for sea turtles to lay their eggs. Near Mon Repos is the town Bundaberg, which is known for its rum production and its soda production of ginger ale and root beer. You can do guided tours at both places and at Bundaberg rum you also get to finish with a tasting of their products. Once in Hervey Bay, you can book a whale watching tour, as this is the most popular place in Australia to see the majestic humpback whales that migrate along the coast.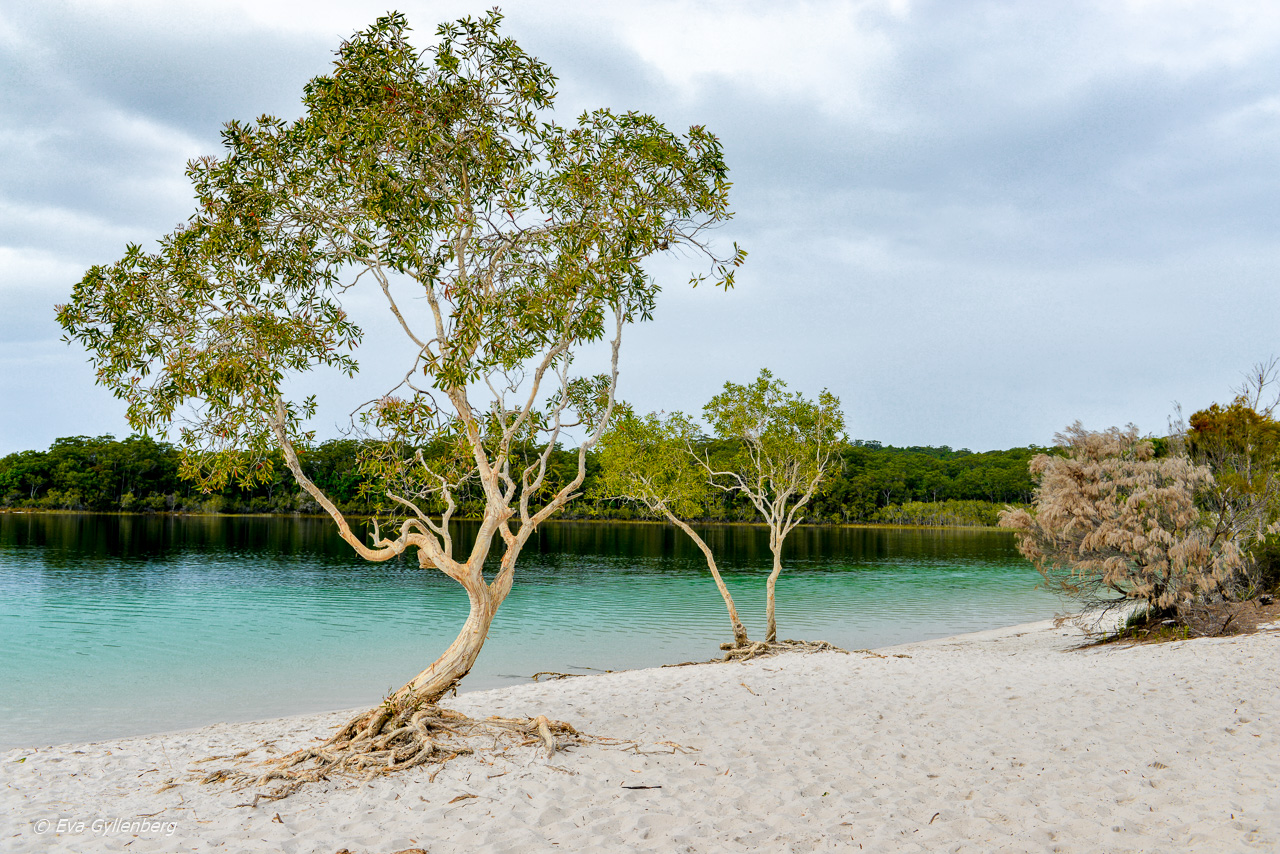 Day 14: Today you leave the car and take a guided tour of the world heritage and national park Fraser Island. Fraser Island is the world's largest sand island, known for its highways on the beach, its dingoes and its clear lakes. You need a special permit to drive on the island, but if you are not used to driving in difficult terrain, don't. There are no roads on the island, only soft sand.
Day 15: (22 miles) Now we begin to approach civilization and leave the sugar cane plantations behind us. Today we drive towards Noosa and fits early in the morning to go by Tin Can Bay to meet the wild bottlenose dolphins that come into the bay every day to feed. The strangest sight after the road is the Ginger Factory, which is an amusement park for children where most of it is built around a factory that handles the locally produced ginger. Noosa Heads National Park has a well-visited hiking trail along the coast, with nice views of the sea. If you're lucky you might see a koala, this is one of the few places in Queensland where koalas still live wild.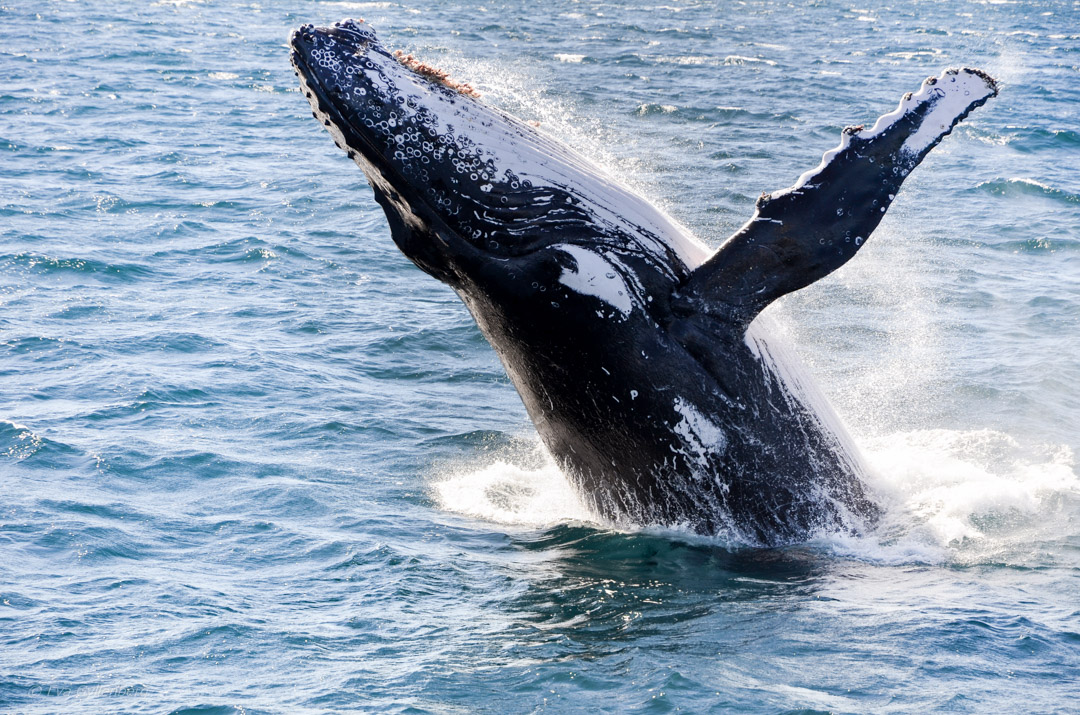 Day 16: Word Brisbane or Surfers Paradise! If you haven't yet had time to go whale watching, we can recommend it Brisbane Whale Watching from Redcliffe - the best we've ever been to! Another attraction is one of the world's best zoos – Australia Zoo – which is just north of Brisbane. The zoo is owned by the Irwing family and is run today in the spirit of Steve Irwing.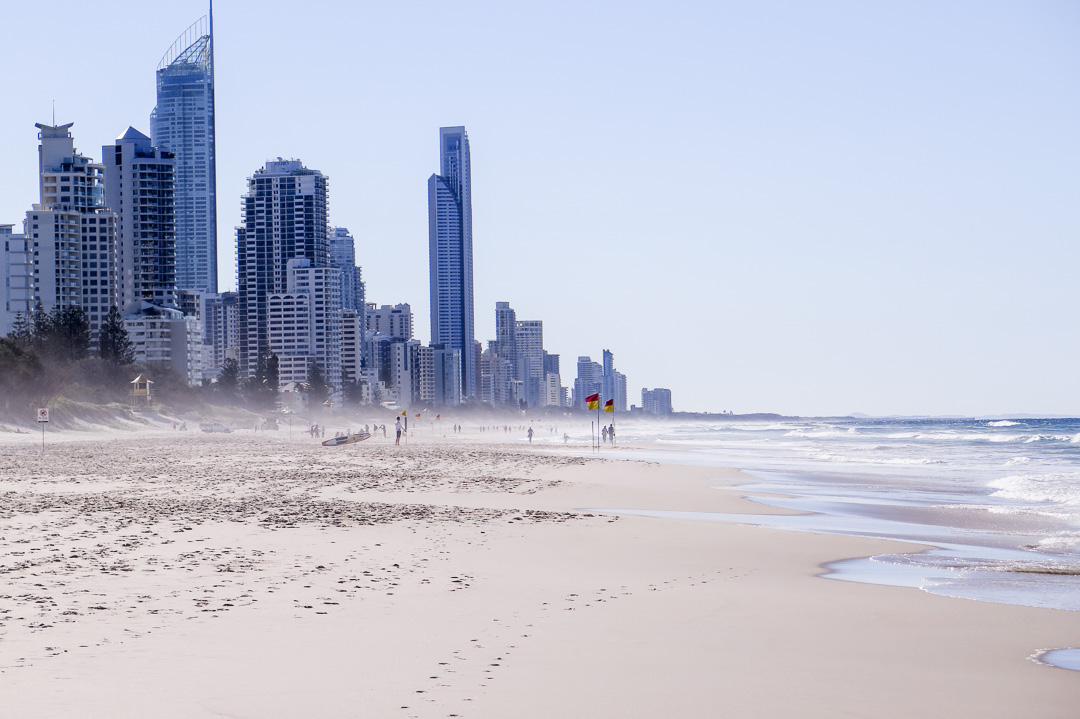 Day 17-21: Around Surfers Paradise and Brisbane there's plenty to do to round off a great road trip. Here you will find amusement parks for all tastes – roller coasters, zoos, water parks, etc. Just west of Surfers Paradise there are also several national parks with waterfalls, treetop walks and mountains. Not to mention the beaches and surfing. I find it hard to imagine that you are done with Australia now, but it is getting to be time to turn home. Don't wave goodbye to the cockatoos, but say "see you again". Because it's hard not to want to go back to Australia next summer again 🙂
Travelers' Map is loading ...
If you see this after your page is loaded completely, leafletJS files are missing.
Do you want to read more about Australia? Check out my Australia page with lots of tips for both Queensland and Australia!
Have you been here? What did you think of the destination?
Been there - didn't like it!
0
Not keen at all to go here!
0
Eva Gyllenberg
Travel blogger, gastronaut, photographer and family adventurer with over 55 countries in his luggage. Eva loves trips that include beautiful nature, hiking boots and well-cooked food. On the travel blog Rucksack she takes you to all corners of the world with the help of her inspiring pictures and texts.