The visit to Prague was made in connection with a press trip together with Visit the Czech Republic, but all thoughts and opinions are (as usual) my own.
When I last visited Prague more than 10 years ago, I wouldn't say that I experienced the pub scene as hip. I definitely ate good food in nice restaurants back then, but the options were often very robust and traditional. It is not until the last few years that Prague has become an international food city to be reckoned with. The city's restaurants are hot and hungry. And it shows in the interest in the city. Today, Paris and London are obviously not the first choices for long-distance travelers visiting Europe, but Prague is often high on the wish list. And can a dining experience be anything but memorable when it is surrounded by a unique historical setting, combined with traditional local ingredients and influences from the outside world? A fairytale town with sharp restaurants and a pleasant atmosphere. A winning combo!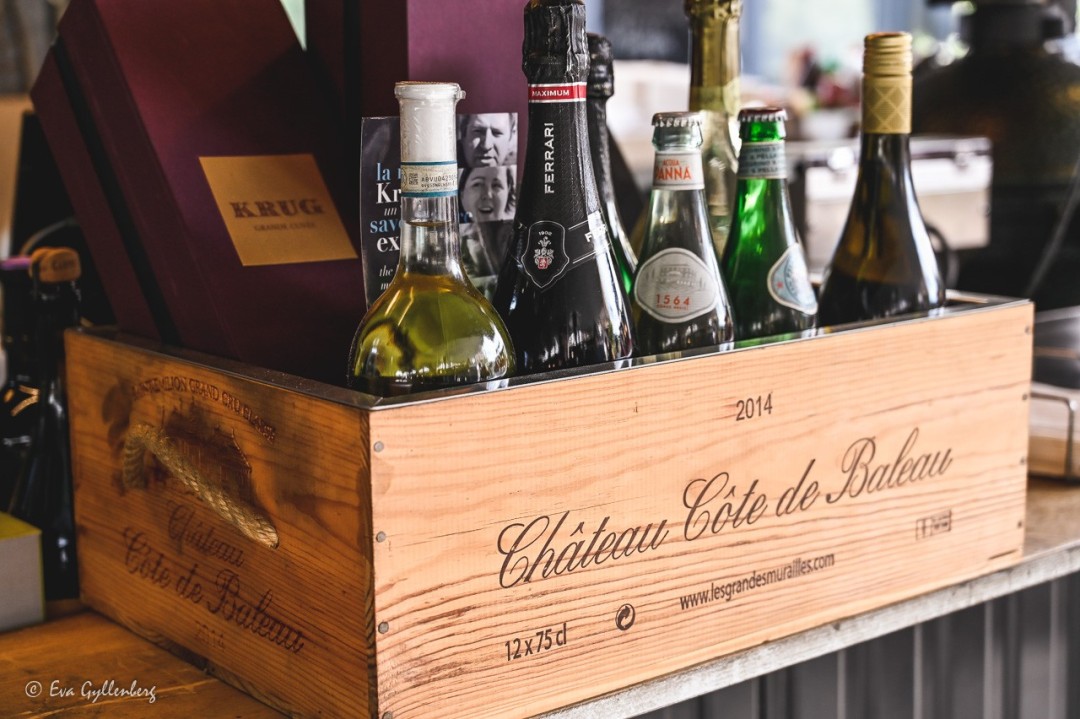 On my visit to Prague in October, we not only managed to go on a really good guided restaurant tour with the amazing Karolina Taste of Prague (highly recommended!), but also try some other really unique nuggets.
A curiosity to note: If you count the number of restaurants and cafes in the list and divide them by 3 days, you will understand that we ate a lot of food. Three wonderful days of food simply!
Manifesto Market – Trendy hawker centre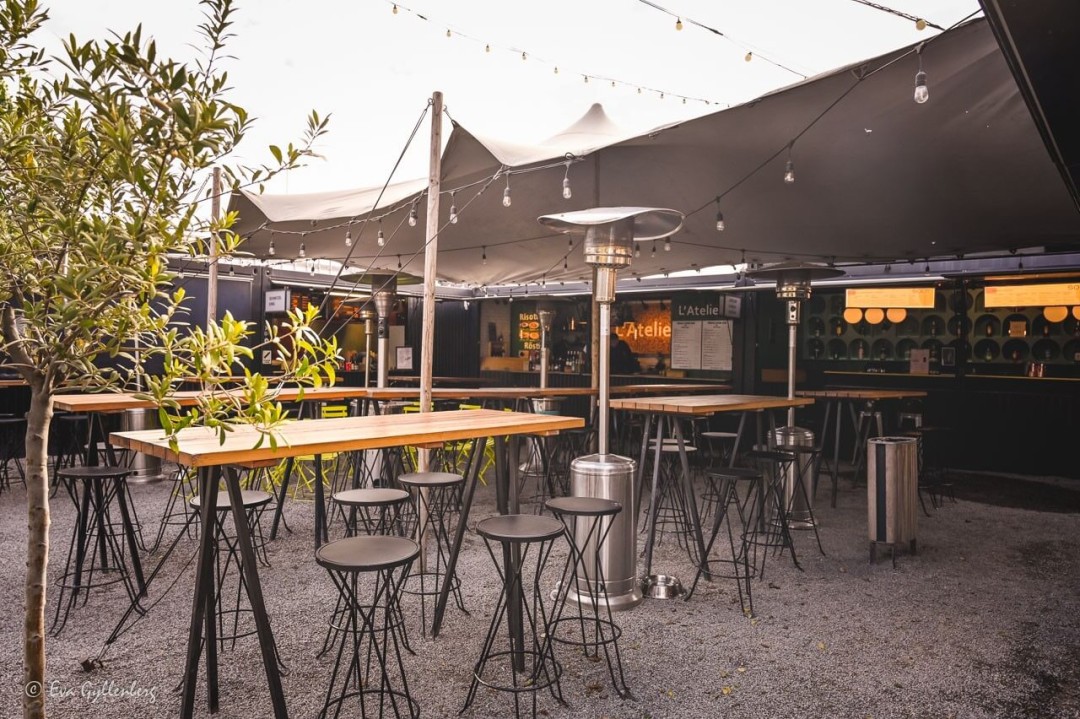 When a restaurant does not just serve food, but a whole concept and an experience, then it takes the food to new heights. As Manifesto Market makes. In a seedy demolition block where no one wanted to go, they moved in around 20 containers and built a food paradise together with designers and innovative chefs.
Manifesto Market is an upscale hawker center with as many restaurants as containers. This is not only a place to have drinks on hot summer evenings, but this is a place to hang out all year round. In winter, you can dine in the warmth of heated transparent tents and warm yourself by one of the many fires. This is a bit like a cozy living room, but outdoors. Next to a bridge. And that's a bit of the charm of the place. Everything is temporary and they don't know how long they will be able to stay on the site before the builders get all the building permits through. But if the permit runs out, you pack up and move to another demolition block.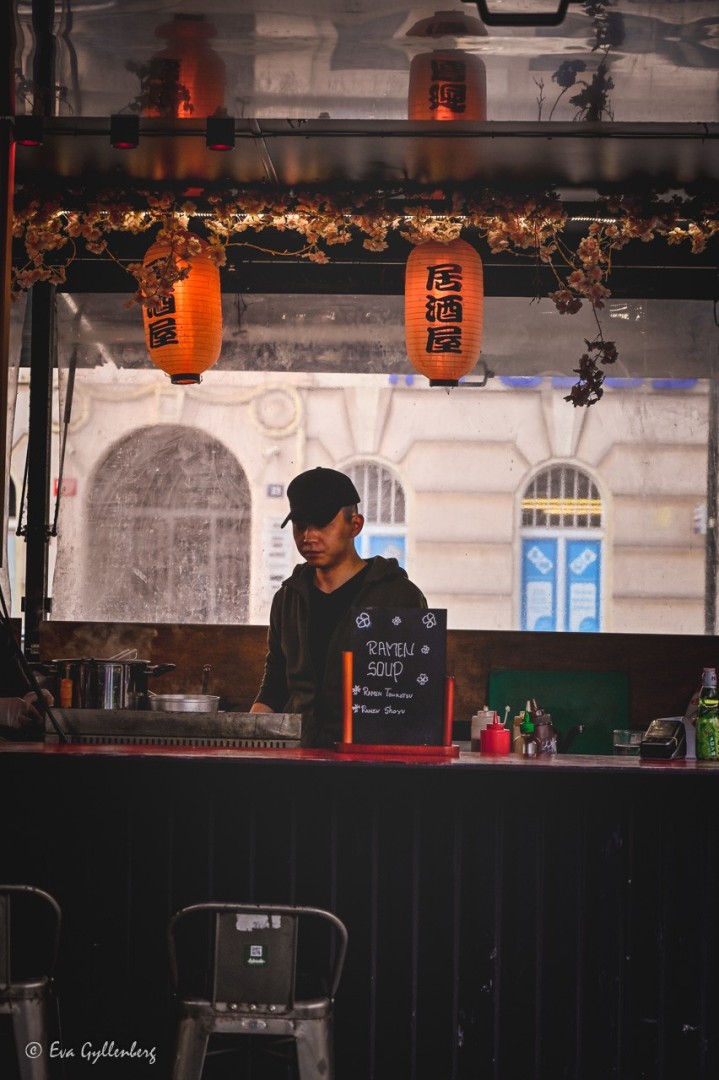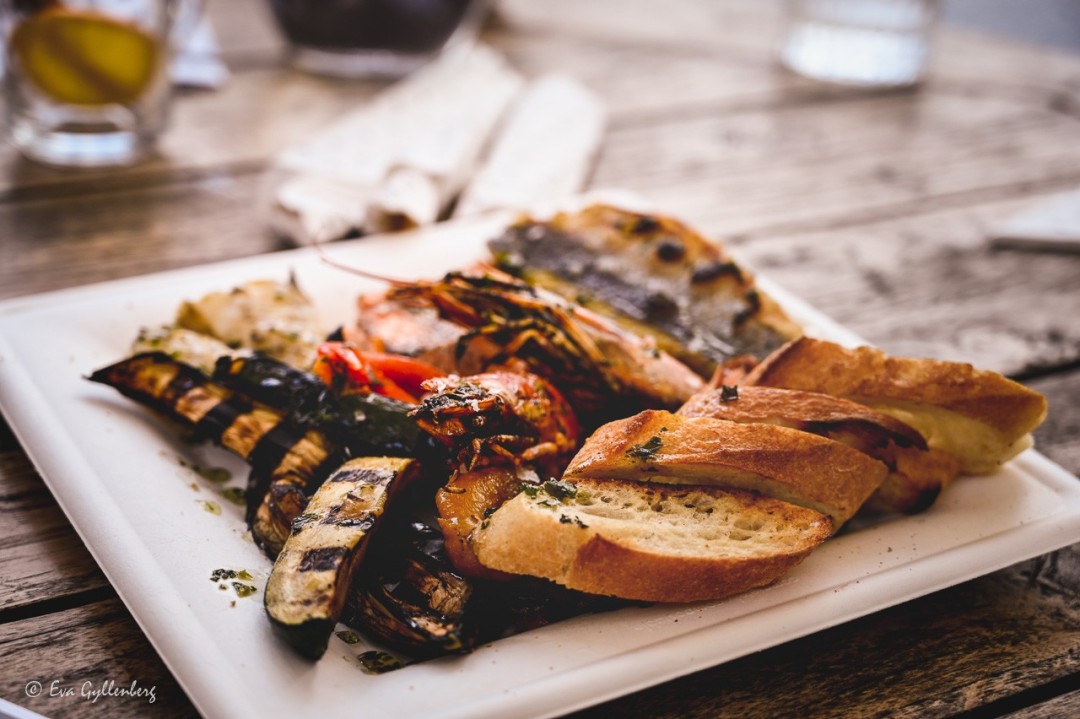 We settle into one of the heated, transparent tents and warm ourselves with a mug of warm Christmas spiced wine. The environment inside the tents is lovely with comfortable chairs, blankets and a crystal chandelier. I can imagine that it is extra cozy here in the evening, when all the lighting is on and the infrared heaters glow red in the night.
As a classic hawker centre, you order what you want from one of the many restaurants. A perfect way to have dinner for a larger group with many different wishes who cannot agree on a restaurant. The lunch we had consisted of a Caucasian barbecue plate, grilled seafood and vegetables and perhaps the best French fries I have ever eaten from Faency Fries. The plates are large and everything is very well prepared and tasty. Feel like eating something else? Here you will find everything from Indian to oysters, schnitzel and ramen.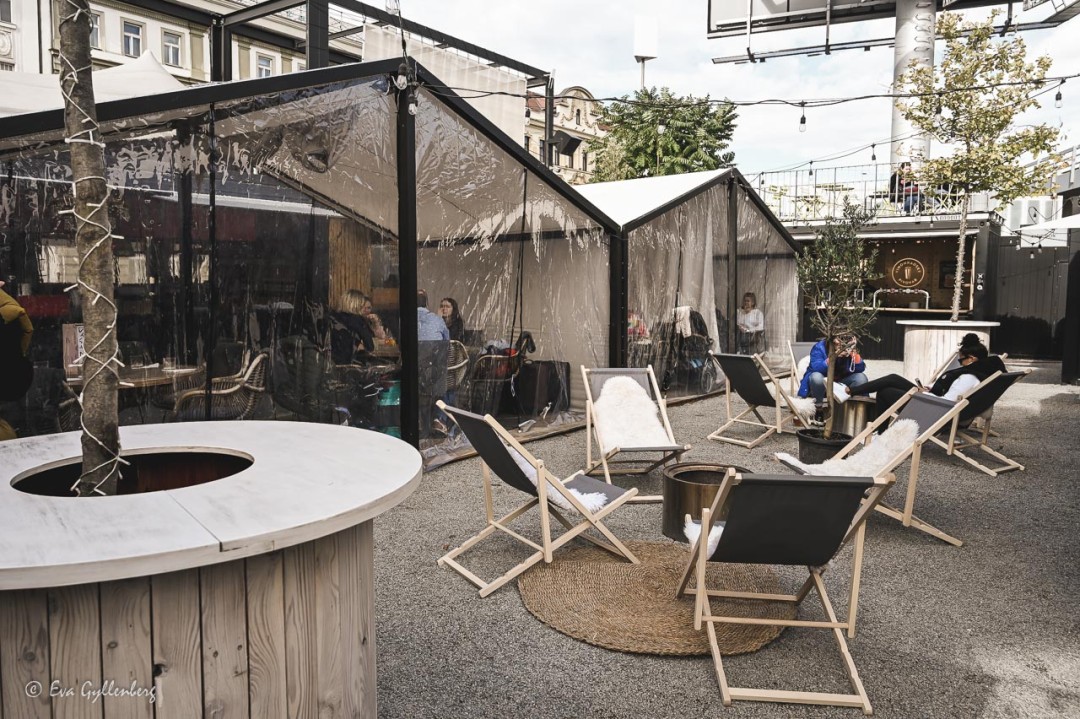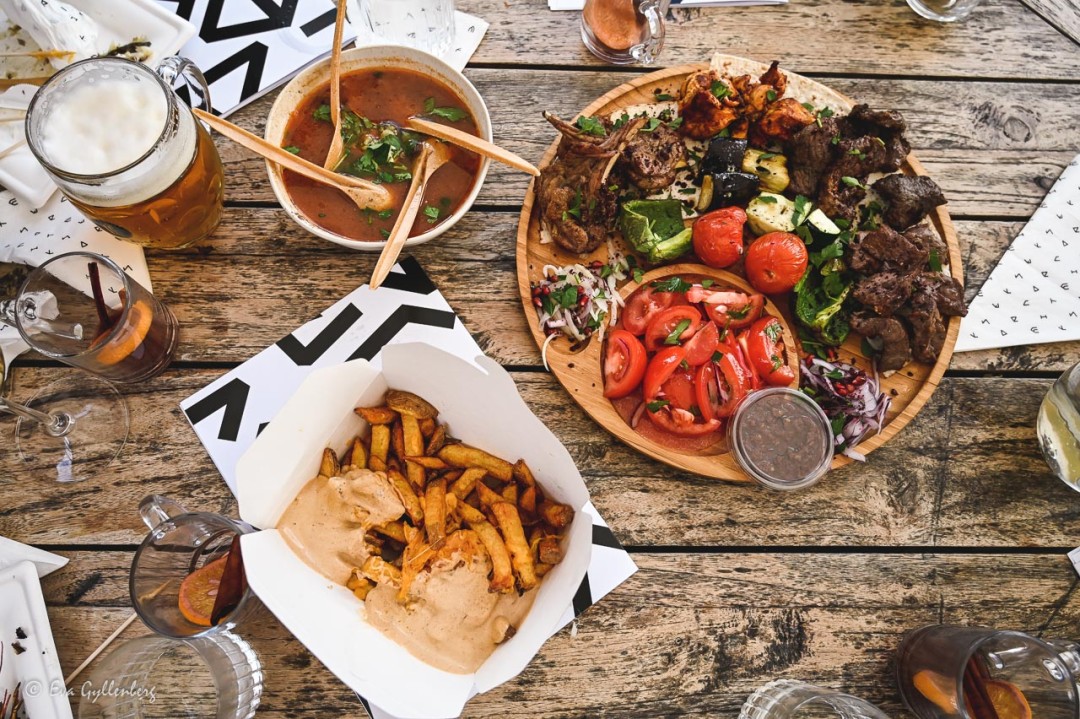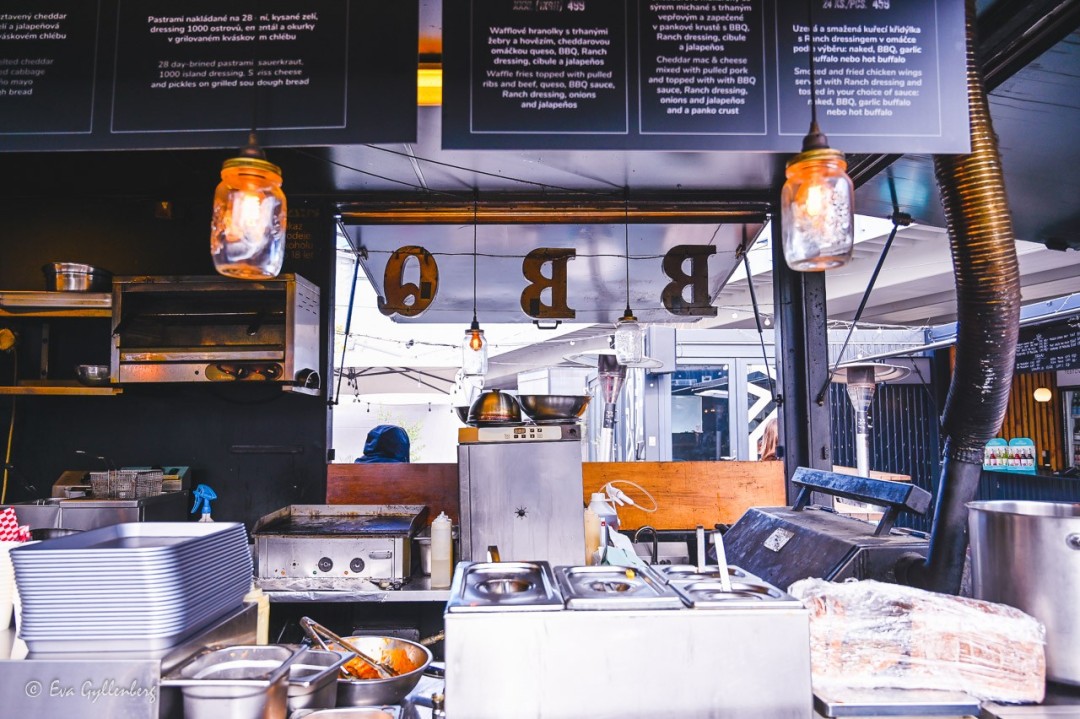 Today Manifesto market is located in two places in Prague (Florenc and Anděl), I visited it in Florenc.
Manifesto Market
In Florence
11 Prague

Map
KRO Kitchen – Irresistible comfort food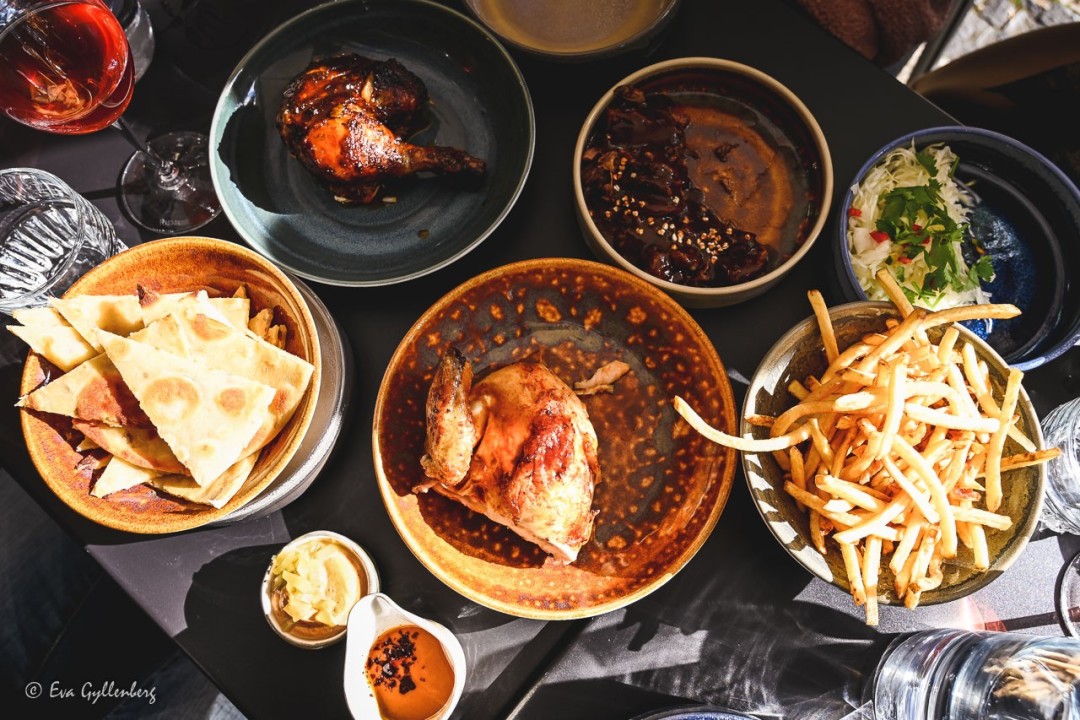 KRO Kitchen is that restaurant we all wish was across the street from where we live. That casual place that you wearily slip into on a Saturday afternoon and are served comfort-food-deluxe-extra-everything until you happily roll out of there at dinner time. Because this is so good, I could eat here every week.
KRO Kitchen in Karlín is a rotisserie, bistro and cocktail bar with Scandinavian decor and international flavors. Chicken was served here with various side dishes. Order a quarter chicken, some sides and some sauces and happiness is complete. It is said that this is the only fast food restaurant in Prague that has its own sommelier. A really neat combo. I wouldn't call a rotisserie fast food though, but the bar is hot with orders of drinks with finesse.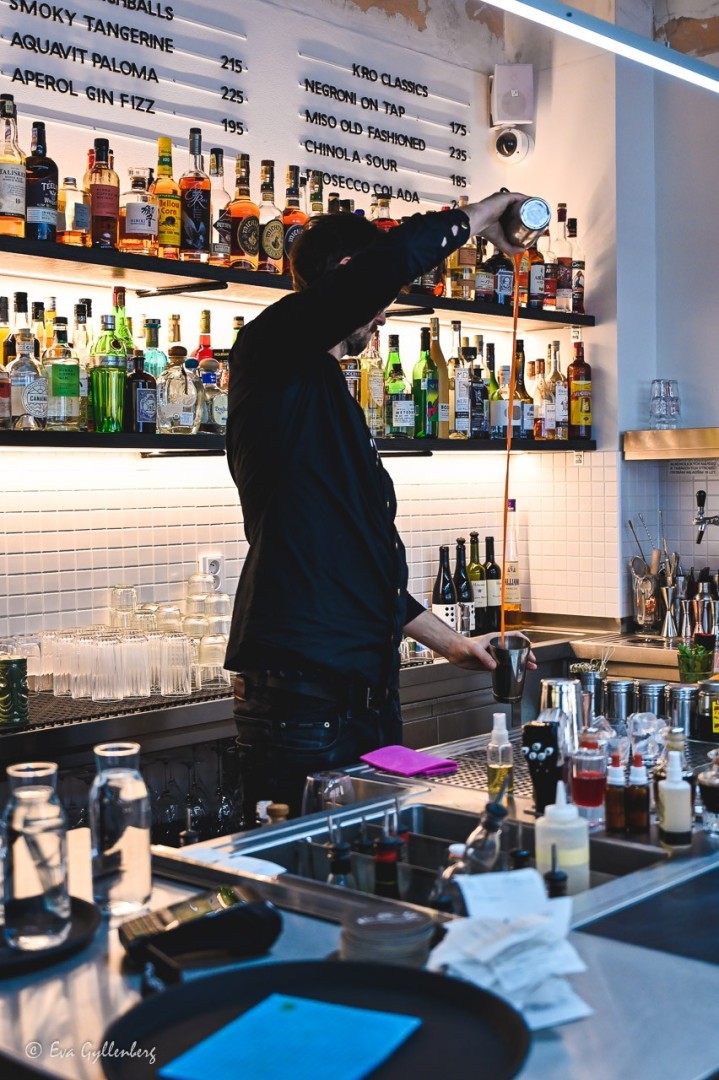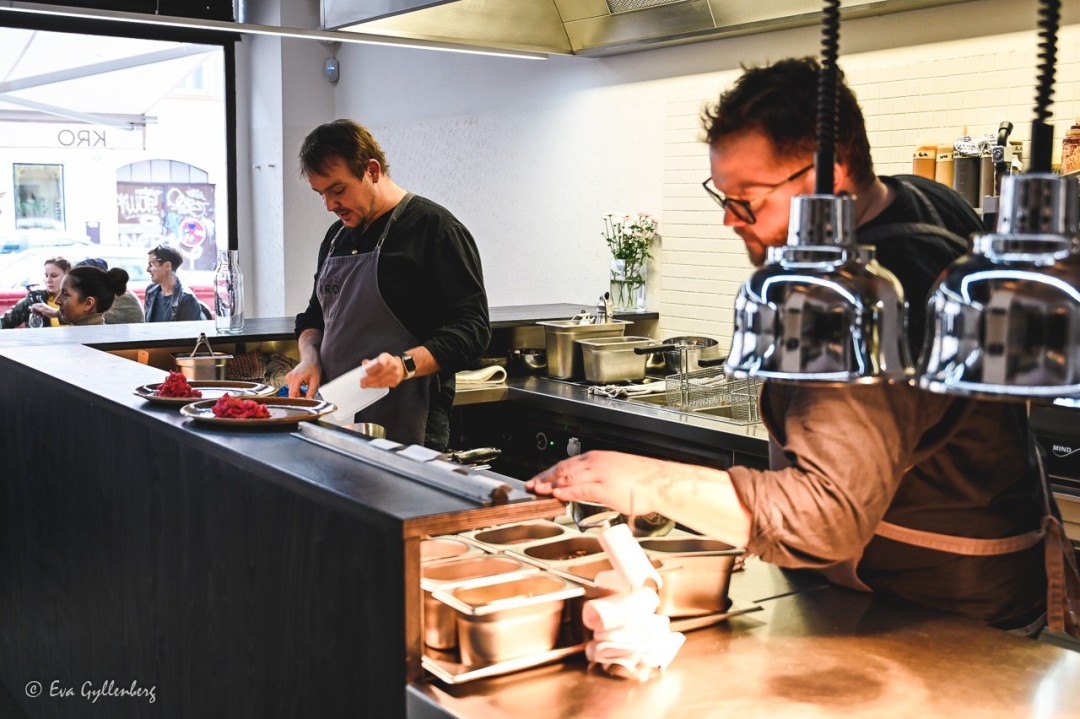 I can only say that this is a place for the whole family, for every day and for every taste. If you like kimchi, miso, browned butter or smoked mayonnaise. And chicken.
KRO Kitchen
Sokolovska 79
Carlin
186 00 Prague 8
Eska – Hot and hip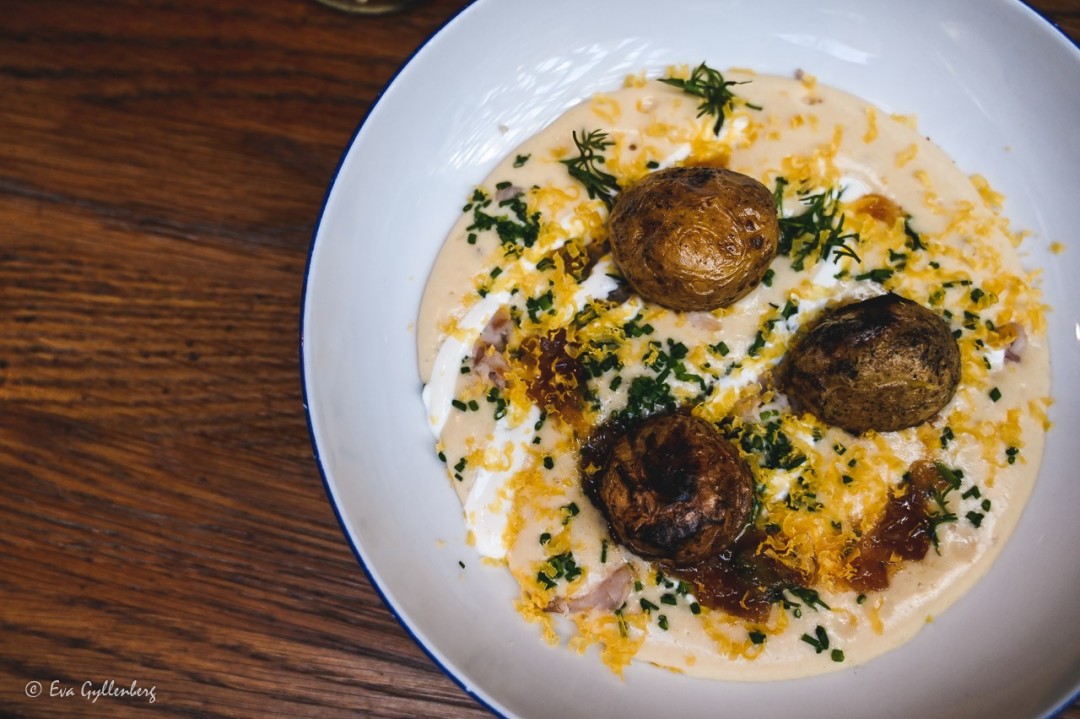 Hot, hotter, Eska! Because if there is any restaurant that has made the Karlín district famous, it is Eska. Eska is not only a restaurant, but also a bar with great drinks, a delicatessen and a bakery. This is loud but convivial at the same time, in an industrial venue with high ceilings.
Eska is the only restaurant on this list to receive one Bib Gourmand from Guide Michelin – an award for good food and good quality. However, Guide Michelin writes that Eska is a "traditional kitchen", but when I read that, I almost wonder if they even visited the place? Eska serves modern Czech cuisine, with a focus on entrees. I don't know if I would call "beetroot with mulled wine and riccota" traditional cuisine, but many of the ingredients on the menu are definitely traditional Czech. Like the dish "potatoes in ash" - a dish with smoked potatoes, carp, kefir, dill and dried egg yolk. What is the traditional? Carp is eaten at Christmas in the Czech Republic.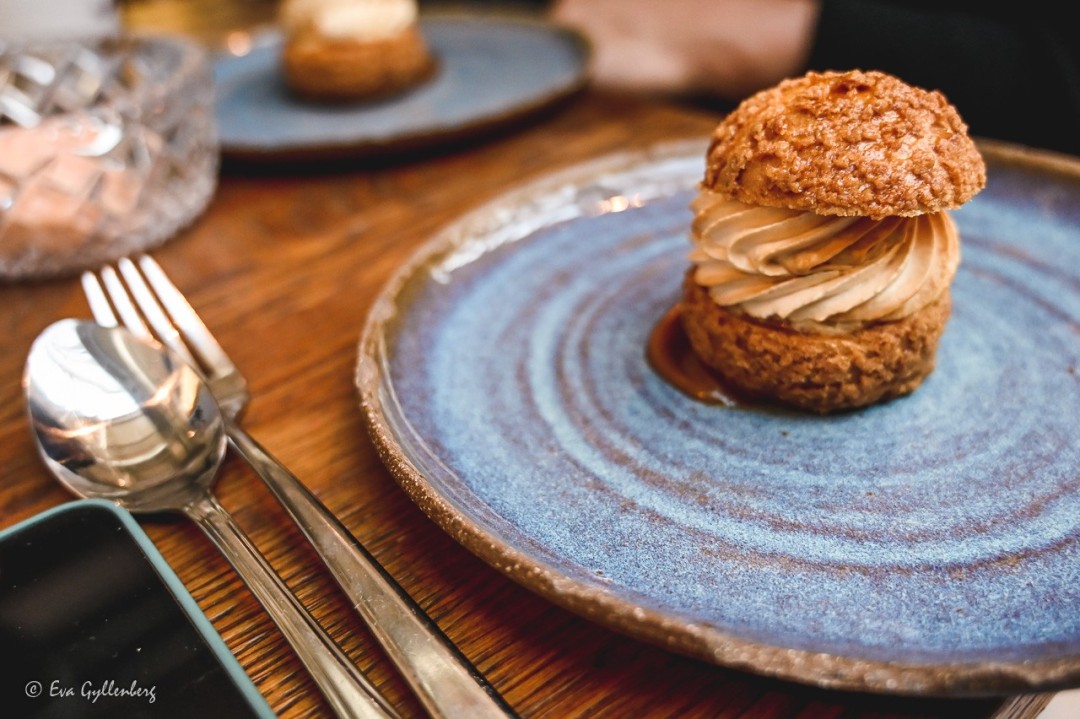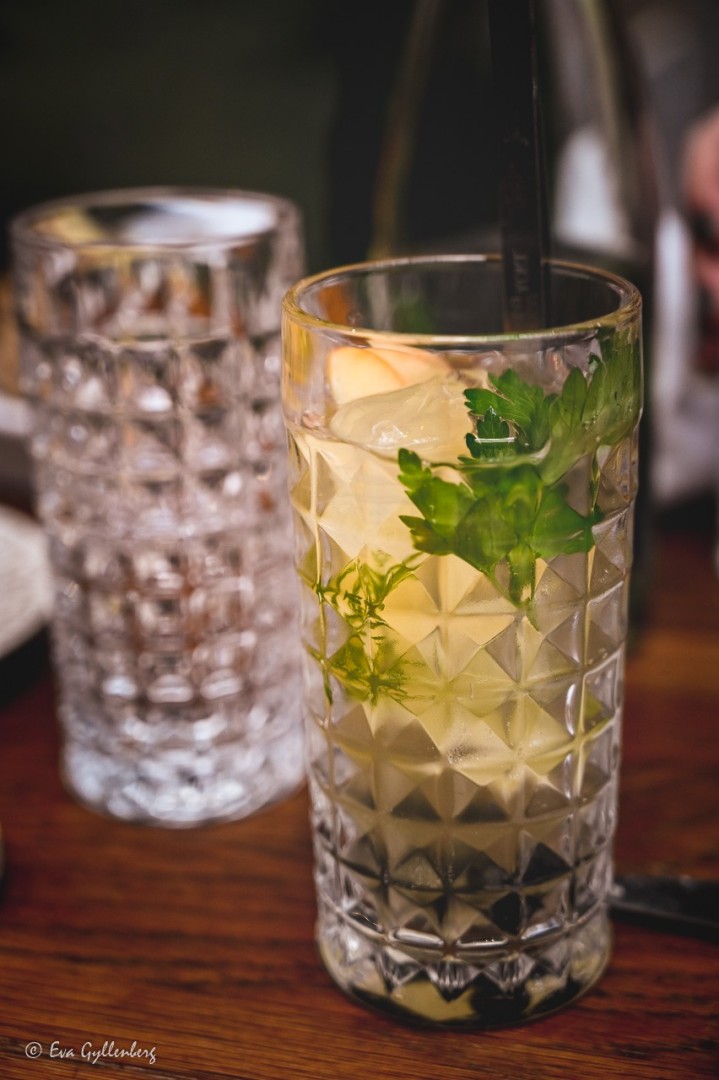 The restaurant has a minimalist Nordic interior, but with a large open kitchen that is both lively, continental and fragrant. Because what is served here is really good. It is innovative, beautifully laid out and with a feeling for the local ingredients that elevates both the ingredient and the whole dish to unimagined heights.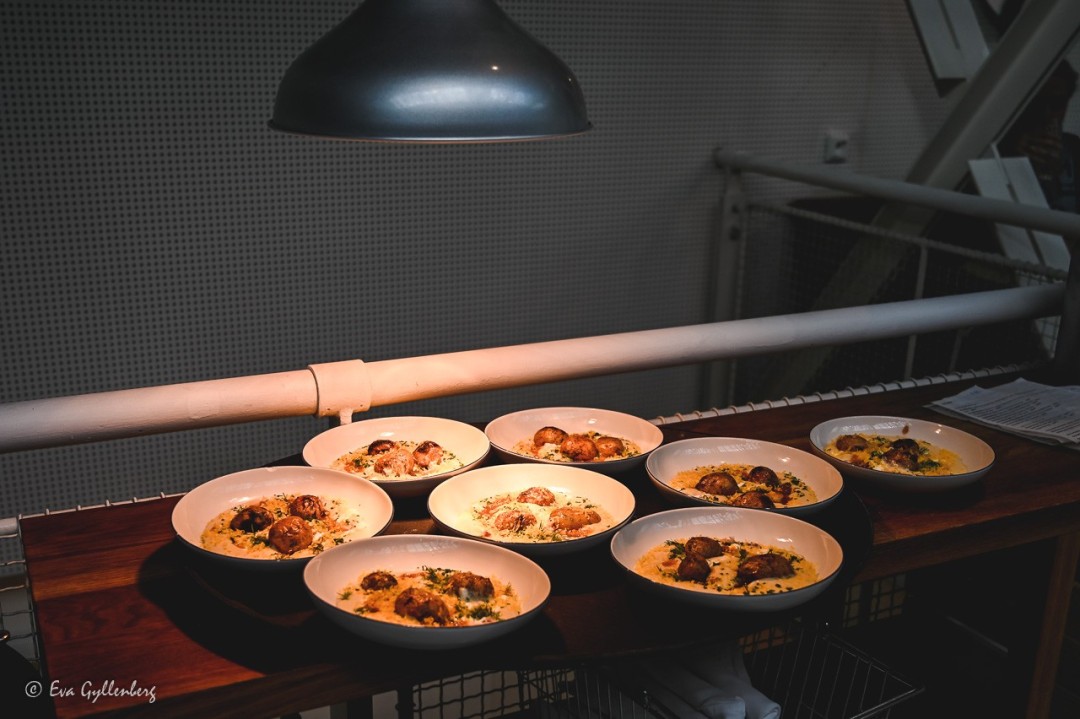 For dessert, a fluffy slide windbreaker in – a Czech sourdough petit choux filled with smooth caramel and vanilla cream. I don't know what it is about the custard and the caramel that makes me fall for it, but this is a dessert to dream sweet dreams about for weeks afterwards.
Eska
Pernerova 49
186 00 Karlín
Canteen - A meat lover's paradise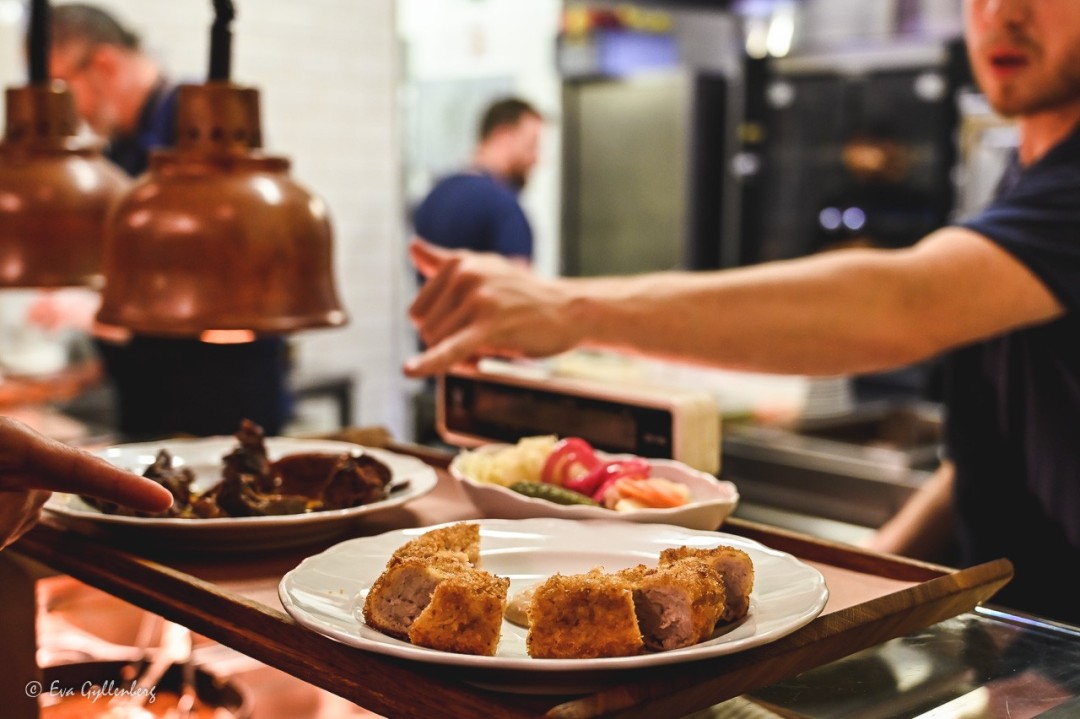 "Kantyna" means "dining room" in Czech, but this is as far from a dining room as you can get. This is rather a food palace, or perhaps even more of a meat palace. In the majestic premises of an old bank, today houses a restaurant with a meat shop. They don't take table reservations here, but here you slide in when you feel like it and sit down where there is space. If there is room. Otherwise, it's just as well to stand and hang out at the large marble table in the middle of the restaurant.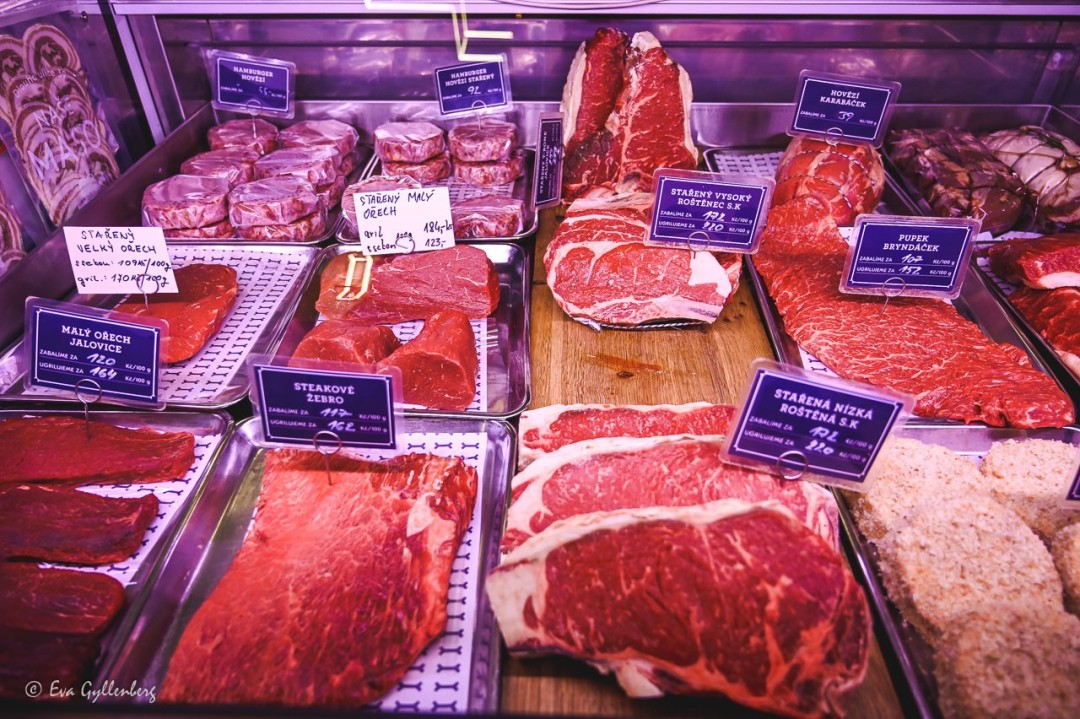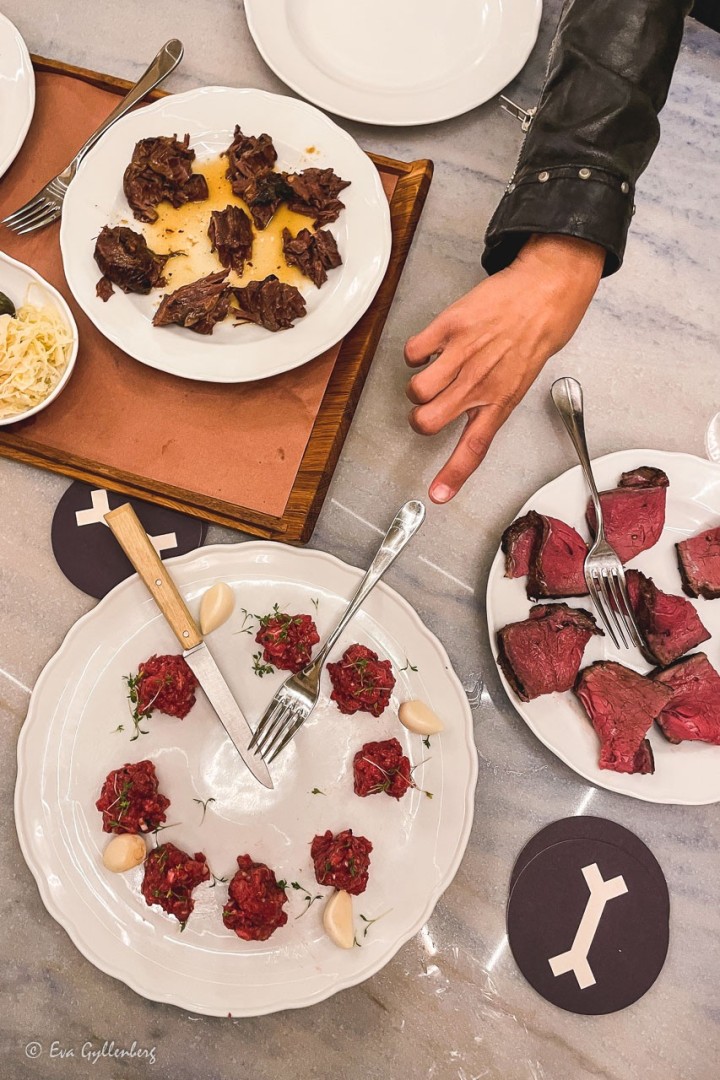 When you come through the doors here, you will be given a piece of paper that looks like a menu in your hand. When you then go around and get food and drink, everything you pick up is marked on your piece of paper. When you have finished your dinner, you pay by handing in your slip of paper. Easy peasy, right?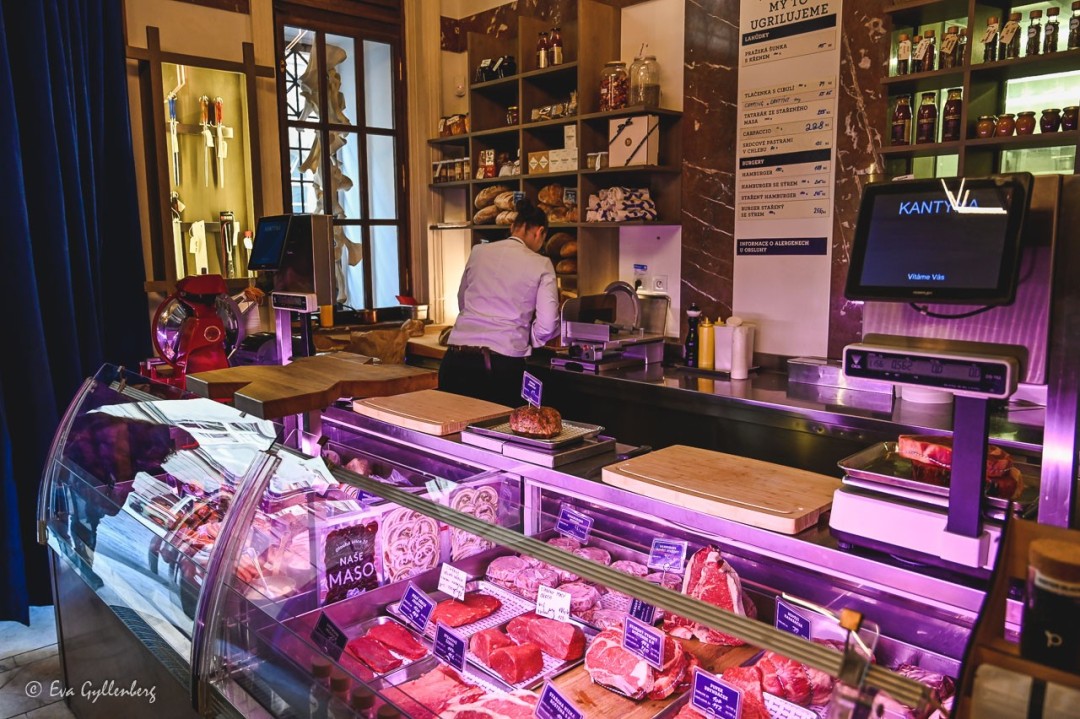 We were given a place to stand at the large marble table, which quickly began to be filled with various meat dishes – tenderized raw beef, schnitzel, perfectly pink roast beef, pulled beef and pickled vegetables. Dishes that are made for sharing, without being too powerful. A lovely lunch for a carnivore like me.
Way too loud and way too crowded for your taste? At the entrance there is a large meat counter where you can buy something to take with you to enjoy on a park bench in the sun instead.
Kantýna
Political prisoners 1511/5
110 00 Nové Město
Oh Deer Bakery – Sweet as sugar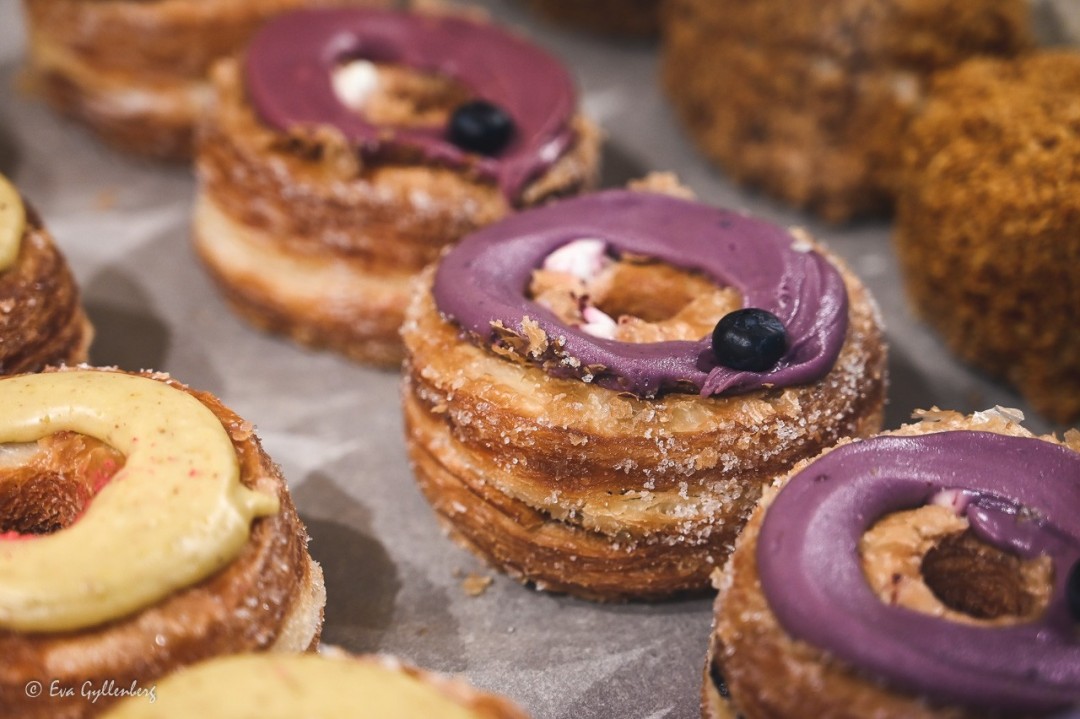 Oh dear how I have longed for a place like this! Even though I didn't even know it existed, this place fulfills my need for sweet pastries time and time again!
Oh Deer Bakery serves cronuts, those pastries that are a mixture of a donut and a croissant and were hyped in New York a few years ago. This is so sinfully good that I'm almost a little ashamed to say that I absolutely love it. The cronut I pointed to turned out to have white chocolate and coconut on top and was filled with almond cream. You understand. After a deep-fried dream like this, you can wait a while for lunch.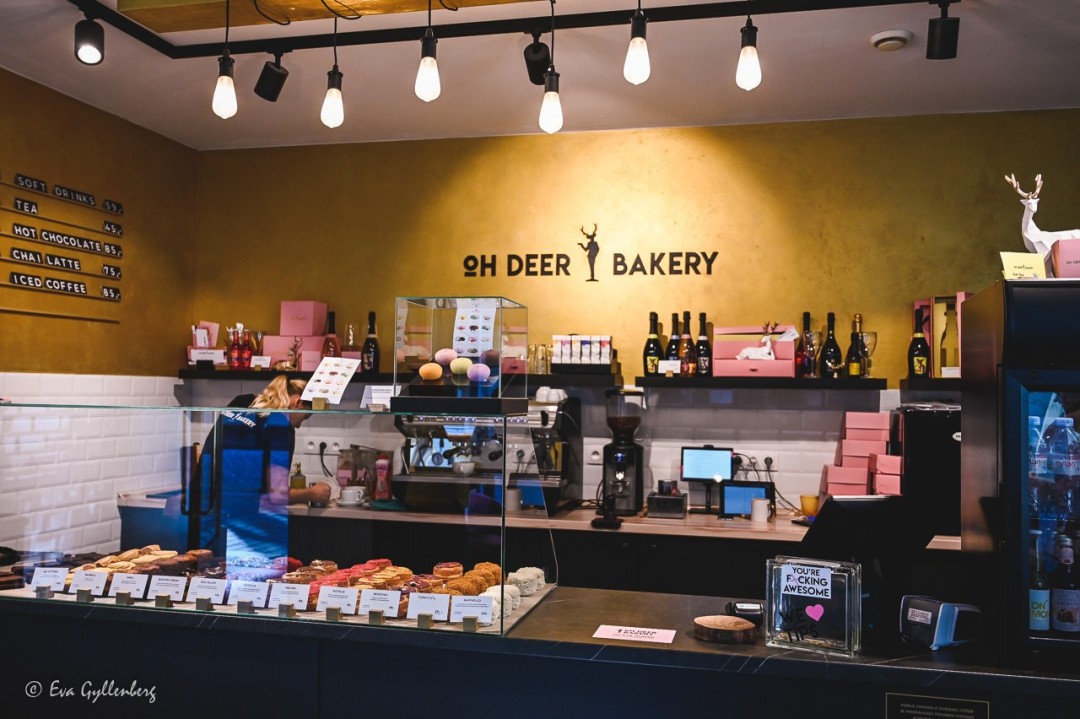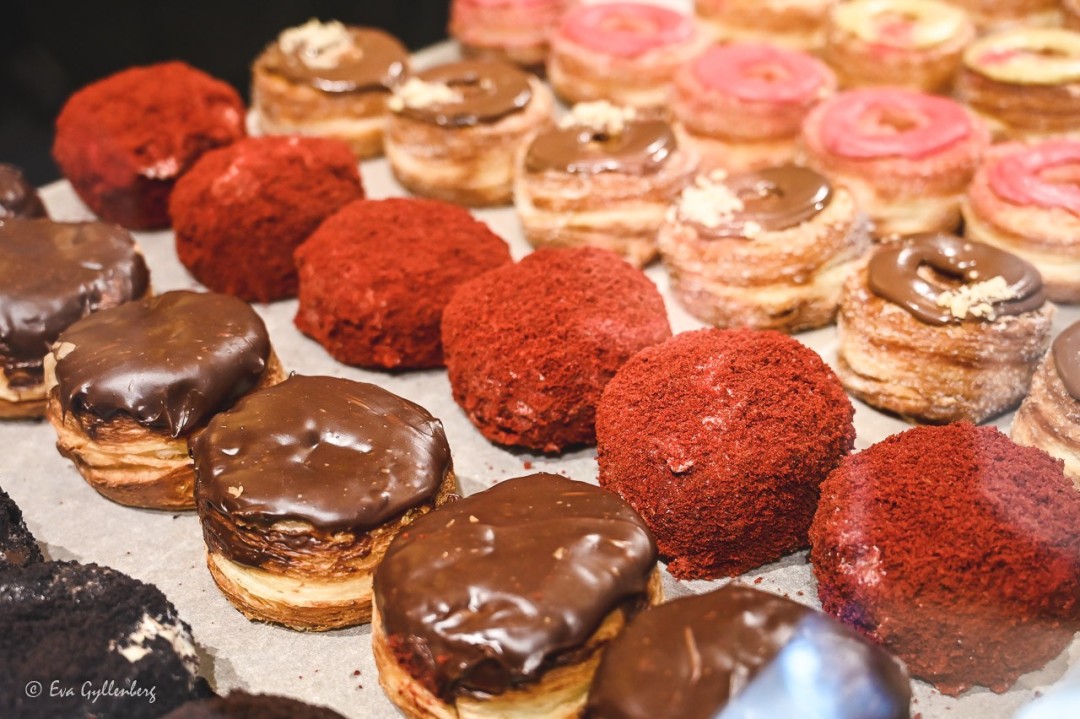 The Oh Deer Bakery I visited (located next to the Quadrio shopping center) did not have regular tables for a long coffee, but only bar stools by the window. However, there are as many as four Oh Deer Bakery in Prague, so if you can't sit there for long - at least you can have coffee in several places!
Oh Deer Bakery
Purkyňova 74/2
110 00 Nové Město
Knedlín – Innovative traditions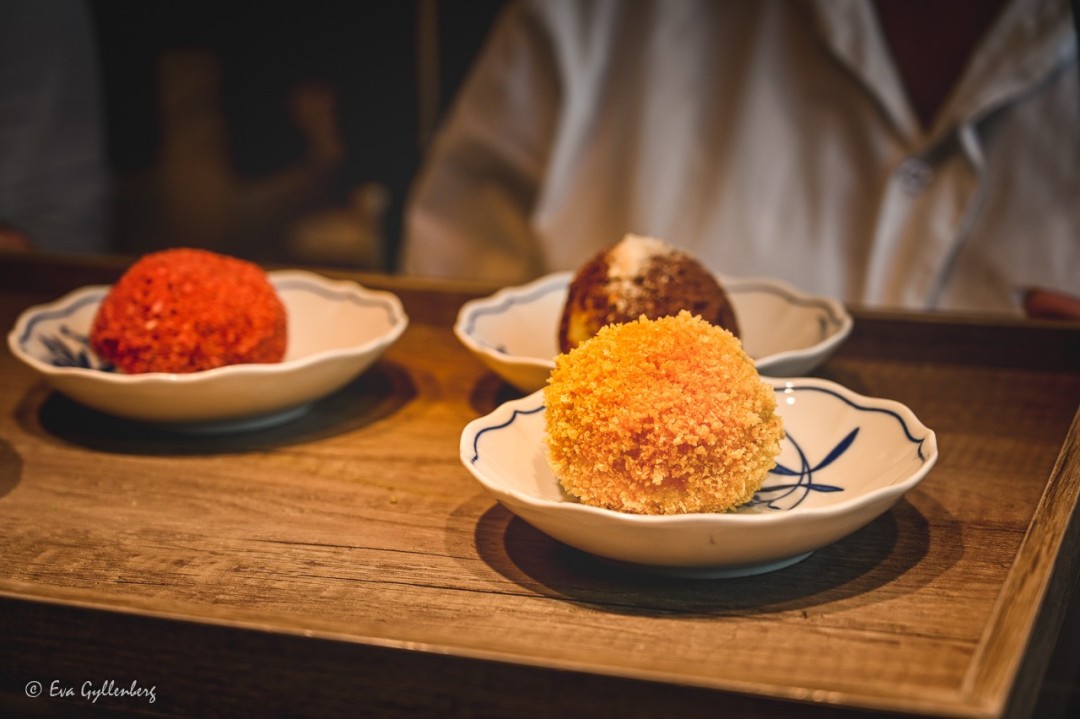 One of the most Czech dishes is knedlíky – a boiled dumpling – which is usually eaten instead of potatoes in traditional Czech dishes. On Knedlín you will find a modern variation on the traditional Czech dumpling, where the dough balls are filled with sweet or salty fillings. And it's an exciting combination!
The sweet dumplings are filled with berries, chocolate, nuts and coconut and are perfect as an accessory to a coffee instead of a cake. The taste is not too sweet, as the berries in my raspberry dumpling offer acidity that counteracts the sweetness of the white chocolate. I don't really know what to compare these pastries to - maybe a mix between a pita palt and a vanilla bun?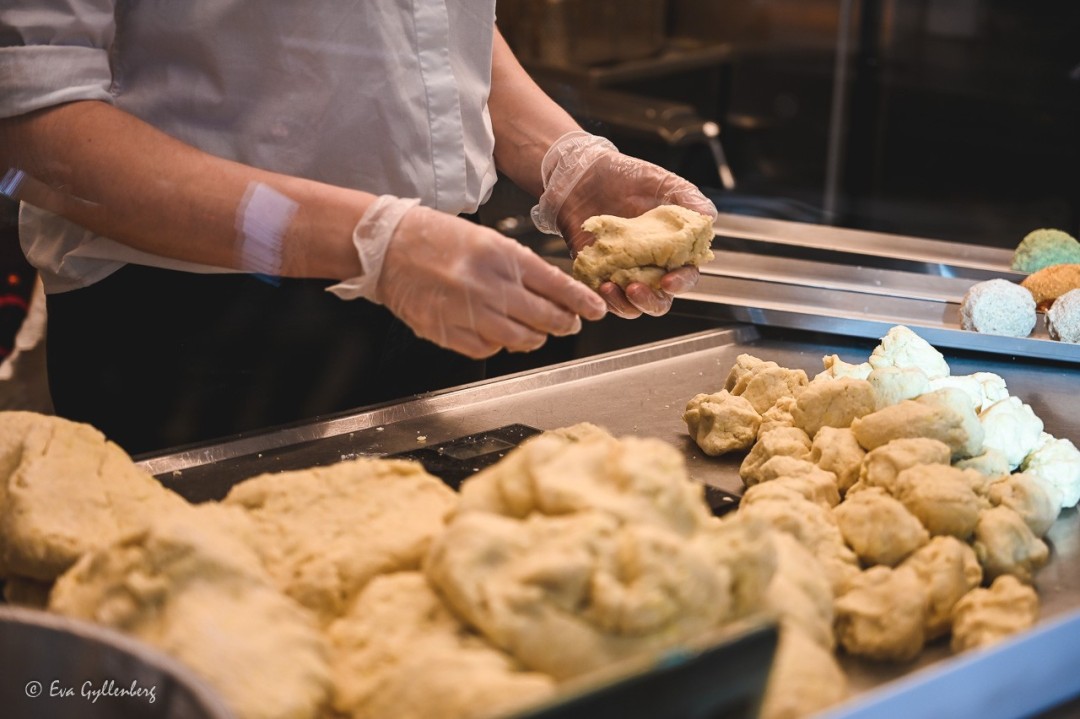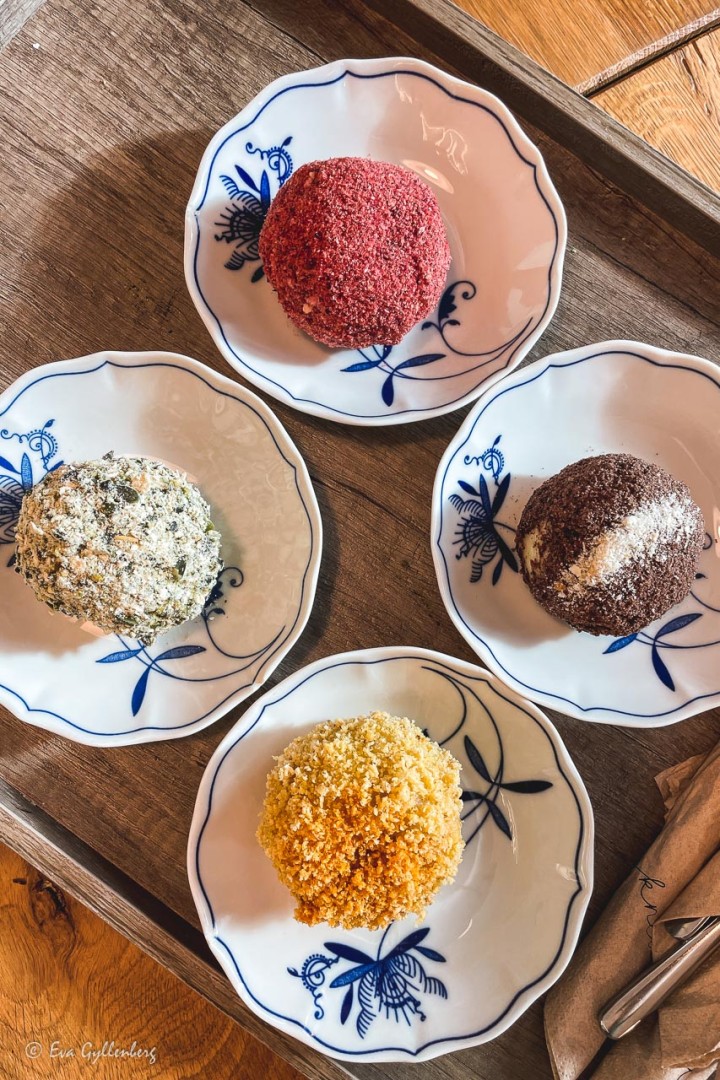 The savory buns are hearty and filled with shrimp with Thai spices, beef or vegetables. Maybe not quite suitable for a cup of coffee, but rather for a quick lunch. If you are going to try only one knedlik and have to choose between a sweet or a salty one, I would definitely recommend the sweet one.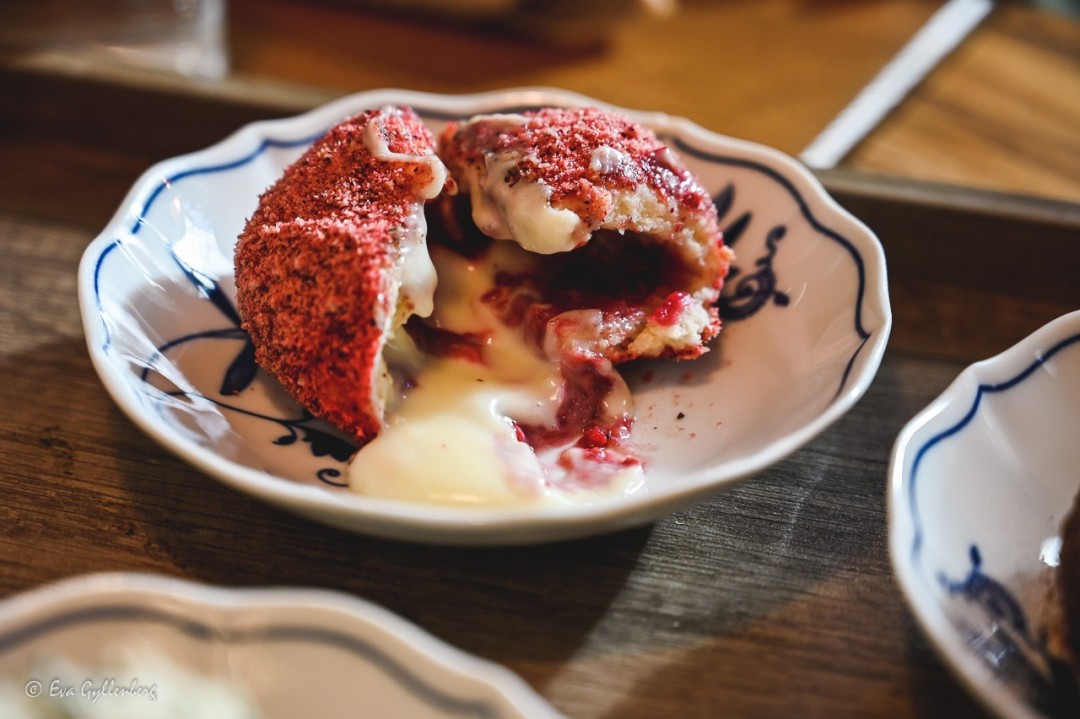 At Knedlín, every day there are up to 25 different types of dumplings and it seems so far that this is the only place in Prague that you can find something similar. Well worth a visit!
Knedlín
Narodní 115/24
110 00 Nové Město
Restaurace Tiskarna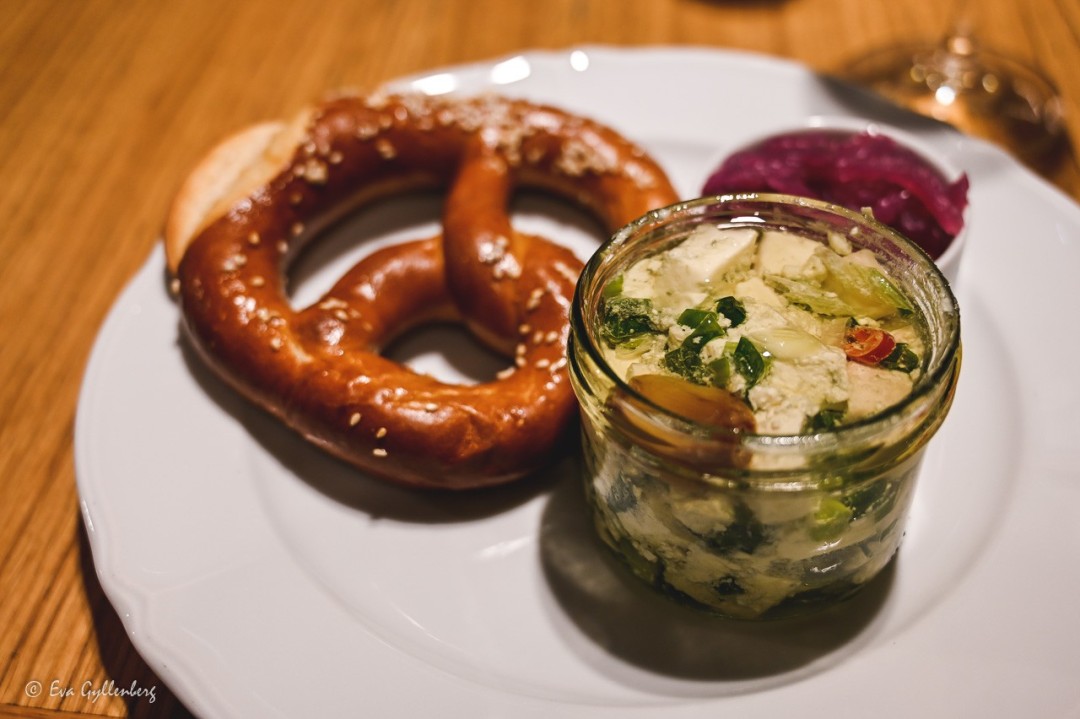 Do you just feel like eating at a Czech bistro with good food and good prices? Then Restaurace Tiskarna suits you. Tiskarna means "printing shop", as banknotes were printed in this house 100 years ago. And the legacy from that time is felt, in everything from the interior to the menu. There is even a section of the menu dedicated to the time like "First republic", with dishes that were eaten not only 100 years ago, but also today. In this part of the menu you will find cabbage soup, rabbit and oxtail. Satisfying and robust.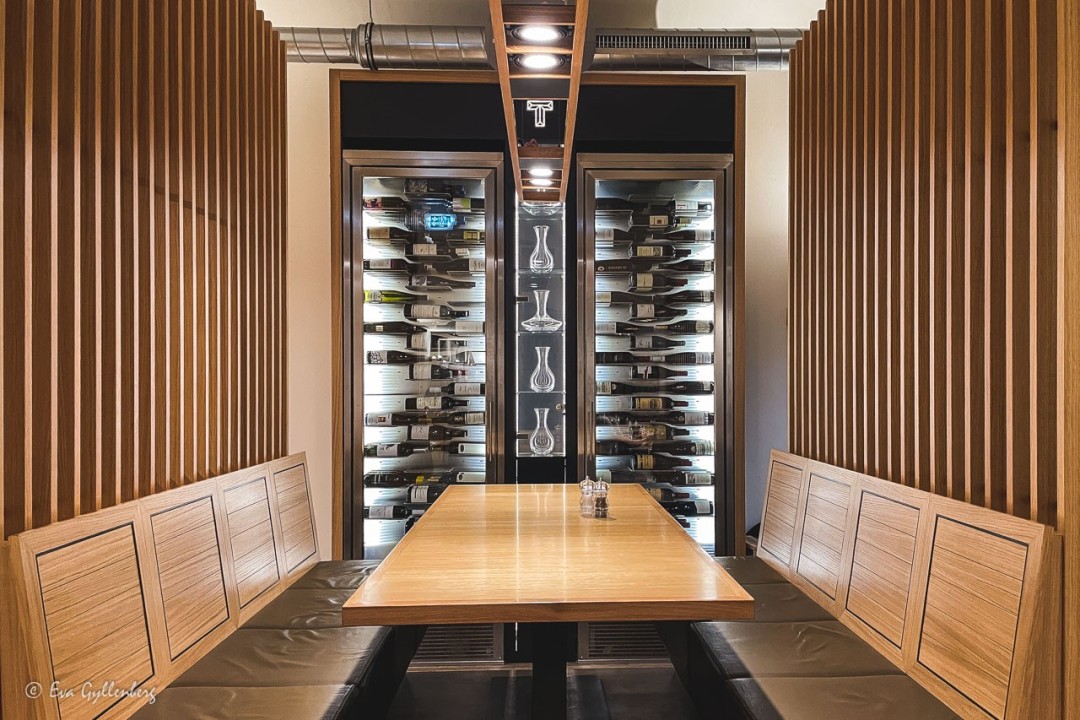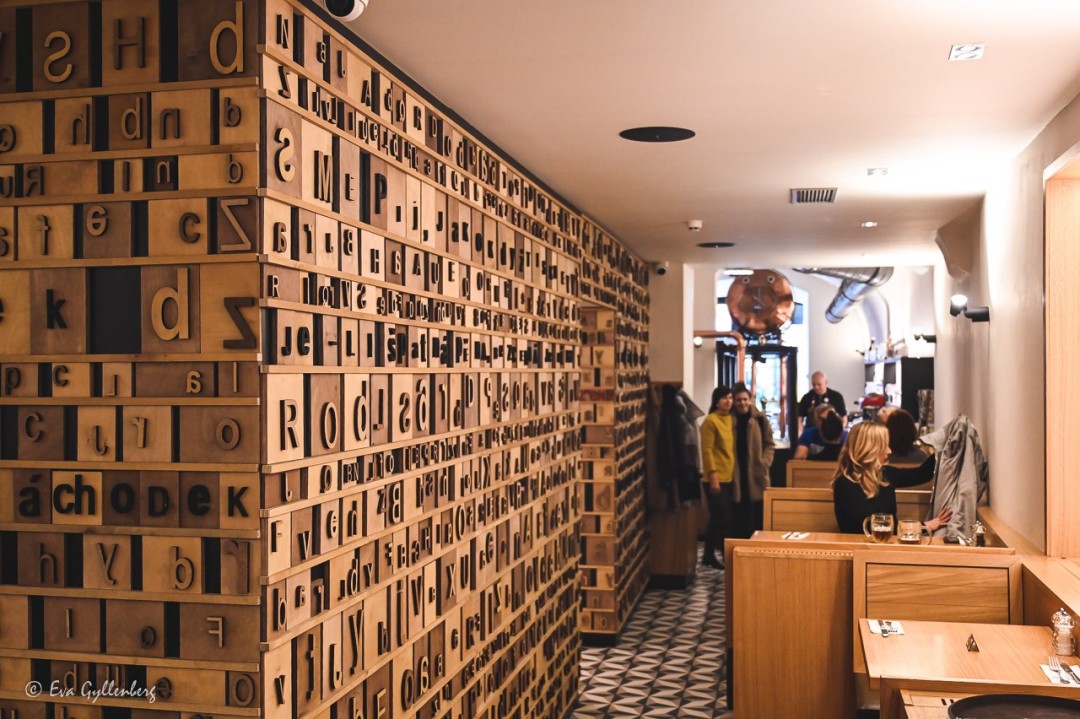 In the "regular" menu you will find among the starters other classics such as beef tartar and pickled cheese - which is exactly what I ordered. Pickled cheese is a bit of my favorite. A dish that can be eaten as a starter, side dish or main course. The prime rib came with bread and a parsley salad and was so big it could have been a main course. A very good choice if I do say so myself.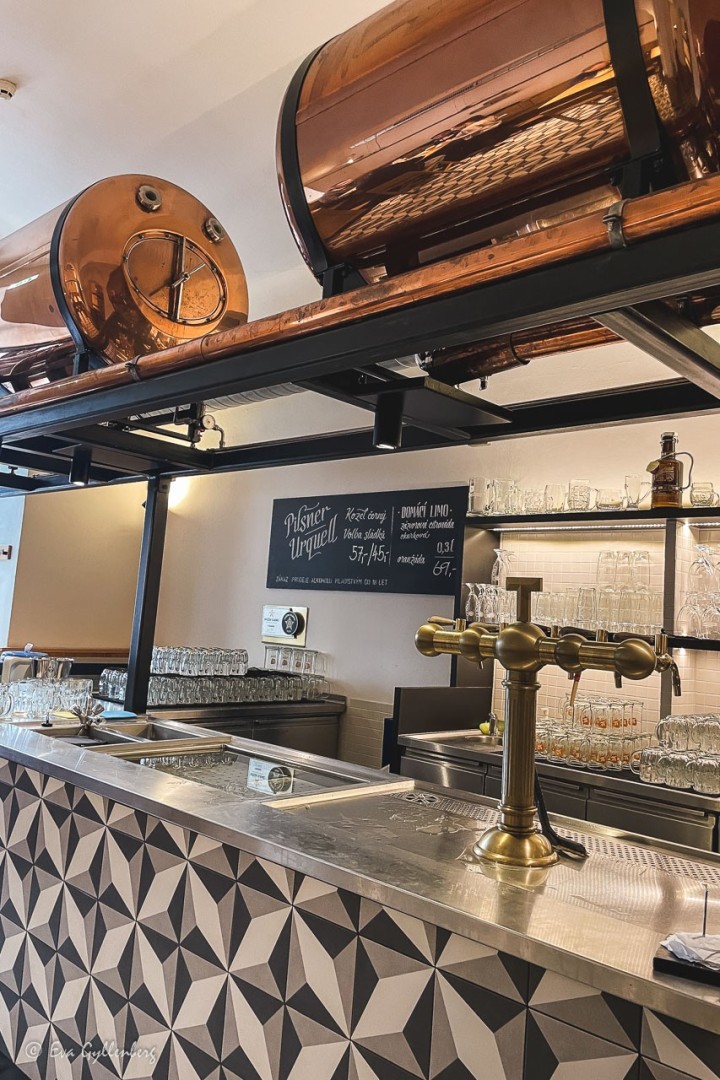 Restaurace Tiskárna
Jindřišská 940/22
110 00 Nové Město
Lokál – Traditional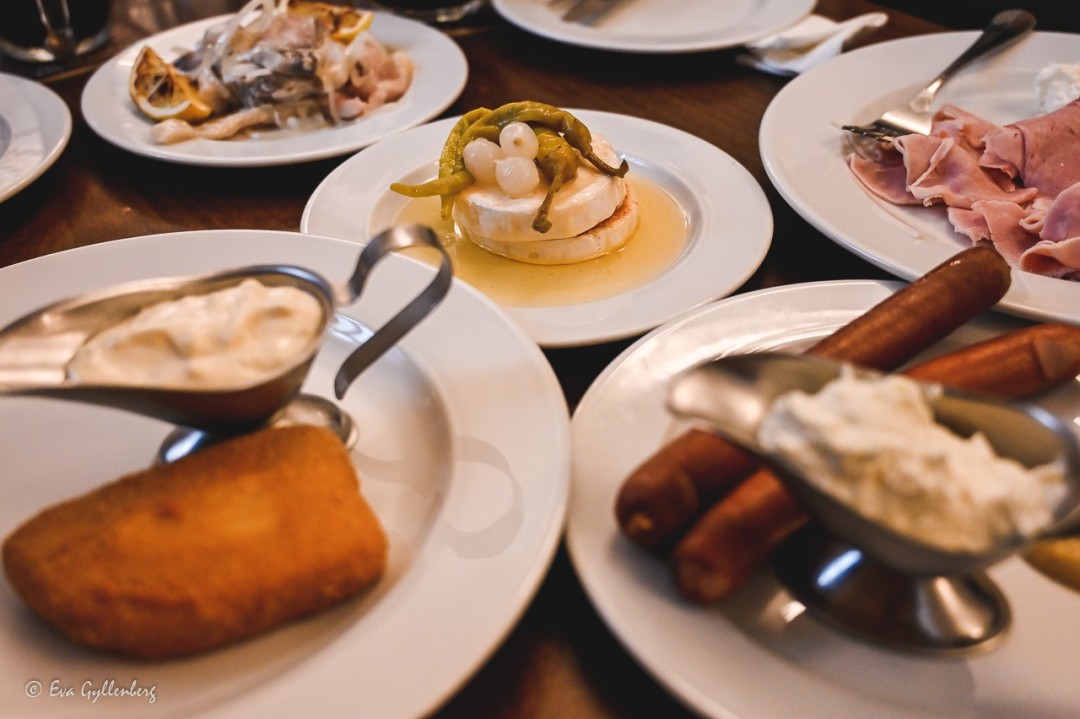 Regardless of all the trendy restaurants above, you can't go to Prague without going to a real Czech restaurant! This is what the Michelin guide should call traditional cuisine! Such a lovely restaurant where the beer flows out of large beer kegs and the food is so high in calories that you wished you had put on trousers with rubber bands around the waist. Lokal is a chain of restaurants located all over the Czech Republic and even in several locations in Prague. In slim premises with the simple tables in a row and without either paintings or other decorations, a simple menu is served without any frills. And it is popular – both among Czechs and tourists.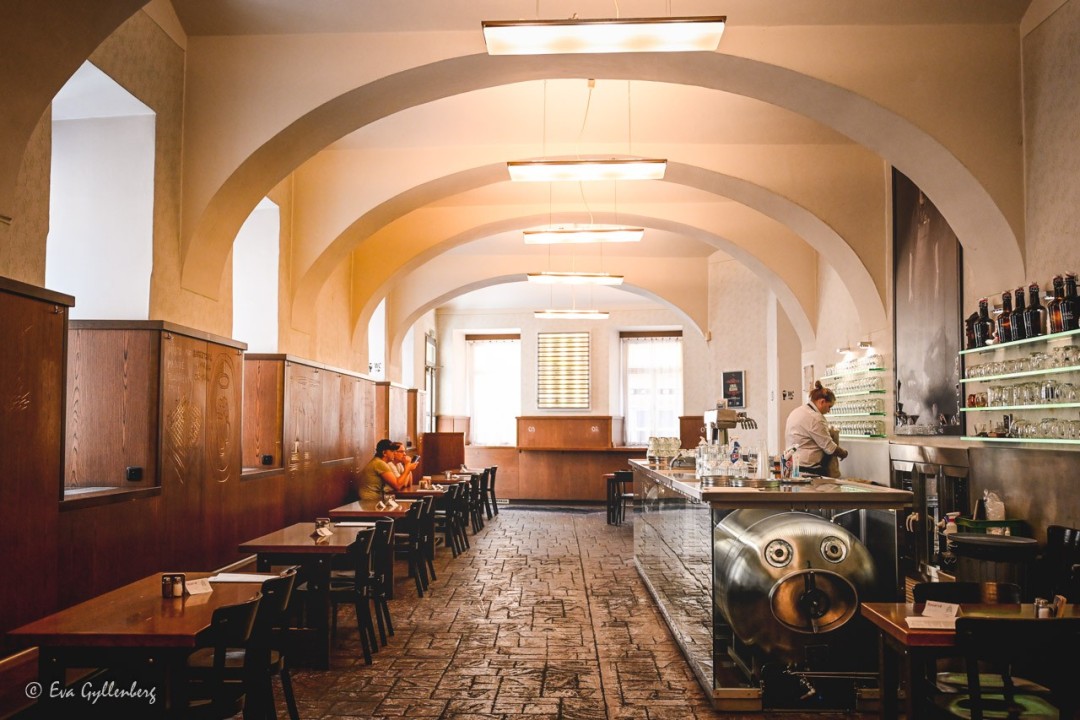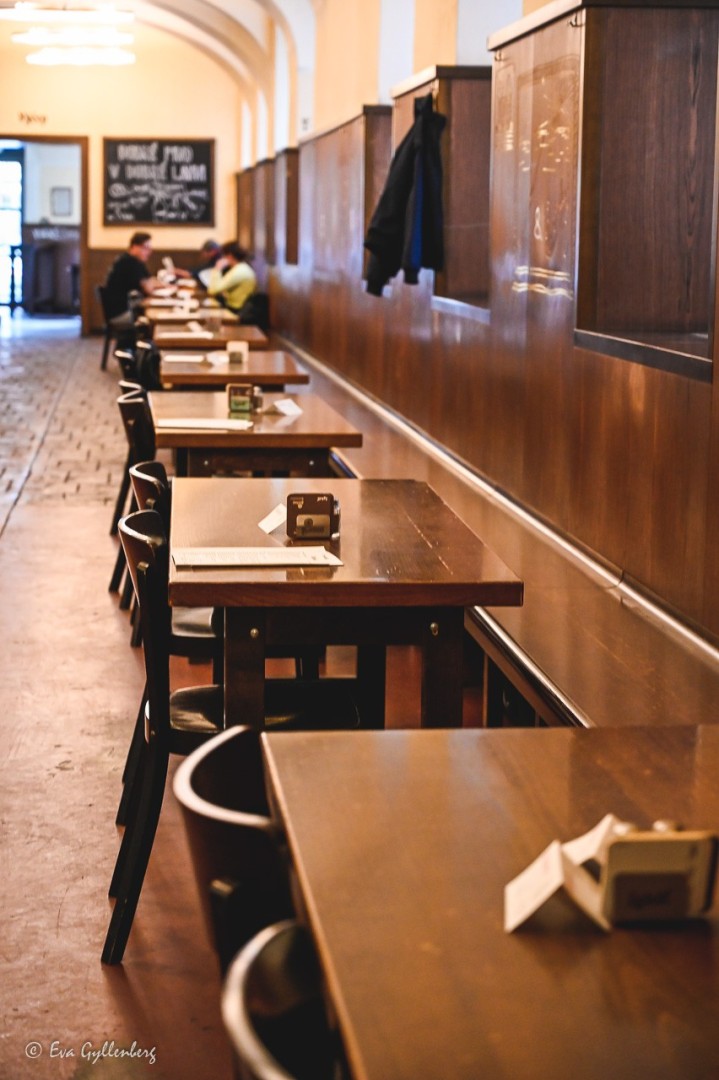 We got a whole table with plates with a lot of different meats, sausages, cheese, pickled herring and fried cheese. And beer of course. Although I'm not a hot dog fan, this is food that was made to be eaten with beer.
Lokál Dlouhá
Dlouhá 33
110 00 Staré Město
Guided gastro tour with Taste of Prague
The visits to KRO Kitchen, Lokal, Kantyna and Eska were made on the guided gastronomy tour with Taste of Prague – a packed tour of both facts and food. You book your own guided tour on their site or why not just check out their large list of tips on restaurants in Prague. I can't help but love their slogan – "Because you didn't come to Prague to lose weight, did you?".
Hope you like one of the restaurants! Or do you have any other tips that I missed?
Do you want to read more from the Czech Republic?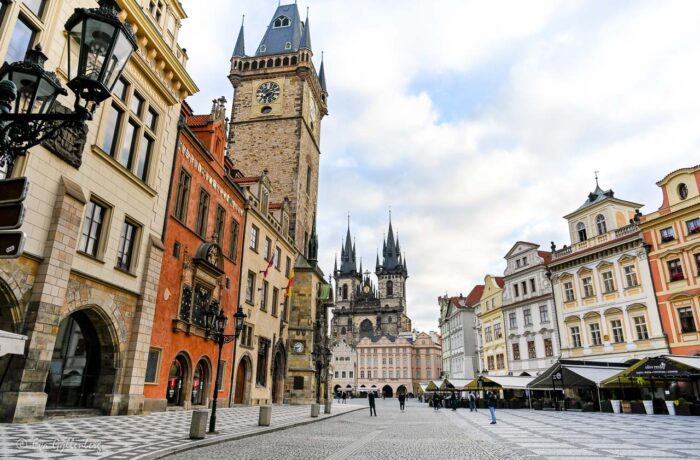 What to do in Prague during a weekend? Here are my top 10 tips…
November 10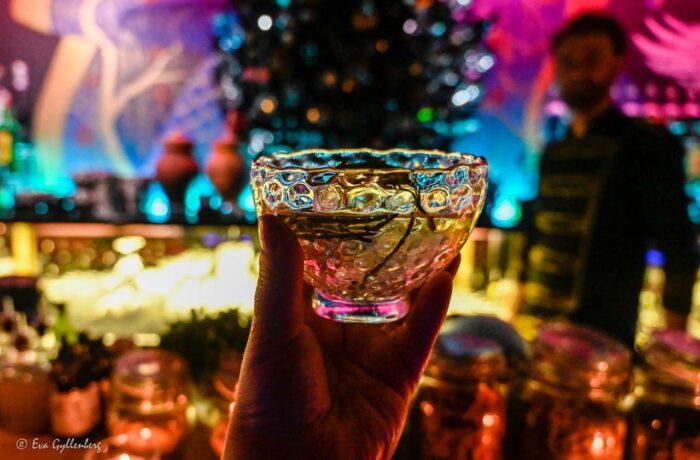 The gastronomy scene in Brno is bubbling and thriving. Surprising and satisfying. Join a real…
21 October 2021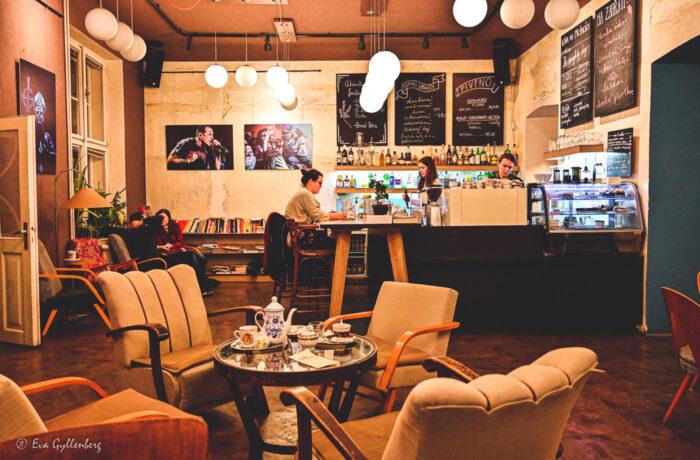 The Czech Republic has a long tradition of coffee drinking and although Plzen is a beer city…
March 22, 2023