Portofino - "the beautiful port" - is a few miles east of Genoa in Liguria. Like many other Italian Mediterranean villages, its history began as a small, inconspicuous fishing village. Today, however, the story is different. When you google Portofino, you are greeted not with images of hard-working professional fishermen, but with glamorous images of world celebrities. Pictures of unimaginably luxurious boats, fantastic houses, beautiful clothes and perfect people. Portofino is today one of Italy's most exclusive holiday resorts.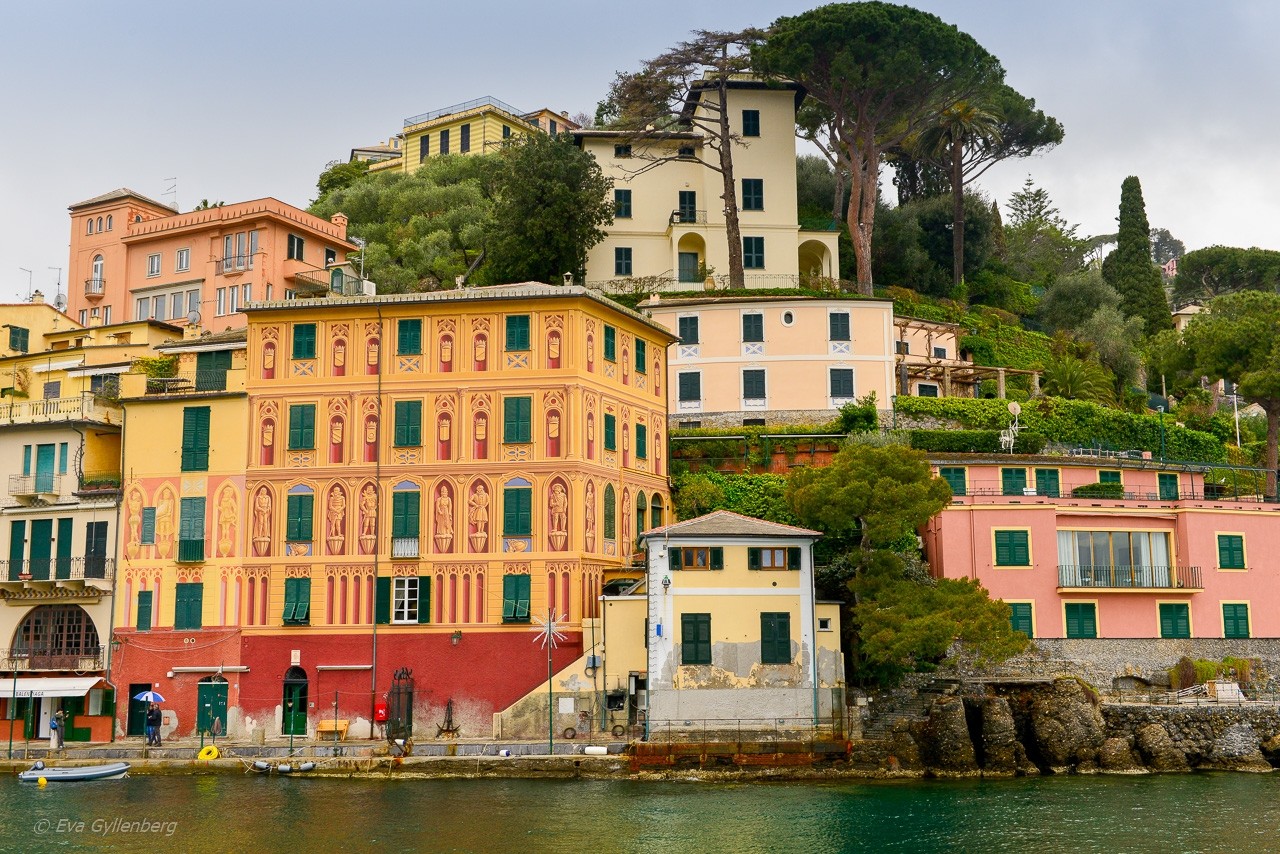 It is not entirely easy to get to Portofino. Although there is a driveway, it is closed to private cars. You can simply take a bus or ferry from the nearby town Santa Margherita. I can't help but wonder how Jay Z and Beyoncé got out to Positano on their summer vacation a few years ago. Presumably they chartered their own yacht, but it tickles a bit to think that they also took the bus to Portofino. That they got standing on the bus together with all the American tourists, just like we got.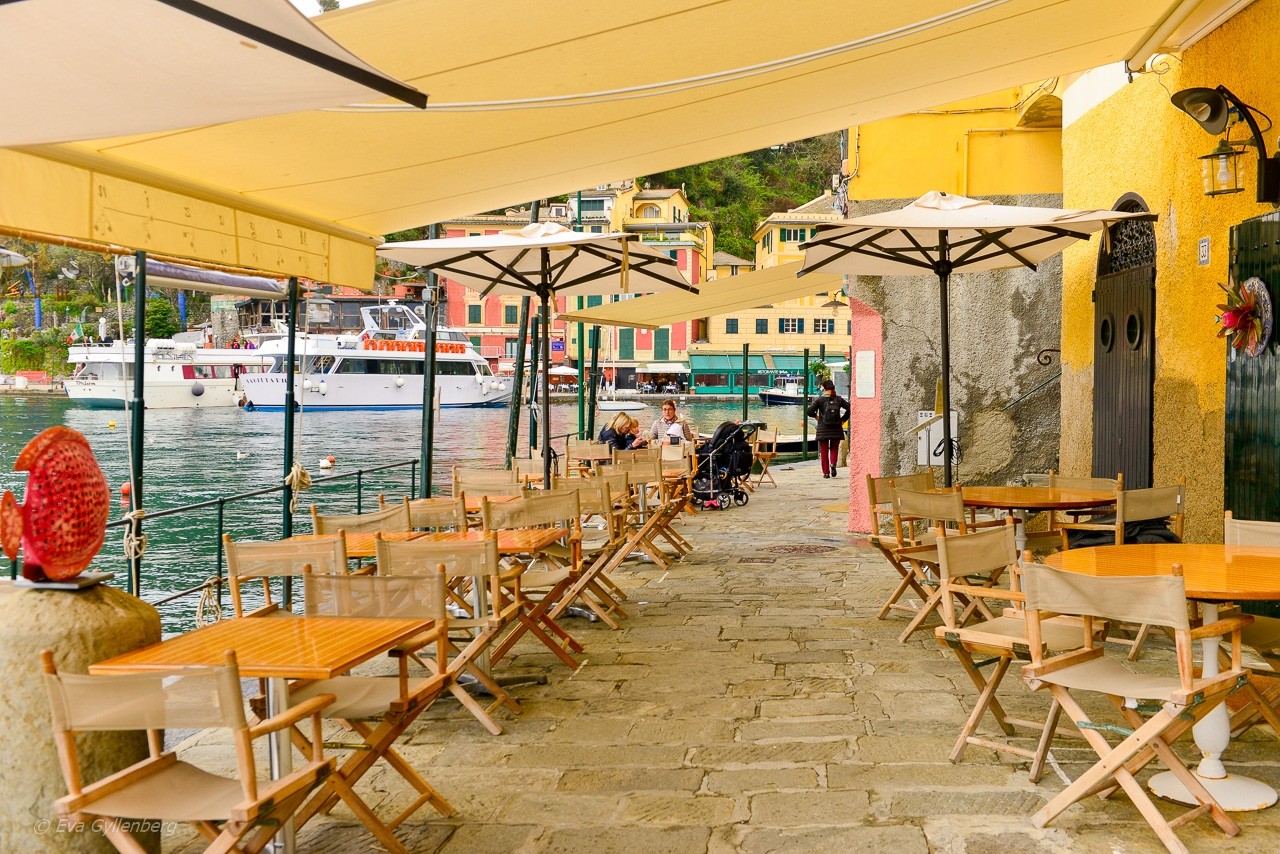 Portofino is a small, romantic and intimate village. Far from glitzy Monaco or posh Capri. It's almost a little strange that this has become a popular holiday spot for celebrities, because there's nowhere to hide. The harbor is lined with cozy little restaurants, but the quay is narrow and it is almost impossible not to bump into each other when trying to get there. But maybe that's the point. To be seen?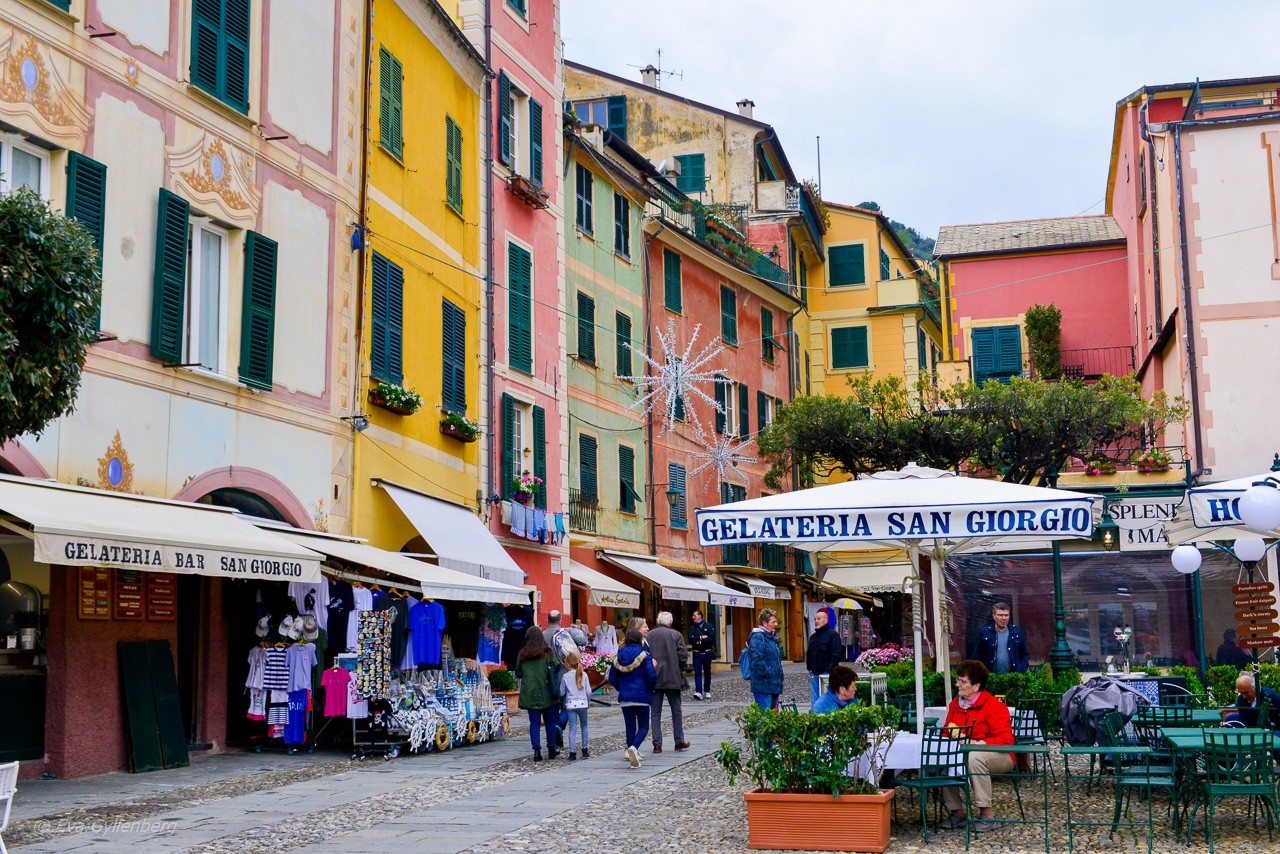 There are black and white archive photos of Greta Garbo walking the cobbled streets here in Portofino. Winston Churchill, Ingrid Bergman, Madonna, Elisabeth Taylor have also been here. It is rather difficult to find a celebrity who has not been here on holiday, rather than the other way around. Portofino's finest hotel Hotel Splendido is high above the village, a popular spot for many repeat visitors. The building was already built in the 17th century as a monastery, but was converted into a hotel in the early 20th century. Imagine if these 500-year-old walls could talk. Or perhaps rather, gossip a little…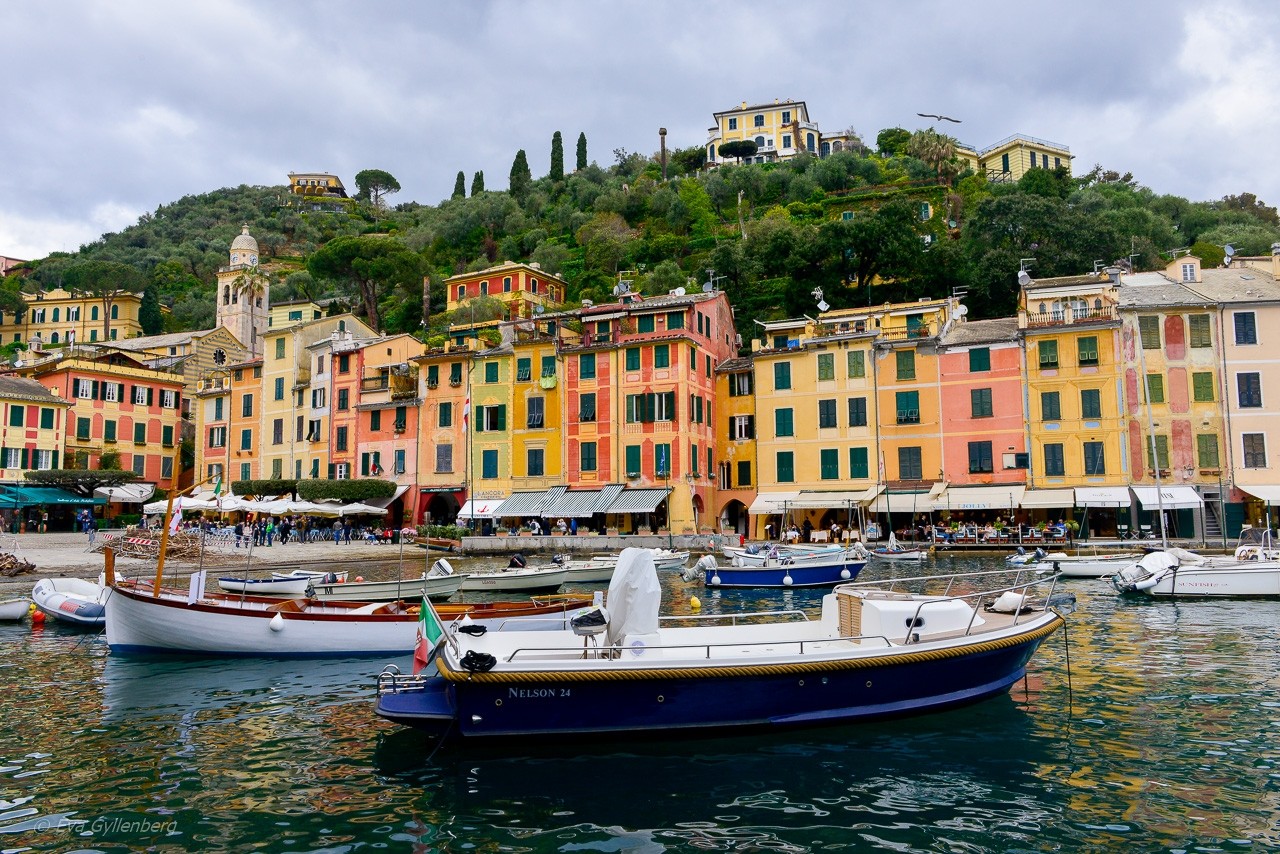 The April weather at the time of our visit does not offer either the opportunity to use my icy sunglasses or a sweeping caftan. 11 degrees, dark clouds and the threat of rain do not bring out my glamorous side. Around the pastel-colored houses by the harbor are villas, private palaces and luxury hotels. Well-trimmed cypresses protect from view and pergolas with sumptuous greenery stop the prying eyes of the paparazzi. But if the Kardashians were here, they wouldn't be sitting out on the terrace sipping drinks today. The weather definitely puts a stop to that.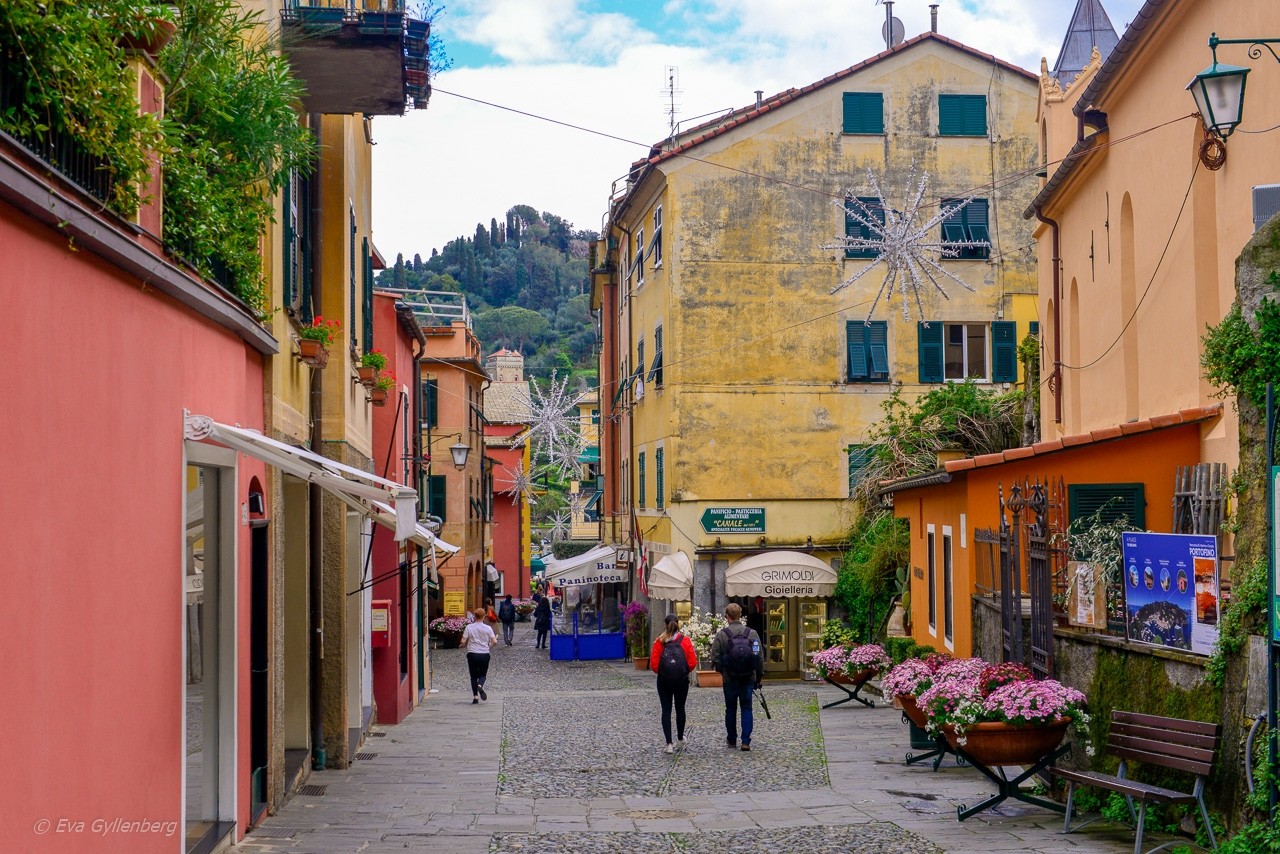 You don't go to Portofino to shop unless you have a big wallet. Balenciaga, Emilio Pucci and Missoni are just some of the shops in the village. You can forget about outlets. If window shopping for pretty things isn't your thing, you can instead enjoy the beautiful nature on one of the hiking trails in the area. The walk to the monastery Abbey of San Fruttuoso should be spectacular. However, today's weather does not invite any hiking, rather a warming coffee under cover.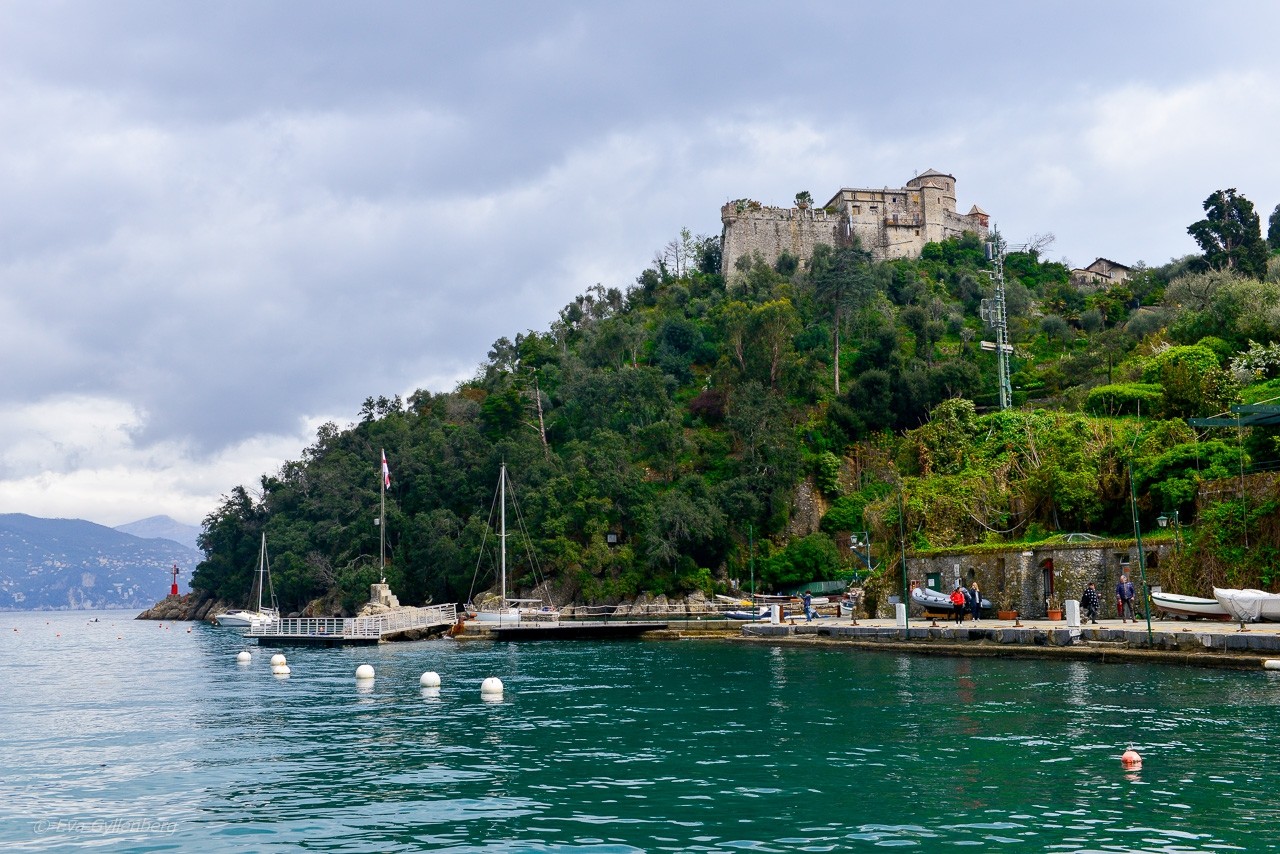 Brown Castle lies like a protective castle on the cliff facing the sea. Originally a fort from the 15th century, but today owned by the town of Portofino. Today, there are no longer cannons, but exhibitions, weddings and a beautiful garden. Walking up here takes a maximum of 10 minutes. Portofino is not a big village.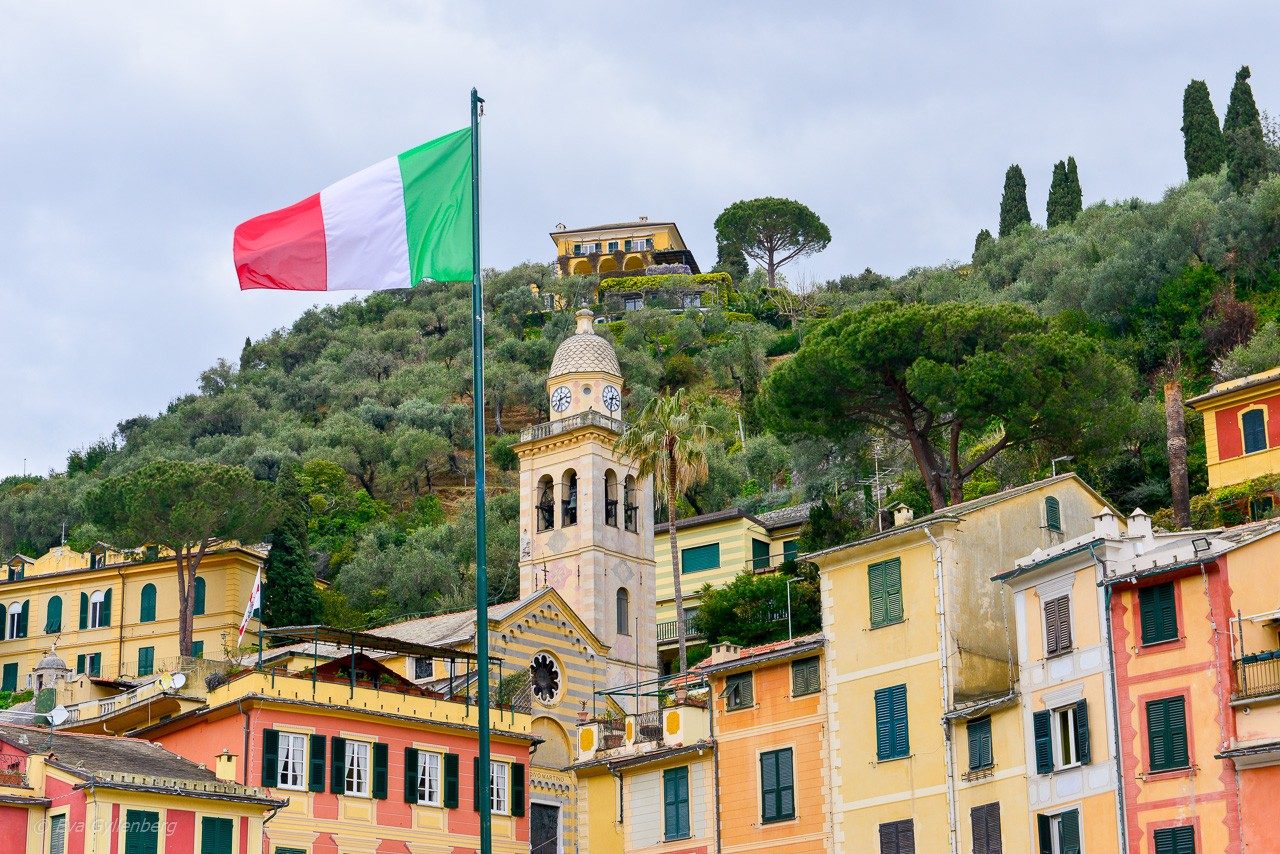 After an hour or so we have walked everywhere in Portofino. Every little street. Every little staircase. Window shopped in every single store. The advantage of bad weather and low season is that it is not difficult to soak up the charm of the small village without stress. It will be different when the harbor during the summer is filled with the world's most expensive private yachts and the owner of the private palace is visiting. Then it is probably not the streets and stairs that get the tourists' main attention.
A ferry is just returning to Santa Margherita. It's not full, so we jump on it. Although you can see the villas along the hillsides as you take the bus out to Portofino, it's only from the water that you really appreciate their magnificence. I must realize that most of the accommodation around Portofino is outside my travel budget. Luckily it costs nothing to dream.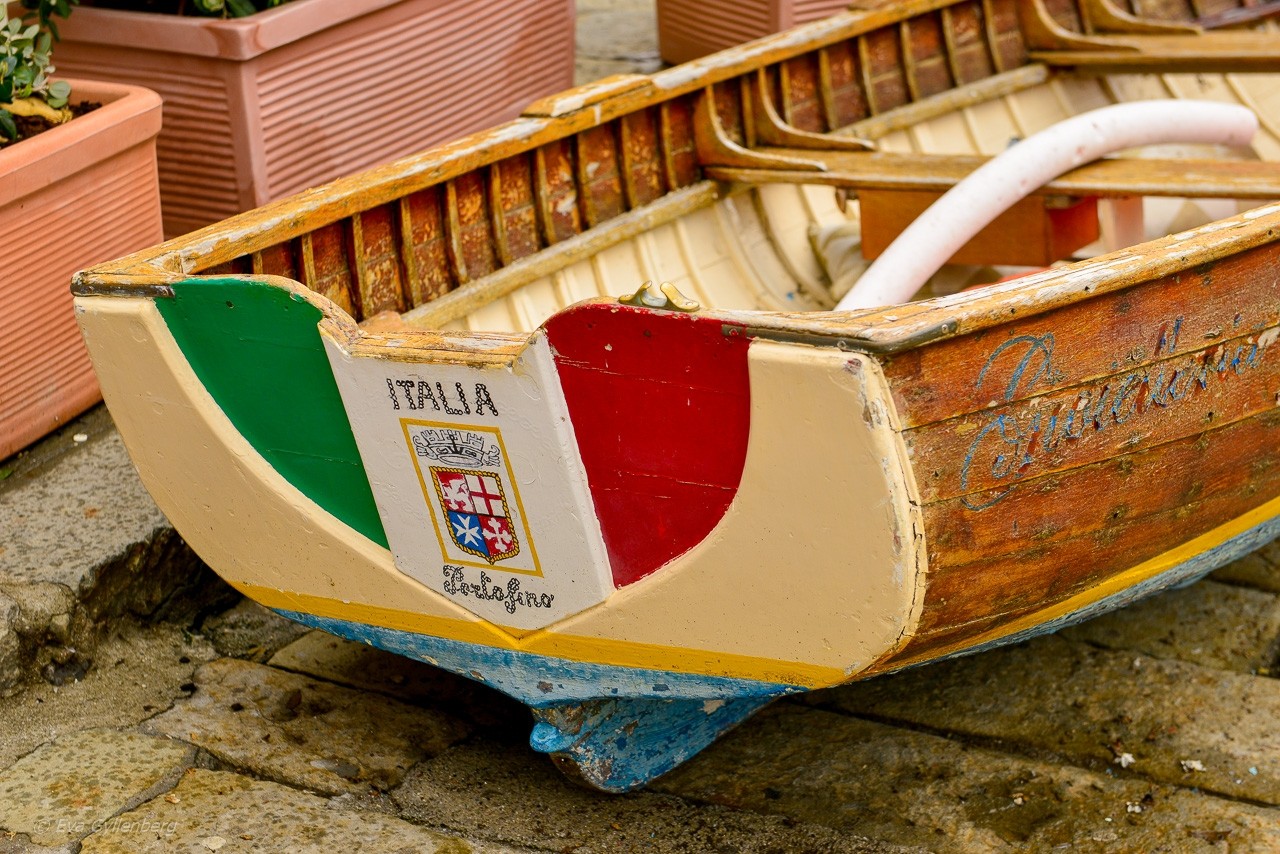 How do I get to Portofino?
It is not possible to drive to Portofino, so we parked the car in the nearest town Santa Margherita where there are several parking garages. We parked the car in the garage Parcheggio Miramare, at Hotel Miramare. A small warning: The parking spaces are incredibly small and the garage is really cramped. It was fine with our Fiat 500, but not sure if it would be possible to park here with a larger SUV.
Bus 82 to and from Portofino do you jump on wide easily the tourist office which is located at the roundabout at Piazza Vittorio Veneto. The bus runs every 20 minutes and stops right outside the tourist office. There is also a ticket machine on the street where you can easily buy bus tickets. One-way 3 euros, return 5 euros. You can find information about bus 82 here.
It also works ferries to and from Portofino, most of them docks in port a short walk from the tourist office in Santa Margherita, but it is also possible to go from Rapallo. The tickets cost 7 euros one way and were bought at the ferry. The ferries were supposed to run once an hour, but some scheduled departures were canceled when we were here. You can find the timetable for the ferry here.
We chose to buy a single bus ticket and go by bus to Portofino and then take a ferry back to Santa Margherita. That way we got to see the beautiful coast from two sides, which felt like a good combo!
Do you want to read more from Italy? Look into my Italy page!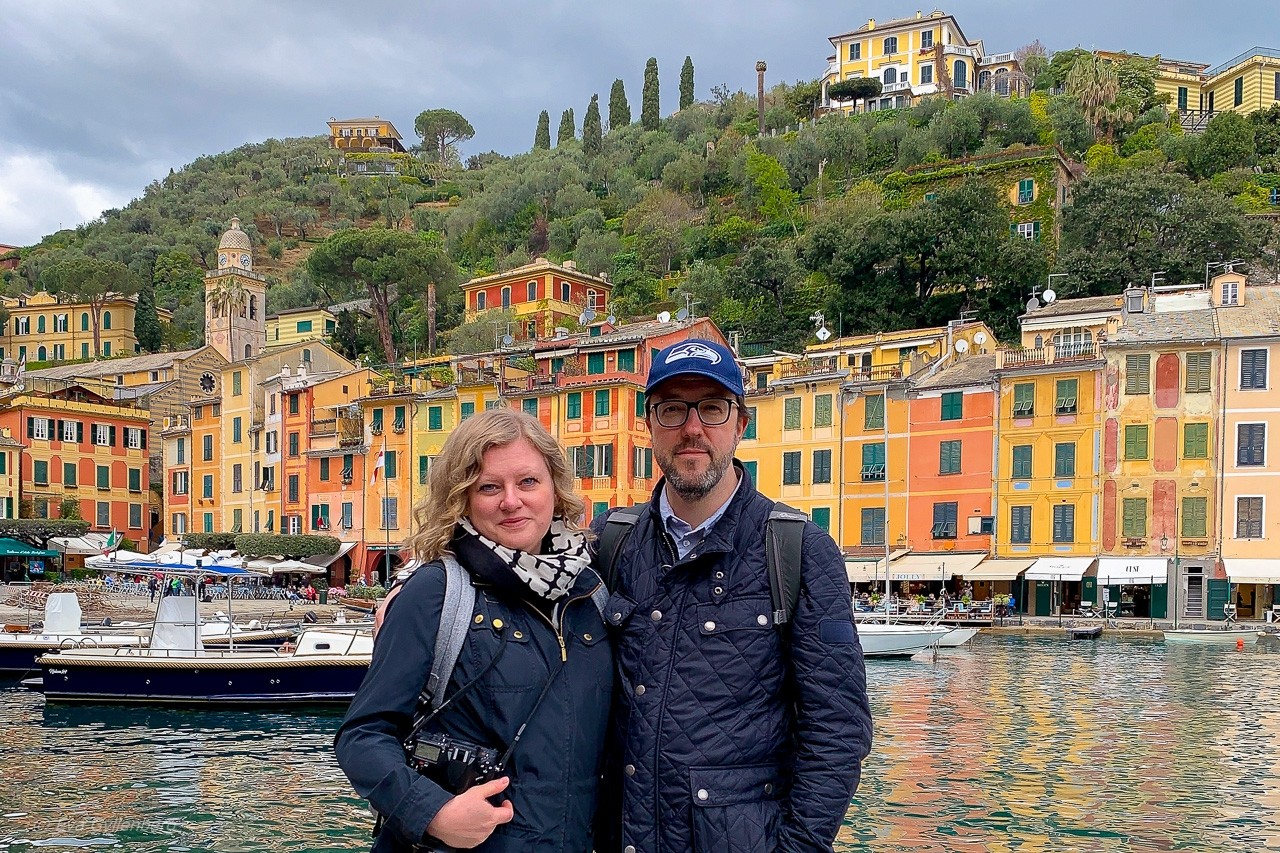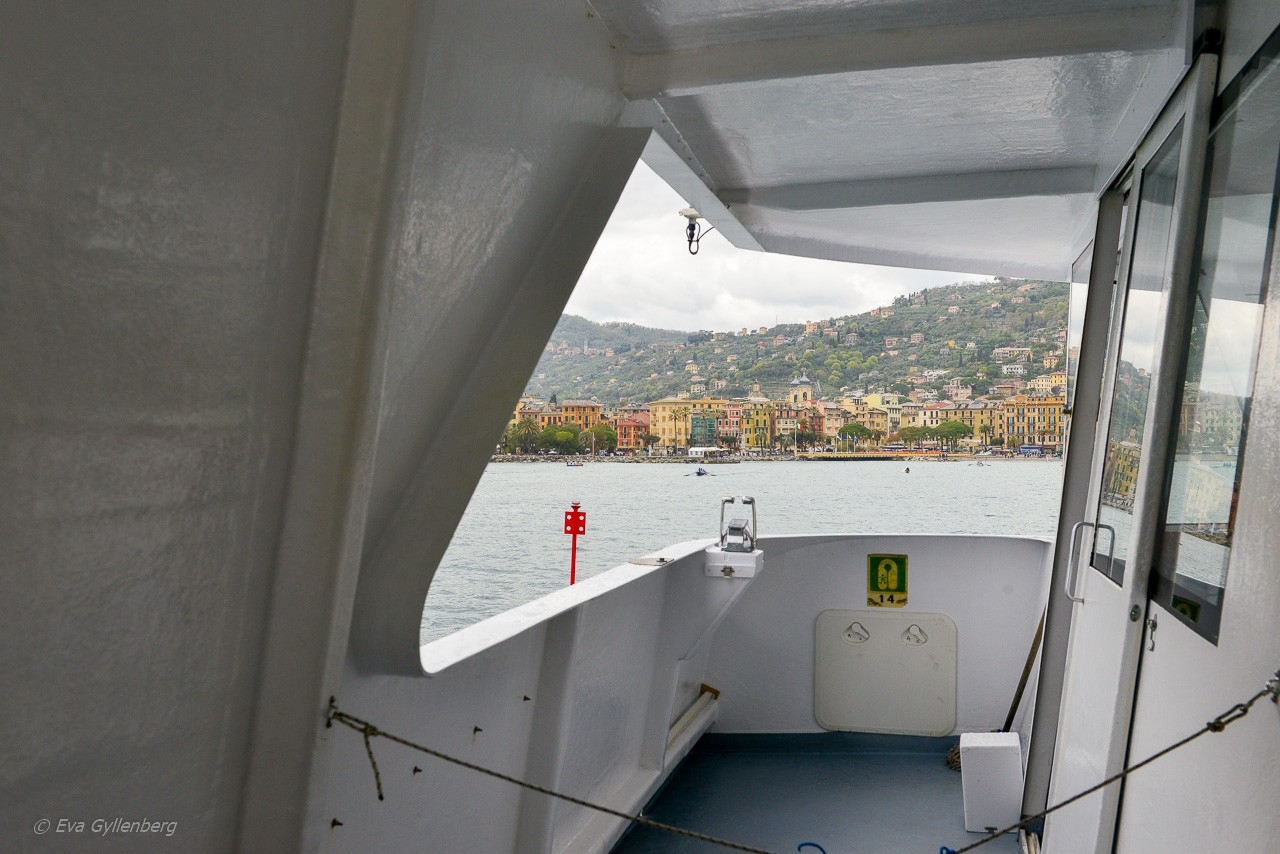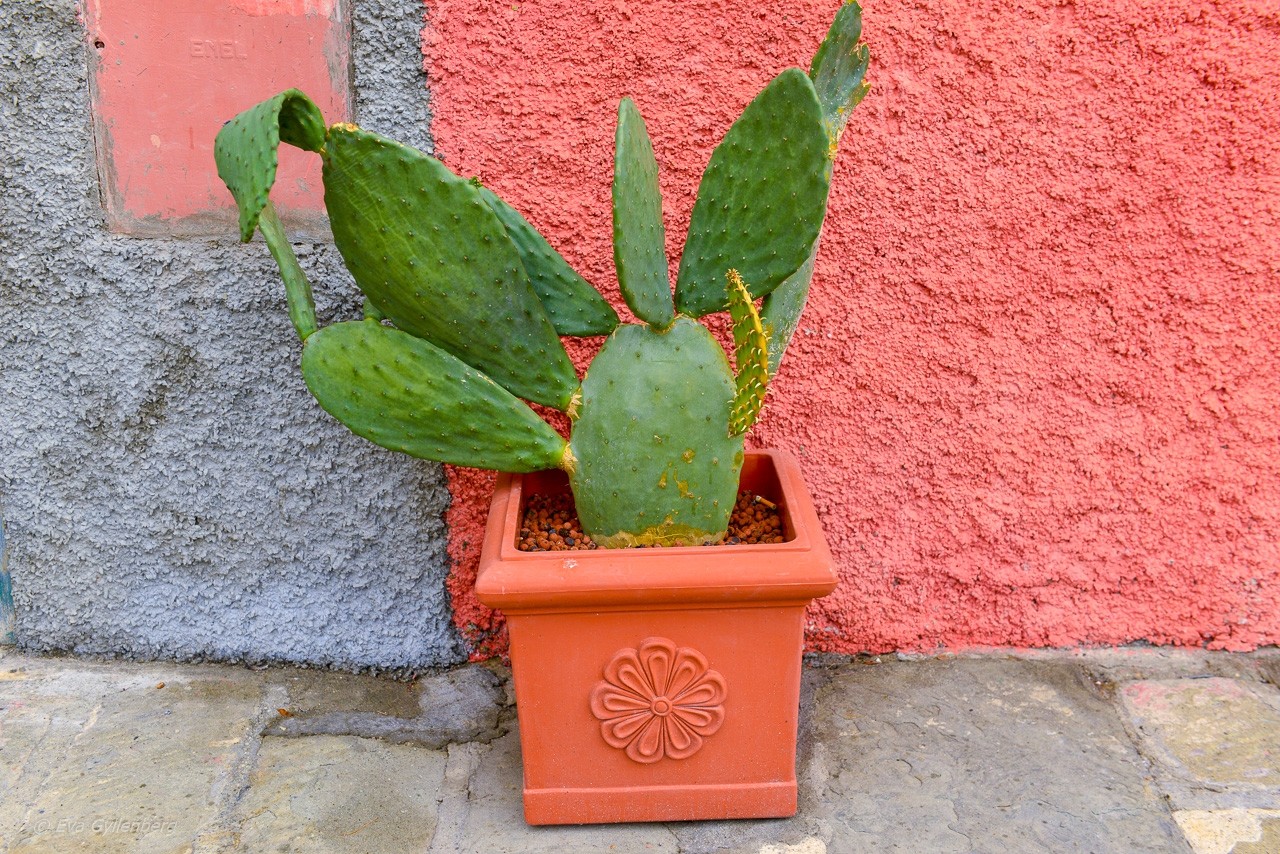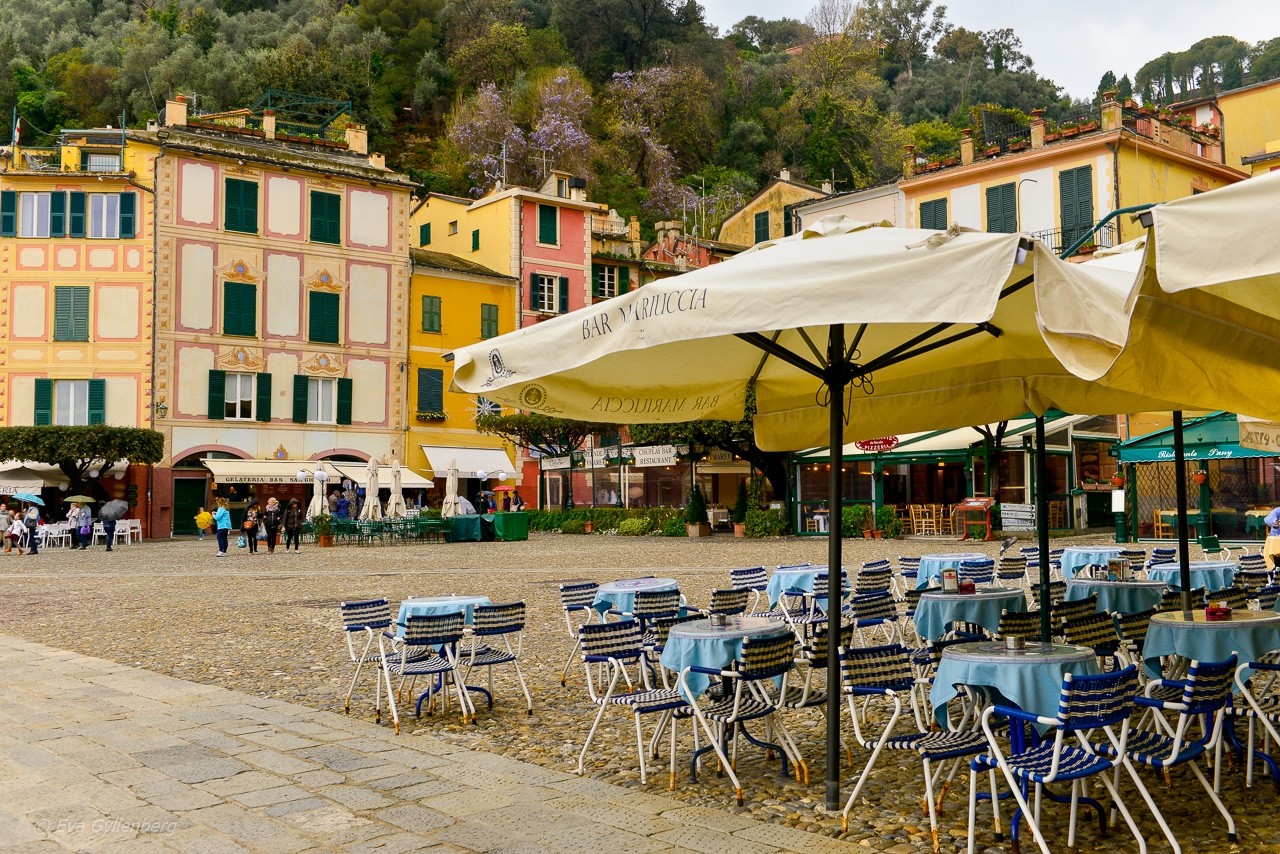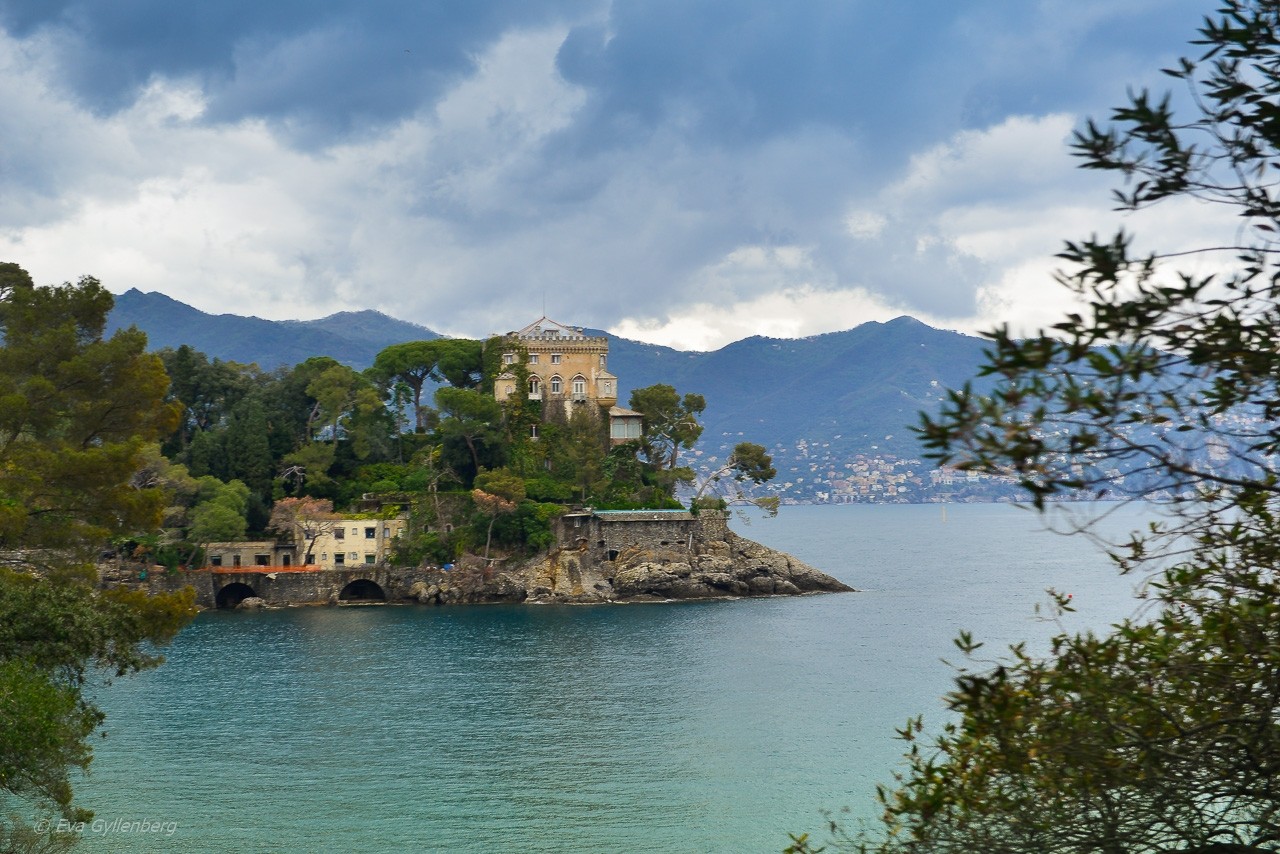 Want to read more of my travel tips? do not forget to like Rucksack on Facebook!
Have you been here? What did you think of the destination?
Been there - didn't like it!
0
Not keen at all to go here!
1
Eva Gyllenberg
Travel blogger, gastronaut, photographer and family adventurer with over 55 countries in his luggage. Eva loves trips that include beautiful nature, hiking boots and well-cooked food. On the travel blog Rucksack she takes you to all corners of the world with the help of her inspiring pictures and texts.