Paris is one of the cities in the world with the most sights that visiting tourists simply must see. But what do you do in Paris when you've already seen the Mona Lisa, climbed the Eiffel Tower and visited Notre Dame and Sacré-Coeur? Come along to some of my favorites among the city's slightly more secret and unknown attractions!
1. Musée d'Orsay and the clock
Even if you are not a big art lover Musée d'Orsay worth a visit. In an old train station that was built for the World Exhibition in 1900, since the 80s it houses one of Paris' most exciting museums. This is where you will find the great impressionists and the famous paintings are many. When I was here last, a large Munch exhibition was shown, which alone was worth a visit.
After you've finished looking at the masterpieces of Van Gogh and Renoir, head up to the old transparent station clock and take a picture of yourself with the Paris skyline through the clock face. One of Paris's most delicious viewpoints without a doubt!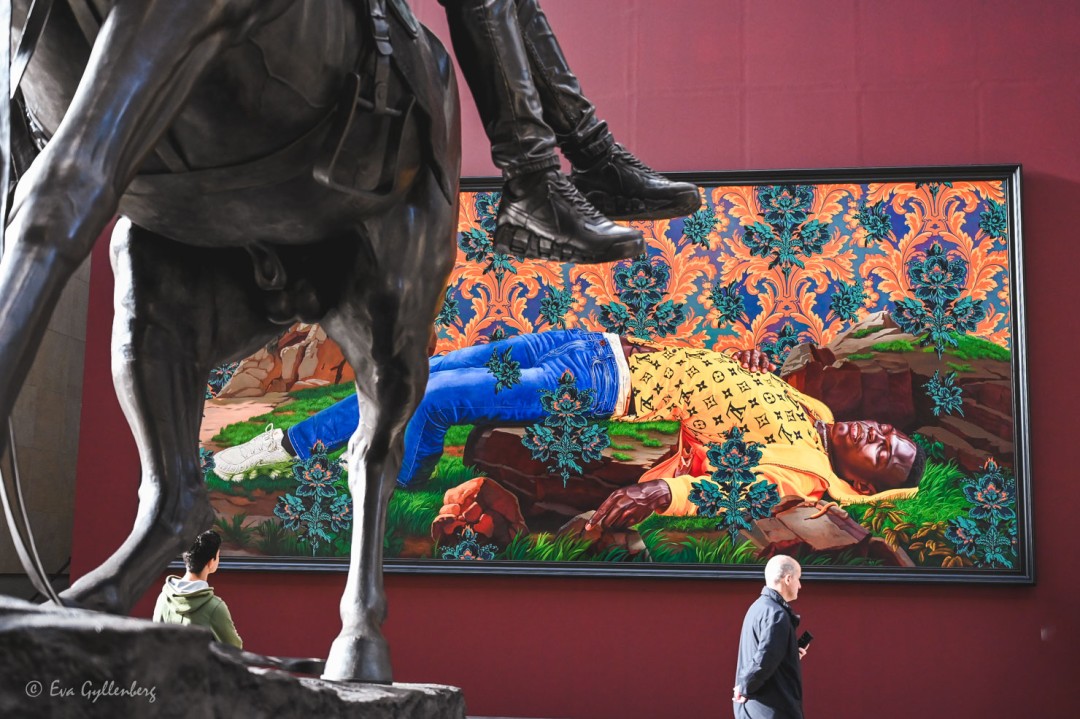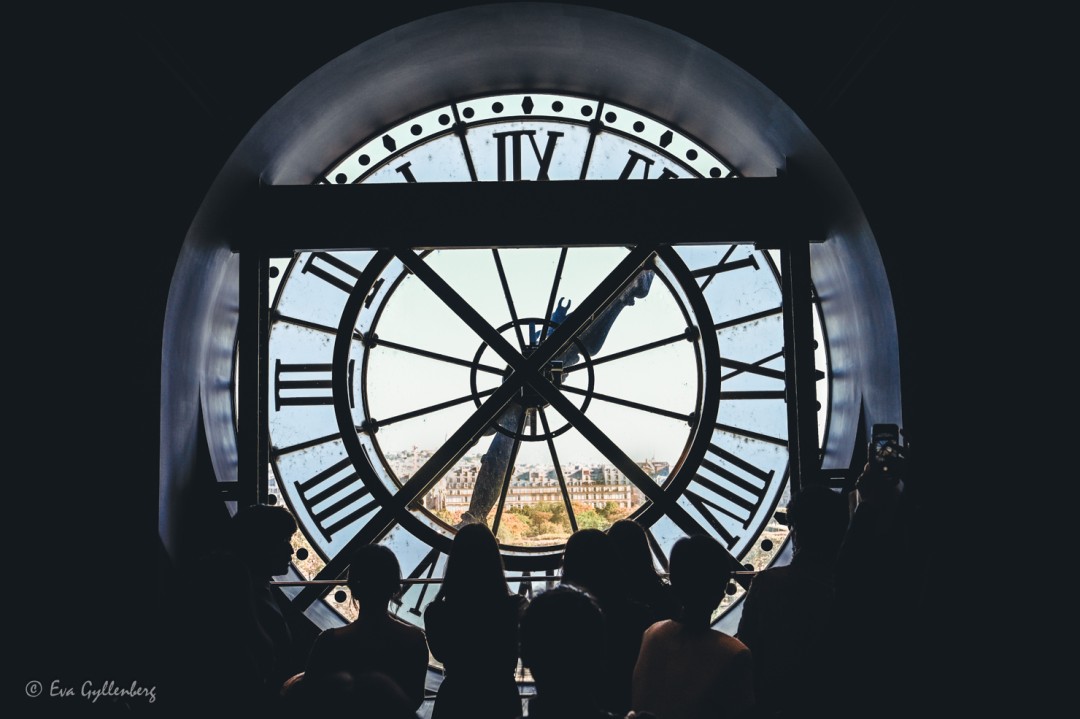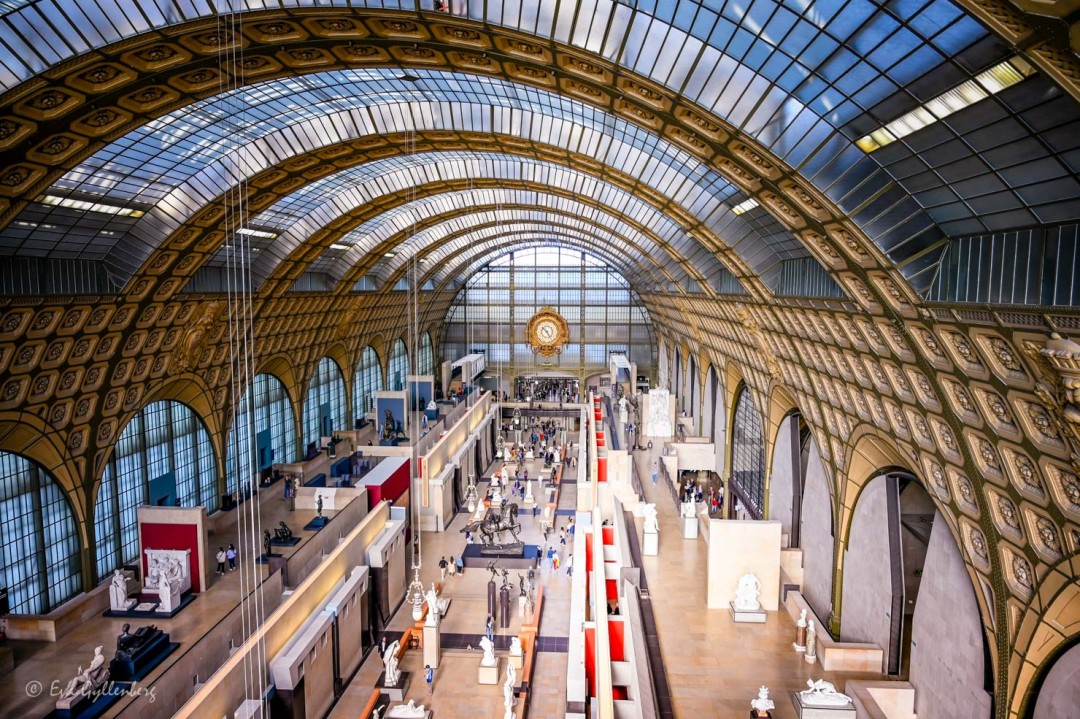 2. Les Passages Couvert – Galerie Vivienne
In the 19th century, the streets of Paris were really dirty and disgusting, and to protect the rich population of Paris from the dirt, shopping malls and restaurants began to be built under roofs. Once upon a time there were as many as 70 covered shopping streets in Paris, but nowadays there are only 21. Walking the beautiful aisles of Vivienne Gallery and window shopping is a wonderful experience - regardless of whether it's raining outside or not.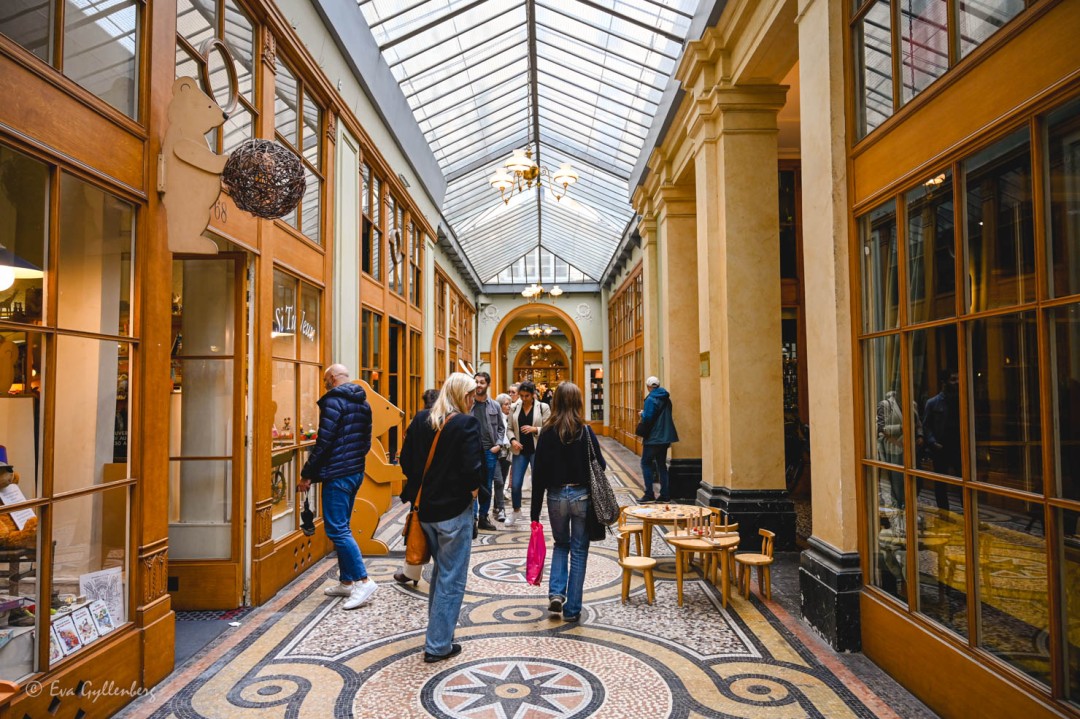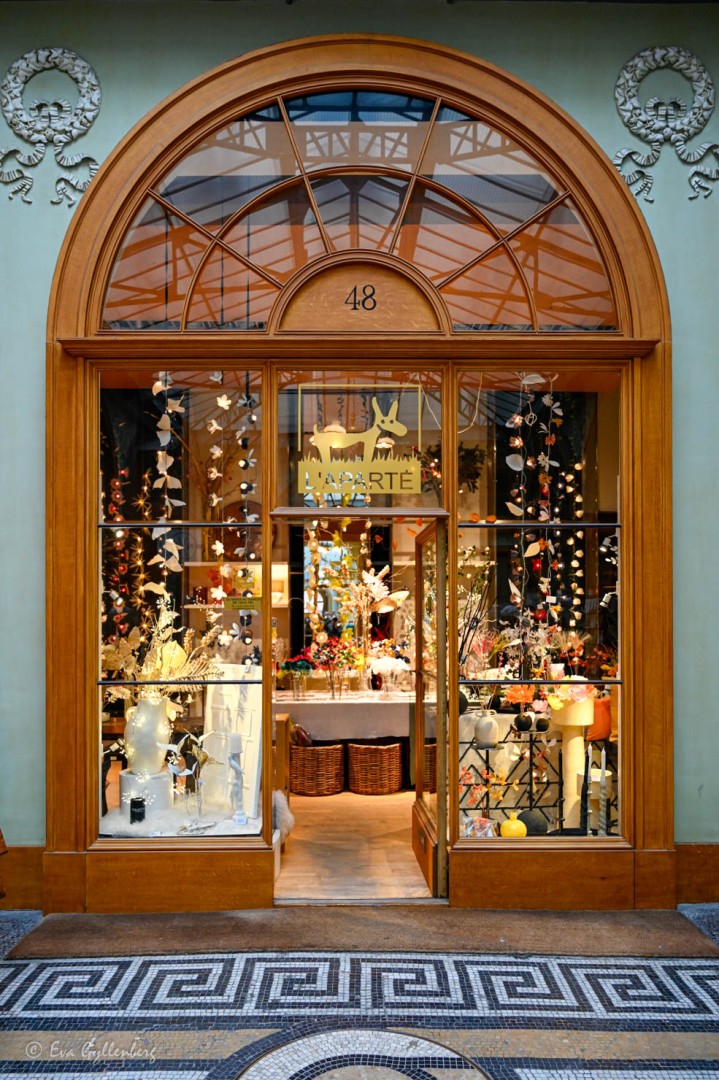 3. La REcyclerie – Jardins du roussau
Paris has a lot of abandoned train tracks and several abandoned train stations. In the same way that New York built the High Line Park, Paris has also created parks over the old train areas. There is even a High Line Park in Paris, Coulée Verte René-Dumont.
In the north of Paris is located The REcyclery - a restaurant that works hard with the three R's: Reuse, Reduce, Recycle. The vegan restaurant is located in an old train station that sits on top of an abandoned train area that has now become a park. Here vegetables are grown, the beehives buzz and the chickens run around and prance. It's hard to believe you're still in Paris when you sit down here with your Sunday brunch.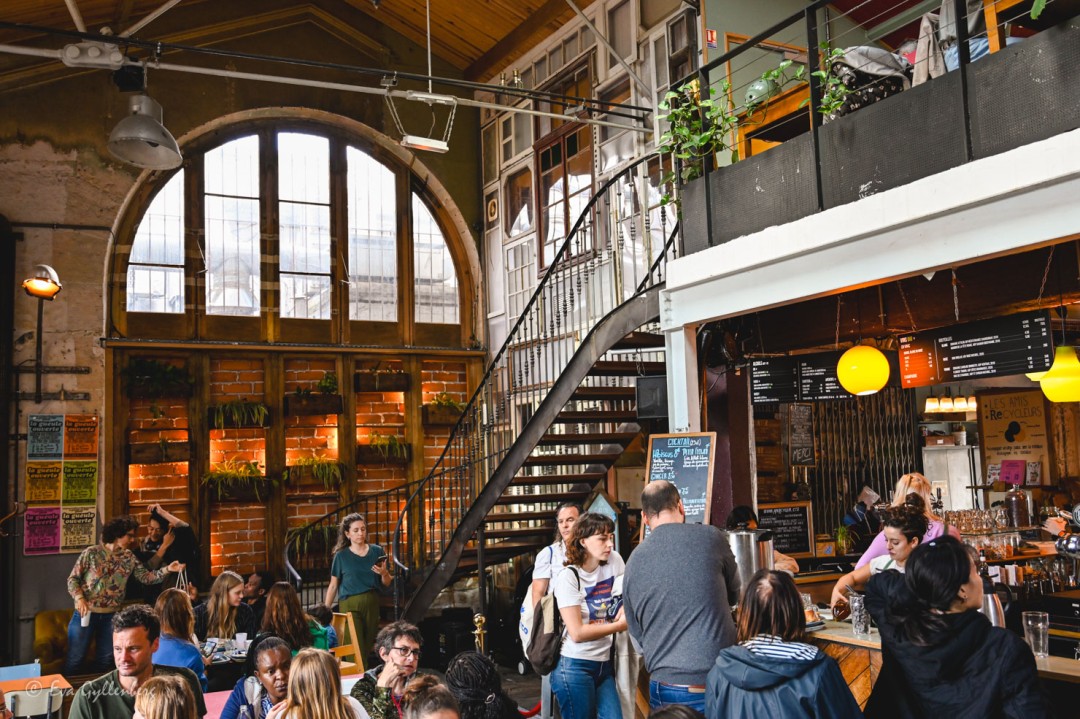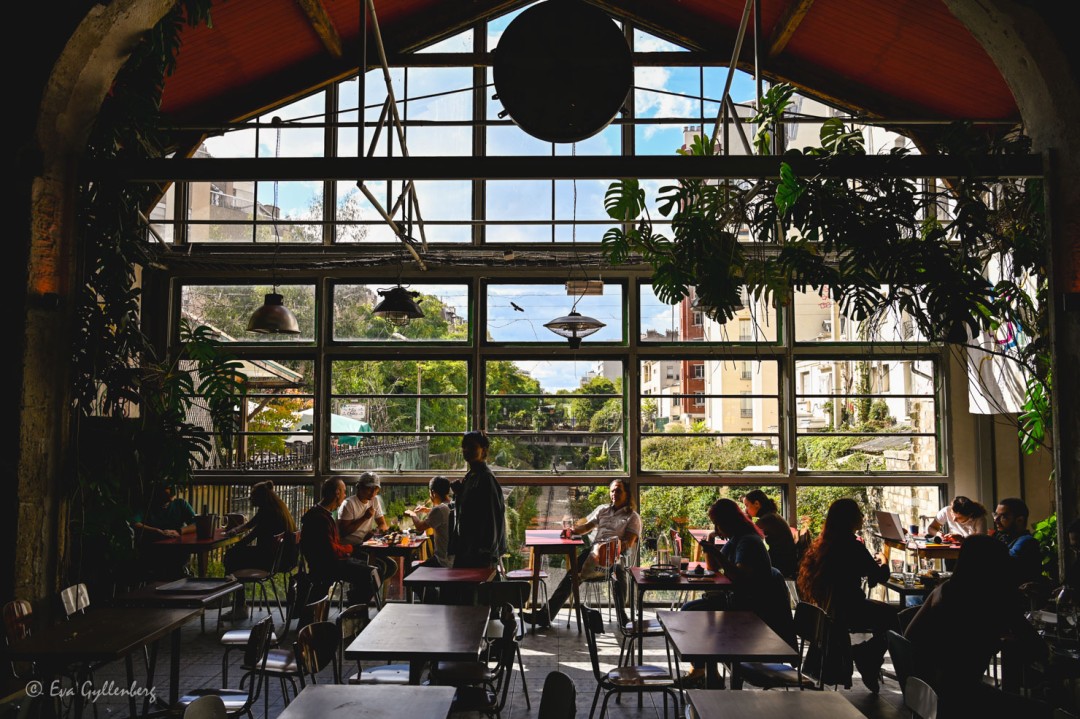 4. Center Pompidou
A weird building with modern (and even weirder) art that offers sweeping views of Paris. Discovering modern art in Centre Pompidou is a playful experience that takes you to everything from Picasso to Louise Bourgeois. The view from the top is magnificent (and also free).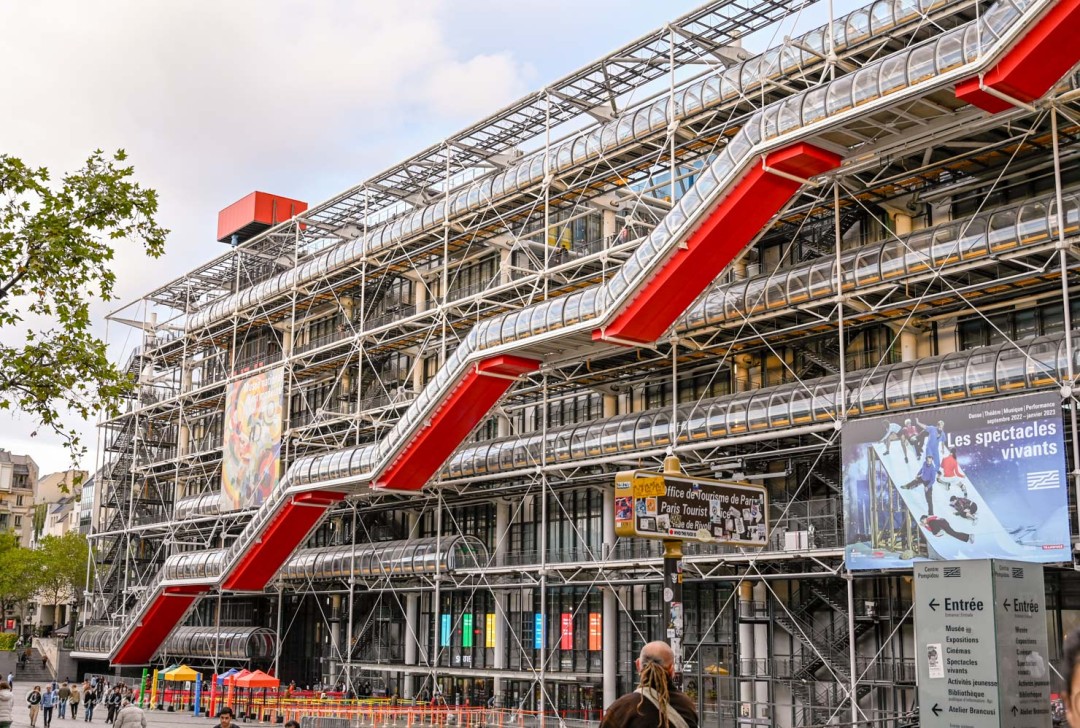 5. Marché aux Puces de St-Ouen
Europe's (if not the world's!) largest antique market is located on the outskirts of northern Paris. Here on Marché aux Puces de St-Ouen there are over 2000 antique dealers in 13 different markets, selling everything from art to vintage clothing and furniture. If you are looking for something unique for your home, then this is where you should go. A great place where you can walk around for a whole day without any problems.
NOTE: Only open on weekends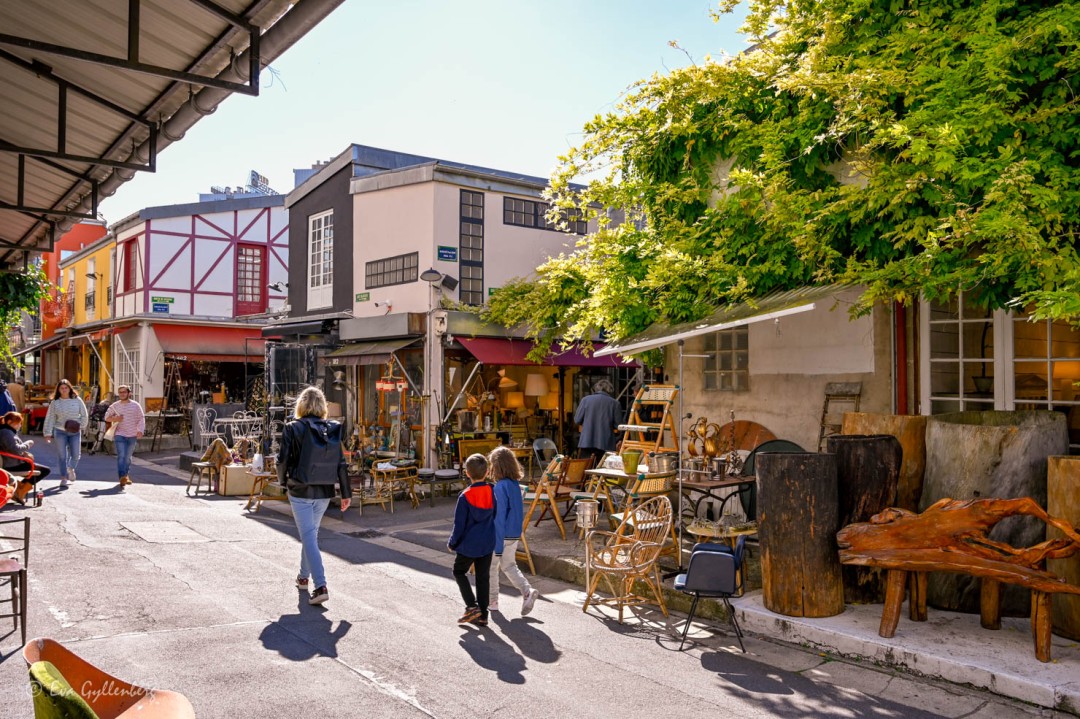 6. Jardin du Luxembourg
Known for its beautiful outdoor furniture (Luxembourg chairs), the park has Jardin du Luxembourg has given city dwellers air, peace and beautiful surroundings since the 17th century. Here concentrated elderly uncles sit and play chess, children play with sailboats in the many fountains and many students sit here reading under a tree. One of my favorite places in Paris that I always return to.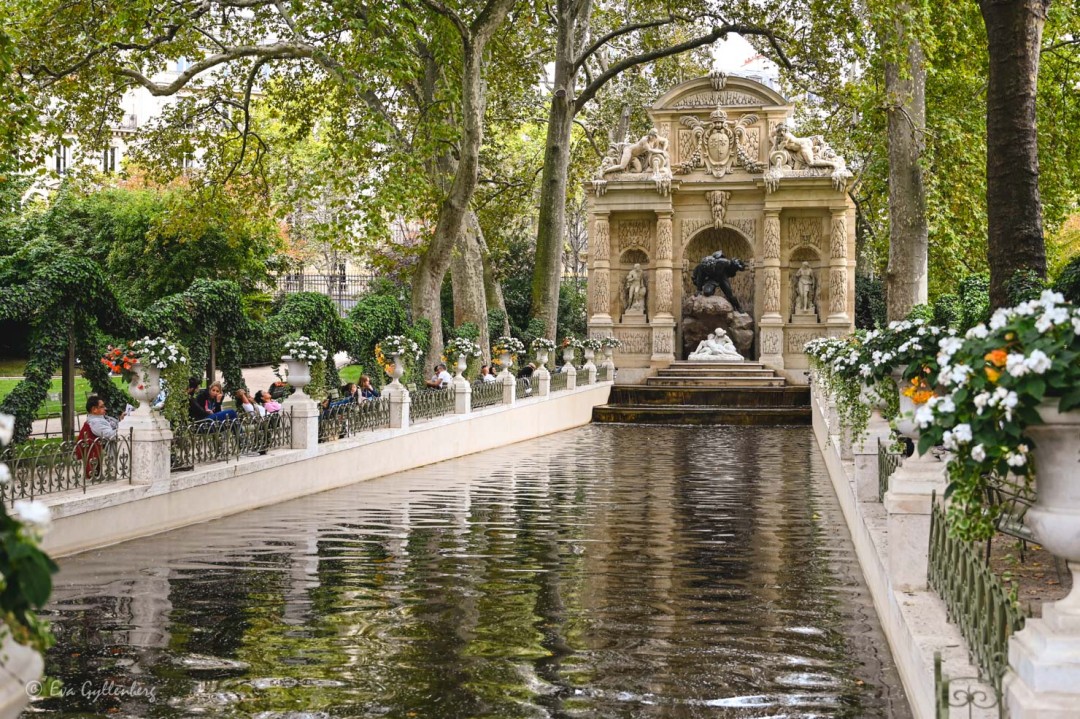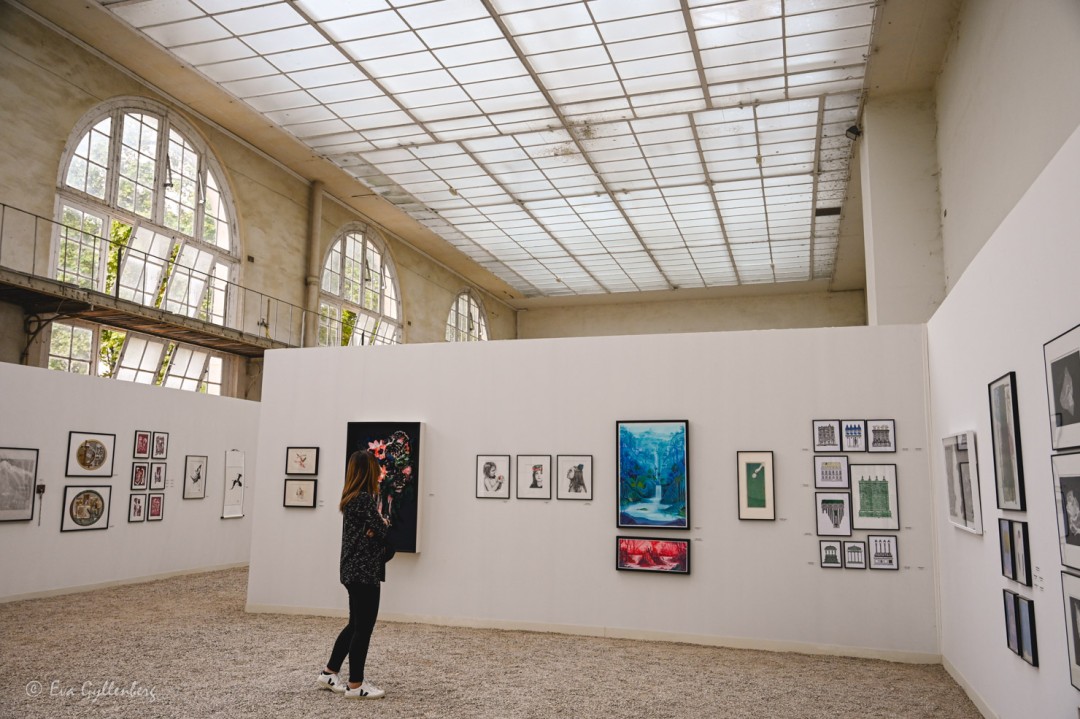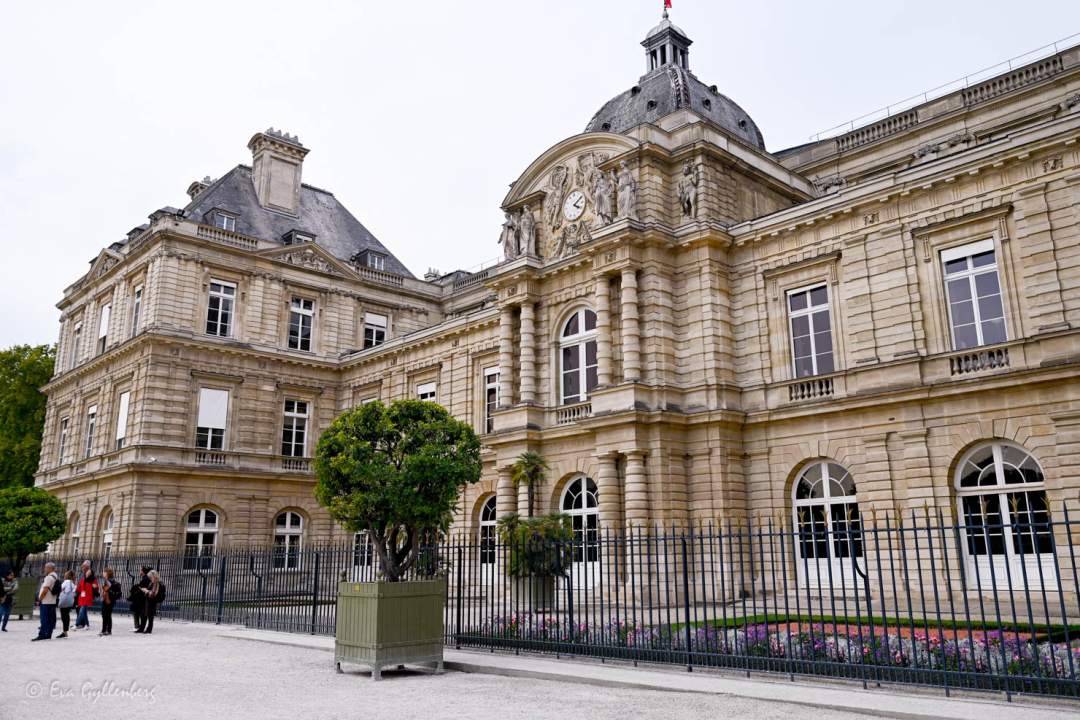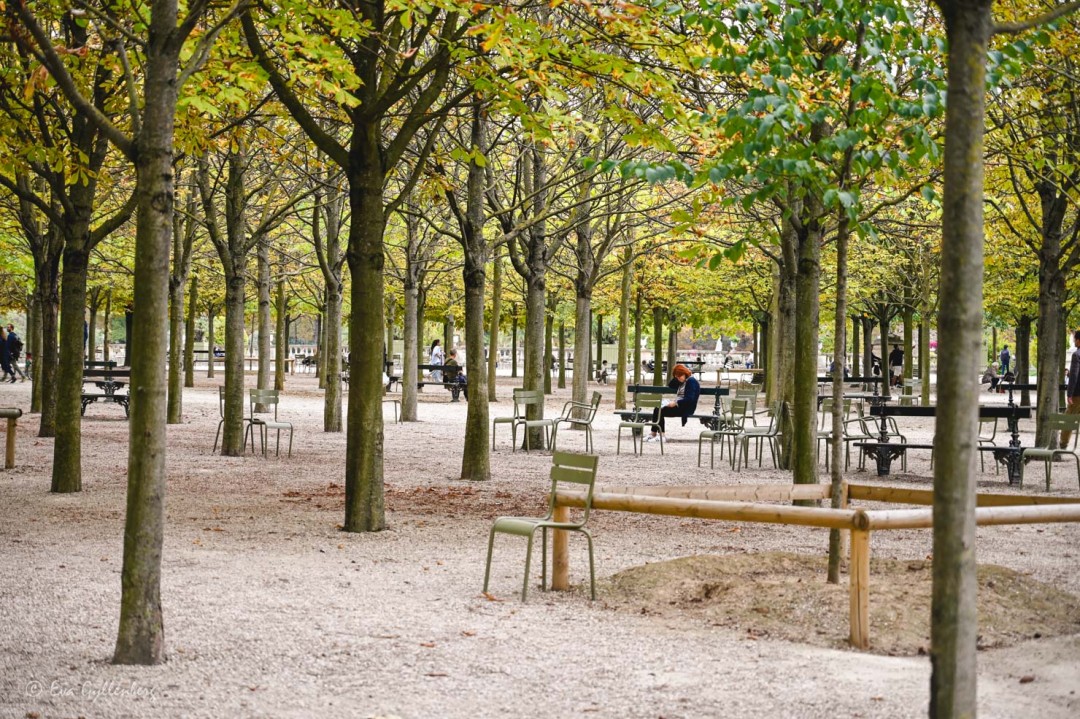 7. Palais-Garnier
The Paris Opera House Palais-Garnier is nothing short of magnificent, majestic and ostentatious at the same time. Palais-Garnier was built at the end of the 19th century in a style that would probably make Versailles itself blush. Gold, ornaments and marble meet you everywhere and the paintings are, among others, by Marc Chagall. This is one of the world's largest opera houses and it is a place to visit regardless of whether you have tickets to a performance or not.
A little curiosity for you who like musicals: Palais-Garnier is the opera house in which the legendary story of the Phantom of the Opera takes place. For a single night in 2023, the opera was therefore opened up for a "Phantom of the Opera airbnb". Stay tuned - who knows if the unique opportunity will come again!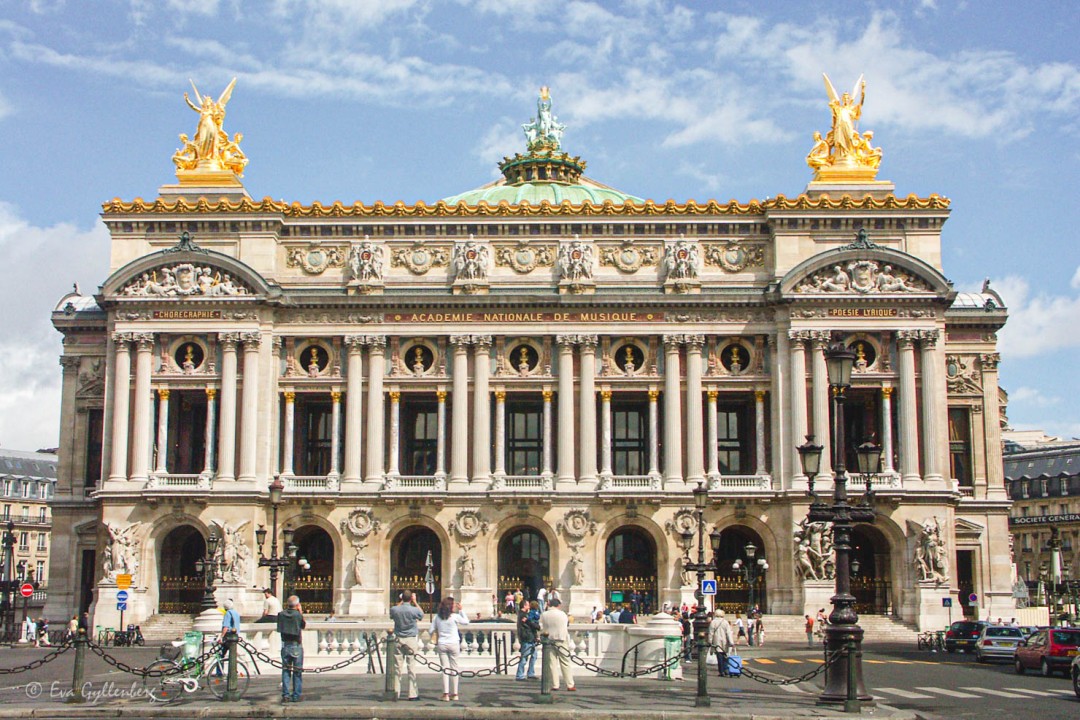 8. Coffee in Saint-Germain-des-Prés
One of my favorite areas in Paris is Saint-Germain-des-Prés. Here you will find the historic (and expensive) cafés Flore's coffee and Les Deux Magots, but also many of the famous teahouses and Laduree's famous macarons. Sit down, buy a coffee and people watch like a real Parisian.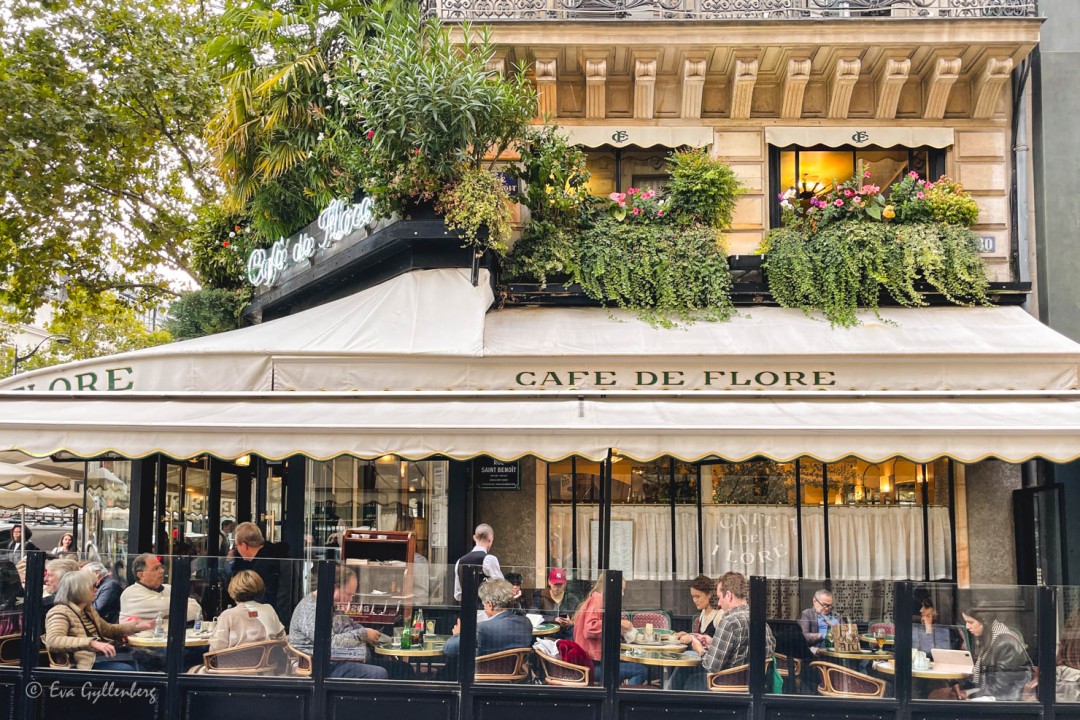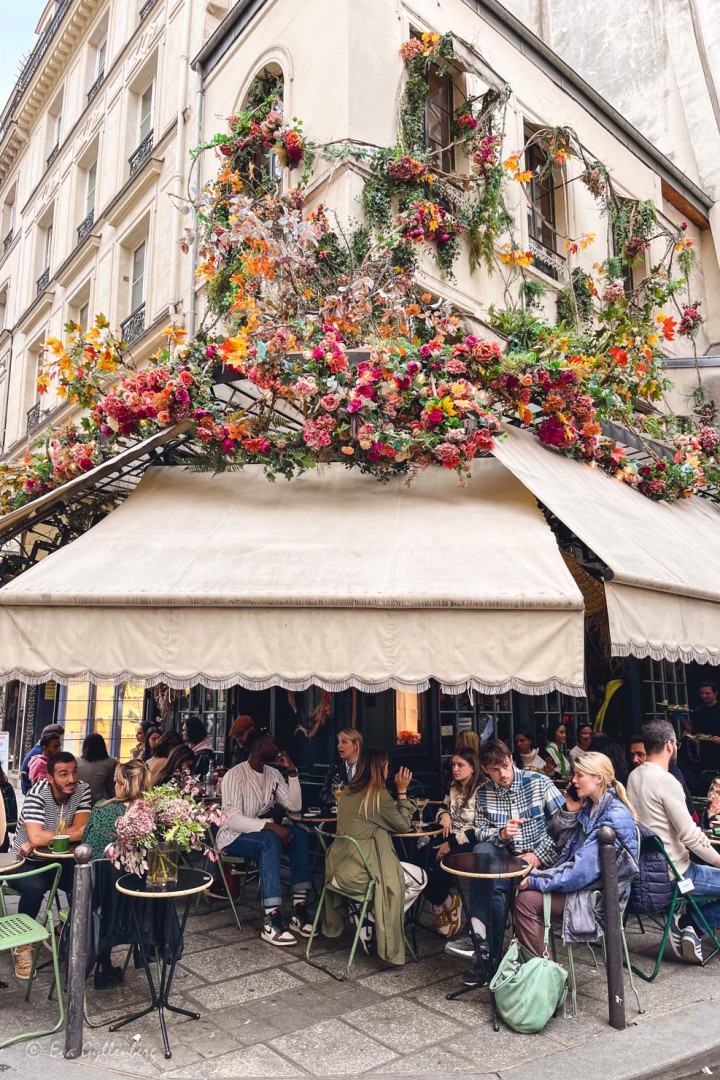 9. Montparnasse
An area that I very recently discovered is Montparnasse. Montparnasse is a charming residential area with affordable neighborhood restaurants and cozy boutique hotels. Exactly the kind of area you want to live in as a tourist, beyond the tourist traps but with really good subway lines. The area is best known for its high-rise buildings Tour Montparnasse with the best view of Paris, but here in the underground also lies Catacombs of Paris with the skulls and bones of over a million Parisians.
The last time we visited Paris we stayed at Hotel Leopold here in Montparnasse, a cute boutique hotel that I recommend!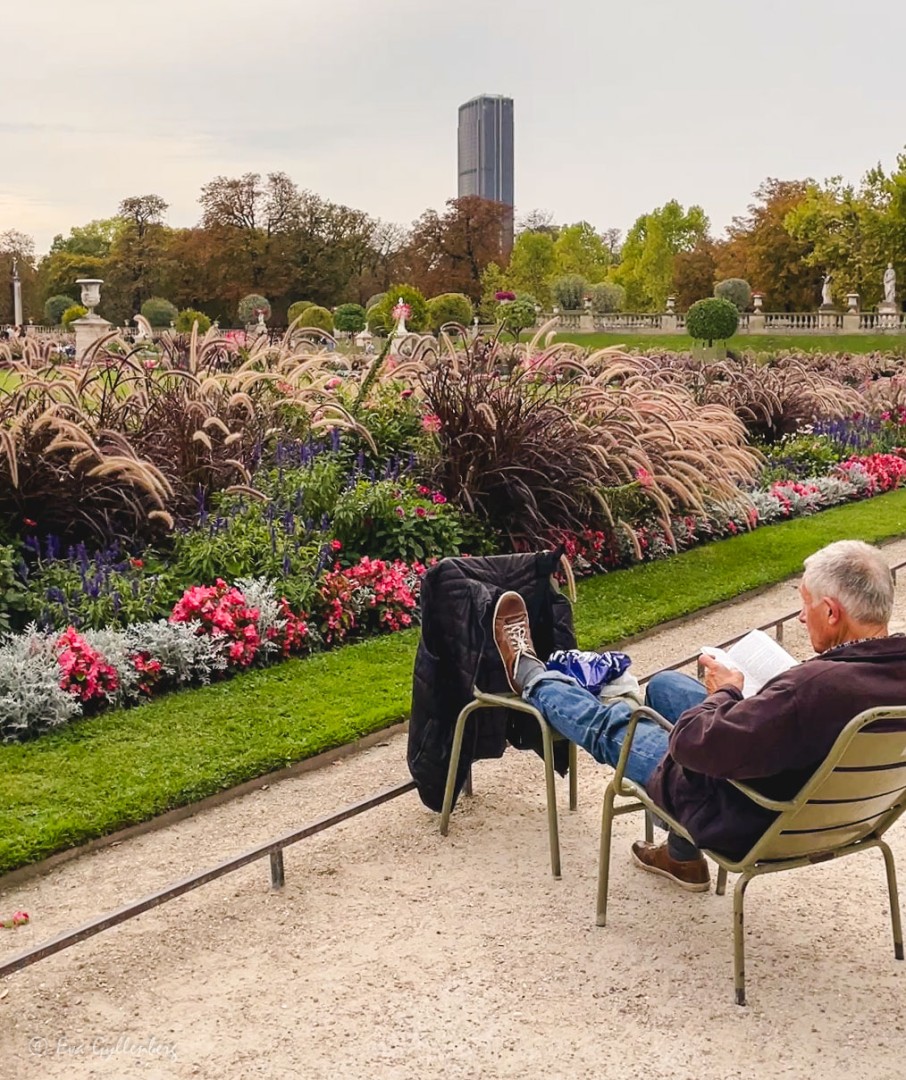 10. Shop at Fleux
If you didn't get enough interior design inspiration at the antique market, is Flow your next stop. A store that spans six different stores and blocks with interior design and lifestyle. Always a lot of people, always a lot of inspiration! In addition, you can shop online if you don't have room in your bag.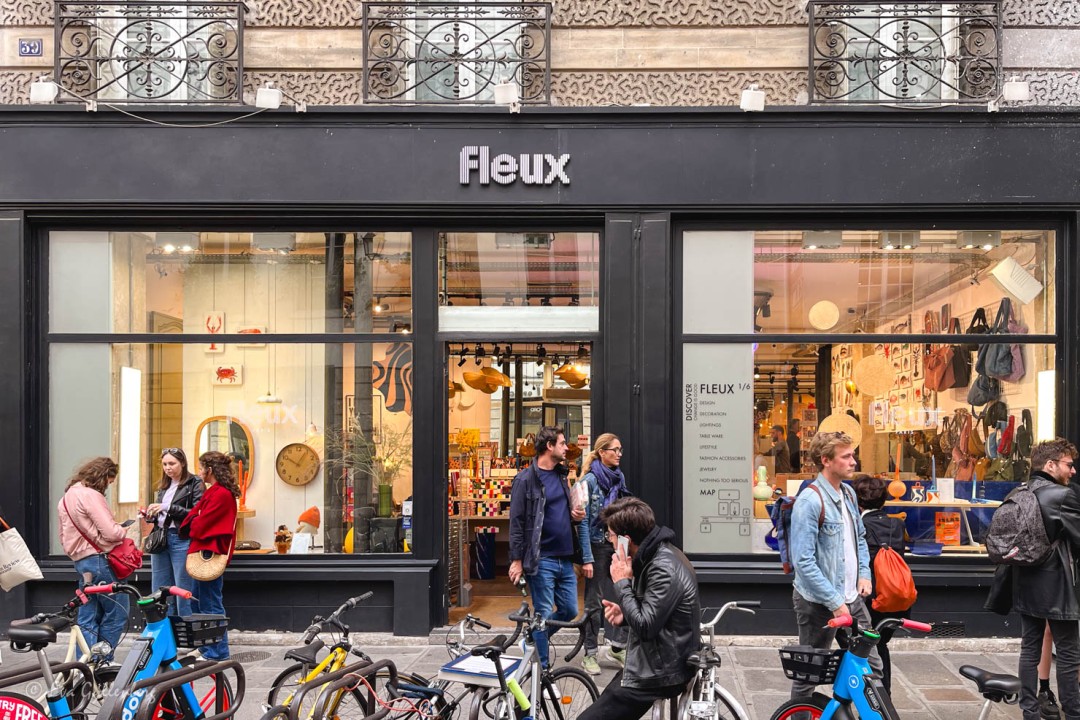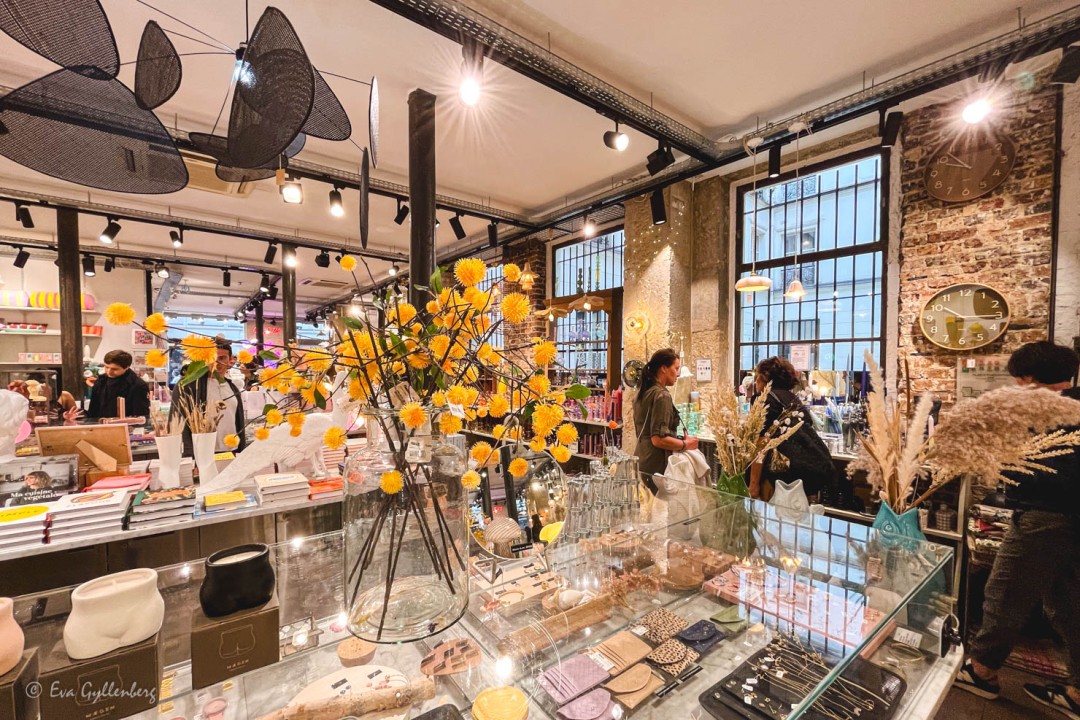 11. Rue de l'Université and the Eiffel Tower
I know I promised the list wouldn't include the Eiffel Tower, but if you haven't been to Rue de l'Université in the evening during the flashing light show of the Eiffel Tower, then you should head here. Here you get the best view of the spectacle, with slightly fewer tourists and completely free.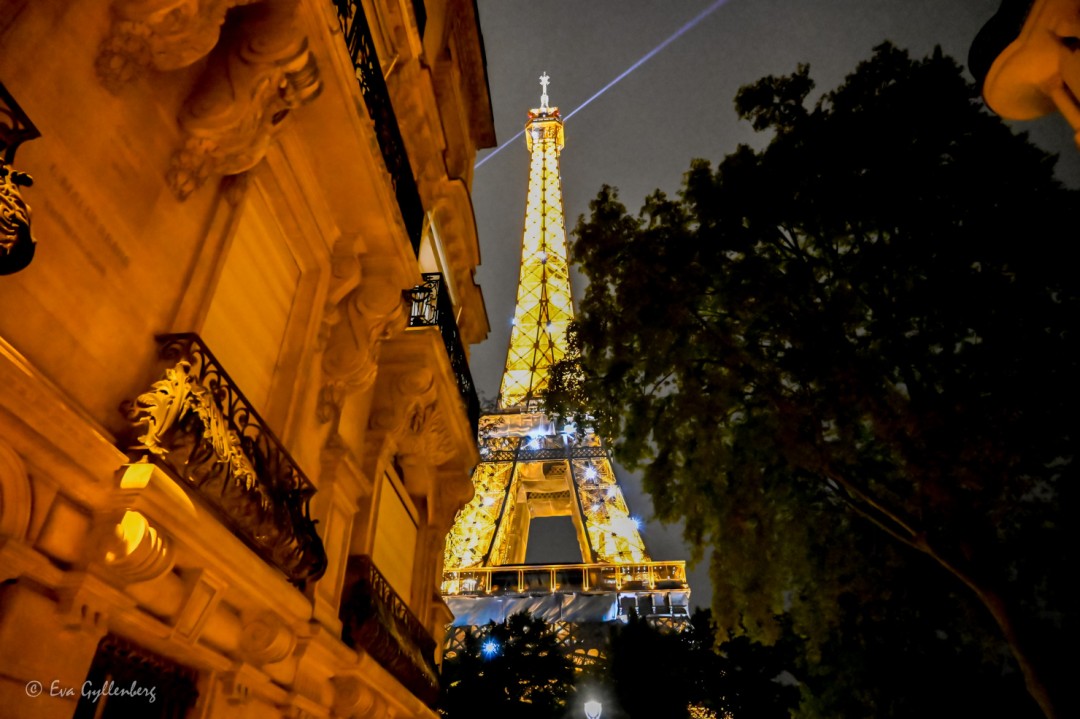 12. The sinking house in Montmartre
The sinking house in Montmartre is (as you probably understand) an illusion, but regardless, it's a bit fun to photograph the house on the steep hill. You often need to look at the picture both once and twice before you see what the picture shows. You will find the house and the view just below the Sacré-Coeur in Montmartre.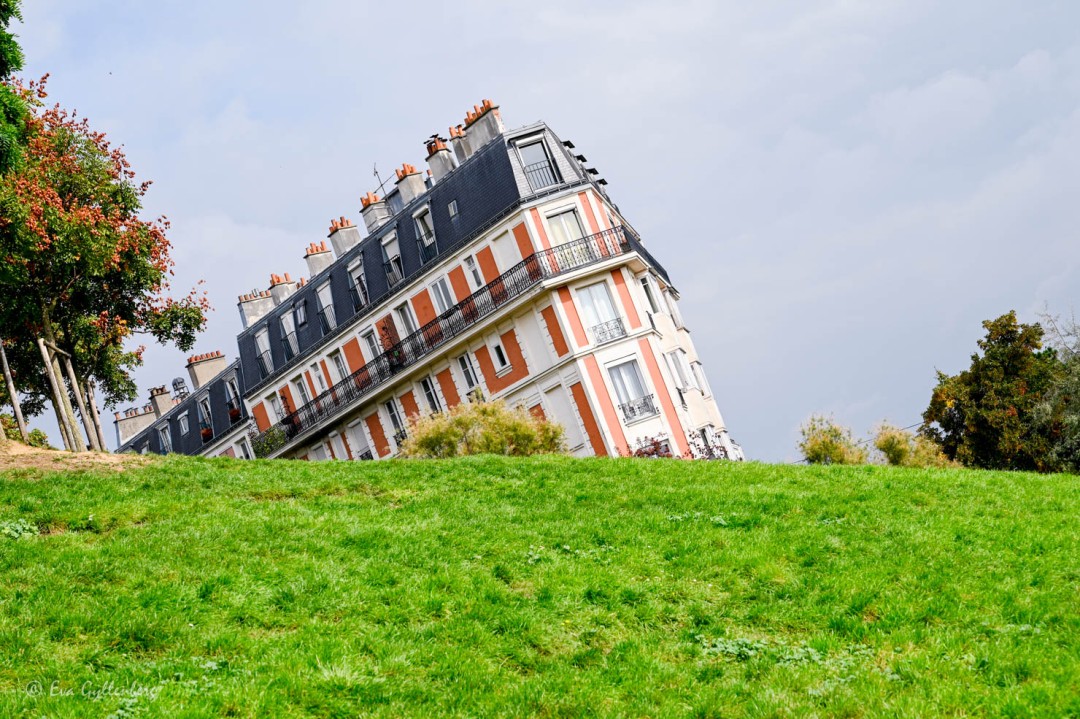 13. Bibliotheque Nationale de France
After being under renovation for over 10 years, opened French National Library Richelieu to the public in autumn 2022. This is one of the world's most beautiful libraries and the impressive architecture is well worth a visit, even if you are not going to borrow books. In addition, entry is completely free.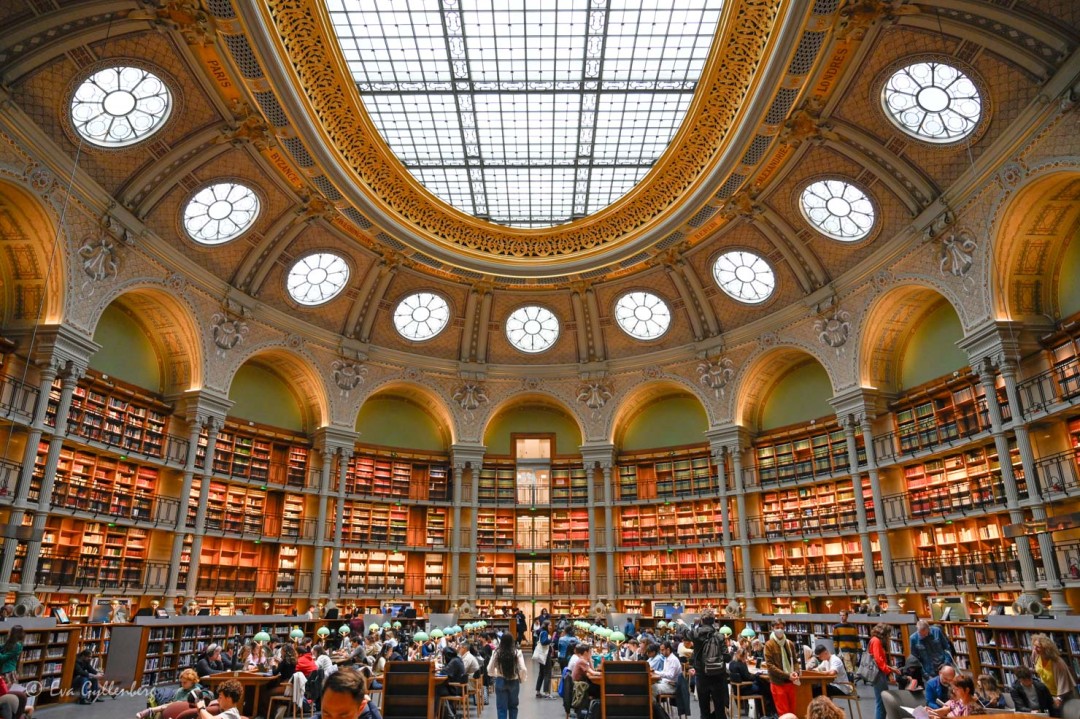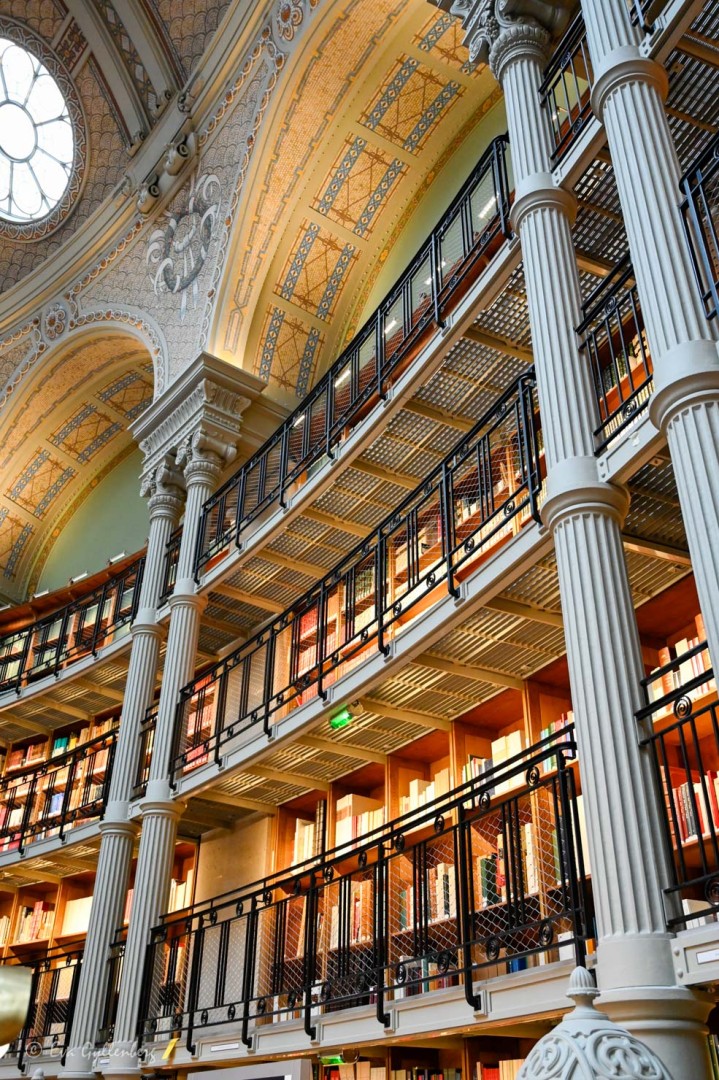 14. Rue de l'Abreuvoir
In Montmartre is the sweet street with the pink houses – Rue de l'Abreuvoir. Most famous for the house The Pink House at the top of the hill, with the verdant house facade behind. However, it is not for the pink houses that you should go here, but for the bronze bust of the singer Dalida Vid Place Dalida. It is said that touching the statue's bust will bring you good luck and prosperity, which you will clearly see many visitors have done over the years.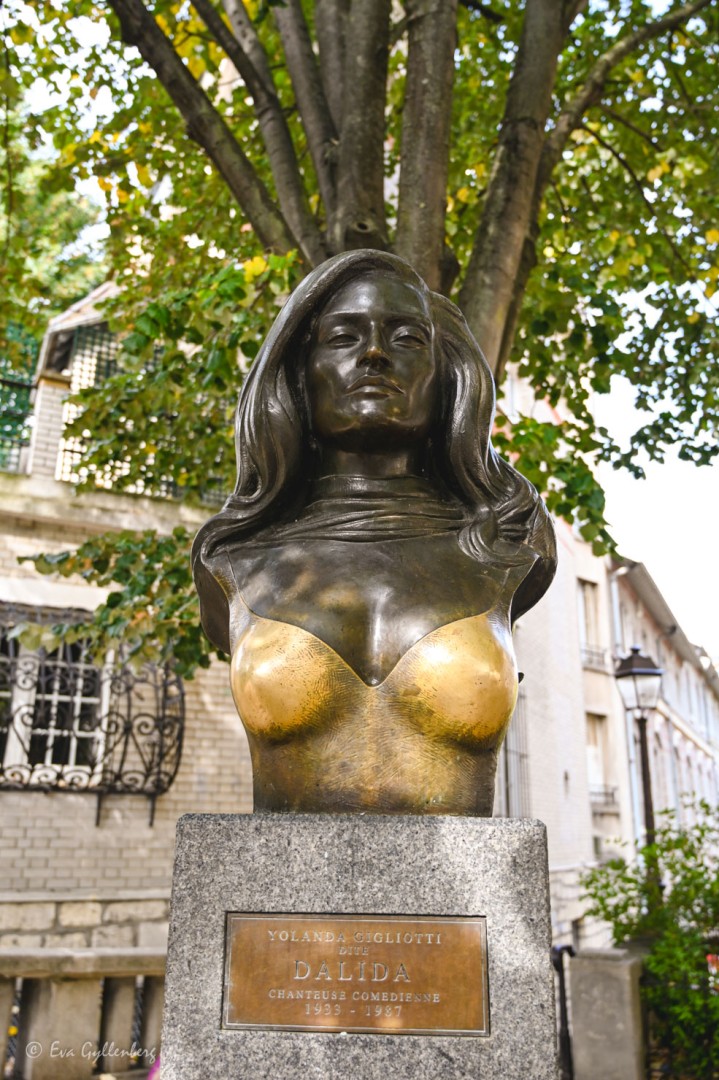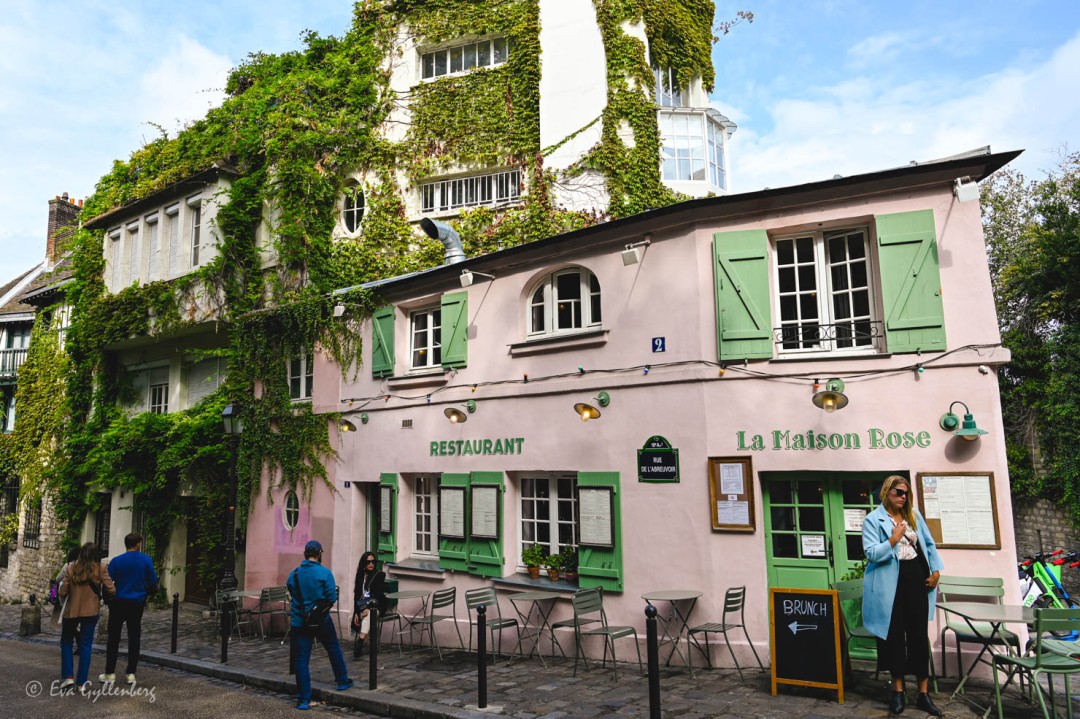 15.Street art
The streets of Paris are not only made up of beautiful old well-renovated houses and charming cafes. In alleys and back streets, on forgotten walls and on worn-out demolition houses, you will find today's most exciting art by tomorrow's artists. Political, provocative and often with a message. Banksy himself has of course also been here, but most of his works in Paris have been either stolen or destroyed over the years. But who knows when and where a new work will appear?
Take a guided tour of some of Paris' most famous paintings or why not plan a visit to the museum World of Banksy?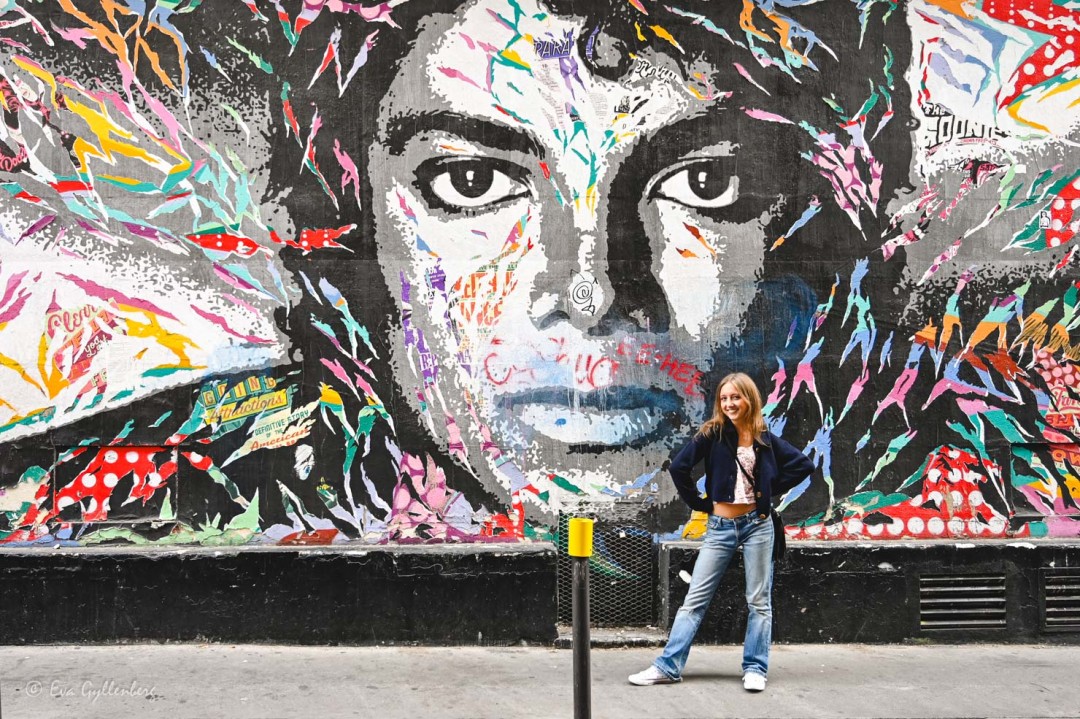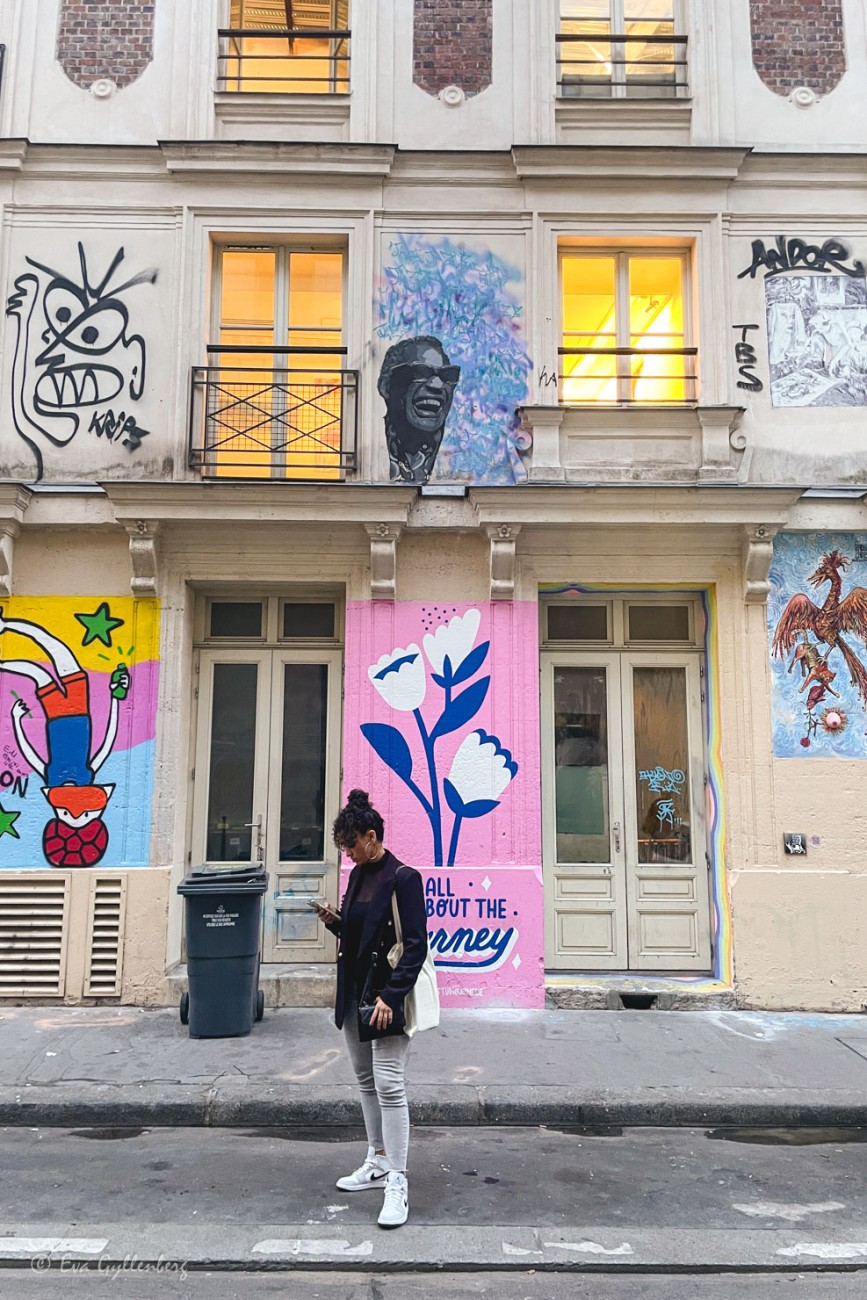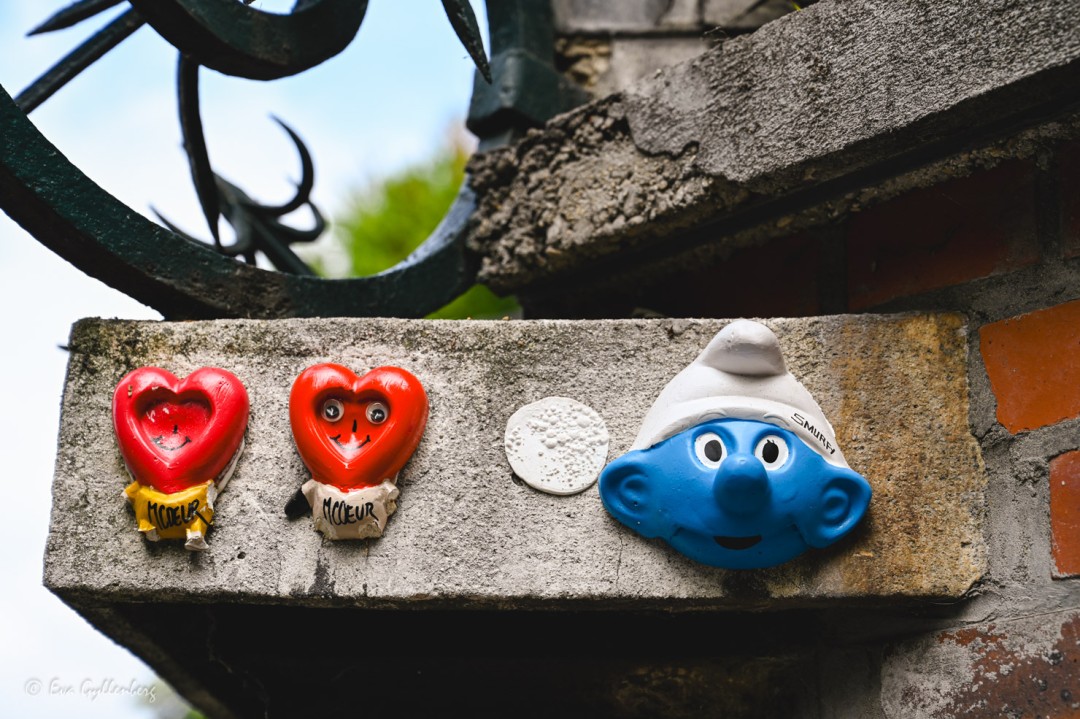 16. Shop the world's best second hand
Paris is one of the best cities in the world to find really good quality vintage finds. Search friperie and you will discover a whole world of bargains. Don't pack your bags full on the way to Paris, you might want to take an Hermès scarf or two with you on the way home.
Read about vintage shopping in my post Vintage shopping in Paris - How to find the right one among flea markets and second hand - France.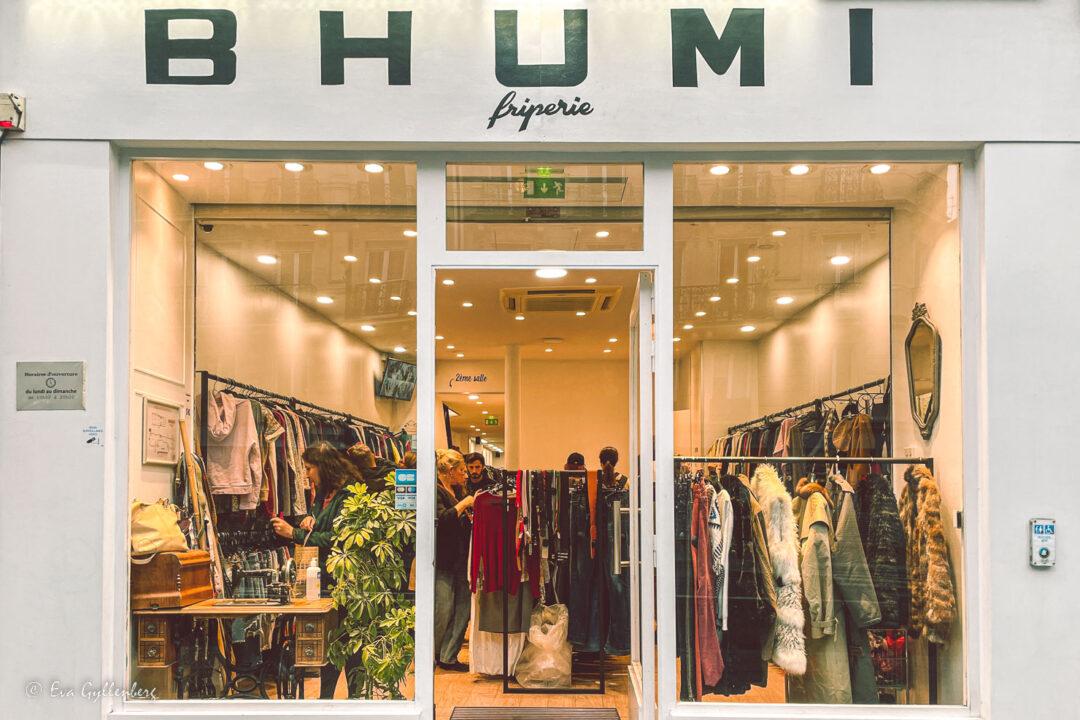 17. Palais-Royal
In the courtyard of the old royal palace Palais Royal you find the artwork Columns of Buren or The two trays. Ever since the black-white-striped columns of different heights were shown to the public for the first time in the 80s, they have felt the love and displeasure of the people. Today, they are more loved than hated and are popular for both play, wedding photos and fashion reports. Definitely one of the city's most Instagram-friendly places.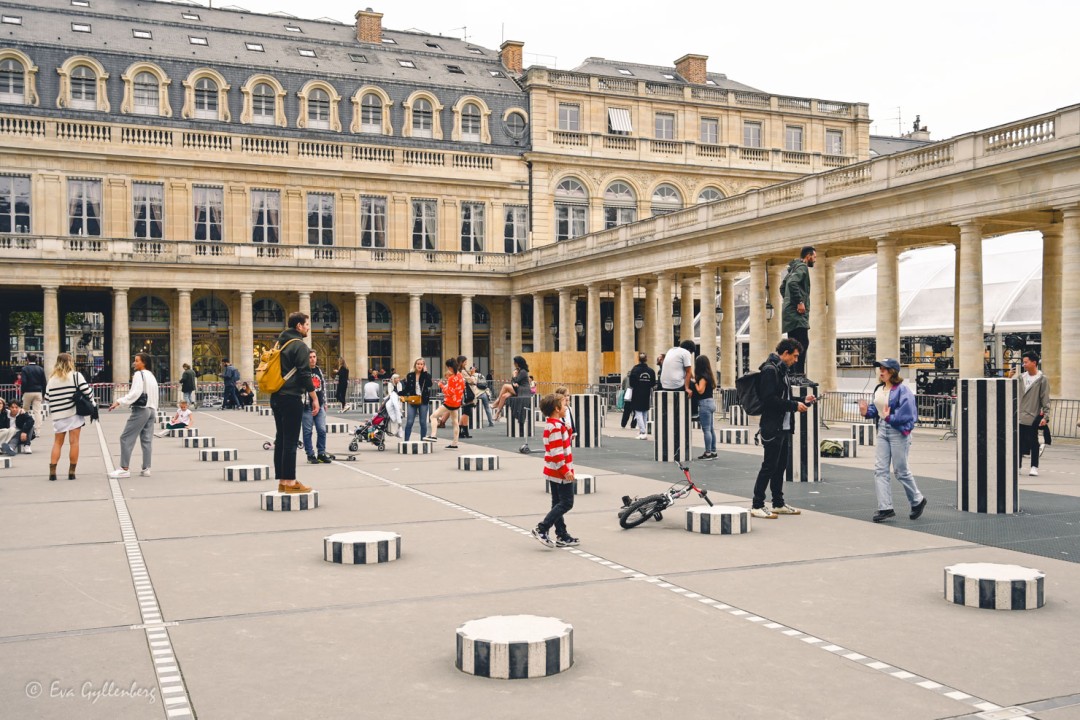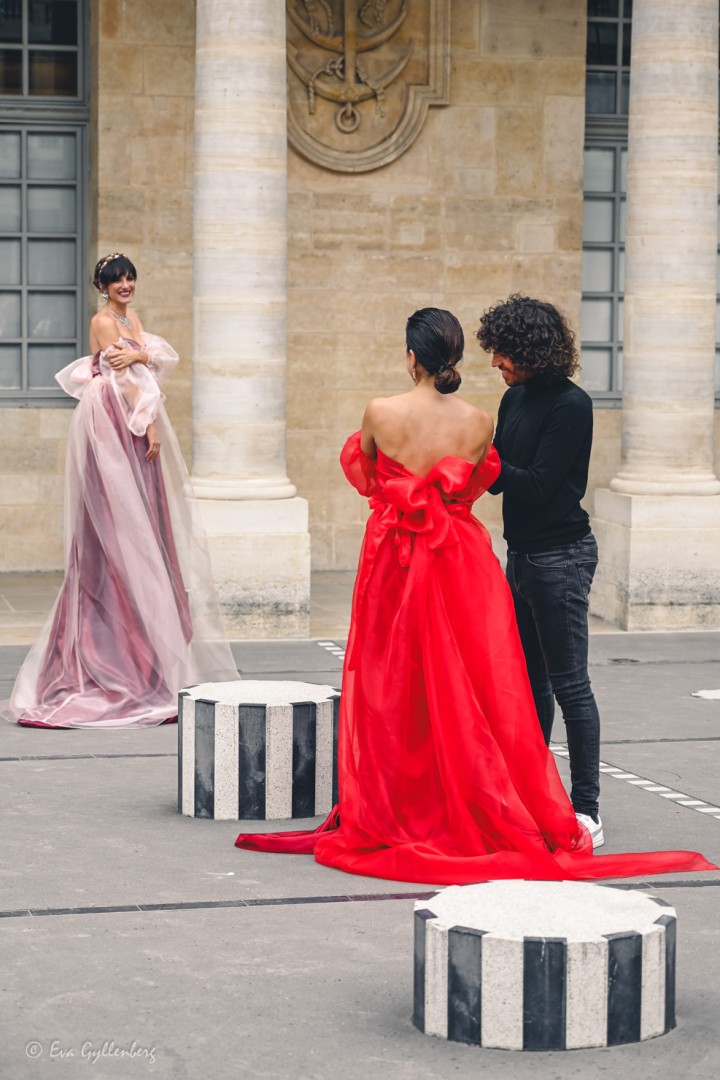 18. Rue des Rosiers
In the heart of the Marais is the beautiful medieval street Rosiers Street (Rosenbuskarnas gata). The street is very green (by Paris standards) and parts of the street are lined with trees and greenery. In homage to the street's former rose bushes, many shops have also covered their facades with pink artificial flowers that give the street a lot of charm all year round.
Rue des Rosiers has been an important hub in the Jewish quarter over the years, but has recently been largely taken over by trendy shops and restaurants. However, it is still possible to visit some of the street's classic eateries for an affordable meal. Here you will find, among other things, the recognized best falafel in Paris at L'as du Fallafel (keep in mind they are closed on Saturdays) and delicious Jewish pastries on The Yellow Shop de Sacha Finkelsztajn. If you (like me) love truffles, you should definitely visit Signorini Tartufi, a store entirely dedicated to products with truffles.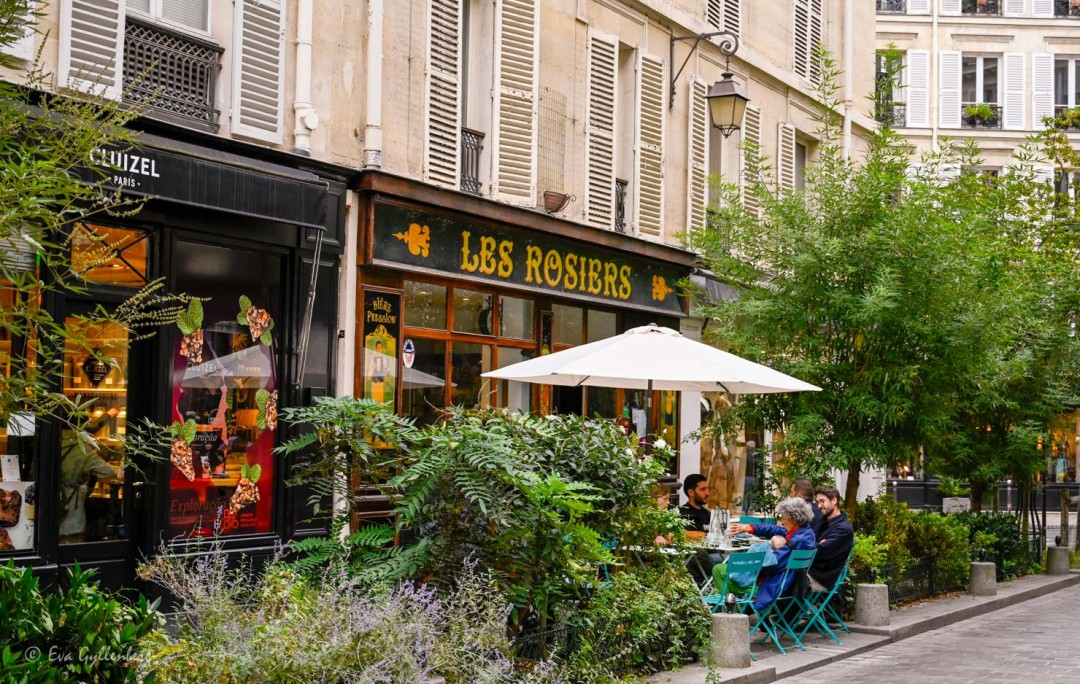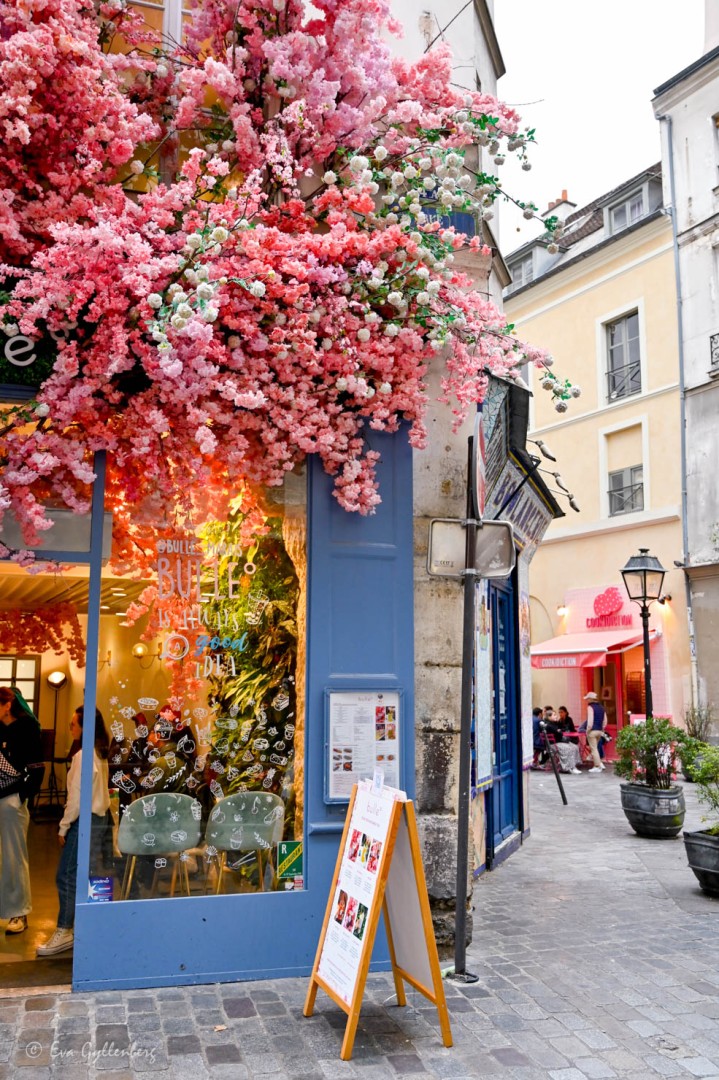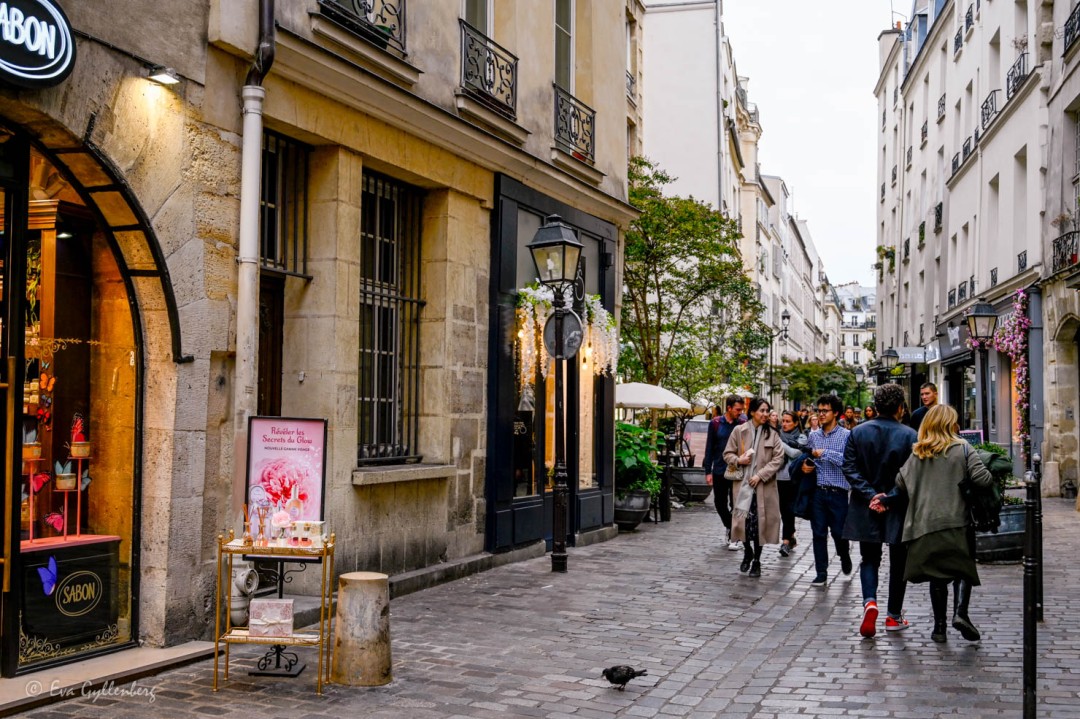 19. Rue Mouffetard – Market
Last on the list, but a street that is always cozy to visit. Located in Quartier Latin Rue Mouffetard, one of Paris' oldest streets known for its daily food market. Cheese, wine, meat, vegetables and snails - here is everything you need for a really good dinner. You will find most Parisians here during the morning hours on Saturdays and Sundays, but when the food market is closed in the afternoons, the usual cafes and restaurants take over.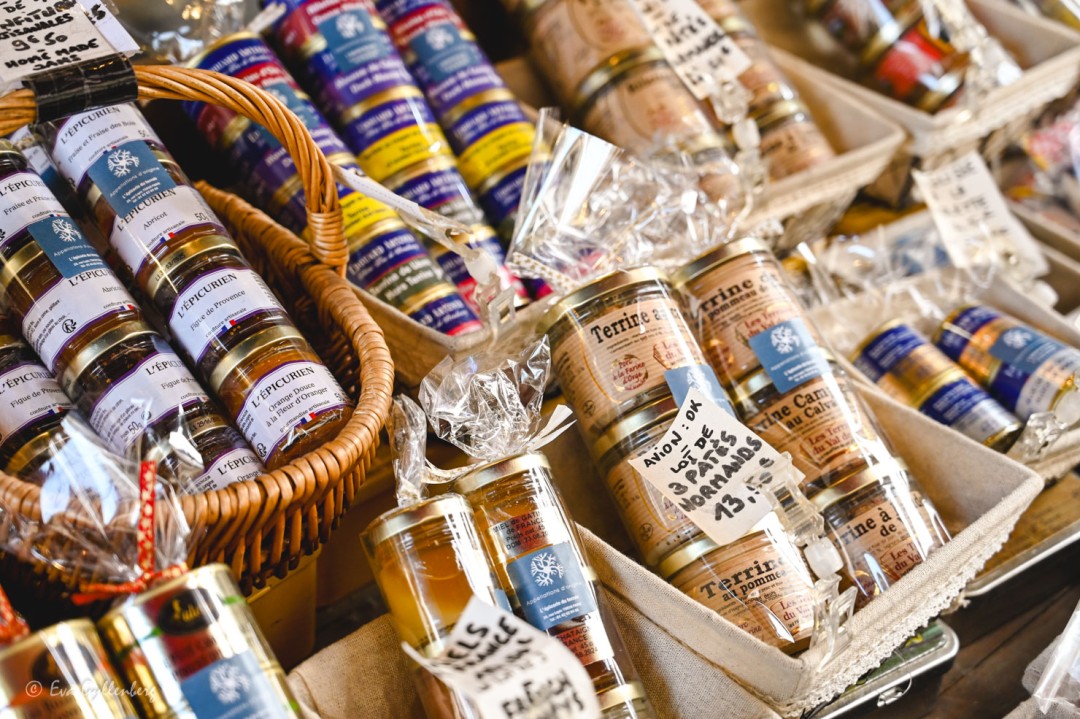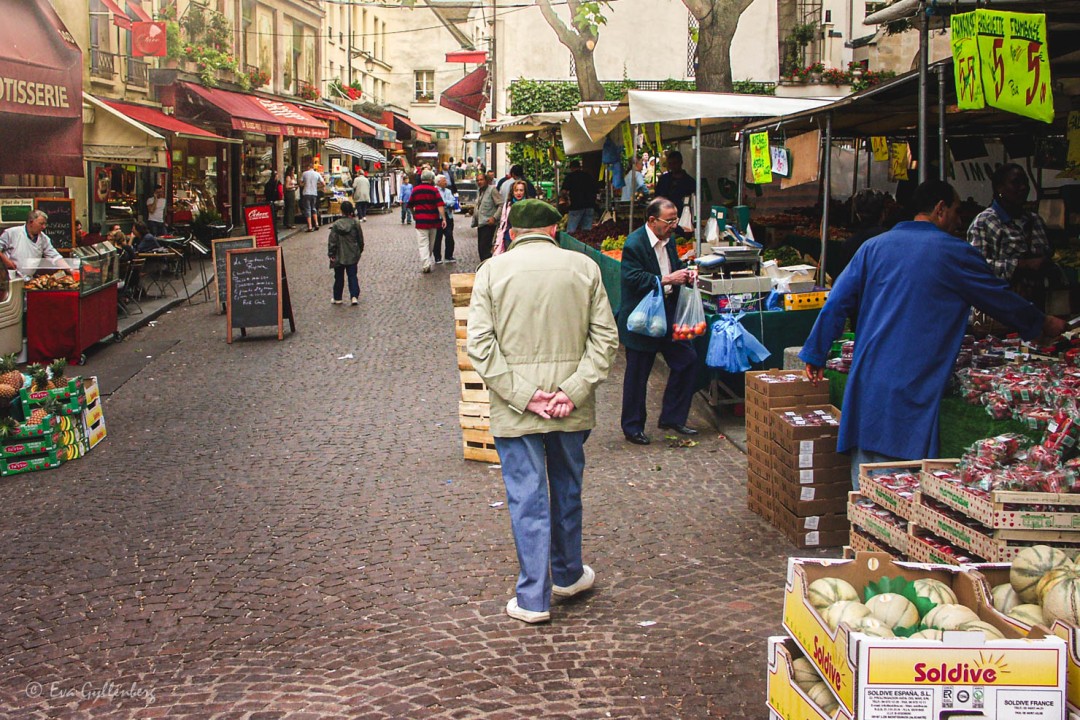 Those were my 19 tips for those of you who have already seen the Louvre and the Arc de Triomphe! What is your best tip for Paris beyond the Eiffel Tower?
Have you been here? What did you think of the destination?
Been there - didn't like it!
0
Not keen at all to go here!
0
Eva Gyllenberg
Travel blogger, gastronaut, photographer and family adventurer with over 55 countries in his luggage. Eva loves trips that include beautiful nature, hiking boots and well-cooked food. On the travel blog Rucksack she takes you to all corners of the world with the help of her inspiring pictures and texts.