Some people start packing for the trip weeks in advance, putting away clean clothes to take with them on the trip and buying new band-aids. Rather, we belong to the category of travelers who are usually awake half the night before departure before we have managed to find all the camera chargers and headache tablets that we should have picked up earlier. Luckily, we have a packing list that we reuse and that works whether it's a more luxurious weekend getaway or a backpacking vacation. The packing list we have adapted for traveling abroad with a child or baby, but it works equally well for adults and for all sorts of sun holidays, car holidays and charters. Use it as a checklist and tick off what you need and there is less risk of forgetting something!
We have divided the packing list between child/baby, adult, hand luggage and checked luggage.
In hand luggage (adult)
Passport + visa
Tickets with flight times (printed on paper or as a screenshot on the iPad - you never know when the battery in your mobile phone will run out)
European healthcare card (ordered from insurance fund)
Insurance papers (usually only the insurance number for the home insurance is needed)
Driver's license (if applicable, international driver's license)
Money (Swedish for the flight bus and exchanged travel currency - preferably also pennies for the airport on the layover)
(Sun) glasses + glasses case + lenses + lens fluid
Credit card, more than one! (And make sure they're unlocked for overseas use!)
Hotel reservations (preferably printed out, so that you have the address easily accessible even offline)
Guidebook to the destination
Security pocket (to hide money in under your clothes if you travel to less secure countries)
"Plastic straps" (Indispensable! For locking bags, fixing things that break etc)
Necessary medicines for the trip - Read more here.
Camera + charger
Extra storage media for photos (SD card) and photo adapter for the iPad (so you can blog your photos directly)
Headphones (with flight adapter), preferably with noise cancellation
IPad, mobile phone and/or laptop + charger
Ink pens (for filling in the landing forms on the plane)
Readly on the toad or physical newspapers (preferably with crossword puzzles)
Loose sweets and chips - so the cinema feeling comes to the feature film on the flight
Handkerchiefs and wipes (to wipe hands/airplane table)
Vaccination certificate (mandatory in some countries)
Earplugs
Sweater (if you spill or freeze on the plane)
Swimwear (indispensable if luggage goes missing!)
Flight bonus card/Priority Pass (for possible lounge visits)
Neck pillow
In hand luggage (for smaller children)
Pastime! Book, iPad, coloring book, pencils
The teddy bear or cuddly blanket
Pacifiers + pacifier holder (important – a lost pacifier can ruin a trip)
Sandwiches, snacks and children's food (indispensable in case of delays + children under 2 usually do not get food on the flight)
Diapers and wet wipes. Take more in your hand luggage than you thought.
Bib
Towel for the changing table
A complete change of clothes for accidents (pants + shirt + underwear)
Plastic spoon and water cup
Large baby bottle
Baby carrier
Resealable plastic bags (to keep track of everything from snacks to wet clothes)
In checked luggage – hygiene items
Shampoo + Conditioner + Soap
Toothbrush + toothpaste
Shaver/Razors
Lenses + lens fluid (the ones you don't have in your hand luggage)
Tweezers
Band-Aid
Nail scissors
Sun cream + cooling balm
Fluid replacement
Mosquito repellent
Fever thermometer
Nail scissors
In checked baggage - adult
T-Shirts
Sweater
Jeans / Skirt / Pants
Underwear
Socks
Shorts
Skirts
Plastic bags 3 liters - for dirty laundry, wet swimwear etc
Tanks
Windbreaker
Pyjamas
Dresses (and tights)
Comfortable hiking shoes + hiking sandals
"Finnish shoes"
Cap/sun hat
Bath towel
Fleece jacket (for chilly hikes)
Snorkeling equipment
Umbrella / Rain poncho
Travel hair dryer + Flat iron/Curling iron
Makeup and cheap jewelry (leave the diamond ring and expensive watch at home!)
Power adapter
Flashlight
Handbag with zipper compartment. (Leave any branded copies at home - otherwise you may end up in trouble at customs in Italy and France, for example)
Hand detergent (type Y3)
GPS or Google Maps offline if you rent a car (Expensive to use the mobile phone abroad in many countries and expensive to rent a car with GPS!)
In checked baggage - children (mixed age comp)
Porridge powder (almost impossible to get hold of abroad) + porridge measure
Baby bottle
Dish brush for baby bottle
Nappies for the first days (number depending on destination)
Sunglasses
Sunbonnet
Sun suit
Thin blanket (for carriage or sun)
Stroller that can be folded up + travel case
Mosquito net + rain cover for the pram
Short-sleeved shirts + bodies
Thick long-sleeved shirt
Tights
Soft comfortable trousers / skirts / shorts
Dresses
Socks
Pyjamas
Comfortable walking shoes/sandals
Kettle (for gruel or porridge or for disinfection of baby bottles). Available for both standard electrical outlet and car.
Unbreakable small thermos (for hot water on day trips)
Baby food tins - rather a few too many than a few too few. Always eats.
And you, before you start packing everything into bags, gather all the packing on the floor. When it's done, make sure that remove half (!) of the stuff, make a final check so that everyone clothes match each other and then pack the things into the bag. Before we had children, we each preferred to travel with our own large backpack – Eva with 40 liters and Anders with 60 liters – and each with their own small practical day trip/hand luggage backpack with lots of compartments. Nowadays, we travel more often with duffel bags/cabin bags than backpacks, but for reasons of flexibility, always try to travel with only hand luggage if the trip is shorter than a week.
Do you want to read more about packing?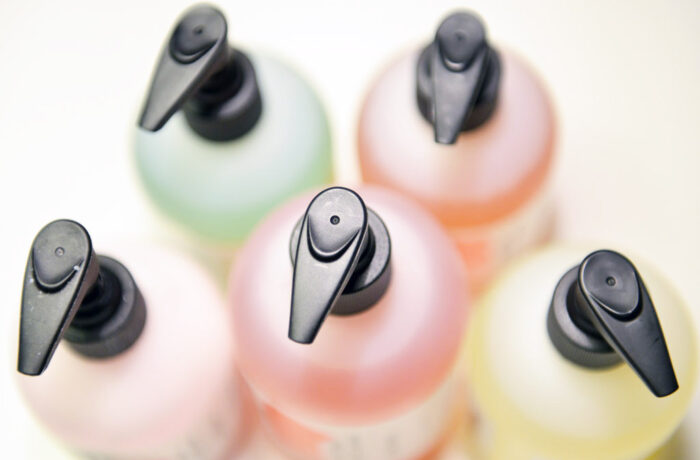 If you get sick on the trip, it's good to have a…
March 1, 2020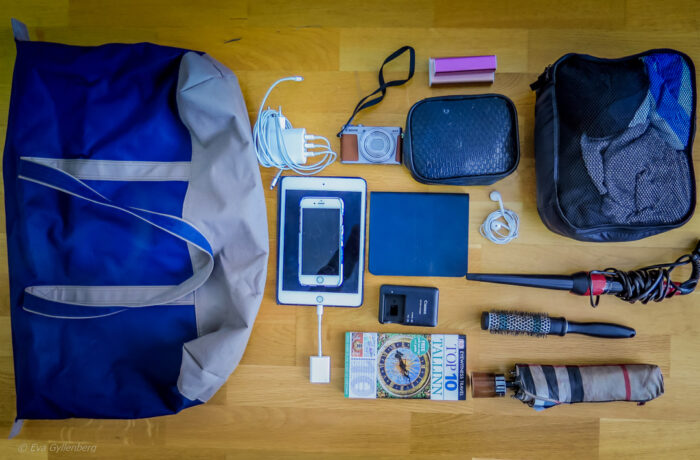 I have previously written about how to travel on a weekend trip with only carry-on luggage.…
10 October 2018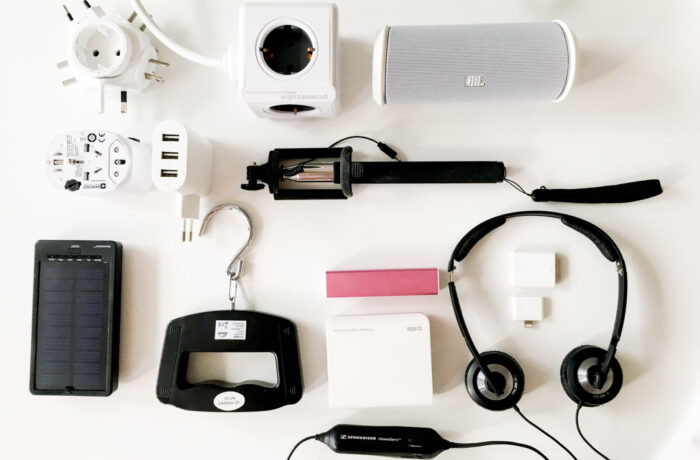 You've packed the most important stuff. But you haven't forgotten these tech gadgets, have you?
28th of May 2017