For those of you who may have read Porto - when it's not love at first sight, know that I had a little trouble finding the feeling in Porto. However, one thing that had always appealed to me about Porto was its restaurants. Porto is a real foodie city. Here you will find a large number of innovative restaurants, one more expressionist than the other.
Before the trip I had read all sorts of food blogs and finally decided to book a table at a restaurant Caffeine in Foz, the fine district of Porto where the Douro River meets the Atlantic. Actually, I would have liked to have booked one of the Michelin star restaurants, but when you travel with children you have to compromise a bit. A la carte is clearly better for a family with children than a tasting menu... Cafeína is one of the restaurants in Porto that the Michelin guide recommends and that so many blogs had praised. There were also tables available on the day we were to be in Porto, so I booked. Perfect! Then we could go to the coast a little before sunset and try some different kinds of port wine at an outdoor terrace before dinner. Because now, surely Porto would show their best side, wouldn't they?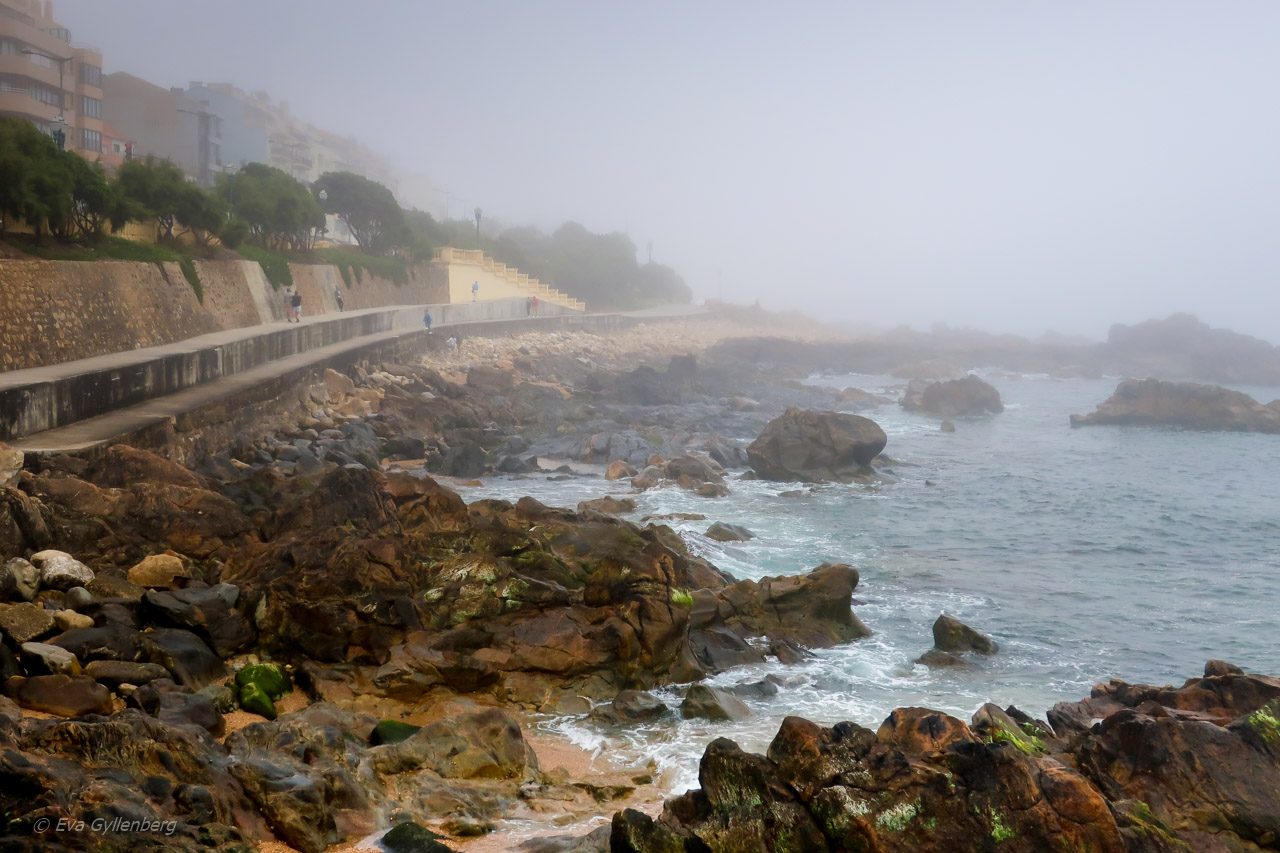 The closer we got to the coast in our taxi, the more the fog rolled in. But this weather must still be temporary, right? It was the middle of August and the sun was shining in Porto when we left the hotel. There can't be such a difference in just a few kilometres, can it?
We got out of the taxi. It wasn't fog. It was thick. We could hear the boats' foghorns sounding on the horizon, but literally couldn't see a thing.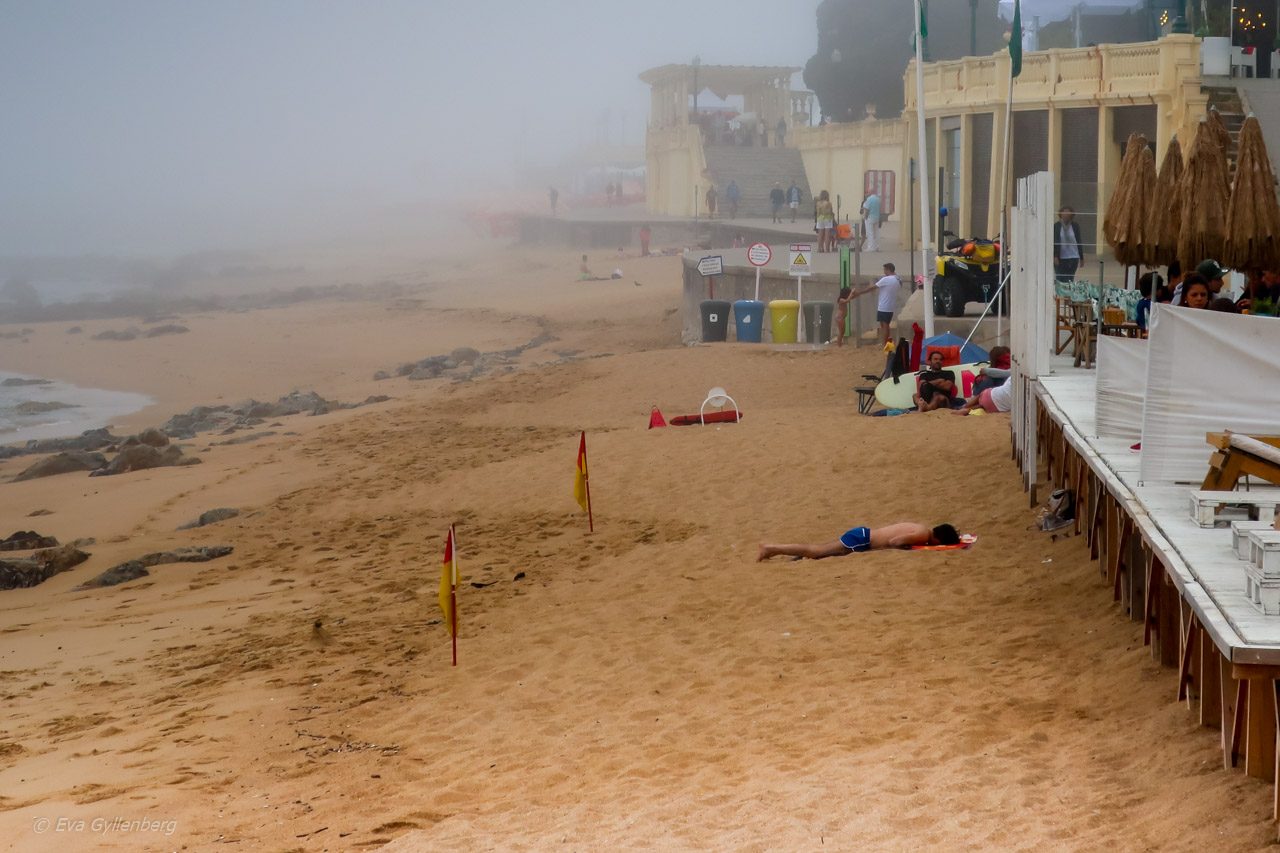 What a night. Chilly, incredibly humid and not the least bit inviting. Just as we were about to give up on our dreamy port evening at sunset, we see a man. He is lying on the beach on a towel and "sunbathing". At first we almost thought he was dead. Who else is sunbathing on a cold beach in the fog? Suddenly he bent his lower legs up into an "L", shook them a bit and then fell asleep again. This is probably the most dedicated vacationer I have ever met. But if you're on a sun vacation, I guess you have to go to the beach?
We looked at each other. If that man could lie on the beach and sunbathe on a day like this, surely we could still have a little port tasting at a beach bar? Life is too short not to take advantage of every opportunity for pleasure - even if the fat one was lying over the beach like a gray nightcap!
We settled down at one of the bars and ordered some tasty snacks and three types of port wine. A glass of Ruby, a glass of Tawny and a glass of Vintage. Right then and there, I didn't know the difference between these three port wines, but I would learn that at a vineyard in the Douro a few days later.
We had over an hour left until the restaurant opened at 19:30. The daughter wrapped herself in a blanket. I struggled to relax in the chilly winds and managed pretty well. It might have been the port wine, it might have been the lovely company - but in the end I didn't freeze anymore.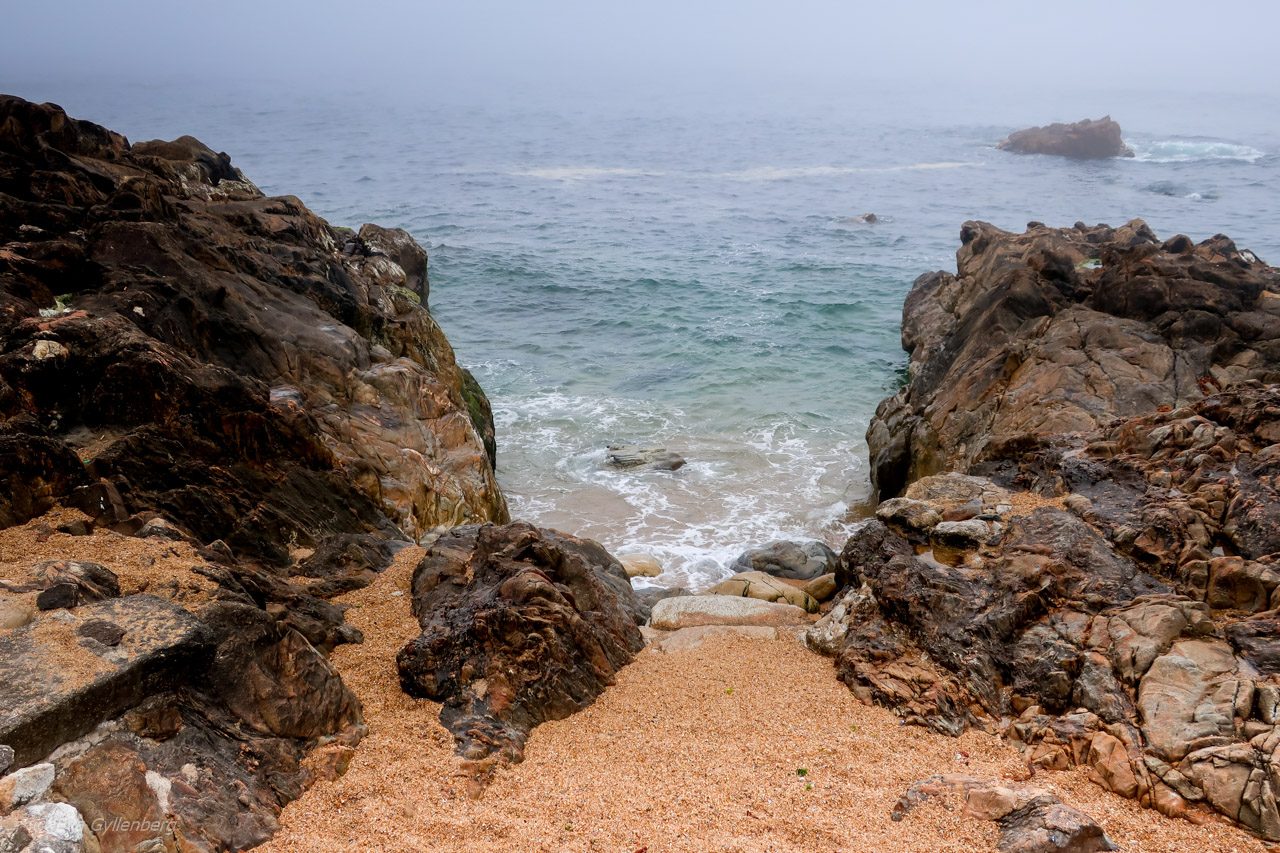 There is a little side story that bears telling in this context, before we get to Cafeína. When we checked in at Hotel Intercontinental in Lisbon a few days earlier, the receptionist told us that he was born in Porto and asked if we wanted help booking a restaurant. I vaguely mentioned that we had booked Cafeína and wondered if he had heard of that restaurant? "Of course", he replied with a laugh. "Cafeína is one of Porto's best restaurants!" He told me that the Brazilian president had even landed in Porto with his private plane just to have lunch at Cafeína! So if I had high expectations for Porto in general, it's safe to say that my expectations for tonight's dinner were even higher.
We were the first guests inside the restaurant when it opened at 19:30. We were getting used to being first at this point, we Swedes definitely have slightly earlier eating habits than the Portuguese. The dining room was nicely decorated in classic international style, with comfortable chairs and nice lighting.
The wait staff began to flock around our table. Everything would be perfect. The Portuguese began to trickle in, company after company. It didn't take long before the dining room was full.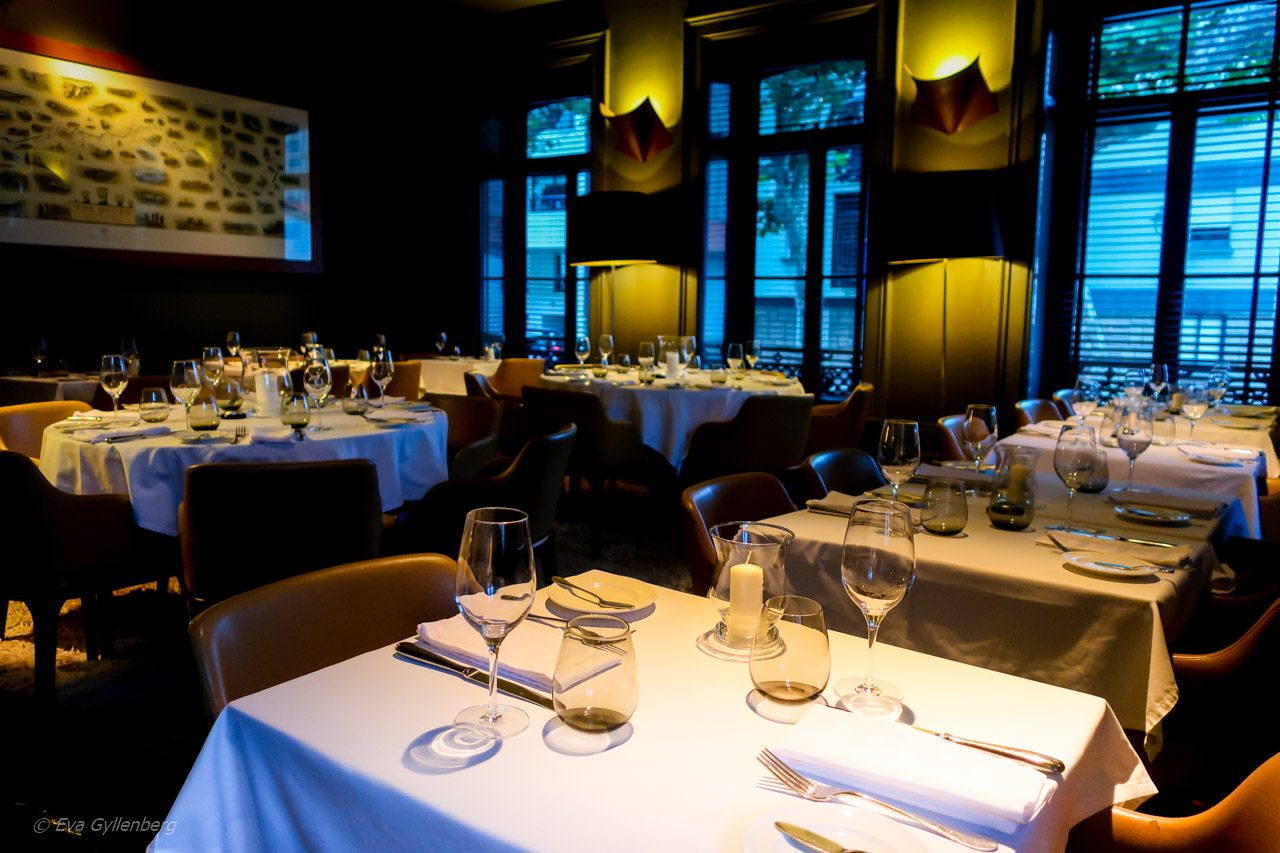 We decided on three dishes from the menu. For starters I ordered one tuna tartare with black beans and green apple, to main course one beef fillet with foie gras, black truffle and potato cake and for dessert I chose a "Abade Priscos" pudding with Requeijão cheese cream and mandarin sorbet. The prices were unexpectedly low. The beef tenderloin cost 22 euros (the most expensive dish on the menu), starter and dessert cost 7,50 euros each.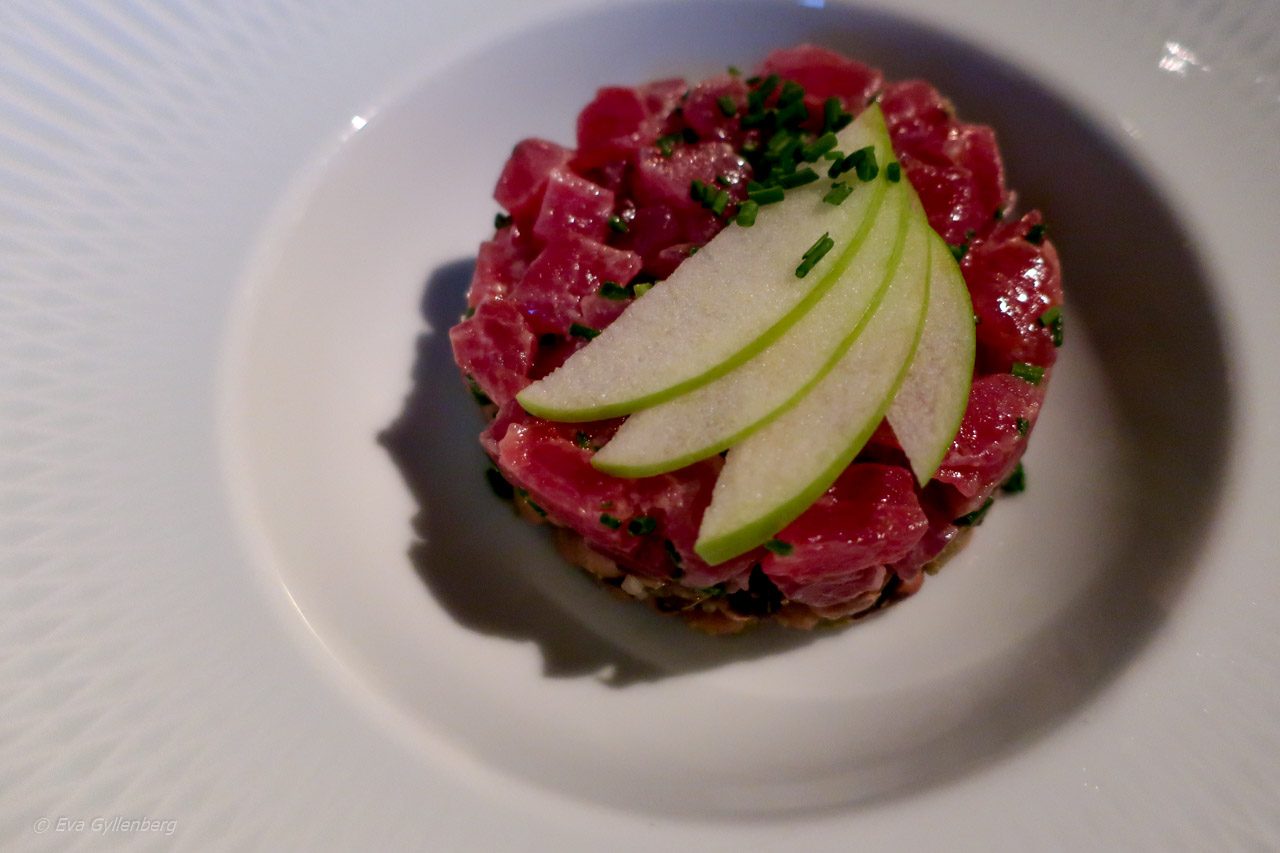 The tuna tartare comes in. Absolutely perfect. The daughter probably ate more of my starter than her own. When it's this good, you have to share.
Read more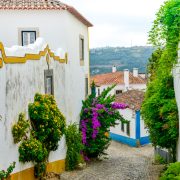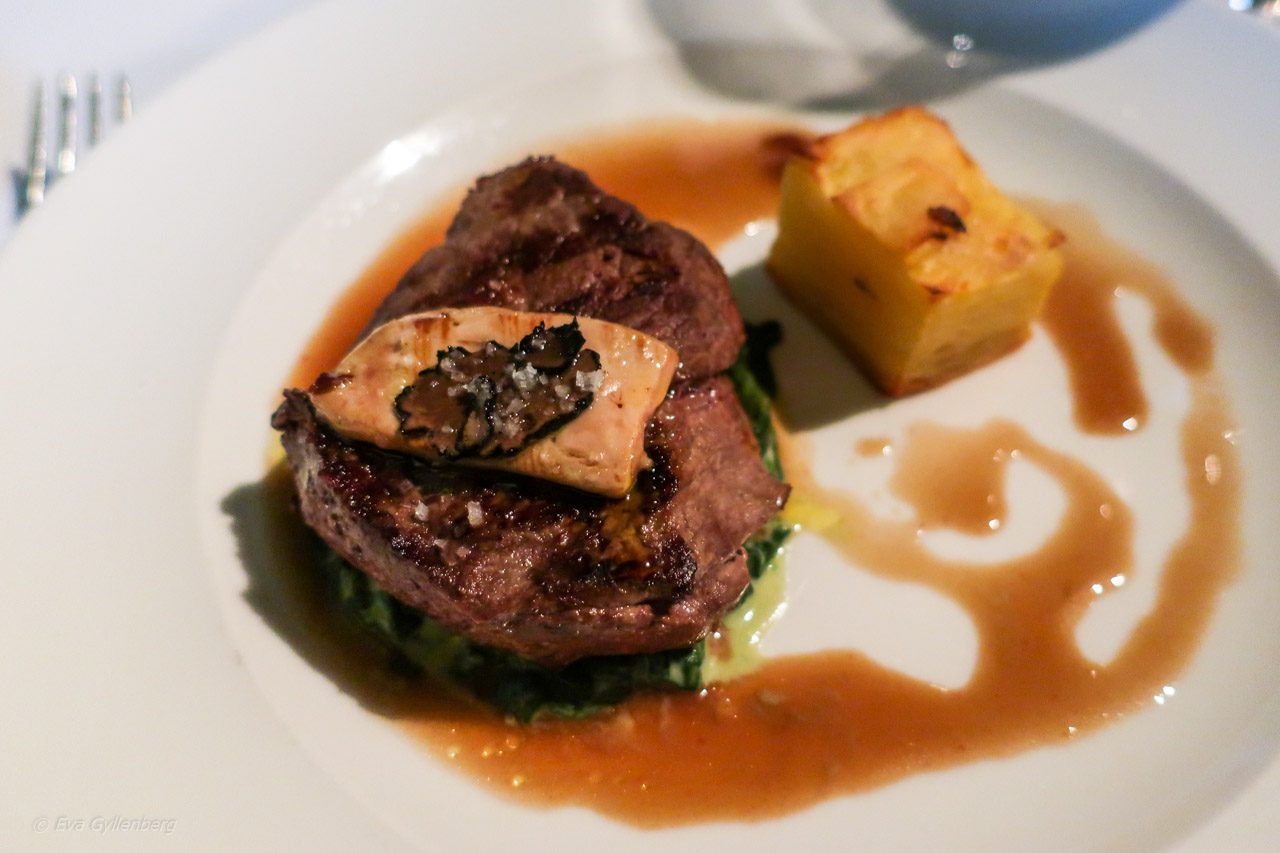 The main course didn't disappoint either. A large piece of perfect medium rare beef fillet with a thick slice of foie gras and thin slices of truffle. A real flavor explosion. At home in Stockholm, I would have had to pay at least twice as much for this right. So incredibly good.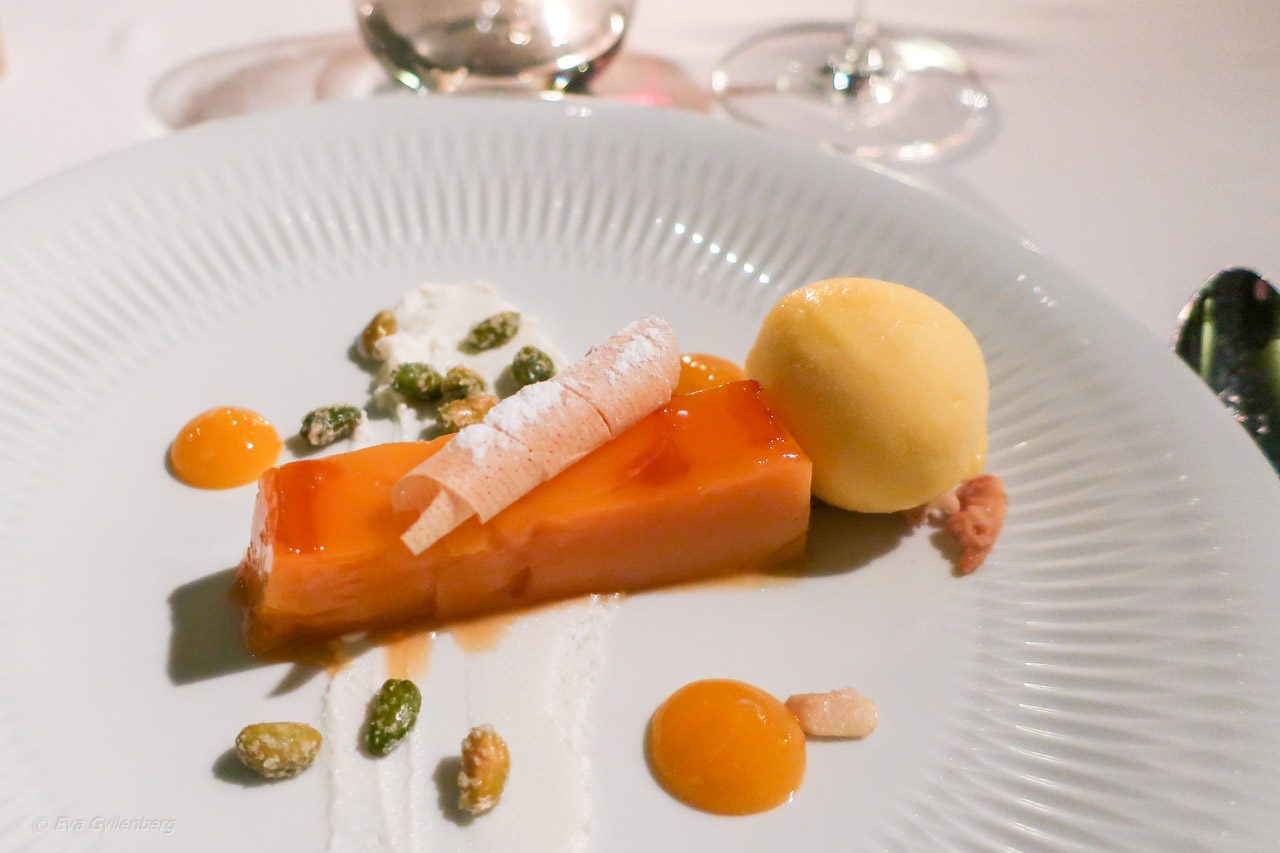 The dessert was no worse. Abade Priscos is a Portuguese "crème caramel" pudding made with egg yolks, sugar, port wine and bacon(!). It doesn't taste like bacon though, I guess the salt brings out the flavors more and makes it "salted caramel". In any case, it was incredibly good, especially with the slightly salty cream cheese against the sweet pudding and the sour ice cream.
What a dinner! What a night! Cafeína delivered beyond expectations (which were still very high)! If the way to my heart is through my stomach, then suddenly Porto is very convenient! 🙂 What's a little fog in Foz, when you can end a perfect day with an even more perfect dinner!
Do you want to read more from Portugal? Look into my Portugal page!
Want to read more of my travel tips? do not forget to like Rucksack on Facebook!
Have you been here? What did you think of the destination?
Been there - didn't like it!
0
Not keen at all to go here!
0
Eva Gyllenberg
Travel blogger, gastronaut, photographer and family adventurer with over 55 countries in his luggage. Eva loves trips that include beautiful nature, hiking boots and well-cooked food. On the travel blog Rucksack she takes you to all corners of the world with the help of her inspiring pictures and texts.