Vietnam is a fantastic country to visit for those who like exciting food. Vietnamese cuisine is often forgotten when talking about Asian food, perhaps because the food is neither as spicy nor cloying as the famous dishes from other Asian countries. In Vietnamese food, you'll find much more subtle flavors, based on lots of fresh spices, slow-cooked meats and mild broths. We really ate our way through our trip and tried most of what are considered local specialties. What a food trip! Here is a long post with our 18 favourites.
Two warnings though!
To those of you who are vegetarians - there are lots of amazing vegetables in Vietnam, but unfortunately it is not easy to find pure vegan/vegetarian food. A "Pineapple Rice" for example obviously also contains seafood (!) and the noodle soup is usually cooked in meat/chicken broth. Every single time I've asked for vegetarian, the chef has looked at me like he really doesn't understand what I'm talking about. The salvation has been to order in side orders and a bowl of boiled rice - for example, there are almost always garlic stir-fried green beans and morning glory. However, they are sometimes served stir-fried in oyster sauce, so be clear when you order!
To those of you who are peanut allergy - there are a lot of peanuts everywhere in Vietnamese food. For example, the specialty "mango cake" does not contain mango at all but peanuts, and everywhere at the breakfast buffets and restaurants there are bowls of crushed peanuts for seasoning.
(Sorry for the picture quality, but it was a bit too dark for good pictures of most of the restaurants + that there are several iPhone pictures)
1. Cao lau with pork
High floor is a local dish in Hoi An, consisting of noodles, pork and loads of fresh spices. It's not a soup, although it does have some broth, but rather a luscious noodle dish. What makes the dish unique is that the noodles need to be cooked in water from a specific source outside of Hoi An. This gives the soup a special taste, which cannot be found anywhere else.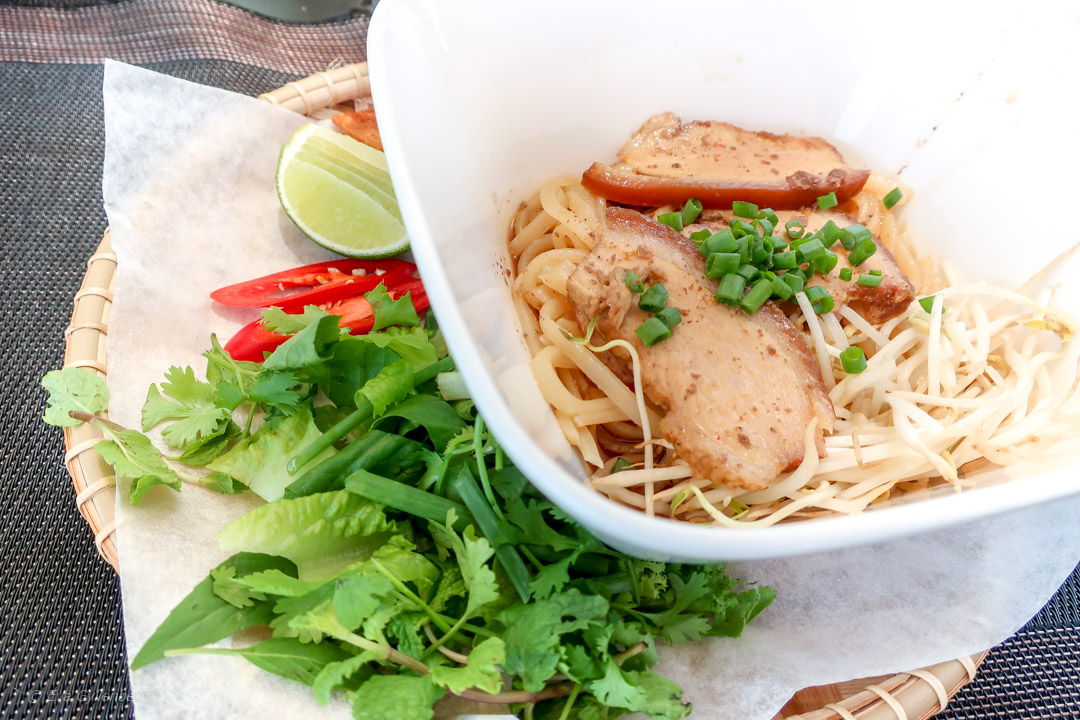 2. Fried spring rolls
Rice paper rolls come in all shapes and varieties, filled with vegetables, shrimp and rice noodles. Often served with Nước chắm, a sweet and sour sauce (as you see in every other picture). Order as a starter and share, a perfect little snack with the meal!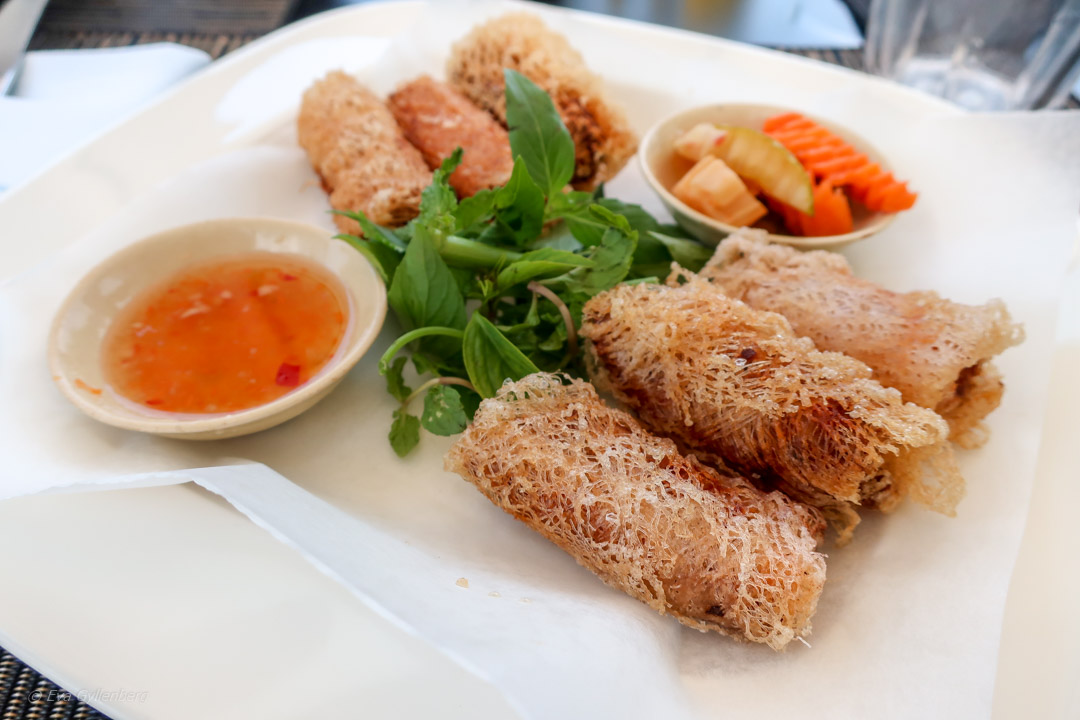 3. Vietnamese coffee
Strong, sweet and refreshingly delicious – approx cools well in the heat. Filtered through a metal filter, sometimes served with thick condensed milk and ice cubes. I started drinking this every morning instead of my usual latte. An alternative serving is with coconut cream. Sinfully good.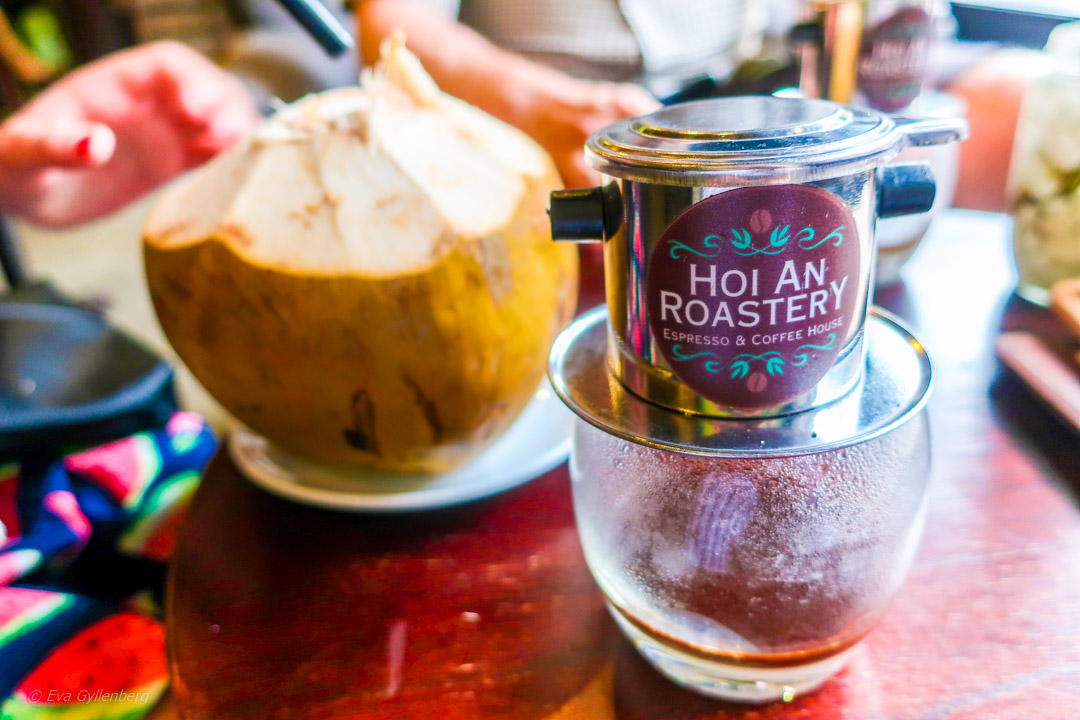 4. Vietnamese Hot Pot
Vietnamese hot pot very similar to the Chinese equivalent, where you cook meat, seafood and vegetables in steaming hot broth. We had a tasty sweet and sour broth and large amounts of fresh spices, vegetables, beef and rice noodles in our hot pot. Something you should definitely try if you find it on the menu!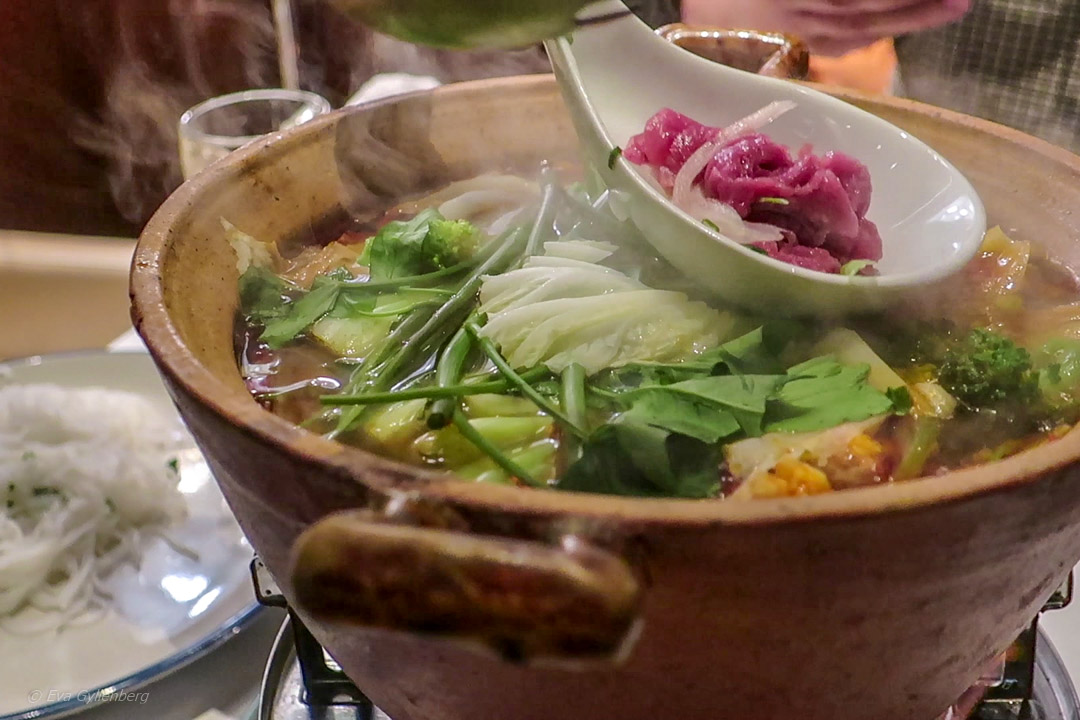 5. White roses
White roses are another local delicacy in Hoi An, made to a secret recipe by a single family who distribute their treats to restaurants throughout the city. These small translucent dumplings are shaped like flowers and filled with pork or shrimp and they are served with fried onions and a sweet sauce. Soooooo good!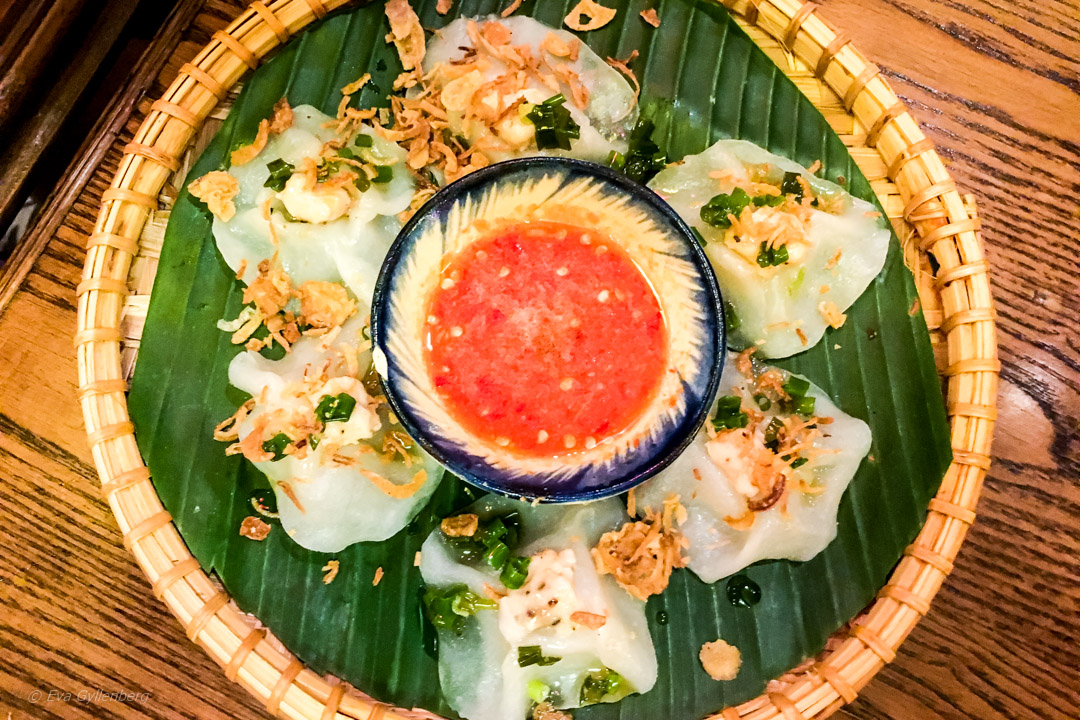 6. Prawns in Hoi An chili paste
Seafood accounts for the largest share of dishes on menus in Hoi An and prawns come in most flavors and forms. The variation I loved the most was prawns stir-fried in Hoi An chili paste – a local chili sauce that tears well down the whole throat. Served with rice.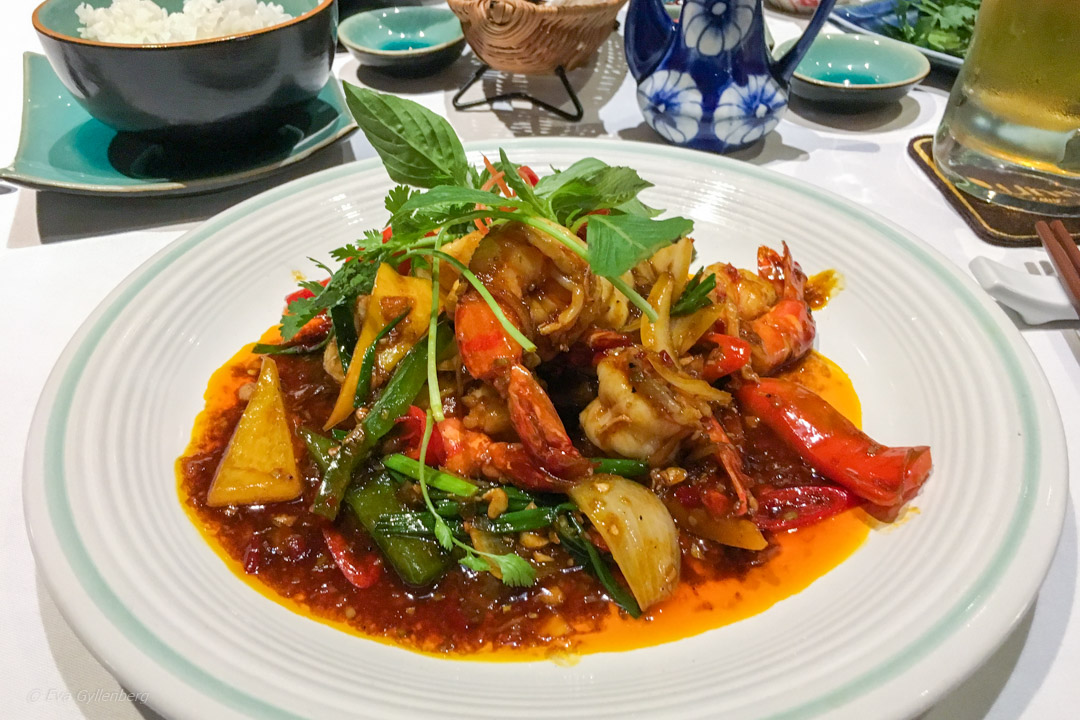 7. Banana sago in coconut milk
Desserts are not big business in Vietnam, but sometimes you can come across it on the menu. Banana sago is a Cambodian coconut soup made with coconut milk, sago grits (made from palm pith starch) and bananas. Very sweet, but worth trying!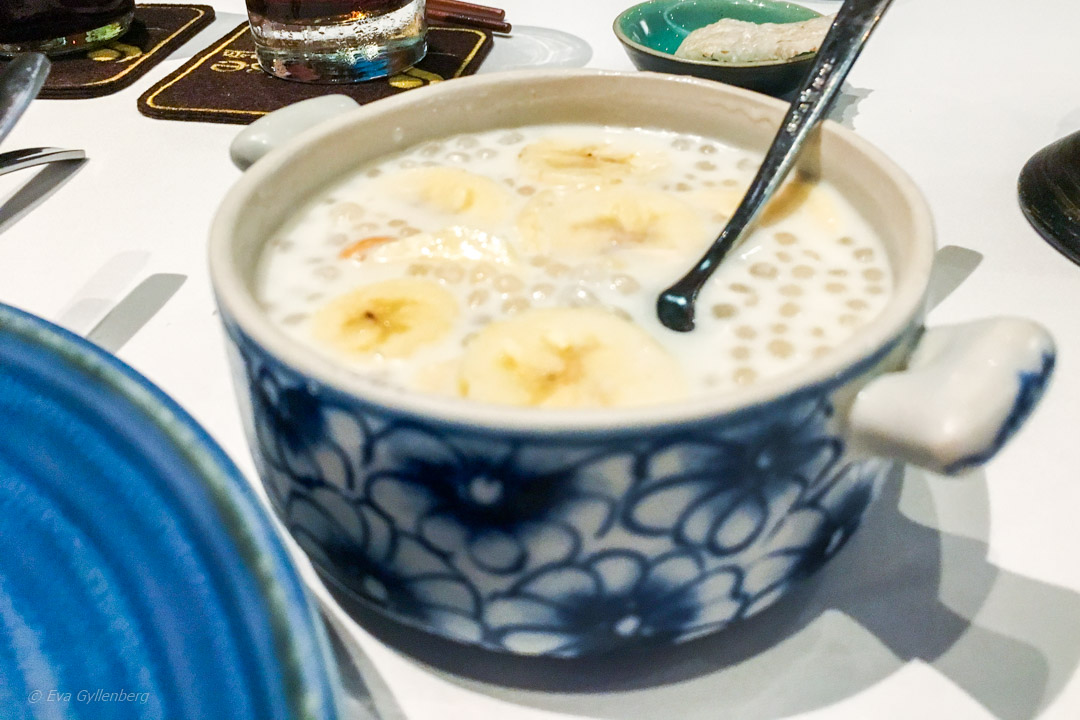 8. Mango with sticky rice
A Thai (?) dessert that is often found on menus is sticky rice with mango. Hard steamed rice with coconut milk and palm sugar, served with fresh mango (and possibly peanuts and mango ice cream as above). One of the better sweets, although it is so sweet that it almost curls the tongue!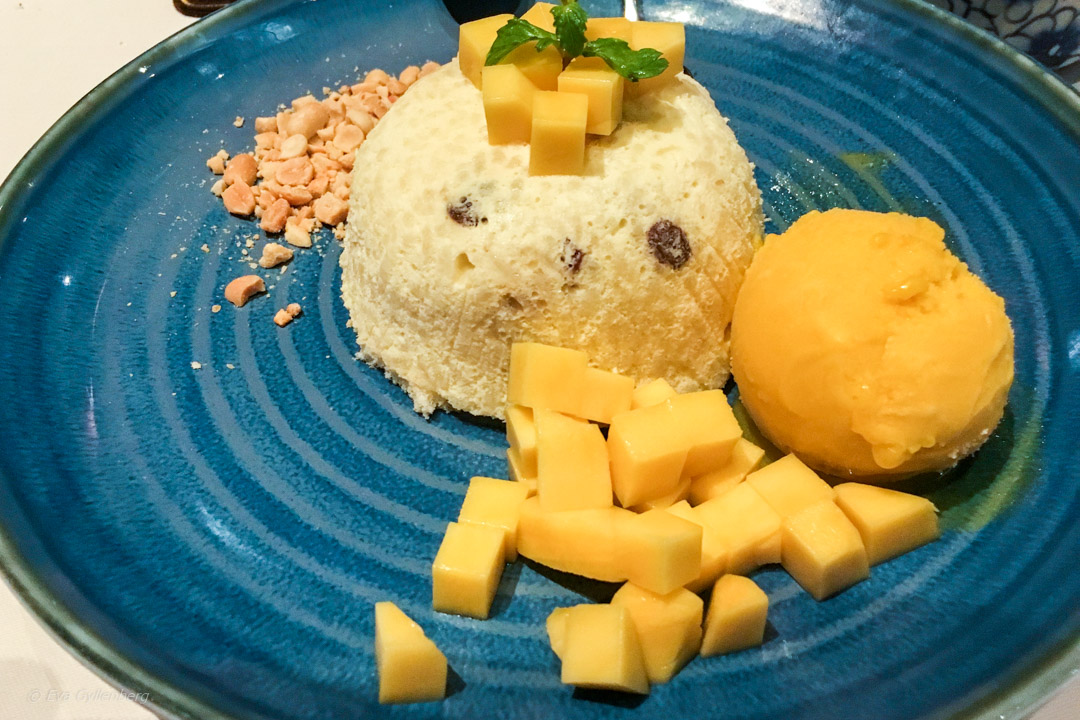 9. Tay Ninh salty shrimp
Tay Ninh Chili Shrimp Salt is a salt made from shrimp, chili, lemongrass, garlic and of course – salt. The result is an umami-heavy, spicy and lemongrass-scented salt that is used for everything from seasoning fresh fruit to grilled meat and seafood. I came across a dish of prawns grilled in this salt – really, really good! Why didn't I bring home that kind of salt??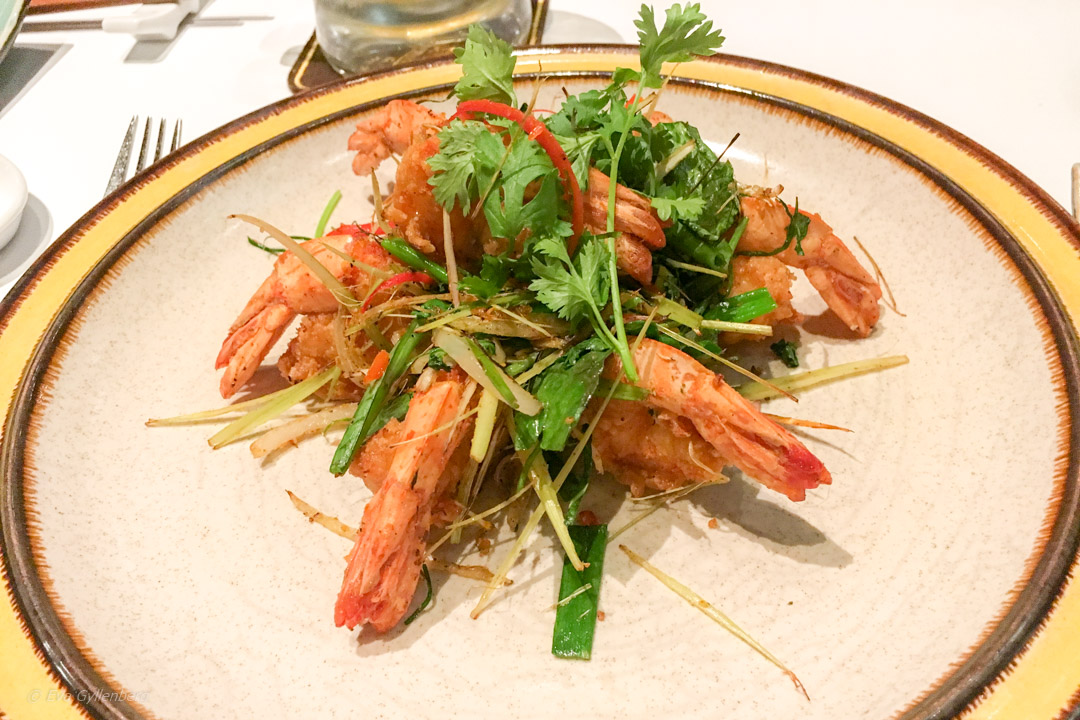 10. Pho
The most famous Vietnamese dish Pho (pronounced fö), comes in as many variations as there are restaurants. Filling, tasty (but never strong!) and filled with noodles, vegetables and meat. I could eat this soup for lunch every day during the winter months!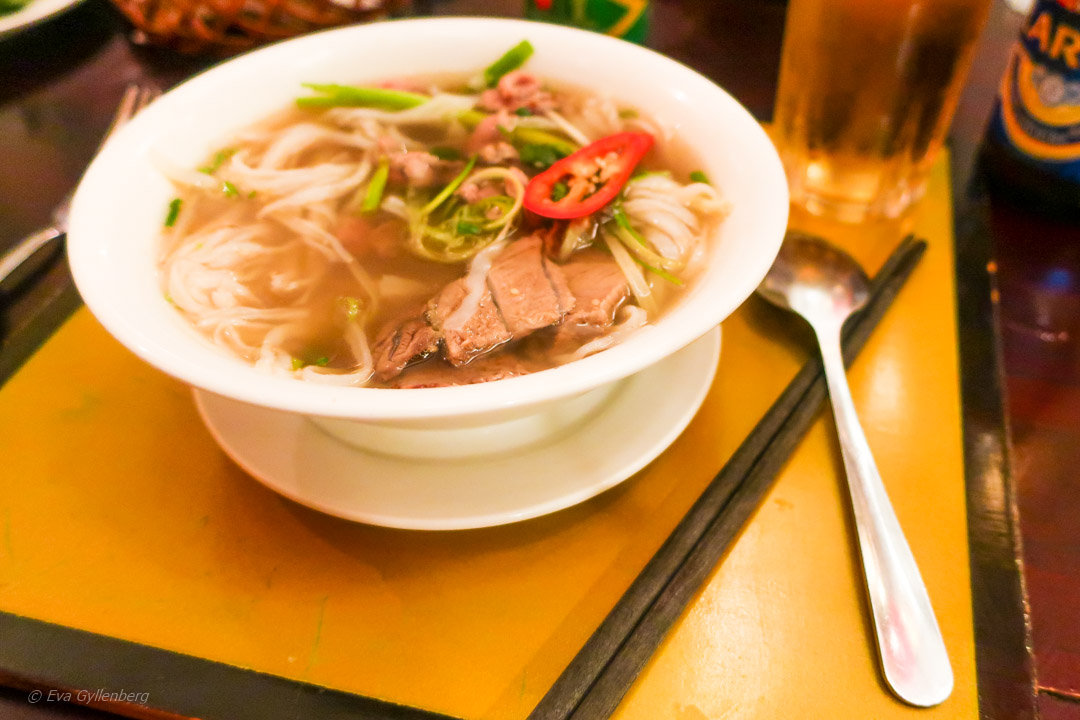 11. Vietnamese Pancakes (Banh Xeo)
A bit like a crêpe more than a pancake, these pancakes are filled with all the goodness you can find. Common both as street food and in restaurants.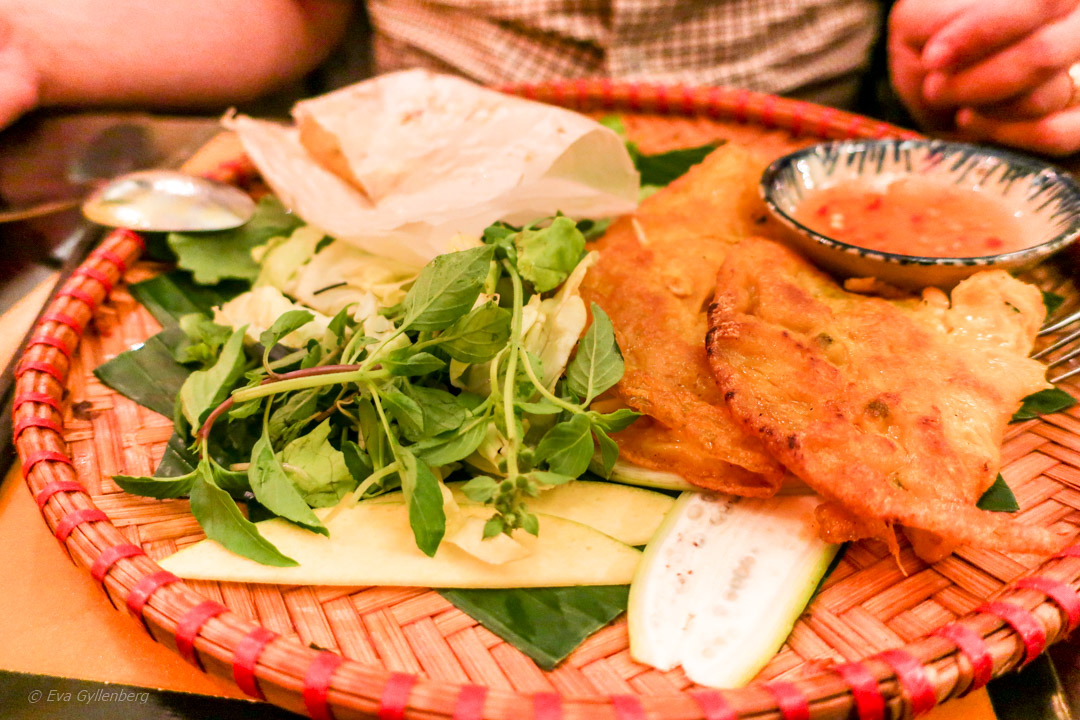 Read more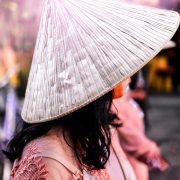 12. Com Ga – Chicken rice
Very similar to a Hainanese Chicken Rice, this is boiled chicken in flavorful (but bland) rice. Served with chilli sauce. So simple. So good. Always works.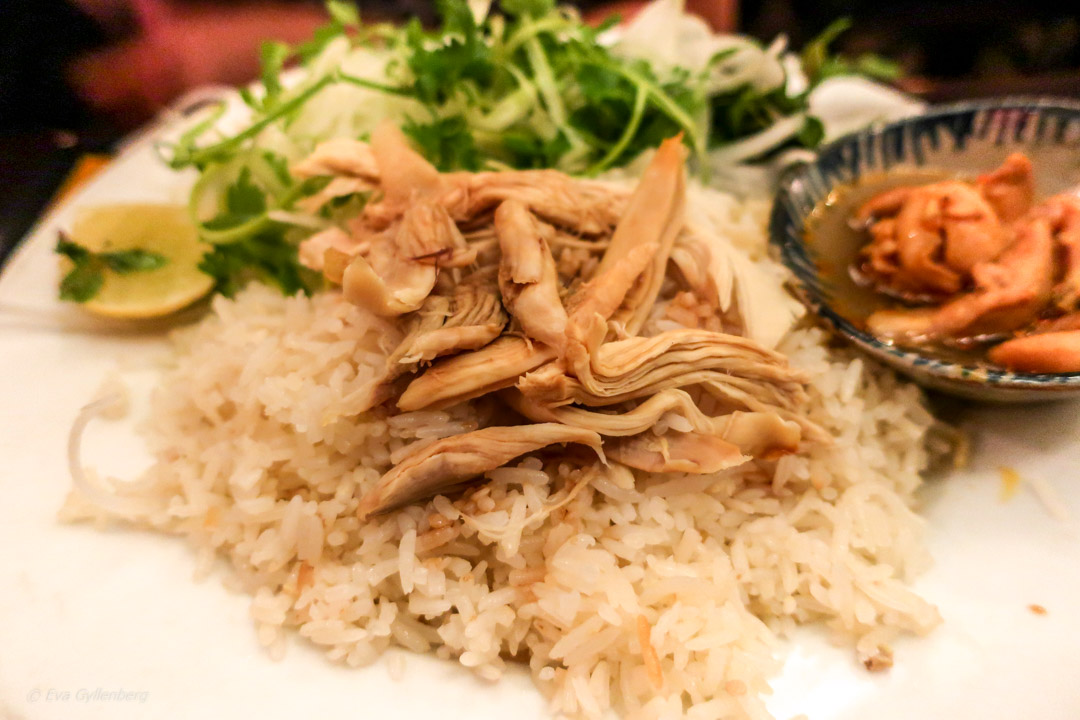 13. Bun cha
A dish originally from Hanoi, these spicy ones Bun cha pork meatballs with cold rice noodles and a sweet-sour-salty dressing are incredibly fresh. Don't be fooled into ordering these meatballs for the kids, this is one of the few dishes in Vietnam that we could really say is strong!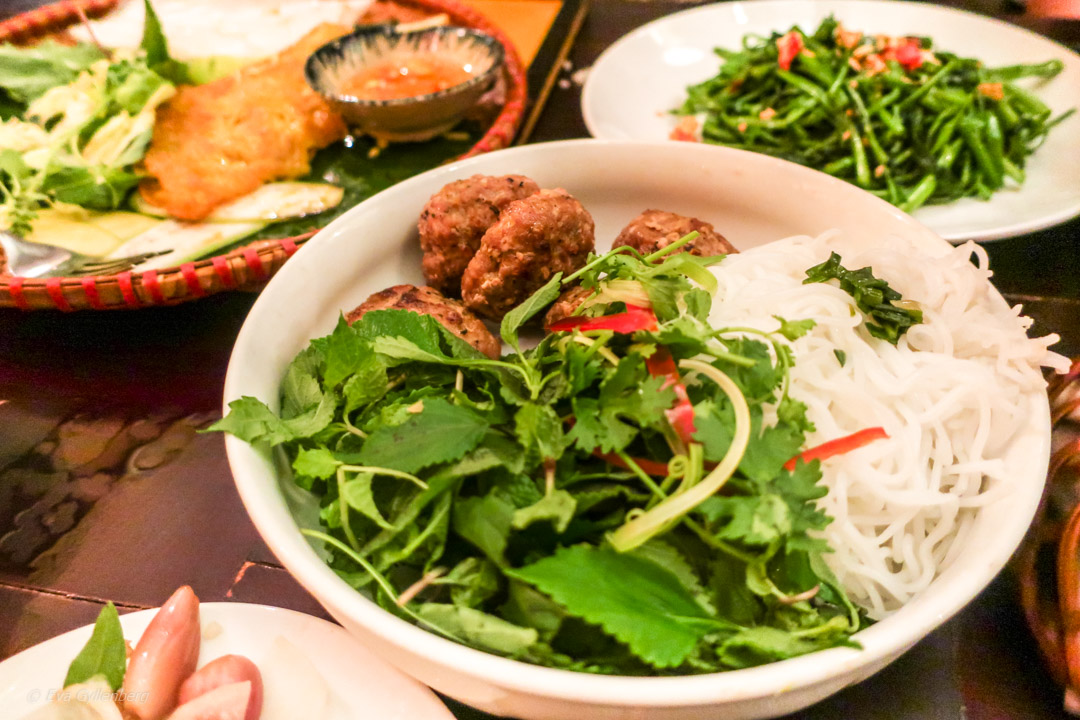 14. Mi Quang
A common dish in Da Nang, not a soup but not a wok either. Thick noodles in a little broth, served with chicken/pork/seafood, pineapple, fresh spices, lime and peanuts. Super fresh and tasty, even though I generally don't like pineapple in food!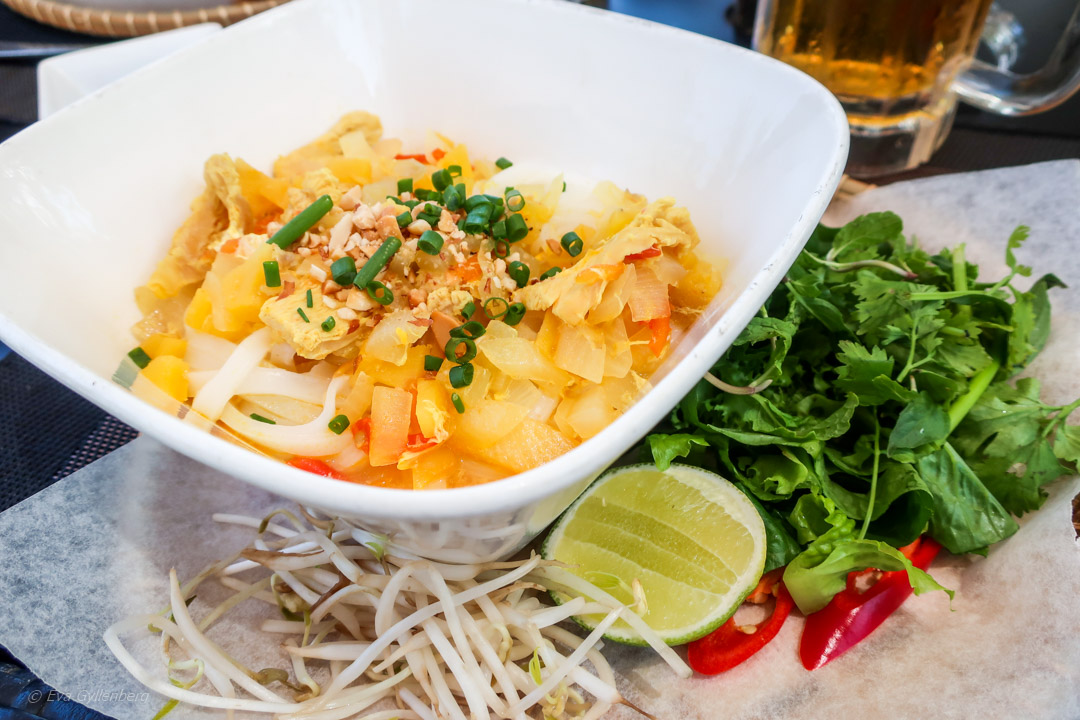 15. Chicken with lemongrass and ginger
Stir-fried chicken in ginger and lemongrass is a dish that you can find in almost every restaurant. Really good, nothing fancy - just a well-seasoned stir-fried chicken with vegetables. Served with rice. A real favourite.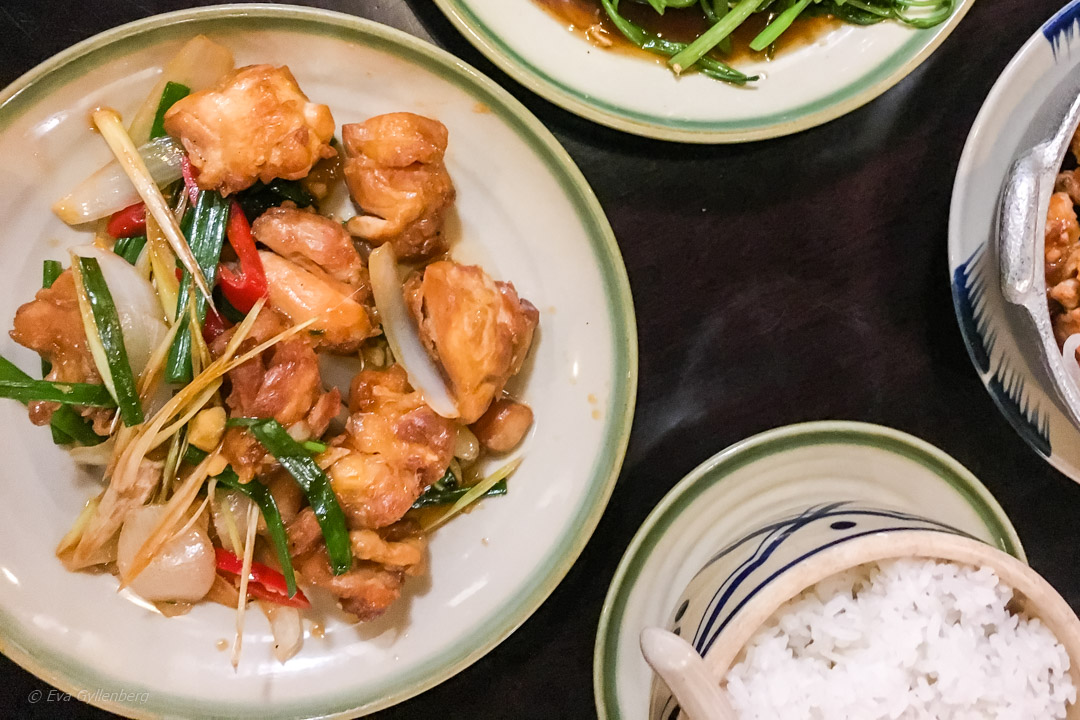 16. Crispy Little Egg Cakes – Banh Khot
Small, fried egg cakes that are eaten with fish sauce and vegetables. Cooked in a special frying iron and often with prawns. Good as a snack for breakfast, lunch or dinner!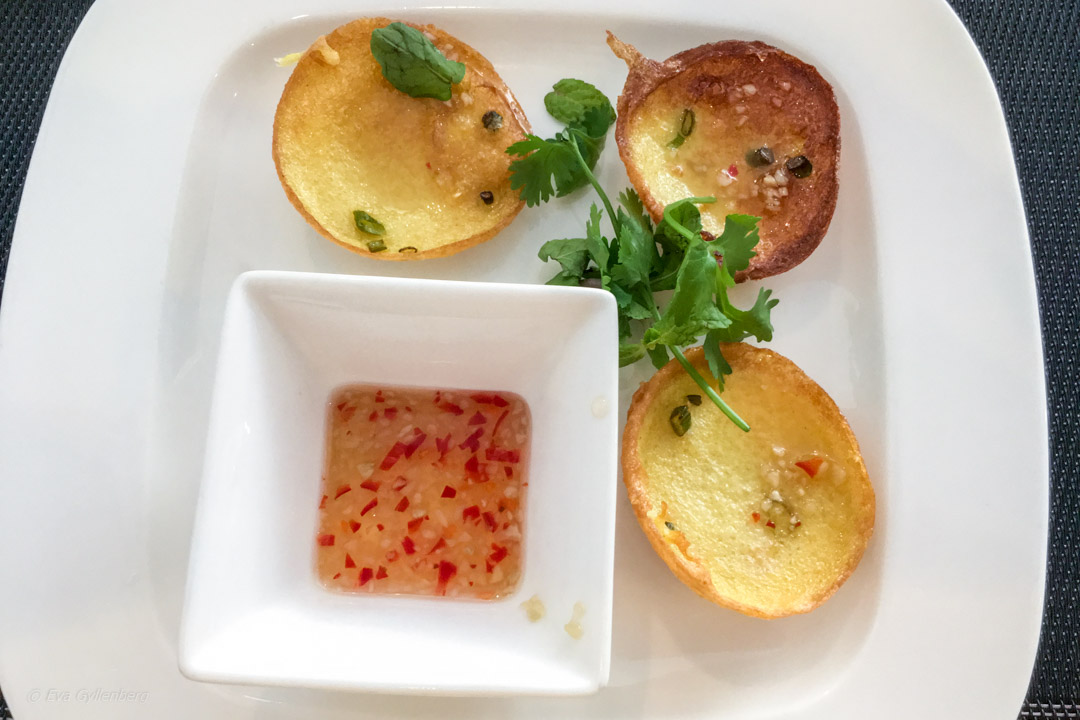 17. Gỏi cuốn (Fresh Spring Rolls)
My absolute favorite dish! Rice paper rolls filled with cooked shrimp, lettuce, rice noodles and cilantro. It doesn't get any fresher than this! Have cooked it at home before, but didn't get the same punch in the rice paper as the one we ate in Vietnam. Just start practicing!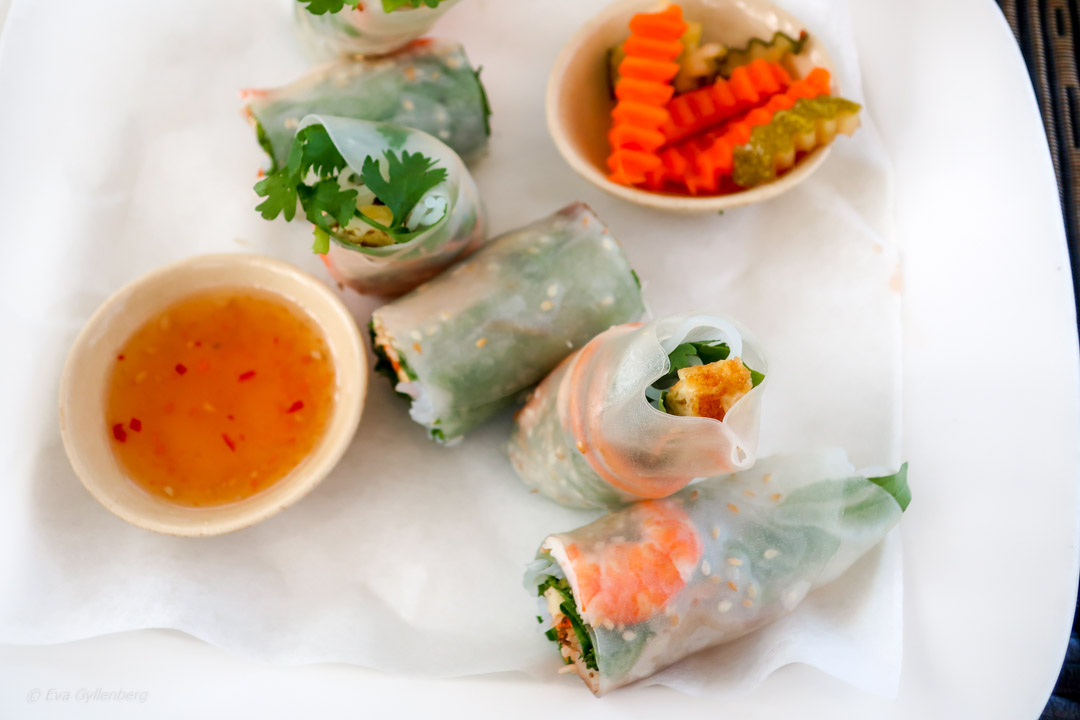 18. Grilled pork skewers – thit xien nuong
Last on this solid food list: A common street food dish that can also be found in restaurants, is the grilled pork skewer. Served with rice paper, fresh vegetables and spices and a dipping sauce. Perfect comfort food, could replace our tacomys at home if you ask me.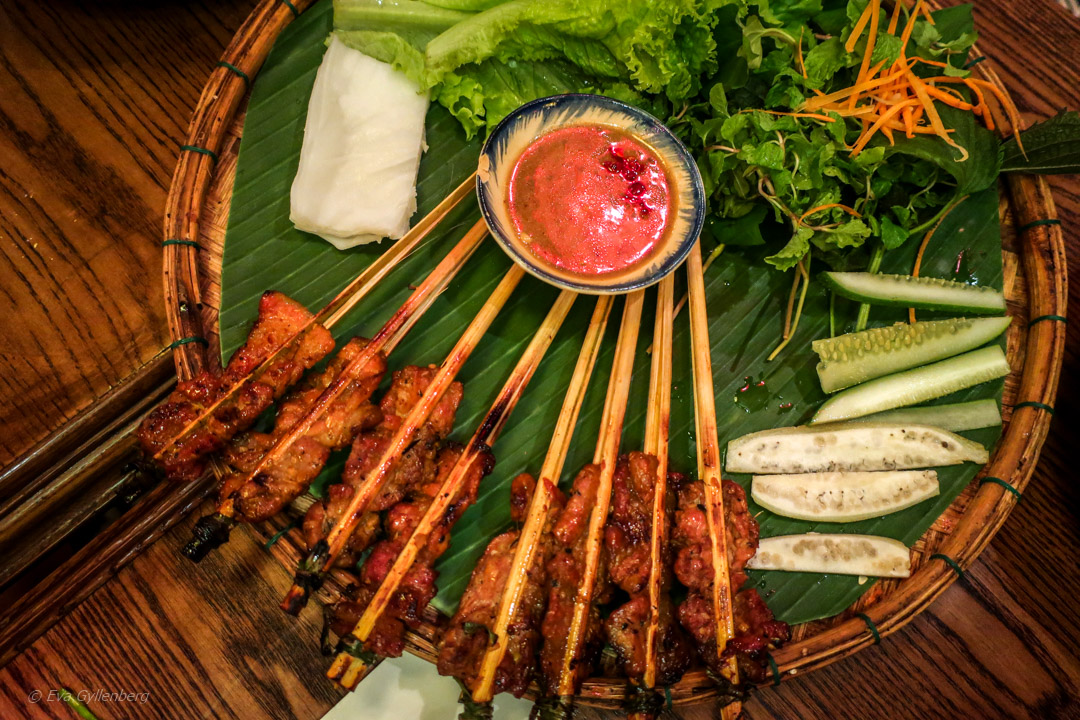 Have you been here? What did you think of the destination?
Been there - didn't like it!
0
Not keen at all to go here!
0
Eva Gyllenberg
Travel blogger, gastronaut, photographer and family adventurer with over 55 countries in his luggage. Eva loves trips that include beautiful nature, hiking boots and well-cooked food. On the travel blog Rucksack she takes you to all corners of the world with the help of her inspiring pictures and texts.