A week ago we came home from a lovely trip to Malta. A trip that I thought would feel like an ordinary trip to southern Europe, but turned out to be something else. The sandstone colored Malta actually surprised me – for better or for worse!
How was the weather?
We start with the most important question. How was the weather in Malta in February/March?
We had glorious sun and blue skies all week. The temperature when it was hottest during the day was around 17-18 degrees. Sheltered from the wind, it was no problem to sit in a t-shirt and long trousers and eat lunch outside, but there were often chilly winds. Like the month of May in Sweden, roughly.
Most Maltese dressed in down jackets. Even the Maltese dogs often wore winter clothes to keep from freezing, which felt a bit laughable compared to our winter temperatures. Next to the down jackets, we often saw tourists walking around dressed in shorts and tank tops. I honestly think that the tourists were dressed lightly in shorts and tank tops and were freezing just so they could take selfies showing that they were warm and cozy in Malta…
I had packed a mixed bag of clothes with everything from trousers, t-shirts and dresses to a windproof summer jacket and a knitted long-sleeved alpaca sweater. I didn't wear the dresses a single day, but I wore the summer jacket and jeans every day.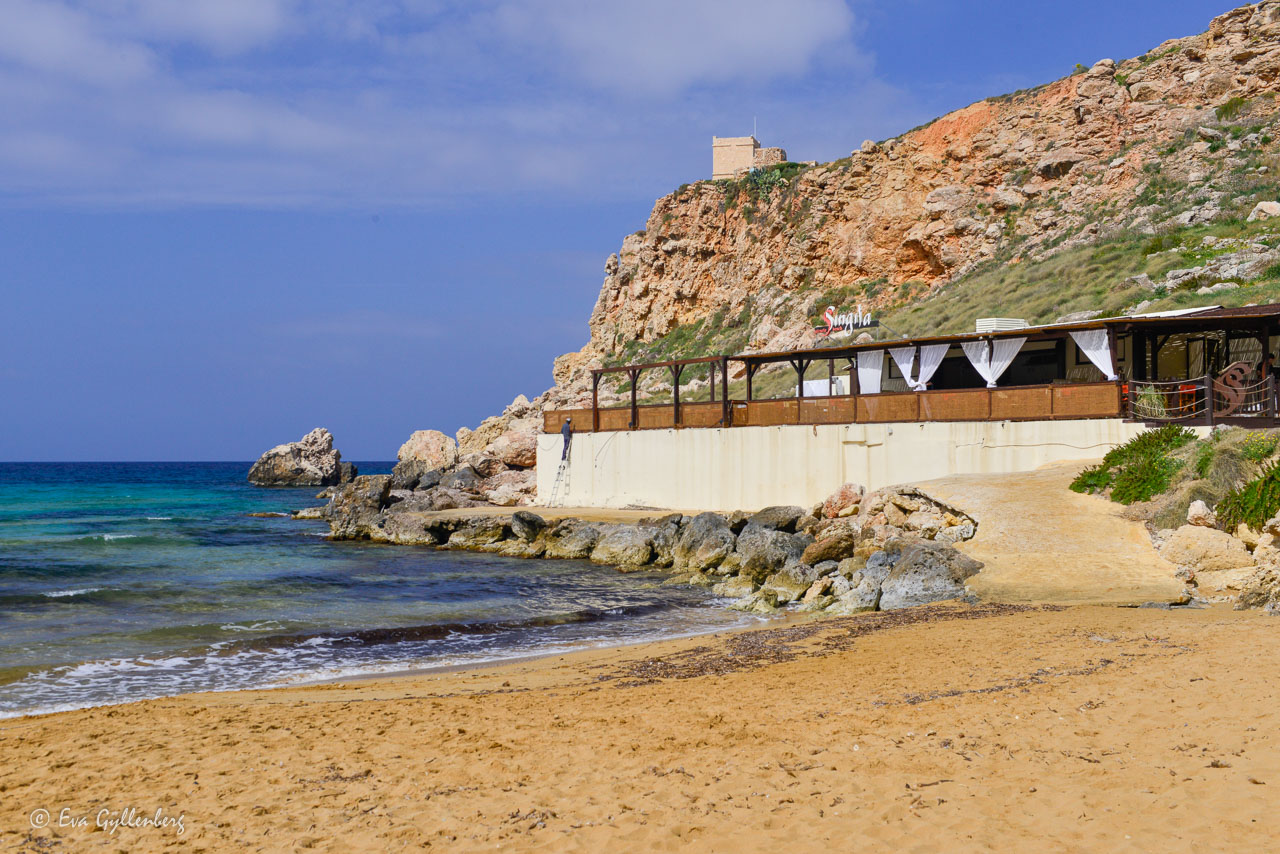 What were the biggest surprises?
"Closed or closed closed?"
The opening hours in Malta can be said to be quite flexible. When we slipped into the museum 10 minutes before closing, there was never a problem. It was also no problem if the man who was supposed to lock the toilets in the park had to wait for us for a while to close or when we visited the winery after their visiting hours. No worries. "Closed" seems to be a bit of a fluid term in Malta. However, when we wanted to visit the inner courtyard of the presidential palace (which has been in Game of Thrones), we were told by the guard that it was not only "closed", without "closed closed". Then it is really closed in Malta.
Language
I hadn't realized that Maltese had so many similarities to Arabic before I came here, I could even recognize some Arabic words. It is said that 1/3 of the words are of Arabic origin, half of the words can be derived from Italian and then you spice it up with a lot of English words. Simply a wonderful mix! In addition, with beautiful letters - for example Ħ and Ġ.
Stones everywhere
Before we went to Malta, someone told me that Malta "is just one big rock". I partially understand the feeling. Malta is a rocky island, where almost all the houses are built in beige sandstone. There are very few trees and we didn't see any forests. So the feeling on the island can easily be that everything is a single dry, beige, rocky and sandy island where the cities replace each other. Malta is also one of the world's most densely populated countries, where most of the villages are made up of narrow stone townhouses that form sandstone walls around the narrow little streets. Often it almost feels like you are outside of Europe.
Wine
I have not associated Malta with wine, but it turned out there was unexpectedly good wine on the island. At the vineyard Sundial we bought some really nice wines, completely international class.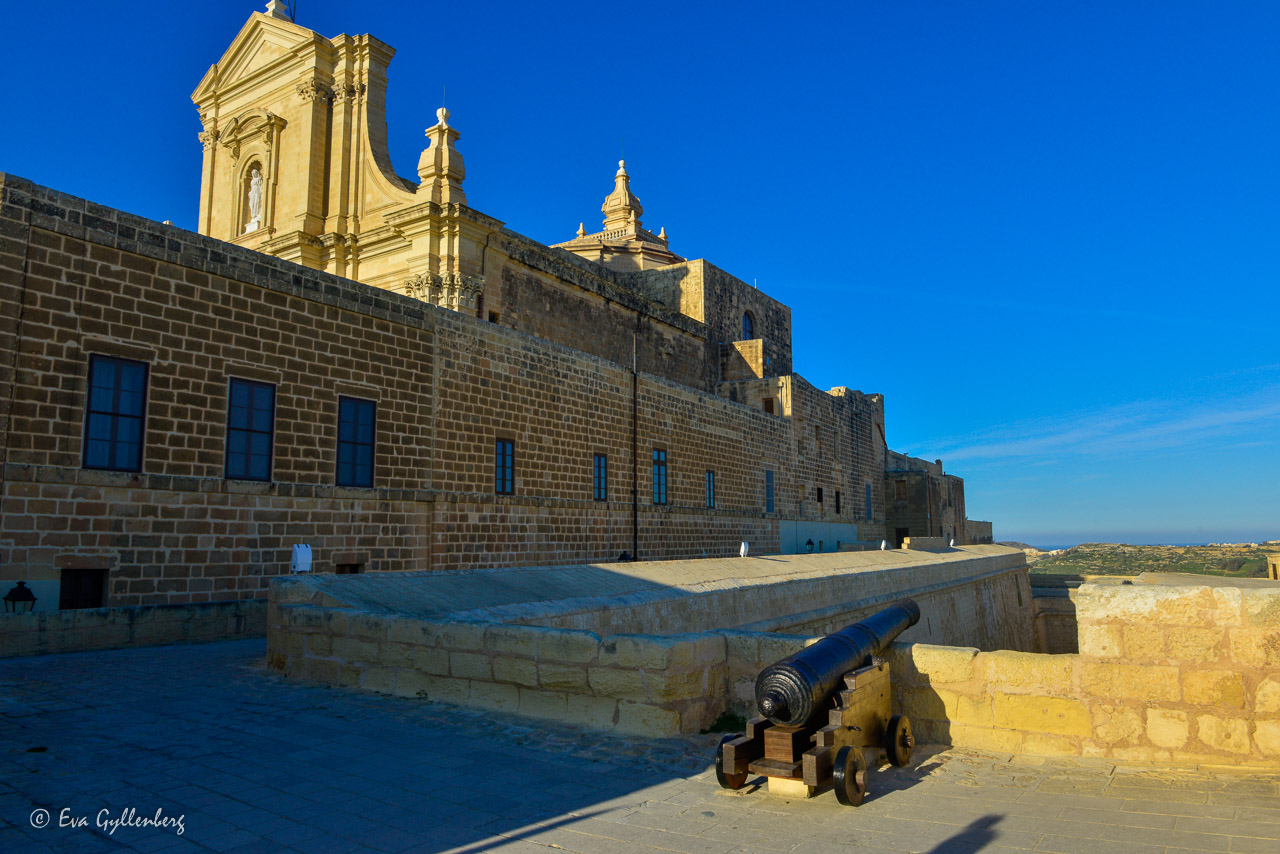 Who is Malta suitable for?
Malta is a destination for those who like culture and history. Here you will find magnificent thousand-year-old temples, beautiful palaces and interesting war history. There are nice beaches, but they are few and require you to have a rental car. If you want to go here on a beach holiday and don't want to crowd onto rocks, make sure the hotel has a decent pool.
Where did we go in Malta?
We had a rental car during our entire trip and basically drove around the entire island. In the last few days, we even started to recognize ourselves on the roads, having driven there so many times. We also took the car ferry over to Gozo and drove around there too.
Where did we live?
We lived in a residential area outside Sliema, nice and nice Urban Valley Resort. We had chosen this hotel both because we wanted to stay in the center of the island and because we wouldn't have to worry about parking spaces.
After going around the whole island, I have to say that I personally want to would choose to stay in the center of one of the charter resorts Sliema, St Julians or in Bugibba. A little too many hotels that are far too crowded, a little too many English pubs, no impressive beaches and no cozy feeling in my eyes. Nightlife and crowds are not my thing. I would rather live somewhere near the north-west of Malta, where the slightly bigger and more beautiful beaches are. I also liked the town of Mosta and the whole island of Gozo.
What did we buy home?
Malta is a small island, so there are basically only two really big grocery stores – PAVI and PAMA. Here you will find everything from whole well-hung cows to kitchen gadgets and local wine. We bought with us Maltese wine, olive oil, demi-salt from Gozo and carob syrup (which is supposed to be good to have in tea when you have a cold).
I also bought two "ful mugs" (coffee mugs with tourist prints), but the quality of these was about as good as Malta's architectural art (see below). The mugs were destroyed in the first wash, despite the fact that, according to the store, they should be dishwasher safe.
What would have been good to know?
The traffic
Malta has left-hand traffic, but that is no longer a problem for us. After several driving holidays in left-hand traffic countries, it takes about 5 milliseconds for the man to switch to driving on the other side. But it is a factor to include in the decision whether to rent a car or not.
However, driving a car in Malta is no joke - regardless of left-hand traffic or not. Malta has a lot of cars in a small area and extremely bad roads. Add to that the fact that ALL Maltese drive extremely aggressively. If you don't squeeze through the roundabouts, you'll never get there. No one stops for stop signs and people park in the most creative places. Add to that the fact that the roads in the cities are mostly single-lane (but not one-way) and that Google Maps has no idea of ​​the difference between paths and roads. Driving in Malta is simply so much fun. If you like it a little hot on your ears, that is.
At the last second before departure, we had rebooked our rental car from manual transmission to automatic, which turned out to be a really successful move in the unpredictable traffic. Accelerate, stop, accelerate, cross, stop is quite difficult with a manual gearbox in left-hand traffic.
An interesting curiosity was the information that Avis had for our rental car. It said that if you are involved in a car accident, you should never admit that you are at fault, even if you are. Anyone know why?
And you - don't rent a big car. You won't be able to park anywhere.
No real hiking trails
Malta and Gozo have many places with really beautiful nature, but there are almost no excellent hiking trails and no hiking maps. In the places where there are supposed to be hiking trails, there are no signs showing where to go. We drove past walkers in several places in Malta, but they were all walking a little forlornly along the busy roads. We took a chance in several places and walked straight out into nature along small paths where we had read that there would be things to see, unclear if it was allowed or not.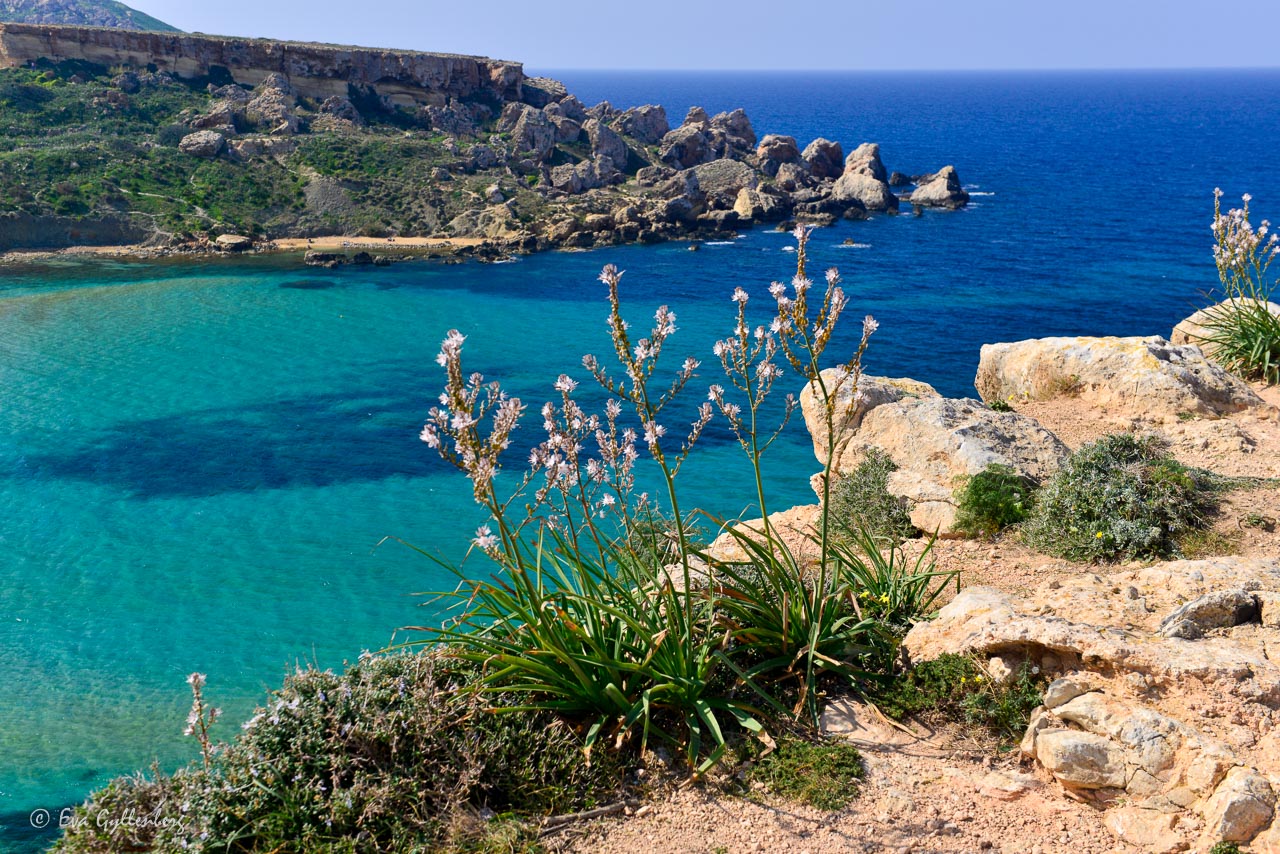 The bottom line
What was the best?
A:
"The weirdness" – everything was very much non-European.
Different and exciting nature.
Gozo - don't miss this island if you go here.
I:
Close to everything! Malta is petty. Nothing was ever more than 30 minutes away from our hotel.
The historical sights are world class!
The climate is incredibly pleasant during the spring.
The city of Mosta and the whole of Gozo became real favourites!
The Maltese - really nice players and very go easy.
Very international feel - basically everyone speaks English.
Little E:
The pizza! (Note from me: Very good Italian pizza!)
It was a bit warm.
The hotel was good, liked my own bedroom.
What was the worst?
A:
The roads were in very bad condition.
Quite a few Maltese restaurants, mostly Italian.
I:
The amount of cars. (There will soon be a separate post about driving in Malta)
Road maintenance.
The art of construction (who thinks it's a good idea to put a shelf with wooden plugs in the shower?).
There were unexpectedly few restaurants in the small villages, we often had to go around and search for a good while before we found somewhere to have lunch.
Google maps fooled us ALL the time.

Little E:
Not any super heat.
No beaches with shells were found.
The rocks in Ħaġar Qim were boring.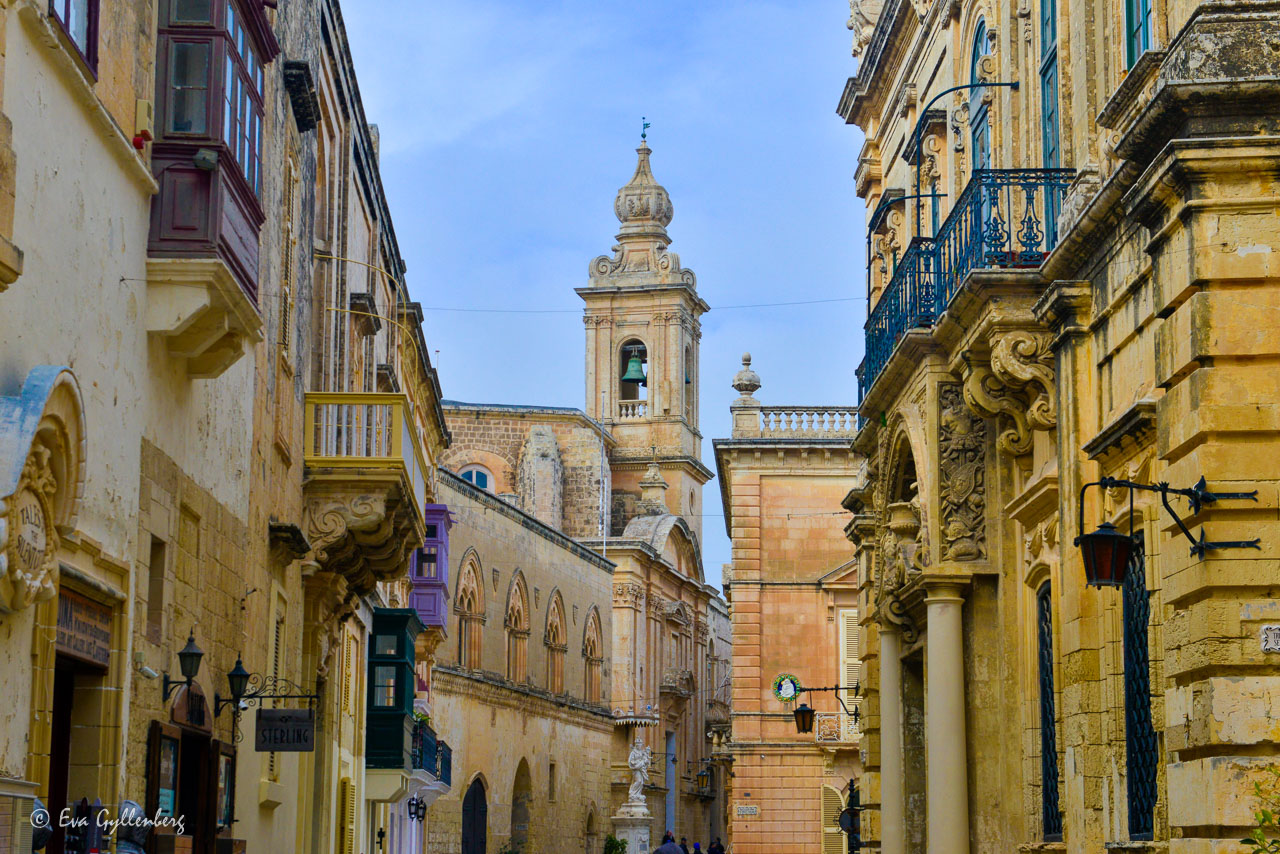 Would I consider going back to Malta again?
Yes, definitely! But it is good to think that Skåne's area is 35 times (!) as large as Malta. And Malta has 2,6 million tourists (2018) per year... In my eyes, the island is too small for hundreds of thousands of tourists, so I would not choose to go here during the summer months. But going here again in autumn or spring is tempting. I have many temples and alleys left to explore!
Have you been here? What did you think of the destination?
Been there - didn't like it!
0
Not keen at all to go here!
0
Eva Gyllenberg
Travel blogger, gastronaut, photographer and family adventurer with over 55 countries in his luggage. Eva loves trips that include beautiful nature, hiking boots and well-cooked food. On the travel blog Rucksack she takes you to all corners of the world with the help of her inspiring pictures and texts.