The trip to Plzen in the Czech Republic was a press trip together with Visit Pilsen, but all thoughts and opinions are, as usual, my own.
The trams to Namesti Republiky (Republic Square) in Plzen is full of warmly dressed people with a smile on their face. Old, young, families and friends are on their way to this year's Christmas market this Friday evening. An event that is not only about shopping, but just as much about socializing, drinking well and listening to Christmas music. Spread the feeling of Christmas, community and joy.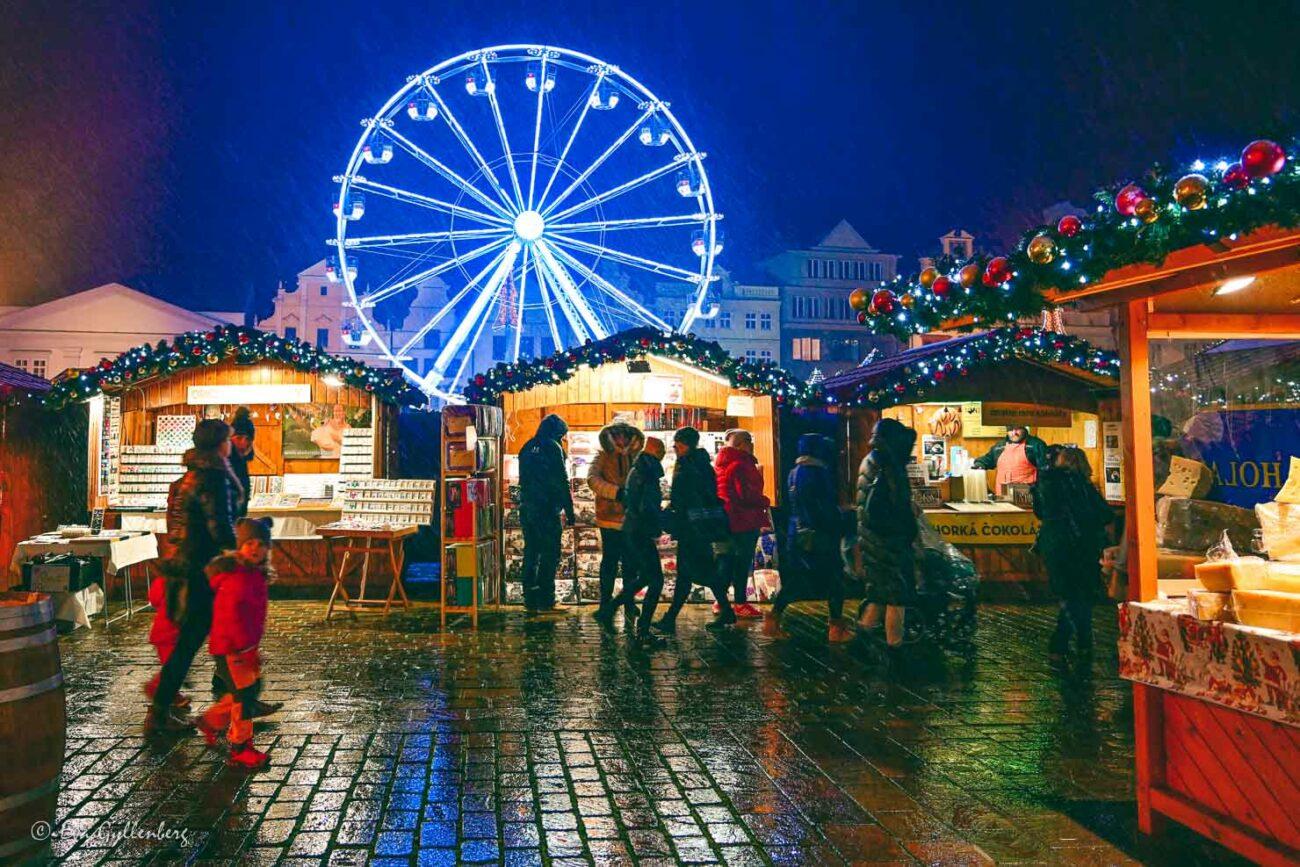 Christmas markets in the Czech Republic are the starting point for the arrival of Christmas and every single city has its own market every year. From the end of November to the 23rd of December, the square in front of the cathedral in Plzen is filled with expectant visitors. Around a hundred small wooden houses then open their doors and display their goods. Here you will find everything from decorated gingerbread cookies, ceramic figurines, carved wooden decorations, pickled vegetables, cast candles to charcuterie and woolen slippers and home-knit rag socks.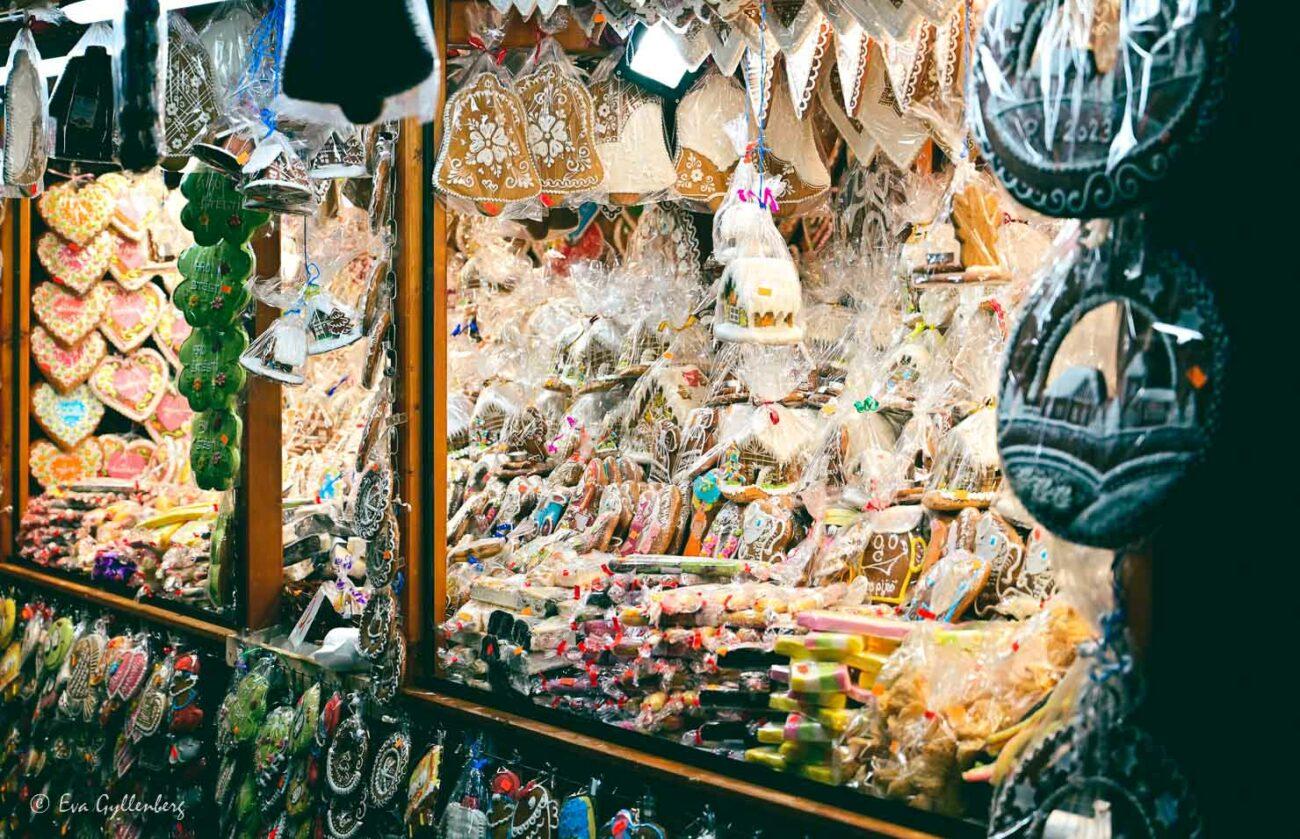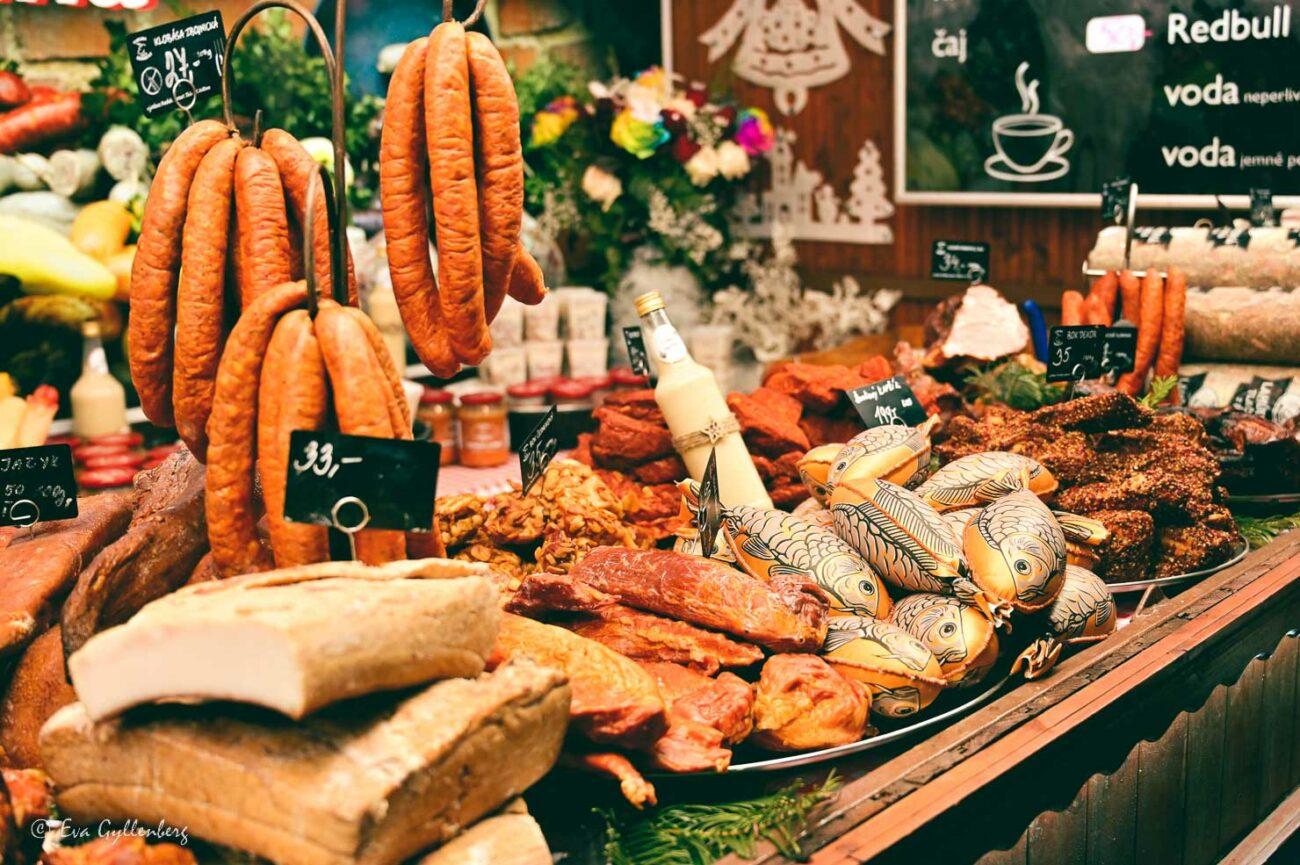 In one of the charcuterie stalls, among crumpled sausages and pork loin, lies a small golden fish made of fabric, stuffed to the max with something that stretches the fish's body into a ball. Carp is the Czech Christmas fish, where on Christmas Eve it is eaten as a main course together with potato salad. I try to ask the seller what kind of stuffing is inside the pretend fish, but get an answer back in Czech that I can't decipher. There is no sign there either. Carp is a bit like our lutefish, a tradition that many Czechs are opting out of these days. Could it be a meaty sausage hiding in the golden shell instead of a bony fish, so that those who don't want to eat carp can still get the Christmas feeling?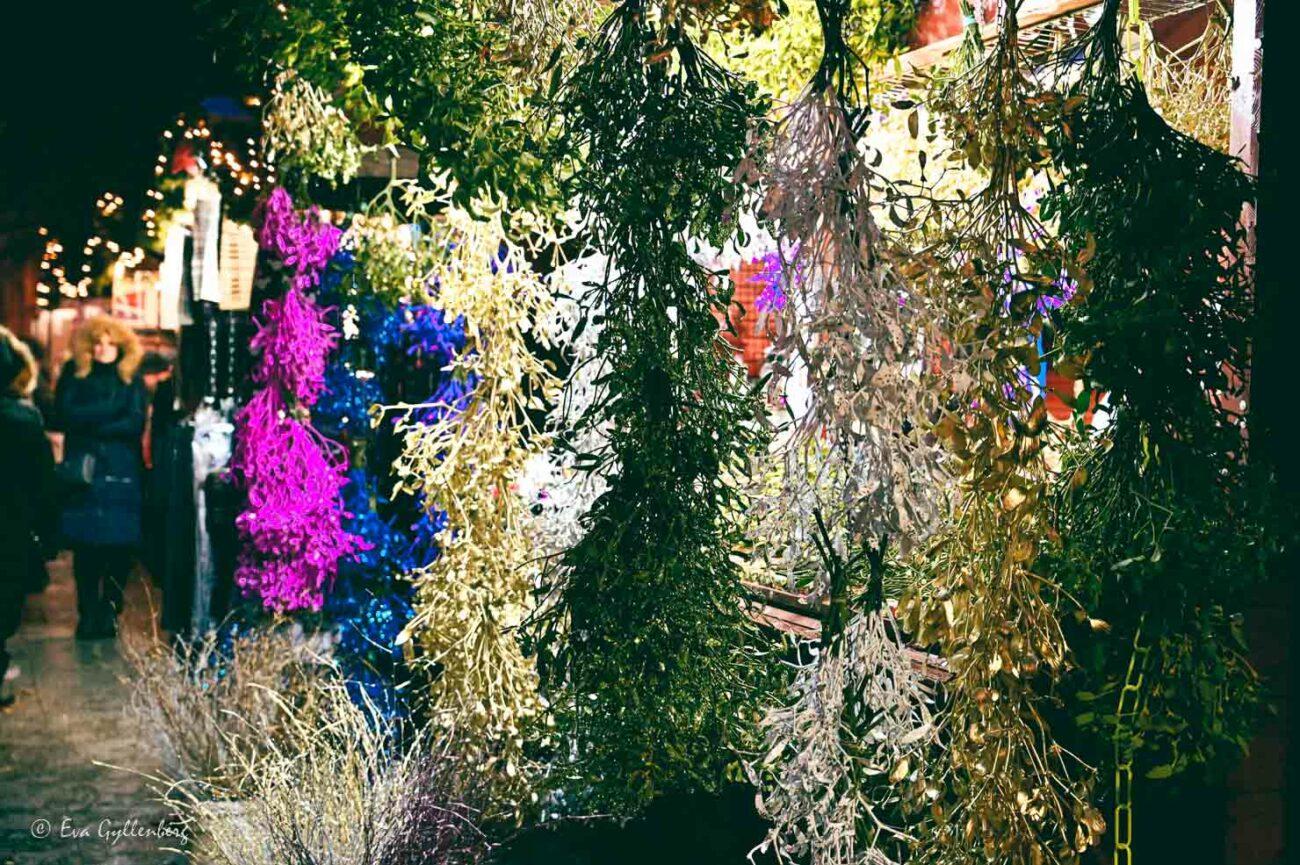 My eyes are fixed on a shed completely covered in mistletoe. The mistletoe are colored in gold, pink, silver and white. Mistletoe brings happiness and prosperity into the new year and just like at home, kissing under a mistletoe is good for love. 60 Czech koruna (approx. 30 Swedish kronor) for a glittering golden mistletoe. I strike. It scents like paint and probably won't make the trip home, but it's worth a shot to maybe get a loving kiss under a golden mistletoe this year.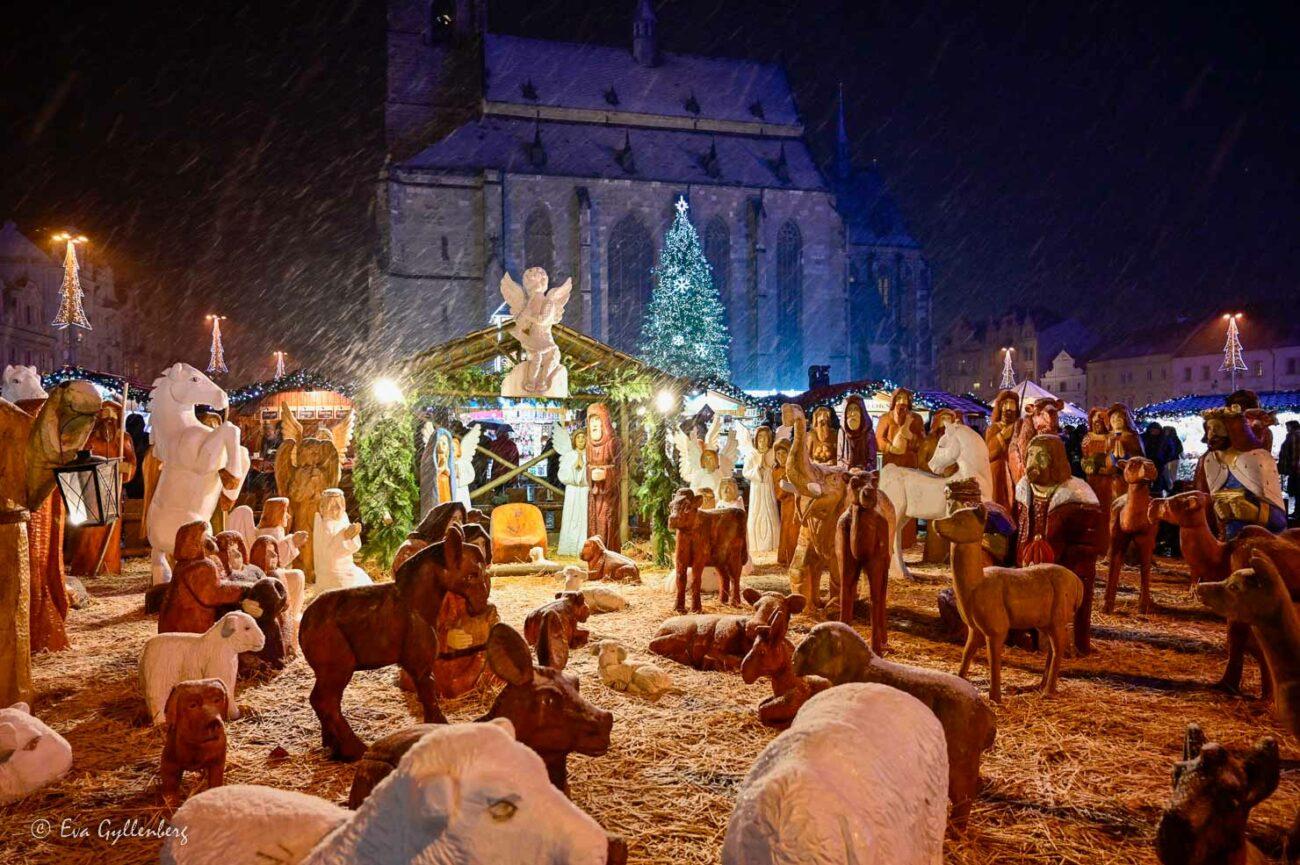 At the other end of the square stands a large wooden manger. It's probably the biggest manger I've ever seen. The human figures are carved in life size and there are more animals than in a zoo. The snow falls over the lambs, angels and camels. There are so many people that it must be cousins, friends and uncles standing next to Maria and Josef. There is only one person missing. Jesus. He is not born yet, so he will appear in his crib later this Christmas.
It is snowing profusely and the Christmas feeling is even stronger with a choir singing Czech Christmas carols on the big stage. Those who are not standing and watching the choir with a paper cup of hot wine in hand, they hang in the beer booth to warm themselves. Because if you are in Pilsner Urquelle's hometown, there is of course a beer booth. The prices for a large beer are, as usual, very affordable and people happily wave in their friends and neighbors who are happy to come over and take a beer with them. In Plzen, a beer is not just a beer. Pilsner is part of the city's soul and history.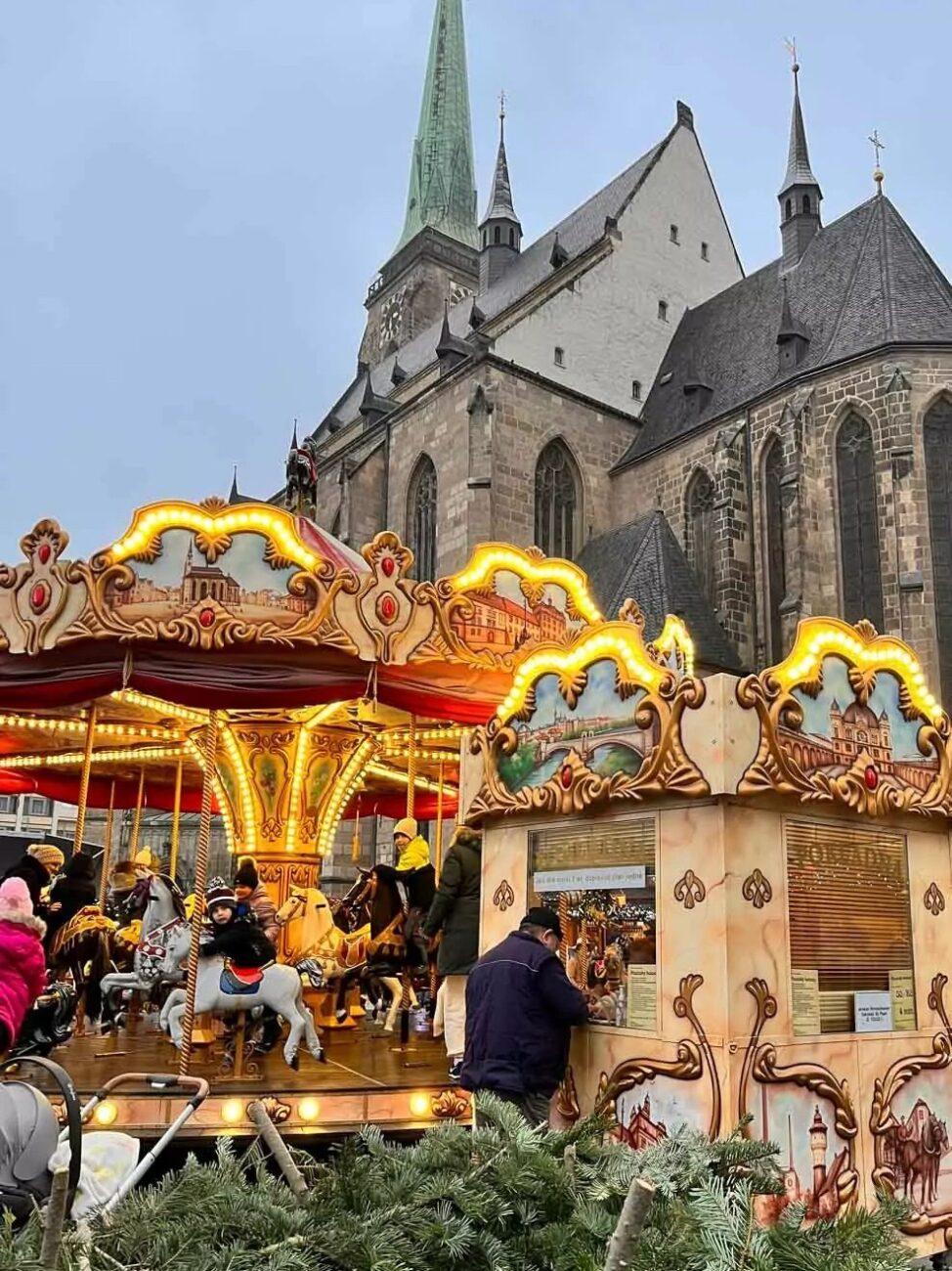 The carousels and Ferris wheel are popular with the children. It is also popular to ring a bell in a large tower in the middle of the square. Ringing the bell should bring luck in the coming year, but it is mostly children who ring the bell. Maybe it's because Czech children get their Christmas presents on Christmas Eve from little Jesus, after the bells have rung. Ringing the bell an extra time here in the square can be a good way to ensure that you get many Christmas presents, maybe they even hope to get an extra candy here at the Christmas market?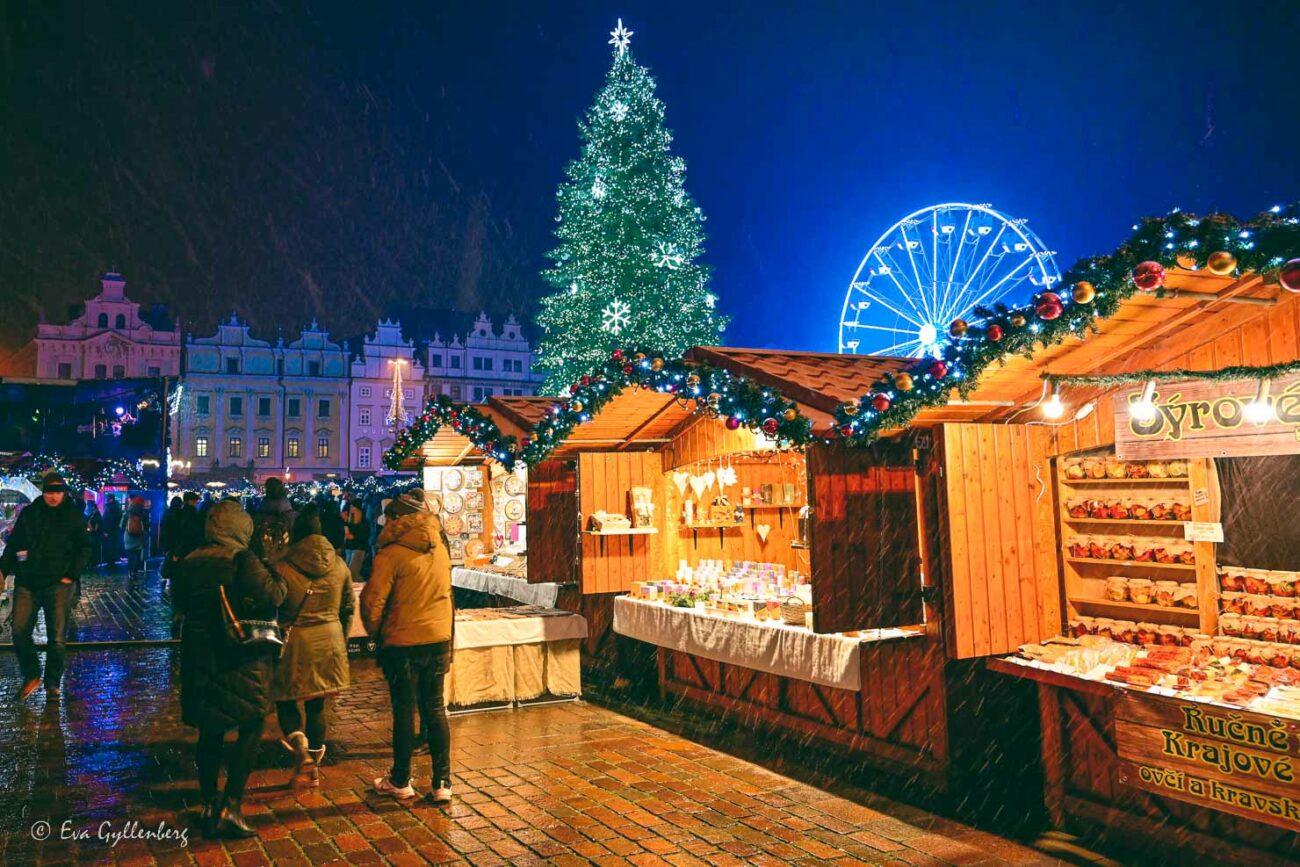 I'm buying some beautiful wooden ornaments to hang on the tree at home. The wood is as thin as a sheet of paper and I'll probably have to be a little careful if I'm going to get them all home. I taste some cheese and squeeze some red Christmas balls. Plzen is located in Bohemia, which is famous for its glass. The majority of sellers sell beautiful glass balls, but it feels a bit like challenging fate to try to get these whole ones home.
I leave the snowstorm and the crowds for this evening and go back to the square the morning after instead. The snow is already gone and everything is cleaned and the Christmas market is ready for another day of Christmas atmosphere, warm wine, merry-go-rounds and family fun.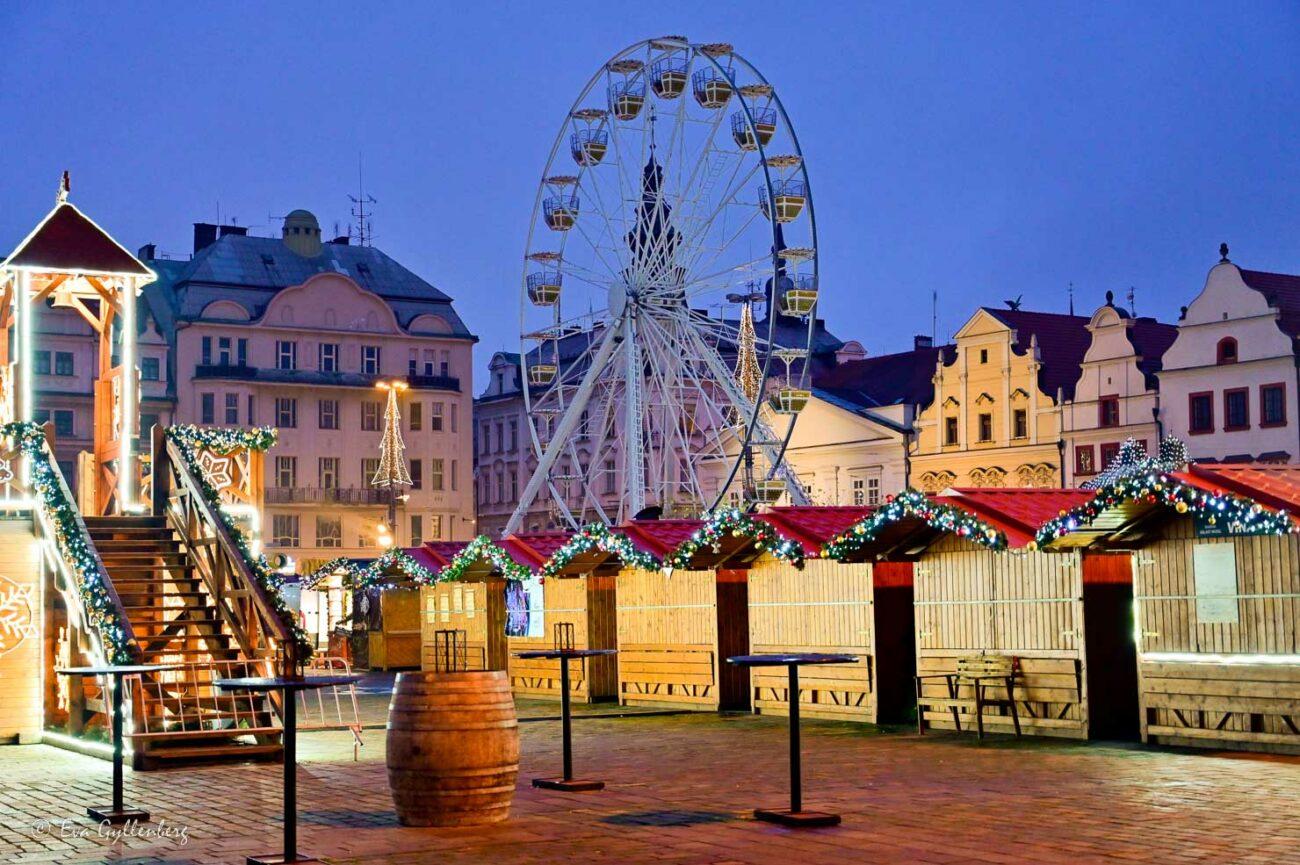 How do I get to Plzen?
Plzen (also called Pilsen) is located 10 kilometers west of Prague and there are regular buses and trains to the city. The Christmas market is located in the middle of the old town by the cathedral and is open every day between 10:00 and 20:00 between November 23 and December 23. The Christmas market is most crowded after dark, so if you want to shop in peace, you should go here in the morning.
Read more about the Christmas market in Plzen at Visit Pilsen.
Have you been here? What did you think of the destination?
Been there - didn't like it!
0
Not keen at all to go here!
0
Eva Gyllenberg
Travel blogger, gastronaut, photographer and family adventurer with over 55 countries in his luggage. Eva loves trips that include beautiful nature, hiking boots and well-cooked food. On the travel blog Rucksack she takes you to all corners of the world with the help of her inspiring pictures and texts.