Glistening glass facades and skyscrapers. Narrow alleys and neon signs. The smell of freshly cooked noodles and seafood. It's easy to think that Hong Kong is just one conglomerate giant metropolis. But Hong Kong surprises and amazes. Did you know that Hong Kong consists of 250 islands? There are islands with beaches, cliffs, hiking trails and temples and all within easy reach of central Hong Kong. We went to Lantau Island to visit Po Lin Monastery and Tian Tan Buddha – one of the world's largest Buddha statues.
Po Lin Monastery, where the Big Buddha is located, is surrounded by thick greenery in the middle of Lantau Island. We took the easy way out to the monastery via the cable car. In 25 minutes you will arrive at the temple and get a sweeping view of Hong Kong's archipelago, but also a view from above of Hong Kong's main airport.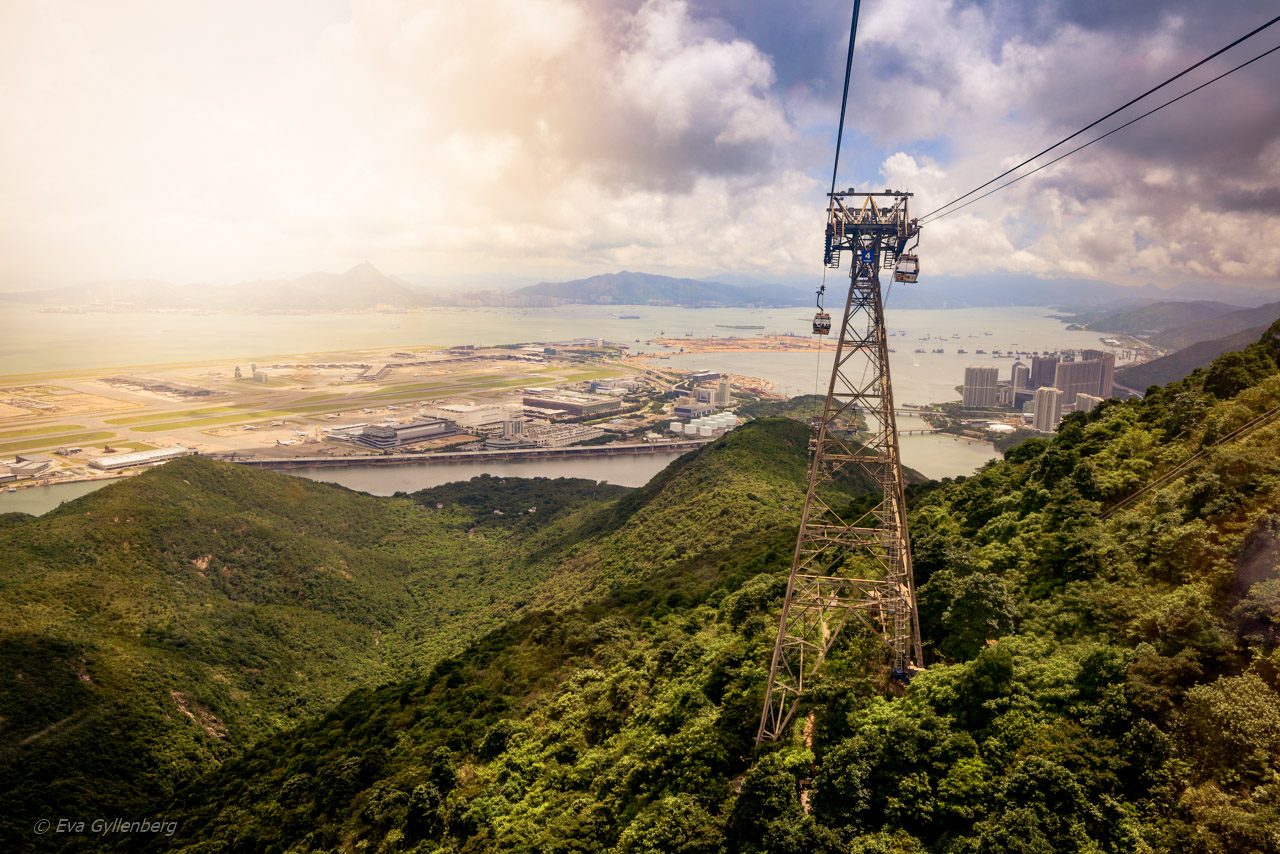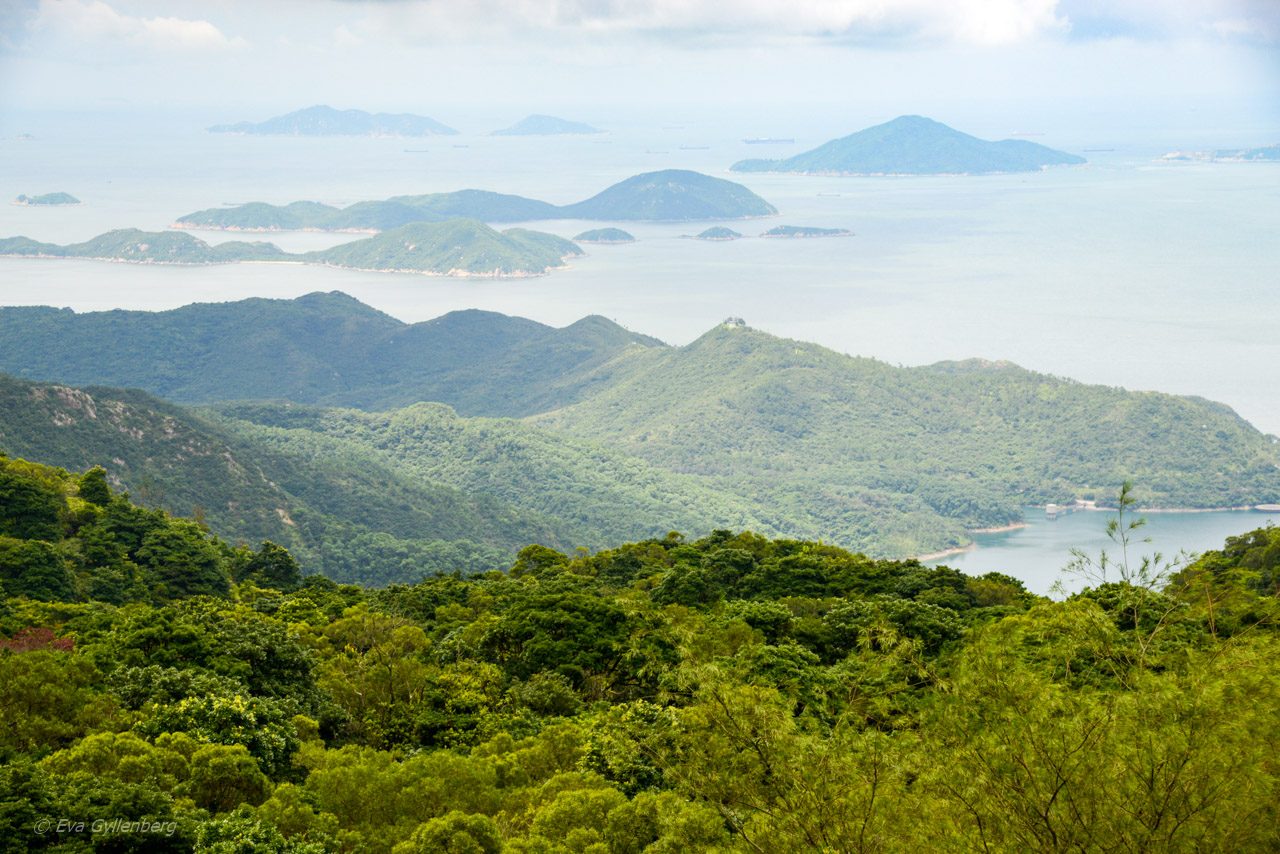 The cable car drops us off a short distance from the temple, all visitors then have to pass through the small village of Ngong Ping Village and its shopping to reach the Buddha. Here you will find art, films, restaurants and VR experiences. Everything for us tourists. The Po Lin Monastery with the Buddha is one of Asia's top Buddhist sites, so most of the tourists seem to be religious tourists from Asia though. I can almost count the number of Europeans on one hand.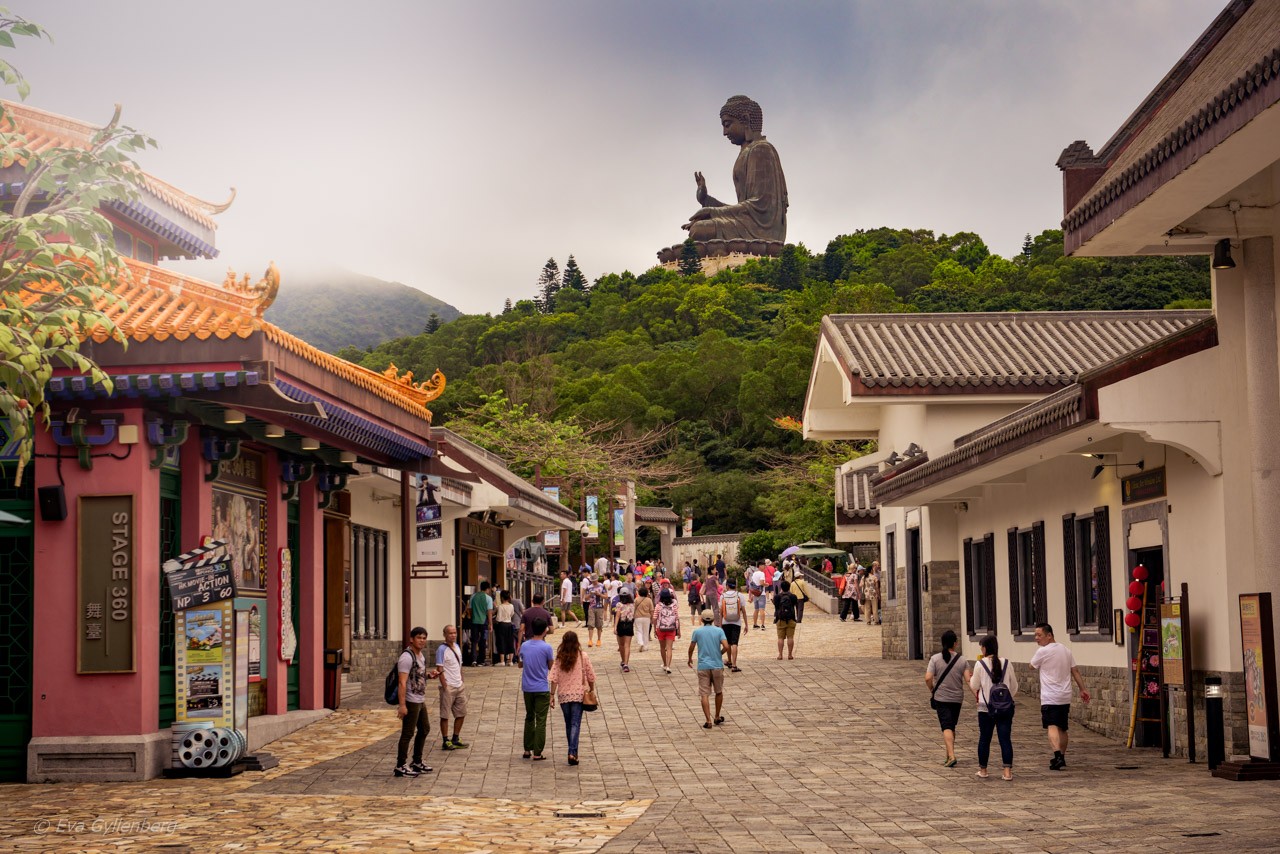 Tian Tan Buddha was completed as late as 1993, after 12 years of construction. 250 tons of bronze went into creating the 34 meter tall Buddha - one of the world's largest seated Buddhas. Today, the Buddha sits atop a mountain, overlooking half of Hong Kong.
268 steps take you up to the foot of the Buddha. Steps that we share with many other visitors today. It doesn't go quickly up to the top, many people stop and take photos and enjoy the view on the way up. So do we.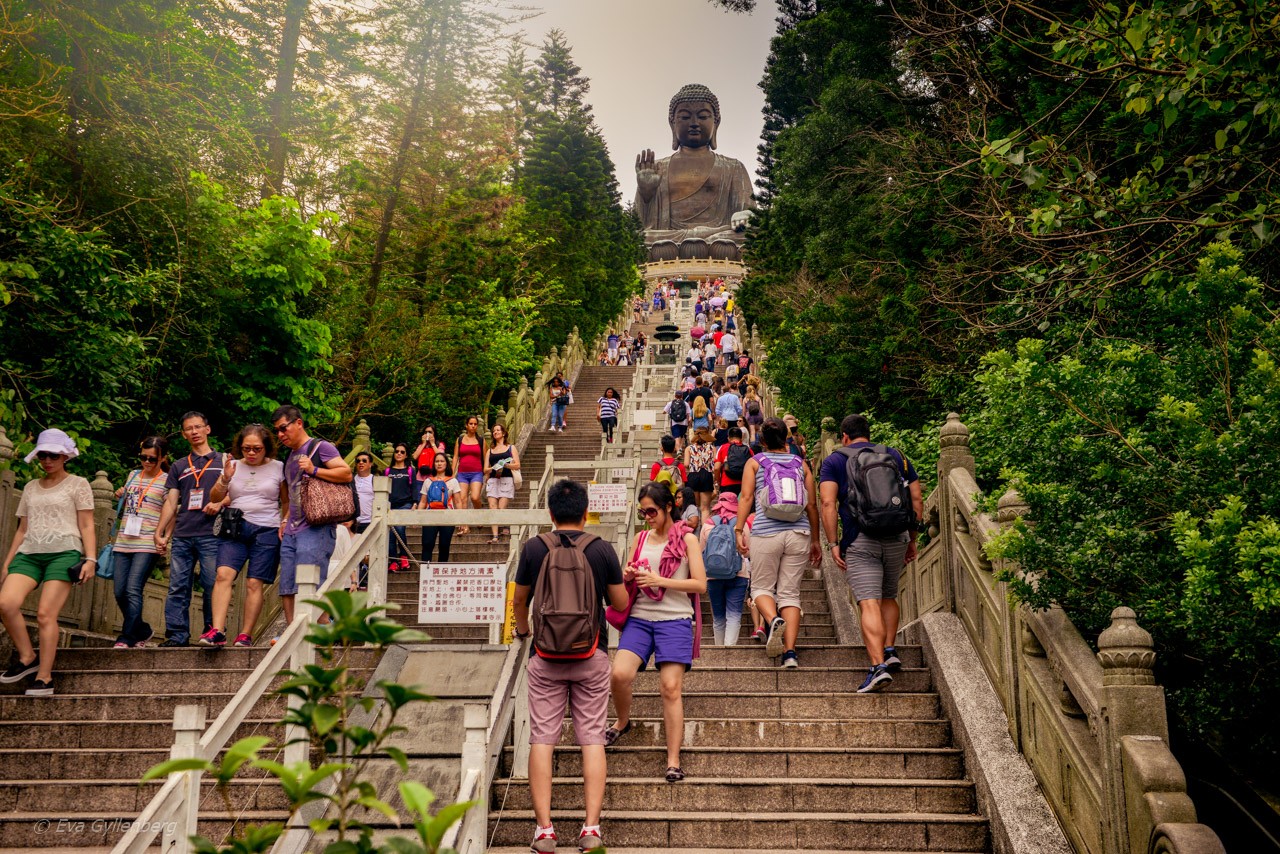 It is difficult to describe what meets us at the top of the mountain. So large that it is almost impossible to get an overview. The nickname "Big Buddha" is well deserved. The Buddha's hand is raised towards us and towards the great crowd of people standing at his feet. This is not primarily a place for us tourists, this is a place for the Buddhist pilgrims and for reflection and inspiration.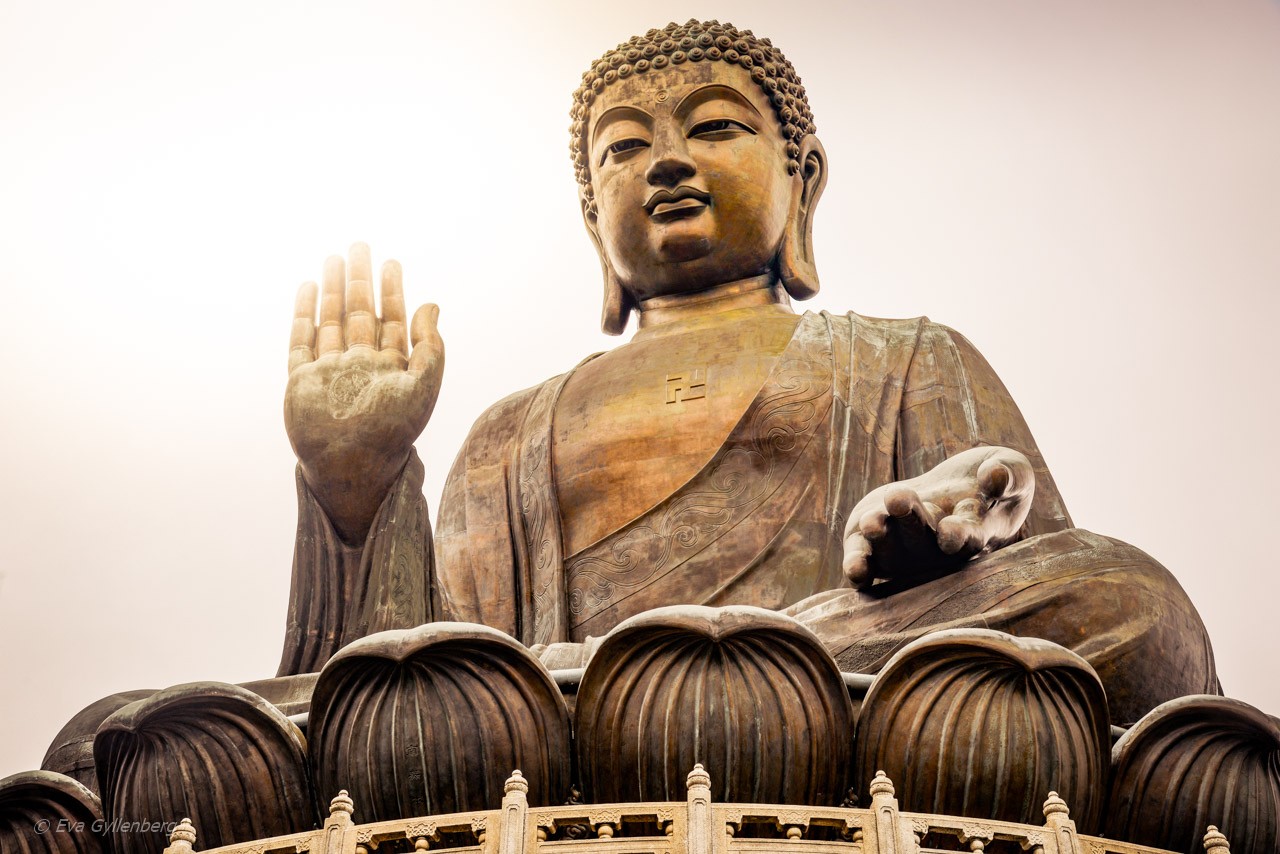 From the foot of the Buddha we look out over the landscape and the Po Lin Temple. It's hard to imagine that skyscrapers and Disneyland are not far from here. Here at the top of the mountain, it's just us. And a thousand other visitors. And Buddha.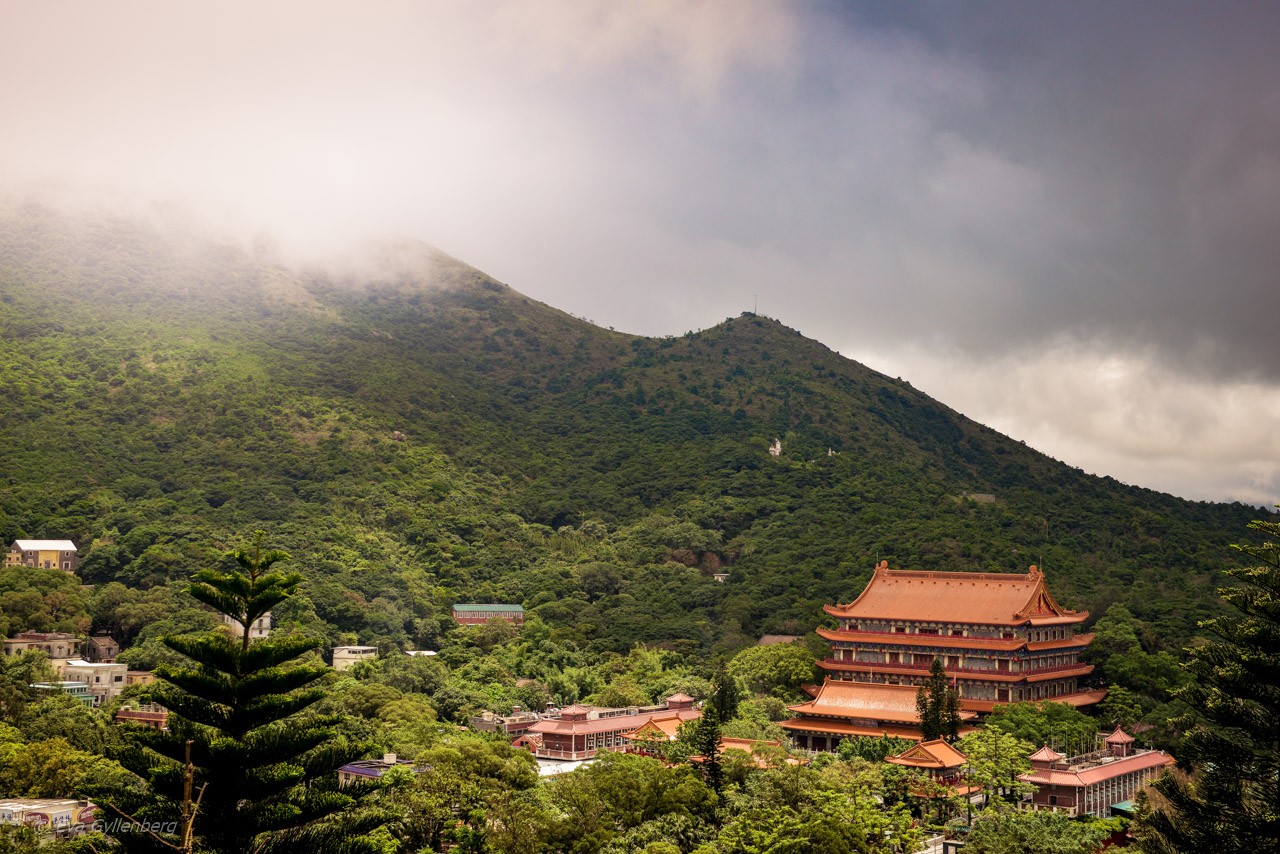 We make our way down the steps towards the Po Lin Monastery and the large, beautiful temple buildings. The monastery began construction about a hundred years ago and has since become Hong Kong's most important Buddhist temple.
"Po Lin" means "precious lotus". According to legend, lotus flowers grew at the feet of the young Buddha wherever he went. Today, the lotus flower is a symbol in Buddhism for spiritual development. Well suited in a monastery.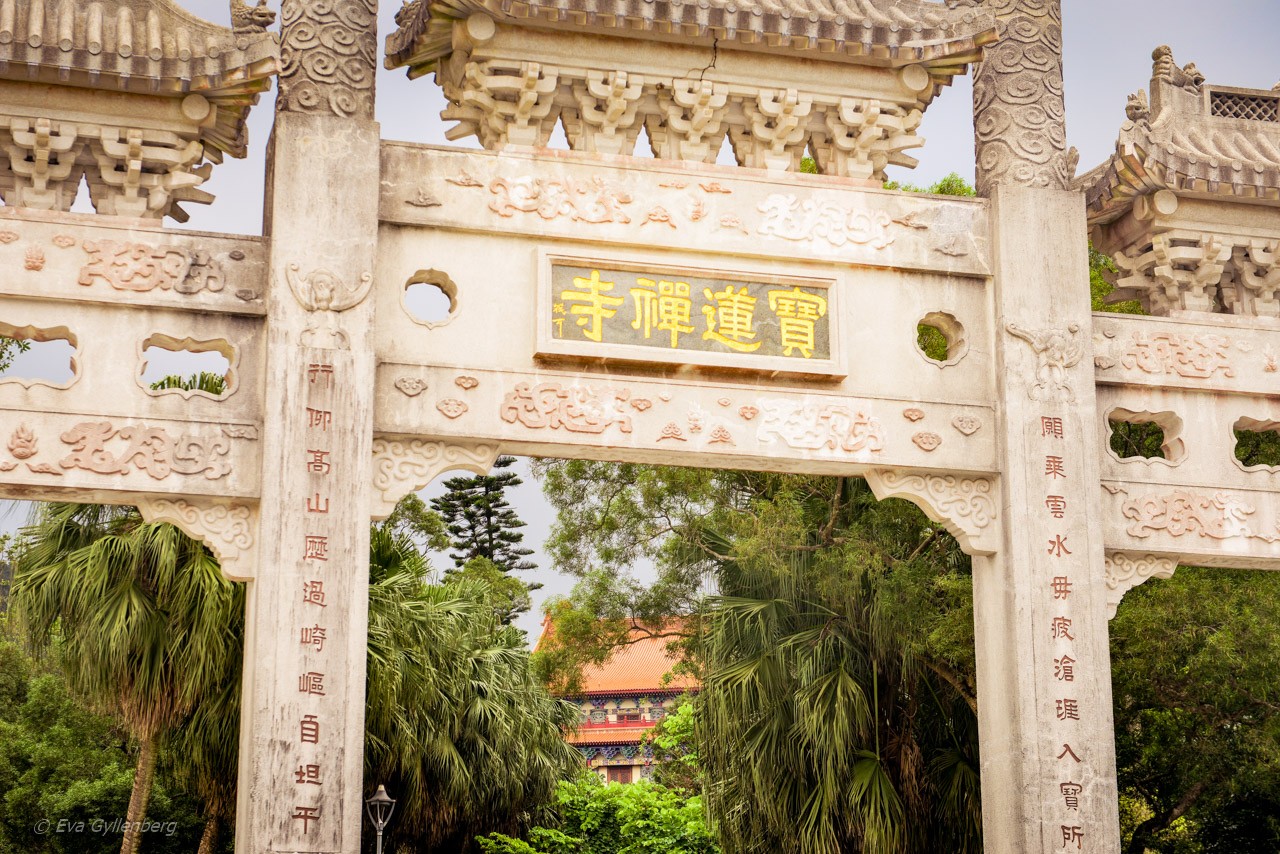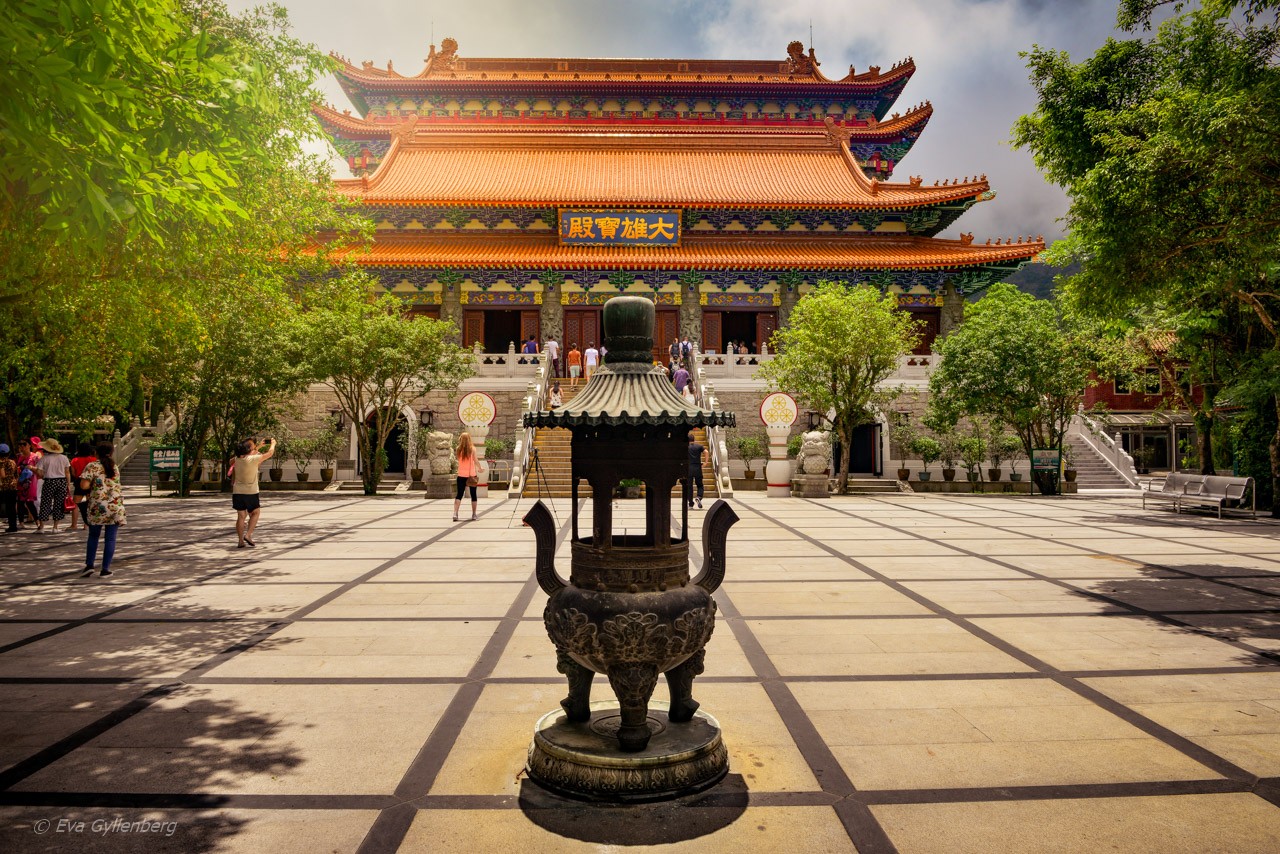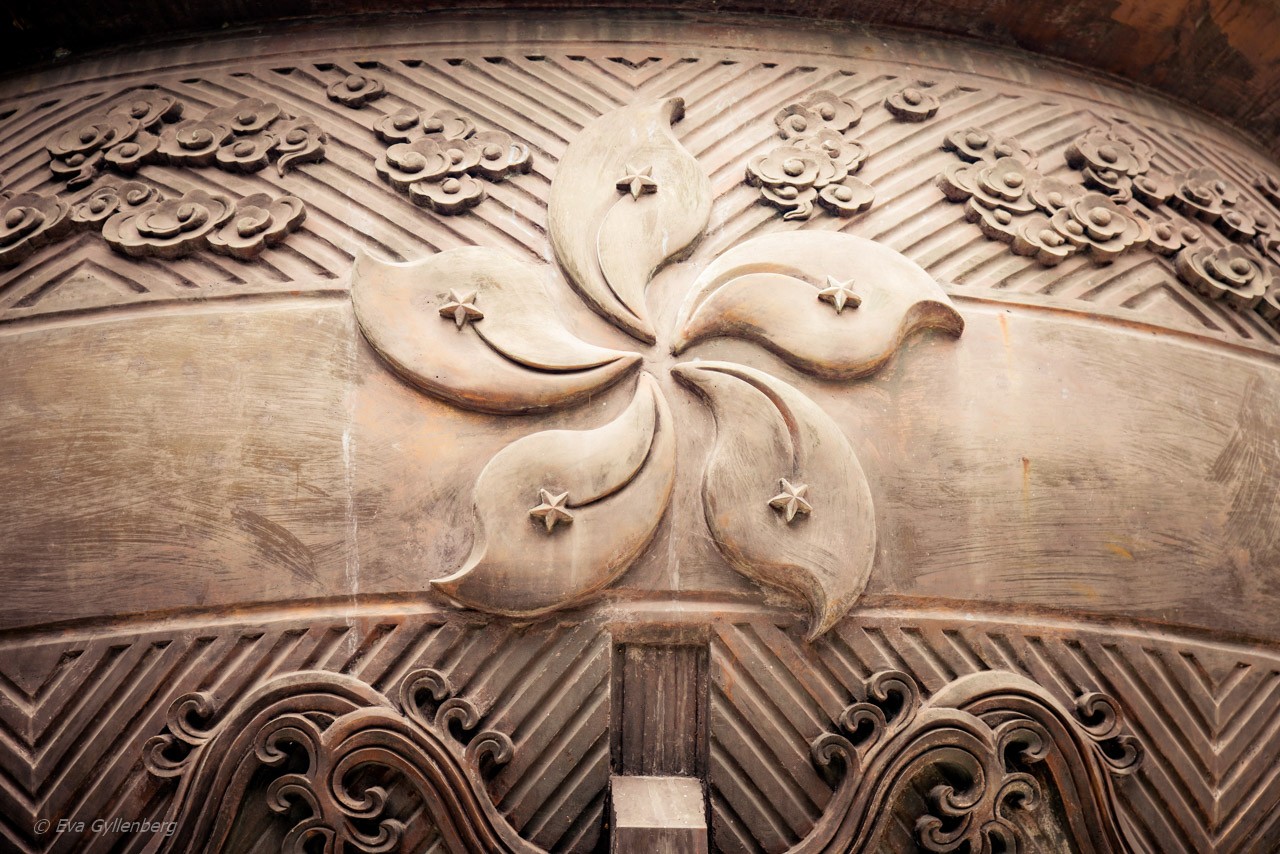 Incense is heavy in the air, wherever we go. Like a thick, fragrant carpet of smoke. It stings the nose a little and the eyes a little itch, but that doesn't stop visitors from lighting more incense. Of worship and respect, for life and for our ancestors.
For more than two thousand years, incense has been used in China in religious ceremonies and in traditional Chinese medicine. There are lots of different types of incense, most of them are long, narrow and yellow or red. Here in Po Lin, I only see yellow incenses. I wonder if there is any special meaning to the yellow incenses. Would I be able to light a classic red incense, or would I be breaking any rules?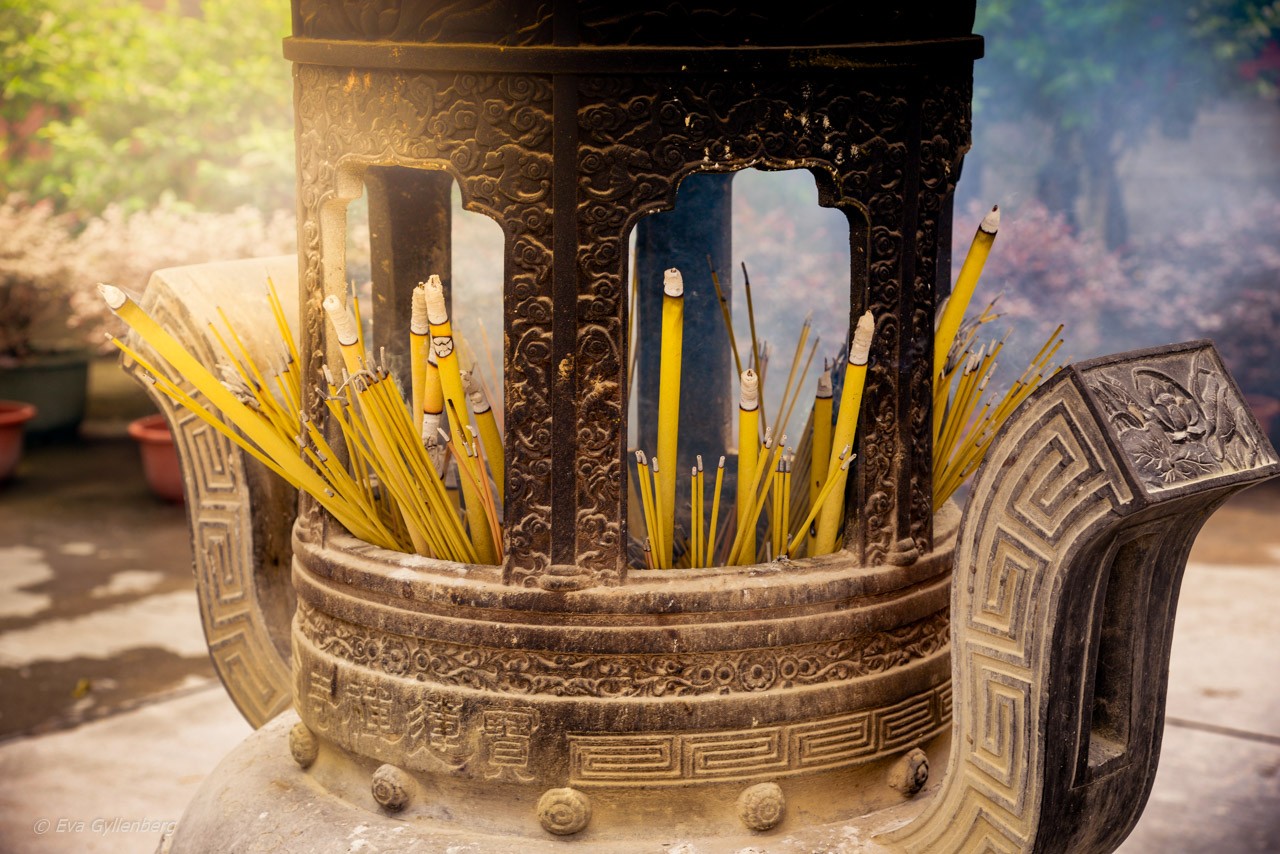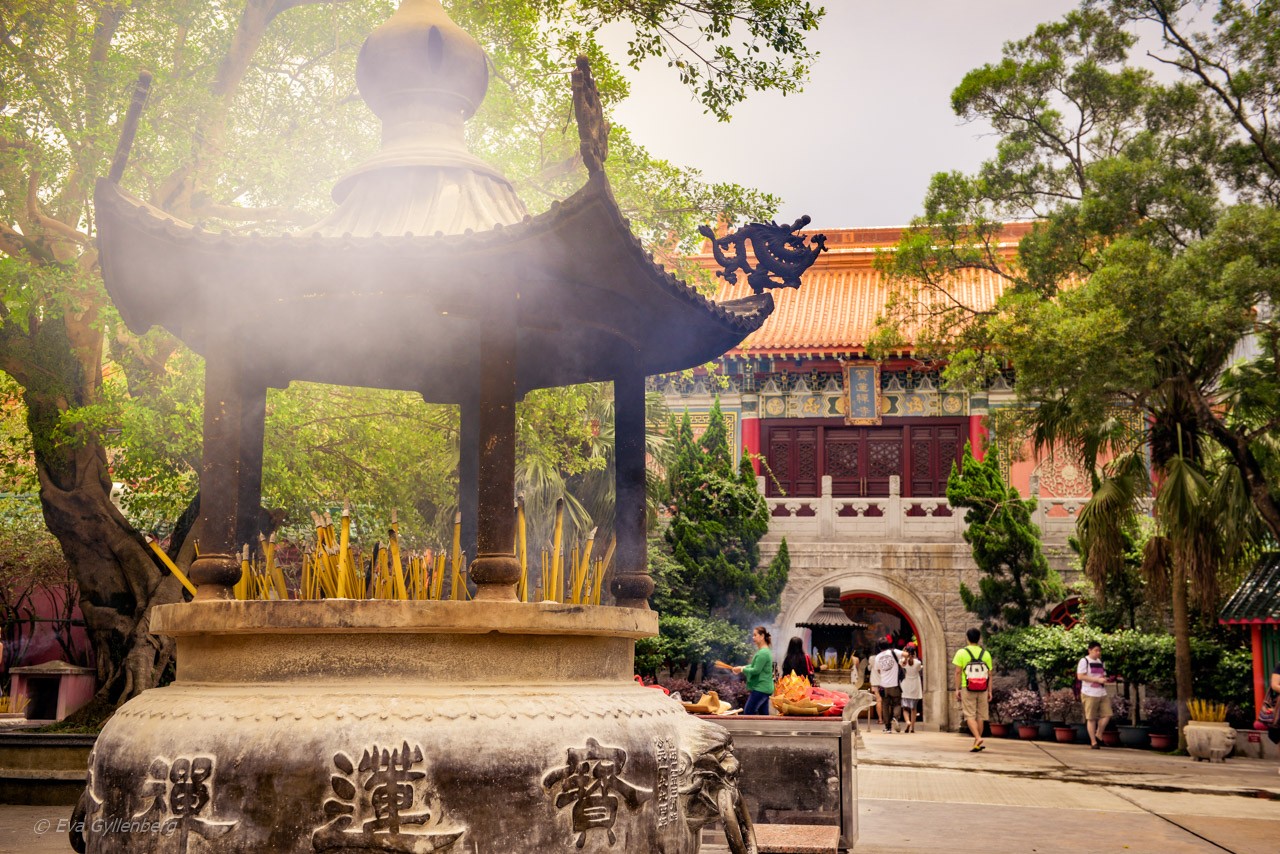 We wander around the over forty buildings in Po Lin. Beautiful statues, well-decorated rooms and golden Buddhas meet us in every building. Most beautiful is The Grand Hall of Ten Thousand Buddhas. A great hall filled with statues, dragons, flowers and gold.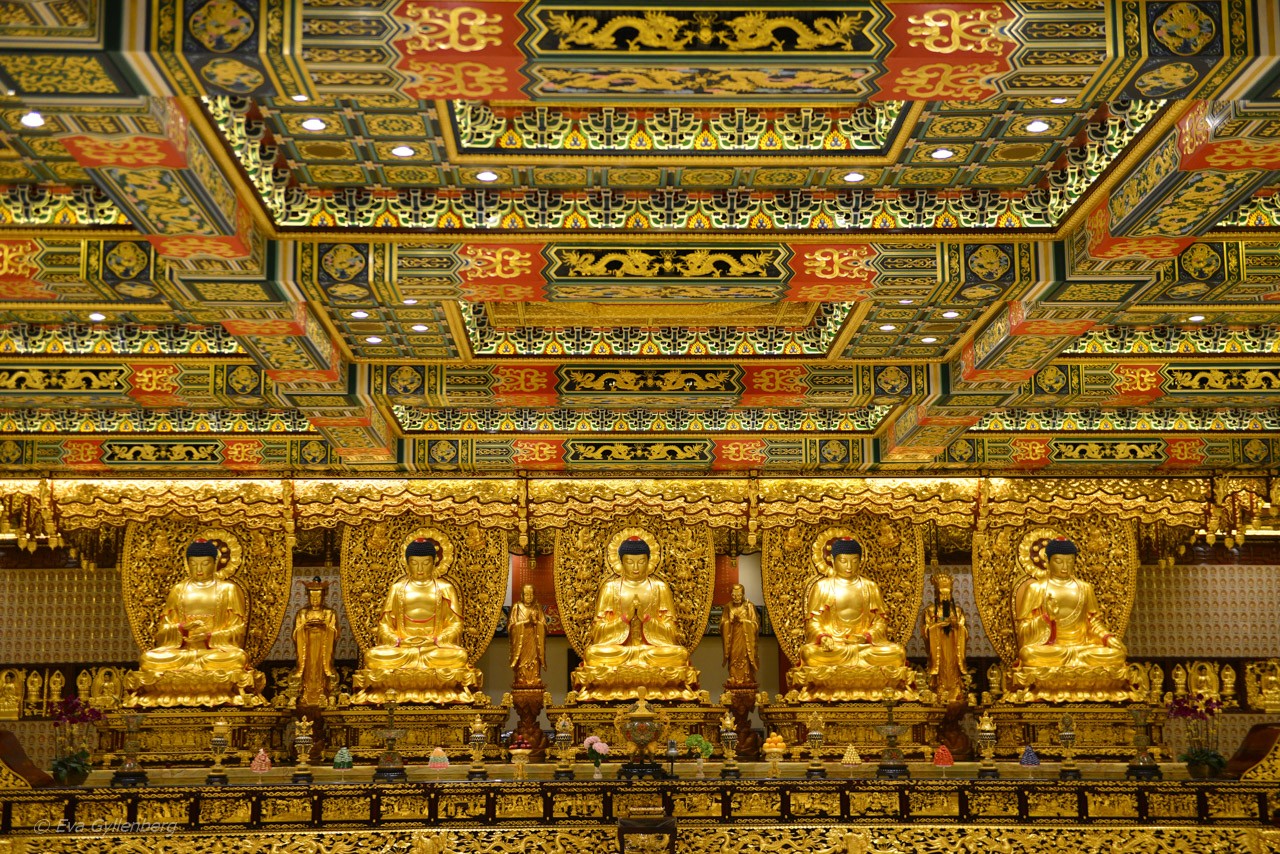 We jump on the cable car back to the coast again. Our cable car basket has a glass bottom and we can see everything that happens below us. A hiker is heading up the steps towards Po Lin Monastery. The umbrella is folded up. No need to ever fold it up. If it's not rain you want to protect yourself from, then it's sun. It is possible to hike to Po Lin in about 3 hours, but we saw very few people hiking. Although the hiking trail looked very well organized from above, it may have been the 30-degree heat that put a damper on the hiking trail.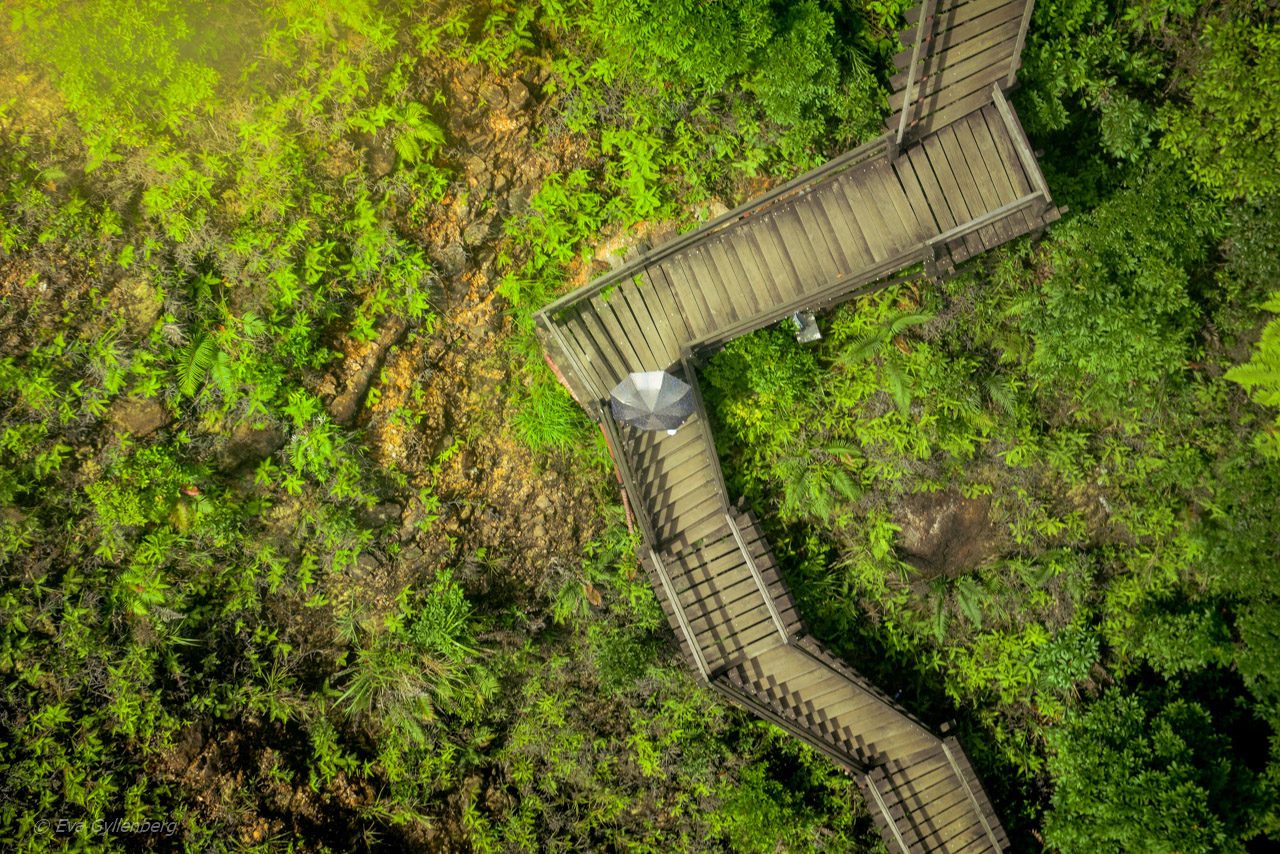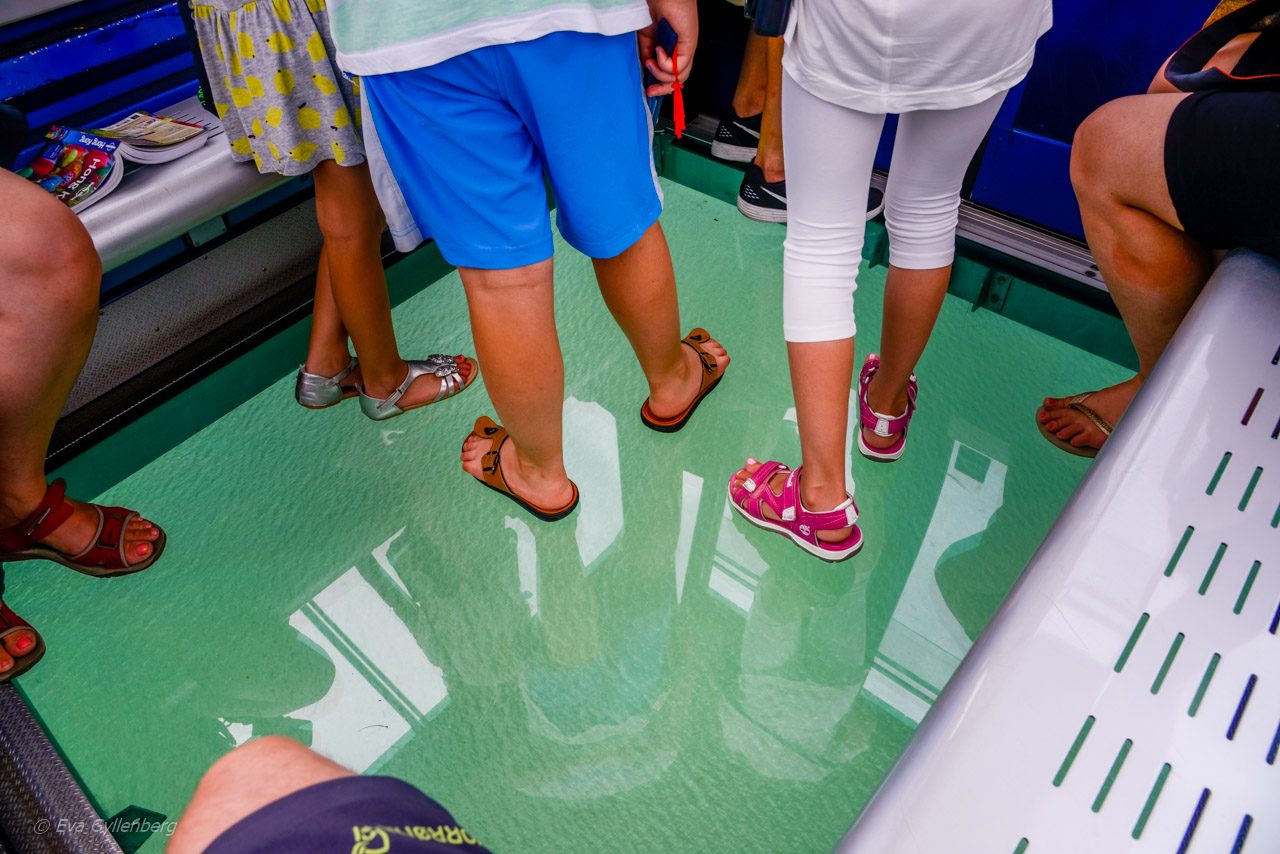 How do I get to Po Lin Temple and Big Buddha?
We took the orange line "Tung Chung Line" to the subway station Tung Chung Station. From there we took the Ngong Ping 360 cable car up to Po Lin Temple. Fast, flexible and easy. Be prepared for queues at Ngong Ping 360 if you visit on weekends and public holidays.
Po Lin Monastery
Nong Ping
Lantau Island
Hong Kong
Map
Do you want to read more about Hong Kong? Look into my Hong Kong site!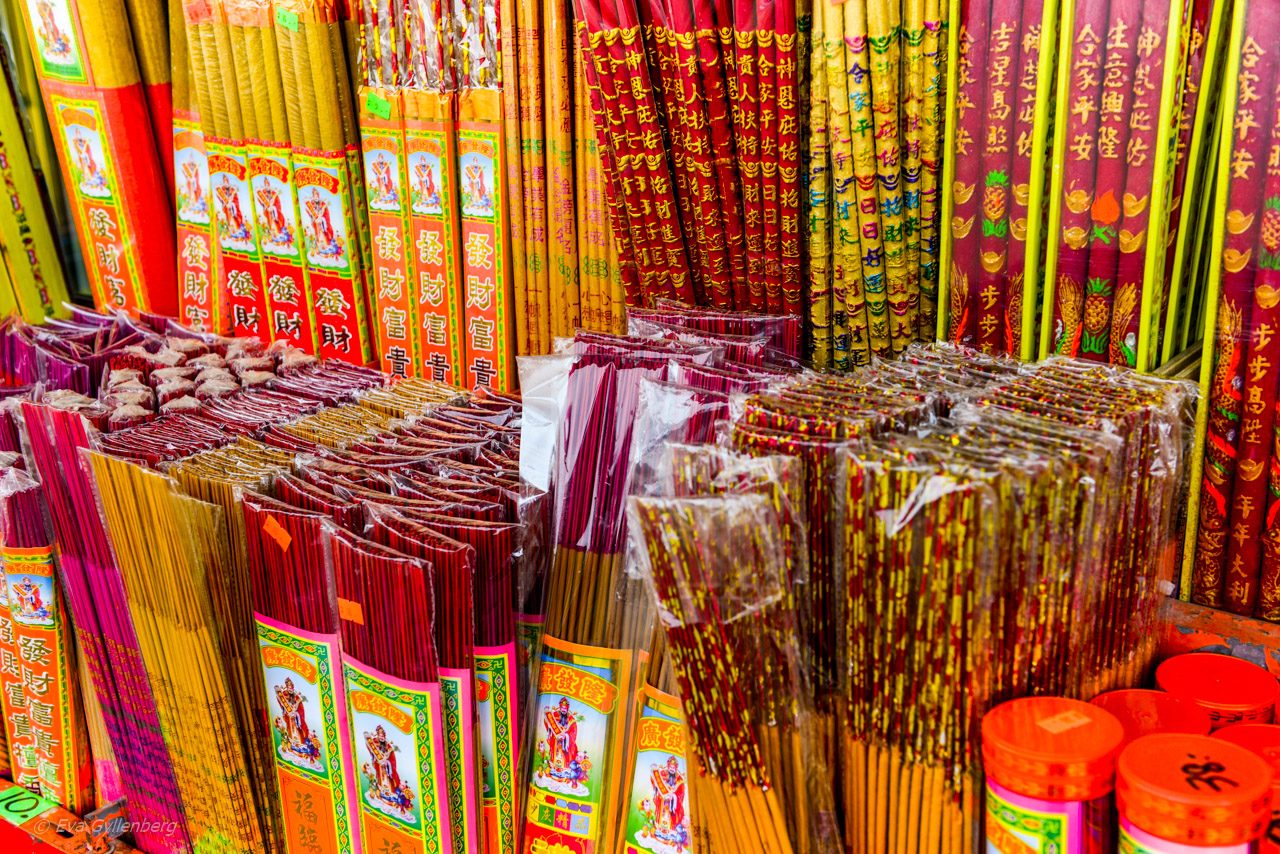 Want to read more of my travel tips? do not forget to like Rucksack on Facebook!
Want to read more from Hong Kong?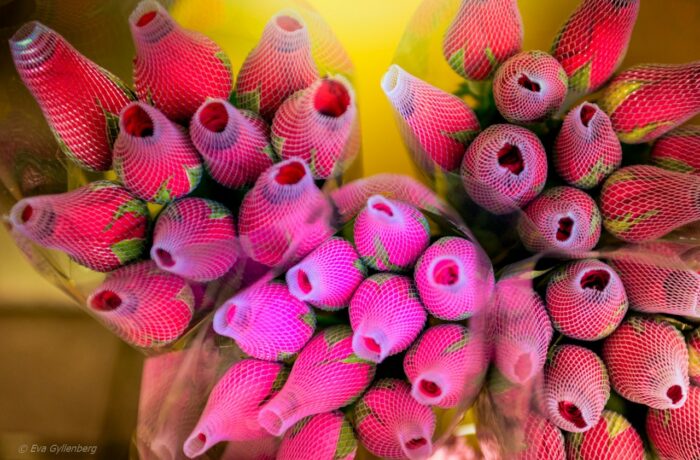 In market-dense Hong Kong, there is an entire street filled with happiness and beauty. Stroll past…
1th April 2019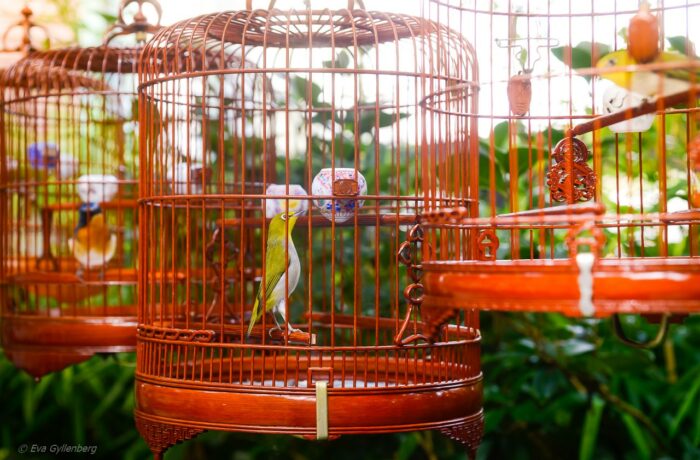 In the Yuen Po Bird Garden, the elderly gentlemen meet every day together with their…
January 9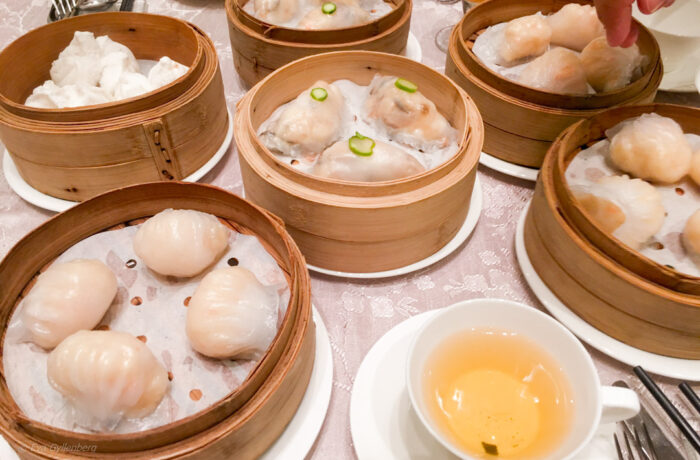 Hong Kong is one of the world's most exciting food cities. But what do you have to taste…
June 22th, 2018