The visit to Ivögården was made in connection with a press trip with Visit Kristianstad, but all thoughts and opinions are, as usual, my own.
When you start something out of passion and love what you do, then it will be really, really good! In 2012, head chef Petter Jeppsson took over Ivögården of Ivön in northeastern Scania. Since then, the old parsonage has gone through a bunch of changes and fully blossomed into a magnificent bouquet of restaurant, farm shop, farm hotel and winery. This year celebrates Ivögården 10-year anniversary and today Petter runs the place together with his wife Therese. We had a weekend lunch here on a sunny autumn day in November and got to learn all about Sweden's smallest commercial winery - which has also been deservedly nominated for the top five in 2022's "Best of Scania" by Magasin Skåne!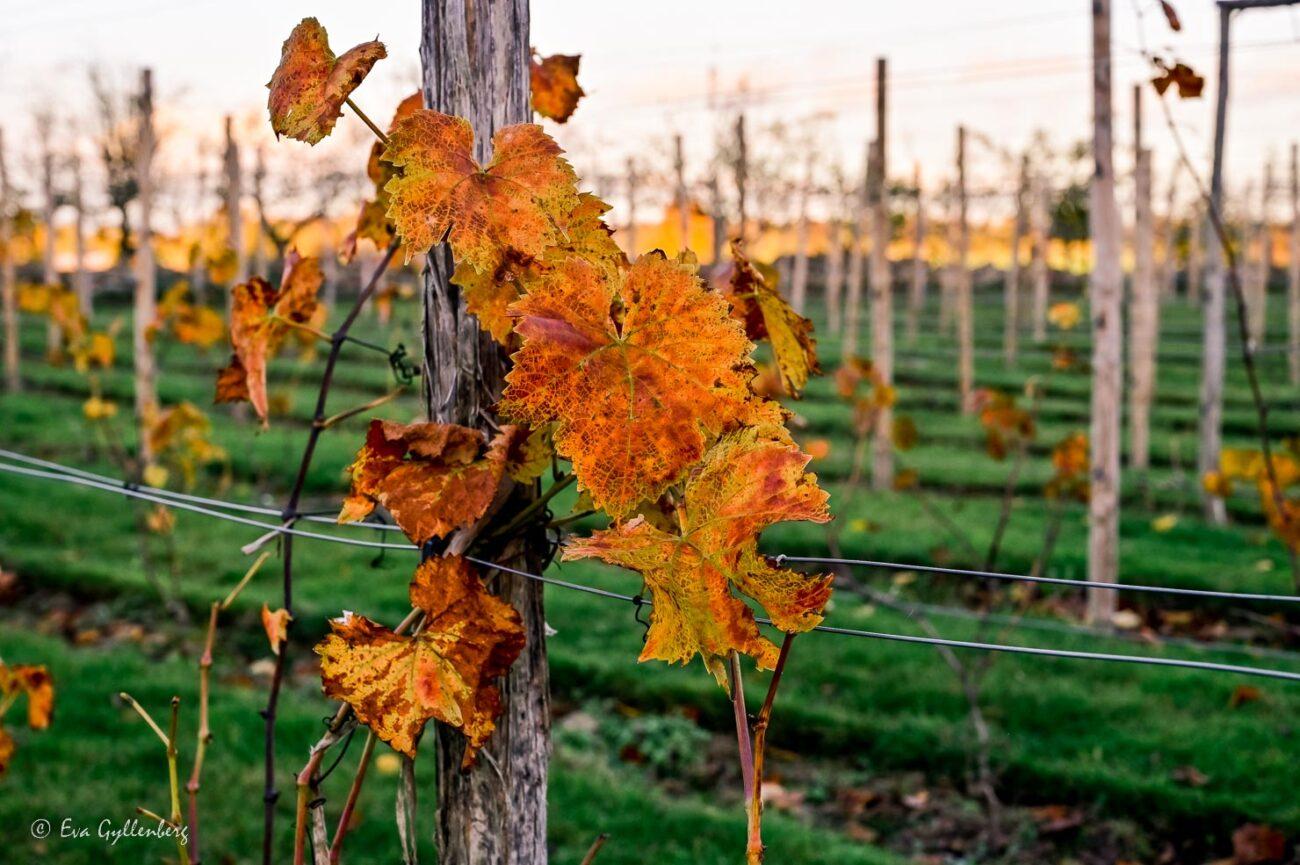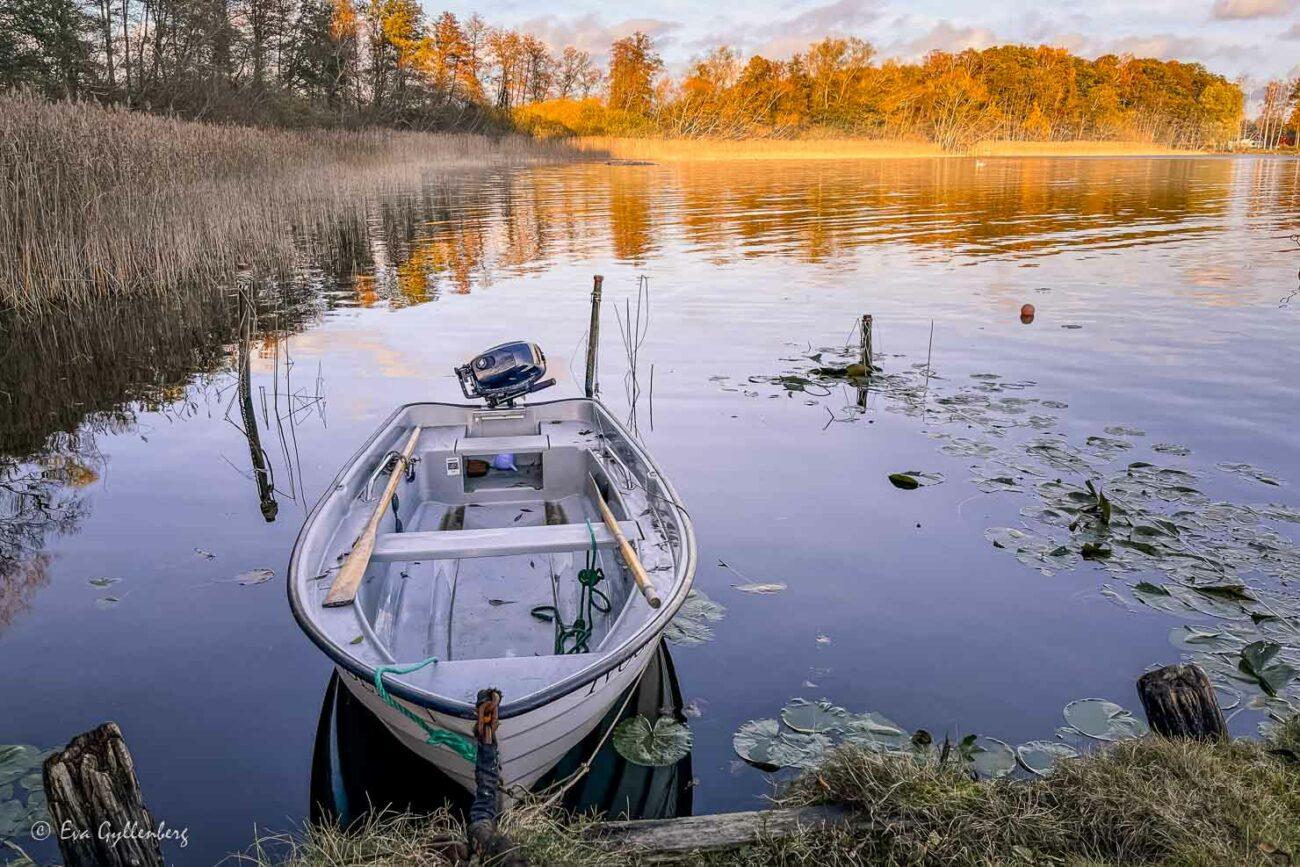 The restaurant
Ivön is a real summer paradise and there are plenty of opportunities for fishing, kayaking, swimming, cycling and hiking. Nature is always present and there are plenty of neighboring farms that can supply locally grown and high quality produce. With the seasons, the menu also changes Ivögården. Chanterelles picked on the island or roe from whitefish from the lake - you never know what delicacies will appear on the menu.
Both lunches and dinners are served here, and the evenings offer everything from a goose dinner to a Nobel dinner or a 5-course winter menu. We got a sneak taste of Petter's goose pate that was to be served at the goose dinner and I can report that it tasted absolutely fabulous!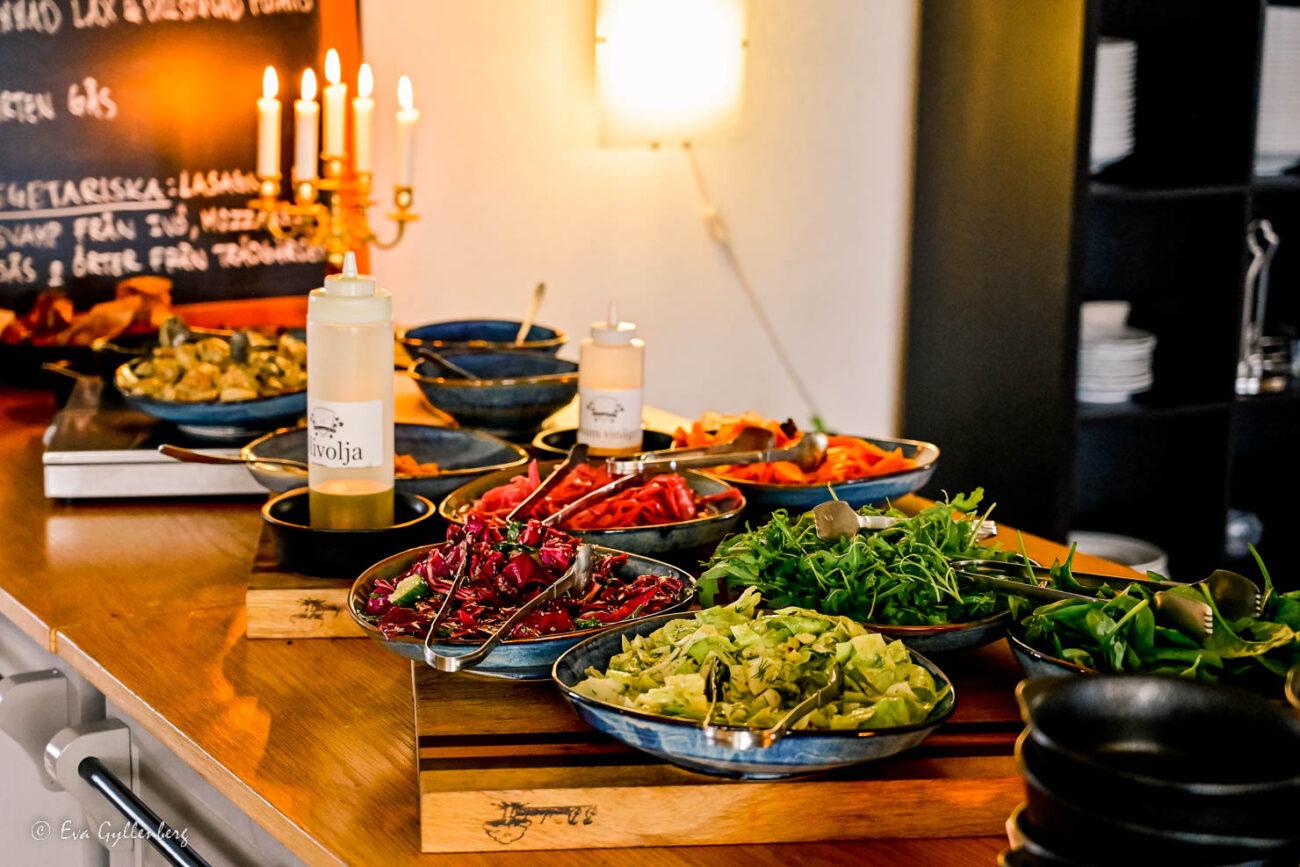 When we visit Ivögården on a Saturday in November, a lovely weekend lunch is served consisting of smoked salmon with dill stewed potatoes and pickled cucumbers and yellow beets. The freshly baked bread is warm when I cut into it and the hearty salad buffet is not just a salad buffet – but also a herring buffet. Lighted candles and a personally decorated dining room make the entire lunch the very image of peace and quiet. The fact that the food then tasted absolutely fantastic did not make the experience any worse. Rimmed salmon with creamy dill stewed potatoes must be the closest we Swedes get to the concept of comfort food.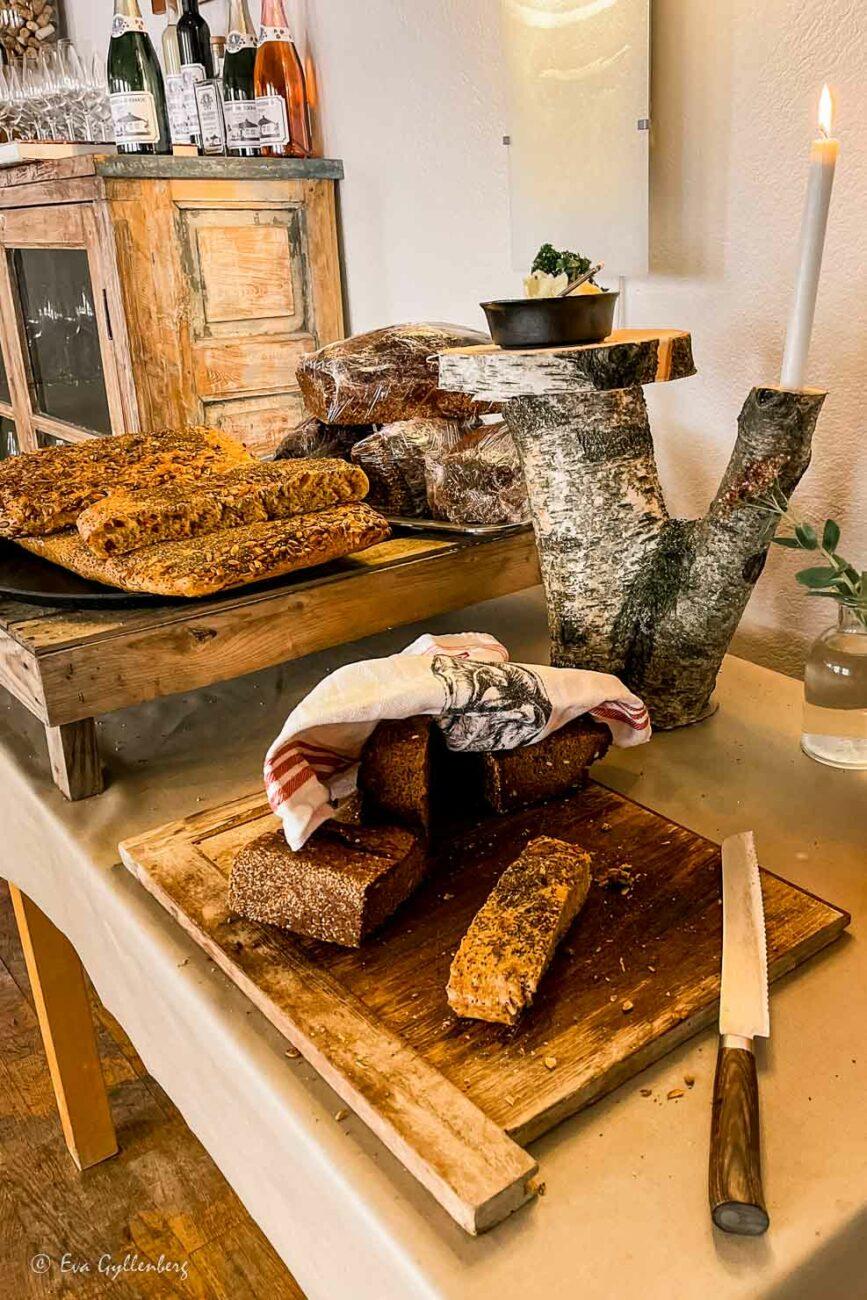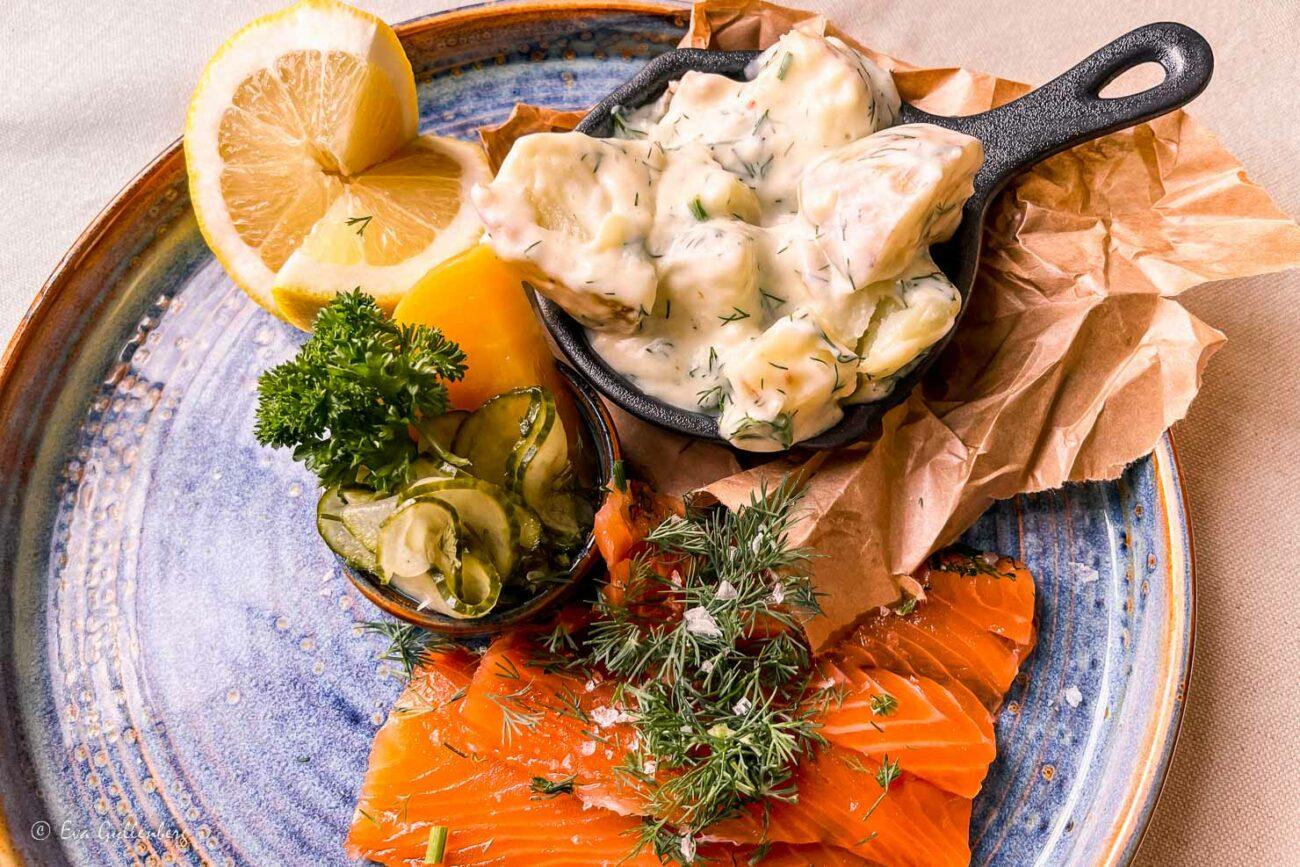 At the bread table, bottles of the farm's wines are lined up - Ivögårdens sparkling and the farm's most famous wine Ursula. The wine is named after Ursula's spring nearby Ivö church, which in turn has been named after the patron saint Saint Ursula. The story goes that the archbishop sent one of his servants to fetch water, but that the spring had turned to wine. It does not tell whether the wine source was a one-off event, but today you will probably rather find the wine source at Ivögården. For Ivögården is not just a restaurant, but also serves wine from the estate's own vineyards.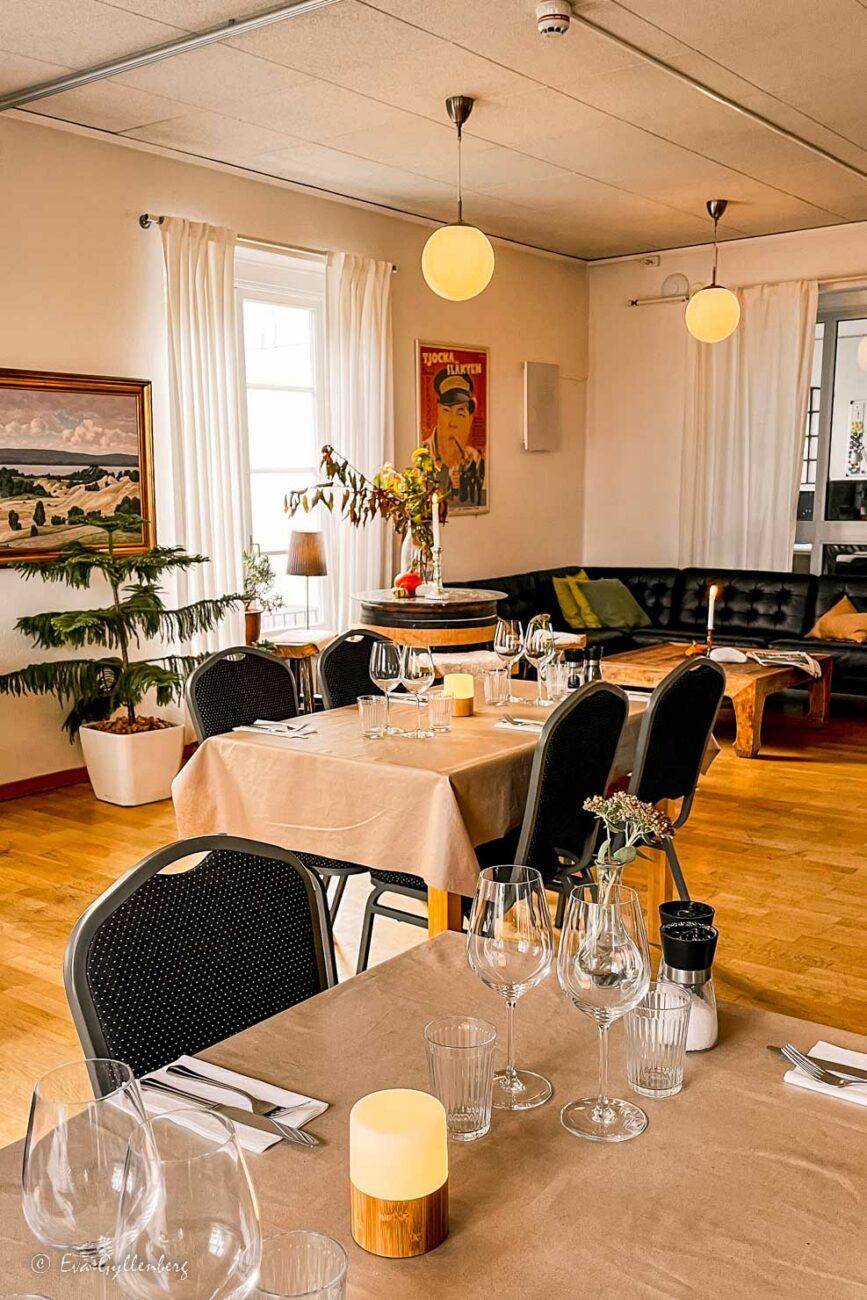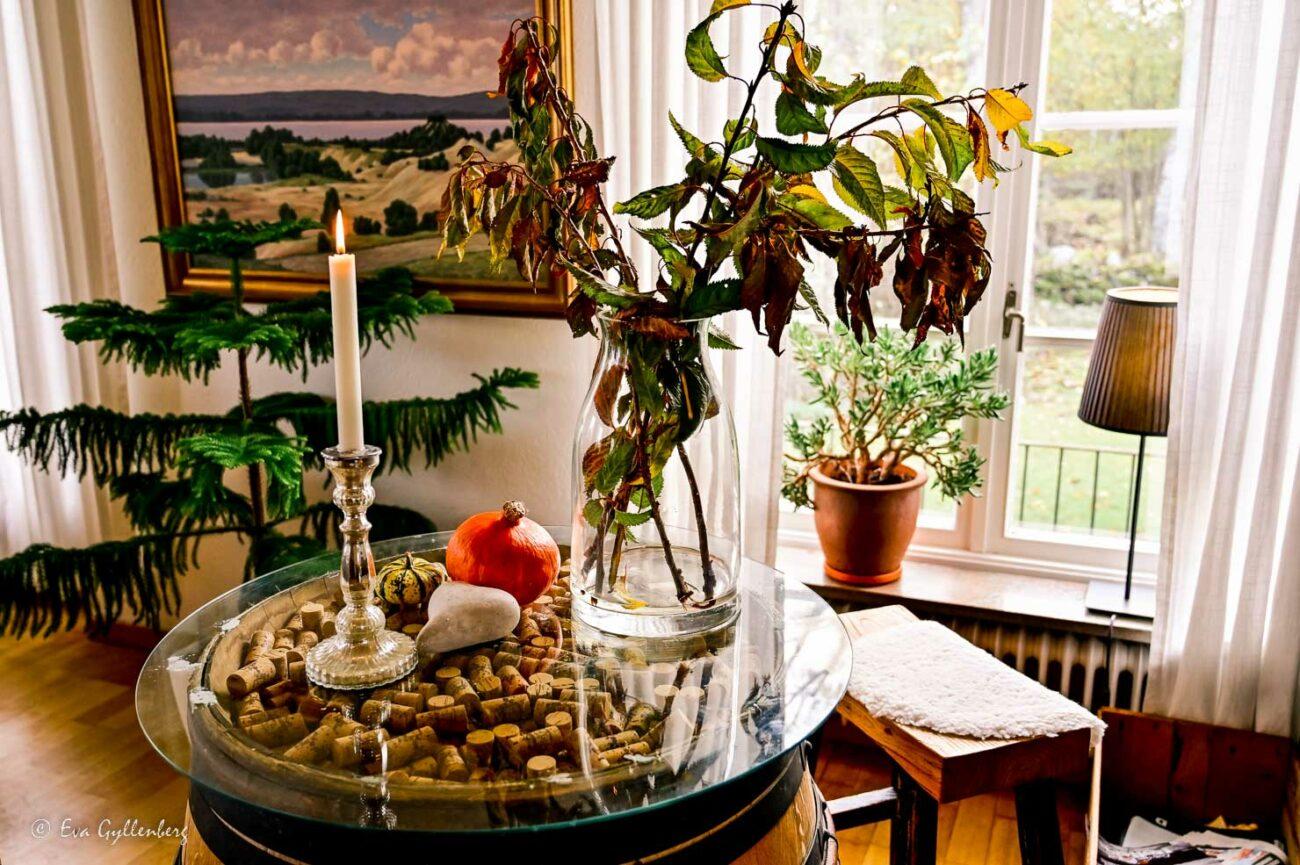 The vineyard on Ivö
If your father dreams of becoming a wine farmer and asks a little nicely if he can plant some vines on Ivögården, it's hard not to get carried away by the dream of your own vineyard. Today has Ivögården 900 vines and can boast its own wine from three different kinds of grapes and also the estate's own grape-based spirits.
But what is it then that makes it so suitable to grow wine here? Ivön? The climate first and foremost. Ivösjön around the island evens out the temperatures and the mountains around the lake protect against strong winds. Since the viticulture started in 2013, there has not been a single frosty night during the season, which is a prerequisite for a good wine harvest. Here on the farm, they have also chosen to grow so-called piwi grapes, hybrids that are resistant to many diseases and that cope with the Nordic climate extra well. Unlike traditional Chardonnay and Pinot Noir, these grapes also do not require chemical spraying, which makes the cultivations both sustainable and environmentally friendly.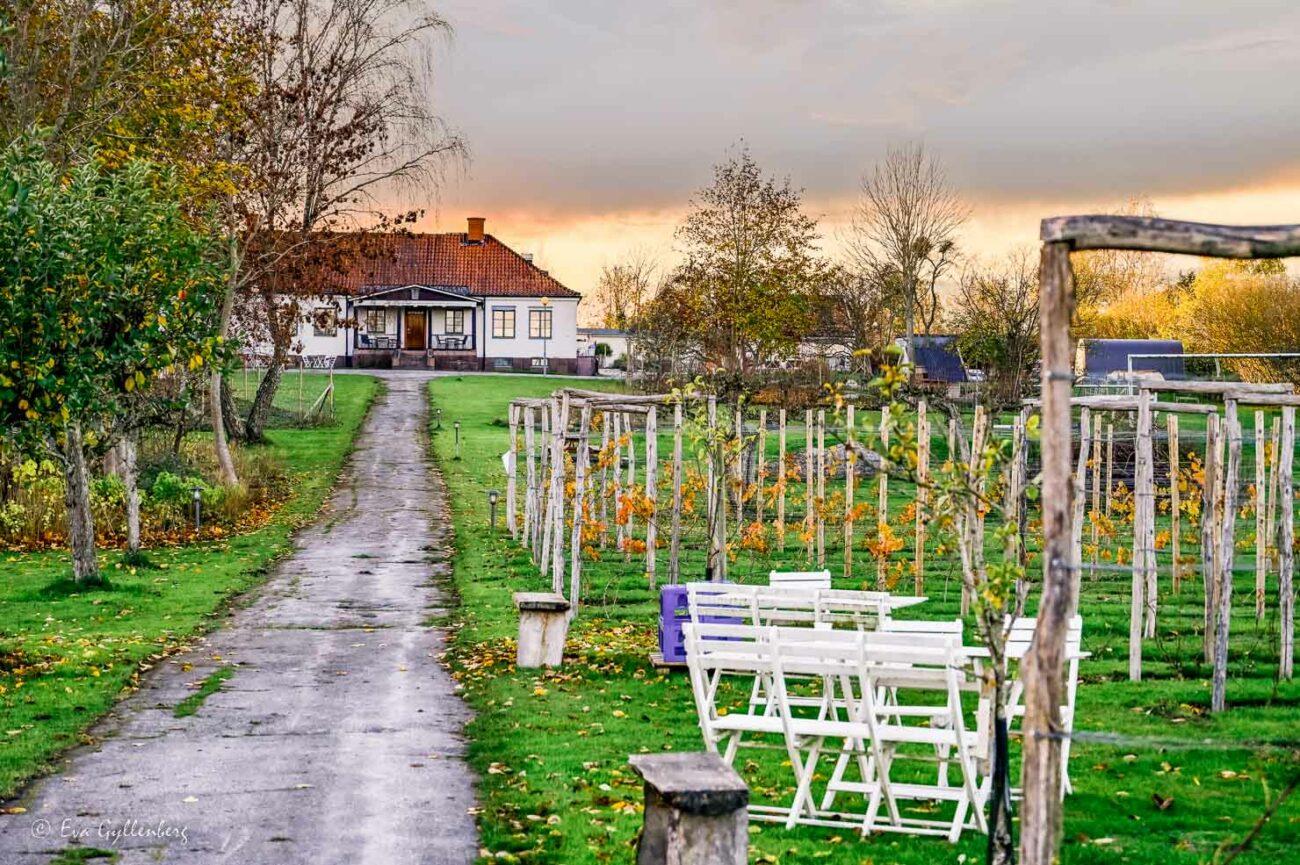 In 2019, the farm's own wine was served for the first time at Ivön and since then production has only increased. Today, 450 of the 900 logs are old enough to be used for wine production, the rest can for the time being be used for spirit production. Ivögården is today Sweden's smallest commercial vineyard and the own wine can only be tried here on the farm. What fits better then that Ivögården also offer accommodation?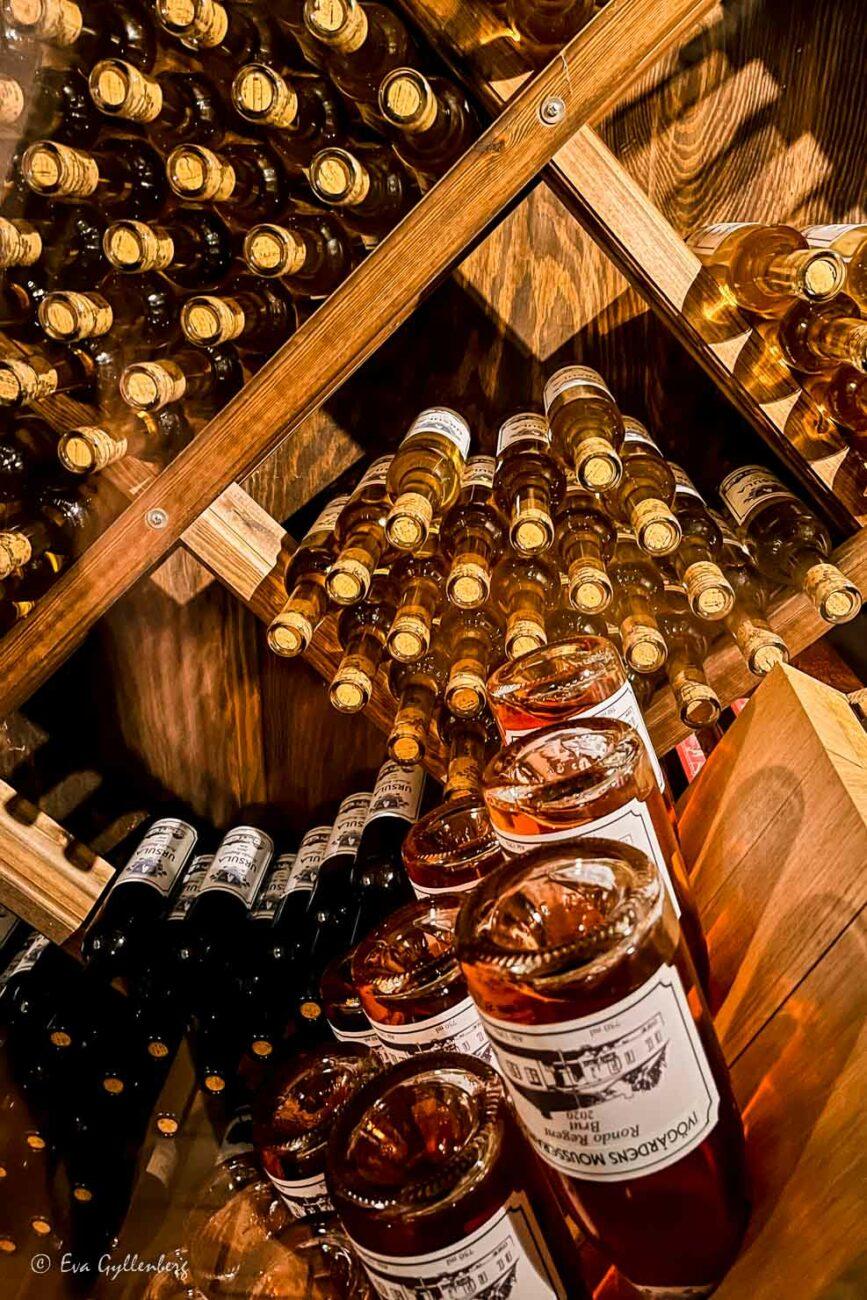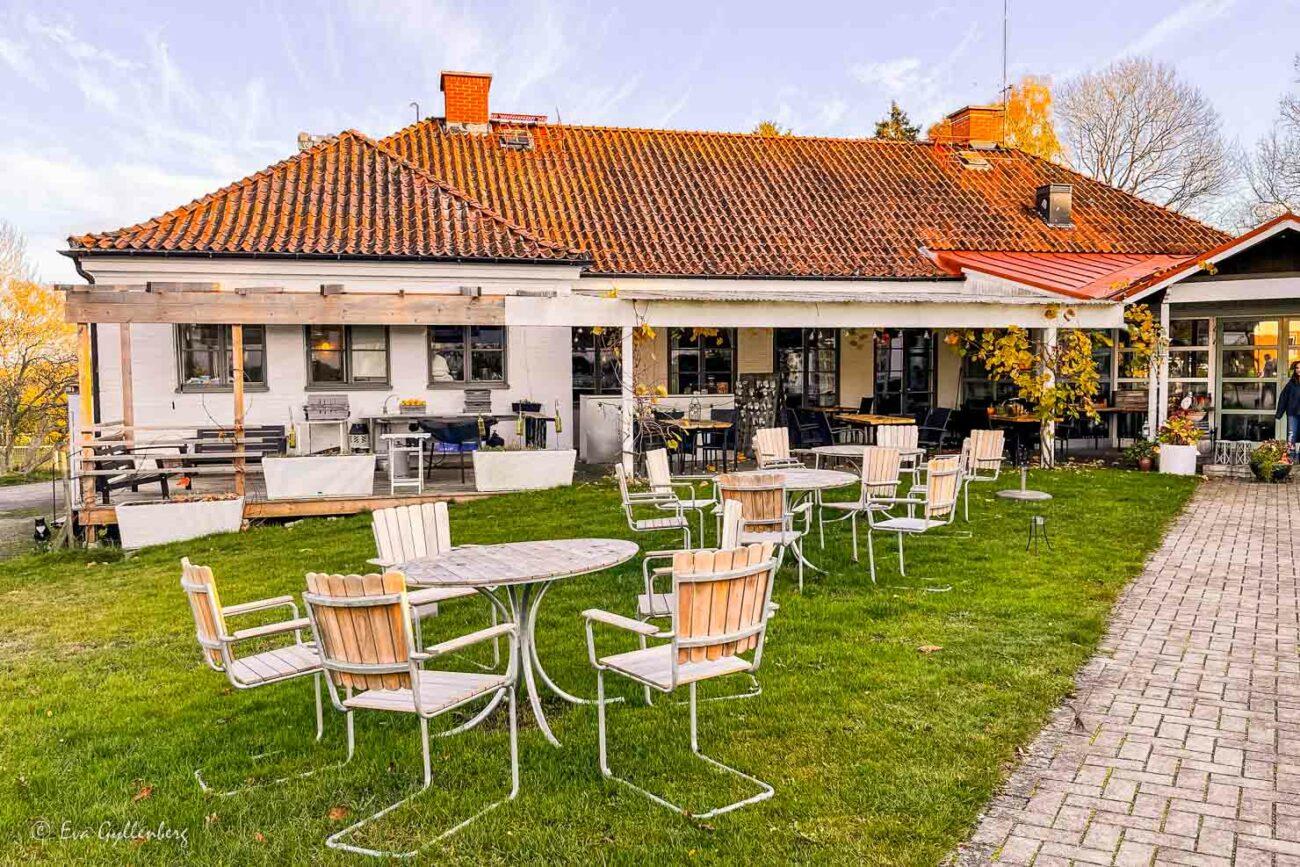 The farm hotel
For those who want to have a lovely dinner and not rush home in the evening, there is the option of staying over at the small farm hotel/hostel. There are 15 nice rooms with a hotel feel with a shared kitchen, outdoor bath/relaxation area and lounge. Showers and toilets are shared in the corridor.
We didn't stay over this time so I can't report on whether the beds were fluffy and nice or if there was conditioner in the shower, but it sure looked nice!
Several of the rooms are dog friendly.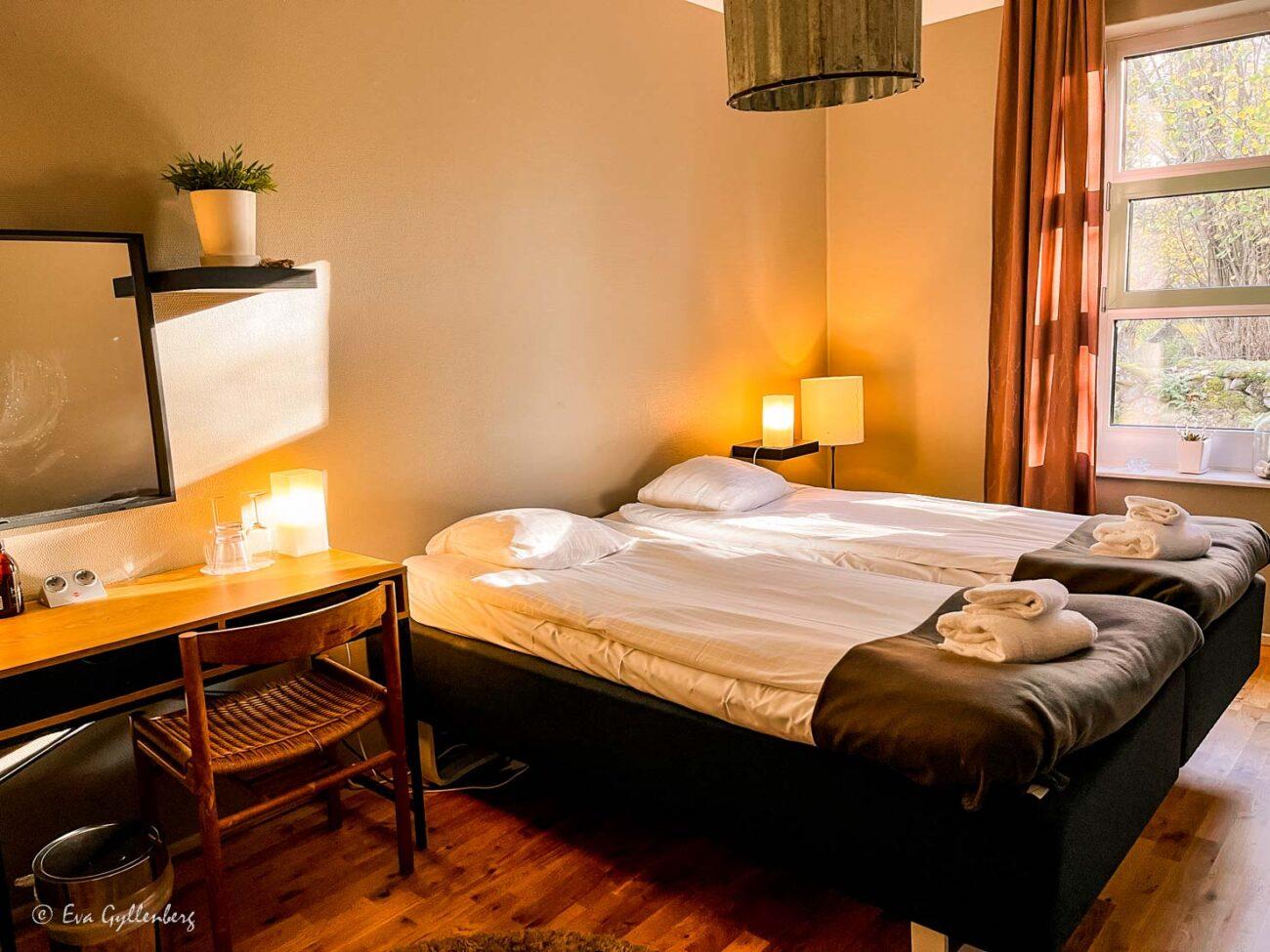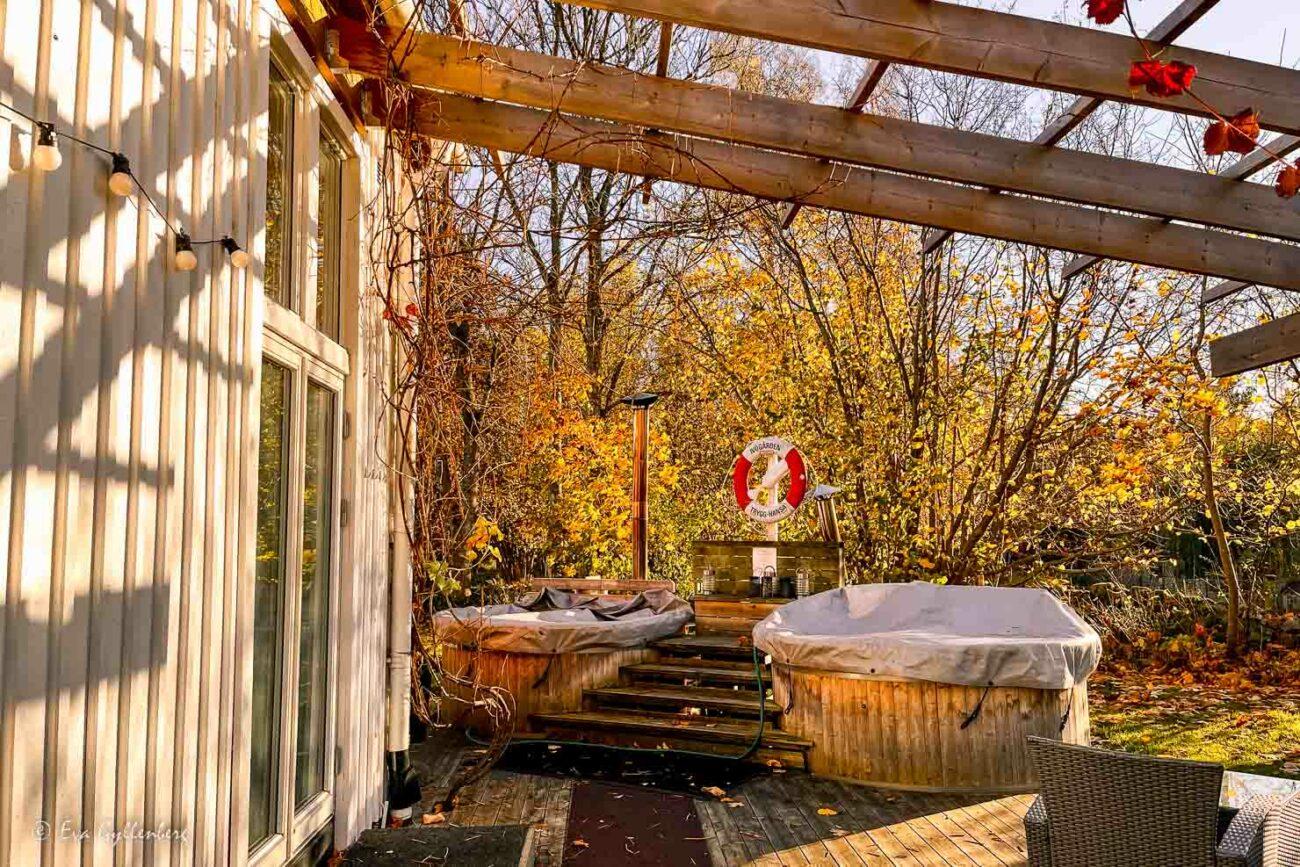 farm shop
For those of you who have passed the roads and don't have time to stop for a bite to eat, there is also a small farm shop where you can buy, among other things, beautiful porcelain, marmalades, jams and lemonade. But it's a shame to stop at a gem like this just to buy jam, isn't it? 🙂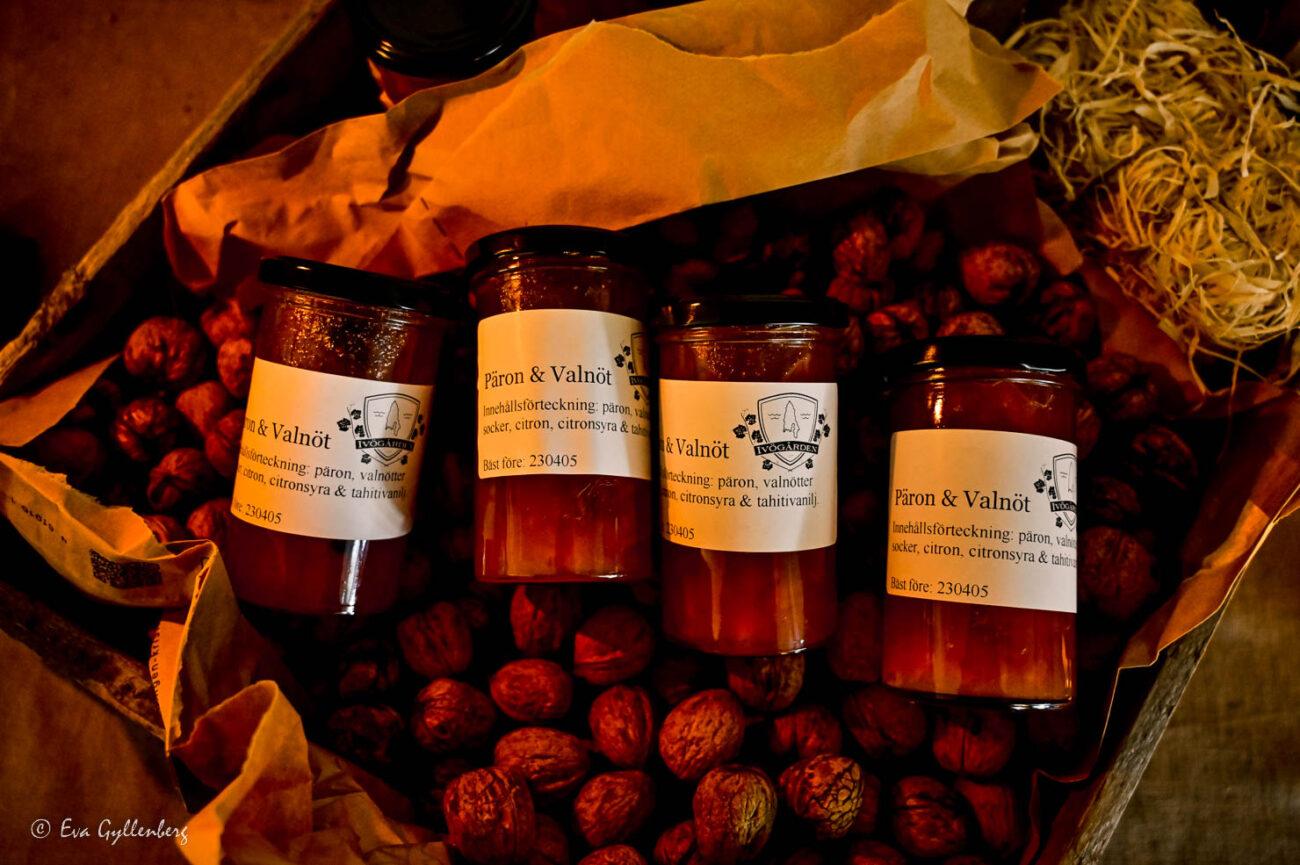 How do I find it? Ivögården?
Ivön is located in north-eastern Scania, north-east of Kristianstad. To get to the island, you need to take a road ferry, which operates around the clock (although it rarely runs in the middle of the night).
The road ferry from Barum to Ivön takes 7 minutes and is free.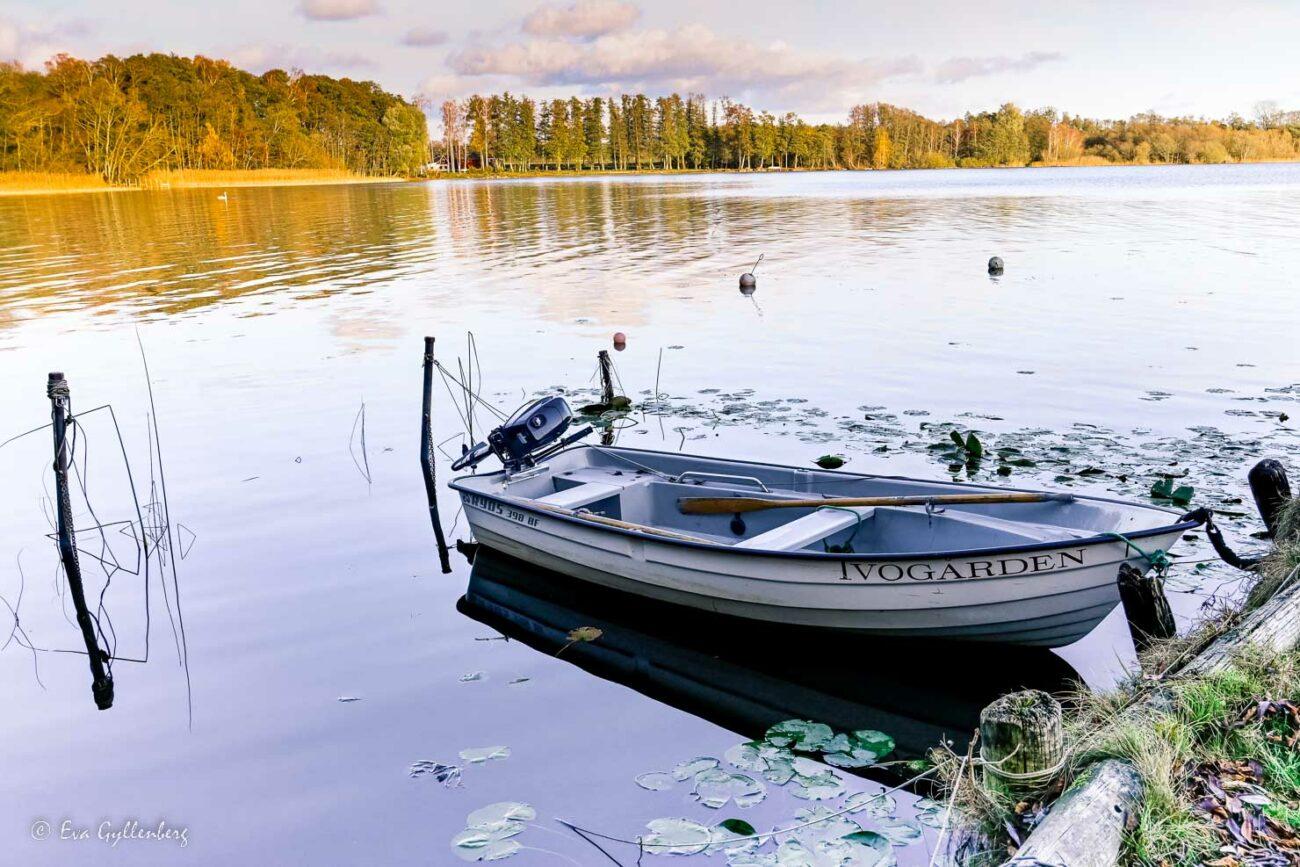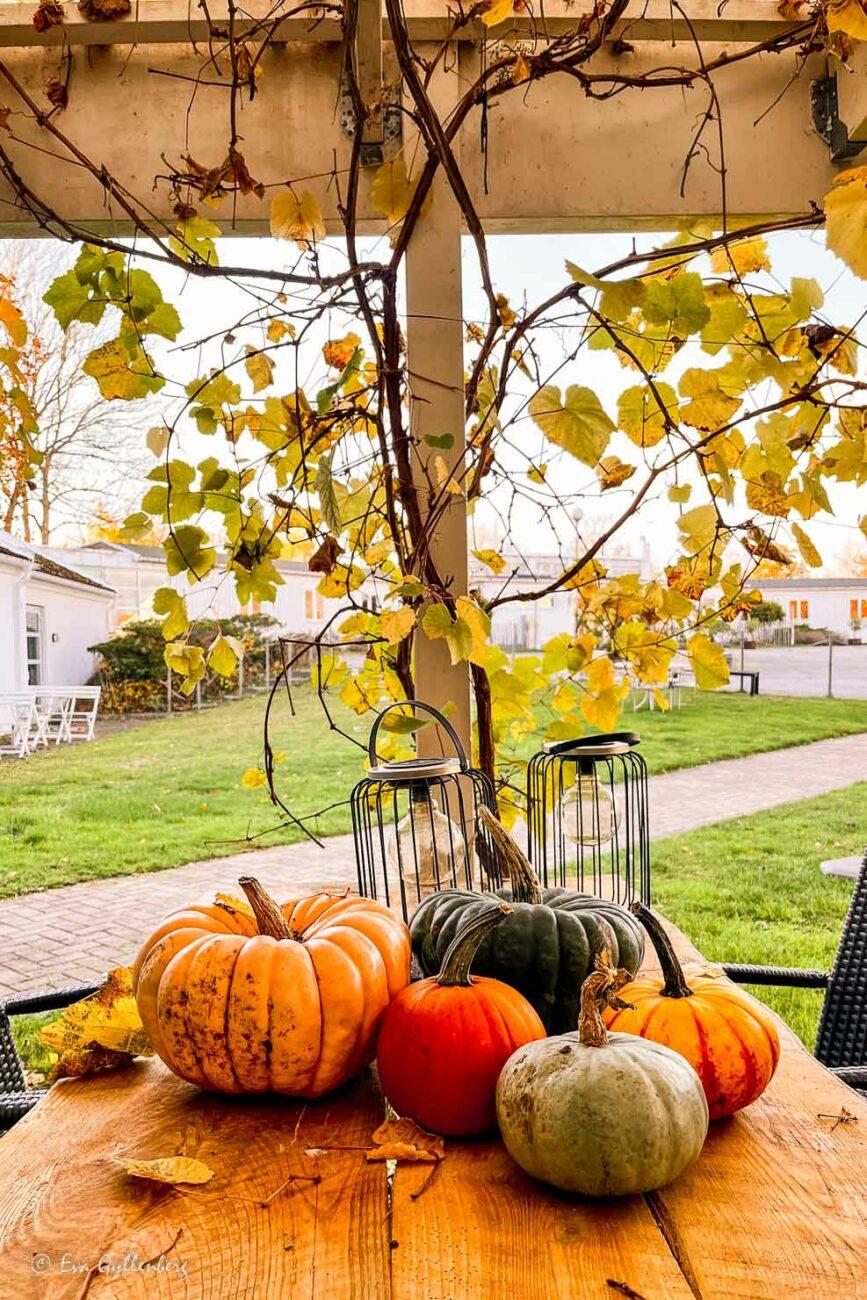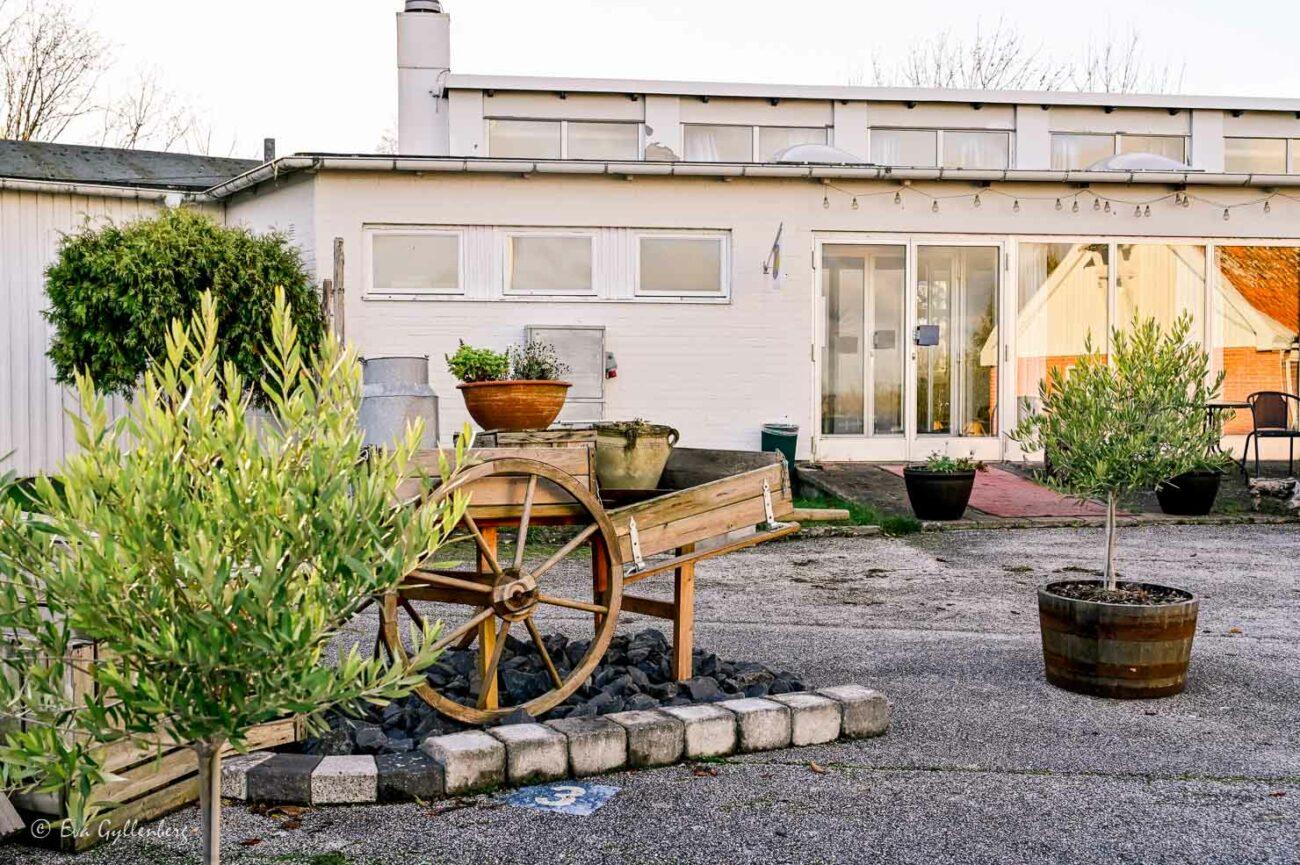 PS: Good luck to Petter and Therese in the final of Skåne's best!
Have you been here? What did you think of the destination?
Been there - didn't like it!
0
Not keen at all to go here!
0
Eva Gyllenberg
Travel blogger, gastronaut, photographer and family adventurer with over 55 countries in his luggage. Eva loves trips that include beautiful nature, hiking boots and well-cooked food. On the travel blog Rucksack she takes you to all corners of the world with the help of her inspiring pictures and texts.