For our first nights in Bali, we needed good and practical accommodation. The plan was to do excursions these days, so we didn't need super luxurious accommodation, but rather comfortable accommodation in a good location close to attractions and restaurants. The choice fell on Segara Village in Sanur – a large mid-range hotel with a good location, which unfortunately did not quite meet my expectations for a four-star hotel.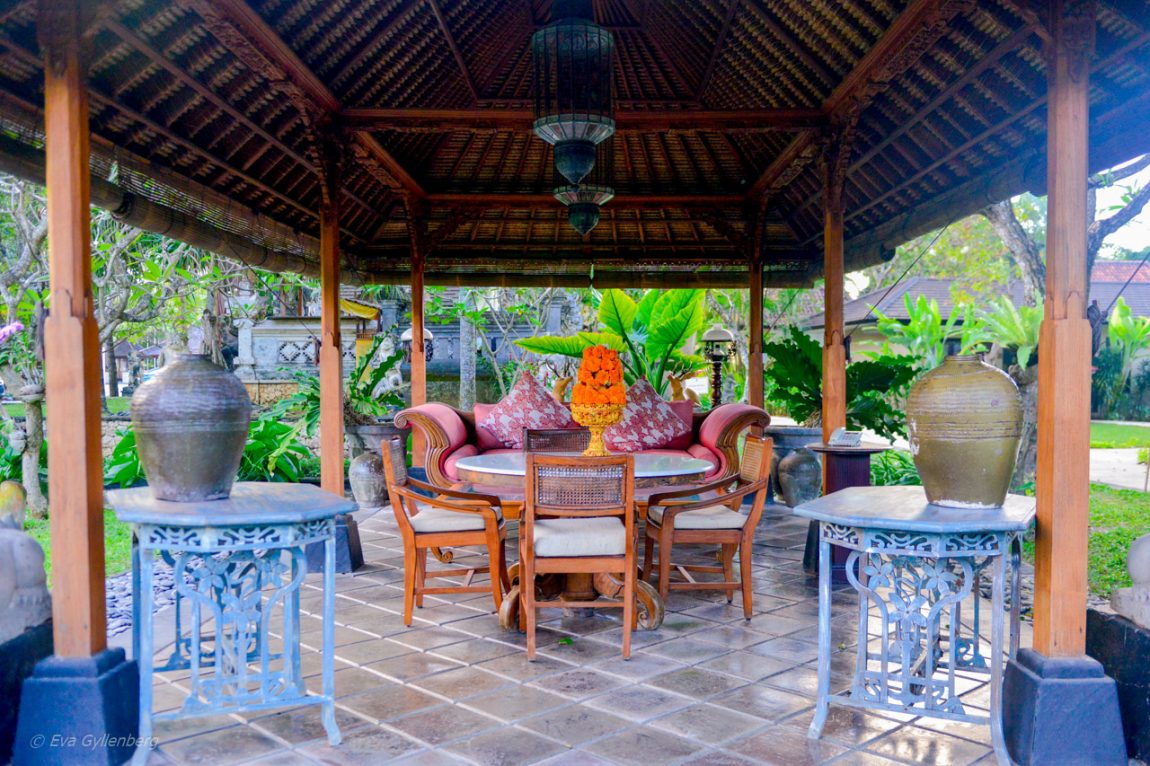 Area ****
Segara Village is located on a large and green area right by Sanur's beach. The area is filled with statues, temples and flowers and is beautifully lit during the evening. The hotel's rooms are divided into "villages" and the breakfast restaurant, lounge and pool are located above the popular promenade. The beach restaurant and sunbeds are located on the beach, below the promenade. In the area, large, round turkeys run around and peck at the grass.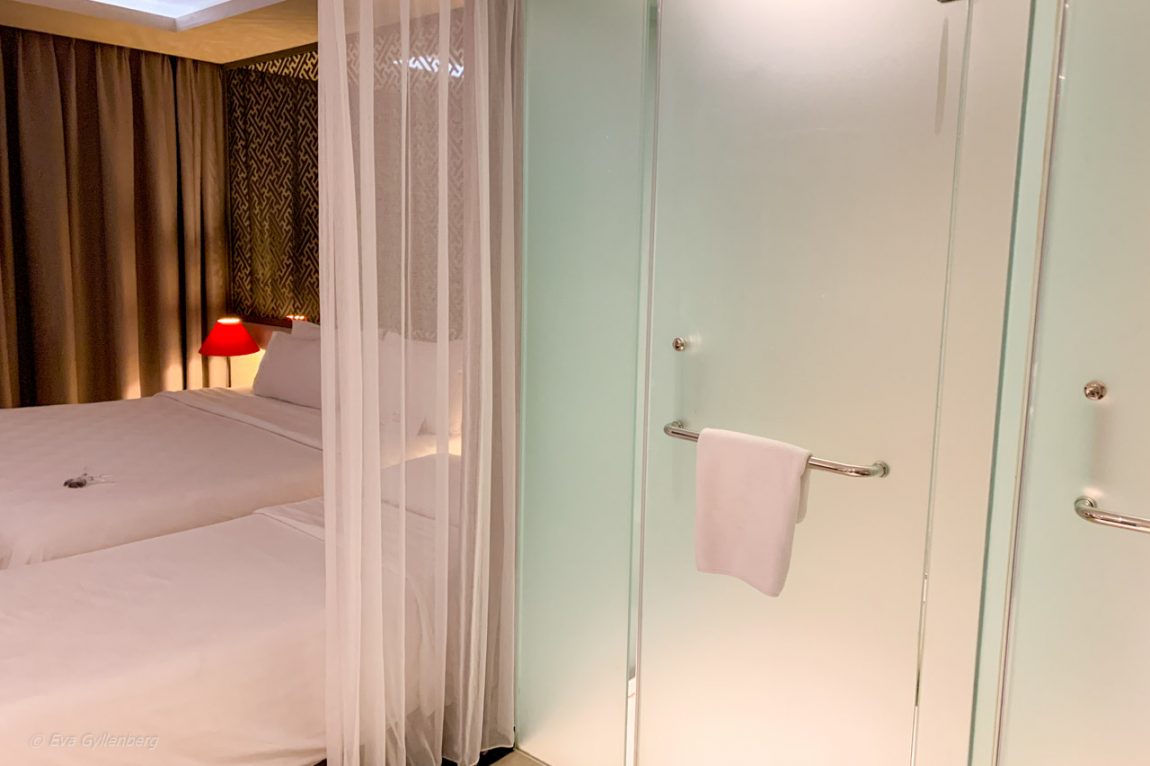 Room ***
We got a room on the ground floor near the reception. The room had a small patio with a sofa and a pond with carp. The bedroom consisted of a king size bed along one wall and a desk that ran along the other wall. The daughter's extra bed had been squeezed in next to the bed, but it basically took up the whole room. Because the room was very small. So small, that there was actually no real bathroom. The "bathroom" was in the hall. The toilet and shower were housed in small glass cages and the sink was in the hall itself. I don't think I have ever experienced a less than 4 star hotel room in Asia. However, everything was very fresh and there was a small bottle of water per person free every day. But the size of the room did not work well for a family of three.
The room had a minibar (for a fee), a safe and hygiene products. A plus was that there was mosquito spray. The air conditioning worked well and was silent.
Wifi was available, but it was far from approved by our most discerning traveler. The connection was dropped every two minutes and most of the time was spent renewing the network.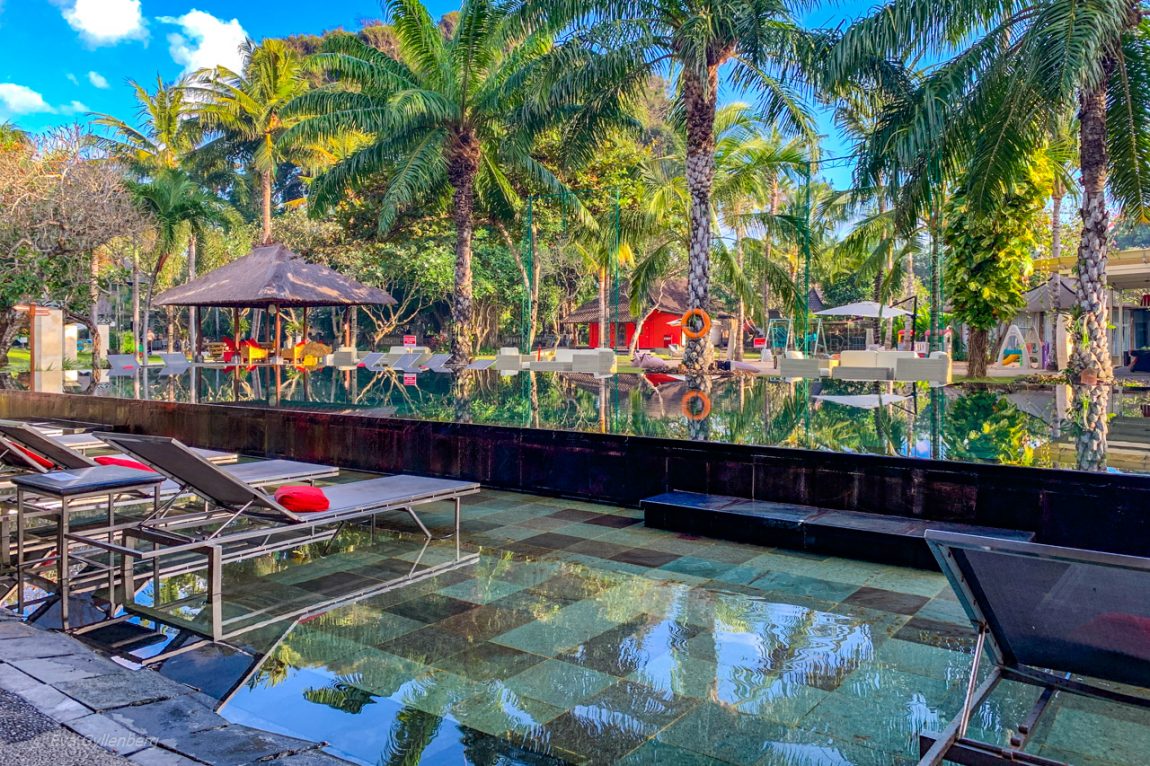 Pool ***
The hotel has two pools and a pool bar. The family pool was a medium sized pool in the shade near reception. The beach club pool by the breakfast restaurant was a bit bigger, but unfortunately both pools were incredibly cold. It didn't help that the sun was on during the day, the pools were shaded and not heated. When the "winter" nights in Bali in June go down to around 20 degrees, the water does not have time to get more than 22-23 degrees during the day. None of us swam in any of the pools during our stay, it was just too cold. And believe us – we tried. Maybe not what I had in mind when I chose Bali as a destination.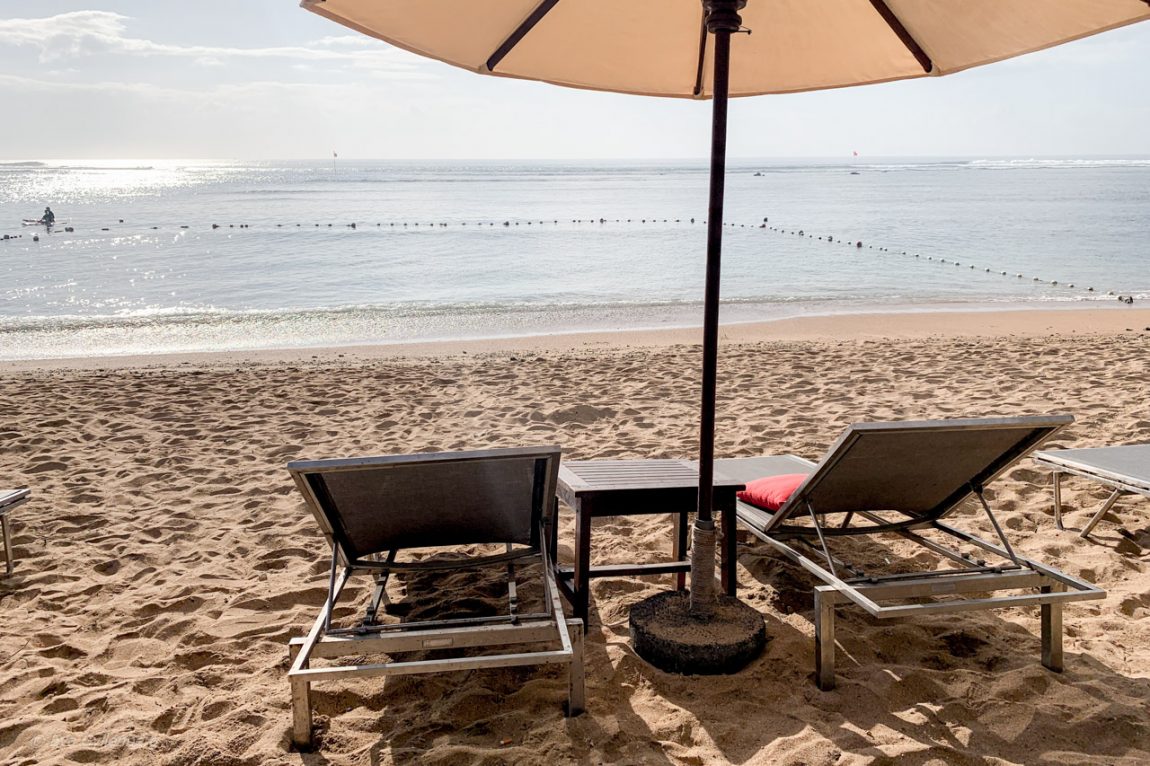 Beach **
Bali is not known for its nice beaches and Sanur does not have one of Bali's best beaches. The beach is coarse-grained with golden sand with lots of stones. If you want to swim, you need bathing shoes, which we didn't have. One advantage of Sanur, however, is the reef that runs outside the beach and stops any big waves. It is also very shallow - perfect for families with small children. It is not possible to swim, because the water goes up to an adult person's thighs at most, then comes the reef where it is not possible to swim at all. The hotel has a small area with sunbeds and a net enclosure for guests to swim in, which stops much of the debris from the ocean from floating in. Unfortunately, there is still quite a lot of plastic in the sea and I did not see that the hotel cleaned up any plastic that washed up on the beach.
The sunbeds by the beach were popular and were often fully occupied by 10 o'clock. If you wanted a sunbed after 10, you had to rent it from the sunbed rental company right next door.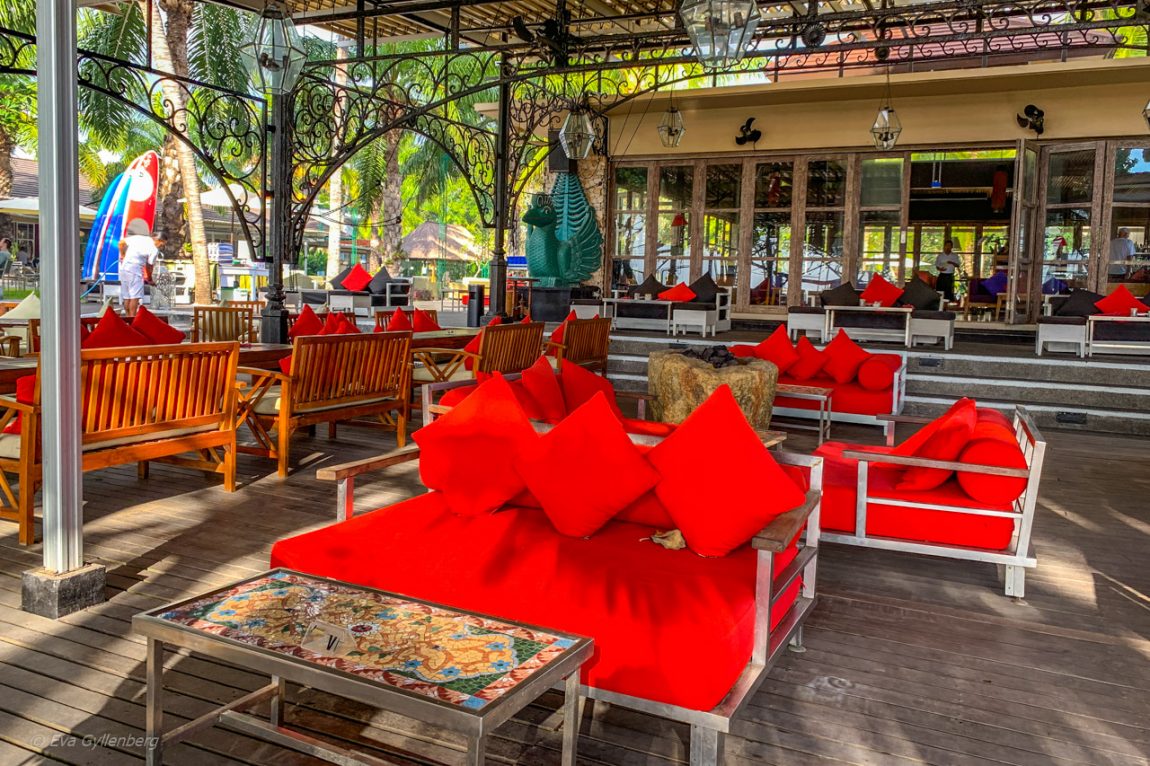 Service ****
What lifted the hotel was the service. This amazing staff who arranged everything from drivers to a small box of cookies and buns for us to take on excursions. A gold star for them!
There was room service, but the kitchen closed already at 22:30. We arrived at the hotel at 22pm and managed to order dinner before the kitchen closed.
There was a small afternoon tea with local pastries included every day in the lounge bar which was nice.
There was no service on the beach except towels, if you wanted something to drink you had to leave the beach. However, quite a few beach vendors came by and tried to sell everything from sarongs to fresh fruit. By the pool there was a water container where you could collect drinking water in plastic glasses.
The hotel also had a spa, but we didn't have time to try it.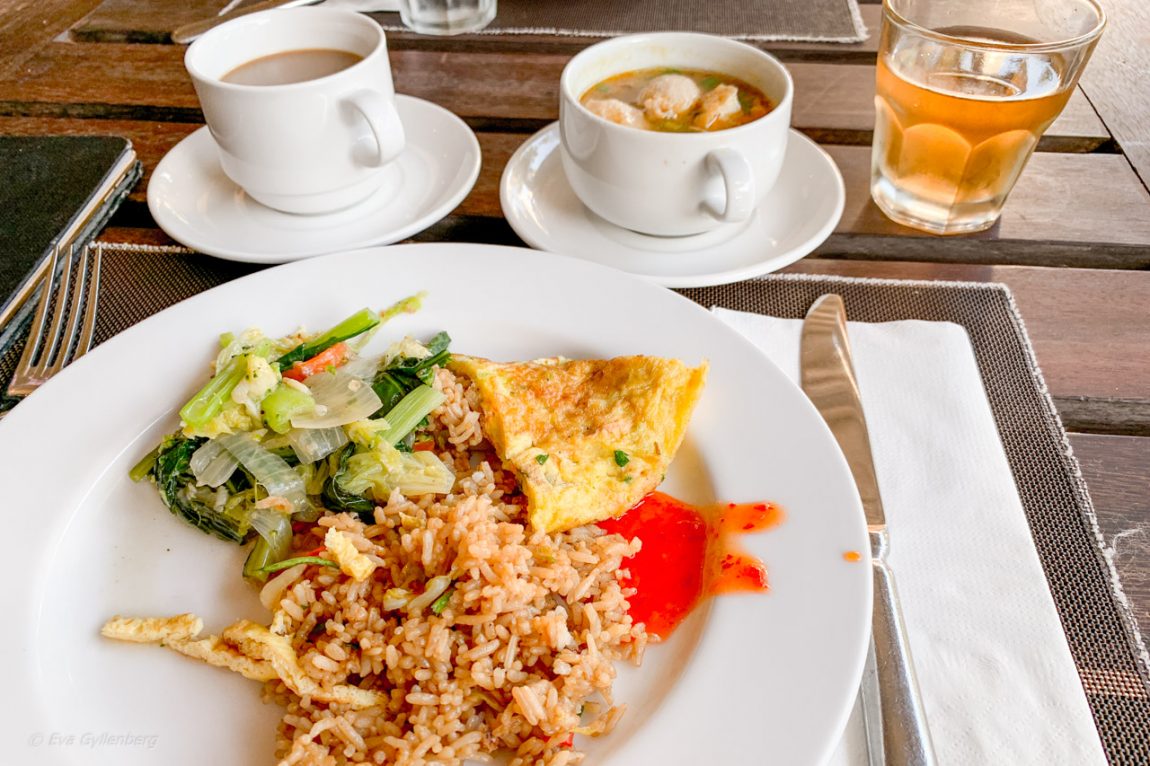 Breakfast **+
I generally love hotel breakfasts, but this breakfast failed to tickle my breakfast nerves. There was juice (not freshly squeezed), lots of cakes and sweets, some dry bread (but no toast) and some sweaty cheese slices and hams. There was also an egg station, ready-made pancakes and waffles, ready-made eggs florentine and a small corner with Asian dishes. Fresh fruit was also available and also a soup station. I can't put my finger on it, but every morning I spent more time looking at food that didn't look appealing, rather than having an enjoyable breakfast. A plus, however, is the live music played at breakfast every day.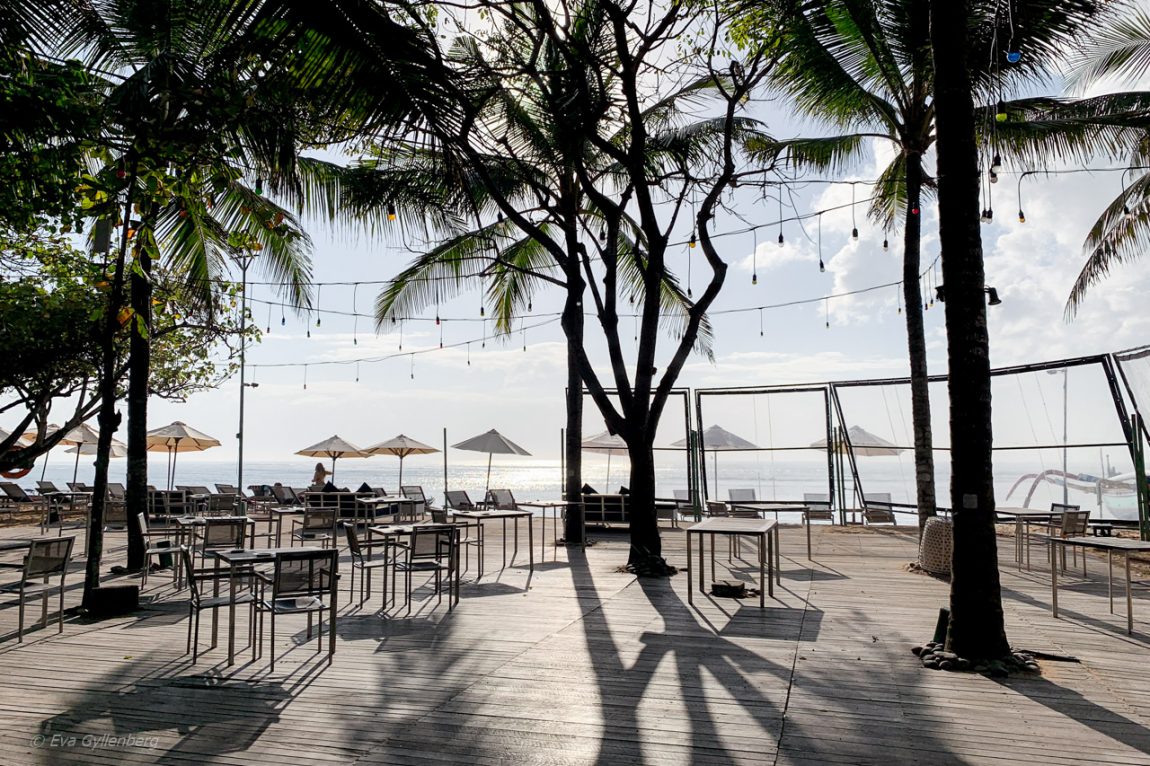 Restaurant ***
There were three restaurants on site – a Japanese, a cafe and a beach restaurant/lounge. What was a little sad was that all the restaurants served each other's food. So I might as well sit at the beach restaurant and eat Japanese - the menu was the same. However, the food that was served was good, but a bit touristy tasteless. The best thing we ate at the hotel restaurants was their riestaffel and their wood oven pizza.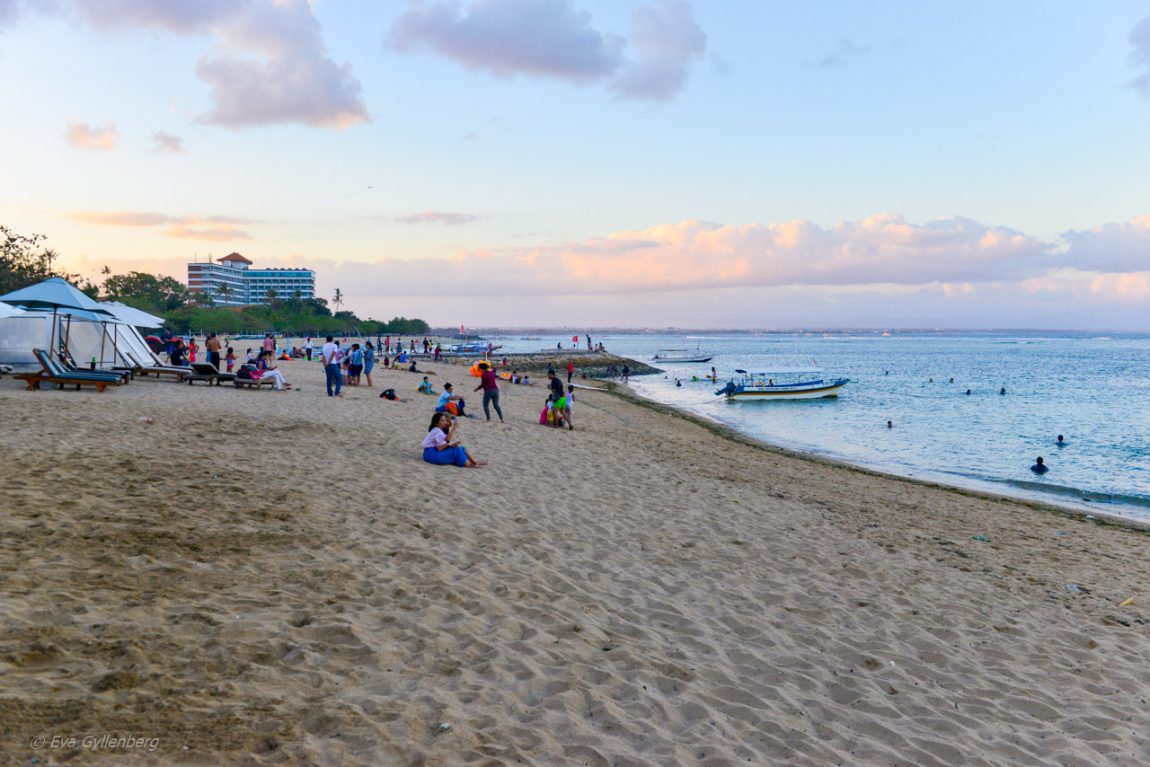 So, what was the overall family rating?
Segara village is on paper a four star hotel, but if I were to put my own assessment it would rather be three star plus. The finesse was missing and unfortunately it didn't feel like anything more than an ok "package travel hotel" (which it actually was for the 80% German tourists who stayed at the hotel...)
Neither of us thought the place was bad, but it's not a place I would book again at this price. The room with breakfast cost us around 1000 kronor per night, which is a price range where there are many other better hotels. (You will understand what I mean when I write soon about the other two hotels we stayed at in Bali.)
Want to read more? Look at the hotel's website Segara Village.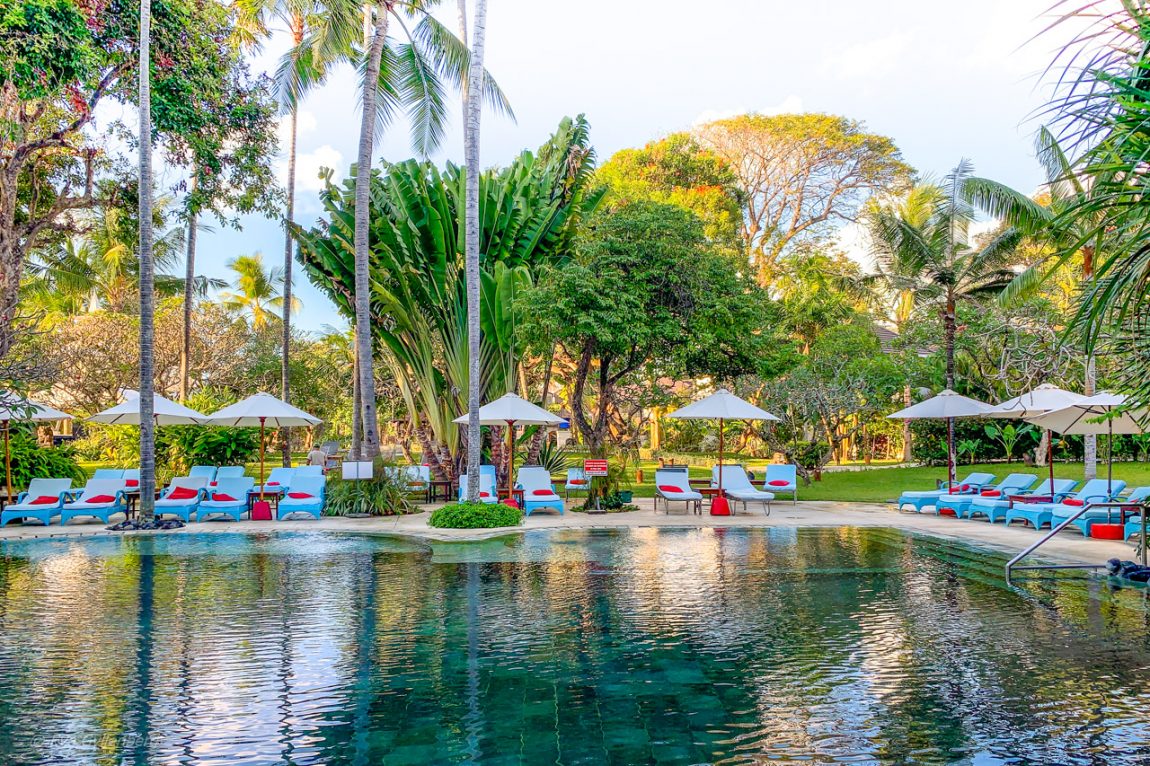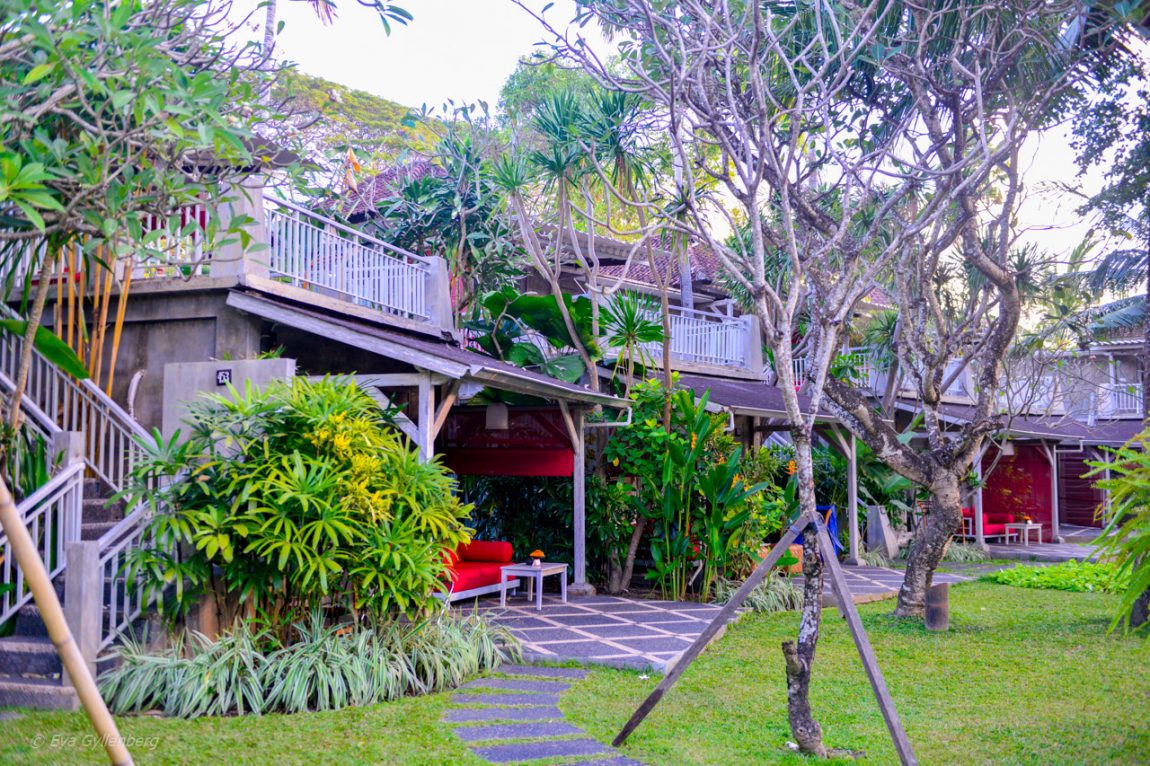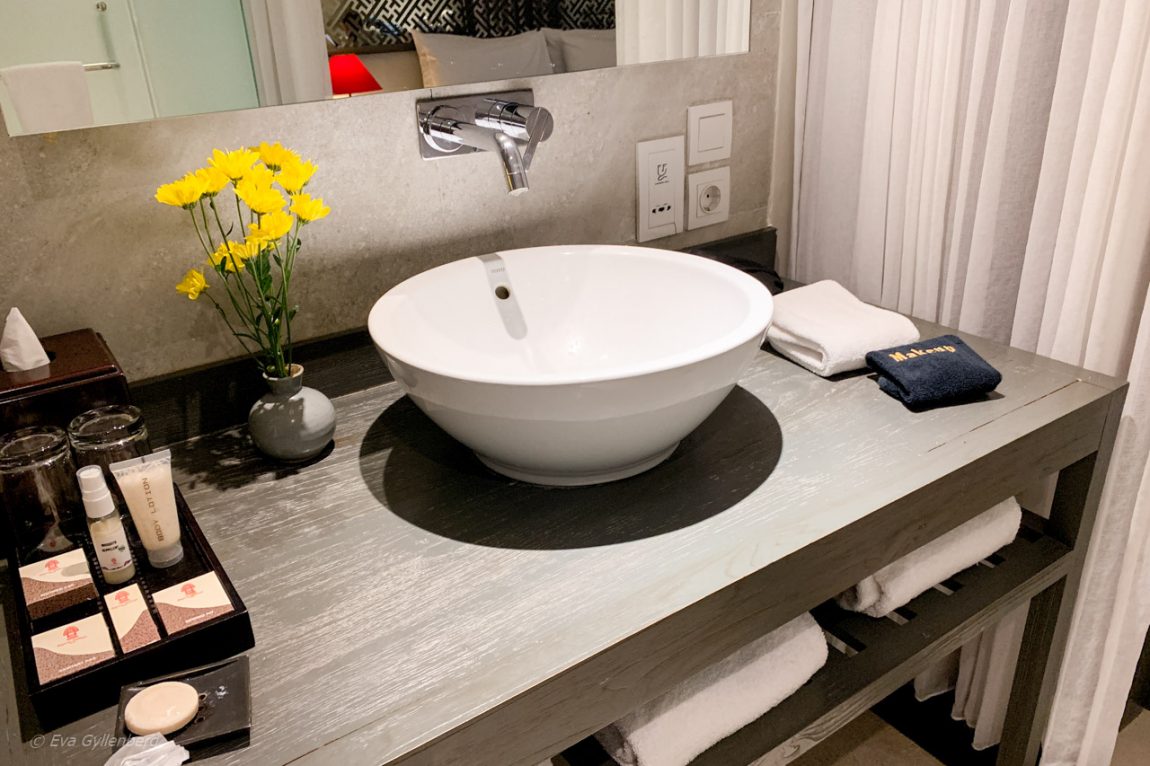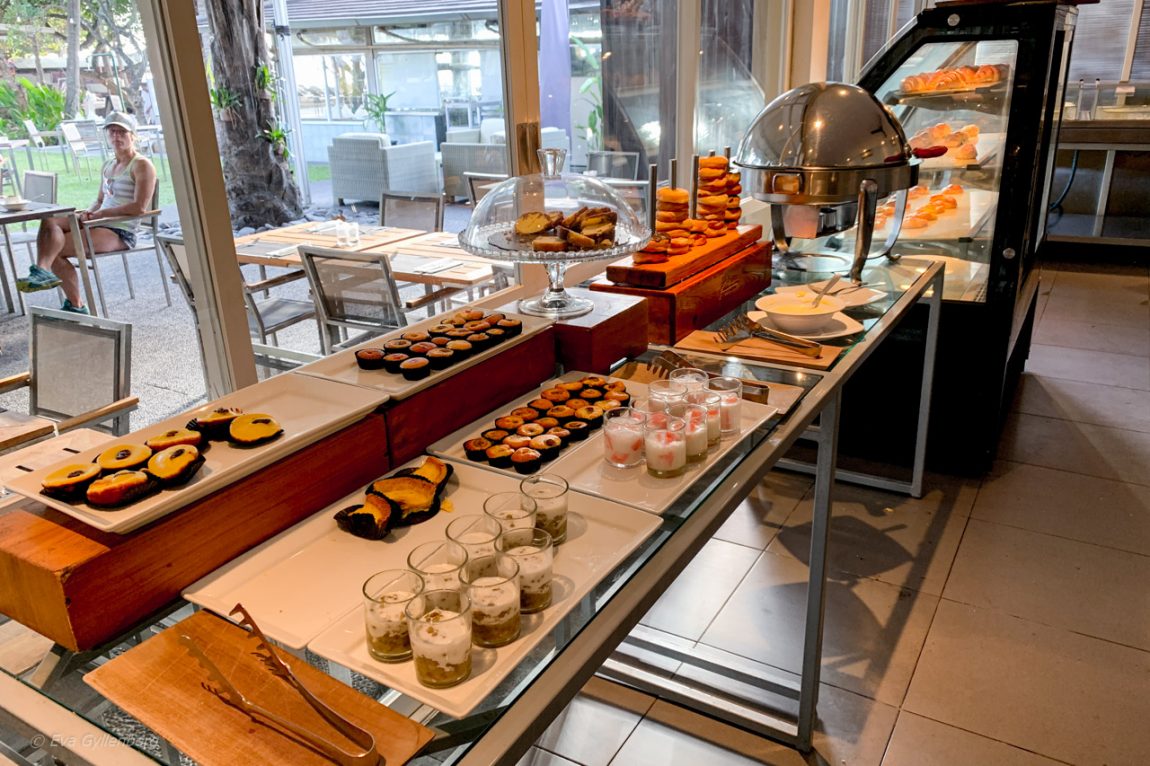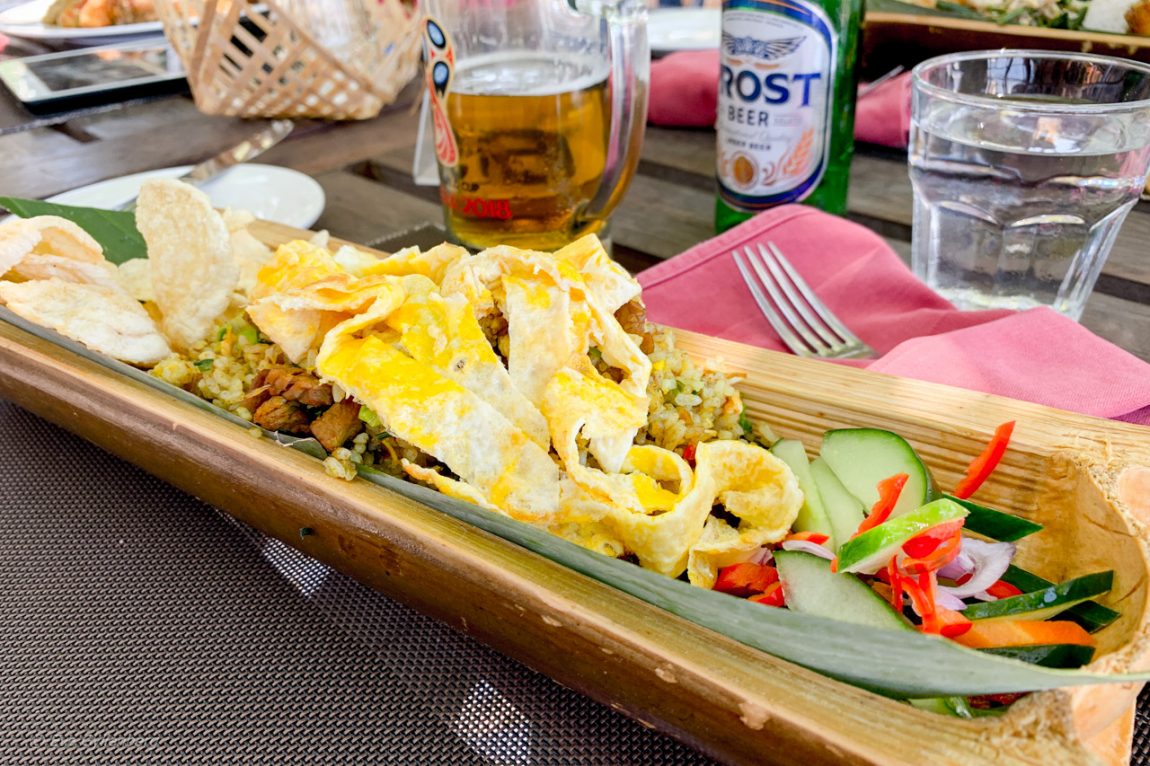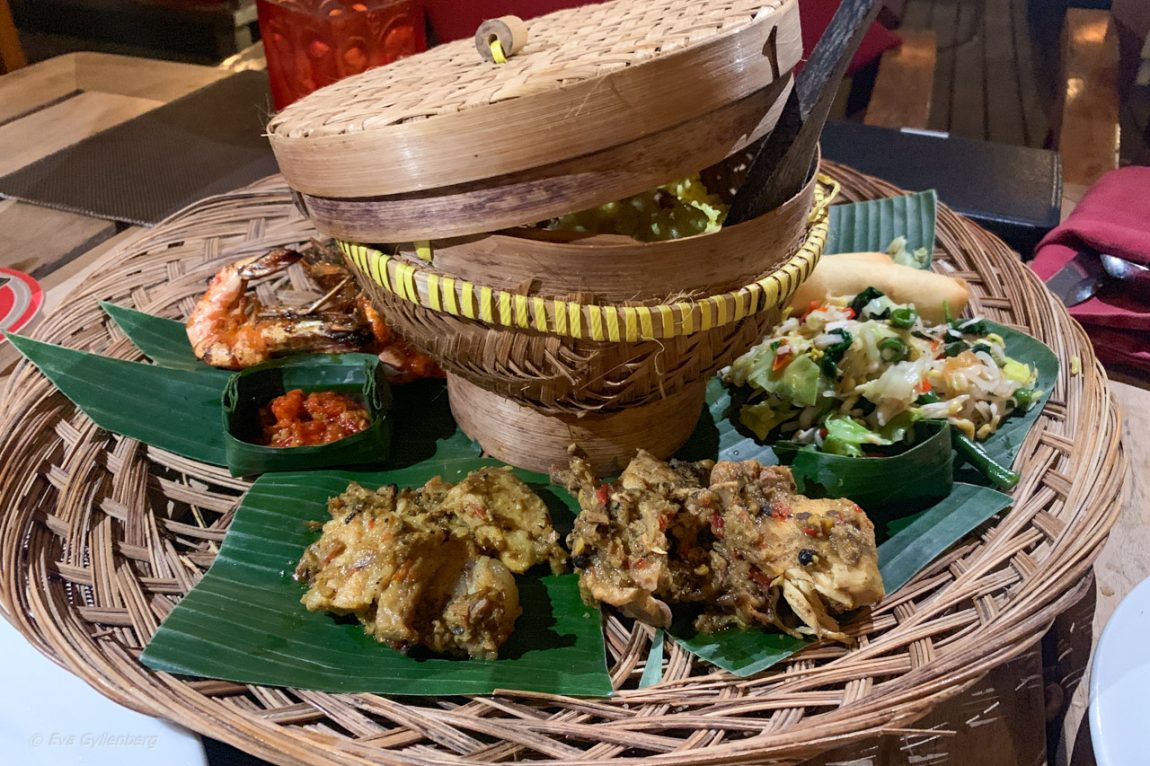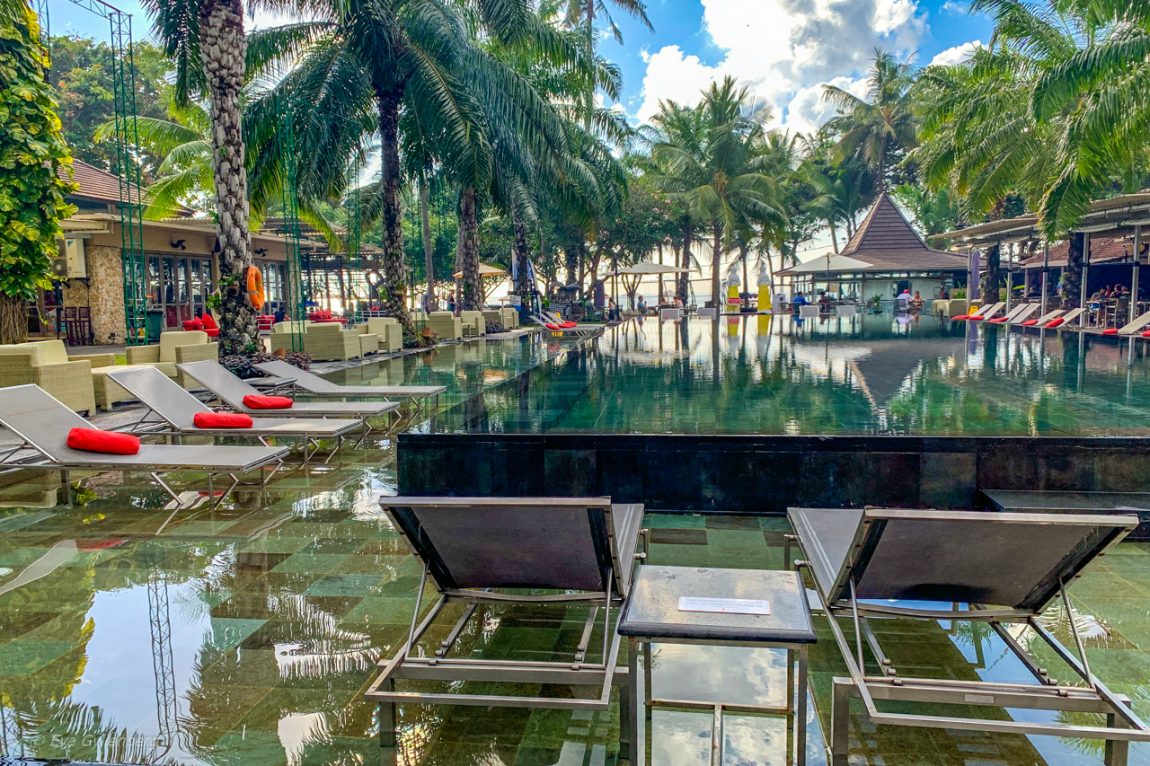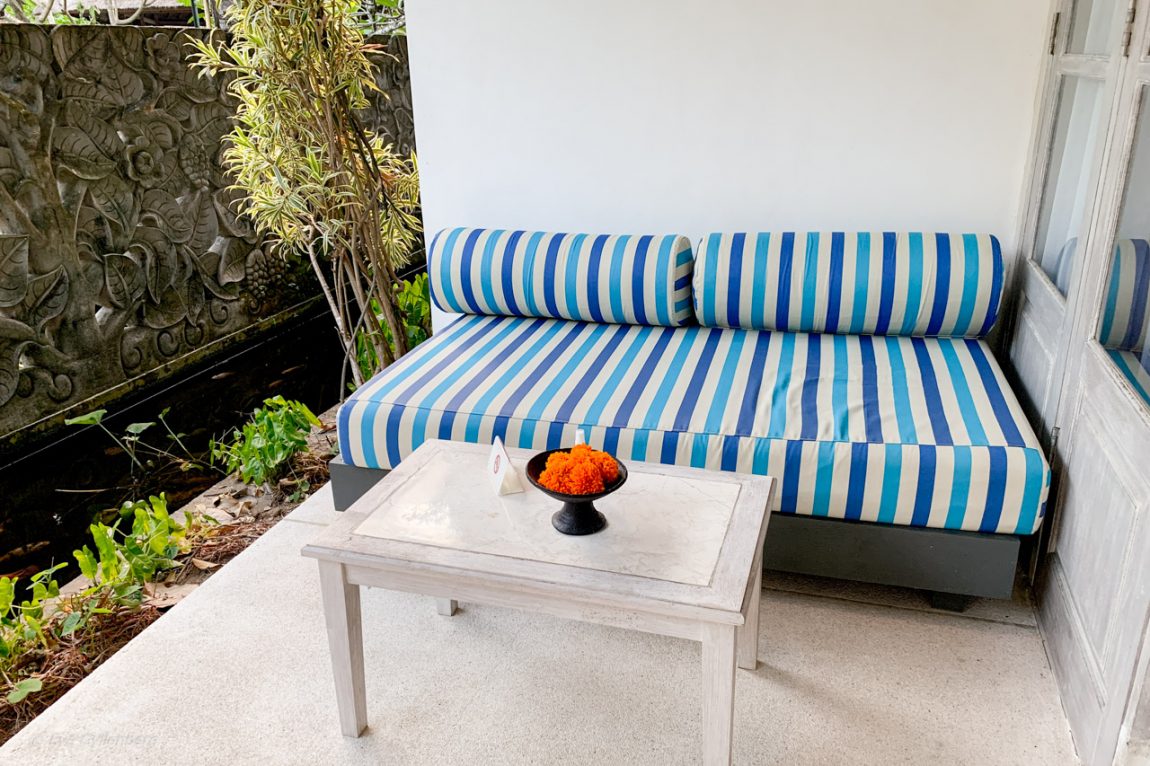 Want to read more of my travel tips? do not forget to like Rucksack on Facebook!
Do you want to read more from Bali?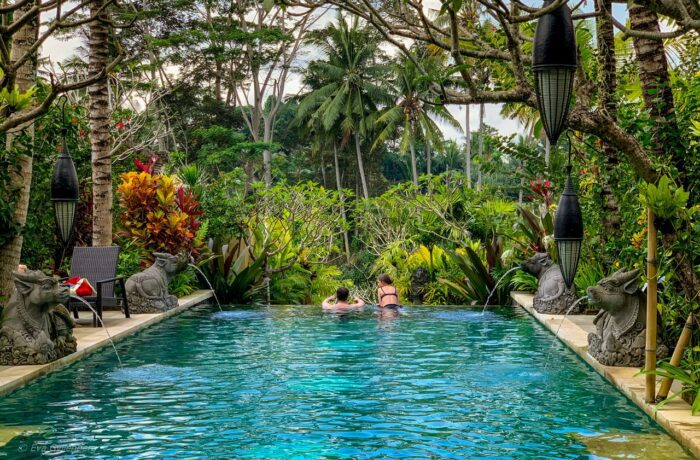 Are you looking for a lovely boutique hotel in Bali, with beautiful surroundings and where you…
September 21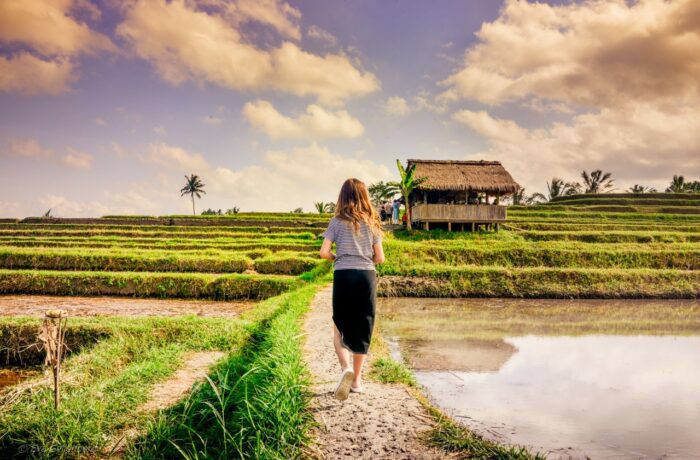 In Bali, rice is an important staple food. We have walked among Jatiluwih's rice terraces and…
June 3th, 2020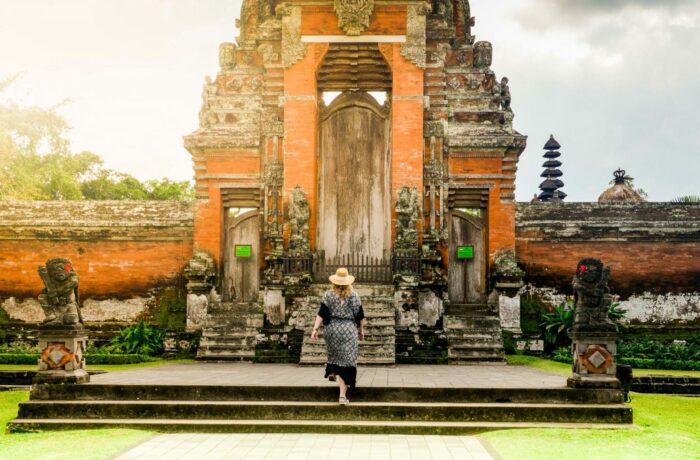 The Taman Ayun temple with its unique temple roofs and almost 400 years of history is one of…
September 1