Out on the man-made island "the Palm", a string of luxury hotels sits on the "crown" - the outermost ring of the palm. We have previously lived in Dubai on the beach at JBR, in the desert and at the hotel chain Jumeirah's large hotel Madinat at the Burj Al Arab, so this time it was time to try living on the "palm"!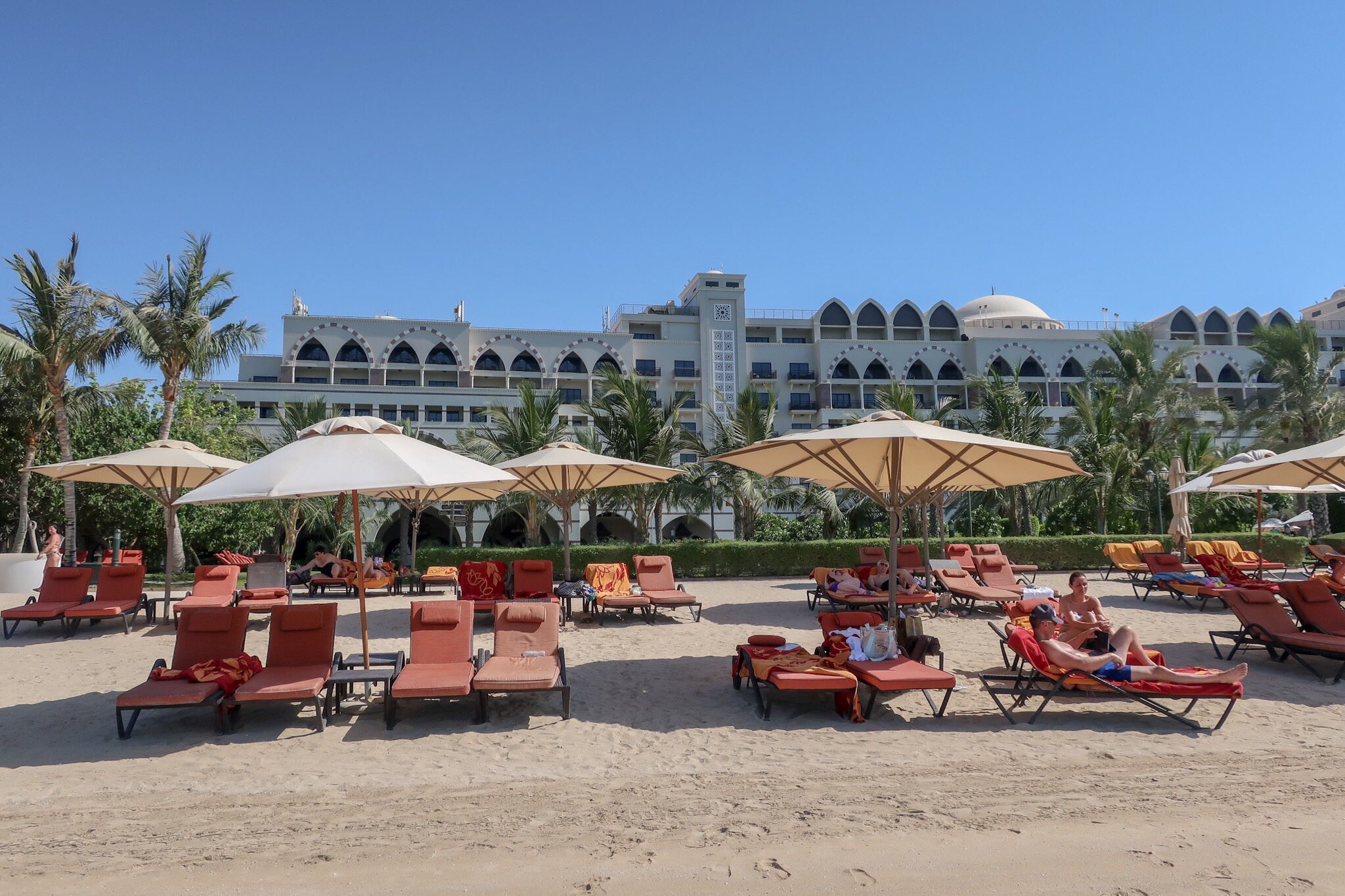 At the center of the crown is the iconic Atlantis Hotel, which was our first option for this visit, until I read the reviews and realized that Eid and school holidays would most likely mean long queues in the club lounge, towel-pushing and crowded pools. So I thought again and found instead Jumeirah Zabeel Saray, a newer hotel of the Jumeirah chain at the very end of the crown, which got really good reviews and had a really good deal for the period we were going to be here. Not as cheap as Atlantis, but by Dubai standards a real bargain.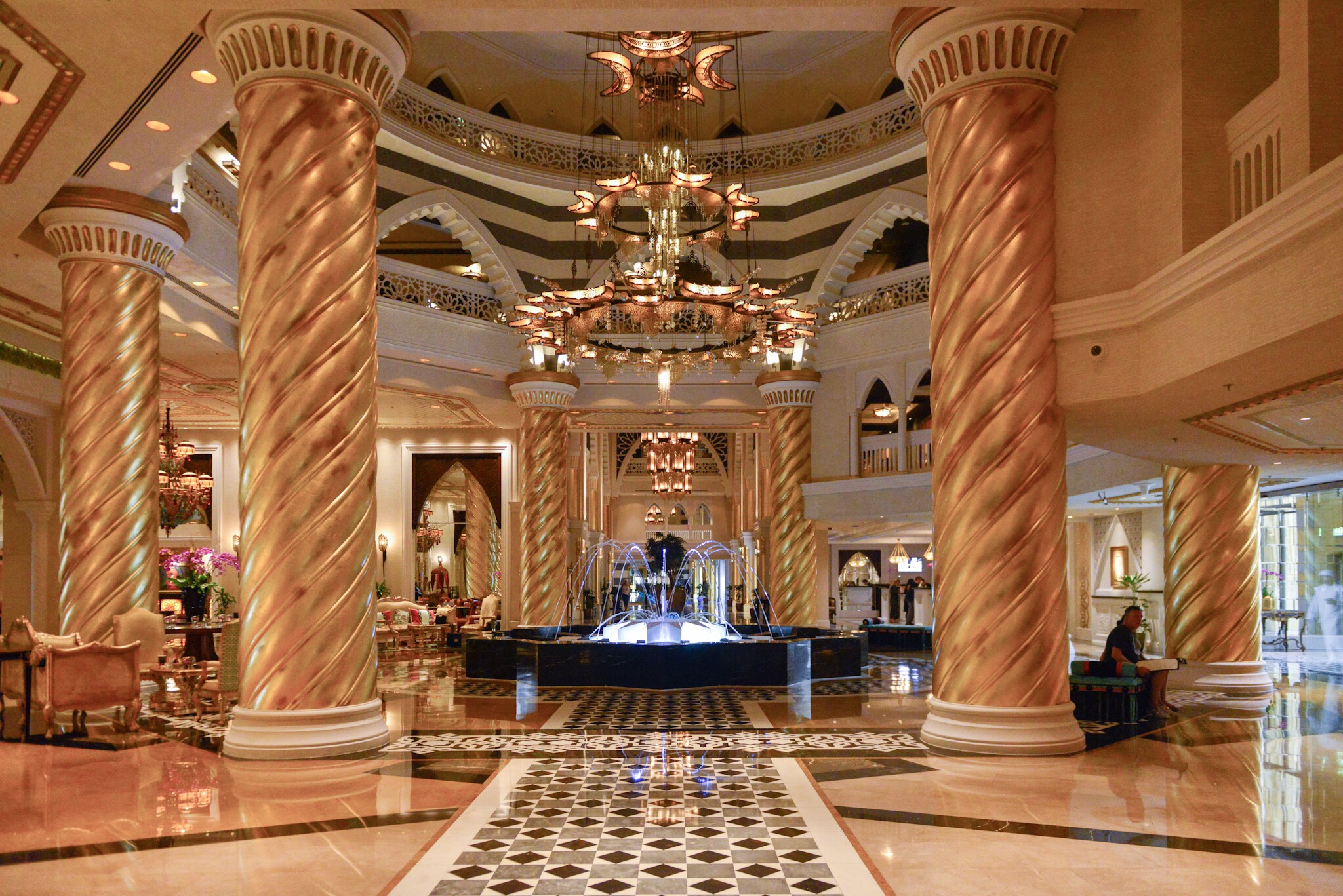 What package did we book?
The package we jumped on was a club room with half board, which meant:
• Club room with double bed (and extra bed for the daughter)
• Breakfast – a la carte in the club lounge or buffet at Imperial
• Lunch in the club lounge (Three-course a la carte) (12-14pm)
• Afternoon tea in the club lounge (15-17pm)
• Drinks and snacks in the club lounge (18-20)
• Jumairah Flavors – 3-course a la carte dinner at over 40 restaurants at Jumeirah hotels in Dubai
• Free round trip to the airport by one of the hotel cars
• Free entry to Wild Wadi water park (for anyone staying at a Jumeirah hotel, not specific to our hotel)
• 2 free clothes presses
• 150 Dirham discount on selected spa treatments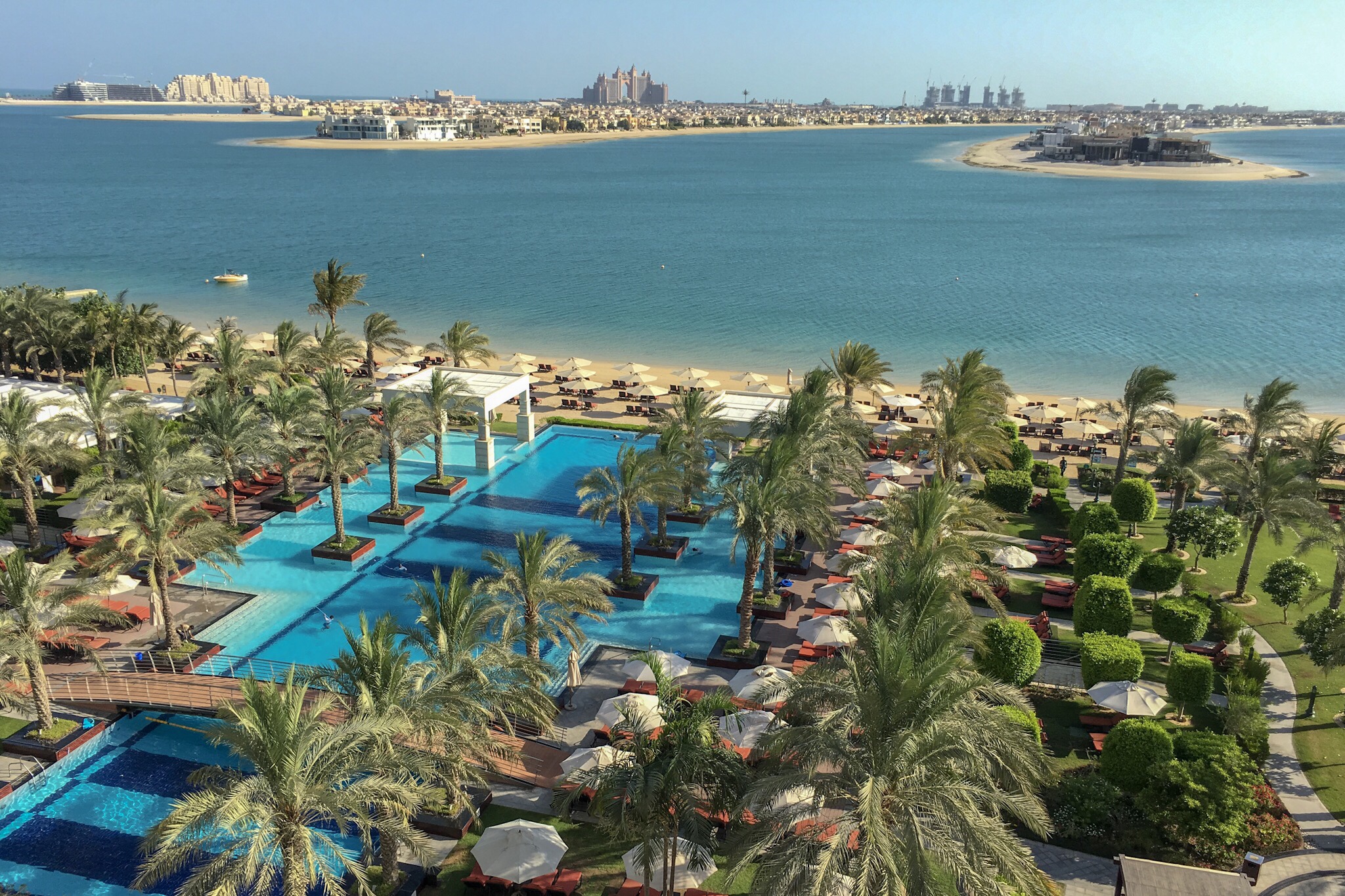 Transfer to/from the hotel
We landed with Emirates closer to midnight at Dubai airport, so it was very nice to have a sign with our name waiting for us at the airport. The representative from Jumeirah received us in their lounge, where we were allowed to drink and eat snacks while we waited for our car. This took two minutes, then our luggage was carried to the hotel car. A giant white Lincoln Navigator with a driver was waiting for us. He served us cold towels, water and informed us that there was wifi in the car to use during the 40 minute drive. Very smooth and with a very nice driver.
The drive back to the airport was at least as smooth. We booked the desired departure time in the concierge and the car was there waiting for us. Same white Lincoln Navigator with leather seats.
Incredibly appreciated service!
The room
The room was an Arabian dream! Dark wood and gold decorated the entire room. The bed was a really wide king size and the daughter got an extra bed next to it. We had a large room on the 5th floor (second at the top) with a furnished balcony overlooking the pool and the sea. The bathroom was completely white Carrera marble, with a giant marble bath, overhead shower, separate toilet and lovely bath products from Penhaligon's. Concealed air conditioning that was both quiet and efficient.
In the room there was always fresh fruit and as a welcome gift also a box of beautiful and tasty chocolate dates. Bottles of water were plentiful and all you had to do was ask for more if you wanted more water.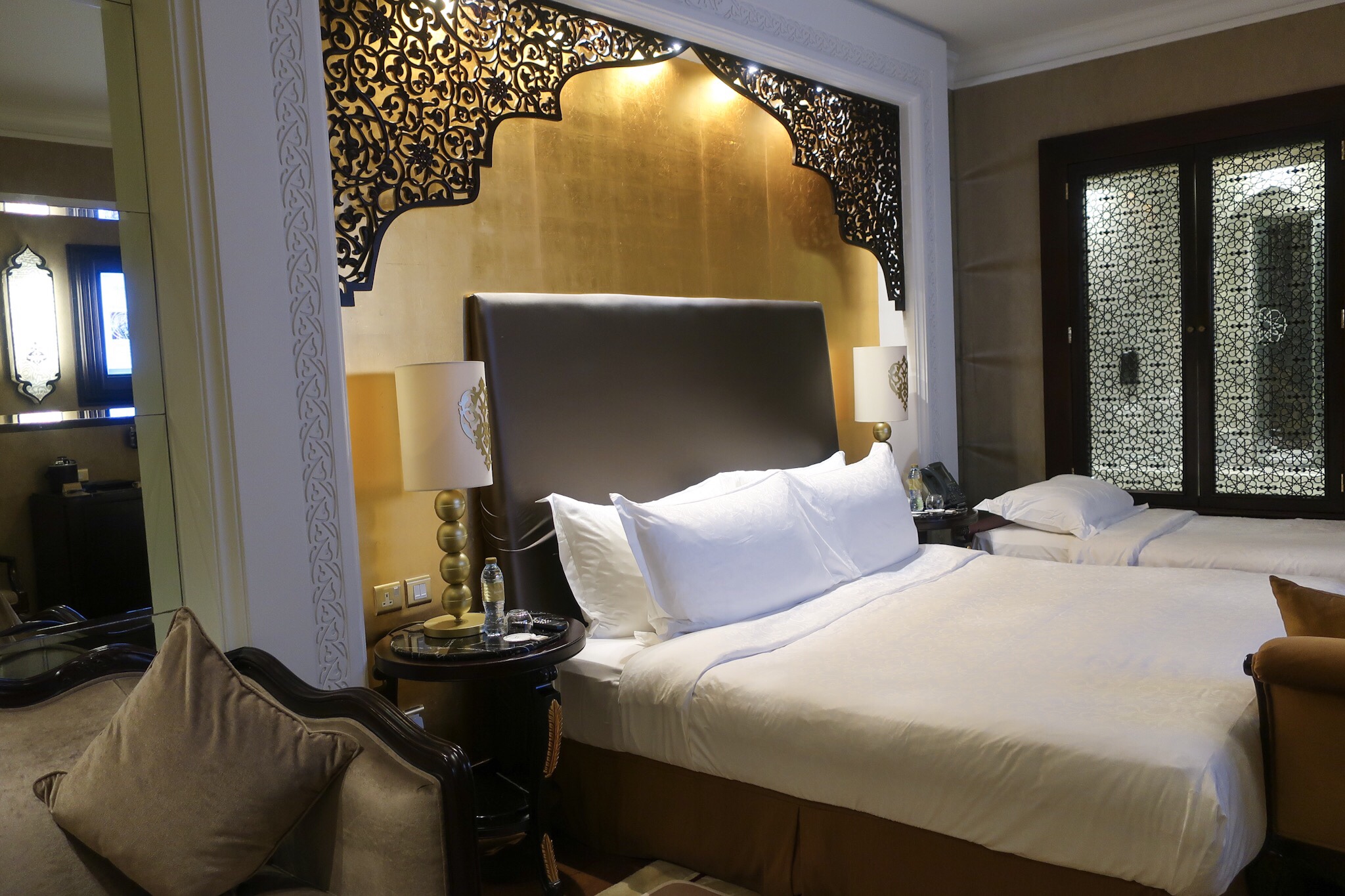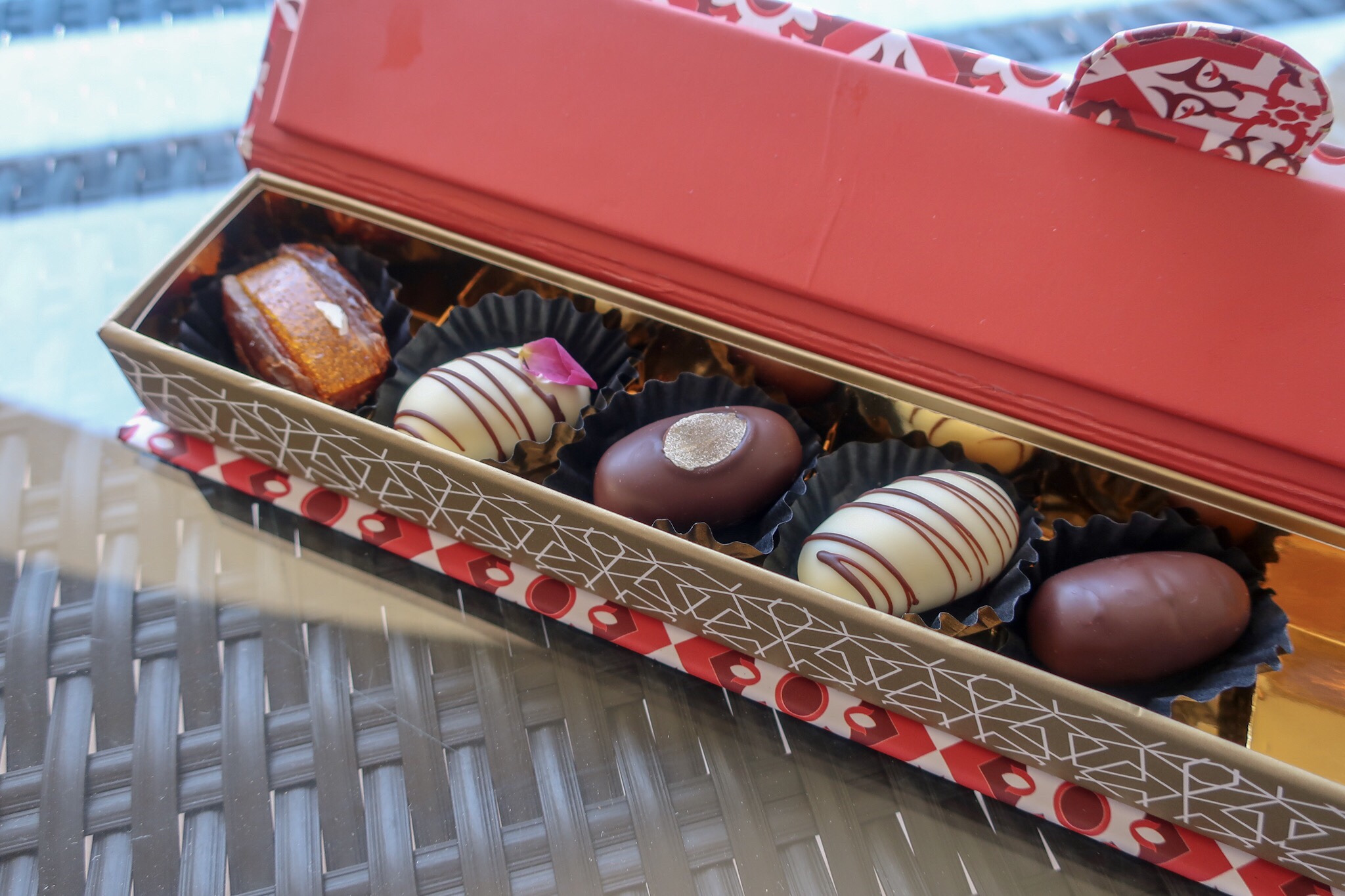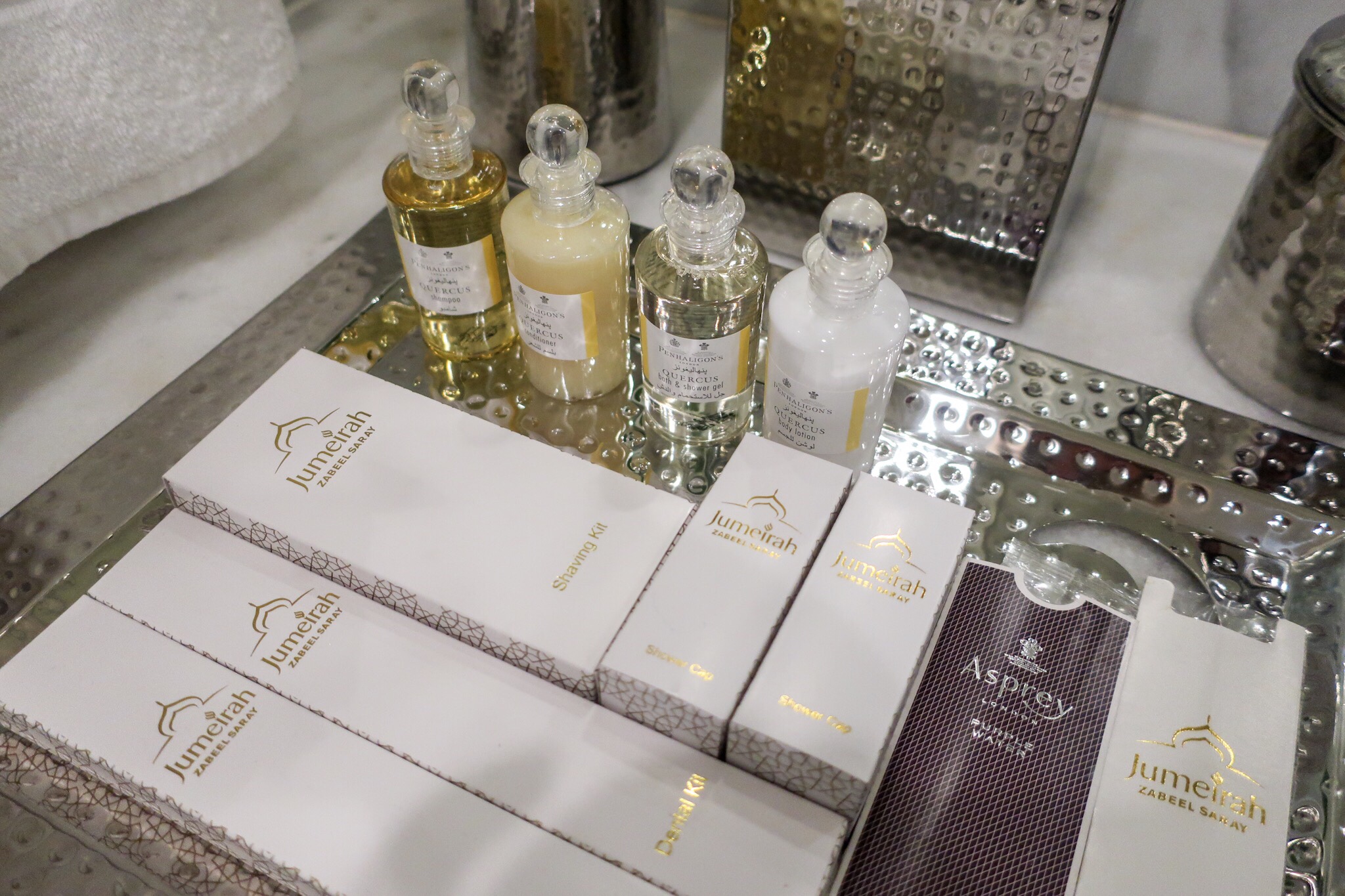 Pool and beach
Jumeirah Zabeel Sarah has a large pool that stretches from the hotel to the beach, with a large amount of chairs and umbrellas. The hotel has towel service and also gives out free water bottles in an ice pack as often as you need. The staff also walk around with large tanks of ice-cold water and spray hot tourists. Every morning six staff were out in the pool diving and cleaning it clinically clean and every sunbed was scrubbed clean of any stains every day. There is also a children's pool with a small water slide, but we never tried it.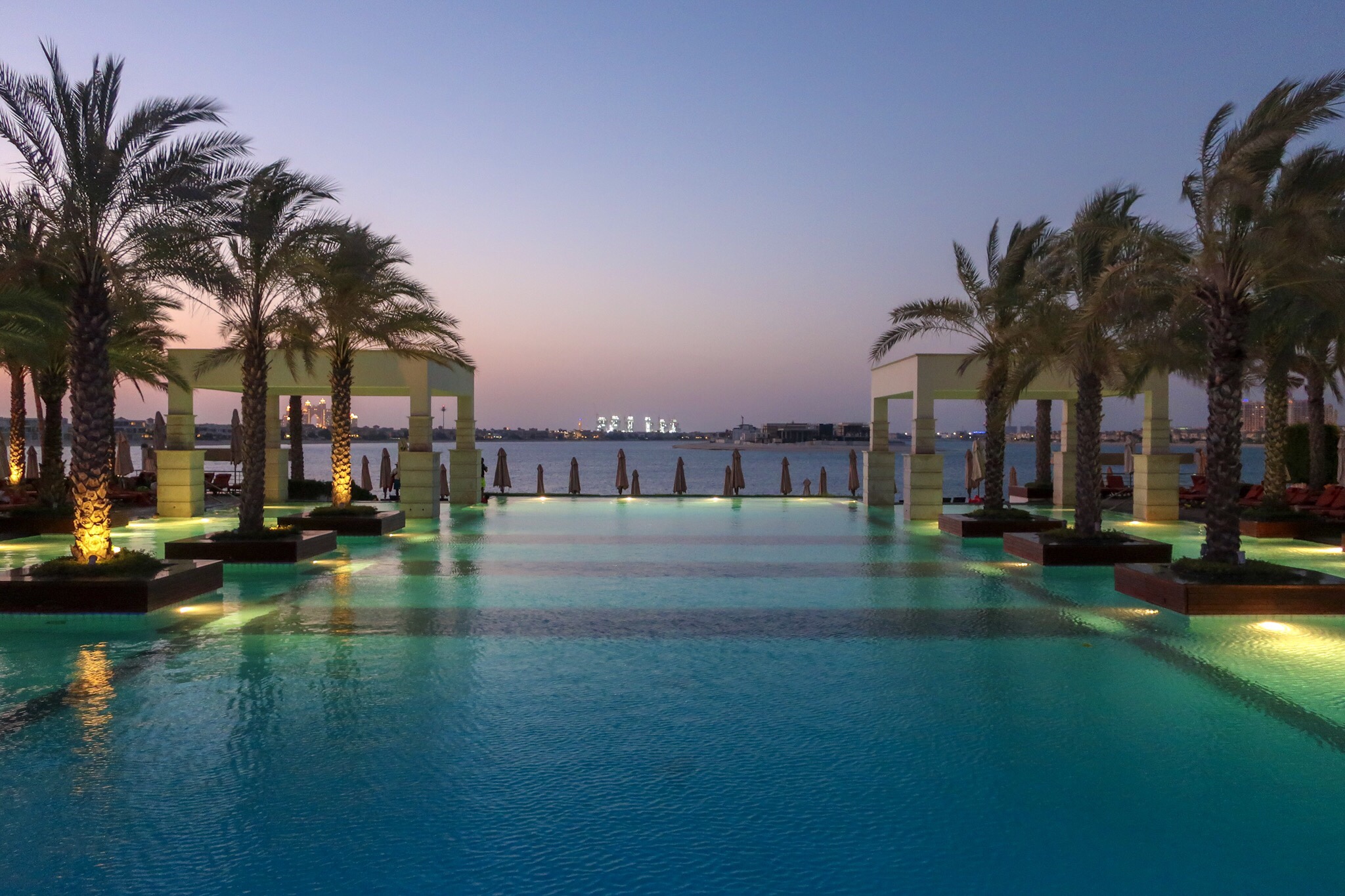 We went out at 10am every day and got perfect seats by a fairly empty pool, except during Eid when the hotel must have been fully booked. However, we got good seats by the pool even then, but there were clearly more people.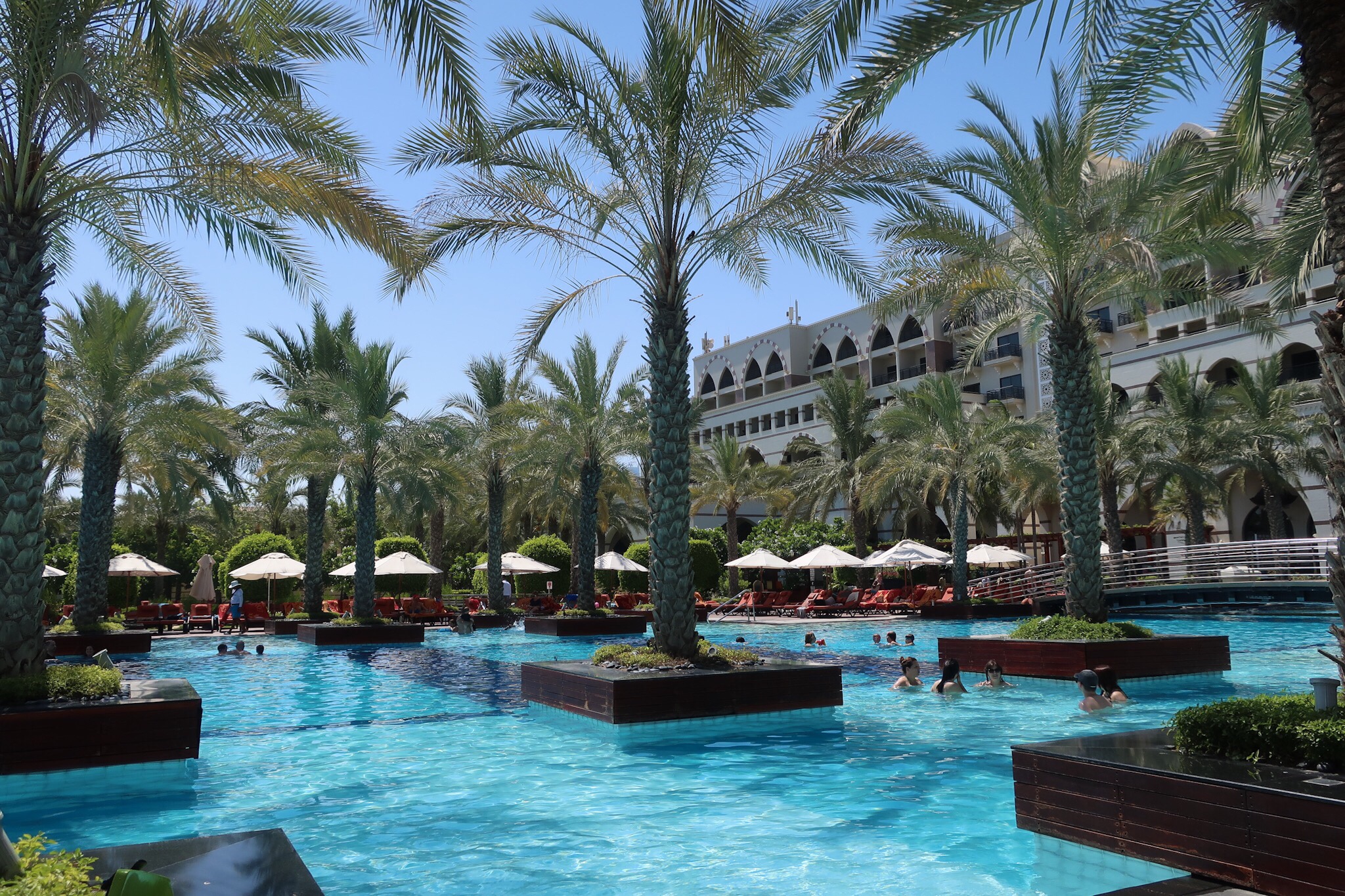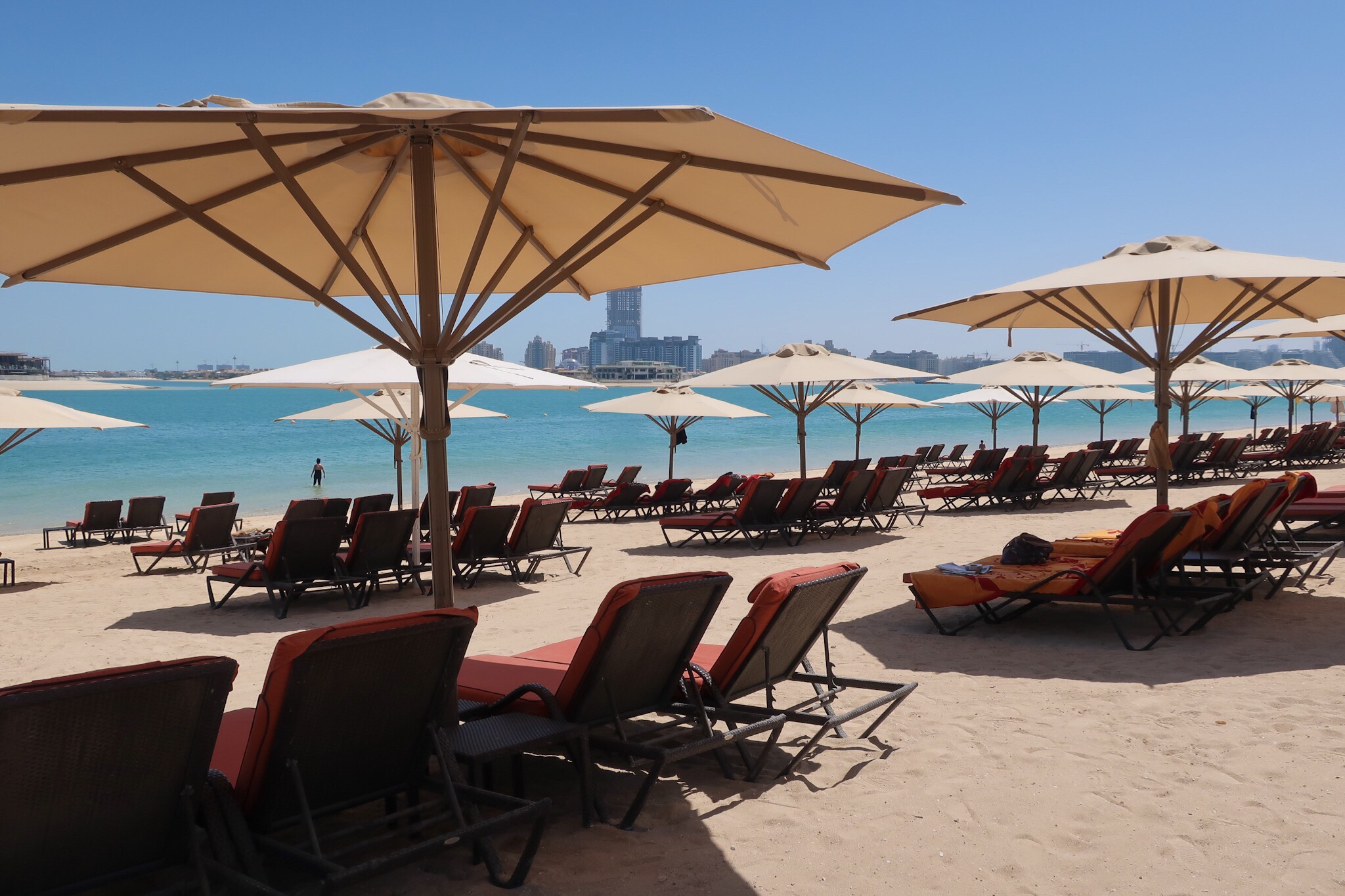 The beach is wide, white and clean and filled with sunbeds and umbrellas. Here, too, there is a towel service and free water. The beach is in the direction of the palm, the bay makes the beach protected and calm.
The club lounge
The club lounge is only for guests with club rooms and here you can basically hang out all day and eat and drink if you want. What the lounge serves between certain given times is included and thus costs nothing. The lounge is in a fantastic venue with beautiful wood paneled walls and white tablecloths. Hanging out here during the hottest hours of the day to nice music and friendly staff is something I really recommend.
A la carte breakfast is served here every morning for those who don't want to eat at the big buffet, we ate here one morning and then ate at the buffet because the daughter wanted it. But the breakfast was very well prepared and it's always nice to have an Eggs Benedict.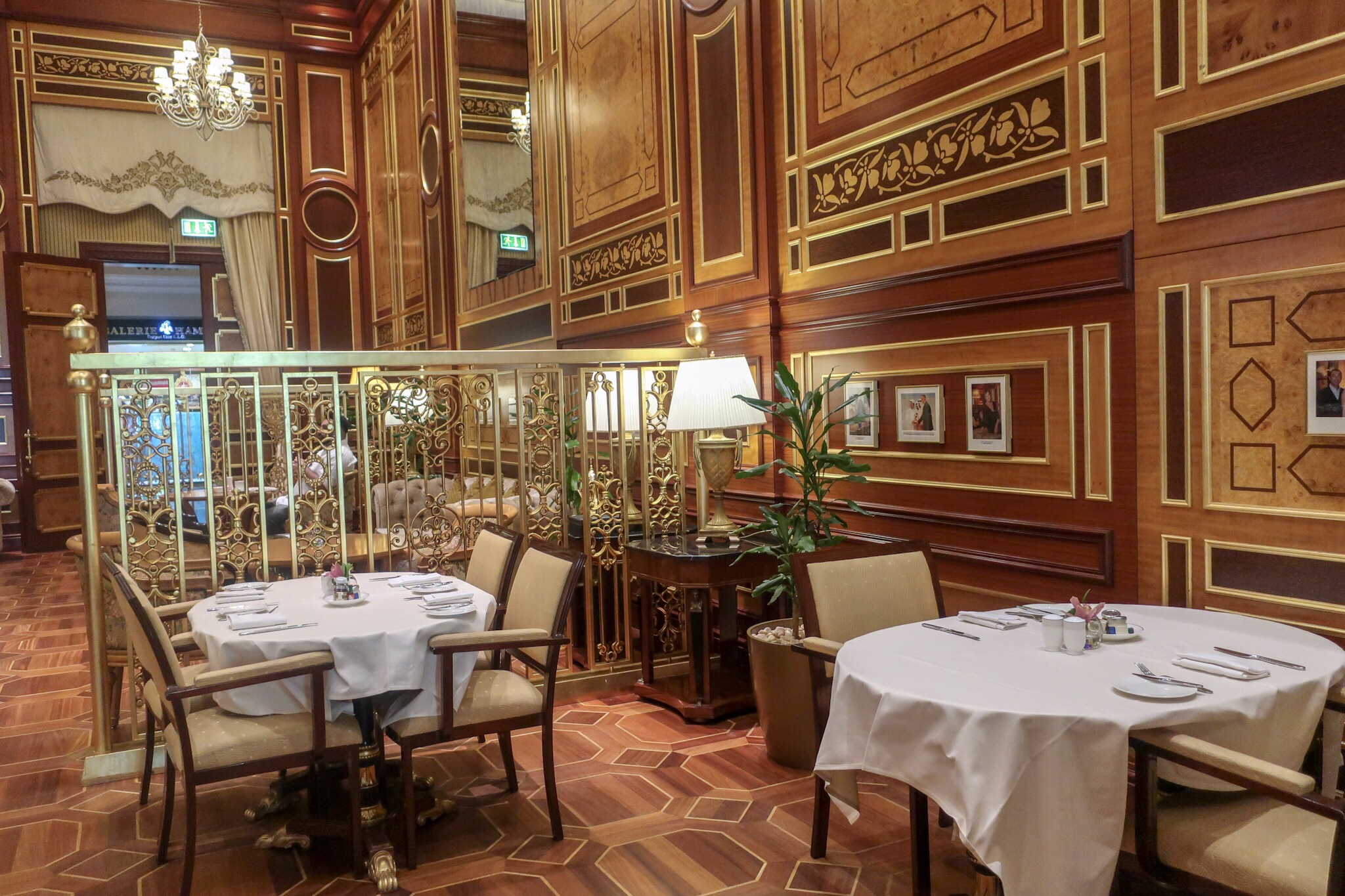 The a la carte lunch between 12-14pm is a three-course menu, with everything from starter salads to tandoori chicken and club sandwiches. I usually ate a Greek salad for starter, chicken butter for main course and skipped dessert. Non-alcoholic drinks are included, so soft drinks and juices and coffee were plentiful. The lemon and mint juice is incredibly good!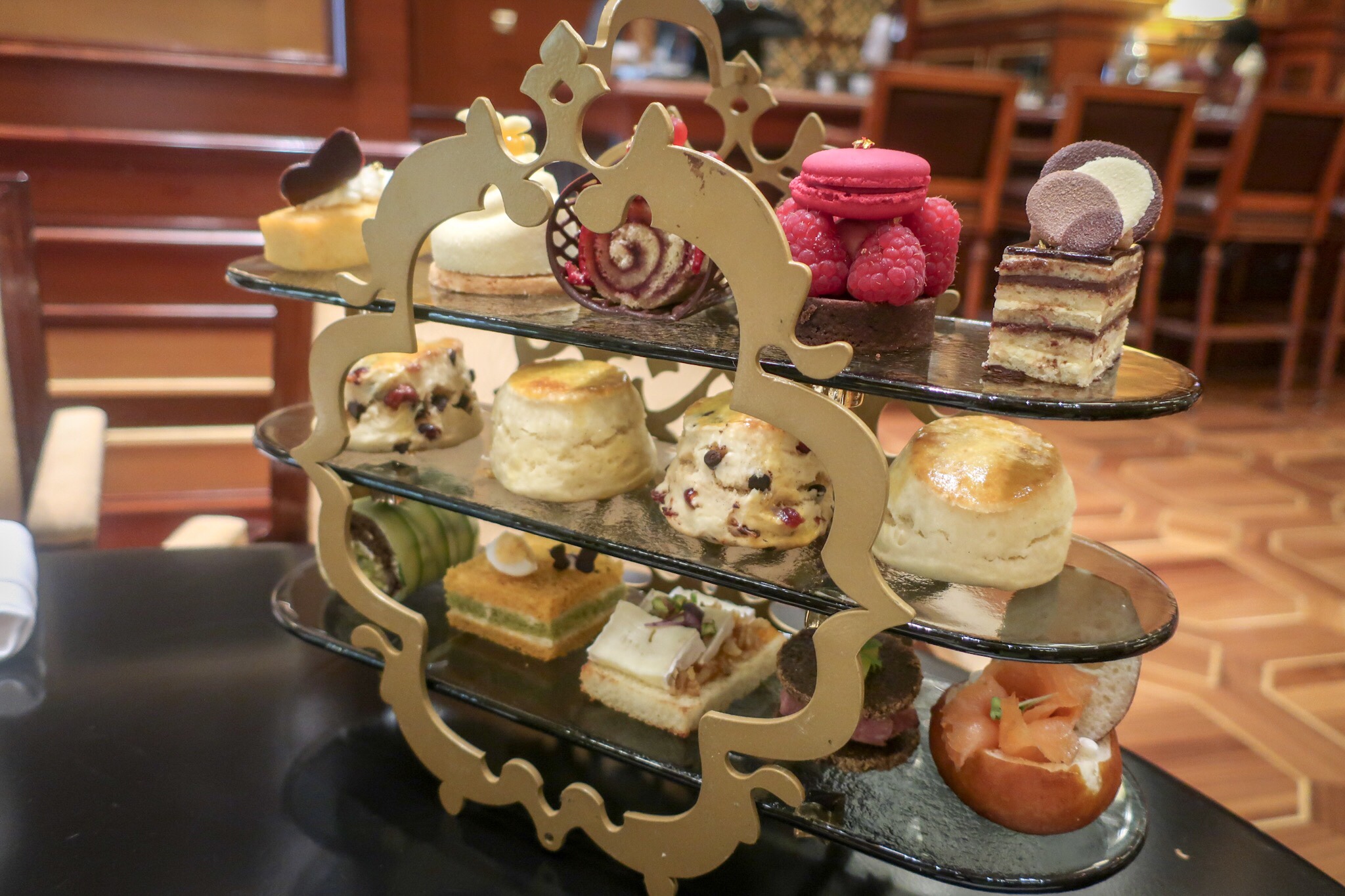 One thing that stood out, however, was the afternoon afternoon tea! We only went to it one day, but it was an afternoon tea the Ritz in London would be jealous of! Every little sandwich and pastry was fixed to perfection and several pastries were adorned with gold leaf and beautiful berries and shaped chocolate. Both beautiful and delicious!
In the evening between 18-20, drinks and snacks are served, which means wine, beer, drinks and good little hot cooked snacks. Very popular and nice!
The restaurants
As we had half board, we only had dinner at the restaurants in the hotel this time. Our package included a three-course dinner at a large number of hotel restaurants in Dubai, but as the hotel had so many different restaurants, we only had time to eat at the hotel's own places. We had a dinner at the Lebanese restaurant Al Nafoorah, a dinner at the Turkish restaurant Lalezar and the last evening at the Asian buffet at the Imperial.
So how does half-pension work? In principle, everything you want from the menu is included, except for the most expensive main dishes (for example, the Omani lobster was not included). So you simply choose a starter, a main course and a dessert. However, drinks are not included.
Do you think half-boarding is boring? In that case, I think it is a better option not to stay out on the palm, but at JBR where there are lots of restaurants in all price ranges. A dinner at Jumeriah Zabeel Saray for the three of us would have cost approximately 700 Dirham (about SEK 1600) if we had not had half board.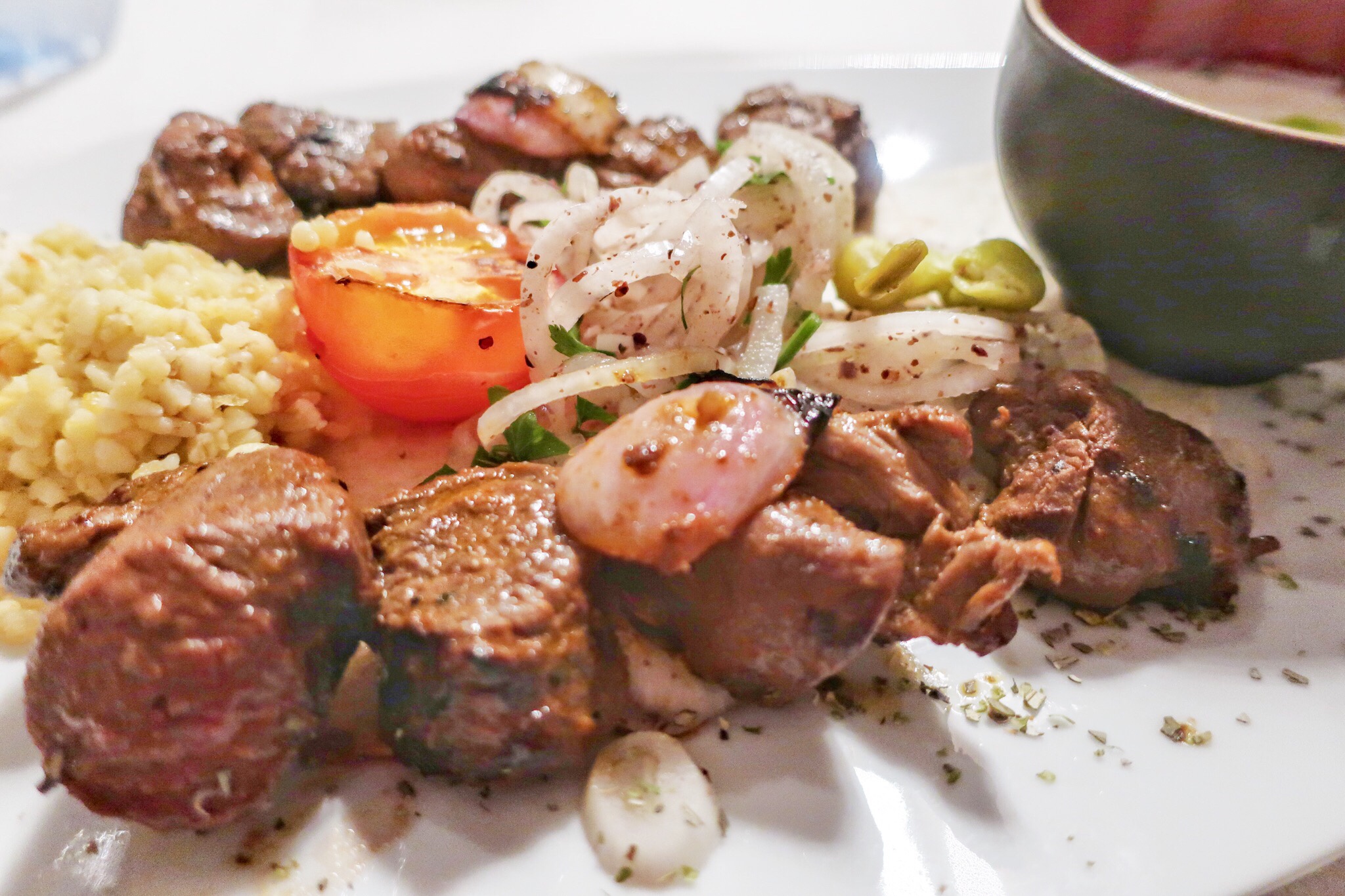 Lalezar
At the Turkish restaurant, I ate a meze plate with stir-fries for starter, charcoal-grilled lamb fillet with bulgur for main course and baklava with Turkish ice cream for dessert. Lots of food and very good!
Al Nafoorah
At the Lebanese restaurant I ate a plate of mixed small dishes (Moajanat moshakala) for starters, for main course a mixed grill with saffron rice and for dessert a muhalabiya with rose water. Here, too, very good food and large portions!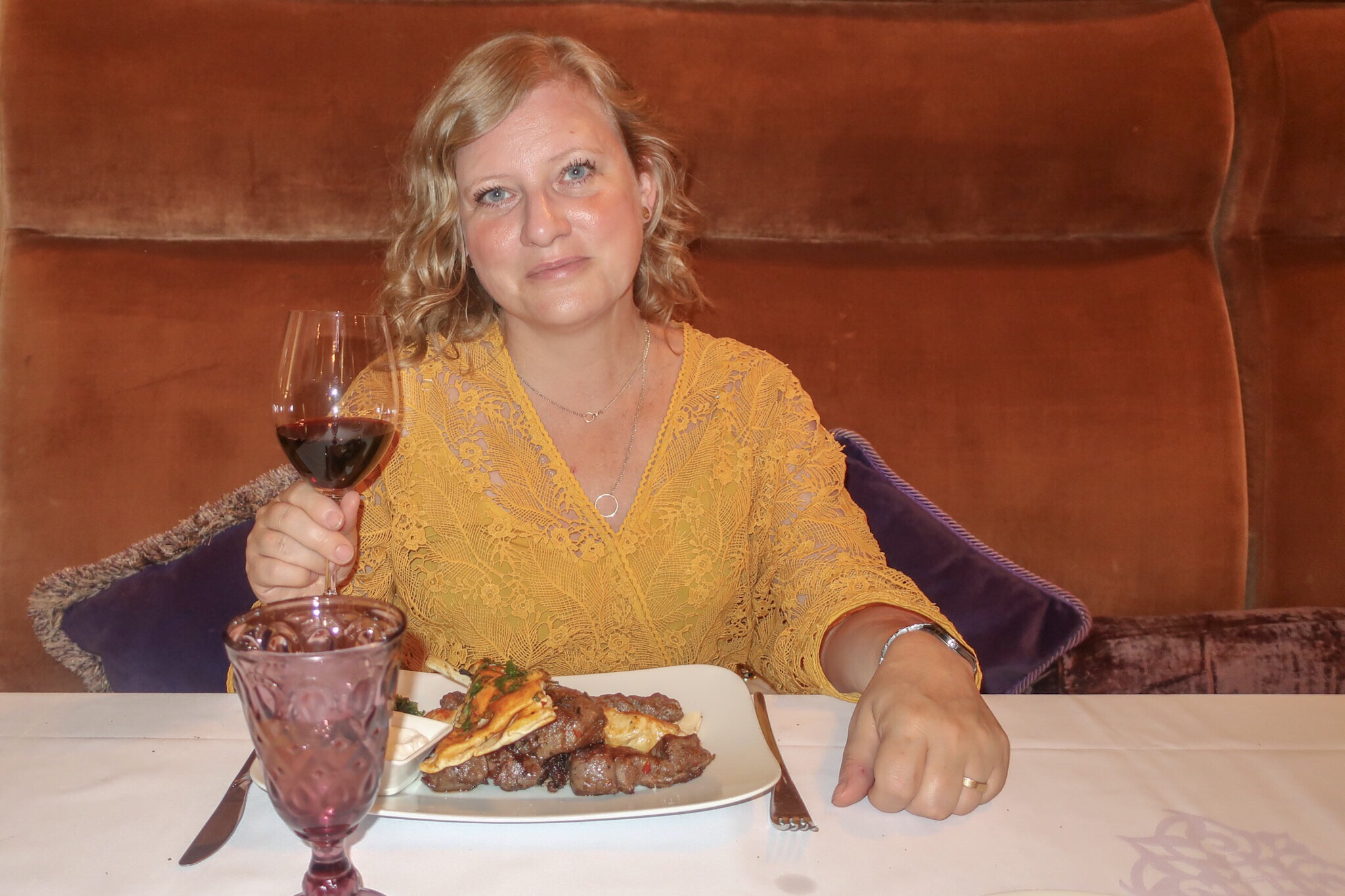 Imperial
The evening at Imperial was probably the only one that I wasn't as happy with. We couldn't book anything this evening, so an Asian buffet sounded like a good idea. I had been looking forward to a fresh buffet with sushi, pad thai, palak paneer and gyoza - but it basically turned out to be more of a Chinese buffet. So I ended up basically just eating the boiled crabs and a papaya salad - the rest felt too mastic for me. Maybe I should have asked what "Asian" meant when we booked, then I wouldn't have been askedviken.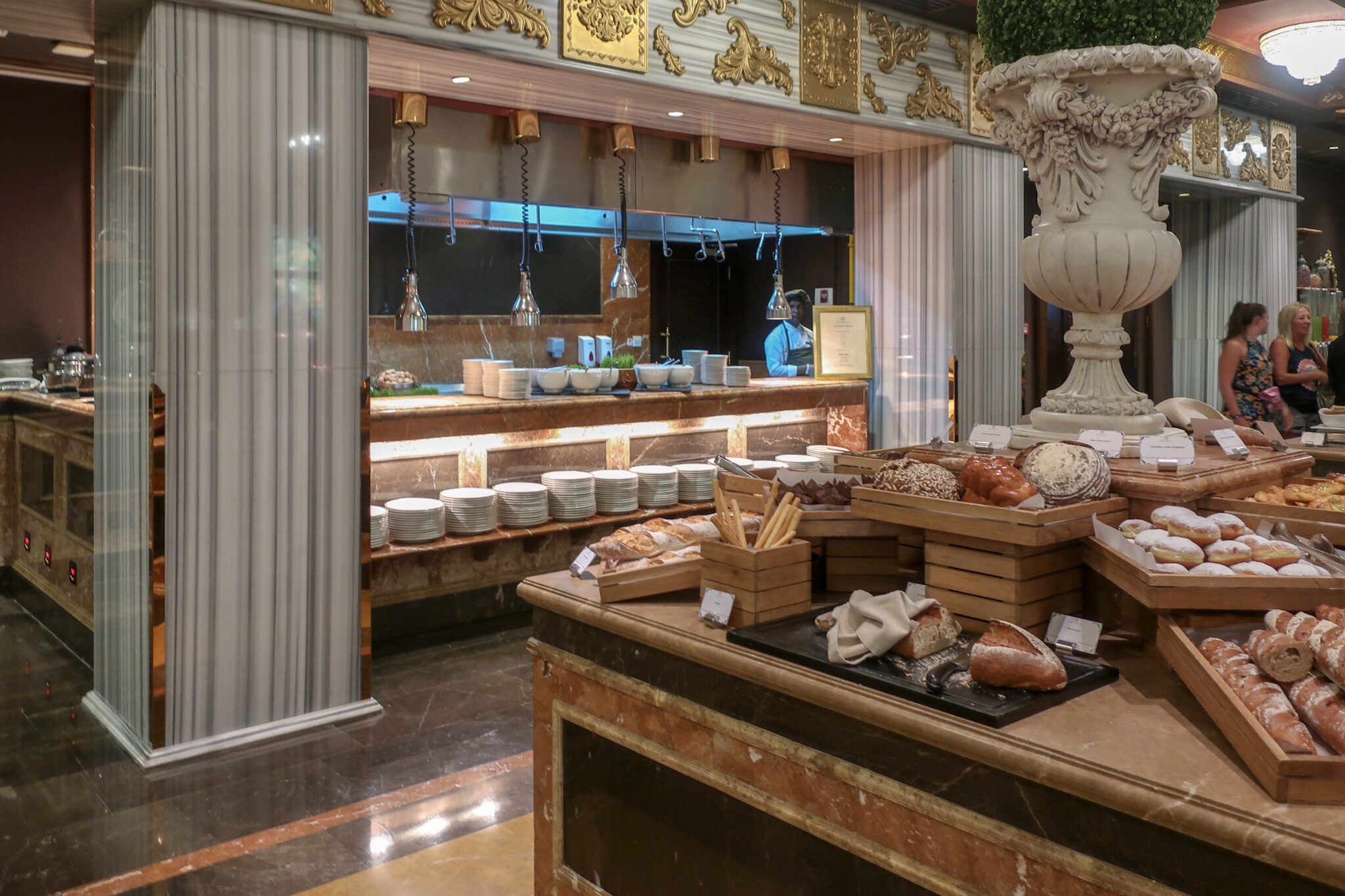 However, the breakfast buffet at Imperial was really good and the venue is really grand in Versaille style. In addition to an egg station with the usual eggs and omelettes, you could also order a number of egg dishes a la carte - so there was an Eggs Benedict here too every day. When in doubt – always go Eggs Benedict!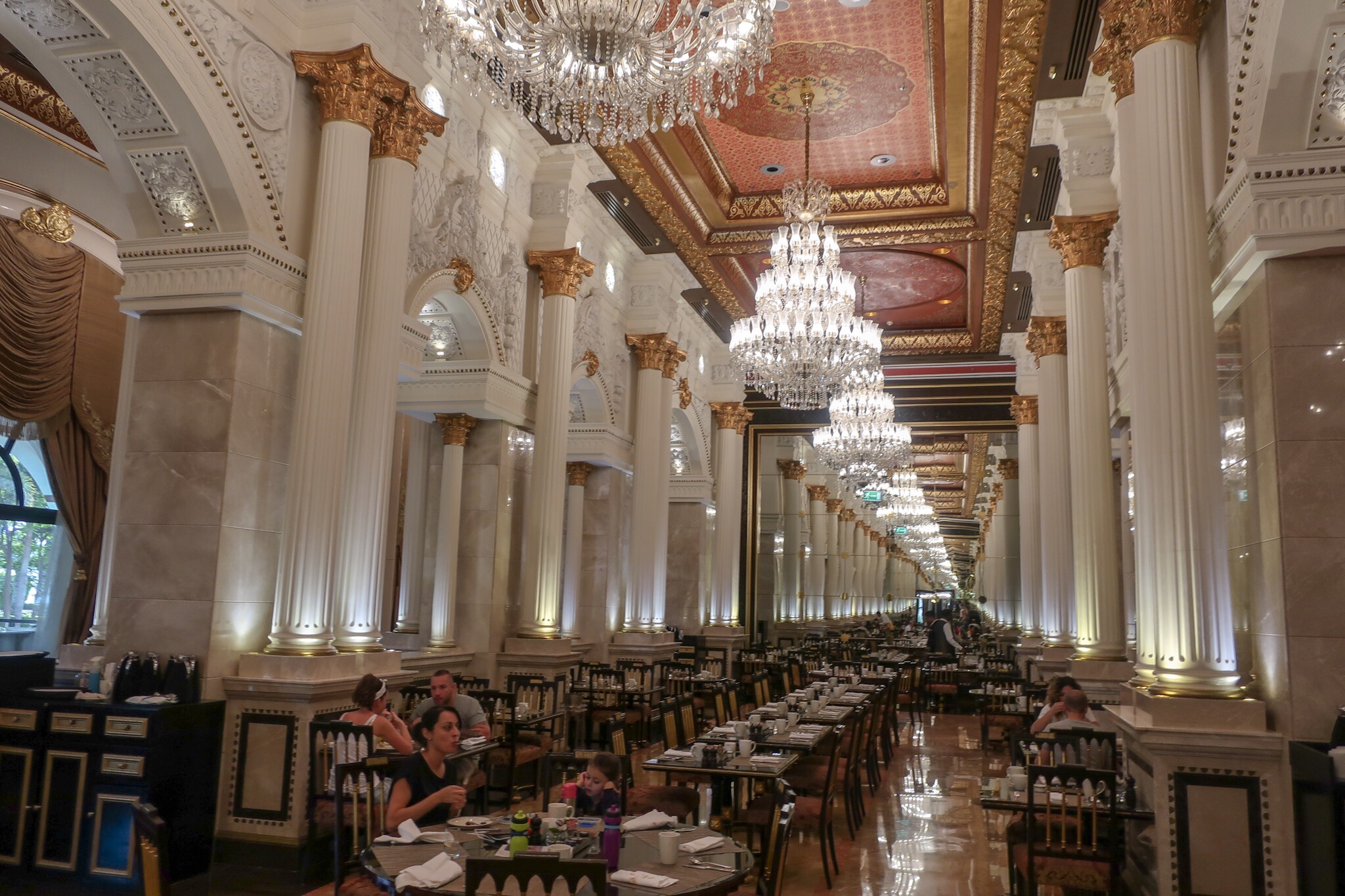 service
Perfect service down to the smallest detail! Everything from the fantastic staff (especially the staff in the club lounge!), to the pool service with towels and water, to the free bus to Mall of the Emirates and Wild Wadi, to the turn down service in the evening. There is really nothing to complain about! Full pot!
So what was the overall family rating?
We felt like princes and princesses at this fantastic hotel! Every detail was perfect and nothing was worn anywhere. A place like this, with marble, gold and decorations everywhere is the perfect break from our Scandinavian minimalist everyday life. We could definitely go back here, especially with the club+half board package we booked!
Do you want to read more about Dubai? Look into my United Arab Emirates page!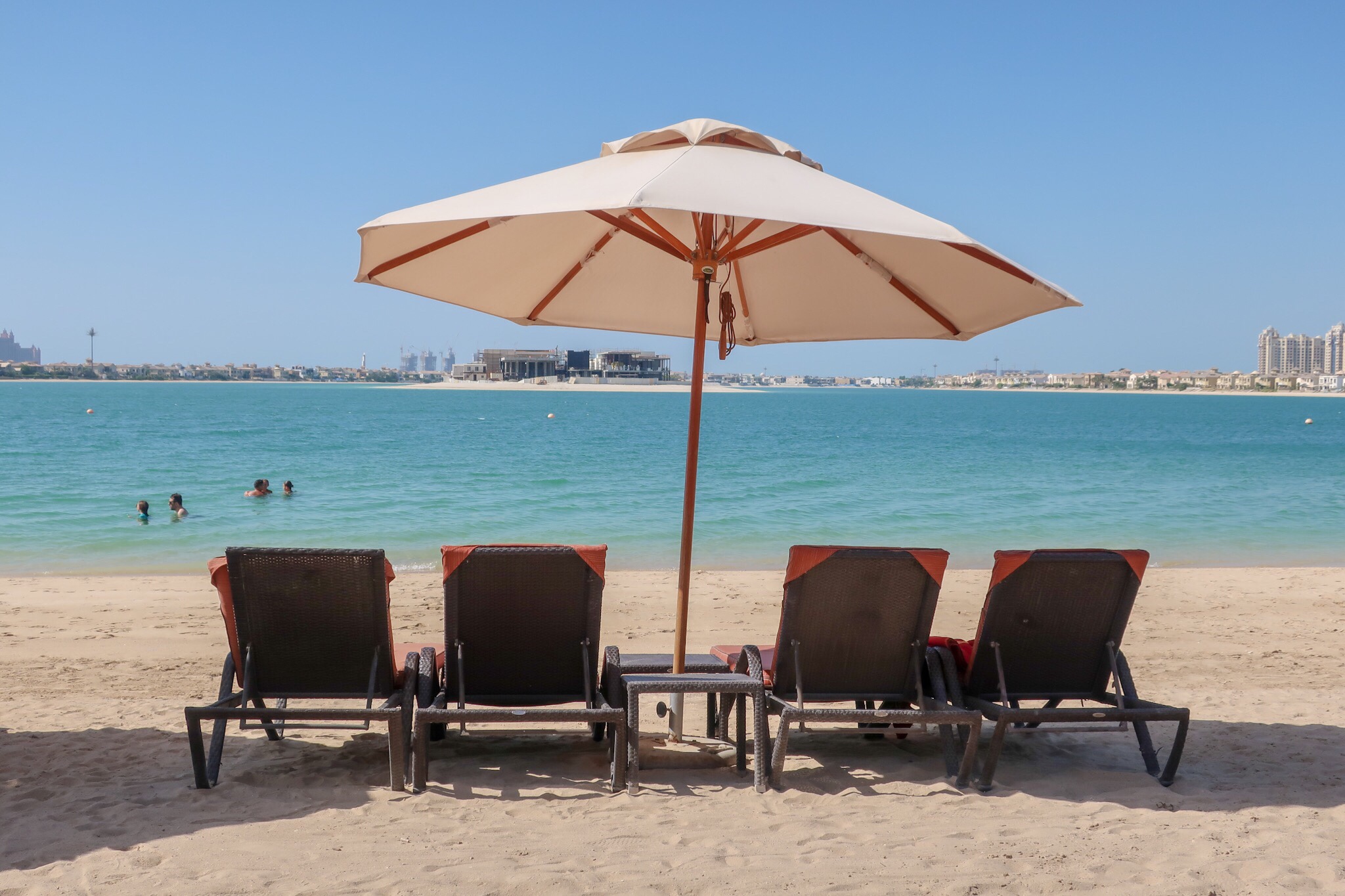 Have you been here? What did you think of the destination?
Been there - didn't like it!
0
Not keen at all to go here!
0
Eva Gyllenberg
Travel blogger, gastronaut, photographer and family adventurer with over 55 countries in his luggage. Eva loves trips that include beautiful nature, hiking boots and well-cooked food. On the travel blog Rucksack she takes you to all corners of the world with the help of her inspiring pictures and texts.