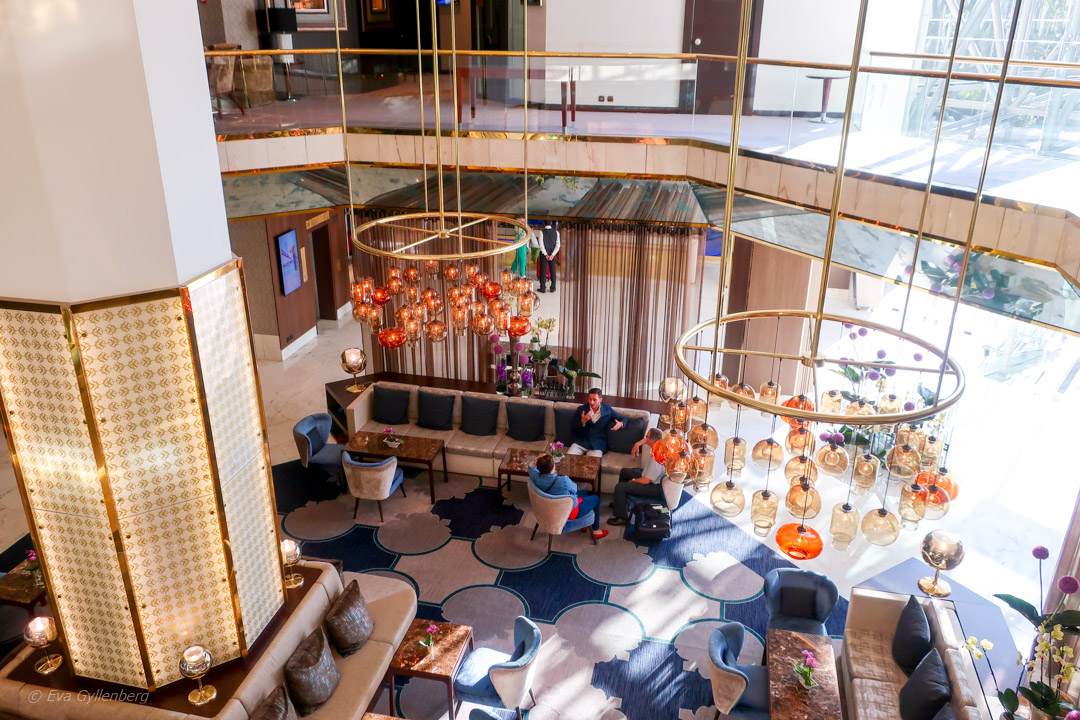 There were four criteria that I looked at a little especially when we were going to book a hotel in Lisbon.
1) The hotel would have a garage
2) The hotel would be located in the nicest neighborhood
3) The hotel would have XNUMX-hour check-in
4) We wanted to stay in the same hotel as the soccer team SL Benifica.
OK, the last criteria was a joke, but it actually turned out that the entire football team was staying at the hotel at the same time as us. But more on that later... As for the XNUMX-hour check-in, it wasn't because we were going to land particularly late, but given all the flight delays that have been this summer, I didn't want to take any chances.
In any case, the choice finally fell on Intercontinental Lisbon. A chain we often and gladly stay at, which has never disappointed us and which was surprisingly affordable in Lisbon!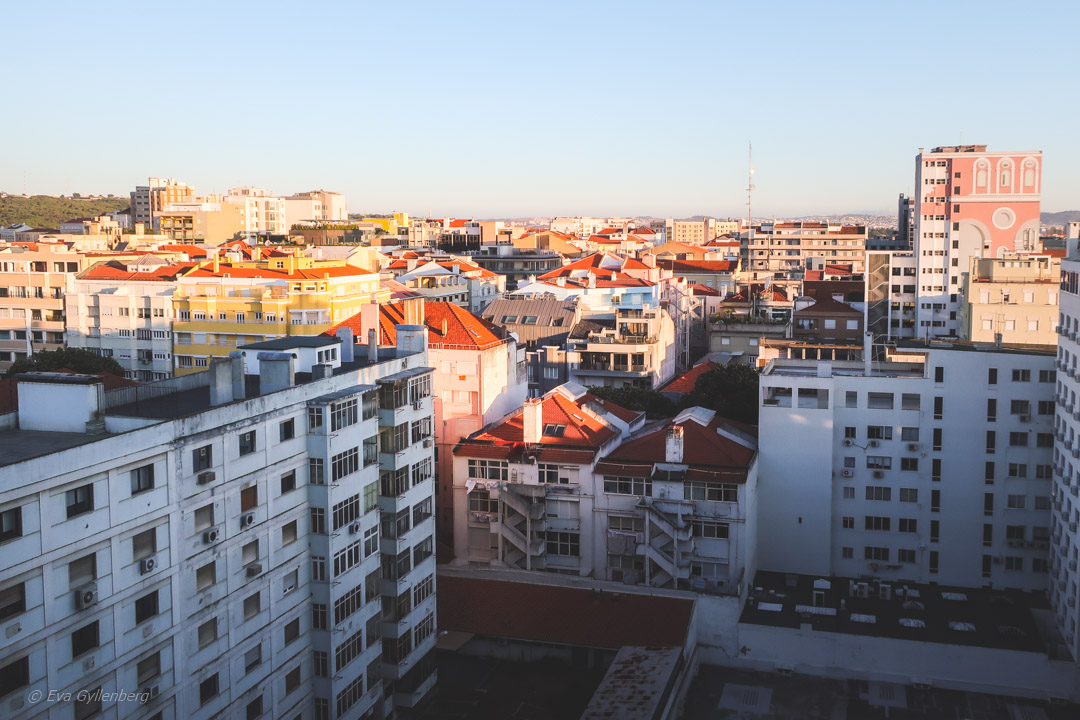 Location
The hotel is located in an area with several luxury hotels Eduardo VII Park and Marques de Pombal Square, within walking distance of Avenida da Liberdade boulevard. The airport is only one mile from the hotel. After we picked up the rental car, we were inside the hotel in no time (almost anyway, it took about 20 minutes). The hotel is quite anonymous, we almost drove past the reception. If the GPS hadn't said we would be there in 100 meters, I wouldn't have found it.
We parked the rental car in the hotel garage under the hotel. It was without a doubt the garage with the lowest headroom I have ever been in! I'm not kidding when I say my husband almost hit his head on the ceiling. So we were very happy with our decision to rent a midsize car and not an SUV this time…
Check-in
Although the entrance was a bit anonymous from the street, the reception was all the nicer. Velvet furniture and classic "Intercontinental business" style, which always feels cozy and pleasant. We were freed from our bags faster than we could get out of the car and an extremely knowledgeable, fast and friendly receptionist from Porto took care of us. He was more than happy to help us with all sorts of Porto tips, so I checked our restaurant reservation with him. Caféina, had he possibly heard of it? Of course, Caféina was according to him one of Porto's absolute best restaurants and he told me that the President of Brazil landed his private plane in Porto just to have lunch there. Can you not help but love such insider tips?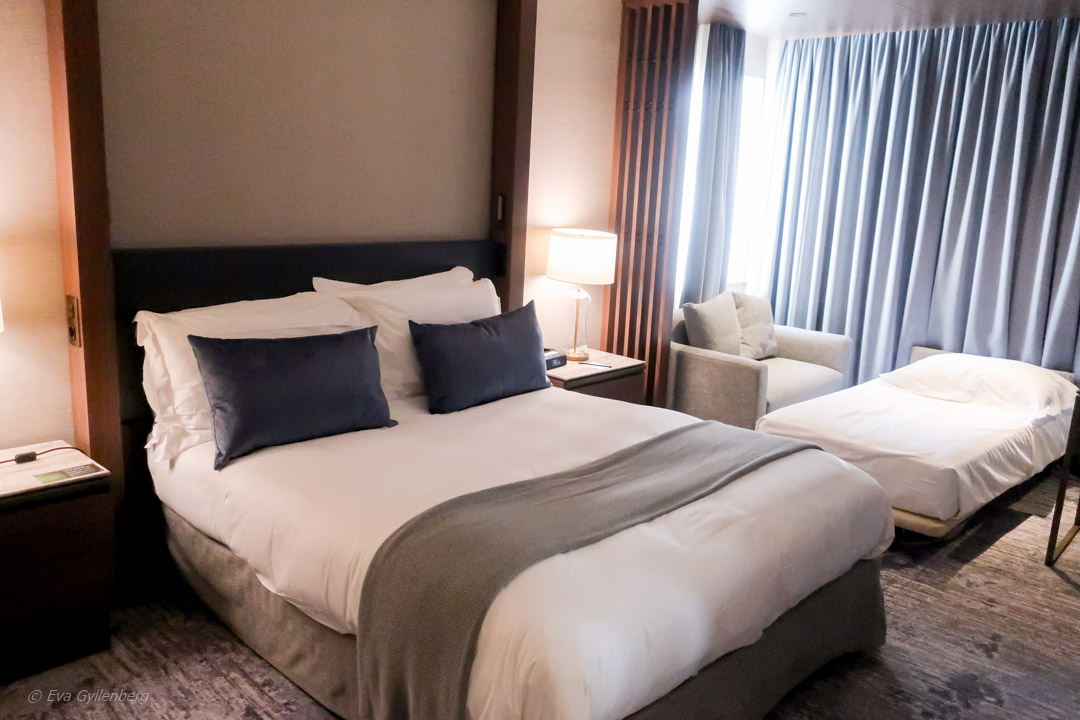 The room
We were given a room on floor 16. The entire hotel was fully booked due to SL Benifica and entourage staying at the hotel, so it didn't feel like we got the best room. The hotel room had a single small window, had it not been so bright in the room it would probably have felt a bit closed in. But the room felt newly renovated with a very fresh carpet (didn't think I would mention fresh and carpet in the same sentence ever!), a wide double bed, a small sofa and a desk. The extra bed had a thick mattress which was approved by the daughter.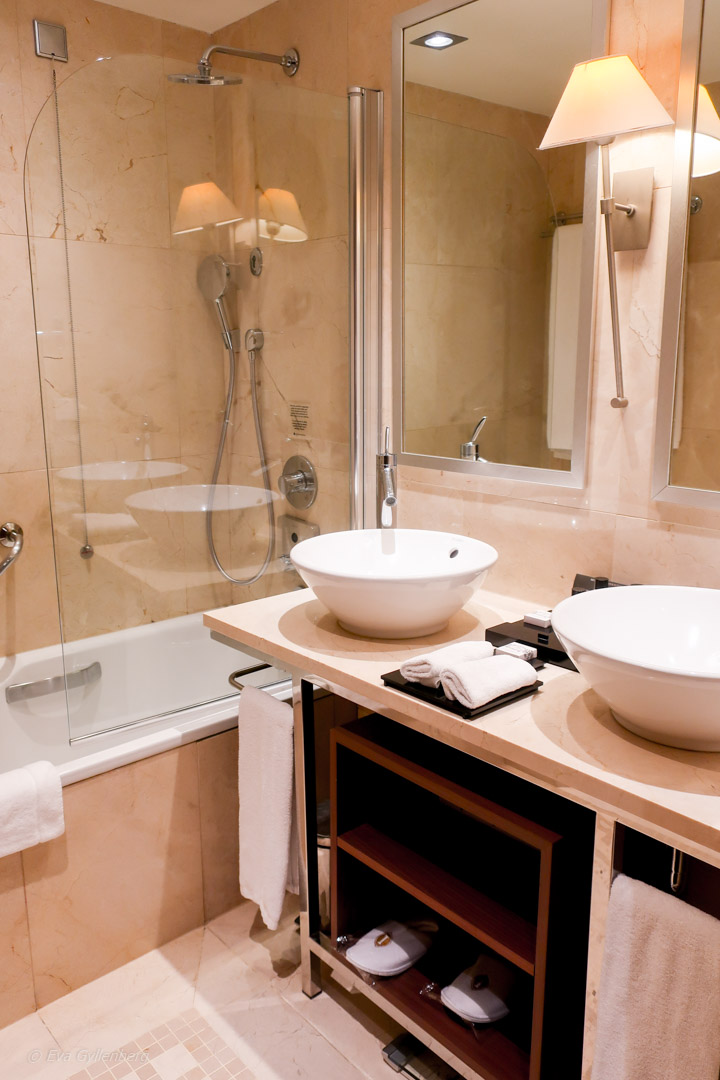 The bathroom had a shower with bathtub, two sinks, bidet and toilet. The bathroom furniture was in dark wood with a stone top. However, the shower had a slightly piquant detail – it had a touch button to start the water flow. For me, a touch button in the shower means that there is electricity installed in the shower. Felt a bit wrong in my eyes, but it was at least a bit fun to press the button!
There was of course a large safe, minibar and kettle for coffee/tea. Wifi was fast and stable to my daughter's happiness.
The only thing we had to complain about in the room was the window. It could not be closed, but was constantly open. Luckily it didn't rain, but it was quite windy. This resulted in the wind periodically catching the window and slamming it shut. It sounded like someone slamming a door. Easily awakened as I am, I realized that I probably wouldn't sleep very well if I kept waking up thinking someone had opened the door to our hotel room. So when we went to dinner we told the reception that there was something wrong with the window. They would send the repairman right away, they promised. When we got back up to the room after our dinner, the window was still banging. We spoke to the front desk again, who said it was strange because the repairman had been in our room. So he sent the repairman up again. The poor repairman scratched his head and explained that he had ordered home parts, but couldn't fix the window tonight. He tried to plug the window, but it didn't work. And the hotel was fully booked, so we didn't have another hotel room to change to... So, you could almost say that SL Benifica was the reason we couldn't sleep well that night, but the truth is that I was so tired that I just woke up a handful of times out of the window. The rest of the family slept through the night undisturbed. If you are tired enough, you sleep through everything...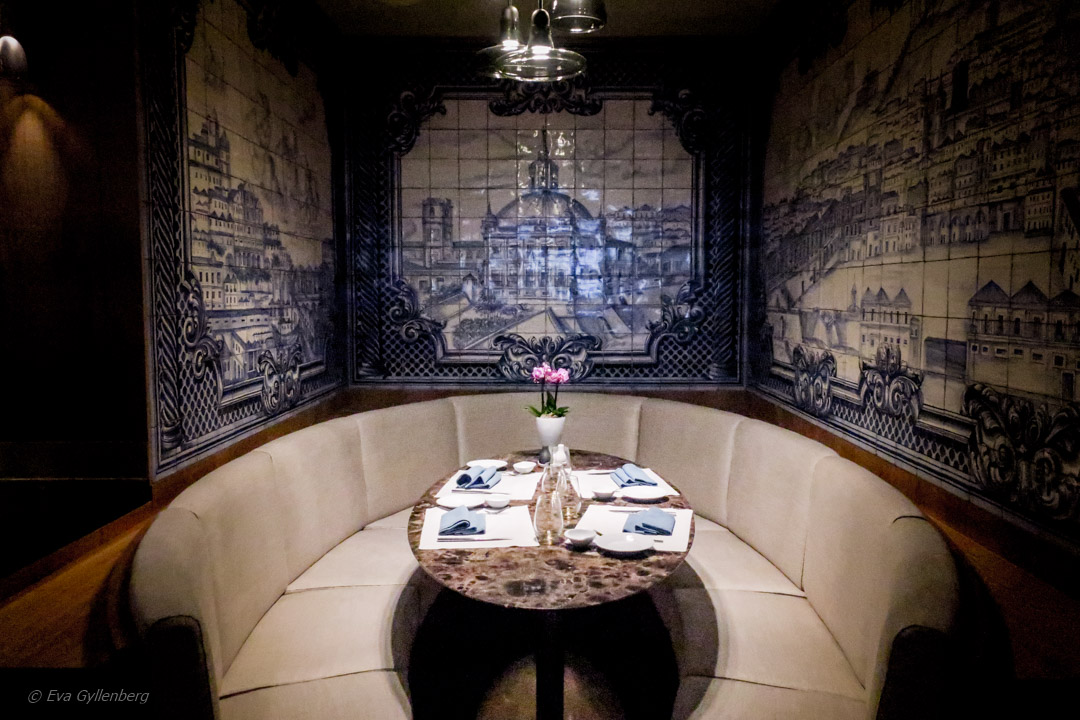 Restaurant
The hotel has a restaurant mind, a restaurant that has won several awards for its modern Portuguese cuisine. Easy to book in the app "The fork" and with a 30% discount on the menu, it felt like a bargain. There was a table left at 20pm, so we took it.
Nicely decorated, with several walls of classic painted tiles. Just what you want in a restaurant when you are in Portugal! I really love their tiles! We got a good table right by the window. All tables were filled during the evening more than once, so it seems to be a popular place!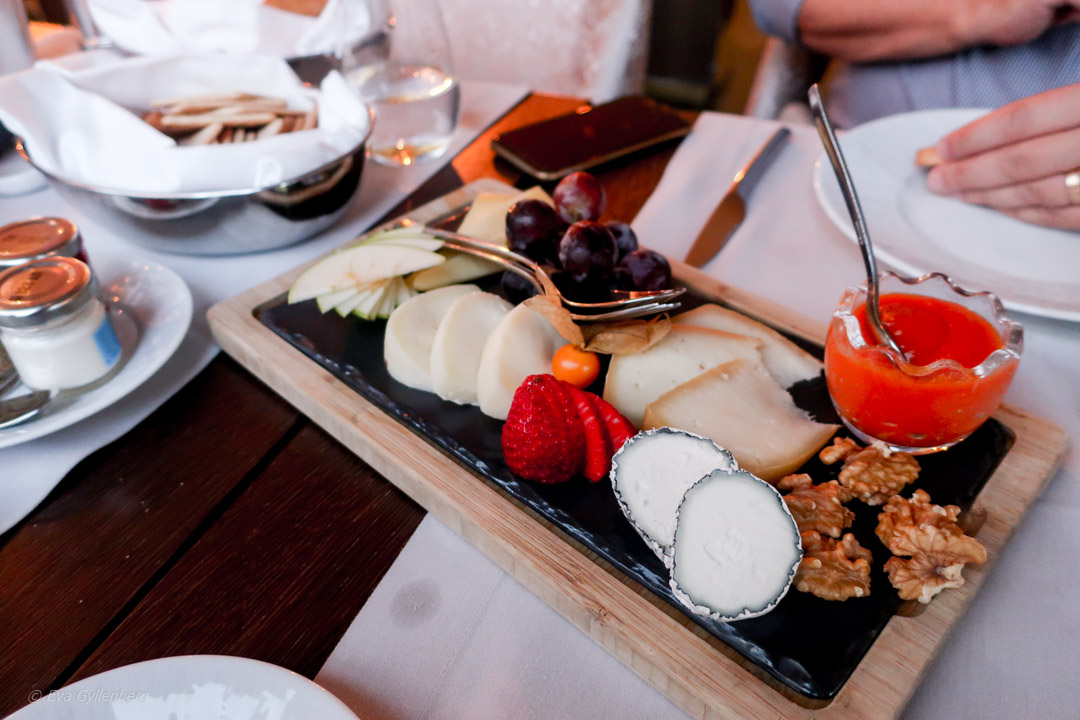 The restaurant had a well-stocked menu and also a children's menu. We ordered a cheese plate with Portuguese cheeses for starters and then I had a grilled tuna with sauteed vegetables, the husband had a tournedos with baked potatoes and the daughter had a hamburger. Large portions, well prepared and tasty. And very affordable with the 30% discount! I could go here again! My tuna was gigantic, I could barely eat half of it. A plus also because they offered a good little amuse-bouche.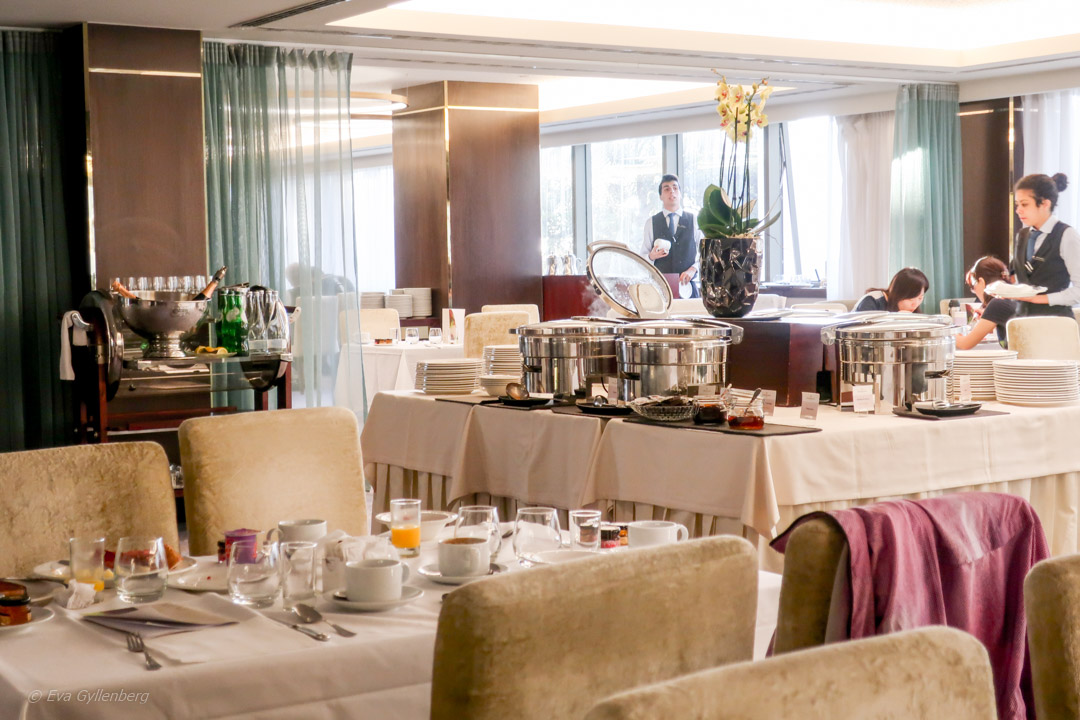 The breakfast
The last Intercontinental we stayed at was the Intercontinental at Sydney harbor last summer. There was everything from freshly baked waffles, to a juicer and fruit sorbet machine (the ultimate breakfast accessory - from now on all breakfasts must be compared to this amazing fruit sorbet!). This breakfast was not quite so filling. There was absolutely nothing wrong with the breakfast, but more of an ordinary "standard" breakfast that I will not remember.
There was of course bread with spreads, yogurt and scrambled eggs/sausages, two types of juice and coffee delivered to the table. You could also order fried eggs at the table. But there was no Eggs Benedict to order... There was some cut up fruit, but it was mostly just melon and grape. The rest of the fruit was whole bananas, oranges and apples. But while it wasn't an overwhelming breakfast, it felt fresh.
A plus was that there was bubbly for those who wanted to start the morning with a luxurious little Mimosa.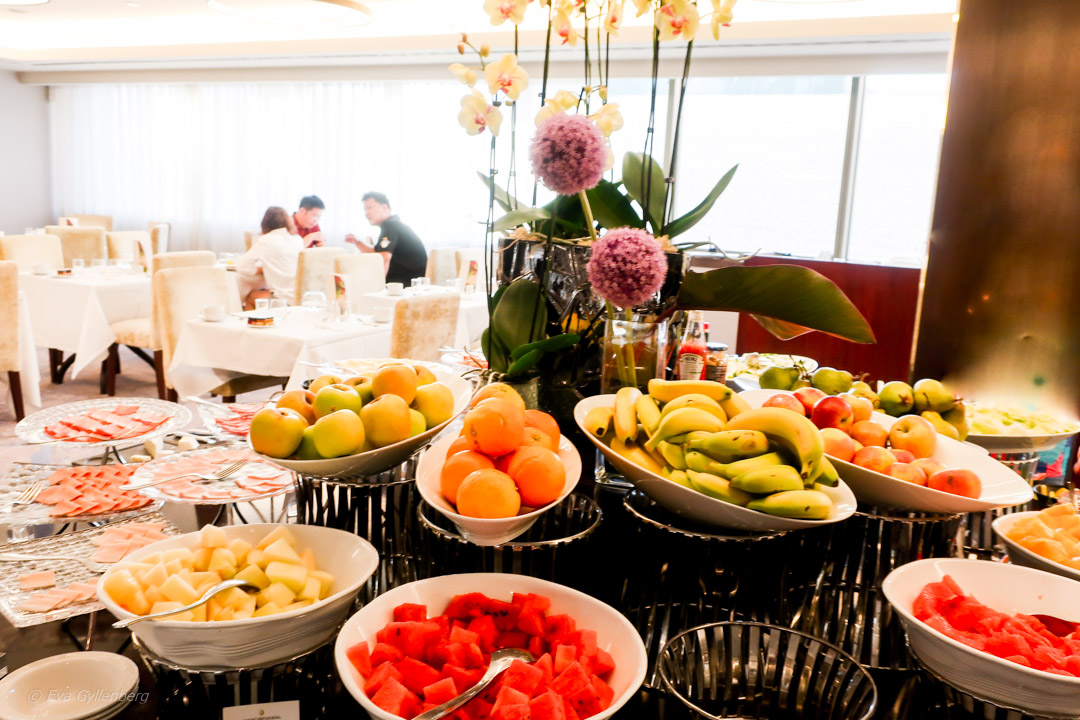 So, what was the overall family rating!
Good, but not quite full pot! The beds were comfortable, the room felt fresh. The staff and service were amazing, as always at Intercontinental, BUT I could swear they knew about the broken window when we got the room - and that bothers me a little. A five-star hotel will fix a broken window right away or they won't rent out the room until it's fixed. So hence the slightly lower rating for the room and the service. However, we would not hesitate to stay here again.
Have you been here? What did you think of the destination?
Been there - didn't like it!
0
Not keen at all to go here!
0
Eva Gyllenberg
Travel blogger, gastronaut, photographer and family adventurer with over 55 countries in his luggage. Eva loves trips that include beautiful nature, hiking boots and well-cooked food. On the travel blog Rucksack she takes you to all corners of the world with the help of her inspiring pictures and texts.