Are you looking for an affordable design hotel with a good location in Barcelona? Preferably within walking distance to good restaurants and shopping and with a boutique feel and 24h service? Then I have a tip for you! We stayed at the Hotel Indigo Barcelona at Plaza Catalunya for a weekend in December, a really good and affordable hotel - also for families with children!
TRANSFER
We landed at Barcelona's El Prat airport at midnight and quickly jumped into an airport taxi to take us to the hotel. The advantage of Hotel Indigo is that it really is a straight track from the airport to the hotel, road C-31 turns into the wide avenue Gran Via de les Corts Catalanes - on which the hotel is located. The taxi only costs about 25 Euro, so it's not many kronor you save on taking the airport bus if you are a family. However, the airport bus is practical enough to get there Plaça Catalunya, which is only 500 meters from the hotel.
LOCATION
The location couldn't be better! The hotel is located in nice l'Eixample, just a few blocks from the main square Plaça Catalunya, where the major shopping streets La Rambla and Paseo de Gracia passing by. The nearest metro station is Paseo de Gracia (200 meters from the hotel) with three lines (purple, yellow and green). Do you instead go to Plaça Catalunya (500m) you have a large hub here with both regional trains, buses and even more subway stations.
Although the hotel is located on one of the major roads in central Barcelona, ​​it was calm and quiet in the room. We heard no traffic.
RECEPTION AT THE HOTEL
We had check-in at midnight, which was not a problem as Hotel Indigo has 24h service at the reception. The room was already set up for the night – curtains drawn and the sofa bed made out for the daughter. Free water bottles and sweets were in the room, so it was just a matter of going to bed.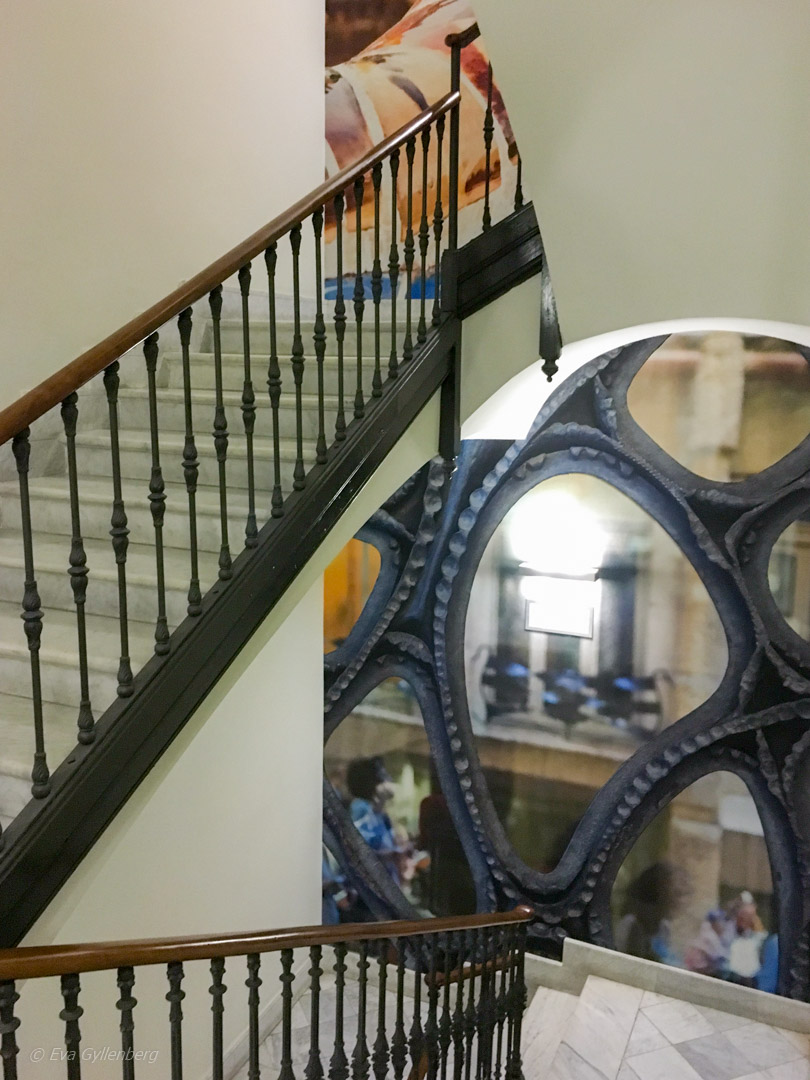 THE HOTEL
The hotel is located rather anonymously in a beautiful old stone house, with a relatively large courtyard with a pool, sunbeds and a gym. As we were here in the winter the pool wasn't open so I can't tell if it was any good, but the sunbeds and seating in the courtyard definitely looked inviting. Wifi is free and worked great throughout the building. Gaudi-inspired murals and images from Gaudi's architecture in Barcelona cover the walls of corridors and stairwells. A popular restaurant (Doq) and a cozy bar are located next to the reception.
THE ROOMS
Even in the room, the walls were covered with beautiful Gaudi patterns and carved mirrors. Large and comfortable double bed with crisp white bedding in the master bedroom, which also had a TV and alarm clock. In a slightly smaller room we had a sofa bed (with room for two children) and a desk with a Nespresso machine (topped up daily). Spacious bathroom with large rain shower and good water pressure and heat. Beautiful bath products from Rituals and hair dryer. Neat and clean!
However, the daughter's rating on the sofa bed was low, she thought the mattress was far too thin and hard.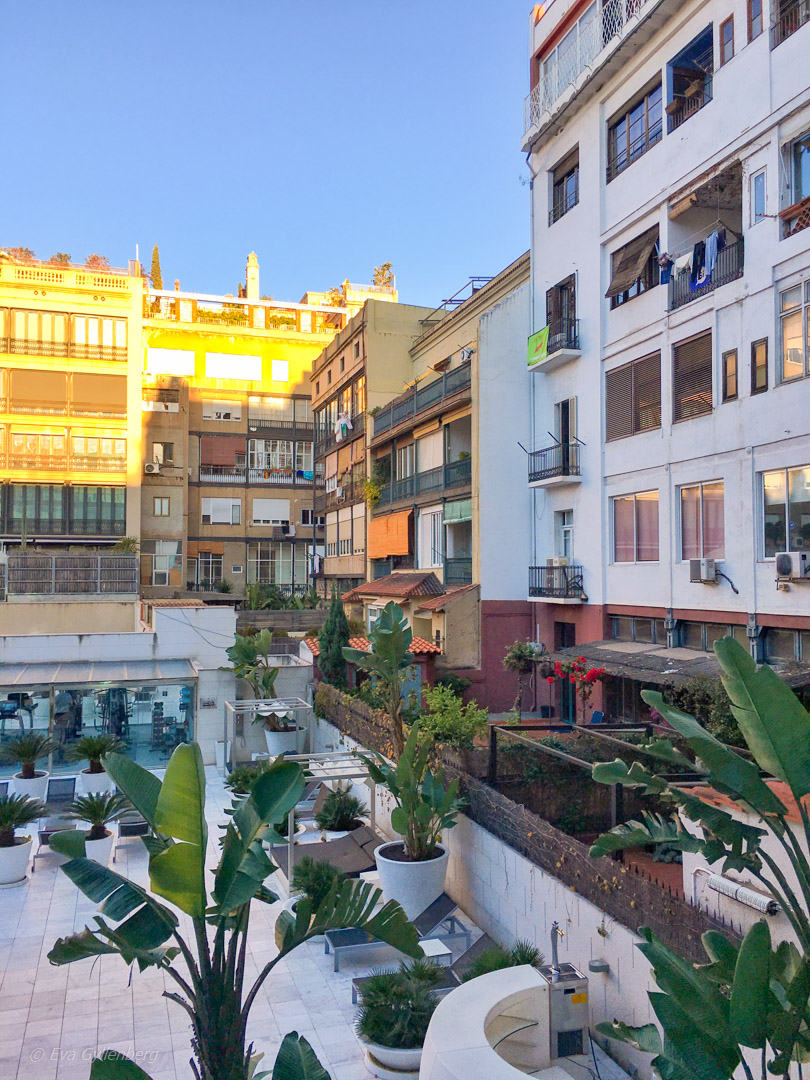 SERVICE
Very nice and helpful! We asked for help booking a really good restaurant (same day), booking taxis, holding our bags. They fixed everything with top marks! Especially the restaurant booking was more than expected, it's not often you manage to get a table at a good restaurant at such short notice!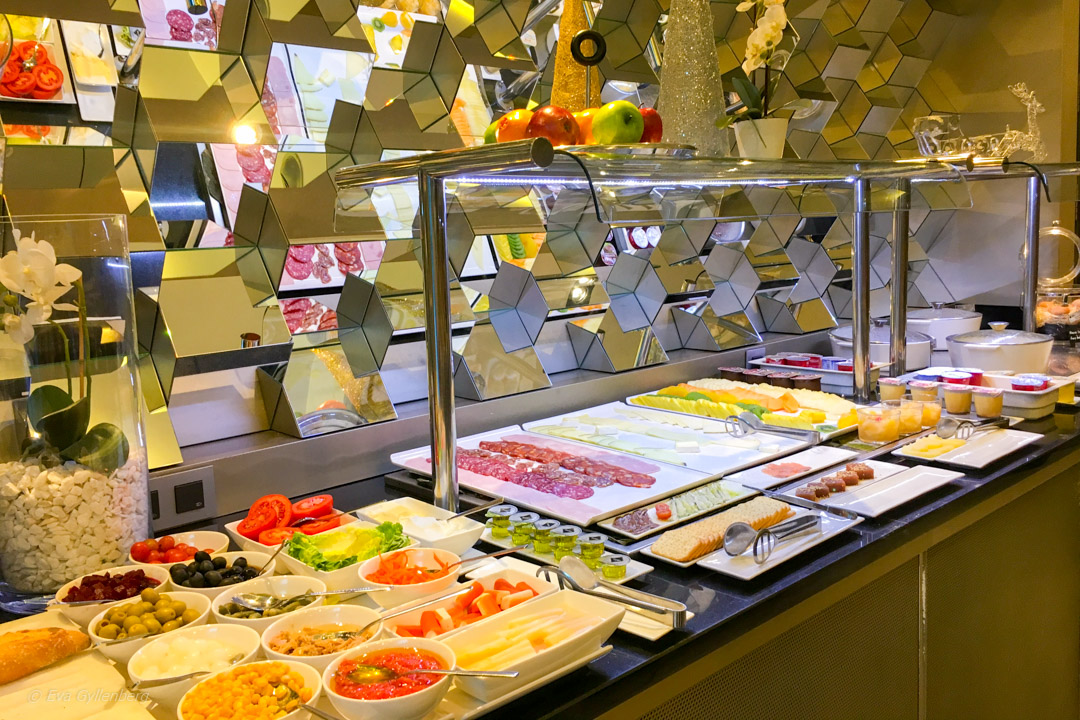 MAT
The breakfast was included in our booking and it included both an American hot breakfast with scrambled eggs, sausages, bacon etc and a cold breakfast with cold cuts, good cheeses, small tapas/pinxos, potato cake, freshly fried churros, cakes, cookies, waffles, juice, smoothies and vegetables/fruit in large quantities. Eggs are cooked to order (if you don't want them already cooked), so is the coffee. Freshly baked bread and cereals/yogurt are of course also available. It probably wasn't actually anything I missed - but freshly fried churros with chocolate cream were clearly the best!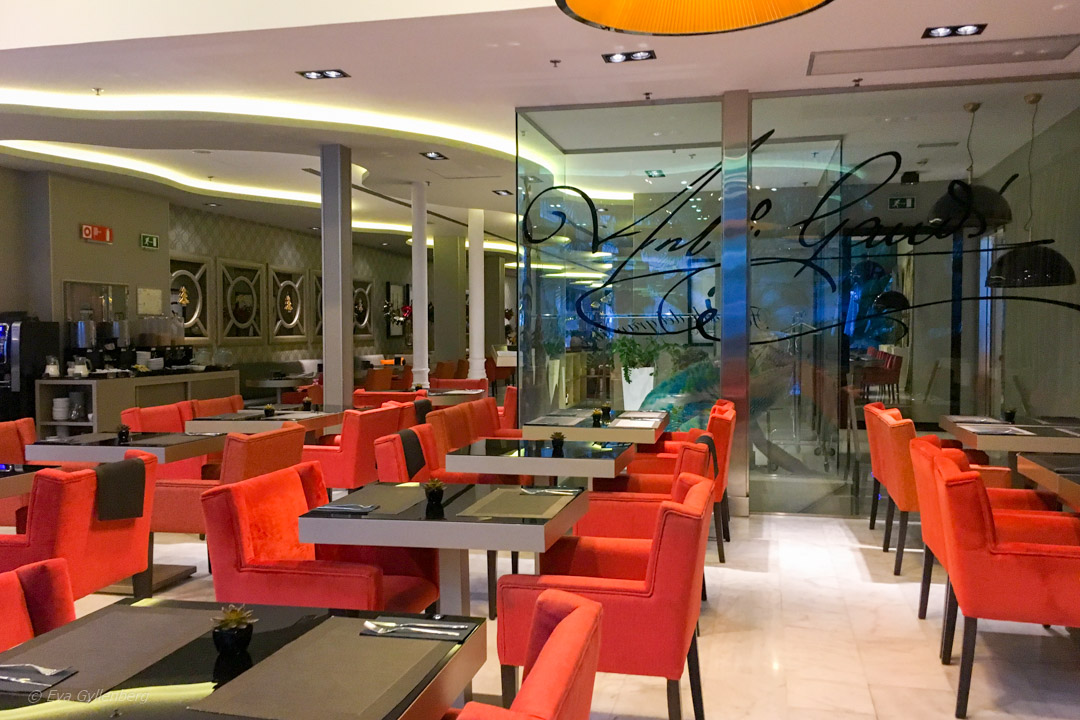 SO WHAT WAS THE TOTAL FAMILY RATING?
AFFORDABLE, STYLISH AND IN THE BEST LOCATION! It is always difficult to find boutique hotels in a good location that have room for extra beds, but Hotel Indigo had solved it by booking a slightly larger room with a sofa bed. Considering the location and value for money, I'd say Hotel Indigo is a really good option for discerning design families. When you book, always check both the hotel booking sites and the hotel's own website - you can usually get much better deals on IHG hotels on the hotel's own website!
Hotel Indigo Barcelona – Plaza Catalunya
Gran Via de las Corts Catalanes 629
Barcelona
Want to read more hotel reviews?