When I was younger, I had a completely different attitude to hotels. Hotels were an unnecessary evil that always cost far too much and that you only needed to sleep for a short while (after you wandered into the hotel room just before dawn). Nowadays, when I'm a little older and a little more realistic, I try to make the hotel part of the experience instead. One of the reasons why I try to book good hotels is that you never know what can happen on holiday. The weather can be so bad that you simply can't go outside (like when we had a violent monsoon rain in Thailand), it can be so hot that you have to stay inside to survive (like when we were sweating cascading in a heat wave in Dubai in August), you can have an allergic reaction that means you have to stay out of the sun (like my dad got from a bug bite in Cyprus) or you can simply catch a bad cold (like I just got on our skiing holiday in Switzerland ). What is it that you appreciate most of all when you lie there under the blanket and cough and pop painkillers? Yes, that you have booked a really nice hotel room. So here comes my review of cozy Dorint Blüemlisalp i Beatenberg, Switzerland. A hotel where I had to spend a little more time in the room than I had planned (see previous post...).
Location
Dorint Blüemlisalp is in Beatenberg, approximately 1 hour and 45 minutes by rental car from Zurich on fine and well-salted roads. The last stretch is the slow part. At the junction Interlaken you take off towards the small ski resort of Beatenberg, up a mountain on a road that slowly zigzags you to your destination for 13 kilometers. The hotel is located high up, with a view of Lake Thun and the entire impressive mountain massif that makes up the large ski region Jungfrau. The closest ski areas to the hotel are the family-friendly slopes in Niederhorn and Hohwald, just a few minutes by car from the hotel. However, we had decided to go in Jungfrau, so unfortunately we didn't have time to test the slopes in the village.
From the hotel it is only a 30-40 minute drive to the car parks at the funiculars and gondolas in the three ski resorts Murren, Grindelwald and Wengen. All the services you need (e.g. doctor) are available in Beatenberg, but to shop at larger grocery stores you need to go to Interlaken.
Hotel room
The hotel has 128 rooms, although it doesn't feel that big at all. We had booked a "Comfort apartment - duplex"-room, which meant a room on two floors. On the ground floor there was a social room with sofa bed (with two beds) and armchair, a large balcony (with an unbeatable view of Lake Thun and the Eiger, Mönch and Jungfrau mountain peaks), TV, dining table with chairs, wardrobe and a small kitchenette with fridge, microwave, kitchen stove, Nespresso machine and hotplates. Up a spiral staircase was a bedroom with a double bed and a toilet with shower and bathtub with white tiles and light granite. Everything felt very newly renovated and fresh, with fine furniture in light oak.
The room is designed for 2-4 people, with two people sleeping on the sofa bed. The sofa bed was large enough for even an adult to sleep on it, so the daughter slept well on the sofa. Wifi was available throughout the hotel and was fast, stable and free. The whole family could Netflix at the same time without a problem!
The hotel replenished every day with new coffee capsules and shower products. A bottle of water was included as a welcome gift, but as the tap water was really good, I didn't feel the need for them to refill more water bottles. Cleaning was also included every day.
The only thing that I found a bit surprising about the hotel room was the kitchenette. We had booked the room on Hotels.com, where the booking stated that we had booked a room with a maisonette. I had probably thought that it would then include the possibility of being able to cook a little simpler food in the room, but to our great surprise the cupboards with plates, pots and cutlery were locked. When we asked at the reception, it turned out that we had not booked the room as a "holiday apartment" but as a hotel room, and then only the microwave, fridge and Nespresso machine are included - not crockery and hobs. To unlock the lockers it would cost 40 CHF in an extra cleaning fee, regardless of how long we stayed in the room. As I am allergic to extra charges not mentioned in the booking, I didn't feel like paying this, so we opted to eat out instead. If I had read a little more carefully on the hotel's own website, I would have been able to read in retrospect that it would cost extra, but I definitely did not understand that from my booking on Hotels.com. Not the hotel's fault - but a bit sour.
(A small comment on the picture of the living room: Our room had carpeting, but the hotel is gradually replacing all carpeting with parquet floors)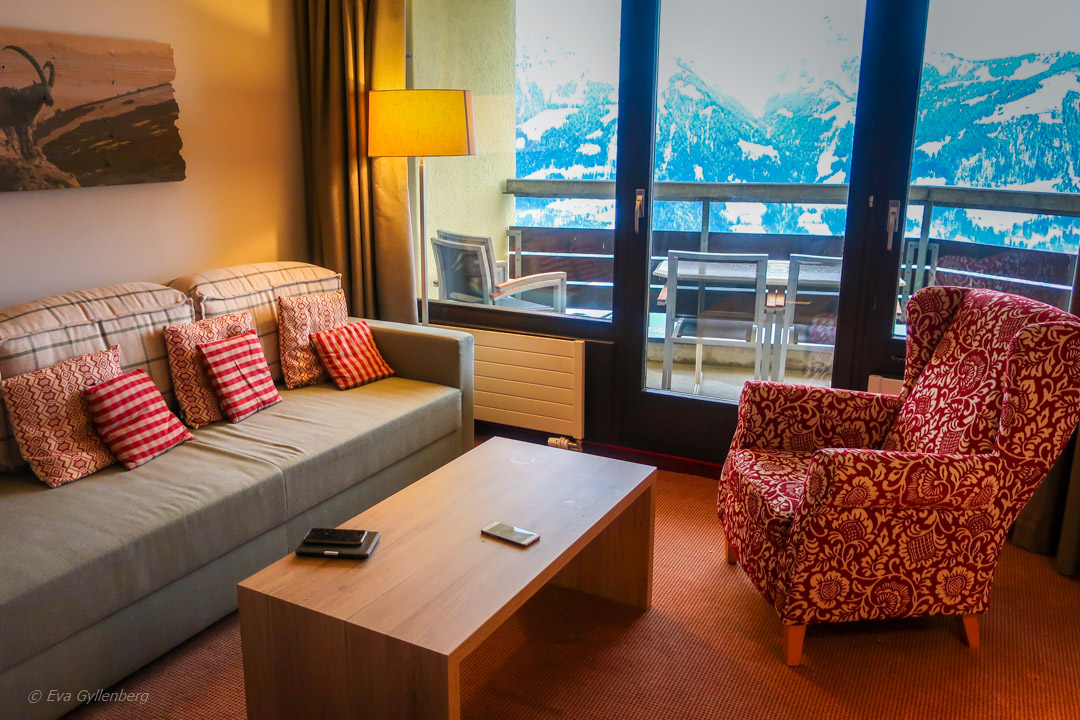 Restaurant
Dorint has two restaurants and a bar. The main restaurant and the more traditional one Stübli had almost the same menu, but in Stübli they also served raclette and fondue, which was not done in the main restaurant. The main restaurant also had a buffet several nights a week, where you could choose to have a main course buffet and/or a dessert buffet. The place was very popular and reservations were needed almost every night.
Breakfast was served in the main restaurant, with large panoramic windows overlooking Lake Thun and the Jungfrau massif. A fresh and pleasant breakfast buffet with lots of fresh bread, egg station, fruit, cheeses and large amounts of spreads, yogurt and cereals. Coffee is made to order (and their Cappucino was really good!). Often there was also some cake for dessert. Can't figure out what I missed? We used to roll down for breakfast at 07:30 and then we were often the first. Very calm and nice.
The lunch/evening menu was extensive and had everything from classic Swiss home cooking to hearty salads, Club Sandwich, Grill Menu, Indian Lentil Stew and Schnitzel. The children had their own menu which was very reasonably priced and had large enough portions to satisfy an 11 year old. It was no problem to find something good to eat here every night, although it turned out that you can actually get "cheese overflow" if you eat too often from the Swiss home cooking... A main course cost on average just over 20 CHF for us adults and the children's menu (including ice cream) had an average price of about 10 CHF.
A slightly interesting detail that we discovered down in the corridors under the hotel, was that there was another restaurant and a bar/disco. Both closed, but with menus and furniture left. Wondering when they were last open? I will have to book a return visit when Muh bar is open again, it looks like a real highlight…
One thing that does not concern the hotel specifically, but Switzerland in general, is the penchant for expensive bottled water. In a country where 80% of the tap water comes from fine natural sources, they choose not to serve tap water in the restaurants. Instead, they choose to drink environmentally unfriendly bottled mineral water that has been transported across half of Europe. So be prepared that if you order water, you will get bottled water that costs at least as much as a beer.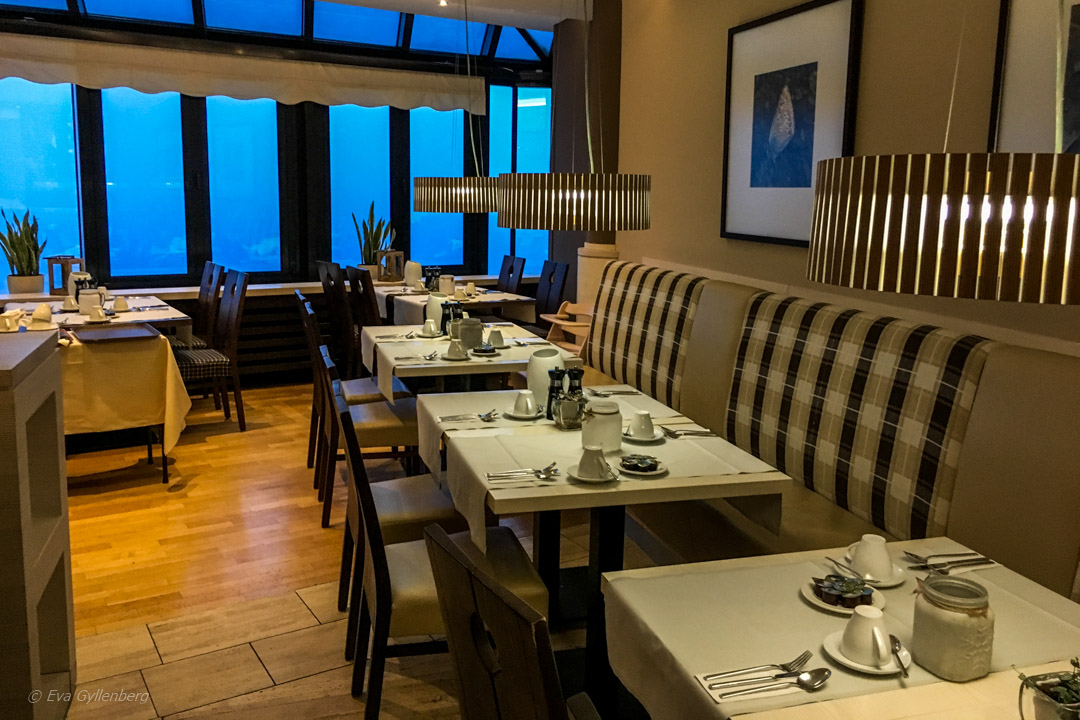 When we got sick during our stay at the hotel and couldn't bring ourselves to go down to the restaurant to eat, we could have take-away for breakfast, lunch and dinner. Very good service and help from the staff!
Facilities
The hotel has parking both on the street and in a parking garage (surcharge). In the basement there is a spa and a large indoor pool which was much appreciated! There is also a billiards room (which, however, has seen its best days and lacked most of it)
Value for money
I don't know if we managed to find an absolutely fantastic deal, but we only paid SEK 1300 per night including breakfast (sports holiday 2018). A really good price for a sports holiday week in an apartment in Switzerland!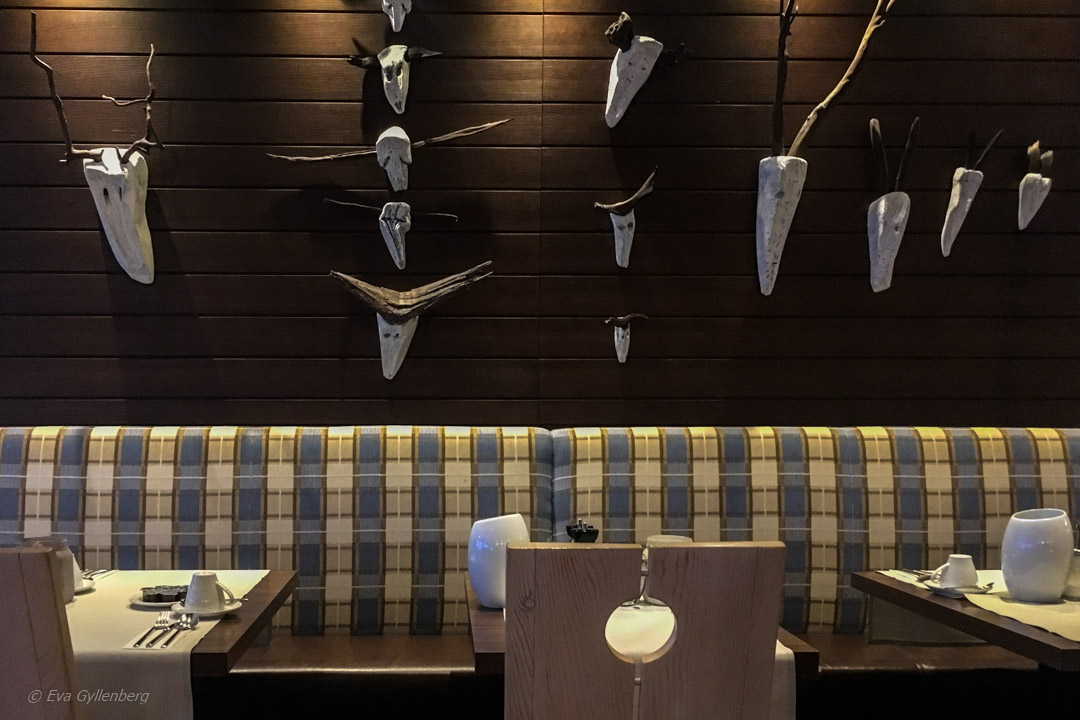 Summary
A nice hotel with comfortable and clean rooms and a really good restaurant!
If we go back to Jungfrau again to ski, I would definitely consider staying here again. The only thing that could make me stay anywhere else is if I could find a similarly priced hotel with a pool down in Interlaken. But as it takes no more than 15 minutes by car to Interlaken, it was difficult for us this year to justify the big difference in price to live a little closer to the slopes. Then I would probably choose to pay for the kitchen equipment next time, now that I know how it works, SEK 350 actually feels quite affordable.
Curious to check out the hotel? You can find the hotel's official page here: Dorint Blüemlisalp.
(Sorry I don't have more pictures from the hotel, but I couldn't take pictures of the hotel after I got sick...)
Have you been here? What did you think of the destination?
Been there - didn't like it!
0
Not keen at all to go here!
0
Eva Gyllenberg
Travel blogger, gastronaut, photographer and family adventurer with over 55 countries in his luggage. Eva loves trips that include beautiful nature, hiking boots and well-cooked food. On the travel blog Rucksack she takes you to all corners of the world with the help of her inspiring pictures and texts.