We hadn't planned to do anything at all during the autumn holidays this year. When all the corona curves continued to point in the wrong direction and country after country in Europe showed new daily records, there was no desire in me to travel abroad during the autumn holidays. I neither wanted to get stuck in new states of emergency nor to not come home when borders close again and flights are canceled. But maybe we could go somewhere in Sweden? Maybe to Österlen? Here in Sweden's most beautiful corner, summer always lasts a little longer and autumn is at its most beautiful in October. With a bit of Googling, we also found a vacant house for rent in the middle of town Österlen, in the middle of nowhere. Among large fields of sugar beet, at safe corona distance to everything. A place where the sky is not disturbed by the lights of big cities and where the deer call out across the fields. So we booked at the last second and got a really lovely autumn holiday week!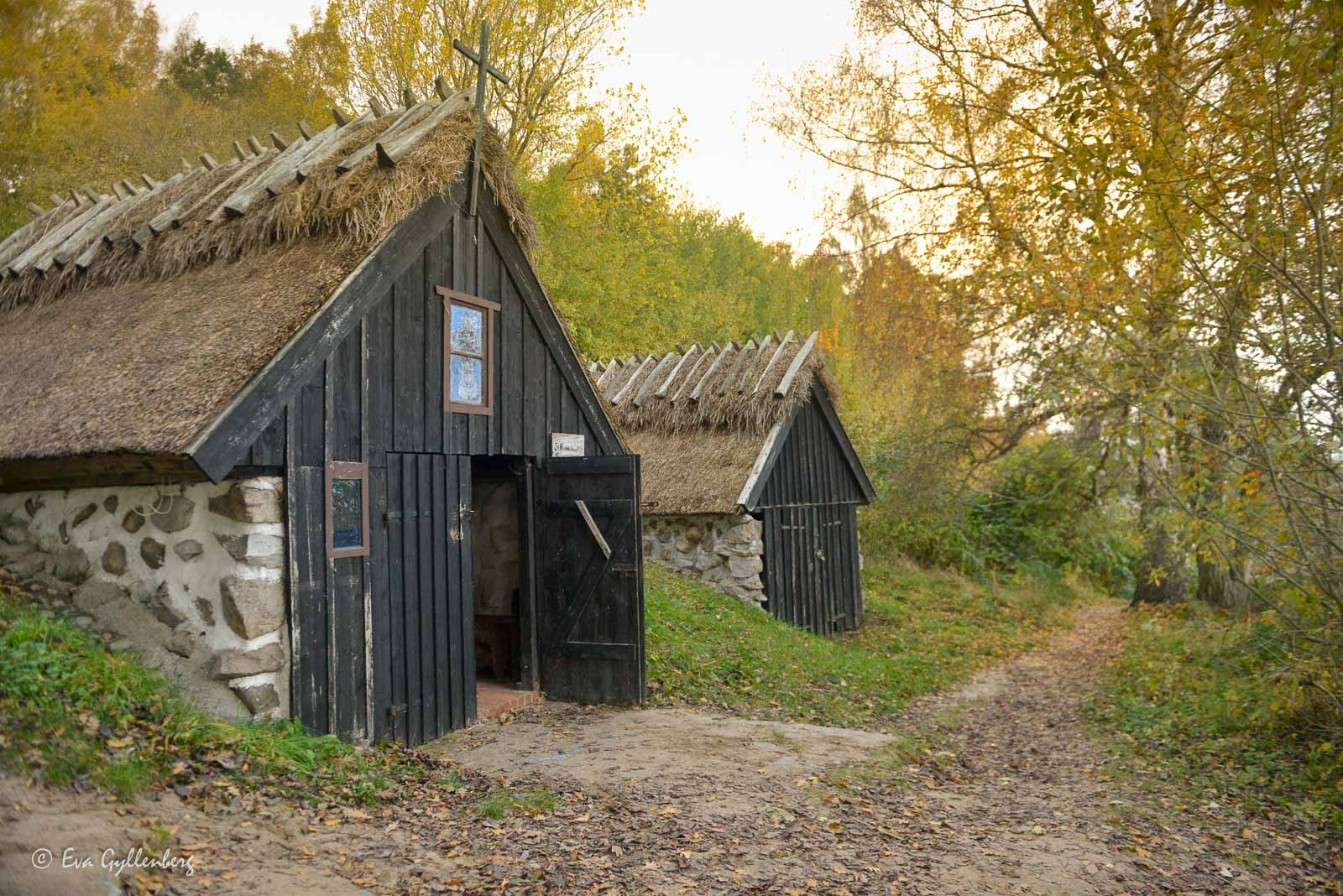 What was it like to travel in Skåne during autumn 2020?
Autumn is usually the most wonderful time of the year to go to Österlen. The large hordes of summer tourists are nowhere to be seen and the temperatures are still pleasant. This year, however, it was a little more closed than usual and a lot was canceled and closed due to corona. We mostly hung out in nature and weren't too concerned, but it was a bit sad that many of our favorite restaurants (which were usually open) were closed and the big apple market in Kivik was canceled and no big apple board was displayed in the harbor.
So what was it like to travel with a dog?
This was our second trip with our dear little pug Lilibet, now 4 months old. Lilibet loves driving, sleeping on our lap when we have coffee and running in the forest. So she had at least had a super lovely autumn holiday! During the summer months, dogs are prohibited on the beaches at Stenshuvud, but during the autumn it is free to take a walk along the beach with the pooch. Lilibet loved the nice beaches and thoroughly enjoyed the fine-grained sand and dipped her paws in the sea. She was not fond of the strong winds at Ale's rocks though, then she froze so much that the fleece sweater had to be worn!
How did it work to have coffee and lunch with a dog? All places with outdoor seating are mostly dog-friendly, but we actually found several dog-friendly cafes and restaurants where dogs are welcome indoors. We ate at three extra dog-friendly places, which also have great food! Buhres at Kivik, Svabesholm's kungsgård's café and Kin bread and coffee in Simrishamn. Remember these - whether you have a dog or not!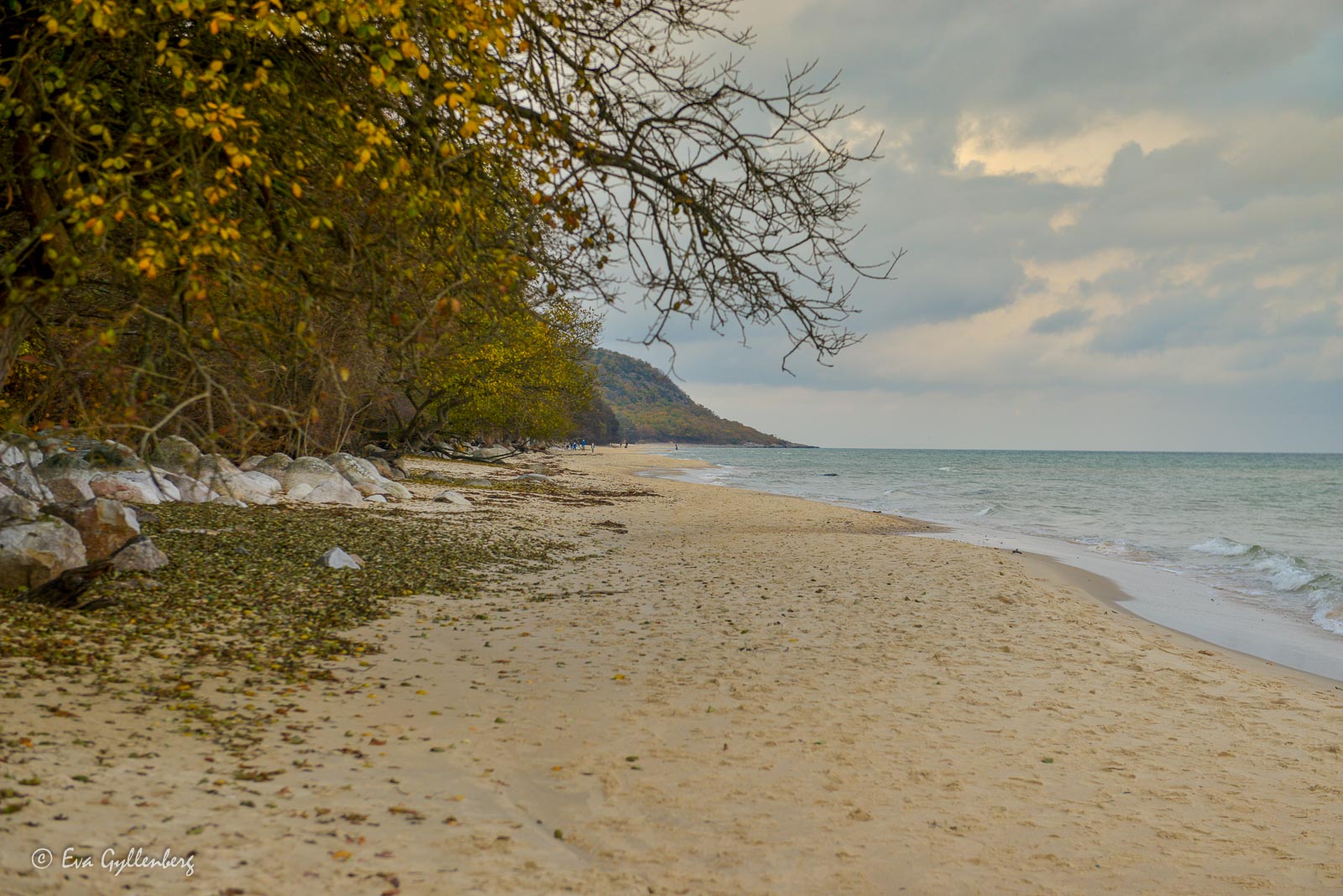 What was it like to rent a house? Österlen?
We rented for the first time a privately owned house via Novasol and it worked really well! There were a few questions about where to pick up the key to the house and how we would pay for the cleaning, but the Novasol office in Ystad helped with everything. The house was sparkling clean when we arrived and nothing was missing. We will definitely rent houses from Novasol more times!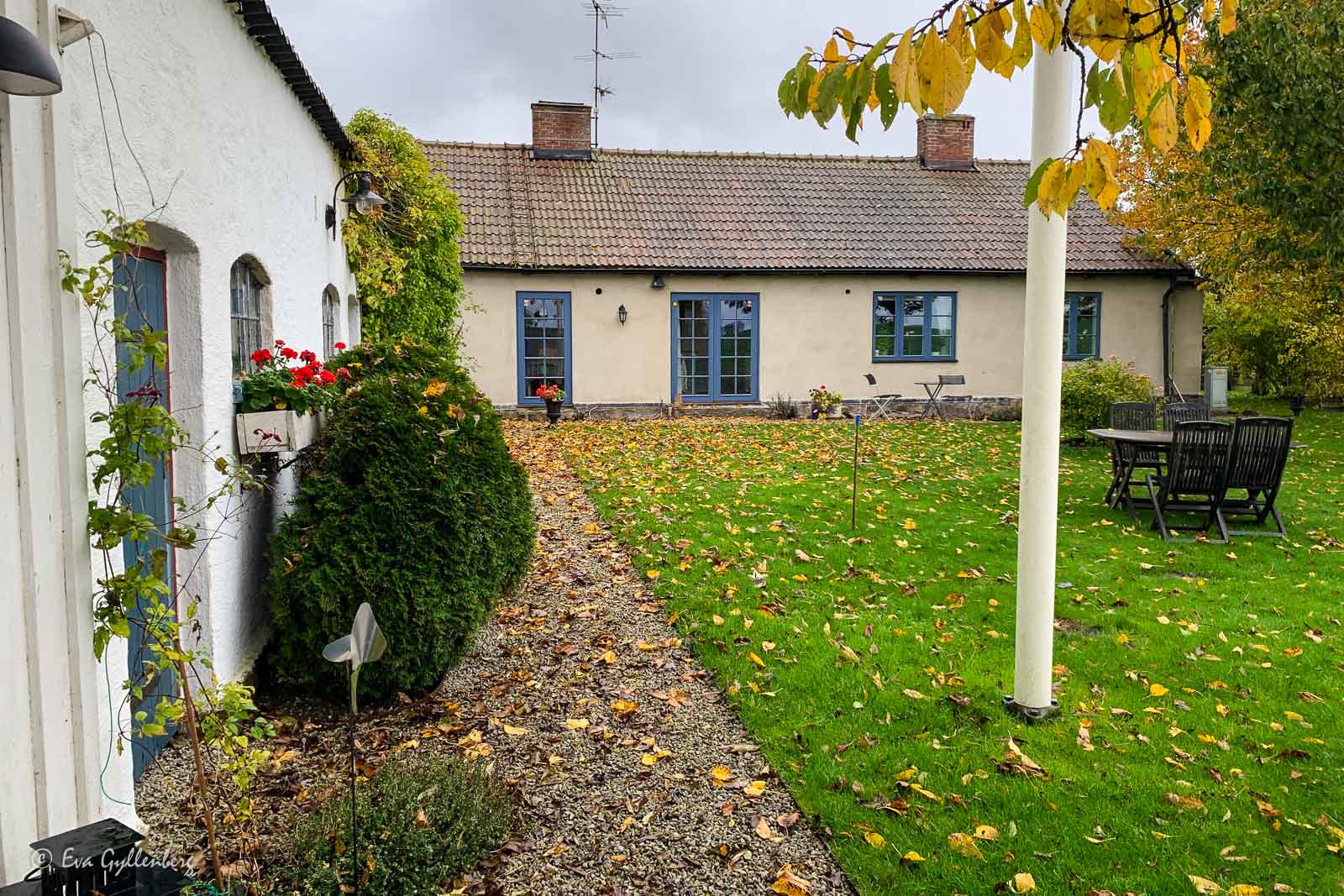 What did we get up to during our autumn holiday week?
Plenty! In addition to filling the soul with energy from the beautiful nature, we also filled the car with delicacies! We managed a full day in Söderåsen National Park (see picture below – pure autumn magic!), visit Kivik's temple, lunch on Buhres at Kivik, walk at Knäbäckshusen, Christmas decoration shopping at Karl Fredrik at Eklaholm, hiking in Stenshuvud National Park, dinner shopping at English turkey, spice shopping at Österlen spices, rapeseed oil shopping at Gunnarshög farm, candy shopping at Österlenchocolate and Cake Cowboy, lunch on Svabesholm's royal estate, walk in the small alleys in Simrishamn, must shopping at Tosterup Castle, beach walk on The sand hammer, windy hike to Ales rocks and a short walk by the south Brösarp's slopes. As I said – lots of food and lots of coziness! More info to come! 🙂
Read more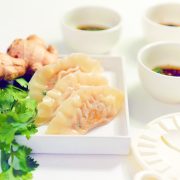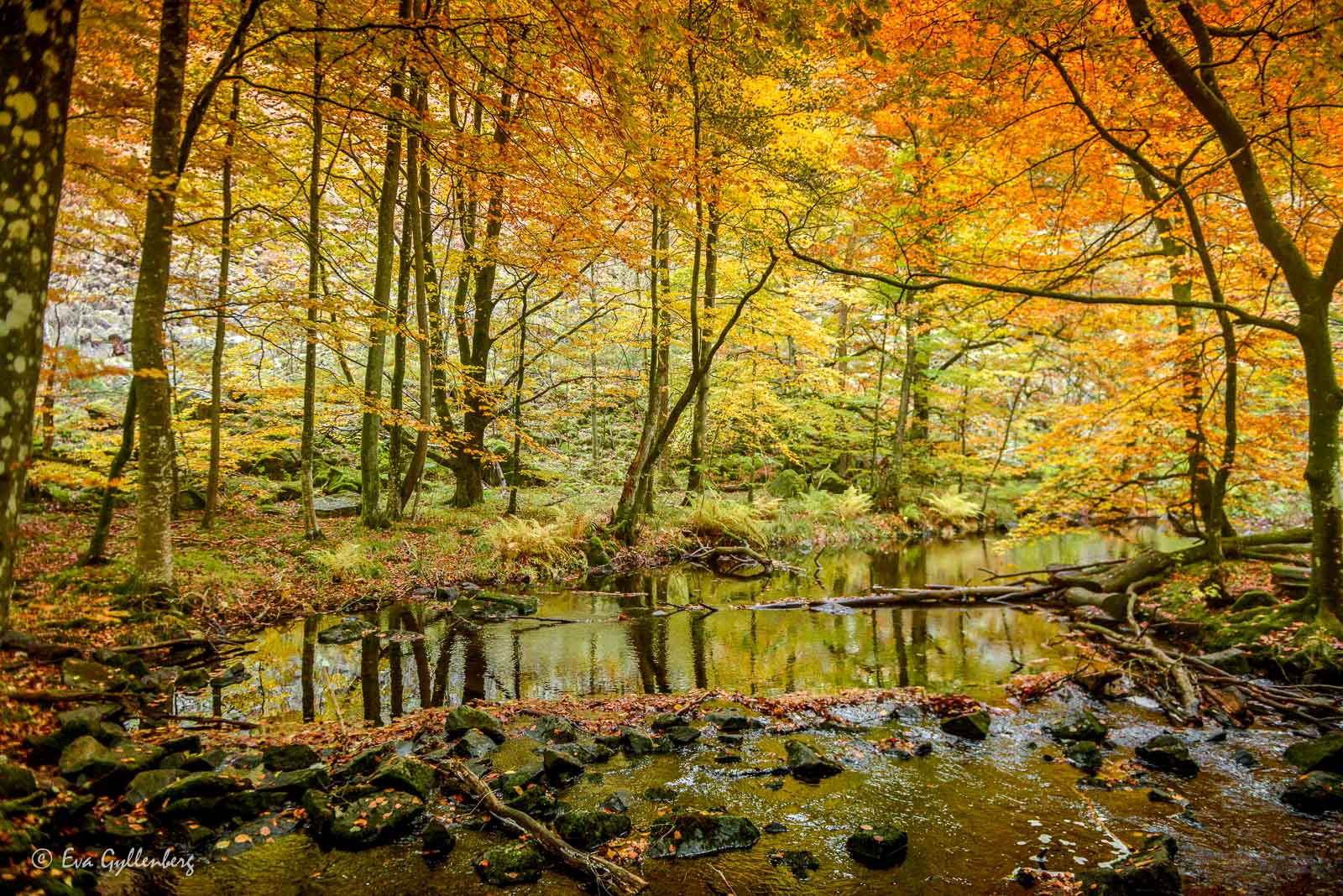 So what happened with the magic light on Österlen?
I always talk about the light on Österlen. There is something special when the last rays of the day caress Österlens green meadows and church roofs. This year we got to see perhaps one of the most magical displays we have ever seen. Just as we were about to jump into the car after a walk by Knäbäckshusen, the sky opened up in a heavy downpour. Happy to have made it into the car without getting too wet, we manage to drive a short distance before the sun's last pink rays suddenly peek out over Rörum's church in the middle of the downpour. We stop the car and jump out. The rain patters against my camera and the lens gets completely wet - but what a light! I don't like to write that something is magical, but this was goddamn MAGICAL!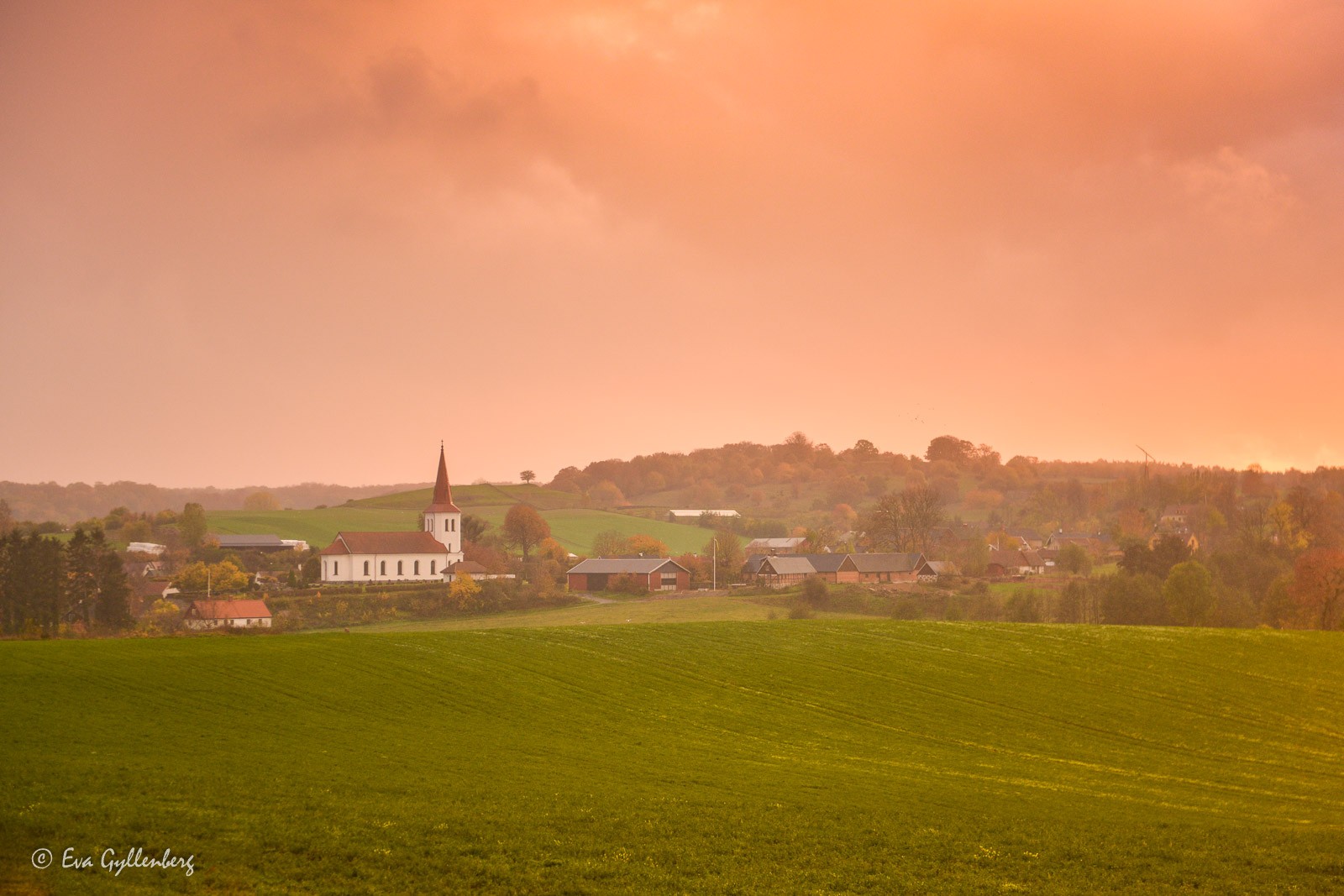 Want to read more of my travel tips? do not forget to like Rucksack on Facebook!
Have you been here? What did you think of the destination?
Been there - didn't like it!
0
Not keen at all to go here!
0
Eva Gyllenberg
Travel blogger, gastronaut, photographer and family adventurer with over 55 countries in his luggage. Eva loves trips that include beautiful nature, hiking boots and well-cooked food. On the travel blog Rucksack she takes you to all corners of the world with the help of her inspiring pictures and texts.