Har you never heard of Ras Al Khaimah? You are not alone in that. But if I say Dubai, I'm pretty sure you know about the popular emirate in the United Arab Emirates. Ras Al Khaimah is the emirate at the top of the north, on the border with Oman. The easiest way to get here is by car - taxi or the hotel's own car (takes a little over an hour from Dubai airport). Here is Persian vikens beaches still relatively untouched, skyscrapers few and prices lower than in glitzy neighbor Dubai. But if you are looking for a quiet holiday with white sand beaches surrounded by pampered service and rugged mountains, then the Hilton Ras Al Khaimah is the perfect destination for you.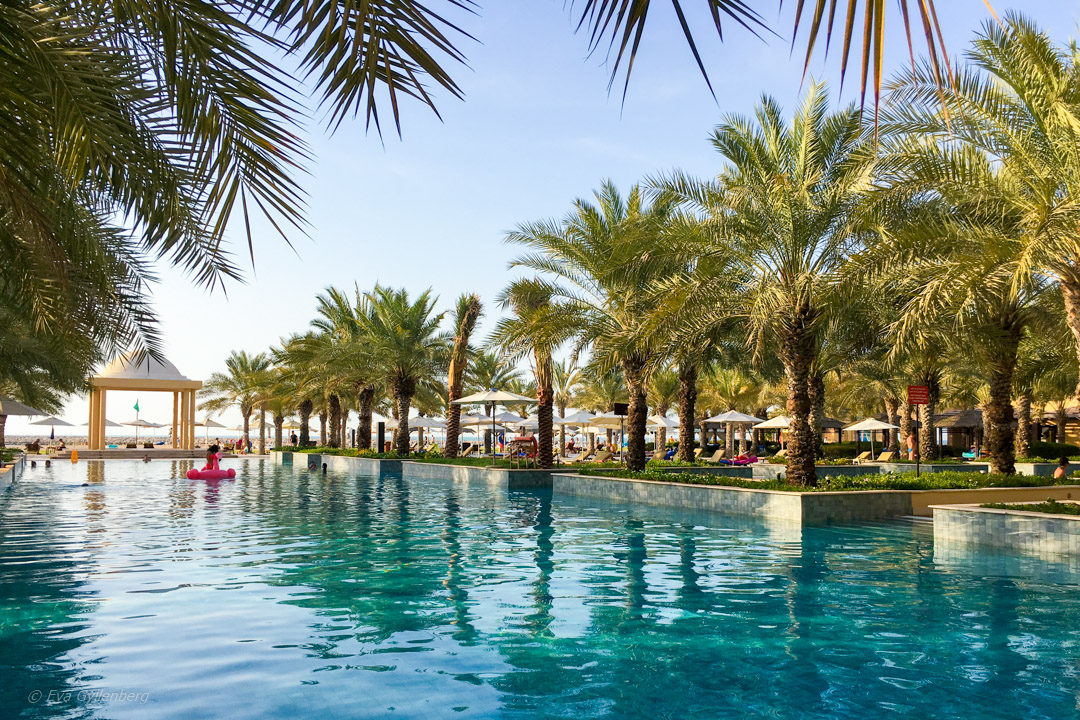 Architecture and surroundings
Hilton Ras Al Khaimah consists of a large main building and a number of beach villas in a very quiet residential area just north of the city of Ras Al Khaimah. The hotel is extremely large, from one side of the hotel to the last beach villa it is 1,5 kilometers. So to get around the hotel area in the heat, you drive a golf cart. Just dial zero on the phone, and the car will come and pick you up at your room - 24 hours a day.
The style breathes international luxury, with an exotic twist of the Middle East. Beautiful tile and marble floors, sand colored houses and oriental woodwork in dark wood and intricately decorated lamps. You can hear the beautiful prayer calls of the mosque from the beach, but otherwise it is very quiet and peaceful. There are a number of hotels and restaurants in the vicinity of the Hilton, but when we were here during the low season (August 2017) most of the restaurants outside the hotel were closed for renovations.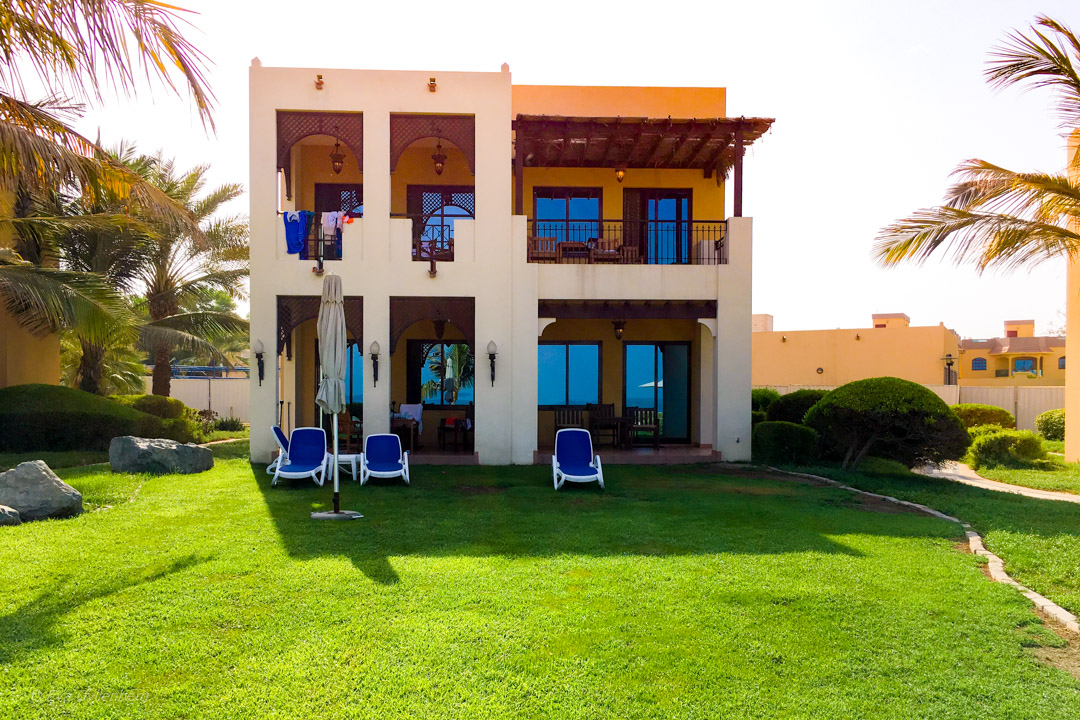 Rum
The Hilton is a large hotel, with 475 rooms in total. We stayed in a fantastically nice beach villa with one bedroom, with a view of the beach, sea and sunset. The beach villas consist of independent houses with 4 apartments in each, two with a balcony and two with a terrace. The rooms are large and airy, with well-functioning air conditioning. Our room was on the ground floor with a small terrace with lawn and deck chairs.
The bathrooms were spacious, with two sinks and both a shower and a bathtub. Luxurious hair and skin care products from Peter Thomas Roth - with plenty of conditioner for us ladies.
The room had 2 Queen size double beds, with US measurements of 160 cm, so it is no problem to fit 2 adults and 2 children in the one bedroom apartment.
Housekeeping was efficient and came once a day to change towels, bed linen and refill water. At first, we only got 3 50cl bottles of water for the whole family, which felt like a bit much when the temperature during the days fluctuated between 42 and 45 degrees and you also need the water for brushing your teeth. But after talking to the hotel housekeeping supervisor, we were given significantly more water bottles per day. Really responsive and nice service!
In the entire hotel area there was free wifi, and in the room there was a kettle for coffee/tea, a TV, a hairdryer and a minibar.
It should be noted that the beach villas are a few years old and are therefore currently being renovated, so shortly they will have a completely new look inside. The rooms we looked into were decorated in white and turquoise and looked very appealing, although I personally love the heavy, dark wood furniture.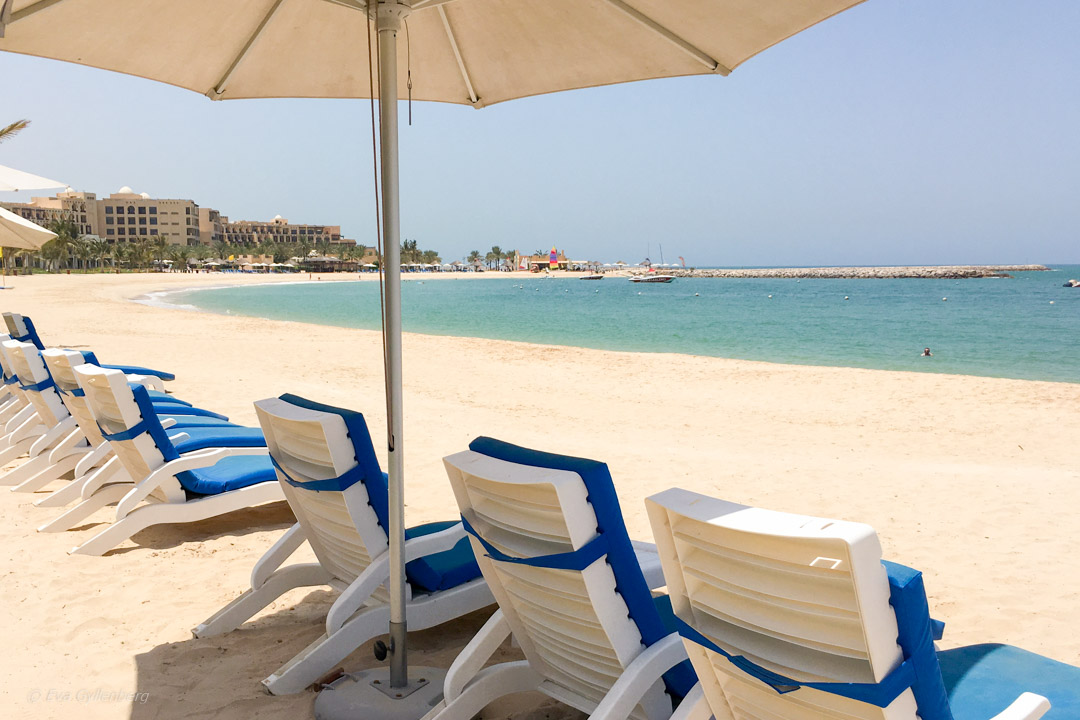 Pool and beach
The hotel has an amazing set of 6 pools – one saltwater pool, one freshwater pool, two children's pools (one with a water slide), and two smaller freshwater pools at the beach villas (only for beach villa residents). Very nice and well maintained pools in general, with free pool towels handed out at the pool. The daughter (age 11) had been looking forward to the water slide, but to her disappointment it turned out to be more for small children (it went very slowly). However, the other pools were completely to her satisfaction. The only thing that I didn't really appreciate about the pools was that some people got up earlier in the morning and took places by the pool. There were clear signs that you were not allowed to do that and it is not a behavior that we usually encounter in 5-star hotels, but unfortunately the pool staff did nothing about it.
The beach is white, fine-grained and clean and surrounded by low coconut palms. There are plenty of sunbeds on the beach, but not as many parasols. However, it was not crowded when we were there, so there were enough umbrellas for everyone.
One thing to keep in mind is that at the other 5 star hotels we have stayed at in Dubai before, water has always been handed out for free at the pool. Here at the Hilton, a 1,5 liter bottle of water at the pool costs AED 22, which can easily add up to quite a bit of money per day. Nor are any refreshments in the form of ice creams or smoothies distributed in the afternoon by the pool, as the Ritz Carlton and Four Seasons usually do.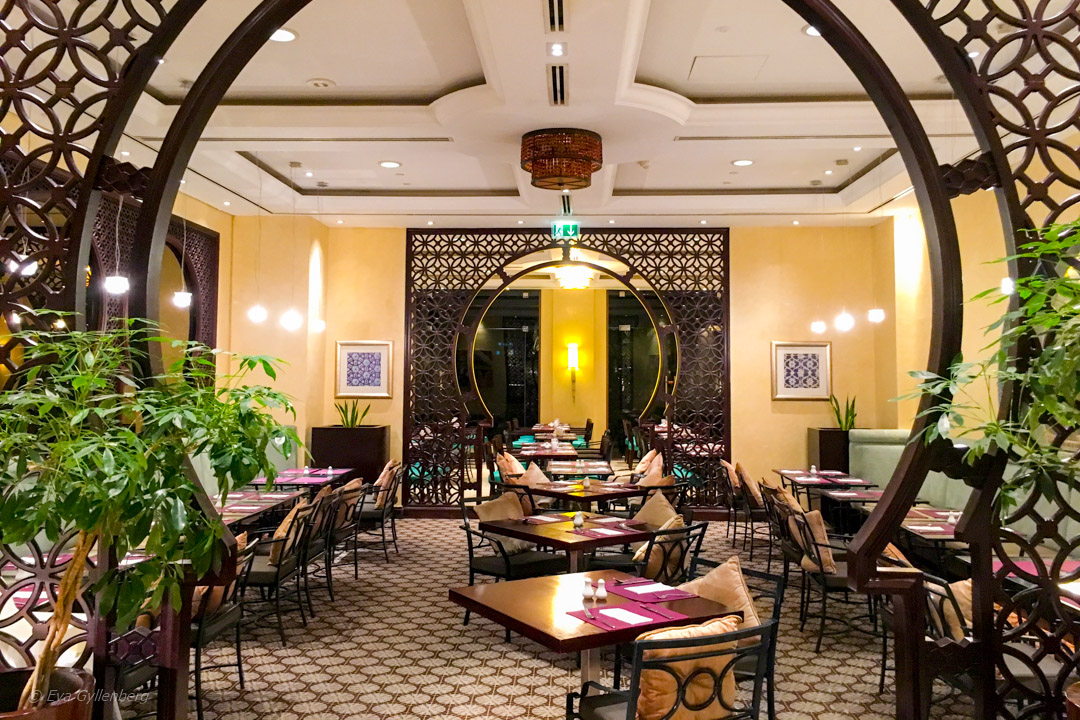 Food and Drinks
There are several restaurants, bars and cafes within the hotel area. Many guests have purchased all-inclusive at the Hilton, which basically means that they eat breakfast, lunch and dinner at the Maarid buffet restaurant. As we would rather try the other restaurants, we ate a la carte for lunch and dinner and the breakfast buffet at Maarid.
Breakfast at Maarid is at its busiest at 10 a.m., while early risers can have a quiet and pleasant breakfast without crowds before 9 a.m. Here at the buffet you will find both local specialties and international classics, a good selection of fruit, waffles and pancakes and an egg station with on demand. There really wasn't anything missing for my breakfast.
We also ate at the Italian restaurant and at the Brazilian Churrascaria, both of which were very nice. The quality of the food was high, and the service top-notch. The price level was quite OK, with between 40-80 AED (1 AED=2,40 SEK August 2017) for a main course of pasta. Children's menus for AED 25 were available in all restaurants. As expected, alcohol is not cheap, but a glass of wine still cost no more than an equivalent glass of wine at a restaurant back home in Sweden (40-50 AED).
Note that there is a 10% service charge on all restaurant bills, so pay attention to this so you don't end up tipping too much.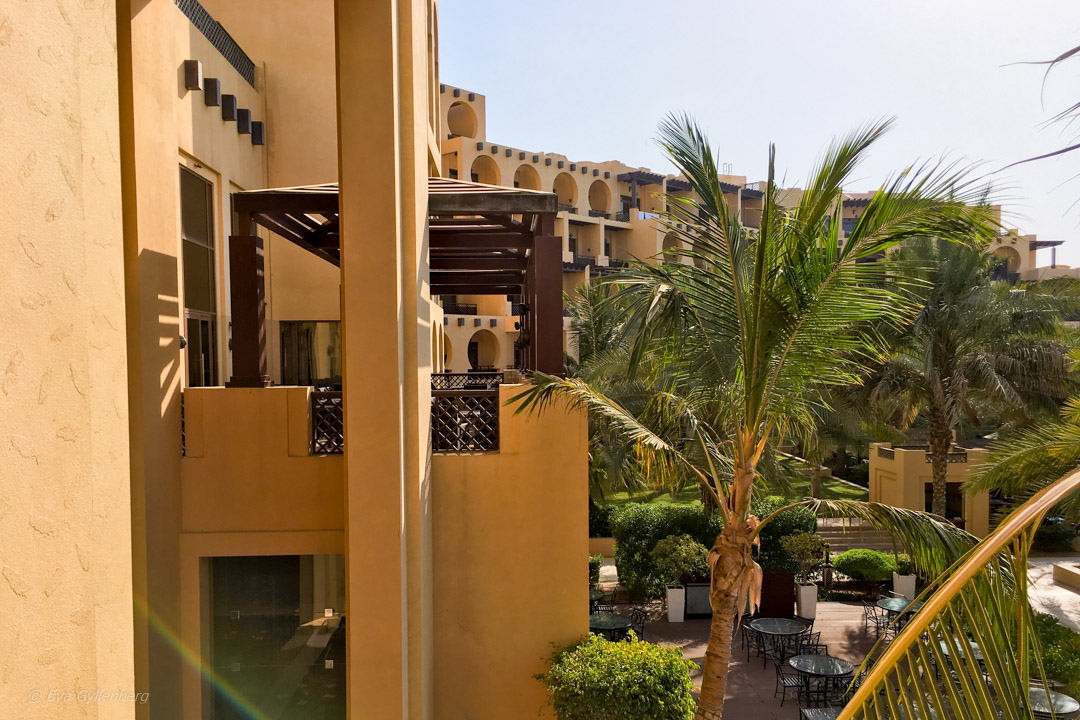 service
High level of ambition! Staff who keep track of your name, which room you stay in and who fill up your water glass before you've had time to drink empty - and always meet with a smile! Many of the people we spoke to at the hotel had worked between 5 and 9 years at the same hotel and warmly described the hotel as a family with good career opportunities. A very good rating for the hotel which reflects the genuinely pleasant service!
Child friendly
Very child-friendly! Children's menus, children's pools with a water slide, a children's pool with a roof for the sun and a nice beach are probably all you need. The sea is not very shallow, but very calm and during the whole time we were there there was a green flag for swimming. Although the sea temperature in August turned out to be a languidly warm 33 degrees…
Dress code
In the United Arab Emirates, it generally applies to dress respectably when moving outside the hotel area. When you go shopping - leave your short skirts/shorts, sleeveless tank tops or tank tops in the hotel room. Bikinis are accepted on the hotel's private beach and by the pool, but clothes are changed when leaving the pool. A tip is to bring a long kaftan or a slightly longer tricot dress to wear over the bikini.
The dress code in the restaurants is a shirt, long trousers and covered shoes for men and for women skirts that go at least to the knees and to avoid low-cut and sleeveless tops. Children can dress however they want, as long as they are whole and clean. As a girl, you can wear a sleeveless top by putting on a thinner cardigan, which can often be nice in the cold air conditioning.
So what was the overall family rating?
Could we go back here? Yes! Hilton Ras Al Khaimah is an affordable 5 star hotel with great restaurants and amazing beaches and pools!
Do you want to read more about Dubai? Look into my United Arab Emirates page!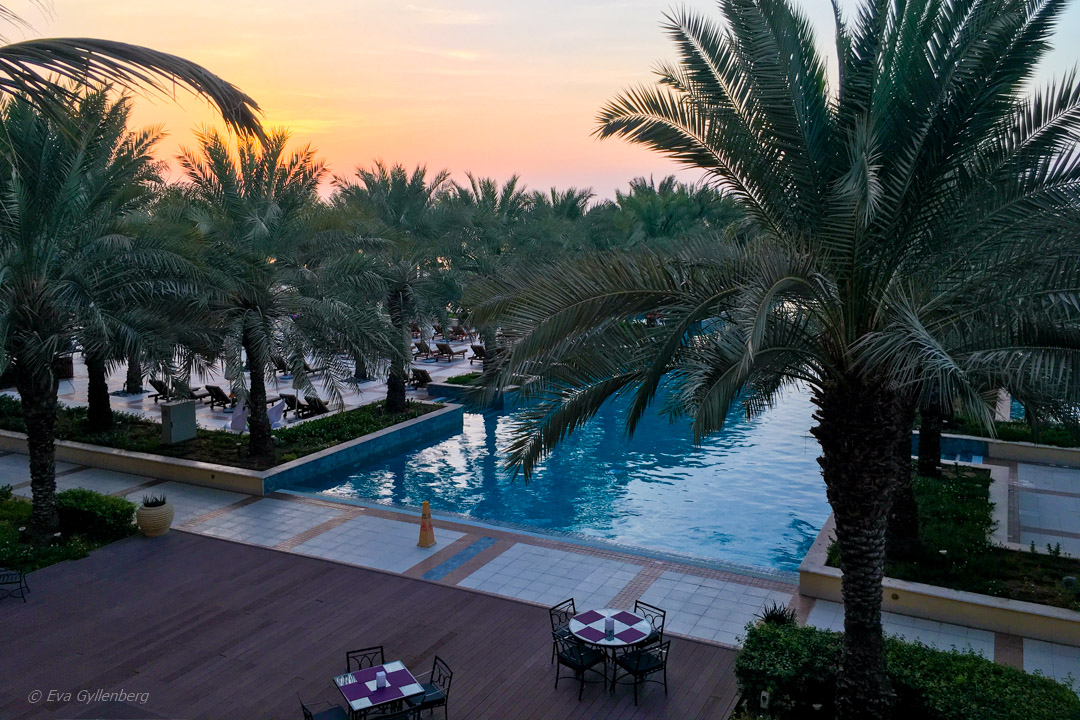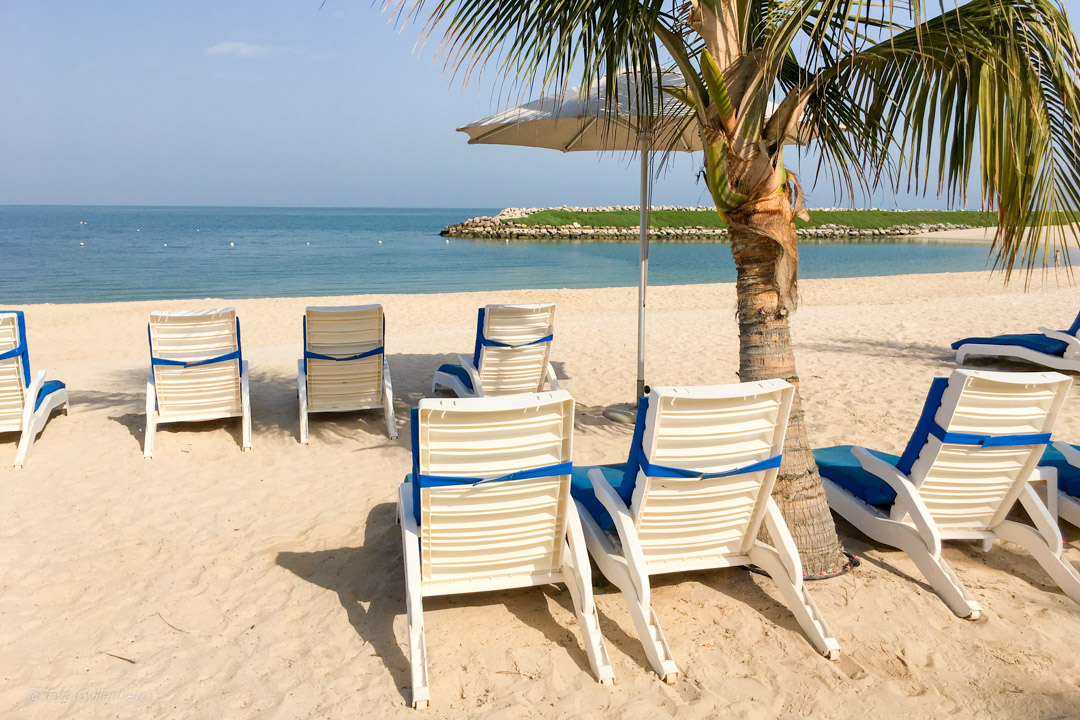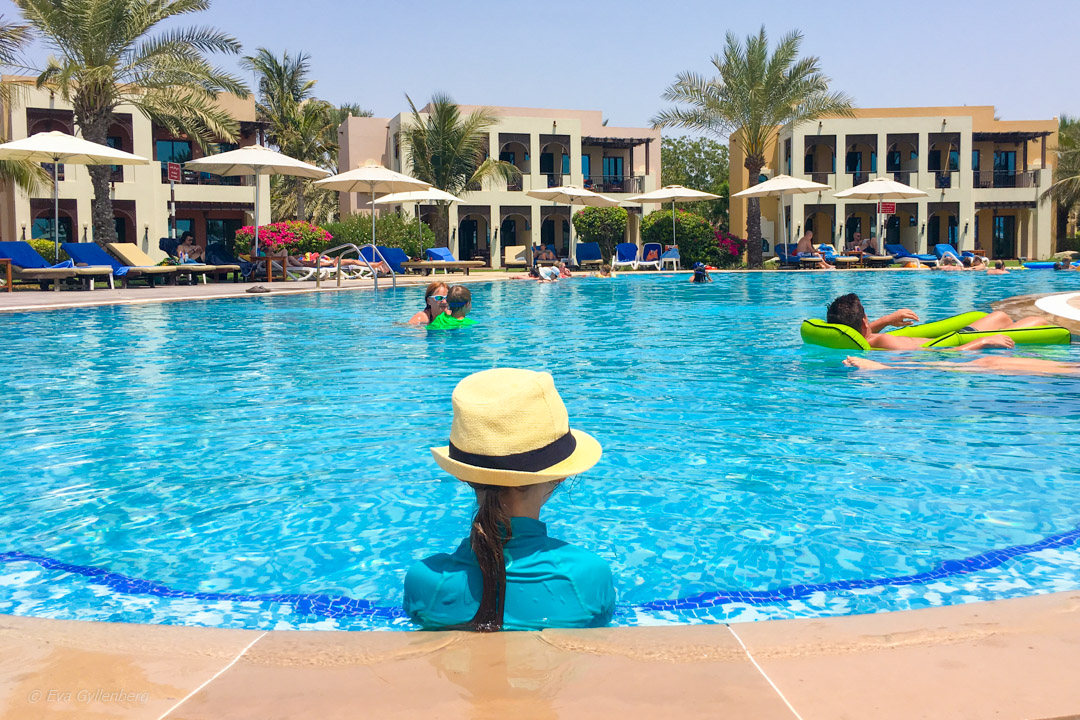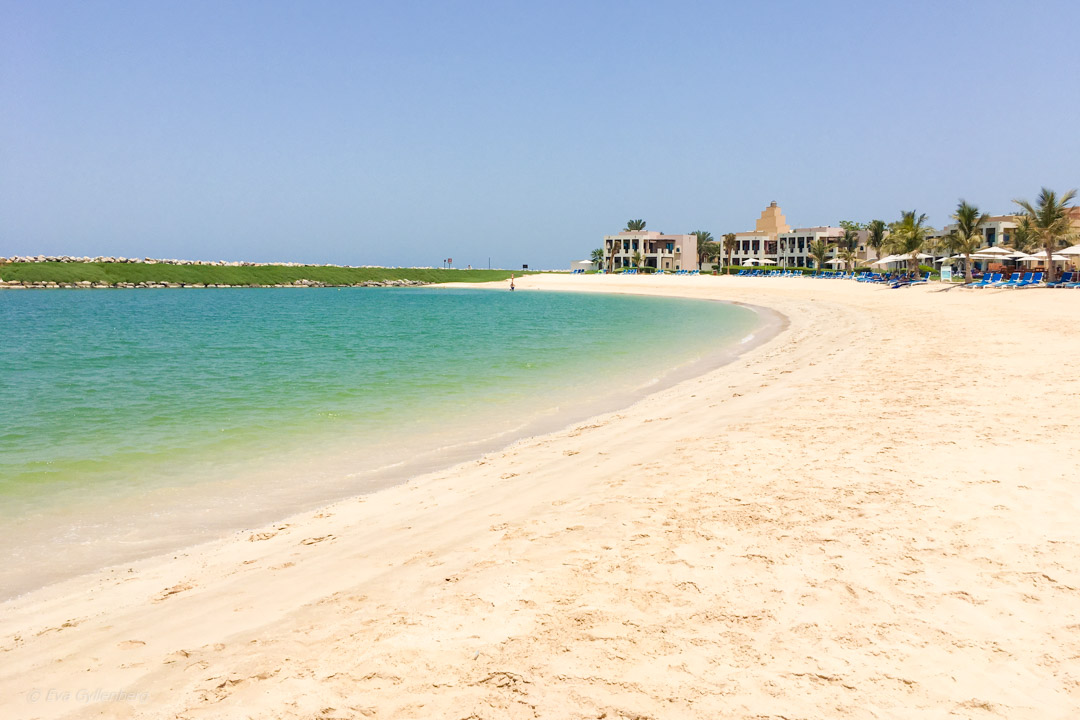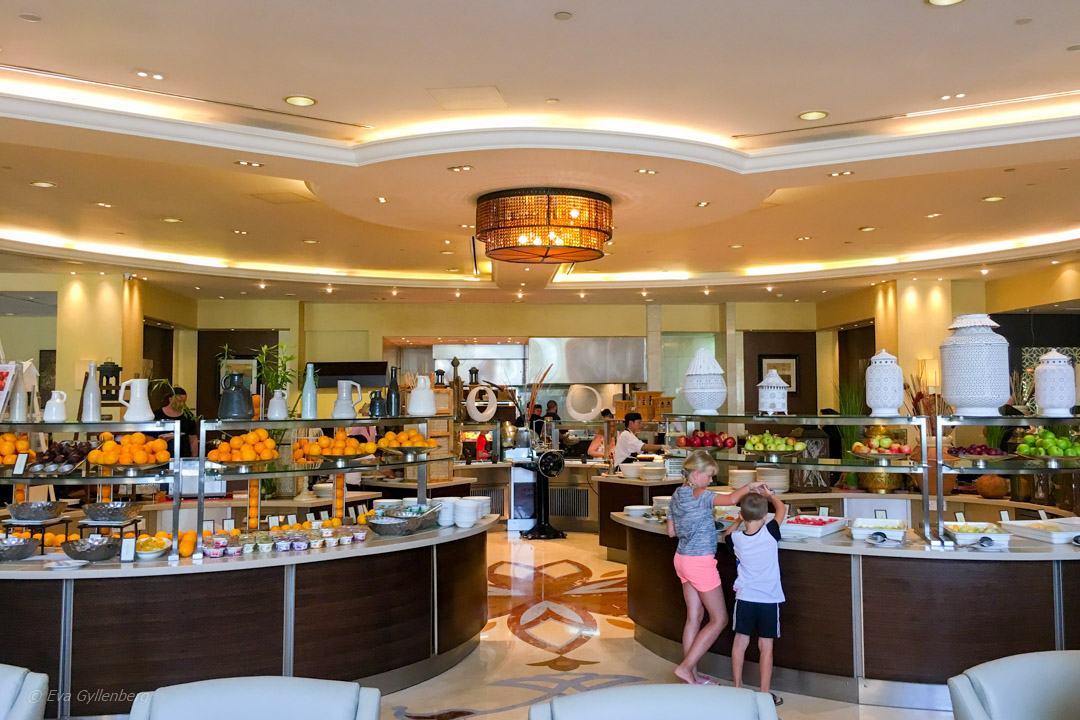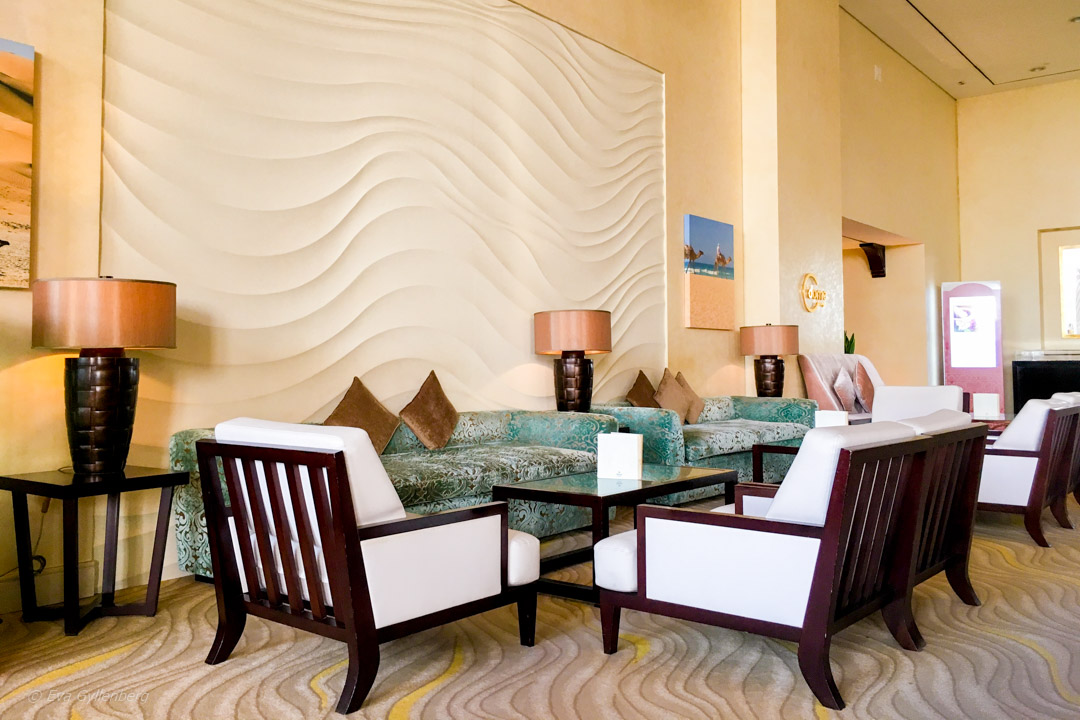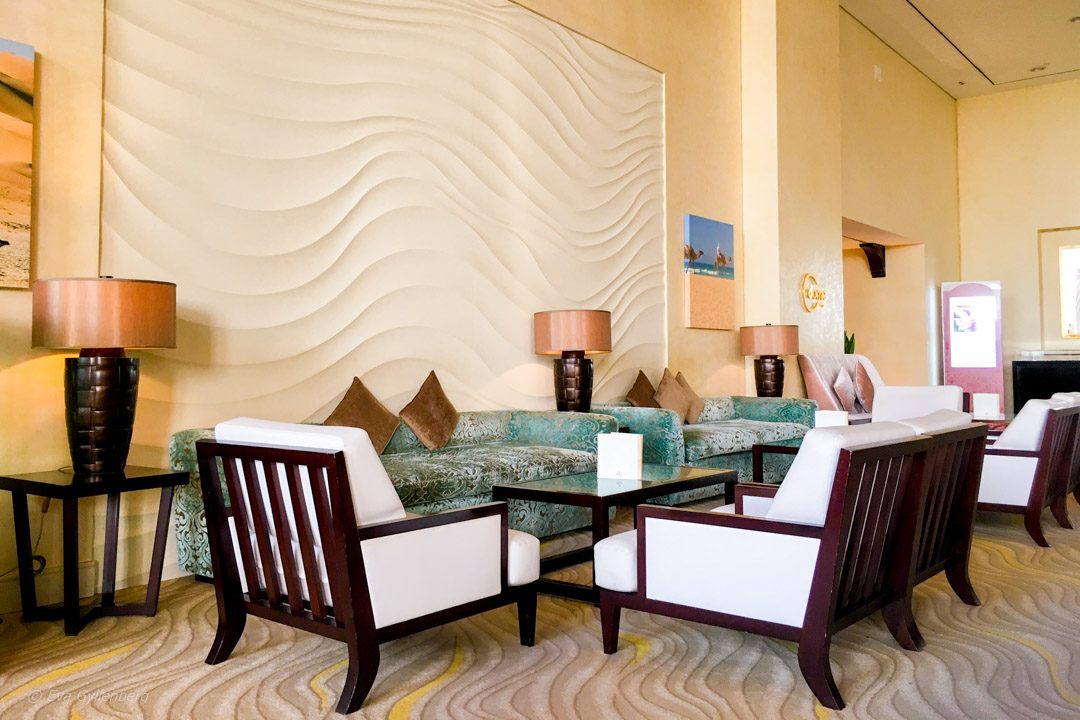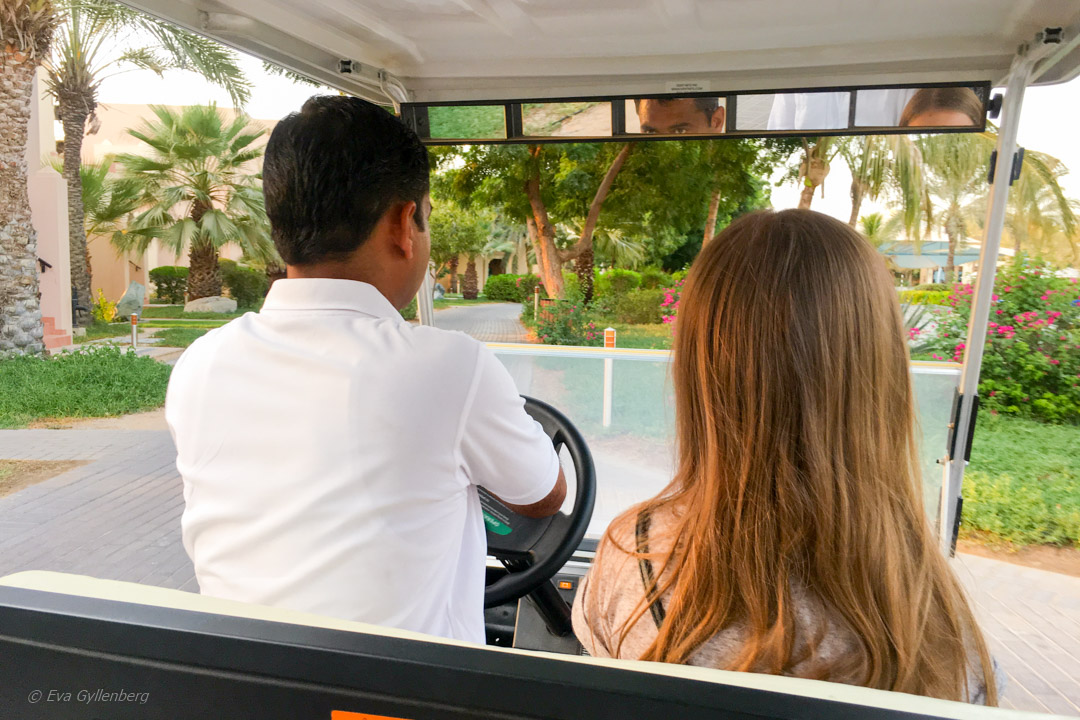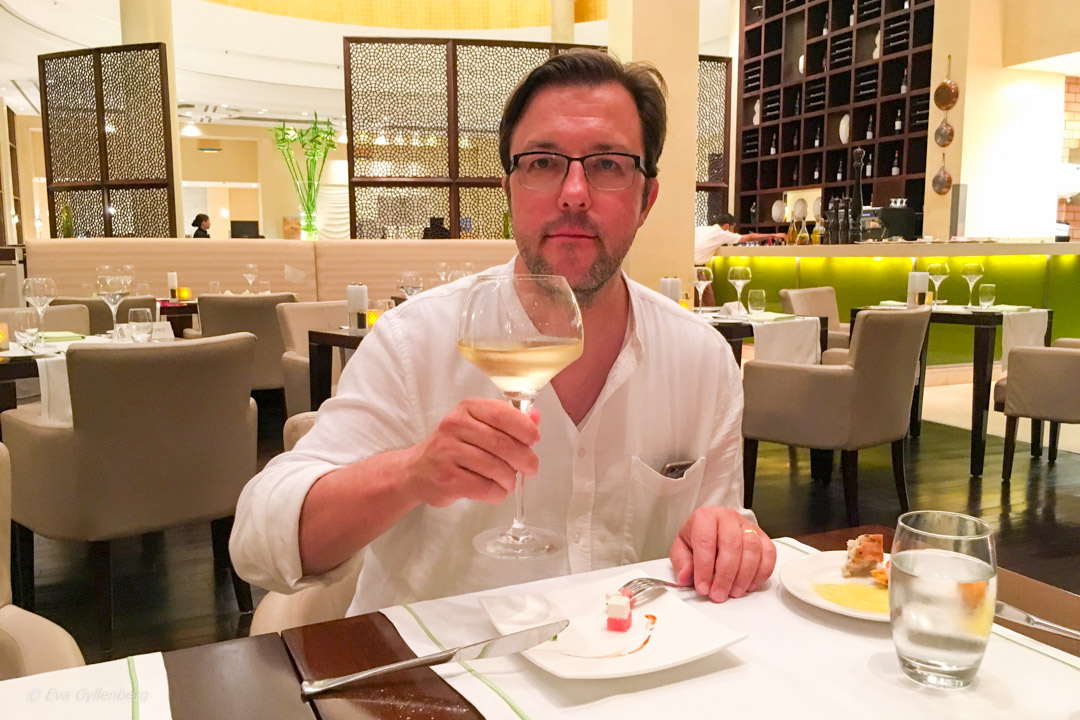 Have you been here? What did you think of the destination?
Been there - didn't like it!
0
Not keen at all to go here!
0
Eva Gyllenberg
Travel blogger, gastronaut, photographer and family adventurer with over 55 countries in his luggage. Eva loves trips that include beautiful nature, hiking boots and well-cooked food. On the travel blog Rucksack she takes you to all corners of the world with the help of her inspiring pictures and texts.