To get to Da Nang in Vietnam, at least one stopover is required. Often in Bangkok, Ho Chi Minh City or Singapore. We flew with Emirates code share to Da Nang from Bangkok, which turned out to mean a booking with Bangkok Airways - "Asia's boutique airline" - a Thai full-service airline that flies both domestically and internationally. So, what is it really like to fly with Bangkok Airways?
Transfer
We were able to check in our bags all the way from Dubai to Da Nang, but we couldn't get our boarding passes printed in Dubai nor get our seats. As soon as we arrived in Bangkok, we had to search the Bangkok Airways transfer desk, where we got our boarding passes quickly and easily. We had been allocated really good seats next to each other right at the front of the plane.
Lounge & Bar
Bangkok Airways has its own lounges that all their passengers can visit for free. We went there and realized pretty quickly that it wasn't a lounge worthy of the name. There was popcorn, juices, coffee, bottled water (like you took in a paper cone?) and some small croissants and a chocolate chip cookie. We got a coffee from a machine, looked at each other and left the coffee and went to another lounge (Miracle lounge) instead.
The airplane
The flight was with an A320 called "Samui" which looked to have a few years on its back. Inside, however, the interior was quite new in blue fabric and there was plenty of space between the rows of seats for me.
Read more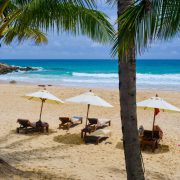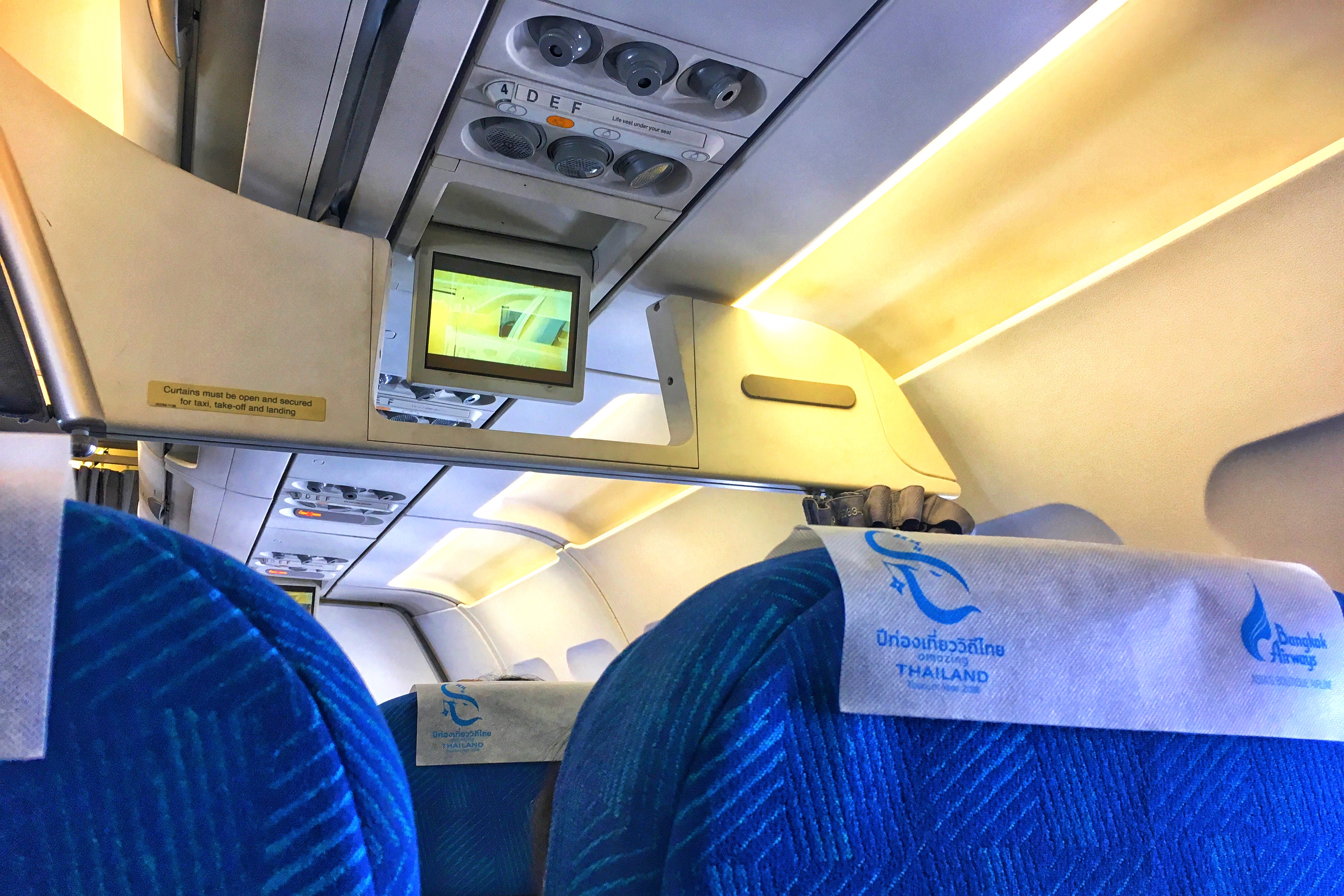 Service on board
Something I hadn't understood is that Bangkok Airways is a full-service company, with in-flight catering. The flight to Da Nang only took 1 hour and 20 minutes, but in that time they managed to serve a three-course dinner and coffee. The food consisted of a salad for starter, fish in red curry for main course (quite spicy, not for the daughter!) and fruit for dessert. Soft drinks, beer, wine and juice were served with the food free of charge.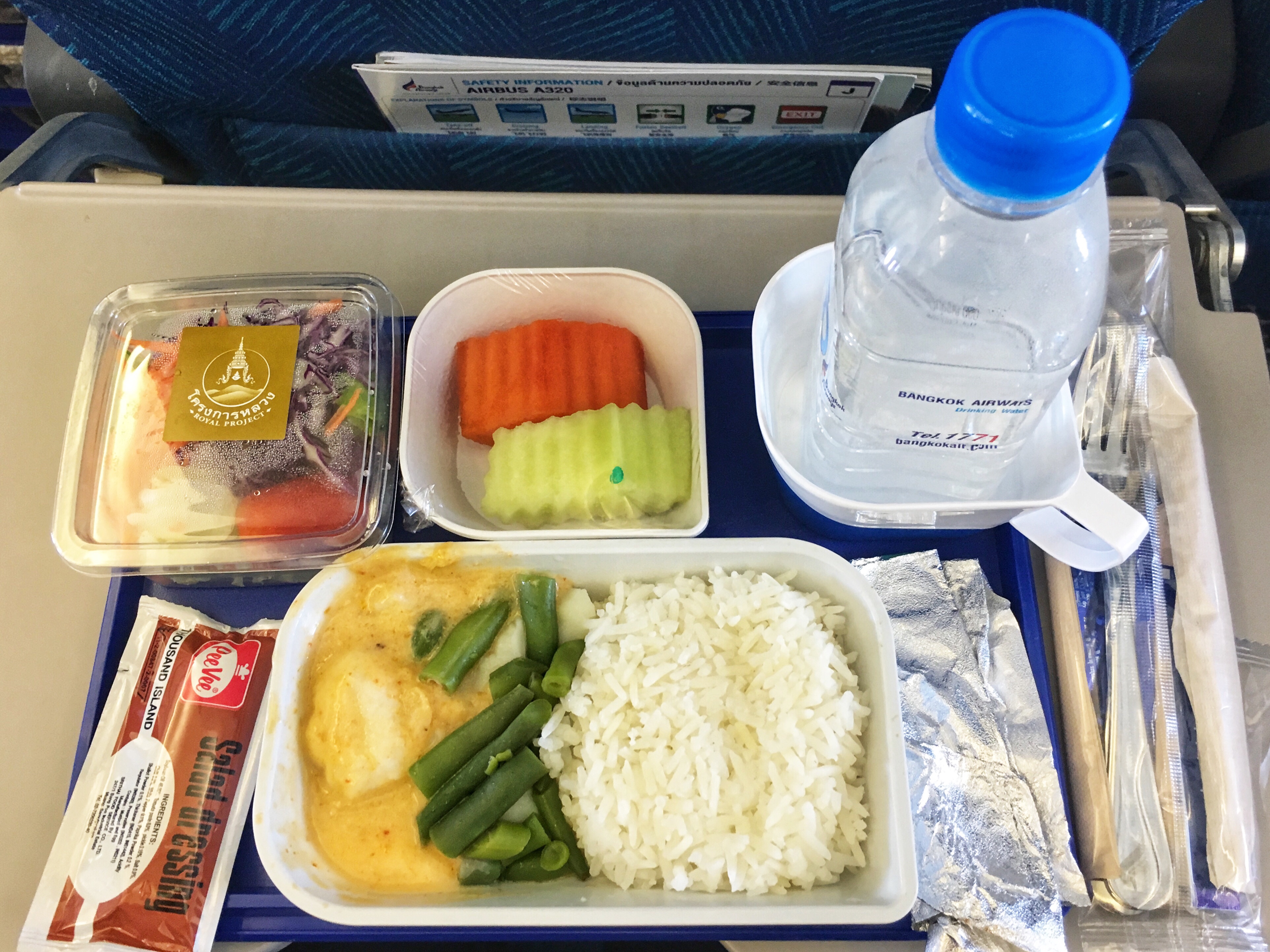 So what happened to the family rating?
Considering 2 out of 3 in the family slept like little pigs on the flight, this is mostly my review. I give Bangkok Airways a clear thumbs up! I probably expected it to be like Air Asia (low-cost carrier a la Ryanair), but this is a company that strives to be passengers' first choice. And it seems to be paying off, as the plane was fully booked! Should we book Bangkok Airways again? Definitely! But preferably as a codeshare with Emirates, as we can take more luggage with us on the plane - both as hand luggage and as checked luggage (30 kg per person)!
Have you been here? What did you think of the destination?
Been there - didn't like it!
0
Not keen at all to go here!
0
Eva Gyllenberg
Travel blogger, gastronaut, photographer and family adventurer with over 55 countries in his luggage. Eva loves trips that include beautiful nature, hiking boots and well-cooked food. On the travel blog Rucksack she takes you to all corners of the world with the help of her inspiring pictures and texts.