At the end of April 2022, I traveled to Singapore. Singapore has long been one of the countries with the strictest pandemic rules for entry, but in April many of the rules were abolished. Finally, it felt a little easier to travel! I found tickets with good flight times (and price) with Finnair, but felt a little hesitant. It had been many years since I had last flown with Finnair and having flown almost exclusively with Emirates and Qatar for the past few years I was a bit unsure if I would beviken. Would Finnair measure up during a long flight in economy class? The answer to this was both yes and no.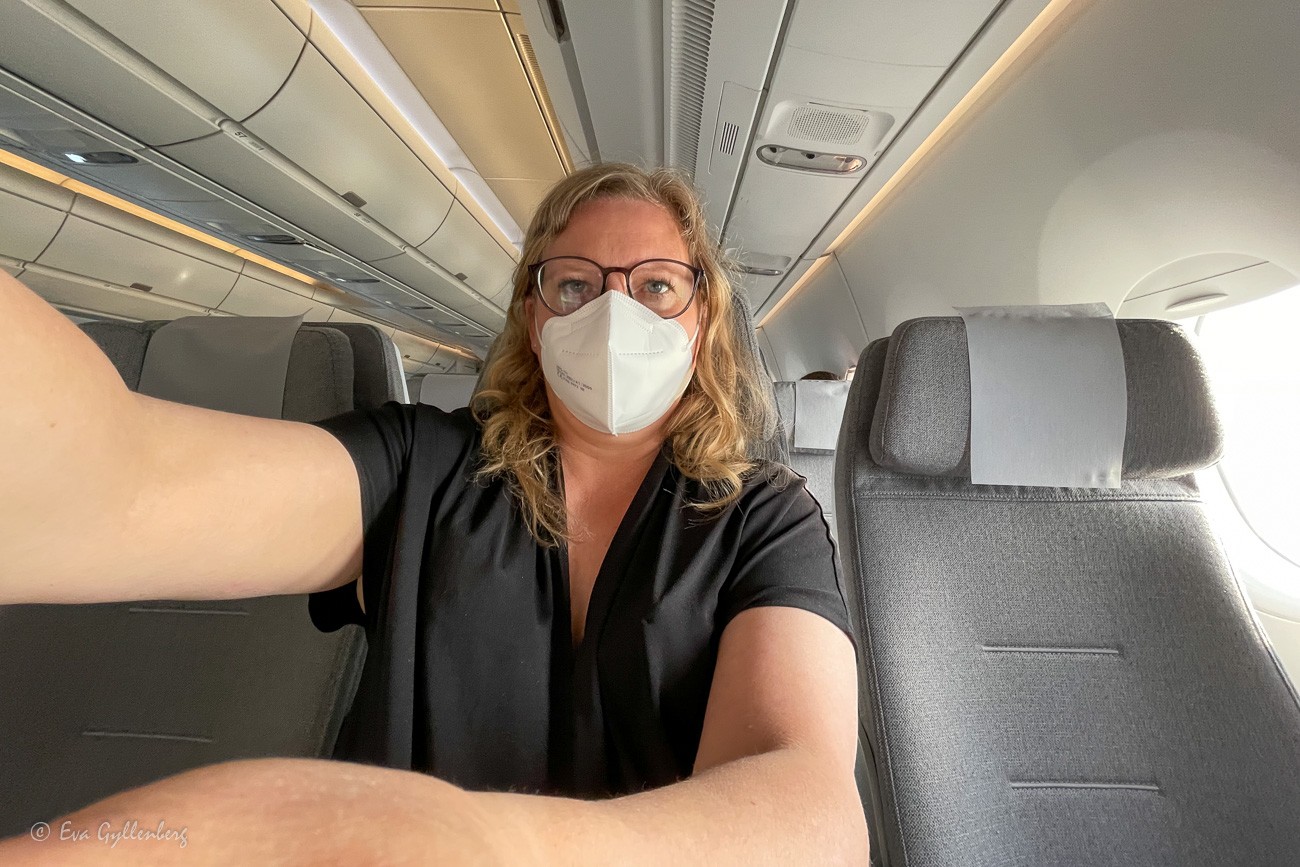 About Finnair
Finnair is Finland's flying pride, based at Helsinki-Vantaa Airport outside Helsinki. Next year, the airline will have existed for 100(!) years. A considerable age for an airline. In Skytrax's annual "World airline award", Finnair ended up in 31st place in the world (10th place among European companies) in 2021, to be compared with SAS in 62nd place.
Finnair flies only Airbus aircraft, with the Airbus 330 and Airbus 350-900 being their long-haul aircraft. Finnair flies to Singapore with the A350-900 – their newest and most modern addition to the fleet. The oldest A350 in Finnair's fleet entered service in the fall of 2015, and the newest began flying at the end of 2020. There are a total of 16 A350-900s in Finnair's fleet, all of which fly primarily on long-haul routes.
Finnair is the airline in Europe that has been hardest hit by the closed airspace over Russia and now flies a significantly longer route between Helsinki and Singapore than before. The new route goes via Poland, Hungary, Turkey, Iran and then on to India. One increase of about 2 hours compared to the previous route – from about 11 a.m. to 13 p.m.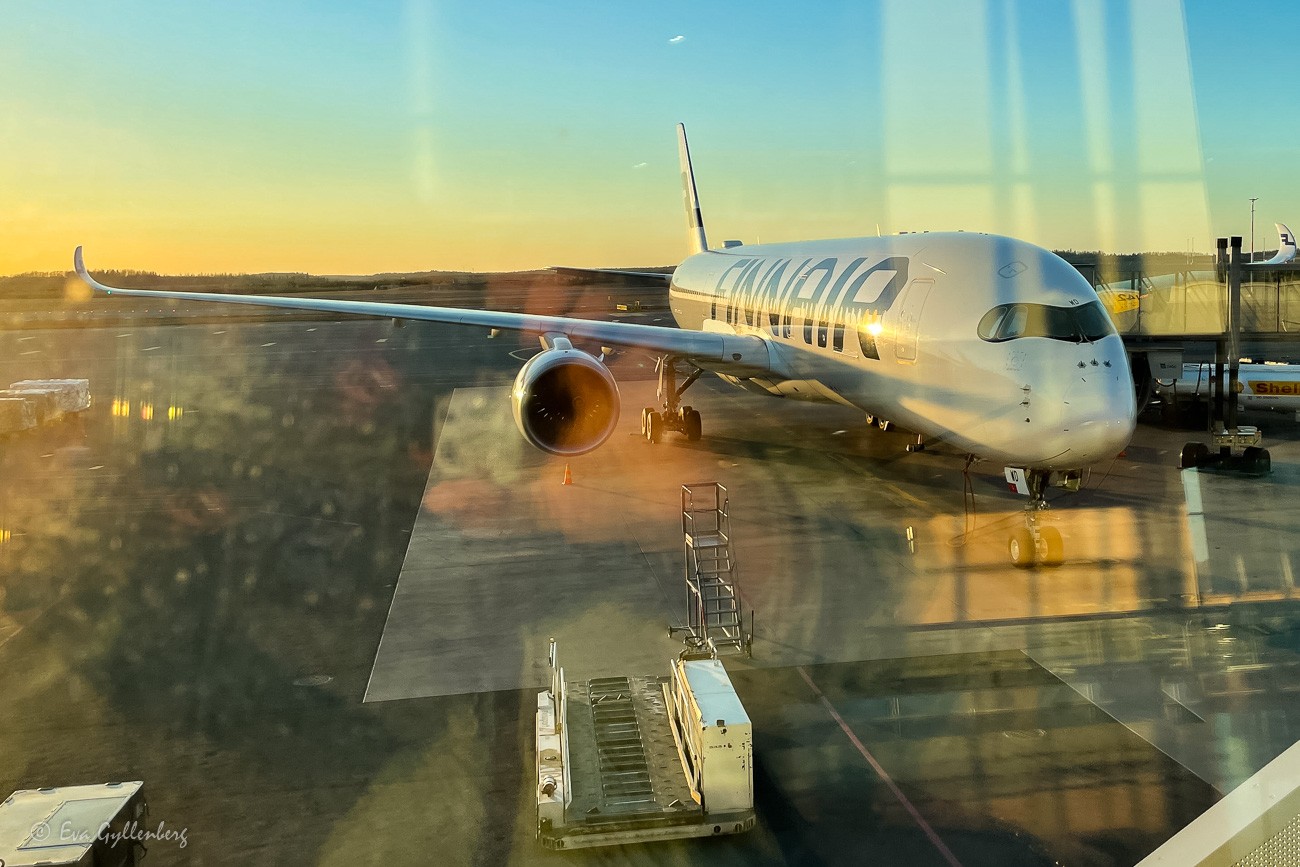 Ticket booking ****
I booked the ticket on Finnair's own website. There were three different types of economy tickets to book. Business class could not be selected and premium economy was not available on this flight.
Economy light - Only one hand luggage of 8 kg is included. Changes allowed up to 48 hours before departure.
Economy classic - Hand luggage (8 kg) and checked luggage (23 kg) are included. Changes allowed.
Economy flex - Hand luggage (8 kg) and checked luggage (23 kg) are included. Changes allowed. Free choice of seat before check-in. Possibility of full refund.
In terms of price, there is only a few hundred Swedish kroner one-way difference between light and classic, but I had to spend more than SEK 1000 one-way to get flex. As I booked only two weeks before departure, I booked Economy classic.
Total price for round trip: SEK 7412.
The airplane ****+
Both to and from Singapore from Helsinki I flew with Finnair's A350-900 planes, very modern planes that are supposed to be 25% more fuel efficient compared to other aircraft of a similar size. There was, however, quite a big difference in the aircraft's configuration and entertainment system. It felt like the Helsinki-Singapore flight was one of Finnair's older A350s, while the Singapore-Helsinki flight (their "Marimekko Kivet") generally felt newer.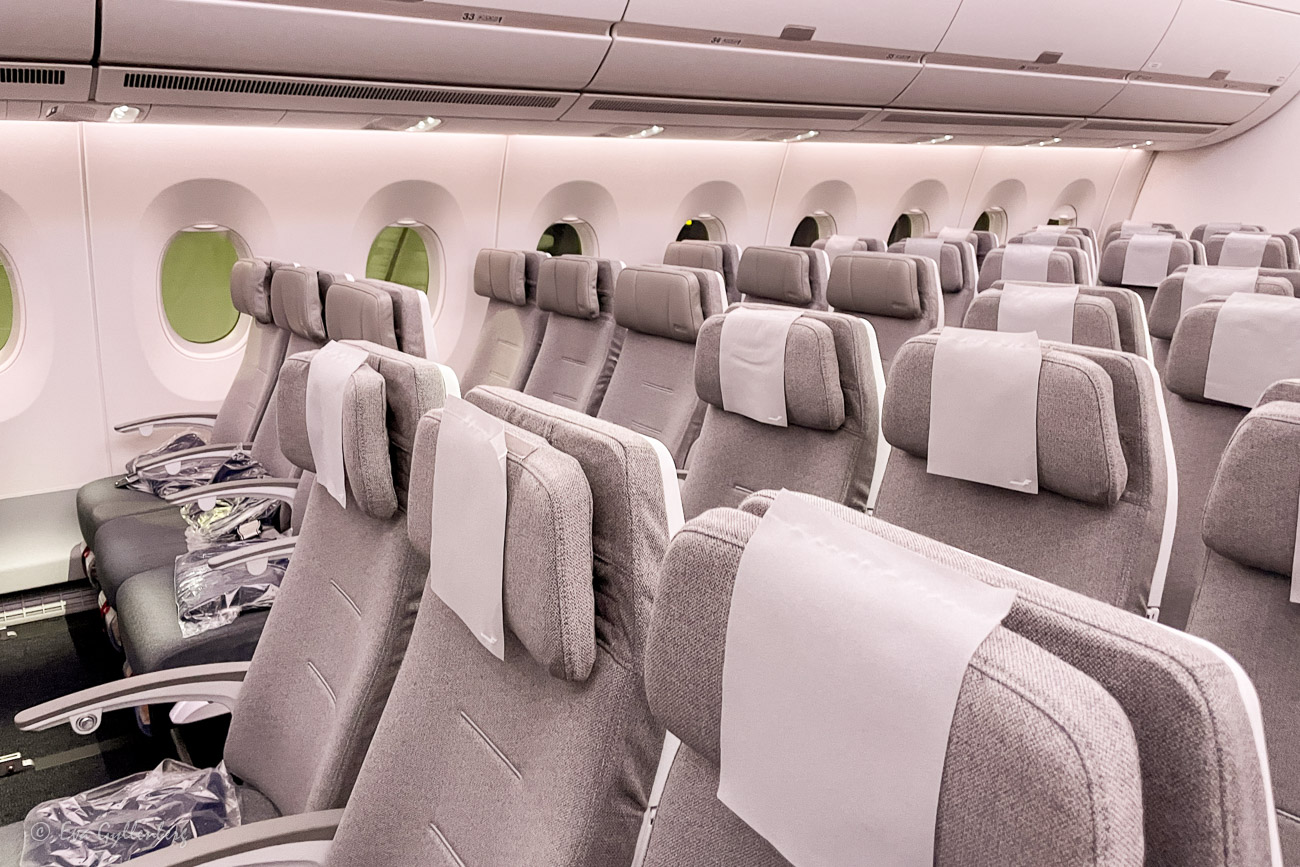 The whole experience in the cabin is bright, fresh and very Scandinavian. The lighting with the colored LED lights in the ceiling contributes to a pleasant atmosphere. It is said that the lights should be able to simulate the northern lights, but in the same way that I have "never" experienced the northern lights even though I am a northerner, I did not see this either.
I flew both in the front section of economy and in the back section of economy and found both areas to be very quiet. It felt almost as quiet as flying the A380 – which is otherwise my favorite on long-haul flights. The A350 also feels unexpectedly high in the ceiling, airy and stable. Both flights were completed without me reacting to any air pit, it felt like the flight glided very smoothly through the clouds.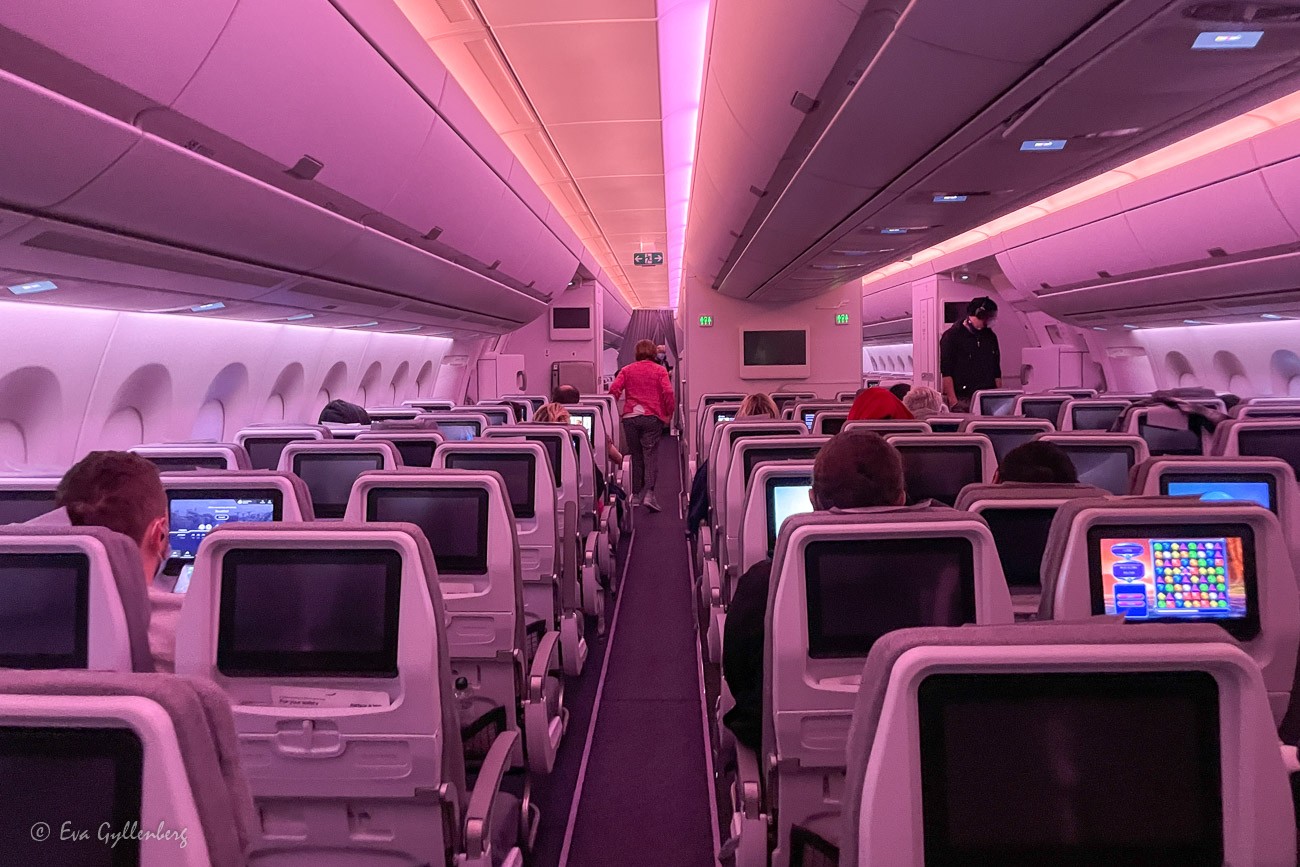 One of the A350's strengths is the air – it does not feel dry and irritating to the airways and eyes at all. This was the first time in a long time that I didn't have to urgently wash off mascara halfway across the Indian Ocean due to itchy eyes from dry airplane air.
The aircraft felt clean and the toilets were fresh throughout the flight. However, I don't know if it was because the flight was only half full or if the staff cleaned during the flight.
The seats ****+
One of the biggest differences with the A350 compared to similar large aircraft, is that they have chosen a configuration of 3+3+3 in economy class. This makes the seats feel surprisingly wide and spacious. In addition, the armrests are neat and do not take up 10 centimeters between the seats, which makes a big difference. Now, I was lucky enough to have empty seats next to me on both flights, which of course affects the general feeling of air and space.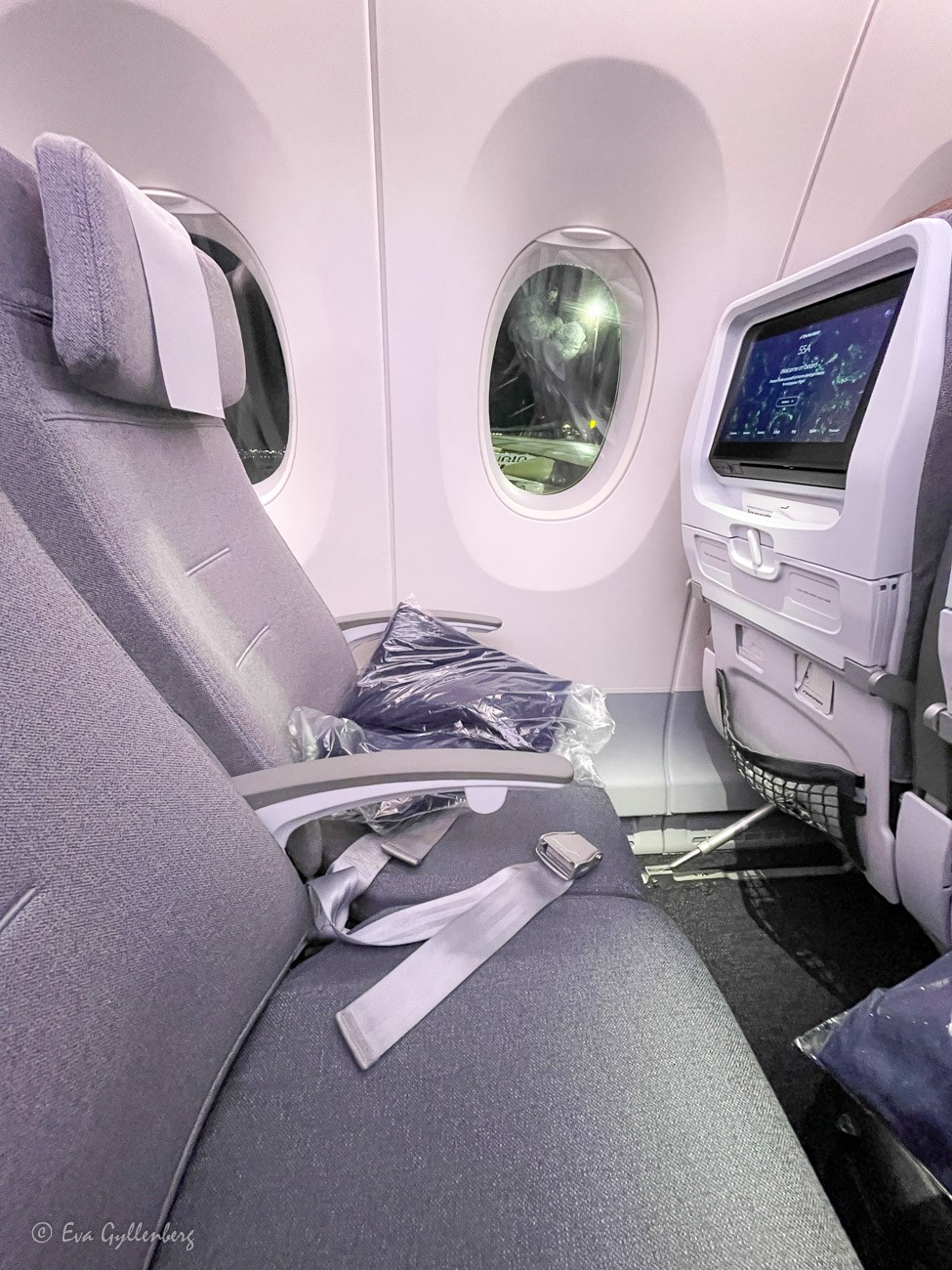 I'm normal height and had about an iPhone length between my knees and the seat in front when I sat down. Not particularly crowded at all. However, what was very cramped were the aisles between the seats, it was almost difficult to walk in the aisle with hand luggage without bumping into other passengers. But if I have to choose between a spacious aisle or spacious seats, then I will take spacious seats without a doubt.
Service ***
The flights were made with a very efficient and friendly Singaporean cabin crew. We were given a small bottle of water upon boarding. During the flight, two meals were served – a dinner immediately after departure and breakfast before we landed. During the night, one person from the crew walked around with glasses of water for those who got thirsty.
On such long flights, I'm usually used to a small amenity kit being handed out even in economy class (with a small toothbrush, toothpaste, earplugs, socks and an eye mask), but this was not done on Finnair. A blanket was on each seat, but no pillow. I would be happy to pay some kronor extra on the ticket for a small amenity kit. It is not only nice, but also nice not to have to carry the toiletry bag with you in your hand luggage.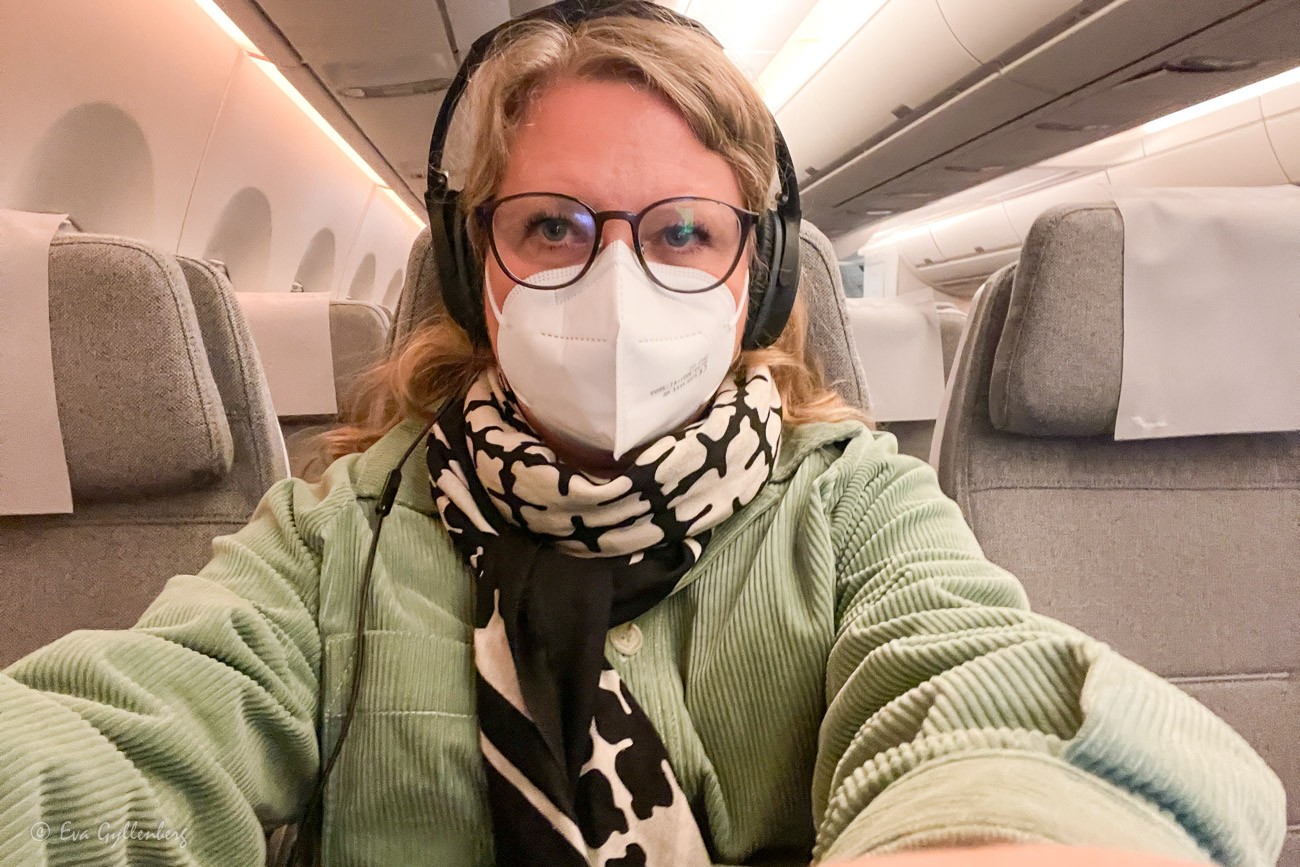 On the flights to and from Singapore, in 2022 it was mandatory to wear face coverings throughout the flight and those wearing cloth face coverings were told to wear a medical face covering instead (which was distributed by the crew). The only time you didn't have to wear a mouth guard was when you were eating. There were several passengers who cheated and were told to put the mask back on. In fact, it went so far that the staff had to tell a family on the spot that if they did not put on the mask when told three times, they would have to contact ground staff in Singapore for further discussions. However, the staff handled it very nicely and are to be commended for being so professional.
The food ***
Before departure, an email was sent to us travelers with updated travel information. Because the journey has now become several hours longer, so Finnair recommended that you bring some of your own food/snacks if you were to get hungry. A rather unexpected email, but I packed some sweets and chips. And it was luck. Because the food was not the best I experienced in the air and it was small portions.
Dinner is generally served with a free glass of wine or beer and there was a large selection of soft drinks. There are no menu choices, but a dish is served.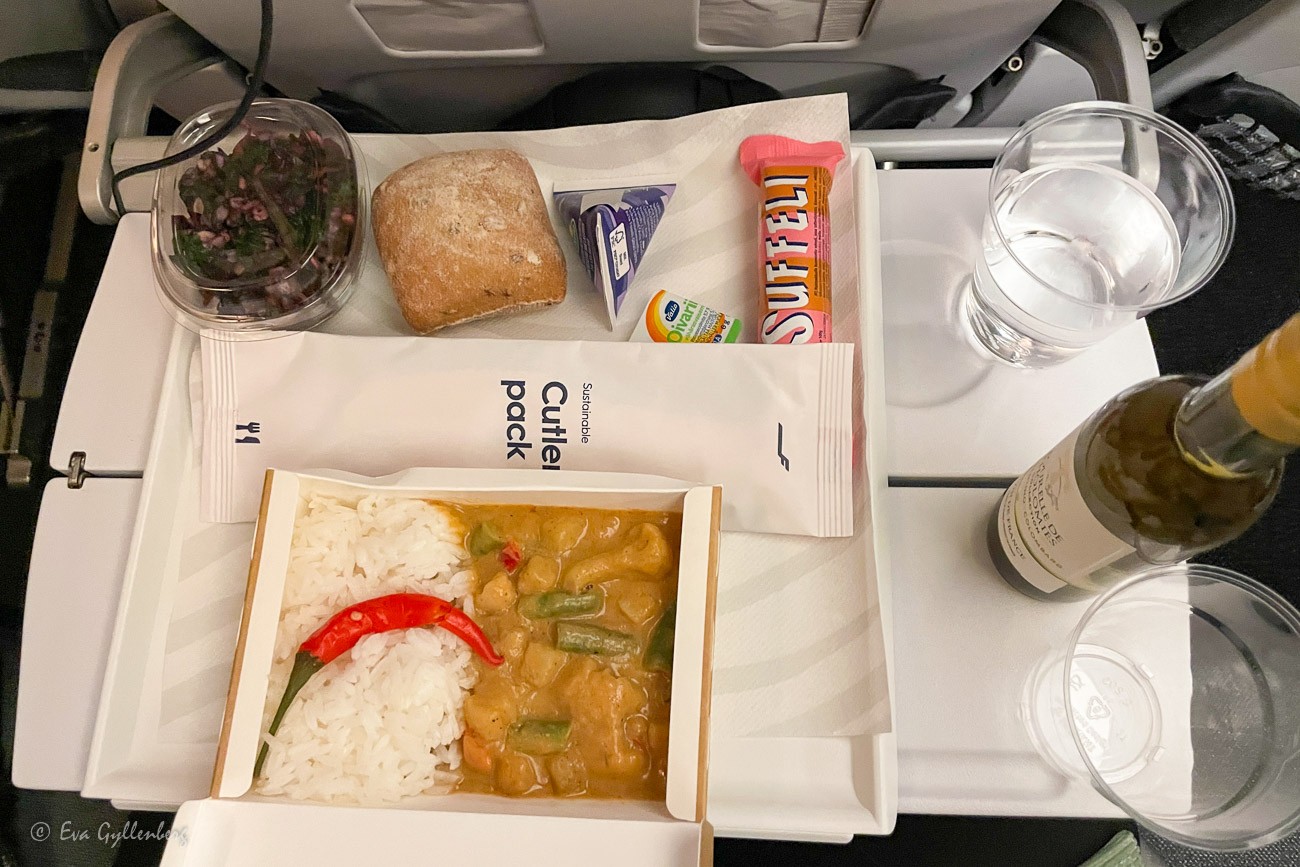 For dinner on the Helsinki-Singapore route, a small salad was served as a starter and a vegan massaman curry as a main course and a piece of chocolate for dessert. The main course was served in a very small cardboard box (to compare with the picture below with the size of the meal on the way back). It was definitely way too small a portion for me to be full, it was more like a snack. Add to that the fact that there was only one (!) restaurant open at Helsinki Airport, so many travelers had not had dinner before their flight.
I usually have the principle that I should always eat everything when I fly - all energy is good energy to cope with time differences and poor sleep. But unfortunately I couldn't get that curry. It was far too sweet for my taste and contained (what looked like) only frozen Findus vegetables. No coffee was served, but since it was almost 2 in the morning, it didn't matter much.
On the Singapore-Helsinki route the food was clearly much better. Then a small pasta salad with prawns was served as a starter, chicken in tomato sauce with mash as a main course and an orange panna cotta for dessert. More of a classic airplane meal - both in quality and size. This time coffee was served.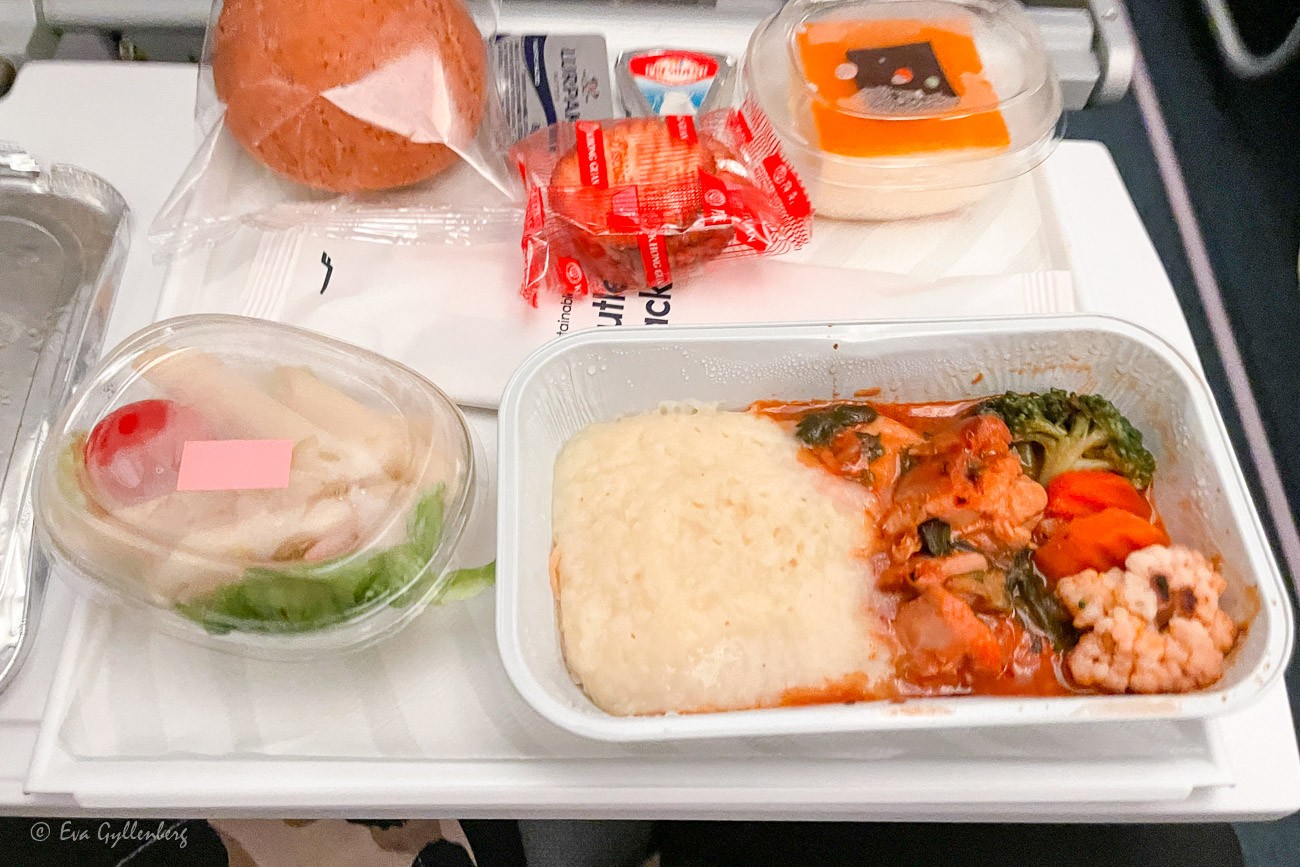 The breakfast was perfectly OK in both directions, but in the smallest team as they were served in the small cardboard boxes.
On the way to Singapore, a scrambled egg was served with a meatball, mushrooms and potatoes. On the way back, an omelet with mushrooms, potatoes, spinach and tomatoes was served. There was coffee, tea or juice to drink. No bread was served.
There was a menu to buy some snacks for a few euros if you were really hungry, but it seemed to be mostly noodles, chips and chocolate.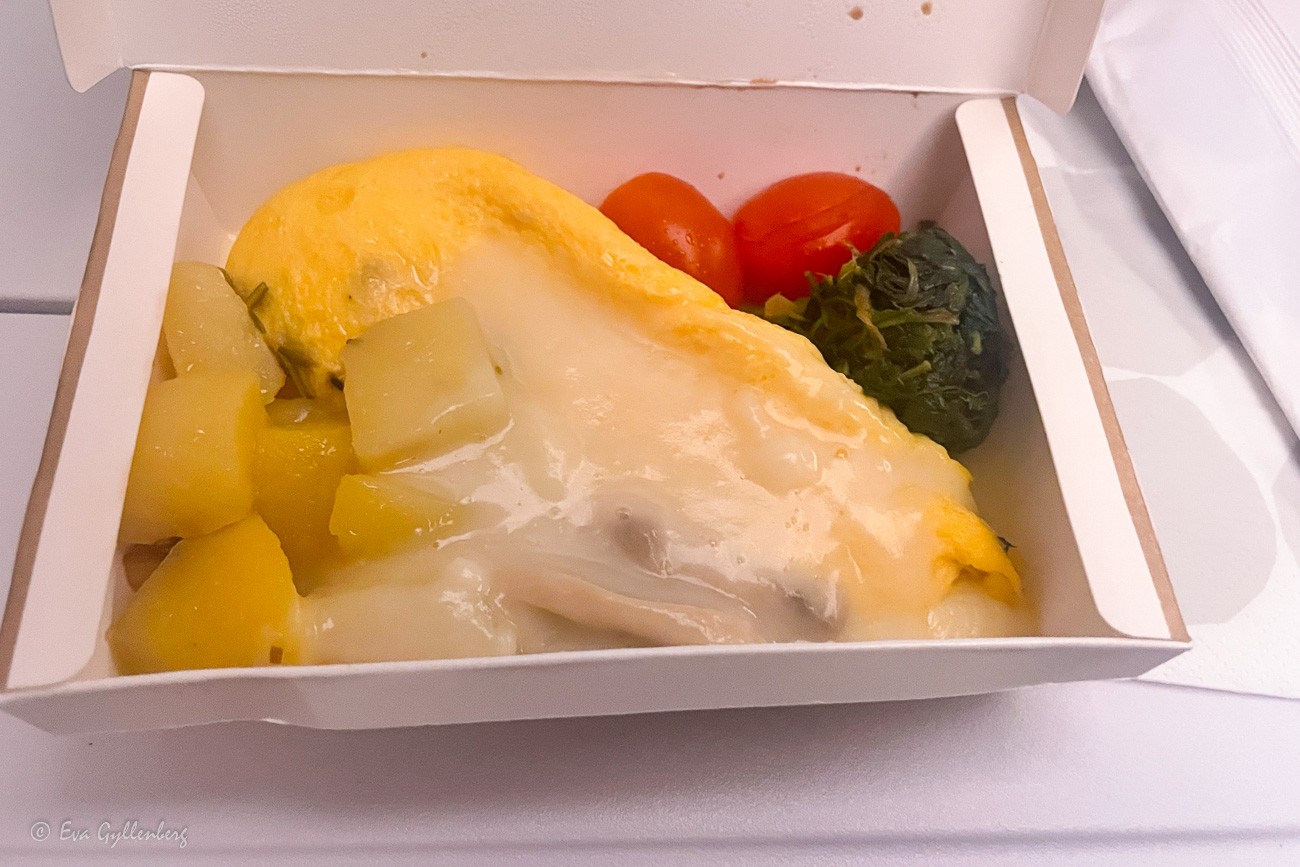 The entertainment ***
Finnair's economy entertainment system offers around a hundred films, TV series, music and games. However, the interface wasn't the best, and if you want to watch the latest movies from the cinema, for example, you have to scroll through all the "recently added" movies - which also includes a lot of old movies. I found a new movie to watch during the trip to Singapore, the rest felt more like things I had already seen on the streaming services.
NOTE: It's a bit unclear if the planes I flew were equipped with Finnair's latest entertainment systems - but the interface on the return journey was up to date and significantly better than the outward journey.
I always bring my own headphones, but for those who wanted, there were small in-ear headphones at each seat. If you bring your own headphones, you need headphones with an "airplane jack" (with two sticks).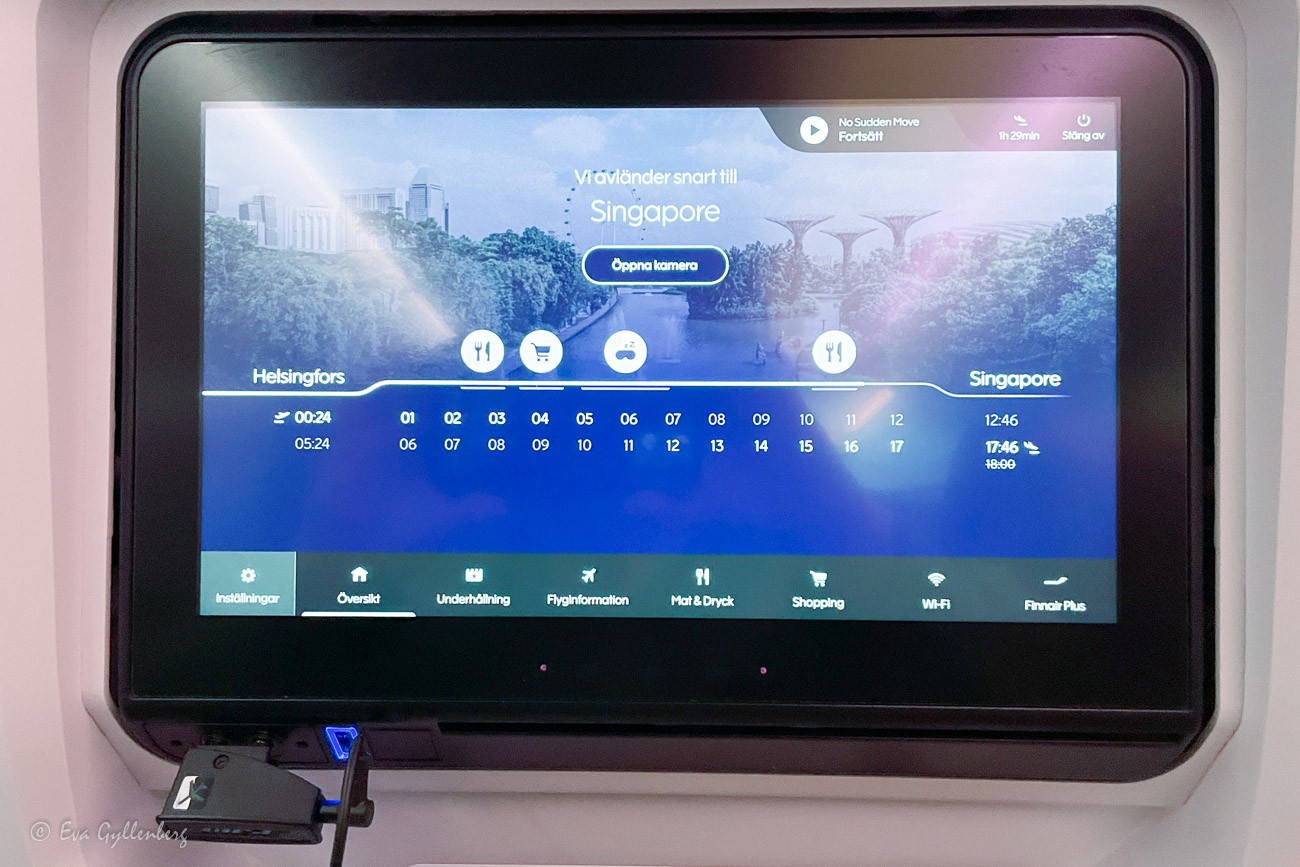 There was a USB socket at each screen, so it was easy to charge your mobile/toad.
The A350 has amazingly good cameras – one on the "back" and one "under the belly". Looking at the world through these makes you feel like Nils Karlsson's tinkerer discovering the world on the back of the airplane. But sometimes they don't work. Like on the flight to Singapore. When I (and those next to me) tried to look at the cameras or the map, the whole screen locked up. For the rest of the flight… I had an empty seat next to me and was able to change, but it was not a priority of the cabin crew to fix this unfortunately.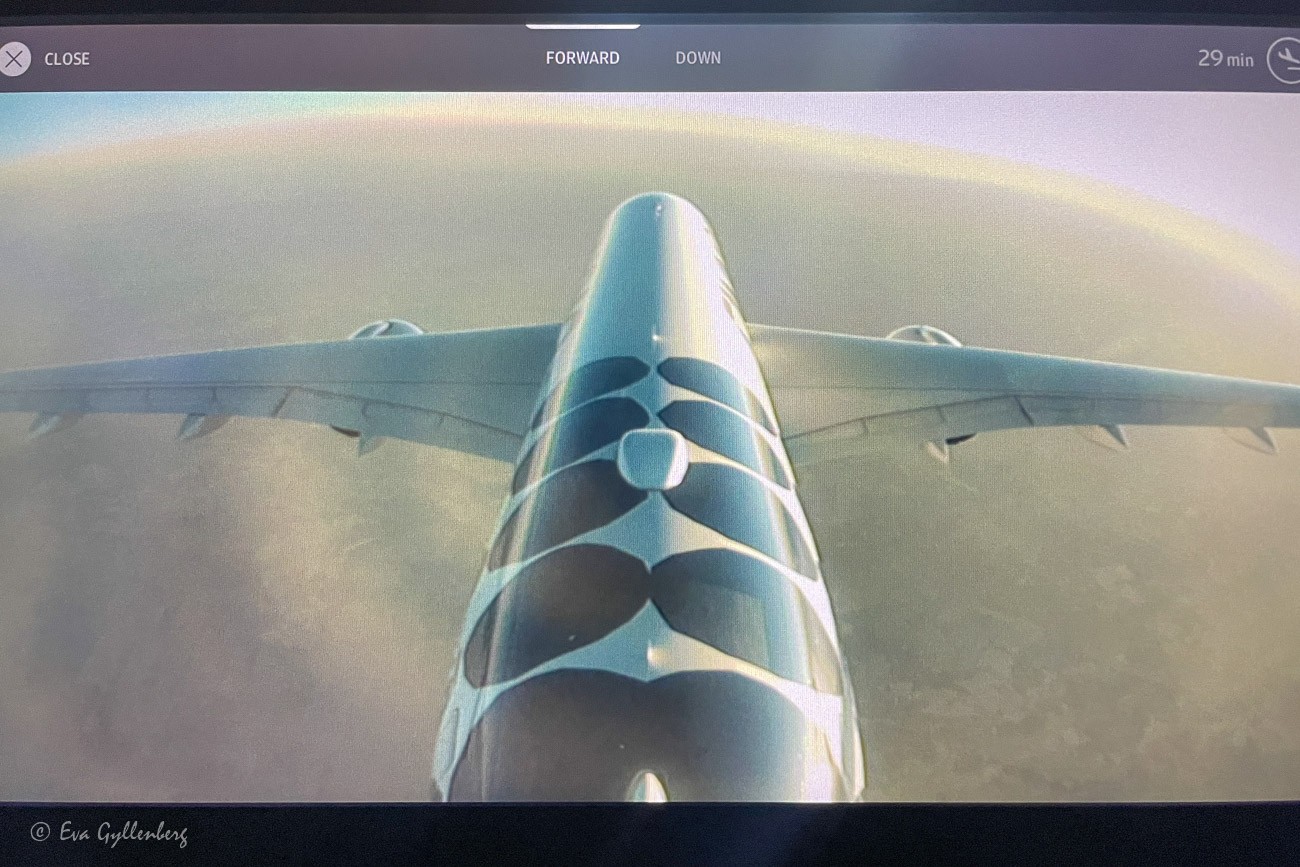 The bottom line – What was the grade?
Finnair gets one weak four in summary rating! What pulls the rating down is the food (lack of choice and small portions) and what pulls the rating up is the comfort of the aircraft and its seats. It was a long trip, but I slept well and had plenty of room.
Would I be able to book Finnair again? Yes, definitely! But then I would be more prepared and have more food with me.
Have you been here? What did you think of the destination?
Been there - didn't like it!
0
Not keen at all to go here!
0
Eva Gyllenberg
Travel blogger, gastronaut, photographer and family adventurer with over 55 countries in his luggage. Eva loves trips that include beautiful nature, hiking boots and well-cooked food. On the travel blog Rucksack she takes you to all corners of the world with the help of her inspiring pictures and texts.