We entered Boot Child on the GPS in the rental car and turned up the country music on the car radio. We needed to shop for clothes and shoes. No, our bag hadn't disappeared on the flight to Tucson, we simply needed new outfits to blend in. In the coming days we were going out on a real family adventure, the kind of adventure I've dreamed of ever since I was little. We would live, ride and live on a ranch. The choice had been made Tanque Verde Ranch - a relatively large ranch for people who want to ride, hike and enjoy nature, while eating and sleeping well. Cowboy life in luxury style simply. We stepped into Boot Barn as three complete beginners with question marks on our foreheads. Where does the cat start? Row after row of cowboy boots, walls filled with cowboy hats and racks filled with plaid shirts. Luckily, the clerk saw our complete ignorance and quickly came to the rescue. An hour and lots of good advice later, we trudged out the door with new hats and new boots. This felt really good. Especially since we got a 15% discount for going to Tanque Verde.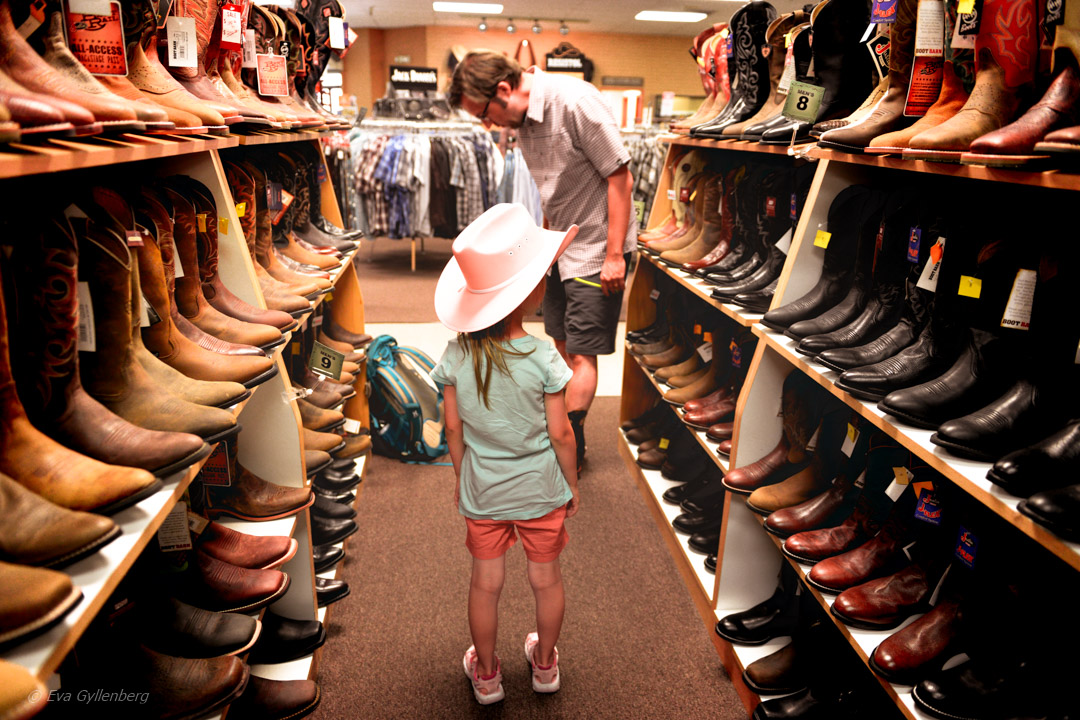 Checked into the ranch and signed all the papers to waive all rights to sue the ranch should we get hurt. We were on our own. The temperature had finally started to creep below 40 degrees and it was possible to be outside again in the scorching sun. We had booked all-inclusive, which in addition to all food also meant that all activities at the ranch were included. Got a ride to our room, which was in a small pink stone house overlooking the open landscape and the impressive Saguaro cacti. The room was rustic so it was enough with wood, terracotta and two large lovely American beds. The patio beckoned, so we settled down with books in the shade and listened to the silence of the desert.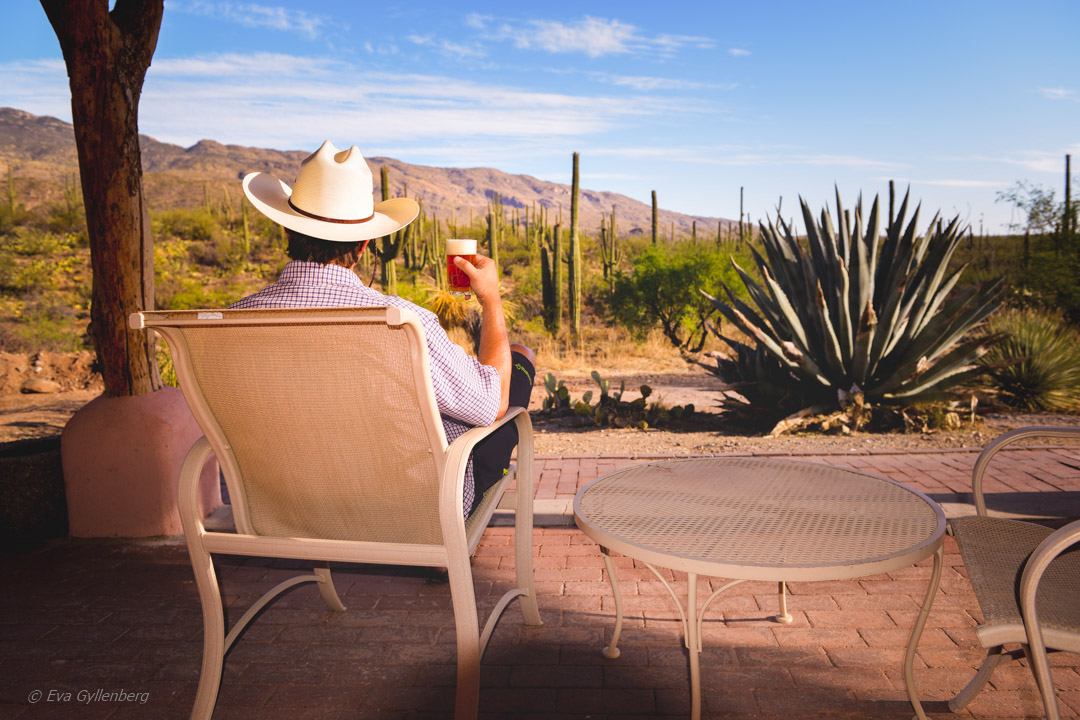 In addition to a large number of horses, Tanque Verde also has tennis courts, spa, bar, restaurant, swimming pool, yoga lessons, jeep tours, fishing and a very popular kids' club. The kids club was the biggest reason we chose Tanque Verde and not another ranch. How many places have you been to where "kids' club" means riding and horse care from 8 in the morning until 15 in the afternoon? This is kids club on a whole new level. Divided into three groups according to age – Buckaroos (4-6 years), Wranglers (7-9 years) and Outlaws (10-12 years) – the children get to learn all about horses, mixed with the occasional dip in the pool during the hottest part of the day hours. Well organized and with absolutely no requirement for previous riding experience, the kids learn western riding on large American ponies.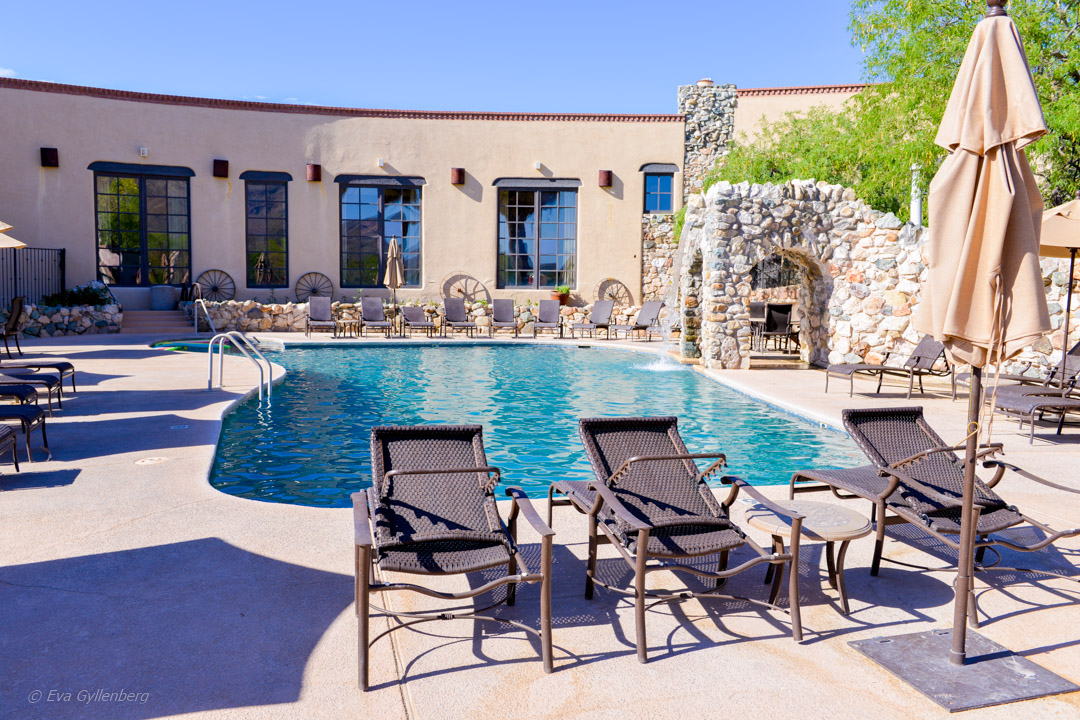 Dinner was taken in the evening in the hotel's large restaurant. All-inclusive meant a 3-course dinner, lunch buffet and breakfast. Really good menus with several choices at every meal. The dishes had a distinct southwest touch with lots of flavor and color. Really good. Wine was not included in the all-inclusive, but it was possible to order a bottle of wine which the restaurant kept in storage after opening until it was drunk. A really smart service! The children obviously had their own menu that suited the younger taste buds. After dinner there was an activity every evening. On the first evening, a lecture was offered about the rattlesnakes that snake everywhere in the area, and live rattlesnakes were also shown for educational purposes.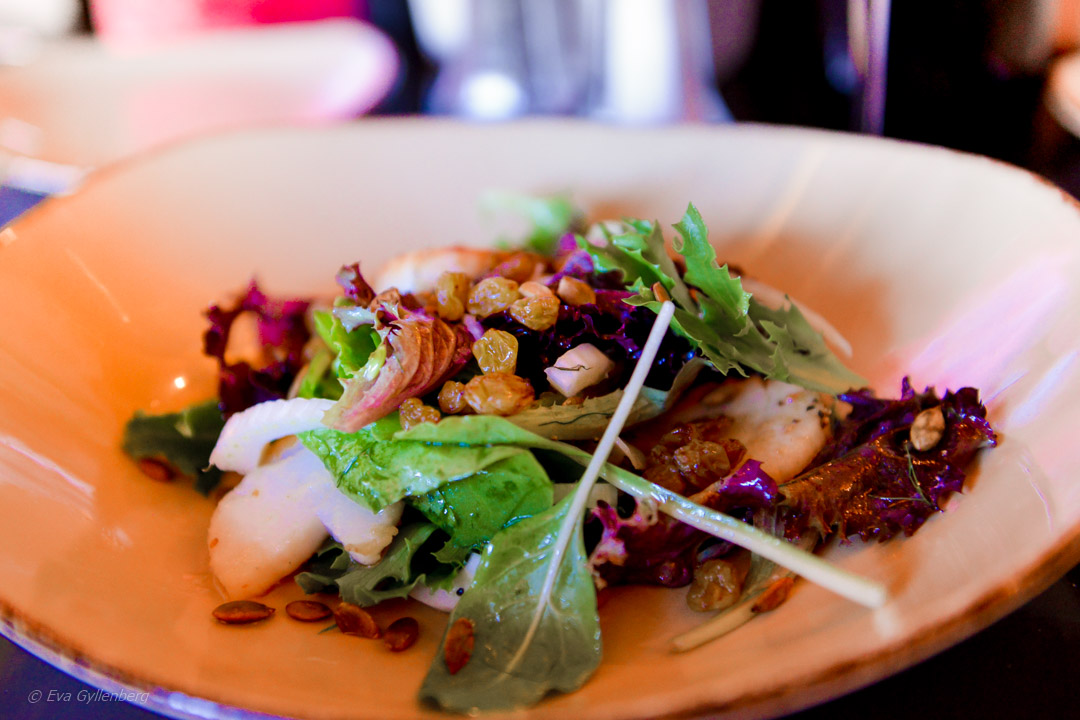 Satisfied and satisfied, we went back to our little house in the dark. Now a little more vigilant about where we put our feet, as the rattlesnakes are most active at night.
Just managed to fall asleep in our big beds before we all woke up with a jolt. Is someone running on our roof? Something with big claws lived robbers on our roof and ran up and down and jumped with thuds on the roof tiles. A cougar? Big rats? What could it be?! We called security, because none of us dared to go out and check. Security came, there was silence on the roof and the phone rang. It was the security guard. He had driven away two Ringtail Cats who chased each other on the roofs. Ringtails? What is it? We had never heard of Ringtails and we were none the wiser when we googled that in Swedish it is called "katfrett". But simply described, you can say that it is a half-bear that is active at night and looks like a raccoon. Completely harmless. But really disturbing.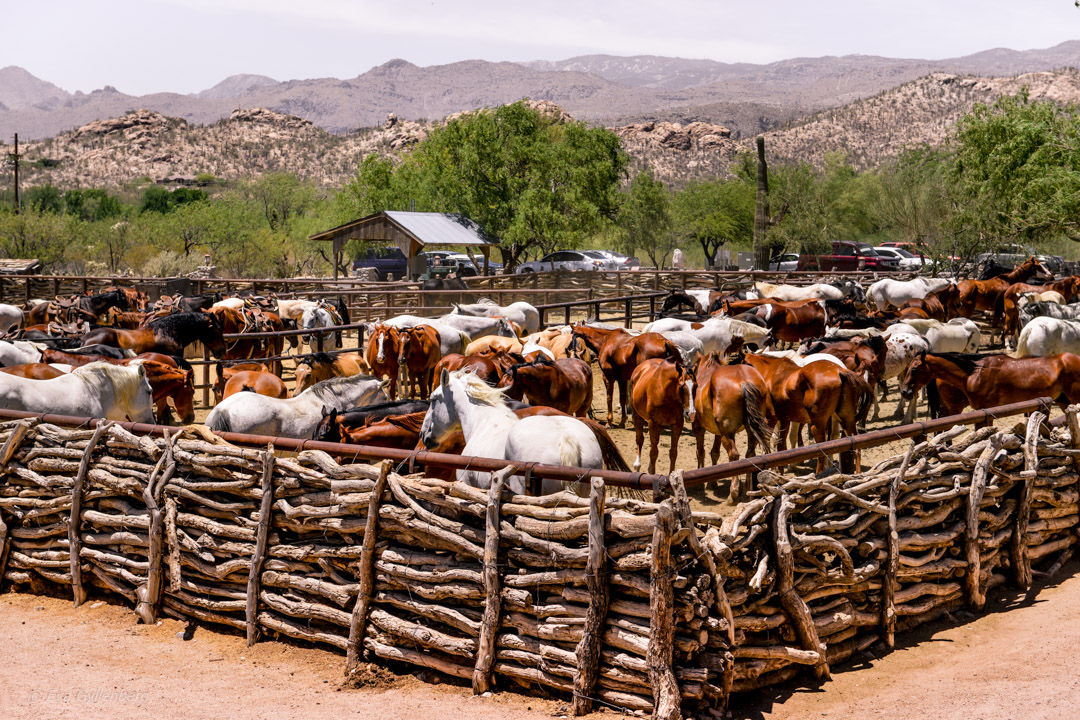 During the summer months, the temperature in the middle of the day often creeps above 40 degrees, which means that most of the rides take place at dawn and later in the afternoon in order for the horses to feel good. So it was just a matter of getting up early and riding before breakfast. Little E's first riding lesson started already at 07:15, while we adults' lessons didn't start until 09:30. Because in the same way that there is a children's club, there is a solid activity schedule on horseback for the adults. As the little one thought it felt a little scary to understand the instructions in English all by herself, we went along as translators. Luckily, she was the only one in her age group, so she had her very own teacher, which made teaching in English much easier. First a quick theory lesson and then 45 minutes of riding in the corral to learn the basic commands: Go forward, Stop, Turn. She received a lot of praise and sat in the saddle as if she had never done anything else – no fear there! After riding, it was breakfast time for the whole family. It was just to recharge for a busy day with a large portion of eggs and bacon. After breakfast, we adults took turns going on horseback rides in the desert, all while the daughter painted horseshoes and rummaged her horse Mesquite.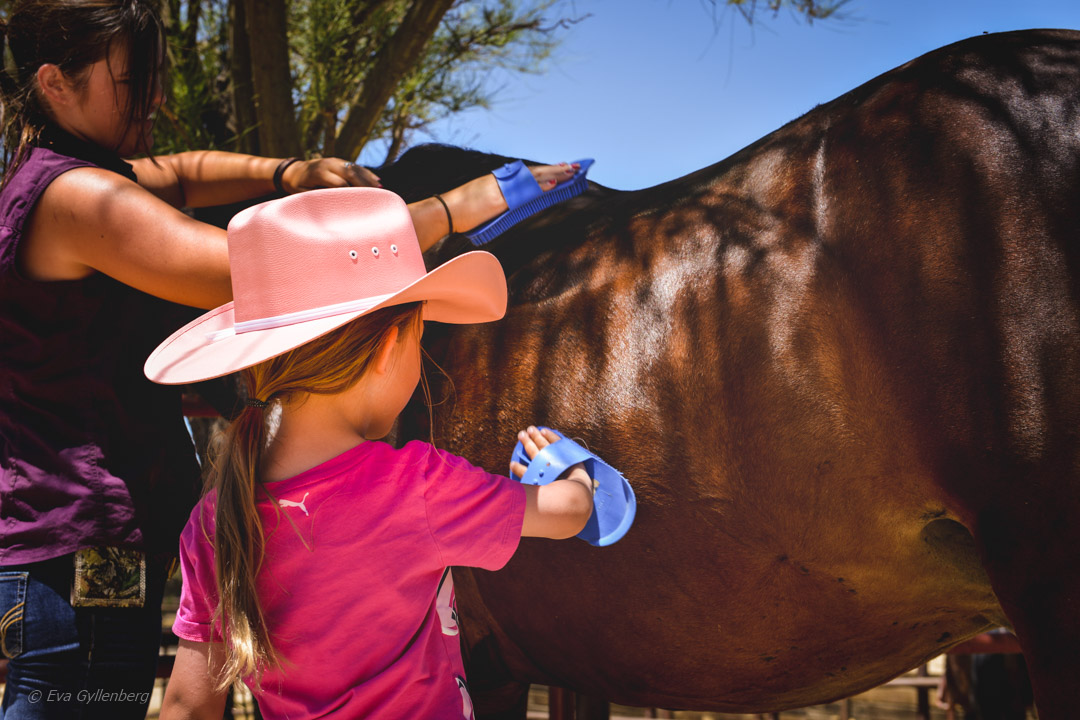 The lunch buffet consisted of, among other things, pulled pork and chicken pasta and a 30-foot long dessert buffet. You have to burn calories on horseback if all this food is to be burned!
The afternoon continued with an information meeting about the desert and its animals. Maybe it was easier to see the wildlife after learning about them, because we saw both deer and rabbits when we rode again after lunch. The rides on horseback took almost an hour and even though everyone drank a lot of water, you were quite tender when you got back to the stables after the heat of the desert. Perfect timing for a cool dip in the pool and a Prickly Pear Margarita (with Prickly Pear cactus) in the saloon and another lovely dinner. We walked around the ranch at sunset and greeted the horses in the paddock who were both social and enjoyed being petted.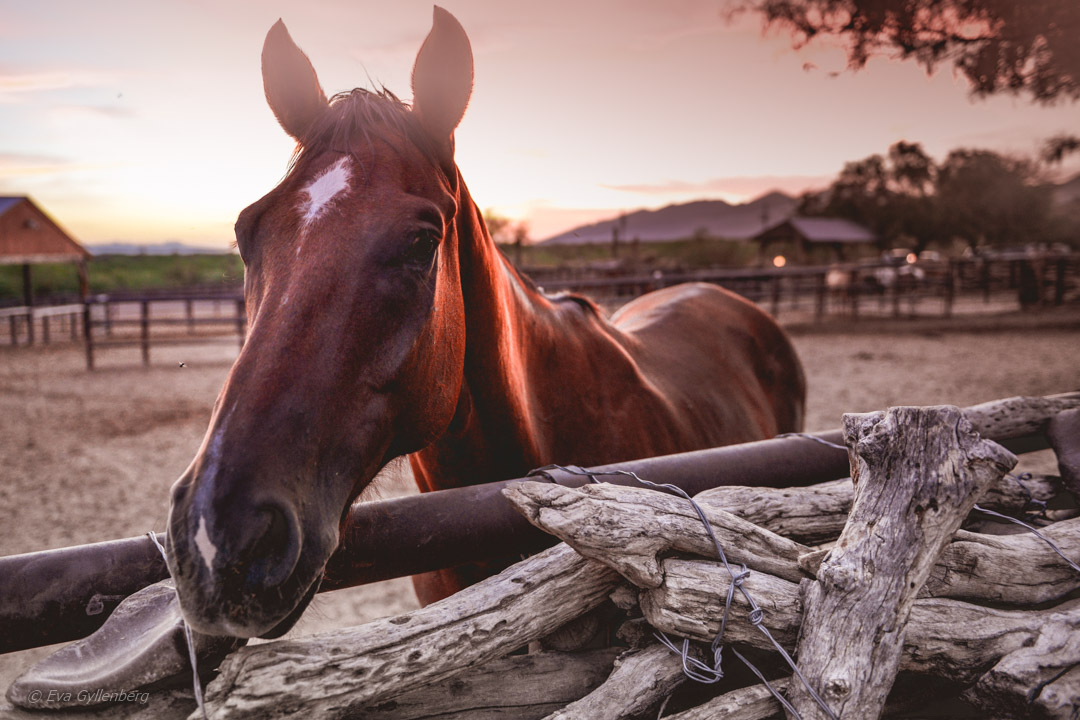 New day, new rides. The whole family had become quite good at riding by now, but safety conscious as I am, me and little E still used helmets. We were the only ones who did – everyone else wore cowboy hats. Including the master of the family. Lucky he's really handsome in a Stetson 🙂
Little E's favorite horse Mesquite was not in such a good mood today. He had a problem with the flies that persisted in landing in his eyes and he kept jerking his head to wave them away, making it difficult to hold the reins. So Mesquite had to go swimming after a while and in came Pal – a light brown palamino with a blond mane. It went much better. I am so impressed by her, when I myself sit like a taut spring in the saddle, she sits completely relaxed. Left, Right. The most important expressions are now in English. We who had been worried that it would be difficult to learn to ride in English, we had worried unnecessarily.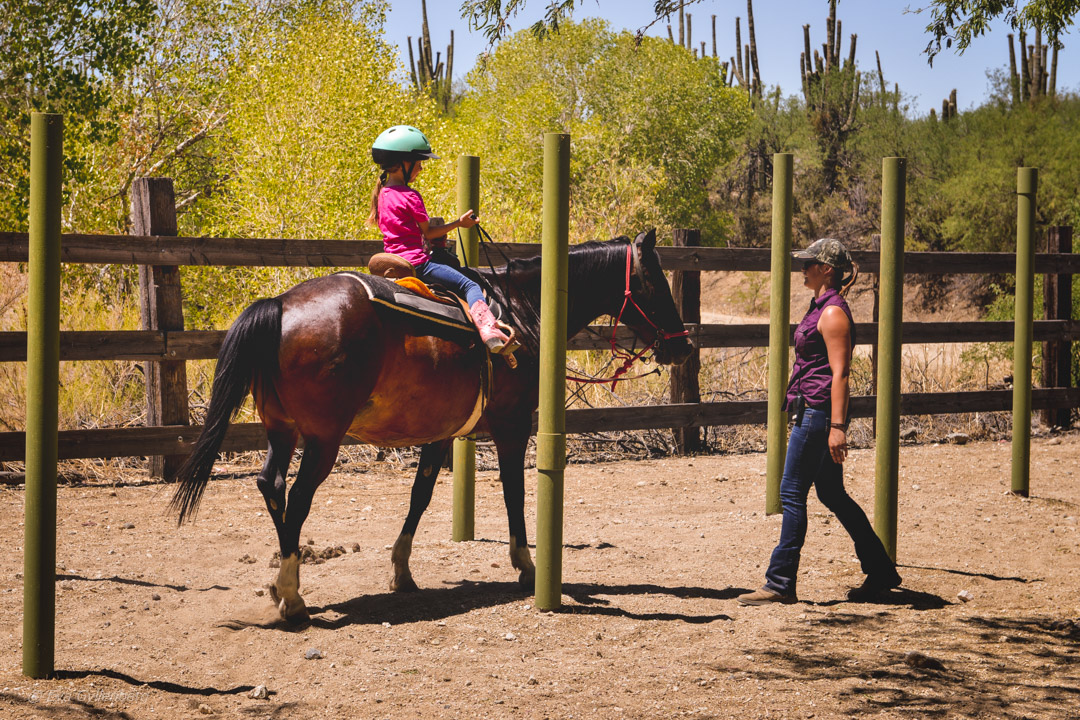 At dinner, mozzarella salad, fish tacos, lemon chicken, creme brulee and bourbon apple pie were served. Just as well tonight and the bottle of wine from yesterday was picked up from the wine cellar without us having to say anything.
After dinner we gathered as if for the evening's entertainment, which today was a short presentation of National Wildlife Rescue Center. We got to learn a lot about the local birds of prey and even see one Harris Hawk and one Redtail Hawk. The whole family thought it was very interesting and exciting. You can get used to this holiday life!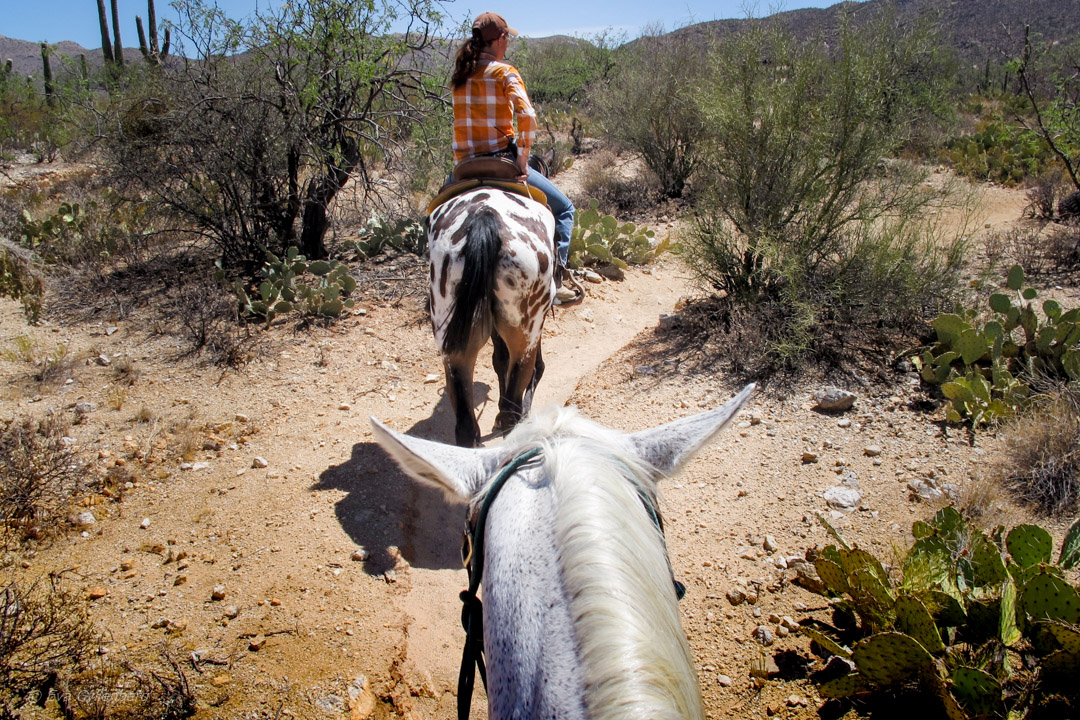 And so the days passed.
Wake up early. Ride. Breakfast. Ride. Lunch. Any activity other than riding. Ride. Swimming pool. Drink in the saloon. Dinner. Fall into bed. After a few days here, even a beginner has learned to ride really well. The tours have different degrees of difficulty and the really brave can even try herding cows. But we adults mostly focused on horseback riding in the Saguaro Desert and the little one practiced riding obstacles. The nature here is fantastic and you experience it very best from horseback. We met many large family groups from California and Nevada who had a family tradition of going here one week a year and hanging out. A really good idea, isn't it?
So, now you're probably wondering:
Read more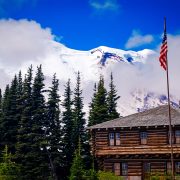 Where is this amazing place? Outside of Tucson, in Arizona. If you do not have a rental car, the ranch offers free transportation from the Tucson airport if you are staying 4 nights or longer.
Do you need boots? Not really, but when you ride the Saguaro, you're bound to ride into thorny bushes. So sturdy shoes and jeans are a must.
Do you have to wear a cowboy hat? Not really, but you burn your forehead and neck very easily if you ride in a helmet instead of a hat. Been there, done that…
Do you need to be able to ride? No not at all. There are rides for everyone, including beginners.
What does it cost? With the current dollar exchange rate, all-inclusive accommodation for a family costs about SEK 4000 per day (US$500), but keep an eye out for deals and monitor the dollar exchange rate. We paid 2700 SEK with all-inclusive, which I think is good value for accommodation for three people with all activities inklusive horse riding and kids club, all food and evening entertainment. How much would it cost to ride several hours a day here at home for a whole family?
What's the best thing about a ranch vacation? It might sound strange, but living in a place where there is no TV and you step upstairs to do activities together, it's quality time!
Tanque Verde Ranch
14301 East Speedway
Tucson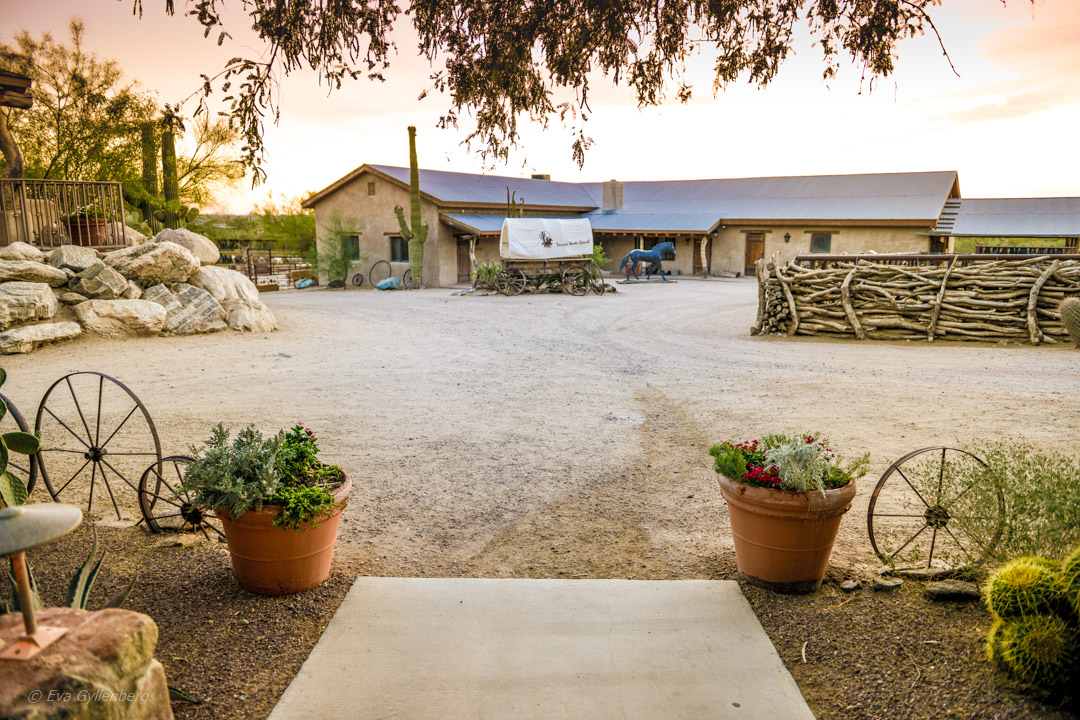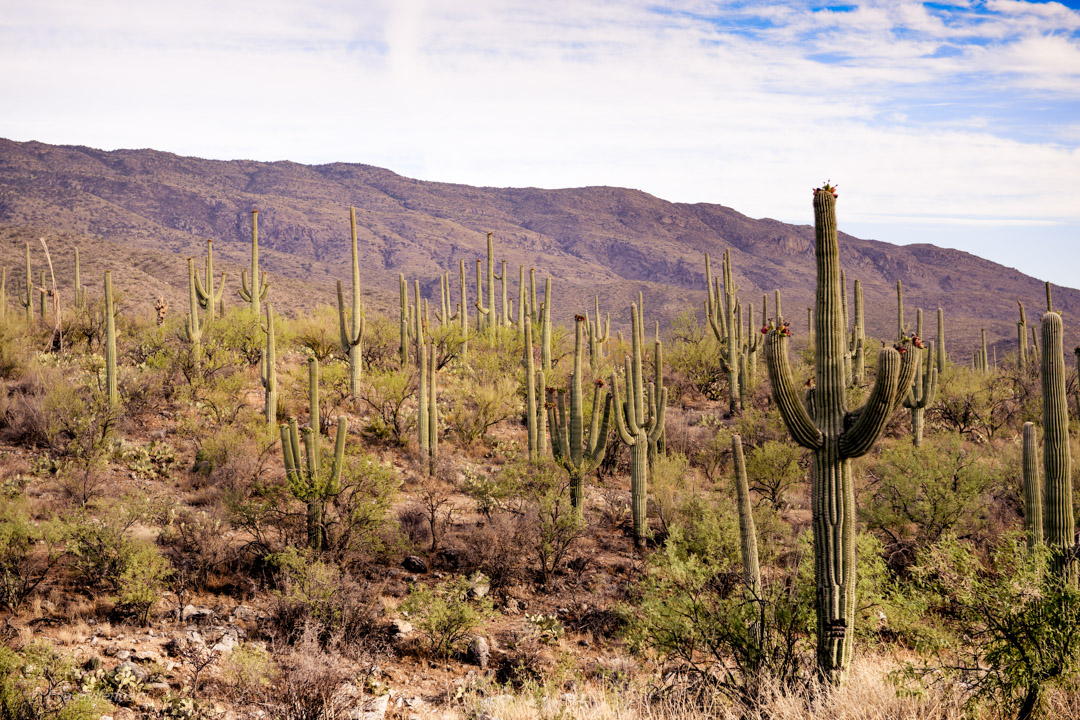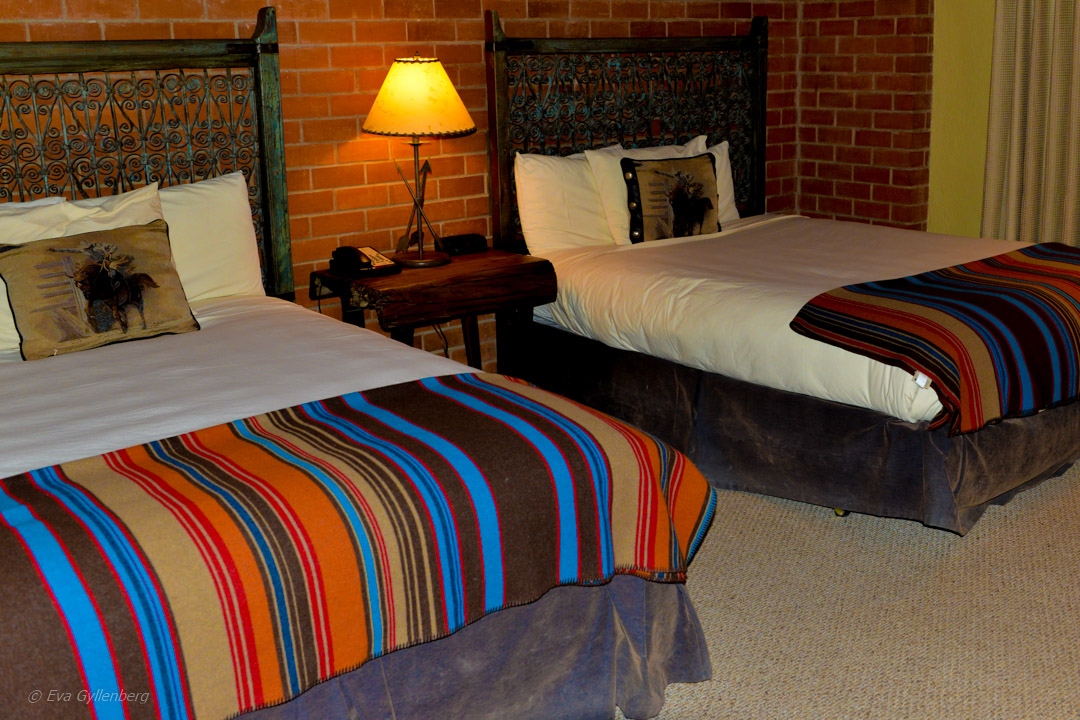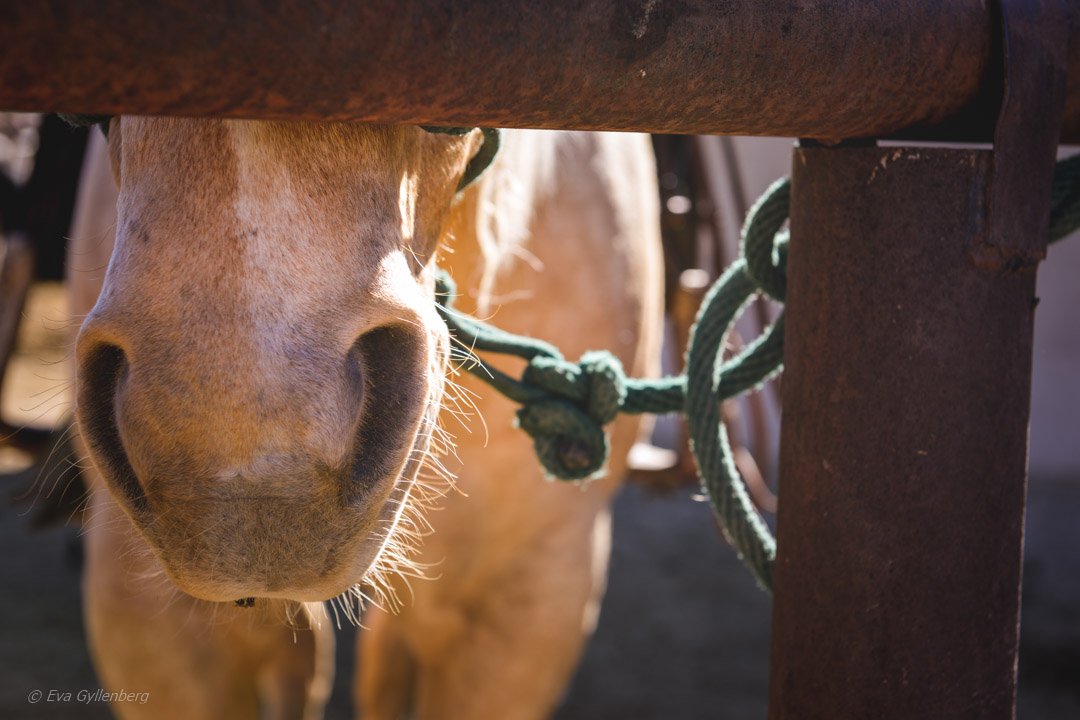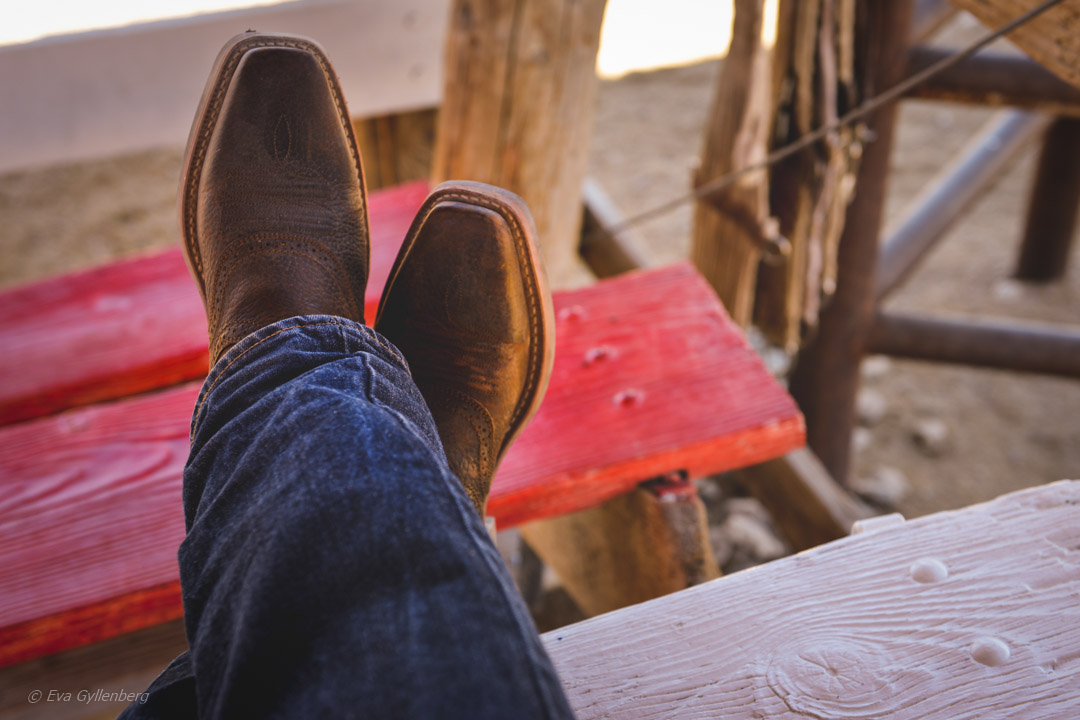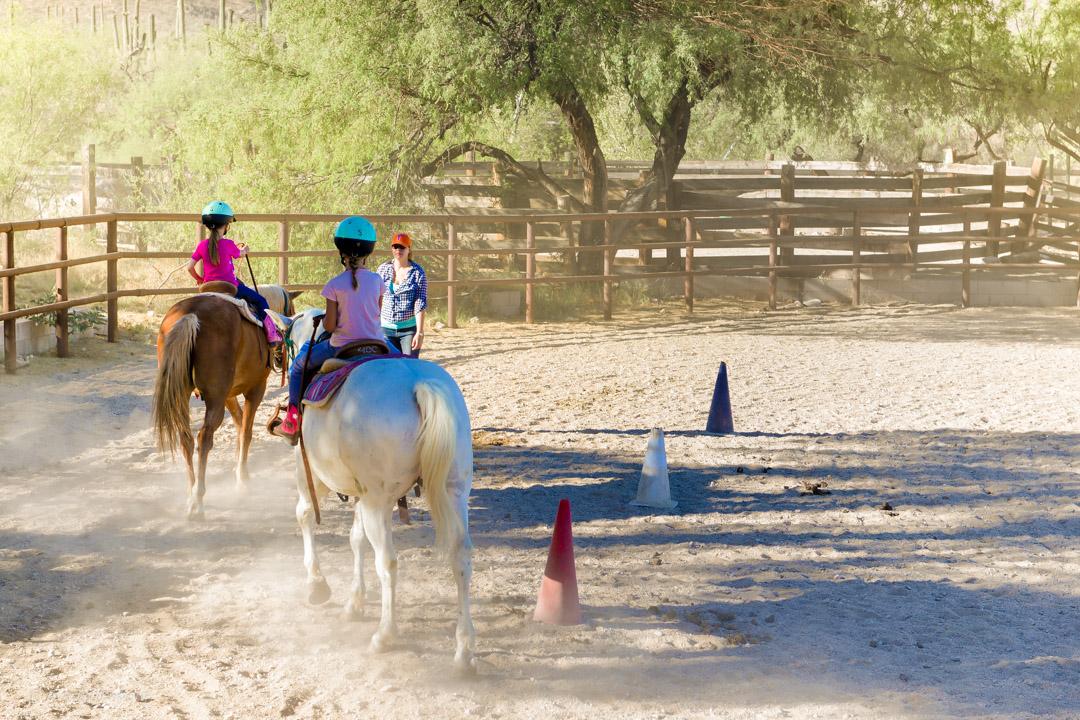 Have you been here? What did you think of the destination?
Been there - didn't like it!
0
Not keen at all to go here!
0
Eva Gyllenberg
Travel blogger, gastronaut, photographer and family adventurer with over 55 countries in his luggage. Eva loves trips that include beautiful nature, hiking boots and well-cooked food. On the travel blog Rucksack she takes you to all corners of the world with the help of her inspiring pictures and texts.