chicken rice. For anyone who has ever been to Singapore, these words are guaranteed to bring a smile and a sense of well-being. This seemingly simple dish with pure flavors is something of a national dish of Singapore. Chicken cooked to tender perfection, served with rice and soy. So simple. So good. And always very affordable. Singapore is admittedly not a cheap city to visit, but a filling portion of chicken rice will never cost more than a few dollars. As I love chicken rice, Michelin restaurants and Singapore, a given stop on this summer's trip was a lunch at Liao Fan Hong Kong Soya Sauce Chicken Rice & Noodle - the world's cheapest restaurant with a Michelin star!
I have to say that I was a bit surprised at first to read that a cheap hawker place in Singapore had been awarded a star in the Michelin guide. In comparison to the star restaurants we visited, this didn't rhyme at all. But the more I read, the more I understood why. You can get a star in the Michelin guide if you are "une très bonne table dans sa catégorie" - thus a very good serving for its category. A restaurant therefore does not need to have beautiful premises, fantastic service or unexpected flavor combinations to get a star. It's simply enough to be really damn good at what you do and stick to your line, which owner and chef Chan Hon Meng certainly does.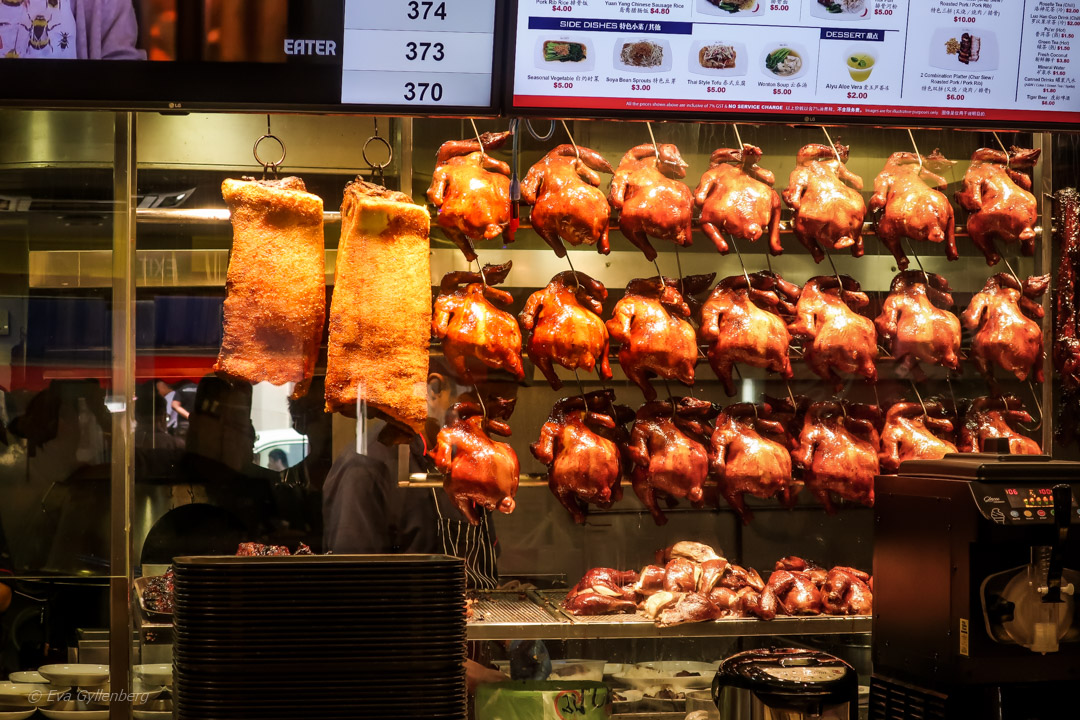 Liao Fan Hong Kong Soya Sauce Chicken Rice located in Chinatown in Singapore, set in one of the classic historic houses with wooden shutters. Despite the indiscreet awnings with the text "The Cheapest Eatery Being Awarded One Michelin Star", then we not only managed to pass the restaurant twice, but also wandered into the Chinatown Complex shopping center before finally realizing where the restaurant was. Opposite the mall's main entrance on Smith Street. Neither hidden nor invisible.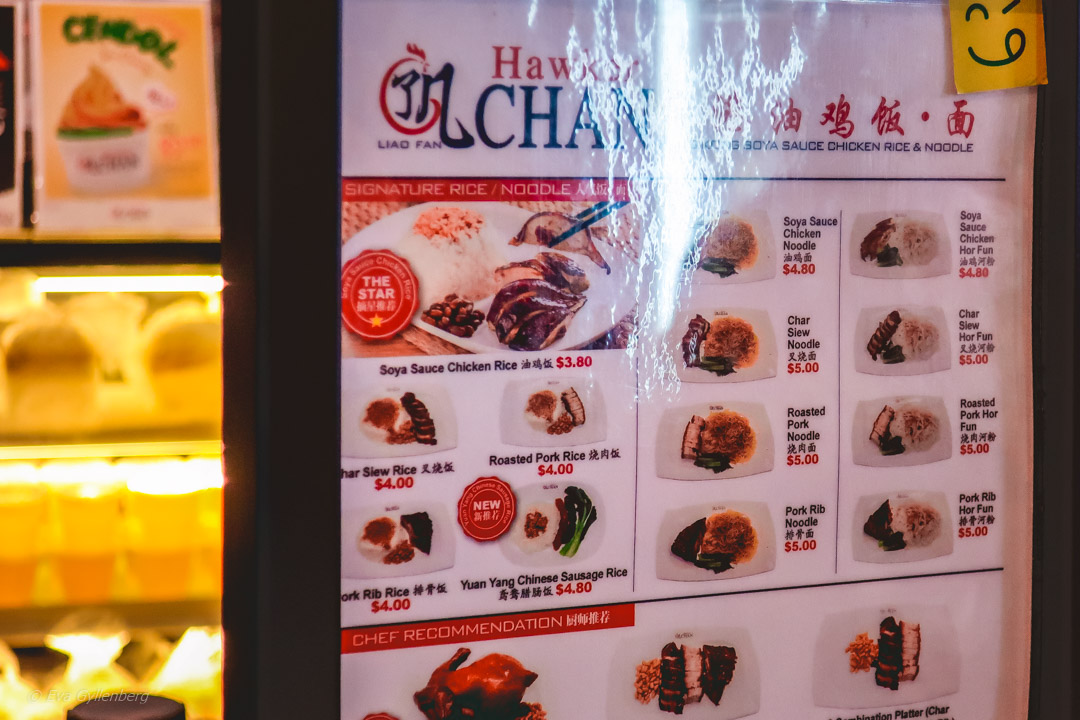 Not unexpectedly, this place was immensely popular. The checkout line stretched all the way out to the street and every little plastic table was filled with businessmen on a quick lunch, curious tourists and local families. The menu of course consisted of the one-star dish - Soya Sauce Chicken Rice, but there were several other combinations of pork and vegetables that all sounded very good. But, when in Rome – eat chicken rice. The daughter, who is not a big fan of rice, opted for a Soya Sauce Chicken Noodle instead. It was almost like rubbing your eyes when you saw the price of the dishes. $3,80 (approximately SEK 27) for chicken rice and $4,80 (approximately SEK 35) for chicken noodle. Then it is still said that the prices have been shockingly increased since he got a star. I think I can live with that increase. A curiosity, however, is that a beer with the meal costs $7. Not hugely expensive, but compared to the food prices, it felt almost unreasonable.
An unused sign hung by the cash register ready to be thrown out to close the cash register in the event of so many visitors that the kitchen could not keep up. If there weren't too many people this day, I can't help but think about how many people are needed to close the queue to the till. It is said that there can be up to a three-hour queue to get food here. I was crossing my fingers that today wasn't such a day.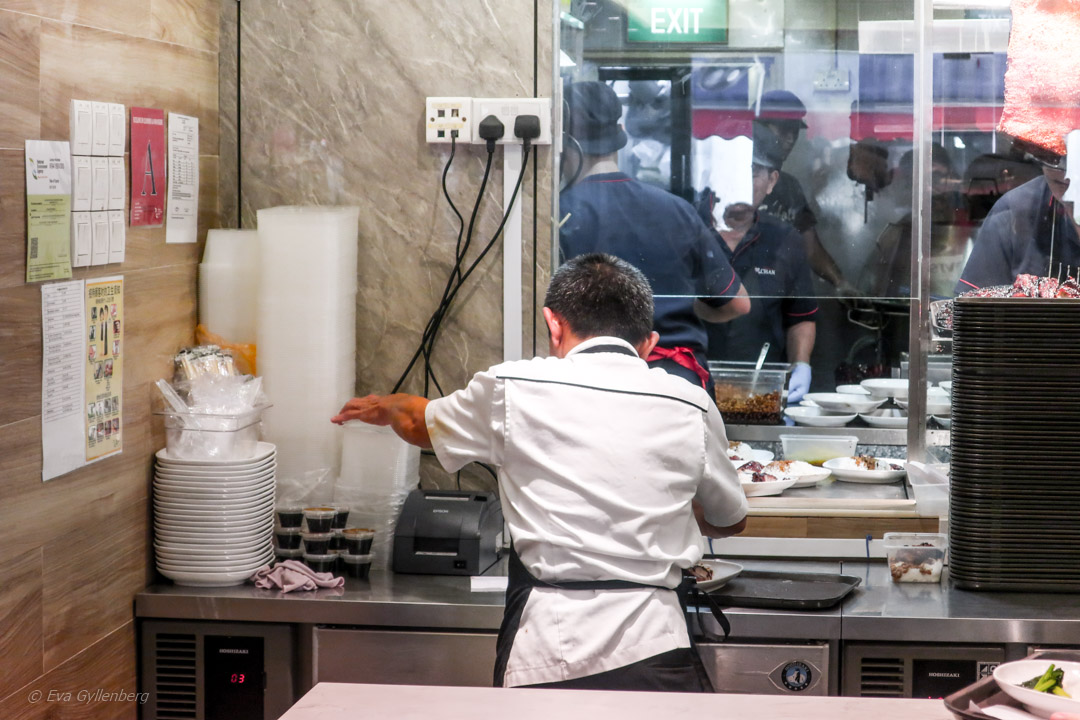 We squeezed into a small table with a lone man in a blazer and a younger local couple in the air-conditioned dining room. We looked at our license plate. There were a lot of numbers to our number. So many numbers, that I realized that the exorbitantly expensive beer was actually a good choice. The owner himself was standing in the kitchen throwing the parade dish onto plates at a rapid pace. Chickens were slaughtered in the kitchen in a rhythmic rhythm. Chop chop chop. Although the kitchen was working at full speed, it didn't come close to our turn.
For each number completed, it rang and new numbers were displayed on a monitor. Sometimes, however, it pinged a little more impatiently and quickly. Almost a little annoyed. It turned out that the cashiers were quick to take action when people didn't pick up their food fast enough. Chop chop chop. It was important not to miss your number! We sat in full tension with our soy sauce and waited. After 45 minutes it was our turn. The man almost ran to the till to avoid being greeted by the machine gun fire.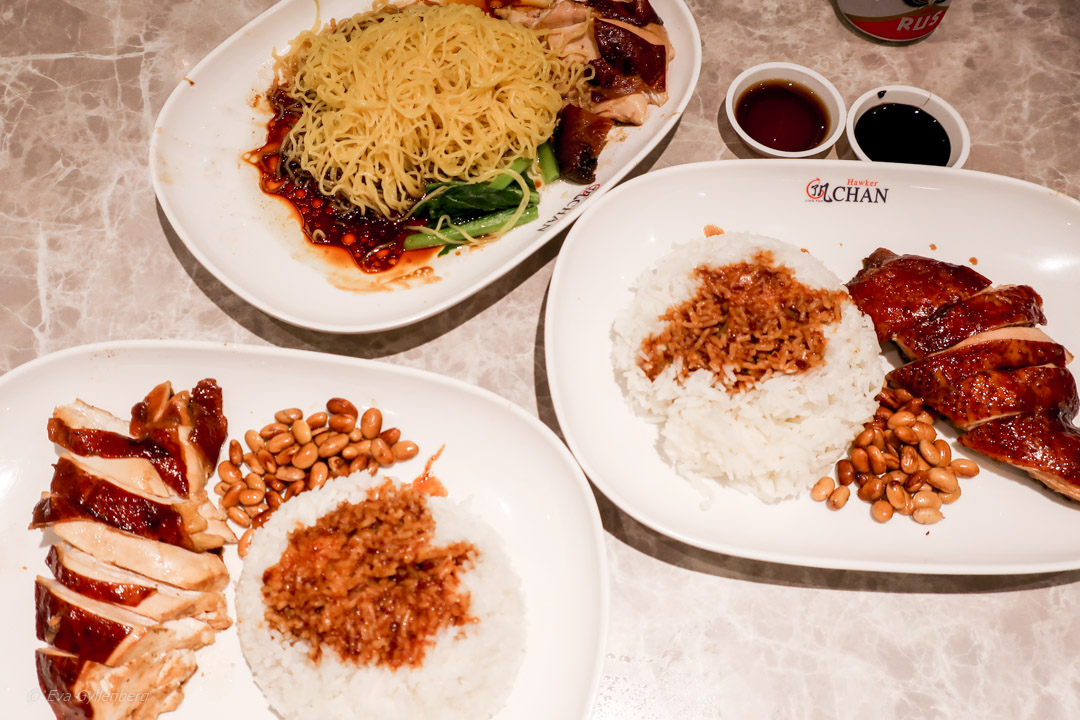 The food was served a little nicer than you might be used to when you eat chicken rice. The plates were not disposable plates, but even had the restaurant's logo on them. The skin of the chicken was as crispy as it should be and the soybeans were well roasted and added some chew resistance to the tender chicken. Quite simply a classic chicken rice. Good, simple and really good comfort food. However, it must be mentioned that the quality of the chicken was very uneven. My daughter and I got nice pieces with a lot of meat, but my husband's chicken consisted mostly of bones and inedible gristle. It felt like the kitchen had chop chop chopped up the chicken a little too quickly without checking the quality very carefully. The rice was ok, but next time I'll definitely have the noodles – they were really good and served with some stir-fried Swiss chard.
So what was the overall family rating?
This was definitely a fun experience! Chicken rice is always very good, BUT you can get at least as good chicken rice (with less gristle) in any of the malls on Orchard Road. Also, without having to wait for 45 minutes.
How do I get here?
Take the subway to Chinatown and walk a few minutes. The place we ate at is opposite the entrance to Chinatown Complex (air conditioned restaurant), but the original street food place that got one star is on the same street a little way away (outdoors).
Liao Fan Hong Kong Soya Sauce Chicken Rice & Noodle
Chinatown Complex Market & Food Centre
335 Smith Street
Hawker Chan
78 Smith Street
Do you want to read more about Singapore? Check out my Singapore site!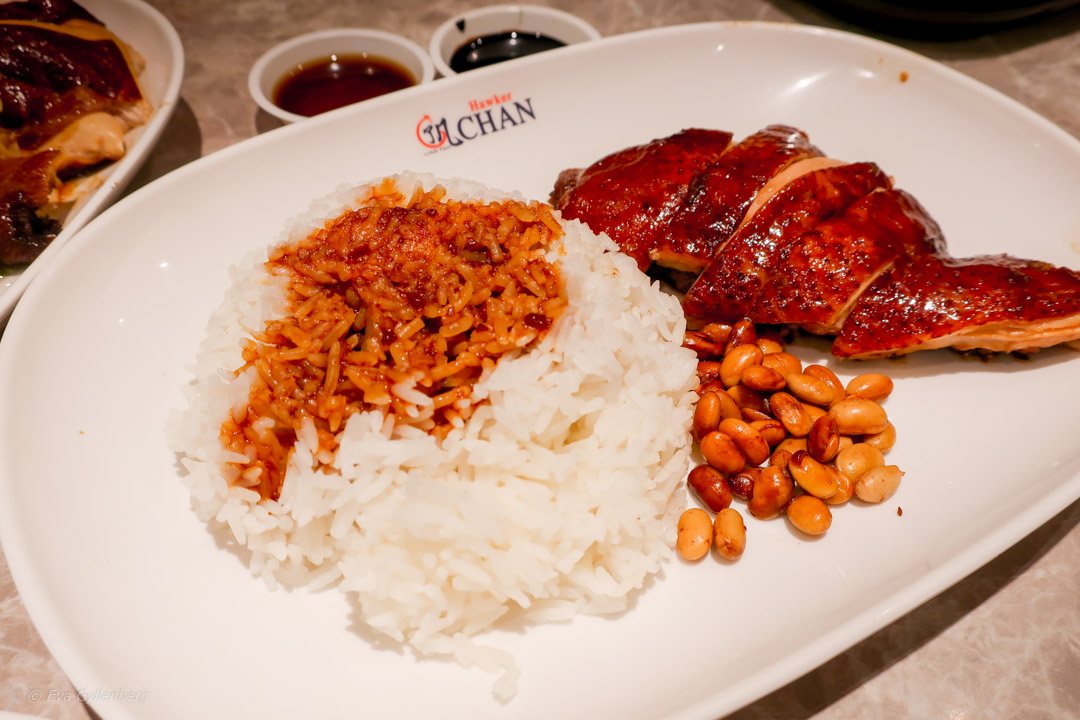 Have you been here? What did you think of the destination?
Been there - didn't like it!
0
Not keen at all to go here!
0
Eva Gyllenberg
Travel blogger, gastronaut, photographer and family adventurer with over 55 countries in his luggage. Eva loves trips that include beautiful nature, hiking boots and well-cooked food. On the travel blog Rucksack she takes you to all corners of the world with the help of her inspiring pictures and texts.