Once upon a time there was a family that went on a road trip in Portugal. The family didn't have too many demands on their holiday, except that they wanted to eat well and sleep well. A castle appeared on the booking map on the Internet. A castle, thought the family! It sounds good! We'll take that! The castle was far from all the so-called big cities and restaurants, but what did that do? It was a castle! So it happened that the family drove into the castle entrance to the Curia Palace on a sunny August evening, for a dinner and a hotel night that they would soon forget. And not in a good way…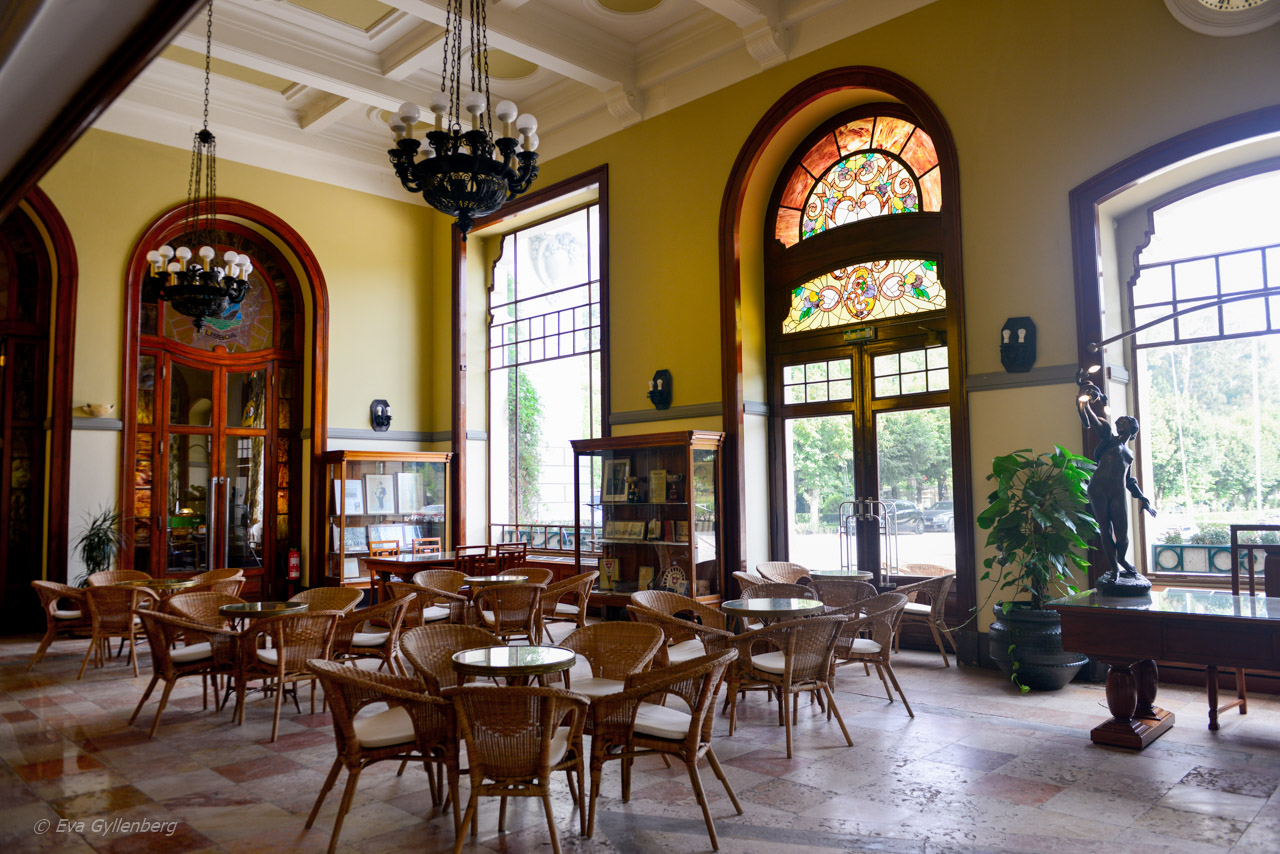 The castle towers in front of us on the dirt road. Through the car window I see a small idyllic fountain with a beautiful white swan passing by. The Curia Palace really showed its best side in the evening sun. Oh, a cozy night in a hotel with a castle dinner! Everything during our road trip in Portugal so far has exceeded our expectations, I find myself with a silly smile on my face.
The family is heading to check-in, but I feel like I just have to take a picture of this beautiful place before I check-in. The sun is going down and I really want to remember this moment. I take easy small steps down towards the fountain. This can be a really beautiful picture. The castle in the sun, with the garden in front. I barely have time to approach the fountain before I hear an angry hissing sound. What is that sound? Is it a water sprinkler? I shoot on. The hissing increases in strength. There's something that doesn't want me there. I have to admit my first thought was a snake. Maybe not the most logical explanation for a hissing sound in Portugal, but that sound sounded like something I've heard before in both the US and Australia. I stomp a little on the ground with one foot. You do that when there are snakes nearby. The sound increases. But where does it come from? I approach the fountain and look in over the bushes. A fledgling swan roars at me. My first instinct is to back away quickly, but I realize that the poor swan has its wings clipped and is not coming up from the fountain. I walk a little longer around the fountain, but the swan follows me with its wings in threat mode and hisses. Had it been able to spit, it certainly would have. I felt mentally insulted.
It was a picture of the castle at sunset, the picture above. What the picture doesn't convey is the constant hissing sound of the cursed swan. Here somewhere I should have understood it. This was not going to be an ordinary castle stay.
I walk into the lobby, slightly offended, and open the large wooden door. Had I got it wrong? Had I come to the waiting room of a train station? The speakers played slightly broken big band jazz without bass notes, the way only an old speaker can sound. The entrance had seen better days. About sometime in the 1920s. The furniture looked like it had been brought in from an outdoor dining area in a bygone era. Everywhere there were people with their cell phones and toads. Strange, why are they sitting here? It can hardly be because it is cozy?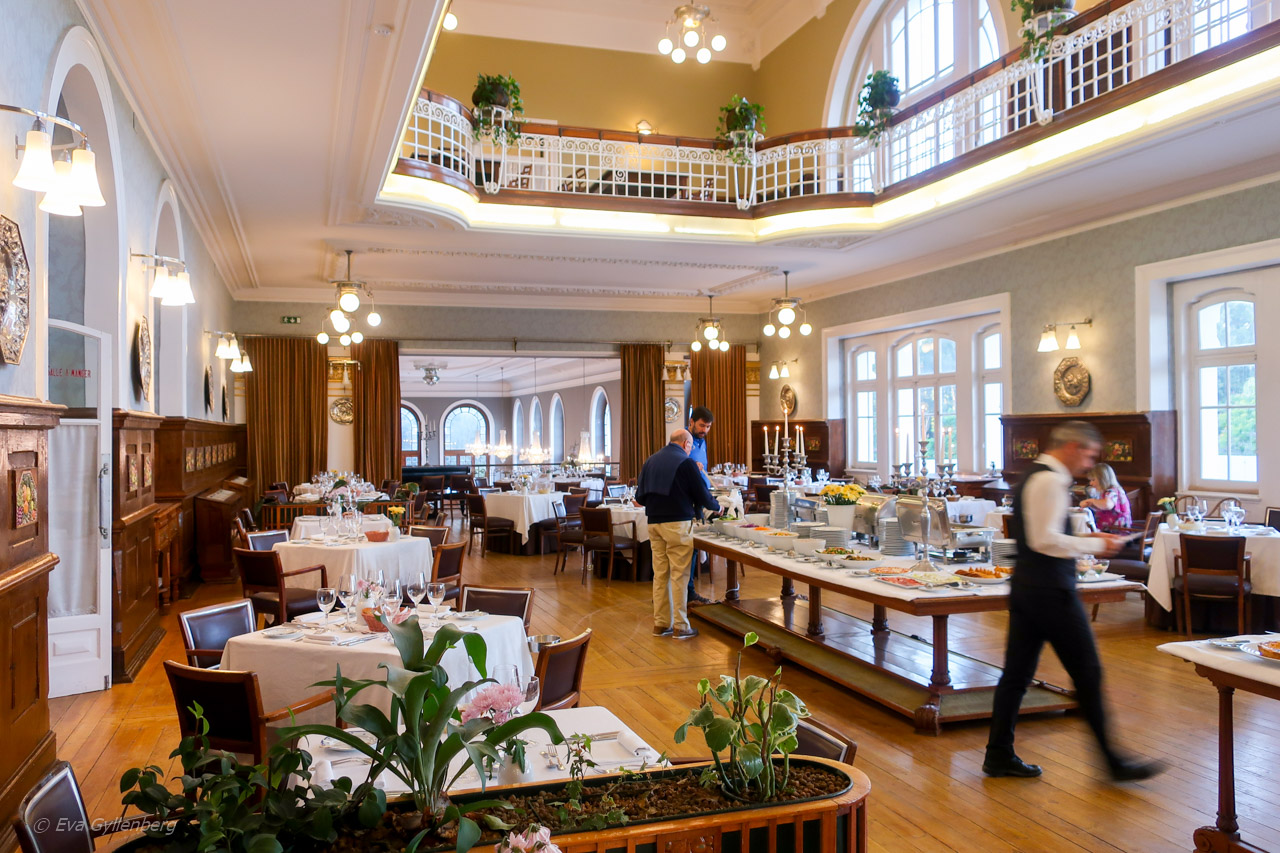 At check-in we ask if everything is ok with our dinner reservation for tonight's castle dinner. The receptionist checks the booking, everything was ok for tonight's dinner. We go up to our floor and wander endless corridors. Our room is the furthest away. We live so far away that we don't even hear the Gatsby music.
The room is quite nice, renovated much later than the rest of the house. Very lucky, my back would not have appreciated a bed mattress from the 20s. The daughter starts fiddling with the mobile phone. No wifi and hardly any reception through the castle's thick walls. I immediately felt that this had something to do with all these people sitting at the reception desk. It may have been that I didn't read very carefully whether there was wifi in the room, it was a castle, so I probably just assumed there would be…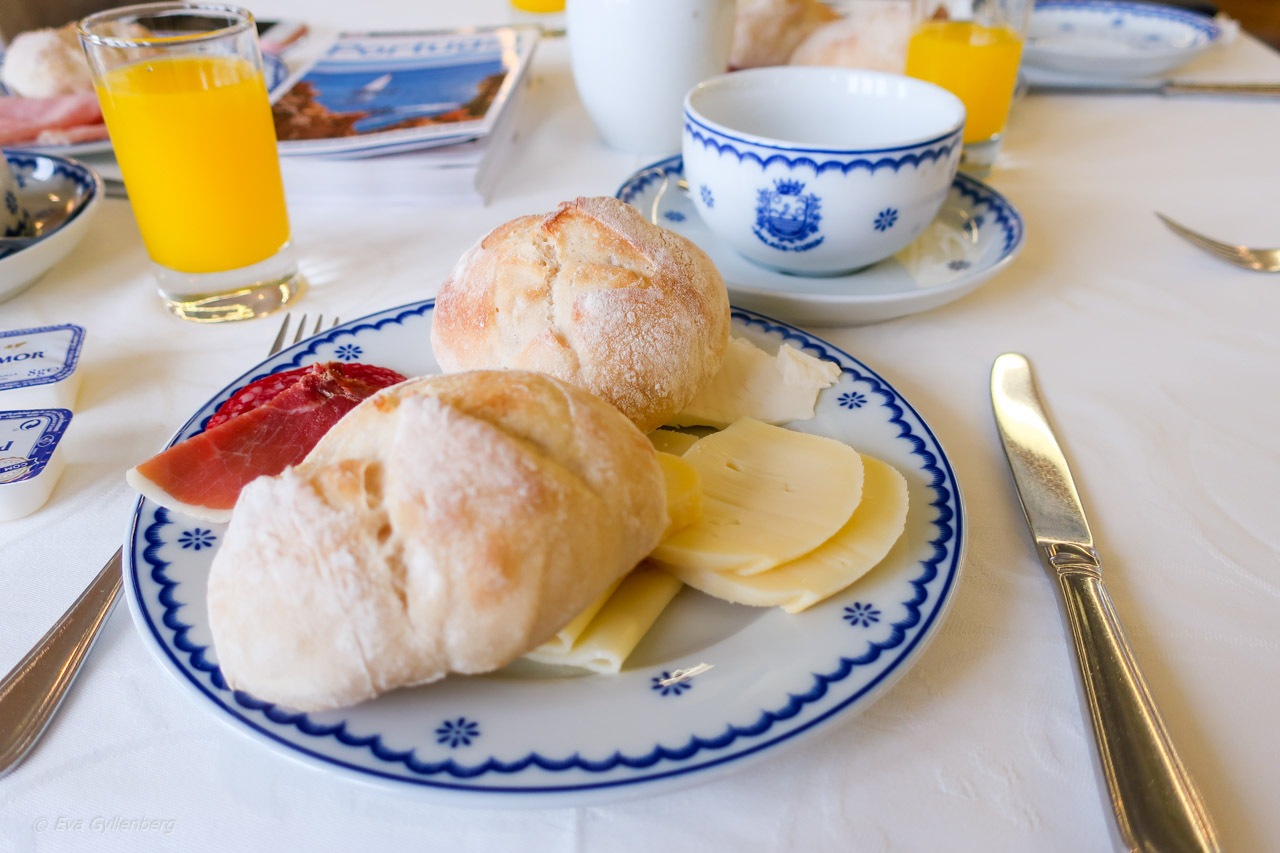 We change for dinner and go down to the restaurant. I put on some extra lipstick. It's a castle dinner tonight. Our table is set and ready, with white tablecloths and well pressed napkins. Music plays in the speakers. Big band jazz. It sounds a bit like the song we heard when we checked in, but I could be wrong.
A butter waiter comes with a wine menu. We look at each other a little questioningly. Do you have an à la carte menu, or have we missed something? The waiter looks at us a little questioningly and points out over the table behind us. Buffet, he says.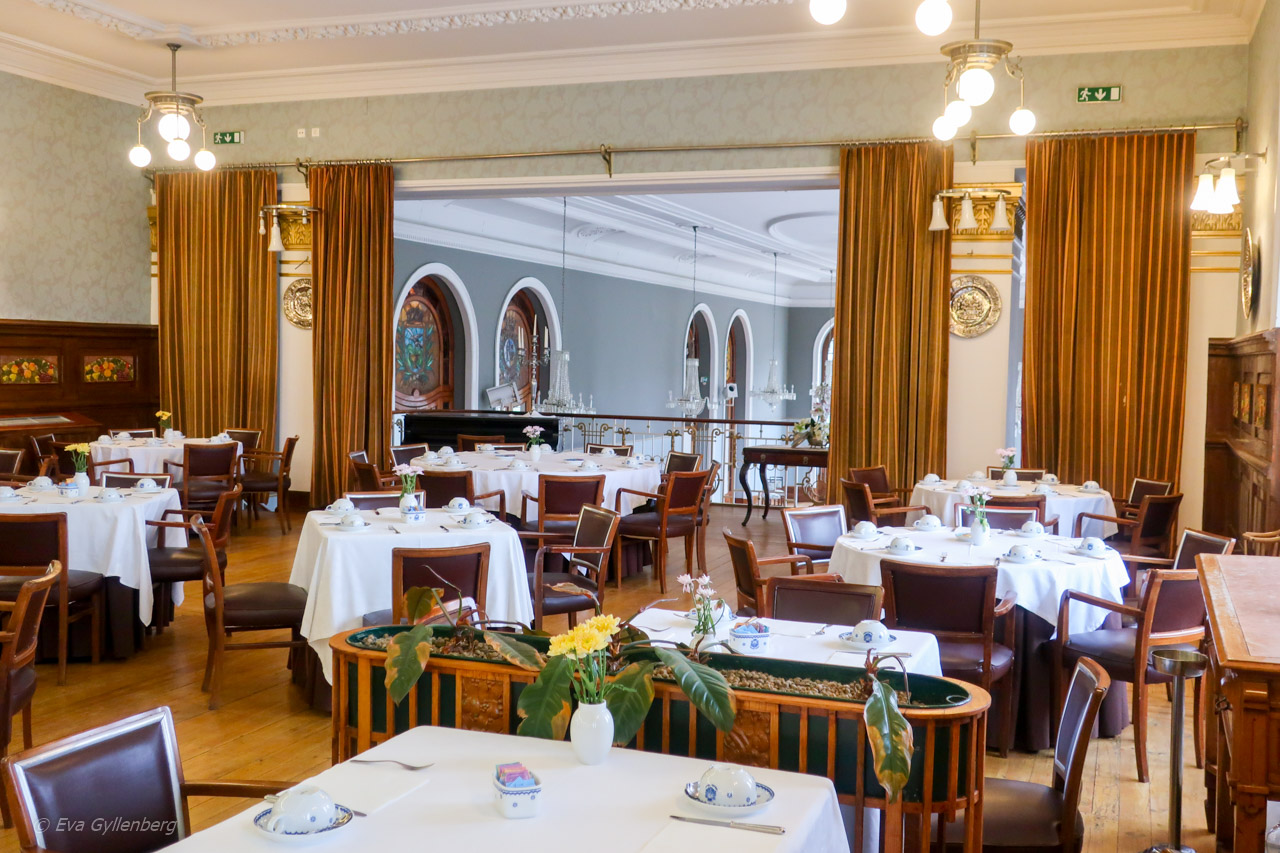 Buffet is not my thing. I only like a buffet once a year, at Christmas. Otherwise, I always prefer a la carte. Maybe I should have checked in advance, but I was so blinded by my dreamy romantic castle dinner that I didn't take a second to ask. OK, I'll take this miss. But we are still in a castle. How bad can it be? My daughter and I get up and start walking towards the buffet. In retrospect, maybe I should have just sat there drinking wine and not even looked at the buffet.
I love vegetables, so I end up starting with the little bowls of cut up vegetables. Oddly, the bowls of dressing are bigger than the salad bowls, but I don't think much of this. I pass a salad consisting of boiled vegetables and fake crabsticks. Not really my thing. The next salad is the same boiled vegetables, but with small squid. Not my thing either. A plate of fried small fish with heads. Not that one either. A pizza that looks semi-finished and was probably meant for the kids. Not that one either. Last on the appetizer buffet are some small pierogies and a crab cocktail. I chop one of each.
While I'm here at the buffet anyway, I think it would be best if I checked what was served as the main course. Three large silver warming containers stand on the other side of the table. I lift the lid on one. Cod with potatoes. Bacalhao. No thanks, not again today. I'll pick up the next one. Rice with some dark meat? scents a bit suspicious? The third vessel I cannot even define what it is. In a swimming sauce, pieces of meat with many small bones are floating. I ask the waiter. She tries to explain in Portuguese. I don't understand something. She asks her colleague who comes running and cheerfully tells her that it is "baby goat". I close the lid on the goat. Now where did I see that semi-finished pizza…?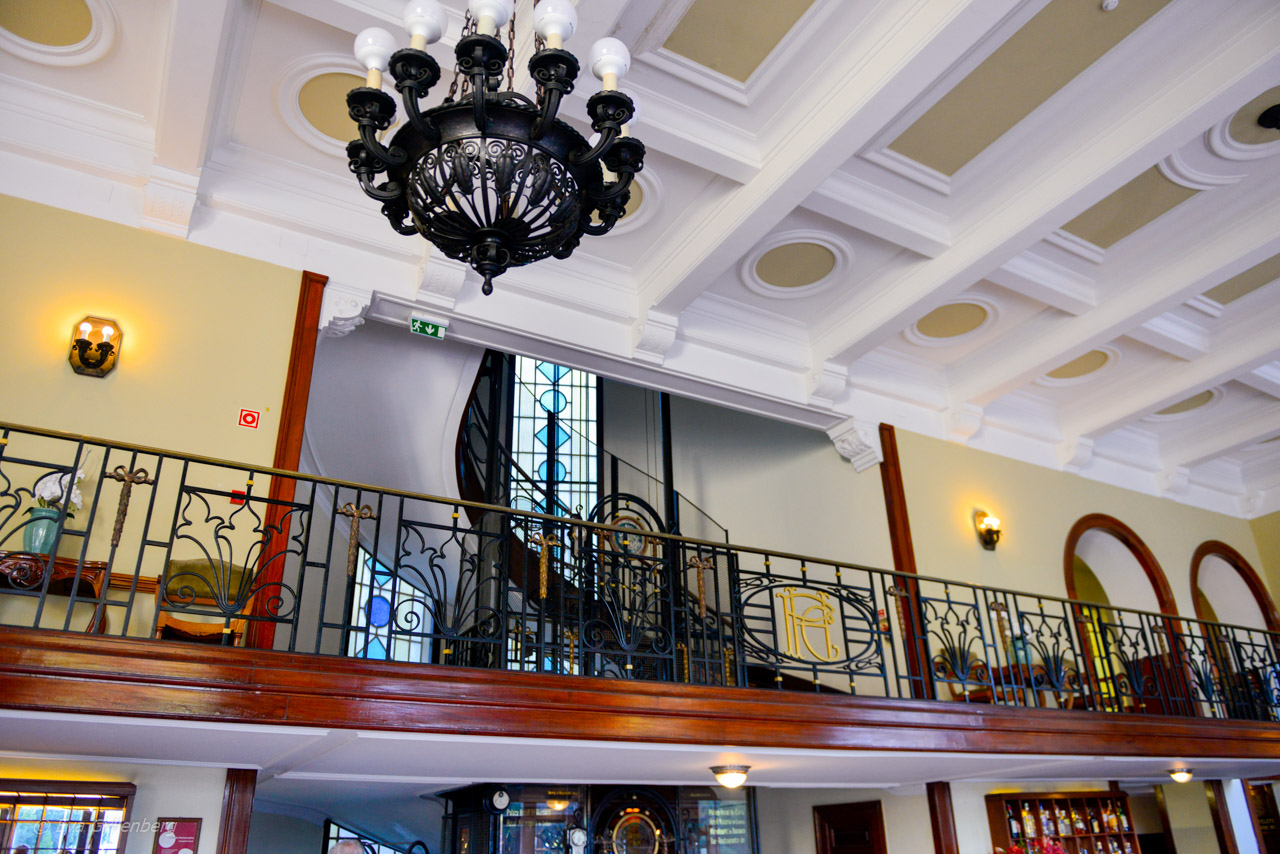 I go back to the table with my pizza and salad and laugh slightly hysterically at my whole dreamy castle dinner. We haven't ordered drinks yet. The man wonders what the food looks like. I ask him to order a whole bottle of red wine.
I start to eat my crab cocktail and put the spoon in the glass. But where is the crab? Where's the salad? The only thing I see is thousand island dressing. I start lifting out a spoonful of dressing alone. One more spoon. Another spoonful of dressing. Now I start to see a lettuce leaf and some crab. This is not a crab cocktail with thousand island dressing. This is a Thousand Island cocktail with some crab.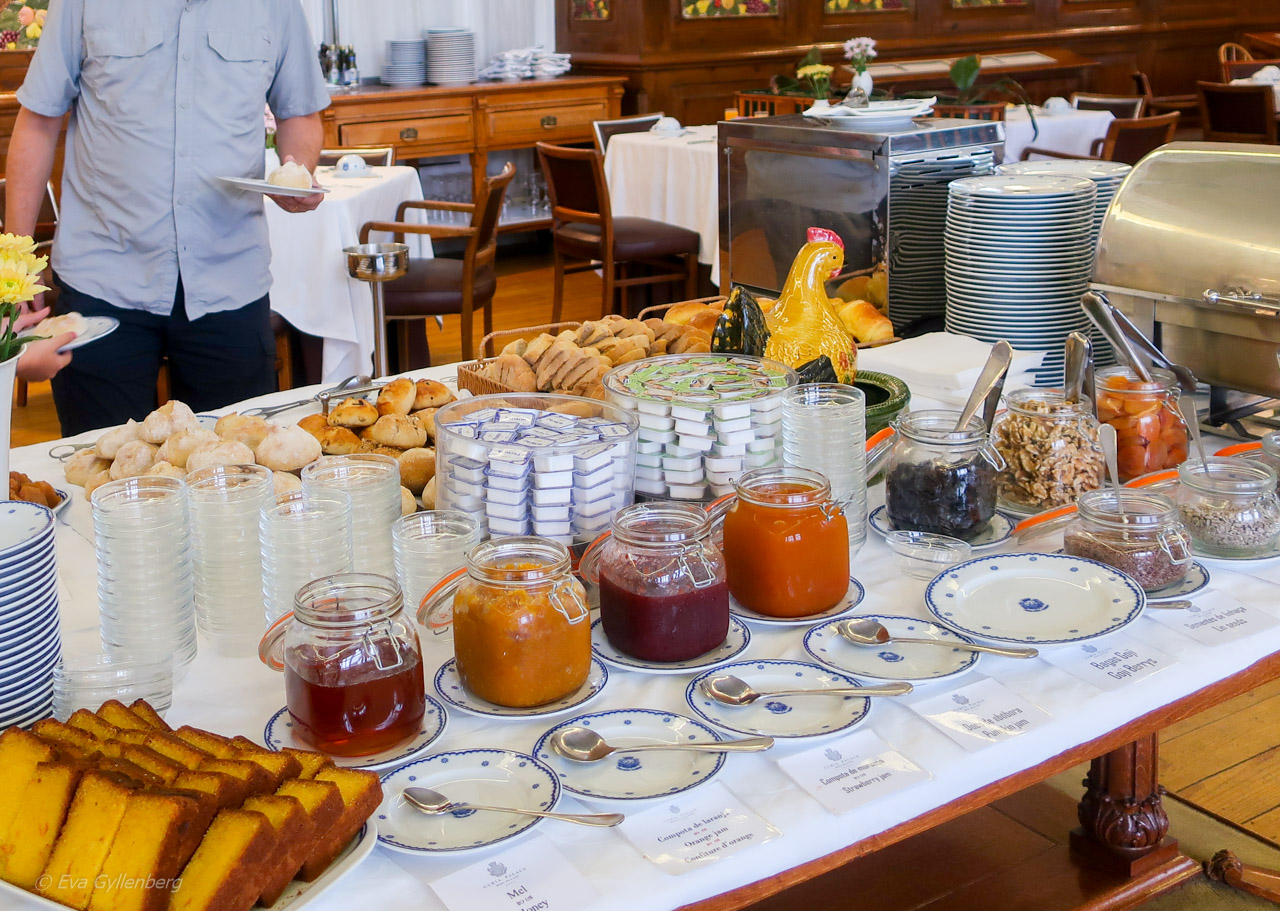 I have one thing left to try now. The deep-fried pirogue. The music is now on its third lap on the same record. The same songs repeat over and over again. I carefully take a bite. It tastes like fish. Kind of cod. I'm going back to the semi-finished pizza, but with some hope that that rice dish I haven't tasted yet might be something.
The man returns from the buffet. He has the rice dish on his plate. Show off my previous buffet mistakes and I'll let him taste first. He chews a little. Liver. It's rice with liver. I look at the buffet. There is still pizza left. Hallelujah.
My daughter and I somehow magically manage to eat our fill of thousand island dressing and pizza and we all fall asleep soundly after many laughs over the absurd dinner.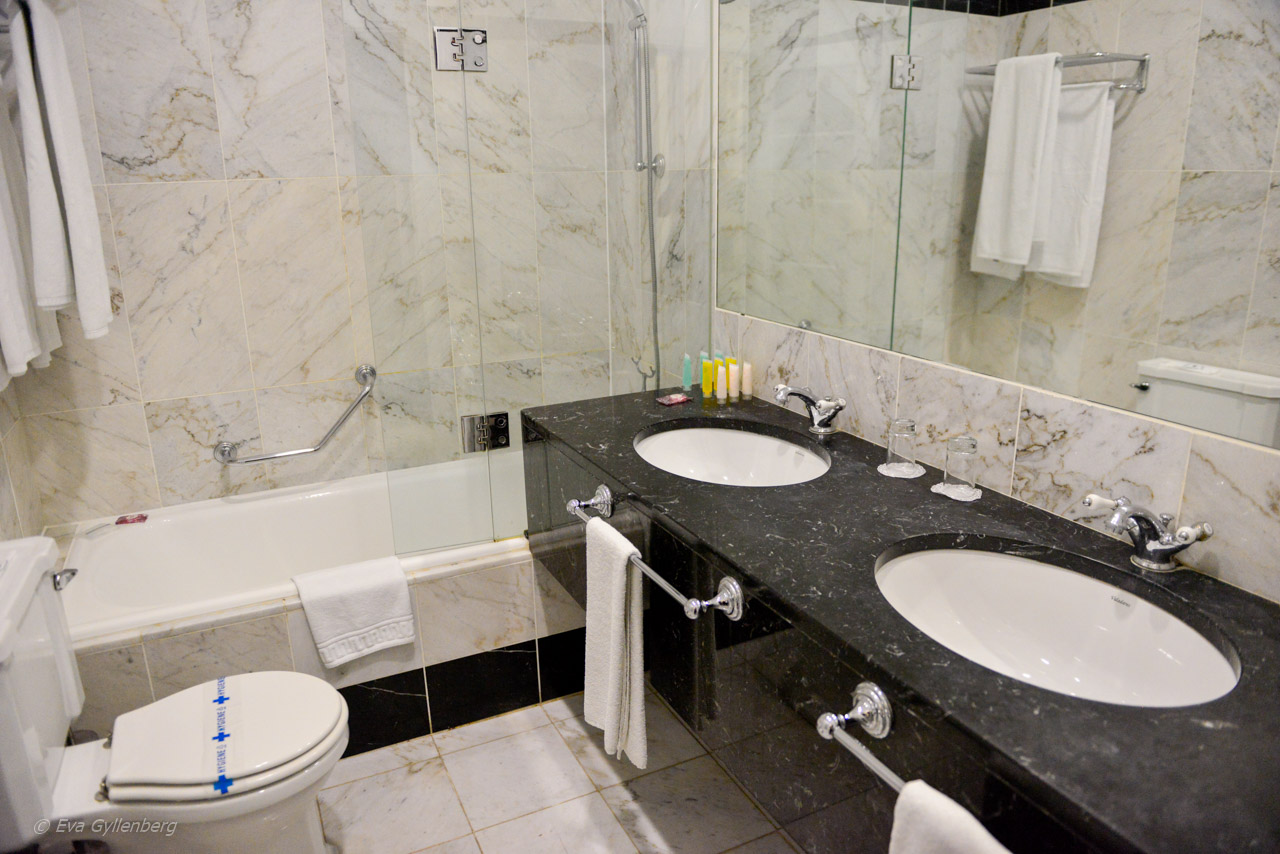 Breakfast day. Fortunately, it is almost impossible to fail with a breakfast. Especially not a breakfast served on the castle's own fine china. Sure there are more pickled prunes than fresh fruit on the breakfast buffet, but after yesterday's dinner we are not picky. Big band jazz continues to play in the restaurant. It's almost like I think the music has been playing on repeat all night. Wonder how the staff cope with hearing the same ten songs day in and day out.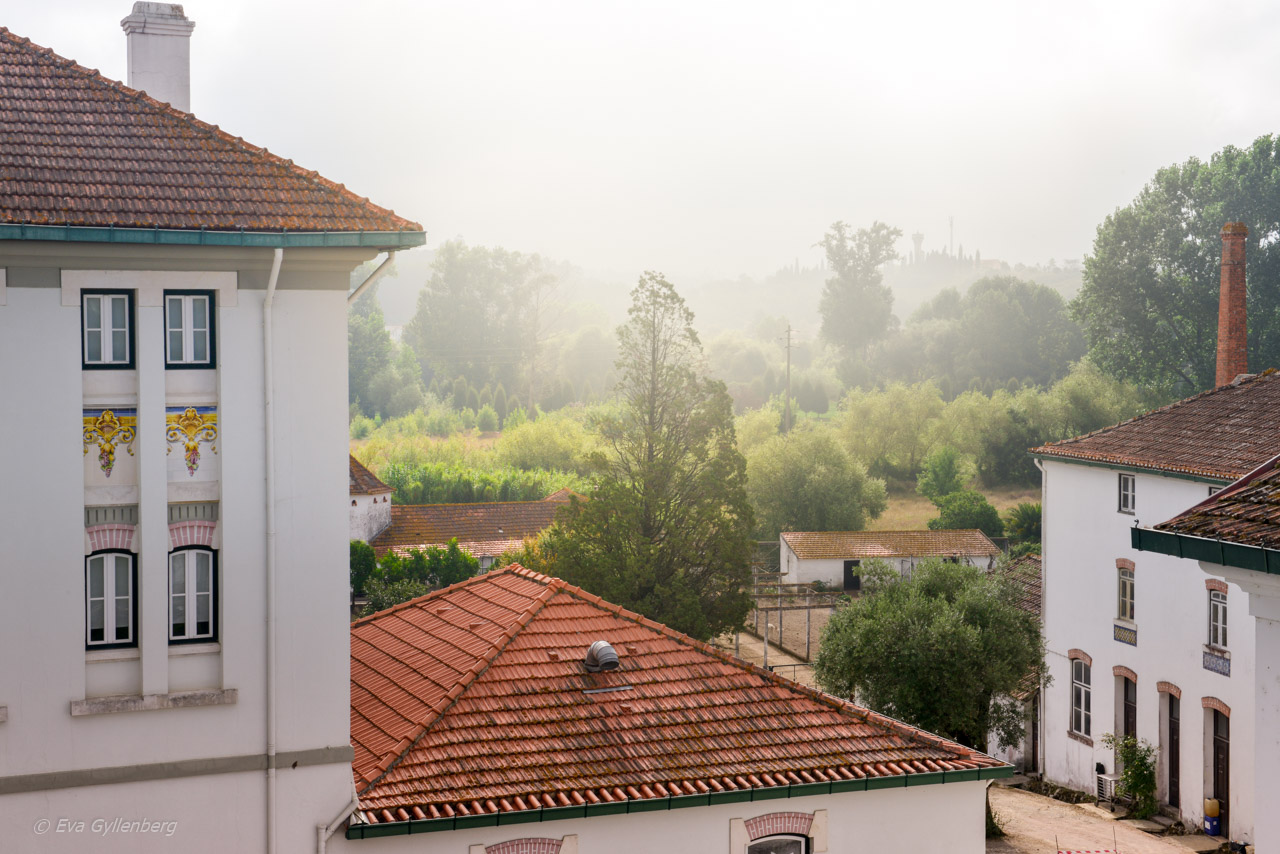 I slam the door to the car and we roll out through the hotel gate. I look at the idyllic fountain. The swan follows us. I can see him hissing at me, but I can't hear his hissing over the music in the car. We listen to Imagine Dragons. In the present. I'm leaving big band jazz behind.
Do you want to read more about Portugal?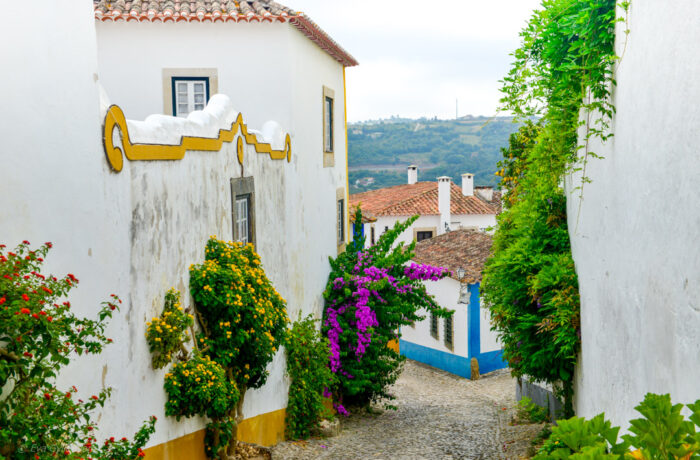 There really is something extra charming about cities that violate the Swedish "just right".…
September 11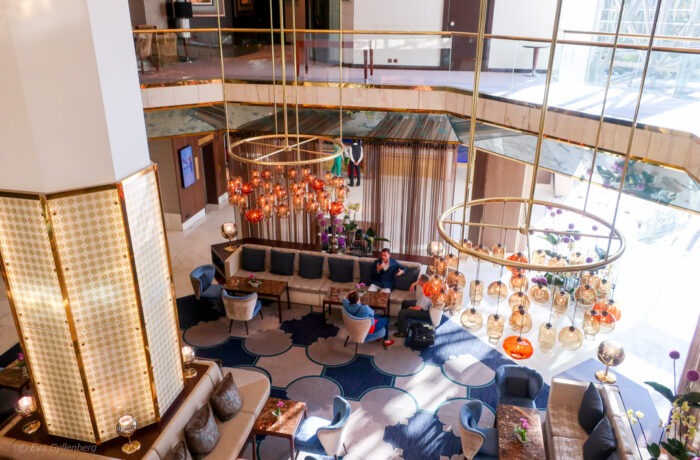 What we liked about staying at the Intercontinental Lisbon or the story of how SL…
August 21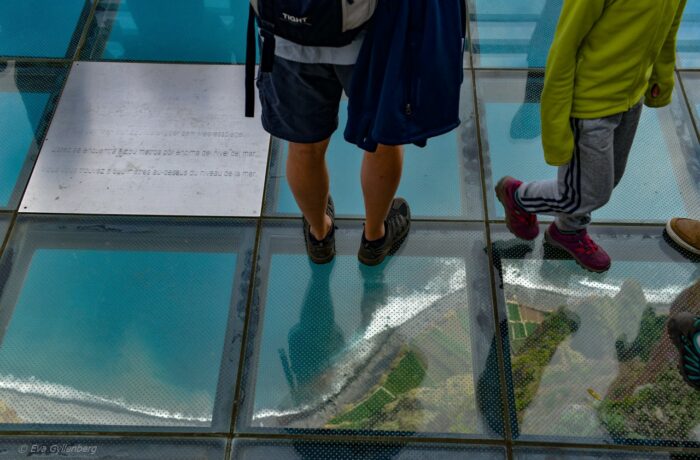 Just outside Funchal on Madeira, lies one of Europe's highest cliffs - Cabo Girao.…
17th April 2019