There are few things that are as sacred to us Swedes as Christmas. The herring must be put in, you must write the perfect Christmas rhyme on the well-thought-out Christmas gift, manage to meet the whole family and ideally also go on tour to all the cousins ​​in all of Sweden and say Merry Christmas and give away poinsettias with glitter spray and an Aladdin box. But if you can't bear it then? If the only thing you want during Christmas is to take it easy and avoid all stress? Because no matter how hard you try, Christmas will be stressful. You forget to order the Christmas cards with pictures of the children on time, buy a package of gingerbread dough that you then find unopened in the back of the fridge sometime after New Year's and buy a new Advent candlestick because you can't remember which box in the basement the candlestick was packed in last Christmas. It is said that it is city dwellers and women who prefer to escape from everything and go abroad over Christmas. I understand them, every single stressed city woman. Because I usually end up there myself. The home must be tidy, you must have time for all the activities with work and stress earlier from work to all the shows the children have and then have time to work in that time and of course finish all the things at work that you thought you had to finish during the year, have time to do all the shopping perfect Christmas presents and Christmas cleaning until everything shines and at the same time be loving and caring towards each other and the children. That's when it easily fails. It's simply too much. What should be a time of rest and love becomes a time of stress and strife.
If already sometime in October you start to feel pressure on your chest and with tears in your throat start to think about how many weeks are left before you need to start digging the salmon, it is probably time to start planning for a different Christmas. A Christmas away from the hustle and bustle, perhaps on a beach in the land of Far Away. But it has easily happened that the trip that would make you escape stress creates even more demands and stress if you are not prepared to compromise with traditions, musts and expectations.
This year we have decided not to go away anywhere over Christmas, but we are saving the holidays and instead hoping for a snowy weekend here at home in Sweden with ready-cooked ham, long sleep-in mornings, healthy walks and maybe a glass of bubbly. For Christmas, we give each other plane tickets for a trip later this spring. Something to look forward to that neither needs to be wrapped in beautiful paper nor is the wrong size and needs to be replaced. Thanks to the fact that in previous years we have been away for Christmas and no longer have any musts or traditions, this Christmas actually feels quite calm. So whether you're going away over Christmas or not - take a deep breath and shrug it off. Christmas comes every year whether you like it or not. Promise me that this year is the time for you to decide how you want YOUR Christmas to be, regardless of what everyone else thinks. Do you want to go away? Then I hope with all my heart that you do! But keep in mind that some mental preparation is required if you are going away over Christmas for the first time. Here are our tips so that you can go away and really find Christmas peace.
Tip #1: Process all family members early
If you want to go away for Christmas this year, it's a good idea to start processing all the closest family members early. Even if you're ready to let go of Donald Duck and Grandma's crack, your kids might not be. Or your husband. Be responsive and listen. Are you ready to cut back on Christmas presents? What are the children going to miss? Is it Christmas or is it something else? Don't give up if you meet resistance - compromise and set your common rules. Going on adventures together is the best family bonding experience and worth every discussion.
Tip #2: Be clear about the family
Be clear early on with the family that you intend to go away and will not celebrate Christmas with them. Of course, if you are invited to the family's "little Christmas Eve" before Christmas - where you don't have to do anything - say thank you and accept! It's just nice! But don't let any family member make you feel so bad about going away, so that in a panic you invite the whole family to your home on Christmas Eve in the middle of packing the day before you go away! Then you won't have won anything but only increased your stress.
Tip #3: There are no musts
There are no musts when it comes to Christmas. I'll say it again: There are no musts when it comes to Christmas. All must-haves are something you create yourself. Most must-haves are just like the lute fish for Christmas. Nobody likes it, but "someone" thinks "someone" wants it. So just skip all the must-haves. Do what you feel you want to do. If you want to dance around a fir/palm tree on Christmas Eve - do it. If you want to eat brought herring in a sun lounger on Christmas Eve - do it! But do it because you want to, not because someone else expects it.
Read more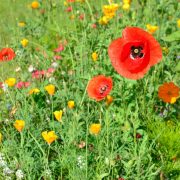 Tip #4: The only one who has demands on you – is yourself
If you're going away, you need to think seriously about what's important to you in December. Is it really important that the house is cleaned for Christmas and sparkling clean if you are not going to be at home, or is it only you who thinks it is important? Do you really need to change to Christmas curtains if you are going away? Do you need to buy a real Christmas tree that will just stand there until you get home, or is it actually better to have a plastic Christmas tree when you go away? Or do you need any fir at all? Are you really going to buy fragile poinsettias that need to be watered every day or is it enough to have an amaryllis that basically takes care of itself? Set the right level of expectation for yourself, reduce stress and feel much better. It is no one else but you who demands that your home look like a Christmas reportage from Sköna Hem. Regardless of whether you are going away or not.
Tip #5: Is Santa sure to find his way to Thailand?
Are you really sure that Santa will make it to Thailand and that all the Christmas presents will fit in Santa's hand luggage on the flight? Or maybe you can give each other an experience on the spot instead. A luxurious dinner, an exciting excursion or a full day at an amusement park are memories that last much longer than another plastic toy.
Have you been here? What did you think of the destination?
Been there - didn't like it!
0
Not keen at all to go here!
0
Eva Gyllenberg
Travel blogger, gastronaut, photographer and family adventurer with over 55 countries in his luggage. Eva loves trips that include beautiful nature, hiking boots and well-cooked food. On the travel blog Rucksack she takes you to all corners of the world with the help of her inspiring pictures and texts.