Things are going uphill in Barcelona. About so much uphill that you start to feel it in your legs. Our little walk to Parc Güell, which on the map only looked like 3 kilometers, turned out to be counterproductive. We trudge through the laid-back Gràcia district, the district that was its own town until the end of the 19th century. Here the houses are a little lower, the roads a little narrower and the Catalan flags hang out from every other balcony.
It is Saturday morning in December and there are hardly any people out on the streets. It's only us, the dog owners and newly awakened Catalans who are out in our cozy pants and buying breakfast bread. This is how Barcelona should be experienced, without the hordes of tourists who come here during the summer months. But it's not just us tourists who don't like too many tourists. Even the people of Barcelona have grown tired of the tourist invasion. Barcelona is the 20th most visited city in the world and every year visitor records are broken. In 2016, over 34 million tourists visited the city and prices are skyrocketing. Cheap rental apartments are converted into luxury apartments for foreigners, the cozy neighborhood restaurants have hour-long queues all the way to the pavement and the alleys smell of piss from over-refreshed tourists. The anti-tourist protests in the streets of Barcelona this summer had a message - something had to be done. But today, as we struggle up the slopes towards Gaudi's masterpiece, we don't notice any tourist resistance. "Merry Christmas to us! I mean, you! Merry Christmas to you!" the happy shop assistant in the hardware store wishes us with a big smile. This close to Christmas, everyone we meet has a big smile. Except for the taxi drivers, who we constantly have to reprimand and point in the right direction when they try to earn an extra penny by driving wrong. How did you actually do things before Google maps and free surfing within the EU?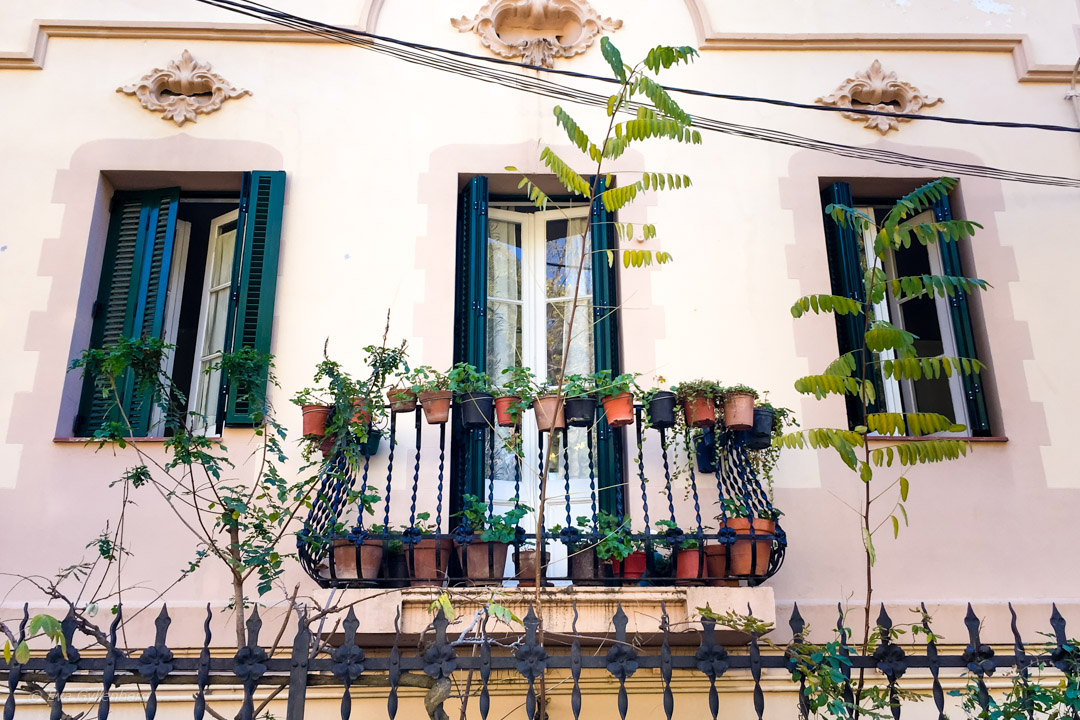 We have not pre-booked anything other than the hotel for our weekend in Barcelona, ​​neither Sagrada Familia, Parc Güell nor any restaurants were booked. It's not necessary. At the Sagrada Familia, we only had to wait 15 minutes to get in, so we took the opportunity to look around the large Christmas market crowd in the park outside the church while we waited. Here there was the hustle and bustle of local families planning their Christmas celebrations. Christmas trees in pots, red poinsettias with gold rosettes, nativity scenes and the popular "Christmas logs" with felt and red hats were sold. Christmas logs – tió de nadal - are hollow logs that the children in the family feed and take care of from the beginning of December and then traditionally, while singing and clapping, "poo" out sweets and small toys for the children on Christmas Eve. A bit like a pinata that can be easily reused every year. I have to admit that I was a little tempted to buy a Christmas log home, but just the thought of going and carrying it around for a whole day in Barcelona killed the urge to buy.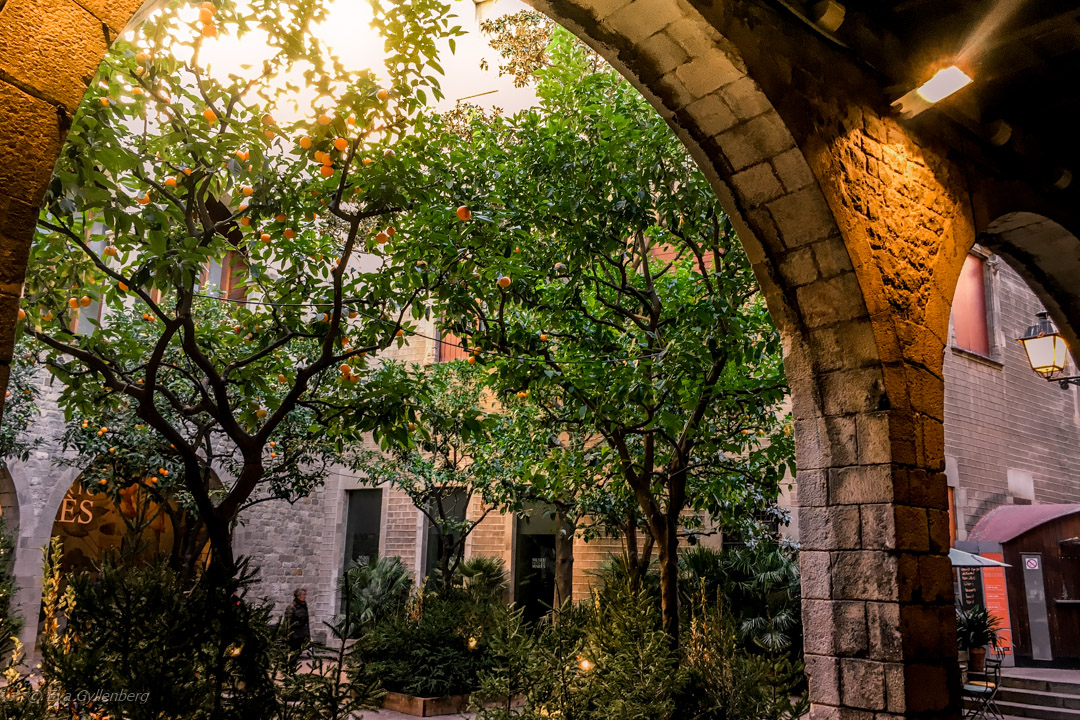 December is not only the month of Christmas markets in Spain, but also the month of citrus fruits. Everywhere in the narrow little gardens between the houses, large sun-ripened oranges hung from drooping green branches. Although the majority of oranges are harvested in the south of Spain, it is not difficult to get a glass of divinely sweet freshly squeezed orange juice in almost every restaurant in Barcelona.
By the way, as a Swedish family with school-age children, the late Spanish meals can feel like a challenge, but for us they turned out to be rather an advantage. Although we slept in longer than usual in the morning, we were the first guests at breakfast and were able to tuck into hot, freshly fried churros without competition. In the evenings, it wasn't difficult to get a table at good restaurants either, if we could imagine eating at the restaurants' first sitting, at 20 p.m. It was, however, a bit of a special feeling to sit all alone in a restaurant, but it didn't take long until the noise level was raised a few notches and the tables were usually completely full before the 22 p.m.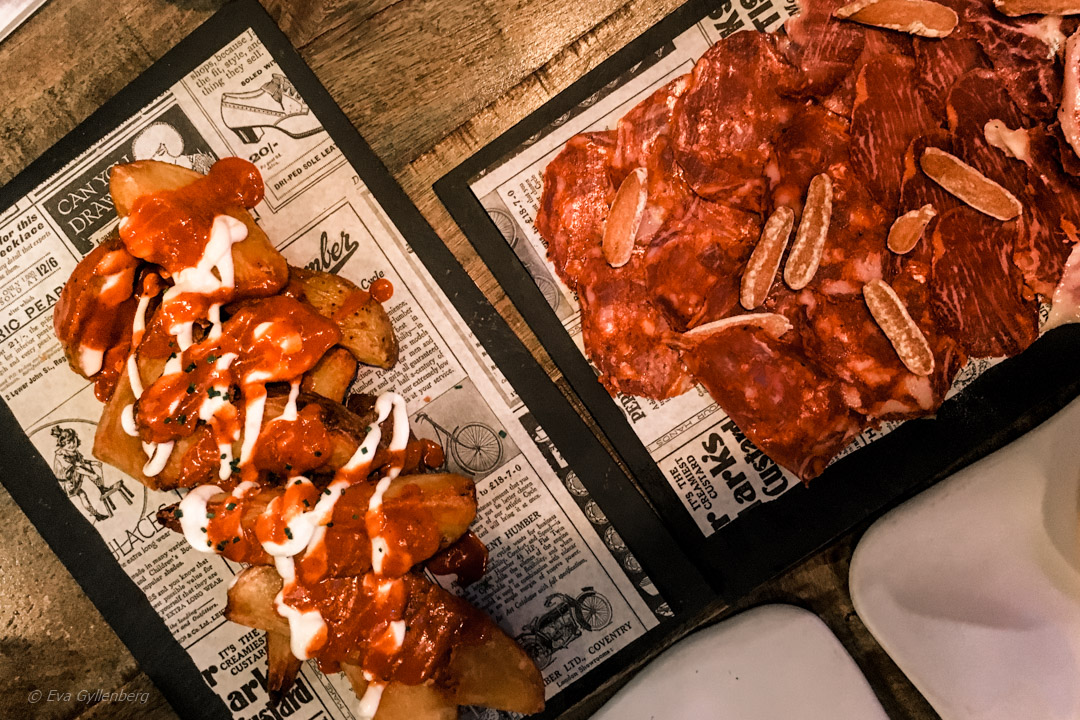 We approached with tired thigh muscles Parc Güell's mosaic-clad explosion of color and bought tickets at the ticket machine for entry 10 minutes later. Only 400 visitors are allowed into the park every 15 minutes so that the art can still be experienced and enjoyed without crowding. We pass blooming pink triplet flowers with a faint scent of lavender in the air. On the top terrace we join a small informal queue to get a picture of Barcelona from above, it's not often we take posed pictures of each other but this felt like a good place for a group photo. The Mediterranean Sea glittered on the horizon below a clear blue sky, the sun warmed the cheeks a little and the stomach started to rumble a little after a good tapas restaurant. December in Barcelona is actually both enjoyable and relaxing.
I can admit that after my previous visit many years ago, Barcelona has not been on my list of cities I would like to go back to - the month of May already offered far too many people, far too many pickpockets and far too many queues. But after this trip, I have completely changed my opinion about the city. I almost hope that Barcelona introduces visitor restrictions to curb the negative spiral that tourism has fallen into, so that more people get to experience the sides of Barcelona that we got to do today. With a better balance between Barcelona residents and visitors, we should all actually be able to get along about this lovely city.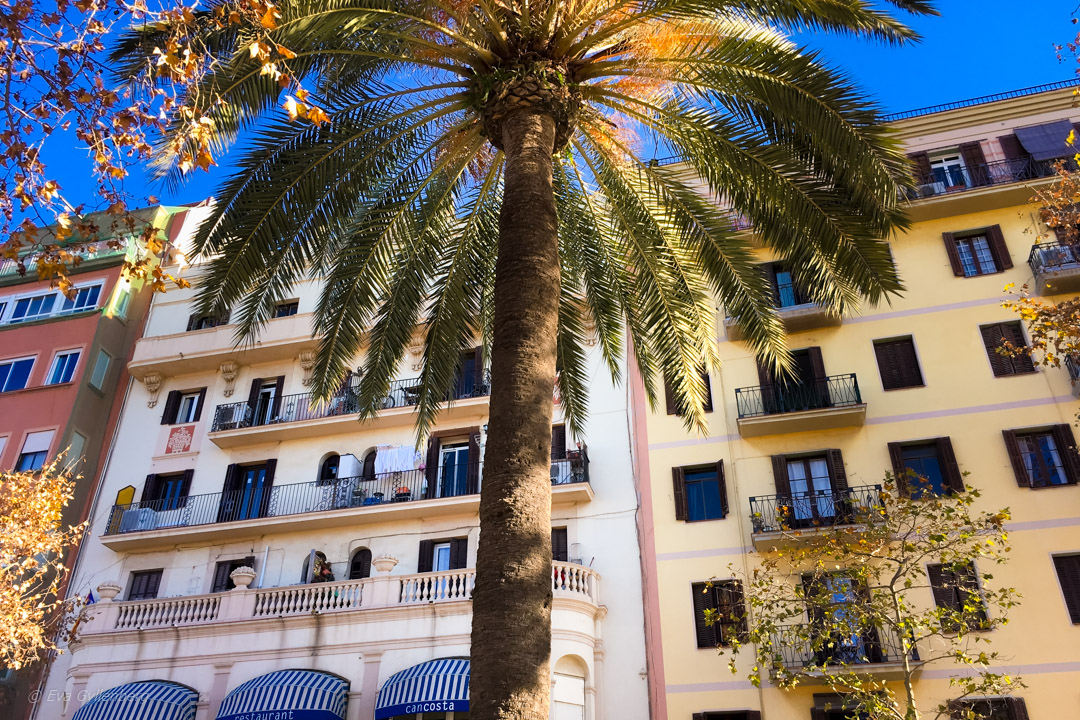 Do you want to read more from Spain?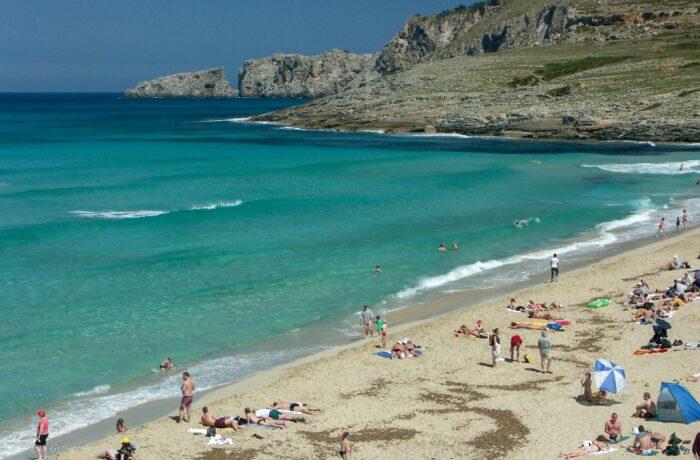 The absolute favorite of the Swedes, Majorca has an incredible amount of charm outside of high season and outside of the usual…
March 4, 2015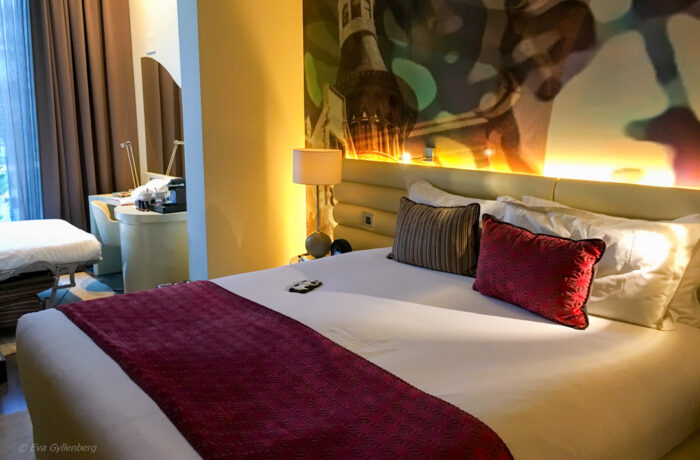 Are you looking for an affordable design hotel with a good location in Barcelona? Preferably within walking distance to…
January 7